Bindle Bottle Slim Review
The Bindle Bottle Slim has a secret compartment underneath that's good for your keys or credit card. It also keeps drinks hot and cold for hours.
Our Verdict
Unlock the Pro Summary
Save time. Get access to brief summaries of our reviews so you can browse and make decisions more efficiently.
Pros
Bottom compartment is good at hiding items like keys and wallet
Slim profile doesn't take up much space
20oz capacity is good for exercise
Cons
Heavy and adds weight to your bag
The bottom cap doesn't screw on smoothly
Coating can get scratched up easily
Recent Pack Hacker Video
Technical Details
Capacity

20oz

Weight (lb)

0.96 lb (0.4 kg)

Dimensions

12.3 in x 2.8 in (31.2 x 7.1 cm)

Notable Materials

Stainless Steel, Plastic

Manufacturing Country

China

Warranty Information
Full Review
Strolling up to the gym with your keys, headphones, and ID bouncing around in your pocket can be annoying. What's worse is when you don't have any pockets and need somewhere to put your stuff. Of course, you need to stay hydrated during that intense workout session, so you'll have to bring a water bottle, too—yet another thing to carry. The secret compartment on the 20oz Bindle Bottle Slim could be a solution. It's big enough to fit all your essentials, so you can leave the heavy gym bag and just carry a water bottle. This stealthy storage compartment also works for stashing snacks on the go. We tested it for two weeks on beach trips, hiking, and outdoor yoga, and it served its purpose well. It does have a few minor cons, however.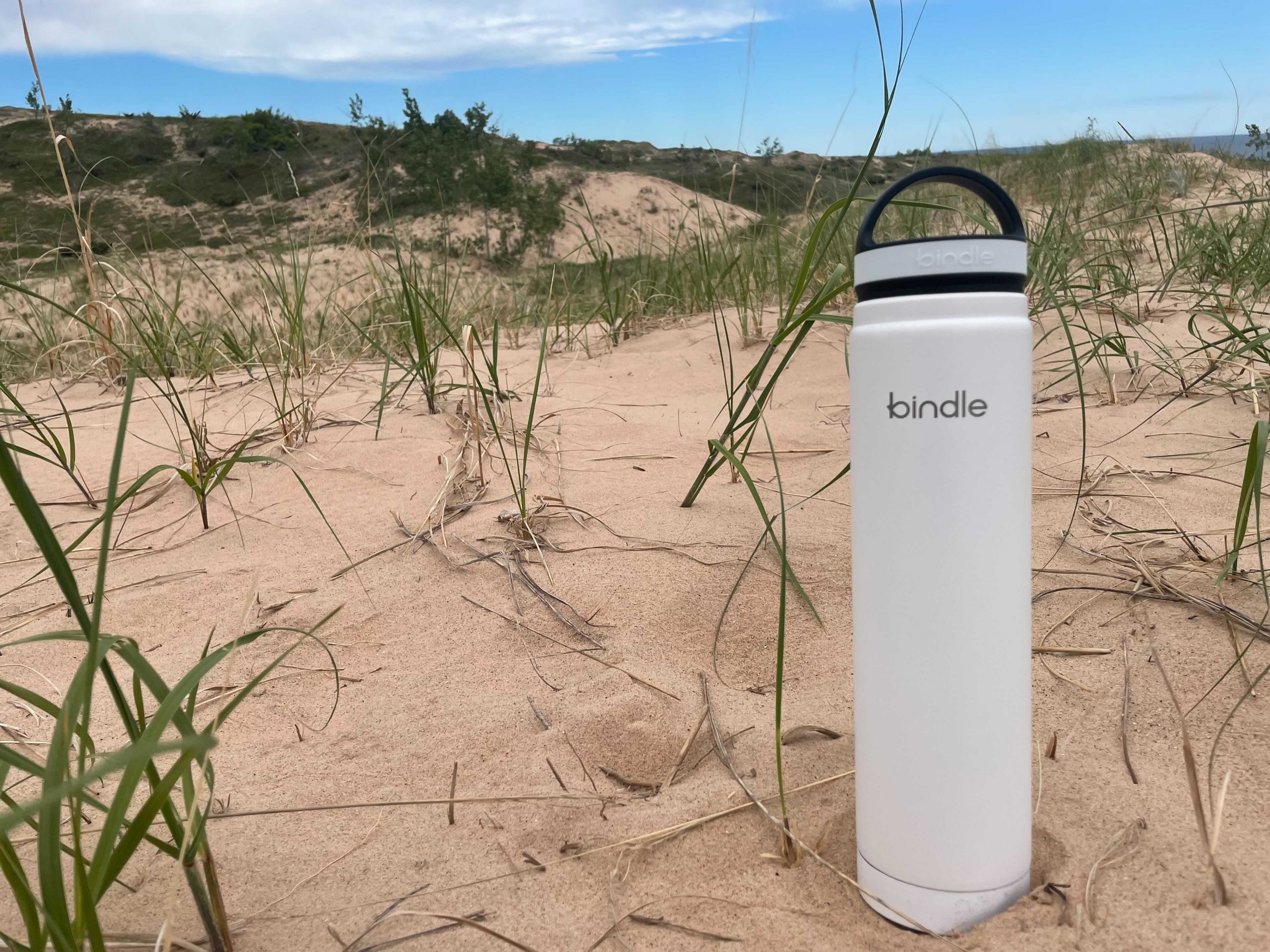 The water bottle itself is 20oz, which is great for folks like us who drink lots of water throughout the day. The storage compartment has about a 3.2" depth, which we found most suitable for IDs and credit cards. If you have a chunky pair of keys, they can still fit inside, but they may be slightly cramped. The nice thing about this is that no one would ever know your valuables are down there. This doesn't just go for the gym, either. Let's say you're at the beach and don't feel comfortable leaving your bag on the sand for someone to come along and rifle through. Getting your backpack or other gear stolen downright sucks, but a water bottle is probably the last thing a thief would be interested in, so at least your essential items will be safe.
On the downside, the sheer size of this bottle makes it a bit unwieldy. The slim profile is great for fitting into tight water bottle sleeves, but it weighs nearly a pound, so it adds some weight to your bag. This is before you've put anything in it—once it's filled with 20 ounces of water and a set of keys, it gets even heavier. If you're just driving to the beach or gym and plan on using it there, this isn't too big of a deal. If it's in your bag and full of snacks while you walk around a new city, it isn't too great. And since it's so tall, it can stick out pretty high depending on your pack's water bottle sleeve.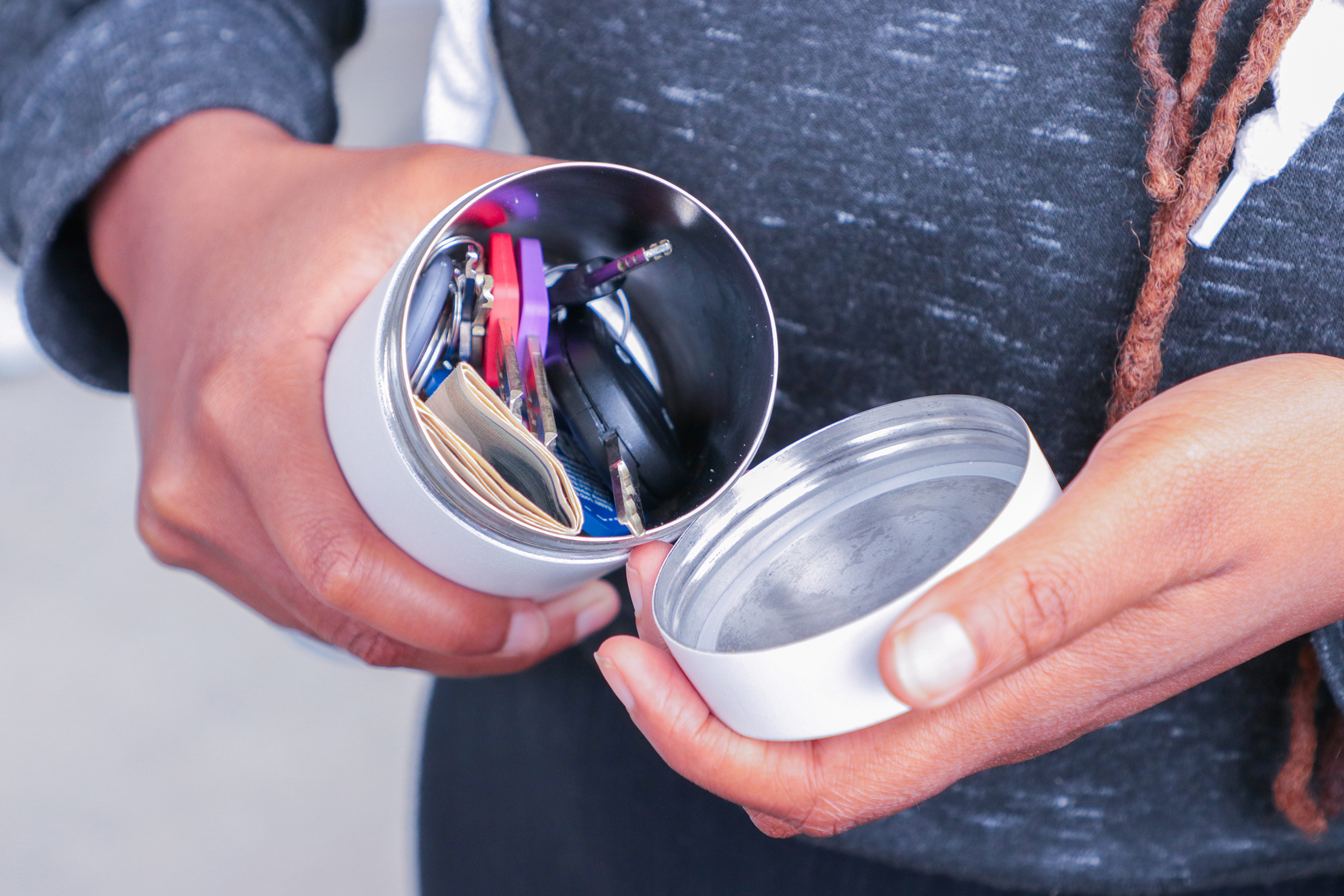 This hefty weight is due to the material the Bindle Bottle Slim is made of. The kitchen-grade stainless steel is double-walled and vacuum insulated. Then it's sealed with a soft power coat which is supposed to add a "slip-free grip." Unfortunately, if you've got a serious case of butterfingers (like some members of our team), this won't help much. It once slipped right out of our hands as we were filling it up, resulting in a small dent on the bottom. Check out the photo in our usage timeline below for photographic evidence. This coating can also get marked up fairly quickly, especially near the bottom of the bottle.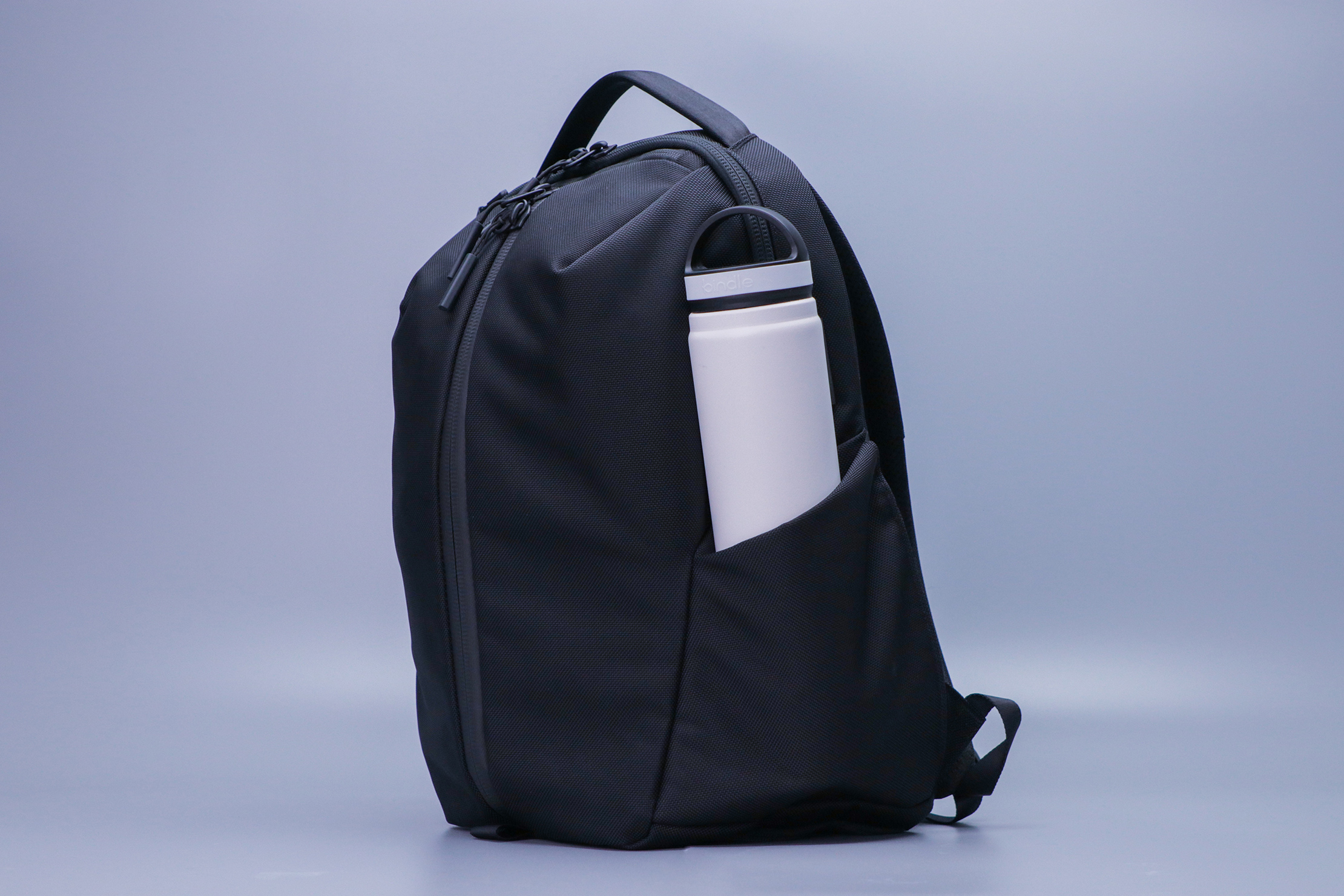 Going back to that double-walled system, this basically means it's reinforced to be about twice the thickness of other water bottles we've tested. This double seal method helps make it "sweat proof," as Bindle Bottle puts it. We've found this to actually be true as those pesky little water beads that tend to appear when you're drinking ice-cold water were nowhere to be found here. Even though the extra reinforcement makes the Bindle Bottle Slim heavier than other bottles, it adds excellent insulation, which we'll talk about in the next section.
Features & Usage
Bindle Bottle claims that the 20oz Slim will keep water cold for 24 hours and coffee hot for 12 hours. Our water and coffee never typically last this long, but we did an ice test to see how quickly it would melt. To our surprise, the ice was still intact almost 8 hours later. We are typically team room temp water, but it was great to have ice coffee throughout the day when it was sweltering out.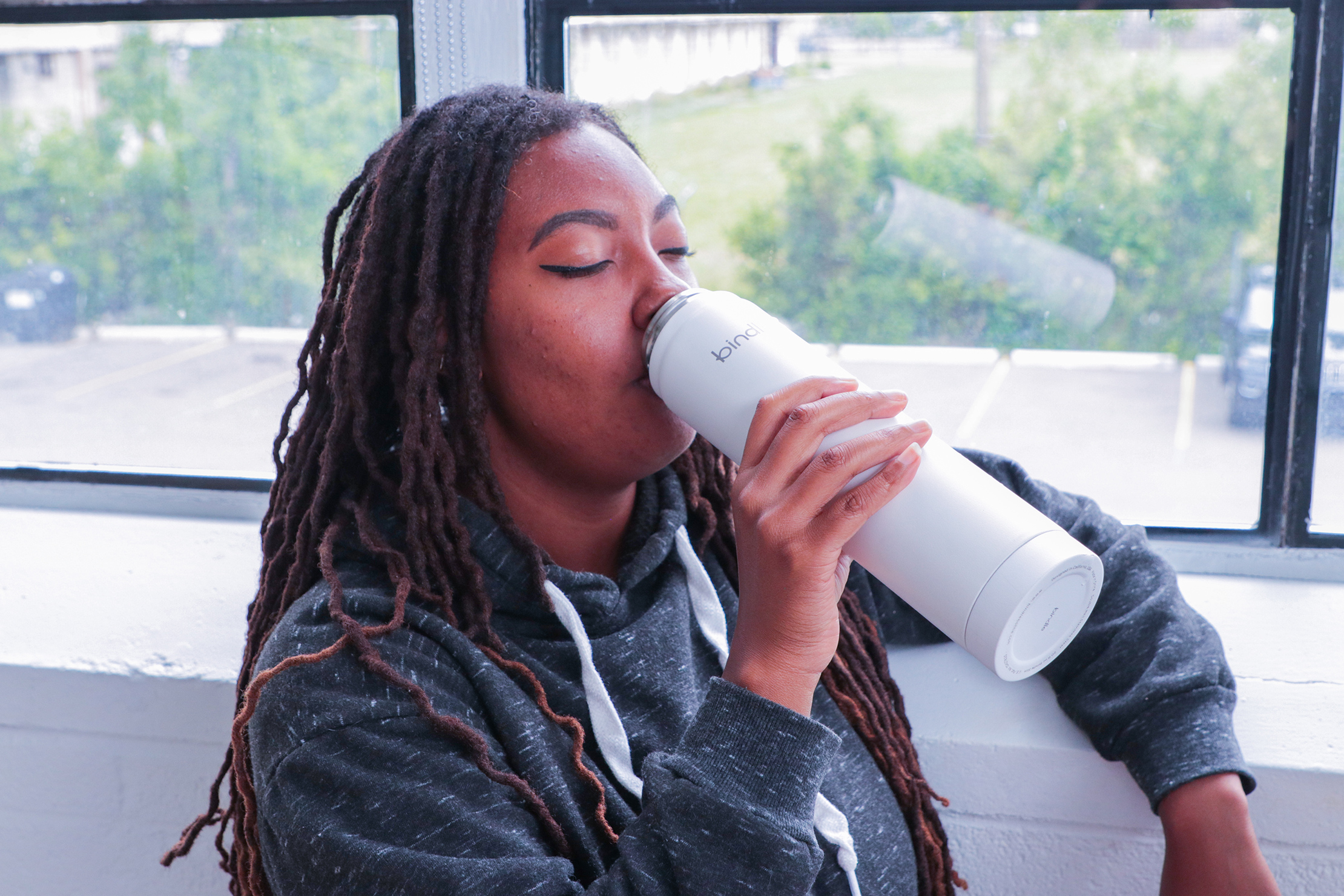 When it comes to hot coffee, we have a tendency to fill up a mug, drink about half and then forget about it. By the time we get ready to drink the other half, it's a sad cup of brown sludge that's better off being poured down the drain. The Bindle Bottle kept our coffee hot almost the whole day so we could sip it at our leisure.
While we found the secret compartment incredibly useful for holding our essentials at the beach or gym, using it wasn't as hassle-free as we were hoping. First off, the cap to the compartment doesn't have any reinforcement like the one that opens up the water bottle portion. It's basically bare steel scraping against steel, and that's exactly how it sounds when you unscrew it. The sound is pretty offputting, almost like someone scratching their nails on a chalkboard, and twisting the cap off feels like you're grinding up some herbs. Screwing it on isn't always the most smooth either, as it doesn't always line up correctly. You can also hear your stuff hitting up against the container when you walk with it.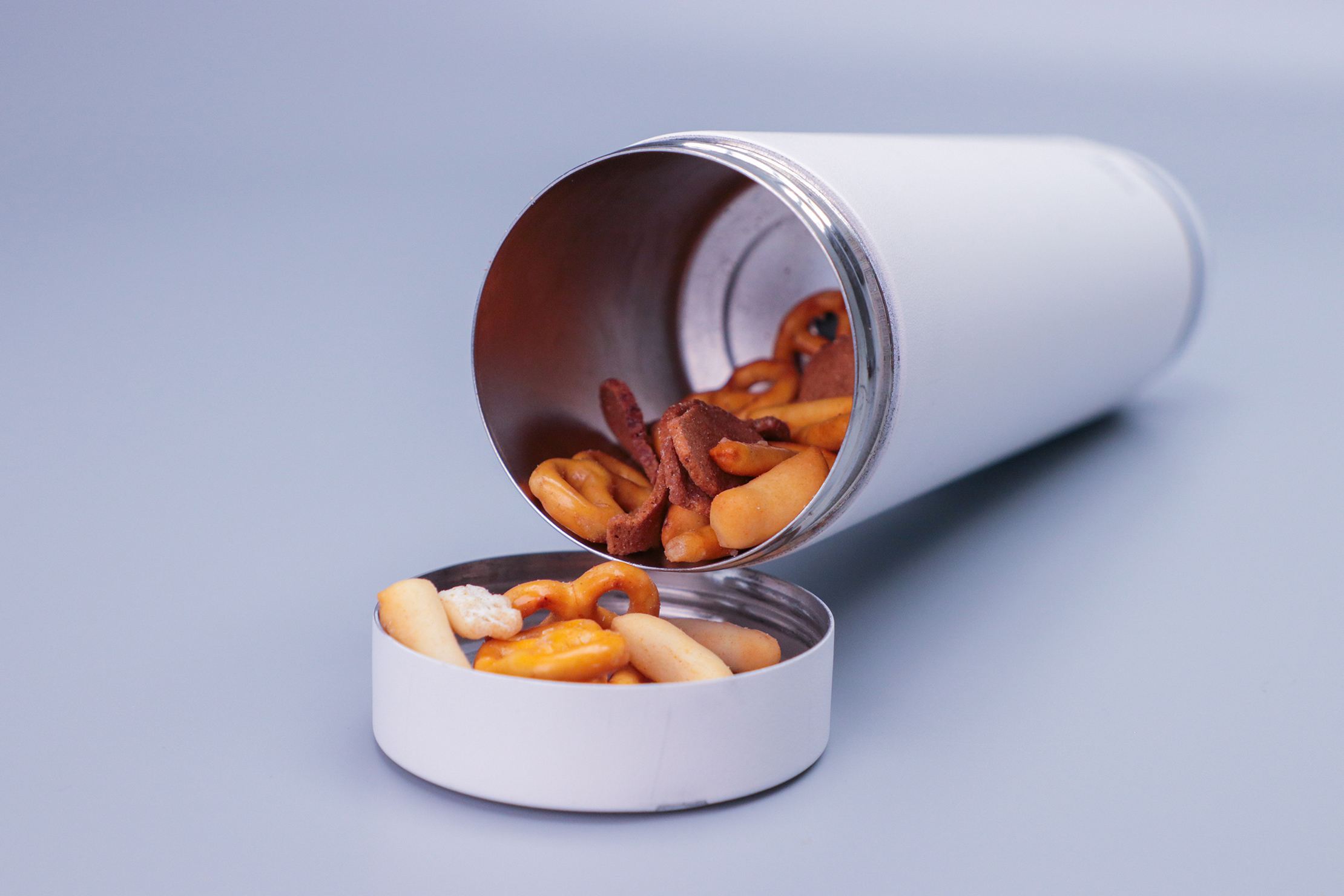 Since the entire Bindle Bottle Slim is made of kitchen-grade stainless steel, using the secret compartment for snacks is no problem. We do, however, recommend using it for dry snacks. If you've got something wet in here, it can easily leak right out when you're opening the bottle. It's also possible for stuff to get inside depending on where you're using it. For example, we noticed sand somehow got inside the bottom at the beach even though we never actually opened it while we were there.
Overall, the Bindle Bottle Slim is fantastic at keeping drinks hot or cold for long periods. It's got a stealthy bottom compartment that makes a convenient place for your keys and ID. This comes in handy at the beach or gym when you don't have any pockets or want to keep your valuables hidden. We just wish there was a way to get rid of the dreaded scraping sound when screwing it open.
Usage Timeline
Initial Usage
Condition: Excellent
The bottom also unscrews to reveal a secret compartment
Double wall stainless steel and insulation makes the bottle "sweat proof
Very slim profile
2 Weeks of Use
Condition: Good
The bottle is long and heavy so adds weight to your bag
The insulation kept water cold and coffee hot for several hours
Bottom compartment is good for holding keys and credit cards at the gym or on hikes when you don't want to carry a bag
Bottom lid is pretty squeaky and not seamless to get on and off
Outer layer of paint gets marked up and dinged easily
Dropped it once and the bottom got a dent on it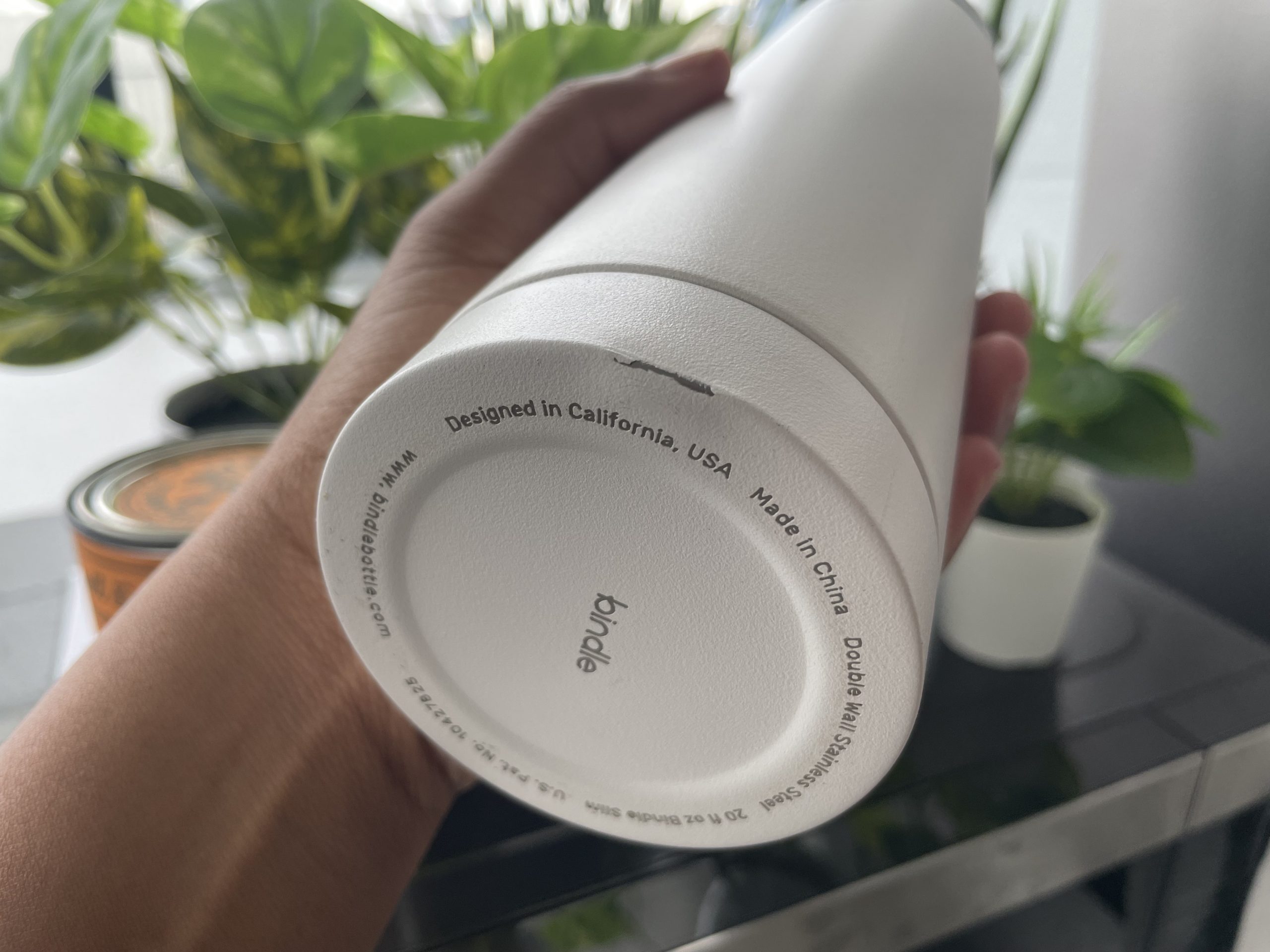 Access the Pro Community Discussion
Get your questions about the Bindle Bottle Slim answered from our team and the Pro Community right here on the page. Plus, join discussions with other members about gear, guides, and more.
Other Miscellaneous Reviews