Mystery Ranch Rip Ruck 24 Review
The Mystery Ranch Rip Ruck 24 is a durable, thoughtfully-designed, quick-access pack—although we have had some issues with the organization.
Our Verdict
Unlock the Pro Summary
Save time. Get access to brief summaries of our reviews so you can browse and make decisions more efficiently.
Pros
Most of the pack is quick to access
Densely-padded, comfortable harness system
Durable materials
Cons
No mesh on shoulder straps or back panel restricts airflow
Internal mesh pocket doesn't work great for smaller accessories
No elastic keepers to manage excess straps
Recent Pack Hacker Video
Technical Details
Capacity

24l

Weight (lb)

2.3 lb (1 kg)

Denier

330D

Dimensions

18.5 in x 11 in x 10 in (47 x 27.9 x 25.4 cm)

Notable Materials

ROBIC®, YKK Zippers, DWR Coating, Duraflex Hardware

Manufacturing Country

Vietnam

Laptop Compartment Size

15"

Warranty Information
Full Review
Mystery Ranch is a brand known for using quality, durable materials on their bags to help you safely and comfortably carry your gear—and the Mystery Ranch Rip Ruck 24 is no exception.
Part of the new Rip Ruck line—which consists of updated versions of the original pack, available in 32L, 24L, and 15L sizes—this bag offers quicker access to your gear than the initial Rip Ruck and is also densely-padded, sturdy, and well-built to carry your everyday items, whatever that entails.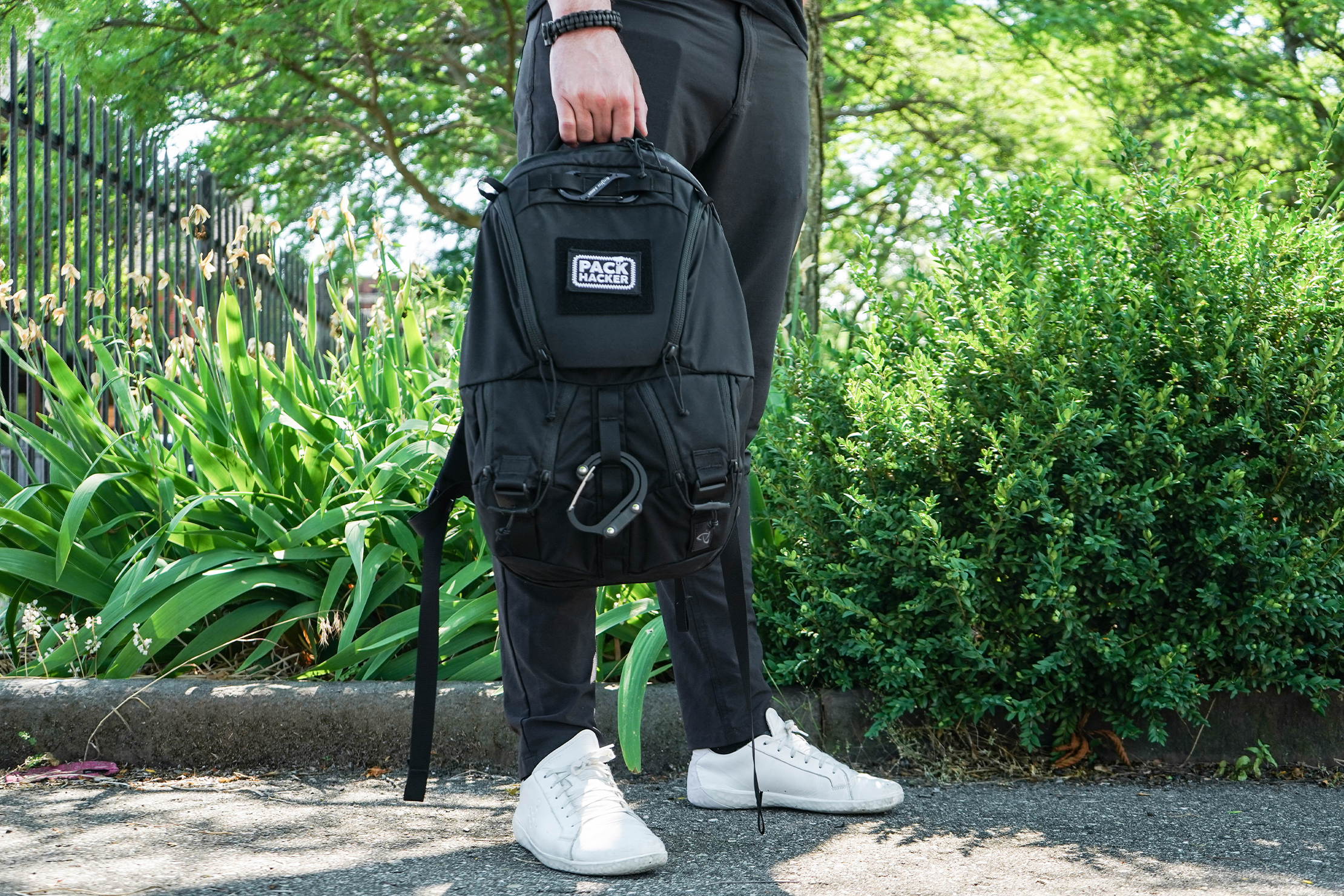 In this review, we'll be focusing on the 24L size, which we've been testing a pre-production sample of in Detroit for two weeks. We have some things to say about it, so without further ado, let's get into the review.
Materials & Aesthetic
On the front of this pack is a velcro patch adorned with a large Mystery Ranch logo. Front-and-center branding of this nature is not uncommon for Mystery Ranch and it may be a turn off for you. The good news is, while this logo is also large, you can cover it up with your own velcro patch—giving you some customization of the exterior. (We've opted to stick a Pack Hacker patch here, of course.) Then you're just left with the small logo on the shoulder straps and on one of the attachment points on the bottom right of the bag. This branding is subtle and looks almost faded into the pack. (If you were expecting a bottle of ranch dressing, we're sorry to disappoint.)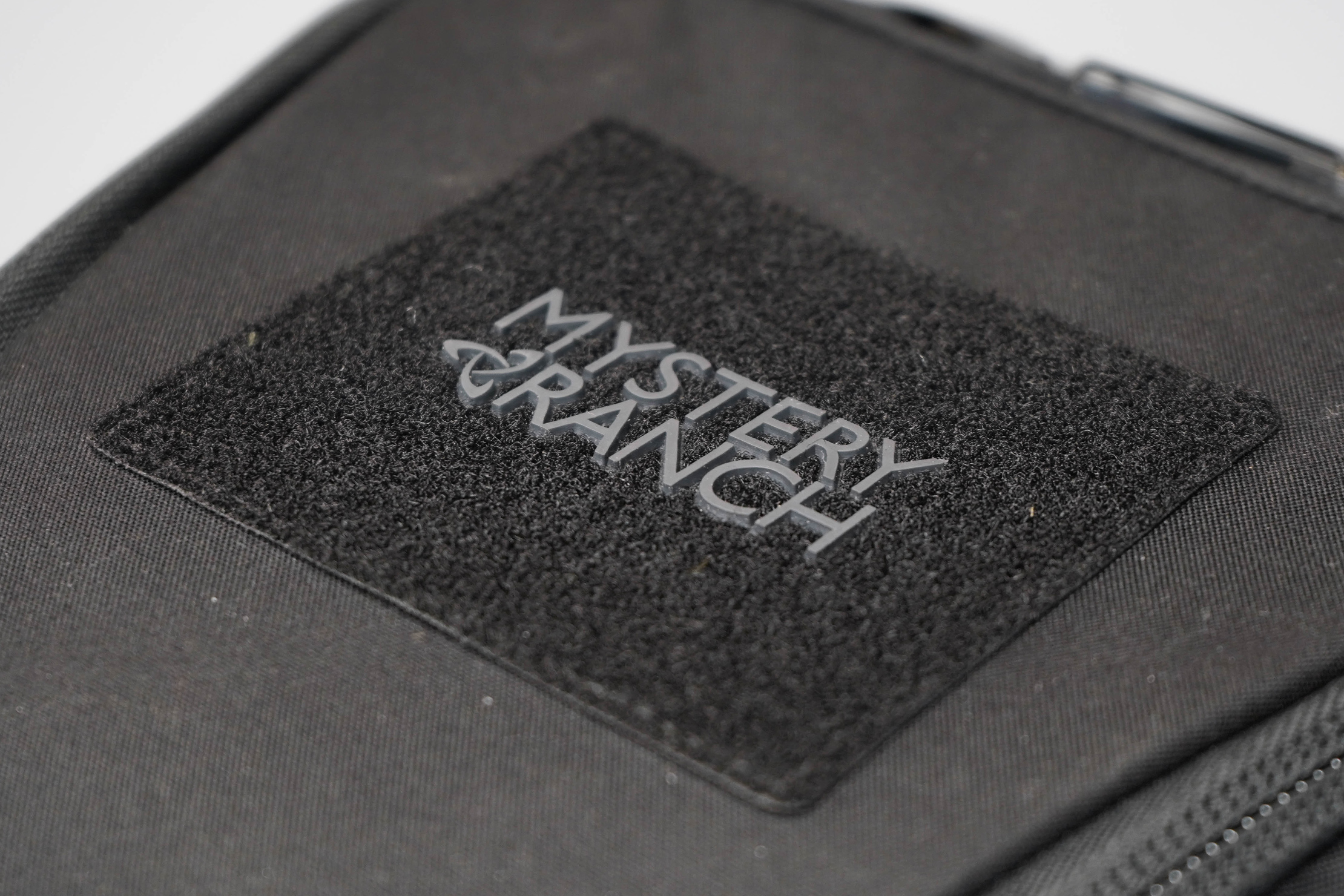 At the time of this review, the Mystery Ranch Rip Ruck 24 is available in four colorways—Cherry, Foliage, Wood, and Black. The Black colorway we've been testing, along with the minimal branding helps this pack retain a slick, serious vibe.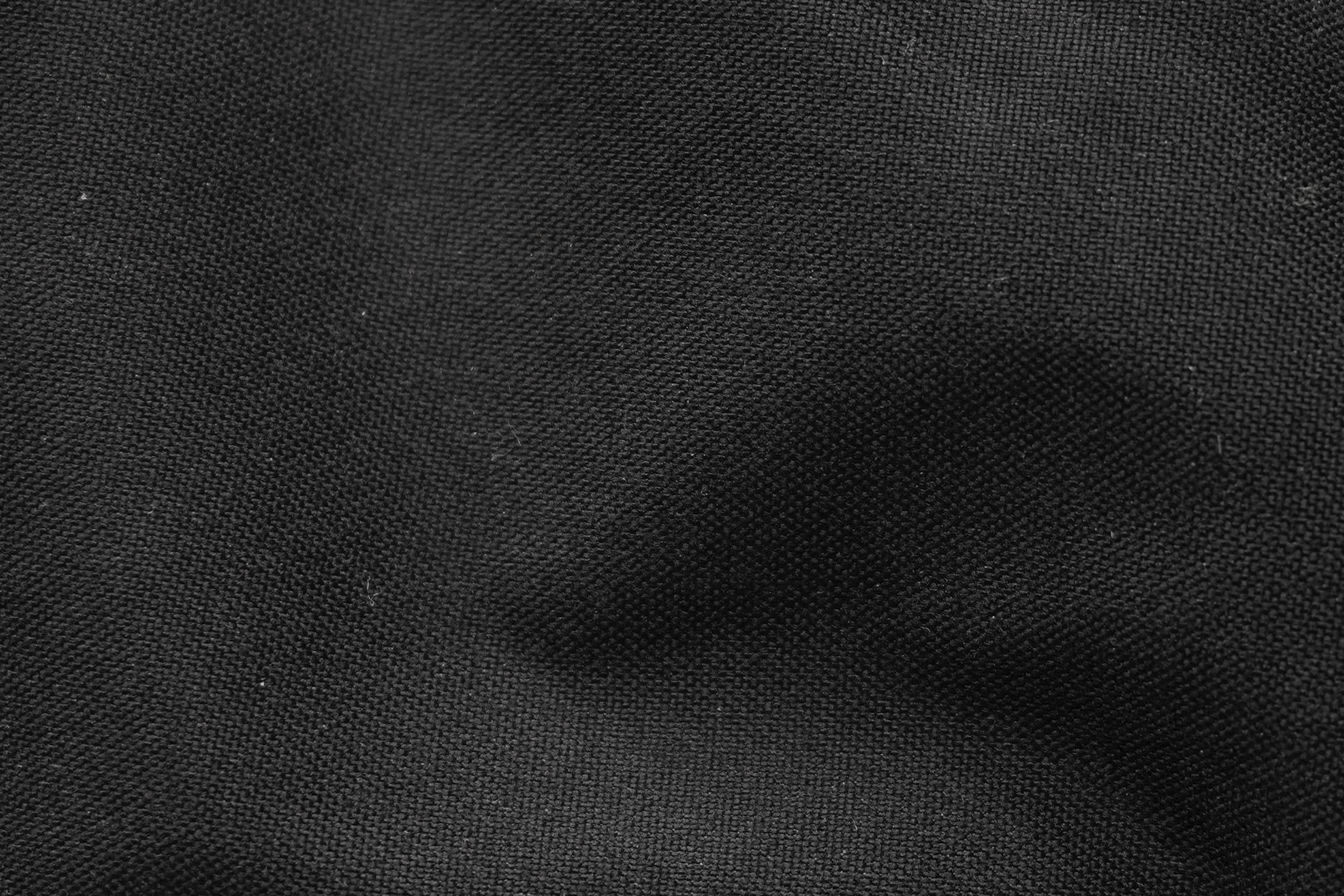 All colorways of this pack are made with durable 330D Robic fabric. This material is both water and abrasion-resistant, and it's been holding up well in our testing so far. Now, it's definitely not waterproof, but you don't have to worry about your gear when you're caught in some lightly rainy weather or have a rougher terrain to trek on your commute (we haven't been anyways).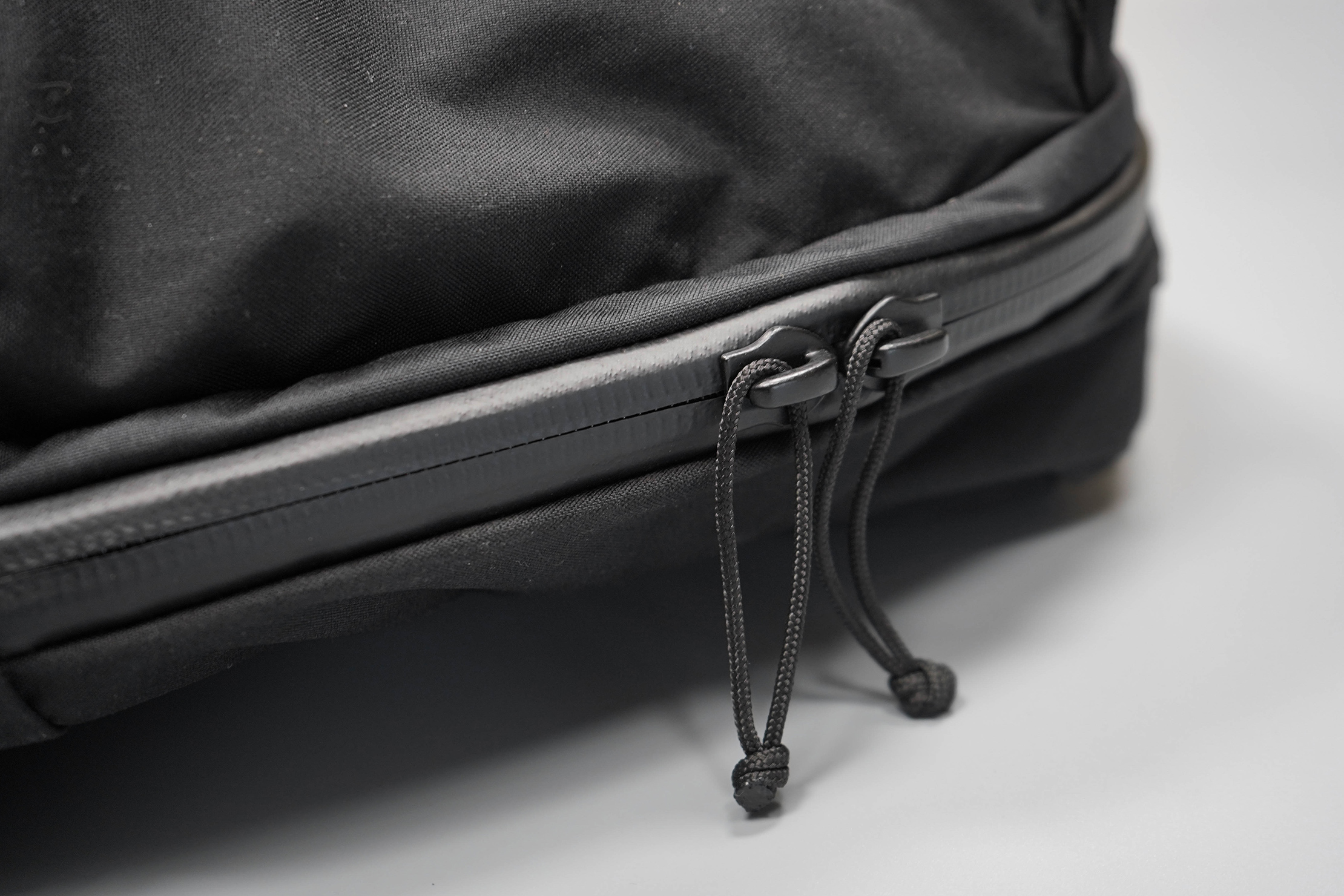 We're happy to see trusty YKK zippers throughout this pack with easy-to-grab pulls—with the quick-access pockets on the front of the bag, these pulls are actually connected which allows us to rip the pockets open when we need to get inside (which we'll go into detail about later in this review). Also, the zippers are treated with a DWR coating to give them some added durability and water-resistance to keep moisture out—something we always appreciate, especially when it comes to our expensive tech.
The Duraflex hardware on this pack has been working well during our testing so far, too—which is what we've come to expect based on the many other experiences we've had with the brand.
External Components
Like other Mystery Ranch products we've tested, the harness system on this pack is nice and sturdy—overbuilt, even, for a pack of its size.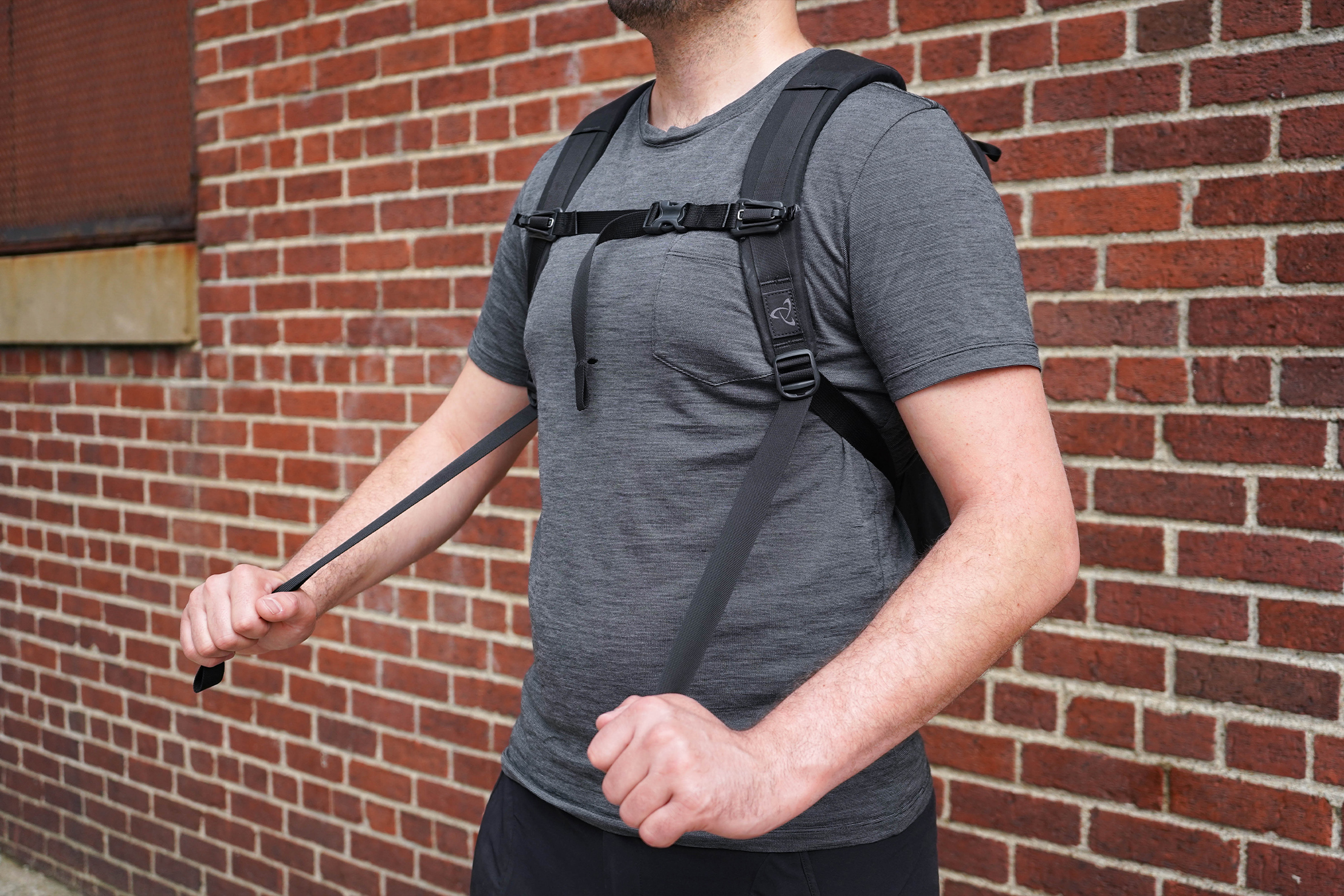 Starting with the shoulder straps, we want to note that the padding on these is dense—the foam is half-an-inch thick on each strap, which makes for a comfortable wear, especially considering the average amount of gear you're likely carrying in here. We will say though that these straps don't have any elastic keepers so you're not getting much of a #DangleFreeExperience—especially if you have a smaller frame and need to use most, or all, of the adjustment capability. They're also not lined with any mesh, so in warmer weather, you run into some shoulder sweat which can be bothersome.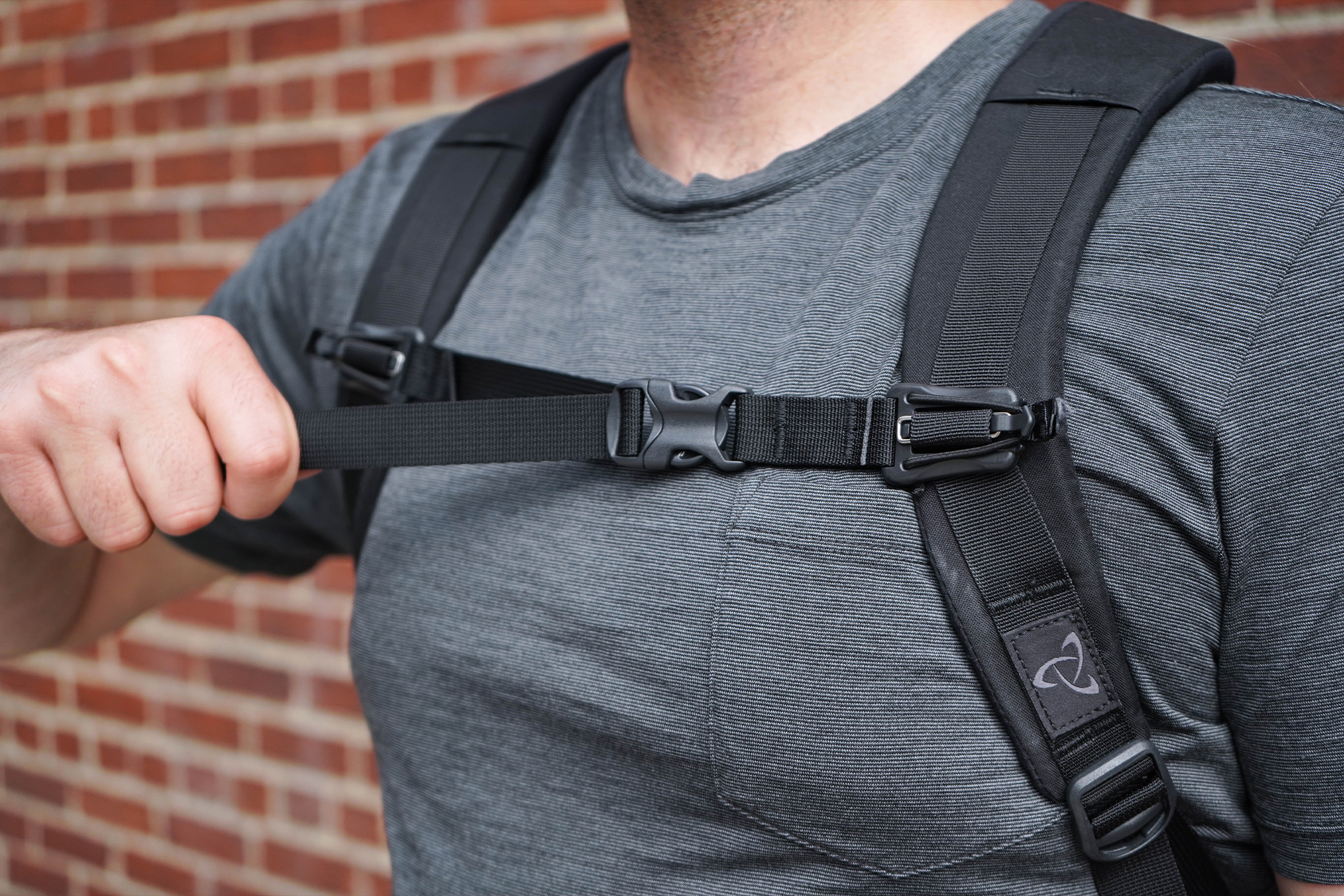 The sternum strap is secured to the shoulder straps using some seriously beefy hardware. There's a bungee pull that you can tug to loosen the attachment and move the strap up and down to get it adjusted how you like. You can also reverse the hardware to the opposite straps if you'd rather tighten the strap with your left hand instead of the right. We think ambidextrous gear is always a nice touch. Unfortunately, there isn't an elastic keeper on here either so you may have some strap bouncing around as you walk—not a deal-breaker, but definitely not ideal.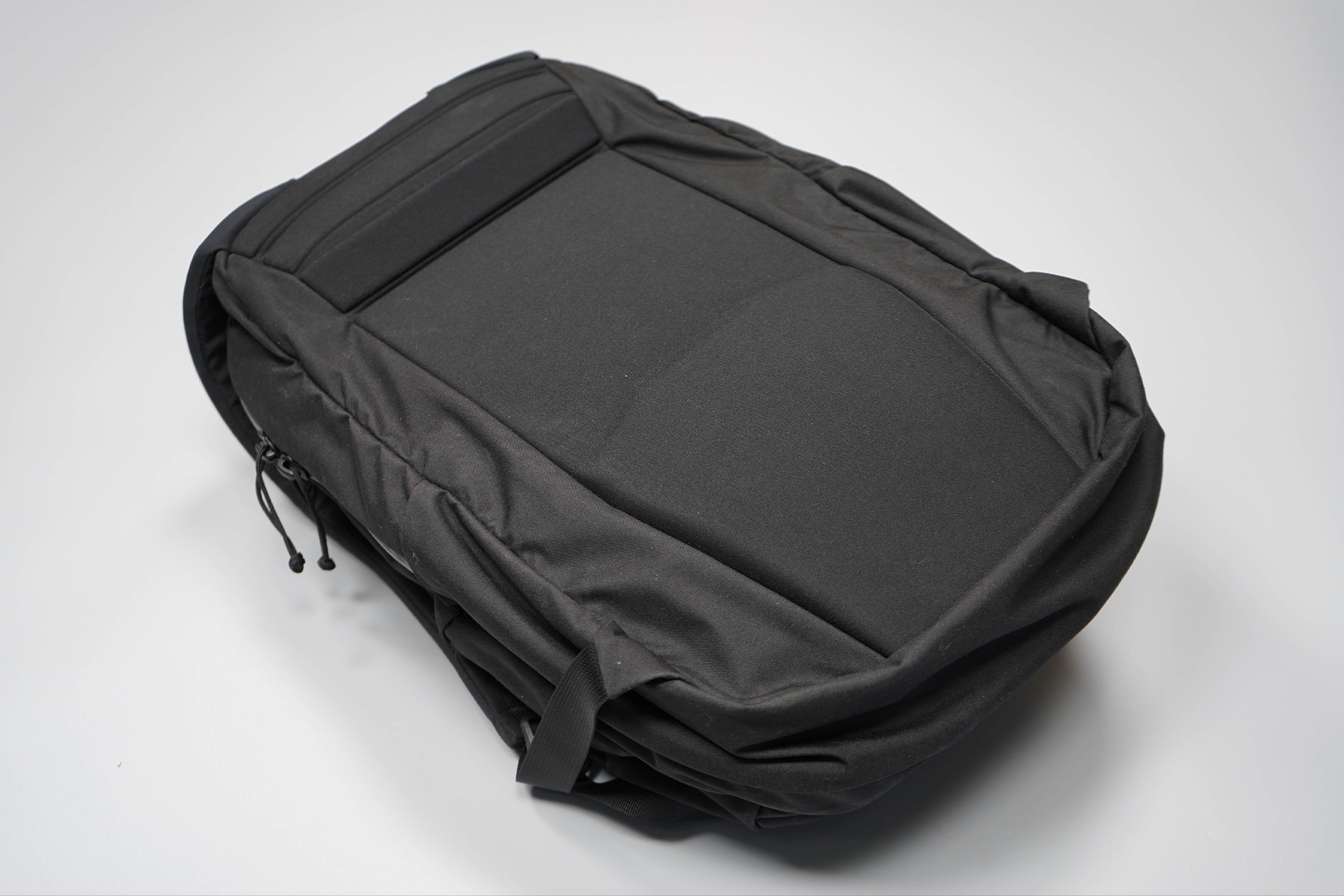 Like the shoulder straps, the back panel is also densely padded. However, also like the shoulder straps, it has no mesh lining—which makes it more difficult to avoid that dreaded #SwampBack. We've been wearing this thing out in the summer heat and have found that it leaves our back pretty sweaty. So much so that after a bike ride, the literal imprint of the harness system appears in sweat on our backs. (Seriously. Check out the picture in the Usage Timeline below.) As for the fit, the top of the bag contours to your back which keeps it closer to the body, so it doesn't feel like it's pulling down or away from you.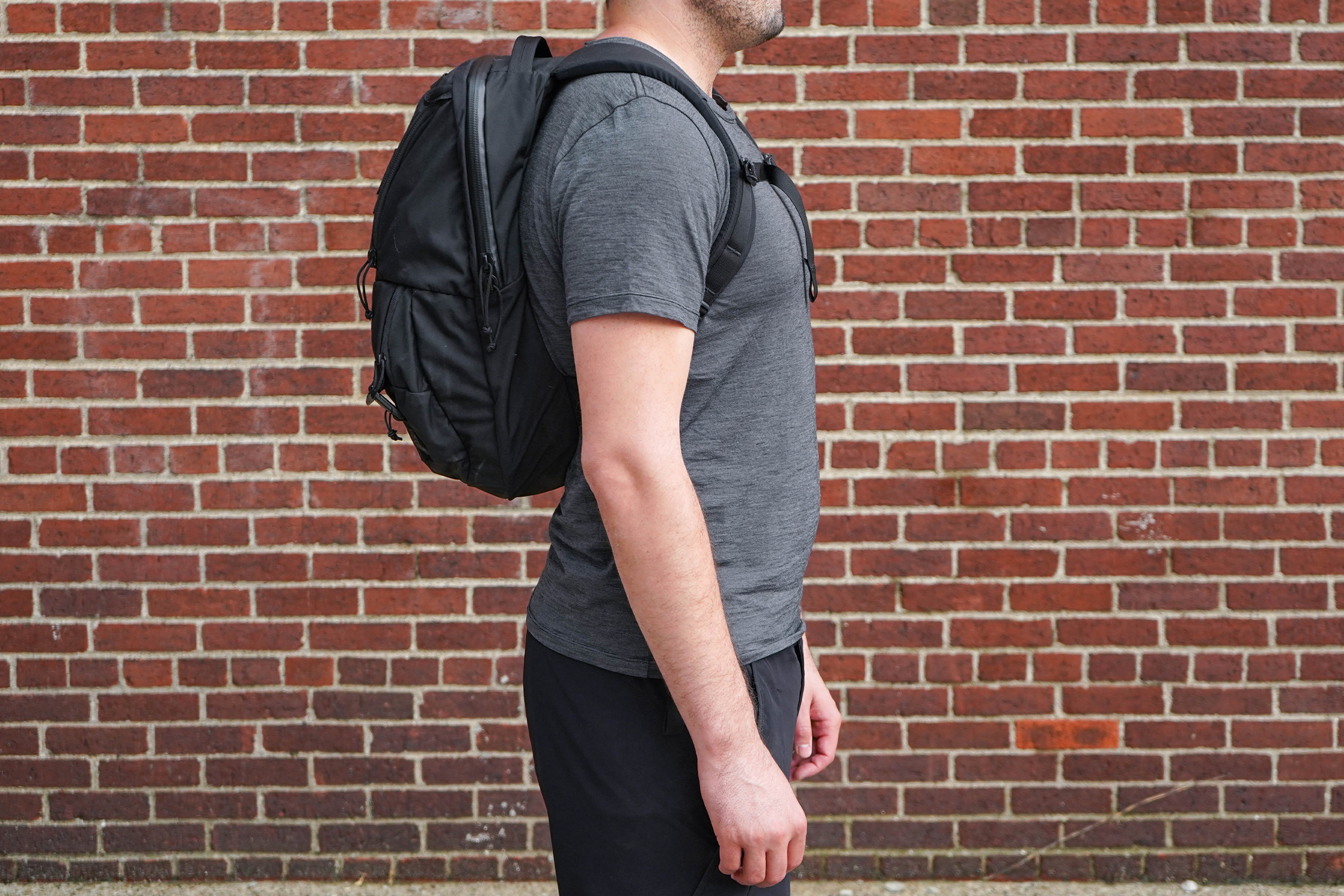 Something to note—there's some extra padding toward the bottom to offer some additional lumbar support. However, this pack sits a little higher up on our backs, so this padding doesn't fit exactly where it's intended to and sticks into our lower backs a bit as a result. This may be more or less of an issue for you depending on your torso length. But overall, we have to say that this harness system has been creating a really comfortable carry during our testing.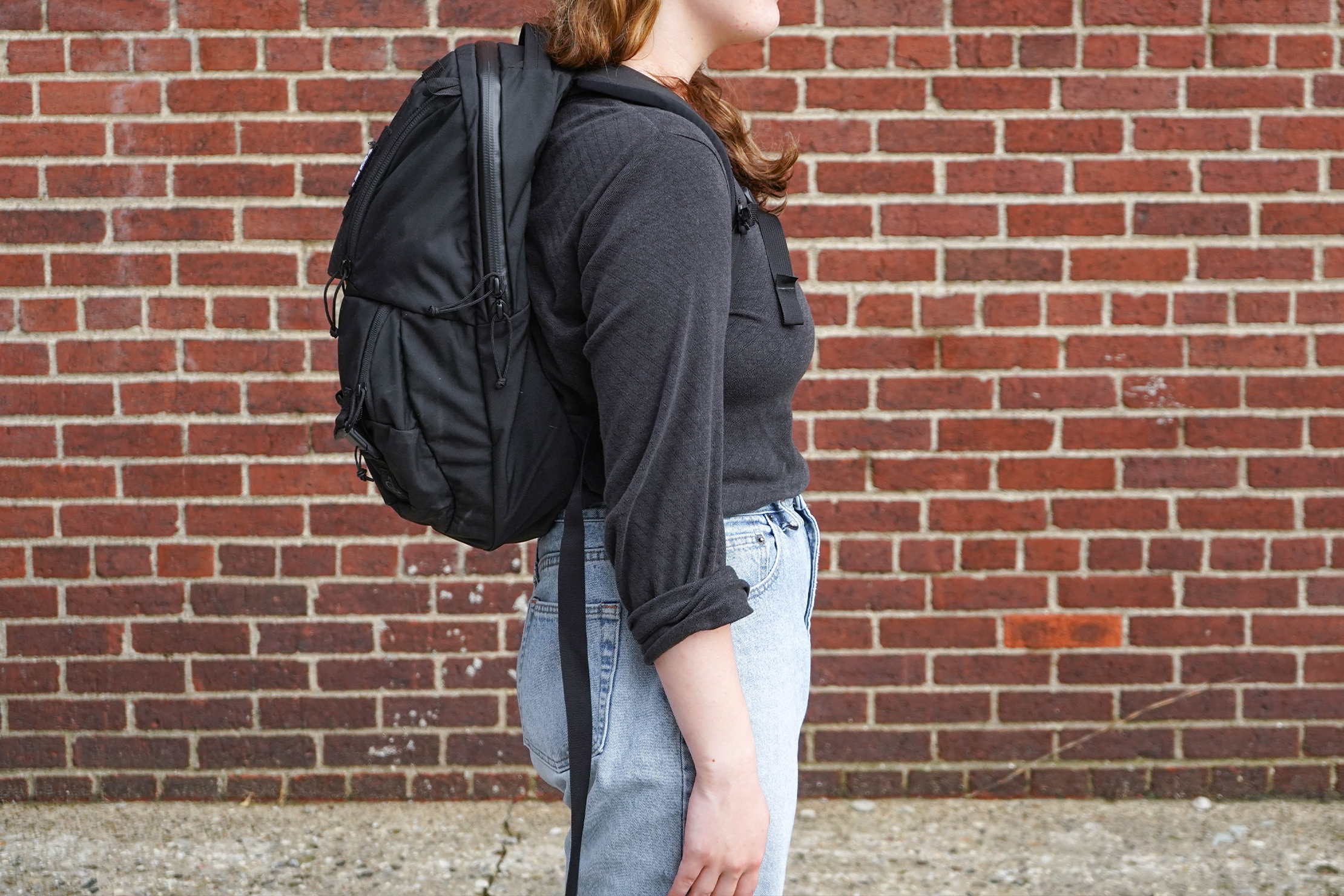 Moving on, there's a handle at the top you can use to grab or hang the pack by. It's essentially just some folded nylon webbing but it's comfortable in the hand—it's got that "faux padding" kind of feel, which we dig.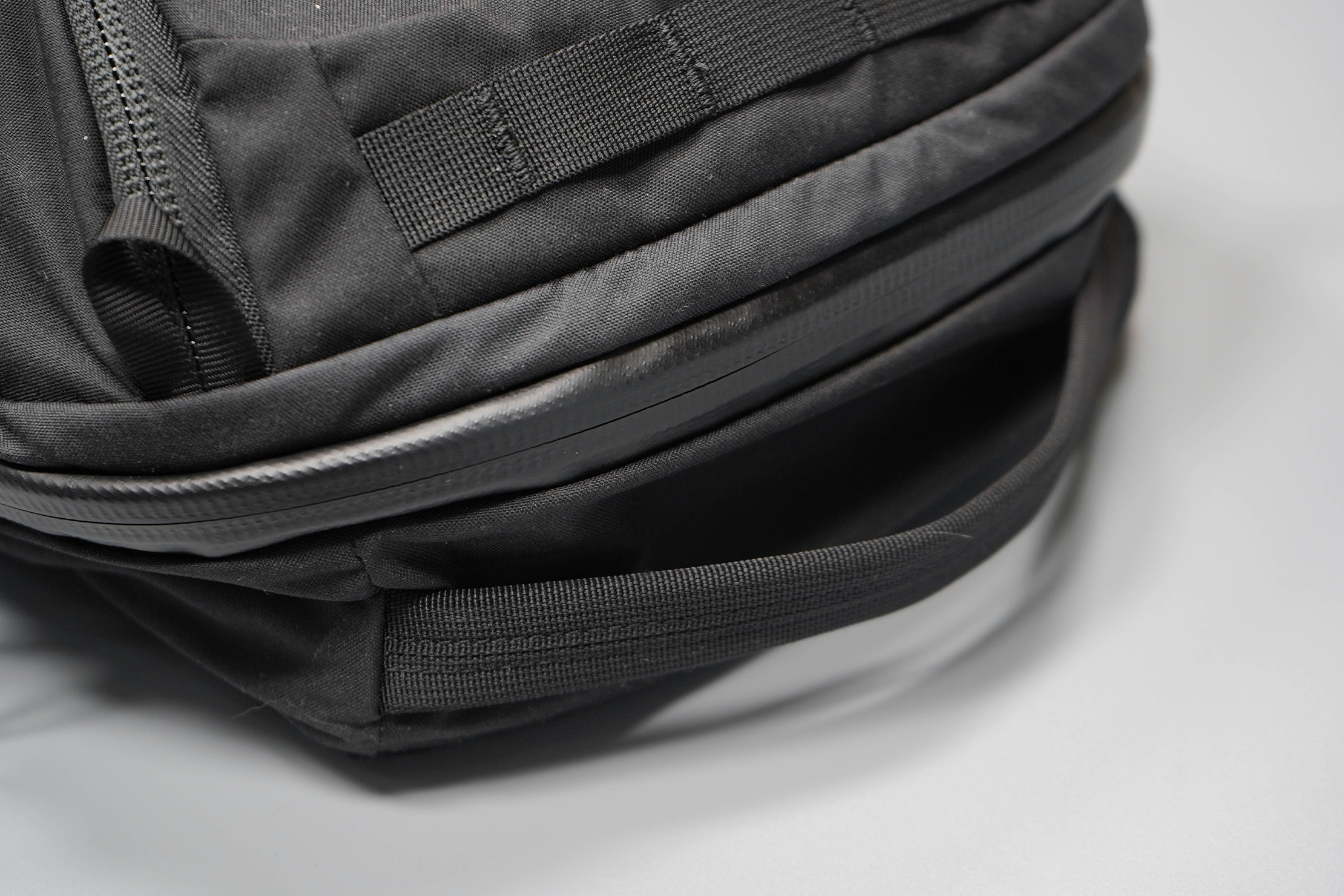 You'll find attachment points all over the front of this pack. Starting at the top, there are two loops that sit just above the zippers to the front pocket. This gives them dual-purpose—you can use these to attach a carabiner and they also work for grabbing when you're zipping and unzipping, to make the maneuver a little more smooth. Underneath the quick-access pockets are two wider attachment points, should you need them.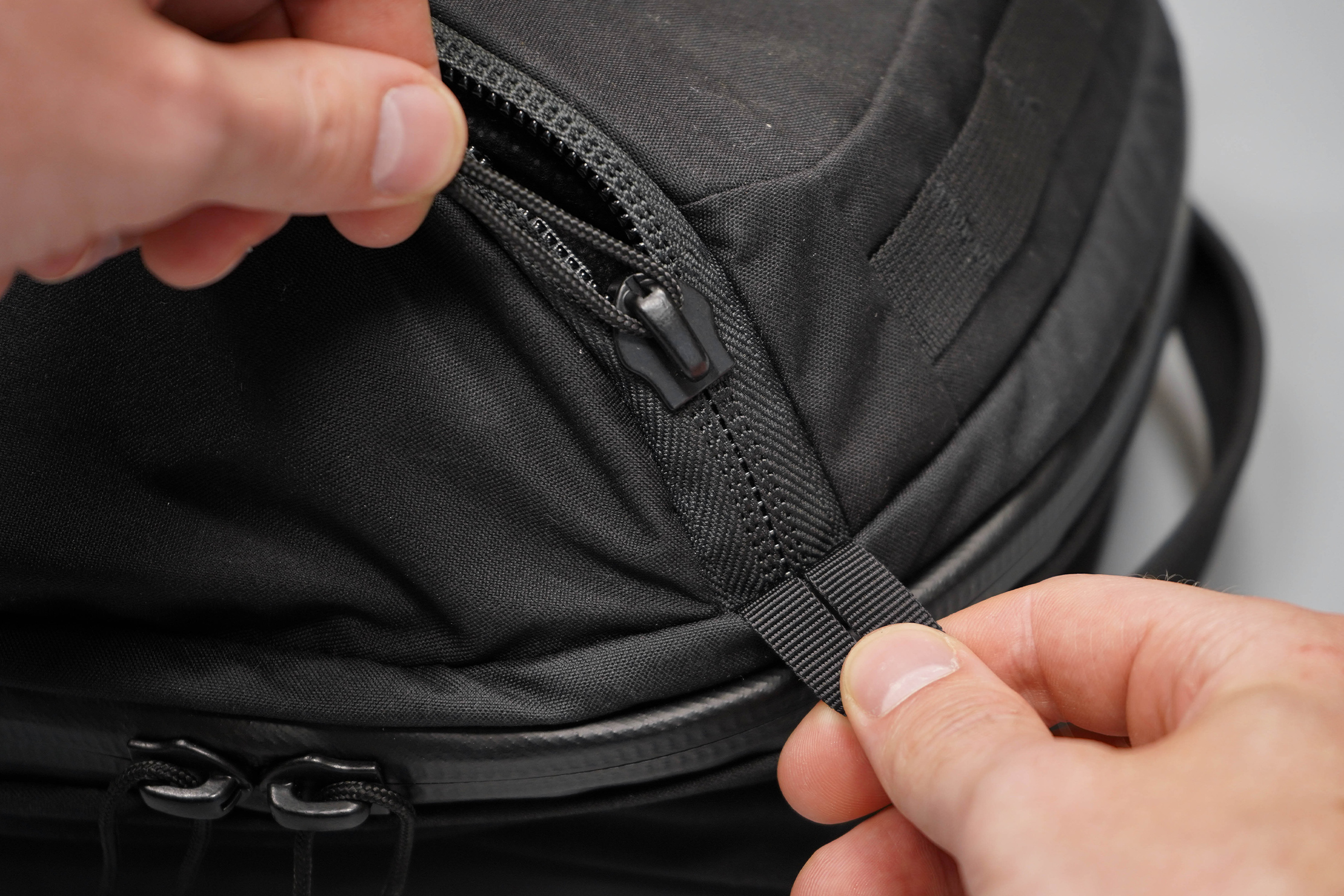 There are also vertical and horizontal lash systems, each with five loops—bringing us to a grand total of 14 different attachment points. The vertical loops run nicely between the two quick-access pockets—we've been clipping our Heroclip through one of these so it's quick to grab whenever we need it. As for the horizontal loops, they run along the top of the bag. We've been attaching a Nite Ize S-Biner here for easy access and external storage (like clipping a hat on those sweaty bike rides, for example).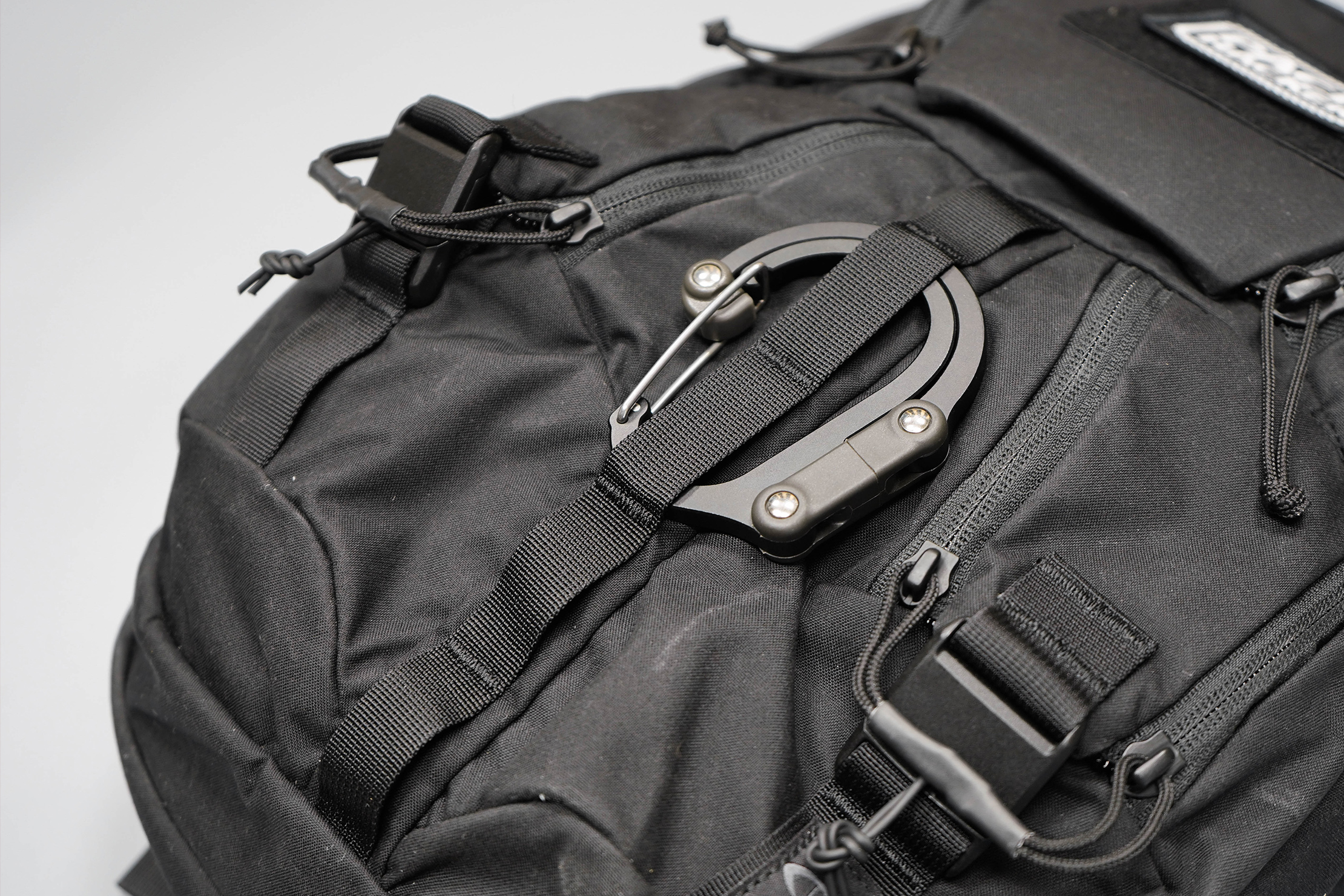 We want to note that there aren't any external water bottle pockets on this bag—it hasn't been a problem for us during testing, as there's room to store one on the inside. But this may be a deal-breaker for you, especially if it's an essential item in your routine.
To finish off External Components, just a small note—this bag can stand up pretty well on its own when you've got some gear inside. When a laptop is in the laptop sleeve it tends to teeter backward, but if you leave it more forward it keeps its balance pretty well. This isn't a necessity for us on bags, but you may like being able to set your bag down and have it sit upright so you can easily reach inside (especially when you might not have something to lean it against), so it's nice that you have that option.
Inside the Pack
The Rip Ruck 24 has a total capacity of 24L (hence the name), which we've found to be enough storage for our EDC. So let's take a peek inside, shall we?
There are two quick-access pockets on the front of this pack that can be ripped open—and we mean ripped open—via paracord zipper pulls and magnetic buckles. It's not exactly one fluid motion, or at least it hasn't been for us. We usually pull on the zippers and then just lift the buckle—it's easy enough to get inside.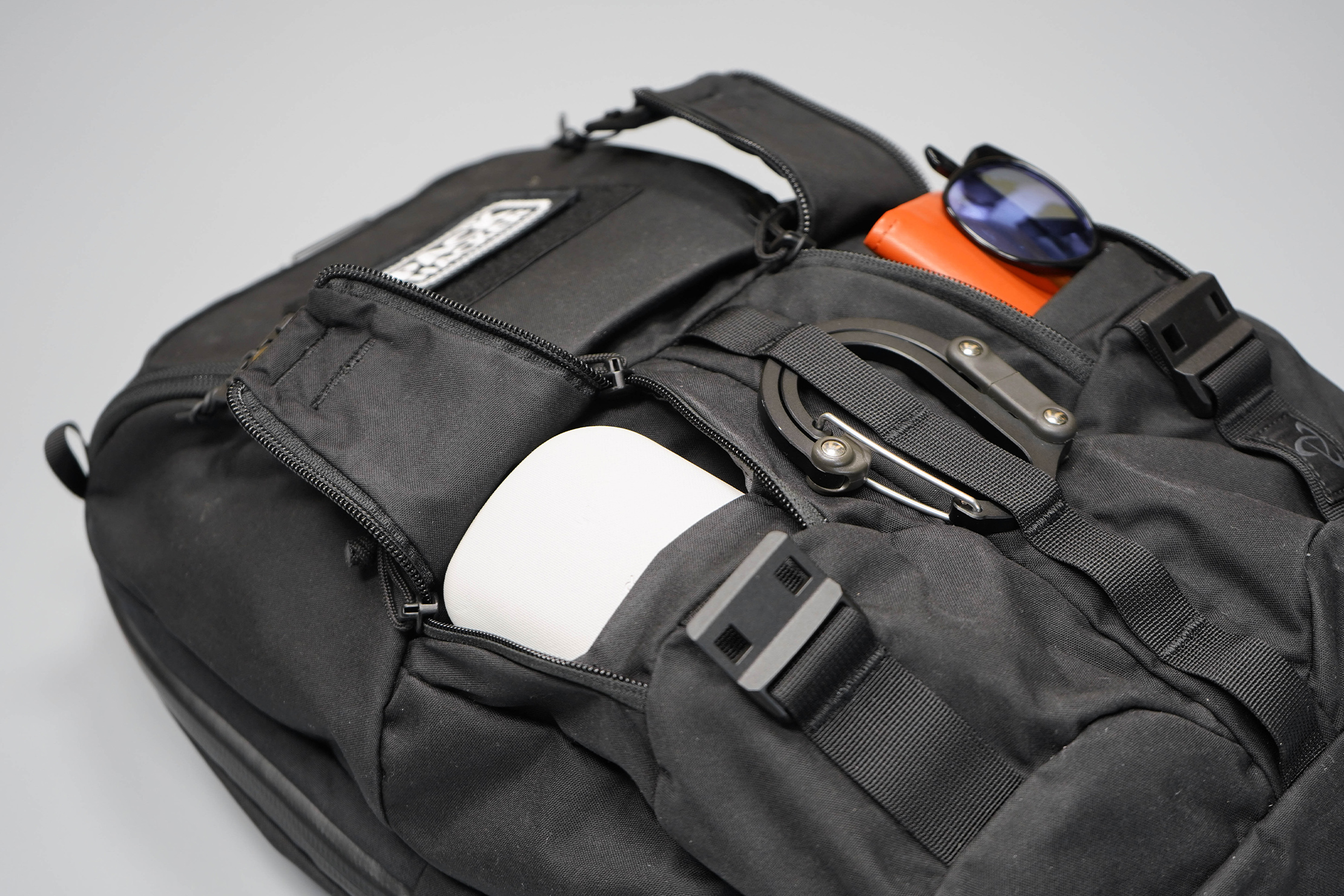 In one, we've been keeping our Nash blue light glasses from Felix Gray in their case. And in the other, we've had gear like ROAV Sunglasses, a Tom Bihn Reusable Cloth Mask, and the Bellroy Slim Sleeve. Either of these pockets can fit a larger smartphone as well.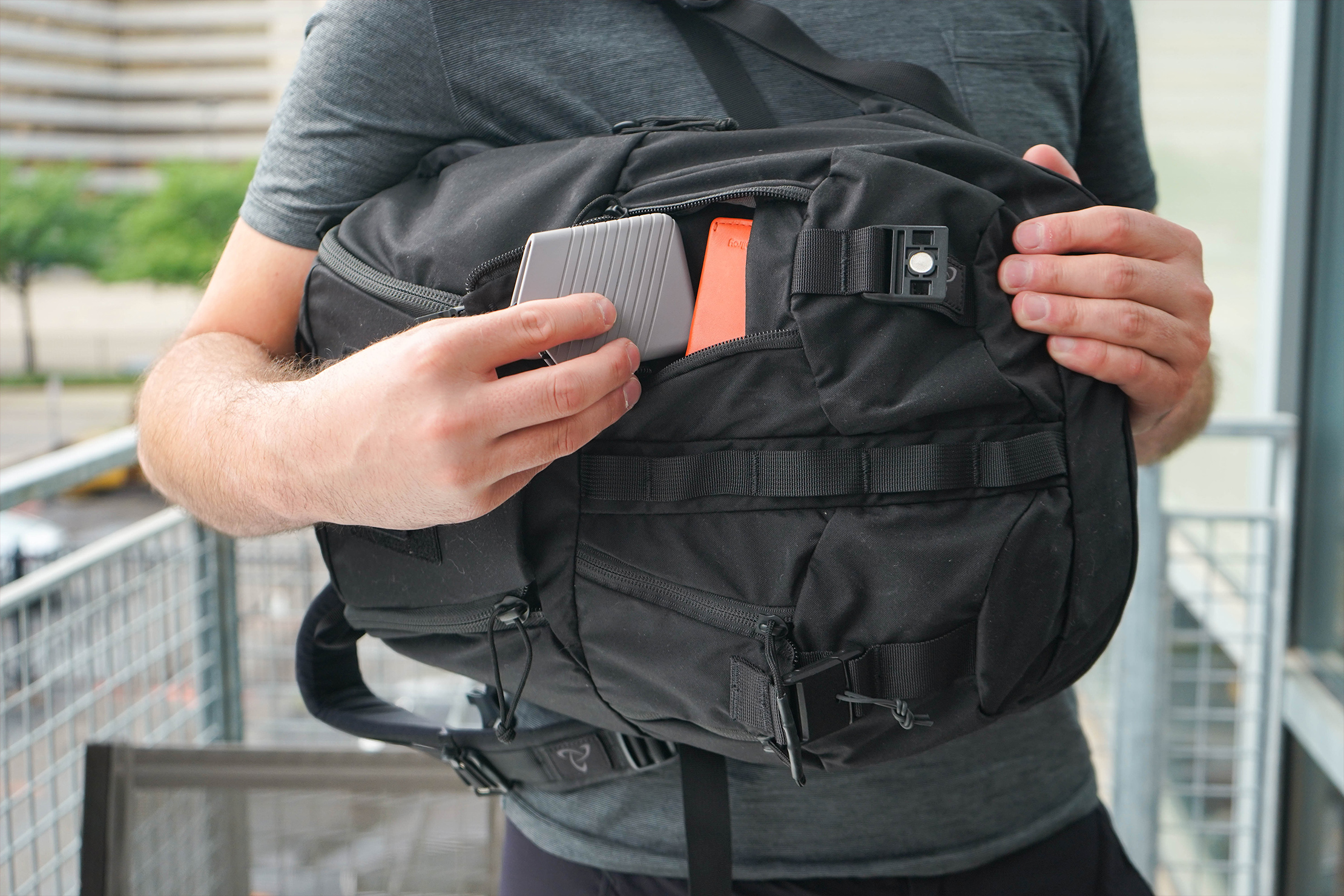 This quick-access allows you the ability to sling the bag to the front and get into these pockets without having to take the pack off. We've found things like a glasses' case works well because it's tall, so it fits more securely in the pocket. But if you're keeping multiple smaller items in here (in our case, a compact pair of glasses and a minimalist wallet), they may be hovering half outside of and/or sitting sideways at the top of the actual pocket. Meaning you can run into a problem with them slipping out if you have the bag on its side and are ripping these pockets open. Also, as we noted, these pockets are quick-access, so be wary about keeping anything too valuable in here—it's easier for someone to get to your things if they're in here versus the main compartment.
This pack's internal organization is separated into two—a roomy front pocket, and then the main compartment itself.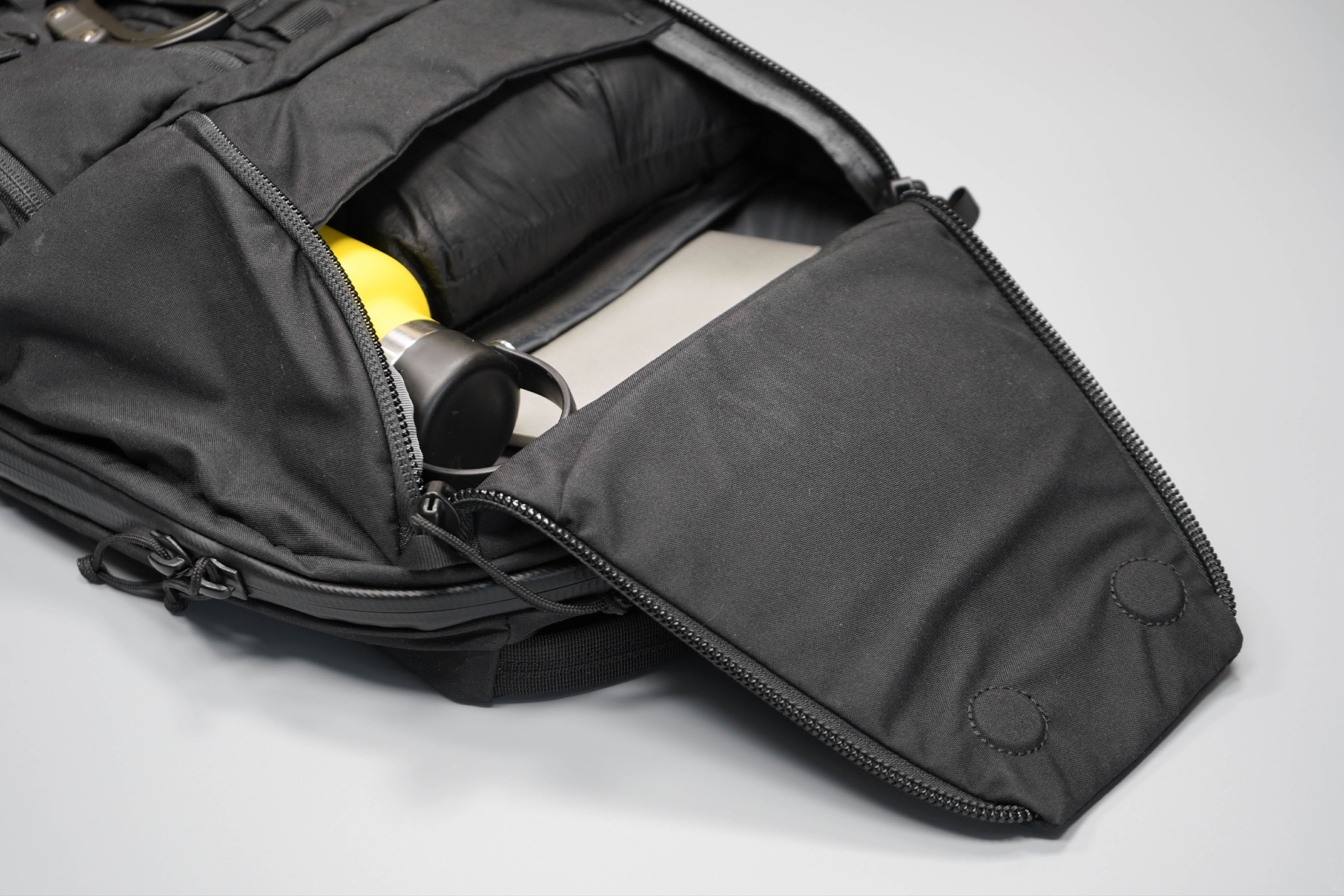 Let's start with the front pocket. Perhaps our favorite thing about this pocket is how incredibly satisfying it is to just rip open—you can grab the flap that secures the pocket and pull back in one effortless motion. The flap itself is secured by zippers on the sides and magnets on the bottom—this is a thoughtful design, because if you're looking for more quick-access you can leave the zippers unzipped and get into this pocket just by pulling the flap up. This flap is sturdy, too, which we like because you can really get a hold of it—it's not floppy or limp. However, while the magnets do keep the flap closed when in use, it's not as secure as with the zippers, so maybe don't do any back flips if you're relying solely on the magnets.
Inside the pocket, there's a sleeve against the back where we've been keeping a medium-sized notebook. The remainder of the pocket leaves space for us to store a packable jacket (the Montbell Plasma 1000 Down Jacket for those curious), and other gear—like a lunchbox, or water bottle (because again, there's no external pocket for it).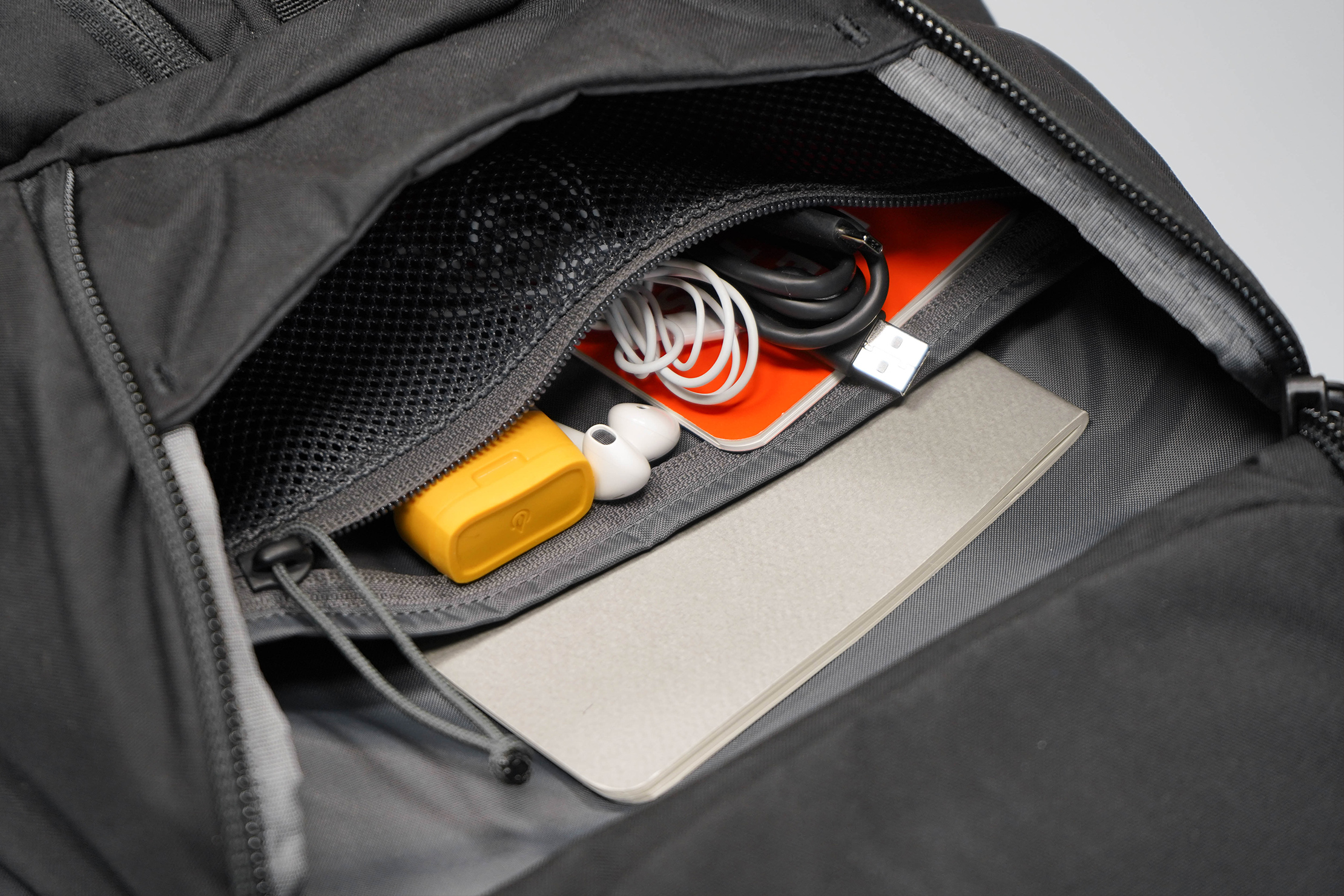 On the front of the aforementioned sleeve is a zippered mesh pouch with a divider that runs down the middle, separating the pocket in two. This divider offers some extra organization of smaller gear, like tech items—a mouse, cables, chargers, and the like—however, we're not sure the mesh material makes a whole lot of sense here. One of the things mesh offers is visibility, but due to where it's situated in the compartment, this pocket itself is difficult to see into. And access, quite frankly. Because of this, we haven't found this pouch to be the best place to store smaller tech items during our testing—it takes more time and effort than we want to spend to find and take stuff out of here.
As for the main compartment, we mentioned earlier that it's secured by weather-resistant zippers at the top of the bag—and beefy ones at that, so they don't feel like they're going to break even if we're a little rough with them. It's a horseshoe-style opening which means the zippers only go down and open up the bag about halfway. But, unlike the front pocket, this opening still offers some decent visibility inside.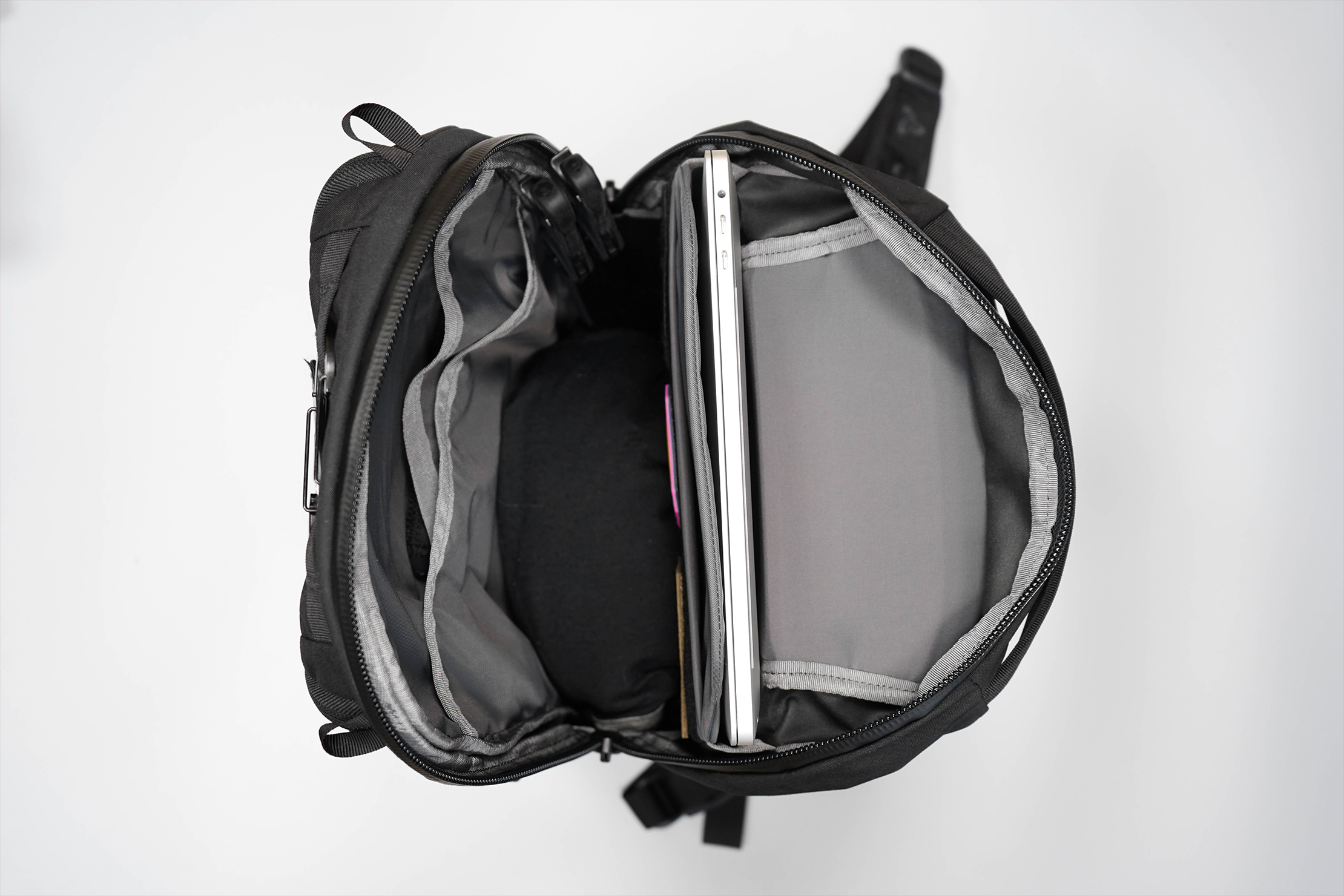 Inside the main compartment, you'll find the laptop sleeve against the back wall. We've been able to fit a 15" MacBook Pro in a case with ease. On the laptop sleeve, there's some padding similar to that of the shoulder straps only thinner (closer to a quarter-inch, maybe even an eighth according to our super scientific eyeball measuring system). There's also a false bottom, which we appreciate when we're setting the bag down or happen to drop it accidentally.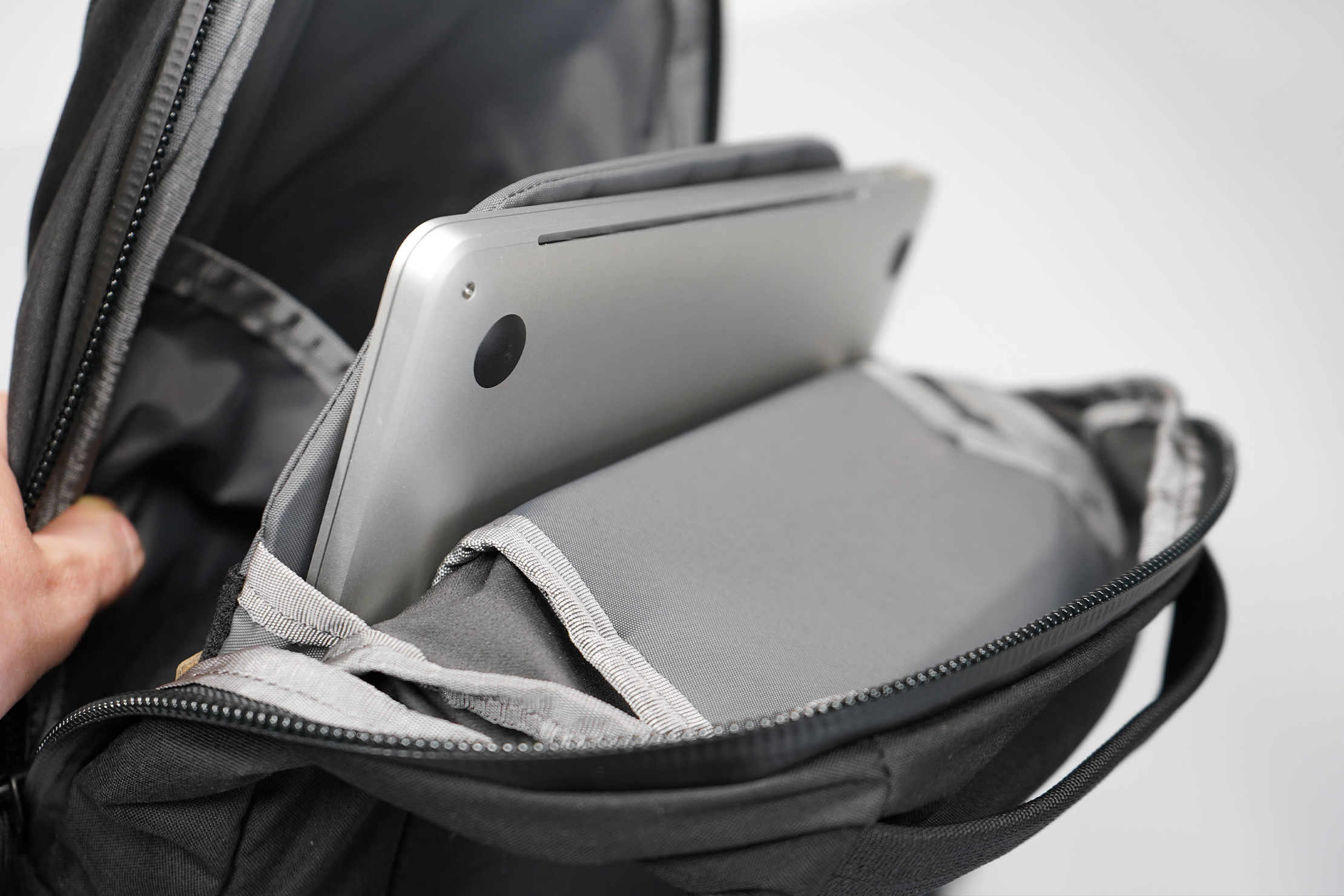 Perhaps the most inventive thing about this sleeve though is that you can bend the back of the bag out of the way which makes for super quick and easy access to your laptop. There's a crease in the upper section of the back panel that allows it to bend back, so you don't have to fight with that flap of material to get to your tech like you would with packs that have a more rigid frame sheet (and therefore no crease). This is a feature we haven't seen on many—if any—packs that we've tested, and we're loving how easy it makes getting our laptop in and out.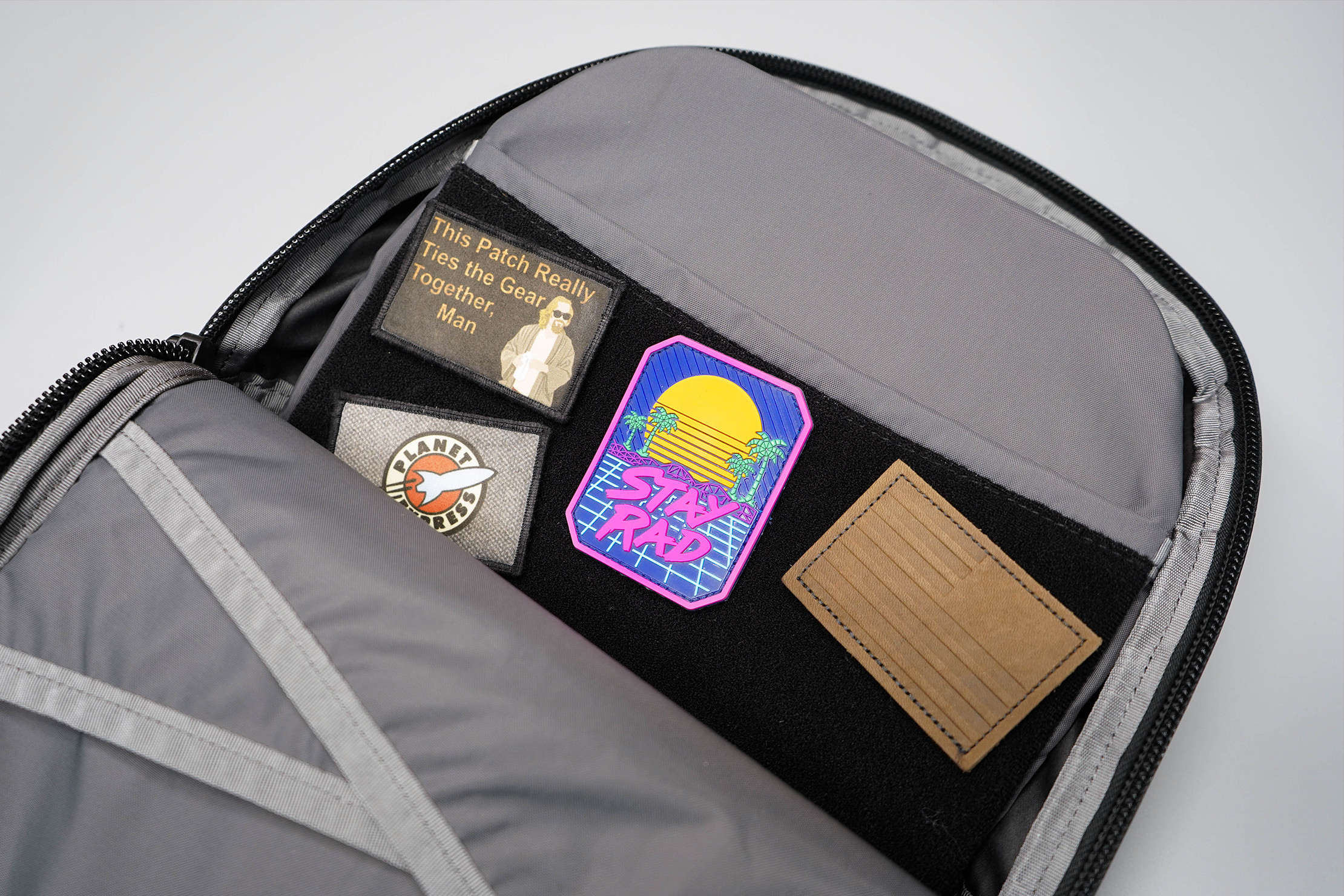 Against the laptop sleeve is another sleeve that works for a tablet, travel documents, or other flatter items if you have them. It also has a similar false bottom as the laptop compartment so if you do put any tech in here, it's got some protection. On the front of this sleeve, you'll see a wall of velcro that works the same as the velcro square on the front of the pack. You can load it up with patches, pouches, or anything else that helps you stay organized—we're digging the customization that this offers.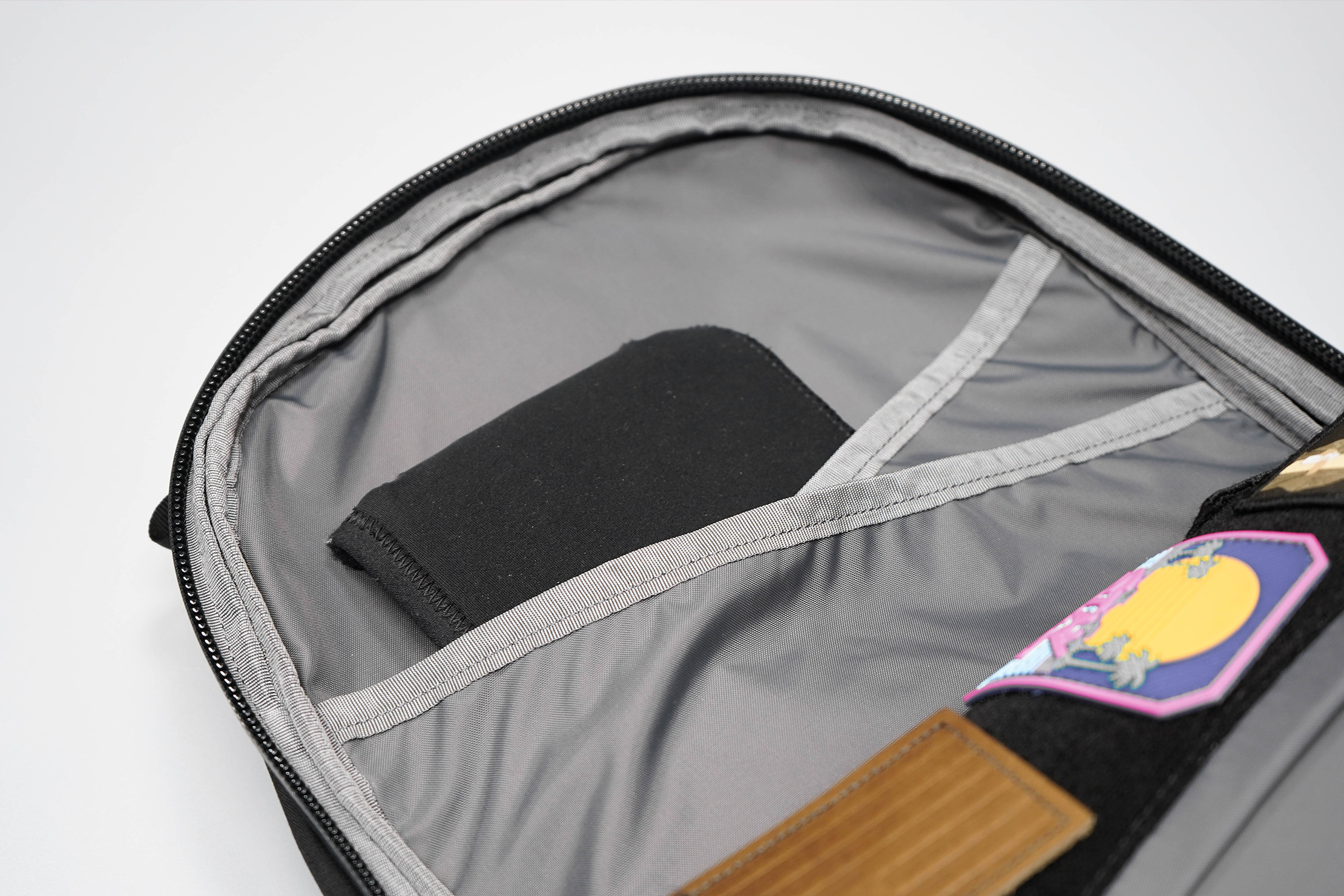 On the other side of the compartment, on the front flap of the bag, are two vertical sleeves. One sits in front of the other. The neat thing here is that the tops of these pockets are slanted—so the back pocket rises higher on the right side while the front pocket rises higher on the left side. This segmentation makes it easier to see and grab stuff from each spot than if they both ran straight across. For us, they've been a good spot to slip a Bluetooth keyboard.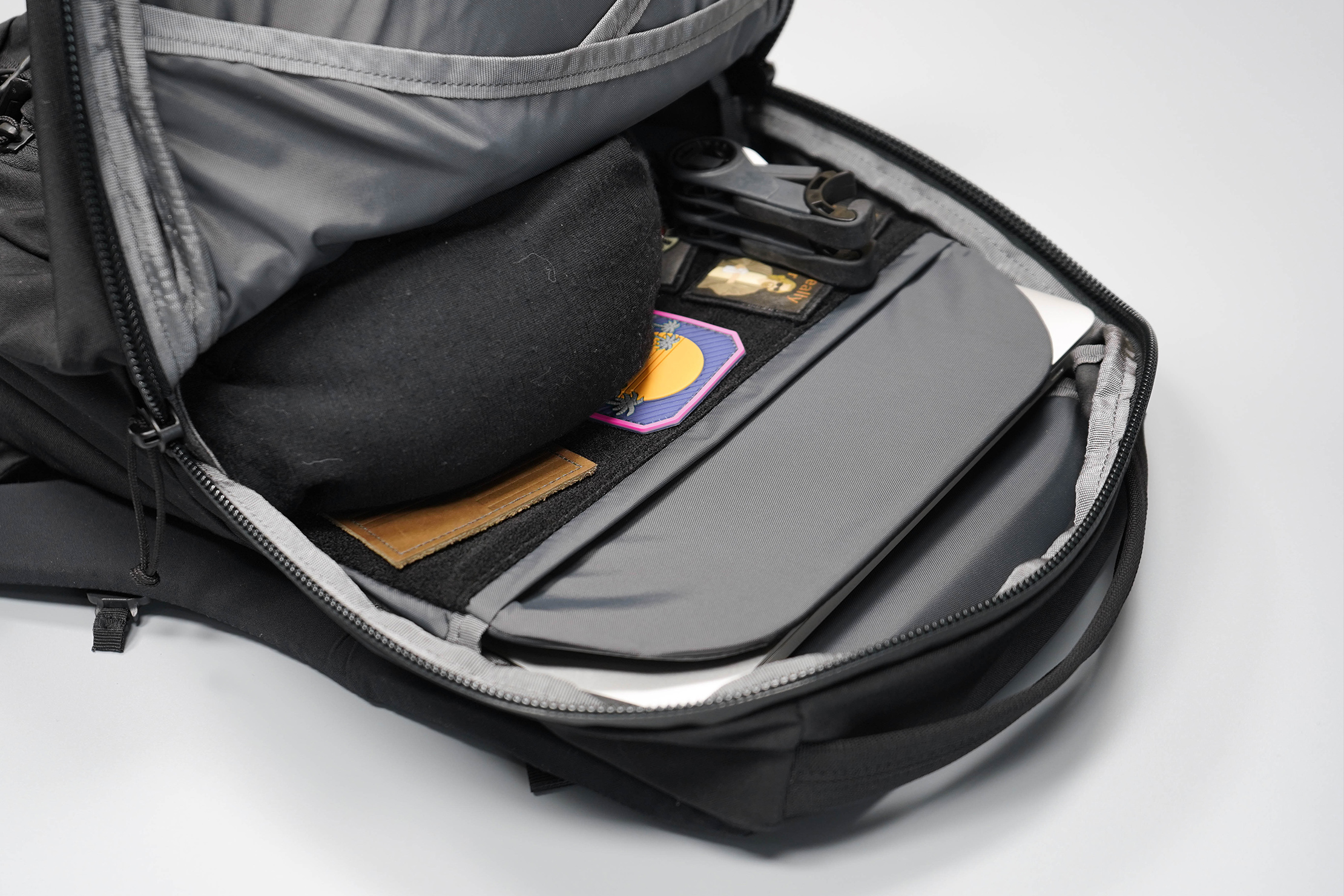 The rest of the main compartment is free space we've been using to store our bulkier items, like the Travel Zip Hoodie (from our first-ever gear collaboration with Wool & Prince) and a Roost Stand. While the Roost Stand isn't necessarily bulky, it has rubbery feet that get stuck on the liner, making it a little slow to get in and out of the front flap pockets. So we've opted to keep it in the open area of the main compartment instead.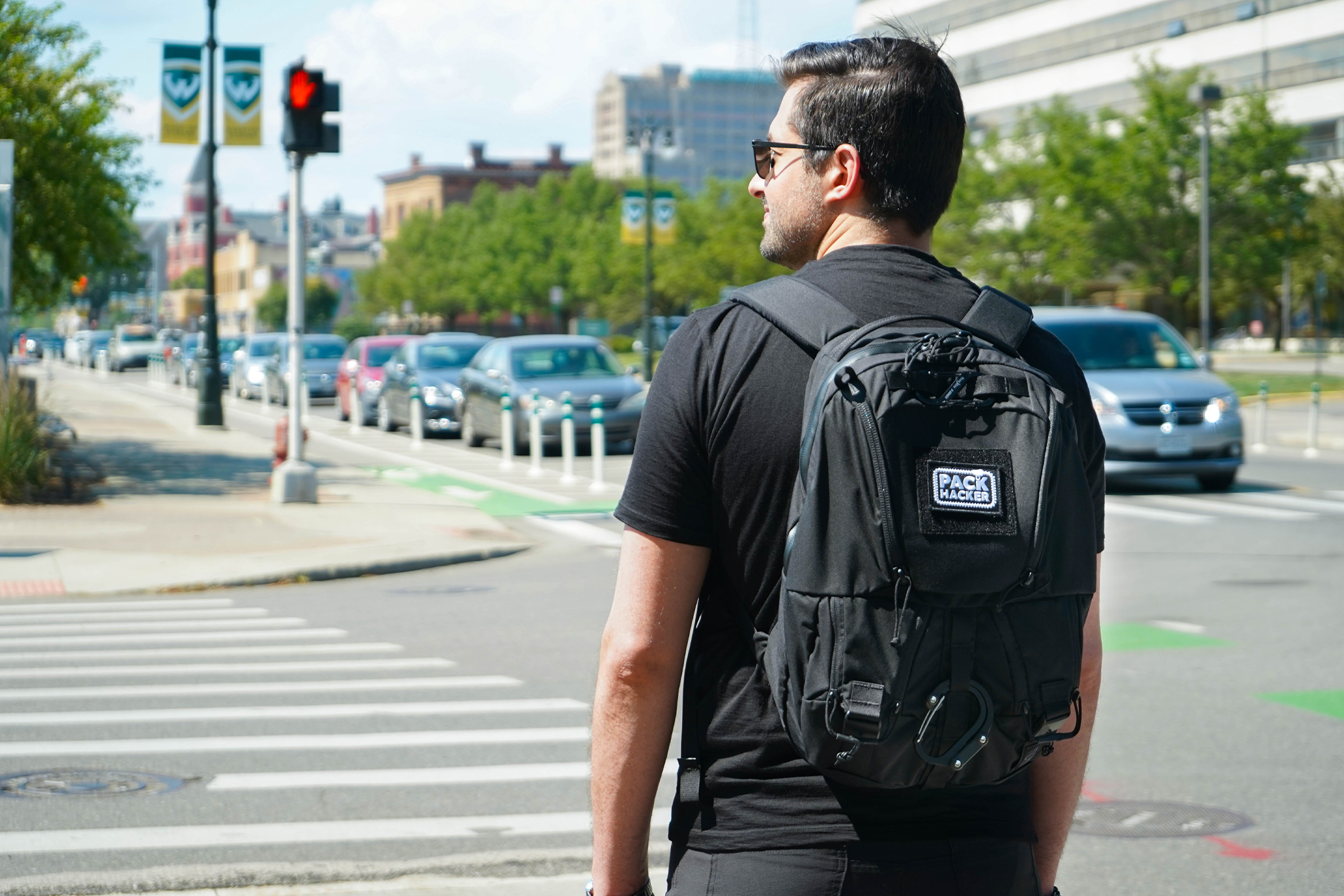 As far as durability goes, everything is as it should be—which is no surprise from Mystery Ranch.
Usage Timeline
Initial Usage
Condition: Excellent
Quick "rip" access is satisfying and is executed well for fast access to the bag
Clever use of magnets on the front opening for partial closure if you don't want to zip everything up
In typical Mystery Ranch fashion, everything is built really well—maybe even overbuilt—this seems especially apparent on the thick, spongy, and dense shoulder straps
2 Weeks of Use
Condition: Excellent
Took this on a long bike ride—sweaty back is more unavoidable than that of other bags with mesh on the back panel

Mystery Ranch Rip Ruck 24 Sweaty Back

We found that you can kind of "feel" the bottom of the bag on the lower back (Tom 6'2″)
Quick access of the front pockets are very satisfying, although, a little concerned with losing smaller items out of the front two pockets as half the pocket becomes exposed while open
Access the Pro Community Discussion
Get your questions about the Mystery Ranch Rip Ruck 24 answered from our team and the Pro Community right here on the page. Plus, join discussions with other members about gear, guides, and more.
Other Bags & Luggage Reviews