TOM BIHN Cadet Review
The Tom Bihn Cadet has a classic, comfortable carry, and convenient organization, but you'll need to integrate additional accessories to make the most of it.
Our Verdict
Unlock the Pro Summary
Save time. Get access to brief summaries of our reviews so you can browse and make decisions more efficiently.
Pros
Great organization for tech accessories
Modular system (can attach pouches and cache depending on your needs)
Comfortable to carry both messenger and briefcase-style
Cons
Have to purchase other components to get the most out of it
No false bottom for your laptop (if you don't purchase the additional laptop cache)
Zippers are sticky, especially around corners
Recent Pack Hacker Video
Technical Details
Capacity

13.5l

Weight (lb)

1.56 lb (0.7 kg)

Denier

525D

Dimensions

12.6 in x 16.1 in x 4.5 in (32 x 40.9 x 11.4 cm)

Notable Materials

Ballistic Nylon, Ripstop Nylon, YKK Zippers, Duraflex Hardware, ITW Hardware, Woojin Hardware

Manufacturing Country

United States

Laptop Compartment Size

15"

Warranty Information
Full Review
We've tested a ton of unique bags with unique features here at Pack Hacker, and are always eager to see what integrations help or hurt a bag's functionality.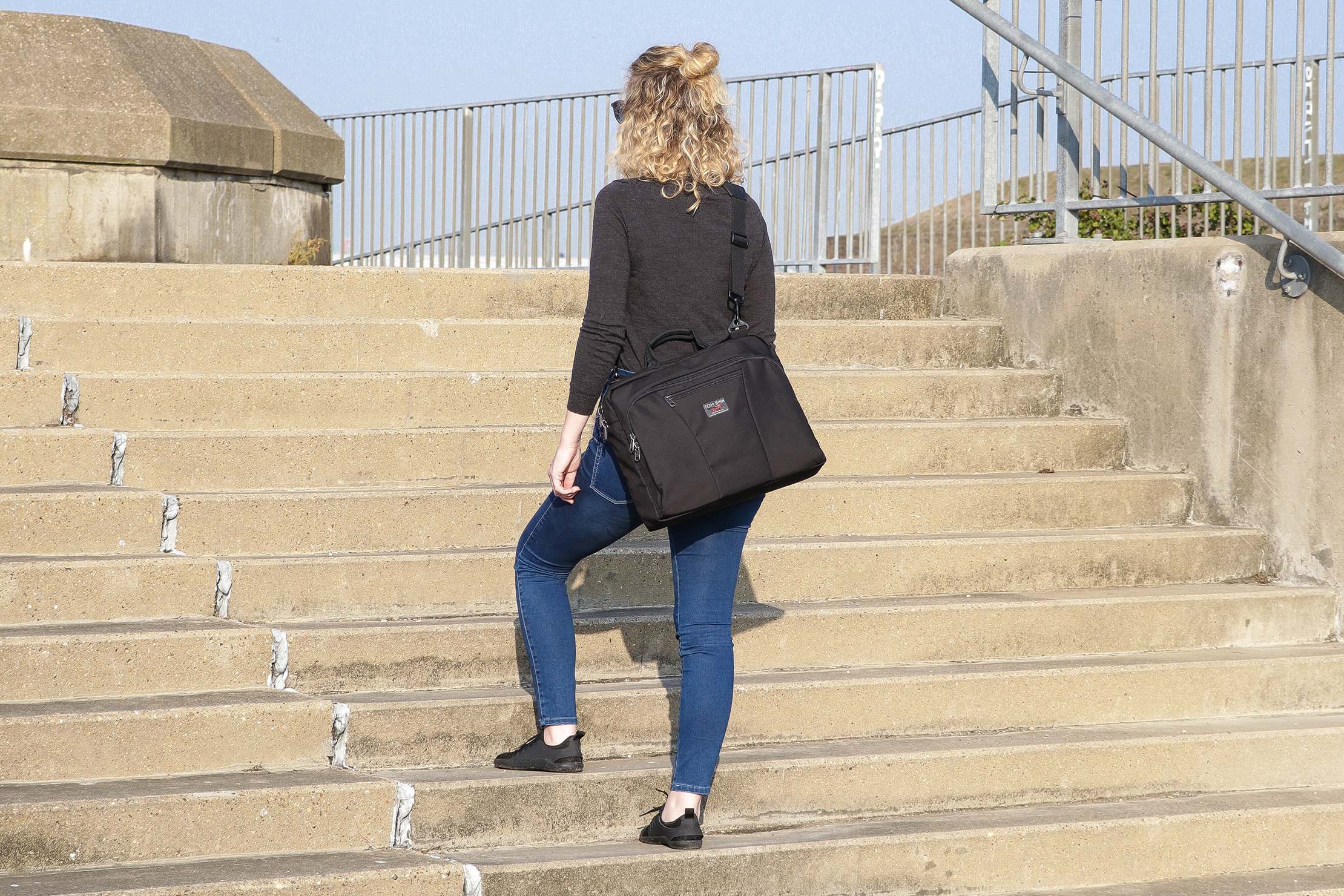 In the case of the Tom Bihn Cadet, its modular system only adds to the bag's already solid design. Its organization works well for basic gear and tech-specific items alike, while its classic look allows you to wear it both casually and professionally.
Plus, every Tom Bihn bag, sling, and accessory comes to us from Seattle, Washington. They're all designed, workshopped, and manufactured in the same place by the same small, dedicated group of 47 sewers, designers, and bag experts. Alexa, play Born in the U.S.A. by Bruce Springsteen.
Read on to hear our thoughts!
Materials & Aesthetic
Many of the brand's products we've tested and reviewed in the past have gotten less-than-stellar results on our Instagram polls for their looks (the highest being the Synapse 25 at 46%). So, in context, the Cadet's lowly 25% approval rating is expected. It doesn't have a unique aesthetic—it's a pretty standard-looking messenger bag—but that's what we like about it. It's straightforward and works in more serious and casual environments alike.
At the time of this review, the Tom Bihn Cadet is available in 10 colorways. Some shades are more likely to make a statement, like Mars Red, while others blend into the crowd, like the Black colorway we've been testing. Of course, there are a lot of options in-between these two, so you're more than likely to find something that you vibe with.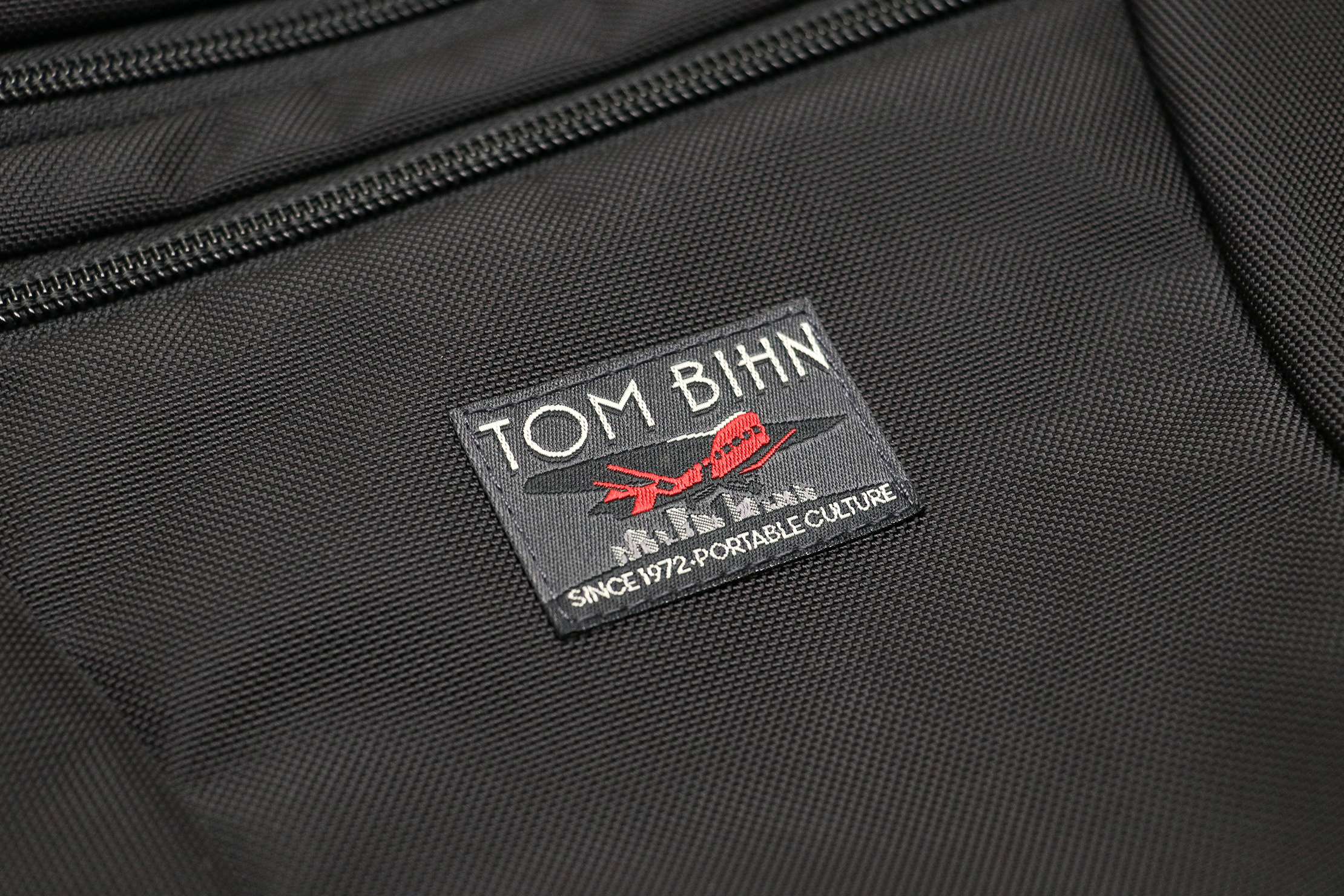 In terms of branding, you'll spot the classic Tom Bihn logo—their wordmark and a small red airplane—on the front of the pack. They pretty much hit copy-and-paste with this logo on most of their products, but for good reason. It's small, but lets everyone walking by know that you're toting a quality pack made with quality materials.
You'll find durable 525D Ballistic nylon on the outside lots of Tom Bihn bags, the Cadet included. There's 200D Ripstop material on the inside as well, which acts as a second barrier between your gear and the elements.
Both of these fabrics have held up well so far in our testing; we haven't spotted a single scratch, tear, or scuff after two weeks of testing. And while we don't recommend using this thing as a makeshift umbrella when you get caught in the rain, you'll be just fine in some light, drizzly weather.
However, if you do encounter some damage to your bag, you can reach out to Tom Bihn's customer service department via email or phone. You'll let them know what needs fixing—whether your dog mistook it for a new chew toy or you snagged it on something sharp on the subway—and they'll give you a quote for the job.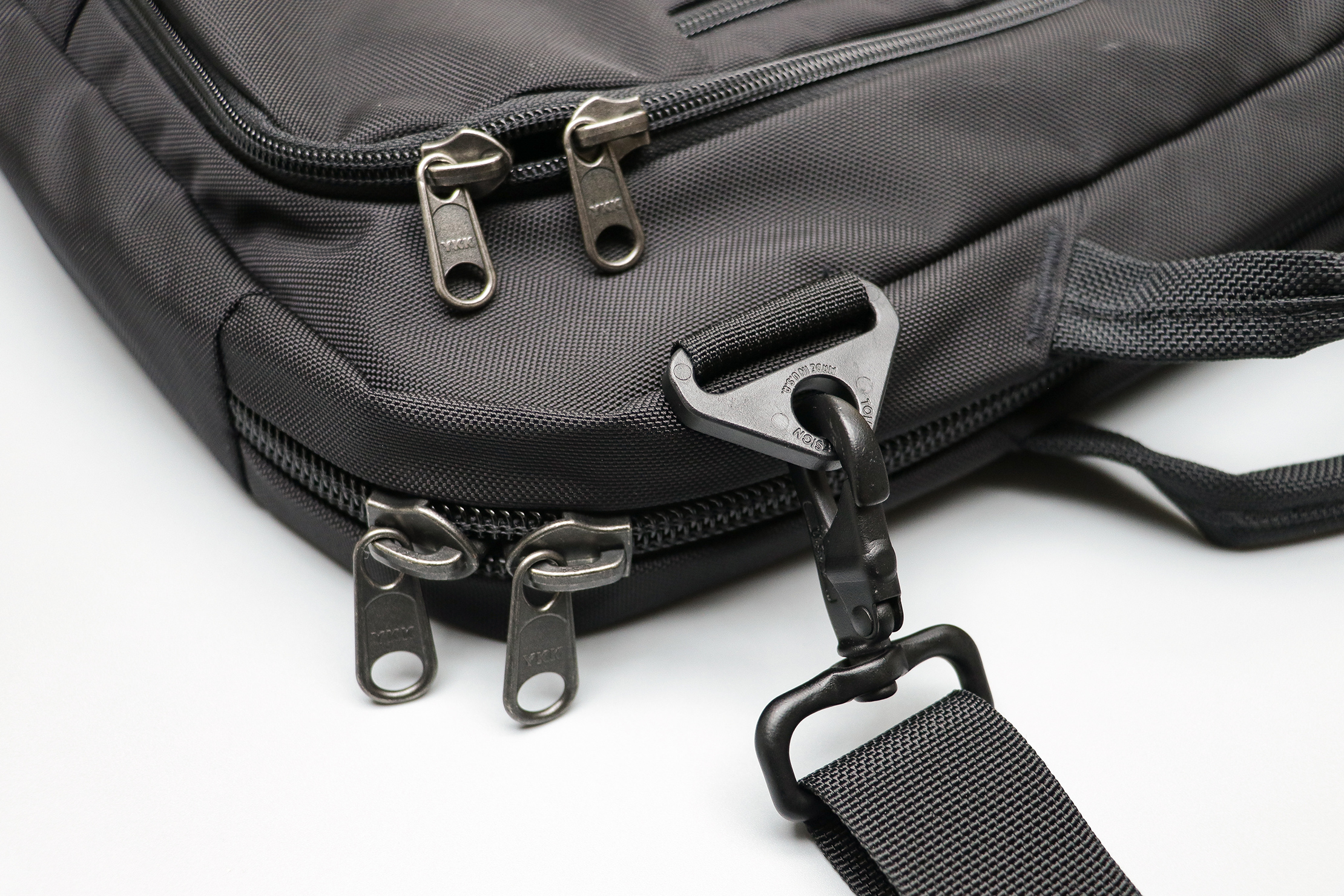 While we're happy to see some robust #8 and #10 AquaGuard YKK zippers on this bag, we've had quite a bit of trouble with them. They're water-resistant, which adds some nice protection for our gear, but they're also really sticky—especially around corners. We're almost always keeping one hand on the bag for leverage and using the other to unzip. They've gotten smoother throughout testing, but overall, they're still pretty stiff. As a result, they slow down our access quite a bit.
Another note about these zippers is that they're rather noisy. They jingle together when we're walking around, when we set the bag down, etc., so they're not the most subtle when you're heading into a quieter, more serious environment like a business meeting. It's not a deal-breaker, but definitely something to note.
As for the hardware, this bag features not one, not two, but three different brands: Duraflex, Nexus, and Woojin. Everything has been working smoothly so far for us during testing—as expected—so we don't have any issues to share.
External Components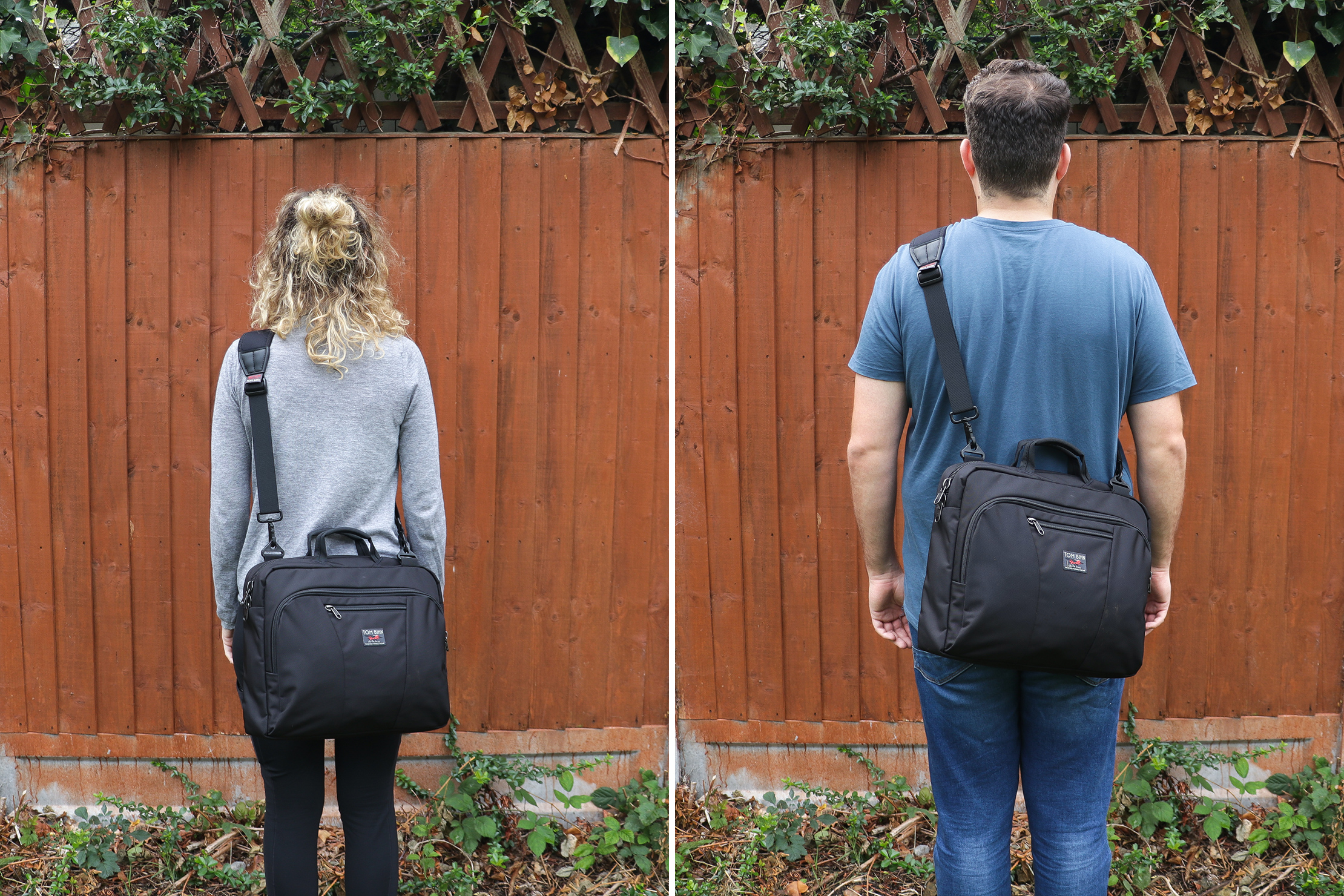 You can carry the Cadet as both a classic messenger bag or briefcase-style, depending on your preference and use case. We've preferred carrying this thing as a brief ourselves. Still, we have also appreciated the ability to throw this thing over the shoulder—especially when taking anything heavy or out for more extended periods.
We've been attaching the Tom Bihn Absolute Shoulder Strap ourselves, which is a nice upgrade from the more basic nylon strap that comes with the bag. It features some spongey, stretchy padding that sits comfortably over the shoulder. Plus, they attach to the bag by rotating buckles, meaning you don't have to worry about positioning it the right way when you're taking it on and off.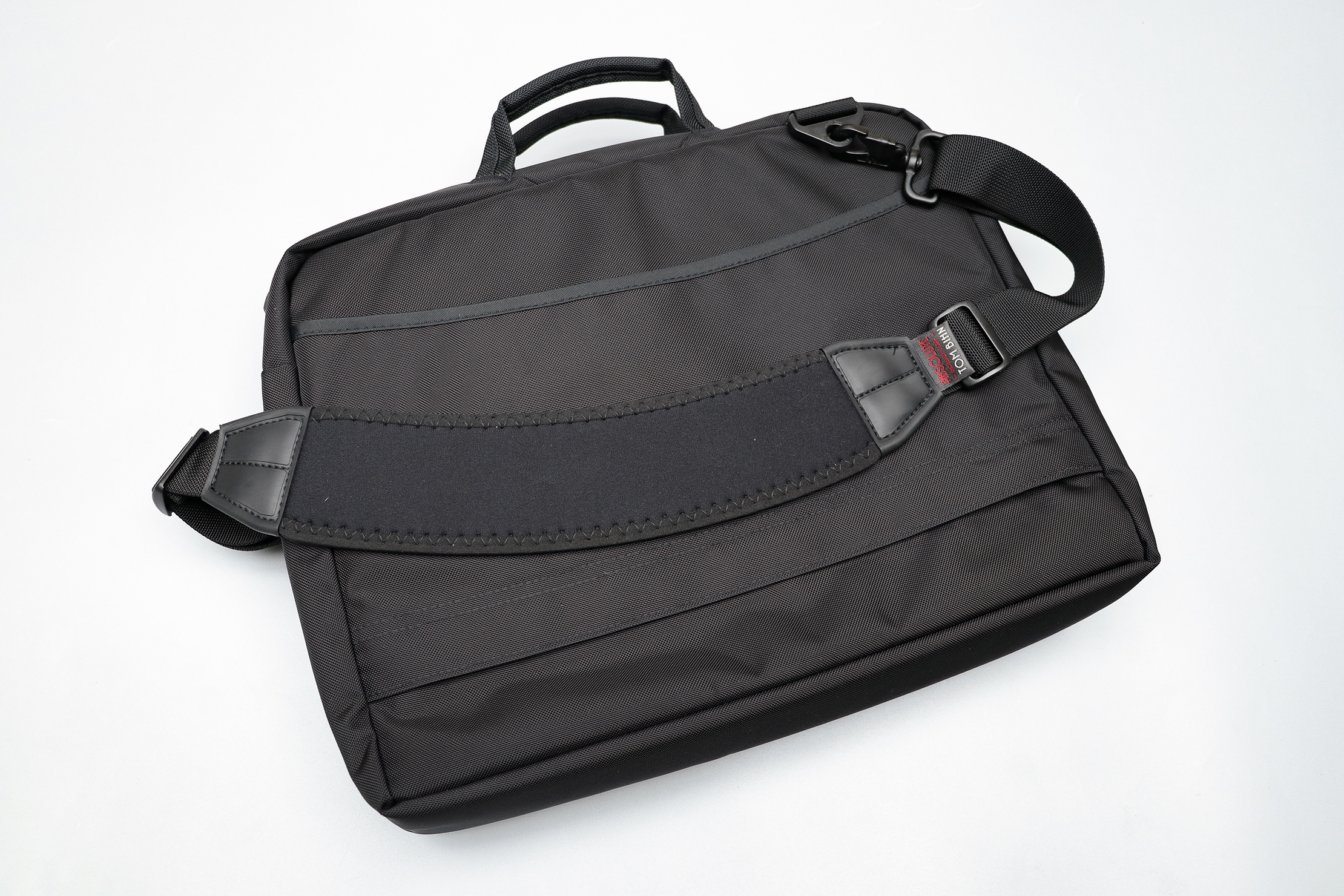 We've also tested it on multiple team members, big and small, and found it adjusts well to both taller and shorter frames. While it adds around an extra 30 bucks to your overall purchase at the time of writing this review, we feel that in this case, the added comfort is worth the splurge. Of course, your mileage may vary.
On the back of the Cadet, you'll notice a rather unique and thoughtful integration. At first, the back panel appears to have a long sleeve you can use to store some flatter items (because anything too bulky will stick into the back), whether it's documents, notebooks, or valuables like a passport or minimal wallet.
However, when you aren't using this sleeve, you can unzip the zipper at the bottom, turning this pocket into a luggage passthrough you can use to slip the bag on your roller luggage for easy wheeling around. So, you can either use this space for extra storage or streamline your transportation.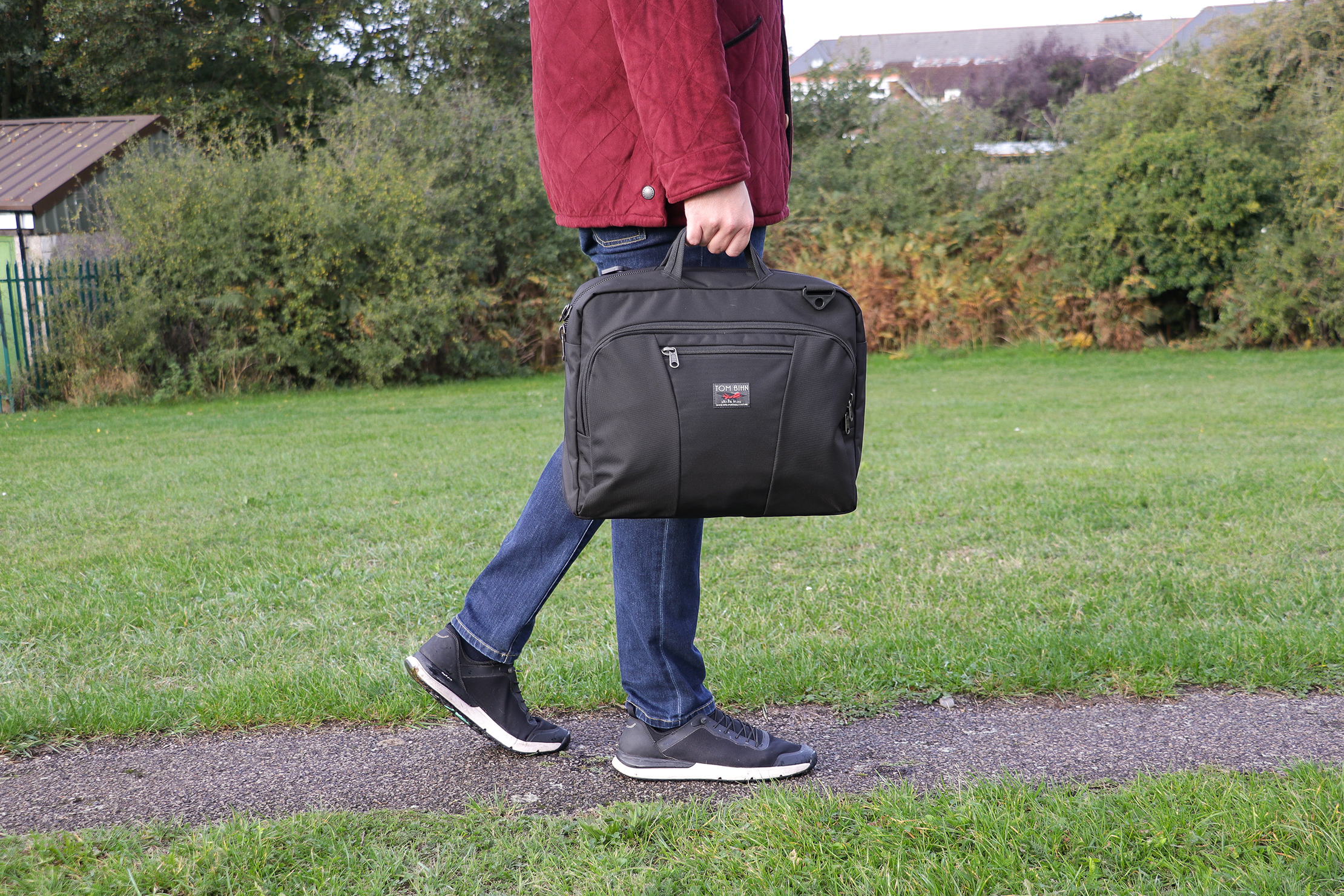 The two top handles on this bag have a nice level of padding that's comfortable for shorter modes of carry, like when you're heading into work for the day. They're also convenient for when you're grabbing this thing out of the car or picking it up to grab something inside.
As we previously mentioned, we've preferred its briefcase-style carry overusing the shoulder strap when we're out on quicker trips. Plus, it offers a much more sophisticated look when you're walking into a more professional setting, like a meeting.
There's no water bottle pocket on the outside of this bag, which are a rarity on messenger bags, anyway. So, if you plan on carrying one, you'll have to keep it in the main compartment. You might not be comfortable keeping water so close to your tech when you're commuting with it, in which case, you'll have to carry your water bottle by hand.
Inside The Bag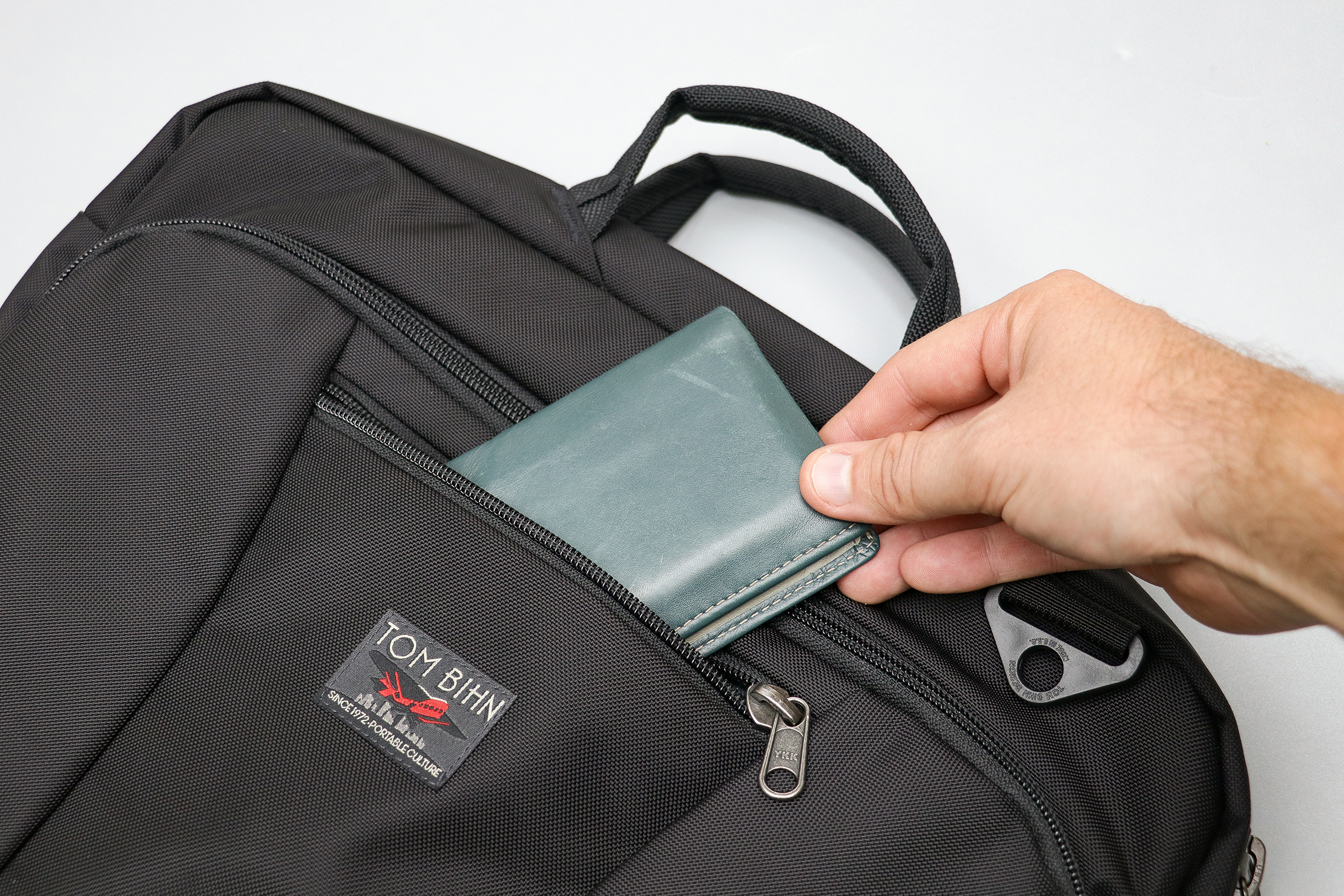 In terms of pockets, there's one quick-grab pocket on the front of the Cadet at your disposal. It's pretty small, but it's still a great size to keep smaller, frequently-used items, whether it's your wallet, keys, or a snack or two for when you get hungry.
Behind this pocket, you'll find the front compartment, which opens up horseshoe-style. Along the back wall is a variety of liner pockets you can use to organize your tech gear if you're not planning on keeping it in a separate pouch. The largest of the pockets can accommodate chargers, dongles, or a power bank if you have one. At the same time, you can stash the two smaller liner pockets with accessories—a mouse, headphones, extra batteries, among other things. You also have three pen sleeves you can slip writing utensils into so they're easy to find when you need them.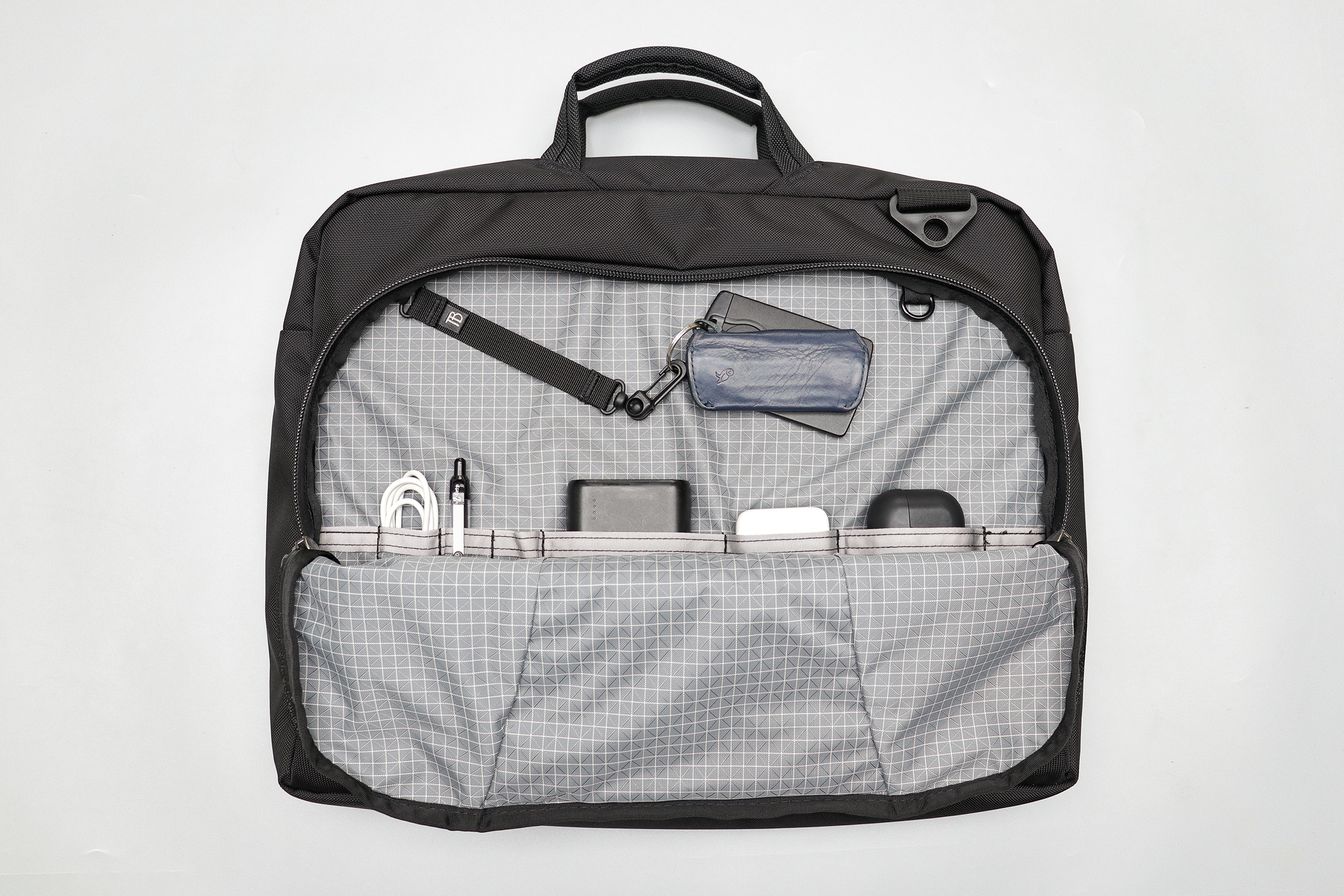 The Cadet's key leash is located in this compartment, which you can use to keep your keys secure and away from your other items. It's pretty lengthy, which makes it easy to reach whatever you're unlocking—your car, door, or mailbox, for example—without having to twist, turn, and bend over, which we appreciate.
There's even an O-ring in the opposite corner, a feature you'll find in many Tom Bihn bags. You can secure a pouch to this spot for even more organization. If you're looking to stay in the Tom Bihn family, the Ghost Whale Organizer Pouches are a solid option for compartmentalizing your smallest gear.
Now that we've covered all that, it's time to get inside the main compartment. When you open it up, you're met with a bright, techy liner that offers excellent visibility of your stuff, which is always appreciated. A divider segments the compartment into two sections, the first of which we've just been using to store a notebook for when we need to jot some ideas down on the go. You also have two additional O-rings to attach more accessories, like another set of pouches.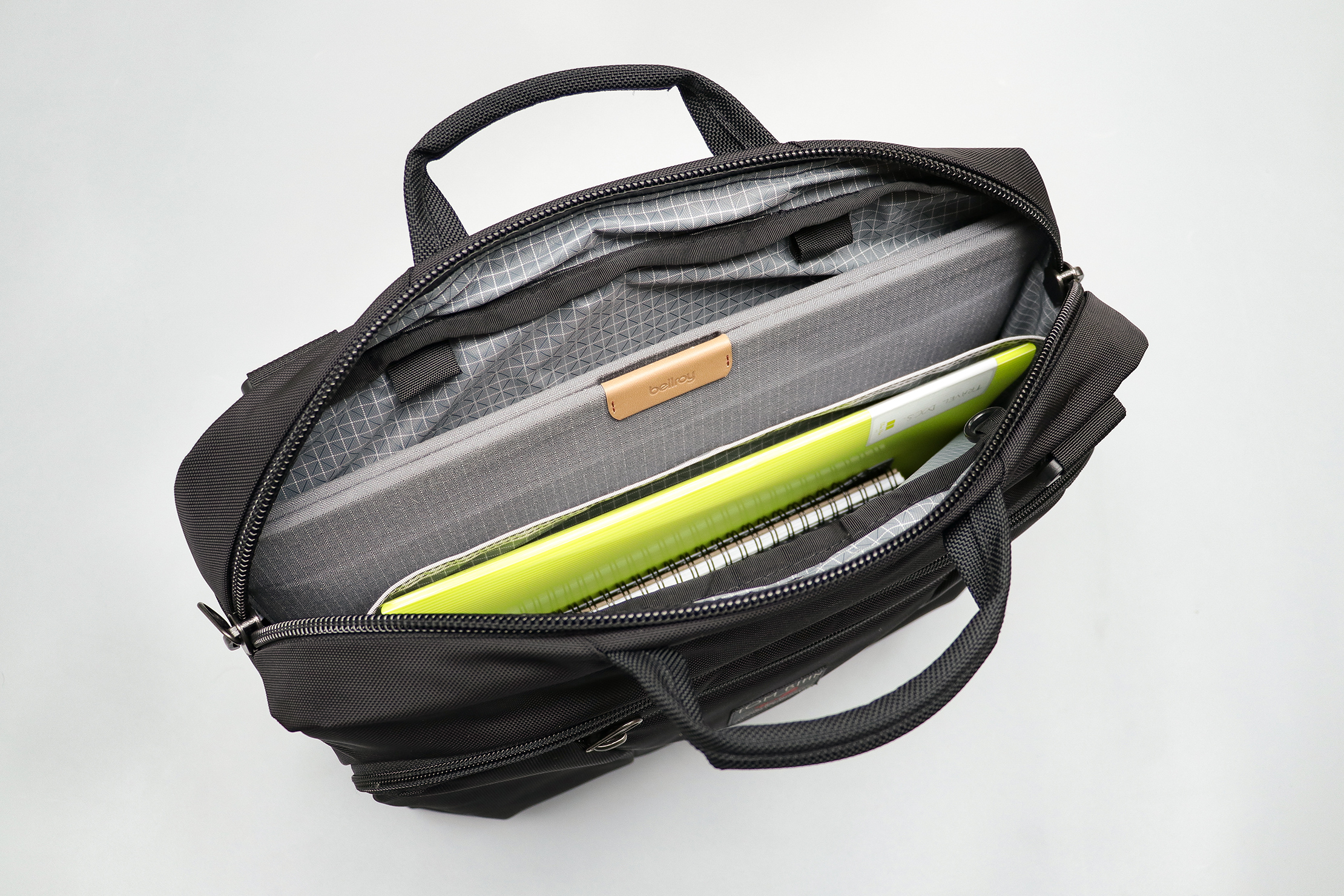 As for the other half, we've been keeping a 15″ laptop inside the Bellroy Laptop Sleeve, which fits perfectly inside. Keep in mind that there's not much padding or a false bottom in this compartment, so keeping your tech in a protective case as we have will offer the added protection that you're missing.
If this is a deal-breaker for you, don't throw in the towel just yet. There are two attachment points on this side of the compartment where you can attach the Tom Bihn Cache. This way, you're getting far more cushy padding and suspension for your laptop to keep it safe from daily wear & tear.
We appreciate this bag's modular set up that allows us to incorporate accessories as they're needed. That said, we would've liked to see these additions (a more comfortable strap, a suspended sleeve, etc.) directly integrated into the pack.
This way, we'd be getting everything we need and wouldn't have to purchase separate products—it'd be more of a one-and-done deal. These add-ons aren't required by any means, but if a bag isn't comfortable and can't protect your tech, you're going to want to remedy it any way that you can.
Usage Timeline
Initial Usage
Condition: Excellent
Solid construction and durable materials
Laptop compartment has some padding but does not have a false bottom
Comes with the standard strap but can be upgraded to the Absolute Strap
2 Weeks of Use
Condition: Excellent
We've found the zippers to be a bit hard to zip and un-zip, we thought they would loosen over time but there hasn't been much change as of yet
The layout of the bag is ideal for tech items, so much so in fact that we haven't had to use a tech pouch for additional organization
This bag is incredibly well made and the materials are top-notch, no signs of wear to date and we don't expect to encounter any problems moving forward
Access the Pro Community Discussion
Get your questions about the TOM BIHN Cadet answered from our team and the Pro Community right here on the page. Plus, join discussions with other members about gear, guides, and more.
Other Bags & Luggage Reviews