Pacsafe Metrosafe LS450 Anti-Theft Backpack Review
The Pacsafe Metrosafe Anti-Theft Backpack is a great daypack if you're looking for extra security. We just wish it held its structure when not fully packed.
Our Verdict
Unlock the Pro Summary
Save time. Get access to brief summaries of our reviews so you can browse and make decisions more efficiently.
Pros
Anti-theft features add peace of mind
Lots of internal organization
Lightweight and comfortable to carry
Cons
Top pocket caves in unless backpack is fully packed
Some threads quickly came loose
Laptop sleeve lacks security
Recent Pack Hacker Video
Technical Details
Capacity

25l

Weight (lb)

1.85 lb (0.8 kg)

Denier

210D

Dimensions

18.9 in x 11.8 in x 6.7 in (48 x 30 x 17 cm)

Notable Materials

Nylon, Polyester

Manufacturing Country

Vietnam

Laptop Compartment Size

15"

Warranty Information
Full Review
Get up to 15% off Pacsafe • Join Pack Hacker Pro
Pacsafe is a brand dedicated to giving you peace of mind so you can wander the world with ease. Whether you're suspicious of cities with higher rates of theft or just like the added comfort of knowing that your gear is safe even when your eyes aren't on it, there's a range of backpacks, slings, messengers, wallets, and even camera bags that can satisfy your needs.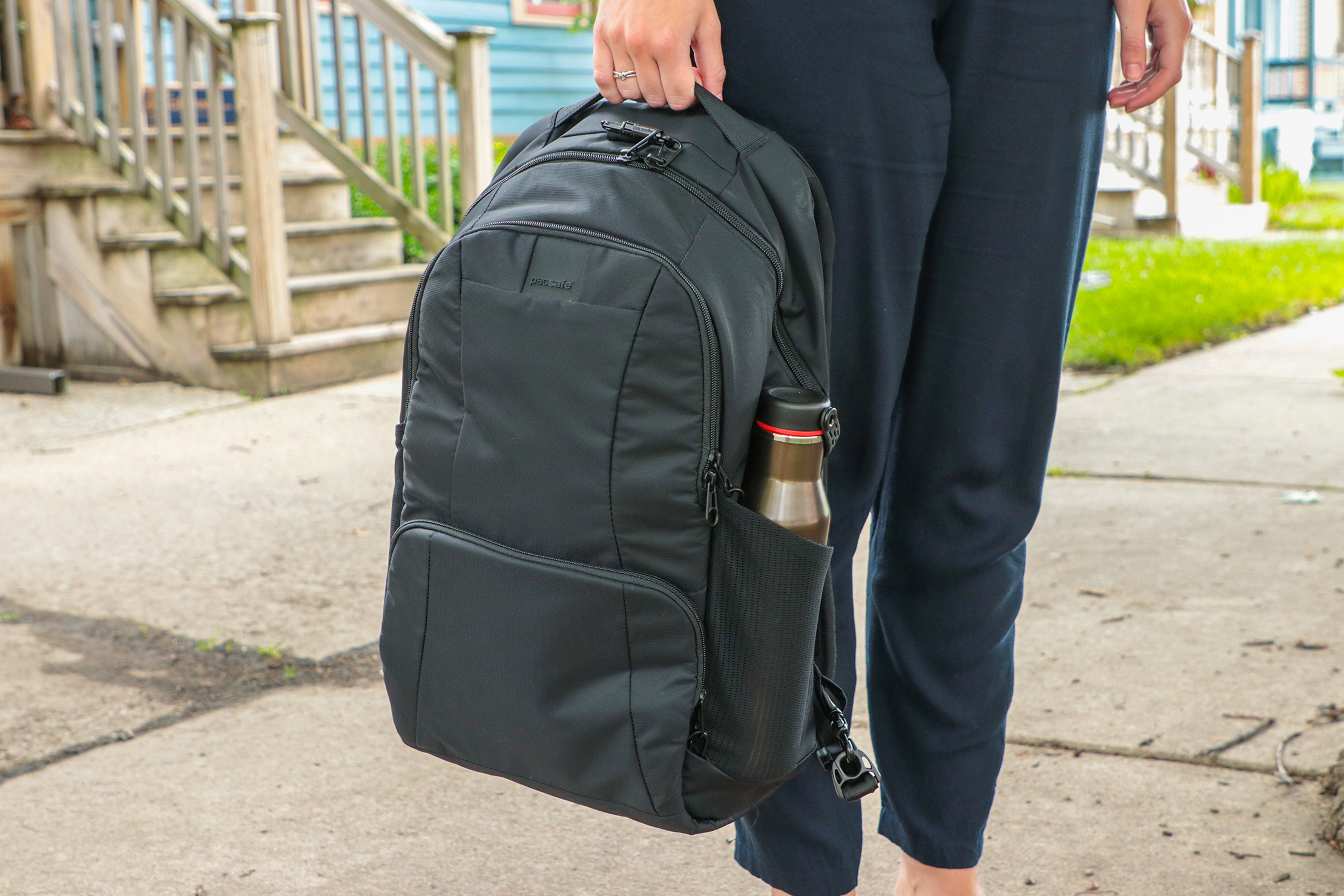 We'll be focusing on the Pacsafe Metrosafe LS450 Anti-Theft Backpack—but for the sake of this review, we'll just call it the Metrosafe. With 25L capacity and plenty of organization, you've got room to bring along whatever items you need to make it through a long day of tourist-ing. Or, if you're looking for a commuter daypack, this backpack can deliver there too. For now, let's get into the nitty-gritty of this backpack to see how safe it really felt.
Materials & Aesthetic
Let's just cut right to the chase—if you're looking at this bag, there's a good chance it's because you're interested in the anti-theft features. We'll get into more detail about the hardware in the next sections, but the protection starts with the material itself.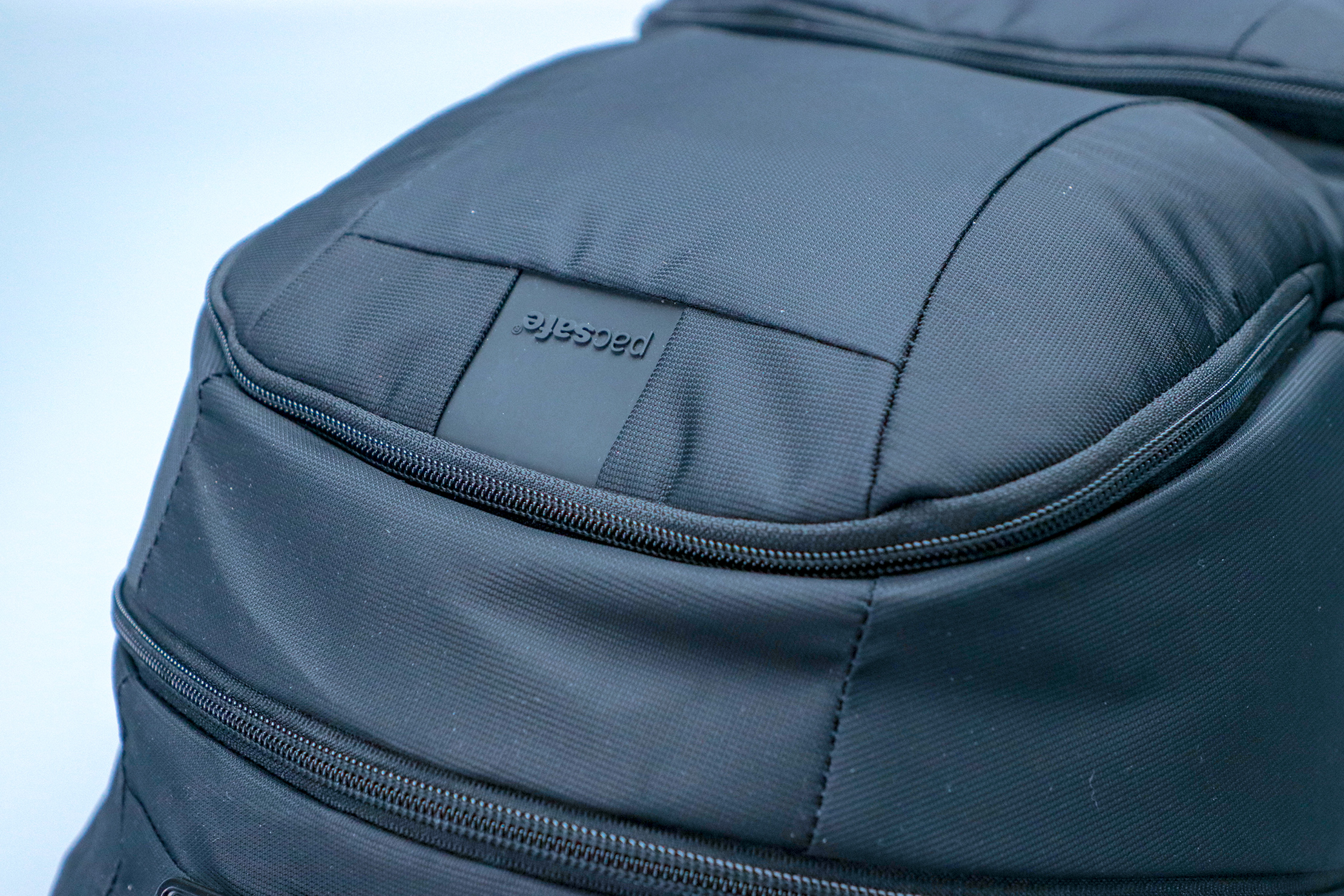 There are three colorways at the time of writing: Black, Deep Navy, and Dark Tweed. Two of them (Black and Dark Tweed) are made with 210D Nylon, while the third (Dark Tweed) is made with 650D Polyester. While we can only vouch for the feel and durability of the Black since that's the colorway we tested, we like the professional style of Dark Tweed and appreciate the two-tone aesthetic. All colorways are also full dull. If you're not familiar with the term, this means that the materials are modified to have a softer look without reducing strength—big thumbs up for sleek and durable.
Now, onto the anti-theft aspects. Each backpack contains what Pacsafe calls eXomesh® slashguard, a stainless steel wire mesh inside the shell that prevents slash-and-go thieves from getting into your backpack with a knife. You can't actually feel the mesh, so you wouldn't know by looking at it (or wearing it, for that matter). The pack does feel durable despite only being 210D, and we have a hunch that the eXomesh® is part of the reason why.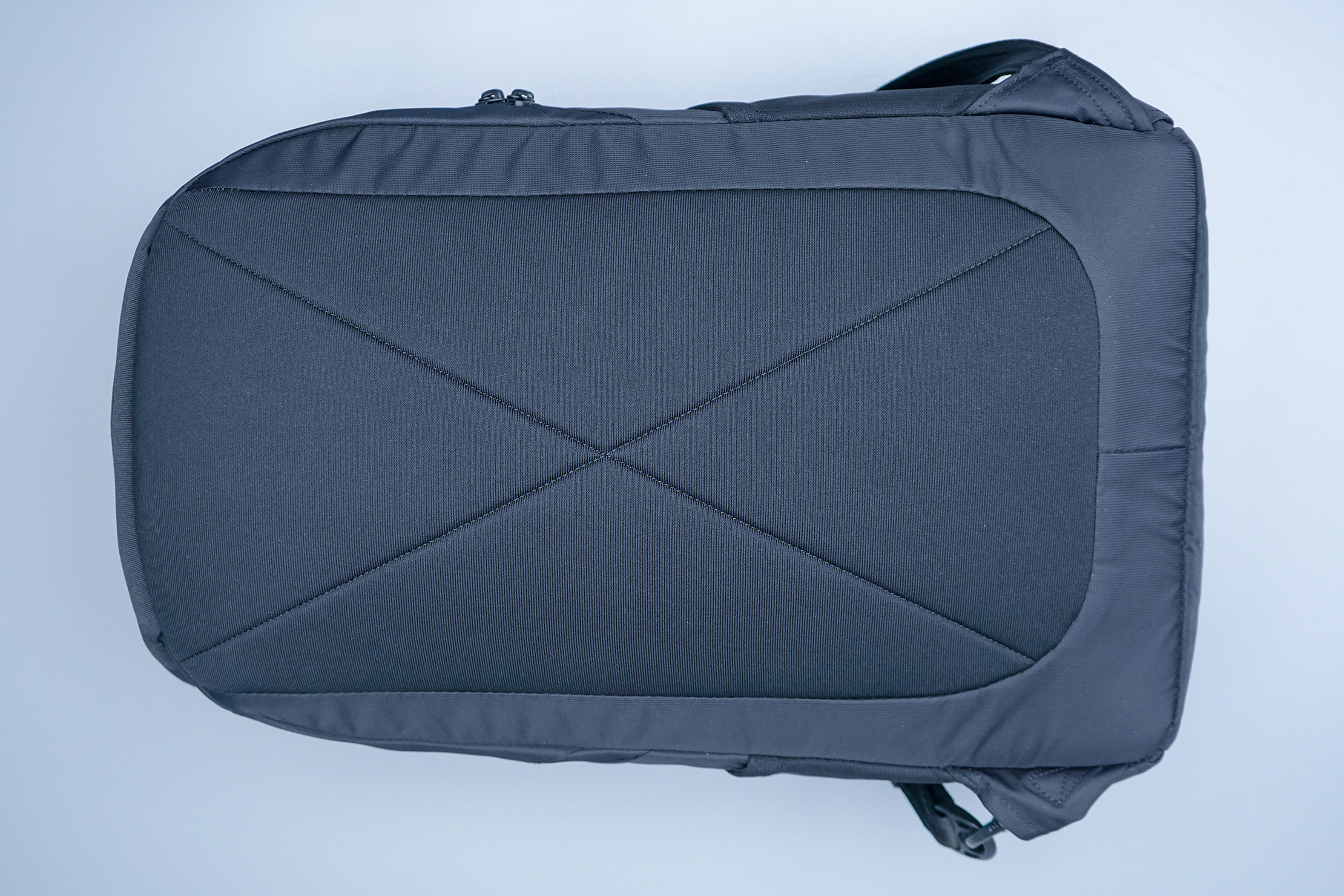 Another protective feature is the Carrysafe® slashguard strap. If you take a closer look at where the straps anchor to the backpack, you'll see there's a bit of dimension. Steel wire reinforces the fabric to ensure that no one can slash the pack right off your back.
Foam padding on the back panel and shoulder straps makes for a more pleasant wearing experience and almost makes the pack feel lighter. Though, it only weighs in at 1lb 14oz, so we're not exactly complaining in the first place. That said, the 25L capacity does go a long way, so if you're going to be using this pack all day as you meander around town, you'll want all the extra comfort you can get.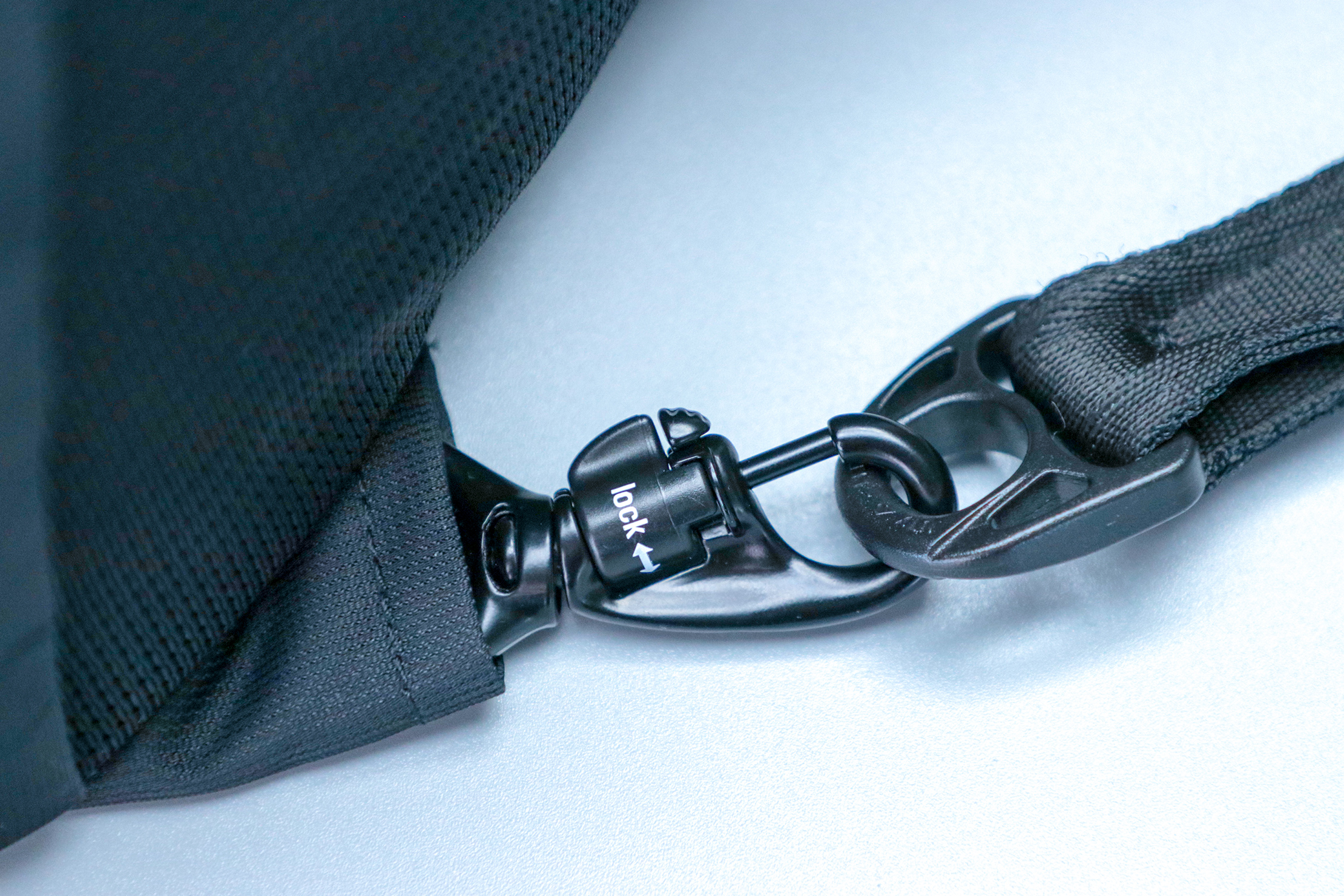 To top off the materials, we've got a 75D polyester liner, YKK zippers, and Duraflex hardware. Seeing as this backpack is beefed up for security, we're not surprised to see some of our favorite trusty hardware used as well. It's worth noting that a few threads are sticking out after two weeks of testing, but we're not knocking the durability just yet since it seems to be a minor issue that (hopefully) won't get worse over time. But, as always, we'll keep you posted in the usage timeline below.
Overall, we're big fans of the sleek, low-profile fit of this backpack. There's minimal branding, with a rubber Pacsafe logo on the front and a small fabric tab on one shoulder strap. The pack fits close to our back for a low-profile look, though we did have problems with the top pocket buckling in unless we fully packed out the entire backpack. It didn't really get in the way of zipping and unzipping or negatively impact the aesthetics, but a little more structure would have been nice.
External Components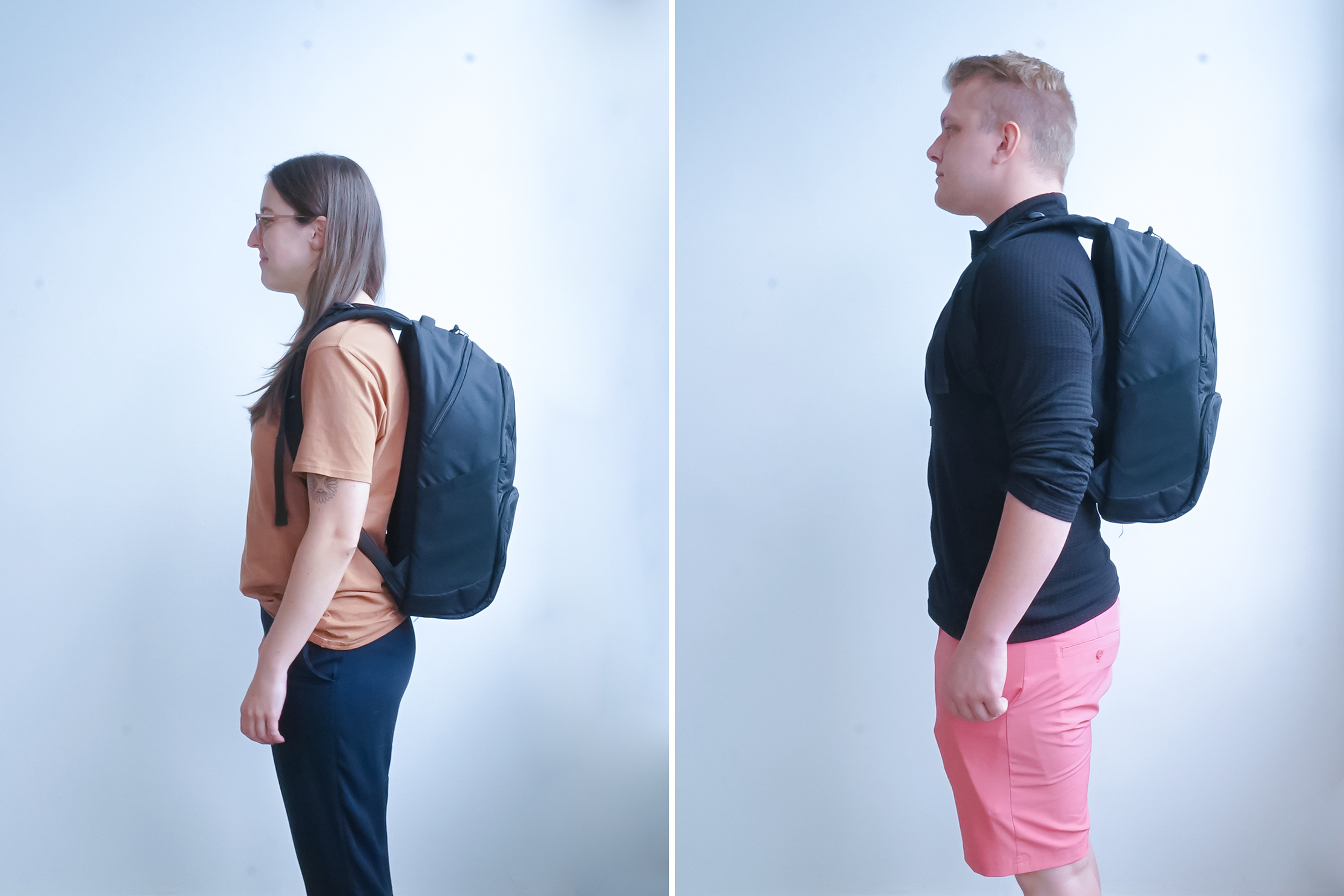 Oh, you thought that's where the anti-theft features ended? Not a chance—we've still got a few more to go! But first, let's talk about some more familiar backpack design aspects. There's one mesh water bottle pocket on each side so that you can carry double the hydration. Elastic helps keep things in place, but the pocket itself is pretty deep, and we had no issues getting larger bottles like an 18oz YETI Rambler in there.

A carry handle on the top is great for quick grabs, but as expected, we usually just stuck to lugging the Metrosafe around as a backpack. The strap adjustment is attached at sternum level rather than at the bottom, which took some getting used to. Unfortunately, since the strap keepers don't move, the extra adjustment material can fly around if it's a windy day or get caught as you're putting the backpack on. Despite this, we didn't find it to be a major nuisance, and after a while, we forgot about it altogether.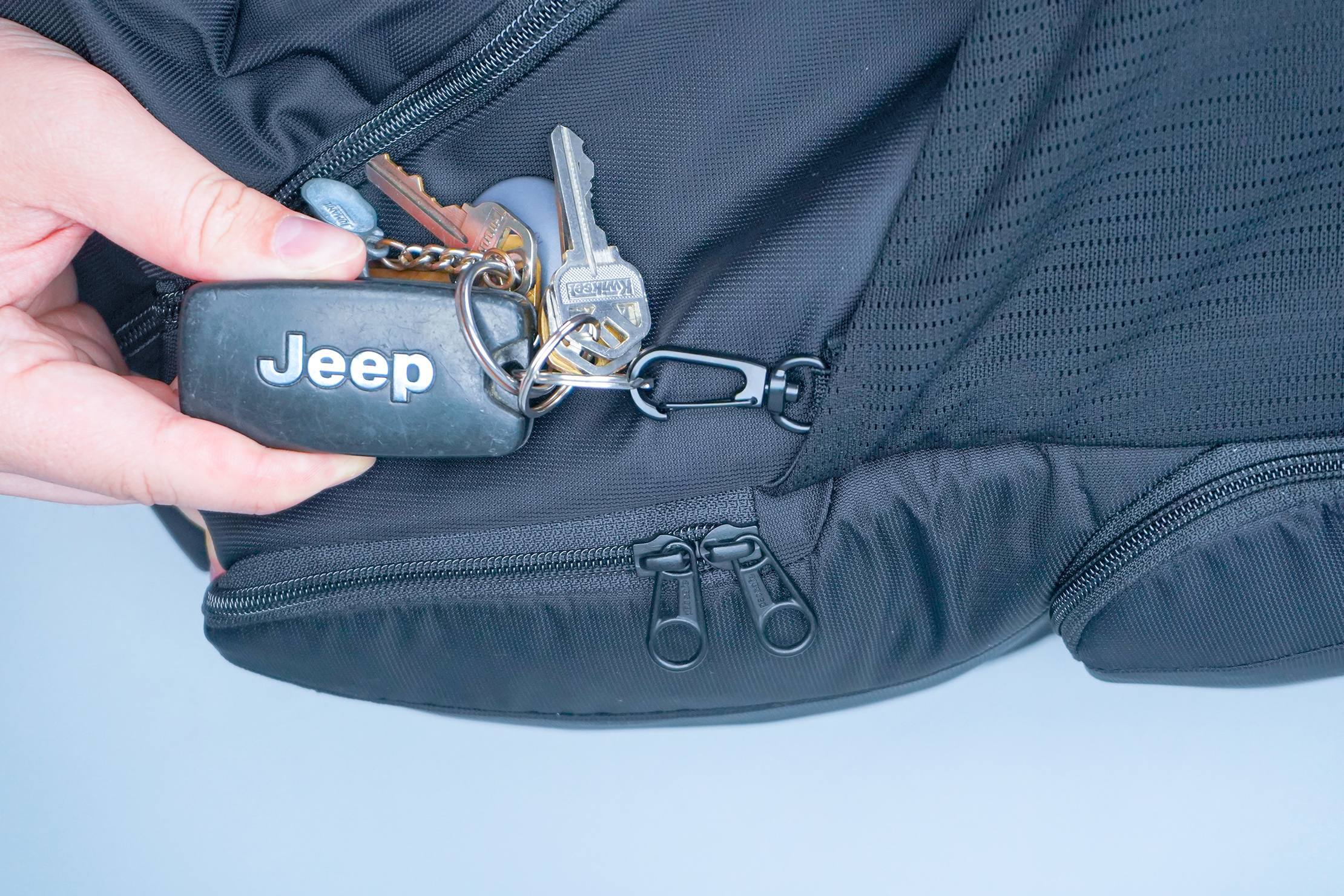 Okay—now we can talk anti-theft. Wherever there's an external zipper, there's a clip to keep it in place. The two front pockets have carabiner clips hidden on one side, always ready to hook into a zipper pull. This makes it harder for drive-by unzippers to get access to your gear. As for the main compartment, there's what Pacsafe calls a Lockabout security clip. It works similar to the other carabiner clips but has a sliding lock that makes it a two-step process to get the zipper pulls in and out. Unlike the other hidden clips, this one is right at the top of the bag, so it requires some extra protection. You can also add a padlock for even more security if that's your jam.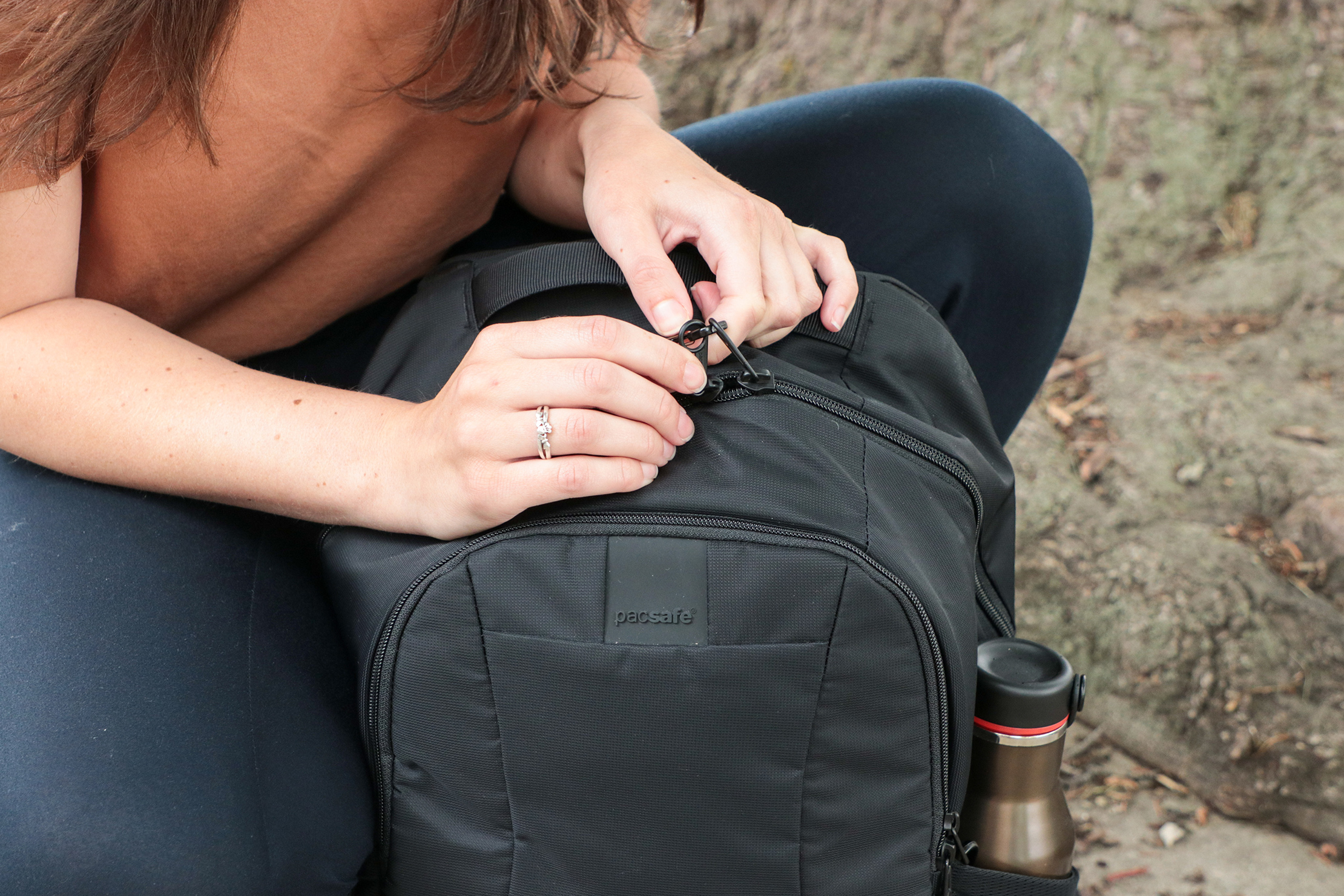 The last security feature (on the outside, at least) is the TurnNLock security hook, which allows you to detach one shoulder strap from the bag. This comes in handy when you're sitting at a cafe or taking five on a park bench. If you want to take your backpack off but are afraid of someone snatching it and running, simply twist the lock, unhook the strap from the hardware, loop the strap around a chair leg or other secure item, hook the strap back into the hardware, and twist the lock back into position.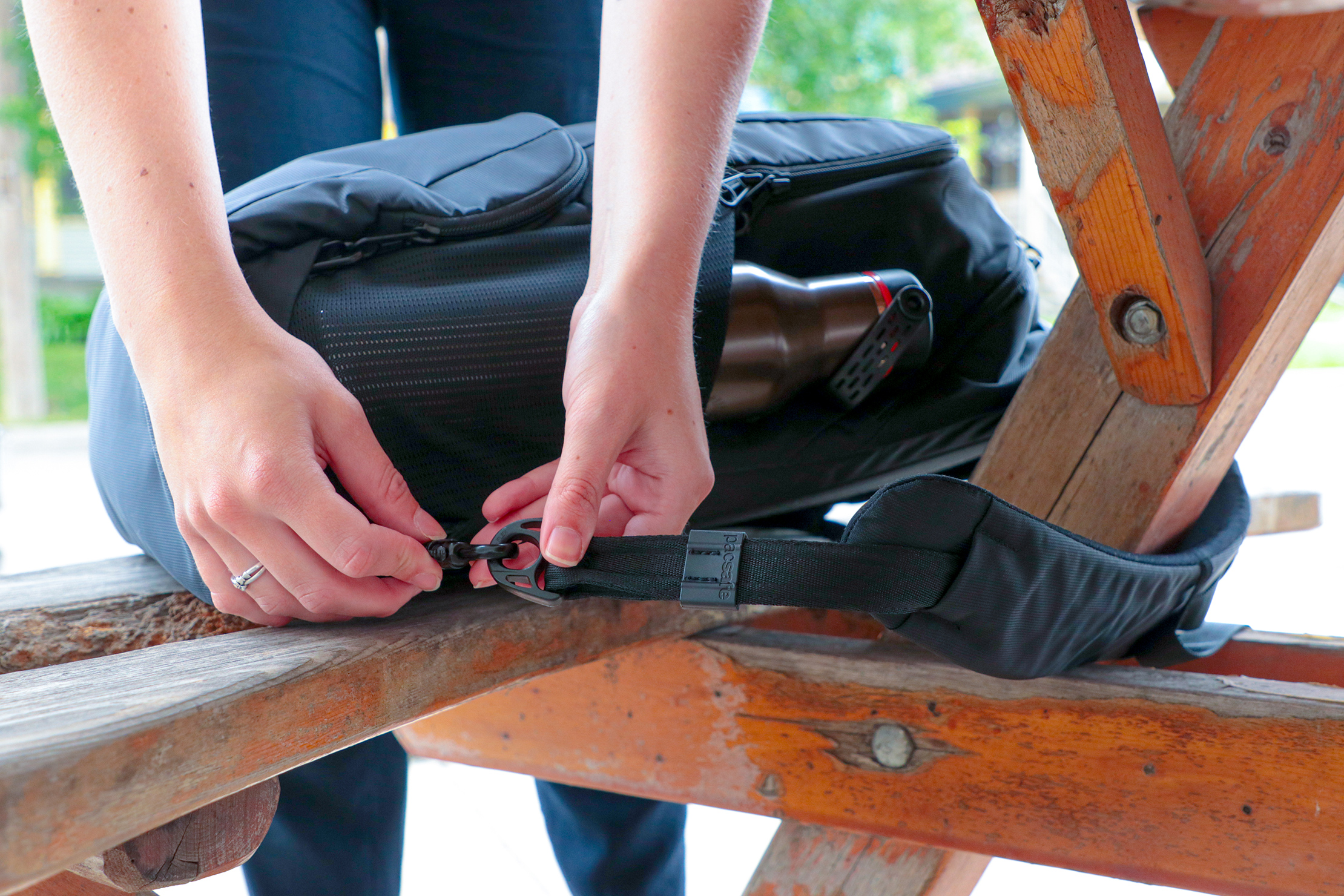 As you can probably tell by now, this pack was built to keep your gear safe. But, how does it do when it comes to carrying that gear? Let's take a look.
Inside The Pack
Let's start with the two outside pockets. They're nearly identical, with only a slight difference in size and organization. Both feature regular stash pockets as well as mesh zippered ones, though the variance comes into play when looking at their sizes. Each mesh pocket is approximately the size of the pocket itself, giving you plenty of space to keep small gear in check or to lock away items you like to keep on hand but don't need as often. The two equally-sized stash pockets are great for a wallet, gum, and other boxy, bulky items.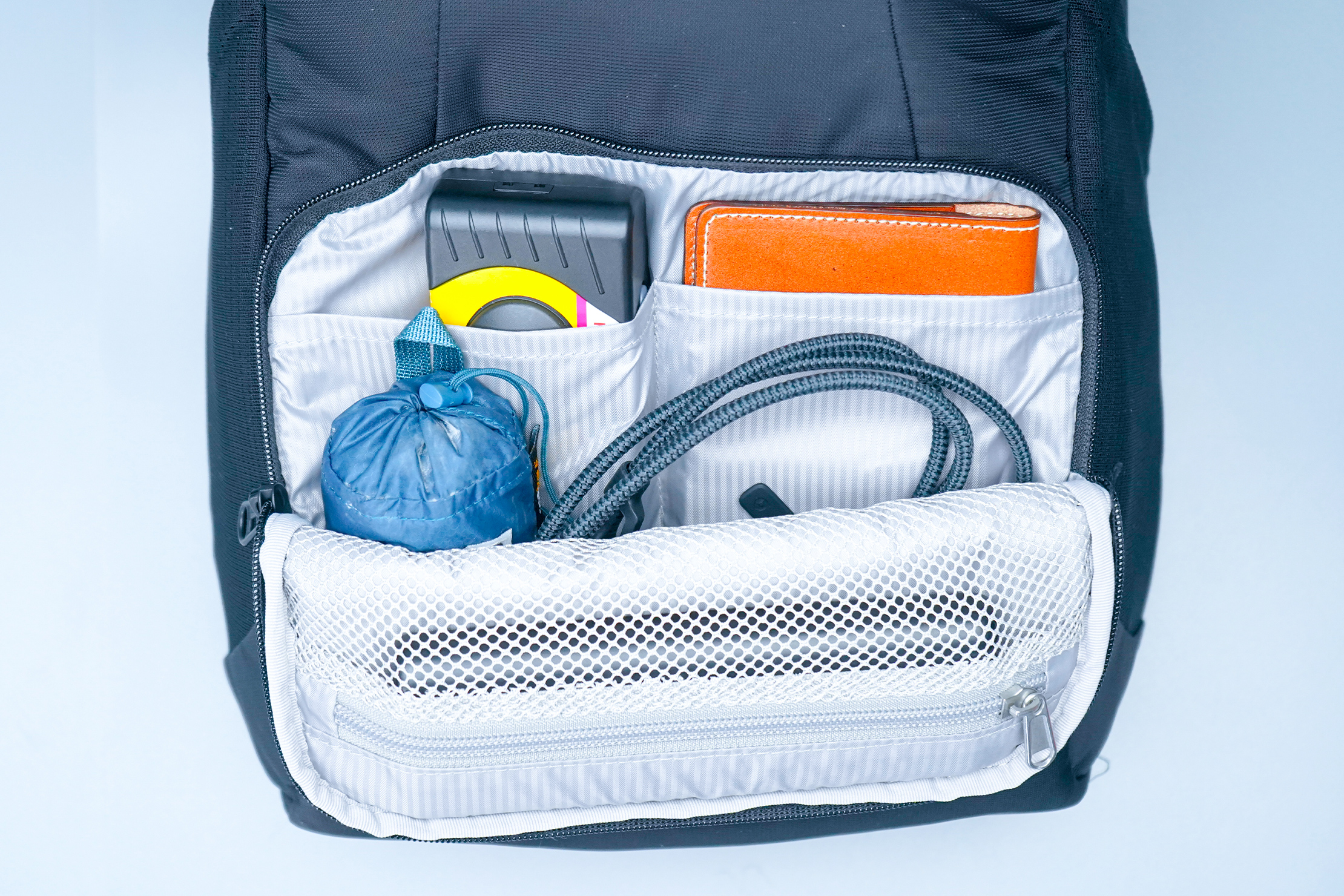 The variance comes in with the top pocket, which is slightly larger than the bottom and also features a pen silo and third stash pocket with a key clip. This pocket is thicker than the others and features a bit of padding, presumably to add durability so that your keys don't gradually weaken the fabric, though we can't confirm this. We're just working off vibes alone on this one.
The key clip is pretty short, so it's not something you'd use while the backpack is on, but it's easy to detach keys, and we like that it kept them in place. We also appreciate that the pen silo shortens the other stash pockets because it's much easier to keep small items like wireless headphones or chapstick in place. The left pocket is smaller than the right, and therefore there's less space for gear to pile up and get lost.

Inside the main compartment, there are only two organization features: the laptop sleeve and a zippered pocket, which we'll get to shortly. The laptop sleeve fits up to a 16" laptop and is great for holding additional gear like tablets or e-readers. That said, there's not a ton of structure to the sleeve itself (though it is padded), so it sticks out whether there's a laptop in there or not. The elastic at the top is almost nonessential, as it doesn't add security or lock in the shape of the sleeve. However, the size comes in handy if you have a protective laptop sleeve or case, as there's plenty of space to add extra protection. We wish that there was more structure to this pocket, though it technically never got in our way.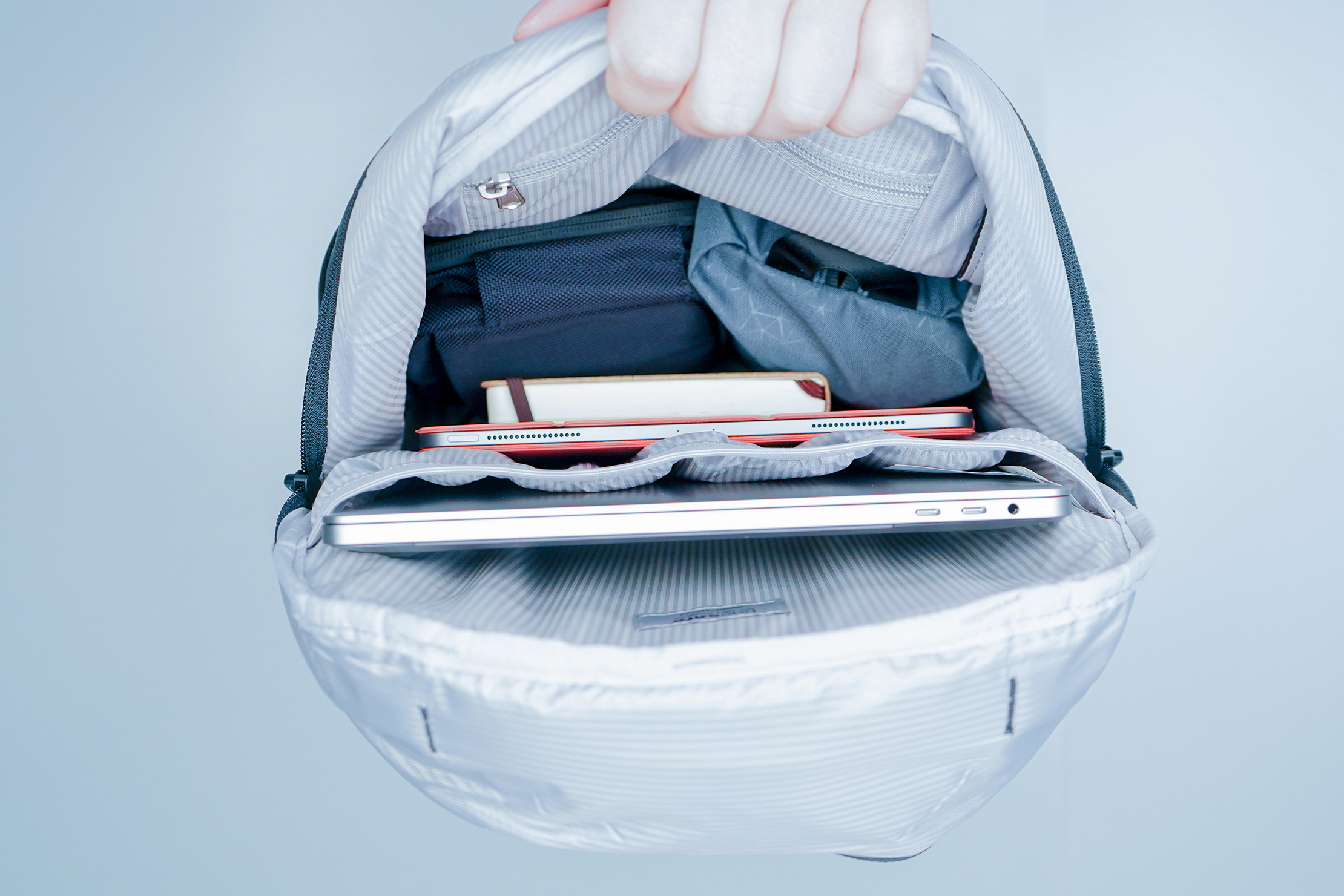 We're able to pack this 25L bag out pretty well, using packing cubes when necessary to keep clothing or small tech items organized. While the main compartment's size is an asset when you're walking around all day and want to have everything on hand to avoid stopping back at your lodging, it was a bit roomy for everyday use. I mean, hey, we'll never say no to a daypack that you can use daily and travel with, but if you're looking for a daypack, you could probably get away with something smaller.
And now, for the grand finale—the final anti-theft feature: a zippered RFIDsafe liner pocket inside the main compartment. If you're unfamiliar with RFID tags, they're often attached to items for better inventory tracking or data transfer. Modern-day passports and credit cards have this technology (this is how tap to pay credit cards work!). Unlike barcodes, which need to be physically visible to be scanned, RFID tags can be scanned even when they're not visible to the reader.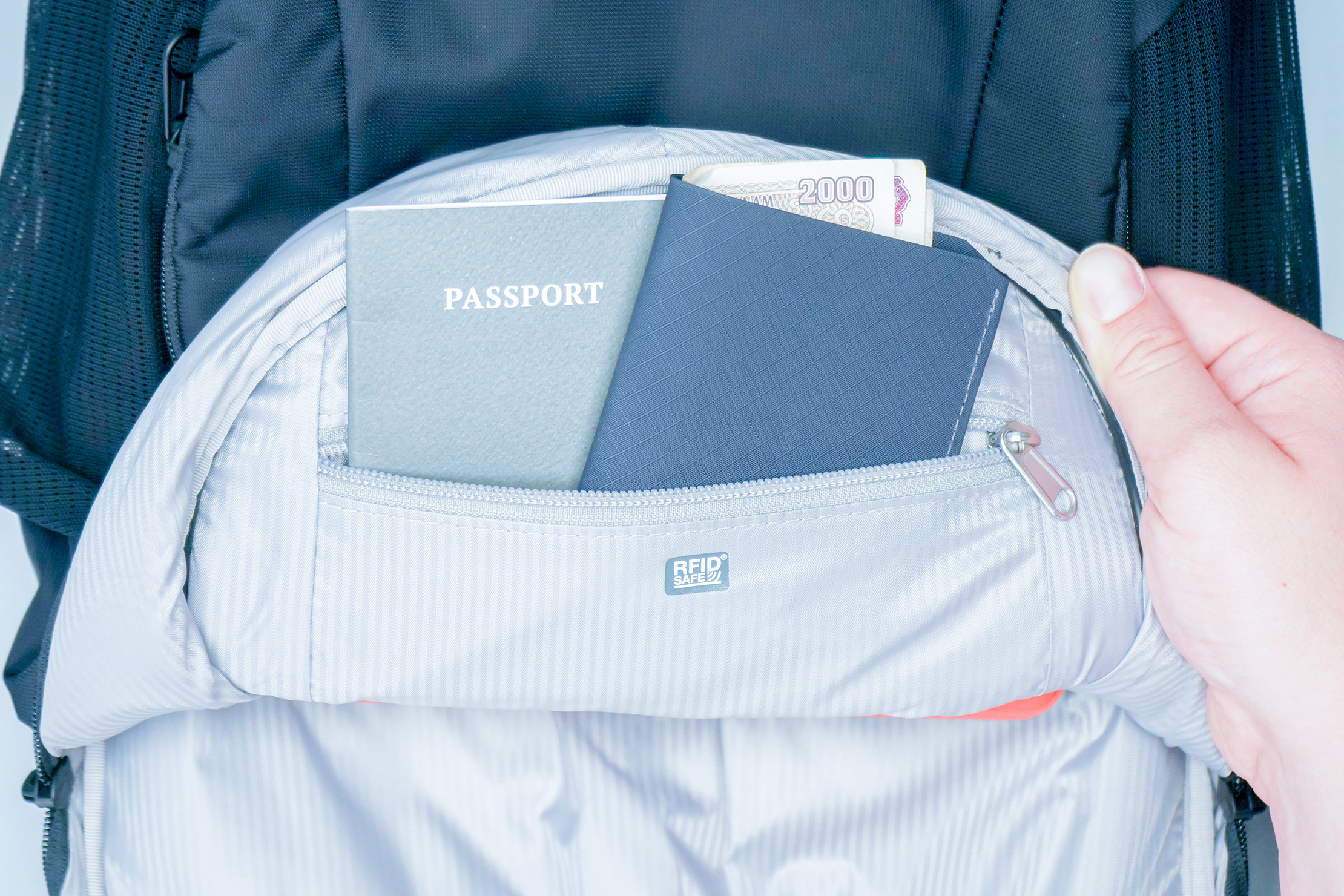 Where this becomes an issue is when ill-intentioned people get their hands on a scanner. All they need to do is walk by you in order to get access to your personal information, even if your wallet and passport are neatly tucked away in a backpack. This RFIDsafe pocket prevents the scans from getting through, effectively keeping your identity and banking data safe. While there isn't a ton of proof that this type of theft is rampant, it never hurts to add a little extra security to your life. It still functions as a regular pocket, so even without the RFIDsafe technology, you still come out on top with added organization in an otherwise minimalist compartment.
Even if you're not explicitly looking for an anti-theft bag, the Pacsafe Metrosafe Anti-Theft Backpack is a solid daily driver that has a sleek design and plenty of storage space for gear you don't want to leave behind. While we found it to be a bit overkill to use when we weren't traveling, the backpack manages its 25L capacity well and provides plenty of space without looking too bulky. Plus, this sucker is practically a fortress, so you can rest easy knowing that your personal belongings are safe as you travel.
Usage Timeline
Initial Usage
Condition: Excellent
Plenty of liner pockets inside the compartments
Very solid and clean aesthetic
Tech compartment has a bright interior
2 Weeks of Use
Condition: Excellent
Anti-theft features add peace of mind
Foam padding on the shoulder straps and back panel makes it super comfortable to carry
Lots of internal organization—more than we need for EDC, but handy for extended carry
No lower strap keeper on the shoulder strap, so the extra adjustment material can sometimes get in the way
Top pocket buckles in unless the backpack is fully packed out
Some threads are coming loose, though nothing looks like it'll impact the bag's durability too much
Access the Pro Community Discussion
Get your questions about the Pacsafe Metrosafe LS450 Anti-Theft Backpack answered from our team and the Pro Community right here on the page. Plus, join discussions with other members about gear, guides, and more.
Other Bags & Luggage Reviews