Topo Designs Rover Pack Tech Review
With a comfortable carry and sleek look, the Topo Designs Rover Pack Tech makes a great EDC bag—even if the main compartment feels a little tight.
Our Verdict
Unlock the Pro Summary
Save time. Get access to brief summaries of our reviews so you can browse and make decisions more efficiently.
Pros
Simple interior layout allows you take organization into your own hands
Durable materials and top-notch craftsmanship
Comfortable carry
Cons
The drawstring can be awkward to manage
Top-loader makes accessing your stuff more difficult
The main compartment feels thin and narrow (compared to other bags this size)
Recent Pack Hacker Video
Technical Details
Capacity

24.3l

Weight (lb)

1.8 lb (0.8 kg)

Denier

1000D

Dimensions

17 in x 11 in x 5 in (43.2 x 27.9 x 12.7 cm)

Notable Materials

Nylon, Packcloth, Woojin Hardware, YKK Zippers

Manufacturing Country

Vietnam

Laptop Compartment Size

15"

Warranty Information
Buying Options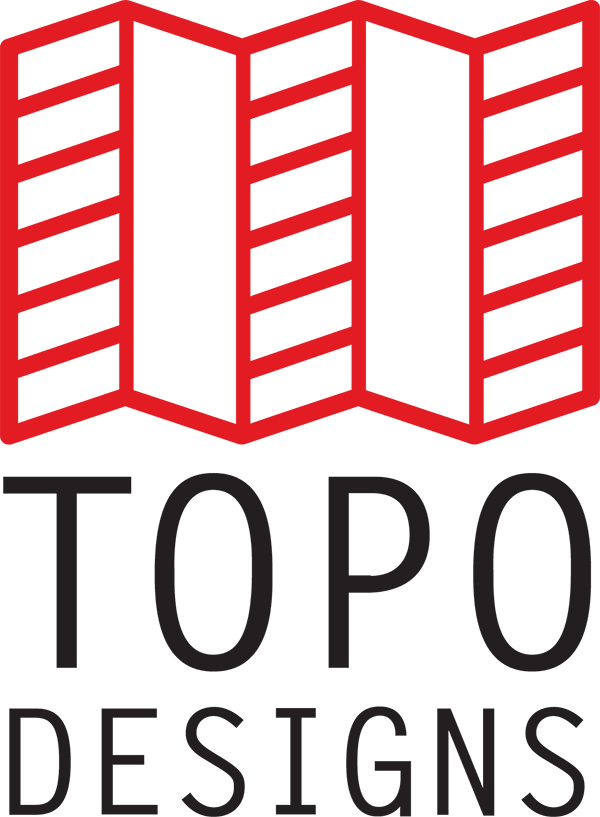 $129.00

$129.00
Full Review
Get up to 15% off Topo Designs • Join Pack Hacker Pro
If your daily load involves tech gear and a laptop, you'll be happy to meet the Topo Designs Rover Pack Tech. This simple, 24.3L pack has some clever thinking going on that makes it excel at its job, so you can excel at yours (insert cheesy grin here).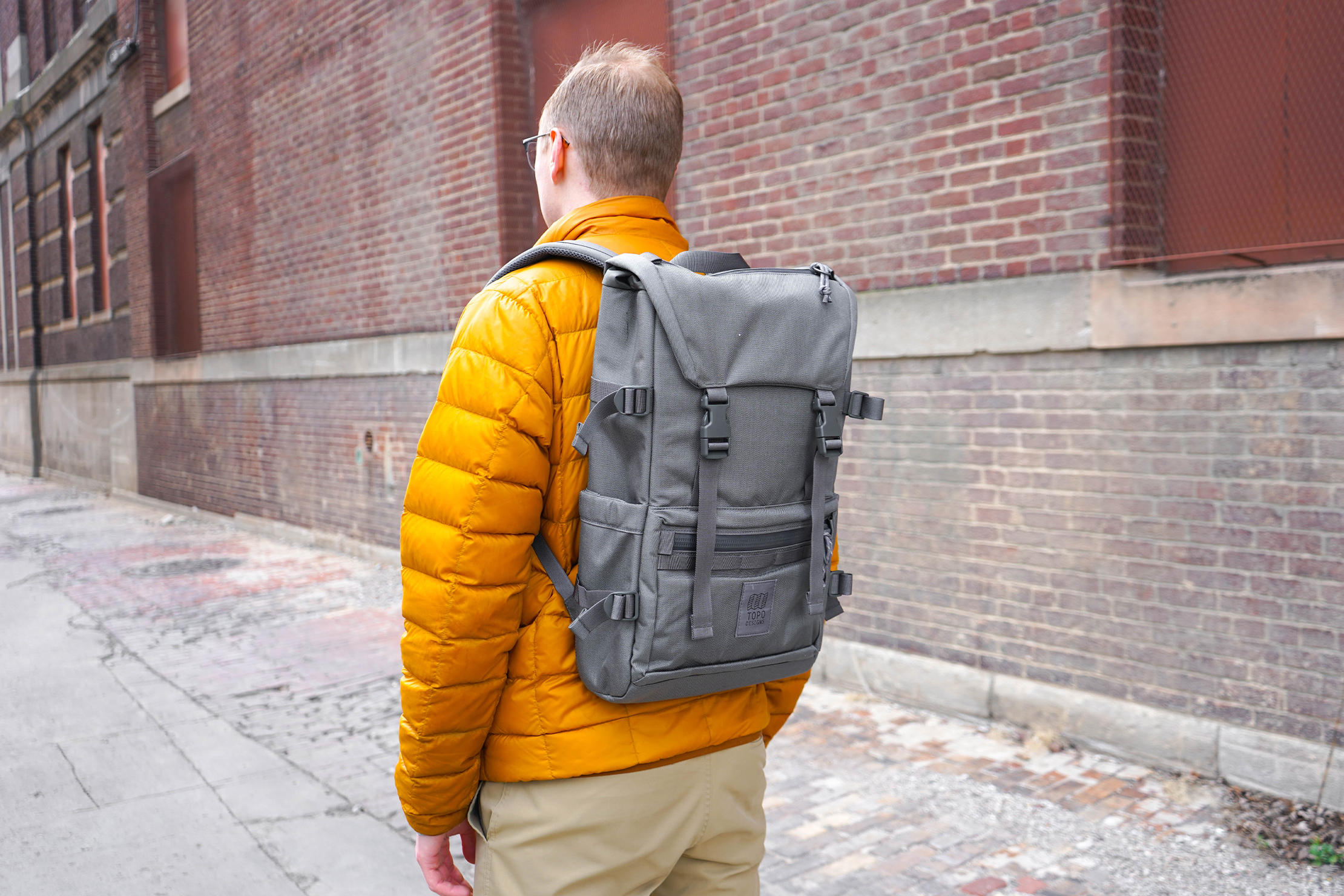 Now, there are a few different versions and styles of the Topo Designs Rover Pack. To be clear, we'll only be focusing on the Tech version in this review, which has been specifically designed for tech (mind-blowing, huh?). But if you're interested in comparing all of the different styles, you're in luck! We have a video on our YouTube channel that compares all of the Rover Packs.
So without further ado, let's hop right in.
Materials & Aesthetic
Topo Designs is known for its 70's, heritage style of gear. While there's definitely a heritage vibe going on with the Topo Designs Rover Pack Tech, it's a little more subdued and serious than Topo's usual stuff. At the time of this review, it's available in four colorways—Charcoal, Navy, Black, and Olive. As you can probably tell from those names, these colorways aren't as bright and cheerful as Topo's typical offerings.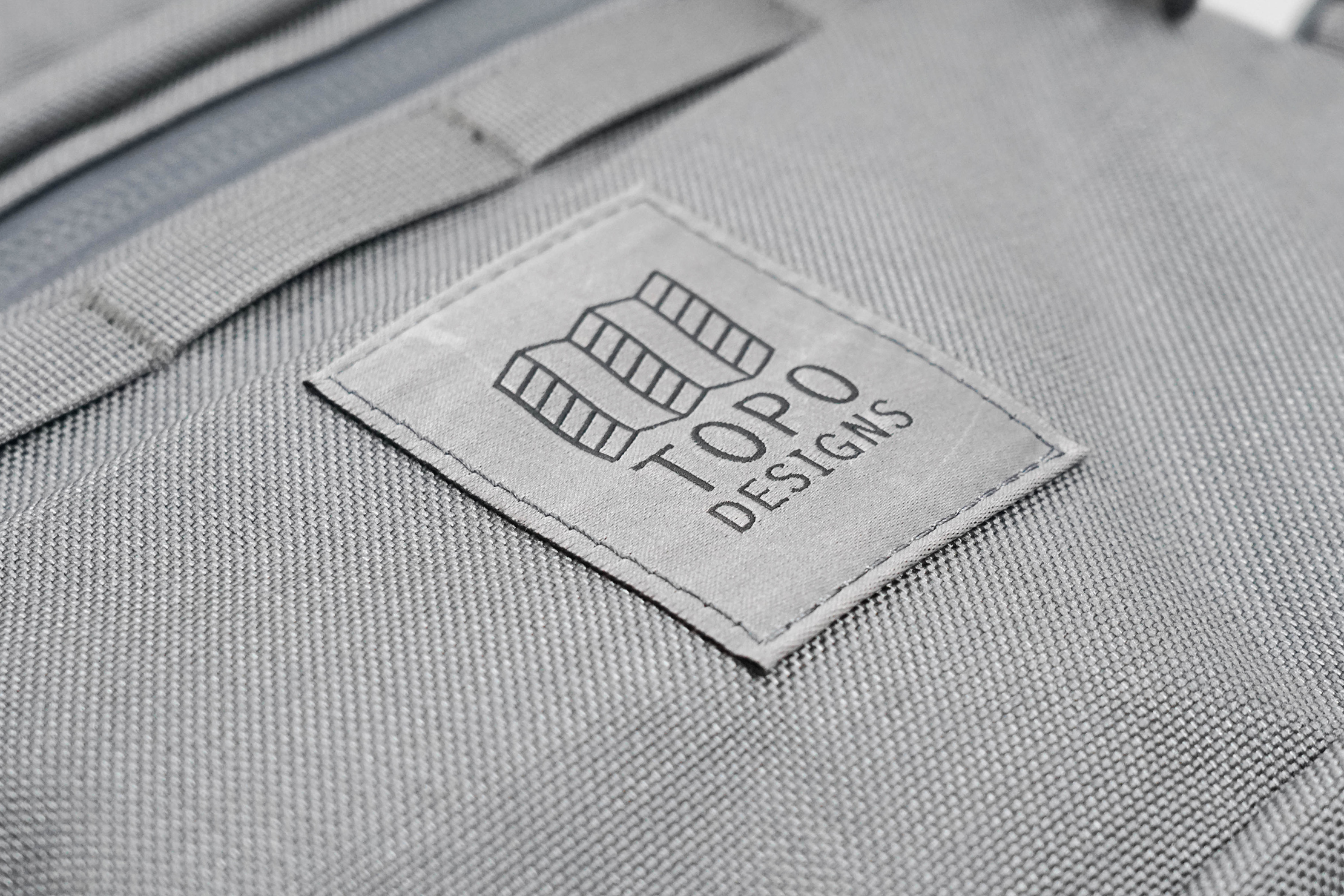 The hardware and logo tag is also all color-matched. Meaning if you pick up the Charcoal colorway—like we have—the buckles, compression straps, daisy chains, and logo are all gray. It makes for an exceptionally sophisticated and sleek design.
All in all, we're digging the look of the Rover Pack Tech—and we're not the only ones. We polled our Instagram audience and 62% gave this pack a thumbs up. (If you want to participate in future polls, make sure to follow us on Instagram.)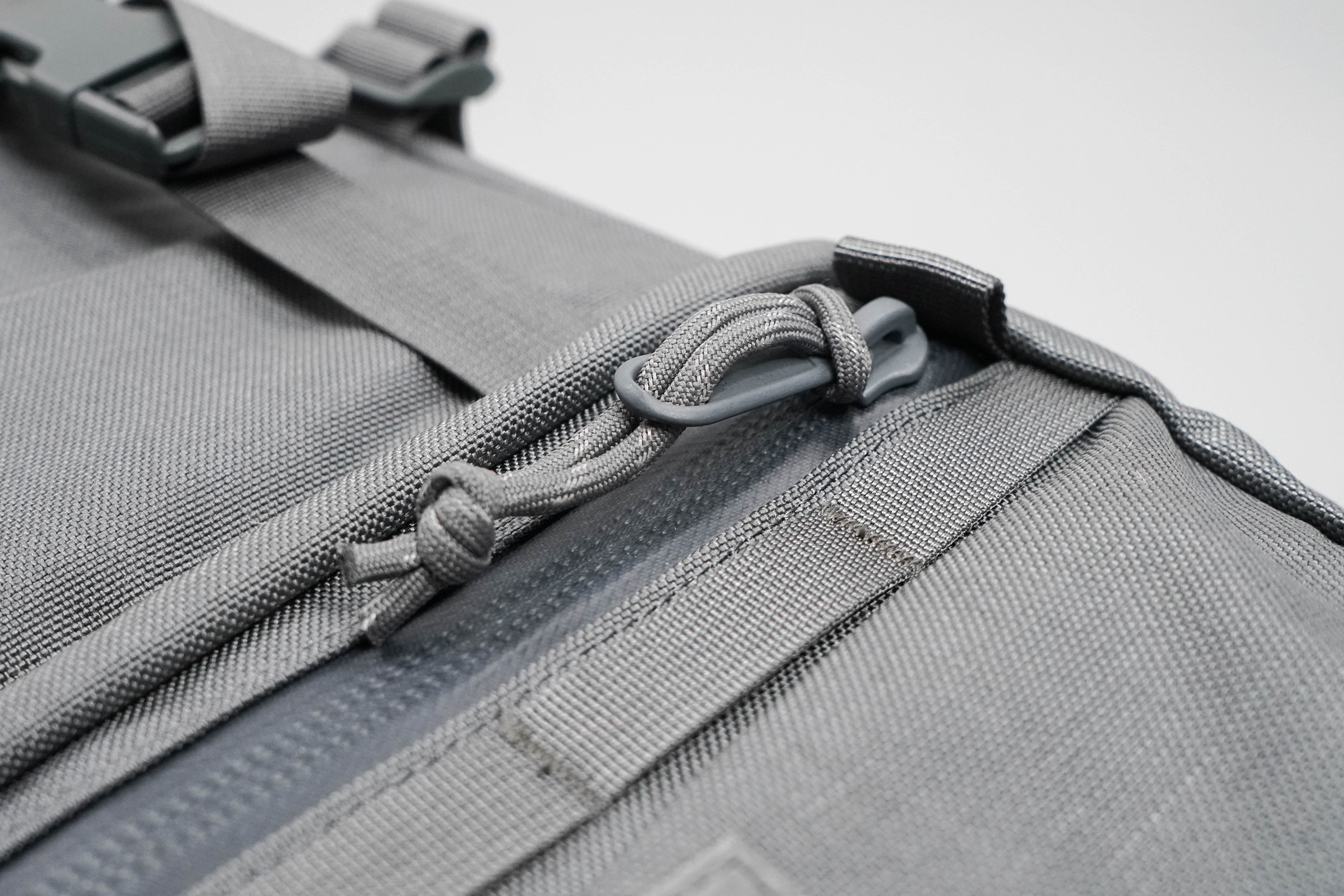 The pack is made from 1000D nylon, which is durable and soft to the touch. The pack also features beefy #10 YKK coated zippers. The coating gives the zippers some solid water-resistance.
Frequently, water-resistant zippers are stubborn and sticky, but these are nice and smooth (mostly because they run straight across and don't have curves to get snagged on). Plus, you have pull tabs to help you out.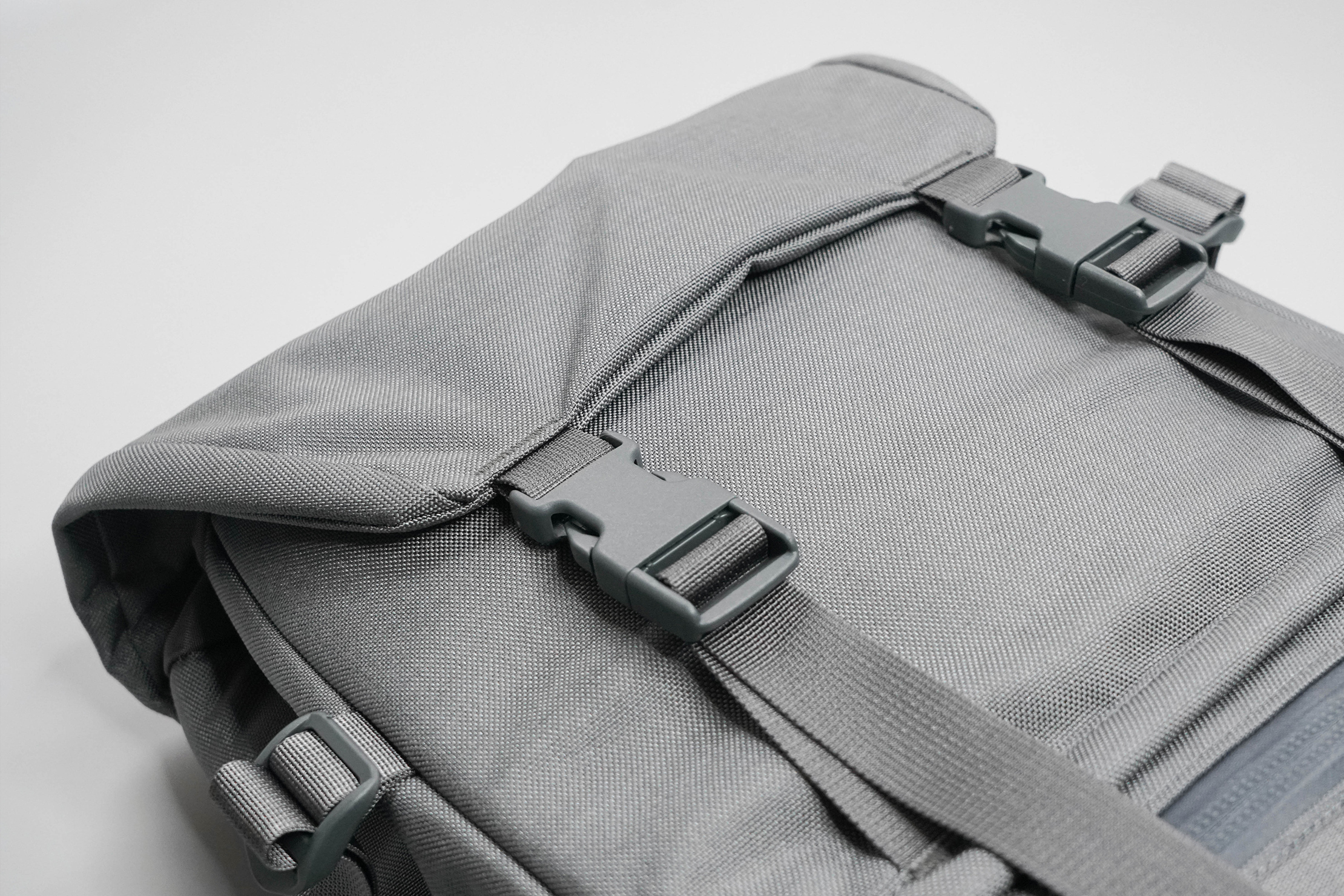 Finishing up the materials, you'll find durable Woojin Hardware.
External Components
Arguably, one of the most important aspects of a backpack is its harness system. So let's start there. The backpack straps feature a decent amount of padding as well as mesh to help with breathability. They're also quick and easy to adjust. And you'll find a D-ring on each strap for carrying gear externally. There isn't a sternum strap, which isn't a huge deal considering the size of this pack. But it's something to keep in mind.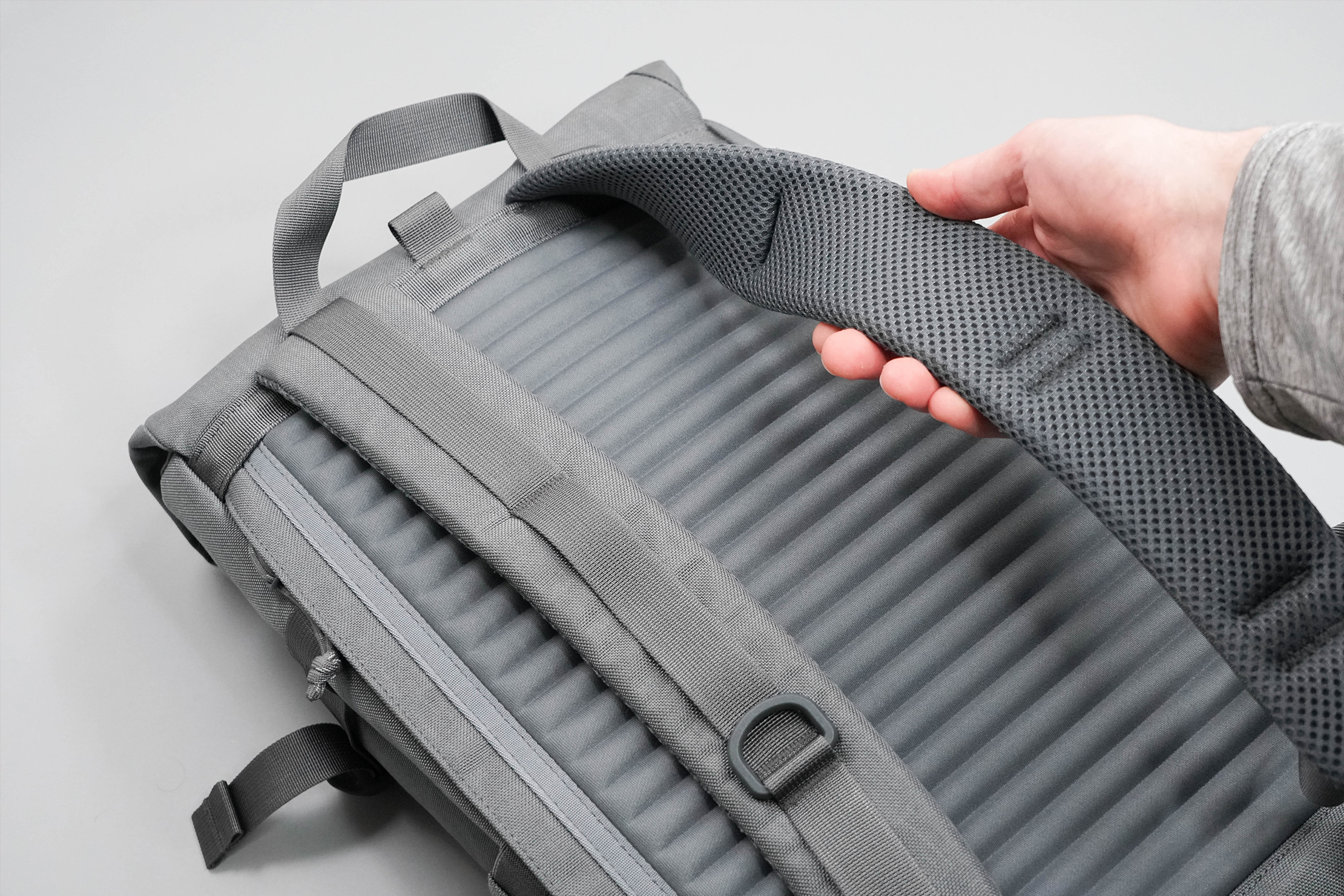 The RidgeBack™️ back panel is unique to the Tech version of the Rover Pack. And we've been digging it. It's well-padded (partially to protect the laptop sleeve behind it, which we'll discuss more later) and has a ribbed texture. While this texture helps with airflow somewhat, it doesn't create any airflow channels as the "ribs" are thin and, since they're so padded, smush down.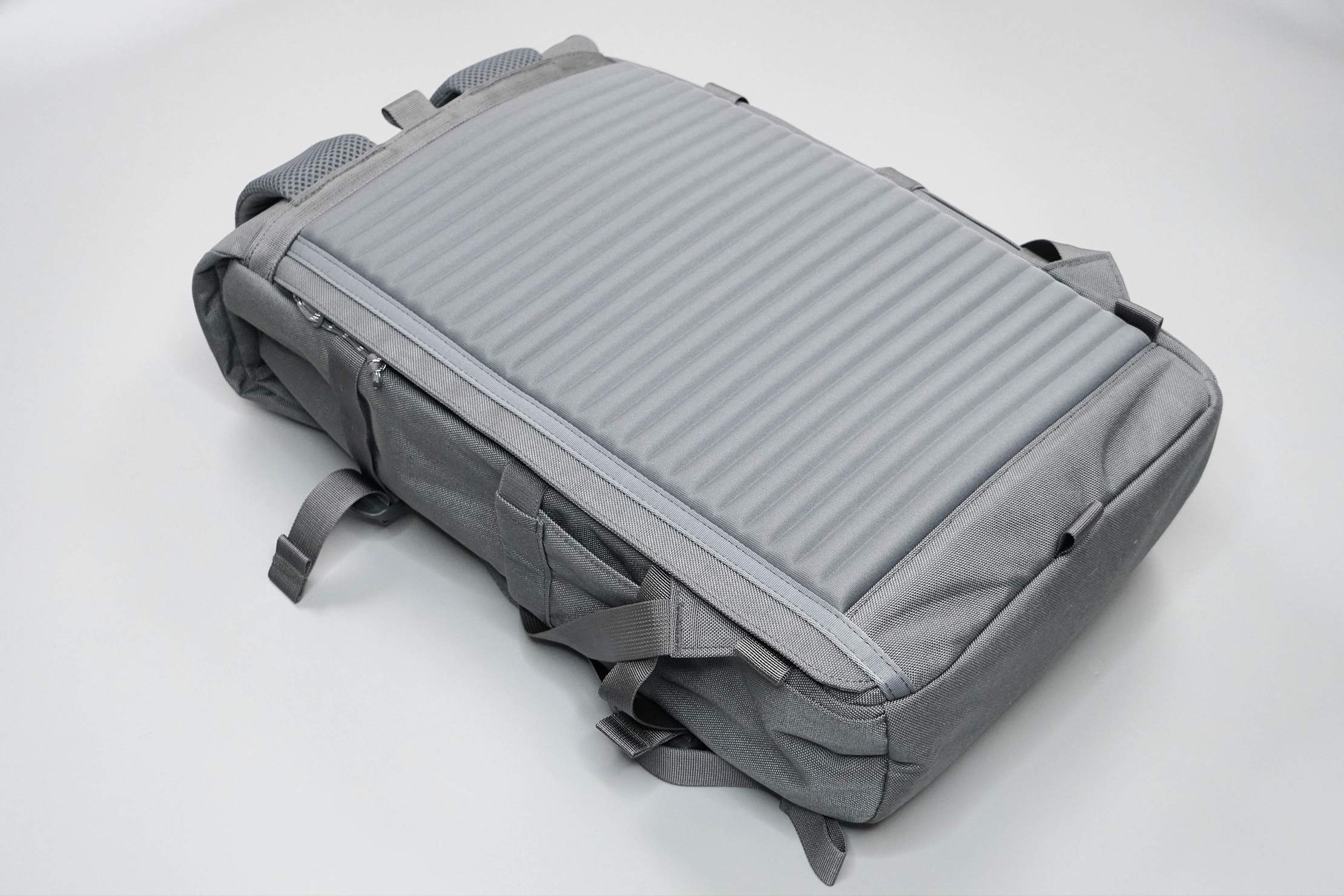 There's a loop on both the top and bottom of the back panel, which are PackFast™️ Travel Bag attachment loops. They allow you to attach the Rover Pack Tech to your larger Topo Designs Travel Bag. We can probably all agree that carrying a backpack attached to another backpack is a bit much. And also kind of a liability (if you quickly turn around in a crowded terminal, you'll likely knock some unlucky souls over). All of that said, we like that Topo has given us the option. Sure, it's not perfect, but if you're in a situation where you need to carry both packs, you can.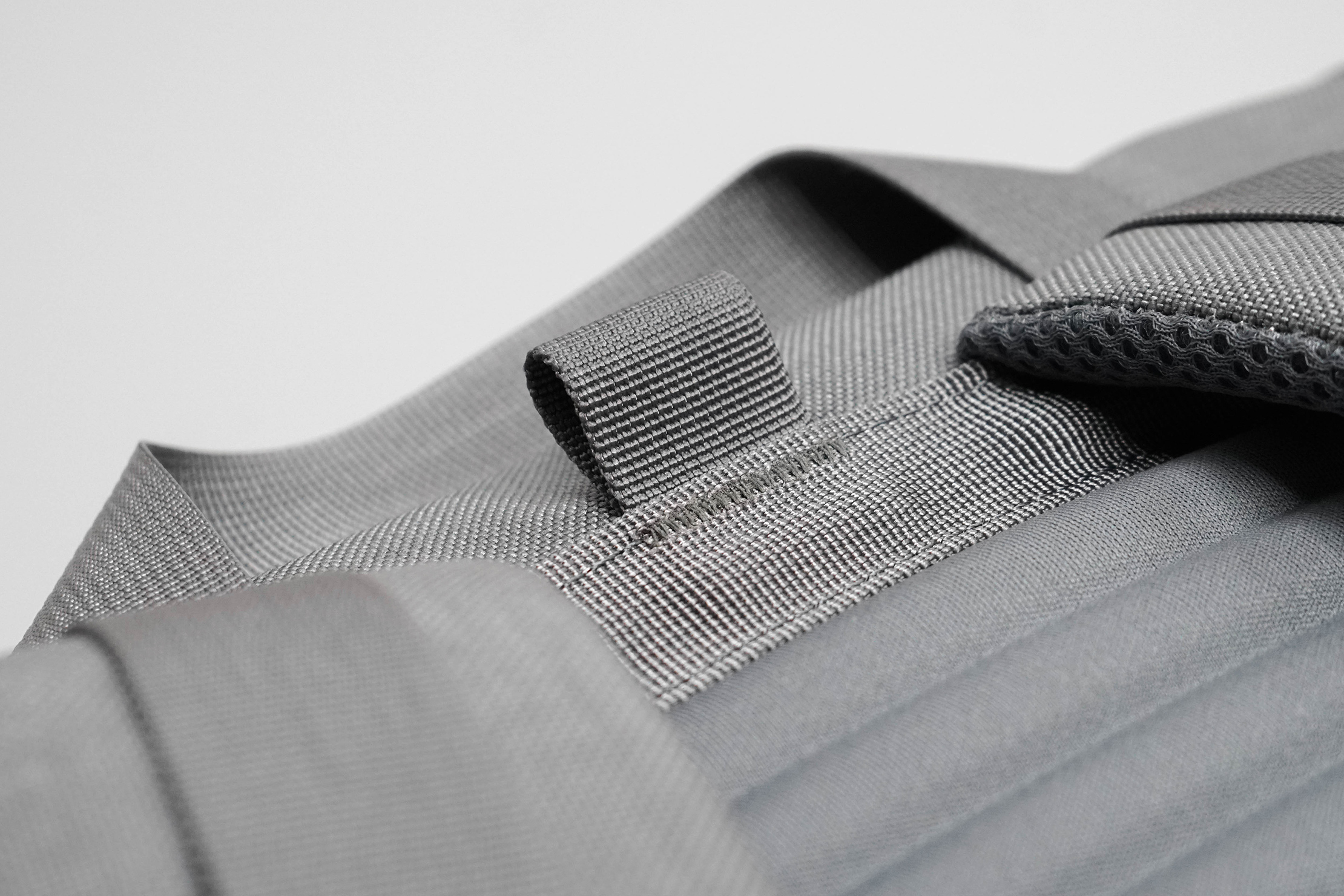 Flipping the bag over, you'll see daisy chain webbing for attaching a light, a carabiner, or whatever else. And you'll find compression straps on both sides of the bag. The Rover Pack already has a slim profile, so we don't think there's any need to slim it down further. But the option is there and it does make for a little bit of a thinner carry. They're also a good spot to carry a jacket or extra layer.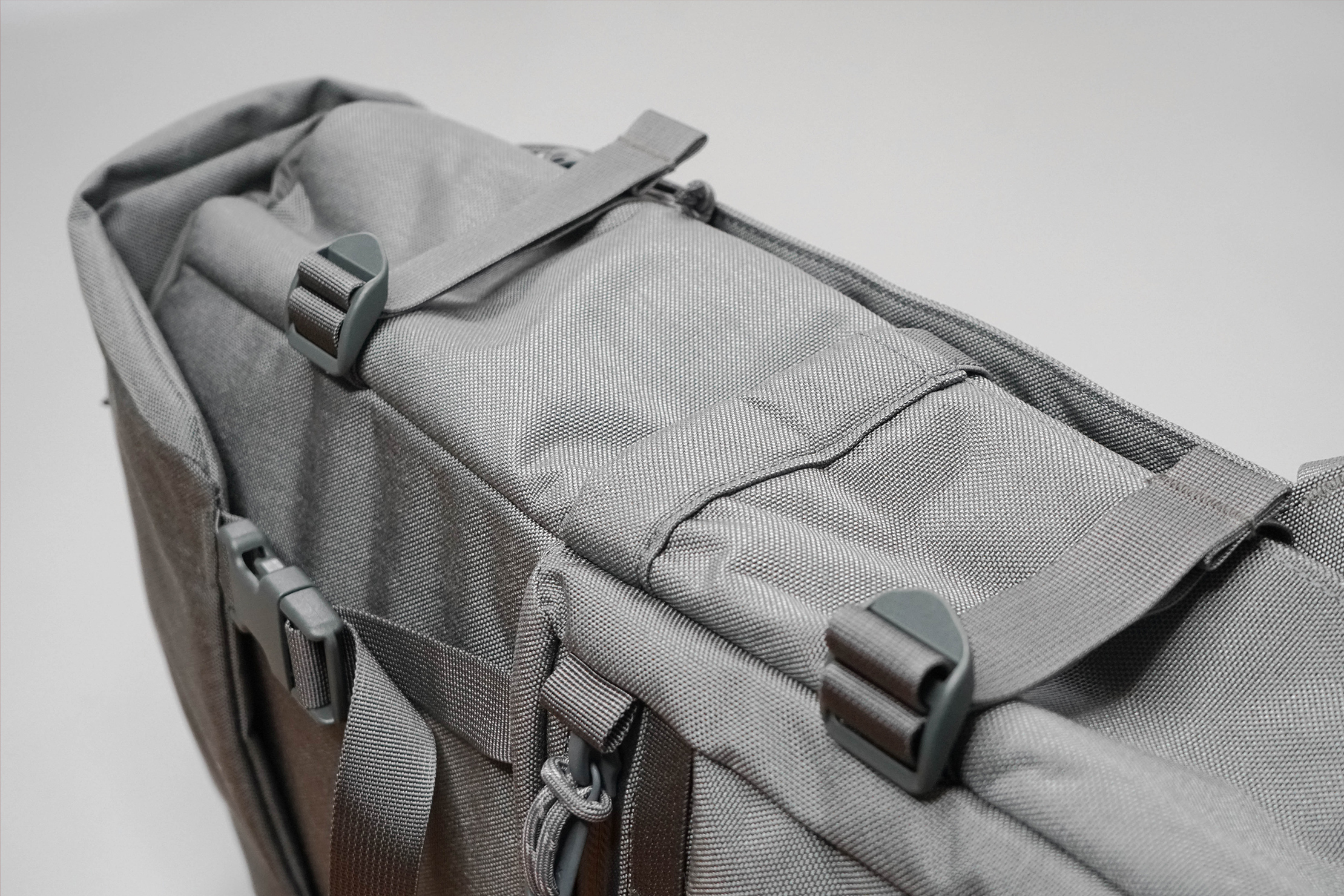 At the top of the pack, there's a simple nylon handle to help you maneuver it and/or hang it up.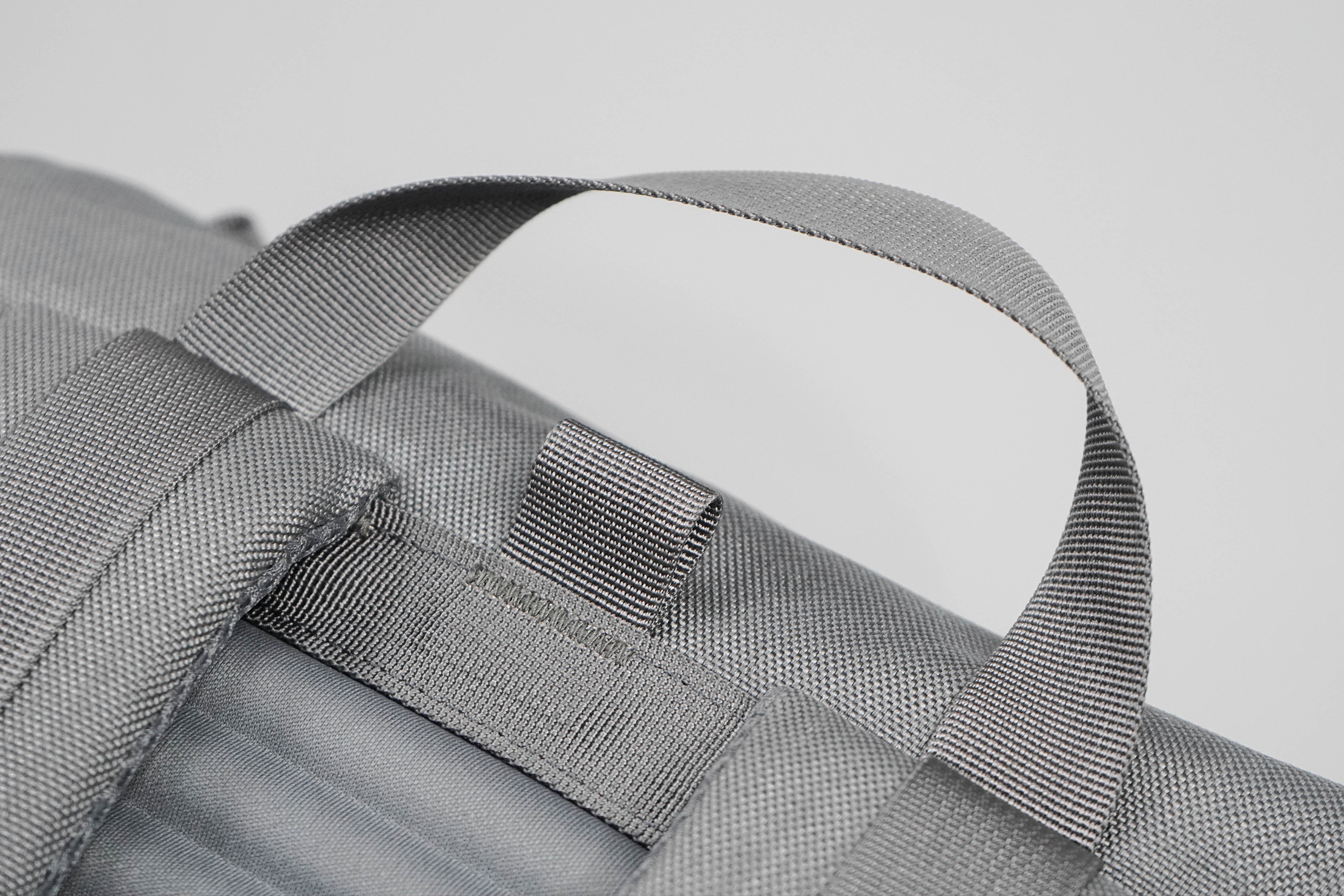 If you're a water drinker, you'll appreciate the two elasticated side water bottle pockets on this thing (one on each side). They're gusseted, so they'll fit water bottles of a larger size. And they stay flat against the pack when not in use, which is a nice touch. We really appreciate this design and it's a huge improvement—in our eyes—from the water bottle pockets of Topo's other bags, including the Daypack.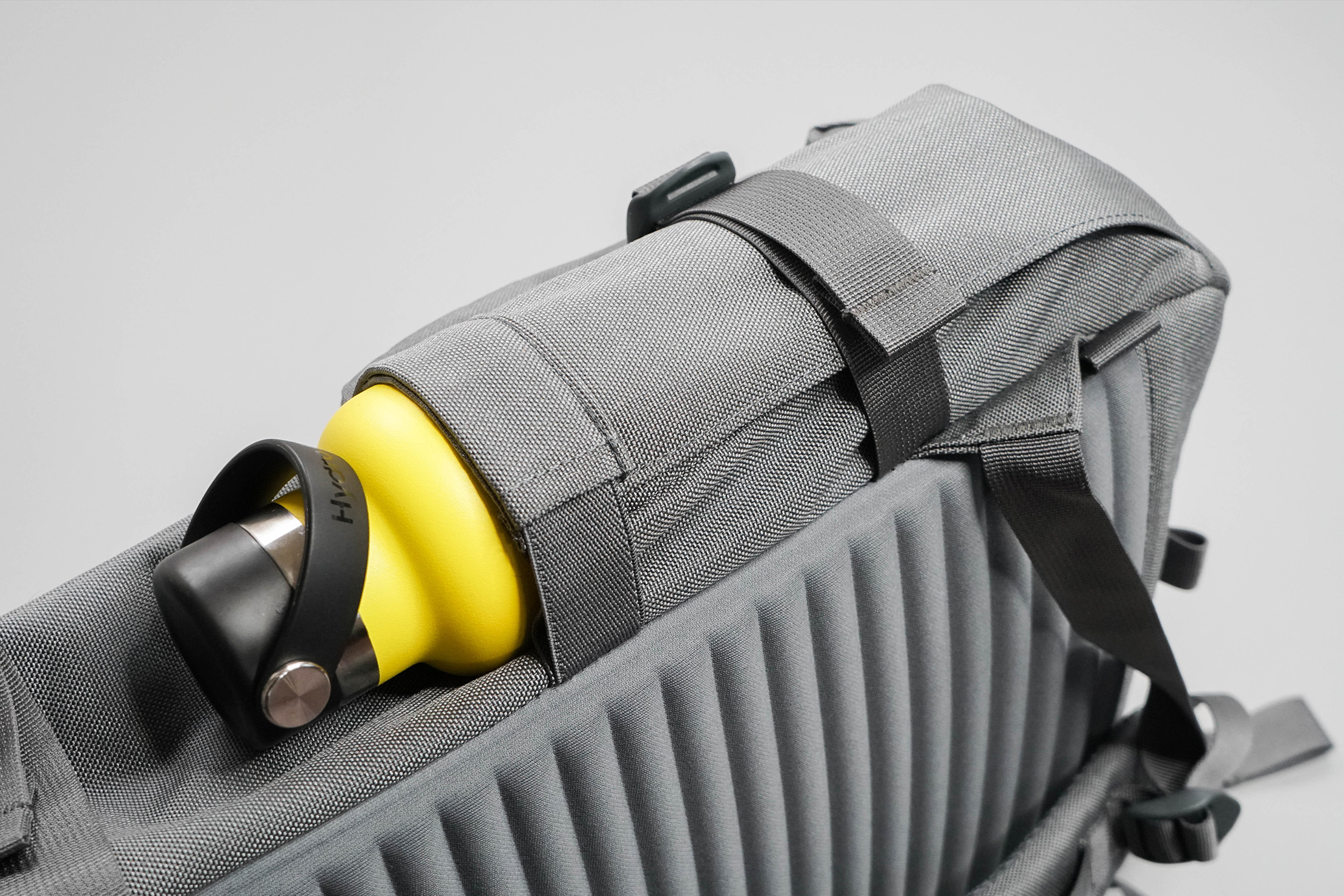 Inside the Pack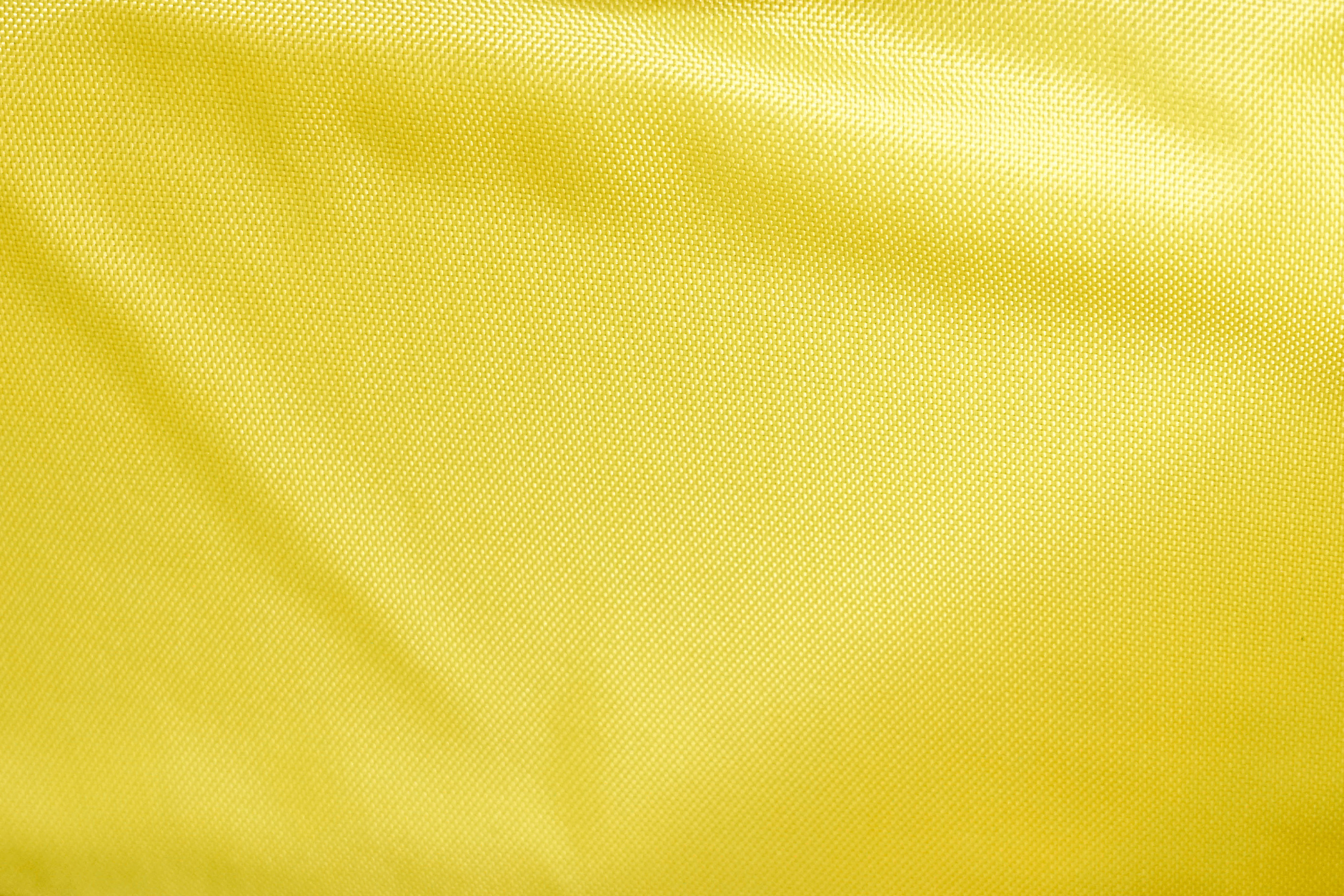 When you unzip any of the pockets on this sucker, you'll be greeted with Topo Design's classic fluorescent yellow liner. It really "turns on the lights," allowing you to see everything going on inside the pack. We always like bright liners, but it's especially useful in this instance since the main compartment is a top-loader. One critique of top-loaders in general is that it can be difficult to see what's going on inside of them, so we're happy to report that's not the case here (that said, the shape of the main compartment interferes with access and visibility, which we'll discuss more in a bit).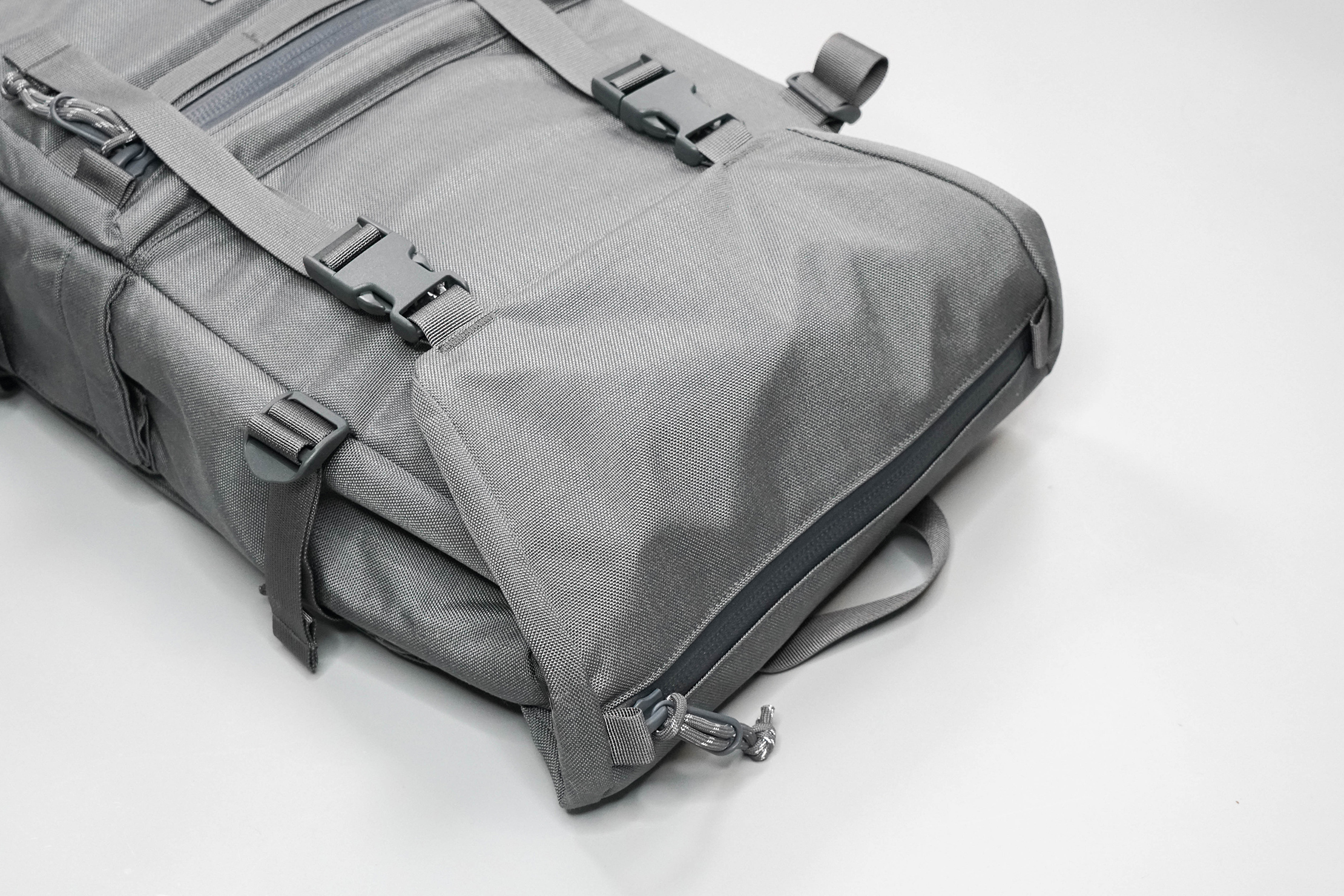 The main compartment has both a buckle closure and, once you unclip the buckles and lift up the flap, a drawstring cinch closure. Note that the cinch closure doesn't close completely. Even when you pull it as tight as possible there will be a small opening. So, just be careful putting smaller items inside this compartment.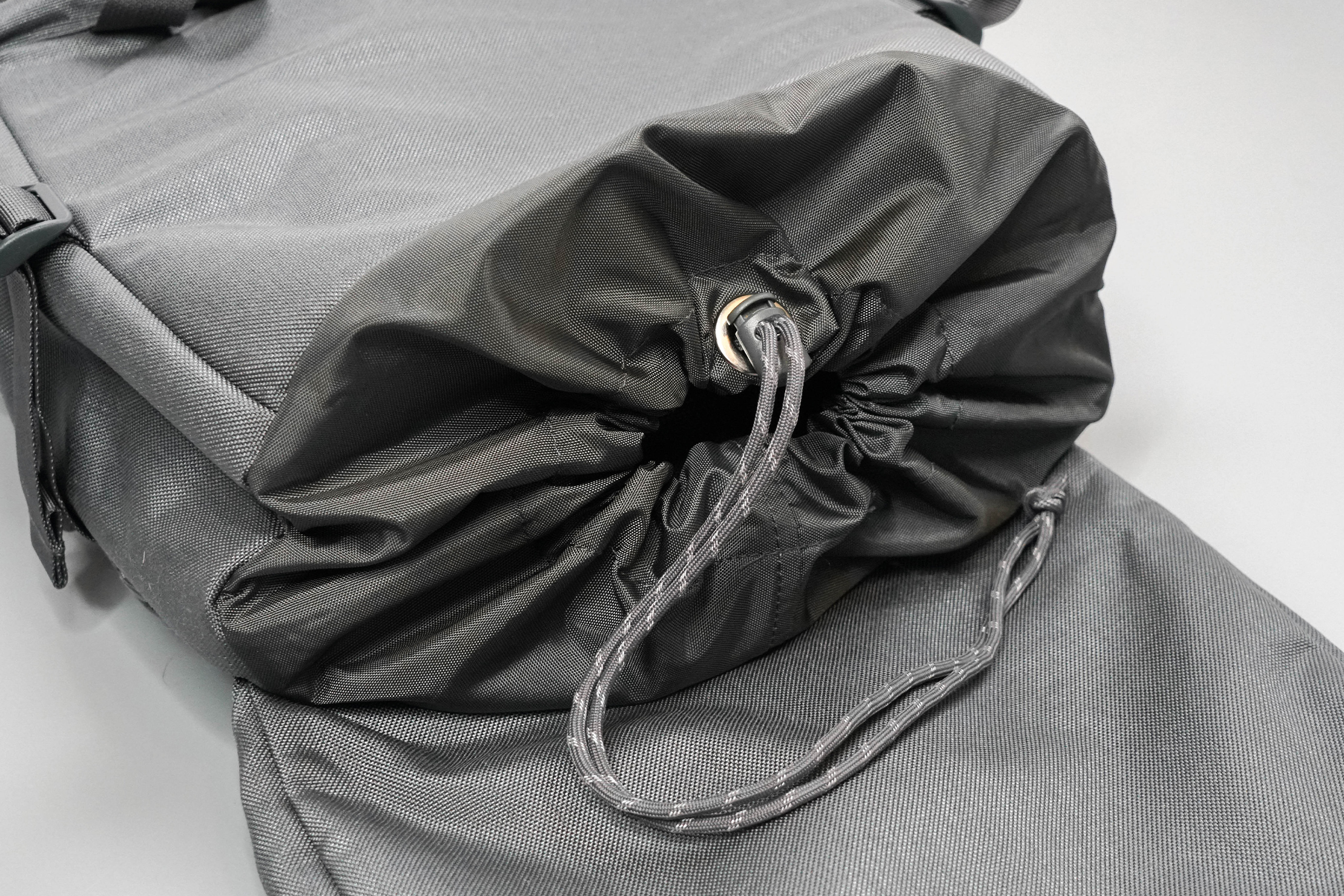 The top drawstring is slightly awkward to manage—to avoid dangling, you need to place it inside of the bag after cinching (unless you like the look of a dangling drawstring…to each their own). Of course, we're being nit-picky here. This isn't a huge deal.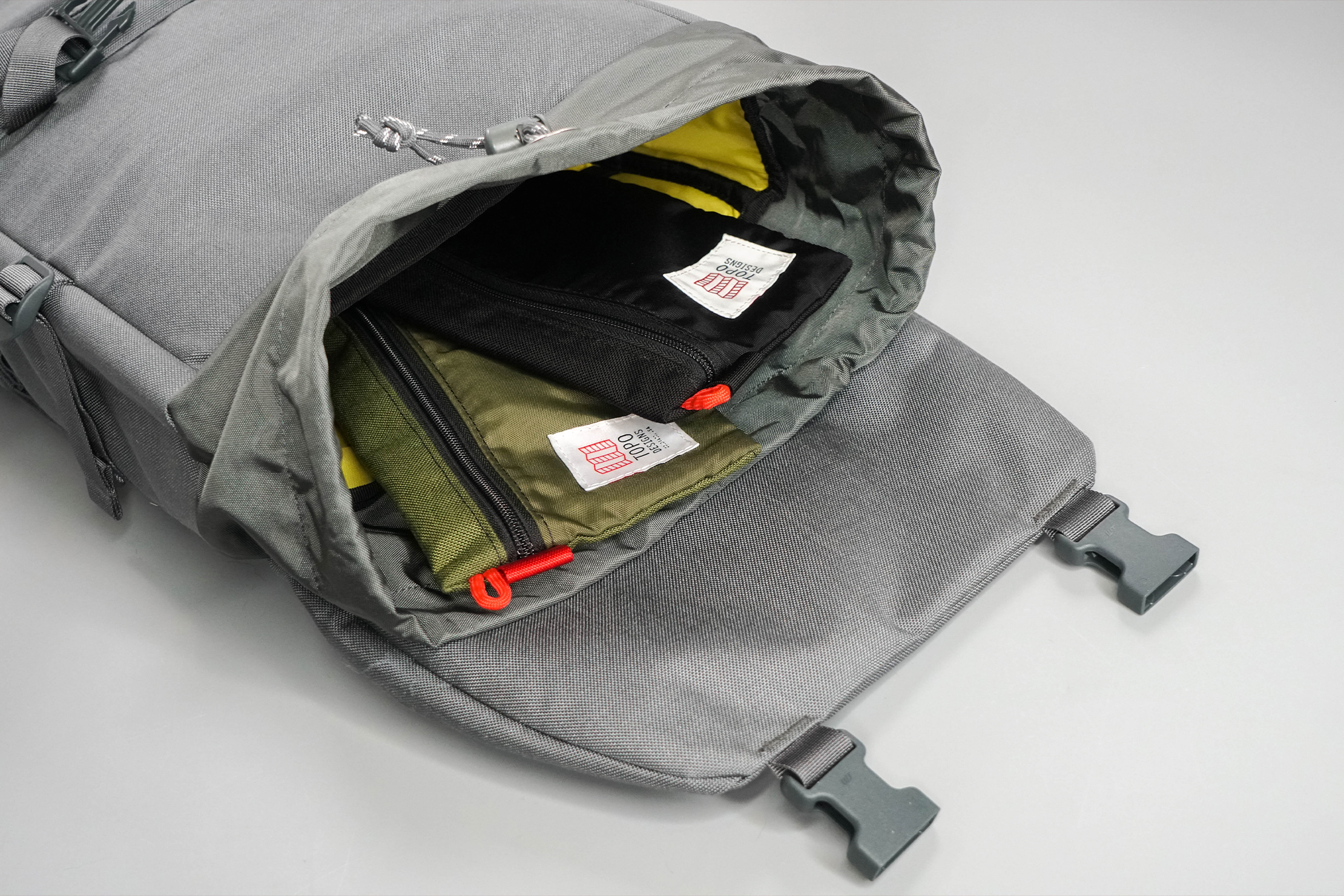 The compartment itself is mostly open space. We definitely recommend using packing cubes and/or accessory pouches here—both to keep your stuff organized and to help with access.
While the fluorescent liner helps with visibility, the access on this compartment feels a little tight. The compartment is a bit tall and skinny—essentially a thin tube—which can make it difficult to get to your stuff. Not a deal-breaker, but something to keep in mind.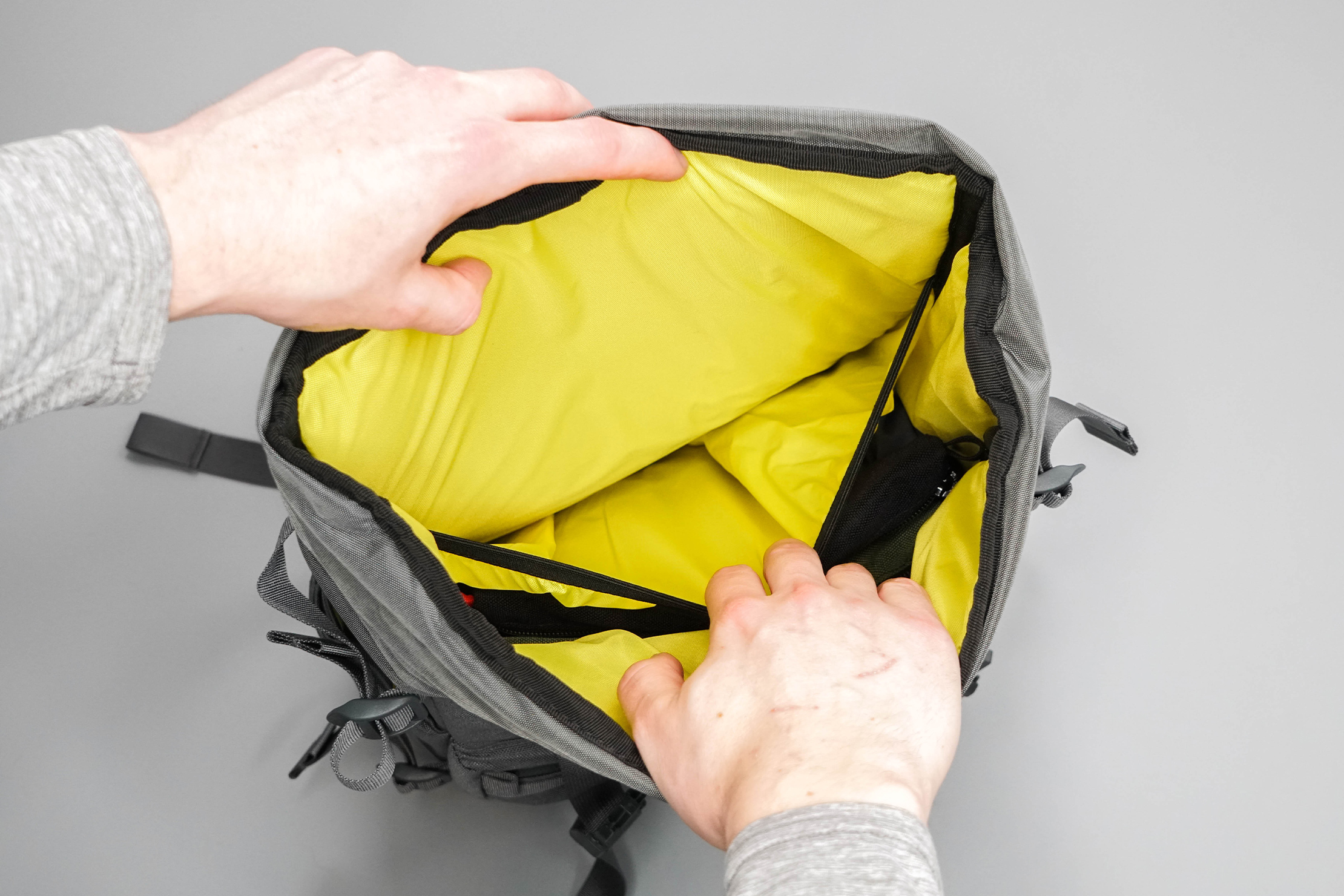 Inside, there's a padded divider pocket, which will fit up to a 15'' laptop. The Rover Pack Tech also has a dedicated laptop pocket, so you don't need to use this space for a laptop unless you're carrying around two for whatever reason. This divider pocket is a great spot for a tablet, notebooks, documents, etc.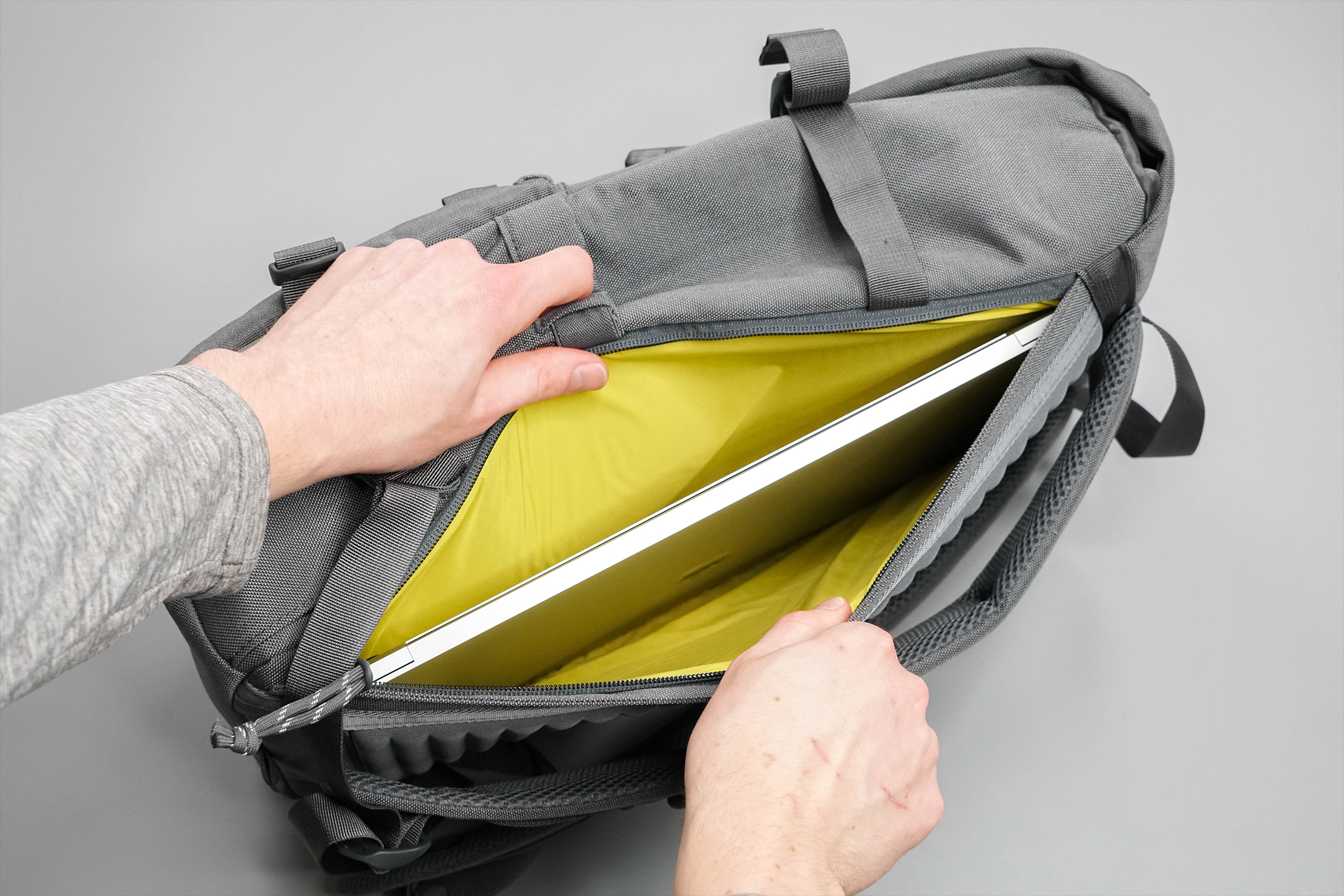 Speaking of the laptop compartment, let's check it out. It has been designed to fit up to 15'' laptops. And you can easily slide your laptop inside while the rest of the pack is full. It has a decent amount of padding, but it doesn't have a false bottom. We always like when laptop compartments feature false bottoms as they suspend your laptop off of the bottom of the bag, protecting it from drops. Suffice to say, we haven't been comfortable putting a laptop into this compartment without protecting it with an additional case.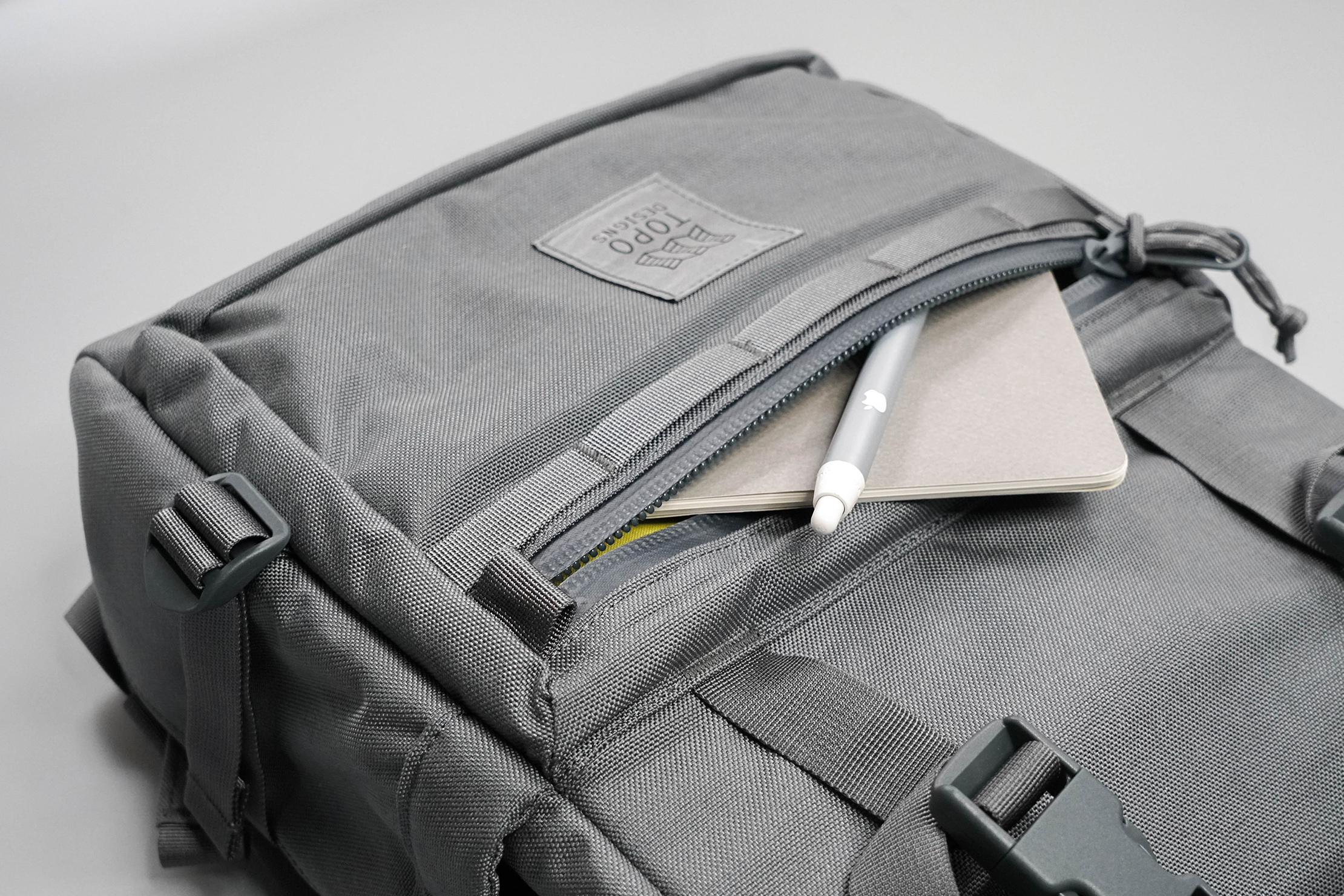 On the front of the pack, there's a big ole pocket, which has no organization inside of it. It's a good spot for a notebook, book, snacks, etc.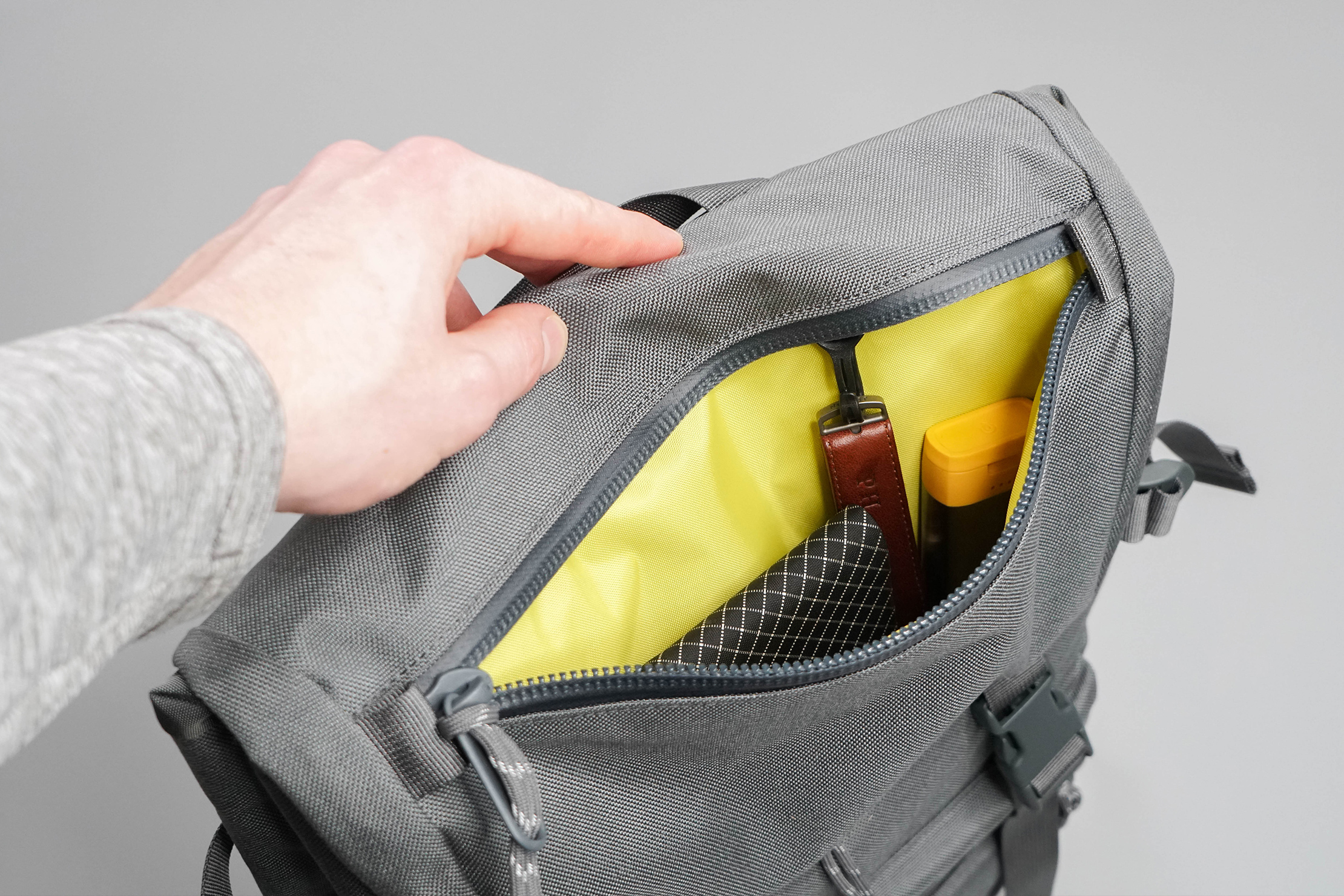 And last but not least, there's a top quick-grab pocket. It's a good spot for your wallet, phone, etc. It also has a key clip… so keys would work well here too. The key clip is plastic, which isn't ideal. We're always concerned about the longevity of plastic key clips (compared to metal ones), especially if you use it daily.
We've also found that if you fill this pocket up with heavy gear, it flops around a decent amount. So stick with lighter items if you can.
Overall, the organization is on the simpler side. Especially, considering that this pack has been designed for tech. Whether or not you like simple organization is a personal preference. If you like to use accessory pouches and take organization into your own hands, this could be the pack for you. If you prefer to have a spot for everything, you may not enjoy this pack so much.
Durability & Testing
At the time of this review, we've been testing the Topo Designs Rover Pack Tech as a daily driver for two weeks in the Motor City. It's a great, albeit simple EDC (everyday carry) bag. It holds everything we need for a productive day at the co-working space or coffee shop.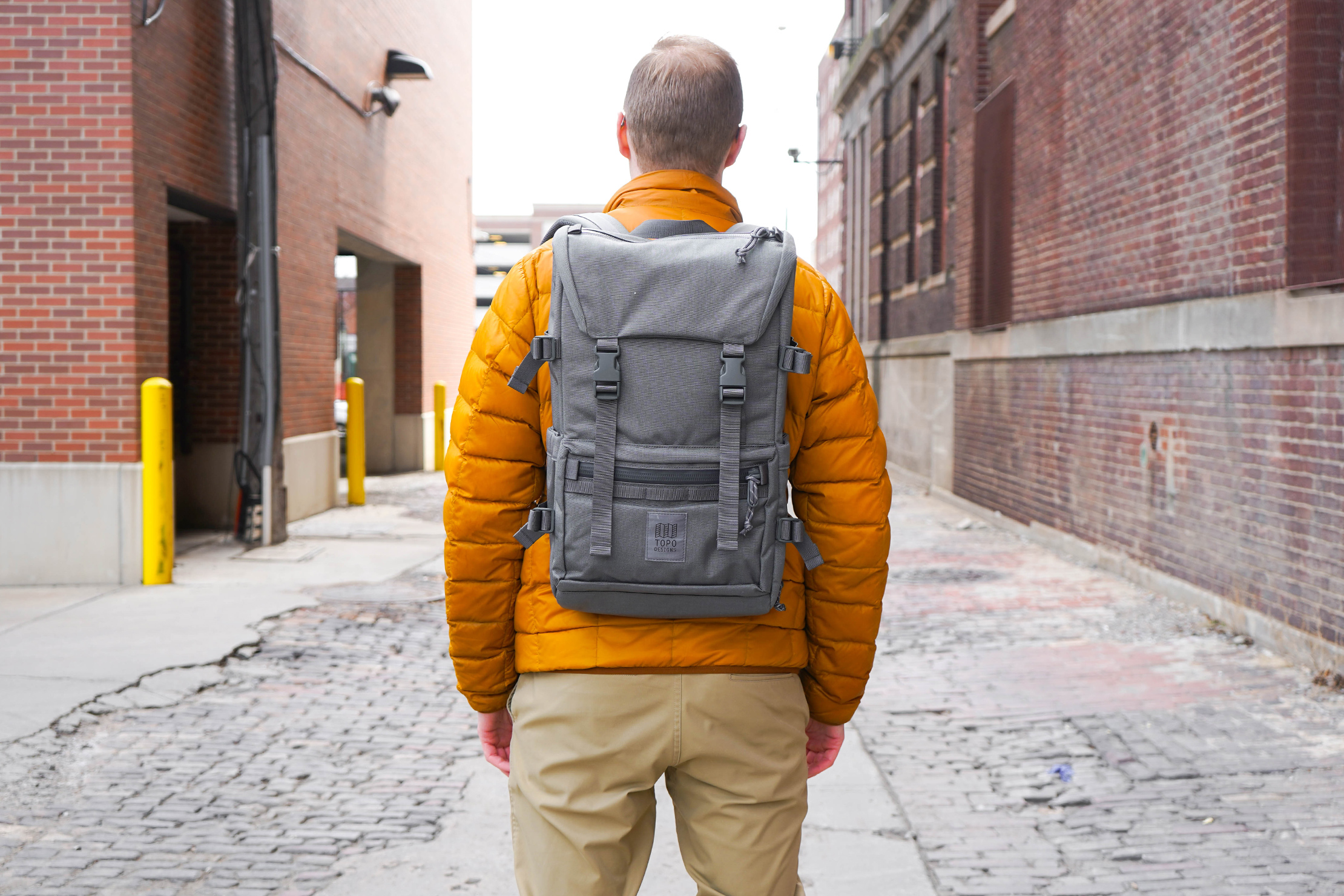 Topo Designs gear is usually built-to-last, so we're not surprised that this bag has been holding up flawlessly. In the past, we've had issues with Topo logo tags fraying within a few weeks of testing, but the logo tag looks as good as new on the Rover Pack Tech.
Usage Timeline
Initial Usage
Condition: Excellent
Noticeably thicker padding on the back panel than the Rover Pack Classic
1000D nylon, no thinner packcloth material except for the liner
Not as much organization as you would expect with a tech bag
2 Weeks of Use
Condition: Excellent
Enjoying the extra features that come along with the "Tech" version of the Rover—especially the dedicated laptop compartment
A minor nitpick: The top drawstring can be slightly awkward to manage—to avoid dangling, it needs to be placed inside of the bag after cinching
Digging the high visibility interiors typically found in Topo Designs gear
Access the Pro Community Discussion
Get your questions about the Topo Designs Rover Pack Tech answered from our team and the Pro Community right here on the page. Plus, join discussions with other members about gear, guides, and more.
Other Bags & Luggage Reviews