Topo Designs Rover Pack Classic Review
The Topo Designs Rover Pack Classic's fun two-tone colors and many external loops marry style and flexibility, though the main compartment can be slow to access.
Our Verdict
Unlock the Pro Summary
Save time. Get access to brief summaries of our reviews so you can browse and make decisions more efficiently.
Pros
Quick-grab pockets' zippers feel easy and smooth to use
Bright interior fabric in all compartments
Total of four compression straps kept the bag nice and tight
Main compartment can be fully utilized thanks to the adjustable flap
Cons
Water bottle pockets are tight and can dig into the sides of the interior
The laptop sleeve doesn't have much padding though the Tech version is better equipped for this
The buckles and drawstring cinch closure combo slows down main compartment access
Recent Pack Hacker Video
Technical Details
Capacity

20l

Weight (lb)

1.418 lb (0.6 kg)

Denier

1000D

Bottom material

Dimensions

16 in x 10.5 in x 4.75 in (40.6 x 26.7 x 12.1 cm)

Notable Materials

Nylon, Packcloth, Woojin Hardware, YKK Zippers

Manufacturing Country

Vietnam

Laptop Compartment Size

15"

Warranty Information
Full Review
Get up to 15% off Topo Designs • Join Pack Hacker Pro
No, you're not having a déjà vu moment; this daypack is the Topo Designs Rover Pack—Classic edition. While we've already checked out the Tech variant in a previous review, there's also this much more colorful option for the less techy crowd. You can just see the stark difference in color between the Tech and Classic—the latter being dubbed their "most iconic daypack silhouette".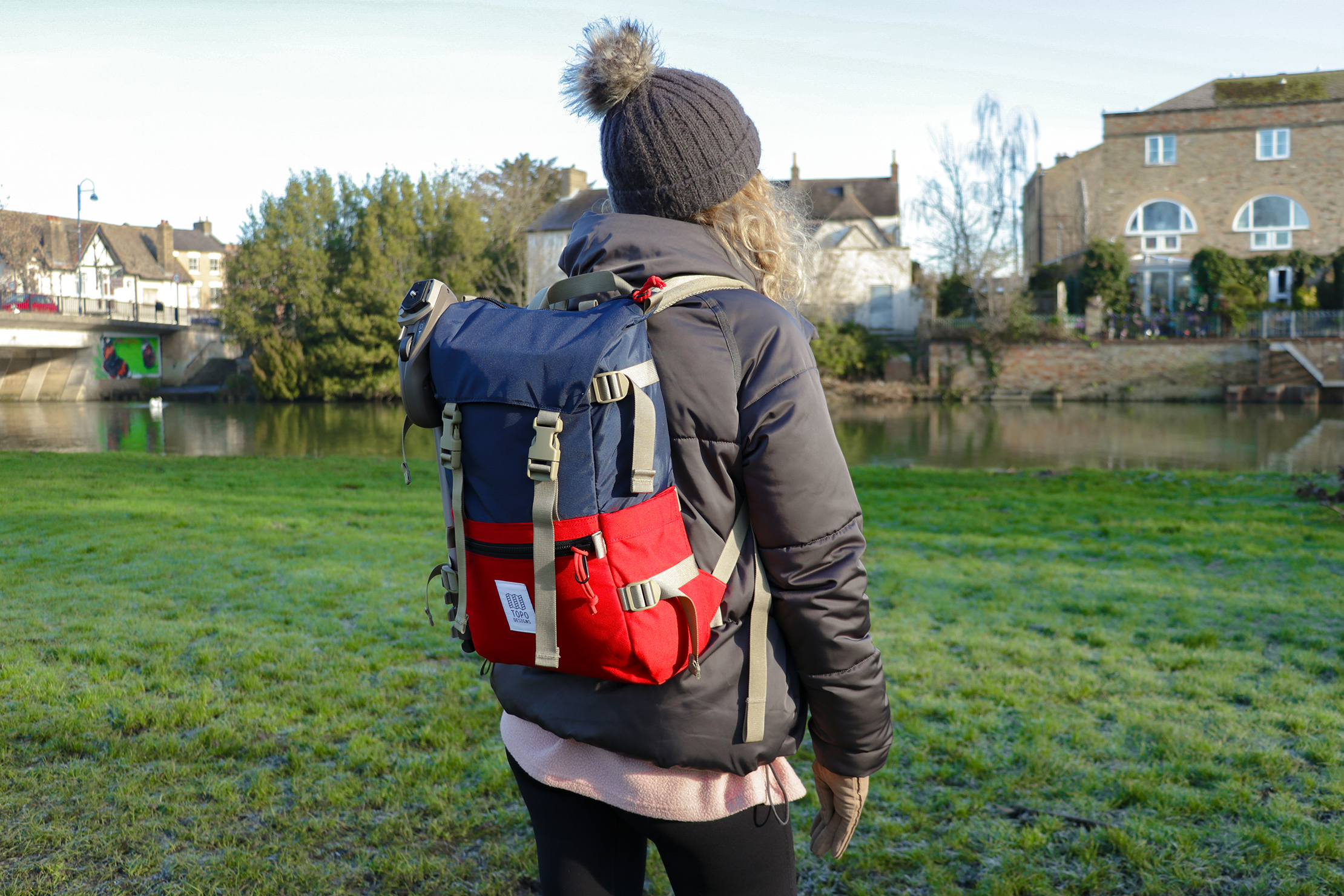 Is it just us, or does the red and blue color scheme have a retro vibe going on? Regardless, we think this is a fun daypack to look at, but there's much more to like here beyond the styling. For one thing, Topo Designs' PackFast attachment loops—designed primarily to enable you to attach your Rover Pack to their Travel Bag—are also here, adding to the bag's versatility. But, this being the non-tech variant, there is a compromise or two, which we'll be taking a look at later on—oh, still admiring the colorway? Scroll on down, and we'll see a lot more.
Materials & Aesthetic
Some of the most used phrases we say around here at Pack Hacker include "subtle," "not in-your-face," and "minimalist." This clean and tidy design approach is relatively safe, and we tend to praise it since we appreciate tried and tested methods. But once in a while, we come across something that shakes things up. Take, for example, the Rover Pack Classic.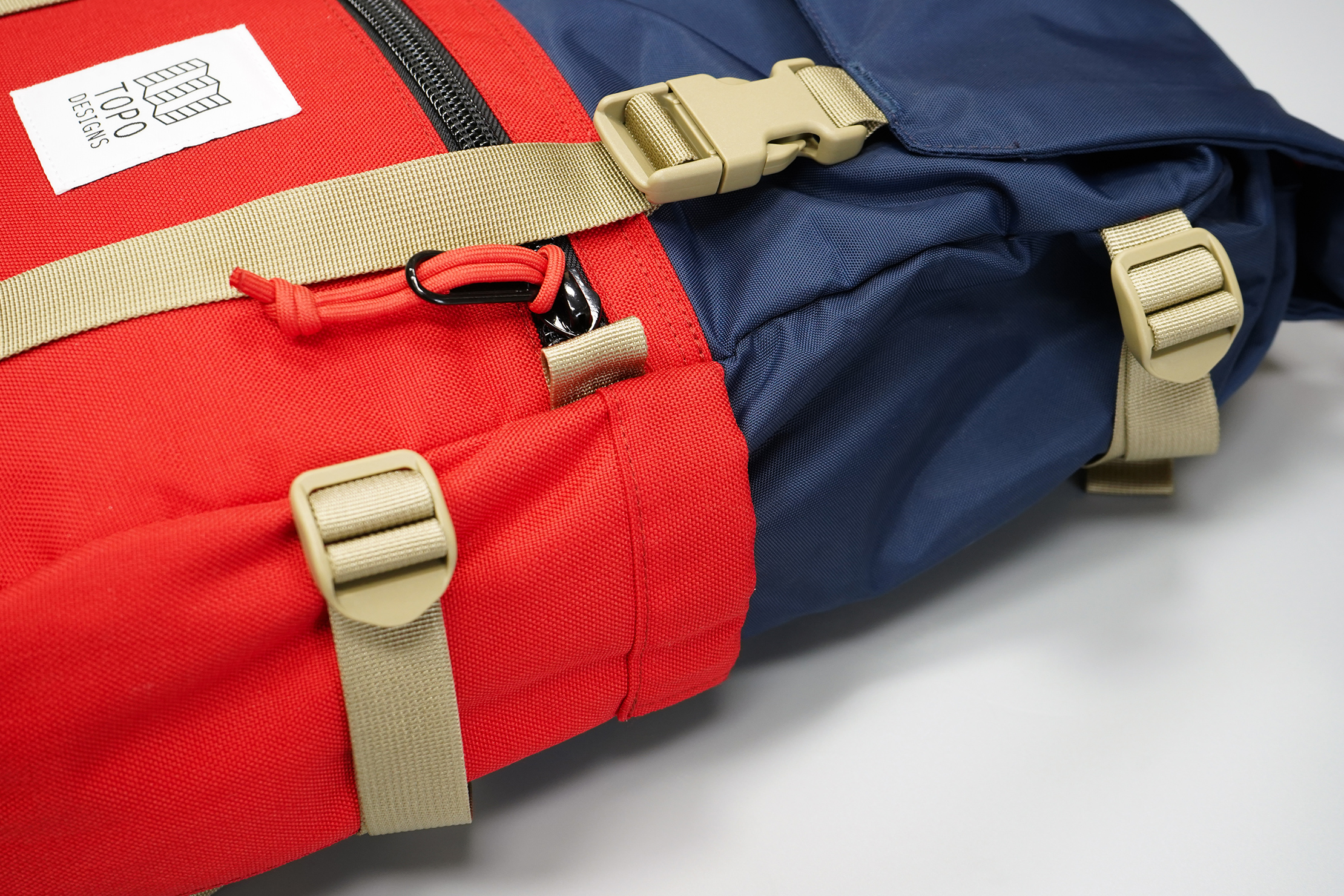 Just one look at this two-tone Navy and Red design, and you might find yourself nodding in agreement: it's fun to look at. The caramel-colored straps and loops add a bit of flavor and how they run across and drizzle the facets of the body like syrup is a pleasant sight. Topo Designs' white logo on the front is noticeable too—a touch of vanilla if one were to keep thinking of desserts. Currently, there's also an equally fresh-looking Olive/Navy combo and the much tamer single color options of Black, Olive, and Navy. Other two-tone colorways are also out there, such as a blue & black and a black & apricot one. They're not available right now, but it's nice that they're always playing with new styles and colorways.
Rest assured that it's not all about looks and colors for the Rover Pack Classic. Regardless of what colorway you choose, tough fabric covers the body—1000D nylon at the bottom half and 420D nylon packcloth for the top half. So when day-to-day duty calls, this backpack can take it all and then some. As a bonus, the nylon and packcloth kept themselves clean, remaining relatively spotless during our lengthy testing.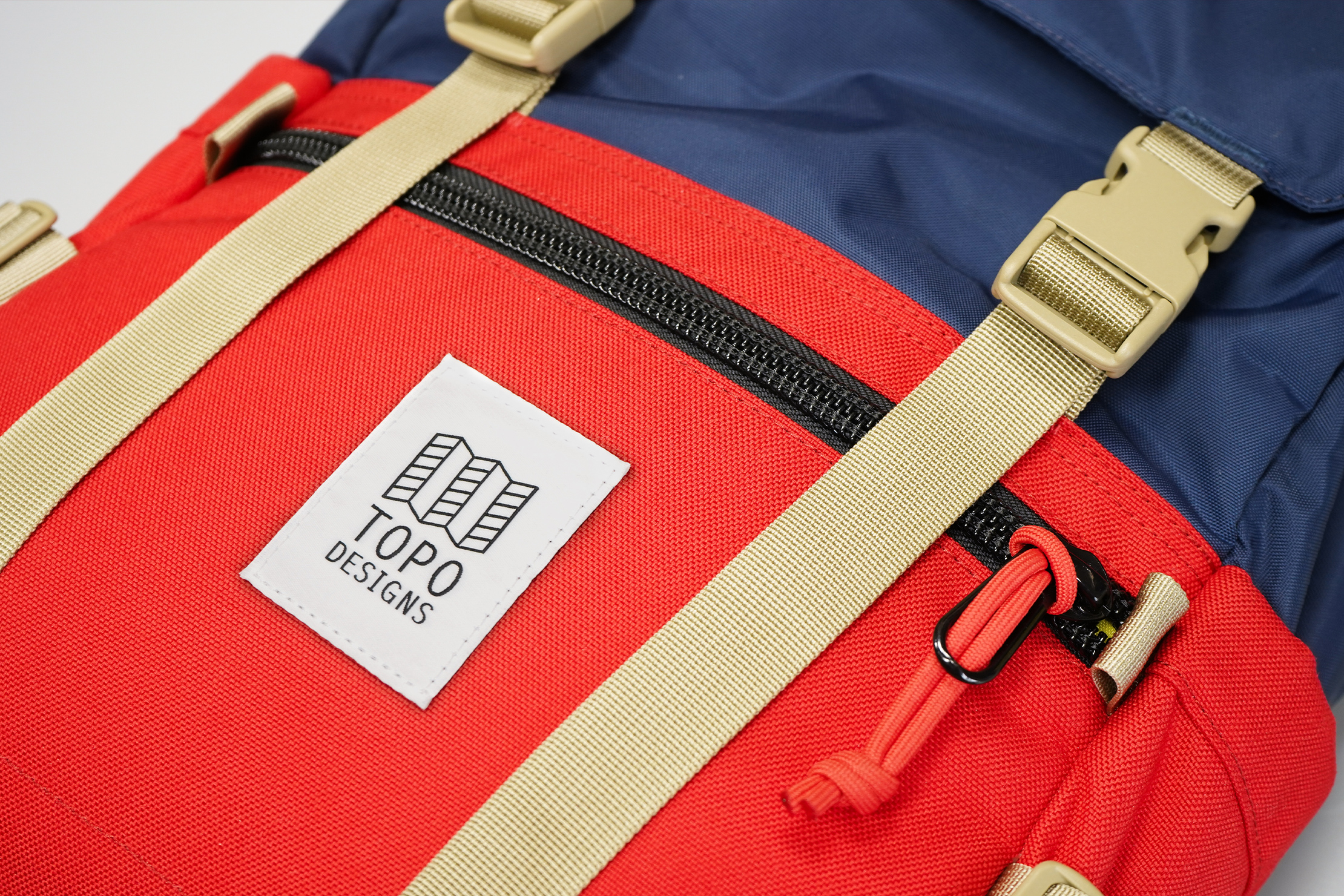 External Components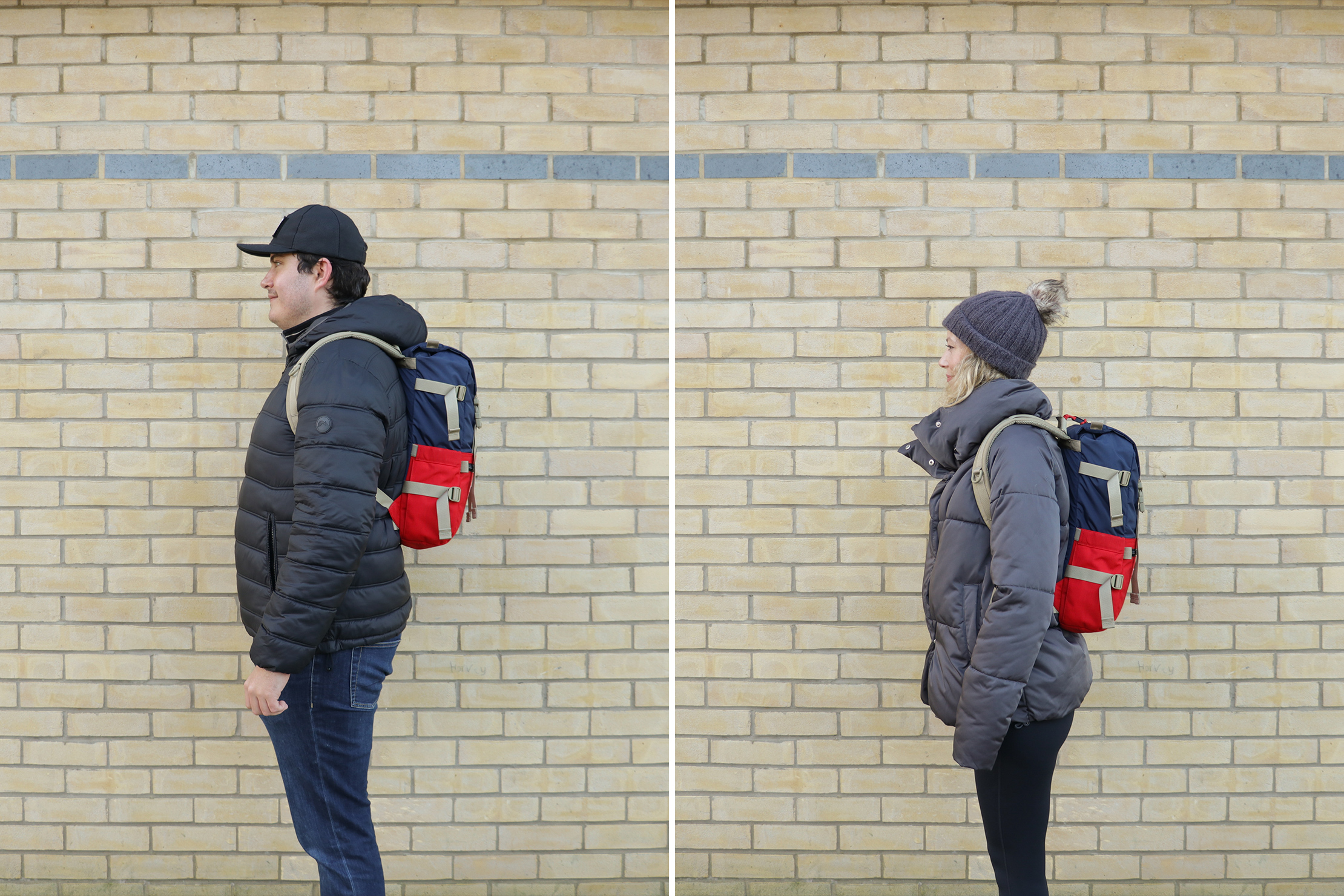 At 20 liters, the Rover Pack Classic is well within daypack territory. As such, the harness system is uncomplicated and straightforward. The shoulder straps have decent padding and even come with mesh fabric on the underside to keep things cool and breathable, though the back panel doesn't have the same ribbed foam as the Tech version. There's also a handle on top that's stitched on top of the shoulder straps, giving it a much wider arc, and it means less pressure on your hands' edges.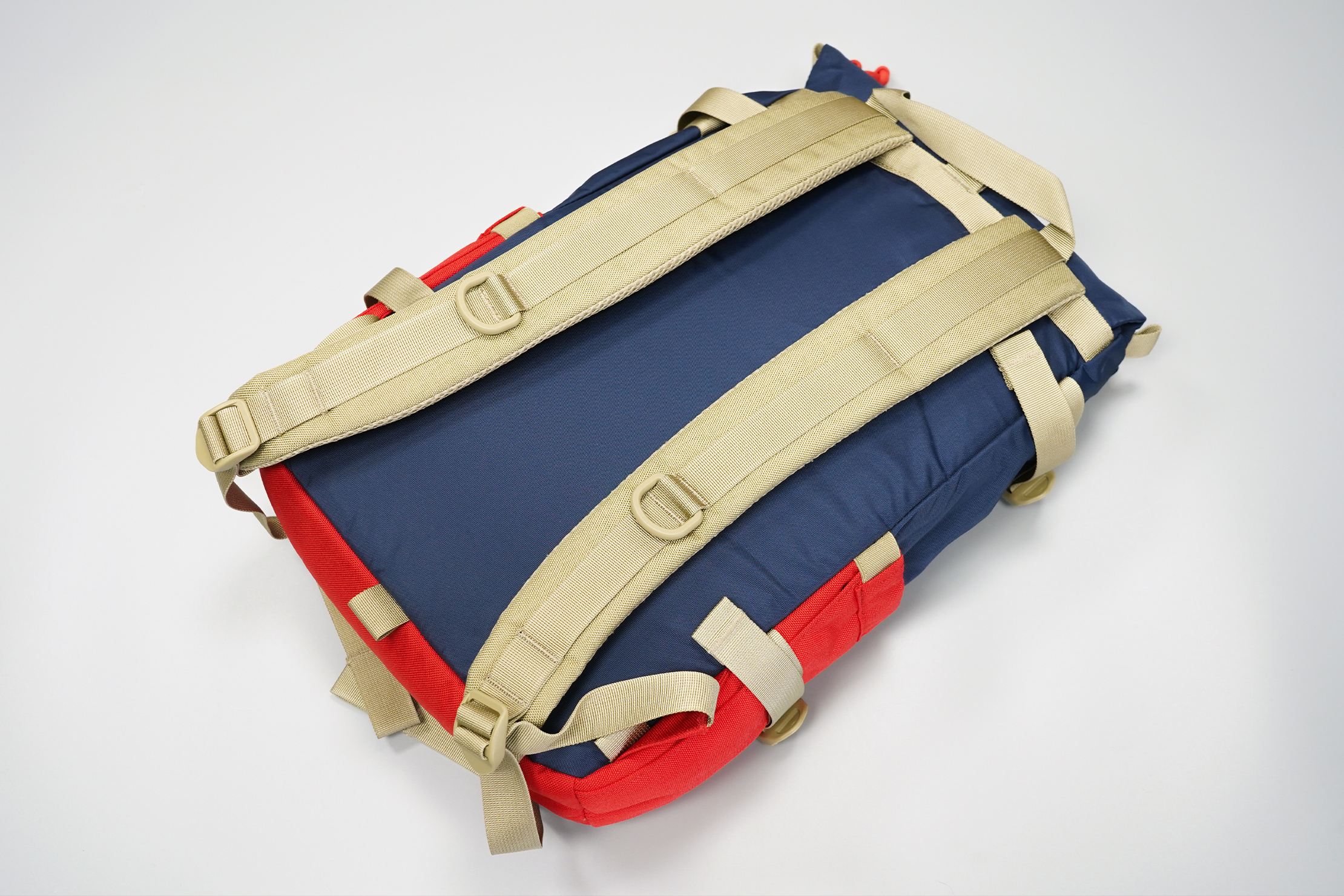 Even though it's a simple harness system, there are attachment points for carabiners, a separate sternum strap, and a hip belt—the latter two of which are available as separate purchases. They're not necessary for a daypack, and the straps are acceptably comfortable as they are, but it's nice to have the option if you find an edge case that deems those extras necessary.
And if you do find yourself needing both a sternum strap and hip belt, you can count on the side compression straps to hold down that much load too. Topo Designs was very generous in this regard since there are a total of four—count them—four compression straps, with two on each side. We've seen bigger capacity backpacks come with only two, so seeing four on a daypack came as a nice surprise to us. Having two on each side provides a literal good balance and prevents whatever's inside from just bulging to one side. Plus, you can use them to hang off a tripod to the side of the bag, and it will be very secure thanks to having both a top and a bottom strap.

On each side of the bag are water bottle pockets. As far as water bottle pockets go, these are on the slimmer side of things, and extra-wide bottles might have difficulty fitting in. When they do fit, they take away a little bit of space from the main compartment, so it's something to watch out for when you have a loaded-out interior and want to fit in a large bottle. Elastics keep your bottle from falling out, but the bottom side compression straps act as extra security. A nice bonus, especially if you have extra slippery bottles that have a shiny finish.
Scattered around the Rover Pack Classic's body are these small attachment loops, part of Topo Designs' PackFast system. They make attaching the Rover Pack to other compatible travel bags easier, but they also work as extra attachment points for various accessories you would want. For example, the two loops flanking the front pocket's zipper can be used for externally mounting Topo Designs' Dopp Kit, though they would be facing zipper to zipper.
Inside The Pack
The Rover Pack Classic has two quick-grab pockets, one at the top and one at the bottom front. Having these two are very necessary for this bag due to the main compartment's design—as you'll see later on—but we'll focus on these two for now.
First up's the front pocket. Adjacent loops at either end of the zipper act as tabs to grab on to make unzipping easier in case you've filled the pocket to the point of making unzipping difficult. It's easy to get it filled up full since the pocket is rather slim, and it's more appropriate for items such as a small field notebook, slim wallets, small tubes of toiletries, and the likes.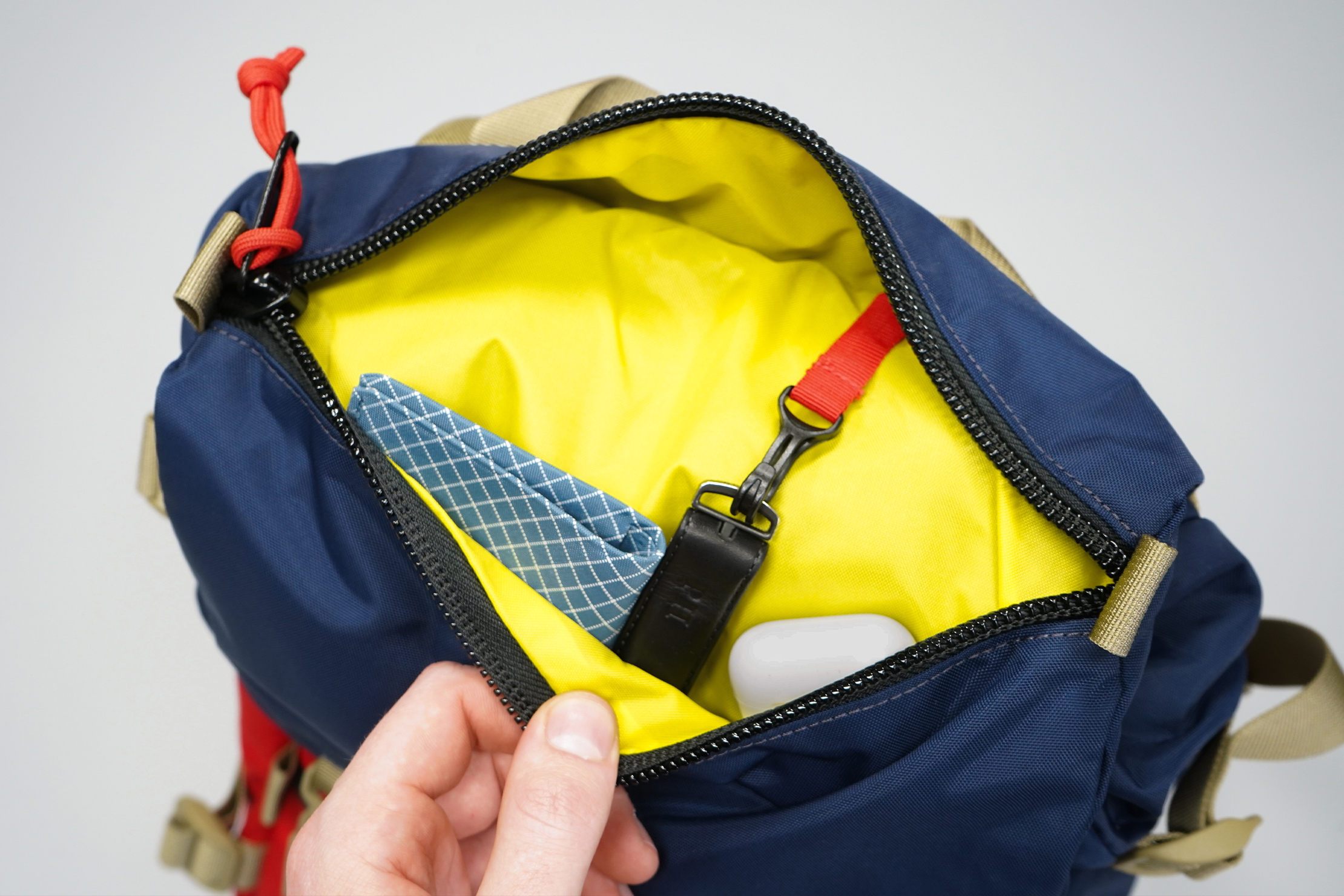 The top quick-grab pocket has the same loops flanking each side of a rather wide zipper opening. The entire mouth of the pocket runs across the entire length of the flap, and you can pretty much use this width to maximize the pocket's space. There's a nice built-in key clip inside as well, so you won't have to go fishing for your keys each time you need them. But as with any flap pocket, you do have to be mindful of this pocket's bulk, as it will affect how well you'll be able to latch the flap down. Fortunately, the two buckles are length-adjustable, so that shouldn't pose a problem.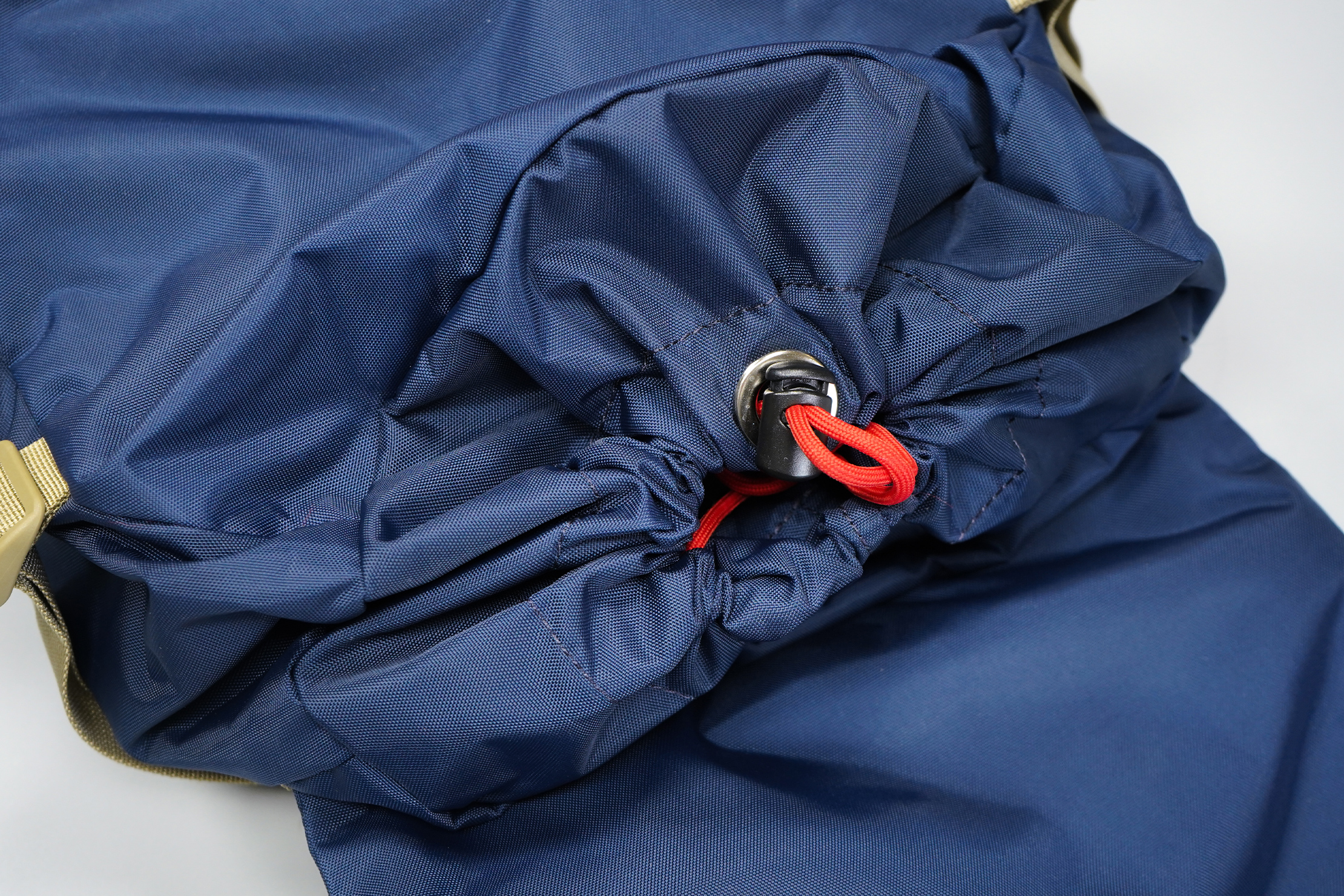 Before you can get inside the main compartment, there are two layers you need to get through. You first have to undo the two Woojin buckles to get the flap up, and then you need to undo the drawstring cinch. It's not the most quickly accessible main compartment ever, so the two aforementioned quick-grab pockets thankfully complement it. Side note, by the way, the drawstring is quite long and will peek out of the flap. Luckily, the cinch doesn't fully close the hole, so you can tuck in the extra slack inside once you've tightened it up.
But once inside, you're greeted by a very bright yellow interior. The choice of fabric is a very thoughtful one by Topo Designs since the Rover Pack's main compartment is quite deep, and a bright interior fabric definitely goes a long way in aiding visibility. This yellow fabric is present inside the other pockets as well, so you no longer need to awkwardly empty every orifice of your backpack when you need to rescue a lone hairpin.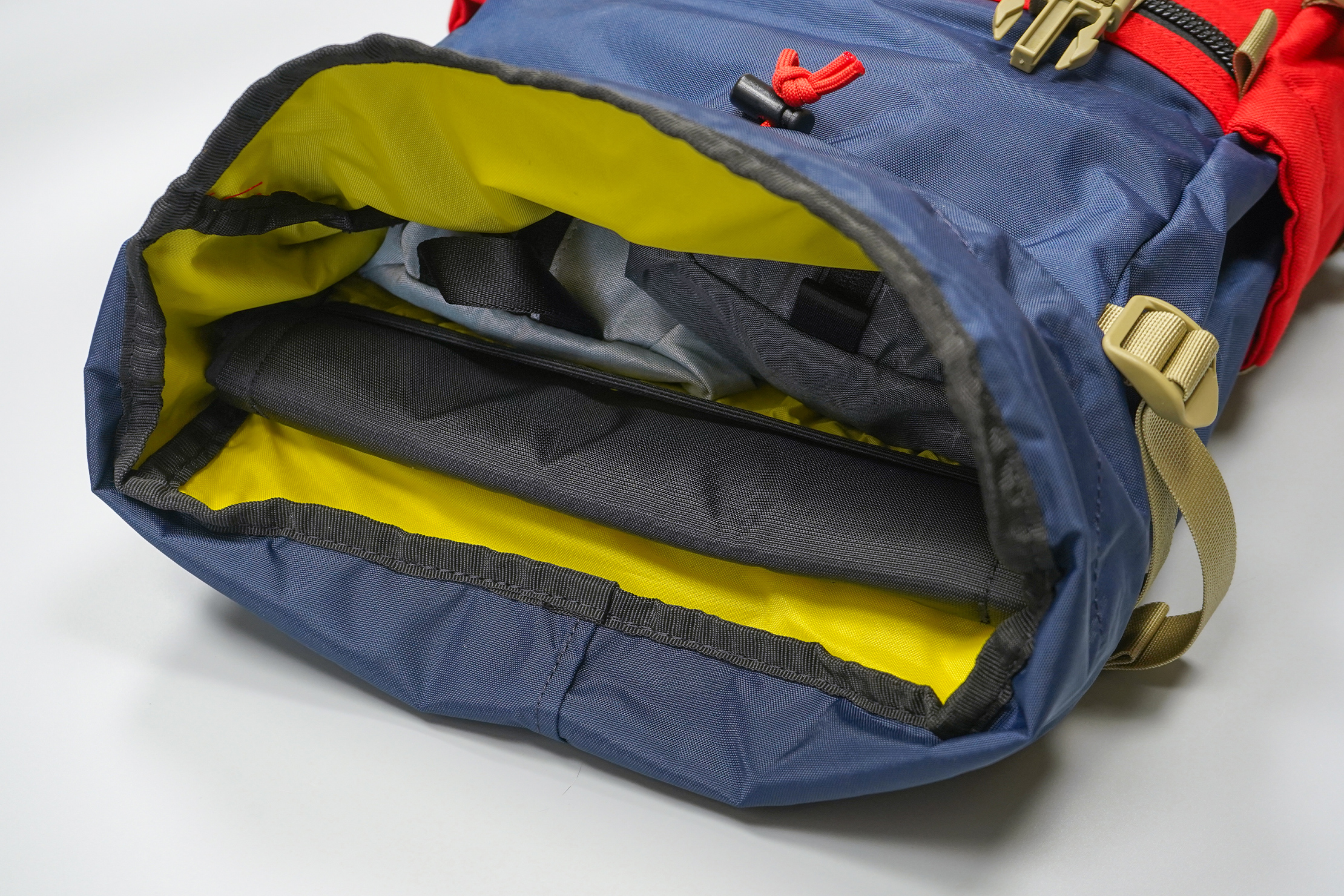 The main compartment is pretty basic, with only a laptop sleeve as the sole extra pocket inside. But with minimal compartmentalization comes maximum available space, and you can pretty much use the main compartment as a dump sack. As such, this is the type of backpack that will benefit the most out of packing cubes to keep things tidy and organized. But since this is a top-loading backpack, whatever you put in the very bottom will only be accessible once you remove what's on top.
The built-in laptop sleeve has minimal padding and will rely on whatever you pack inside the main compartment for cushioning. During our time with the pack, we opted to use a dedicated laptop sleeve of our own, as the back panel didn't have much in the way of padding. We used a 15-inch laptop, and it was a tight fit with a separate laptop sleeve thrown into the mix. This is one aspect of the Rover Pack Classic that's a bit of a let-down, and we really wish there was more padding to protect our devices. That said, if you are looking for something with a little more protection for your laptop, there's the Rover Pack Tech to consider since that one comes with a dedicated laptop compartment with better padding.
Wrap Up
There's a ton of reasons to like the Rover Pack Classic. It first draws you in with its catchy splash of color, then makes you stay with its flexibility and thoughtful touches. The amount of loops and mounting points scattered throughout the body opens up a lot of potential. For example, why not use the side compressions straps to attach a lightweight tripod? Or use the loops to mount pouches externally?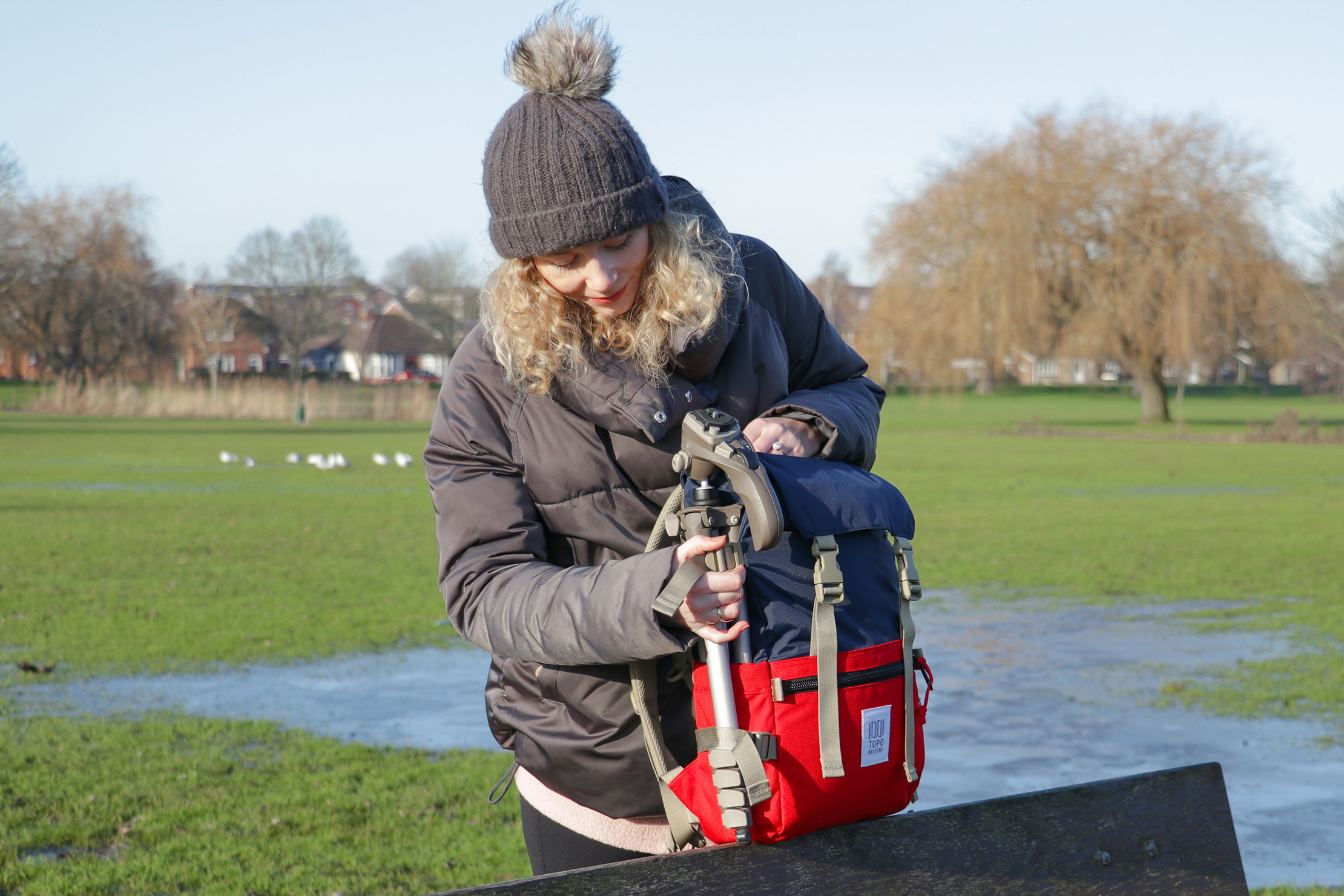 If you can hook it on, then why not? It's this kind of modularity that we dig a lot because it allows users to integrate new gear without dealing with proprietary solutions. As far as daypacks go, this added versatility and potential makes the Rover Pack Classic even viable for light outdoor use.
Though we do wish we didn't have to use our separate laptop sleeve for better protection. That's one aspect that could definitely be improved in a future revision. But otherwise, the amount of flexibility and style makes this a daypack that's hard to pass up.
Usage Timeline
Initial Usage
Condition: Excellent
Perfect size for weekend trips, some light hiking, or a quick trip to the store
Lots of great colorways to choose from to fit your unique style
Bottom of this bag can be dark and hard to get to
2 Weeks of Use
Condition: Excellent
Made out of some solid materials and we found that it didn't pick up any dirt or fluff which is awesome
So far the materials are holding up well, there's a slight mark on the front of the pack though, so you may want to consider darker colorways to keep this pack looking clean
The side water bottle pockets are quite tight so they will struggle to fit larger bottles, but they do sit flat when not in use
The water bottle pockets will also eat up space inside the pack and are more difficult to utilize when the bag is packed to full capacity
We found the side compression straps really handy to compress the bag down and to attach any larger items, such as a tripod, to the side of the bag
The bright yellow interior lining is great for extra visibility which we found really helped when accessing items inside the main compartment
The laptop sleeve lacks padding, we did need to use a laptop case for extra protection
We did find that when we used a laptop case it was a tight fit in the sleeve so just take note of that
The zippers were great to use on the quick access compartments and these pockets came in very handy for smaller items
The flap closure meant that we were able to make use of all the space in the main compartment when we needed to
Access the Pro Community Discussion
Get your questions about the Topo Designs Rover Pack Classic answered from our team and the Pro Community right here on the page. Plus, join discussions with other members about gear, guides, and more.
Other Bags & Luggage Reviews