Timbuk2 Parker Commuter Backpack Review
The Timbuk2 Parker Commuter Backpack is comfortable, expandable, and has solid weather-resistance. Although, the features don't feel very cohesive.
Our Verdict
Unlock the Pro Summary
Save time. Get access to brief summaries of our reviews so you can browse and make decisions more efficiently.
Pros
Expandable
Highly water-resistant (and there's an included rainfly)
Digging the three quick-grab pockets to compartmentalize your stuff
Cons
The compression straps interfere with access
Gets top-heavy when expanded
Sternum strap doesn't feel secure
Recent Pack Hacker Video
Technical Details
Capacity

30l

Weight (lb)

3.8 lb (1.7 kg)

Dimensions

19.3 in x 12.2 in x 3.94 in (49 x 31 x 10 cm)

Notable Materials

Polyethylene, Polyurethane, CORDURA®, Nylon, YKK Zippers, Duraflex Hardware, Woojin Hardware

Manufacturing Country

Indonesia

Laptop Compartment Size

15"

Warranty Information
Full Review
Timbuk2 is known for making urban, bike-messenger inspired gear. The Timbuk2 Parker Commuter Backpack is no exception. This 30L expandable pack is ideal for EDC (everyday carry) but also works as a travel bag for short excursions.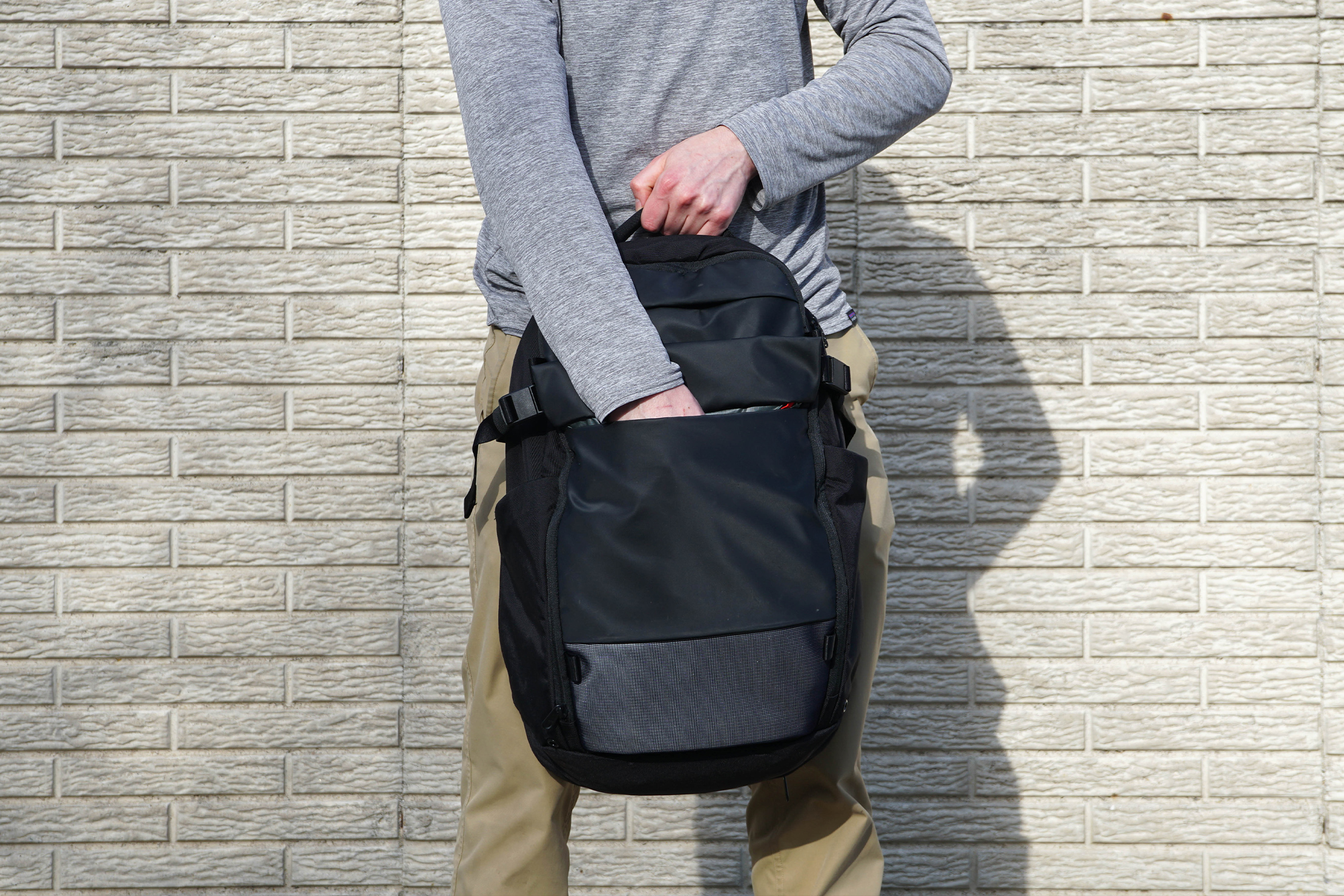 We've been testing the Timbuk2 Parker Commuter Backpack around the streets of Detroit, Michigan for two weeks. So how has it performed? Let's take a look.
Materials & Aesthetic
At the time of this review, the Parker Commuter Backpack is available in two colorways—Olivine and Jet Black. Several Timbuk2 packs have only been available in black, so try not to be too overwhelmed with the options here. We've been testing the black colorway, which we think looks particularly sleek in that urban, Matrix-y sort of way.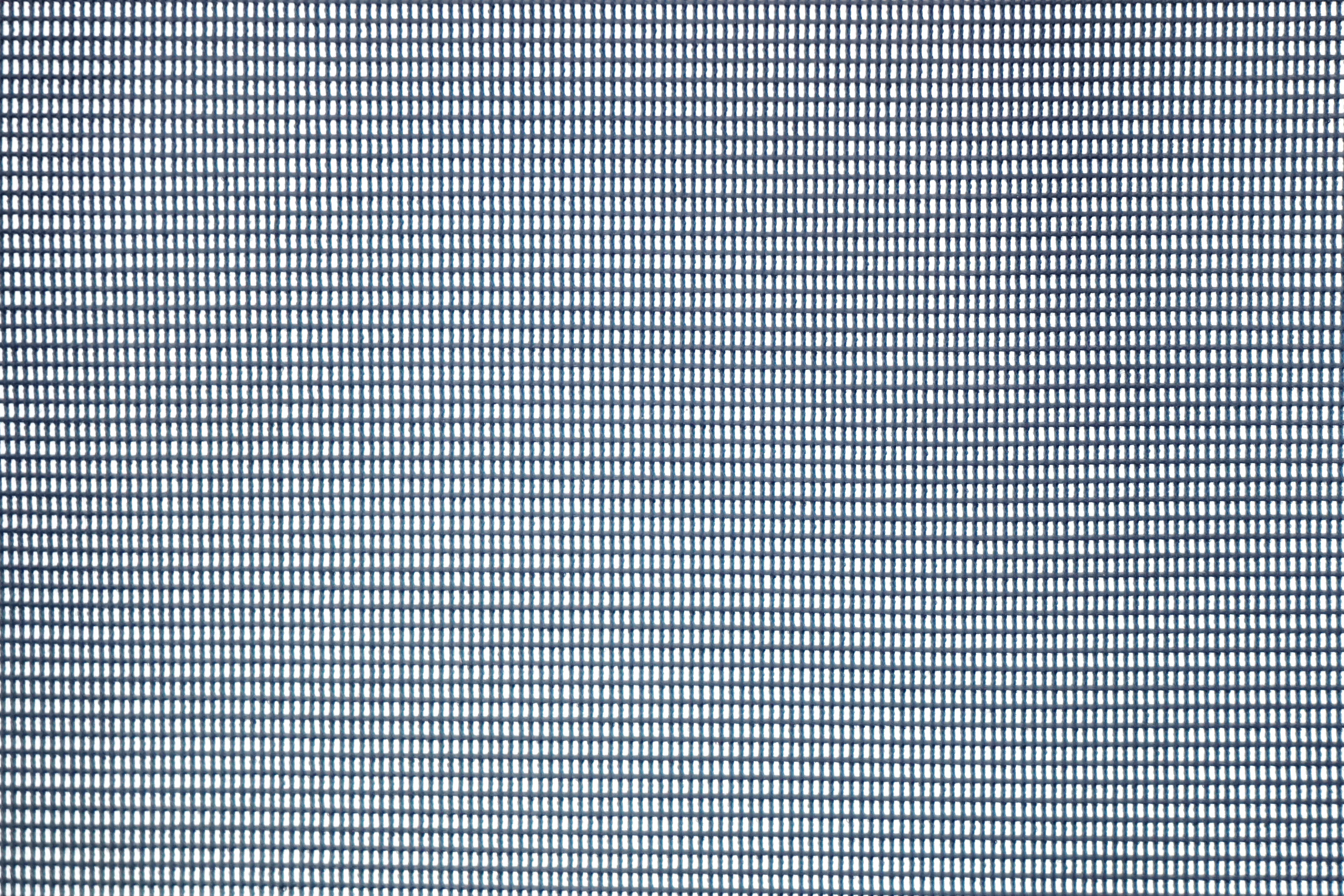 The backpack also has a highly reflective panel at the bottom, regardless of colorway, which adds to the techy vibe and helps with visibility. And when we say "highly reflective" we mean this thing could burn retinas. Okay, not really, but you can see it from a good distance away. The backpack straps also feature reflective panels.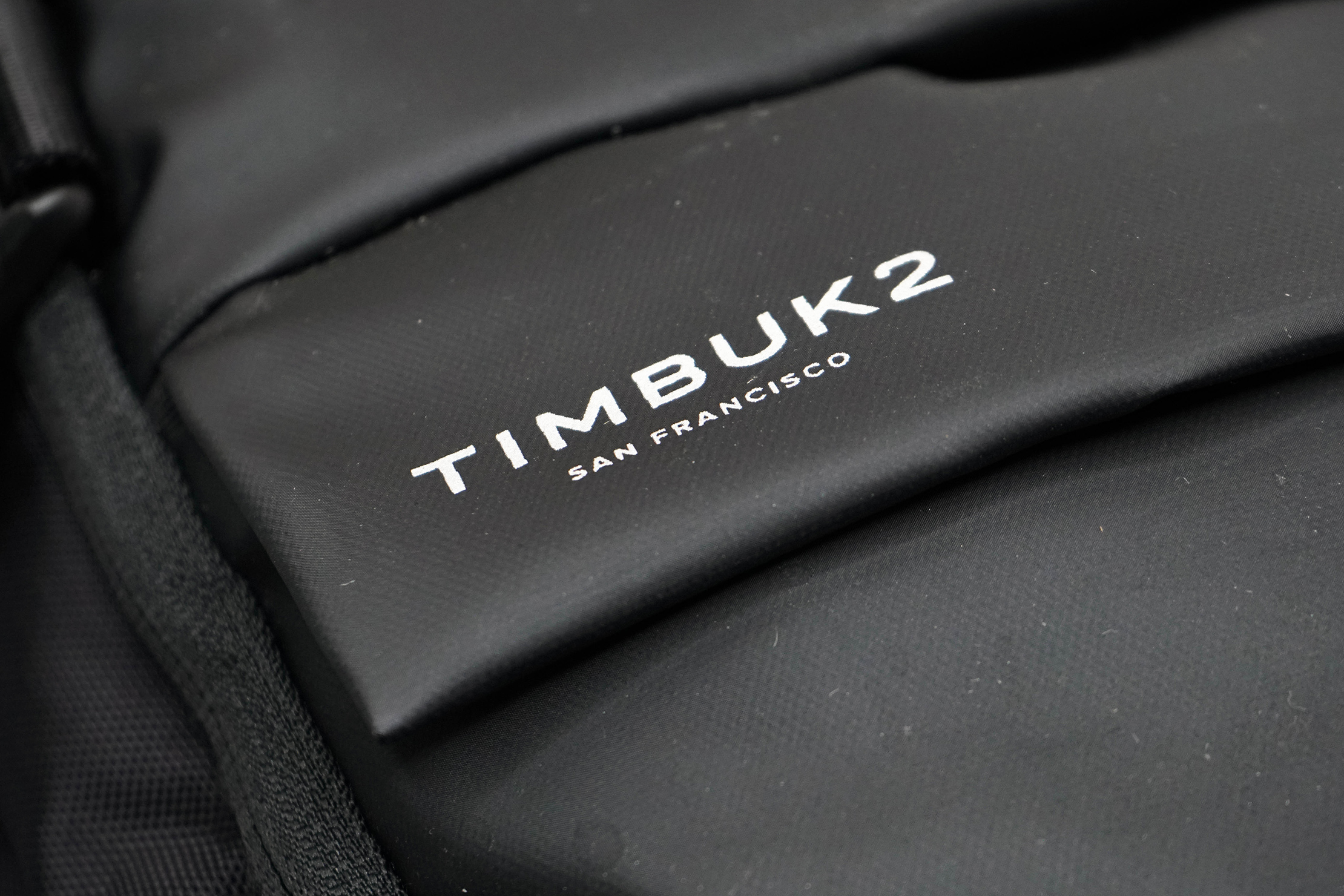 As far as branding is concerned, there is a white Timbuk2 on the front with "San Francisco" below it. It's small and, as far as we're concerned, only adds to the overall vibe of the pack.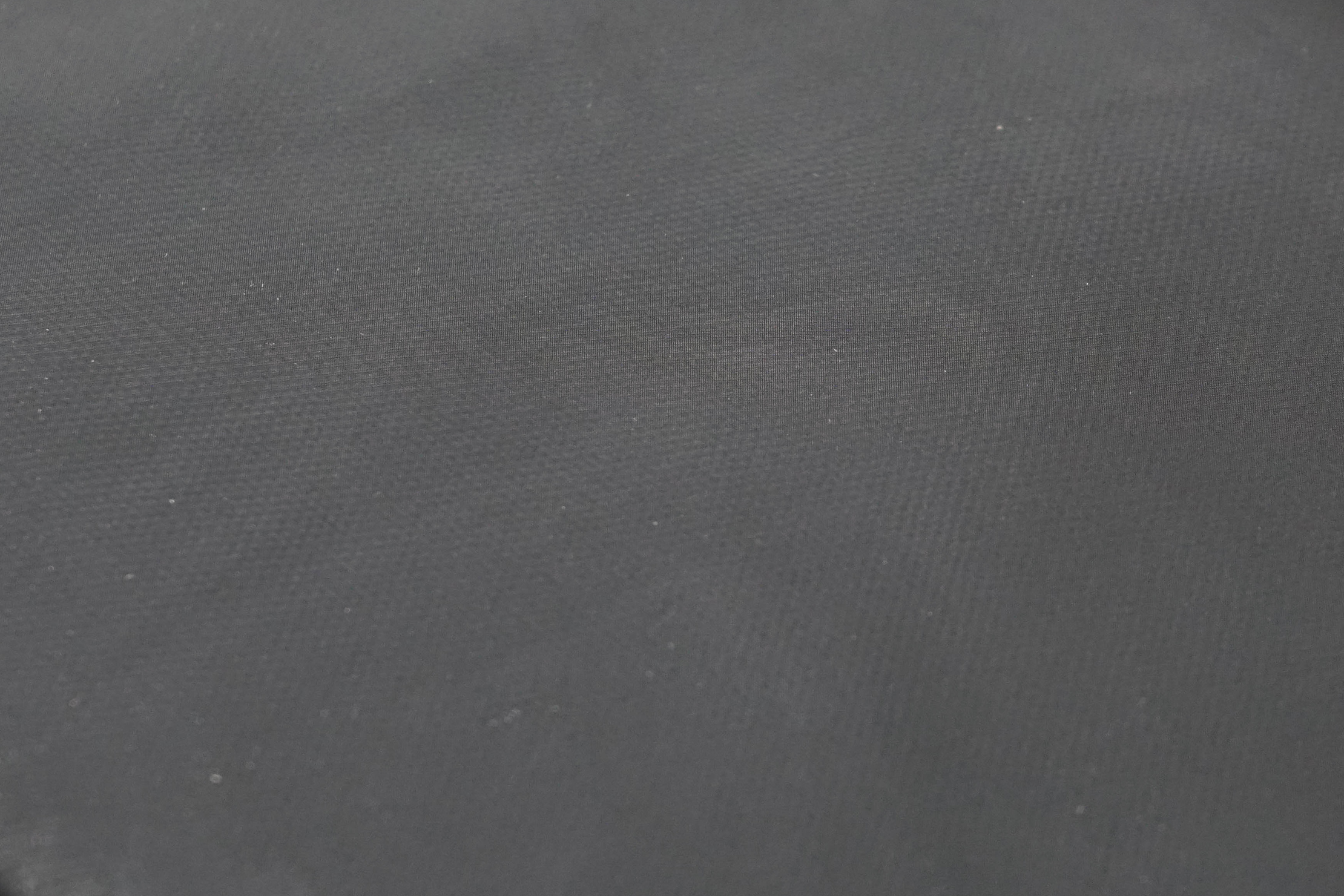 The main exterior of this bag is a polyethylene vinyl acetate. We dig deep into this material on our review of the Timbuk2 Impulse Travel Backpack Duffel. So if you're interested in getting into the nitty-gritty, we suggest you head over there. That said, there is no ripstop on the Parker Commuter Backpack like there is on the Timbuk2 Impulse Travel Backpack Duffel. The fabric also feels nice and thick. And, while we usually find that this kind of plastic-y material feels swishy, the thickness of the fabric mitigates that.
Overall, this material is durable, although prone to aesthetic scuffs. And it's very water-resistant. Rain will simply bead and run off of the pack. There's also welted fabric over the zipper of the main compartment for even more water-resistance.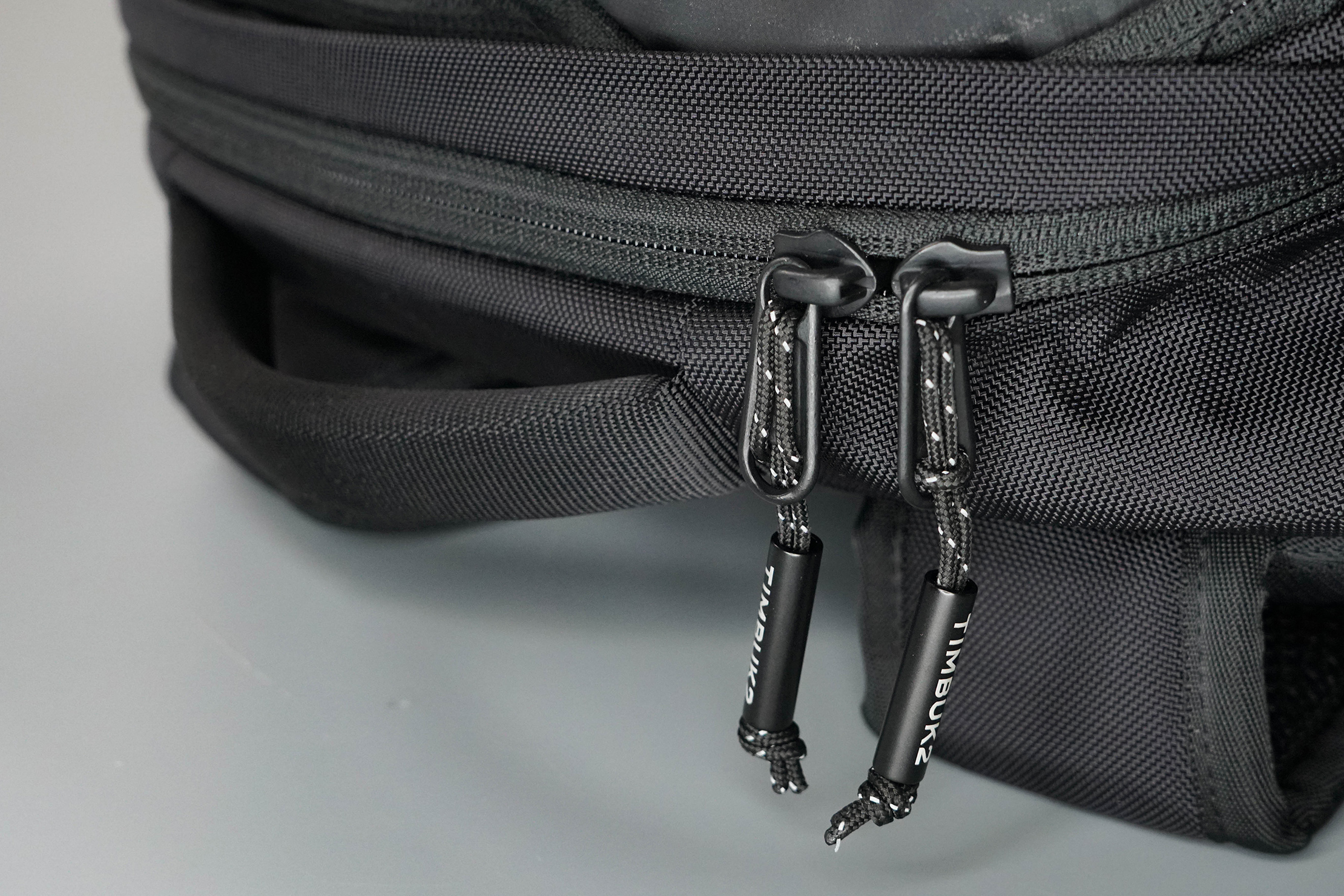 Finishing off the materials, the Timbuk2 Parker Commuter Backpack features durable YKK zippers throughout, plus hardy Duraflex and Woojin buckles and hardware.
External Components
We already mentioned that the Timbuk2 Parker Commuter Backpack is highly water-resistant. But if that built-in water-resistance isn't enough for you—say you have to bike to work in the pouring rain or your life involves touring waterfalls and rafting rivers—you're in luck! The pack comes with a rainfly, which tucks away into a zippered compartment at the bottom of the pack. It also has a reflective panel, as well as reflective decals, so you don't sacrifice visibility for water-resistance.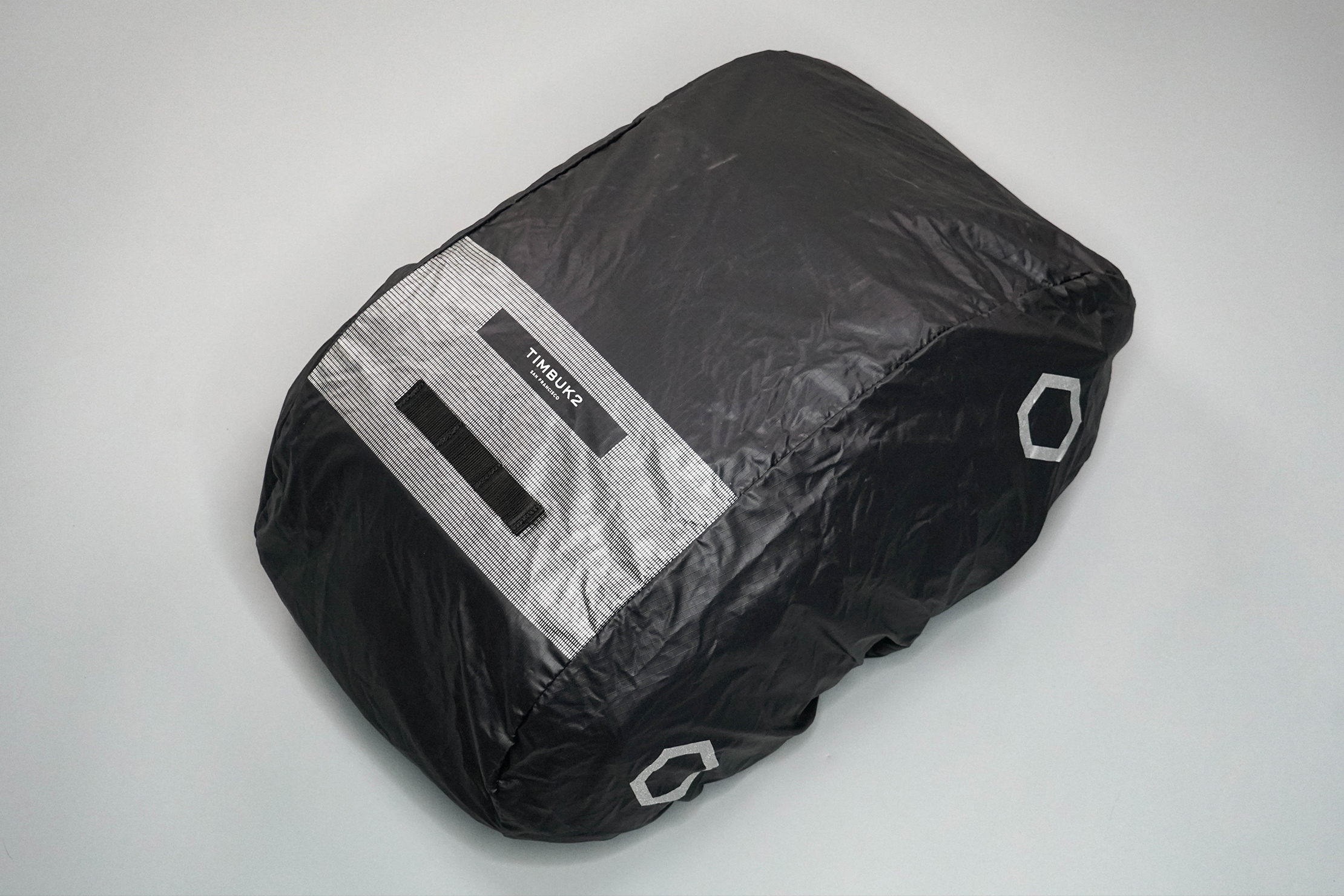 If you don't want or need a rainfly, it detaches with velcro, so you can easily take it out of the pack. Then you can use the rainfly pocket as an extra storage pocket.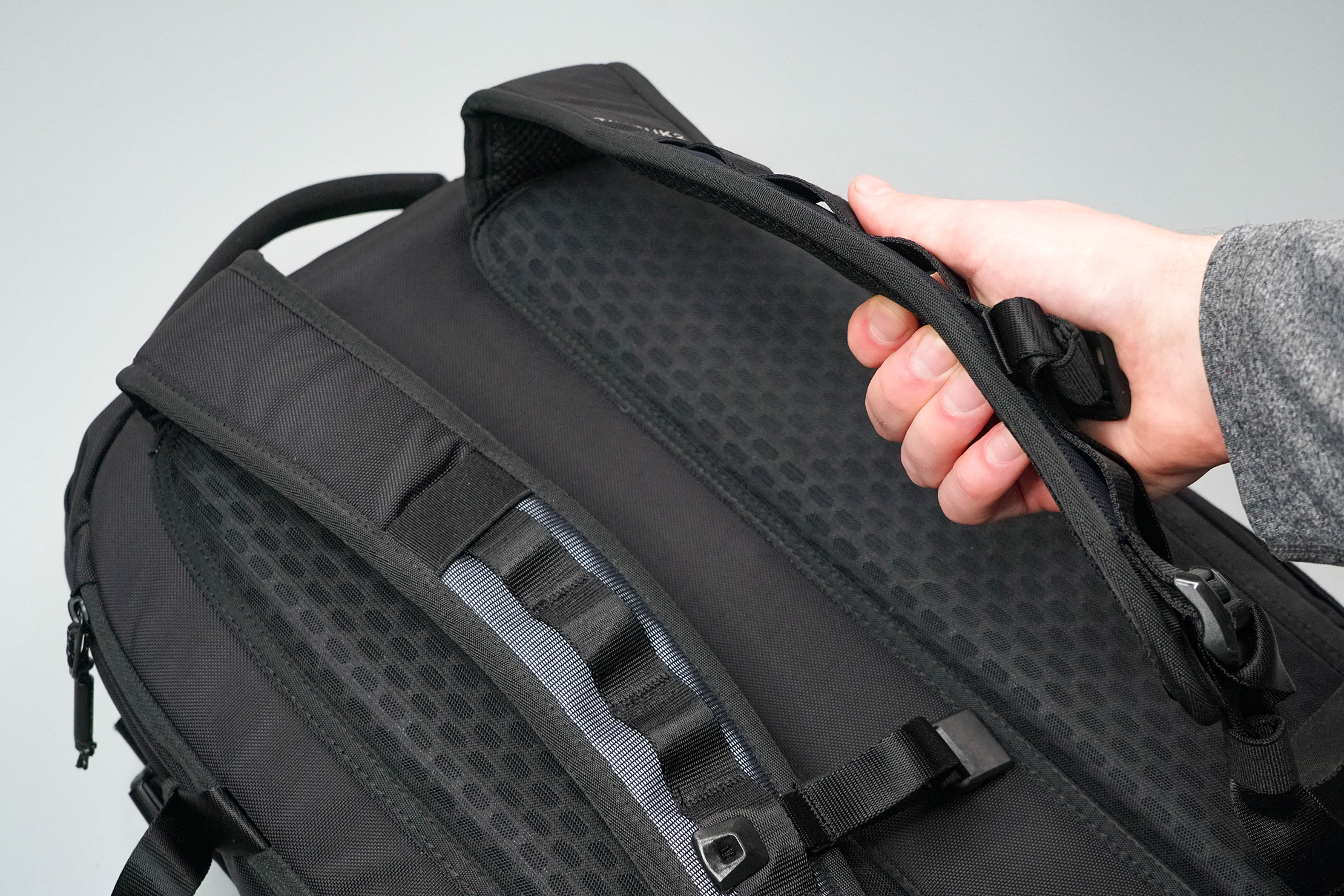 Moving right along to the harness system. The shoulder straps don't have a ton of padding and it's not very dense. Although they do feature nice, breathable mesh. We would have appreciated a touch more padding to make the carry more comfortable.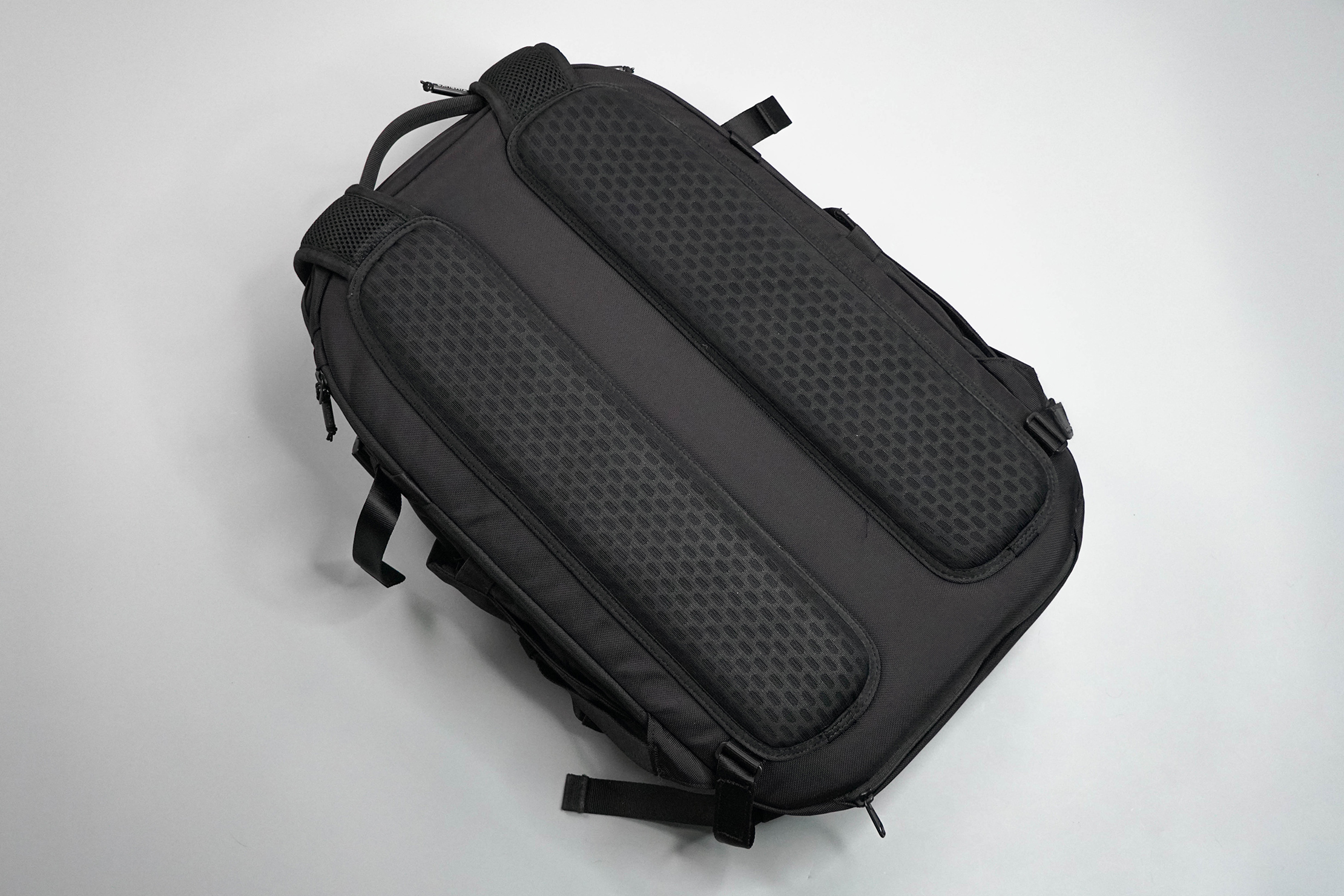 The back panel is where you'll find all the padding. Seriously, there are two bricks of super dense, super thick padding. When we first started testing this pack, we were not fans of this design. The back panel felt stiff and uncomfortable. But—we're happy to report—it's since broken in very nicely. Now, two weeks in, it's oh-so-comfortable.
The padding itself is porous and breathable—plus there's a huge air channel running down the center of the back panel. All that to say, that dreaded swamp back should be kept to a minimum.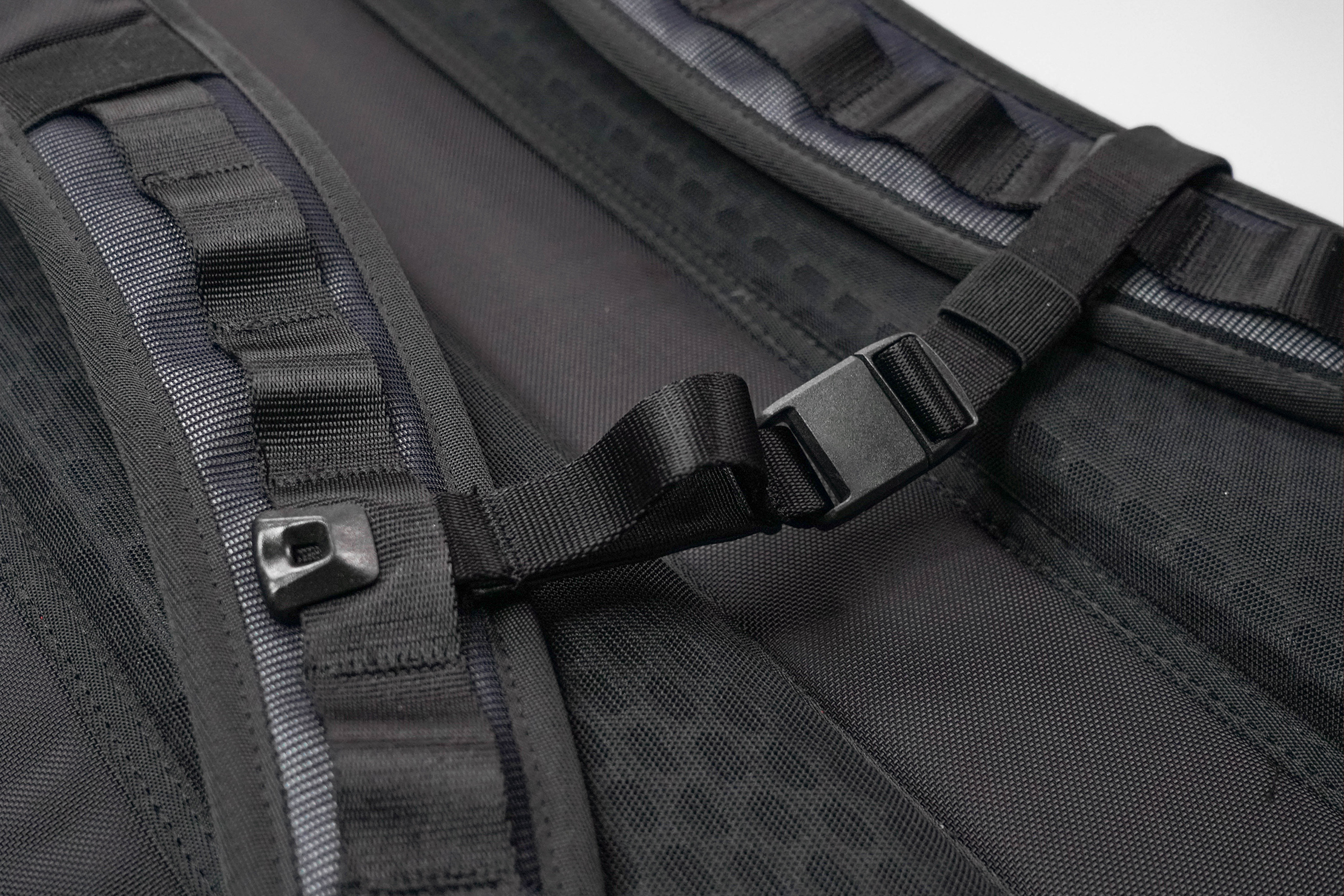 There's an adjustable sternum strap, which closes with a magnetic clasp that's easy to work with one hand. It also has some elasticity to help with comfort and an elastic strap keeper for that coveted #DangleFreeExperience (there are strap keepers on the backpack straps as well).
Unfortunately, we're not too fond of how this sternum strap attaches to the pack. First of all, the hook digs into the material on the backpack strap, which has already caused a tiny divot to form. Of course, with time, this divot will only get worse. Second of all, it's not exactly secure. We haven't lost this particular sternum strap (yet), but we've had it happen on other packs that use a similar attachment style. So it's something to be aware of.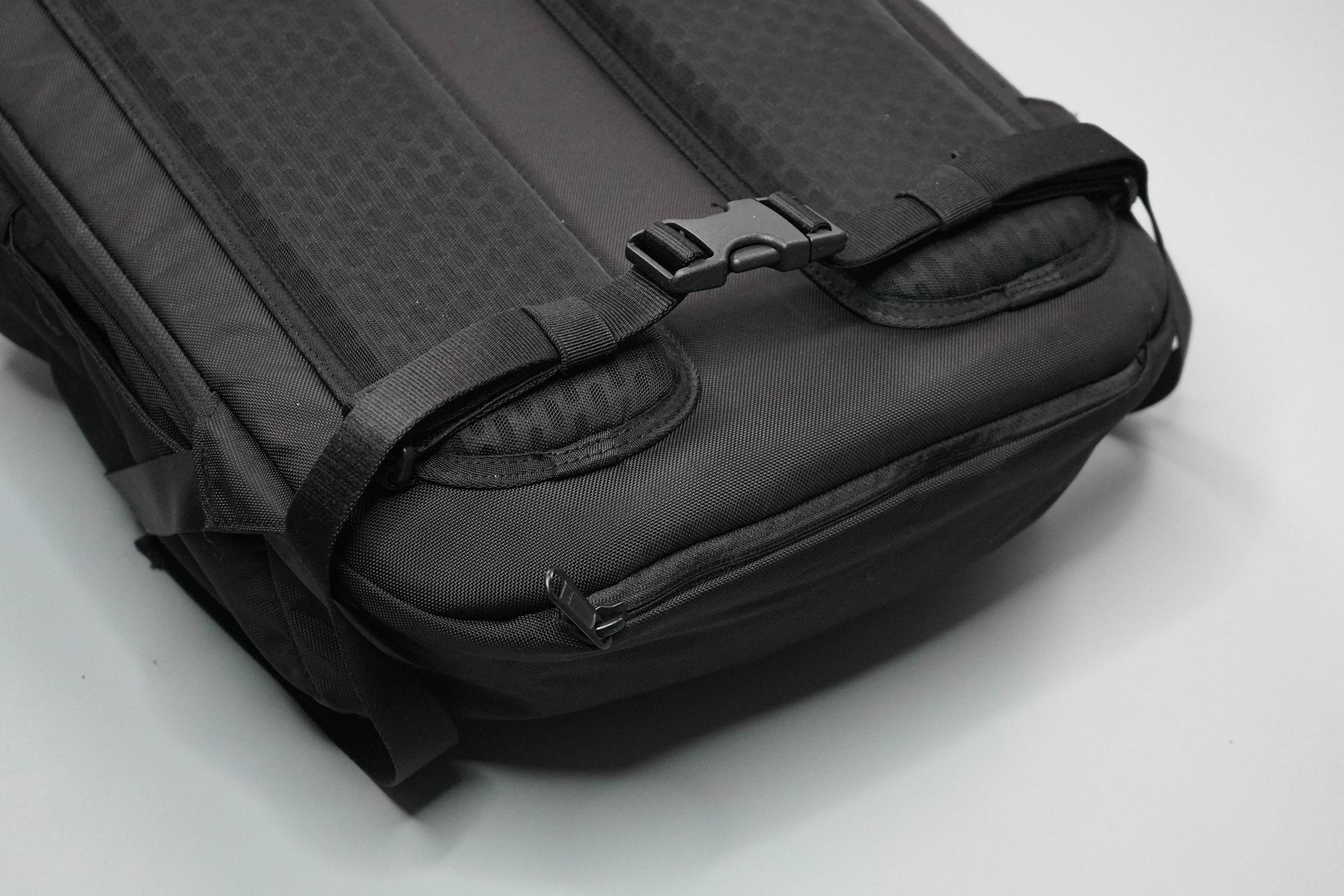 The Parker Commuter Backpack also has a removable hip belt, which attaches to the pack with velcro. It's not super thick and there's no padding—it's just a simple strap. While it may help distribute the pack's weight a little bit, we don't think it does the best job. Of course, a pack with a capacity of 30L doesn't need a beefy hip belt. Plus, you can remove it if you find that it gets in the way more than anything (which is what we've done for the most part). But we appreciate the option.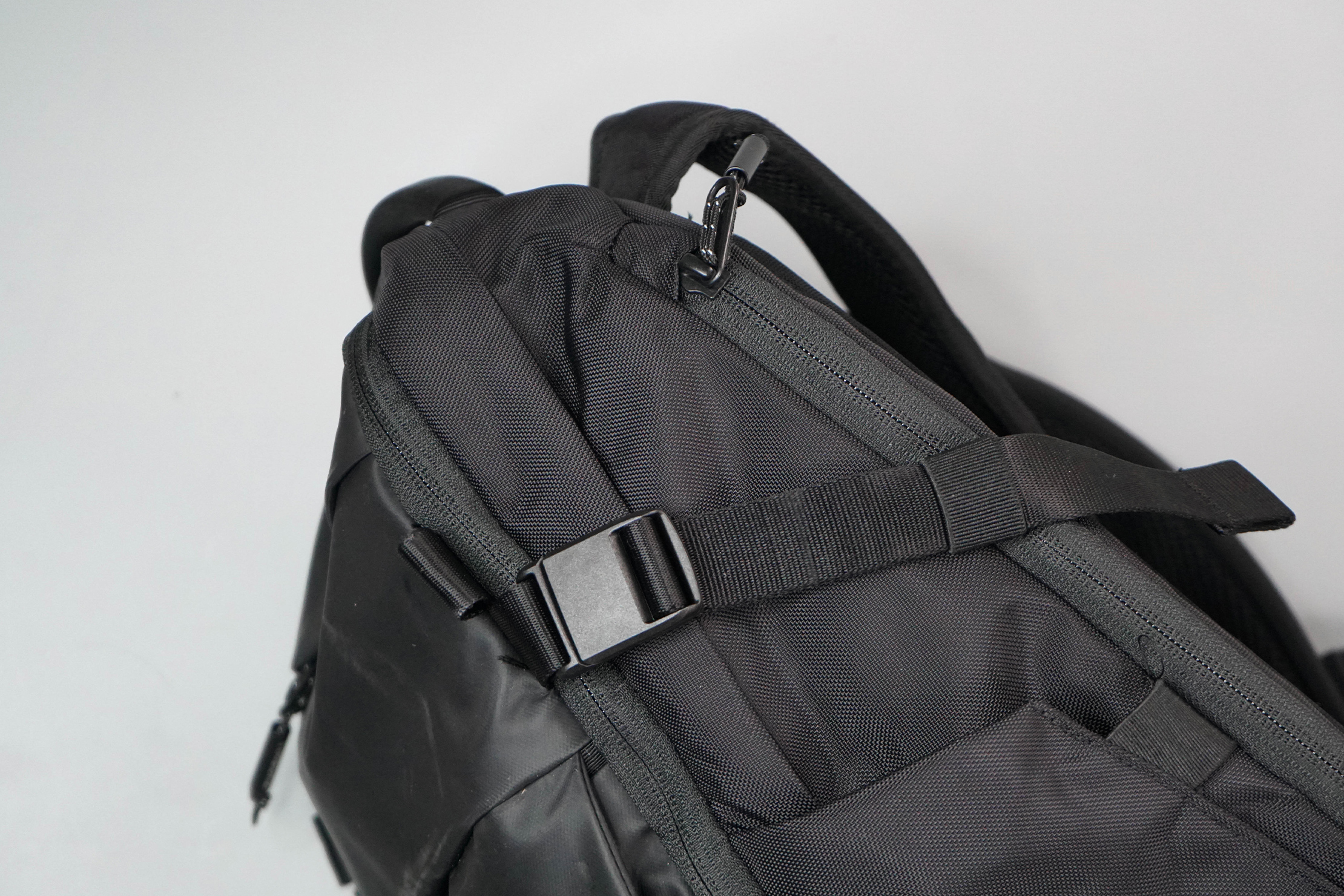 Harness system aside, you'll find compression straps on both sides of the pack. They're more for keeping the bag tidy when it's expanded and not fully packed out—to prevent floppiness—then really compressing it. (We'll talk about the pack's expandability more later). The compression straps do interfere with the zipper of the main compartment and the side access to the laptop sleeve, which can be a little frustrating—simply because it causes slow access. But it's also not the end-of-the-world.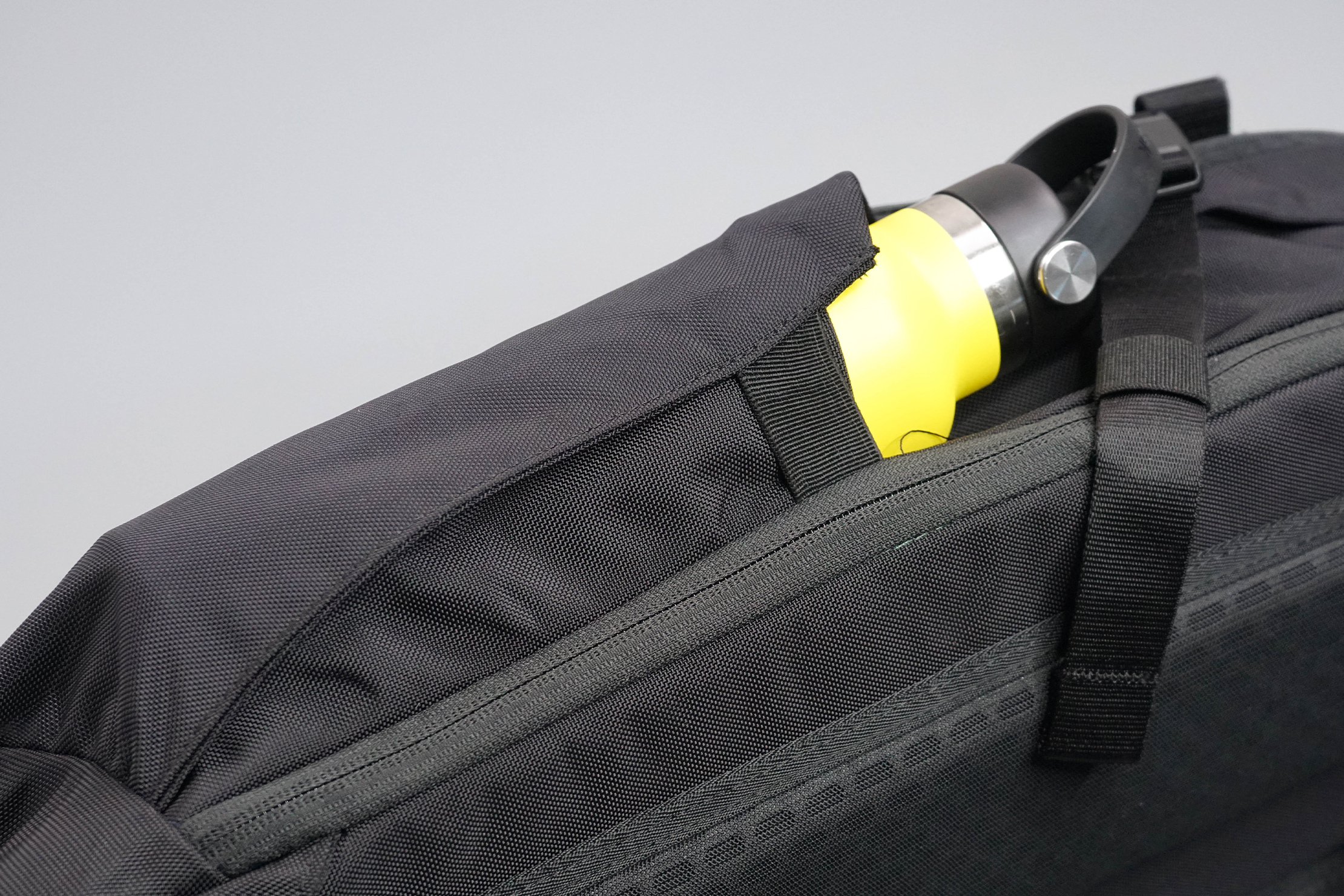 And that brings us to the water bottle pockets. There is one on each side of the pack, which makes us happy. We don't like to choose between carrying a water bottle and a coffee thermos (because, let's be real, we'd choose coffee thermos and end up overly caffeinated and dehydrated at the end of the day). Plus, the water bottle pockets themselves are really nice. They feature elastic that keeps the pockets tight to the pack when not in use, but allows them to fit most sized water bottles. The pockets do cut into the capacity of the main compartment—especially if you're carrying oversized bottles—although not by too much.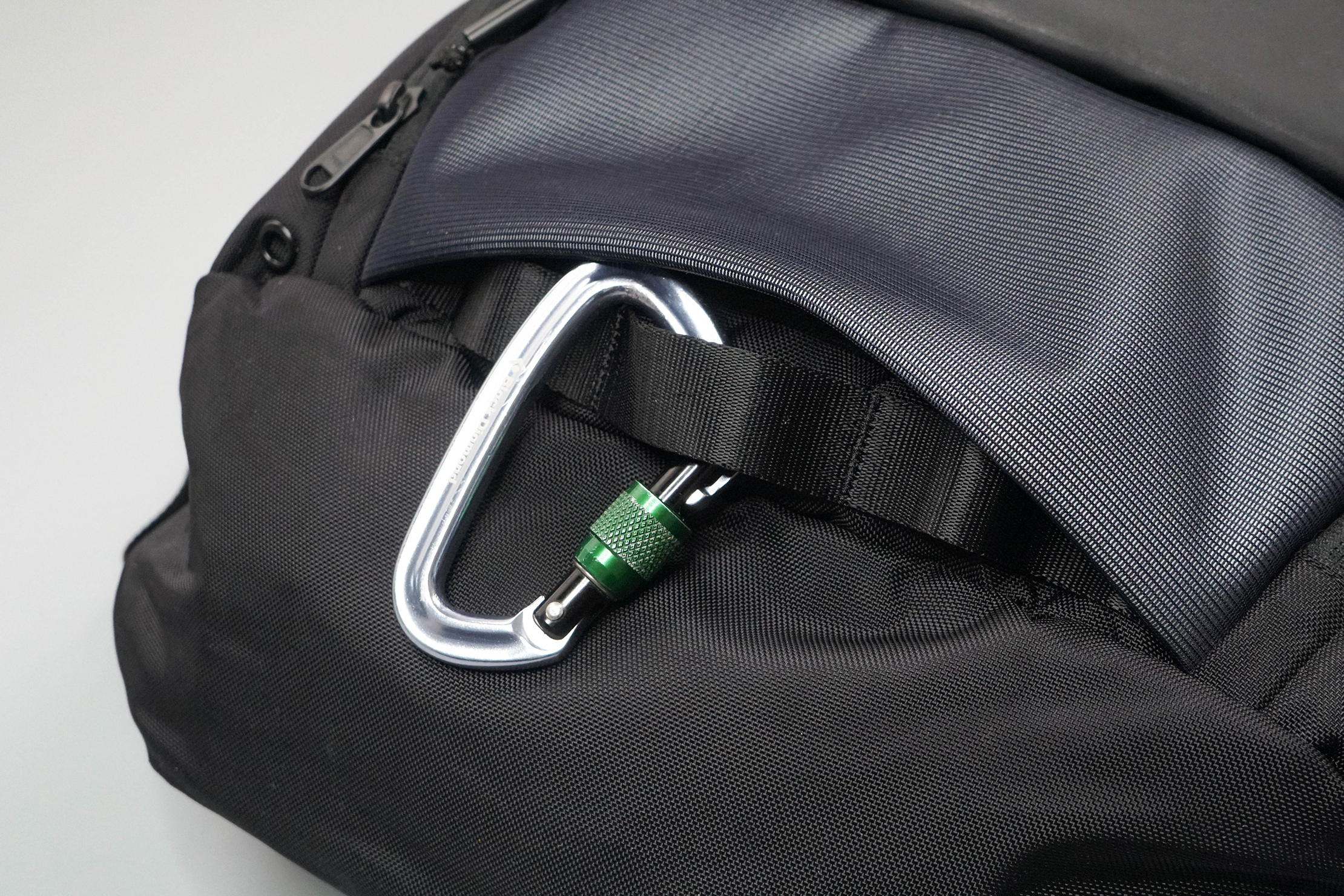 Finally, you'll find a few nylon loops tucked beneath the reflective panel for carrying gear externally.
Inside the Pack
There's not one, not two, but three quick-grab pockets on this pack. While we initially thought three quick-grab pockets would be too many—who has that many quick-grab items?—we quickly realized that three quick-grab pockets are actually quite handy.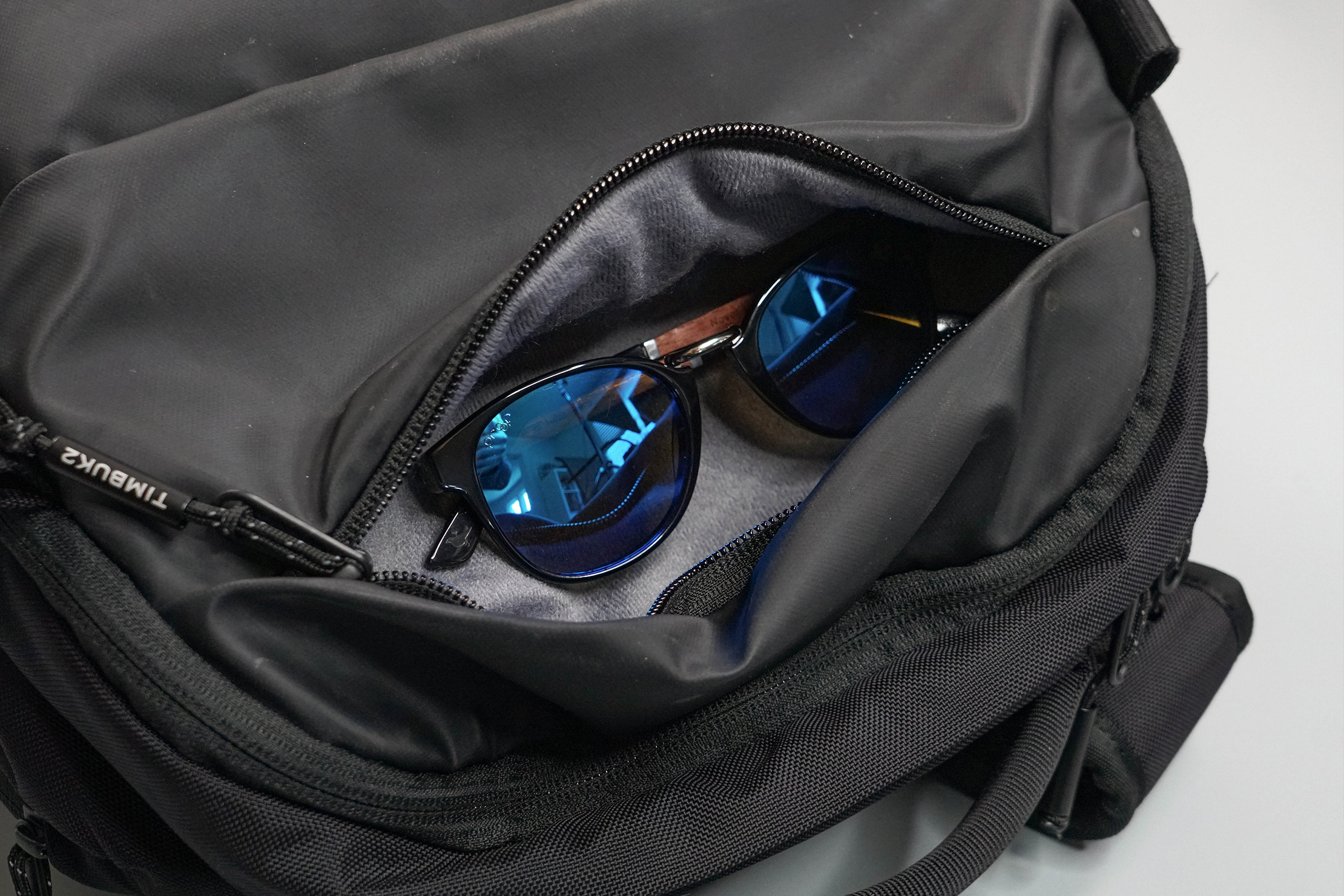 The top pocket features a nice, soft padded lining, making it the ideal spot for your delicate items—phone, sunglasses, etc.
Beneath that is the second quick-grab pocket that closes with a flap held in place by two magnets. We were wary of this at first because we were worried our stuff would slip out if the magnets were to disengage. But the magnets are strong and we've had no problems with them coming undone on their own. The magnets also don't span the entire length of the opening, which leaves a small gap in the middle where it's not sealed. But that hasn't been a problem either. What we're trying to say is that our stuff feels secure inside this pocket.

This pocket is also where you'll find the key clip. It's metal, which we really appreciate. We always complain about plastic key clips, as they feel like they'll snap after a small bit of use. So we want to point out when a company does it right. The clip is attached to the bag via a bright red leash for great visibility. A small touch, but an important one. #It'sTheLittleThings.
We really like that the key clip is not in the same pocket meant for your phone. (We all know that phone + keys = scratched phone… it's simple math.) It's a super thoughtful touch.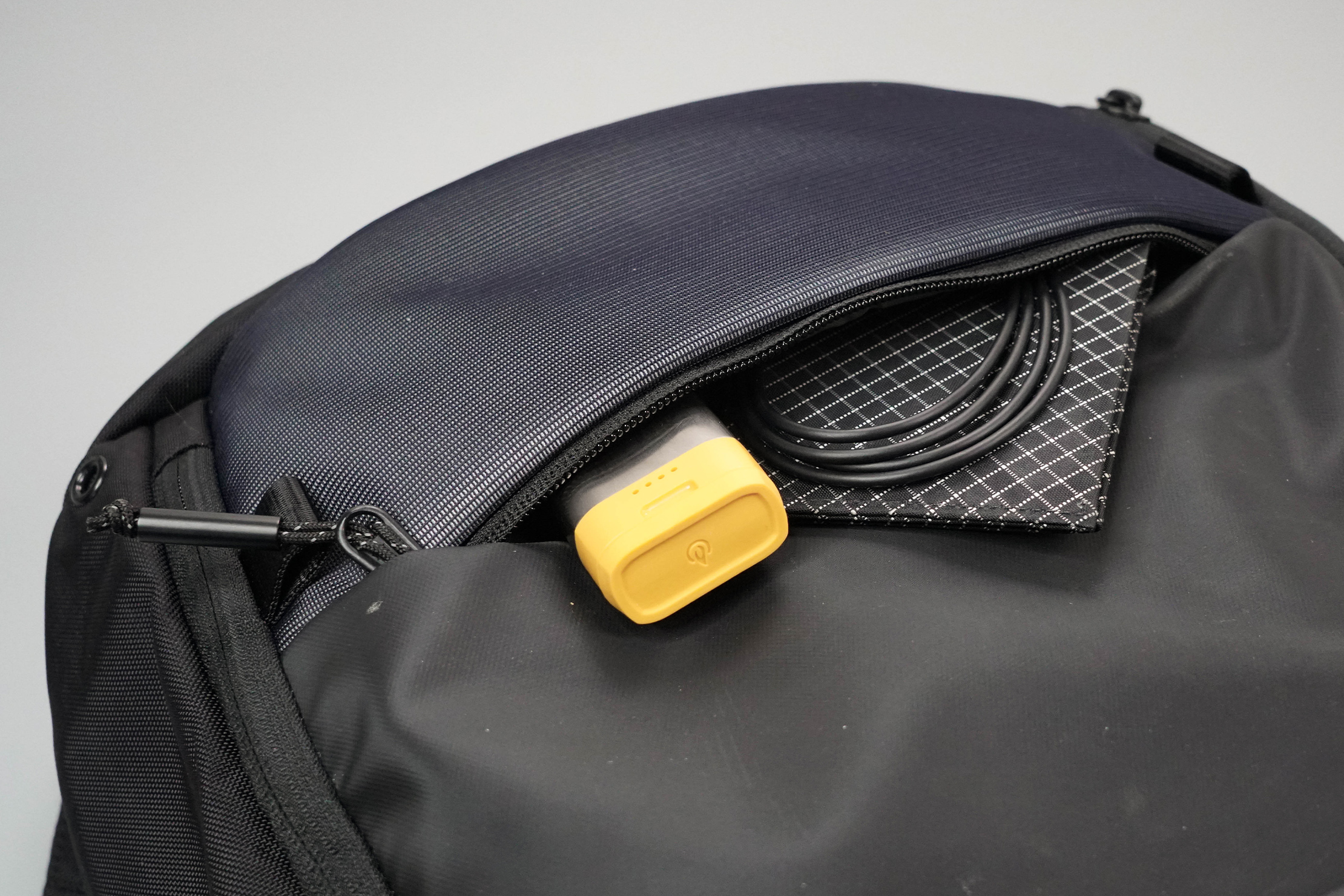 Behind the reflective panel is the third and final quick-grab pocket. We like that you can compartmentalize your quick-grab items between these three pockets. Say your phone and sunglasses up-top, keys and snacks in the middle, wallet and pocket-sized photo of your pup in the bottom. (Note that none of these pockets have any internal organization—unless you count the key clip.)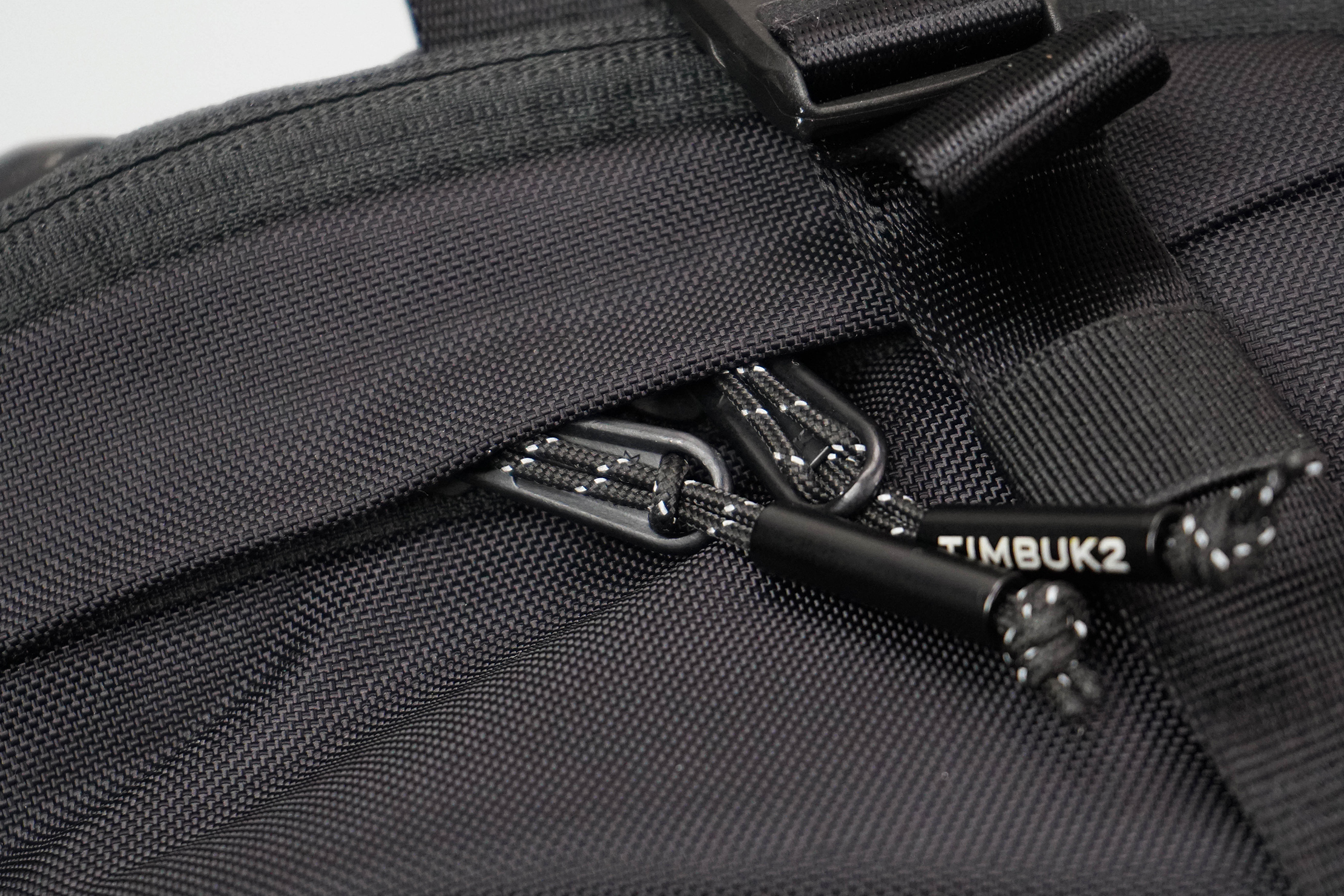 Accessing the main compartment can be…tricky. We've been having a few problems, anyway. As we mentioned earlier, you have to unclip the compression straps to fully open the main compartment. Also, if you have water bottles inside the water bottle pockets, they block access to the zippers if they are zipped to the bottom. So, we recommend keeping your zippers up top. Finally, the zippers can get stuck on the welting that covers the track. Just be sure that the welting is out of the way when you zip this thing up and it shouldn't be a problem.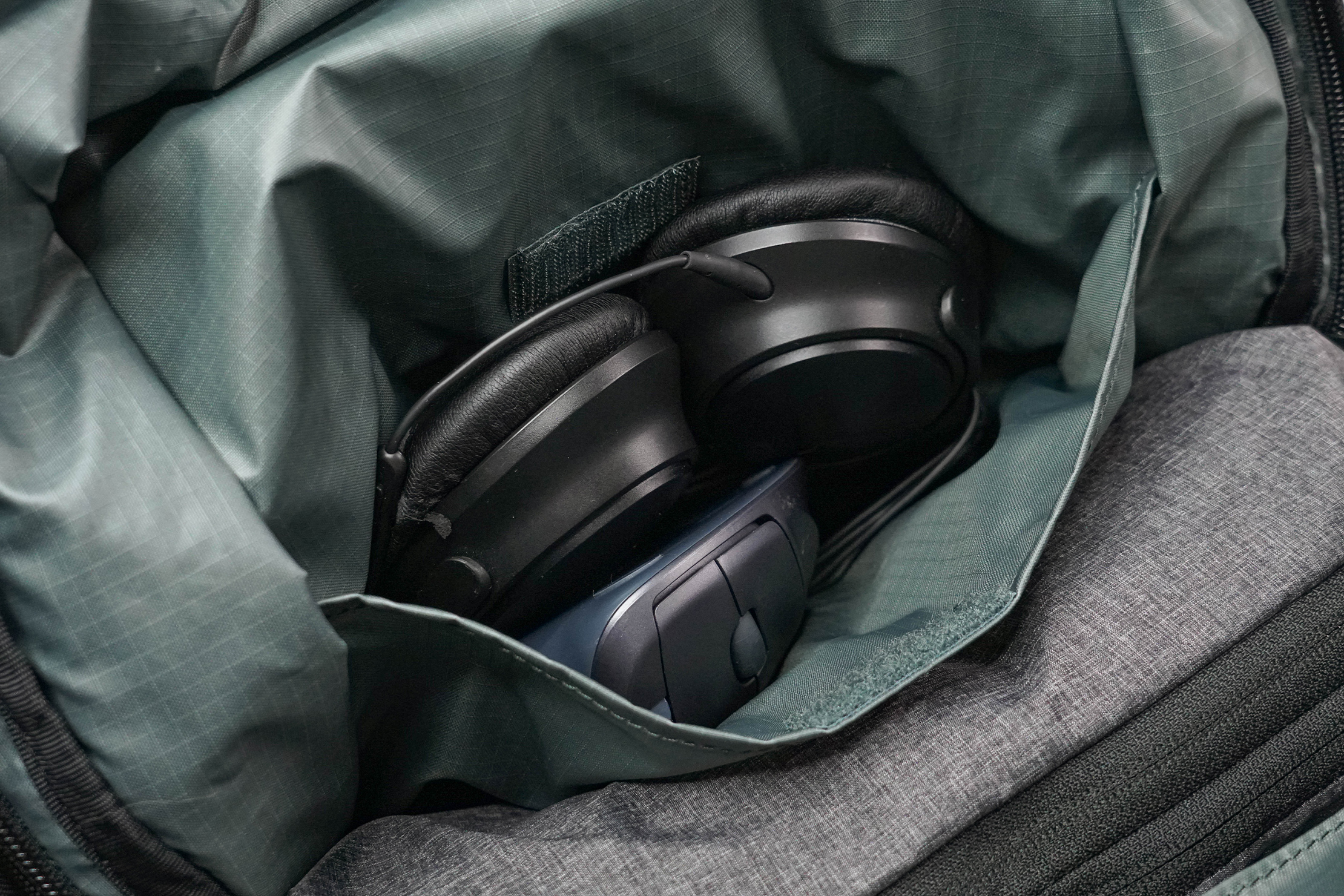 Inside, there's not too much going on. There's a velcro divider pocket against the front flap of the compartment. It's a good spot for bigger tech items—say headphones or a computer mouse. We wouldn't have minded a few more divider pockets to help us stay organized. As it stands, you have to take organization into your own hands and use accessories pouches. (Of course, you don't have to use pouches, we just found they worked well inside this compartment, which is mostly open space.)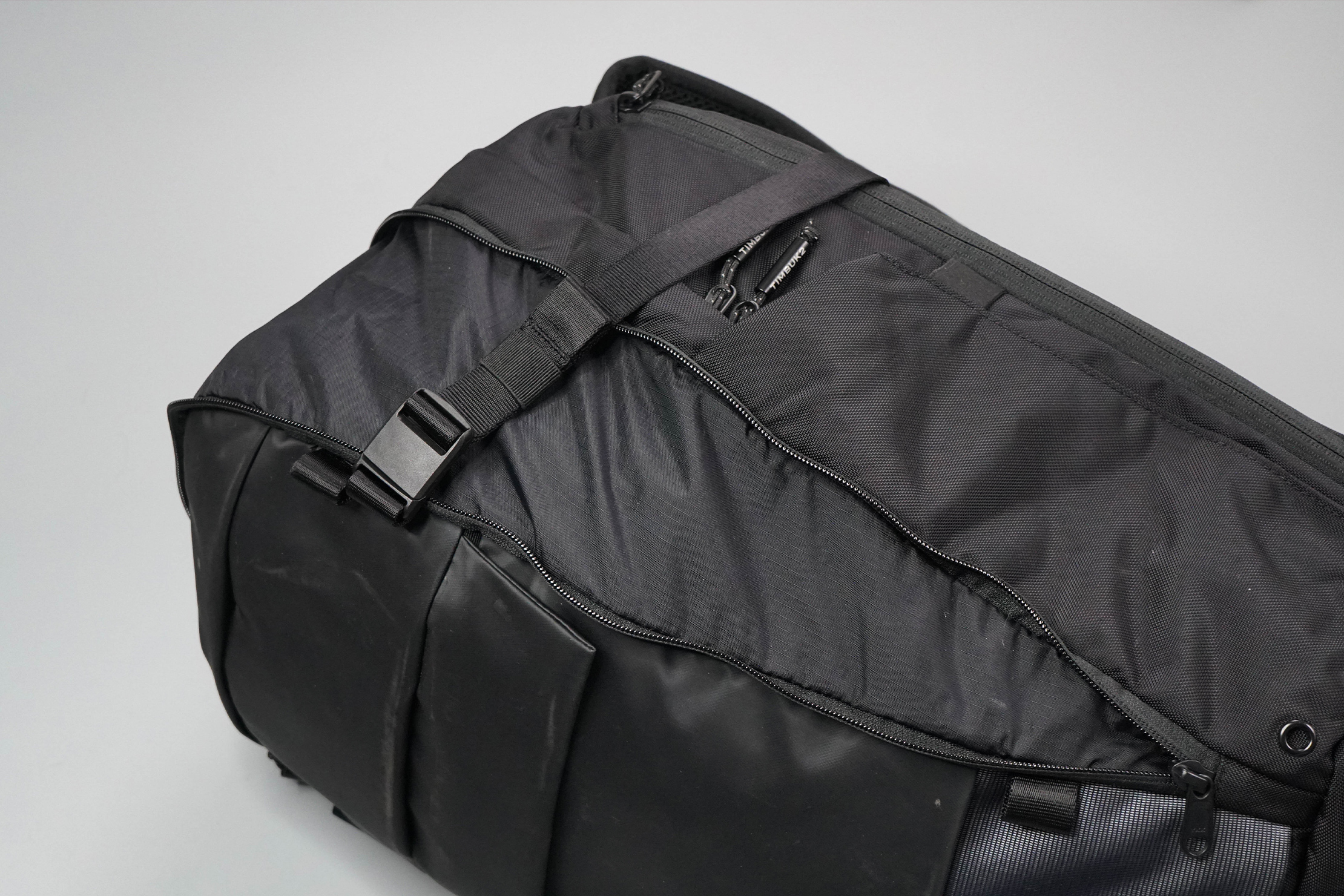 Speaking of open space, the main compartment is the one that expands. To get that expansion, you have to unzip the expandable section in front of the main compartment. The one complaint we have is that the expansion doesn't go all the way down to the bottom of the pack, thus making the bag top-heavy when it's expanded. We understand why the folks at Timbuk2 designed it this way—if it were big at the bottom and small at the top, access would be extremely difficult—but it's definitely noticeable and somewhat annoying. As an EDC bag, we haven't needed the extra space, but it's nice to have for weekends away or other short excursions.

Against the back of the main compartment, there is a dual access laptop sleeve. It closes with a velcro flap, which sticks great and holds your laptop securely inside the sleeve. That said, it's slow to access your laptop. Too slow for us. We ended up tucking the flap into the sleeve, so we could quickly slide the laptop in and out.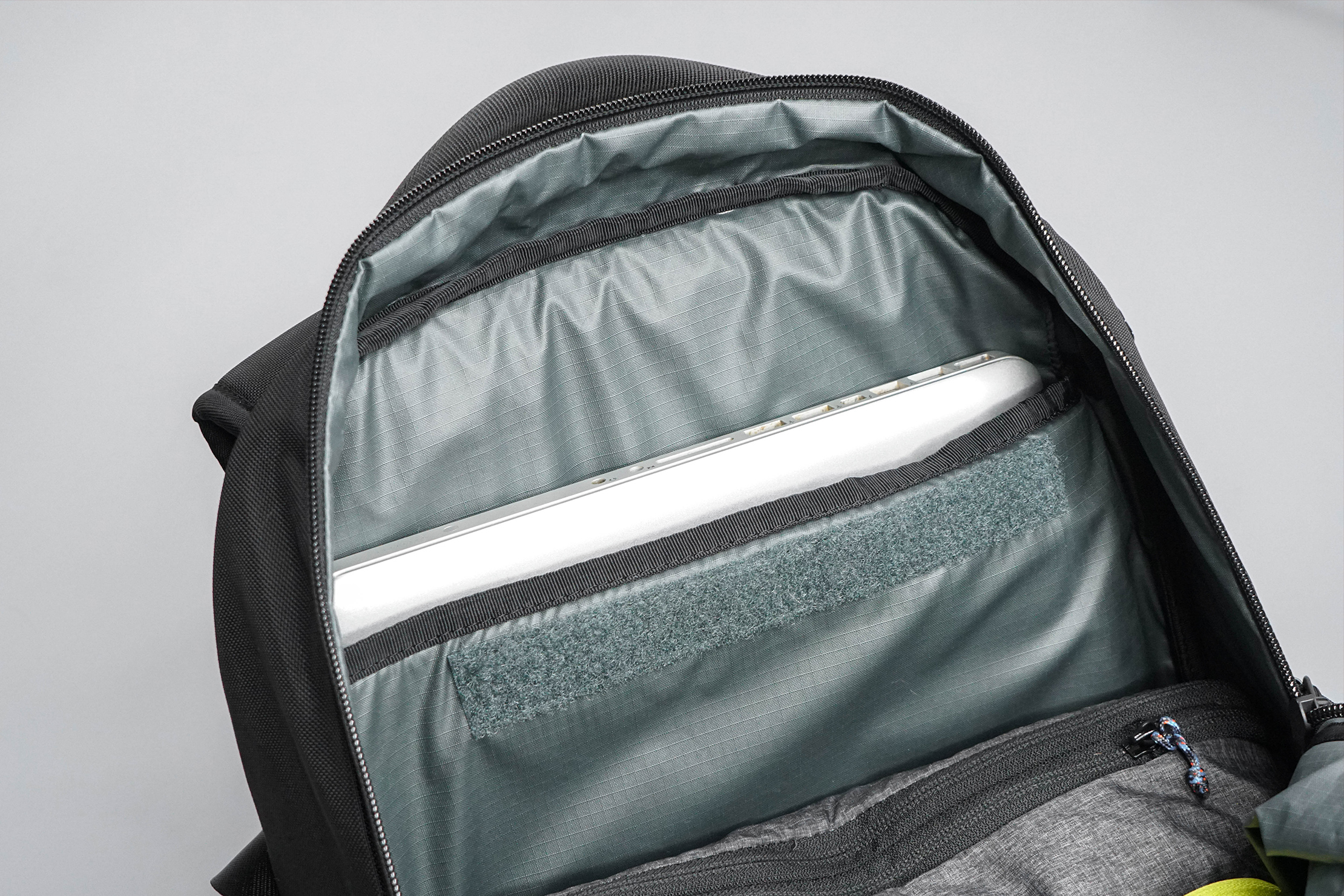 The laptop sleeve can be accessed via an external zipper along the side of the pack, which is highly convenient. However, as we mentioned earlier, the compression strap does interfere with this zipper. You have to undo it before you can unzip this opening.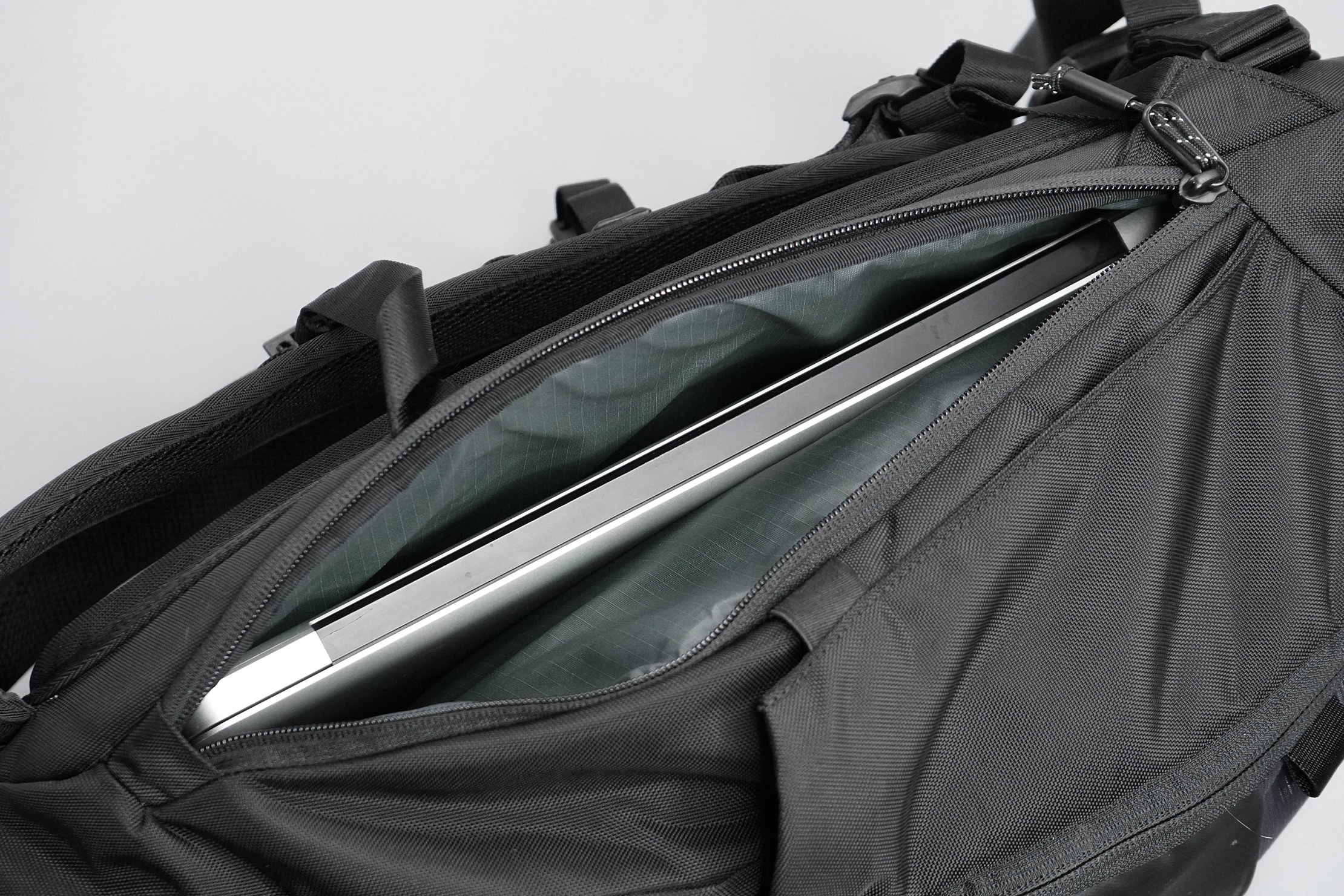 Timbuk2 advertises that the laptop sleeve will fit up to 15'' laptops. We've managed to fit a 16'' MacBook, but it has been tricky to slide the 16'' laptop into the sleeve from the side access point (although it easily slides out). If you have a smaller laptop this shouldn't be a problem.
The sleeve is also padded and offers great protection. We've had no issues putting a laptop inside without a case.
Durability & Testing
We've been testing the Timbuk2 Parker Commuter Backpack for two weeks in Detroit, Michigan. Overall, we've enjoyed testing it more than initially expected. It's a solid pack that works for EDC and travel (well, short-term travel)—as long as you don't expect loads of internal organization. The access could also be improved, although it's not too frustrating as it stands.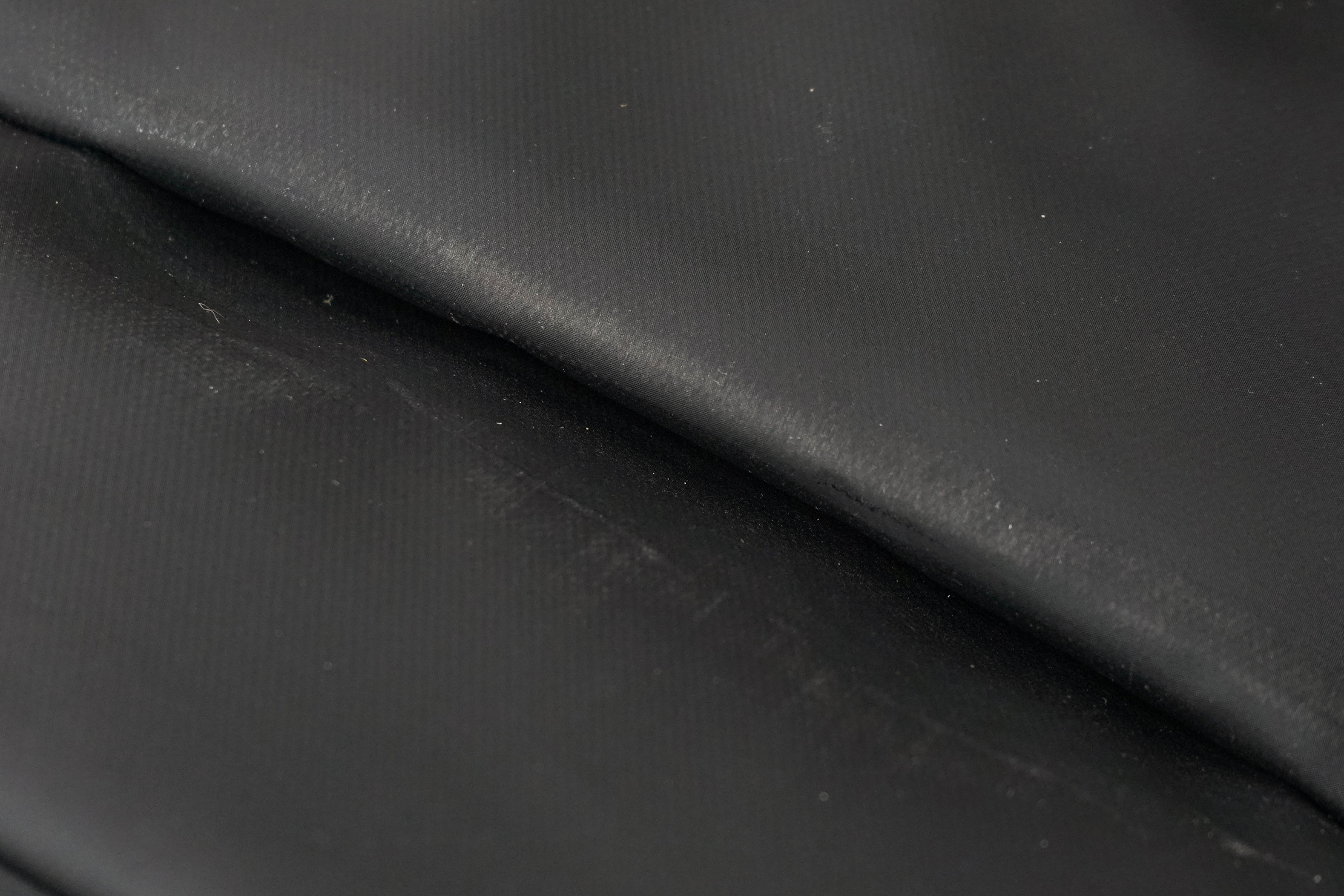 We've also been pleased with how well the pack has been holding up. We have no major durability issues to report at this time. That said, we do have a minor issue to report. There are a few small scuffs on the front of the pack. They're noticeable but haven't impacted functionality at all.
Usage Timeline
Initial Usage
Condition: Excellent
Dual-access laptop compartment can be opened from either the top or side
Three quickgrab style pockets on the front for easy access and organization
Comes with its own rainfly that packs into the bottom of the bag
2 Weeks of Use
Condition: Excellent
Dual access laptop compartment is a little hard to use. A 16″ laptop fits in the compartment fine but it is hard to get it back in using the side—mostly just used the top access
Back panel started out really stiff but broke-in nicely
Water bottles block the zipper if they are zipped to the bottom so you are better off leaving them in the middle
Access the Pro Community Discussion
Get your questions about the Timbuk2 Parker Commuter Backpack answered from our team and the Pro Community right here on the page. Plus, join discussions with other members about gear, guides, and more.
Other Bags & Luggage Reviews