Timbuk2 Impulse Travel Backpack Duffel Review
The Timbuk2 Impulse Travel Backpack Duffel is a 45-liter duffel-style backpack that offers excellent storage space but is lacking in functionality.
Our Verdict
Unlock the Pro Summary
Save time. Get access to brief summaries of our reviews so you can browse and make decisions more efficiently.
Pros
Great usable top pocket
Exterior material is easy to clean and robust
Mesh pockets and the top interior flap provide nice organizational options
Cons
Straps can detach unexpectedly
The harness system could be improved for better comfort
Sticky zippers across the pack; overall access isn't as quick as we'd like
Recent Pack Hacker Video
Technical Details
Capacity

45l

Weight (lb)

3.7 lb (1.7 kg)

Dimensions

20.7 in x 14.6 in x 6.1 in (52.6 x 37.1 x 15.5 cm)

Notable Materials

YKK Zippers, Duraflex Hardware, Polyethylene, Polyurethane

Manufacturing Country

Indonesia

Warranty Information
Full Review
We're all in agreement that a quality duffel bag can be a great travel companion, right? Well, Timbuk2 is also in agreement—and we know that because they've set out to compete with the best of the best by creating their Impulse Travel Backpack Duffel.
This 45-liter duffel-style backpack comes from the same brand that brought us gear like the Wander Pack (the previous iteration of this bag) and the La Banane Fanny Pack. Started by a bike messenger in San Francisco, Timbuk2 rolled out its first messenger bag 30 years ago and now boasts a variety of totes, travel packs, camera bags and more.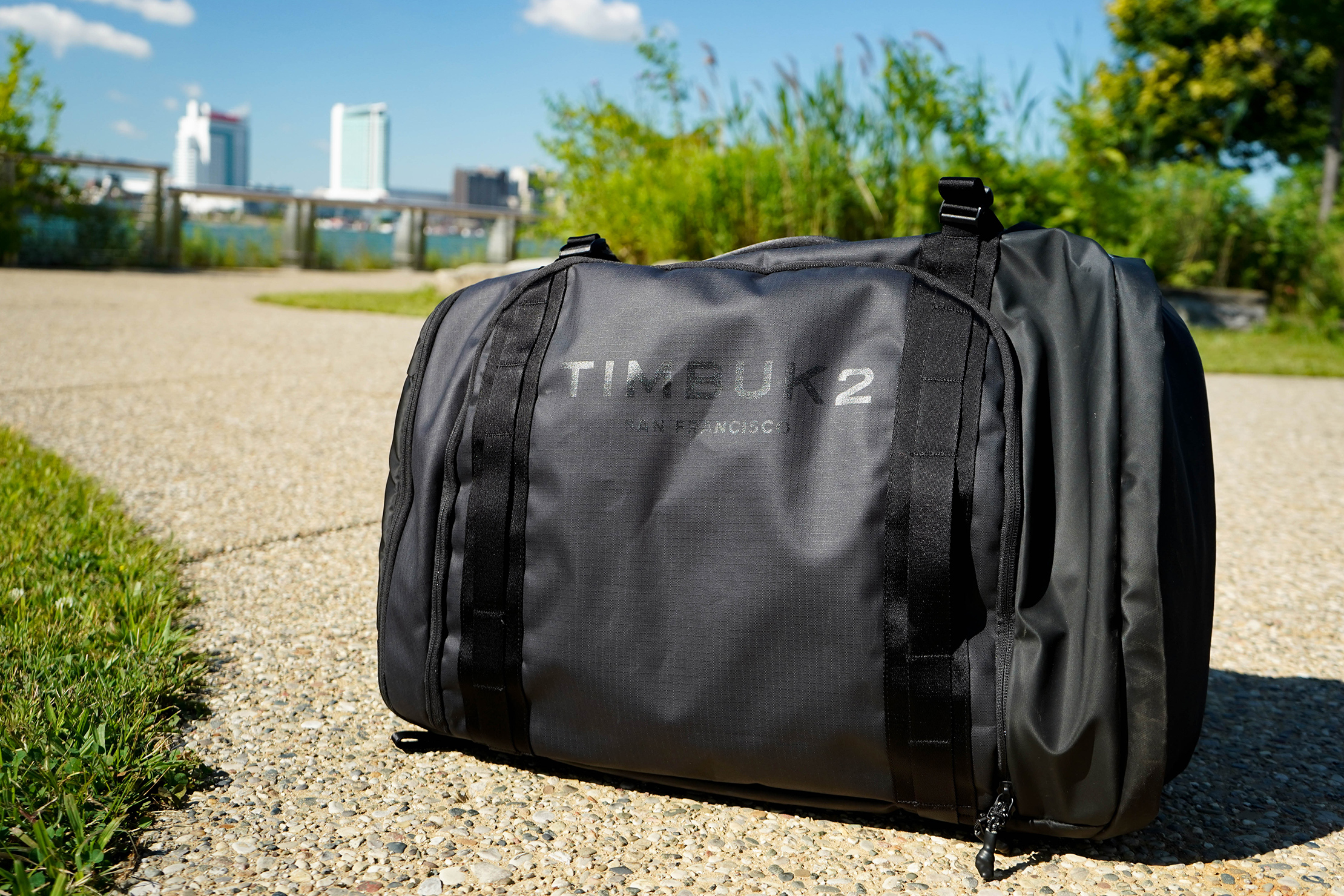 Now, we should note right off the bat that this bag is called a "duffel-style backpack," and that wording is very intentional. This is not a duffel-backpack-hybrid, meaning it really is just a duffel bag with backpack straps—and that's it. It does not have a traditional over-the-shoulder strap like you'll find on most duffels. Instead, it merely has a side grab-handle—meaning you can carry the bag in backpack mode or "briefcase mode" by holding it with the handle.
As far as we're concerned, calling this bag a "duffel" is a bit of a stretch. It does have the shape of a duffel, but to us, a duffel needs to have that single strap that you can quickly and easily swing over one shoulder. And while the side handle does let you carry it like a briefcase, that feature is found on the majority of travel packs anyway—so it's nothing new, as far as we're concerned. That being said, it does have the look and feel of a duffel. Just one that sits on your back.
We apologize for nitpicking right out of the gate, but we just had to get that out of the way. For the most part, we're treating this bag as a backpack. And after testing the Impulse Travel Backpack Duffel for two weeks in Detroit and Minneapolis, we're here to give you all the details you'll need to see if it's right for you.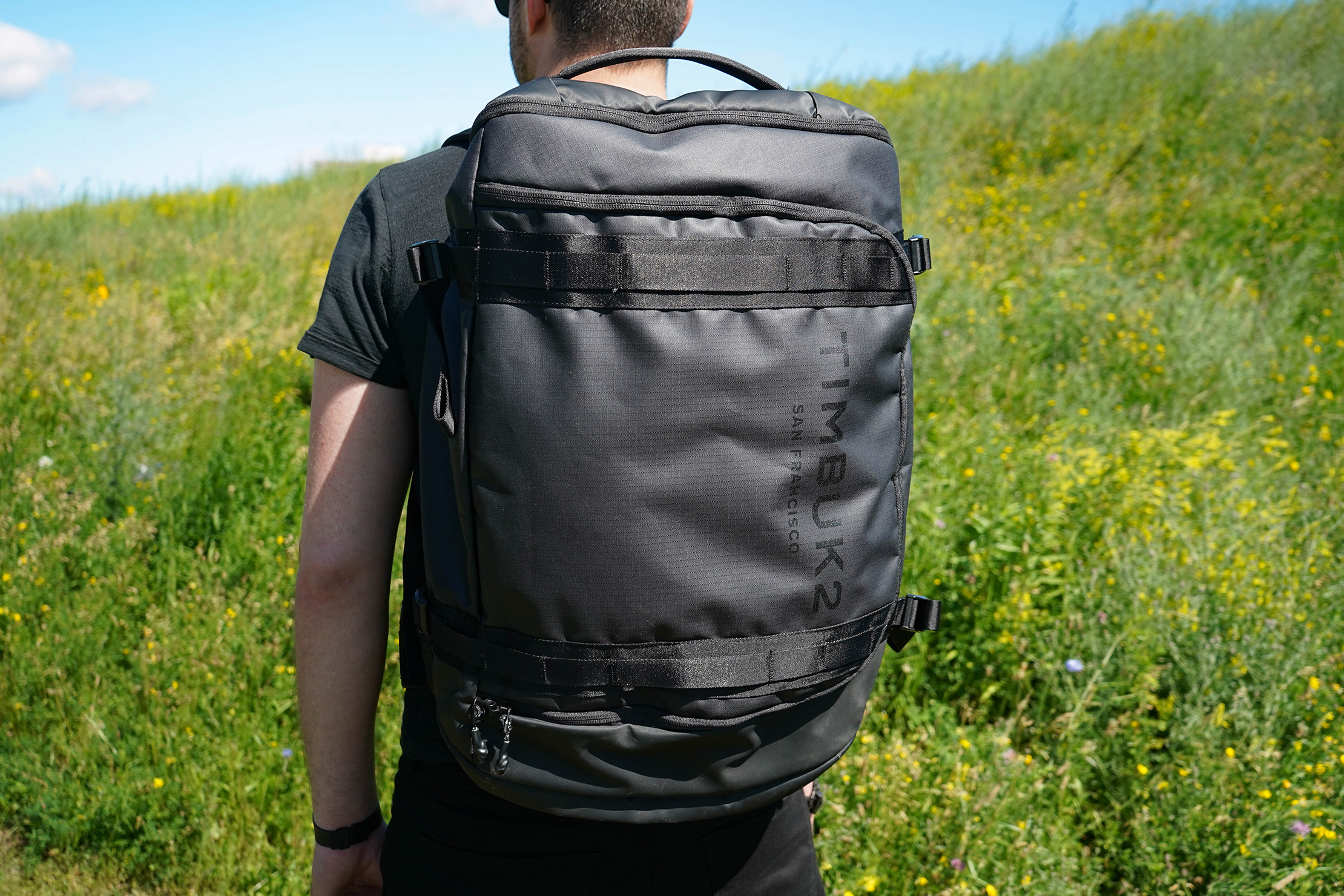 Materials & Aesthetic
Kicking it off with the materials, the main exterior fabric on this bag is a polyethylene vinyl acetate with a ripstop pattern for extra durability. If you're not up to date on your vinyl varieties (because who is, really?) let us fill you in. Basically, everything "vinyl" was historically made with polyvinyl chloride (PVC). To give you some context, PVC is found in shower curtains, mattress covers, plastic tablecloths, and a whole lot more. It was—and still is—one of the most widely-used varieties of plastic around.


At some point, however, someone realized that PVC is slightly carcinogenic. Whoopsie.
As a result, "Big Vinyl" (not a thing, but we're making it a thing) decided to create a new version of PVC that wouldn't give you cancer. They came up with polyethylene vinyl acetate (PEVA), which is basically the same thing but it's non-carcinogenic. Although, it's still apparently up for debate whether it's entirely toxic-free or not (and we're not going to get into that debate). Either way, it's not going to give you cancer and it's more or less free of toxins.
We should also clarify that although PVC is technically a carcinogen, its danger seems to be quite minimal—so no need to worry about ditching all your PVC products.
History aside, this fabric has a tarp-like feel and, while not incredibly durable on its own, is bolstered by a nice ripstop pattern that elevates it from "shower curtain material" to "travel backpack material." The ripstop pattern means that if you do get a rip or tear, it shouldn't get any bigger. This fabric is also similar to the material used on the Timbuk2 Wander Pack, which we've previously reviewed. We're glad to report that this fabric does seem a bit more robust than its predecessor, which blemished quite easily.
At the time of this review, the Impulse is available in just one color—black—and we are totally cool with that. We think it looks good, and the black-on-black Timbuk2 wordmark on the front with "San Francisco" below it is tasteful and blends in well.
Other branding locations on the Impulse include a Timbuk2 mark on the shoulder straps that looks similar to a bike wheel (or that's the intended effect, anyway).


Keep in mind that while the Impulse wears its San Francisco roots proudly (it was designed there), the bag is made in Indonesia.
Generally speaking, we think this bag looks pretty slick—especially for a pack with a 45-liter capacity. Some of these larger travel bags can start looking a bit bulky, but we think the Impulse looks good at this size.
Wrapping up the rest of the materials on this bag, the Timbuk2 Impulse features durable YKK zippers throughout, plus Duraflex buckles and hardware on the sternum strap and compression strap inside the bag. Polyethylene foam is used on the back panel and shoulder straps as well.


Exterior Components
Alright, we're not going to beat around the bush—the harness system on the Timbuk2 Impulse Travel Backpack Duffel hasn't blown us away. The shoulder straps, for starters, are made with a thin polyethylene foam that we think could be thicker or more dense to make the pack more comfortable. While this duffel-style bag is decently comfortable to carry, we believe there's some room for improvement.


Moving down the straps, an elastic band at the front of the straps can be used to attach a carabiner or additional accessories. The MOLLE-like webbing below this can be used to attach the sternum strap or anything else you might need to keep handy.
The Impulse's sternum strap does a great job at helping to distribute weight as you're carrying the pack around. That said, we have some gripes with the way it's attached. We usually prefer something with a more permanent attachment, because it's just too easy for this to slip in and out of that webbing. (Trust us; we've lost many a sternum strap this way!) It's not quite as bad as other designs we've tested that get looser even quicker, but it's still a risk we'd rather not take.
We're happy to give credit where credit is due, though, and Timbuk2 definitely came through with some significant improvements over its Wander pack.
On that bag, a button slid over the strap to attach it to the sternum strap—and this fell off super easily. While it's still not perfect, the Impulse is a massive improvement.
The strap adjusters on this bag are pretty standard, and the same goes for the elastic keepers holding the excess strap in place, which help provide a cleaner look.
The entire strap system comes together with a small Duraflex gatekeeper buckle on the bottom, which can be detached to stow the shoulder straps away behind the back panel. Since this is the same way the Timbuk2 Wander pack attaches, we should point out that our three months of heavy testing with the Wander found that these straps randomly disengaged on a couple of occasions while being lifted at full capacity.
With that in mind, the small gatekeeper strap on the Impulse doesn't seem like it's quite enough to carry 45 liters comfortably—and, of course, randomly disengaging isn't something anyone has time for. Since the exact same buckle failed on the Wander, we're not sure why Timbuk2 didn't change the buckle on this new iteration.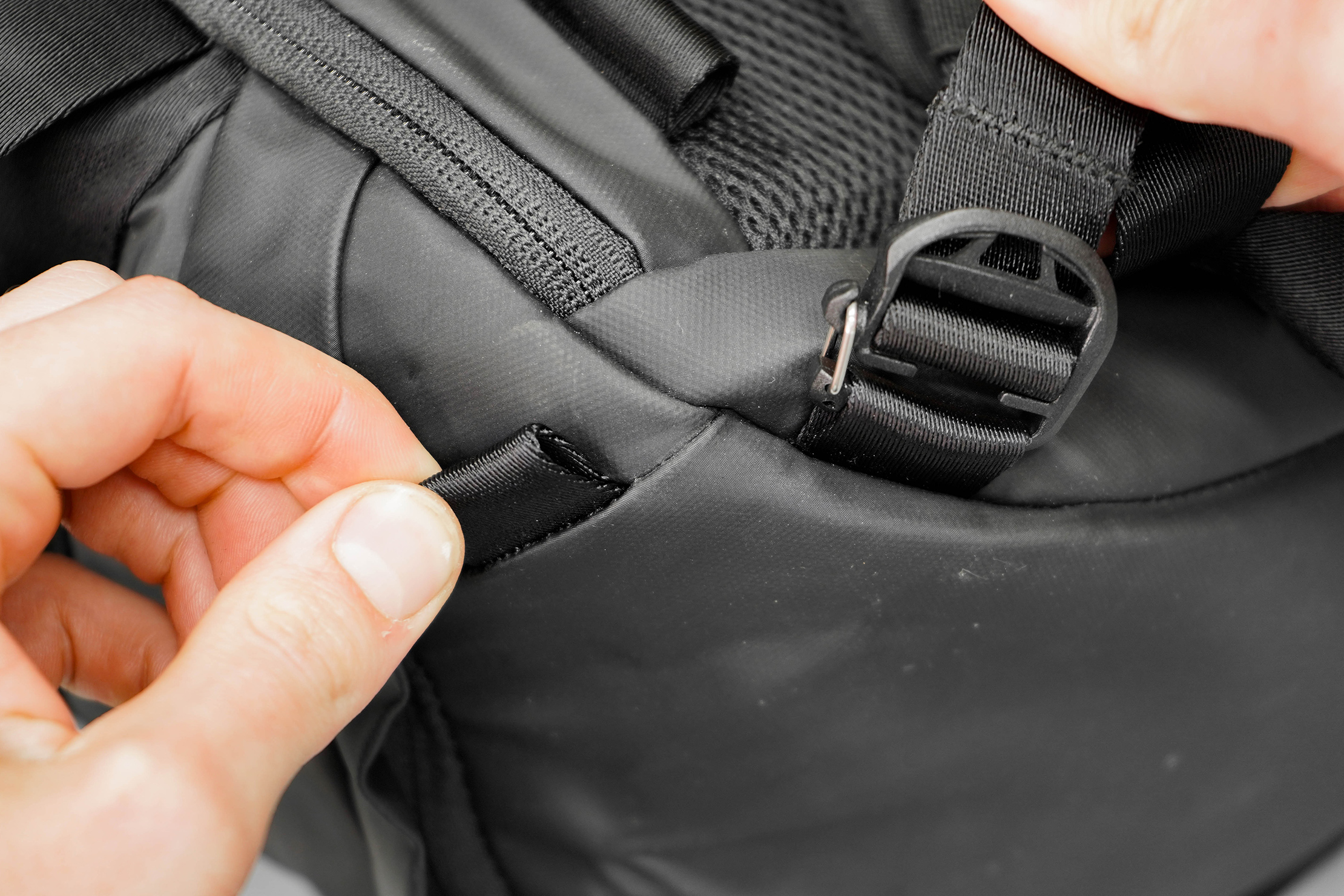 On the plus side, there are two different lash points where you can attach the gatekeepr strap—one that offers a wider carry and another for a more duffel-style carry. For the duffel-style carry, the attachment point is parallel with the top of the straps so it'll be a little closer to your body and a little easier to carry from the straps.
A hip belt is basically a "must" for a bag at 45 liters, and on the Impulse, it's attached with a larger gatekeeper buckle at the bottom. We like that Timbuk2 includes different attachment points for different body types. Our tester with a 19.25-inch torso used the lower attachment point, and it was still a bit too high but ultimately distributed the weight for a more comfortable carry. We'll always take a hip belt option—even if it's a little higher than we'd like—over not having one at all.


The streamlined size of the Impulse hip belt makes a lot of sense for urban travel. Hip belts can be massive on some travel bags, and that can pose a problem for tight spaces like a public bus or airplane aisle (a chance to not be the one whacking everyone as you board—nice!). It's also convenient that you can just take the attachment off when you don't want it in the way.
While wearing the Timbuk2 Impulse, the user's right side features a shallow mesh pocket that's better for things you maybe wouldn't mind losing (like napkins or tissues, perhaps?). The left-hand side, meanwhile, offers a zippered compartment on the hip belt that's ideal for smaller and more flexible items (nothing too rigid, or you'll affect how it wears). We love having a quick-access pocket right near your hip, where it's convenient and easy to access while wearing the pack.
Wrapping up the harness system, the back features some nicely padded mesh. There's also a semi-stiff frame sheet, which is a little bit flimsy, but we're glad Timbuk2 included it since some duffel-style travel backpacks don't have this. You can also hide the straps along the back if you want to stow them away.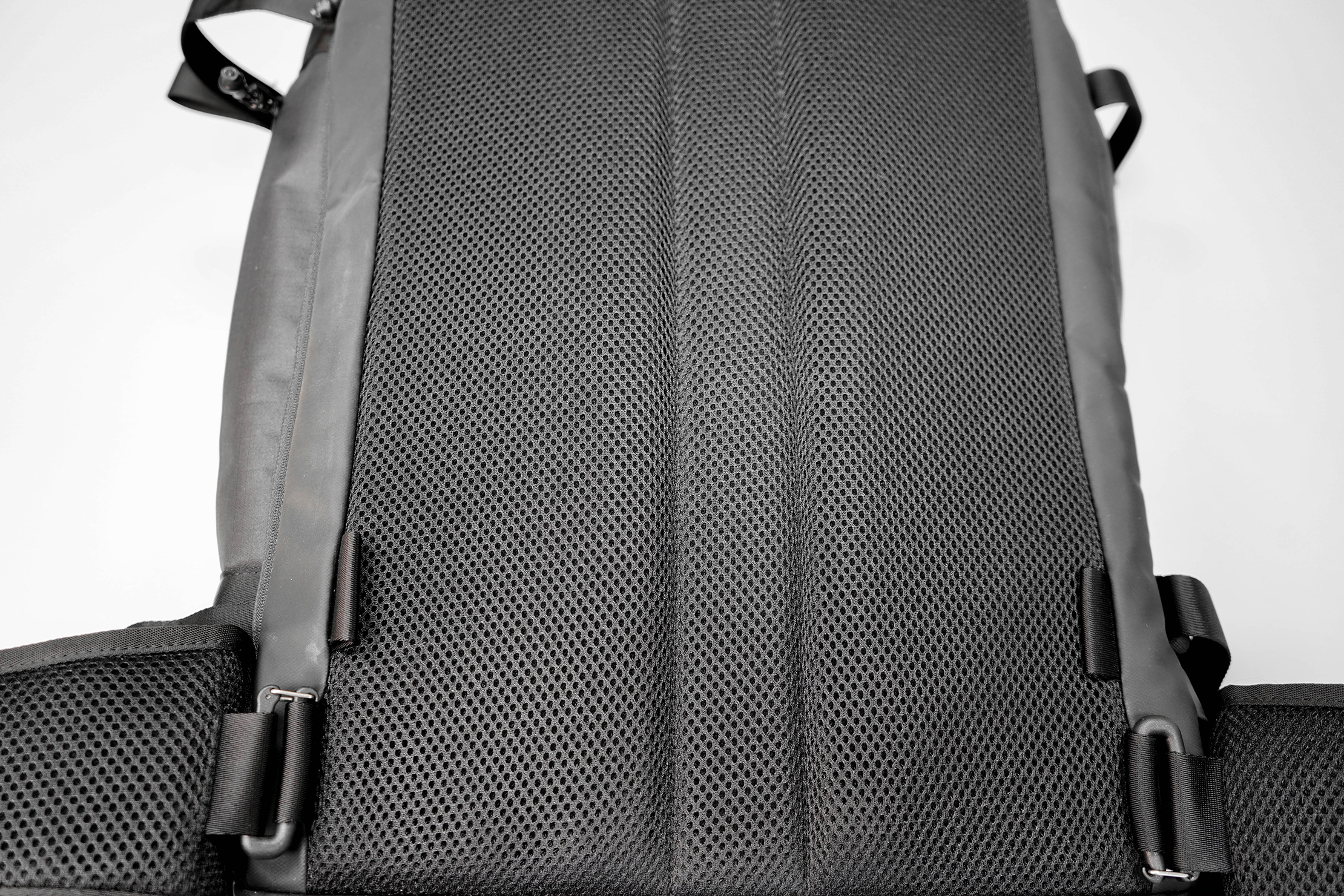 The rest of the bag is pretty simple and utilitarian. On the top side and wearer's right-hand side you'll find densely padded foam grab handles, which always come in handy in transit. We couldn't help but wonder, though, why this higher density padding wasn't used in the shoulder straps as well.
There are two compression straps on each side of the Impulse bag that keep things nice and tight. We like that these don't obstruct the opening of the main zipper, so you'll still be able to access it while they're tightened down.


On the front of the bag, we've got two rows of MOLLE-like webbing; two regular-size on the left and right, and then one larger one on the front. This can be used for attaching a carabiner clip or any other accessories you'd like to add to your bag.
Inside the Pack
Starting out with the top pocket, this is a nice large area to dump items into. As organized as we'd all like to be, this kind of generously-sized pocket definitely comes in handy and can accommodate a lot of stuff. We're thinking a tech pouch, laptop charger or anything in your pockets that you need to stow away quickly.


On the top flap, you'll find a mesh pocket that can be used for securing items in place. We do wish there were some dividers here to make it slightly more usable, but it's still a nice feature.
Unfortunately, the liner on this pocket feels a bit weak. It doesn't have the ripstop fabric found on other areas of the bag, so we're concerned something sharper could rip into the liner and spread easily without that extra protection.


The zippers on the Timbuk2 Impulse have given us some trouble during our testing. Every zipper on the bag is pretty sticky, especially when you go around the curves of the pack. We've noticed this is a pattern on bags that have a stiffer, tarp-like material on the exterior—and when you pair that with a curve, the stickiness only gets worse.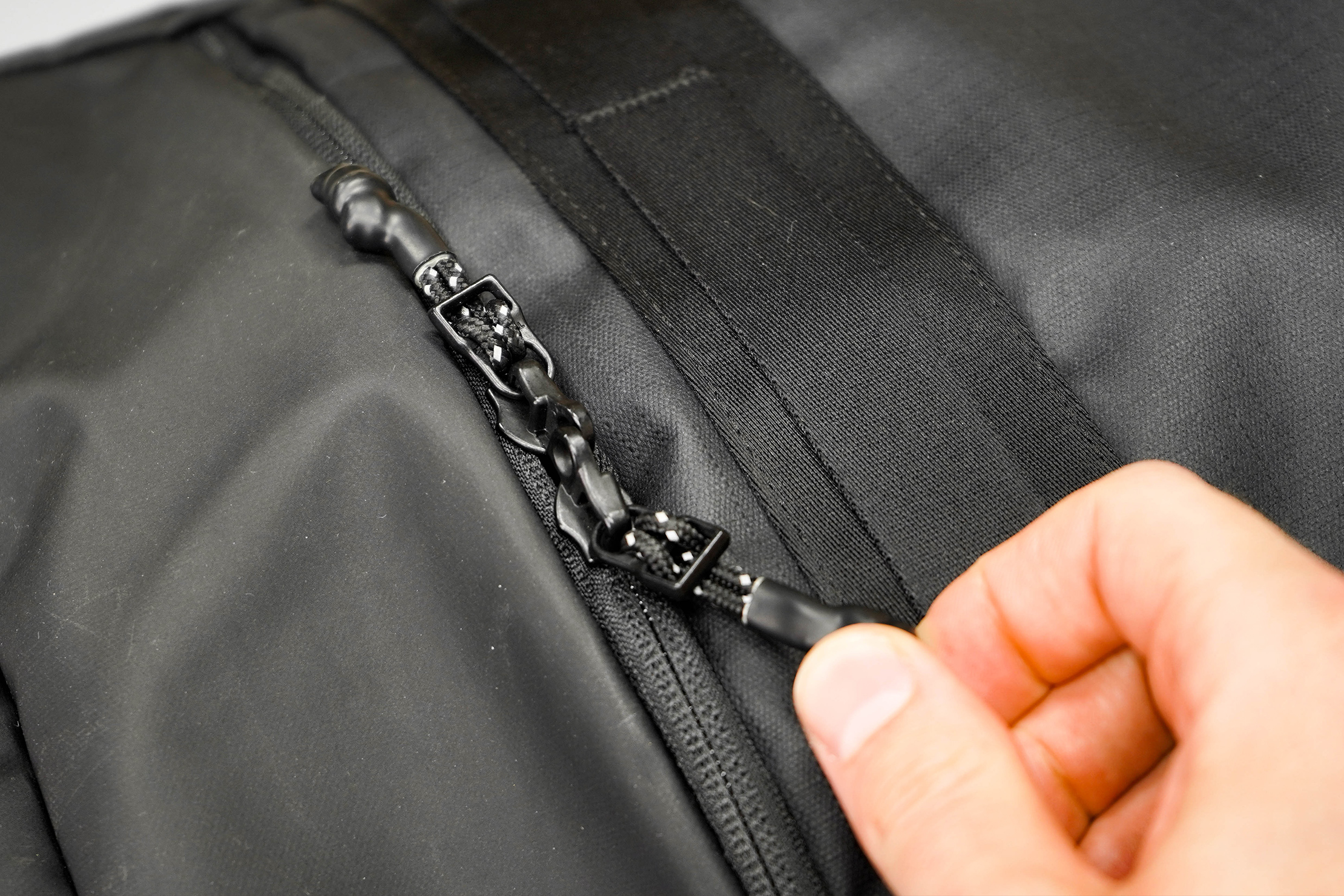 On the bottom of the pack, you'll find a zip pocket similar in size to the top pocket. This is a great place for shoes or dirty clothes, as it's lined with a similar tarp-like material that we've seen on the exterior of the bag. Some welted fabric in this area also helps protect the zipper, especially as you set the bag down.


The water bottle pocket on the Impulse is simple, slick, and hidden on the side. It's easily concealed by zipping the section back up, or you can let it hang out depending on how much stuff you have inside the pack. Interestingly enough, this pocket does have that ripstop lining we were missing in the top pocket.


At the top, a metal key clip is attached to an intensely fluorescent yellow ribbon. We like that the keychain here is metal, as most other packs just go with plastic. It's all about those little details, people!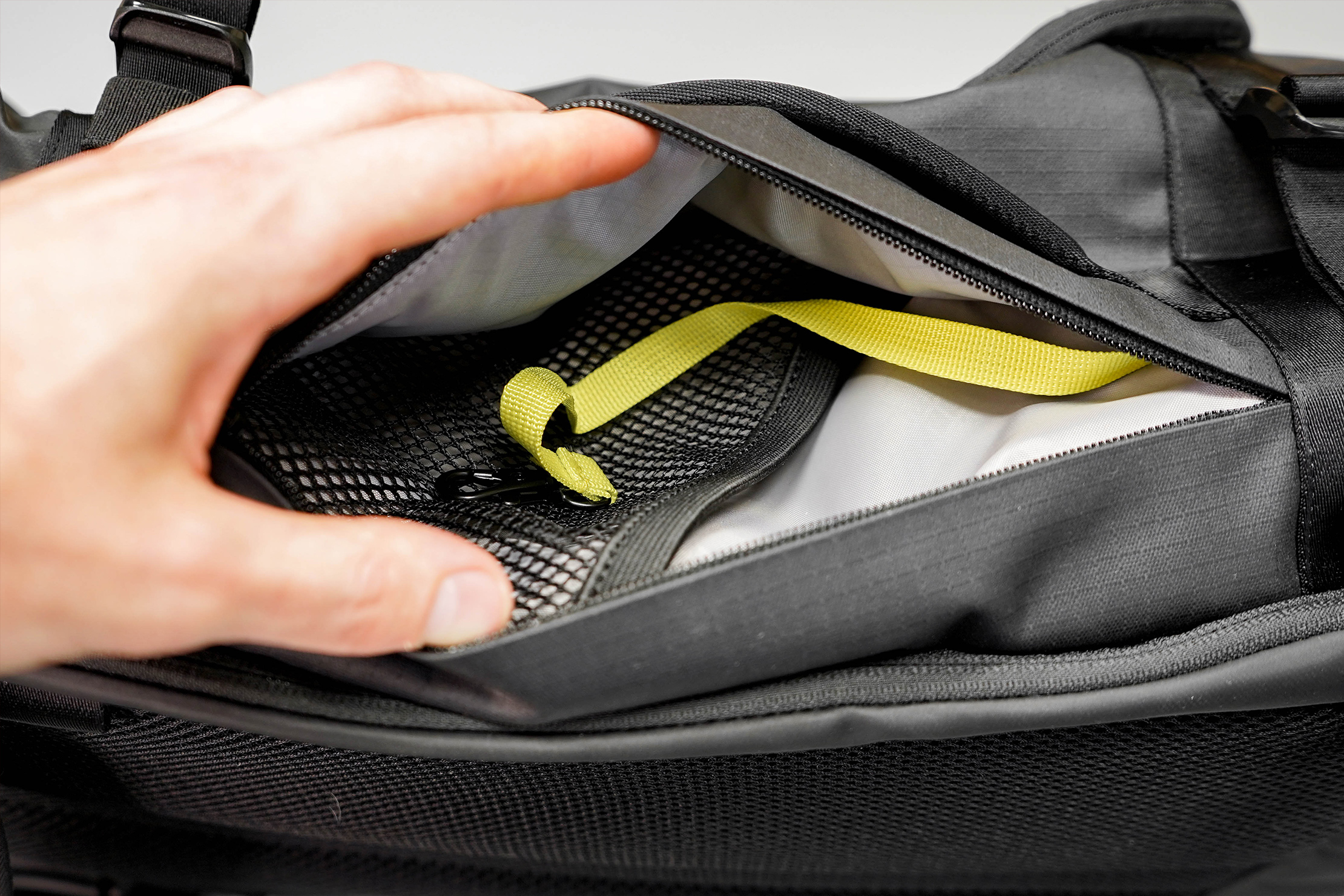 The Timbuk2 Impulse has a large, cavernous, laptop compartment that can hold laptops up to 17 inches.


The compartment also has a false bottom, which is great for protecting your laptop from unexpected drops, and a nice zipper garage helps with additional weather resistance.


One thing to keep in mind about the laptop compartment is that since it opens from the side, it's a bit tougher to access while you're sitting on an airplane or in an otherwise tight situation. Since we've been comparing the Impulse pack to its Wander predecessor, you should know that the Wander's laptop compartment is accessible from the top.
When it comes to the main compartment, once you get past those sticky zippers, you'll find a large and cavernous space. There's a compression strap on the bottom of the bag, which we recommend using with packing cubes, but it can be used with loose clothing as well.


On the top, three mesh divider pockets are available for socks, underwear or other flatter items. We think this is a nice touch, as it's always good to have some additional organization inside of the main compartment.


Durability & Testing
At the time of this review, we've been testing the Timbuk2 Impulse Travel Backpack Duffel for about two weeks in Detroit and Minneapolis.
We've found it to be a pretty good travel companion so far. Though it has only picked up minimal dirt and dust, the material on the outside is really easy to wash and clean.
The large top drop pocket has been great on the road. Simply open it up, dump whatever you want in there, and it's good to go and easy to access when you need it.
In terms of access, though, we've had a few issues. Getting into the pack can be a little slower than we'd like due to the sticky zippers, and this can be frustrating when you're trying to quickly grab your wallet to pay for coffee or unload your tech to set up for a meeting. We often found ourselves wishing for some improved zippers on this bag.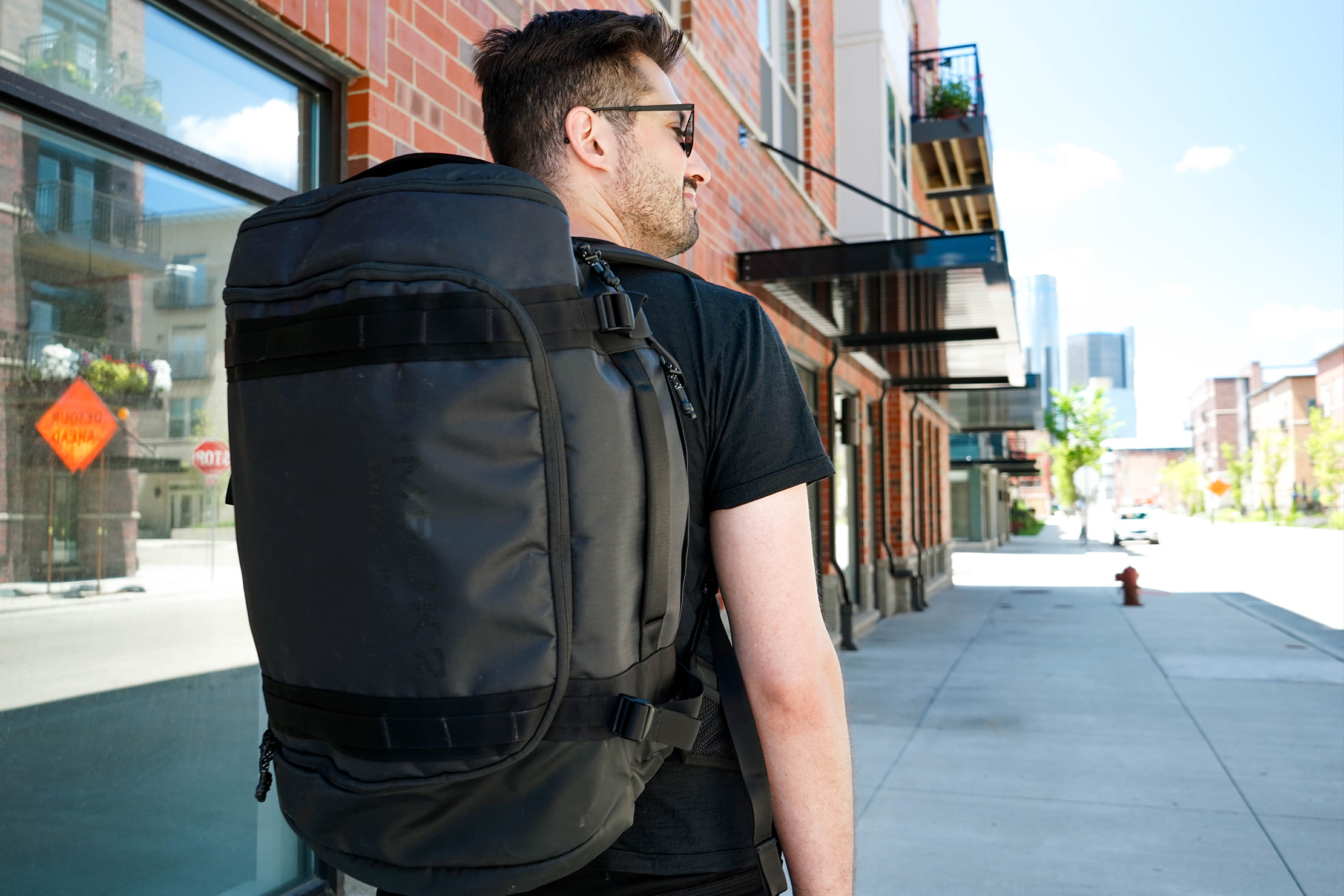 But it doesn't end there. The harness system on this bag isn't very comfortable when the bag is full, and we're not exactly thrilled about carrying it for longer distances. The weird thing is that the top and side grab-handles have some great high-density foam… We think if Timbuk2 had just used that foam on the shoulder straps, they'd be a lot better—but maybe we're missing something.
And finally, this bag is labeled as a duffel-style backpack, but it's really just a duffel with backpack straps—and not much else. We can see the value in having a backpack that also functions as an over-the-shoulder duffel…but this bag doesn't do that. In reality, it doesn't function terribly well as a backpack and it doesn't function terribly well as a duffel. If you need to carry heavy loads over long distances, you'd almost always be better off getting a full-blown travel backpack.
Usage Timeline
Initial Usage
Condition: Excellent
Exterior material doesn't seem like it'll scuff up quite as much as the previous release last year – the Wander Pack.
Still the same strap attachments, which we had some trouble with randomly falling off in our Wander Pack review.
We dig the simplicity of the pockets and the shoe compartment on the bottom.
2 Weeks of Use
Condition: Excellent
Material doesn't pick up much dust or dirt and is easy to clean
1 Month of Use
Condition: Fine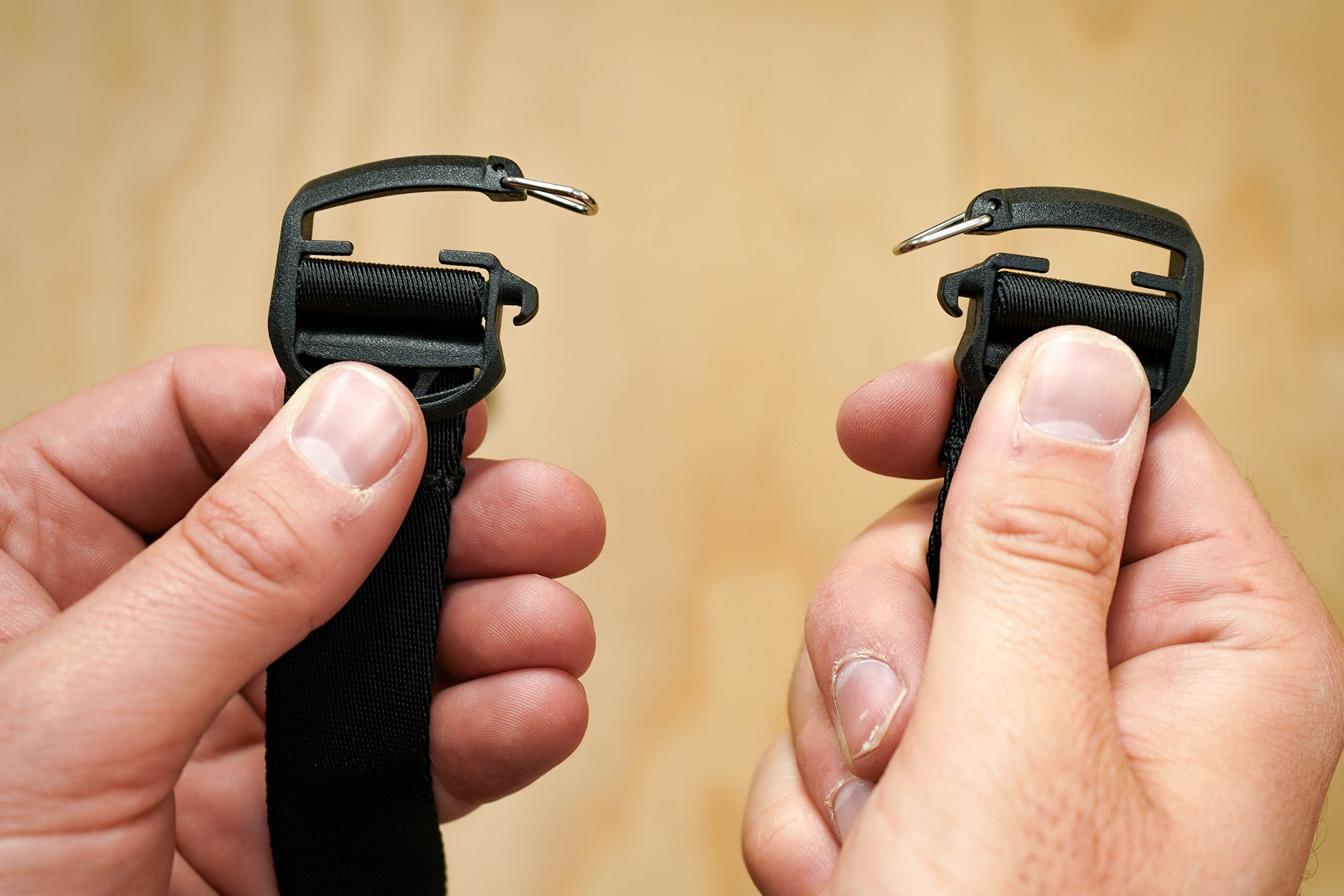 Gatekeeper has unexpectedly detached while in use and the gatekeeper has bent
Access the Pro Community Discussion
Get your questions about the Timbuk2 Impulse Travel Backpack Duffel answered from our team and the Pro Community right here on the page. Plus, join discussions with other members about gear, guides, and more.
Other Bags & Luggage Reviews