Tortuga Setout Packable Daypack Review
Designed to pair with the Tortuga Setout, the Setout Packable Daypack is durable and surprisingly backpack-like, while still lightweight and compressible. Ideal for day trips when you want to leave your main pack at the hotel or hostel.
Our Verdict
Unlock the Pro Summary
Save time. Get access to brief summaries of our reviews so you can browse and make decisions more efficiently.
Pros
Comfortable carry—the slightly padded back panel is awesome for a packable daypack like this.
The front pocket is an ideal size for your quick grab items.
The sternum strap, adjuster buckles and mesh-padded back panel make it feel durable like "real" backpack.
Cons
Sternum strap isn't properly anchored to mesh shoulder straps.
Our sample version came with the sternum strap buckle flipped backwards, which will hopefully be fixed in production.
Recent Pack Hacker Video
Technical Details
Capacity

19l

Weight (oz)

8.5 oz (241 g)

Dimensions

17.5 in x 11.5 in x 5 in (44.5 x 29.2 x 12.7 cm)

Notable Materials

Ripstop Nylon, YKK Zippers, Duraflex Hardware

Manufacturing Country

China

Warranty Information
Full Review
Get up to 10% off Tortuga • Join Pack Hacker Pro
In this review we are taking a look at the lightweight but durable Tortuga Setout Packable Daypack that's intended to pair with the Tortuga Setout.
This little pack allows you to leave your main pack behind and carry only the things you need for a day of sightseeing around the city or hiking on a trail. It weighs less than a can of soda, and collapses into its own front pocket for easy storage in your carry on.
We put the Setout Packable Daypack to the test to see how it fares on our day trips around the city. Let's dive in.
Materials & Aesthetic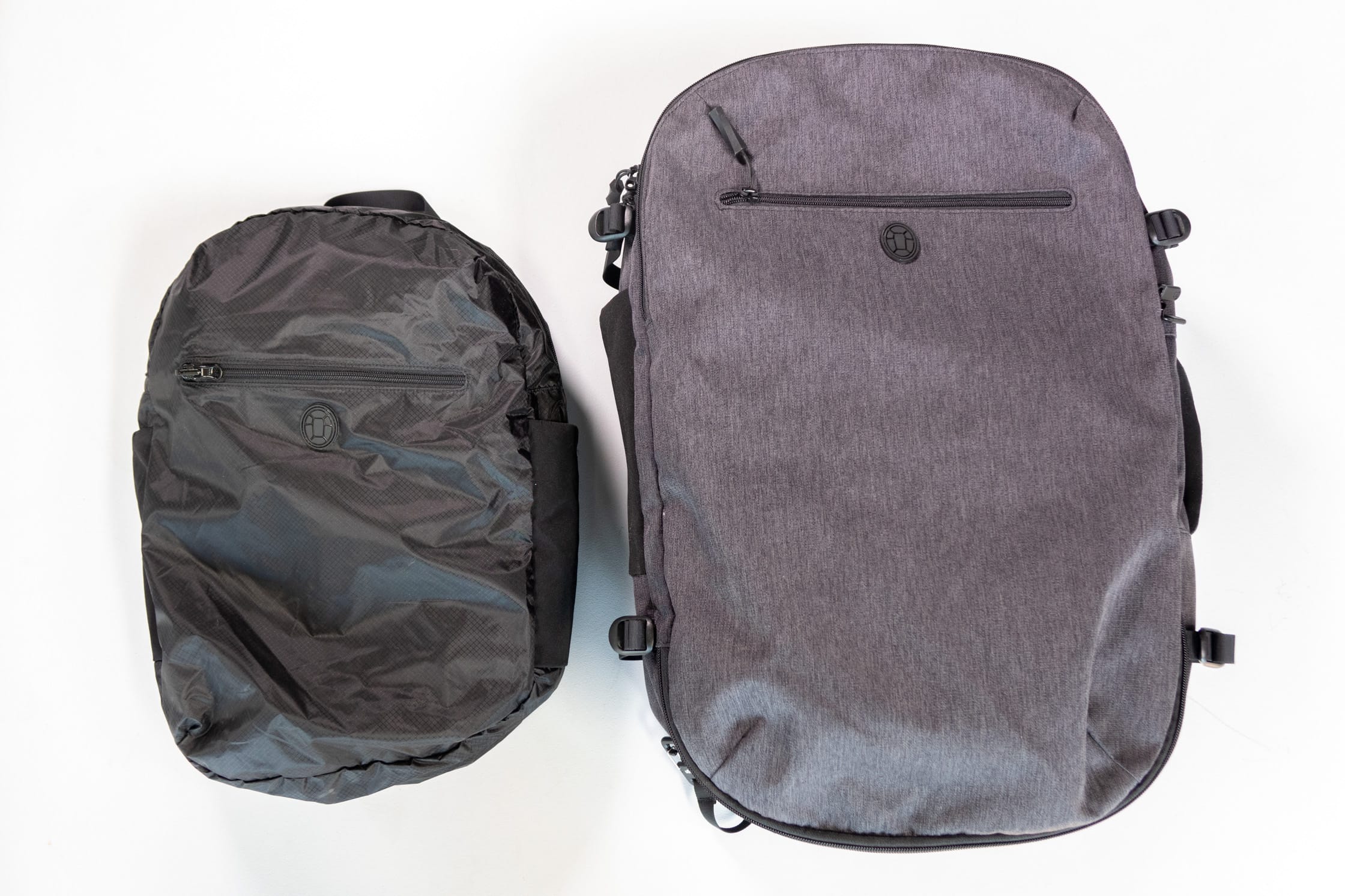 Right away we can see that the Setout Packable Daypack pairs nicely with the Setout, in terms of it's aesthetics and function. It's obviously smaller than the Setout and is a darker shade. But the shape and design—especially the position of the front pocket and logo—make it clear that they were designed to go together.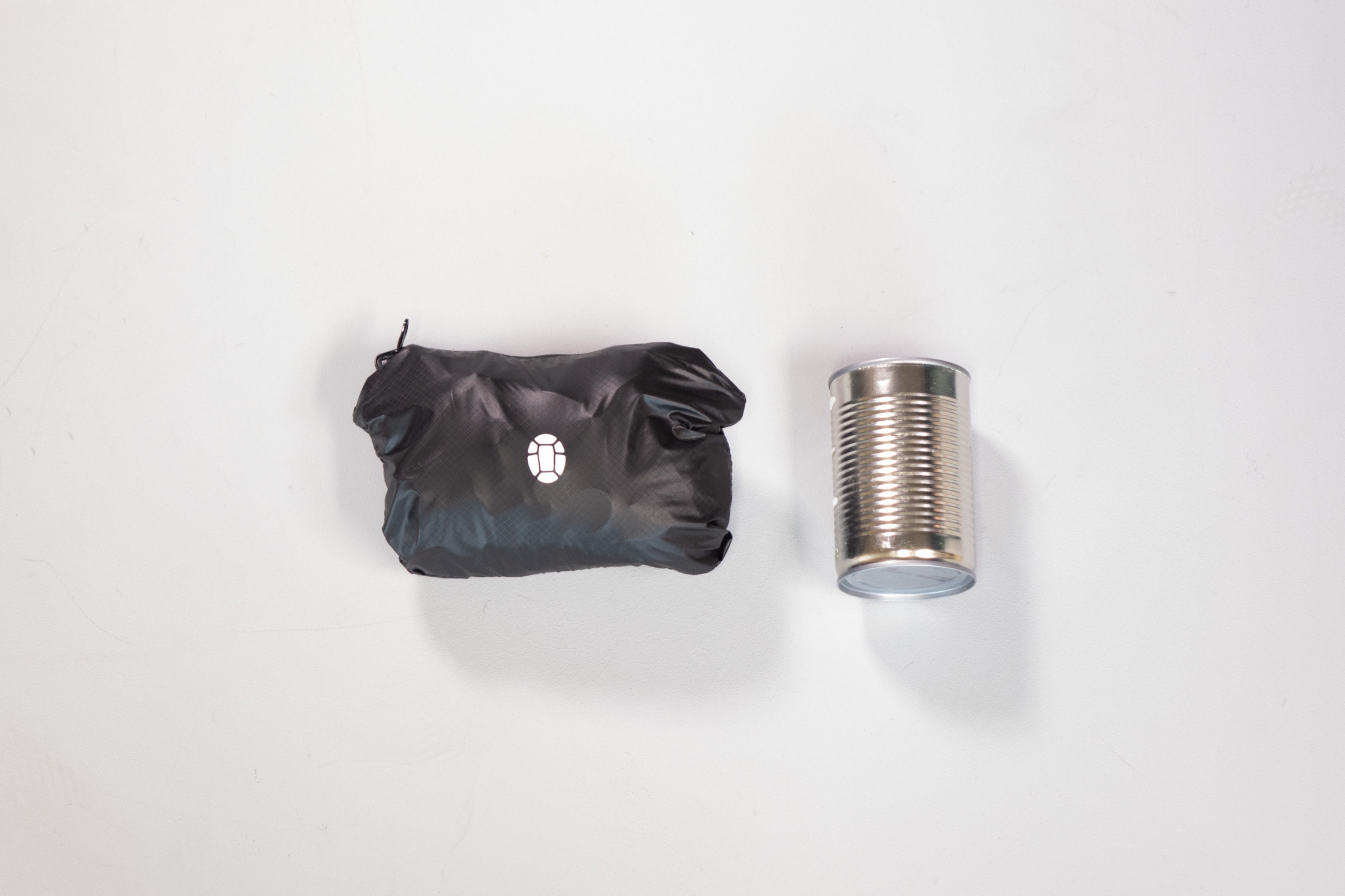 Weight-wise, it comes in at 8.5 ounces, which is super light. To put it in perspective, that's less than a can of soda. So if you love to pack as lightly as possible, this daypack will help you keep that overall weight minimal.
Tortuga has made some excellent choices with the materials for this pack. They opted for durability, which makes us happy—too often, daypacks are left with weaker materials in the quest to reduce weight and size. They've struck a good balance on this one.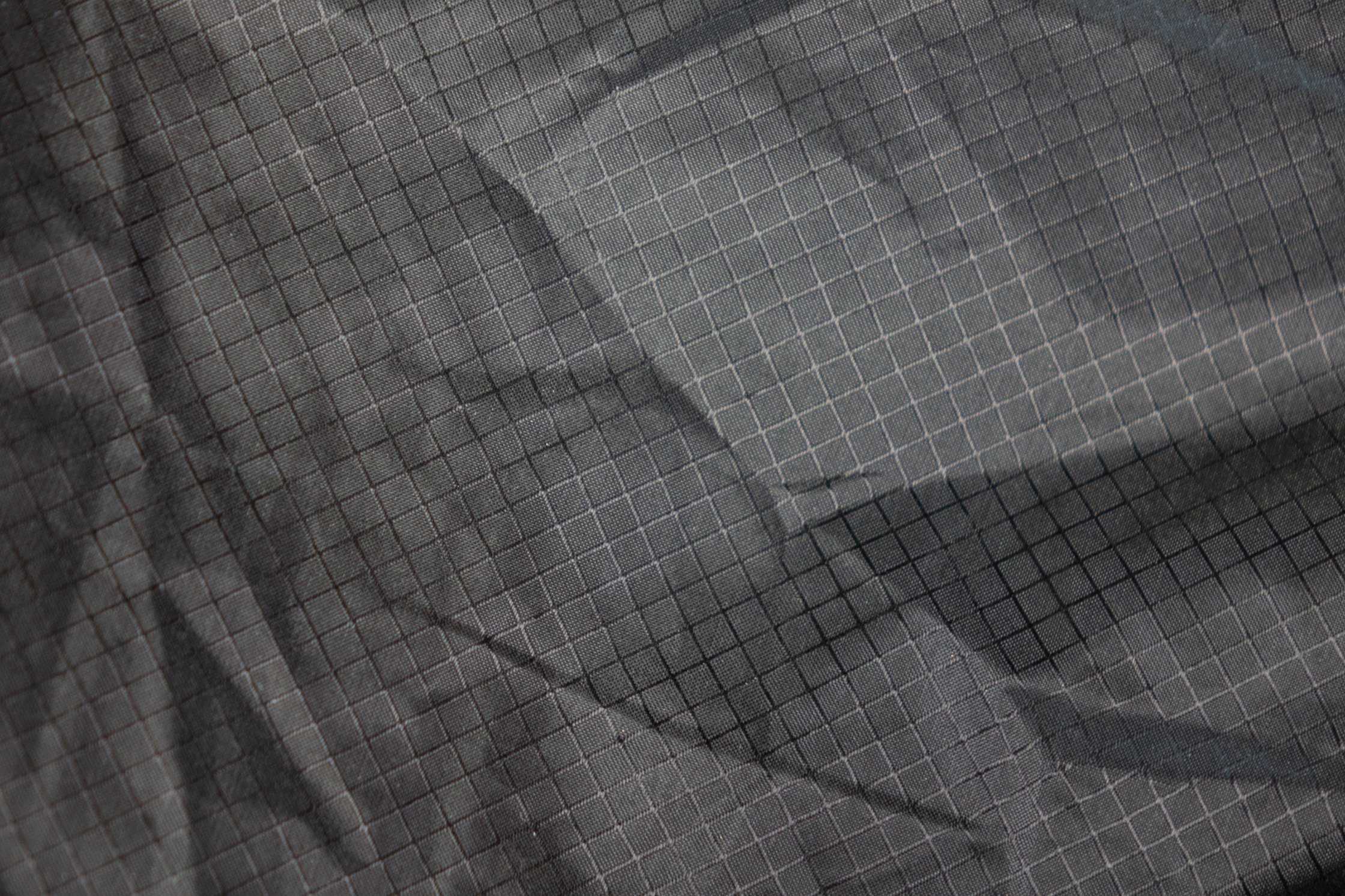 The exterior is made with slick black 30D nylon ripstop, which is both durable and stylish.
The Duraflex clips are tough, giving the pack a 'real backpack' vibe.
The pockets and main compartment are secured with large, strong YKK Standard Coil #5 zippers. They're easy to grasp and won't be failing any time soon. (Anyone familiar with Pack Hacker reviews knows we always love to see YKK zippers in use for those exact reasons!)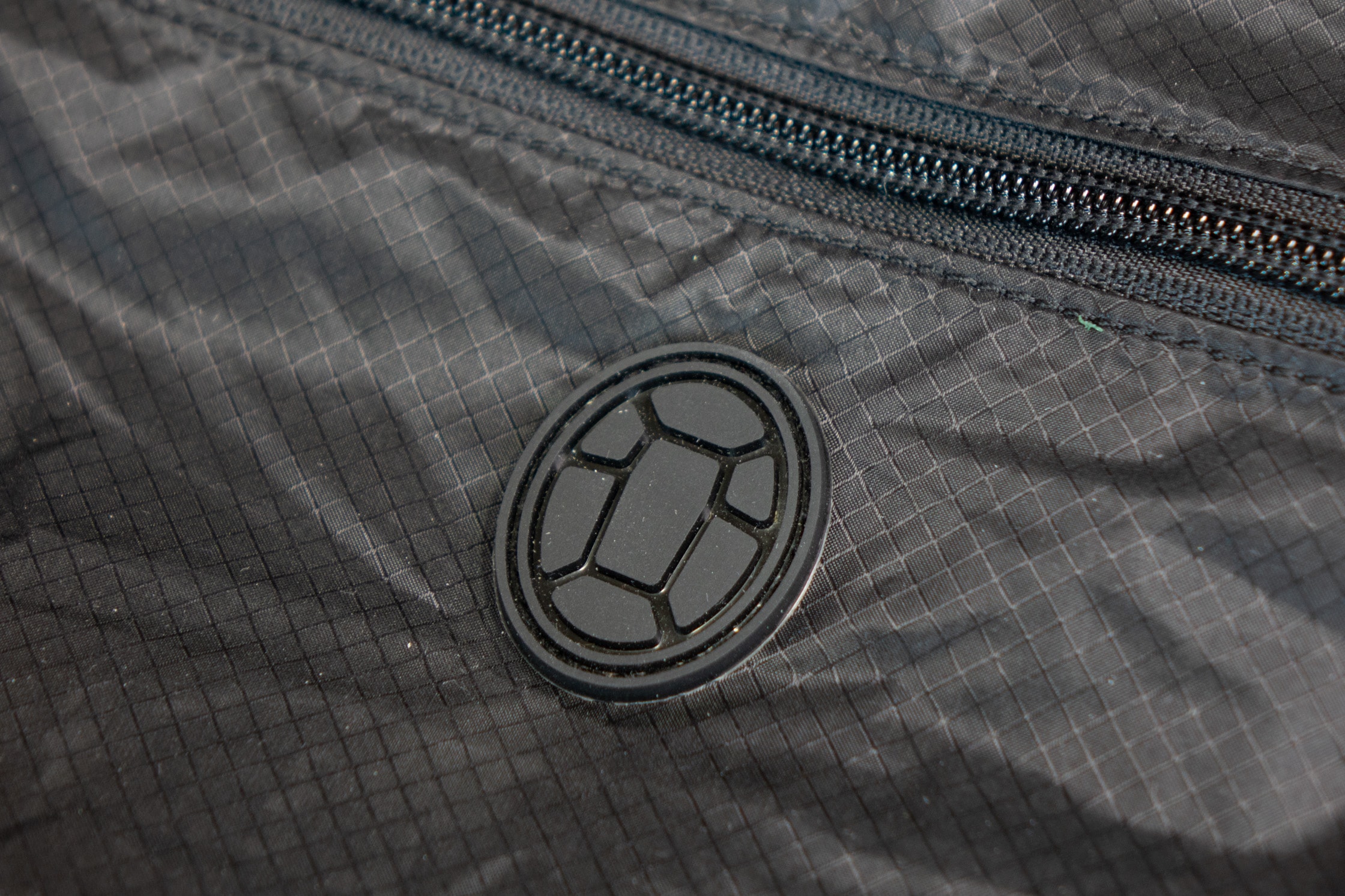 The branding is minimal–you won't be turned into a walking advertisement for Tortuga–but when you look closely, you can see the Tortuga shell logo clearly. As with the Setout, it's tastefully done, which we appreciate. A little branding is great, but it can get obnoxious quickly.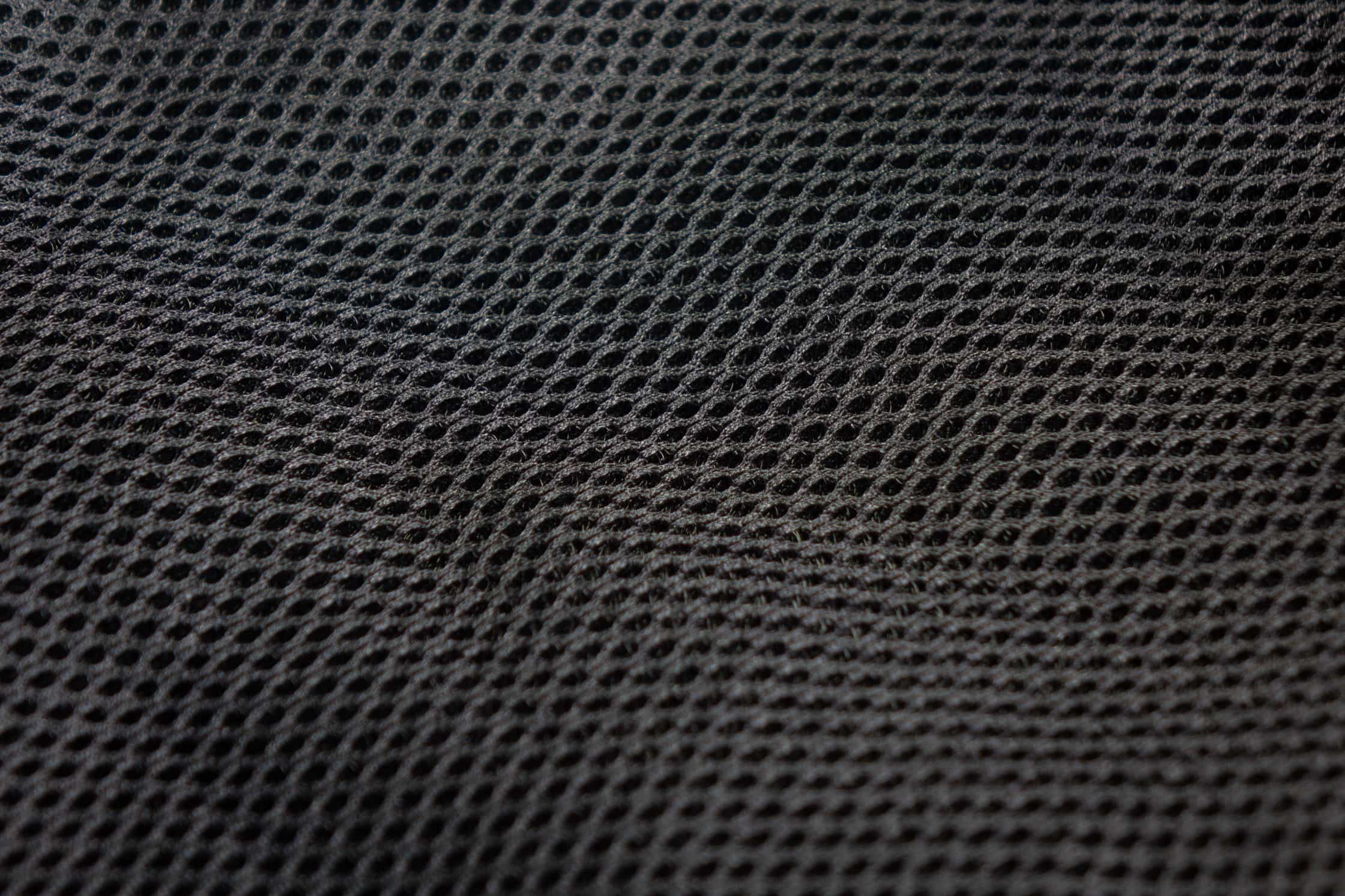 There's also some padded, breathable mesh for the pack panel and shoulder straps.
Overall, the Setout Packable Daypack comes across like a mini-Setout. We love the Setout, so in terms of materials and aesthetic it's a strong start.
External Components
Moving on to the external components, we'll start by taking a look at the water bottle pockets.

It's good to pack plenty of fluids for day trips, and daypacks don't often feature pockets for water bottles. So we're pleased to see not one, but two water bottle pockets on this thing—one on either side of the pack. Rather than taking up precious internal space with drinks, you can store your liquids on the outside, keeping them away from electronics and other gear.
The pockets are made from a stretchable fabric that flattens out when not in use, and the tops of the pockets are elastic, giving a good grip on your bottles when they're in there.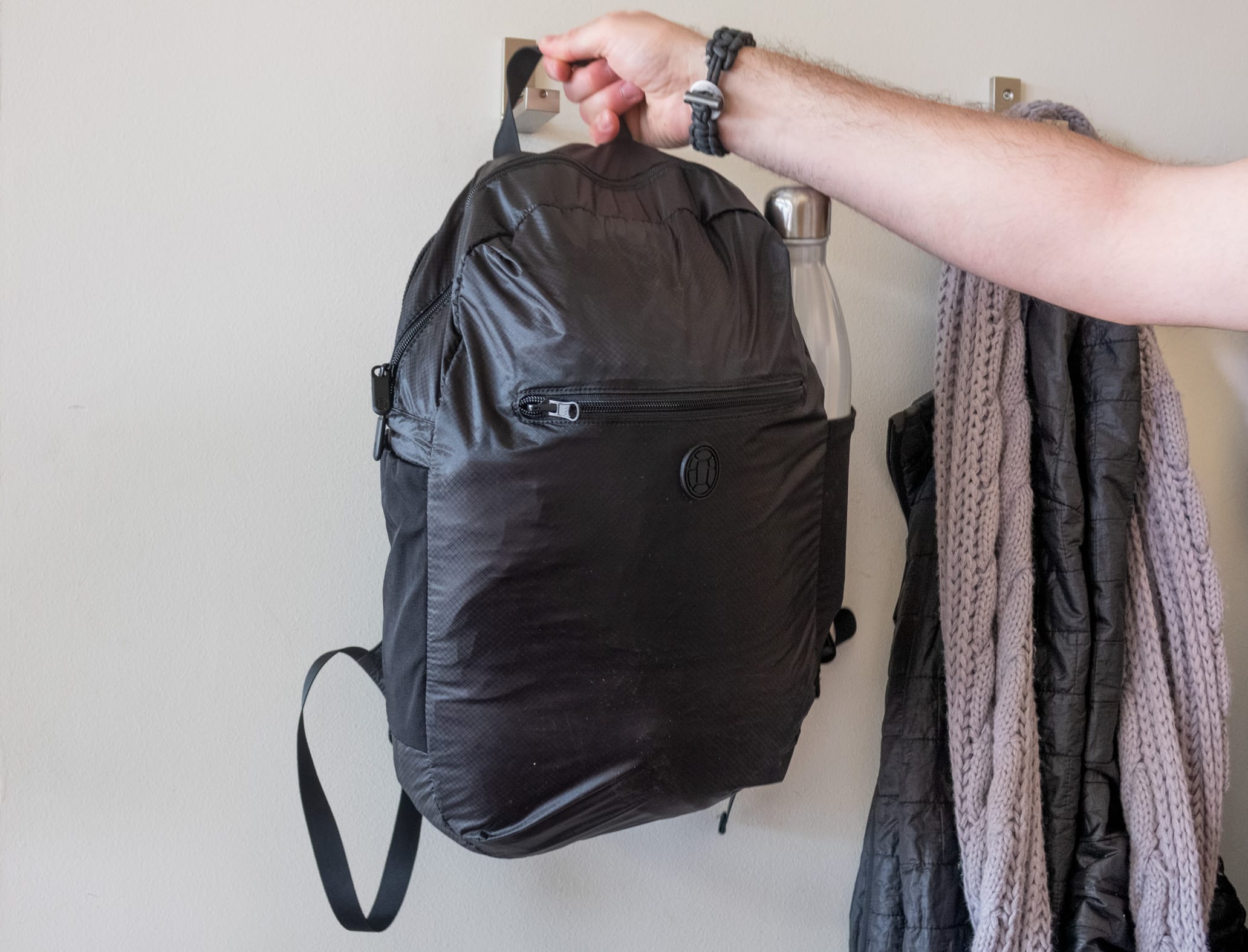 There's a quick grab handle on the top of the pack, which also doubles up as a hanger. We always like to see this on packs, because really, who wants to be putting their pack down on grimy hostel floors? The position of the handle at the back of the pack allows it to hang flush against the wall. It's a no-frills handle, but feels secure and will take the weight when the pack is loaded.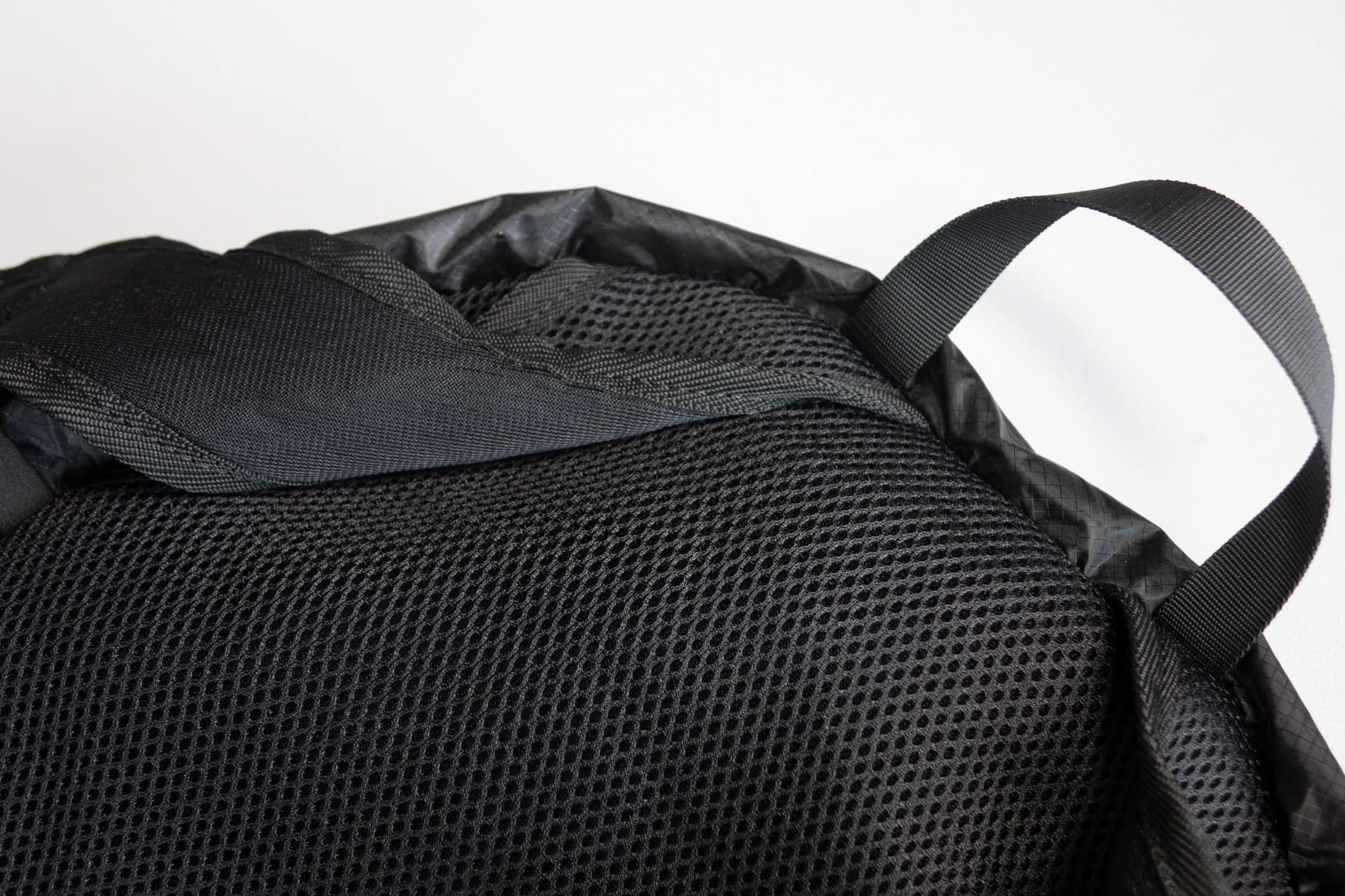 When it comes to daypacks—especially compressible daypacks—one of the first things a company will downgrade is the harness system. Making a compressible daypack with a comfortable and sturdy harness system is tricky, but a loaded pack digging into your shoulders will quickly sap the fun out of any day trip.
We're happy to say that Tortuga has somehow avoided this common occurrence. There is a good amount of padding on the shoulder straps and the back of the pack. The mesh isn't very thick, but it certainly helps increase comfort when hauling heavy gear like cameras, laptops and water bottles.
This is an awesome addition, and again leaves us feeling like this is a 'real pack' when it's loaded up. A big thumbs up to Tortuga for throwing in this feature and still keeping the pack light.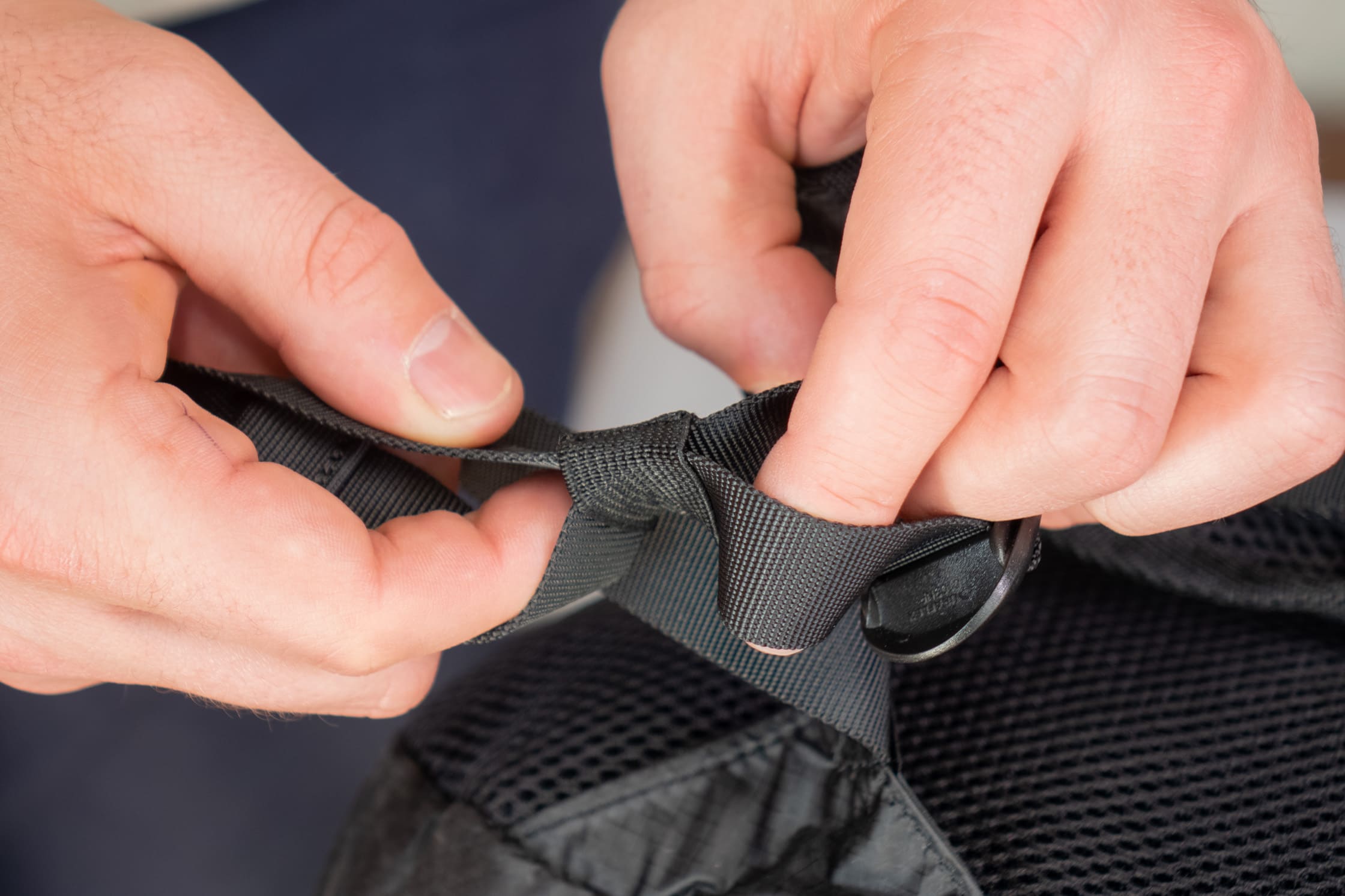 The shoulder straps are adjustable, and there is an elastic keeper to keep the excess strap under control. No one wants to be 'that annoying backpacker' with their straps flapping around on tightly packed public transport.
The adjustable function also works on the sternum strap too, adding some structure and support to the harness system.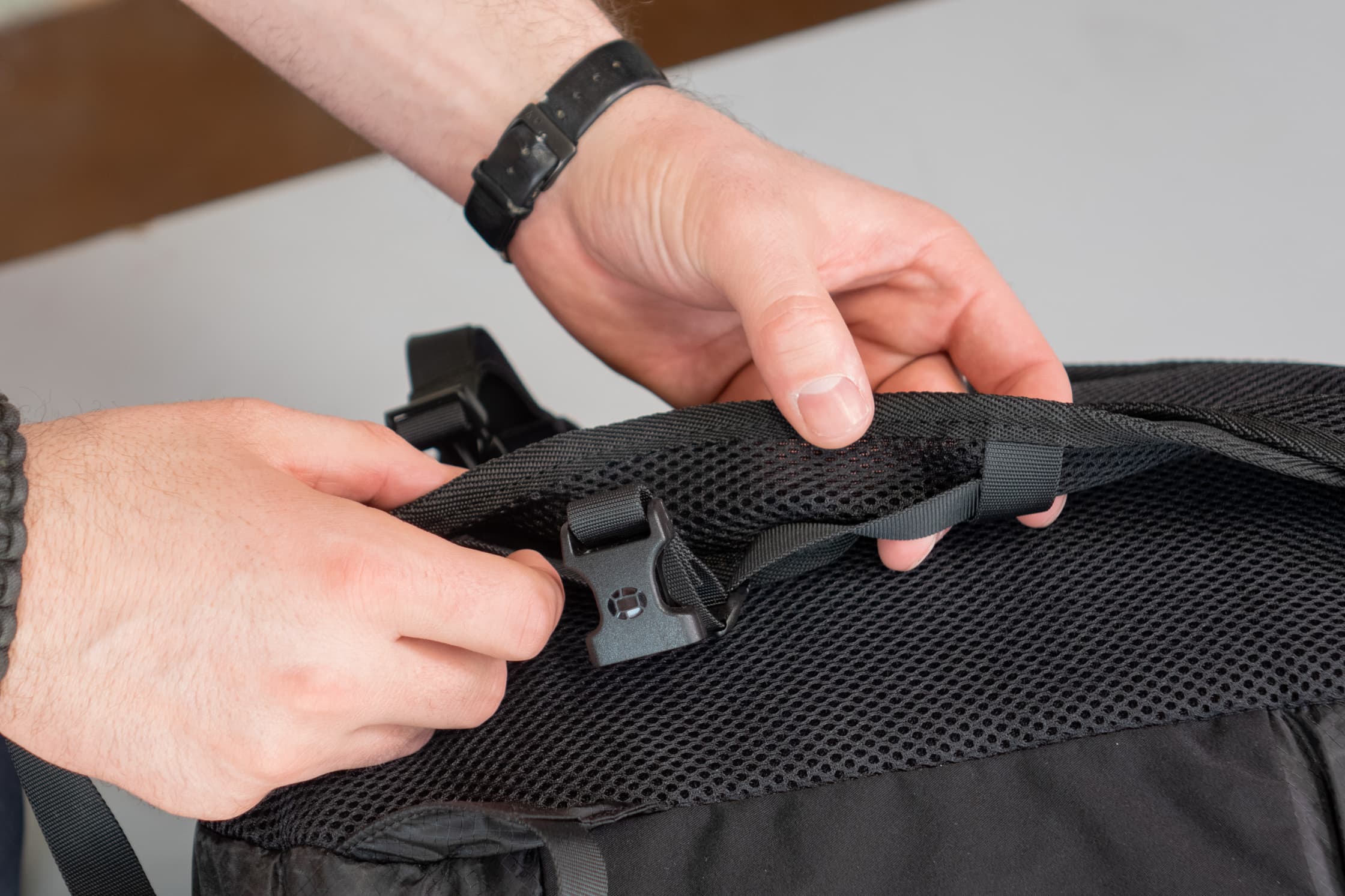 Taking a closer look at those Duraflex buckles on the shoulder and sternum straps, we noticed they are actually quite beefy. They make the pack feel like a solid, regular backpack when you're wearing it. It really does feel like you're getting the best aspects of a full backpack and within a lighter daypack.
Note: Check out our review of the Matador DL16. It's a daypack with truly 'miniaturized' buckles and straps, contrasting nicely with the more robust components on the Setout Packable Daypack.
Now, after all that praise, we do have a few gripes. We have to mention a couple of issues we've found with the sternum strap.
First of all, the clip was actually put on backwards, meaning the Tortuga logo is facing inwards and what you see facing outwards is some generic Duraflex information. The clip still works perfectly, it just looks a little weird close up.
In fairness to Tortuga, they usually send us products to review from their sample room, so we're guessing it was only an issue with a small number of sample products and will be fixed on the main production run. We certainly hope so, as sending out a batch of products with this error would be a pretty huge oversight. Especially for a company like Tortuga, who is usually very reliable.
The second issue with the sternum strap gives us a bit more concern. It doesn't seem to be anchored very well to the shoulder straps. This means when you go to tighten it, the sternum strap pulls away from the shoulder strap.
You still get a tightening effect, but you don't have full control over it and we feel it could be anchored more firmly on the shoulder straps. If you like to cinch your sternum strap really tight, then you will likely run into this issue. However, those who don't use the strap or like to keep it loose probably won't notice it at all.
Rounding up the external components is the padded mesh back panel, which is good for both comfort and ventilation. This is a huge bonus, as most daypacks tend to leave little to no padding at all here.
It's not going to protect you totally, but it does offer some ventilation and if there are any pointy objects in your pack it will offer a little protection and comfort. We're impressed with how Tortuga has included this feature while still keeping the pack light.
Aside from the issues with the Sternum strap, we love the external features of the pack, particularly the durability of the sturdy straps, buckles and zips. It feels really solid and comfortable to wear, unlike most compressible daypacks.
Inside the Pack
Now that we know what's going on outside the pack, it's time to open this sucker up.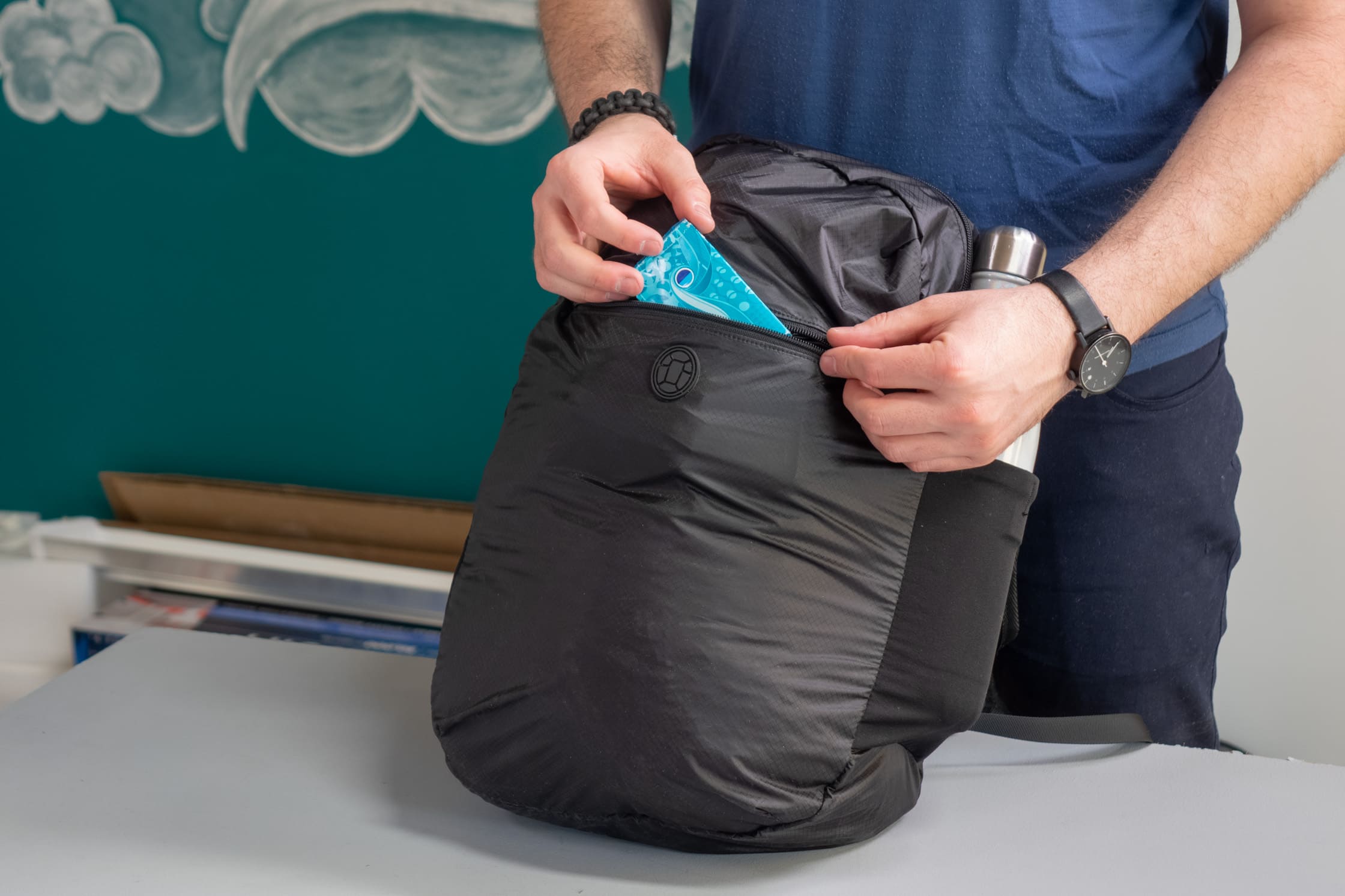 On the front of the pack is a zippered pocket for quick grabs and flat items. This is ideal for your phone, cash and anything else you want to reach quickly or frequently while you're diving in and out of cafes or hopping around the city.
Tortuga has been making a huge effort to make their gear as durable as possible, and they opted for a large, sturdy YKK #5SC zipper for this pocket. You'll often see more flimsy zippers on daypacks, which can lead to breakage and the little zipper pulls can be difficult to grasp when it's wet or cold. The addition of sturdy zippers is another plus for this daypack—dealing with broken zippers while traveling in a new country is literally the worst.
This particular zipper is reversible. When the daypack collapses, it packs itself into this pocket and this zipper inverts to zip it up.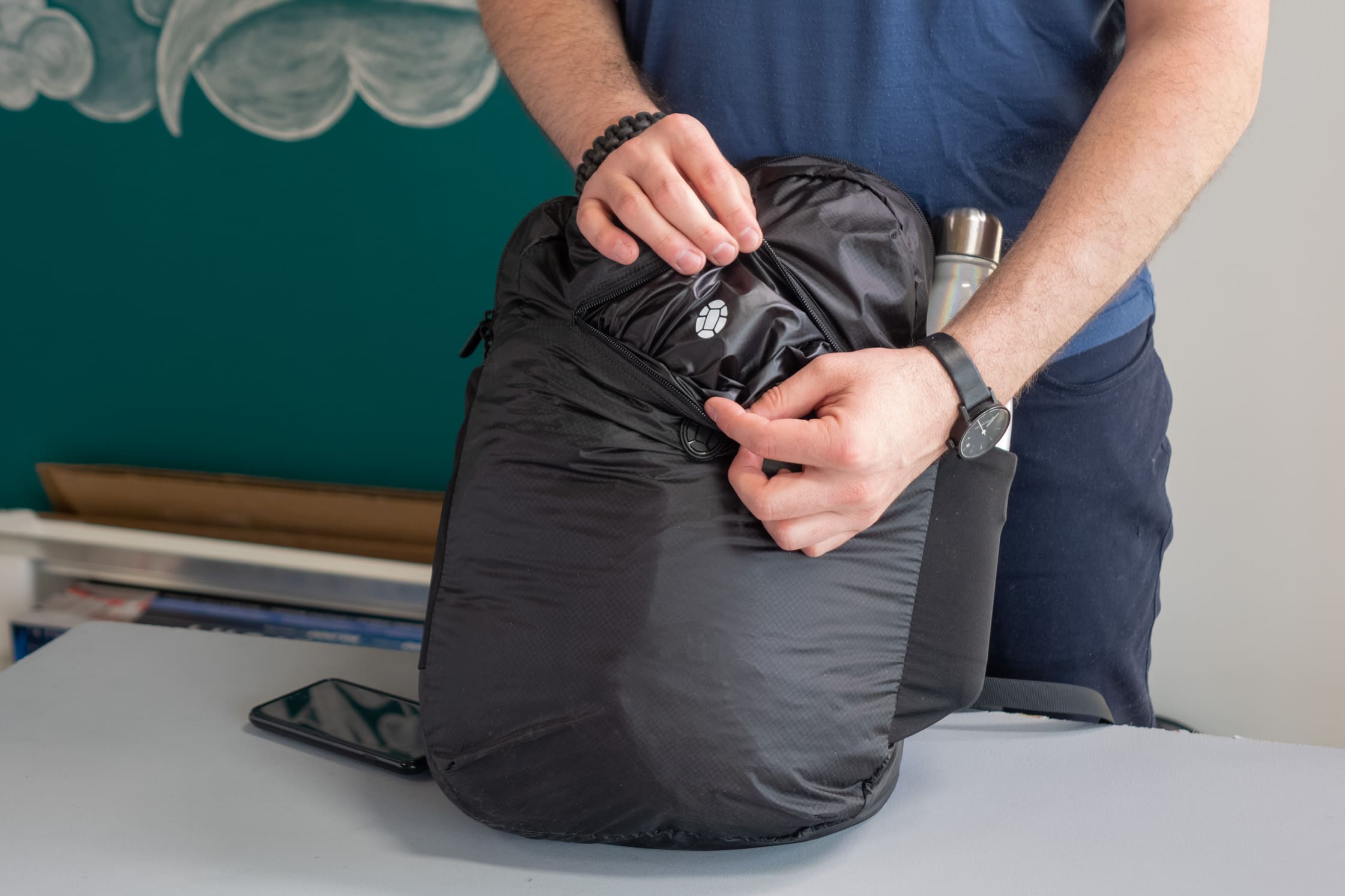 As you zip open the pocket you'll get another glimpse at the subtle Tortuga branding, which is tastefully done and makes the pack feel kind of classy, in our minds.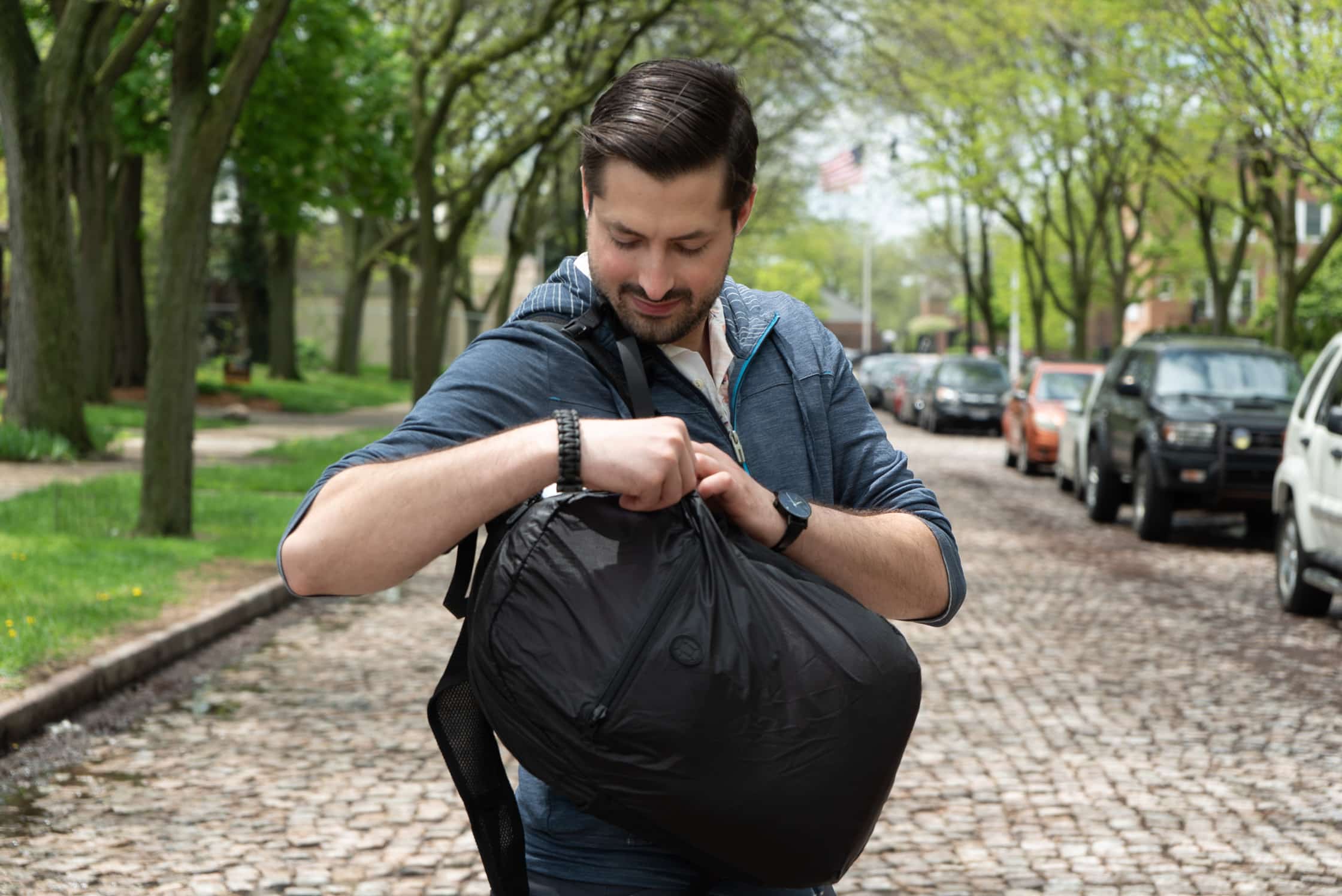 The main compartment is opened with a beefy YKK#5SC zipper, which—like many of the other components on this bag—really impressed us. You just don't see stuff like this on a lightweight daypack.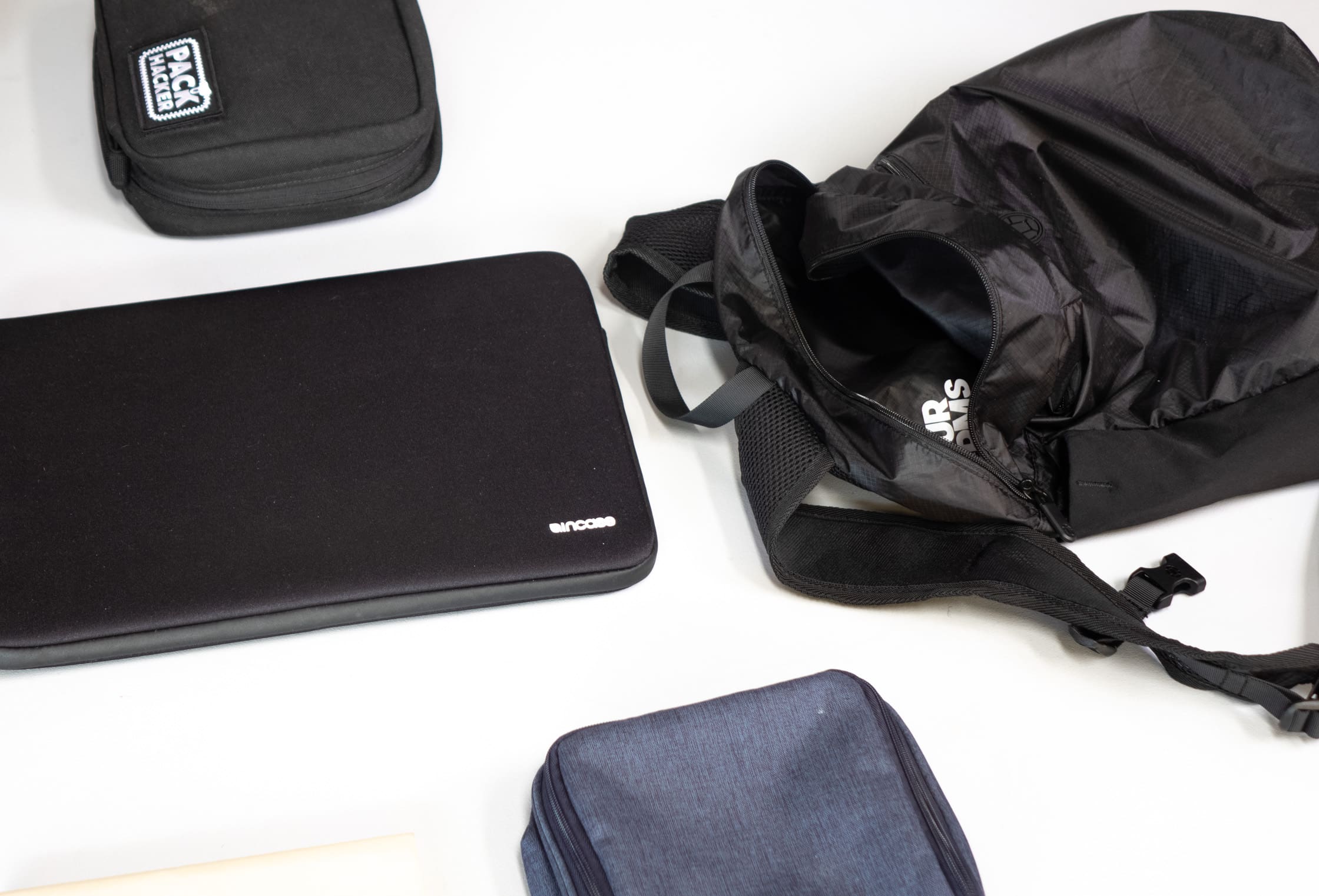 The compartment itself is basically just a big open space, so it's up to you how you make use of it. You could just stuff all your gear in there, but we recommend using some packing cubes. This will keep your things organized and save you the embarrassment of all your gear 'exploding' out onto the street when you yank at that sweater that's deep down in there… Packing cubes are also handy if you're in a coffee shop or something and need to grab an item or two—you can just take out the packing cube and sort through it instead of bending over your pack and searching.
As with most daypacks, you have to be careful with what you put in here. Too many loose items, especially 'sharp' or edgy items could make your carry feel really uncomfortable. Notebooks and a heavy camera digging into your back will ruin your day trip fast. You also run the risk of damaging your gear, due to the lack of padding on the pack.
To avoid that—at the risk of sounding like a broken record—we once again recommend splitting your gear up into packing cubes. A padded packing cube is an especially good choice as it will protect your stuff in case you drop your pack or it takes a knock jumping on and off some busy public transit.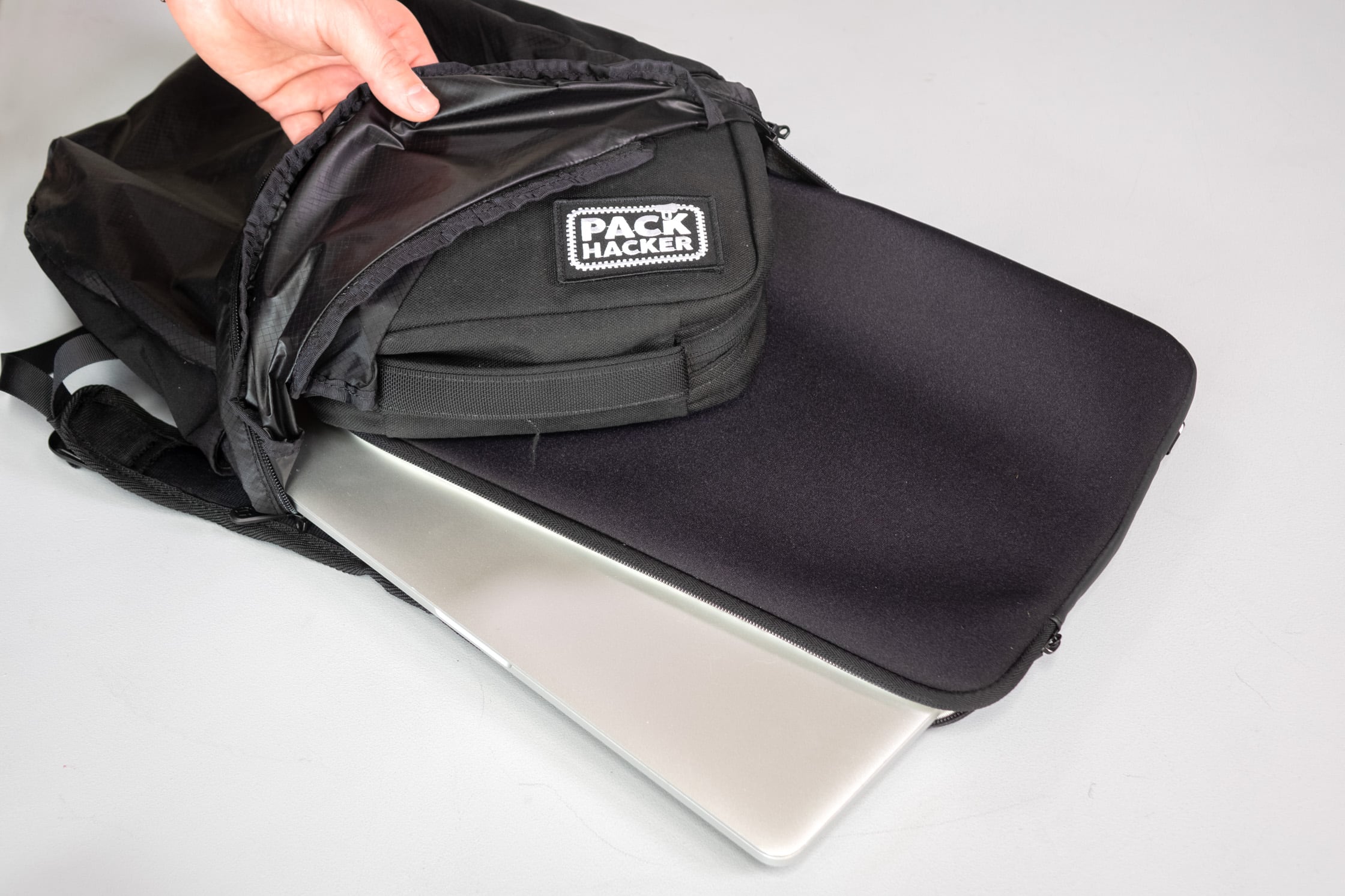 If you're planning on carrying a laptop in here, we definitely recommend using a laptop sleeve—such as one from Incase—and storing it towards the back of the pack (next to the back panel) to ensure it stays flat. The same goes for cameras and other gear that might need some protection.
We recommend checking out the F-Stop Small Shallow ICU for your camera gear, and other packing options like the GORUCK Padded Field Pocket and Magpul Daka Pouch to really make use of this compartment.
Overall, we're pretty pleased with the space inside of the pack. It's hard to include many packing options into a lightweight daypack, but Tortuga has struck a good balance here between protection, comfort, durability and packing space.
Durability & Testing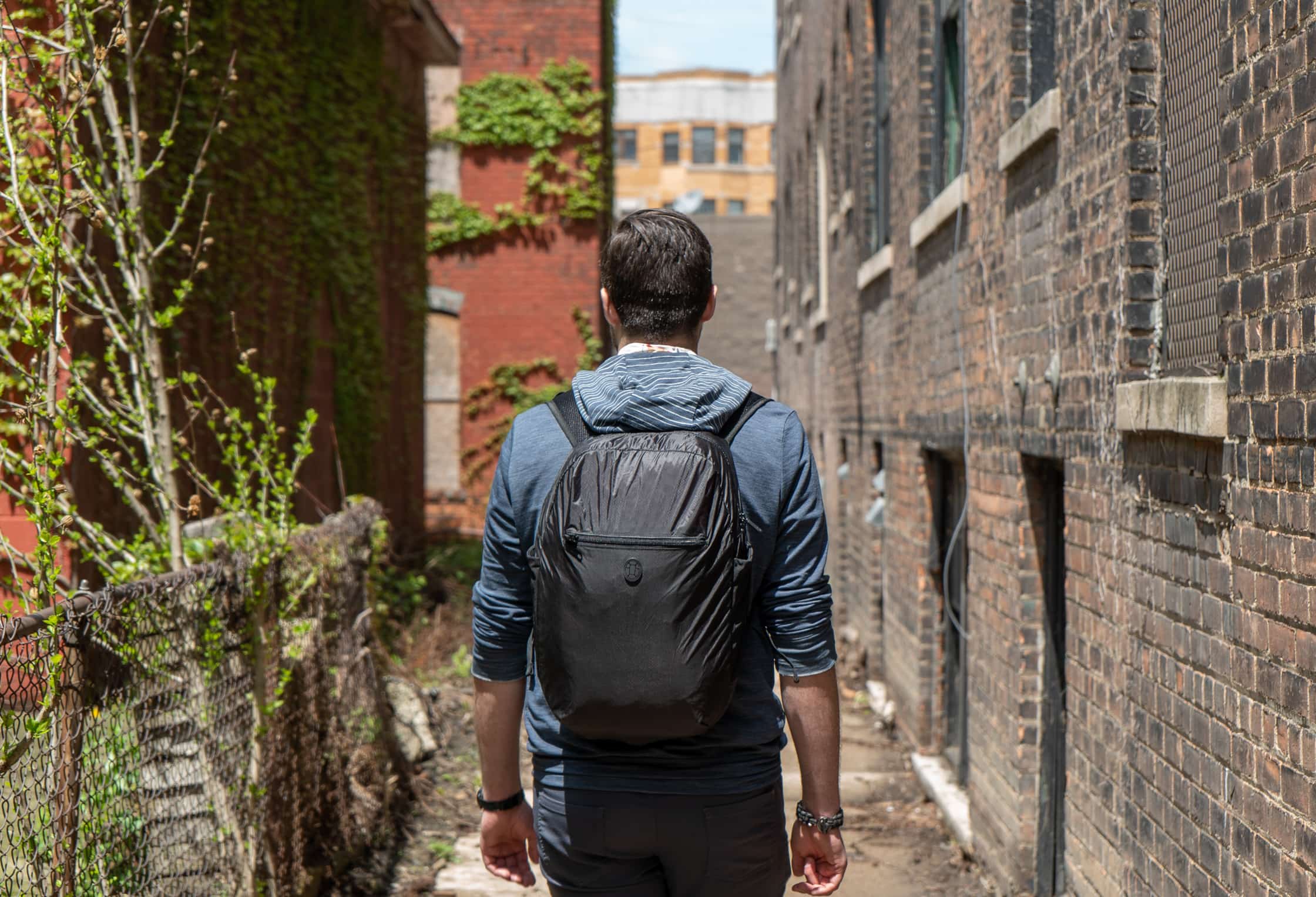 We haven't taken the this thing out on a full-blown trip yet—unlike The Setout, which we took out for a 3 month trip around the U.S.—but at the time of this review we have given it a month of continued use.
We can, with quite a bit of confidence, report that the Setout Packable Daypack is a really solid option when it comes to compressible daypacks. Between the quality of the materials used, the way it's been put together and what we've observed so far we are confident this thing will stay in use for months or even years to come. This thing sets itself apart from most of the other compressible daypacks we've encountered.
Usage Timeline
Initial Usage
Condition: Excellent
Everything looks good. We're really digging the material choices Tortuga made with this one.
1 Month of Use
Condition: Excellent
Holds up well with use. Should be good for months / years to come. However, we're really noticing the improper anchoring of the sternum strap.
Access the Pro Community Discussion
Get your questions about the Tortuga Setout Packable Daypack answered from our team and the Pro Community right here on the page. Plus, join discussions with other members about gear, guides, and more.
Other Bags & Luggage Reviews