Tortuga Setout Backpack 45L Review
The Tortuga Setout is a carry-on bag that's "just right" for the average traveler. In our Tortuga review, we discovered a few nitpicks with the backpack design.
Our Verdict
Unlock the Pro Summary
Save time. Get access to brief summaries of our reviews so you can browse and make decisions more efficiently.
Pros
Smart thinking in the design. Excellent, focused features for organized travel.
The heathered polyester has a great aesthetic, even when dirty.
The suitcase-like interior will have roller-luggage travelers feeling at home, while giving the freedom of a backpack.
Cons
The hip belt is not adjustable and may not fit all people.
There is some "sag" off your back when the pack is fully loaded.
Somewhat flimsy framesheet, we'd prefer it to be a bit thicker.
Recent Pack Hacker Video
Technical Details
Capacity

45l

Weight (lb)

3.3 lb (1.5 kg)

Denier

900D

Dimensions

22 in x 14 in x 9 in (55.9 x 35.6 x 22.9 cm)

Notable Materials

YKK Zippers, Duraflex Hardware, Polyester

Manufacturing Country

China

Laptop Compartment Size

17"

Warranty Information
Buying Options

$199.00

$199.00
Full Review
Get up to 10% off Tortuga • Join Pack Hacker Pro
Alright, the time has finally come. We've received a lot of requests to review the Tortuga Setout, and we're just now ready to reveal our thoughts and experiences after testing this bag for three months.
Tortuga promotes this bag as being 'just right' for travelers. In their own words, it "packs like a suitcase and carries like a backpack." It's designed to give you the capacity to carry more on your travels, while still fitting within carry on limits for most airlines.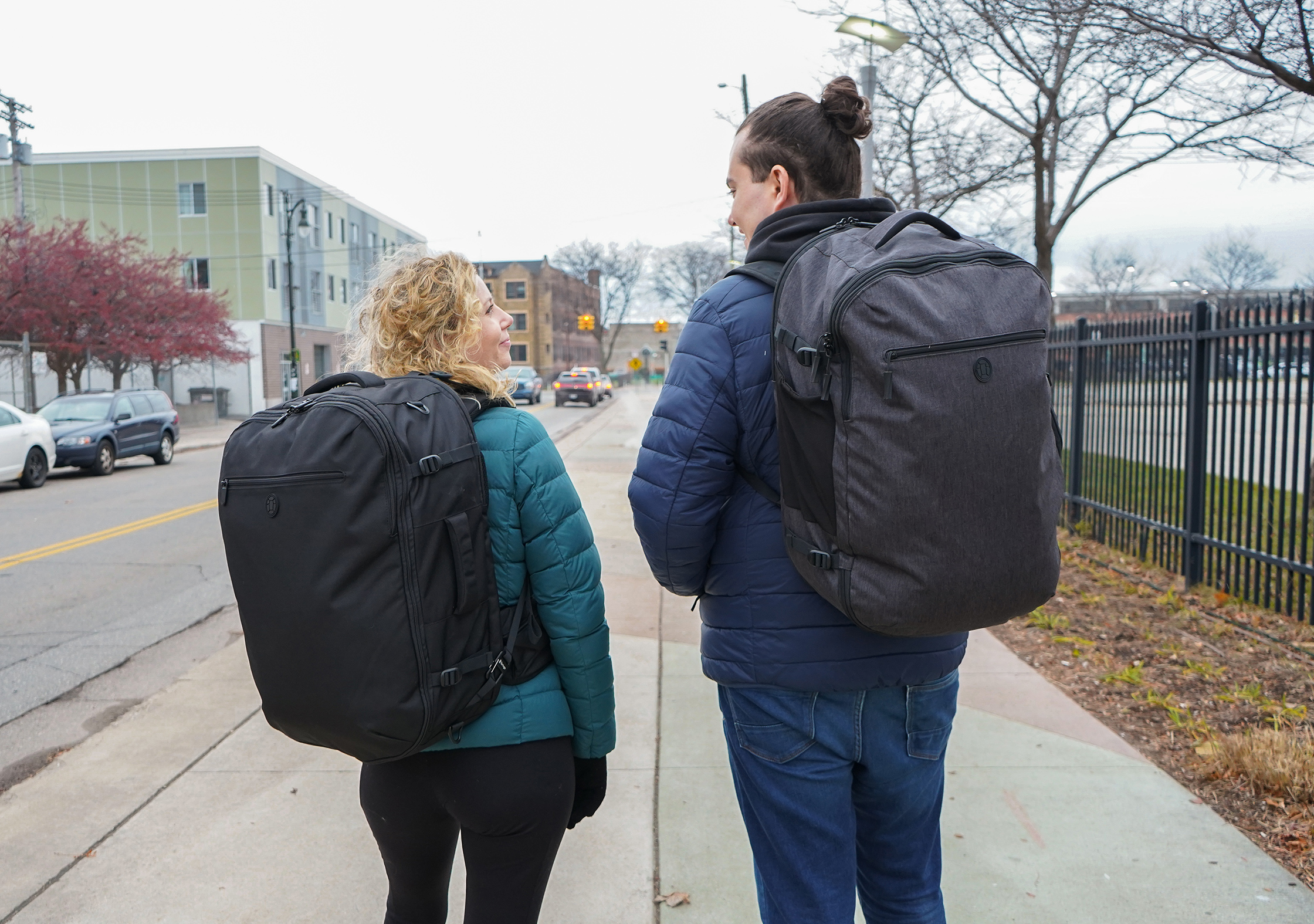 Over the past three months, we've taken it to Detroit, California, and New York to put it through its paces. So, does it live up to the hype? Read on to find out.
Tortuga Review: Materials & Aesthetic
Right off the bat, you'll notice that the Tortuga Setout is similar in size to Tortuga's other popular backpack, the Outbreaker, which offers more features but comes at a higher price tag. It is also larger and bulkier than the smaller Homebase, but that's the intention.
Weighing in at 3.3lbs with the attached hip belt, the Setout has a roomy capacity of 45 liters and opens up like a suitcase, making it really easy to organize your things, and grab what you need as soon as you get to your hotel.
The first thing we noticed about The Setout is that it's made with 900D Polyester. This makes it cheaper than Tortuga's other two bags—the Homebase and Outbreaker—which are both made with sailcloth.
Note: For more info on sailcloth or other materials, check out our backpack guide where we cover any and all fabrics you might encounter in the world of backpacks.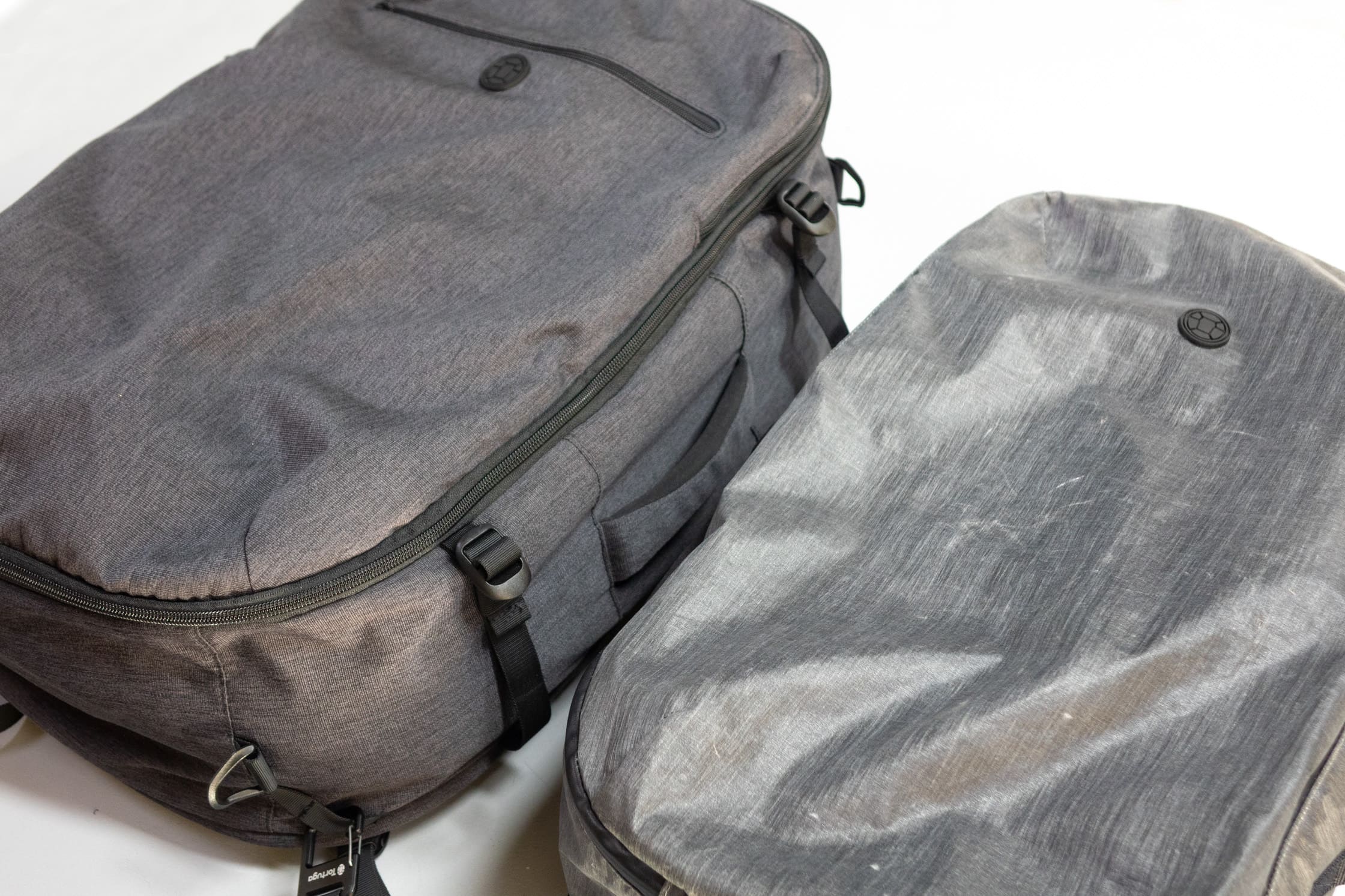 One benefit of the polyester is that it's heathered appearance helps to hide scratch marks and scuffing, ensuring the bag looks good for longer. Scuffing was an issue we found with the Homebase, so the switch to polyester seems to be a good move for the Setout.
So what else can we say about the materials of this thing? Here are the essential details:
The polyester doesn't look shiny like the Outbreaker and the Homebase, which we really like. It also doesn't have that crinkly sound and texture, and generally feels more comfortable to touch. No one wants to be the loud crinkler in a crowded hostel!
The pack itself is bulky, but despite the size, it still blends in well in an urban setting. The design is minimal, so it doesn't give off a 'backpacker vibe' that many other large packs do.
The inside is lined with ripstop nylon, for additional weather resistance, tear resistance, and strength.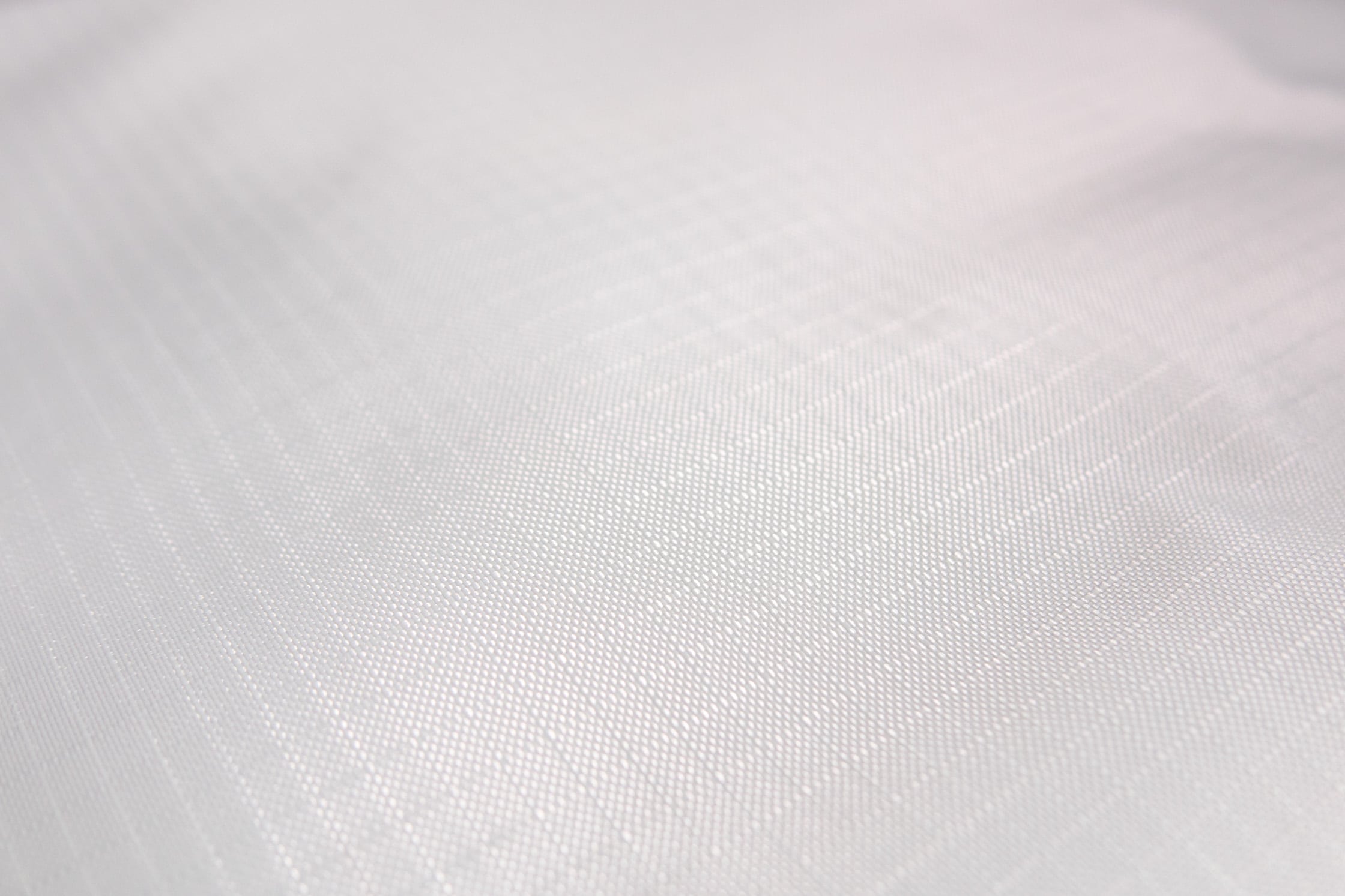 It's Maximum Legal Carry-on sized. At Pack Hacker we are all about one-bag travel, so we absolutely love this. Note: Not all airline baggage restrictions are the same, so check with your airline before you travel!
If you don't pack too much, you'll be able to stuff this bag below the seat on some flights, but we found it most appropriate to stow in the overhead bin (since we're making use of the awesome capacity of this bag).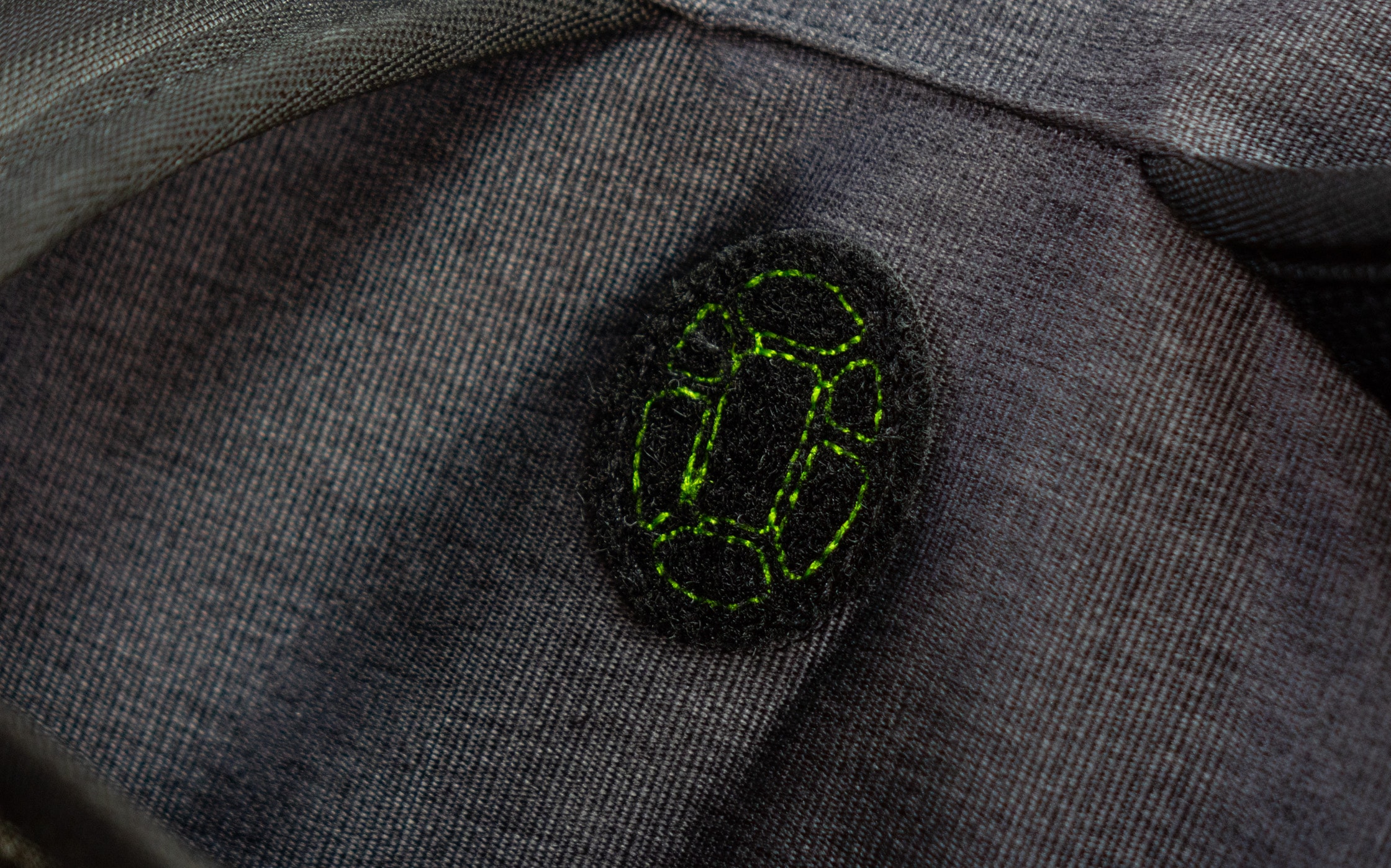 The Tortuga branding is minimal. You'll find some subtle shell designs on the strap, a small Tortuga Tortoise Shell logo in the center of the pack, and a stitched logo on the back, between the straps. This gives the pack a subtle but stylish aesthetic.
To round it off, the pack has durable YKK Zippers and Duraflex plastic buckles which are sturdy and reliable. There's also injection molded foam, which we'll be going into more detail on shortly.
External Components
Now that we've got the materials covered, let's dive into the features.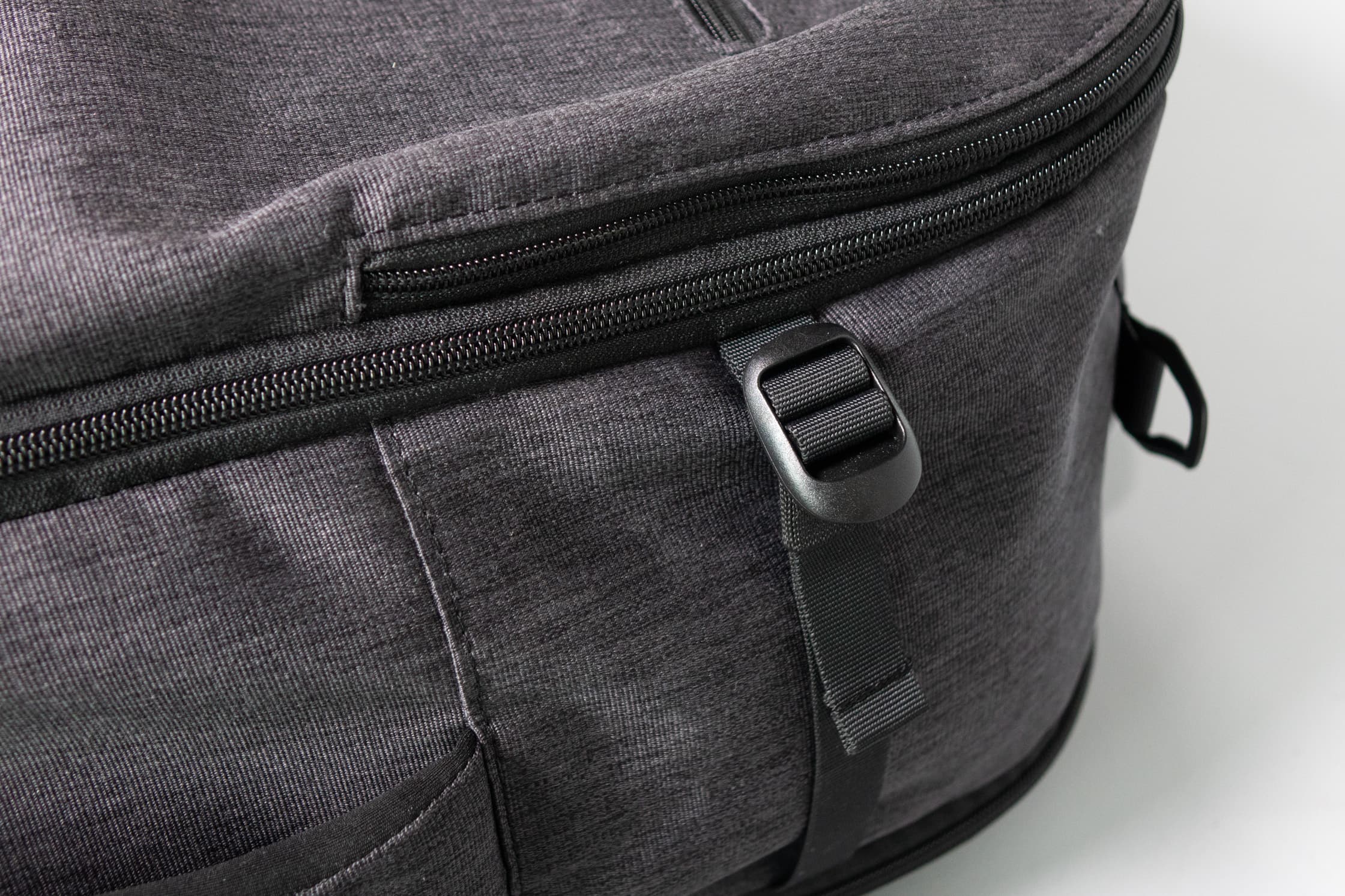 First up are the compression straps. Strap design can be a tricky area for backpack designers—as we've discussed in many of our other backpack reviews—but the Setout gets it just right. We were pleasantly surprised to see that these compression straps are expertly placed. They don't get in the way of the zips at all, and you can fully open the pack without ever needing to adjust the compression straps. This makes it super easy to unzip quickly and smoothly, which we love.
Having said that, we did notice a stress point on the zipper when the bag is fully loaded. When we stuffed the bag full, we found points about 1/3 of the way down on either side where the zipper is under particularly high tension.
We didn't actually experience problems with the zipper during our time testing the bag—it held up perfectly—but it's possible these stress points may become an issue months or years down the line.
Of course, zippers are always a weakness on backpacks. These are high-quality YKK #8 zippers, so we can't imagine them breaking any time soon—but still, something to look out for.
We were happy to see quick grab handles on both the top and side. They're perfect for pulling your bag out of an overhead bin and getting it around public transport, or any time you just need to grab your bag and go in a hurry—like when your bag is halfway out of the metal detector and they're about to close the gate for your flight.
The handles themselves are padded with a thick foam that makes for a comfortable grab. That being said, we don't recommend using the handles for carrying the bag long distances, as they aren't really designed for that. There's not much structure to them—the bag will collapse a little when you use these handles—but they are reinforced and durable enough for your quick carries.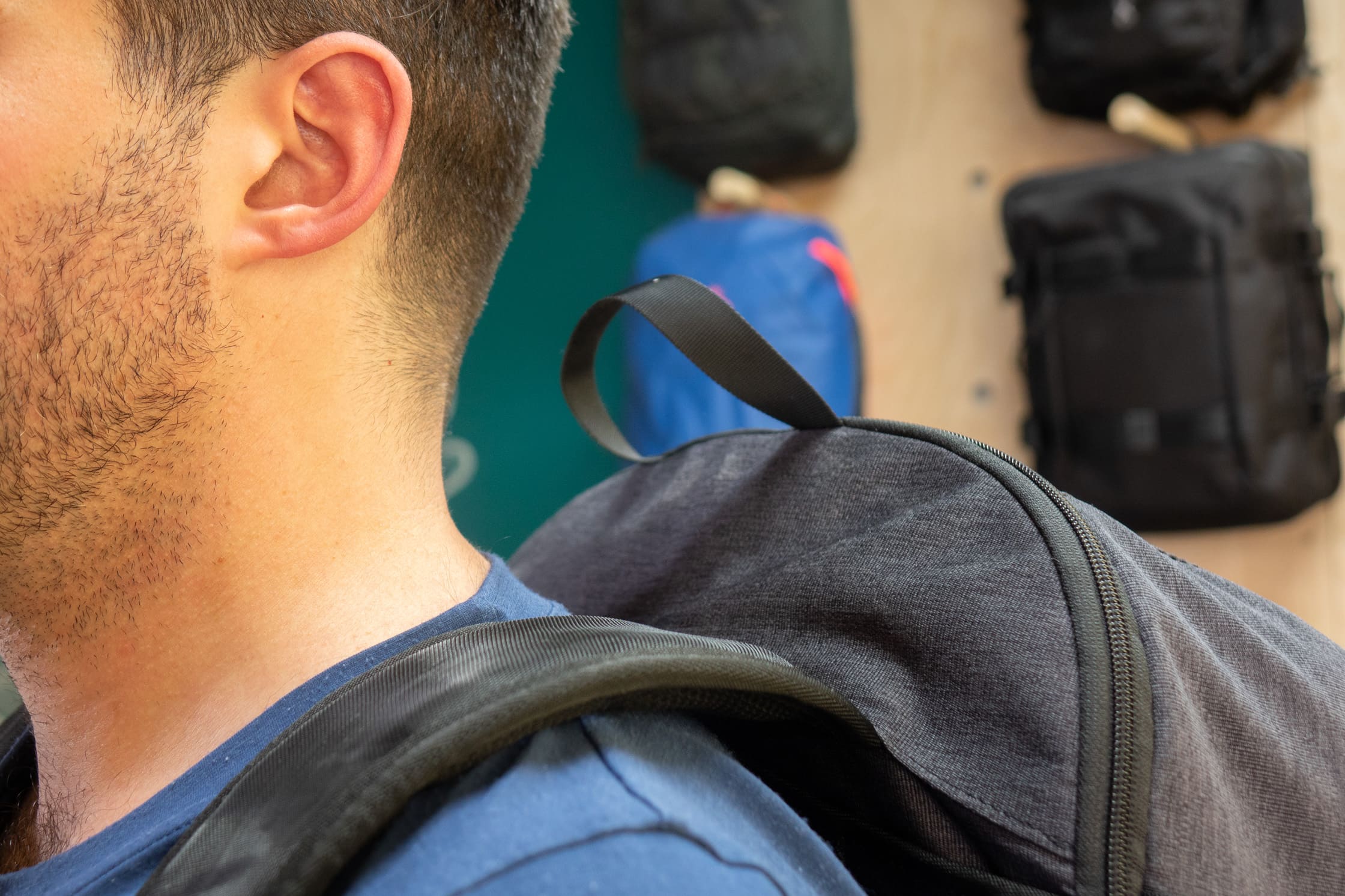 One thing Tortuga has done well with this bag is that they've provided a separate, non-padded top handle to hang it up. We really liked this because the positioning of the handle allows the pack to be flush with the wall, which is great for avoiding those grimy airport bathroom floors or conserving space in a crowded closet.
We noticed that there are two clips on the outside of the pack for a messenger strap. To be honest, we're not exactly sure why they're there. Seems like a bit of an odd move to include clips with no apparent purpose, but they could come in handy to attach items to the outside of your bag.
We don't think wearing the bag messenger style would be particularly comfortable or functional, but hey, we're not here to tell you how to wear your bag—wear it any way you like!
One feature we really love is the lay-flat water bottle pocket. It's on the opposite side from the quick grab handle, made with a mesh-like material, and the top is elasticated to grip your water bottle or whatever else you might stow in there.
The size is good—it can comfortably fit a large S'well bottle, for example—and the sturdy elastic will hold it in place. The minimalist design means this pocket still looks slick when not in use, which is a great touch. Nobody wants a baggy side pocket—you're just asking to catch that on something and get a nice rip in it.
Harness System
One thing we appreciate about the folks at Tortuga is that they are always listening to the one-bag travel community and trying to improve their designs.
Because of that, they've created a women's version of the Setout Backpack 45L. And it features a harness system that's specifically designed to fit women's bodies. The rest of the bag is exactly the same.
Here are the key differences between the men's and women's version of the Tortuga Setout Backpack 45L:
Women's Focused Fit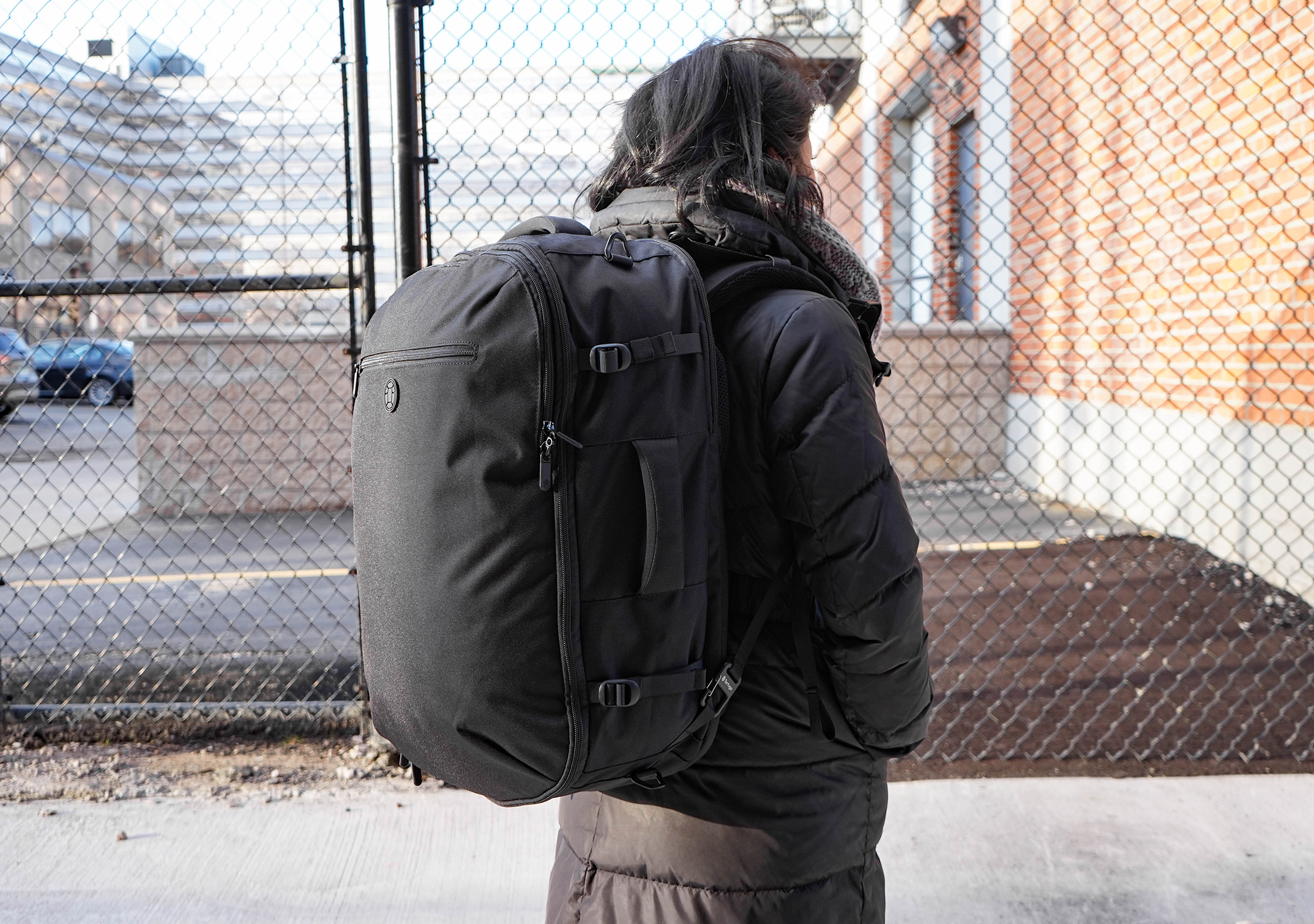 The harness system is designed to fit 15.5-18″ torsos
The shoulder straps are padded with a softer, cushy, open-cell foam that should keep that massive 45L load comfortable—plus, they're closer together for narrower shoulders
The adjustable sternum strap sits higher, just below the collarbone, instead of across the nipple line
The padded sections of the hip belt are smaller and it adjusts to a tighter circumference
This women-specific harness system is the same harness Tortuga includes on the Setout Backpack 35L—which we covered in detail in our full review of that bag. So if you want to get nitty-gritty, make sure to check that out.
Men's Focused Fit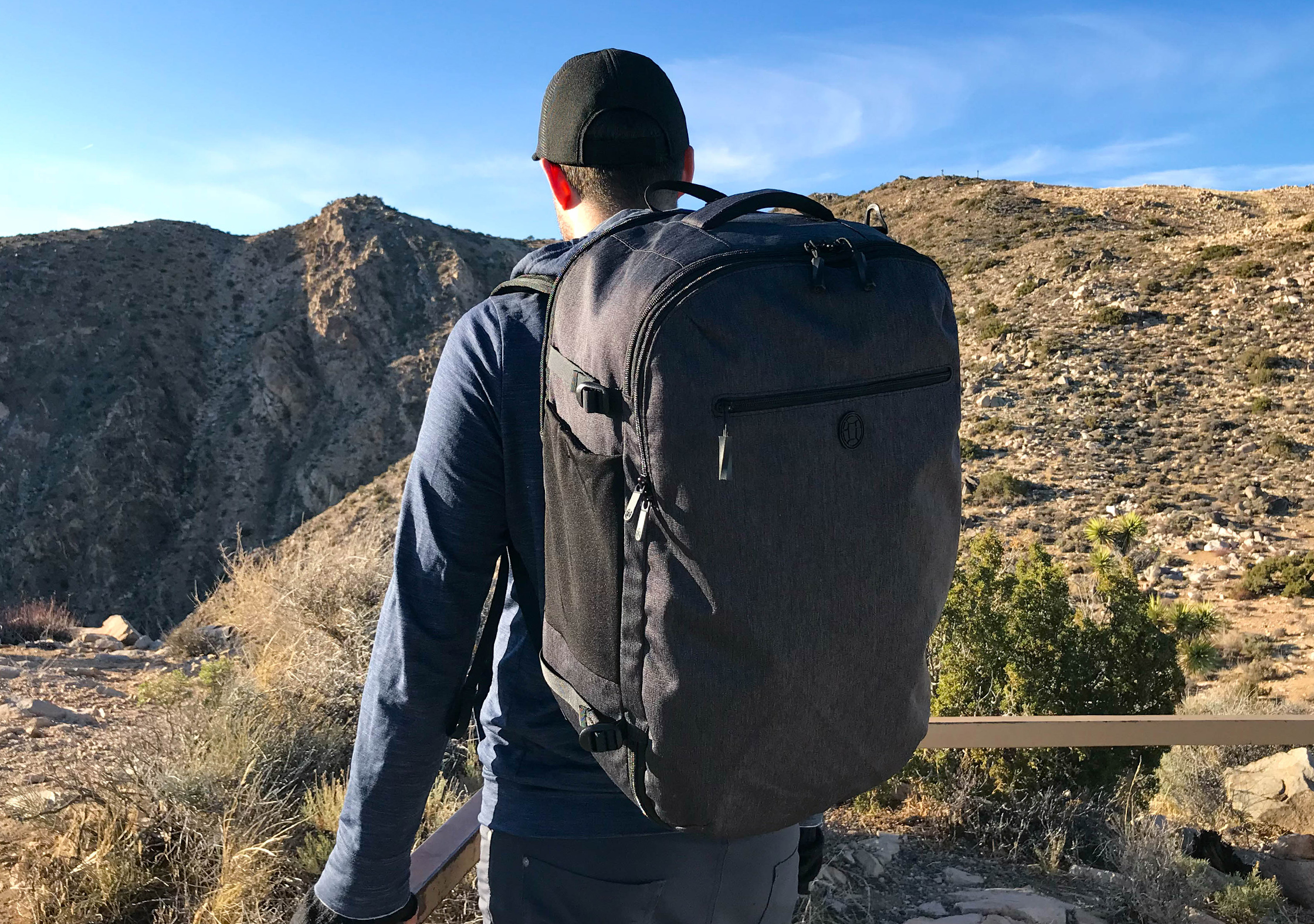 The harness system is designed to fit 17-19″ torsos
The shoulder straps are padded with sturdy, injection-molded, closed-cell foam that keeps its structure
The hip belt is big, beefy, and plenty long to fit larger torsos
We're going to cover all the details of the men's harness system in this review—starting with the fancy injection-molded straps, which we briefly mentioned earlier.
The curved straps contour well to your body, which we always like to see. There's kind of a "gradient" going on in the thickness of the foam—it's thicker at the top of the bag and thinner at the bottom. This strikes us as quite a smart innovation that we haven't seen on many other packs. Since your body won't be in contact with the bottom of the straps anyway, it makes sense to taper them out at the bottom. Seems like a no brainer!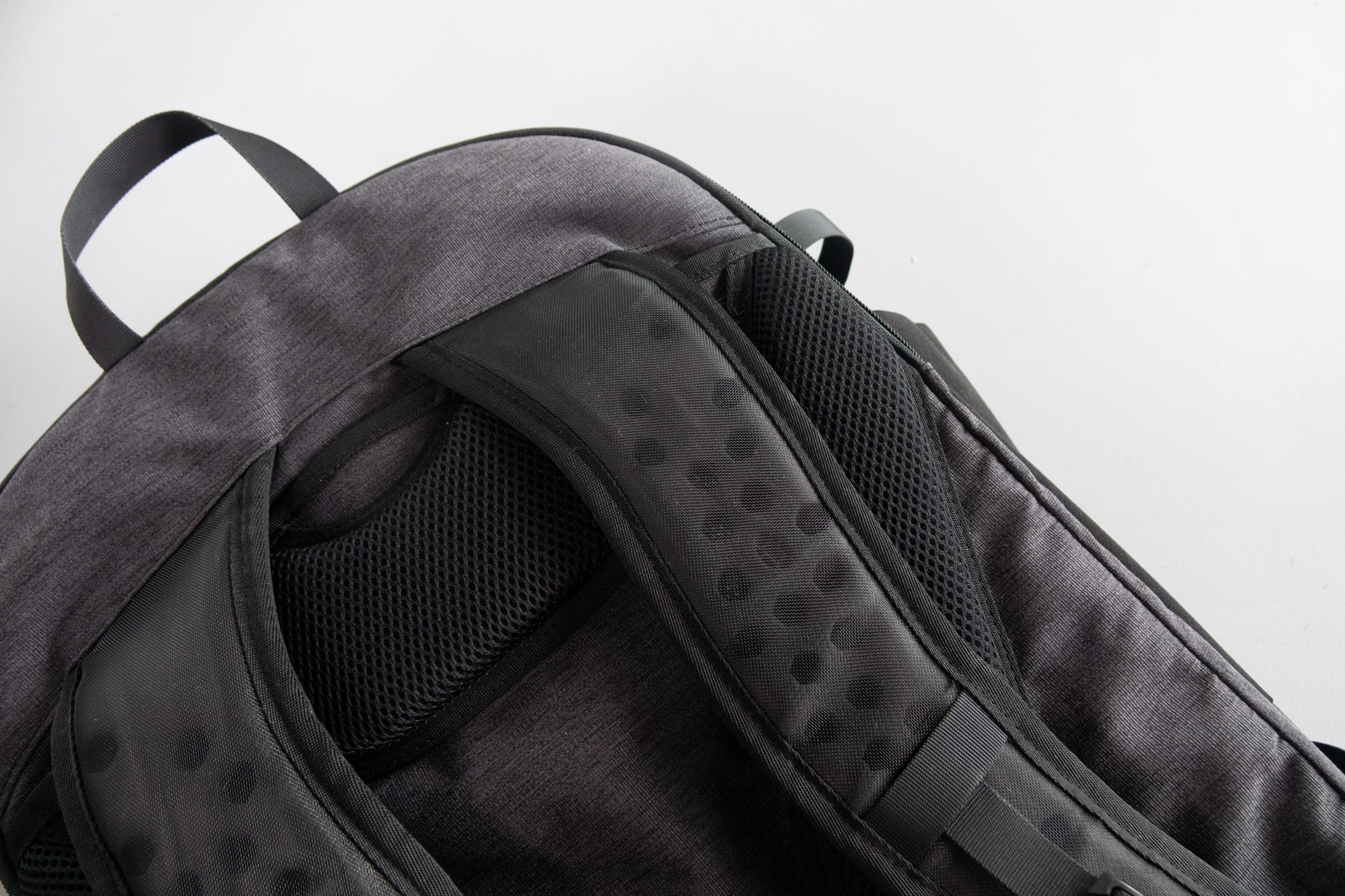 The "injection molded" shoulder straps have holes that look almost like honeycomb and kind of reminded us of Nike Air Technology. They look 'high tech', but at the end of the day, they're just well-padded foam straps that make the bag comfortable to wear. The straps are also covered in mesh for better ventilation.
Is this injection-molded shoulder strap tech going to revolutionize the backpacking industry? No. But it is comfy.
Another nice touch is that the straps unclip and stow nicely into the velcro area on the back of the pack if you want to keep them out of the way.
One issue we did have with the shoulder straps is that on two occasions we had a strap unclip unexpectedly when picking the pack up. While this did seem concerning at first, we quickly figured out that you can prevent this by making sure the carabiner clip is facing outwards on the pack. The carabiner clip naturally pulls towards the inside of the pack when in use—so if the clip faces inwards, the strap can wiggle it's way out of the clip and cause it to come unattached.
All you have to do is make sure the carabiner faces outwards, and it won't be possible for it to come undone. If you lay the strap flat, the carabiner faces outwards naturally, so just don't twist the straps and you'll be fine.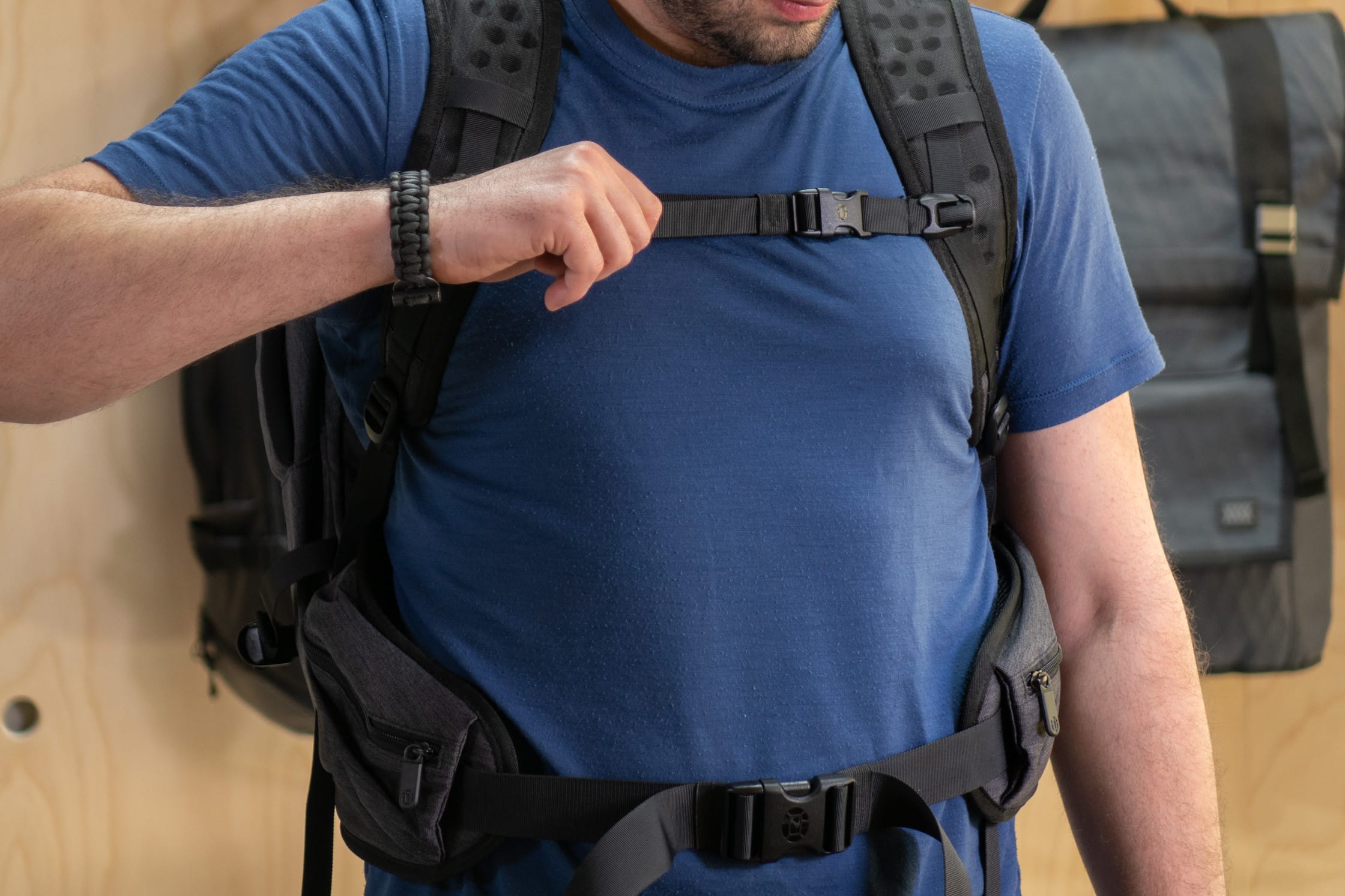 There's also an adjustable sternum strap that has a piece of elastic to keep any excess strap in place, meaning you won't have any straps flapping around in the breeze. We thought this was a nice touch, as we dislike having excess straps dangling.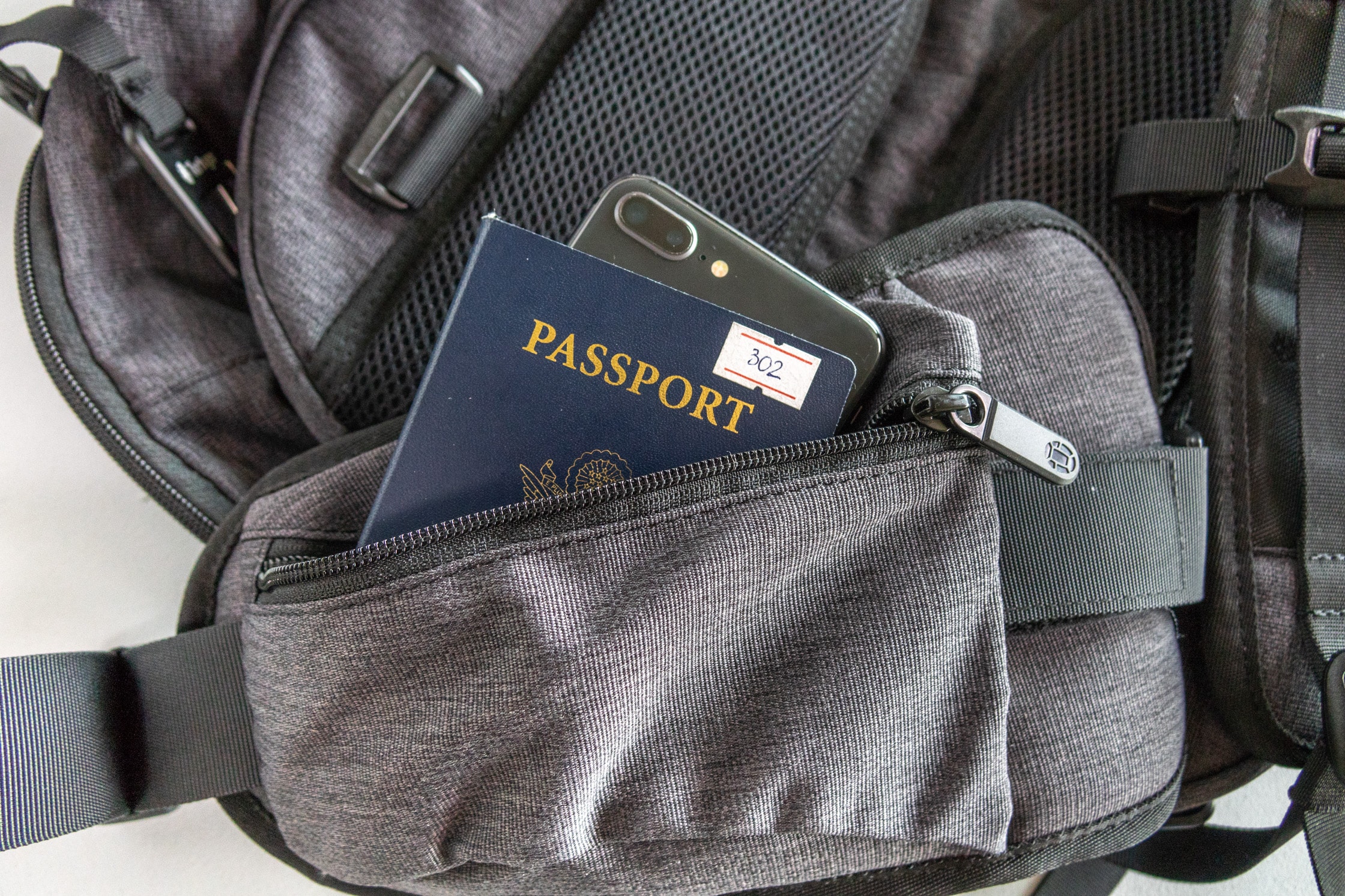 Moving on, it's time to discuss the hip belt!
This thing is beefy, comfortable, detachable, and comes with pockets that are good for quick grabs when you're trekking around. Snacks, a phone or your passport will fit perfectly in there and it's really convenient to be able to reach for them without taking off your bag. These small pockets can be hit or miss sometimes, but we think Tortuga did a nice job in this particular case.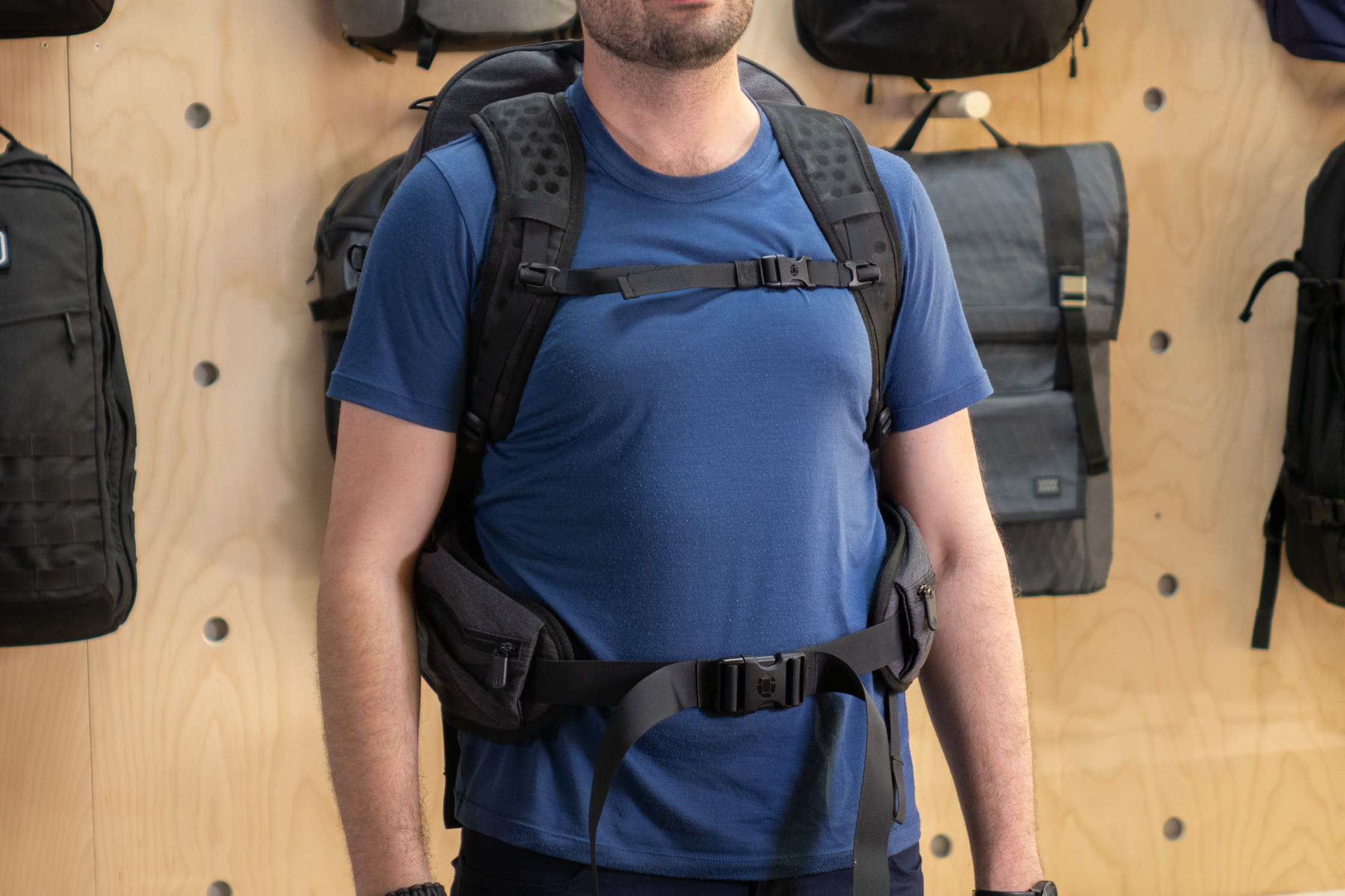 We like that Tortuga is very clear about what size torsos their packs fit, as this can often be confusing when you're buying a pack online. The Setout is intended to fit 17-19″ torsos. One thing to keep in mind is that if you're a bit taller you may find the hip belt is more like a belly-belt, which is less than ideal.
That being said, it is optional—it's detachable via velcro—and the pack is still totally usable without it. If you start to really cram this thing full of heavy gear though, you'll probably want to throw the hip belt on.
While we like the overall harness system, we do have one nitpicky item. It wouldn't be a Pack Hacker review without some nitpicking, right? Our problem was with the velcro—this seemed like an odd choice to us. We would have liked to see a longer-lasting metal clip (like they used on the straps) in this area. We're just not overly confident that the velcro will hold up, whereas metal clips are more or less indestructible.
Perhaps there is some reason they went for velcro. If anyone from Tortuga is reading this, we'd love to know what the thought process was here, so feel free to drop us a line!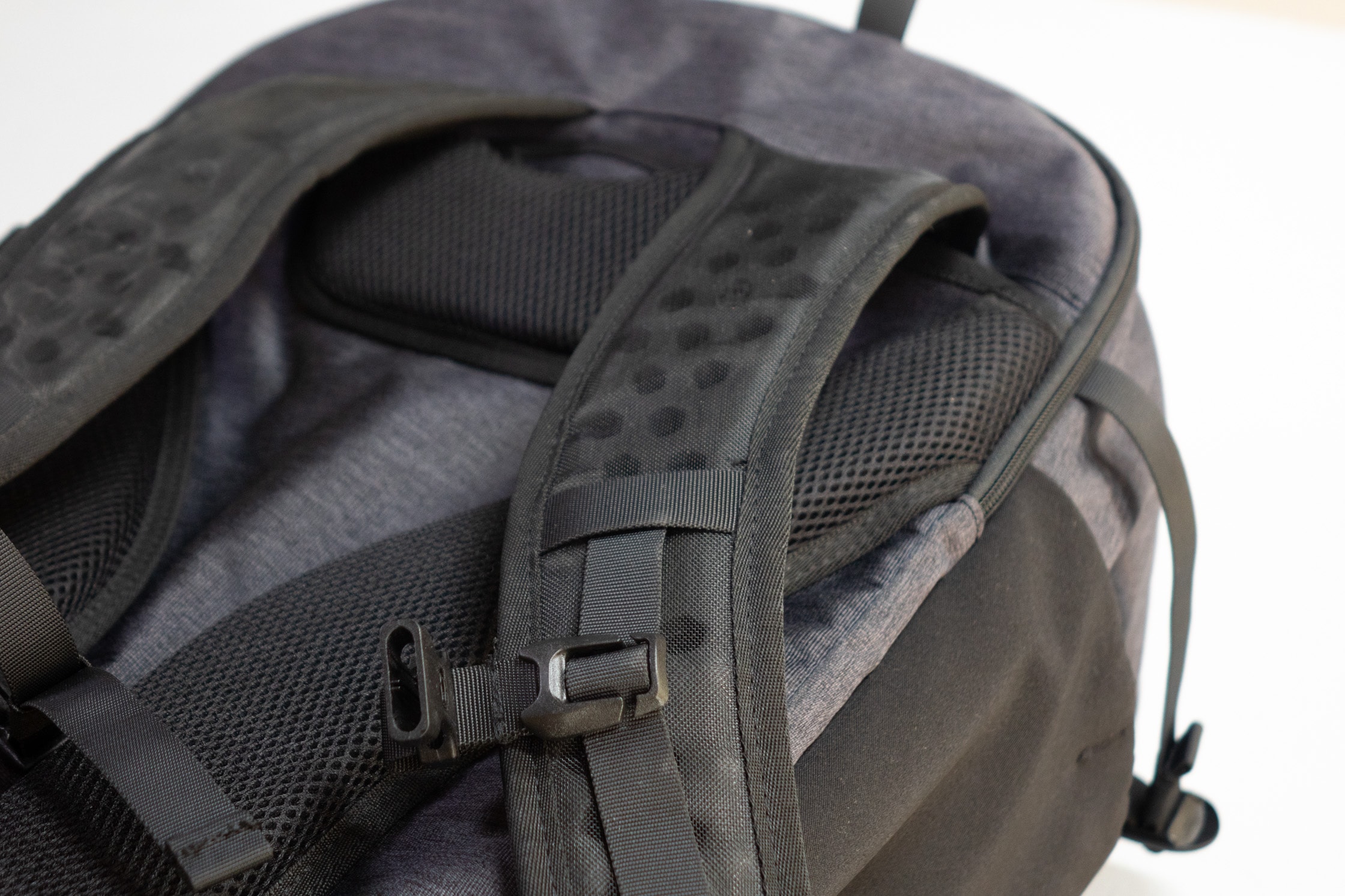 Finally, on the back panel there's some nice foam padding to help with airflow. This provides some breathability and helps reduce the dreaded back sweats while trekking around. Are you going to be completely sweat-free after a long day of wearing this thing? Well, no. It's not a miracle backpack.
Overall, the pack is a pretty comfortable carry—it comes up far on the back, which helps distribute the weight and keeps the pack closer to your back.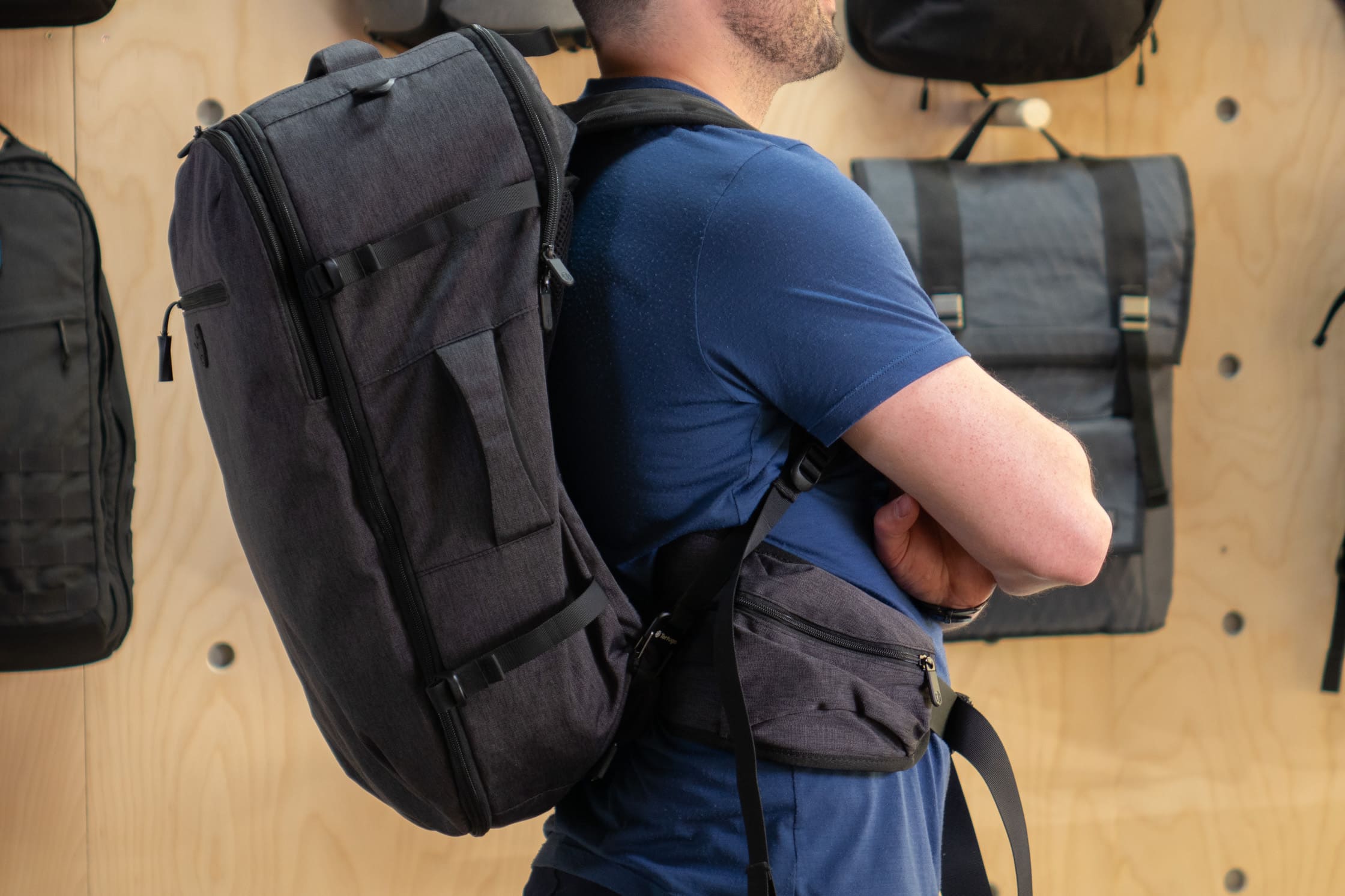 One point to mention here is that the pack tends to sag down on your back when it's heavily loaded. There is additional space on the top of the pack, which we like because it keeps more of the weight further up on your back. However, we think it could probably benefit from some type of load lifter straps to pull that weight closer onto your back or perhaps a stiffer frame sheet to give it more structure.
Whew! That was quite a list. Besides some nitpicks about the straps unclipping and a slight sagging when hauling heavy loads—the overall carry, harness system and external features are durable and well-thought-out. Whether you're diving in and out of taxis around bustling Asian cities or trekking alone in the mountains, you'll find plenty of options for comfortably carrying your pack and keeping your gear secure.
Inside the Pack
Alright, now let's take a look inside the pack and see what kind of storage we have.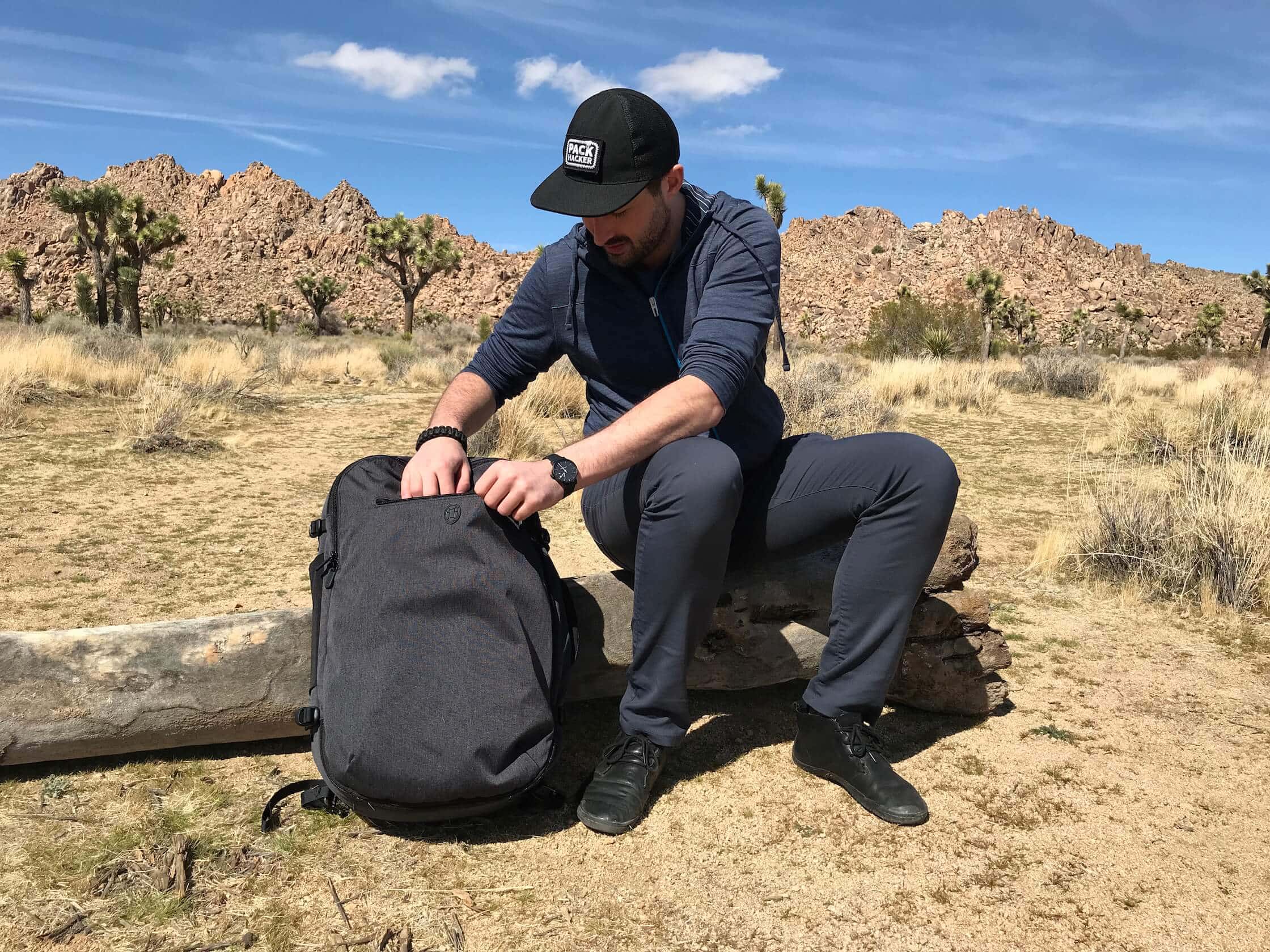 First, we'll look at the small pocket on the front of the pack. This YKK #5 zippered pocket is good for any type of quick grabs and goes about 7.5 inches deep. It's quite flat and useful when going through customs to keep you moving quickly.
On the back of the bag, there's a zippered compartment with a pocket for a 15" laptop and a small pouch for a tablet. This compartment is really for flat items, so if you have a large notebook or A4-sized documents, they will fit well here and stay relatively flat and crease-free.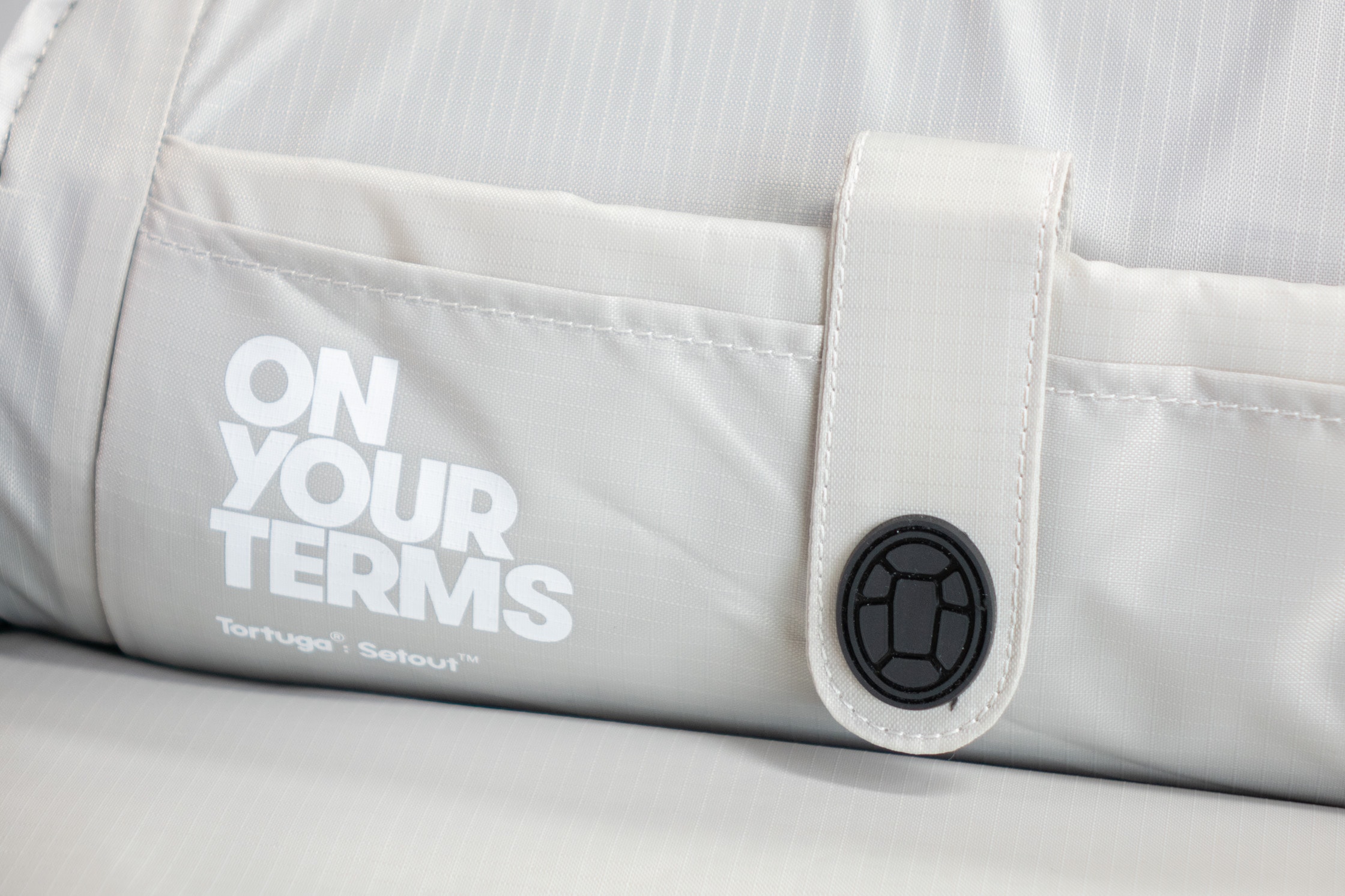 There's a velcro strap on the laptop pocket to stop the laptop sliding out, which is a nice touch.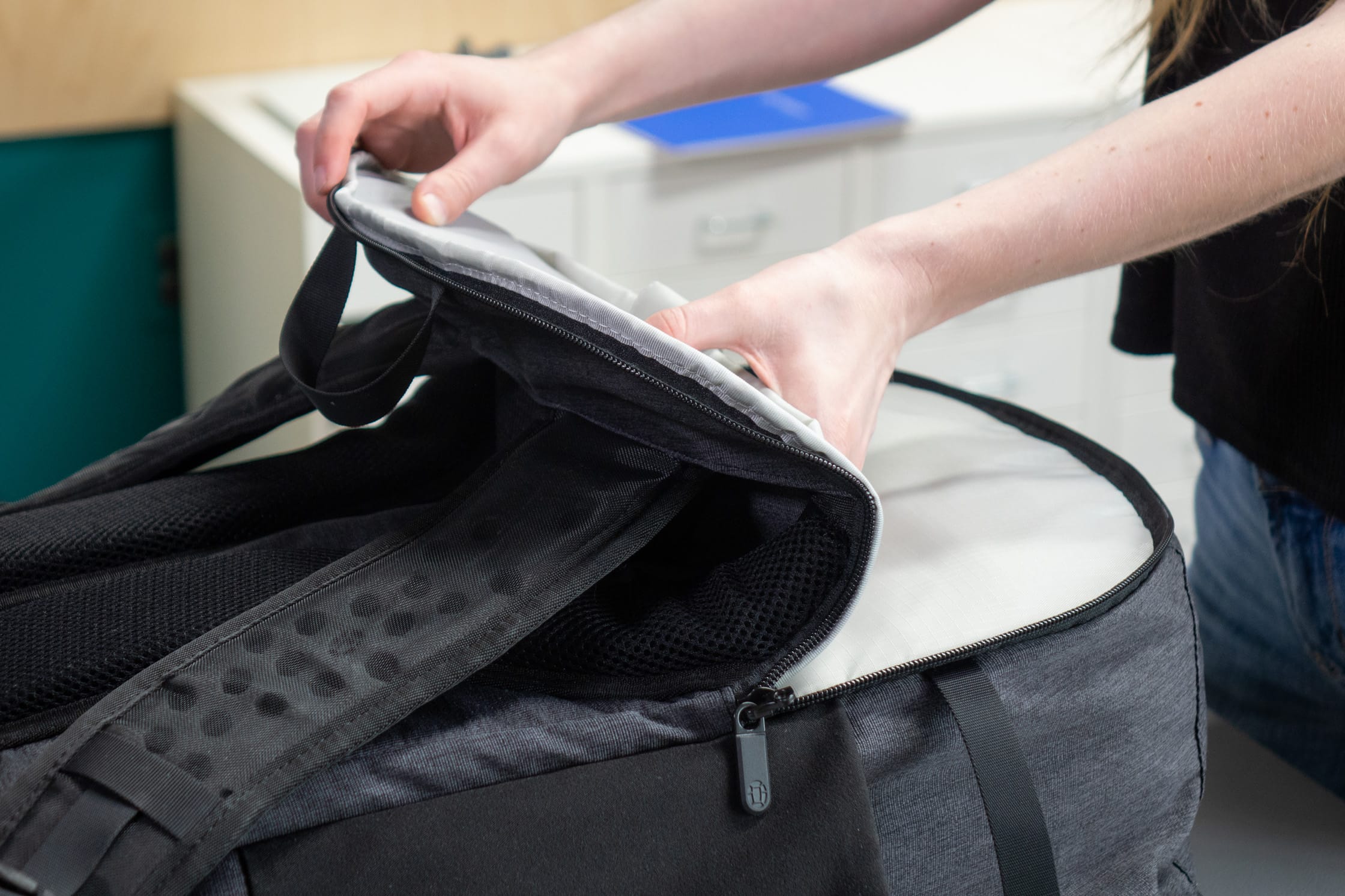 As mentioned earlier, we wish the framesheet was a little more sturdy to give this pocket additional protection against bending. There is some padding on the laptop pocket, but a stiffer framesheet would give some added peace of mind, especially when this thing is filled to the brim with travel gear. That being said, we would still recommend using a padded laptop sleeve for an extra layer of protection. When it comes to keeping laptops—and by extension, our livelihoods—safe, we don't mess around.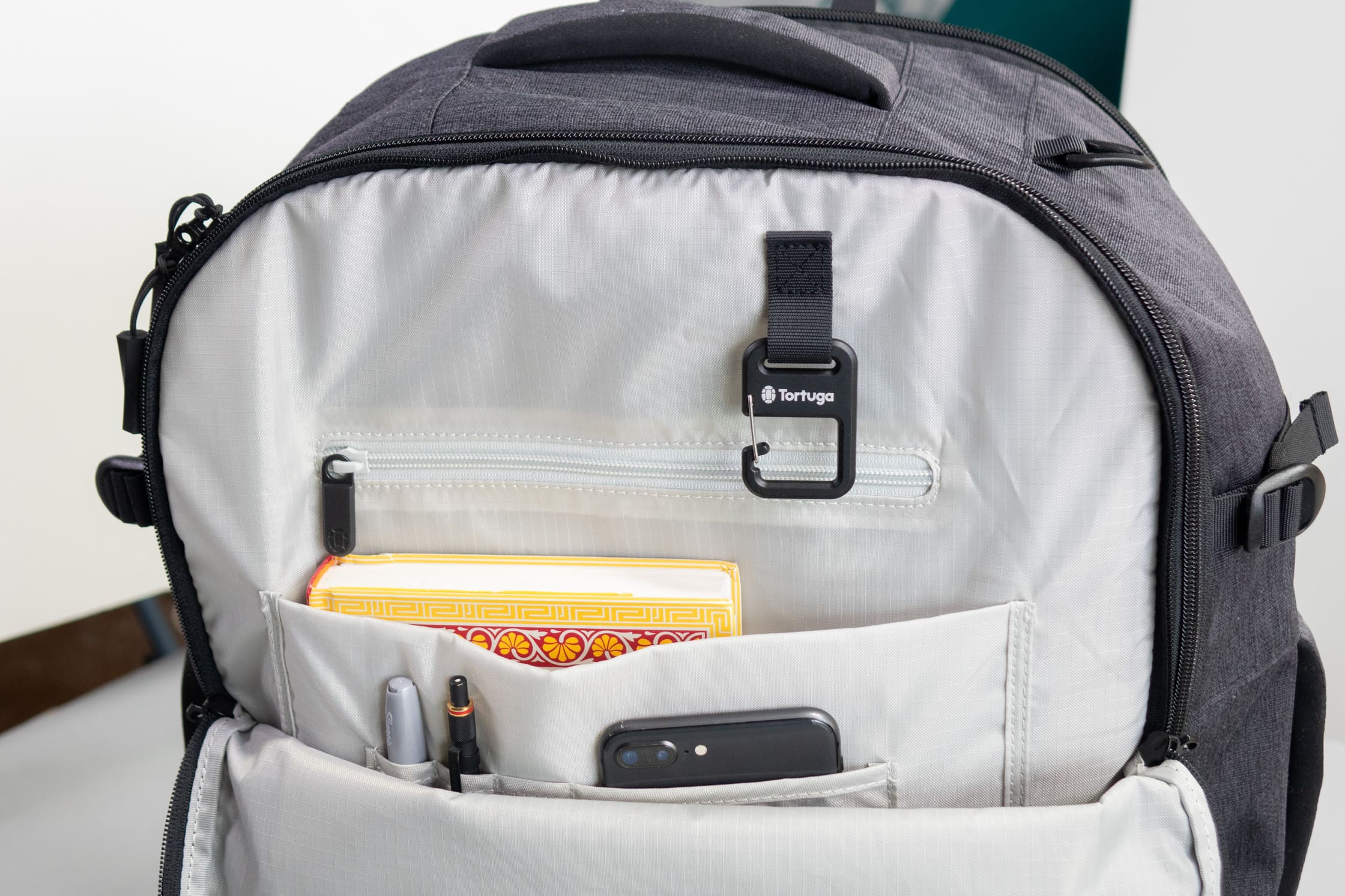 Moving round to the front of the pack, there is a large pocket with another sturdy YKK zipper. When unzipped, the flap folds open revealing one of our favorite parts of this backpack—the internal storage system.
We know the Tortuga team is full of experienced travelers and they have clearly given a lot of thought to the organization on this bag. It definitely shows here—kudos to everyone over at Tortuga.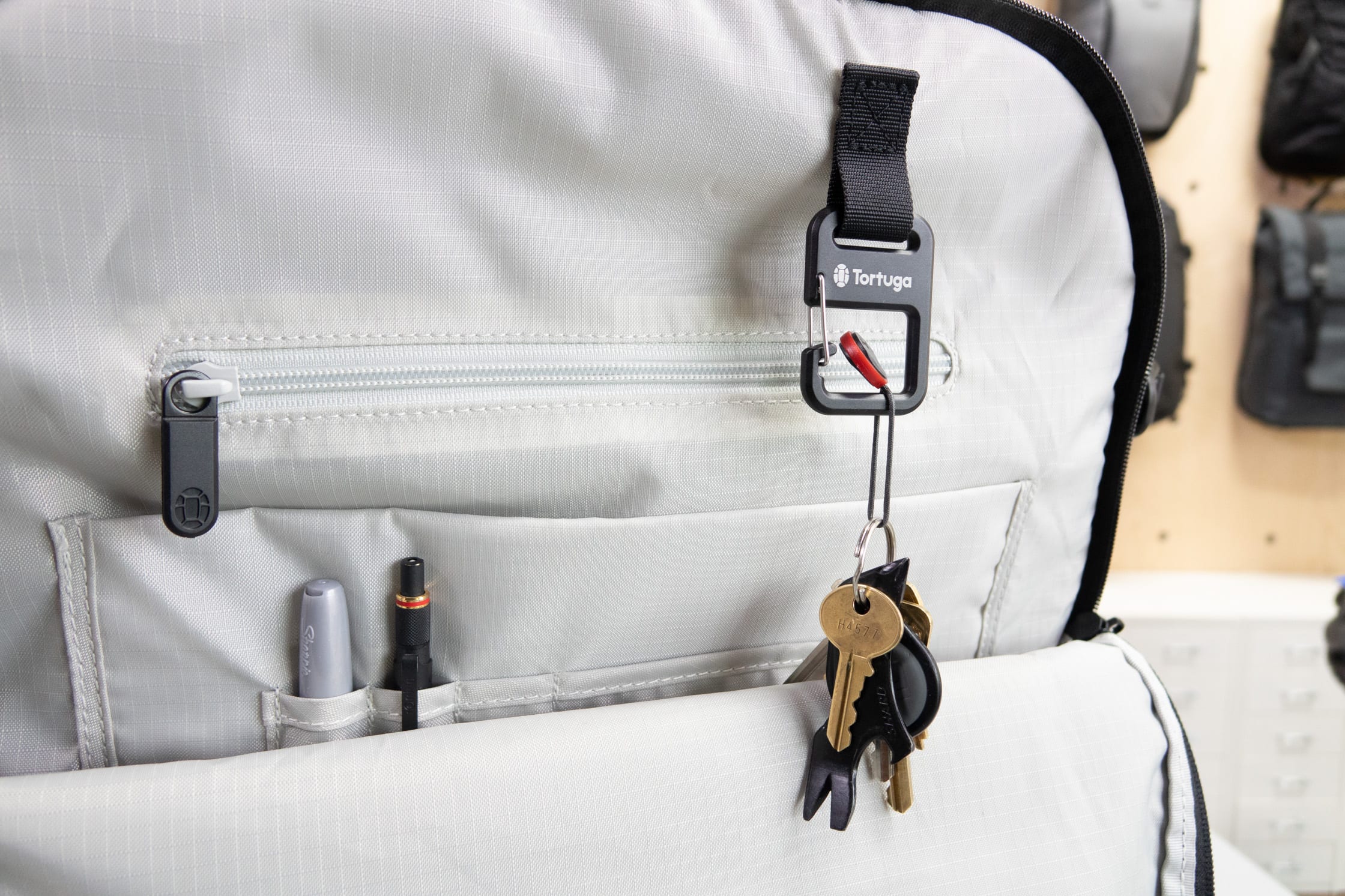 The storage system includes three pen slots, a larger side slot, pockets for cards, plus another pocket made out of the same mesh-like material as the water bottle pocket.
You'll also see a small metal carabiner that's good for keys or anything that you want to clip there for added security.
There's a small, zippered pocket in here too, roughly the same depth as the pocket on the front of the pack—about 7.5 inches—but not as wide. This little pocket is ideal for storing valuables and smaller items that don't need to be accessed quickly.
Just in front of that small pocket, in the back of the storage system, you get a flap for a notebook or other flat items, which is great for those of you who love to take a good book on the road!
In the bottom of this main front pocket, there is room to fit additional free-floating items, but we'd recommend using some slim packing cubes to keep everything organized. You don't want a ton of loose items disrupting the order you've just created!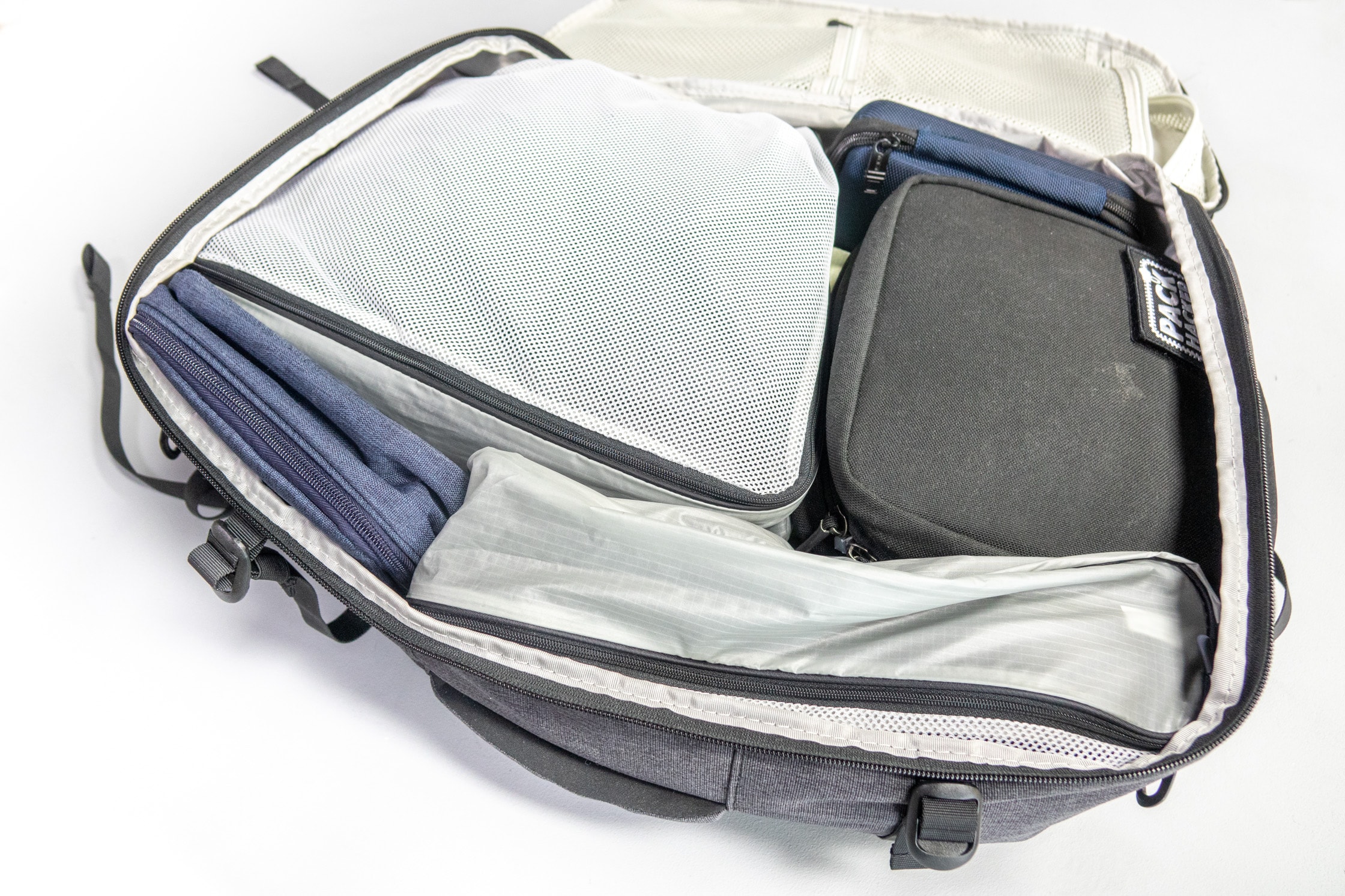 Moving on to the main compartment, we have some strong YKK #8 Zippers, which are lockable and easily distinguishable from the front pocket zippers—meaning you won't get confused about which zipper opens which compartment. This is one of those subtle quality of life improvements we love to see on bags. Clearly the folks at Tortuga have been there, done that, and have grabbed wrong zipper pulls enough times to do something about it!
This area opens up just like a suitcase, and the space inside is huge. If you're used to packing suitcases then you will be right at home with this.
This space is perfect for packing cubes, which we highly recommend using as they will keep your things organized and help keep the shape of the pack.
Note: Tortuga sells a separate day pack for the Setout. It's not only super lightweight and ideal for day trips, but also fits perfectly inside the main compartment. The day pack has a similar aesthetic to the main backpack, but is made with different materials and is much smaller/lighter.
It is possible to use the day pack as an internal organizer or packing cube, although we never felt the need to do this. But if you're looking for some more organization or you're short on packing cubes, this could be a good option.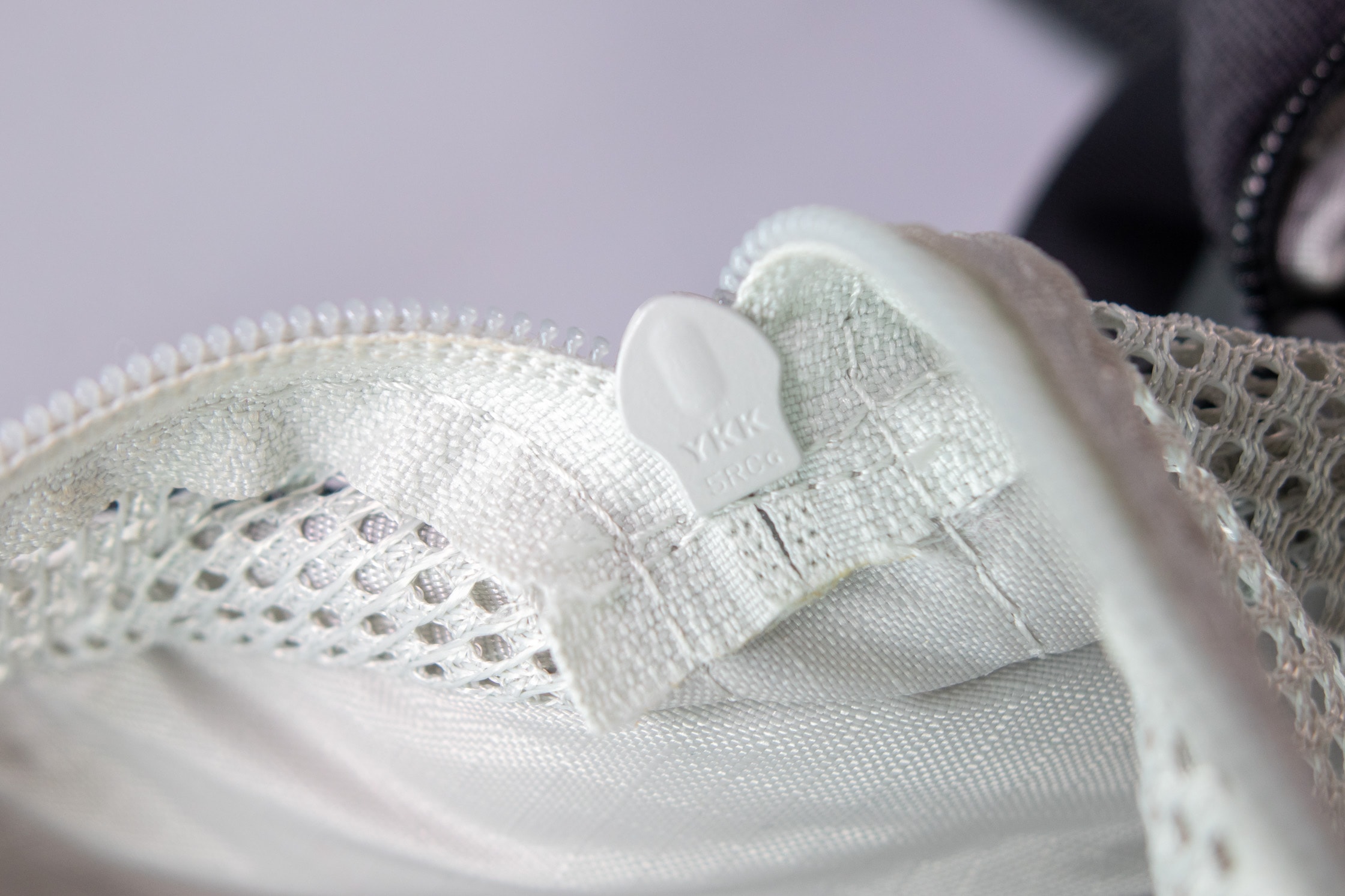 Finally, on the underside of the 'lid' are two additional mesh pockets for some added organization. These are flat but can hold some small items such as clothing, notepads or other flat items.
Overall, the inside of this pack offers a good bit of organization—but not too much. Sometimes when a bag is covered with pockets and various features it can take away from the amount of sheer space available, but we think Tortuga has done a nice job here by not going overboard with internal organization. As we said before, they've clearly put a lot of thought into the layout of this bag, and it shows.
Durability & Testing
Here at Pack Hacker, we always give our gear a thorough 'real world' test before writing a review. At the time of this Tortuga review, we've been testing the Tortuga Setout for about three months, and it has traveled from Detroit, to California, to New York.
Overall, the pack has held up well and is a great travel companion.
We previously ran into some aesthetic issues with Tortuga's other pack, the Homebase. Our main grievance was the sailcloth, which quickly shows scuffing and scratches. But we're happy to report that the Setout has fixed that issue by using a heathered polyester.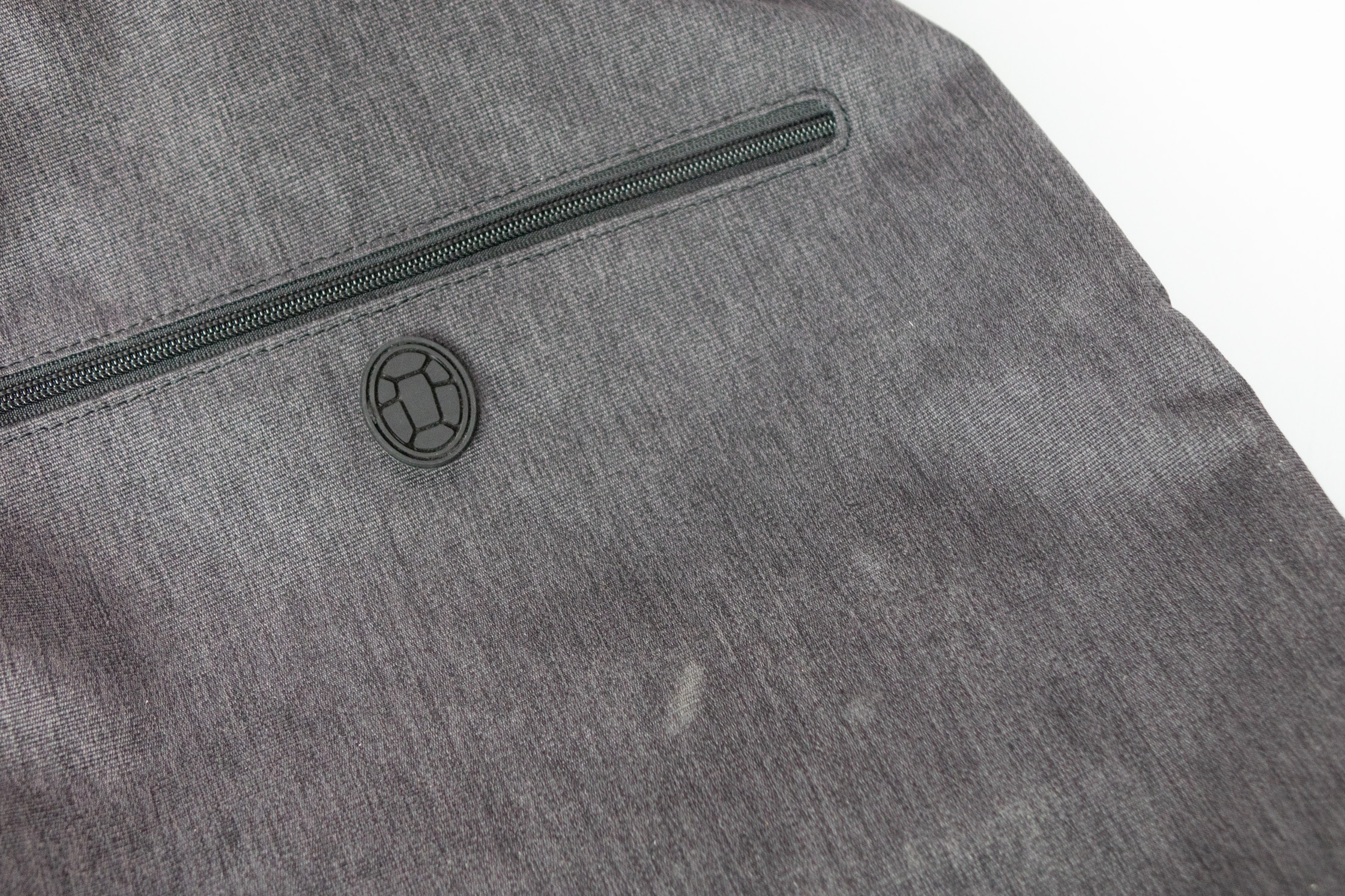 We love how it resists scratches and scuffing—besides some normal wear & tear, and a smudge mark or two, it still looks new after many miles on the road.
Although polyester is by definition a weaker material than other ballistic or ripstop nylon packs we've reviewed, this pack feels really durable, uses some high-quality zippers & buckles, and we're optimistic this thing will hold up for many trips to come.
Usage Timeline
Initial Usage
Condition: Excellent
Comfortable to carry, sturdy and plenty of room in the pack.
3 Months of Use
Condition: Excellent
Some small aesthetic blemishes after 6 plane rides & weeks of travel with the pack.
Access the Pro Community Discussion
Get your questions about the Tortuga Setout Backpack 45L answered from our team and the Pro Community right here on the page. Plus, join discussions with other members about gear, guides, and more.
Other Bags & Luggage Reviews