Tortuga Setout Backpack 35L Review
The Tortuga Setout Backpack (35L) has everything you want in a solid one-bag travel backpack. We just wish the hip belt was less beefy and more effective.
Our Verdict
Unlock the Pro Summary
Save time. Get access to brief summaries of our reviews so you can browse and make decisions more efficiently.
Pros
Available in both men's and women's fits
Load lifters help lift the load (literally)
Sleek aesthetic that blends in with a crowd
Cons
The hip belt is quite beefy
Some of the pockets can be hard to access/utilize when the pack is full
Doesn't compress enough to make a suitable daypack
Recent Pack Hacker Video
Technical Details
Capacity

35l

Denier

900D

Weight (lb)

3.4 lb (1.5 kg)

Dimensions

21.5 in x 13.5 in x 7.5 in (54.6 x 34.3 x 19.1 cm)

Notable Materials

Polyester, YKK Zippers, Duraflex Hardware

Manufacturing Country

China

Laptop Compartment Size

17"

Warranty Information
Full Review
Get up to 10% off Tortuga • Join Pack Hacker Pro
The 35-liter Tortuga Setout is a hit amongst one bag travelers—and for good reason! Its simple aesthetic, superb harness system, and great interior organization doesn't leave much to be desired. But one thing we love about the folks over at Tortuga is that they're never comfortable calling one of their backpacks perfect. The Tortuga team is always incorporating feedback from the one bag travel community and iterating their designs.
This time, they've released a women's version of the popular 35-liter Setout. And, no, they didn't do this by making the bag pink or selling it for a steeper price tag. Their design team actually tinkered with the suspension system to fit bodies with smaller torsos, narrower shoulders, and boobs.
To get into specifics, the key differences between the men's and women's focused fits are:
Women's Focused Fit: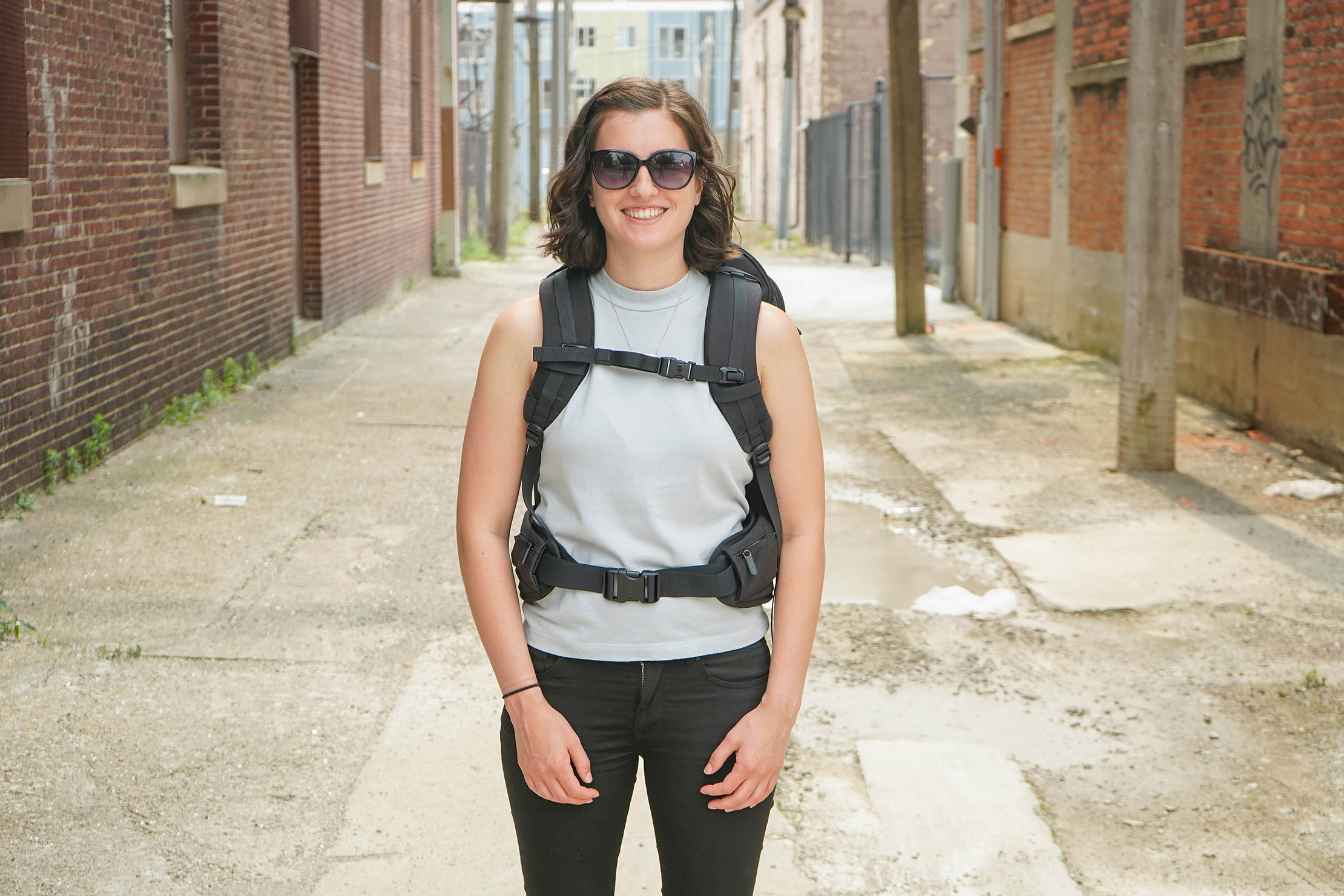 The shoulder straps are thick, padded, and curved to fit a woman's torso. Plus, they're set closer together for narrower shoulders.
The adjustable sternum strap hits just below the collarbone, not across the nipple line.
The padded sections of the hip belt are smaller and will fit circumferences of 25-58″. (As Tortuga explains, this is the measurement around the iliac crests—highest bony part of the hips—which is different from pant size).
Designed to fit 15.5-18'' torsos.
Men's Focused Fit: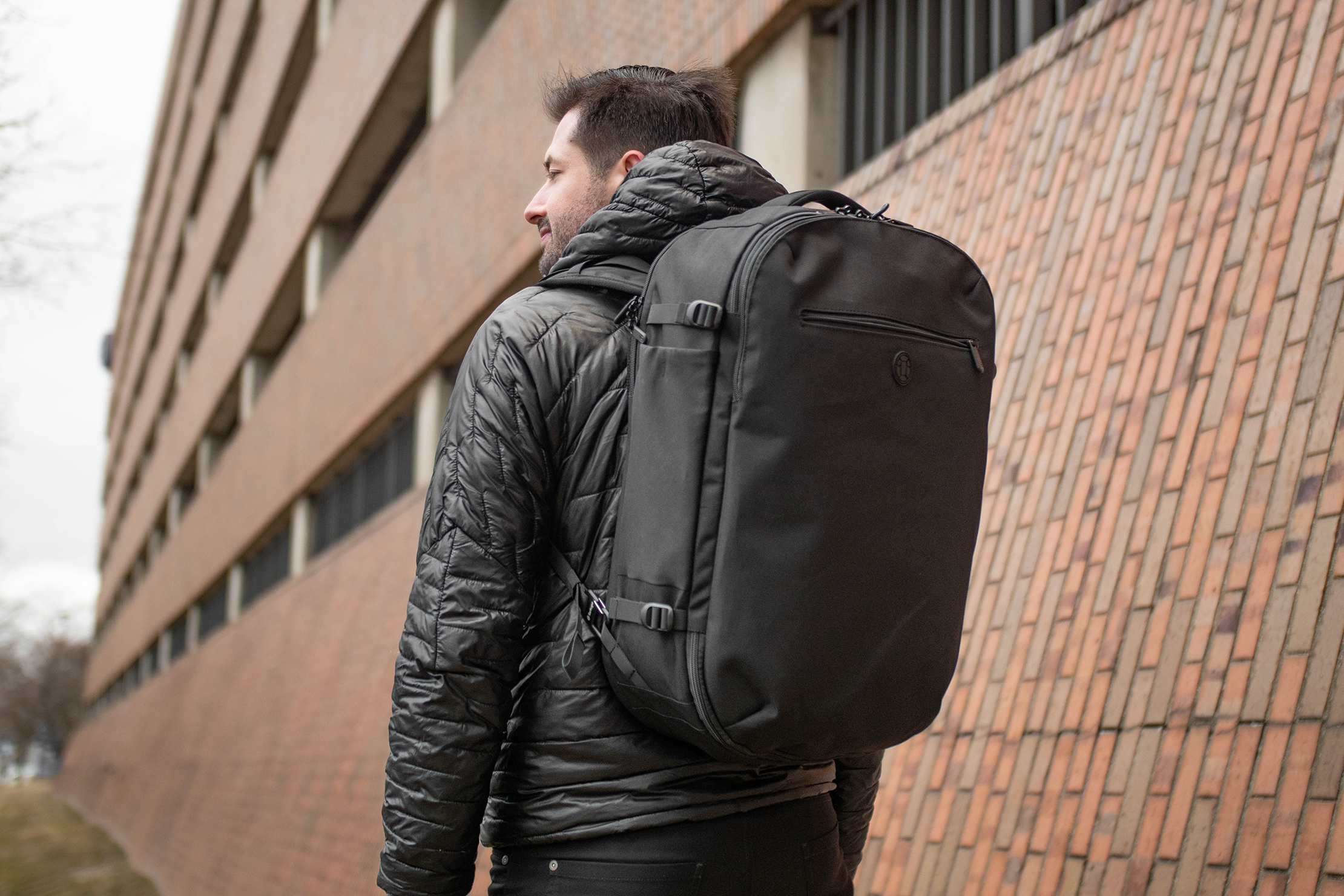 The shoulder straps are made of a rigid foam that'll get more comfortable with wear as they mold to your specific body.
The padded section of the hip belt is more robust and will fit circumferences of 32-61″.
Designed to fit 17-19'' torsos. (We've noticed the hip belt can become more of a "stomach belt" on torsos over 19". This is pretty hard to avoid on travel packs though, at least in our experience.)
Everything else is the same, which is exactly what we like to see. Now, we've already reviewed the 45-liter version of the Setout, but we think the 35-liter deserves its own review since its size makes for a much better travel companion. And size isn't the only difference between the two versions.
For the 35-liter, the folks at Tortuga:
Added load lifters (the newest 45L has this now too)
Updated the fabric of the Navy and Black colorways to be 100% recycled (and they're intending to do the same with the Heather Grey colorway soon)
We've been testing the 35-liter Tortuga Setout for two months in Detroit, Michigan; Santa Fe, New Mexico; Cleveland, Ohio; plus a week-long road-trip through southeastern Canada and the northeastern United States.
With that said, let's jump into the full review!
Materials & Aesthetic
The aesthetic of the Tortuga Setout is nothing special. And we mean that in the best possible way. When traveling, we think it's best to blend in. And the Setout—with its subdued colorway options and minimalist look—does just that.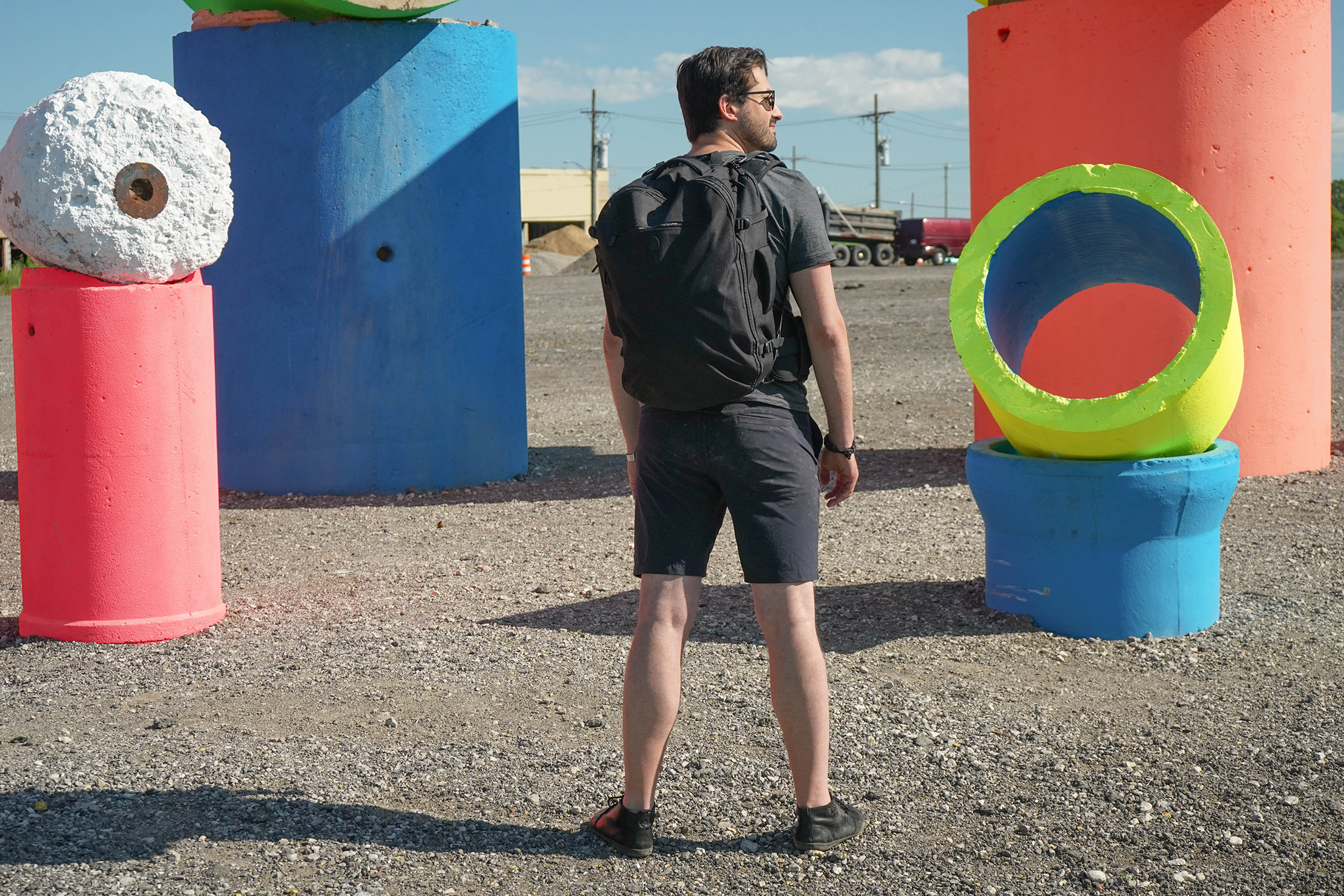 At the time of this review, the women's version of the Setout is only available in the black colorway that we've been testing. The men's version is available in Black, Navy, and Heather Gray. We assume Tortuga will have more options for women down the line since the women's version only recently launched. We're just glad it's not pink.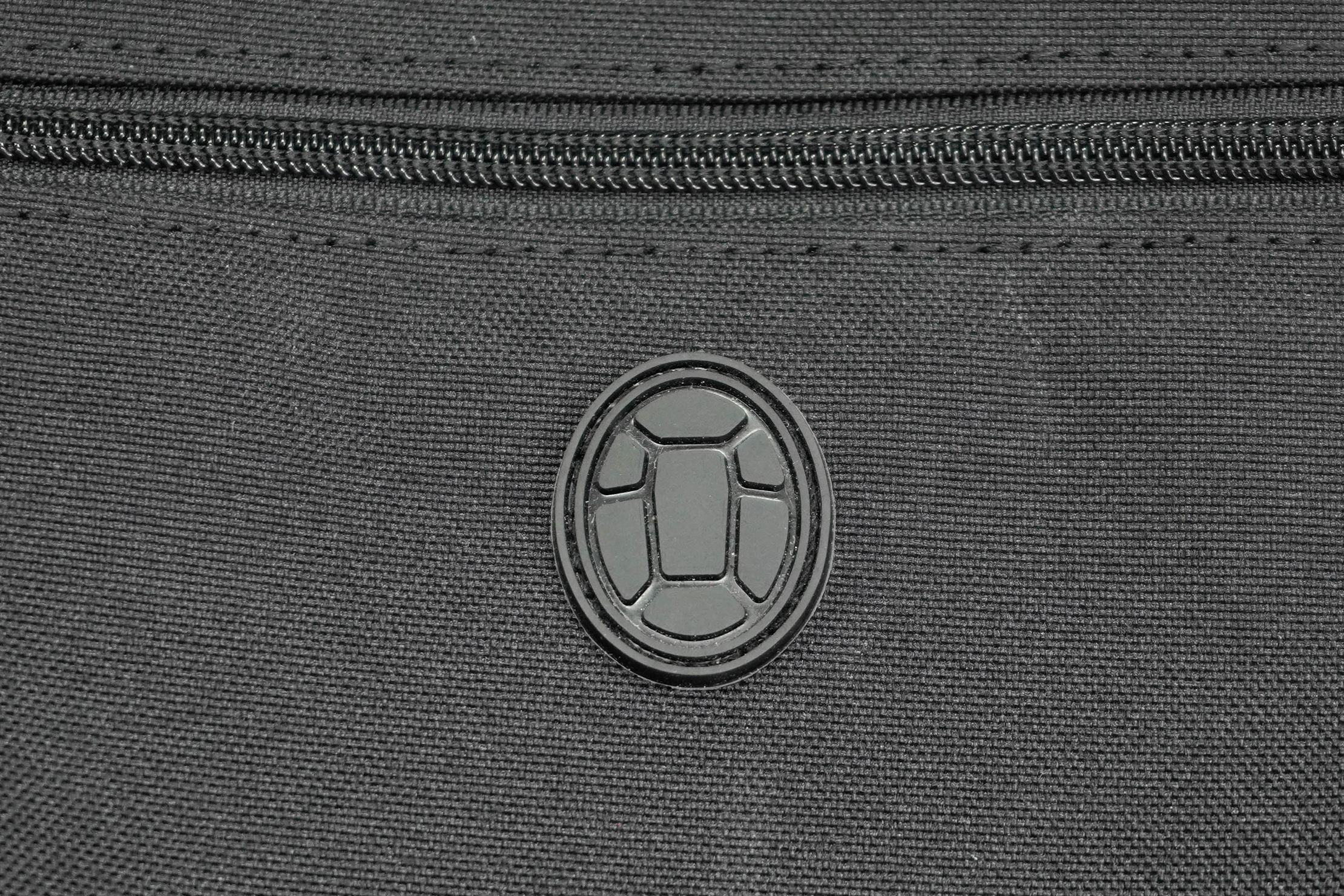 The branding is also minimal, with Tortuga's turtle logo on a few strategic places throughout the pack.
In addition to the simple aesthetic, the pack has a slim profile that helps you blend in with a crowd. The same cannot be said for the 45-liter version, which due to its size, can't help but stick out whenever it's full.
And while the 35-liter Men's Version of the pack is streamlined, it's still visibly bulky on smaller frames. So we're glad that the women's version is available. Bulky packs not only scream tourist, but you're much more likely to be forced to check your bag.
Let's move right along to the materials.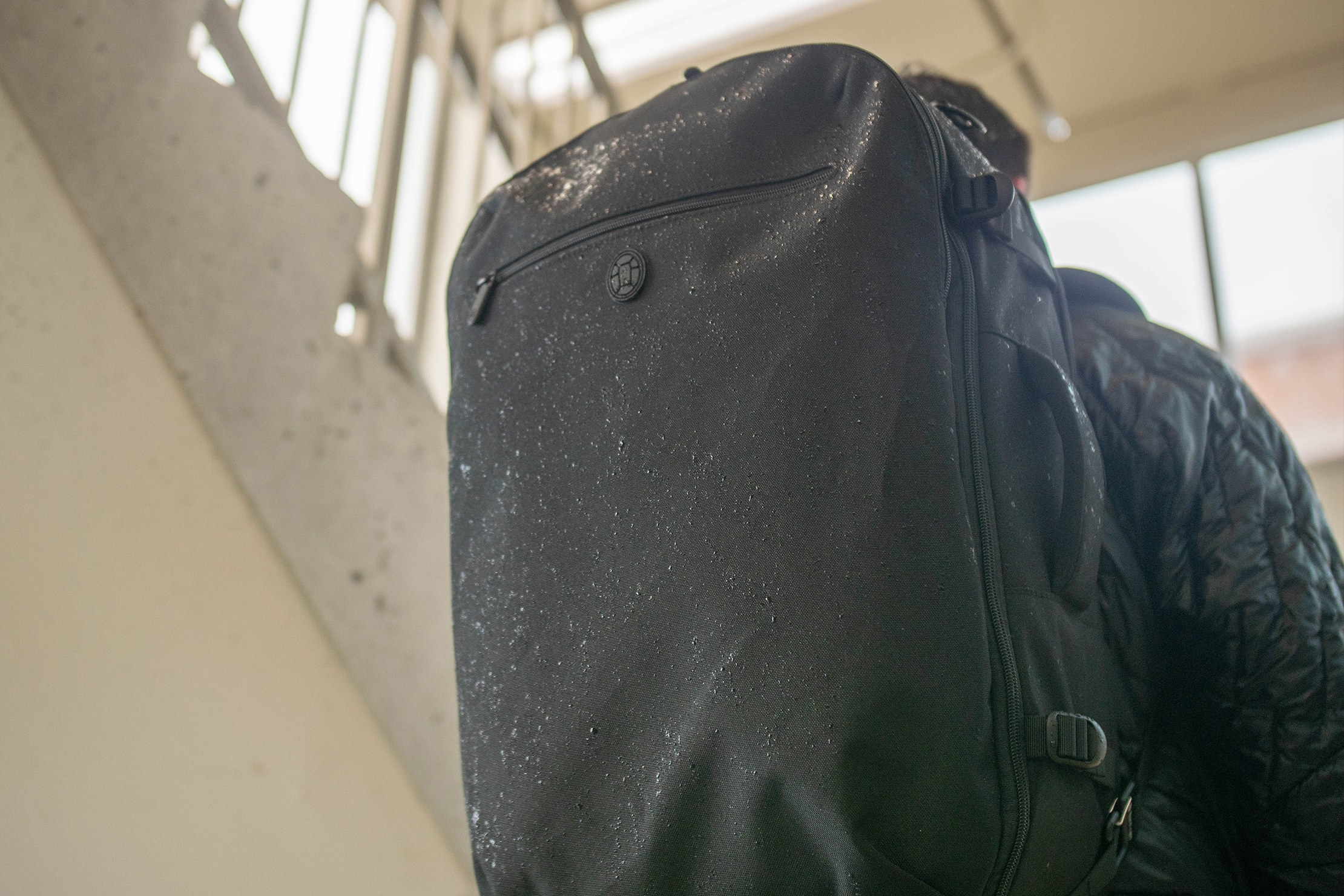 The exterior of the pack is made from a durable and weather-resistant 900D polyester that's derived from recycled plastic bottles (yay environmentalism!). Polyester clocks in at a lower price than other common synthetic fabrics like nylon, meaning the Setout also sells at a lower price point than packs of a similar spec.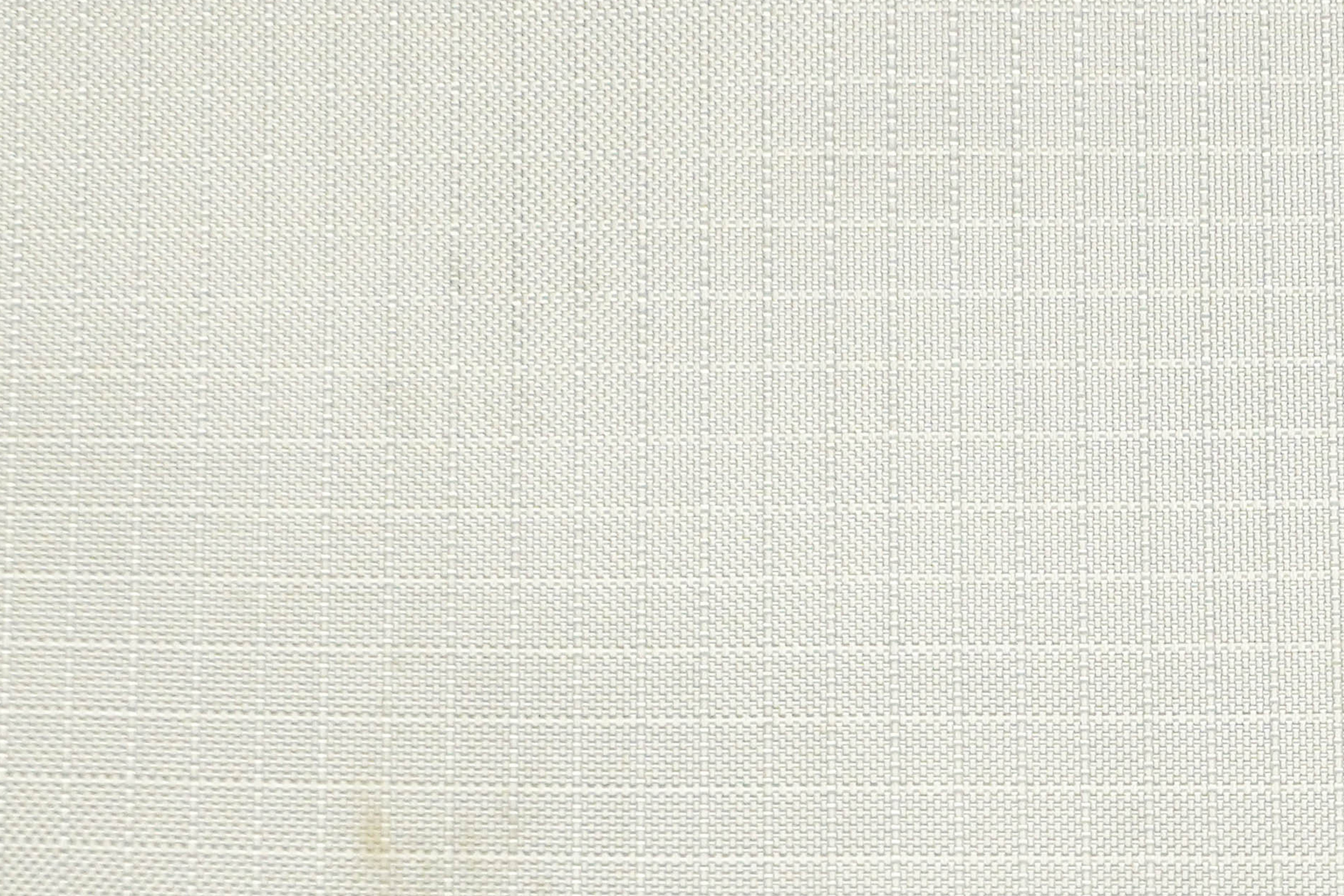 The interior of the pack is made from ripstop nylon, which has a high strength-to-weight ratio and helps prevent small punctures from turning into full-on rips. (If you geek out about backpack fabrics as much as we do, check out our travel backpack guide where we take a deep dive into the subject.)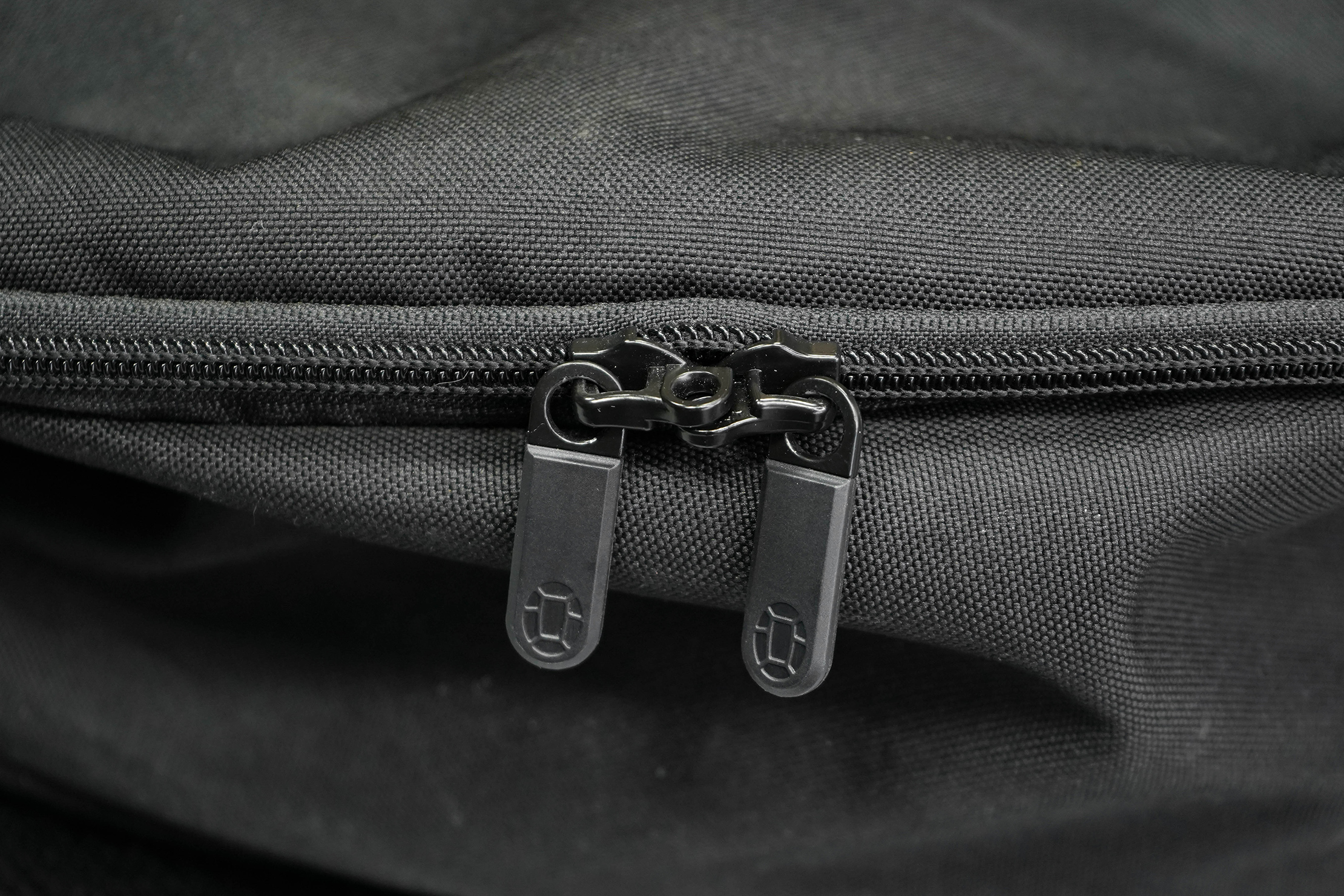 Finishing up the materials, you'll find beefy, lockable #8 YKK zippers and Duraflex buckles. Since the zippers or buckles on packs are often the first to go, we're happy to see that Tortuga went with high-quality brands that should last you a while. Plus, that lockability provides great peace of mind.
External Components
As we mentioned at the beginning of this review, the main differences between the men's and women's versions of this pack are found in the suspension system, which is a blanket term that encompasses the shoulder straps, load lifters, sternum strap, and hip belt.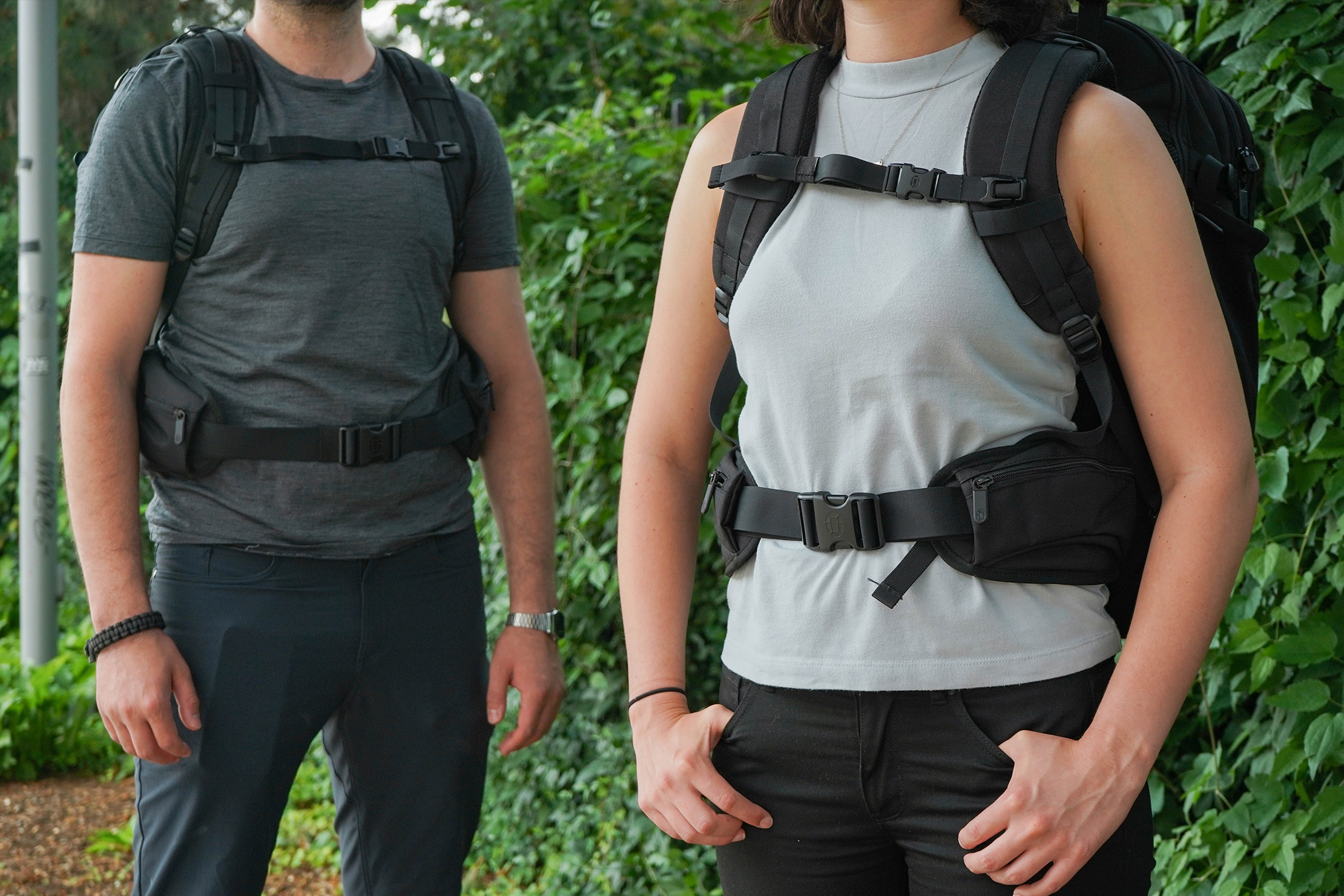 So let's talk about them.
The men's version has "injection-molded" shoulder straps that take some time to break in before becoming comfortable. And they're contoured in such a way that they taper at the chest, which, to be frank, isn't comfortable if your chest isn't flat. (To read all our thoughts about the injection-molded straps, check out our 45-liter Setout Review).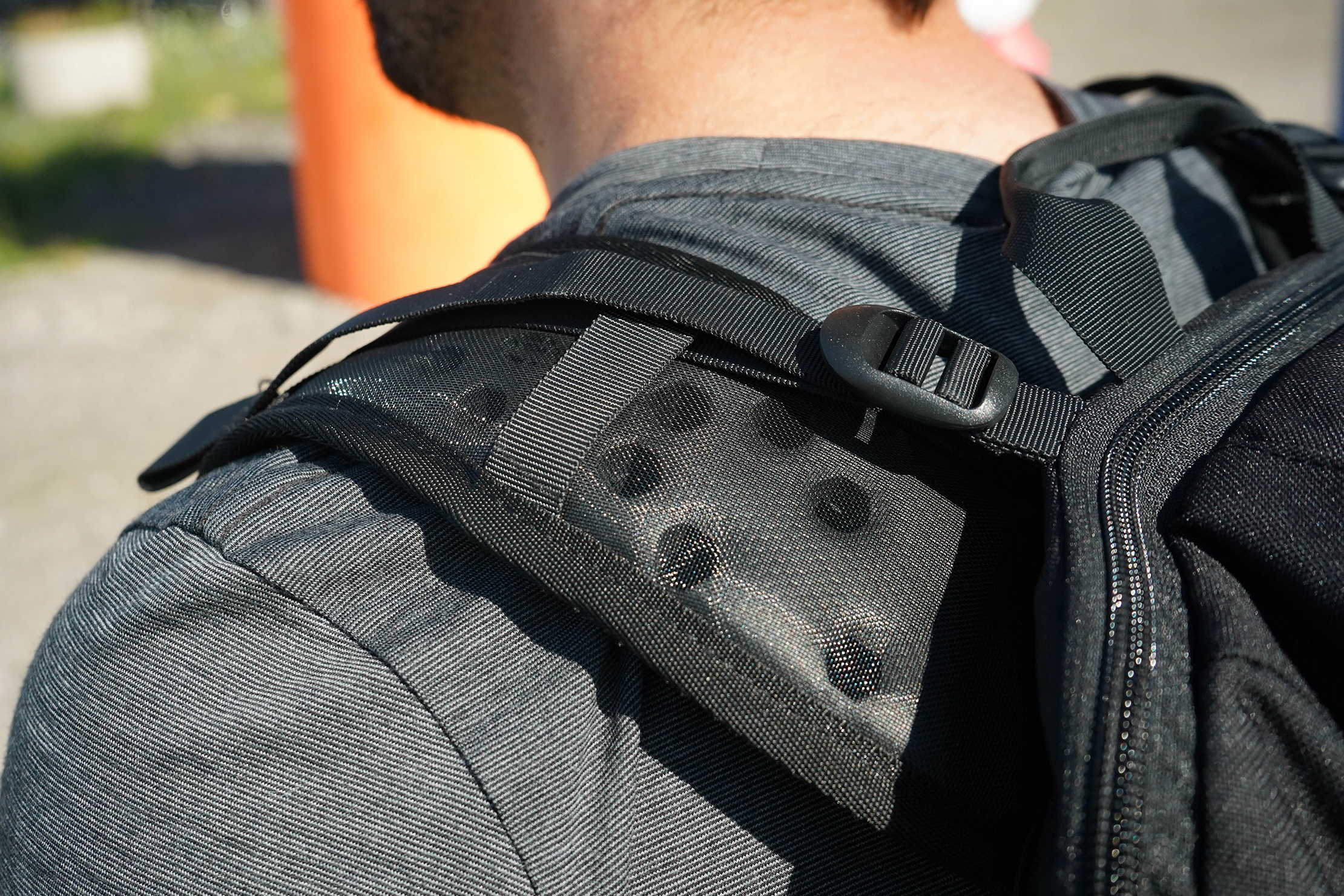 The women's version has thick, padded straps that utilize both soft and hard foam. They're closer together than on the men's pack since they're designed to fit narrower shoulders and curved in such a way to fit a woman's physiological torso. Plus, they're comfortable right away.

Now, we're not fortune-tellers here at Pack Hacker, but we think there's a chance Tortuga will put these padded straps on future iterations of the men's version. The men on the Pack Hacker team found the straps on the women's version to be far more comfortable than the injection-molded straps.
You can stow these straps in a velcro compartment on the back of the pack. The padded straps don't stow as well as the injection-molded straps since they're thicker, but it works well enough if you ever want or need to check your backpack.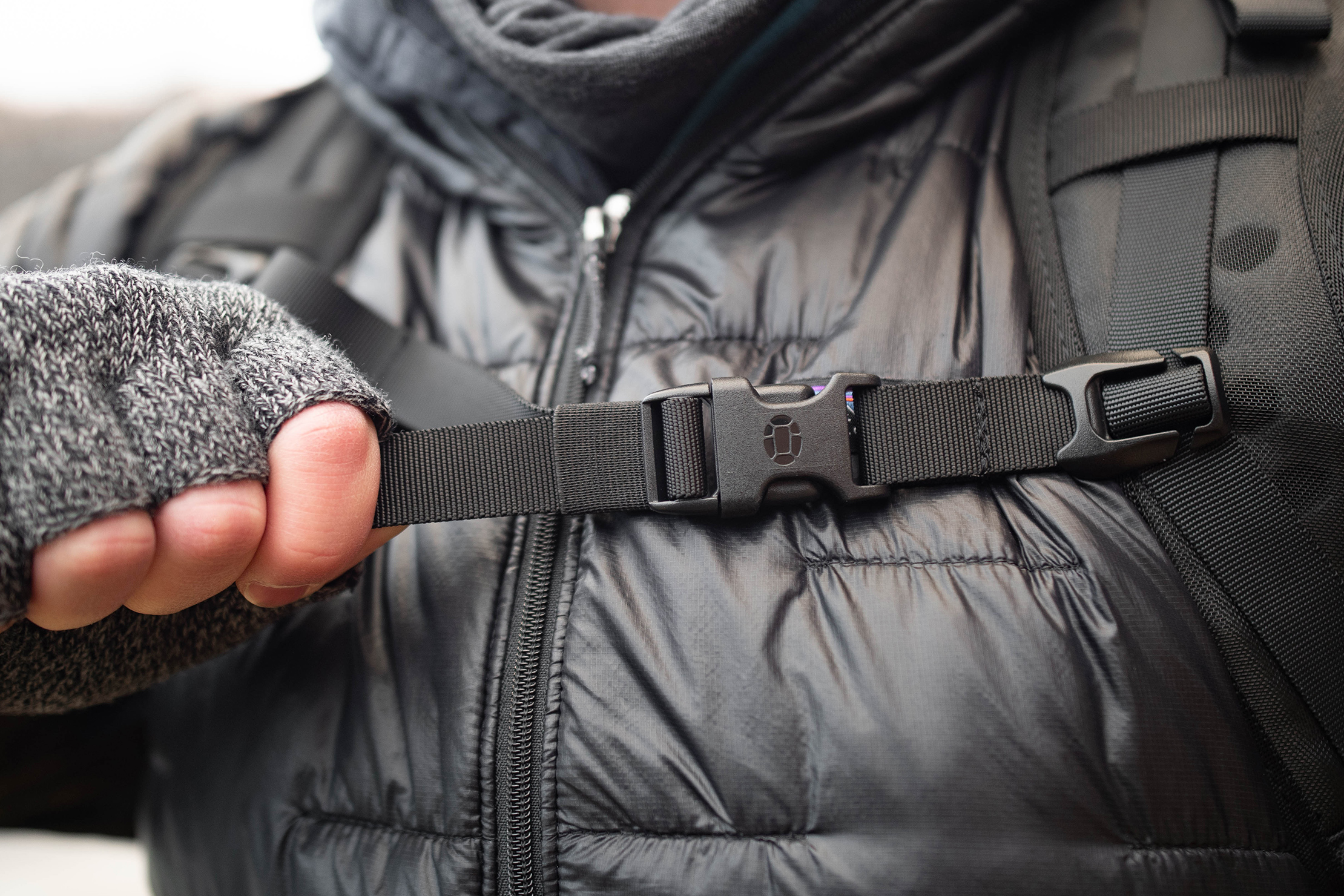 There's also an adjustable sternum strap. On the women's version, this strap sits higher on the chest for an obvious reason. There's an elasticated section that flexes slightly when you're walking for a more comfortable carry, and there's a strap keeper to ensure any excess strap stays nice and tidy.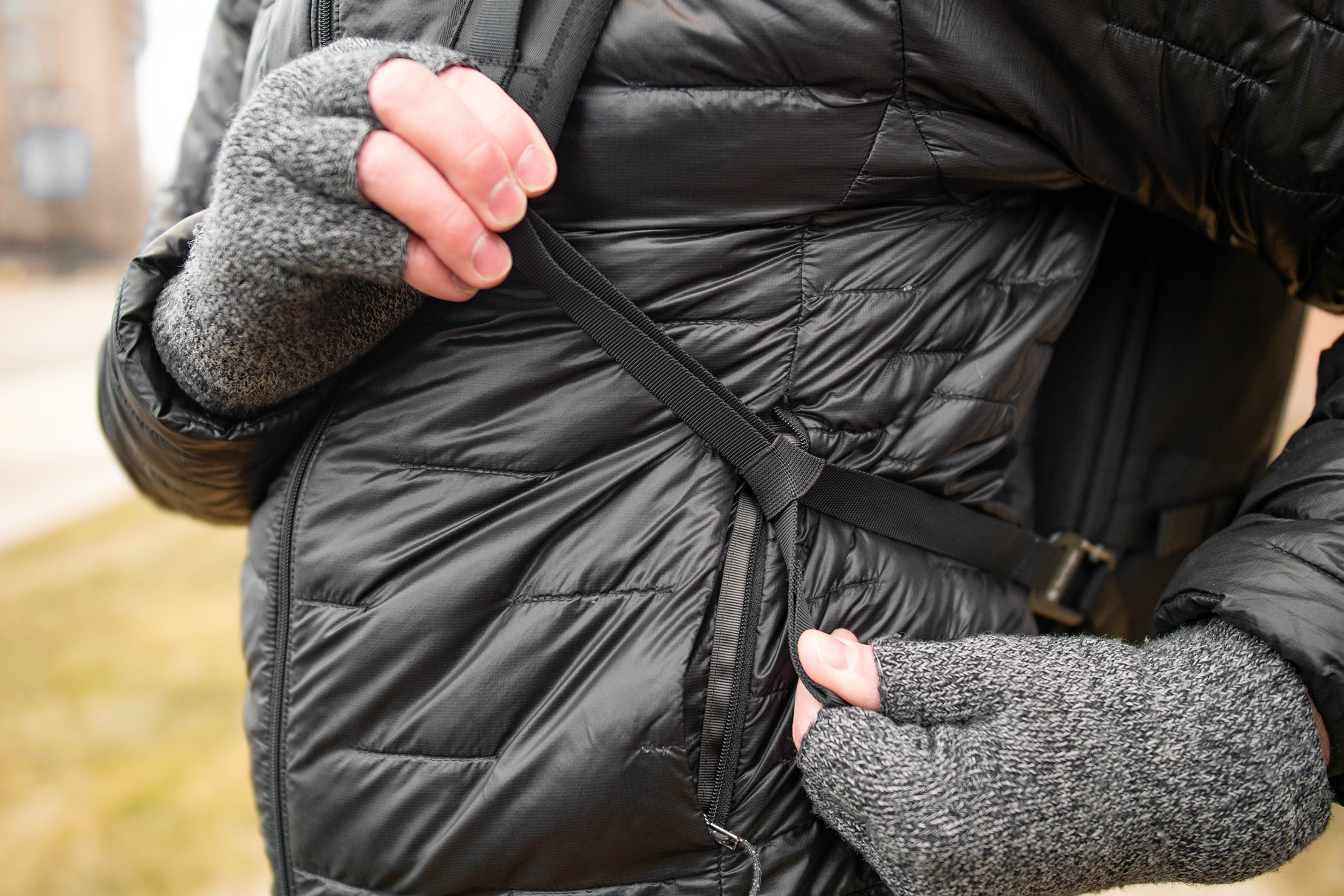 The Setout also comes with a detachable hip belt which, frankly, we haven't been loving. It's beefy without being as effective as the hip belts you'll find on hiking backpacks. It's also thick and heavily padded…meaning you're probably going to get some sweaty patches on your hips if you wear it for a decent amount of time.
The women's version of the hip belt is smaller than the men's and has been designed to fit smaller hips (the hips we're talking about here aren't what we traditionally think of as hips. It's measured at the highest bony part of the hips). This is a huge plus since the hip belt on the men's version swamps smaller frames. Seriously, it looks ridiculous.

We do like that you can detach the hip belts as we've had them off more than we've had them on. And we love that there's a small zippered pocket on each side of the belt to carry items you'll want to quickly grab—like your phone or boarding pass.
You may have noticed, the suspension system on the women's version is smaller all around. To point out the obvious, that's because it's designed to fit a woman's physiological body. But if you're a smaller man, you may enjoy the women's version too. Don't let labels define you, you know?
Okay—there's still a long way to go here, folks. Tortuga does not mess around with its external components. The Setout also has: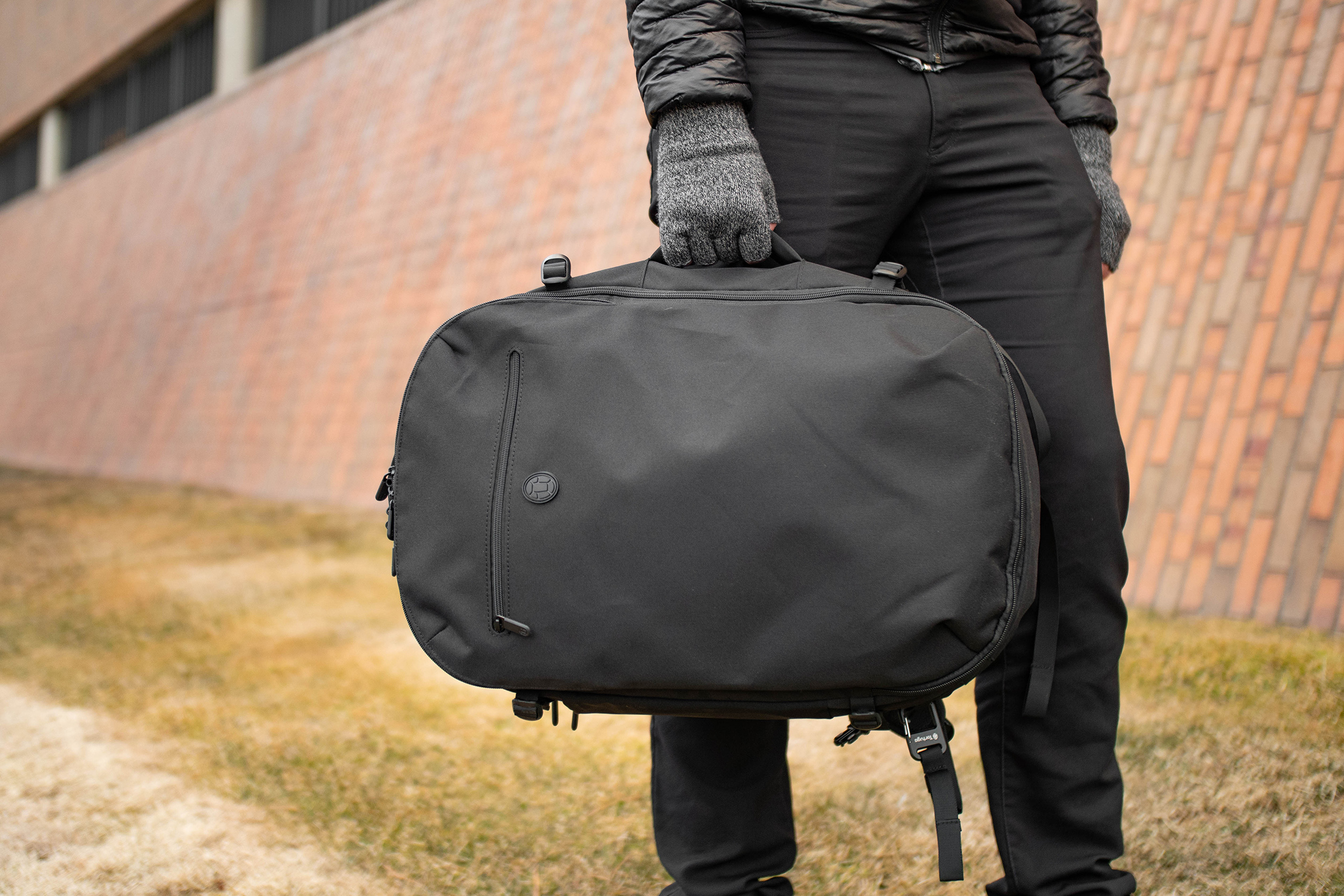 Quick grab handles on both the top and side of the pack. These handles are nicely padded and work well for maneuvering the backpack on a plane or any other mode of travel. But they're not for carrying the pack in a messenger bag style. You can carry the backpack this way—we're not going to stop you—but the bag will kind of collapse and look a little funny.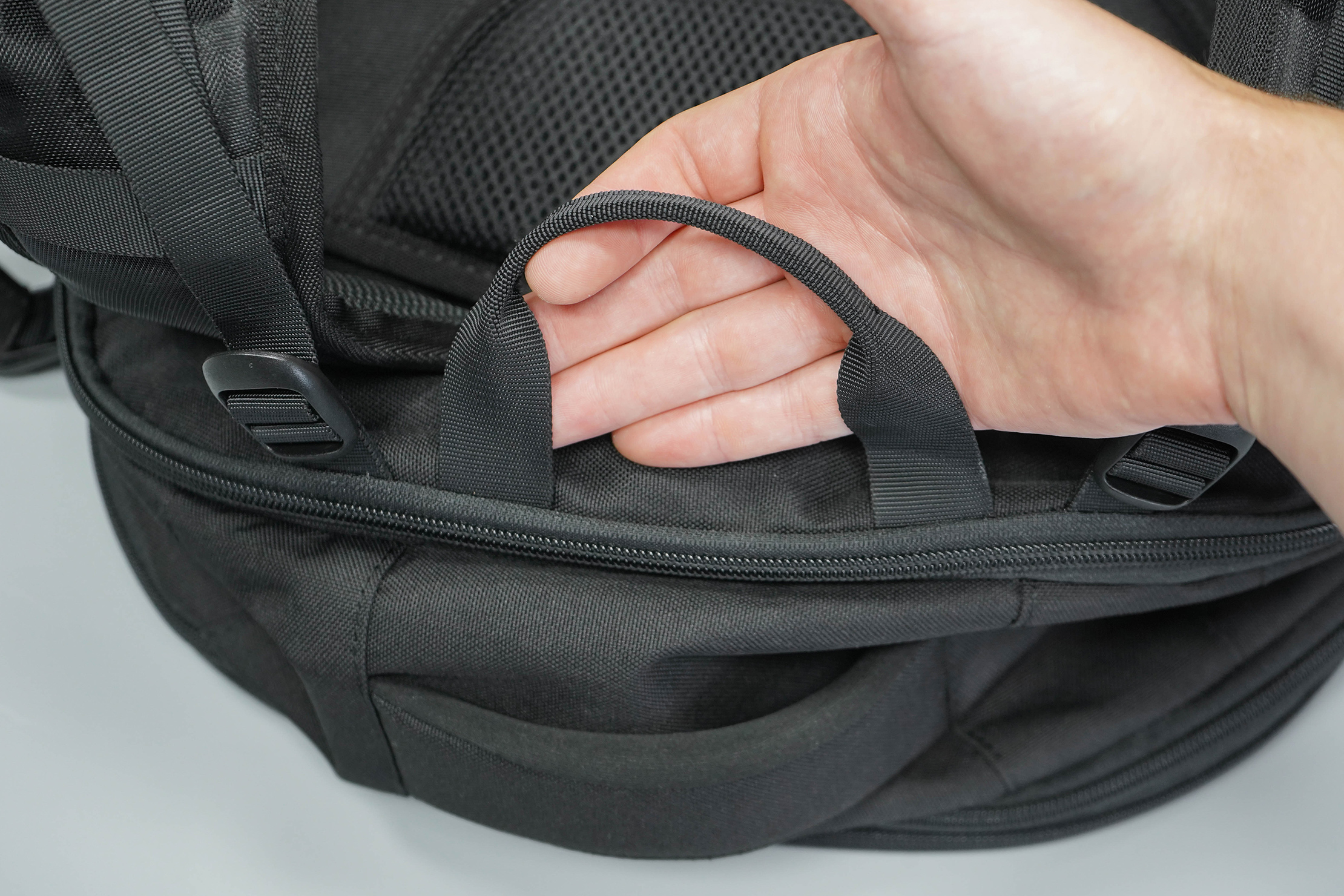 A top non-padded handle for hanging. We've used it to keep the backpack off the floor in the bathroom stalls of airports because…well, we probably don't have to explain ourselves here.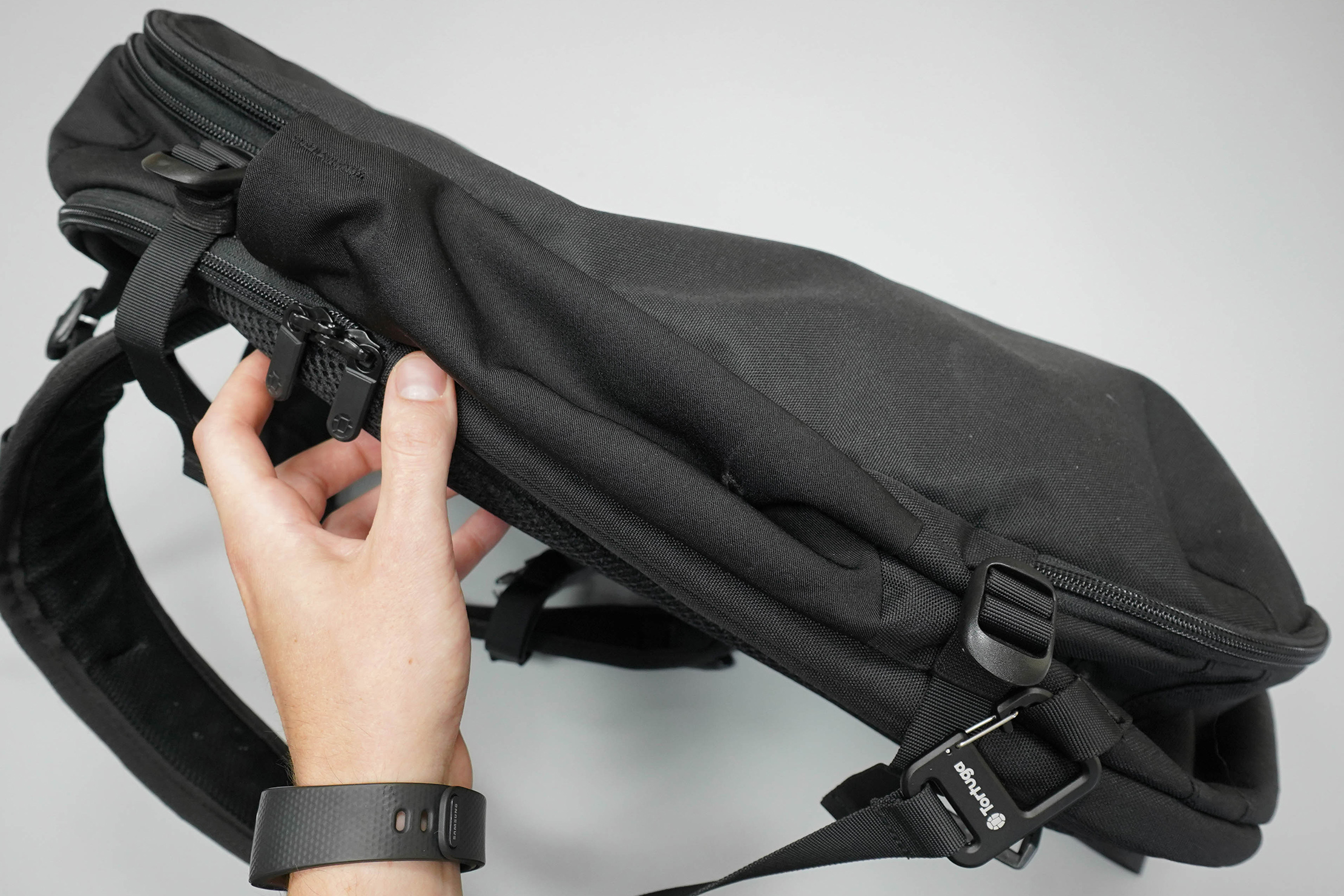 Compression straps to, you know, compress. We're fans of these straps since they don't interfere with any of the pockets or zippers on the pack (which is not always the case). They're not amazing insofar as the bag can look a bit billowy even when they're fully tightened. So we probably wouldn't use the Setout as a daypack.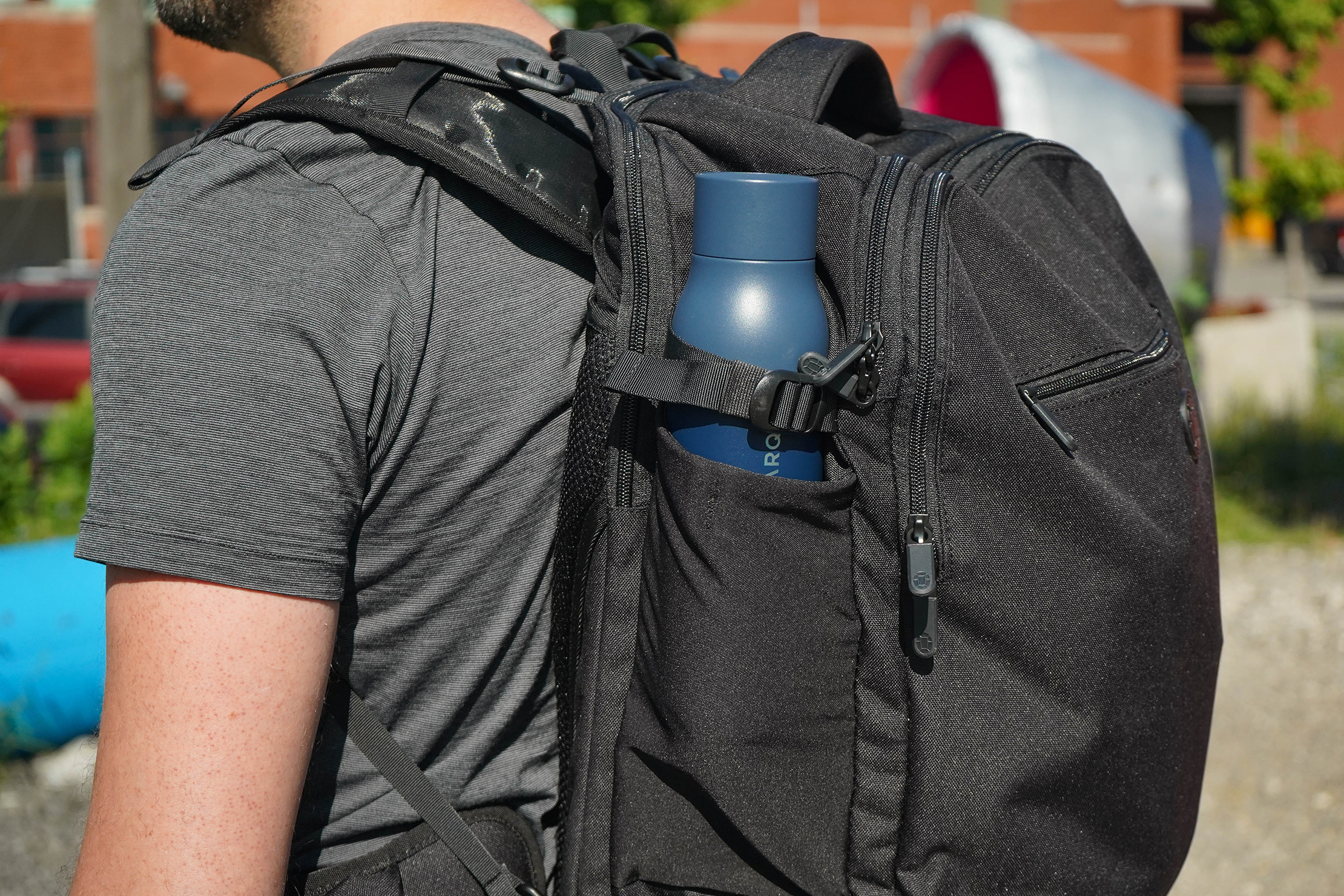 A water bottle pocket. We're huge fans of water—everyone should be!—so we're glad that the Setout has a nice place to put a water bottle or thermos. The elastic on the top can make it challenging to squeeze bigger water bottles inside the pocket, but it holds them securely, which we think is a good trade-off.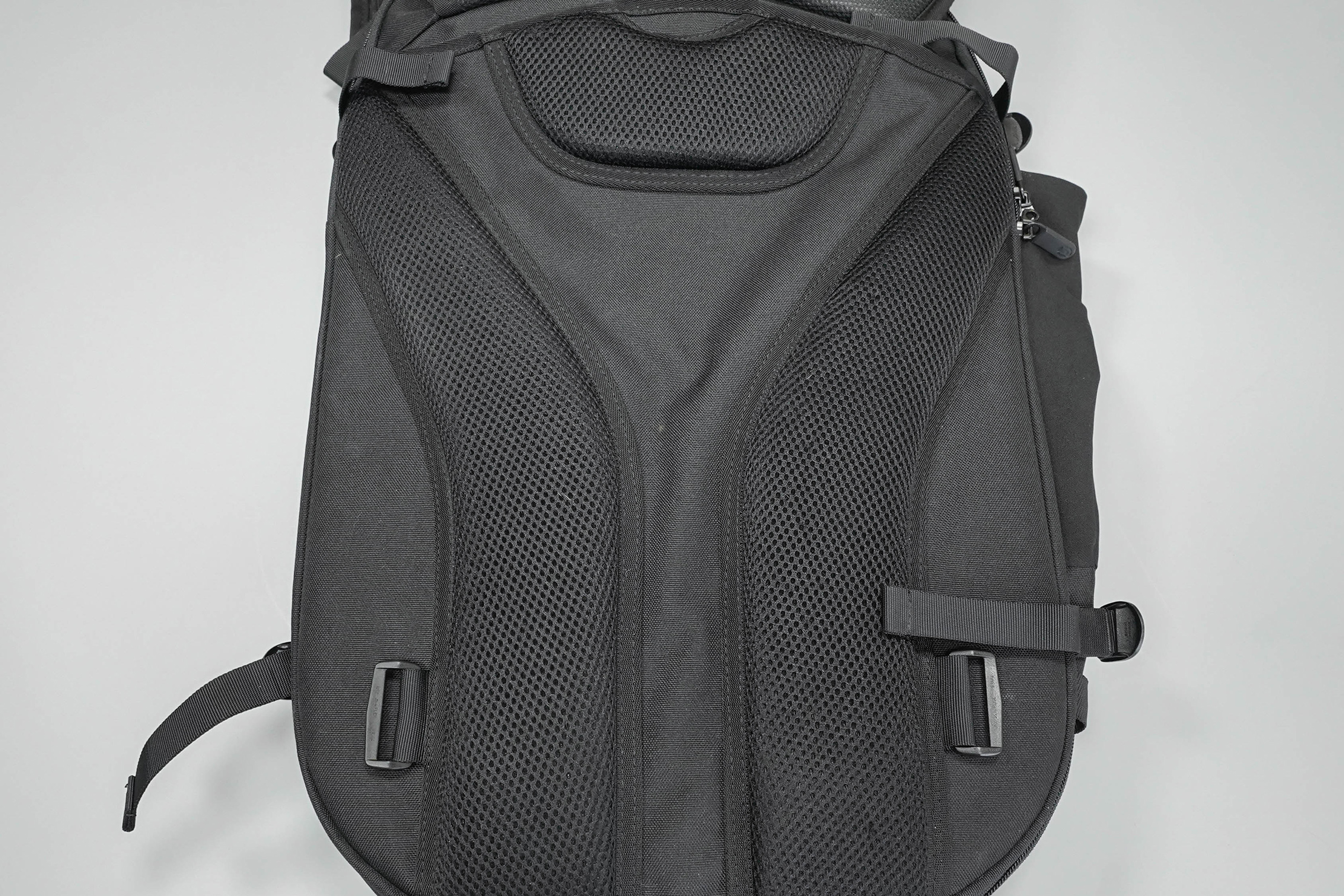 A back panel with some strategically placed foam padding for increased airflow and decreased sweating.
And last but certainly not least are the load-lifters. While load lifters may seem like a small addition, they make a huge difference when it comes to comfort. Load lifters sit at the top of the straps and help fit the bag to your back.
Between the adjustable sternum strap, hip belt, and load-lifters, it may take you a hot minute to get the backpack to fit correctly. But once you do, the comfort will be second to none.
Inside the Pack
There is an equal amount of stuff going on inside the pack as there is on the exterior! The Setout is designed to be as functional as a suitcase, so if you're usually a suitcase kind of person, you'll be right at home.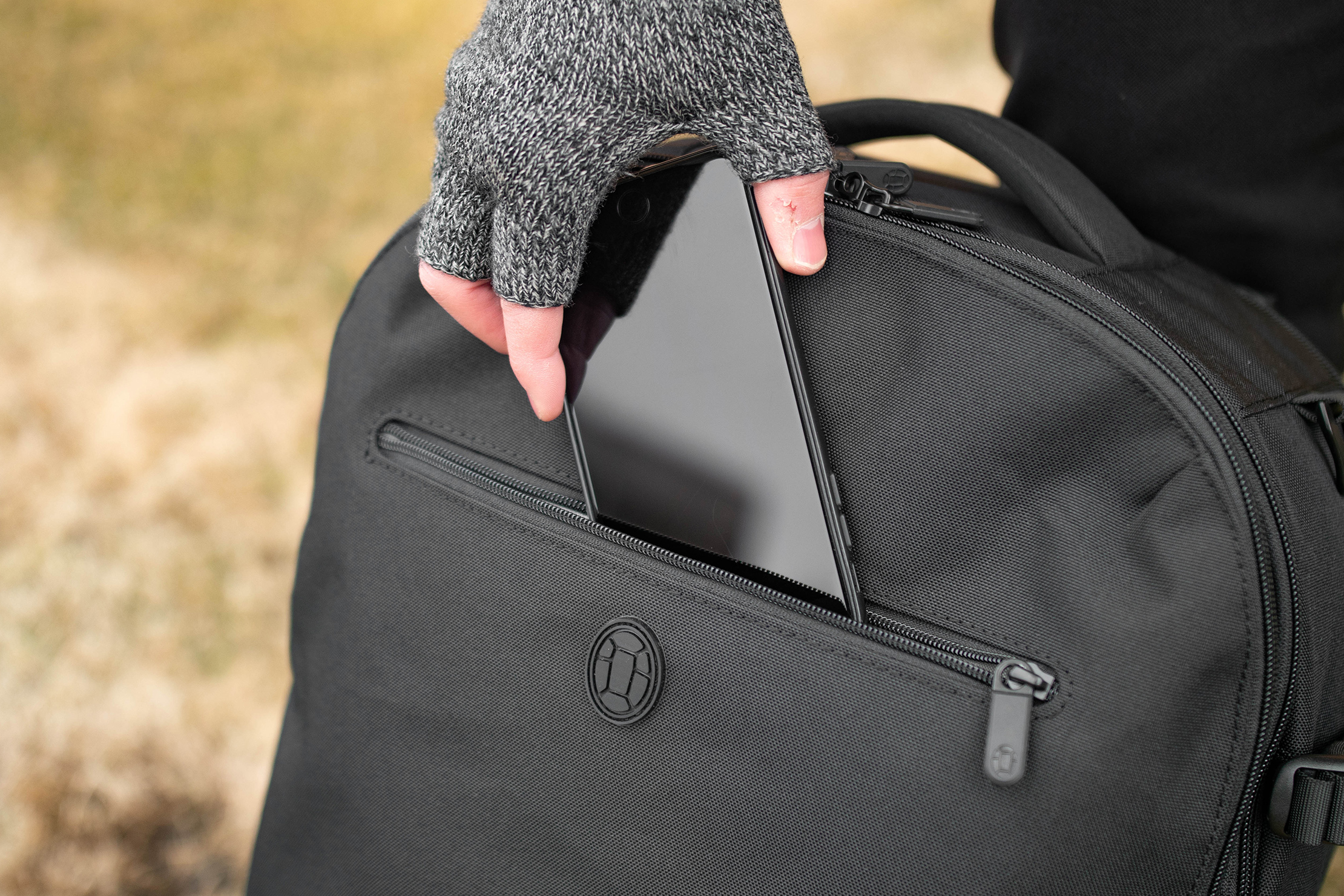 First, we'll look at the quick-grab pocket on the front of the pack, which we think is rather deep for a quick-grab pocket. We've used it to store travel documents—like boarding passes and passports—that we need to access quickly. However, it gets hard to pack once the backpack is full. And it's not lined with anything soft, so it's not ideal for fragile items (unless you like to live on the edge).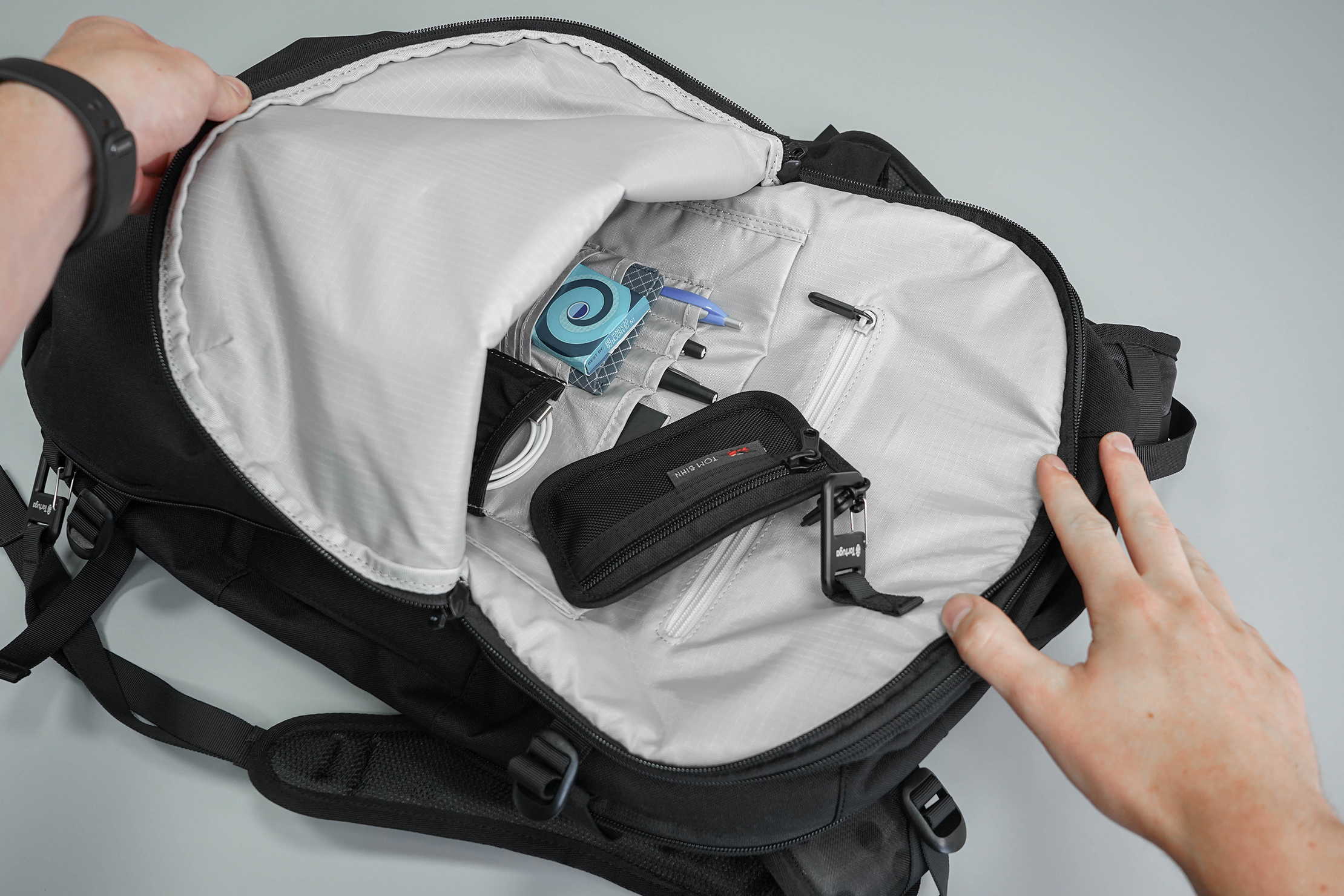 Behind the quick-grab pocket is a large compartment full of organization options. And when we say full, we mean full. There's a small zippered pocket that's as deep as the aforementioned quick-grab pocket, which is perfect for items you'd rather not have disappear into the black hole that is the bottom of a backpack. There's also a sleeve for thin books or notebooks, three pen holders, three card pockets, a passport-sized pocket, and another small, mesh pocket.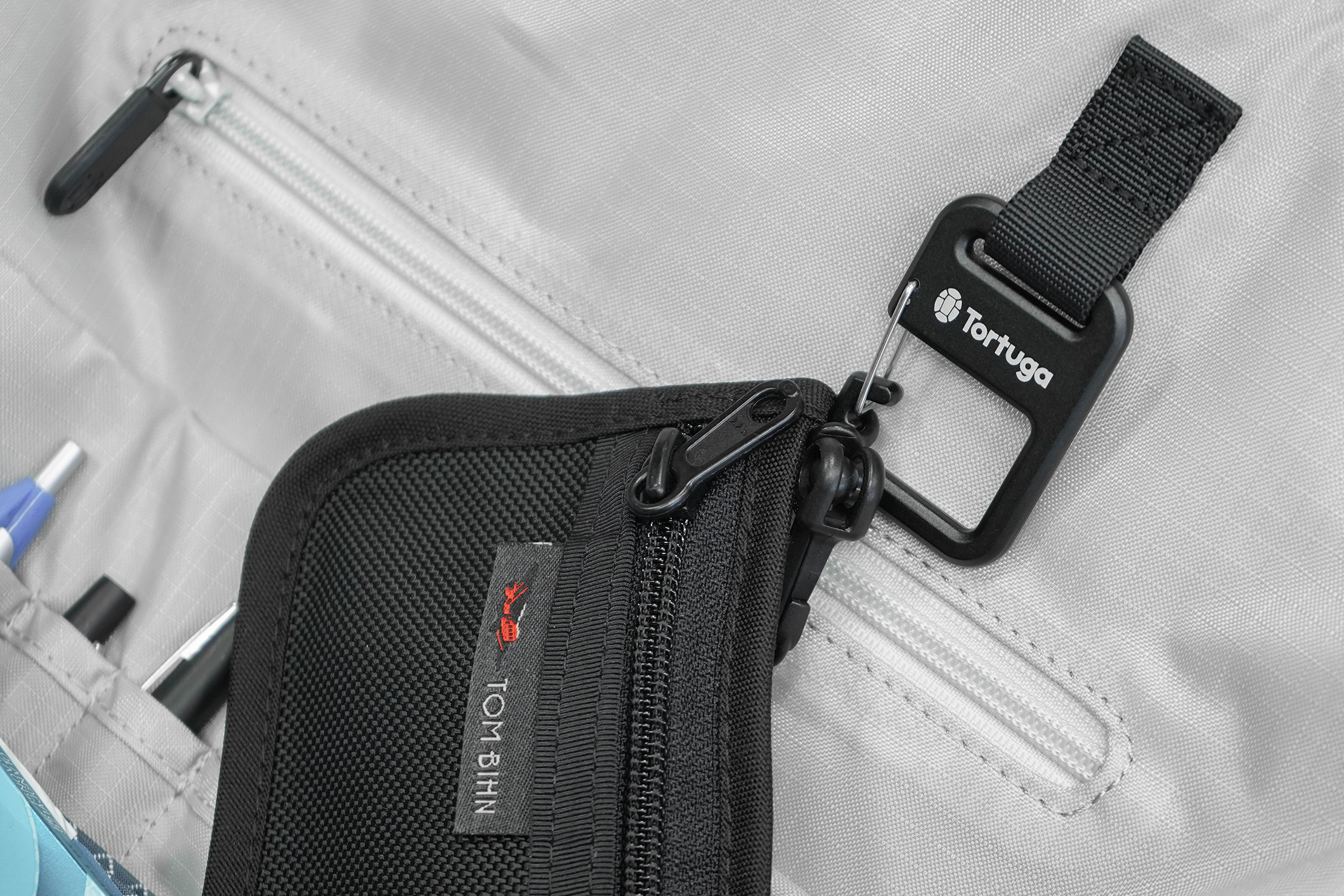 You'll also see a small metal carabiner, where you can hook your keys or other items you'd like to secure. We've used it to clip the Tom Bihn Padded Organizer Pouches to carry fragile items with added peace of mind (for the curious, said fragile items included a ridiculously fancy pen and jewelry).
The compartment itself also has some volume for a book or an item of clothing or two.
While we've been digging the organization in this pocket, our one gripe is that it doesn't zip down that far, so accessing your stuff at the bottom of the compartment can be annoying. This problem is exacerbated whenever the rest of the backpack is full.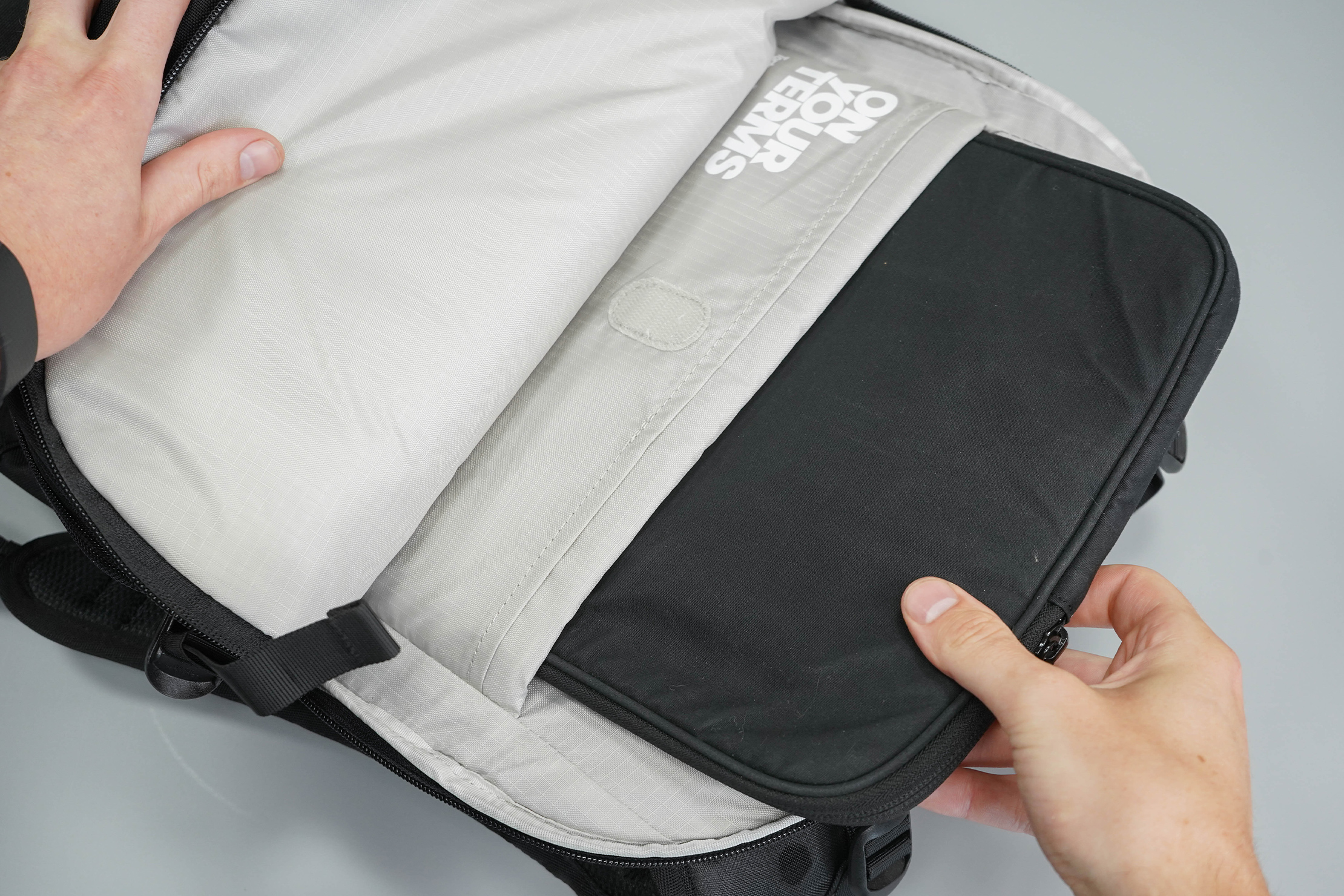 Moving around to the back of the pack, you'll find a zippered compartment that's designed to hold a laptop and tablet. The laptop sleeve, which can fit up to a 17'' laptop, has a small amount of padding. We've felt okay using it without an additional laptop sleeve (sometimes you've got to live on the edge), but it's probably best to protect your livelihood (a.k.a. laptop) with something a bit more substantive.
Beneath the laptop sleeve, there's an additional sleeve for tablets or other flat items. Both sleeves are secured with a simple velcro strap.
You can also fit some additional flat items in this compartment if needed. We've always liked taking work with us on flights since they're the ultimate distraction-free zone—so we've kept some free-floating papers here to be edited in-flight and they've stayed flat, which is a rarity and a huge plus.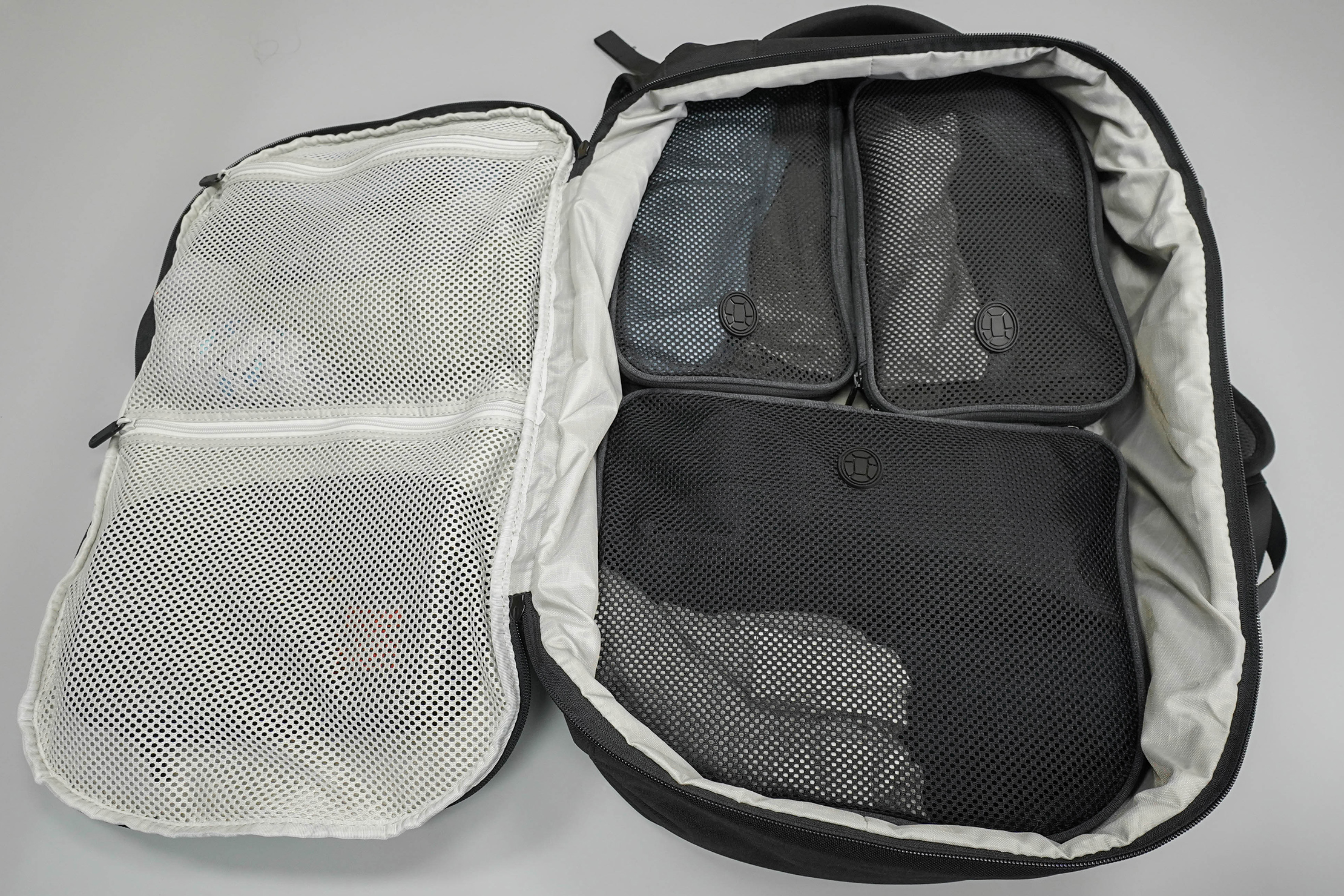 And finally, there's the main compartment which opens all the way around like luggage does, in what's known as a clamshell-style (a fitting name, and a style of access we thoroughly enjoy here at Pack Hacker).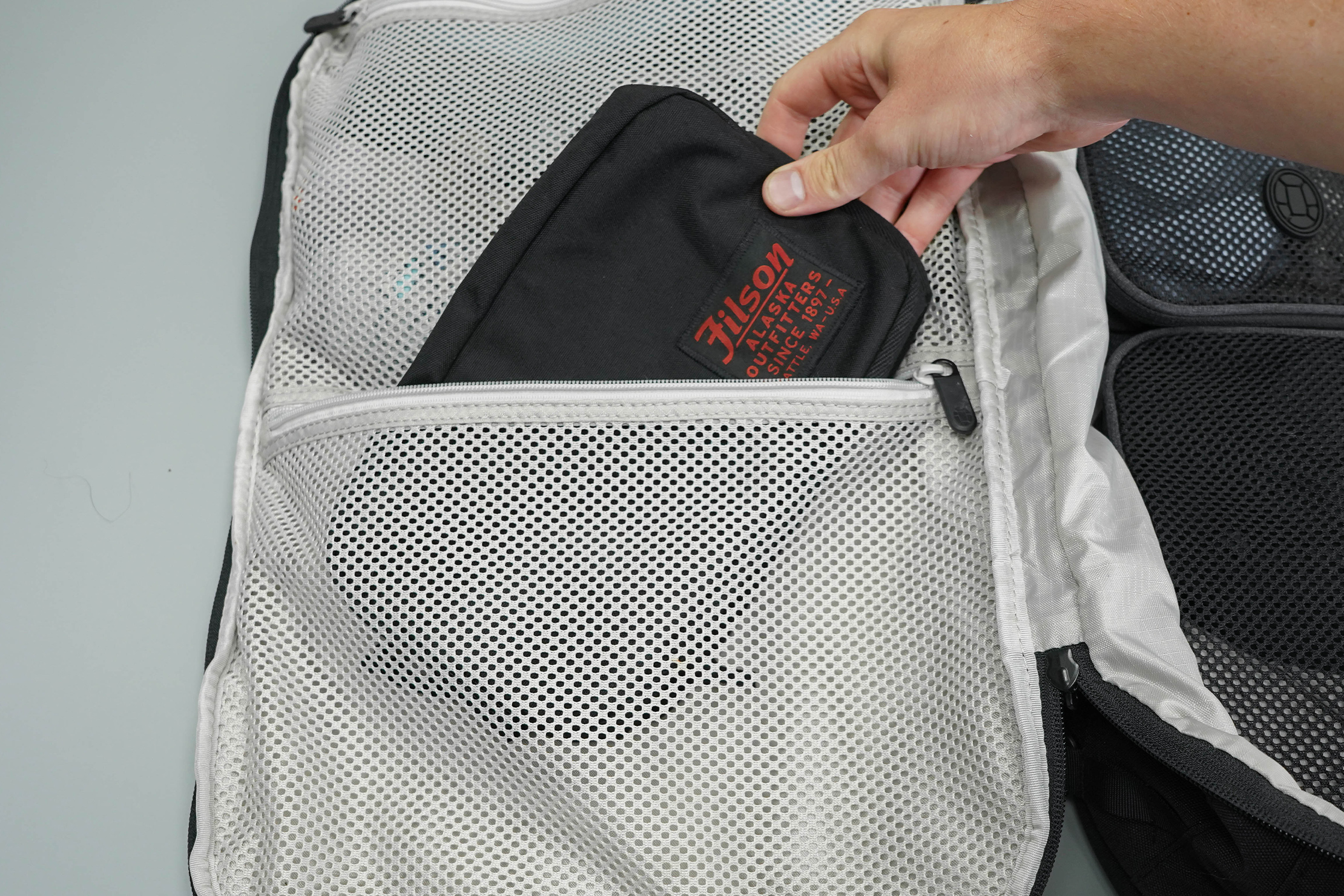 On one side, you'll find two zippered mesh pockets. These pockets are flat and don't have their own volume. But we've been able to shove a toiletry pouch or some tech accessories in them just fine.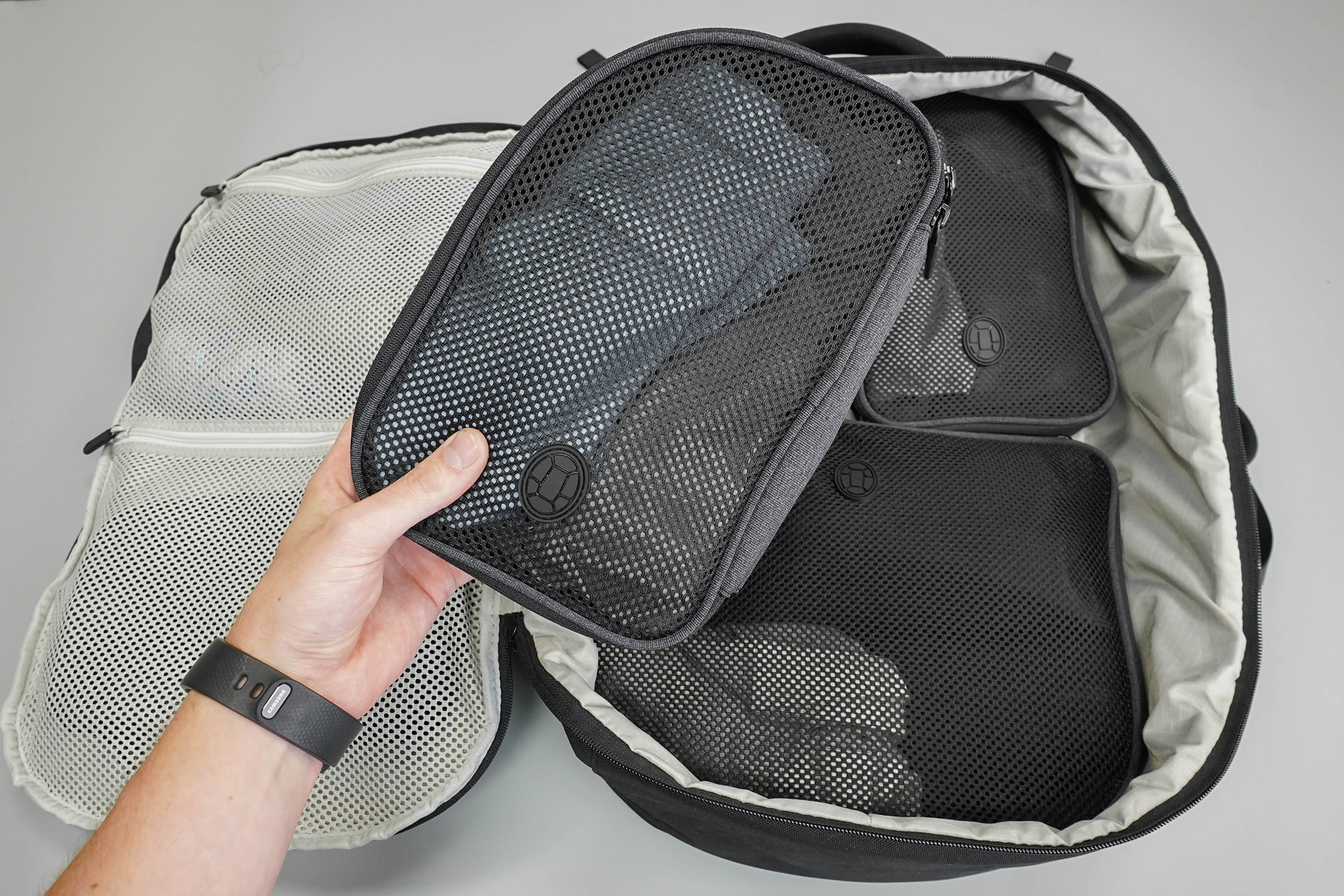 On the other side is a vast, empty bucket that's perfect for clothing. We've been using the Tortuga packing cubes, which are designed to fit inside this space perfectly. We're fans of packing cubes since they help keep everything tidy, but if you prefer chaos then, by all means, skip the cubes.
This space is big enough that we've been able to throw some shoes (including two pairs of heels) or bulky sweaters on top of the packing cubes with no problem.
Durability and Testing
Here at Pack Hacker, we're constantly putting gear to the test. So, it should go without saying that we've run into our fair share of duds over the years.
Luckily, the 35-liter Tortuga Setout has not been one of them. This bag has been a great travel companion for a diverse array of trips—from a weekend bachelorette party in a sleepy, northern Michigan town, to long weekends in Santa Fe, New Mexico and Cleveland, Ohio, to a week in Acadia National Park. We've also been using it as a daily driver at our HQ in Detroit, Michigan.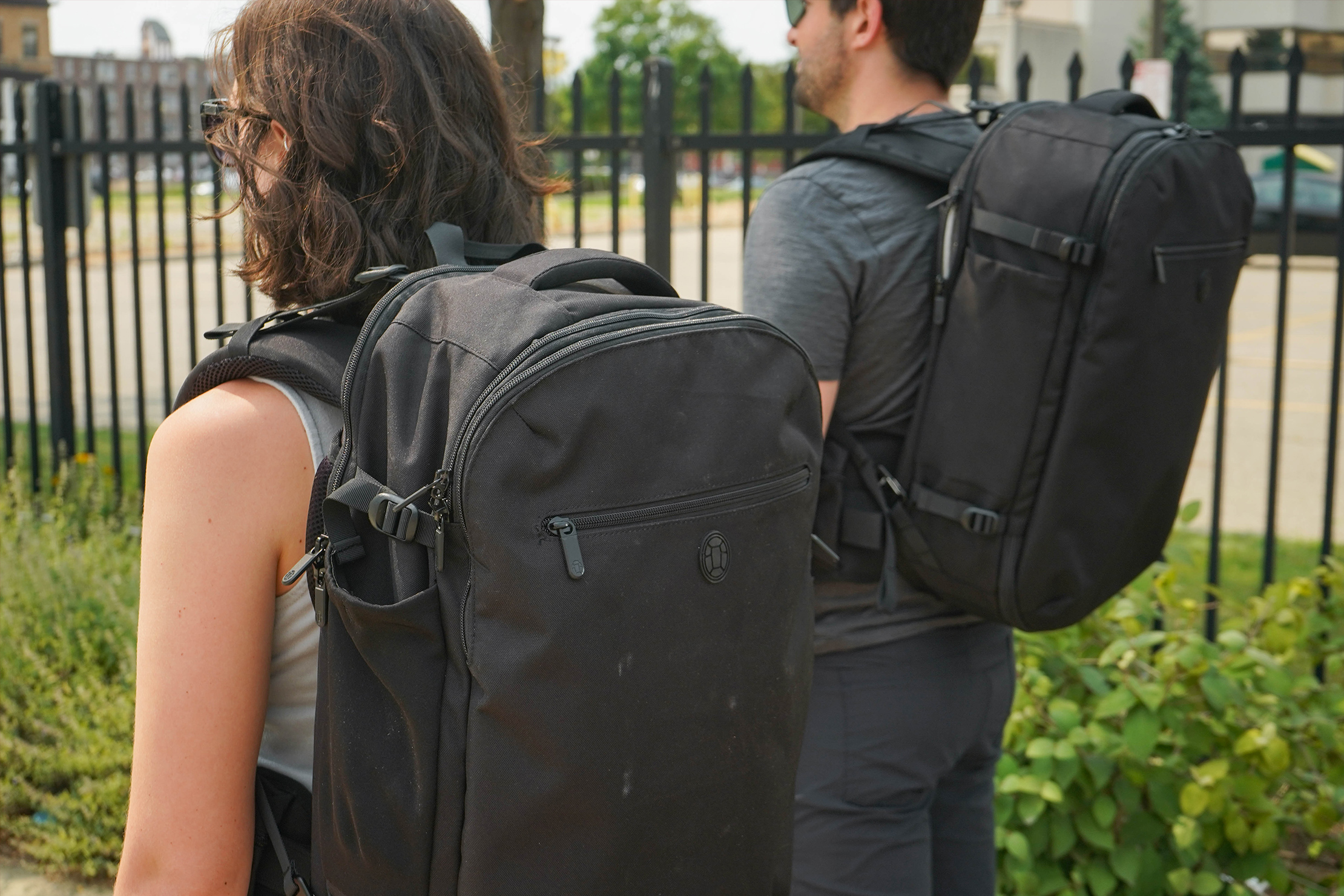 While we think it's a bit large to work as a daily driver—and doesn't compress well enough to work as a daypack either—it's been fabulous for everything else. And we appreciate the real, noticeable differences between the men's and women's versions.
As far as durability is concerned, we have nothing to report. The Setout still looks nearly as nice as it did out of the box, even though it's seen its fair share of dirt at this point. We haven't noticed any loose threads, tears, pilling, or anything else that would have us concerned.
Usage Timeline
Initial Usage
Condition: Excellent
Dig the new colorways released with the 35L version (Black, Heather Grey, Navy).
We're excited to see that the new version has load lifters.
We like the added security of the optional, lockable YKK Zippers.
We like the option to add a hip belt, but the size is still a little overkill.
1 Month of Use
Condition: Excellent
Loving how the shoulder straps fit
2 Months of Use
Condition: Excellent
The backpack is still looking nice—even though it's been hanging out in a super dusty campsite.
Access the Pro Community Discussion
Get your questions about the Tortuga Setout Backpack 35L answered from our team and the Pro Community right here on the page. Plus, join discussions with other members about gear, guides, and more.
Other Bags & Luggage Reviews