Tortuga Outbreaker Travel Backpack 35L Review
Despite the crunchy material and boxy aesthetic, we came to really dig the Tortuga Outbreaker Backpack—which has one of the most comfortable harness systems we've tested.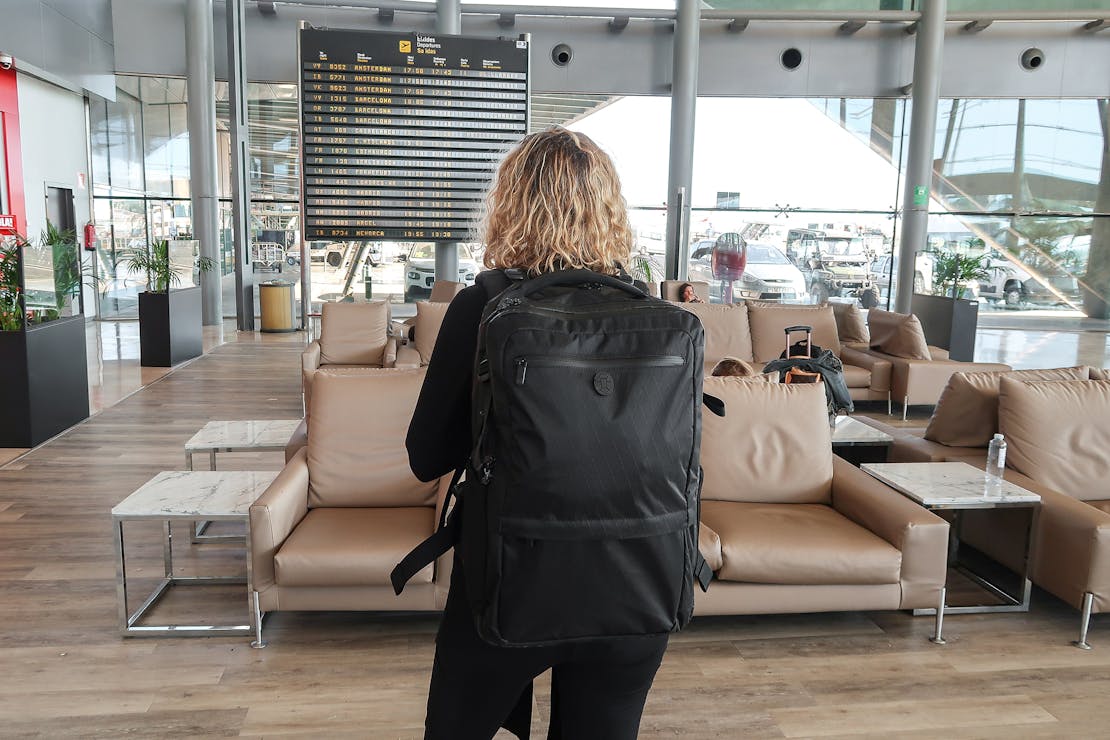 Our Verdict
Unlock the Pro Summary
Save time. Get access to brief summaries of our reviews so you can browse and make decisions more efficiently.
Pros
Comfortable harness system
Lots of internal organization
The quick access pockets and super handy and a great size for your essentials
Cons
Hip belt is too long
The harness system and laptop compartment take up a lot of space and weight
The water bottle pockets are compromised if the pack is at full capacity
Recent Pack Hacker Video
Technical Details
Capacity

35l

Weight (lb)

4.6 lb (2.1 kg)

Denier

210D

Dimensions

20.3 in x 12.9 in x 8.2 in (51.6 x 32.8 x 20.8 cm)

Notable Materials

YKK Zippers, Nylon, Polyester, PET Waterproof Membrane, Duraflex Hardware, Ariaprene® Foam

Manufacturing Country

China

Laptop Compartment Size

17"

Macbook

Warranty Information
Full Review
Get up to 10% off Tortuga • Join Pack Hacker Pro
In this review, we'll be taking a look at the Tortuga Outbreaker Backpack 35L. Known for their range of carry-on backpacks and travel gear, we've been impressed with what Tortuga has to offer—so we were excited to get our hands on the Outbreaker to see if it holds up to the likes of the Setout.
We've been testing this unisex backpack for just over two months in Detroit, Miami, England, and Spain—so this pack has seen its fair share of adventures already. Let's dive into the review and see how this jet-setting pack held up to the testing.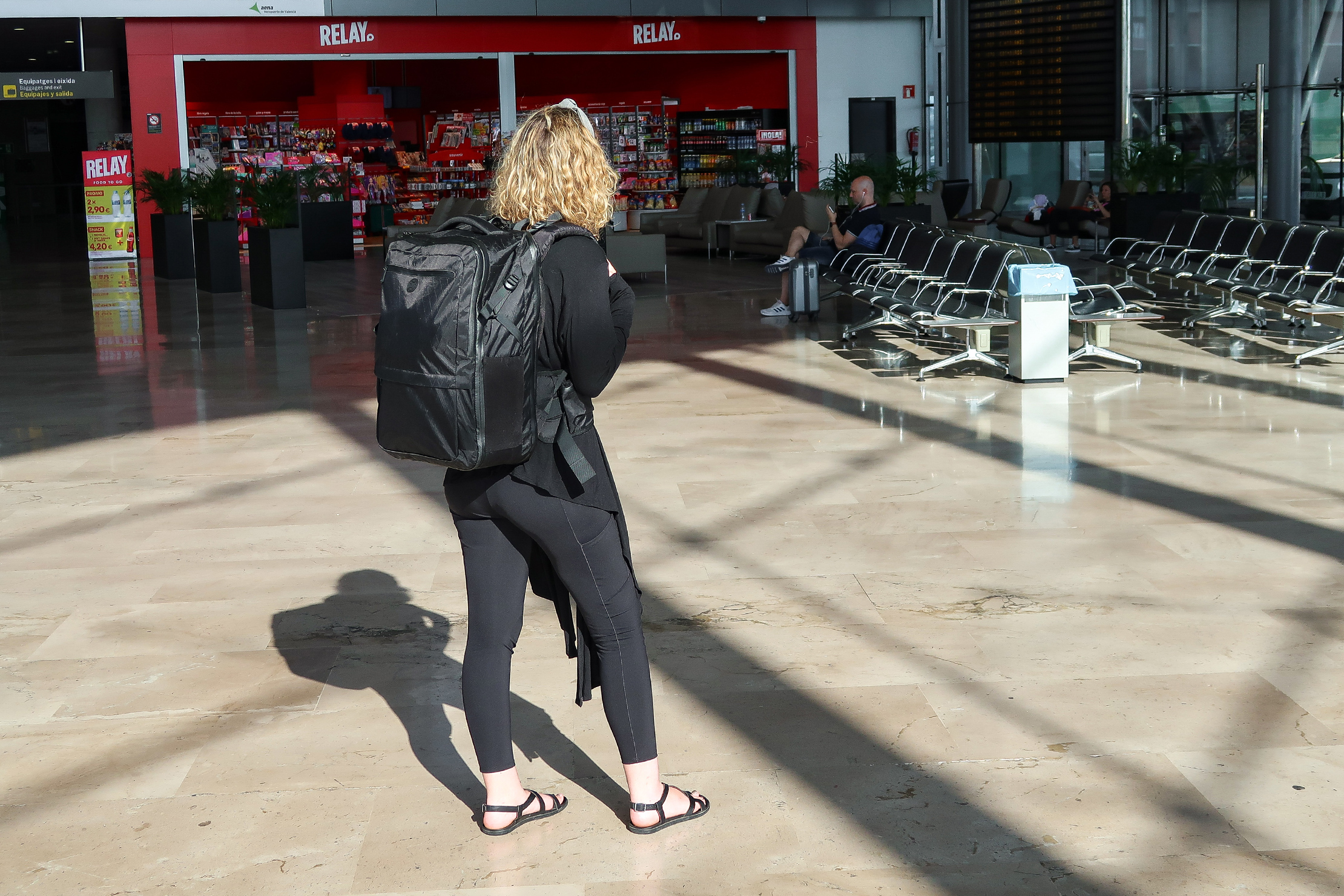 Materials & Aesthetic
On first impressions, we were wary of this pack's boxy shape. However, once we got this pack on, we were pleasantly surprised by how sleek and sharp it looked. The minimal design means that this pack works well for travel adventures and work trips, so we're digging the versatility it has to offer.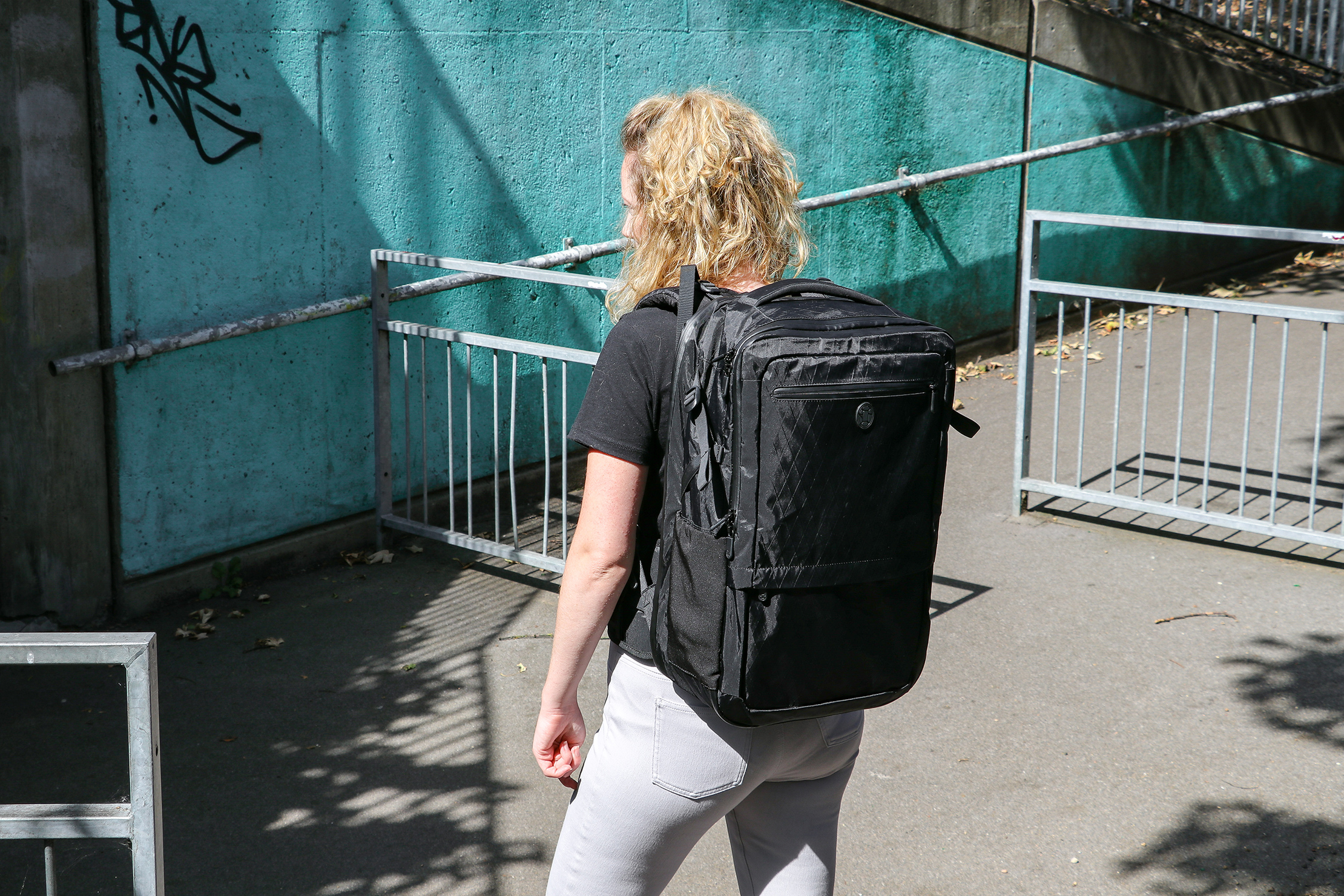 When it comes to branding, it's super discreet. There's a black-on-black logo on the front of the pack, followed by logos on the zipper pulls and hip belt buckle. When you open up the pack, you'll find another Tortuga logo and the words "On Your Terms" and "Tortuga Outbreaker" inside the laptop compartment.
The black material really adds a lot to the sleekness of this pack and the slight gloss of the fabric makes it looks super smart. The Outbreaker Backpack is only available in black, which isn't a deal-breaker for us (as you've probably already guessed). We know that all black-on-black isn't for everyone, so if you prefer a pop of color then check out the Cotopaxi Allpa where you'll have plenty of colorway options.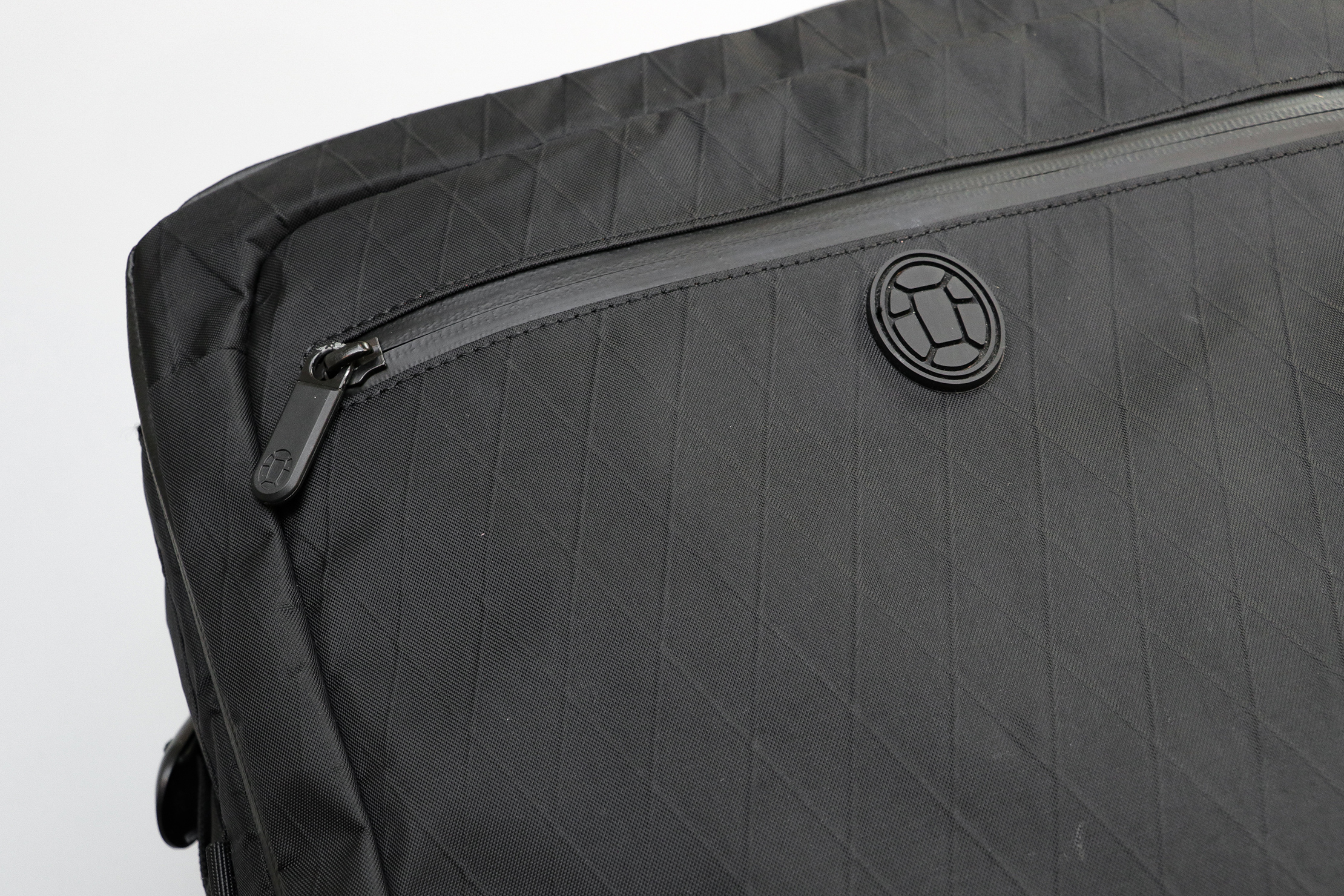 Now, let's talk about the materials. The Outbreaker Backpack is made from VX21 waterproof sailcloth, which is a combination of 210D Nylon with DWR and UV resistant coating, polyester, and PET film (phew, that was a mouthful). Basically, all that means is, these materials come together to create a highly water-resistant and durable pack that's built to last.
The materials also give the pack some structure. This means it will keep its shape whether it's at full capacity or almost empty, which we really like. Plus another point (which we're super excited about) this pack stands on its own. Yes, you heard that right!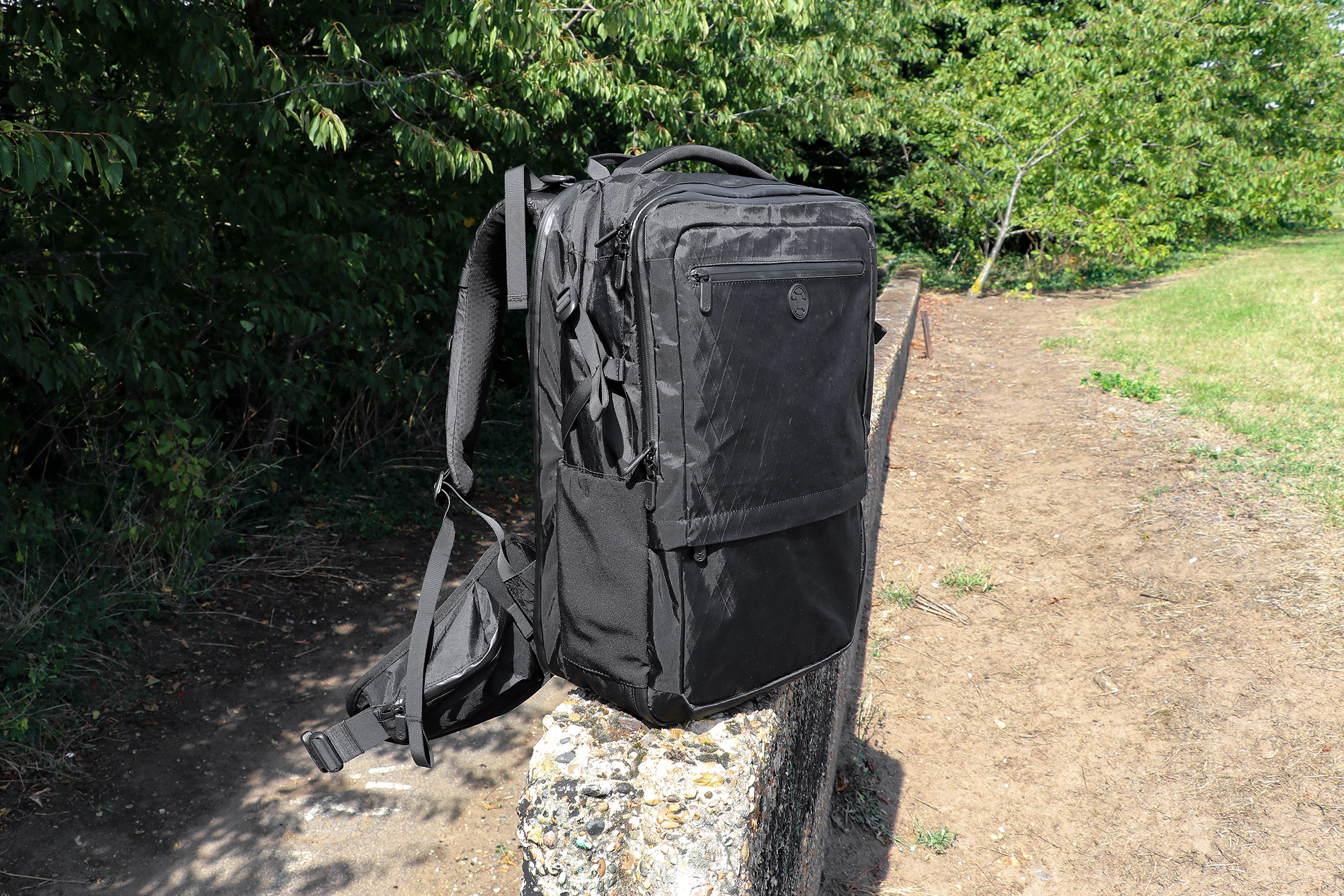 Initially, the crunchy and slightly shiny material was a little off-putting, but when in use we didn't hear the pack "crunch" once—it turns out silence really is golden! The Ripstop diamond-like pattern on this pack (you can see it when close up) will add more to the durability and strength than aesthetic, but we still think it looks pretty nifty.
The interior of the pack is made from Ripstop nylon—which does exactly what the name suggests. Although it's not indestructible the Ripstop should prevent any possible tears from getting bigger.
Ariaprene foam—which is comfortable, breathable, hypoallergenic, and non-abrasive—is used for the padding in the shoulder straps. Plus, it's covered in mesh—which adds some much needed ventilation to keep you cool. But more on the harness system in a minute (we promise!).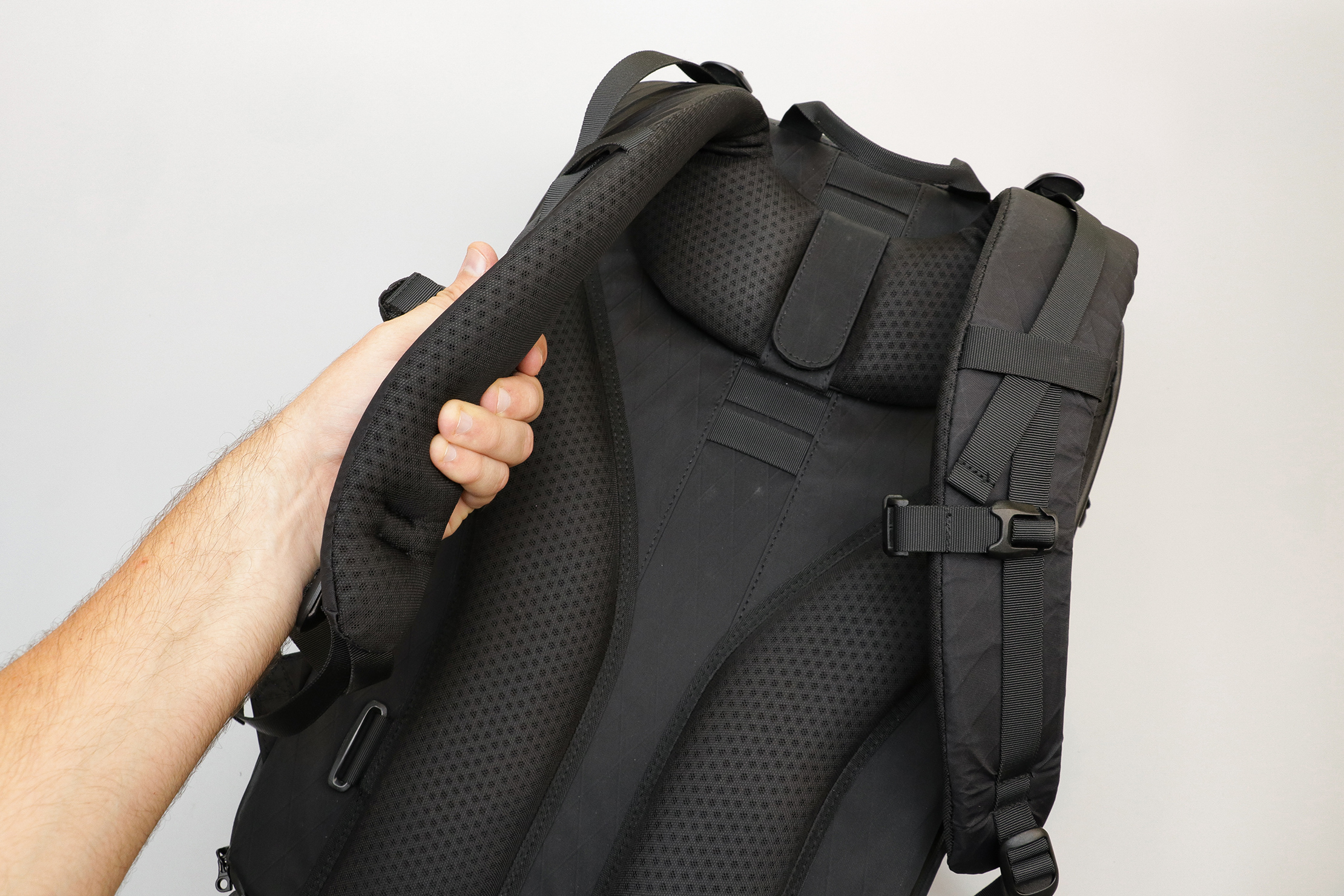 Now let's talk about the zippers—these were a dream to use (does anyone else dream about zippers or is that just us?). The YKK AquaGuard zippers offer durability and water resistance which will keep your items safe and dry—whether you're enjoying the frequent showers of British Summertime or the rainy season in Asia. The front, main, and laptop compartment all have lockable zippers too, giving you that peace of mind and added security should you need it.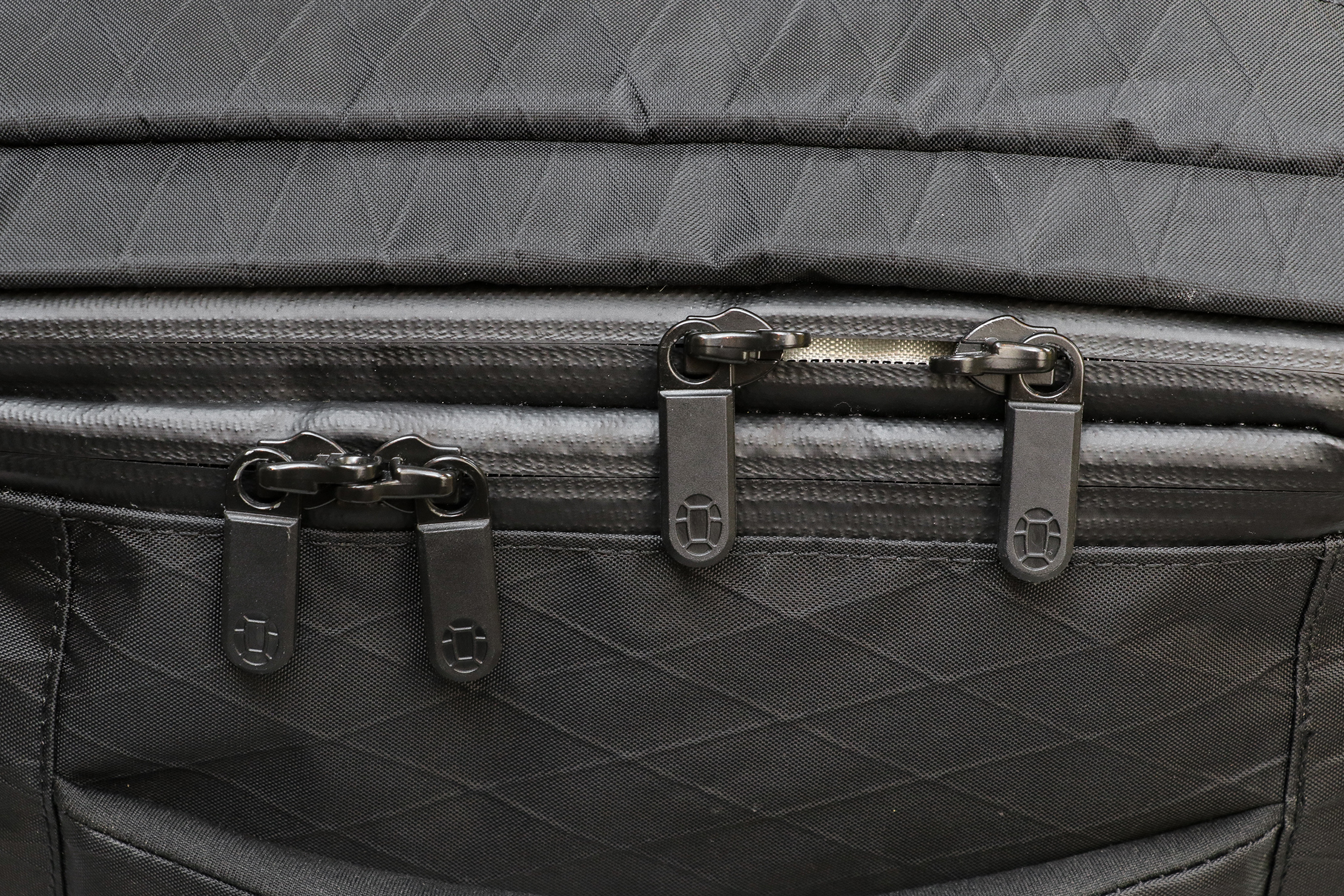 The chunky buckle on the hip belt and hardware around the pack is Duraflex, which is a brand known for its durability. The buckle is easy to use and secure—plus the width and smoothness make it comfortable to wear across your waist for long periods of time.
External Components
Now, let's start with the harness system—this is a backpack after all! The harness system is one of the most comfortable we've tested to date and we've been impressed with how adjustable it is.
The first thing to note is the back panel—it was designed with comfort in mind. Now there's a lot of padding going on here, (some may find it too much) but we found the padding to be in all the right places. Also, this extra padding gives you a lot more ventilation and breathability, which is ideal for those long travel days—nobody likes a sweaty back. Beneath the foam is a solid panel that helps support the weight of the pack comfortably.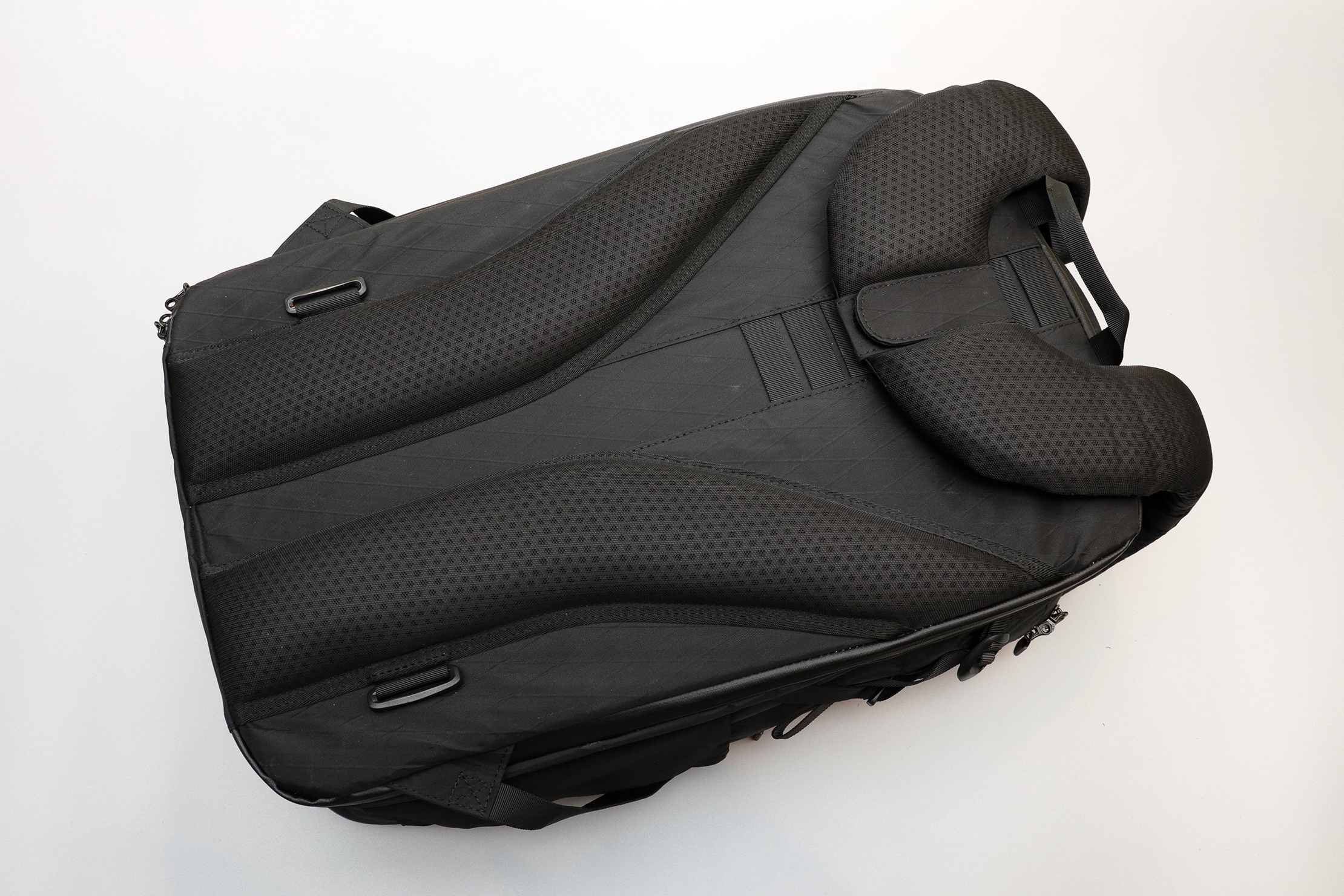 The adjustable shoulder straps are just as comfortable. The Ariaprene foam makes them super padded and yes, you guessed it, comfortable. We are impressed with how much pressure and weight is taken off your shoulders. Plus, the fact that the material is non-abrasive stops any friction even if you're sweaty—making this pack just as comfortable to wear with a tank top as it is a sweater. The shoulder straps are completely adjustable so you can wear this pack higher or lower on your back. On top of the shoulder straps are load lifters, so you can completely adjust the carry to work for you.
We know that there's no best travel backpack for everyone—every body is different—so the more we can adjust, the better.
On the shoulder straps, there's an adjustable (if only we had a dollar for every time we say adjustable in this review) sternum strap. This can be moved up and down to find a comfortable position across your chest. Part of the sternum strap is elasticated, which gives some wriggle room as it flexes when you walk and takes off some of the pressure. There's also some strap management on this harness system, so you can wrangle any loose ends or hide away the sternum strap when not in use—#danglefreeexperience here we come!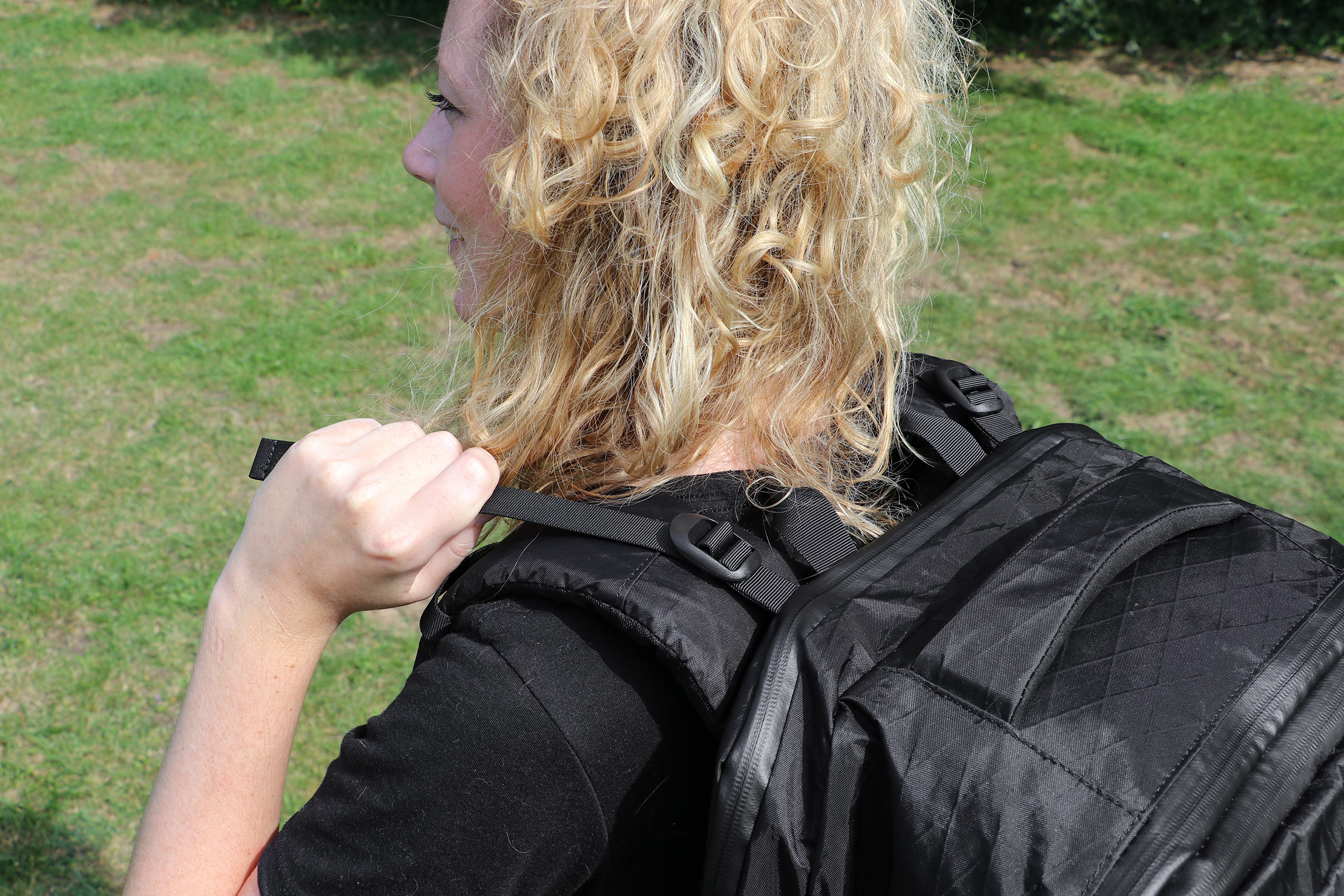 The hip belt on this pack does a great job of distributing the weight across your body—and the wide strap and buckle add to the comfort. There are adjustments points where the hip belt attaches to the pack, and by the buckle, to secure this to your body easily. The hip belt is chunky, but the foam is slightly thinner making it more flexible so that it can wrap around your body. Although the hip belt is pretty big, it's also completely removable. So if it's not needed or it gets in the way, you have the option to leave it off.
On the hip belt are two quick-grab pockets. These are easier to use when you're wearing the hip belt and are handy for any small or frequently used items. Although we didn't need to use these pockets that often, they are handy if you're on the go and you don't want to take your pack off. We found that these pockets are big enough to hold a standard sized smartphone (we tested this with the Samsung S8) and they're useful for cash, coins, cards, and receipts.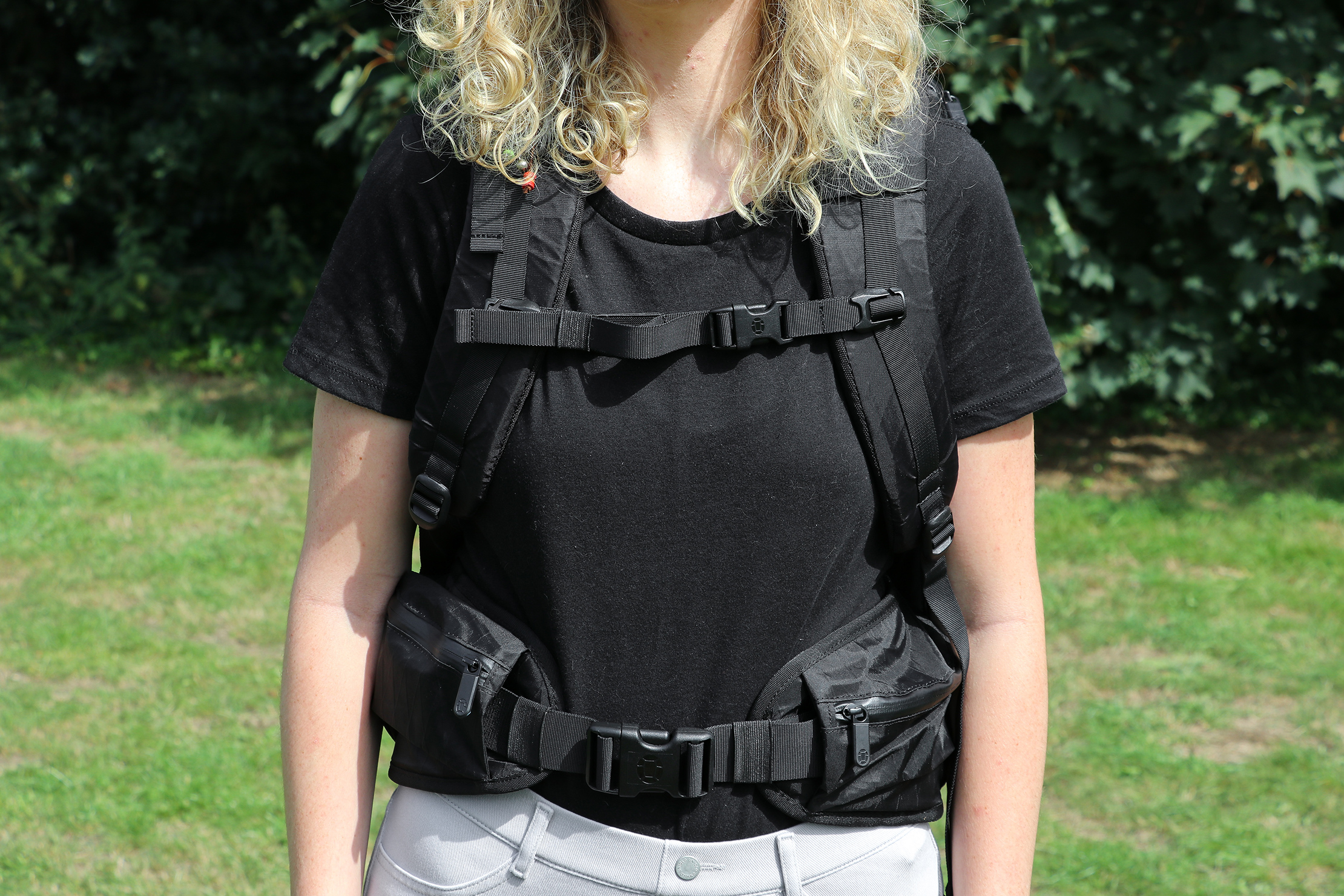 We must note that the straps on the hip belt are longer than we would expect, so you're left with a lot of leftover straps. We found that they could be tucked behind the pockets on the waist pack to keep them out of the way.
On either side of this pack, you'll find a water bottle pocket. These have a handy tab inside to that helps you get a water bottle in easily. We were able to fit in the Hydro Flask 18 oz Wide Mouth Bottle, however, it's important to note that if the main compartment is packed to full capacity, it will compromise the space inside these pockets.
Moving onto the front of the pack there are two quick-grab pockets. These are a great size and came in super handy for storing the items that you need to access quickly. The bottom pocket has a lip over the zipper which gives it more protection but does make it more difficult to access if the pack is at full capacity. We used this to keep our toiletries in the Ziploc bag for TSA. The top zipper was used for our earphones, smartphone, and ROAV Sunglasses.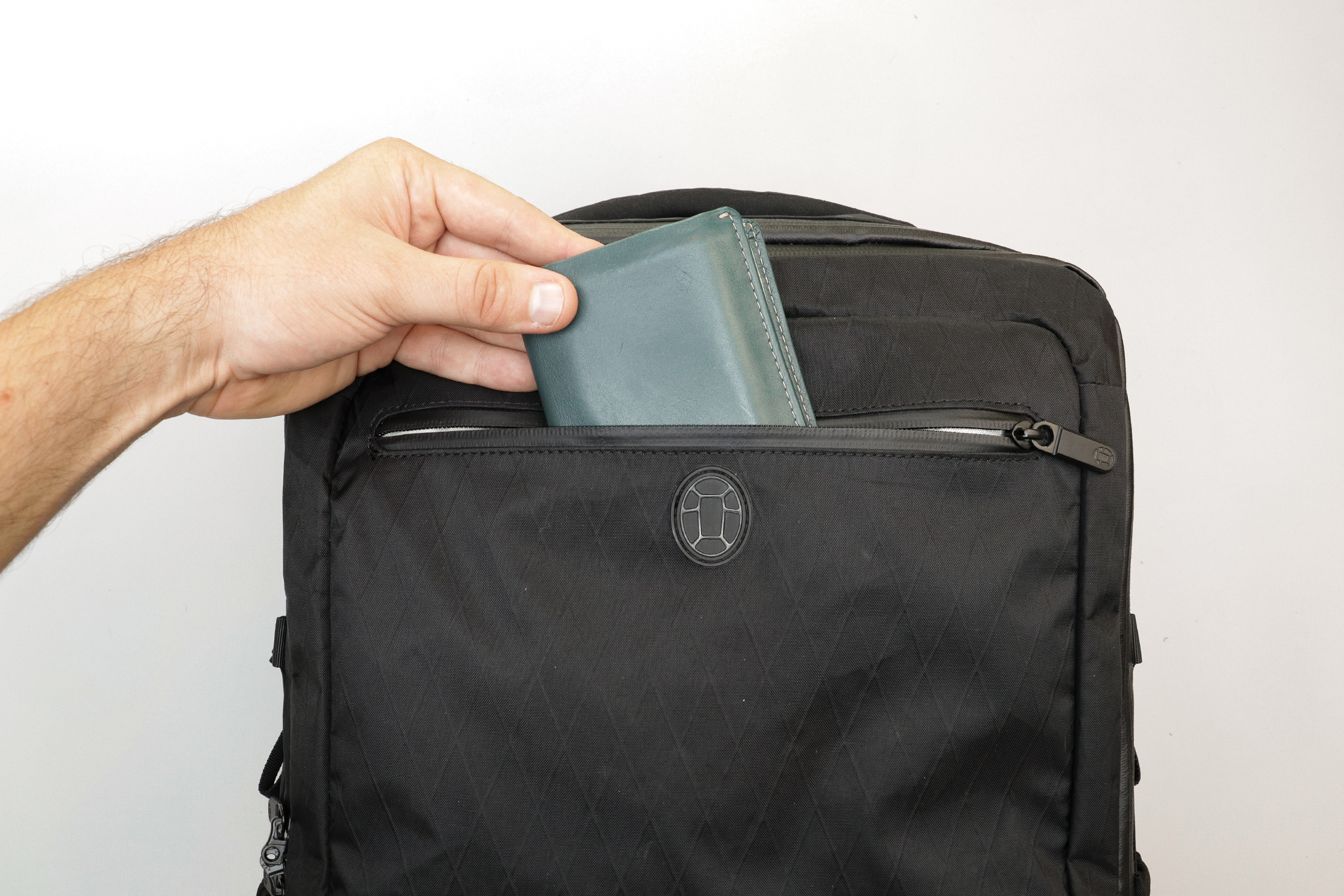 At the top of the pack is a quick-grab handle. The foam in the handle takes the weight when you're carrying it, plus it comes in handy for grabbing your pack out of those overhead compartments on the plane.
Towards the top of the pack, there are two compression straps on either side. These work well to slightly compress the pack if you're carrying fewer items. While these aren't going to make a huge difference (it won't feel like you're carrying a daypack) it's nice to have some versatility.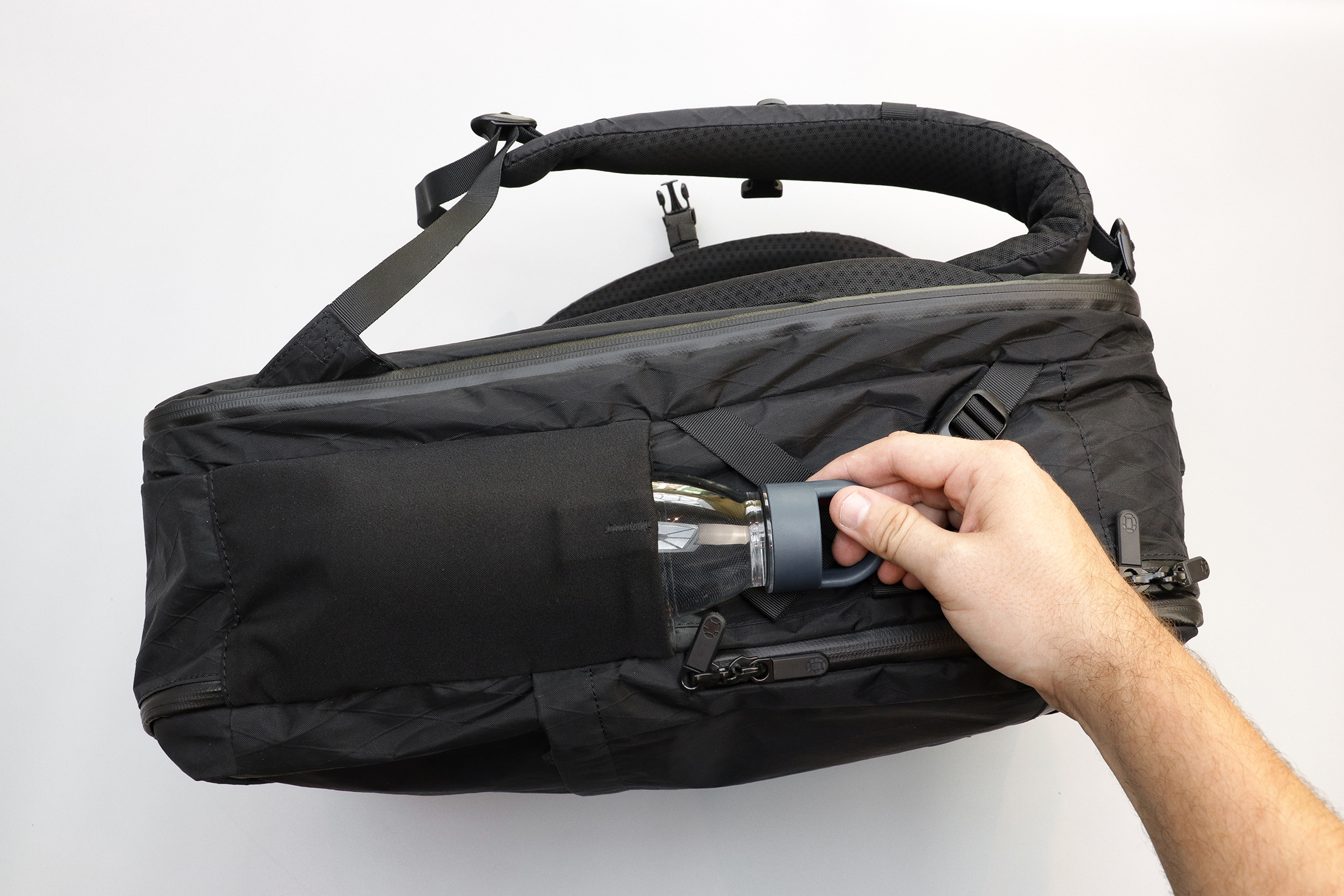 Inside The Pack
The folks at Tortuga describe this pack as having "obsessive organization" which we are happy to get on board with. If that's not your style, no need to write this pack off. When the pockets and compartments aren't in use, they won't get in the way. That's the best of both worlds right?
The main compartment opens with a clamshell design, which makes packing super easy and pretty similar to packing a suitcase. So if you're planning on updating your roller case for a backpack, this bag may be the place to start. To make the most out of this compartment, we recommend using packing cubes to save space and keep your items organized.
Now onto that organization! In the main compartment, there are two slim pockets down either side of the pack. These are handy for smaller items like sunglasses or even your socks and underwear.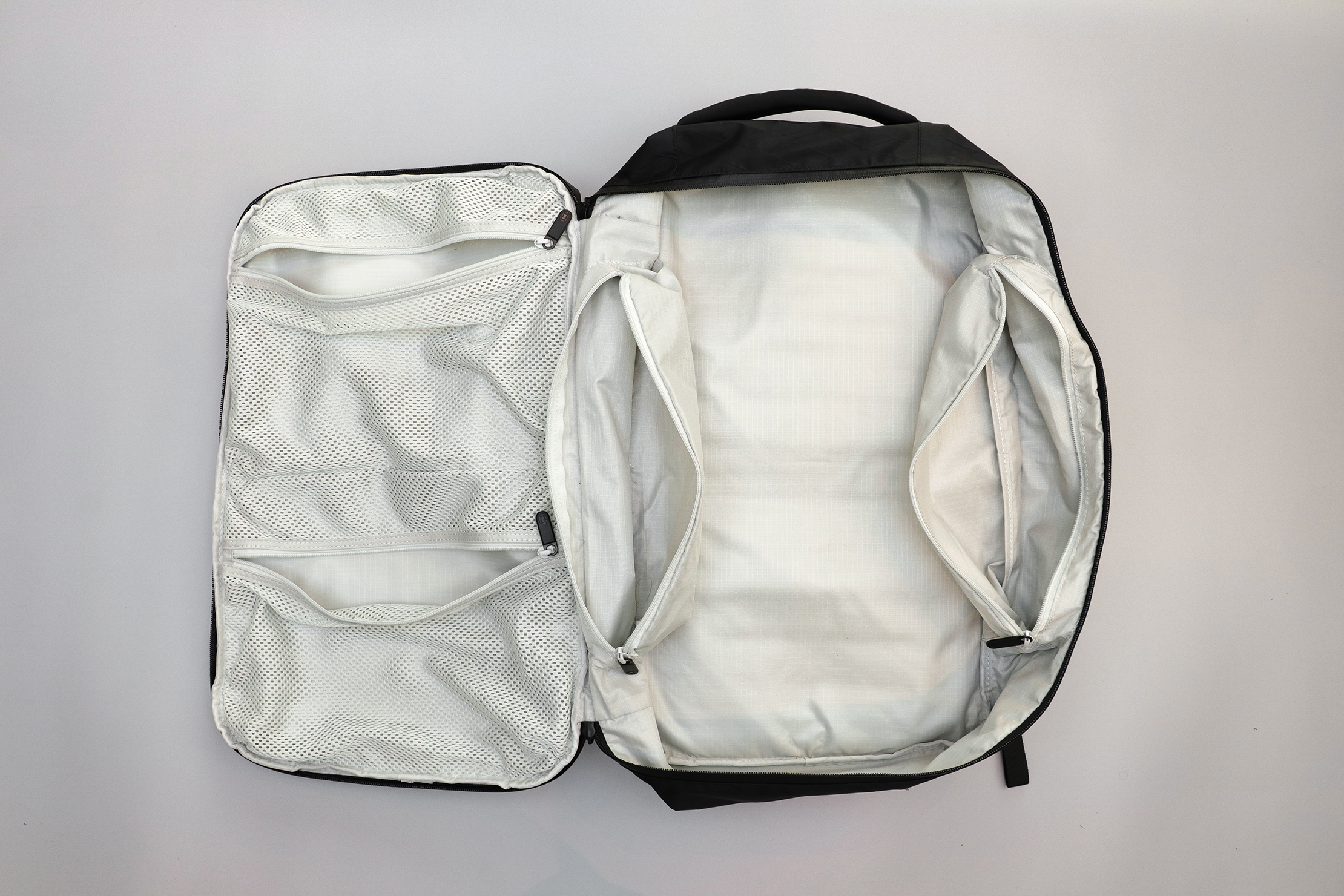 On the other side of the main compartment (the lid), there are two mesh pockets that stretch across the width of the bag. These work well for flatter items. We used the Fjallraven Gear Pockets in these, which kept together all of our smaller items. While these pockets can hold a lot more, it's important to note that if you fill them to capacity, they will start eating up space in the main bucket of this compartment.
Moving onto the front compartment—this seems small, but there's a lot going on. We like how this compartment opens completely with its clamshell design. This makes accessing everything inside super easy and improves your visibility too. Due to the lockable zippers, we recommend using this pocket for items you want quick access to that are more valuable—this is an ideal place for your passport, cards, keys, and wallet.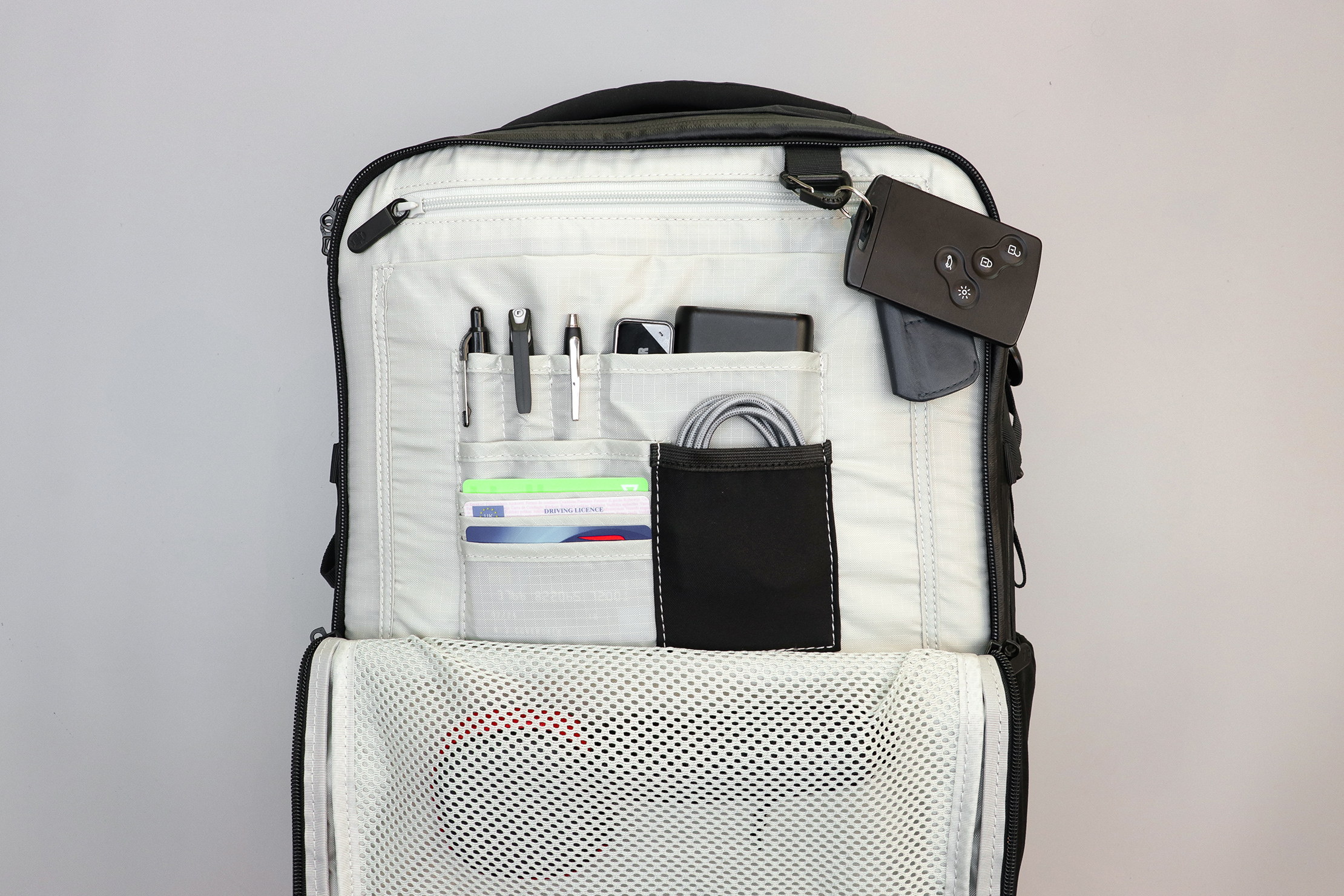 Now, like we said, there's a lot going on in here, so we'll run you through the features. Starting at the top there's a large zippered pocket (about the size of half the pack) and above this is a key clip. Underneath the zipper is a lined tablet sleeve that should fit most tablets of any size. On the front of this pocket, there are three pen holders and a slide-in pocket which will hold a small notepad. Then under this, there are three card pockets, another slide-in pocket, and a slightly elasticated pocket. Then (don't worry we're almost finished) on the other side of this pocket, there's a mesh zippered pocket.
On the back of the pack is the laptop compartment. Keeping in with the other compartments in this pack, we're met with another clamshell design. But, we can't complain! Due to the internal organization here, this opening makes accessing all the pockets inside easier. The laptop compartment holds up to a 17" laptop (without the case) and is protected by the padded back panel. In front of this is a smaller sized compartment for tablets up to 9.7". Both of these compartments are padded and lined with a super soft fabric. While we found that these pockets are secure, there's also a Velcro strap across the top for extra security.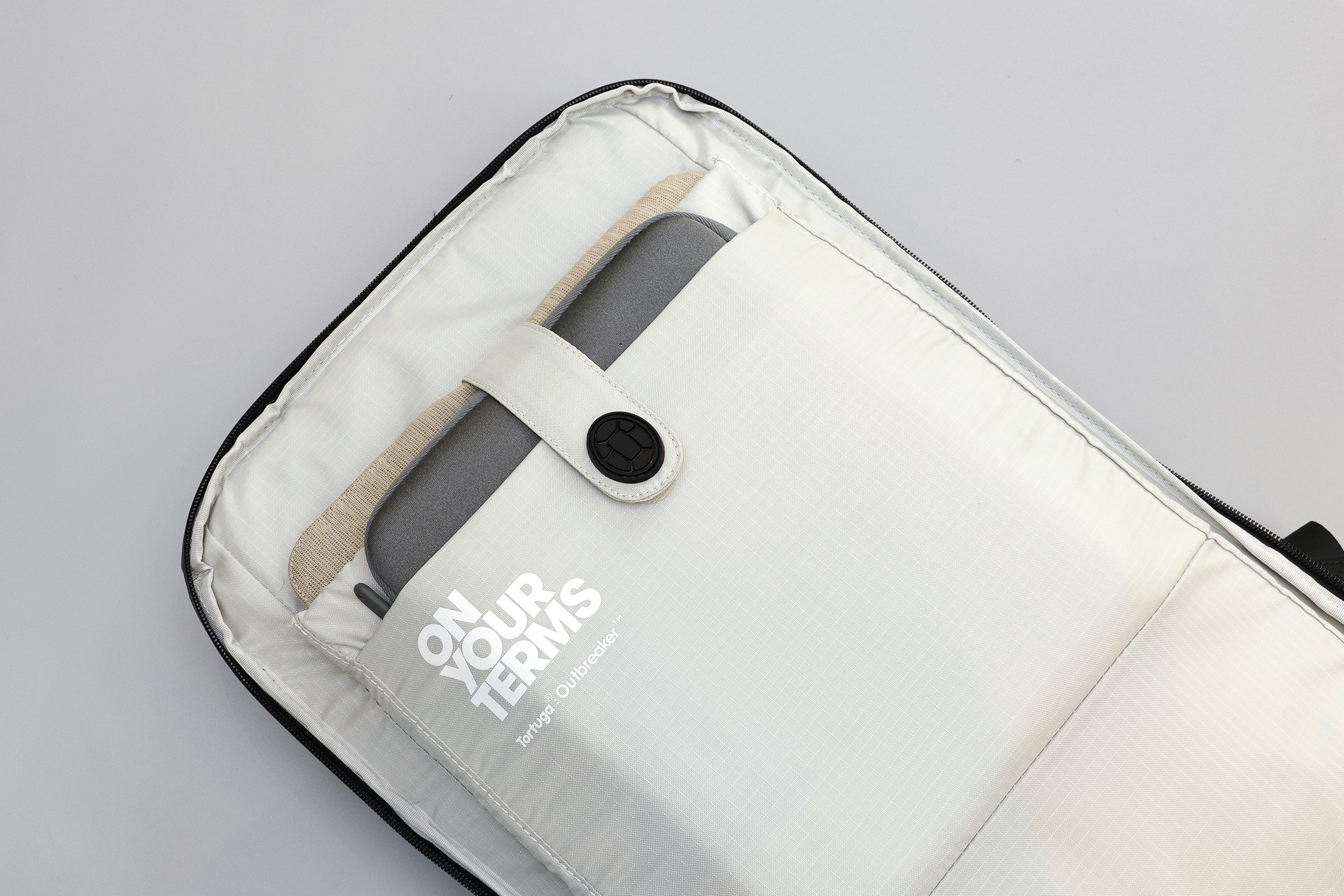 Over on the other side of this pocket, there are three similar-sized mesh zippered pockets. These pockets are ideal for storing your charger and electrical items so that you can keep everything together. The mesh also helps with visibility too.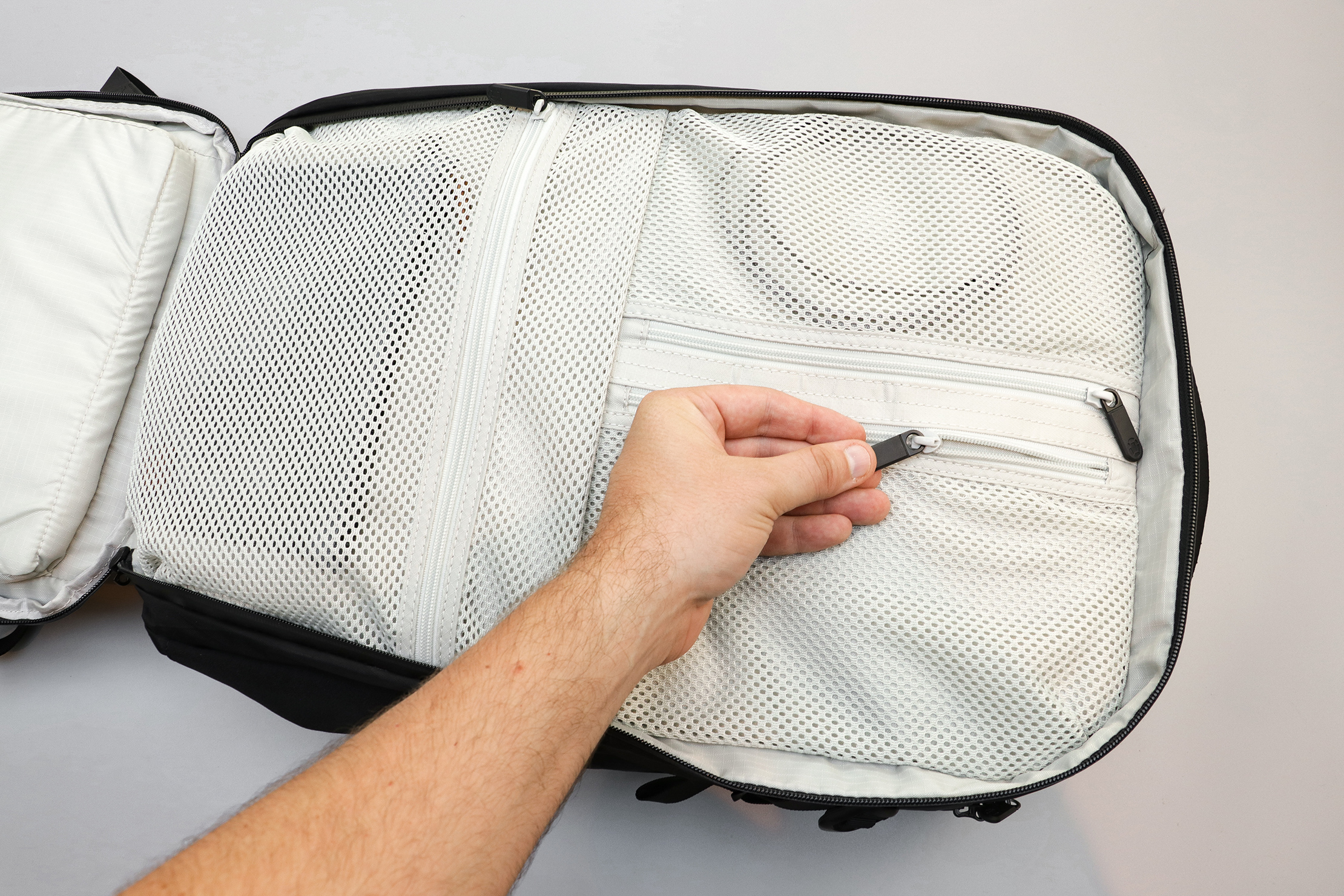 Durability & Testing
At the time of this review, we've been testing the Tortuga Outbreaker Backpack for just over two months in Detroit, Miami, England, and Spain. So far this pack has held up well with no wear or tear to report—we expect it hold up just as well in the future too.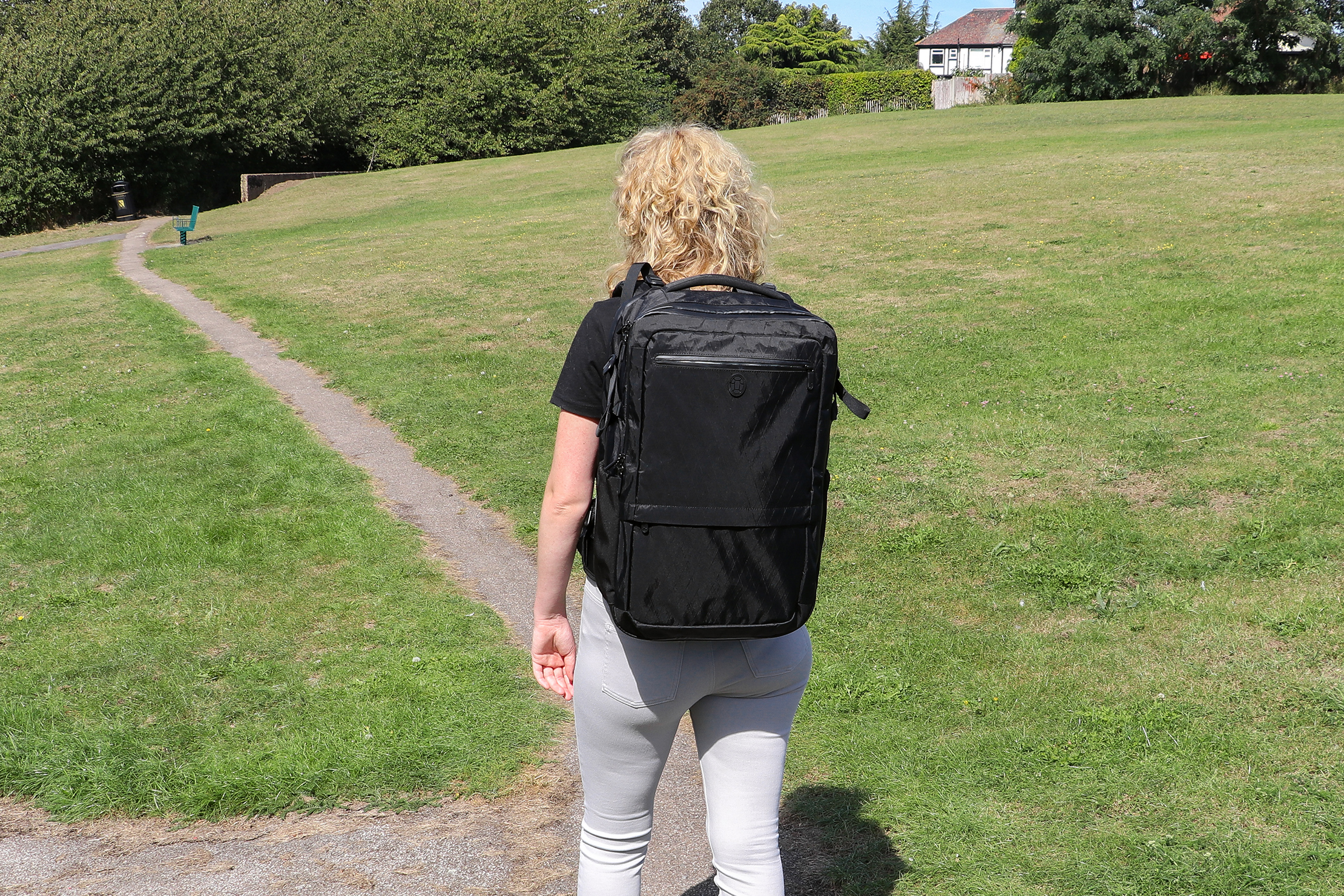 This pack is available in 35L and 45L. From our testing, we've found that the 35L version works better on a smaller frame, but if you prefer to pack more, you like a little extra room to pick up items when you travel, or if you're not worried about carry-on allowances, then the 45L version may work better for you.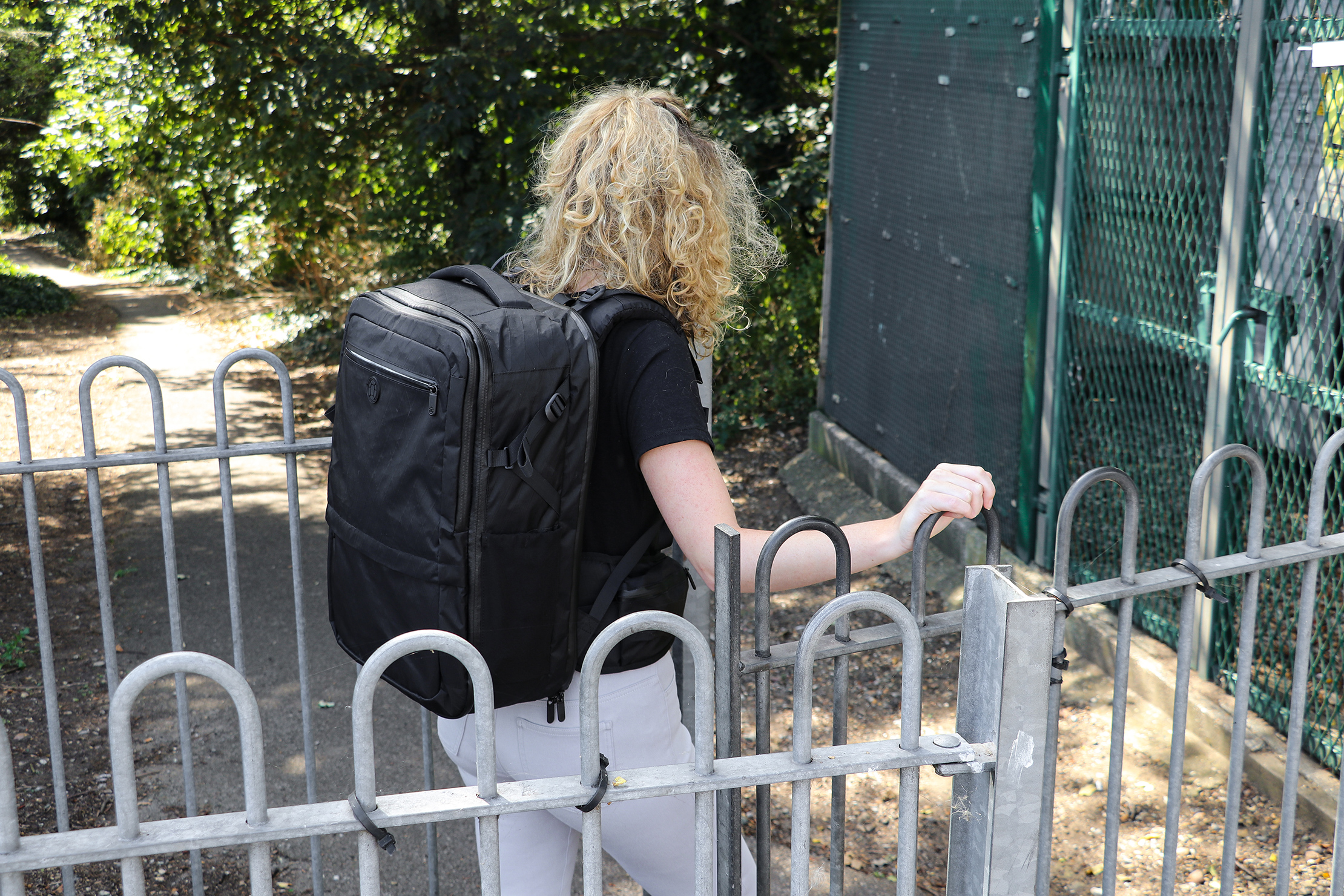 Deciding between these two sizes does come down to you and your travel style, and we were impressed with the information Tortuga has on their website showing you how much you can pack in each, plus some extra specifics to help you decide.
Even though there's a lot of internal organization going on, it's not overwhelming like the organization in the Eagle Creek Wayfinder. So, if that's an issue for you, don't panic, it's easy to get your head around.
Usage Timeline
Initial Usage
Condition: Excellent
There is a lot of internal organization and some great sized quick access pockets
The clamshell style main compartment will make packing easier
Lots of padding on the shoulder straps and back panel
The lining in the laptop compartment and tablet sleeve is super soft
The hip belt is way too big
The separate laptop compartment makes accessing your laptop easy
2 Weeks of Use
Condition: Excellent
Slightly crunchy materials, but we're digging the overall look
1 Month of Use
Condition: Excellent
The harness system is super comfortable and fully adjustable
2 Months of Use
Condition: Excellent
This pack is working well as a one bag travel pack and the quick access pockets come in handy
Access the Pro Community Discussion
Get your questions about the Tortuga Outbreaker Travel Backpack 35L answered from our team and the Pro Community right here on the page. Plus, join discussions with other members about gear, guides, and more.
Other Bags & Luggage Reviews