Mystery Ranch In and Out Packable Daypack Review
Heavier than you expect from a packable daypack, the Mystery Ranch In and Out carries like a regular backpack and is one of the most durable daypacks we've tested.
Our Verdict
Unlock the Pro Summary
Save time. Get access to brief summaries of our reviews so you can browse and make decisions more efficiently.
Pros
Made with strong and durable materials.
High quality harness system.
Smart organizational layout, especially the quick grab pocket at the top.
Cons
Larger and heavier than other packable daypacks.
Zipper pulls are clunky and can get caught on compression straps.
Water bottle compartments are stiff and small.
Recent Pack Hacker Video
Technical Details
Capacity

19l

Weight (oz)

13.45 oz (381.3 g)

Mystery Ranch says this weighs 1lb (16oz), but we found it actually weighs 13.45oz.

Dimensions

20 in x 13 in x 9 in (50.8 x 33 x 22.9 cm)

8.5 x 4.5 x 4 inches when packed.

Notable Materials

CORDURA® Ripstop Nylon, YKK Zippers, Duraflex Hardware

Manufacturing Country

Vietnam

Laptop Compartment Size

13"

Warranty Information
Full Review
Mystery Ranch is known for making some of the most durable packs on the market, so when we saw their packable daypack we just had to try it out. We also had a sneaking suspicion that they might have a few tricks up their sleeve with this pack… Well, let's just say we weren't wrong…
This pack is built for durability and is designed to be carried on short trips around the city or on the hiking trail—perfect for those times when you want to leave your main pack at the hostel or hotel and travel light. We took it on a two month trip around Barcelona and Detroit to put it to the test—so let's jump in and see how it performed.
Materials & Aesthetic
Mystery Ranch has designed this pack primarily as a summit pack (a small pack that you use on the last portion of your ascent, leaving your tent and heavier gear down below while you finish the climb). So at first glance you'll definitely notice the outdoor aesthetic it has going on. We're not huge fans of this at Pack Hacker, but overall we do like the look of this pack—especially when compared to some of the other packable daypacks out there.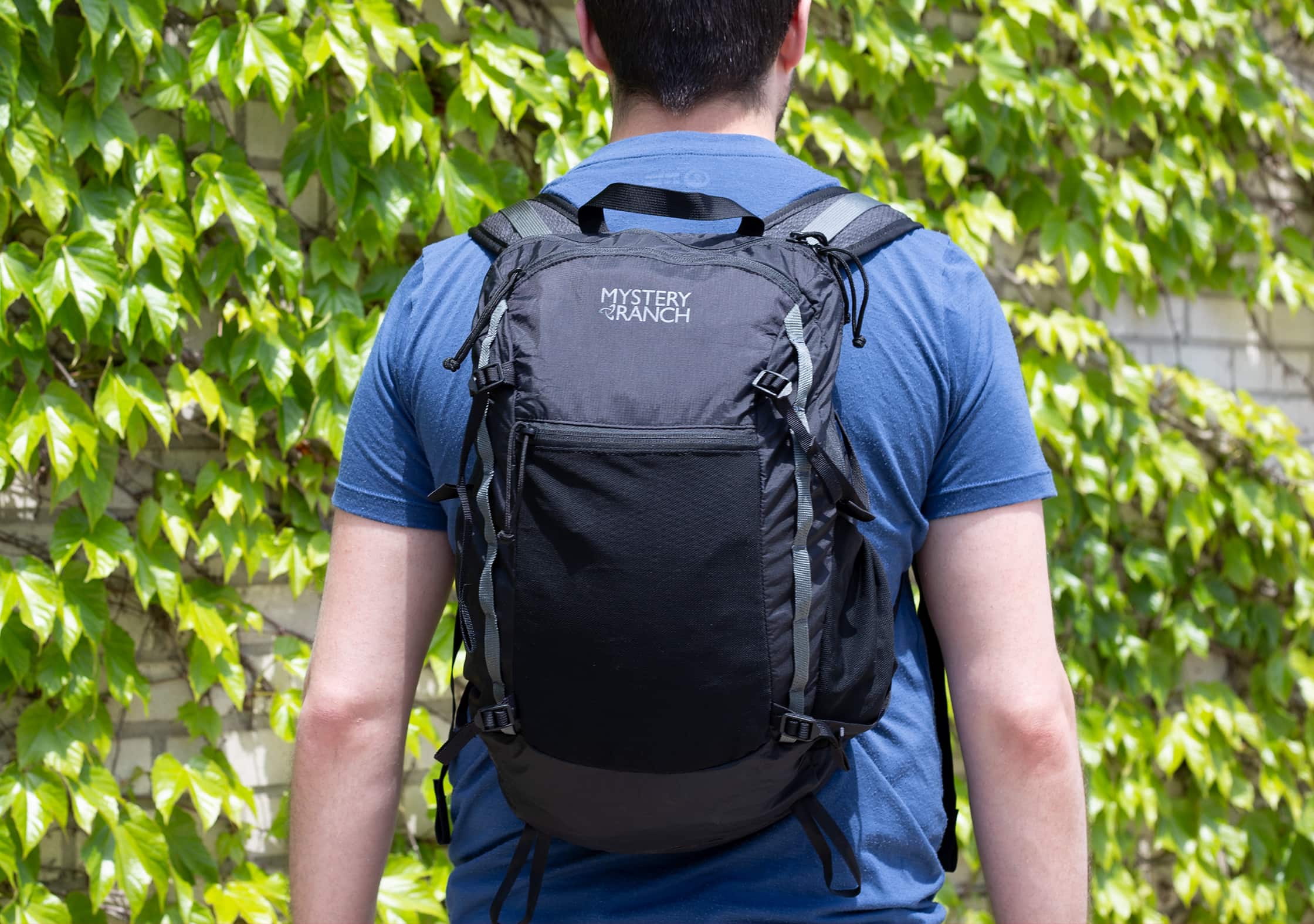 The pack is available in three colors—khaki, black and indigo—and we chose to go with the black option (of course). We've found that the black version helps minimize the outdoorsy look of the pack and allows it to blend in a bit more in an urban environment. In general, this is true with most packs.
Right out of the gate, we have to say this is one of the most durable daypacks we've ever tested. The materials chosen are really tough and it's just so well put together we think it might actually survive intact if you threw it out of the plane. (We're kidding, of course—please do NOT test this theory at home!)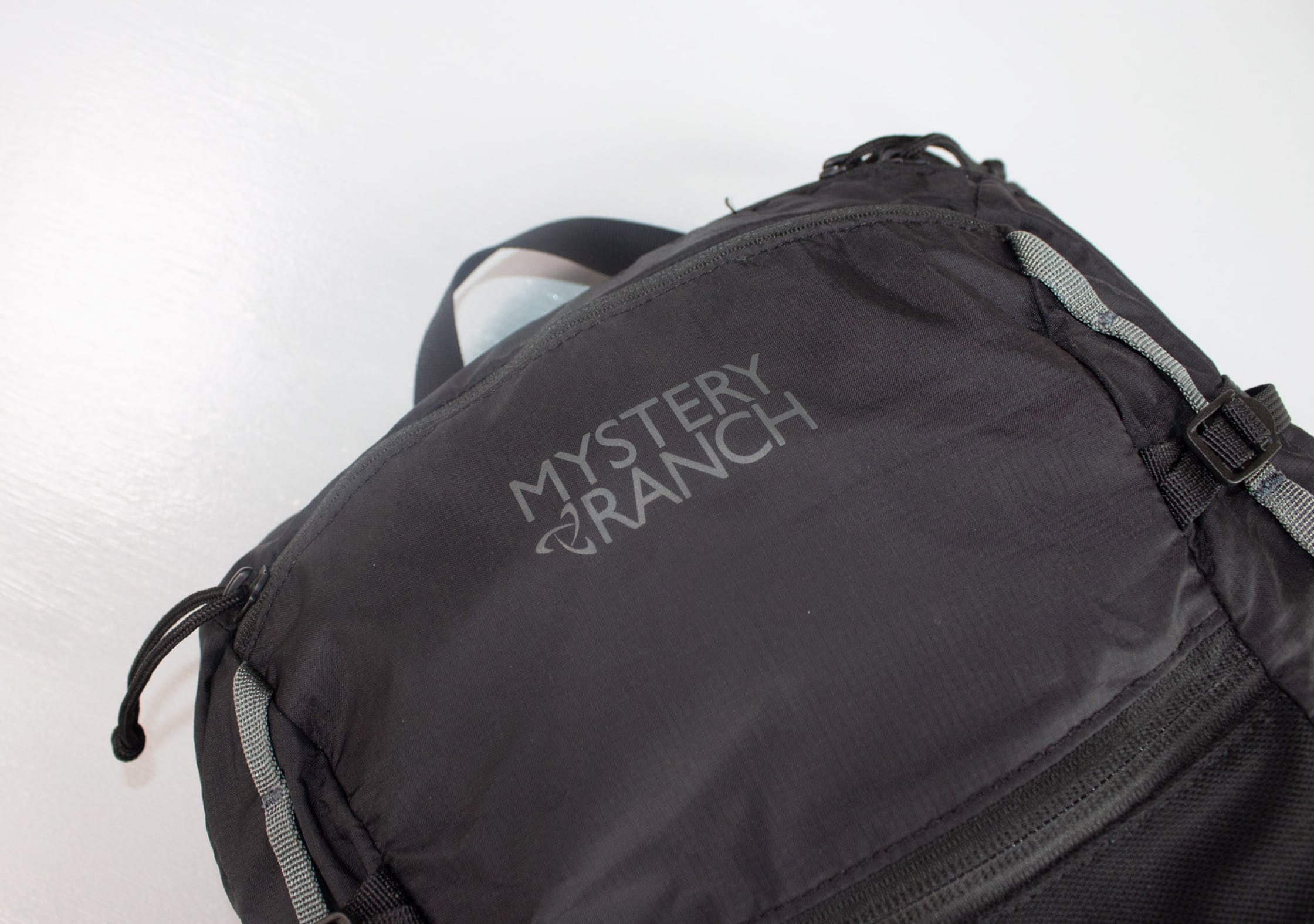 At 100D, the CORDURA® Ripstop Nylon is thicker than most daypacks out there. Other daypacks—such as the Matador DL16—will typically use around 30-denier fabric, which gives a "swishy" feeling when you crumple it in your hand, kind of like a light rain jacket. The In and Out is thicker, and while it's still a bit swishy, it feels more like a tarp.
The heavier denier material adds weight to the pack, but also a ton of durability—making this a good choice if you're less worried about ultralight travel.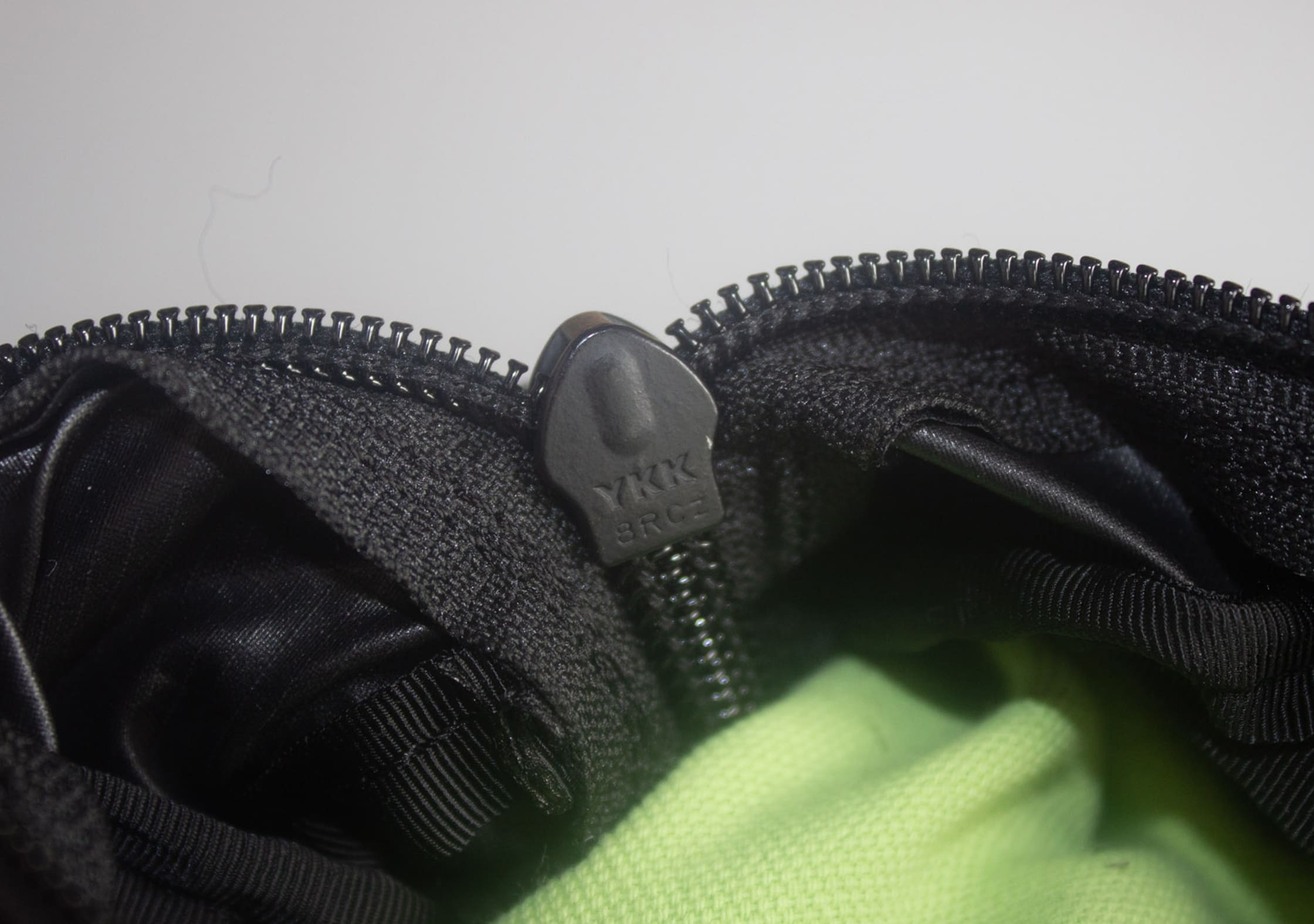 In addition to the tough fabrics, there are also some really sturdy YKK #8 Zippers on the main compartments and pockets, and strong Duraflex clips and buckles on the harness system. If you've been reading our reviews for a while you'll know we always love to see YKK and Duraflex components on travel gear as they are tried and true—super reliable. And it's great to see these tough components alongside the durable fabrics.
See what we mean about the durability? The design team over at Mystery Ranch is not f*!@ing around here.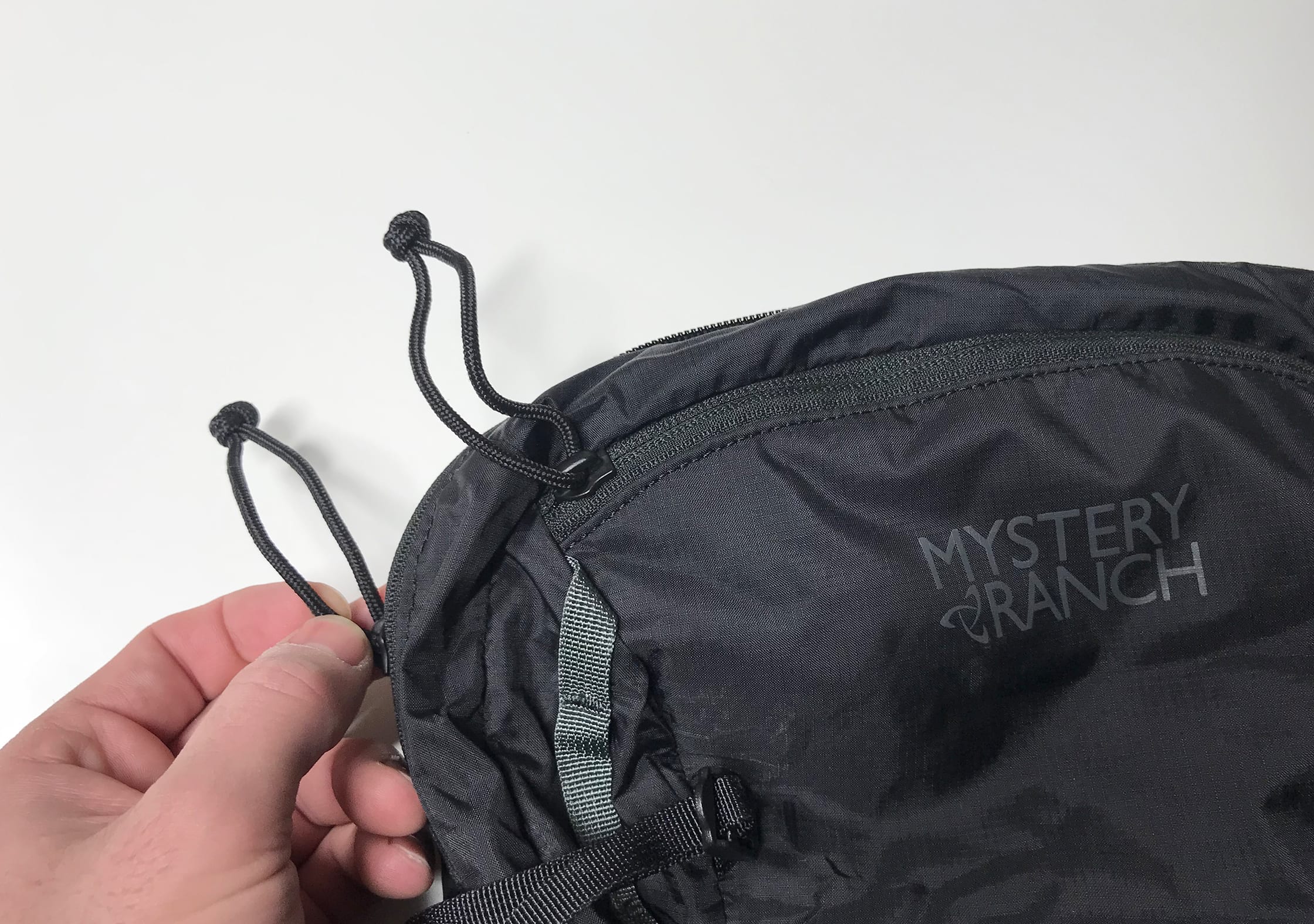 Attached to the YKK zippers, there are paracord zipper pulls, to make them easier to grab.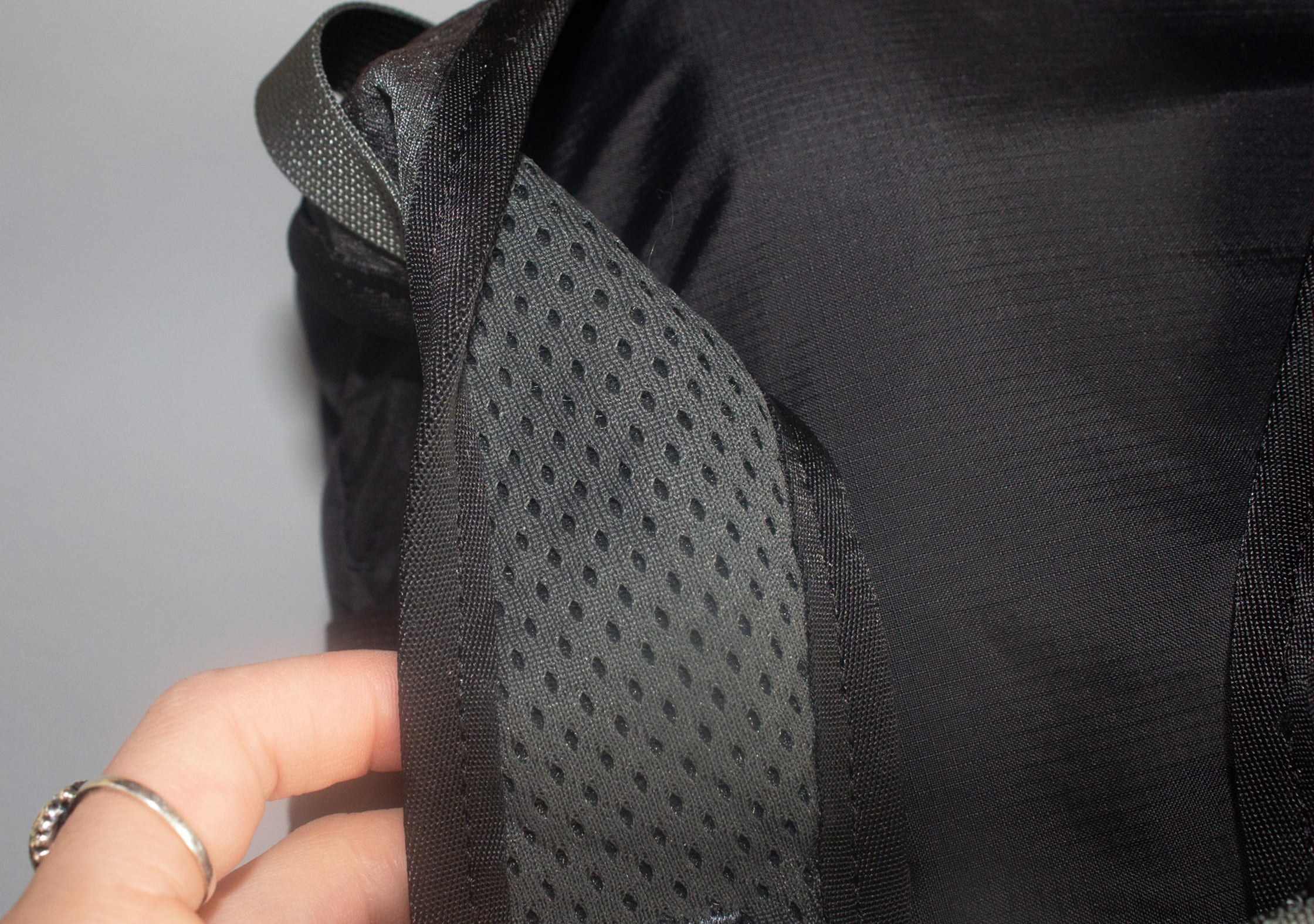 There's also some mesh nylon on the outside of the pack, making up the front pocket and water bottle holder. The shoulder straps feature mesh as well, in addition to a little padding to help cushion those heavy loads. Not something you see very often on packable daypacks!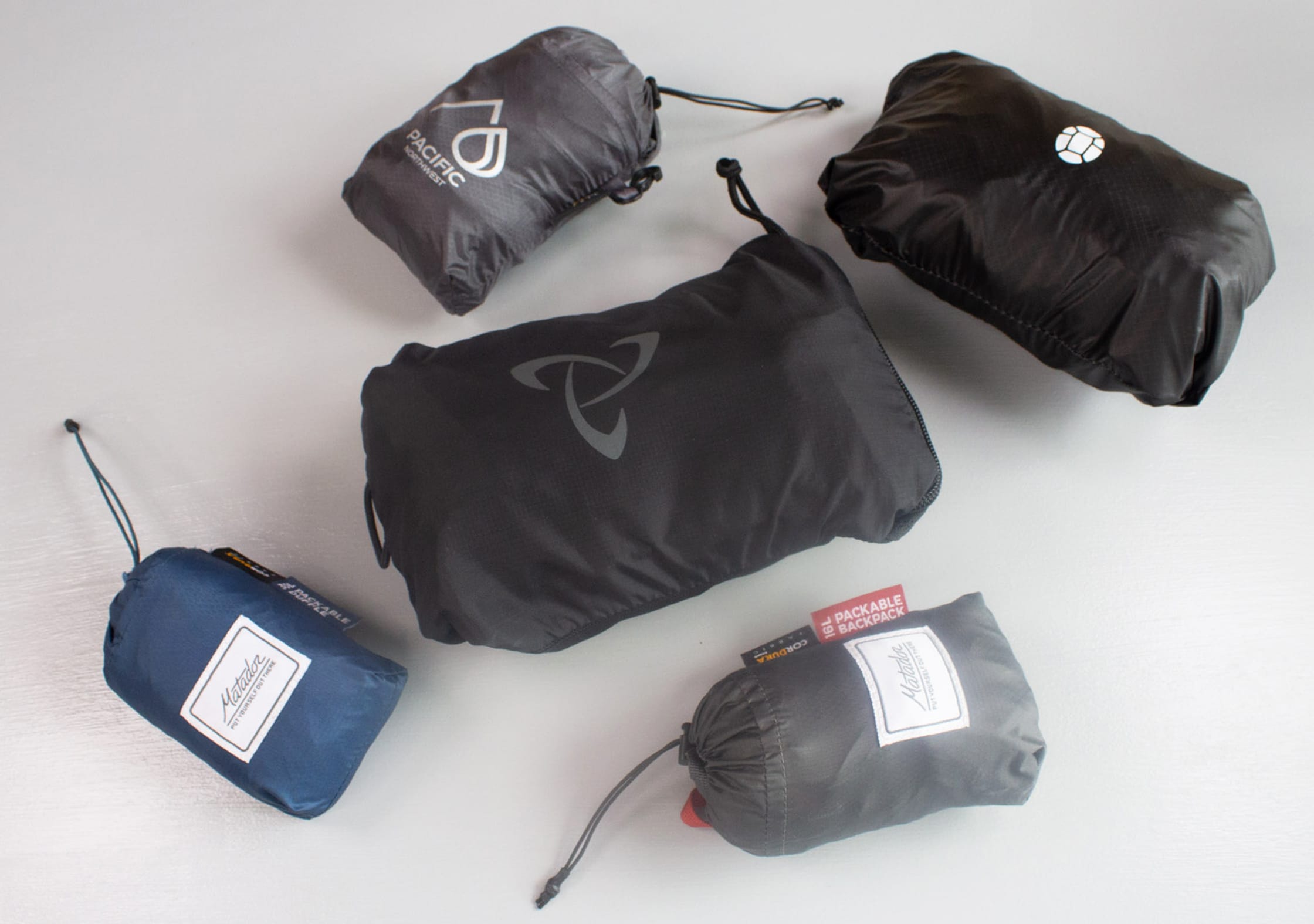 When packed, this thing is 8.5 x 4.5 x 4 inches, making it considerably larger than other packable daypacks, but that's the trade off you have to make for more durable materials. It still packs way smaller than a regular backpack would. Not that a regular backpack actually packs up at all… but you get what we're saying.
Mystery Ranch says this daypack weighs in at 1 pound, which is heavier than other daypacks we've reviewed. However, we weighed it ourselves just to be sure, and found it actually weighs in at 0.85 pounds. That's still heavy, but 0.15 pounds is a considerable saving if you're concerned with packing light. Mystery Ranch—if you guys are reading this, you might want to update your site! And re-calibrate your scales?
The materials are obviously chosen for durability at the expense of a little extra weight. To be honest, we think you could actually remove the word "packable" from the name and we'd believe it was a regular backpack (albeit considerably smaller and lighter!).
Rather than just take some lightweight fabric and throwing a few straps on it, we can tell that Mystery Ranch has really gone through the process of creating a high quality, miniaturized pack, with all the proper components and hardware. It feels really sturdy and carries just like a regular pack.
So in terms of materials, it's a great start for the In and Out Packable Daypack. Now let's check out the features.
External Components
It's clear right away that this daypack is extremely versatile and "useable." You have lots of options for strapping extra gear on the outside (the Matador NanoDry Towels and Vapur Eclipse Water Bottle spring to mind here) and the harness system is well developed, just like a regular pack.
Speaking of the harness system, the first thing that jumped out at us was the adjustable sternum strap. This is a pretty rare feature on daypacks—a notable exception being the Tortuga Setout Packable Daypack—so we polled our audience on Instagram to get some feedback on whether or not our audience think this feature is a good idea.
The results surprised us! We didn't expect so many people to be in favor of the strap, but 54% of you said you loved it, while 46% said it was overkill. It's good to know the sternum strap is a welcome addition, and we personally love the extra comfort and security it brings—especially when the pack is fully loaded.
The sternum strap itself is well made and properly anchored to the shoulder straps, which is great. We've found that a lot of manufacturers will sort of haphazardly attach their sternum straps—and when a sternum strap isn't properly anchored it can be hard to know if the pack is really more secure on your back not.
Not to worry—this strap is really well anchored. When tightened up you feel the pack hugging the contours of your body closely, which gives a more comfortable and secure carry, like a regular backpack.
Adding to that comfort, the shoulder straps are ergonomically designed to fit your body shape. The mesh on the straps allows for some extra breathability so your shoulders don't sweat too much. Carrying a loaded pack around a hot city and knowing you've got some embarrassing sweat marks under those straps just sucks. We've found the extra air flow here helps to combat that.
Flipping the pack over, there isn't any mesh on the back panel which is kind of surprising. Usually, a bit of mesh here provides a little padding and can help relieve sweating on the back, as it does for the shoulders. In this case, your back is right up against the 100D mini-ripstop fabric. It's not a deal breaker that they didn't include mesh here, but we feel it may have been an easy opportunity to add some breathability to the back of the pack.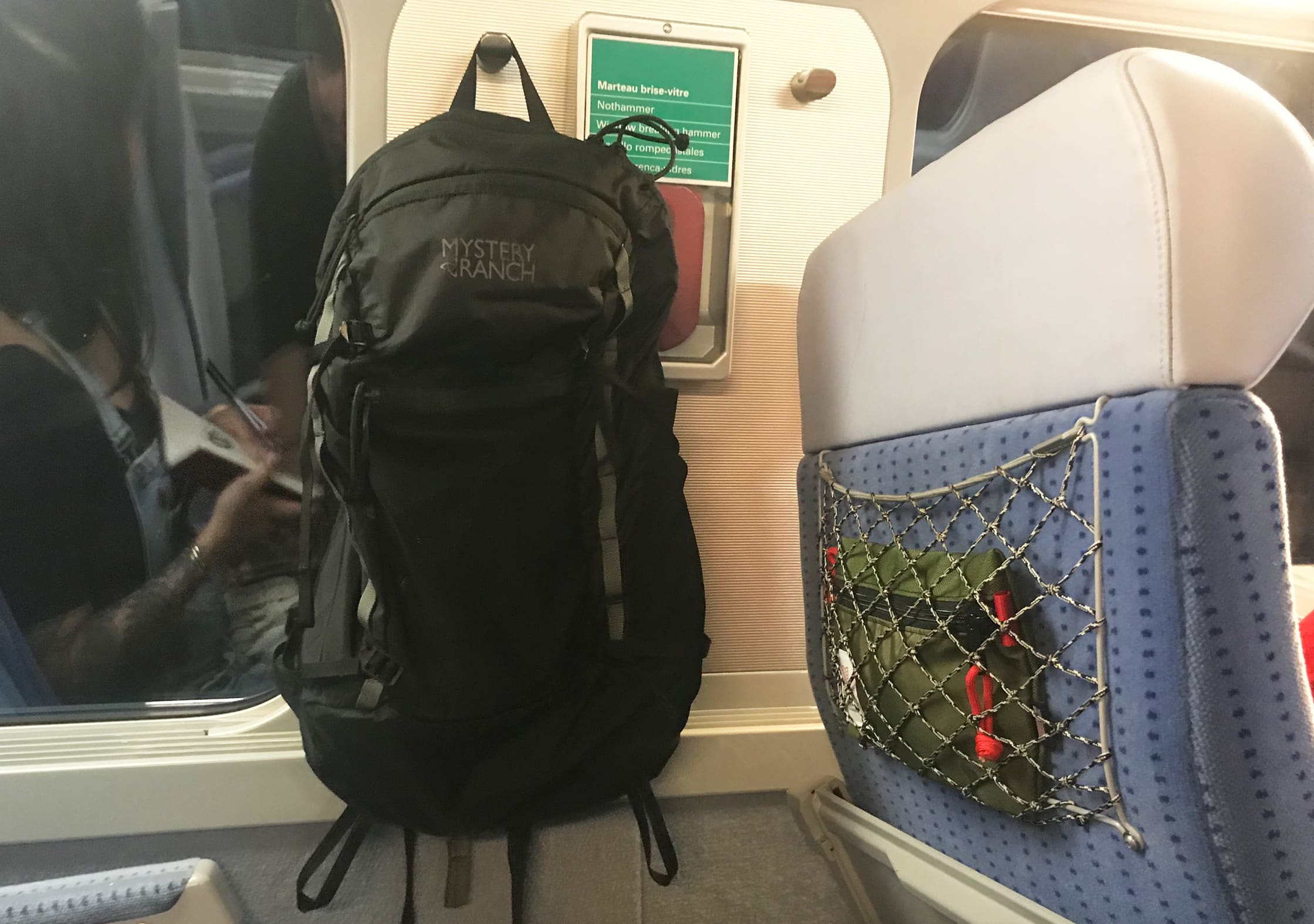 The hanging loop at the top of this pack is securely fixed and located towards the back of the bag, so it hangs flush against the wall. No matter where you travel, you'll run into situations where you just can't face putting your bag on the wet or grimy floor—particularly in the hostel or in an airport or bus station bathroom stall. And for those situations, the In and Out will serve you well.
After hitting all the high points on this bag, we do have a few nitpicks with this pack. On one side there's a water bottle pocket (which is not the nitpick—we love water bottle pockets). The pocket is super durable and well made, but we've found it to be a little too small and rigid. It's quite hard to get a water bottle in there, and larger bottles won't fit at all.
For example, you'll be able to get a Smart Water bottle in there with some wiggling, but those S'well bottles are just not going to fit.
This is a shame, as water bottles tend to be one of the things you'll want to put in a daypack. There is a water bladder pouch available (more on that later), but as urban travelers we don't really use those. This pack forces us to think about which bottles will fit in the water bottle pocket, when we'd rather just grab our favorite bottle and go. Kind of frustrating.
The pack also has two tool loops built into the bottom—one on either side. These are ideal if you are carrying walking poles or other hiking equipment. We didn't use them much because we tend to focus on urban, so for urban travel they are kind of overkill.
There are two compression straps running down each side of the pack, which are sturdy and secured with those strong Duraflex buckles. They're designed to give more compression on the pack, but considering the size of this pack, we've found little need to compress it even further. So these are just kind of a "nice-to-have."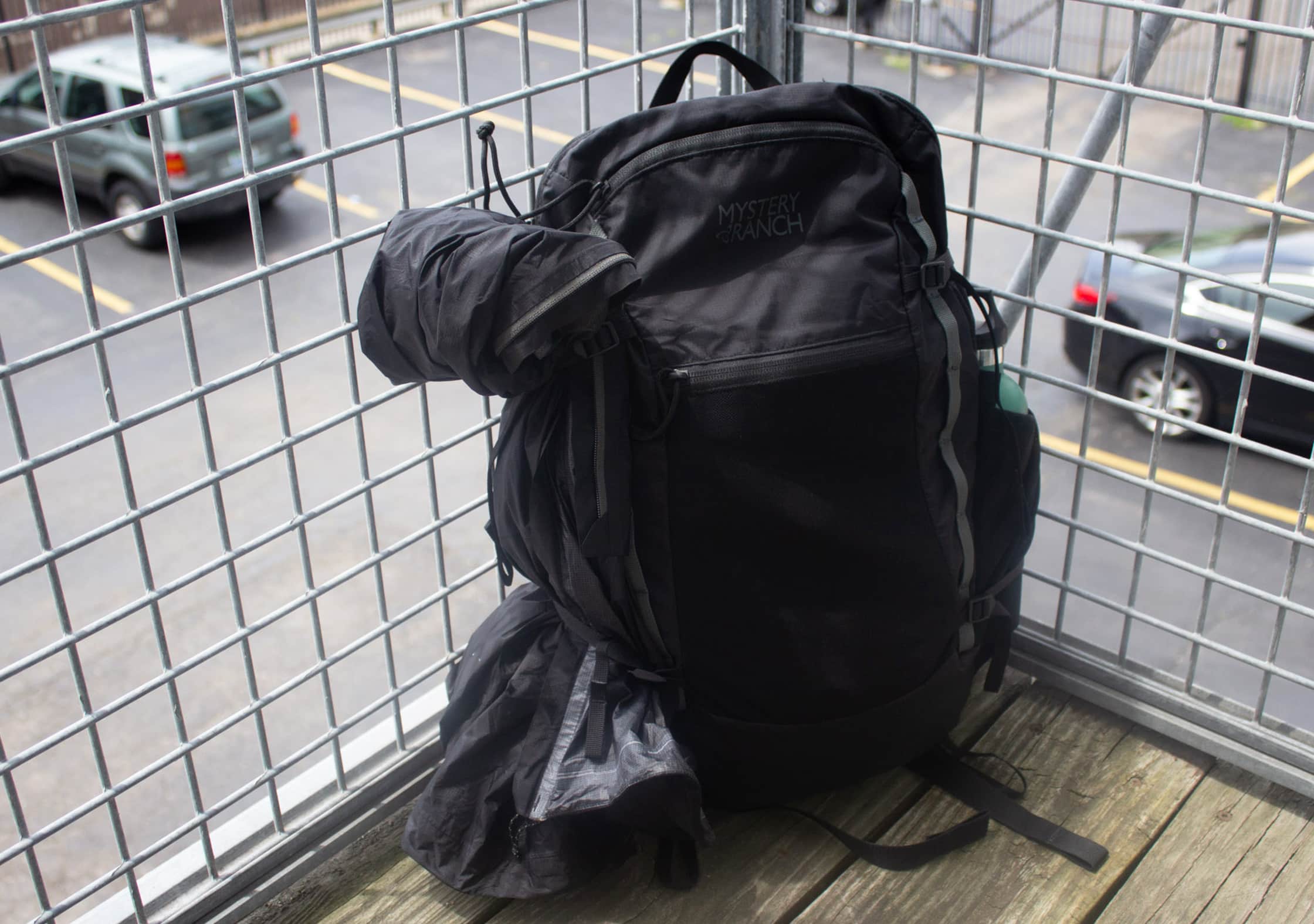 That being said, we did find them super useful for stuffing jackets or similar items into. Of course that's not the original purpose, but these do offer some extra storage capacity on the outside of the pack if you need it.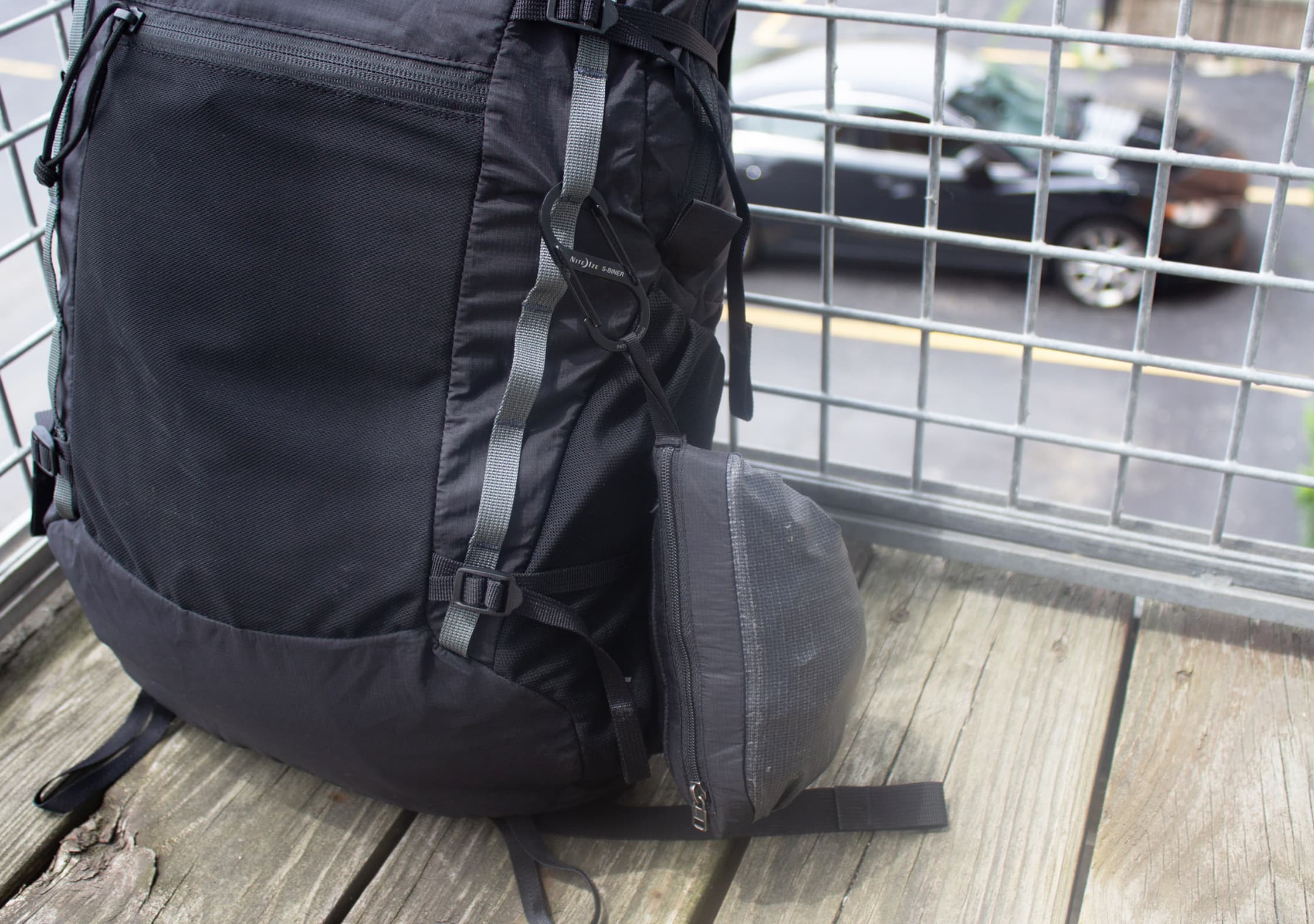 Finally, there is some nylon webbing running down the the front of the pack, on either side. These are basically just nylon straps that have been securely anchored down at regular intervals, creating some handy loops. They're super useful for attaching things like carabiner clips, or perhaps lashing on some straps to create further storage options. Something like the Matador NanoDry Towels would be ideal to hang here, especially if you've stuffed them away wet and are hoping to dry them out en route to your next destination.
Again, we haven't used these too much since we've mainly been testing the bag in an urban setting—but they would be really useful if you're looking for more capacity options. They definitely add to the outdoorsy aesthetic, so if that's something you're into then they'll be a welcome addition.
Inside the Pack
Kicking off the inside of the pack, we have two external pockets which open up with those YKK #8 zippers.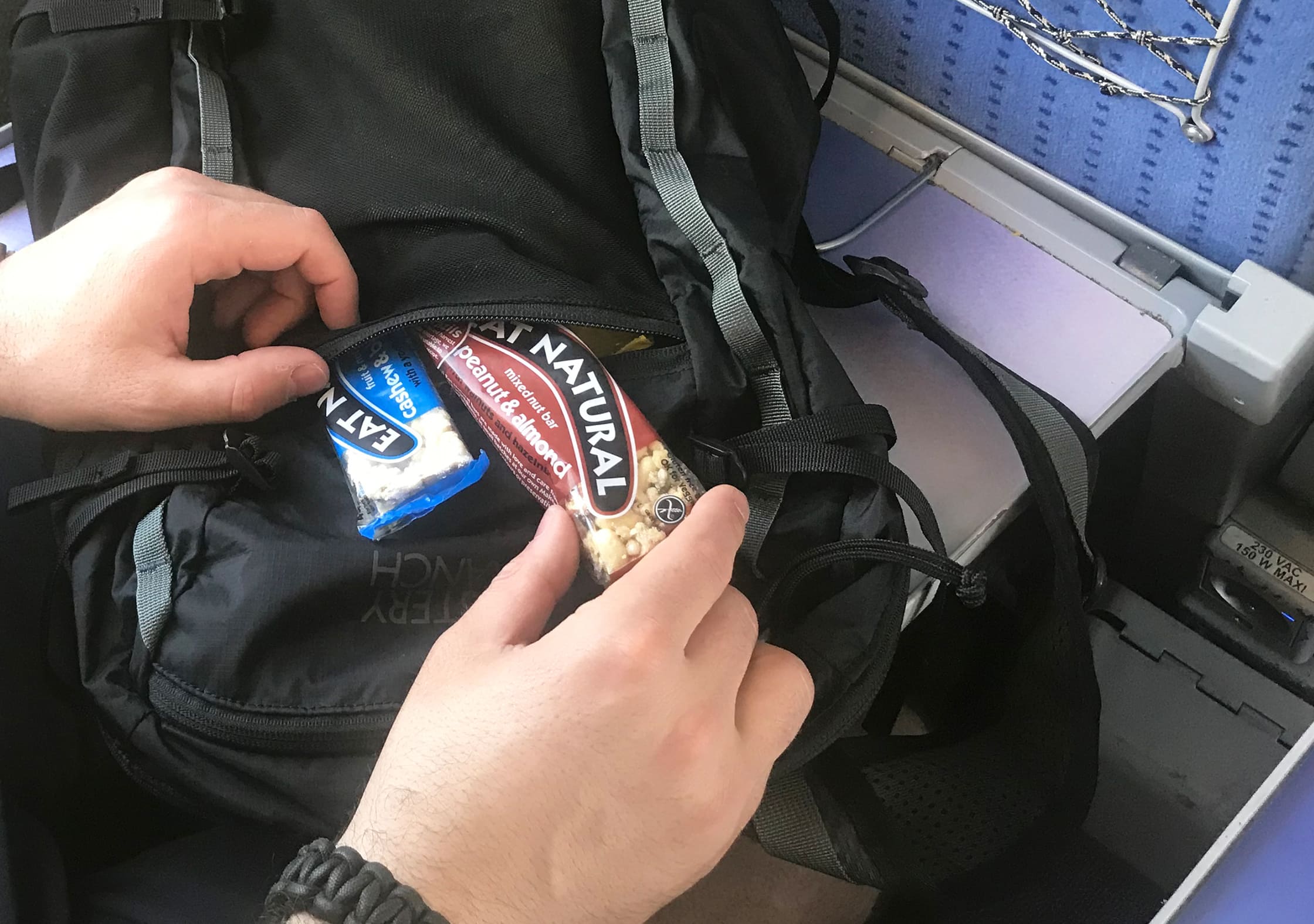 The first is a mesh pocket which is about halfway down the front of the pack. This is the pocket that you will use to self-stuff the bag into itself. The zippers on this are double sided, meaning it works to close the pocket when the bag is unpacked (ie. "in use"), and to zip the thing up when it's packed for storage.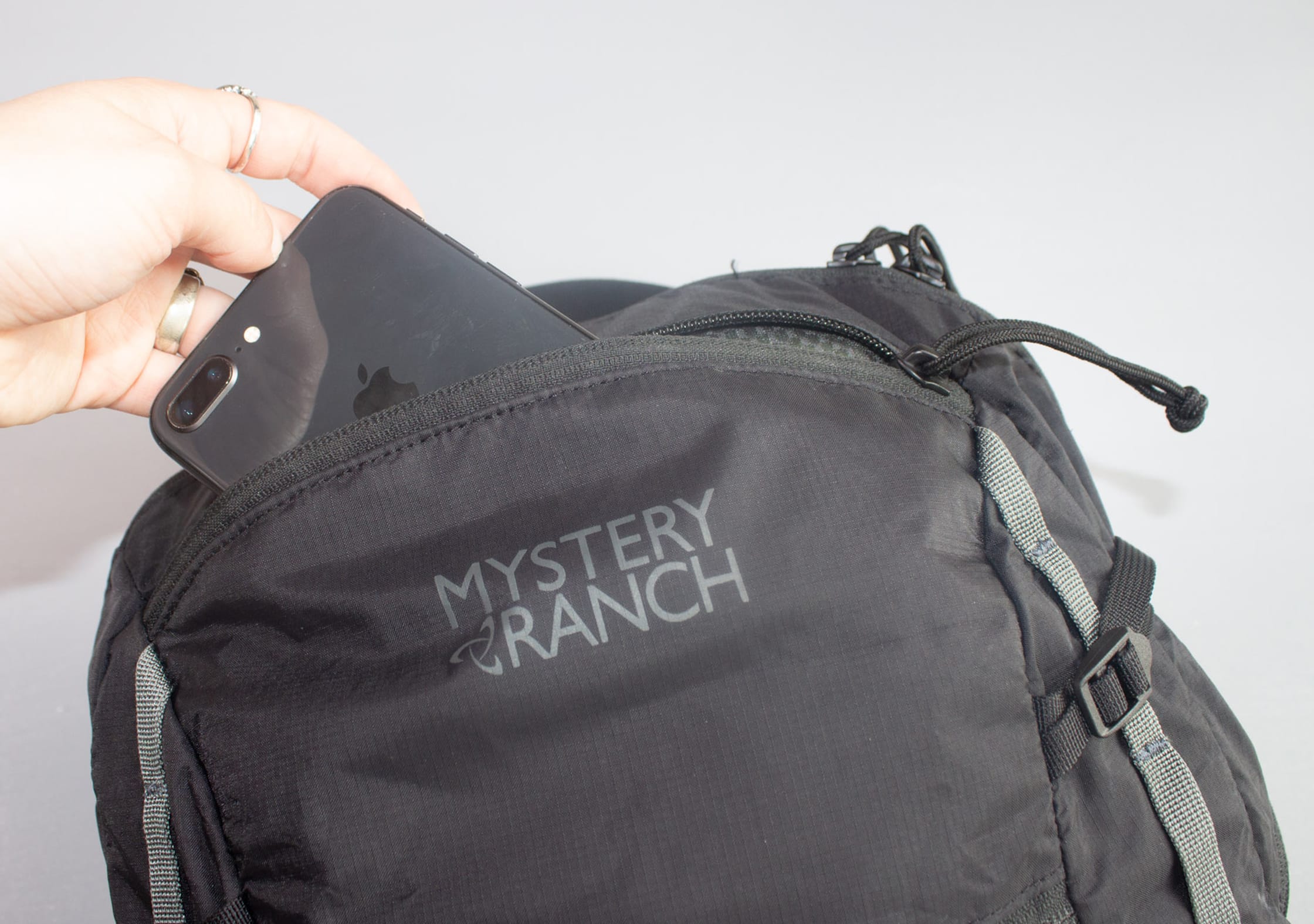 The second is a nice quick-grab pocket on the top of the pack. It's smaller in size, easy to reach and perfectly sized for those quick grab items like your phone or passport. Mystery Ranch has really done an excellent job with the sizing of this pocket—where many packs would allow a pocket like this to go really deep, the size here is limited. That means your quick grabs really are quick grabs, and you don't have to go fishing around some "bottomless" pocket pulling out random things until you get what you want. Just unzip the pocket, and you'll find your items right there, ready to go.
The pockets are great, but we did run into a small issue with accessing them. The zipper pulls all have a long piece of paracord attached to them, to make them easier to grab… However, we have found that the dangly paracord is really easy to get tangled up in other areas of the pack—like the compression straps. We've actually been having to pass the paracord under the compression straps each time we unzip the main compartment, which is really inconvenient and kind of ruins the experience.
We understand the idea behind them. When wearing gloves these things will be really easy to grab—again, another feature designed with outdoors or "all-weather" aspect in mind—but for our urban adventures they seemed to just get in the way more than anything else. Ideally, we'd like to see these a little bit smaller, or we may actually remove them completely.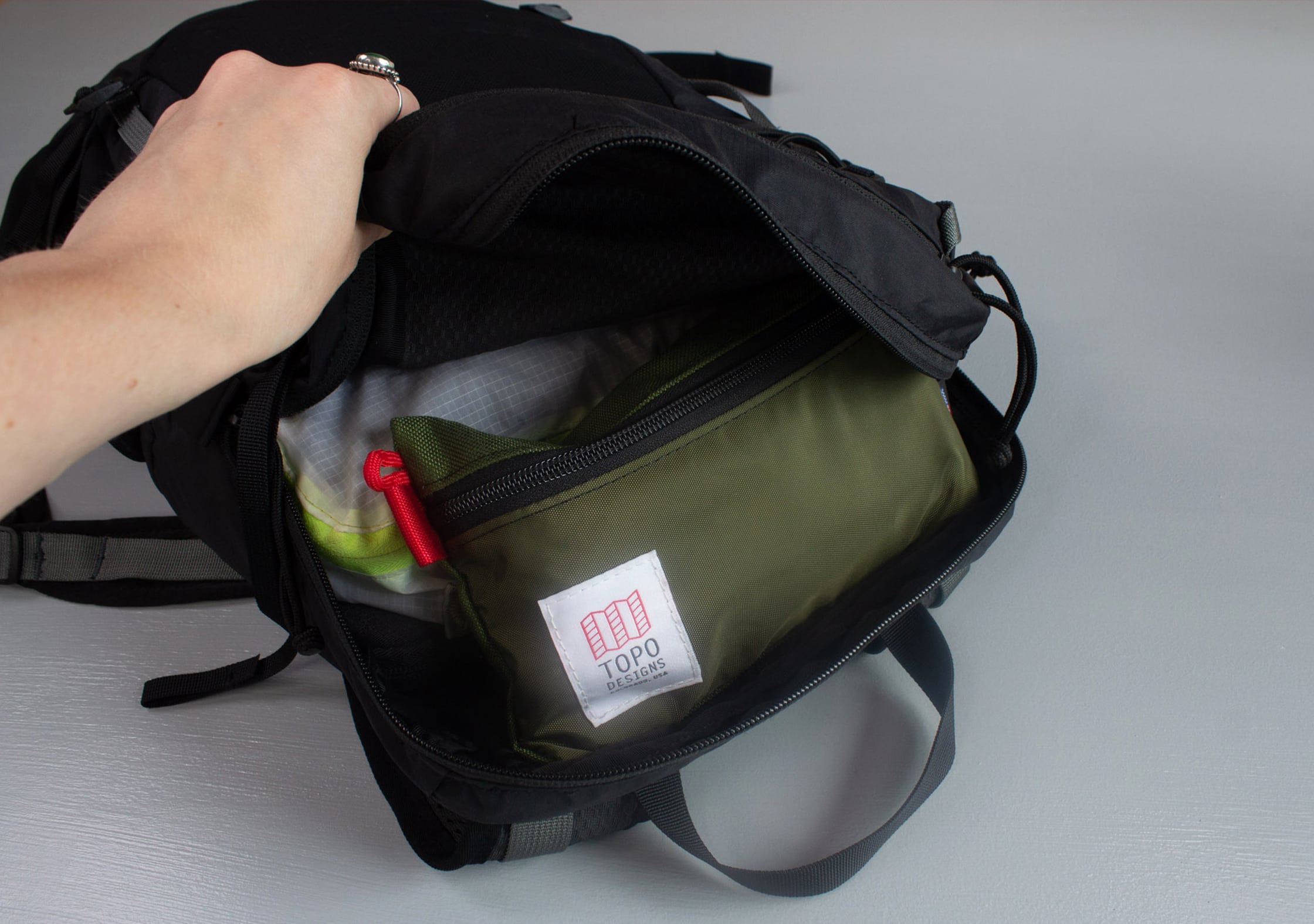 The main compartment opens in a half-zip, horseshoe style (not a full clamshell). We've found this to be totally fine—you don't really need that kind of opening system on a daypack. If anything, it's probably good that a durable daypack like this won't open up fully. Your main concern with this pack isn't quickly packing and unpacking all your gear in your hotel, but rather keeping things secure and accessible on your day trips.
The inside of the compartment is basically just one large bucket area, with the exception of one pocket at the back for a water bladder. It fits a 2 liter reservoir hydration pouch and has drinking tube ports on either side, that appear just under the shoulder straps. There's a also a toggle here to run the hose through, keeping it in place.
We don't usually use hydration bladders for urban travel—preferring instead to use water bottles—so we'll often use the hydration pouch area for tablets and laptops. The pouch here is good for most flat electronics, but it won't fit larger laptops (such as a 15" MacBook—a bummer, we know). Larger laptops will fit in the main compartment though, so you'll just have to have it free floating in the pack. Definitely use a laptop sleeve if you do, because there's no padding provided by the backpack material.
We've actually found a large laptop in the main compartment works really well as a makeshift framesheet because it gives some rigidity against your back. If you do try that out, we'd recommend using packing cubes, such as the Pack-It Specter Cubes, to keep your items organized and prevent bulky items digging into your back.
Overall, the internal features on this thing are simple but well designed. We're happy with the options available, and appreciate the step up from a simple "30D nylon bucket with straps" which is what you get with daypacks aimed at the "ultralight" crowd. (Nothing against ultralight travel by the way! We love—and admire—you guys, but this pack probably isn't going to be for you.)
Durability & Testing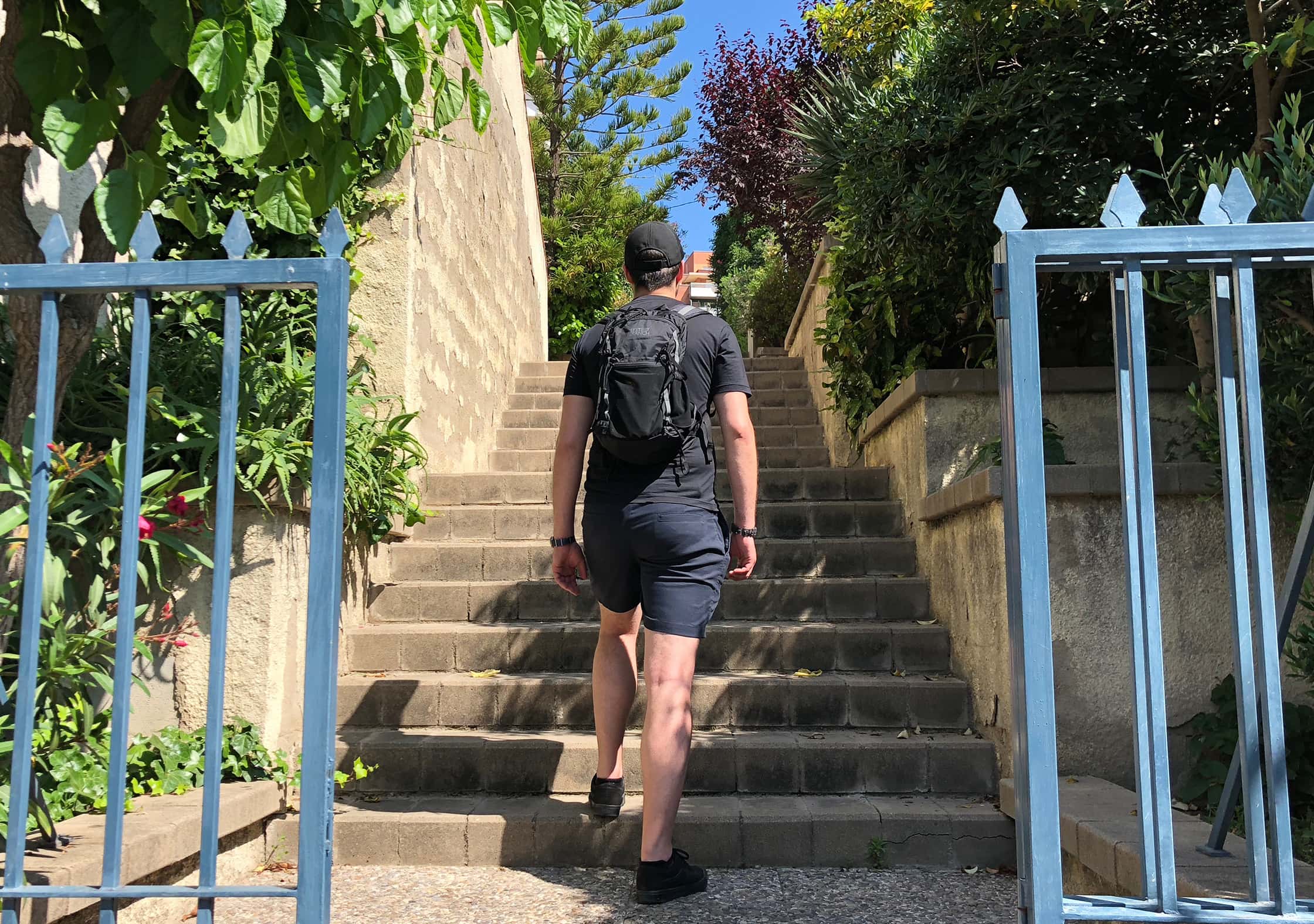 During our testing for this review, we took the In and Out Packable Daypack on trips around Barcelona and Detroit for about 2 months. We've put it through some fairly heavy usage to see how the claims of enhanced durability really stand up in practice.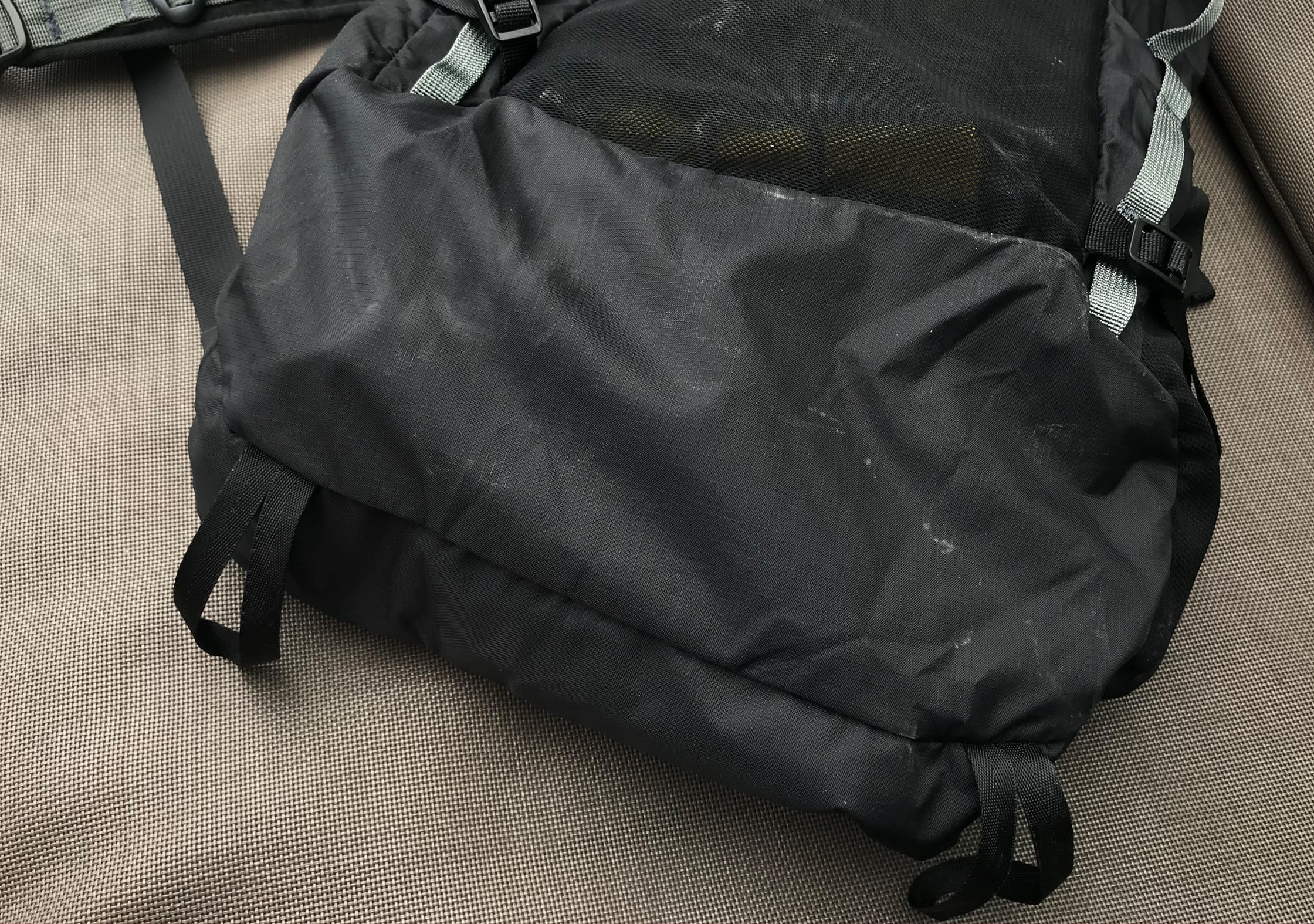 This thing is built like. A. Tank. We haven't run into any durability issues at all. Occasionally, we've got a little dirt on the pack, but it wipes clean off and the pack is (obviously) unaffected.
Mystery Ranch is known for their durability—that's kind of their thing—and this pack definitely does not disappoint. We don't see any issues cropping up in the future with extended use, and this is one of the most durable packable daypacks we've tested to date.
Of course, that durability comes at a cost, which in this case is a little extra size and weight compared with other lightweight daypacks. We're not too bothered by it.
Usage Timeline
Initial Usage
Condition: Excellent
Extremely durable and no issues at all.
3 Months of Use
Condition: Excellent
Still holding up really well—we don't imagine any durability issues happening with this pack soon.
6 Months of Use
Condition: Excellent
This little pack continues to be one of the most durable packable daypacks we've tested and fared well for day hikes on a 2-week road trip to the Great Smoky Mountains in North Carolina.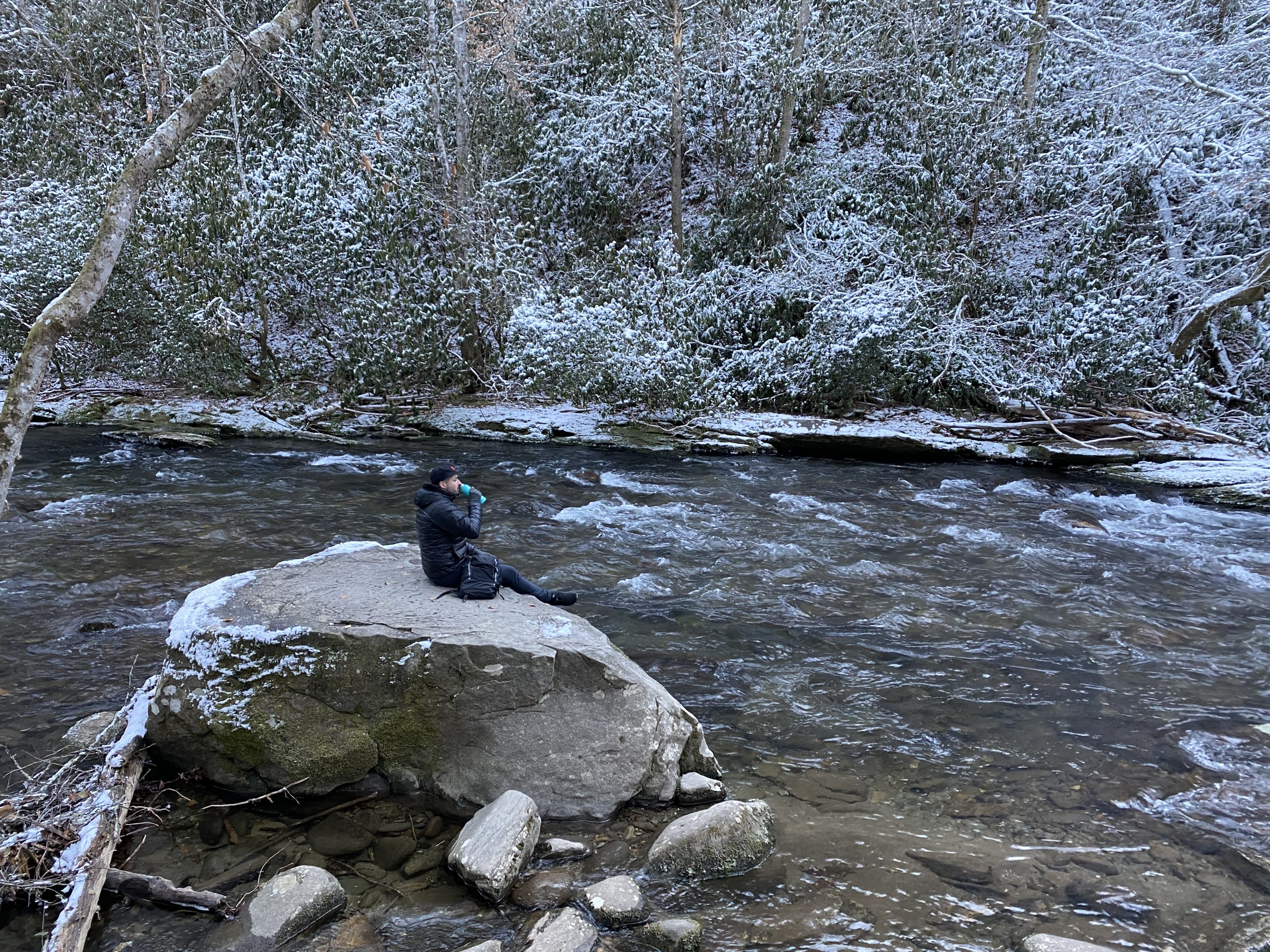 Access the Pro Community Discussion
Get your questions about the Mystery Ranch In and Out Packable Daypack answered from our team and the Pro Community right here on the page. Plus, join discussions with other members about gear, guides, and more.
Other Bags & Luggage Reviews