Uniqlo 3-Way Bag Review
The Uniqlo 3-Way Bag is a budget-friendly, sophisticated pack that's great as a daily driver or for quick trips. But long term durability may be an issue.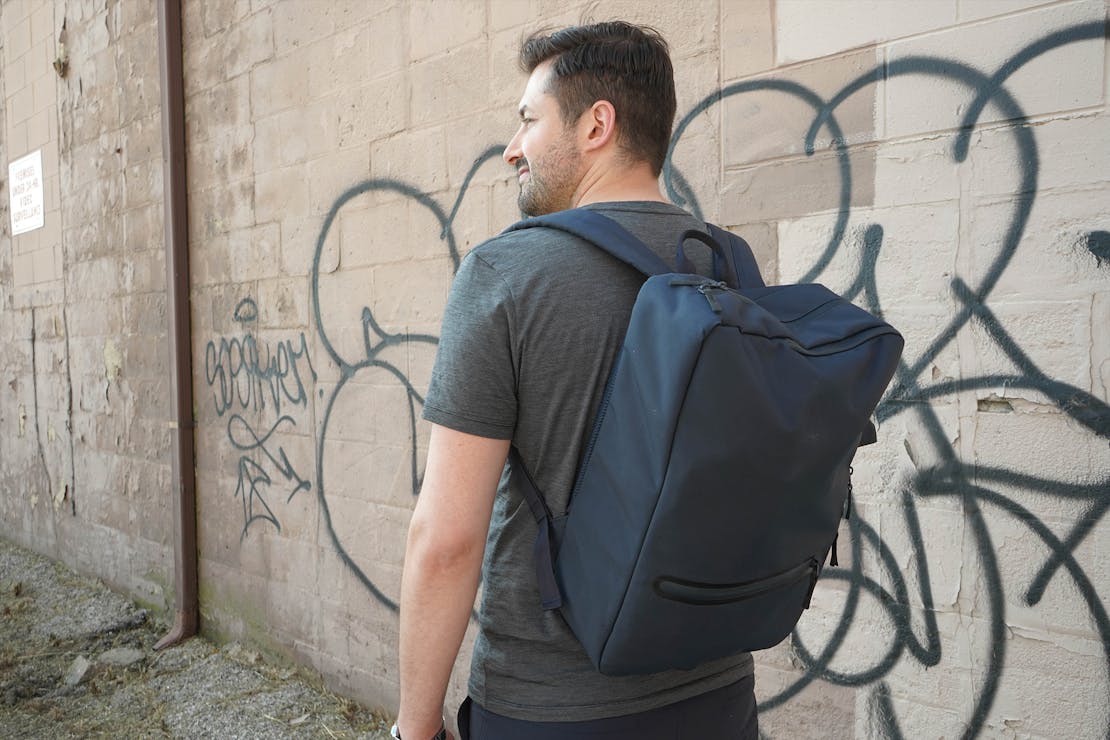 Our Verdict
Unlock the Pro Summary
Save time. Get access to brief summaries of our reviews so you can browse and make decisions more efficiently.
Pros
Looks sleek and professional
Great amount of internal organization
You can't beat the price
Cons
Concerns regarding the long term durability of the bag (particularly the zippers and buckles)
The orientation of the front pockets aren't ideal in backpack mode
Carry gets uncomfortable when the pack is loaded with stuff
Recent Pack Hacker Video
Technical Details
Weight (lb)

1.95 lb (0.9 kg)

Dimensions

12 in x 18 in x 4.5 in (30.5 x 45.7 x 11.4 cm)

Notable Materials

Ballistic Polyester, Thermoplastic Elastomer (TPE)

Manufacturing Country

China

Warranty Information
Full Review
Sometimes you want a pack that's so durable it'll survive blizzards on top of mountain peaks and so sleek you'll walk into a business meeting and walk out with a job. But sometimes you want a pack that costs less than a fancy-ish meal and will get the job done.
You can check out some of our other backpack reviews for the former, but if you're looking for the "gets the job done" pack then meet the Uniqlo 3-Way Bag. Named after the three ways you can carry it (briefcase, messenger, and backpack), this bag has a great organizational system, professional aesthetic, and comfortable carry—even if the materials aren't all that.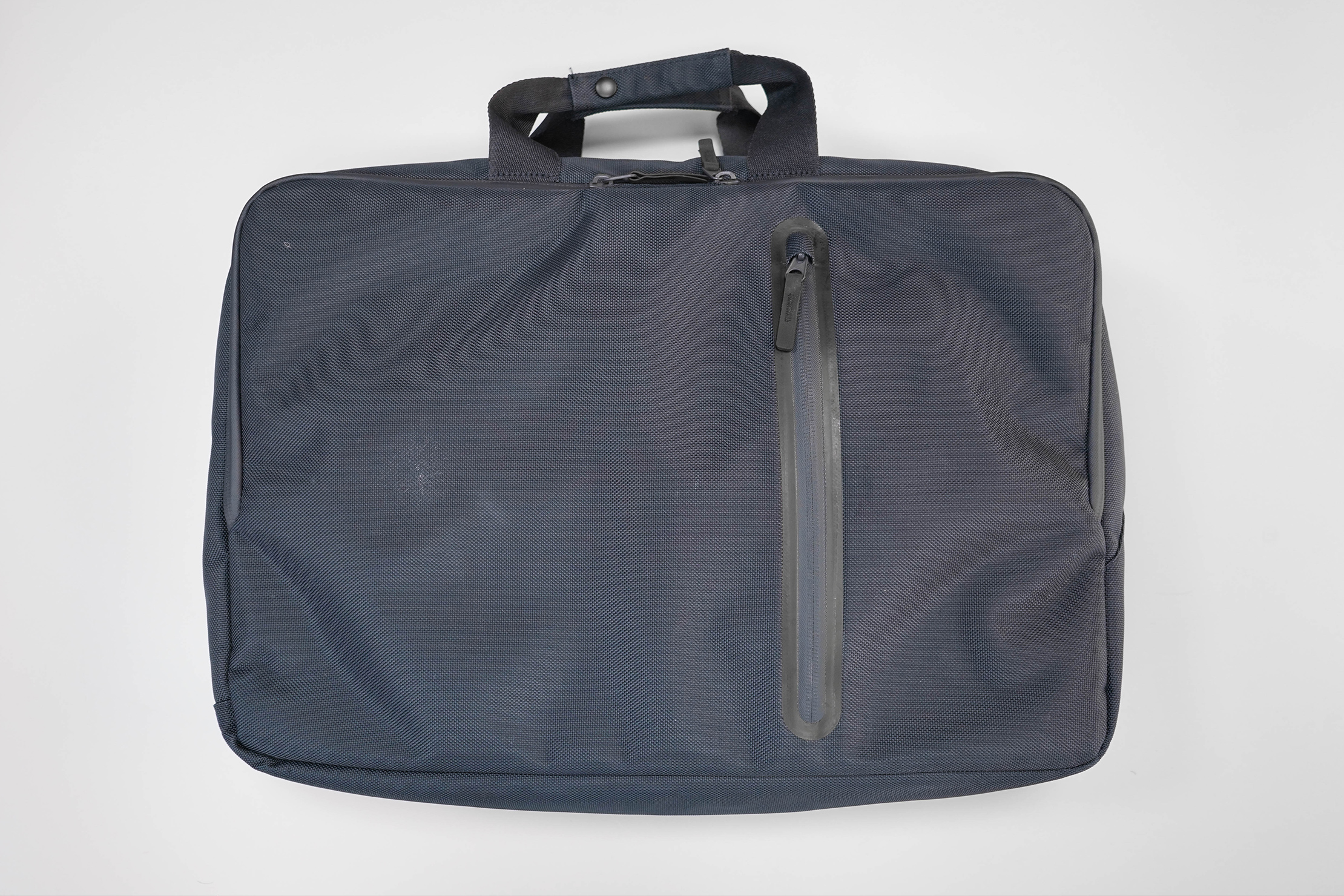 It works well as a daypack—especially for those days that involve carrying around a laptop or swinging by a business meeting—but can also work for short trips if you're a light packer.
So without further ado, let's check it out.
Materials & Aesthetic
We'll start by jumping right into what might be considered the strongest aspect of the bag: its look. Uniqlo went with a pretty simple aesthetic, which we can get behind. We've been testing the bag in navy, but it's also available in black and a few other colors, but we can't exactly see what colors they are since Uniqlo was out of stock at the time of this review. If we learn more, we'll be sure to update this review accordingly.
The front zipper acts as a nice piece of detailing and, well, there's not much else going on. There's not even obvious branding. And we're really digging it! The minimalist design means it's discreet for travel—you definitely won't be screaming tourist—and belongs in any setting, casual or professional. If you were a stock photo model and you needed a backpack for your shoot, this would fit the bill perfectly (your welcome, stock photo models).
And now, moving on to what might be considered the weakest aspect of the bag: the materials. Surprisingly, we're not actually too offended by the materials. They're not great, but they're not horrible either.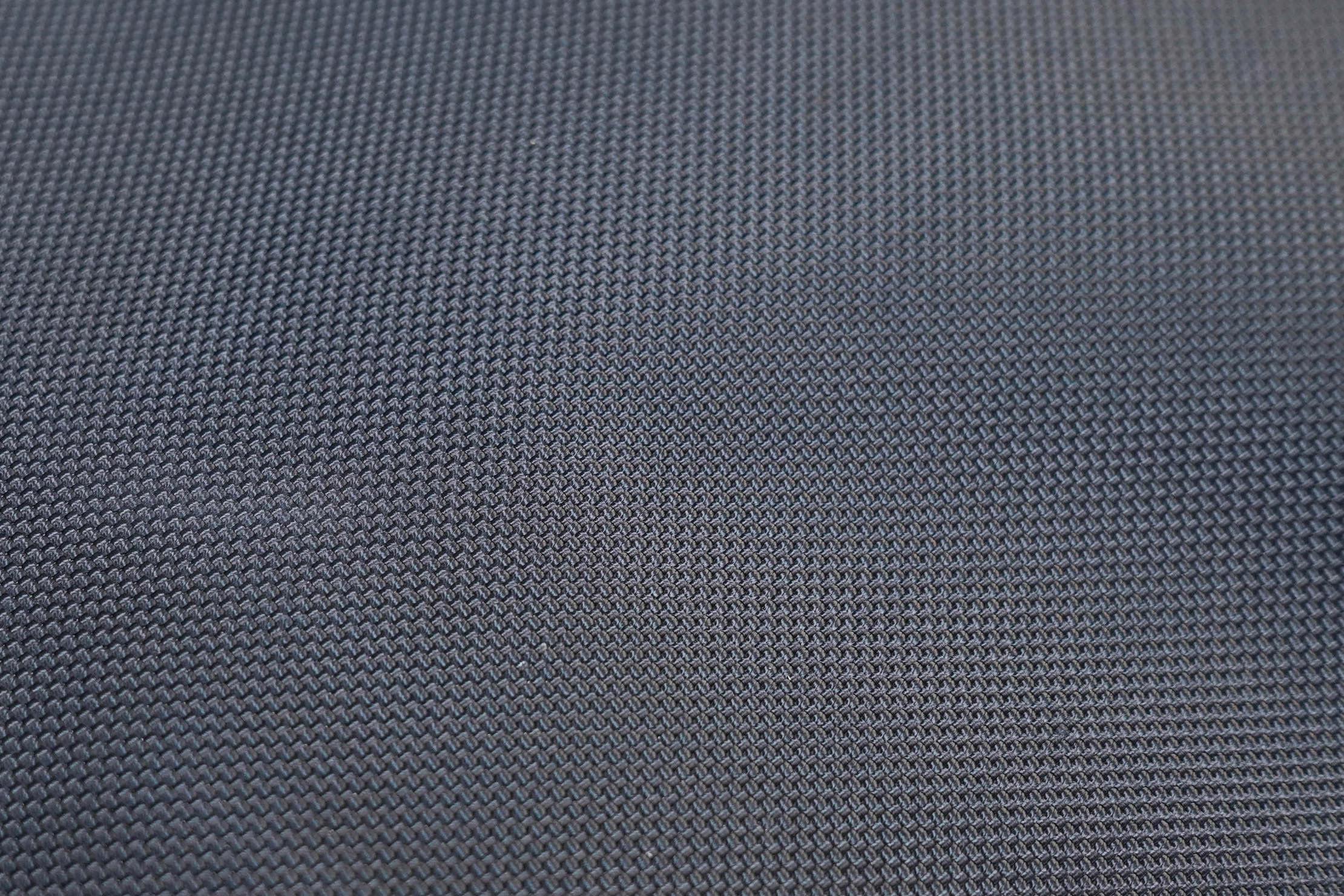 The bag is made from ballistic polyester, which is actually pretty durable and resistant to tearing. We usually prefer nylon due to its strength, but ballistic polyester isn't a bad choice.
And the polyester is affixed with a "water repellent agent." Uniqlo doesn't disclose what that agent is—which makes us a little hesitant to trust it but also strangely curious if they've developed some miracle chemical they don't want us to know about—but the bag has held up against a rainy spring and summer so far.
There's an additional film of Thermoplastic Elastomers (TPE) bonded to the interior of the bag. If you'll join us in putting on our chemist hat (goggles?) for a quick second, we'll fill you in on TPE.
Basically, it's a mixture of plastic and rubber, one of those chemical substances born during the post World War II era. All you probably want to know is that this coating helps with durability and will keep your bag looking fresh for longer.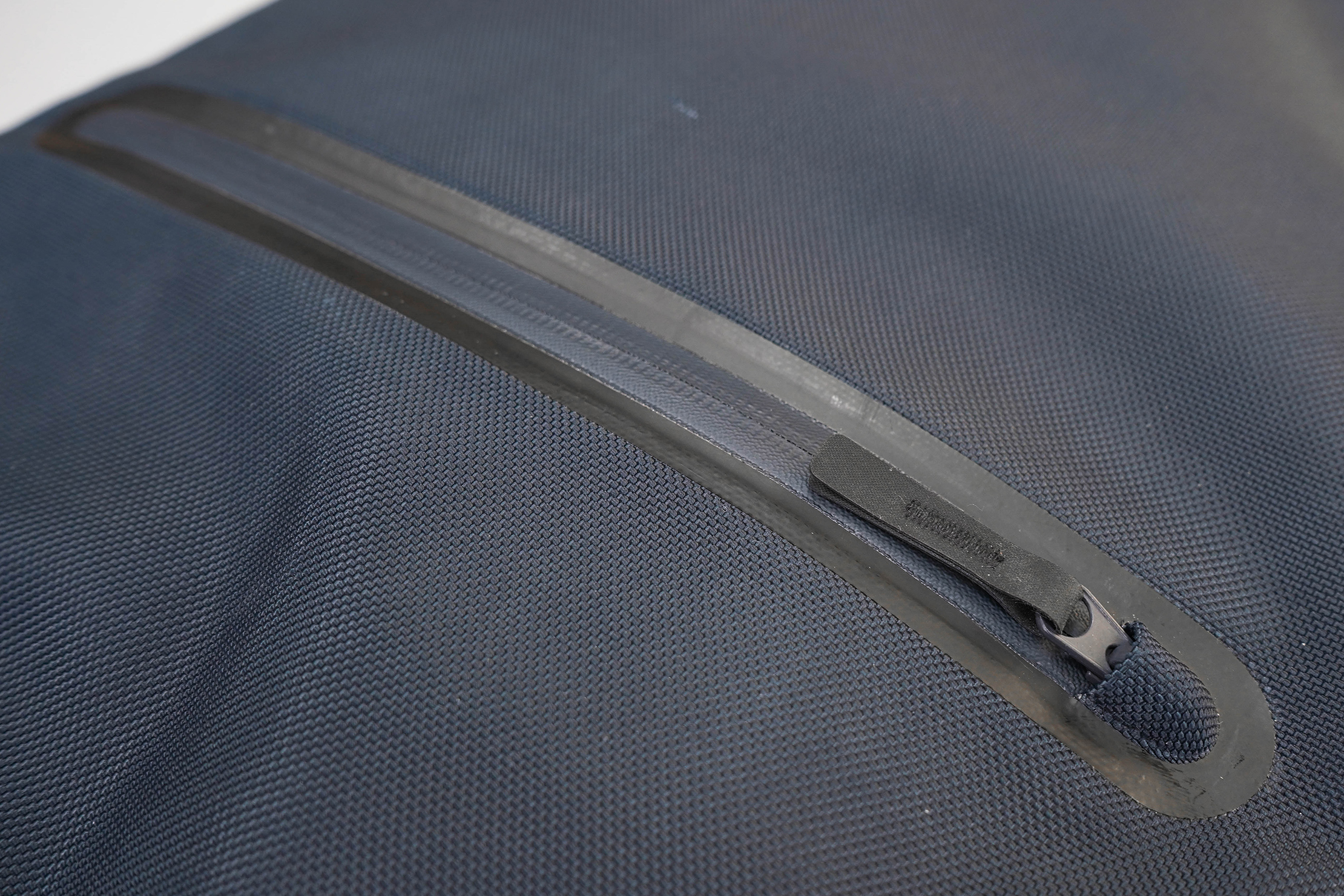 Up next, we have the zippers. The zippers are reverse coil (meaning the zipper coil isn't exposed) and have a water-guard for weather resistance, which is a huge plus for a bag that's built to hold expensive tech like your laptop. But…the zippers are small and we haven't been able to identify the brand (at the time of this review, Uniqlo hasn't responded to our inquiry). We've just had way too many experiences with zippers breaking to trust them. (If you've ever been traveling and a major component of your pack has broken then you'll know the feeling. If not, consider yourself lucky!)
And the plastic hardware used throughout is unbranded. We haven't had any problems with them yet, but keep an eye out on our Usage Timeline below for updates.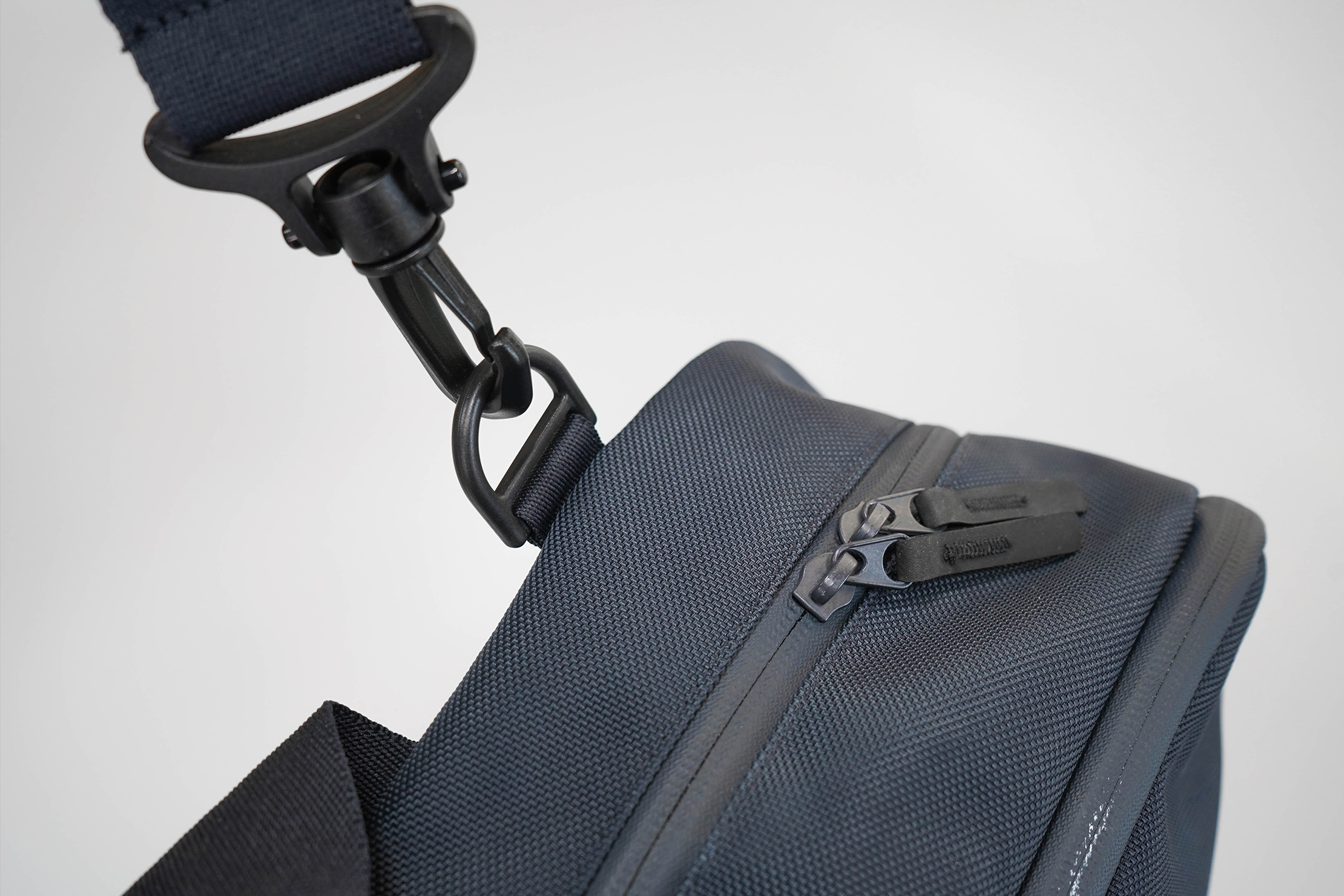 External Components
The unique thing about this Uniqlo bag (get it?) is the fact you can carry it three ways. And unlike a number of bags that claim the same thing, this bag actually works in all three modes decently well.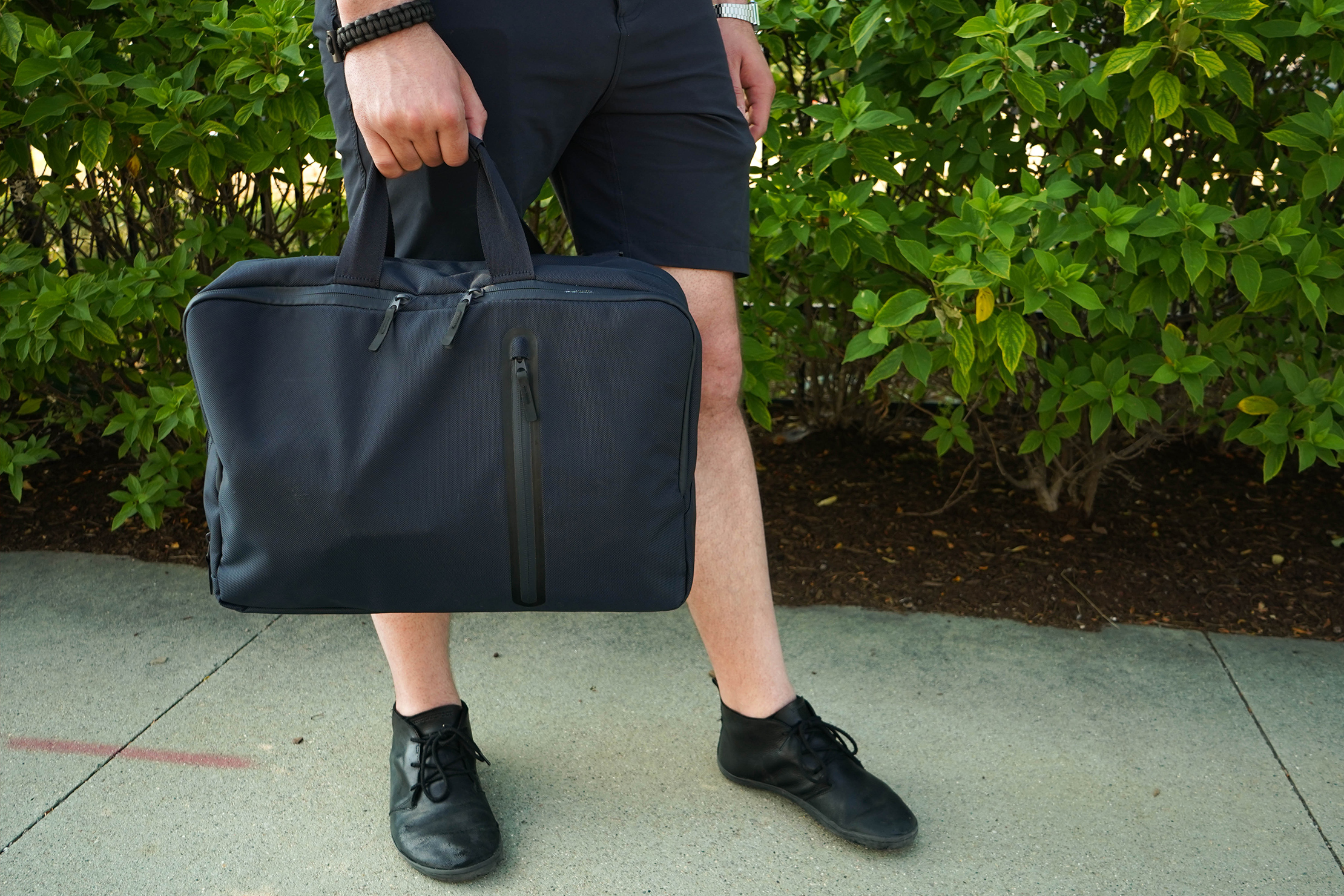 The first way is by using the top handle and holding it like a briefcase. The snap button allows you to connect the two halves of the handle into one. We almost never carry the bag this way, but it comes in handy for maneuvering around, like when you're swinging it into the overhead bin on a plane.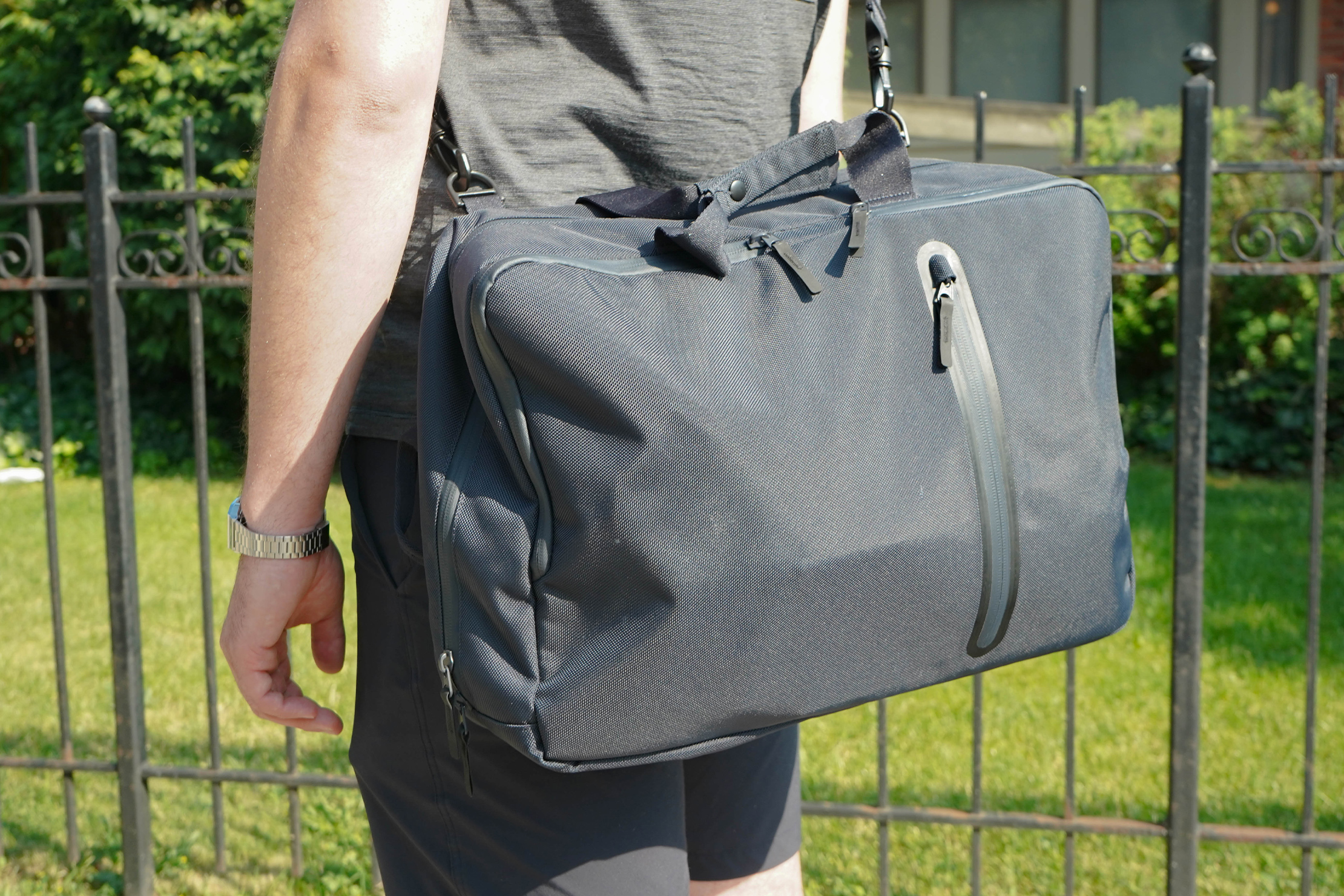 The second way is by attaching the strap to the plastic loops at the top of the bag and carrying it as a messenger bag, which is the style we've been using most frequently. You can toss it over one shoulder or across your chest. Either way is super convenient for everyday carry or walking short distances, like from your Uber to your hotel.
For the most part, we've found carrying it this way to be comfortable… Until you start to load the pack with heavy gear, that is. The strap has no padding whatsoever and, as a result, when the pack is heavy the strap and buckle can dig into your skin. Yeah—not so good.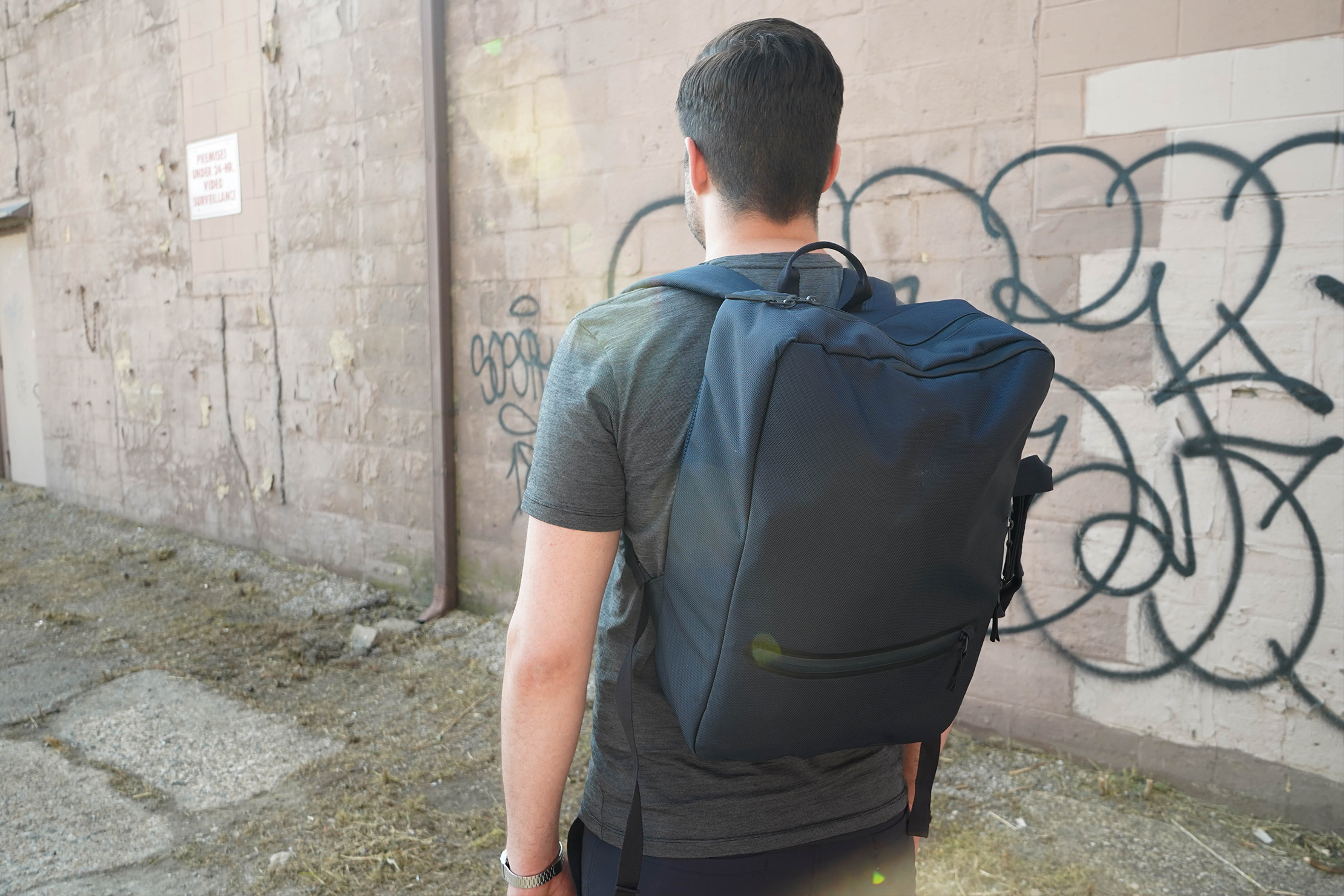 But that's why Uniqlo offers a third carry option: a backpack. The straps are stowable, which means when you carry the bag either of the first two ways, the straps will be hidden beneath a back panel. When you're ready to switch to backpack mode, just untuck the shoulder straps from the panel, clip the bottom part of the strap to the top, and voilà—you've got yourself a backpack.
There's nothing particularly special about the backpack straps. The padding makes them comfortable enough and, because it's a backpack, the weight will be distributed between your shoulders. But while the back panel has breathable mesh, the straps themselves don't. They're not contoured for a better fit either.
Additionally, there are no hip belts or load lifters. The bag is pretty small, so we don't think you really need these things, but you will miss them if you're lugging some heavier stuff around. What we're saying is, you may want to find another bag for that rock collection.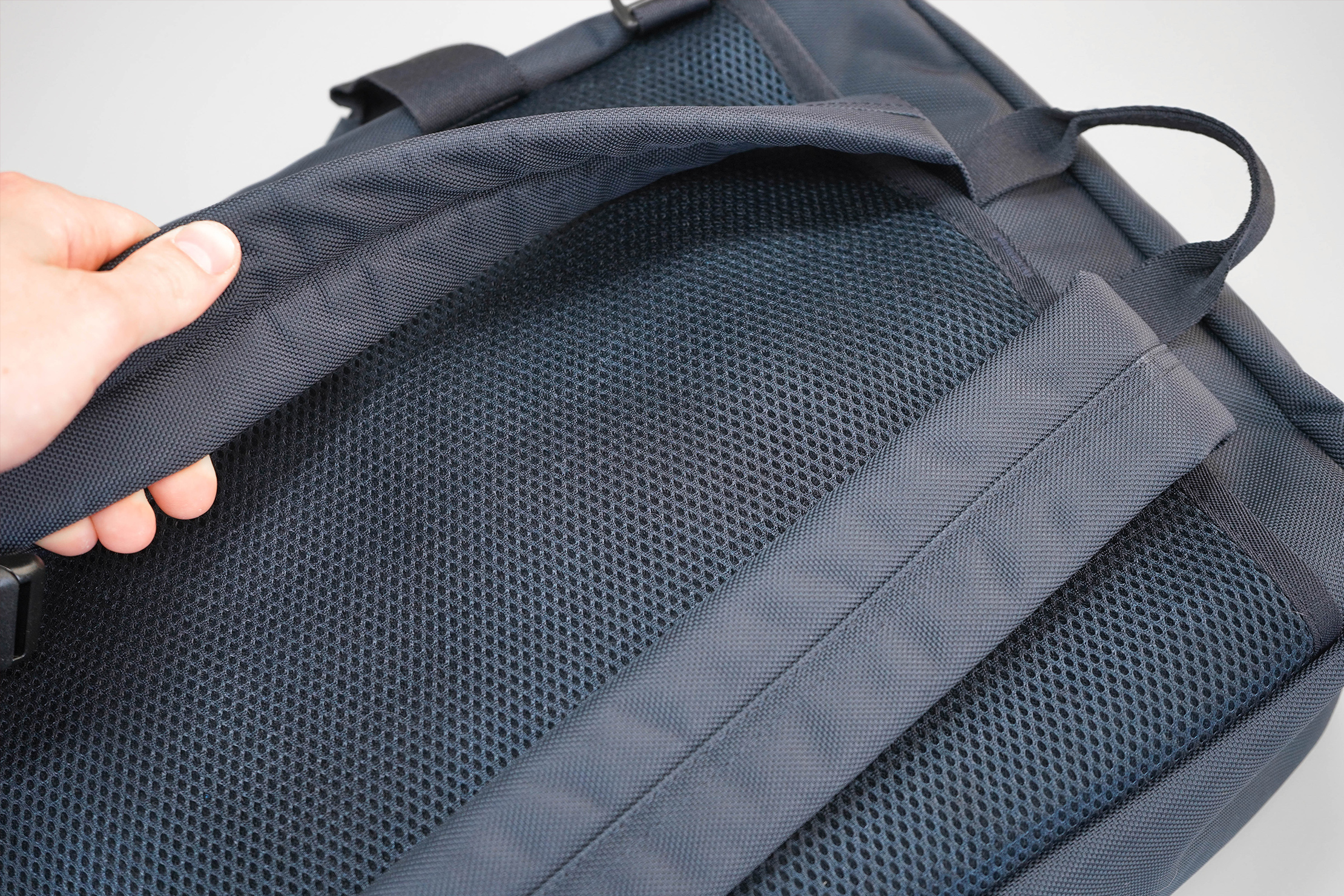 Other than that, there's not much else going on externally. You won't even find water bottle pockets. Whether or not you find this lack of water bottle pockets a pro or con depends on how often you carry water bottles, reusable mugs, or thermoses.
Inside the Pack
Alright, let's open this sucker up. When it comes to bags, some people like robust internal organization while others like absolutely nothing. The Uniqlo 3-Way Bag is somewhere in the middle, and we've been loving it.
There are four pockets. And the way these pockets are oriented depends on how you're carrying the bag, of course. For simplicity's sake, we'll be talking about them as though you're carrying the bag in the messenger or briefcase styles.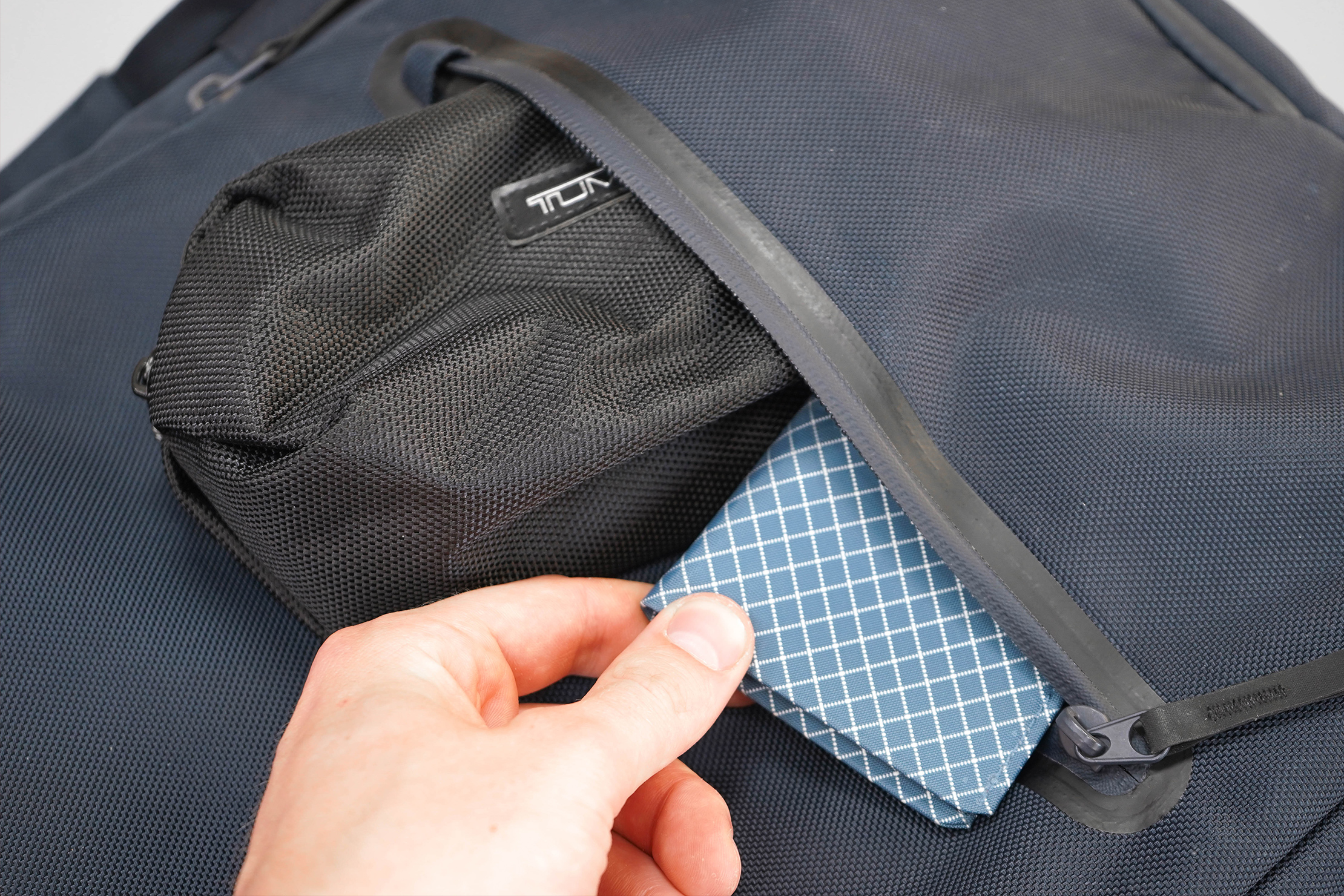 The first compartment sits on the front of the pack and is oriented vertically. We're not a huge fan of vertical pockets as whatever's inside usually ends up falling into a heap at the bottom of the compartment. Not ideal for cords that can get tangled up in one another, but okay for other random items like your wallet or some pens, and a place where you can take organization into your own hands by utilizing accessory bags.
Then there are two compartments that are basically mirror images of one another, also located on the front of the bag. They're as deep as the front of the bag is long, although they only open about half of that height, which we found to be frustrating when getting in and out of them.

The main difference between these two compartments is the organization inside of them. In the right compartment, there's one long interior pocket, while the pocket inside the left compartment is divided in two. We've been keeping smaller items in the divided pocket, and larger ones—like a computer mouse—in the longer one.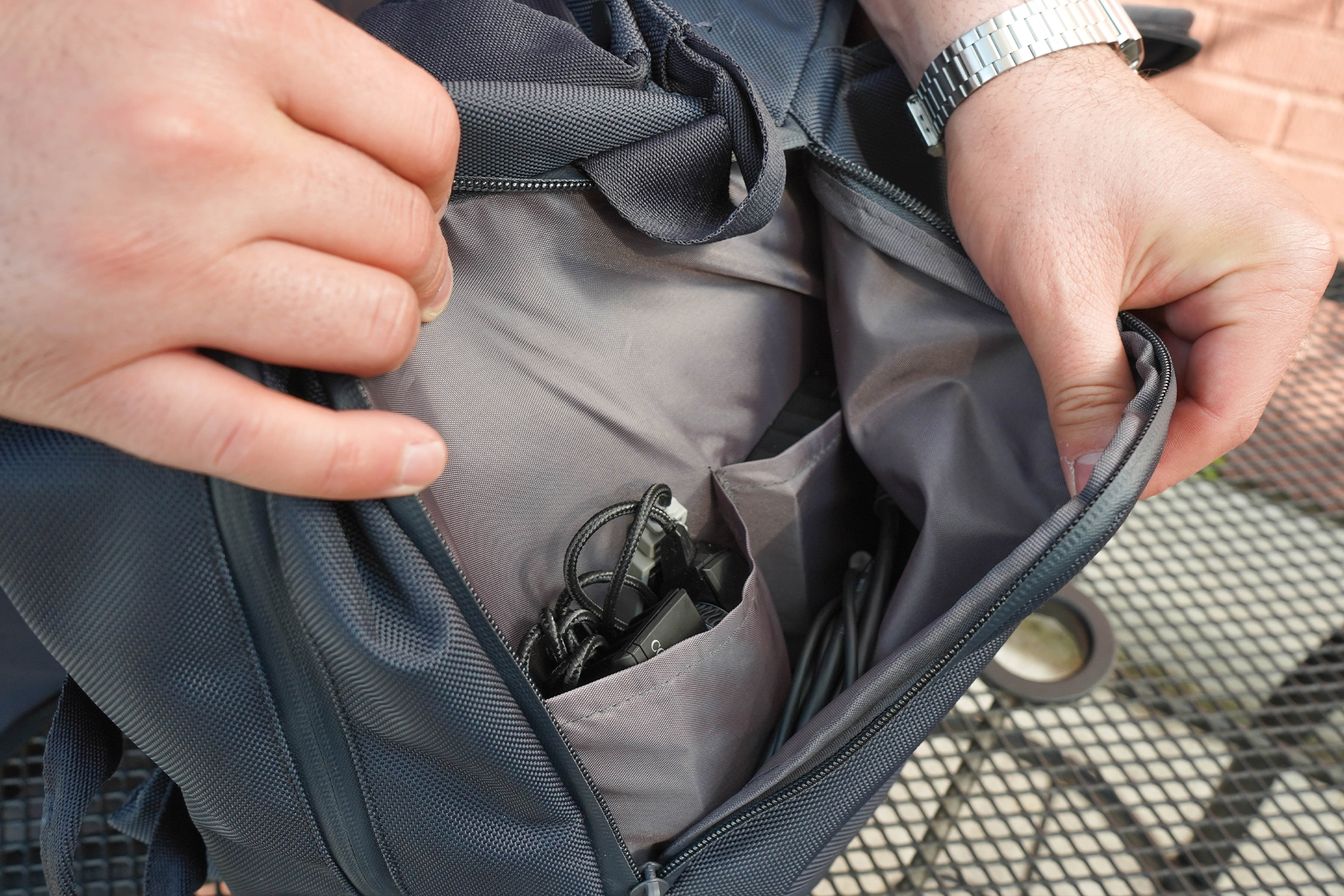 One downside here is that these compartments are flipped almost upside down when you're carrying the bag in backpack mode. And these internal pockets aren't zippered, so your stuff can easily fall out.

Up next, you have the main compartment, which is basically a hybrid between a clamshell-style backpack that opens all the way around and a top-loading backpack, which only opens at the top. It unzips a majority of the way. We have no complaints here as you can still easily see what you've stashed inside and the design allows you to safely carry the bag as a backpack.
On one side of the main compartment are two mesh pockets. They aren't zippered, but they're deep enough that we've had no problems with items slipping out. We've been using it for cords and hard drives, but it's also a good spot for Dopp kits on those weekend trips.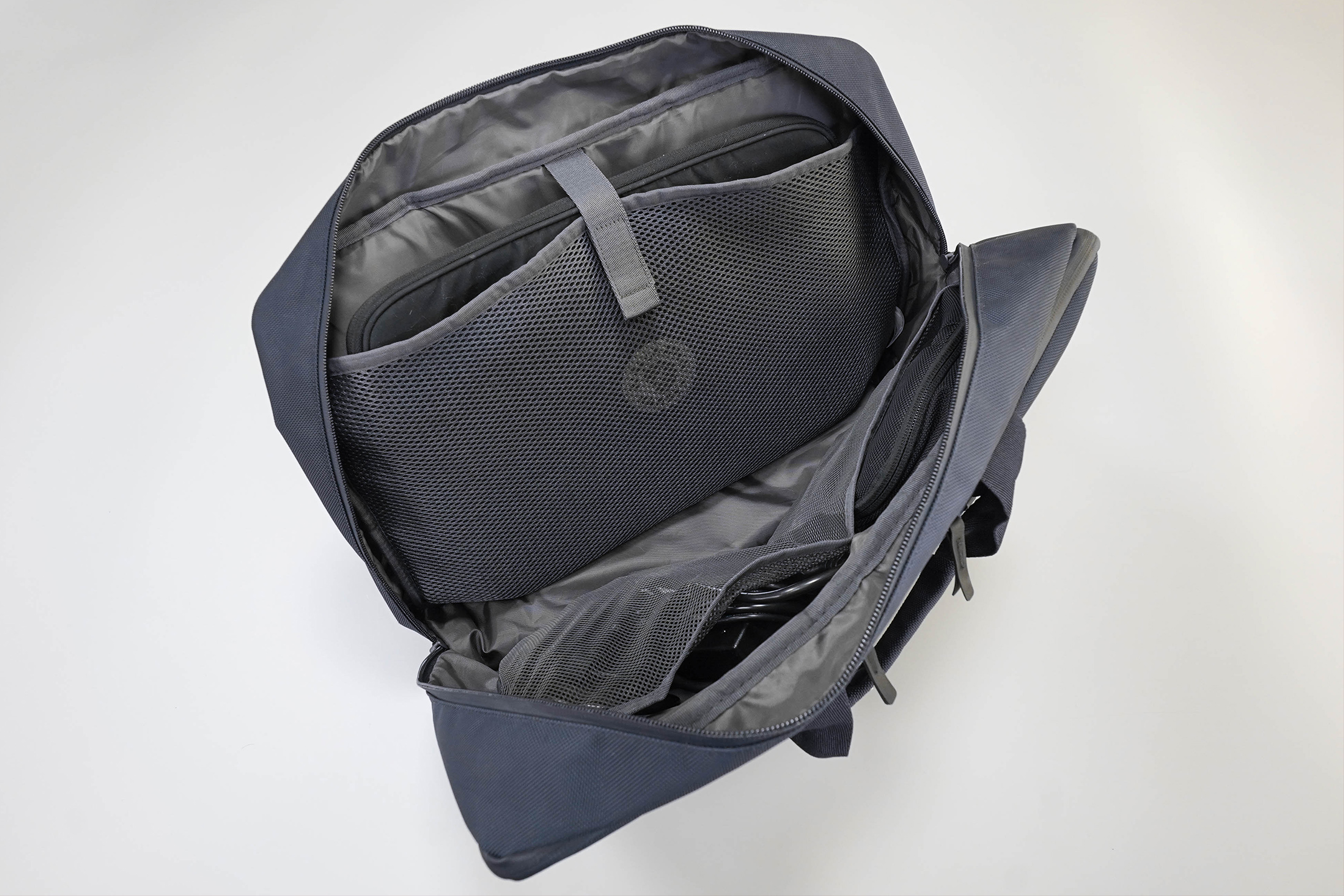 On the opposite side, you'll find the laptop pocket, which is protected by a thin layer of mesh on one side and a decent amount of padding on the other. A thin velcro strap keeps it closed. There's a false bottom, so your laptop won't hit the ground every time your bag does, which is a really nice touch by the folks at Uniqlo. But we still suggest a laptop case or sleeve since the pocket is flimsy enough that a smaller laptop will definitely shift around.
If your laptop is too big to fit in the pocket—like a large 17'' one or bigger—you can always keep it in the compartment itself. Otherwise, this space is great for clothing. To keep said clothing organized, we suggest packing cubes, which, luckily for you, we wrote an entire guide on.
Durability & Testing
We've been testing the Uniqlo 3-Way Bag for a month as a daily driver around Detroit, Michigan. Overall, we've been impressed with how well it's held up. There are only a few small scuffs and an even smaller stain from an accident involving jelly (whoops!).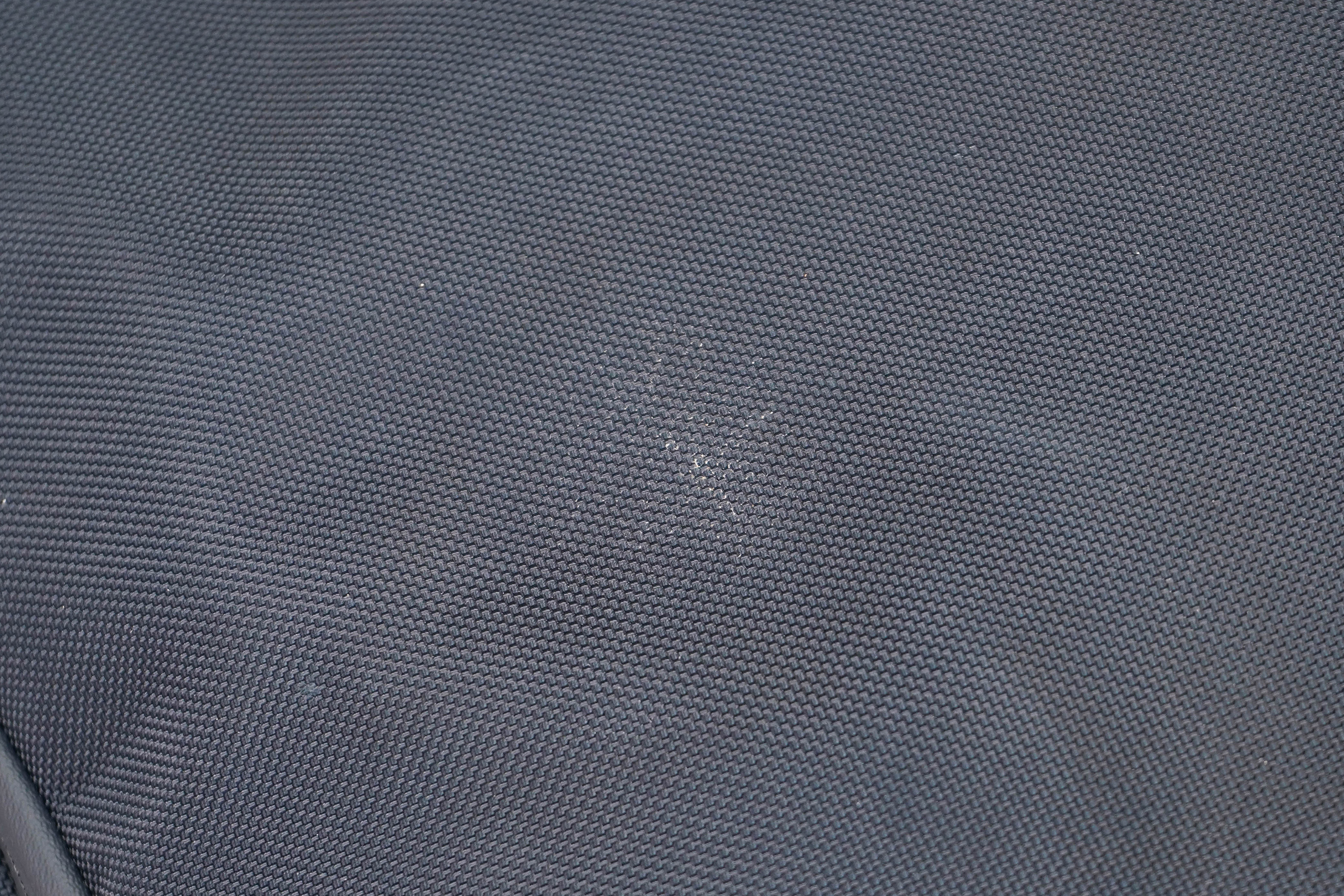 We've found it has just the right amount of organization for all of gear we carry around on the daily—laptop, headphones, external hard drives, and the like. And we fit right in with all of the business professionals at the coworking space.
And the best thing? It's affordable.
Usage Timeline
Initial Usage
Condition: Excellent
We're liking the multiple ways to carry.
We don't have confidence that the harness system will be comfortable with a ton of weight inside, but the size is generally good for a bag without a frame sheet.
The more minimal and polished look of this bag seems great for minimal travel and meetings.
2 Weeks of Use
Condition: Excellent
We've been getting the most use out of the messenger bag mode, but all three ways work
1 Month of Use
Condition: Good
Starting to notice a small amount of scuff and loose threads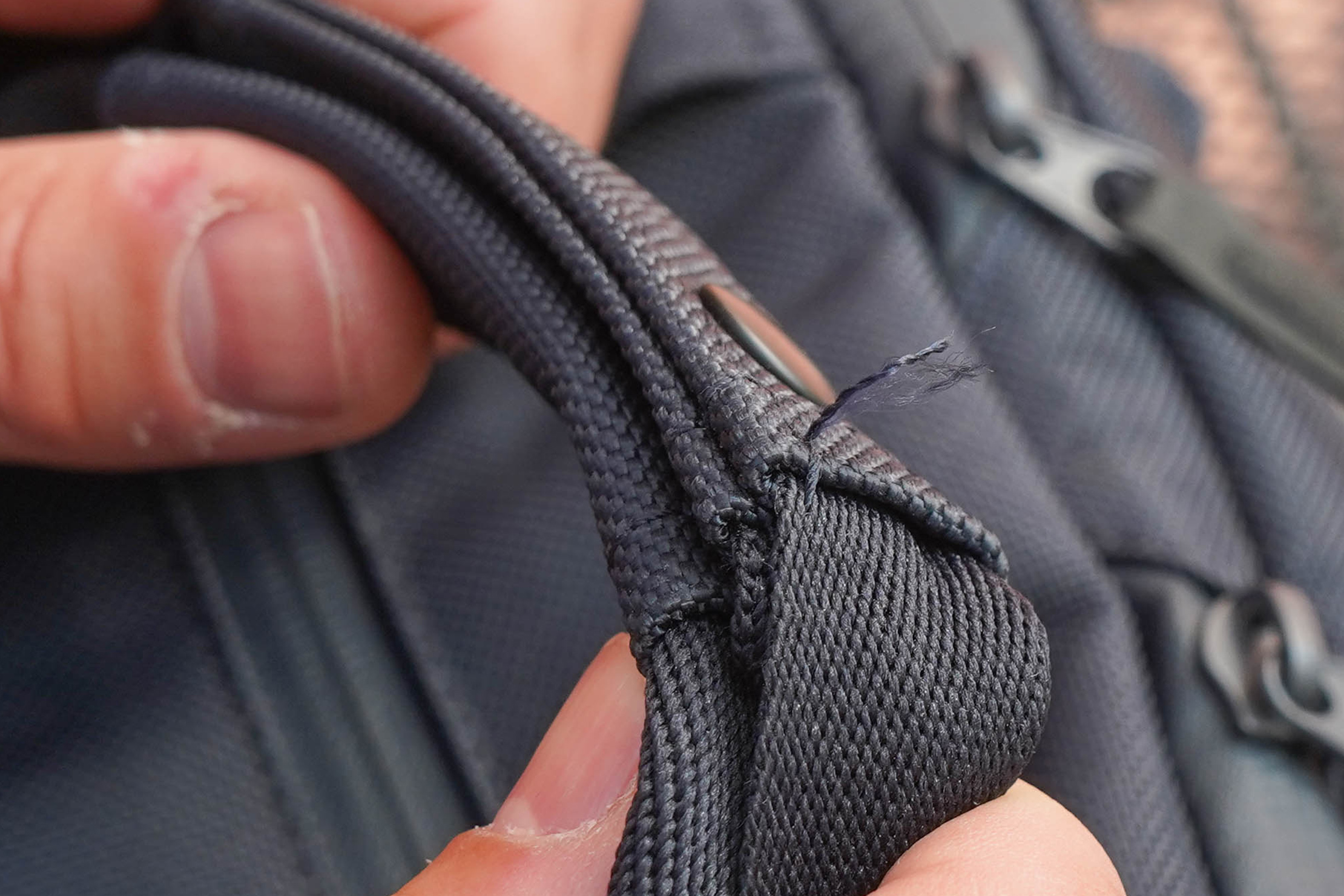 Access the Pro Community Discussion
Get your questions about the Uniqlo 3-Way Bag answered from our team and the Pro Community right here on the page. Plus, join discussions with other members about gear, guides, and more.
Other Bags & Luggage Reviews