lululemon Everywhere Belt Bag Review
The lululemon Everywhere Belt Bag touts straightforward organization in a small package, albeit in the form of relatively loose mesh pockets.
Our Verdict
Unlock the Pro Summary
Save time. Get access to brief summaries of our reviews so you can browse and make decisions more efficiently.
Pros
Not devoid of any organization despite small size
Doesn't feel cramped for its one-liter capacity
Fabric effectively repels accidental splashes
Cons
Dark interior camouflages small black accessories
Single zippered opening means less flexibility
Mesh pockets' elastic feels too loose
Recent Pack Hacker Video
Technical Details
100 %
Carry-on Compliance
Capacity

1l

Dimensions

5 in x 7.5 in x 2 in (12.7 x 19.1 x 5.1 cm)

Notable Materials

Nylon, Polyester, YKK Zippers, Duraflex Hardware

Manufacturing Country

Vietnam

Warranty Information
Full Review
Whenever a small bag lands on our desk, one of the most immediate questions we raise is what sacrifices had to be made to get it down to that size. One area where we see the most cuts is in organization. We've had our fair share of pouches and slings that opt for a dump pocket approach. While this has its own merits (and we're sure a lot of you prefer it), other users would like some organization in a small package.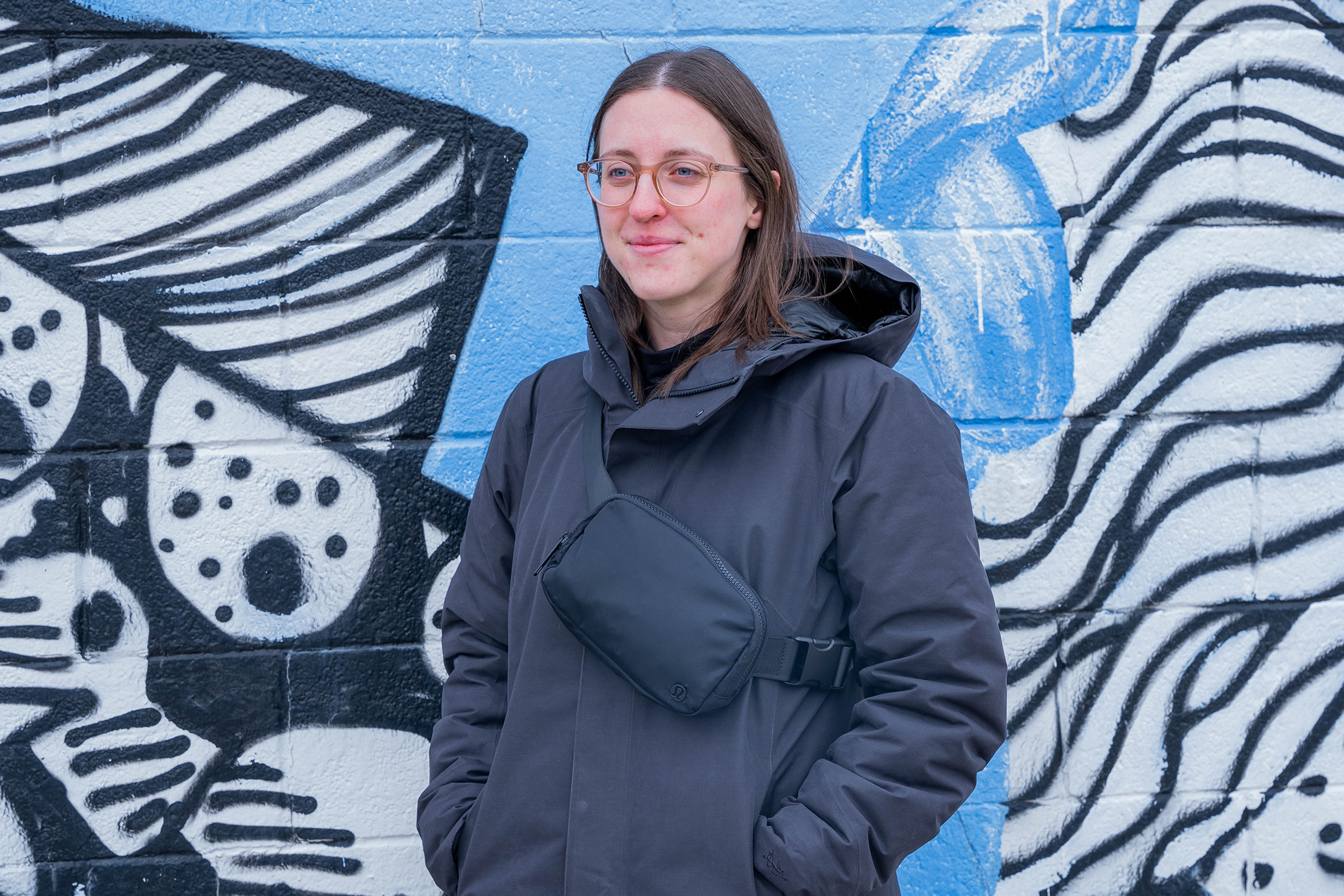 lululemon agrees, and their Everywhere Belt Bag is proof of it. It has a two-compartment layout, with a further three mesh pockets inside the main one. That doesn't sound too extensive, but it's a healthy amount for a one-liter bag. As the name suggests, this is a bag worn around the waist like a belt. However, it also wears comfortably as a sling, with only a few minor tweaks and details to consider. Let's take a closer look at these details together and see what else the Everywhere Belt Bag has to offer.
Materials & Aesthetic
Before anyone says it, yes, we have the black colorway for this review. We understand the subdued all-black design doesn't cater to everyone's taste, especially to those looking for something that pops. However, we'll always make the case that black is oh-so-much easier to pair with our favorite clothes, most of which come in a variety of colors.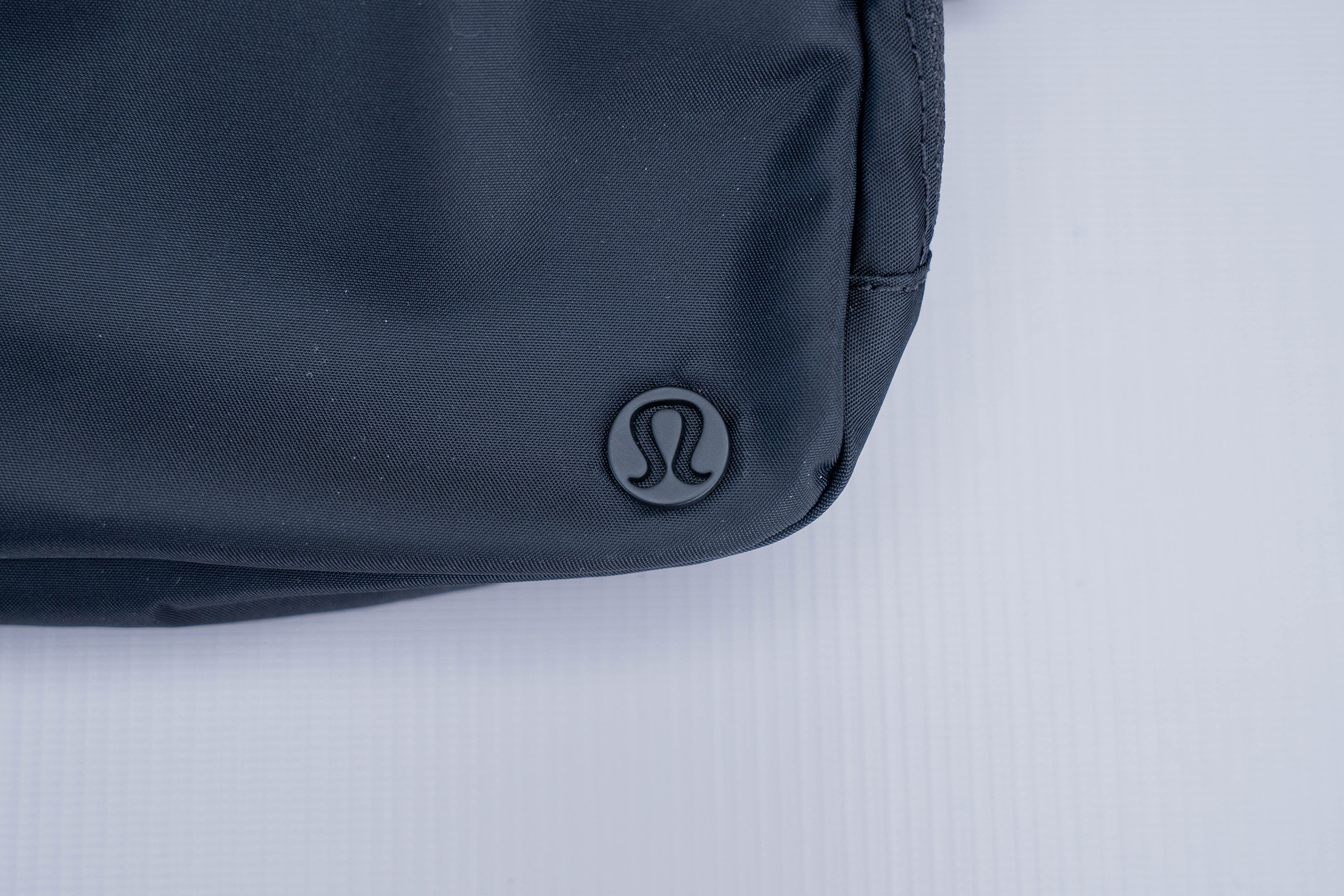 With that point made, there are other colorways available at the time of writing. There's Seal Grey which appears to be closer to white than black. Pink Pastel is arguably the most eye-catching option, and maybe nose-catching as well since it looks like it's packing Carnations inside. Lastly, there's also Heritage Camo Wash Juniper Green Multi Black (yes, that is the entire name), which looks like a complete mashup of all the previous colorways in a camo pattern. We're not quite sure whether it wants to blend in or stand out, but it is an option nonetheless.
Styling aside, the Everywhere Belt Bag has excellent build quality. The most prominent example would be its nylon exterior with a water-repellent finish. It provides a fair amount of structure for the bag, as well as slick texture. One feel of the fabric, and you'll get a good impression of how well water can bead off the material. Inside, the liner is made out of polyester, and so are the mesh pockets.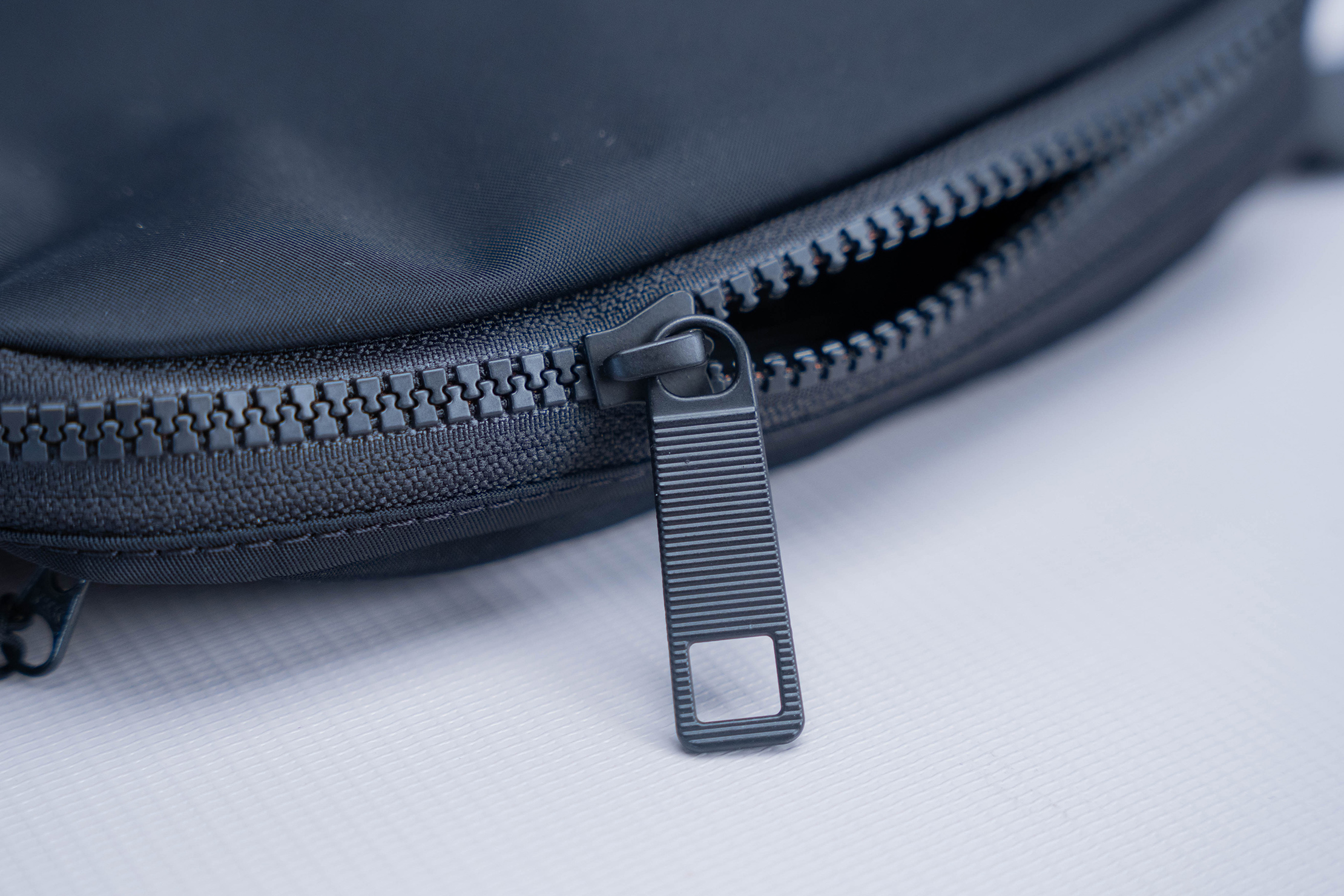 We've tested just how effective the water-repellent finish is by splashing it with a cup of water. The good news is that it passed the test without issue, though we wouldn't tempt fate unnecessarily. The fabric may repel water competently, but the reliable YKK zippers aren't reverse coil, nor are they AquaGuard.
As toothy as the zipper elements may appear, the YKK zips move smoothly and without issue. Meanwhile, the lone and beefy buckle comes courtesy of Duraflex, a brand just as well-regarded for their hardware as YKK is for their zippers.
External Components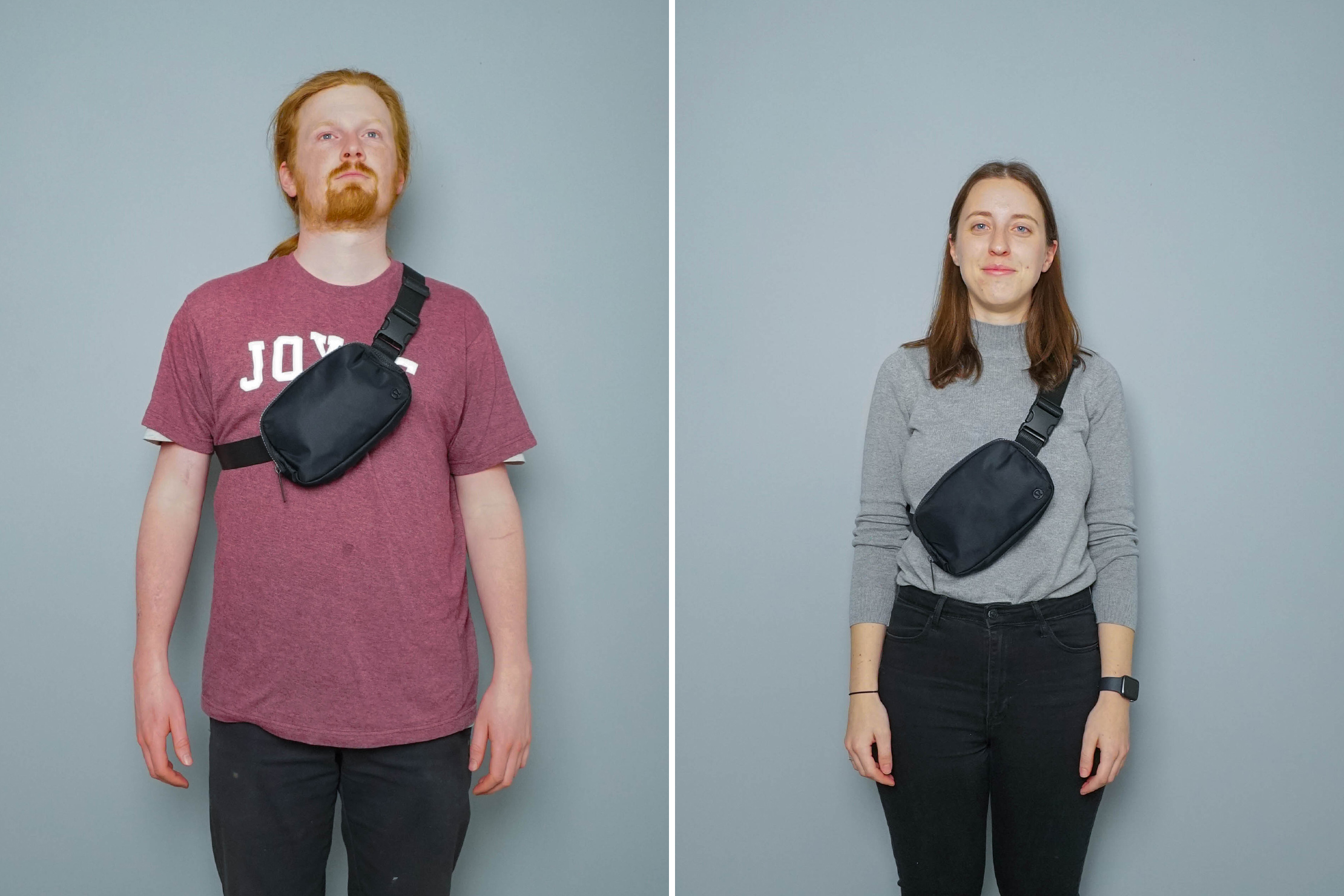 The Everywhere Belt Bag comes in at a humble capacity of one liter. It doesn't take much to handle that kind of size. However, lululemon seems to have gone just a tiny bit overkill with their choice of strap.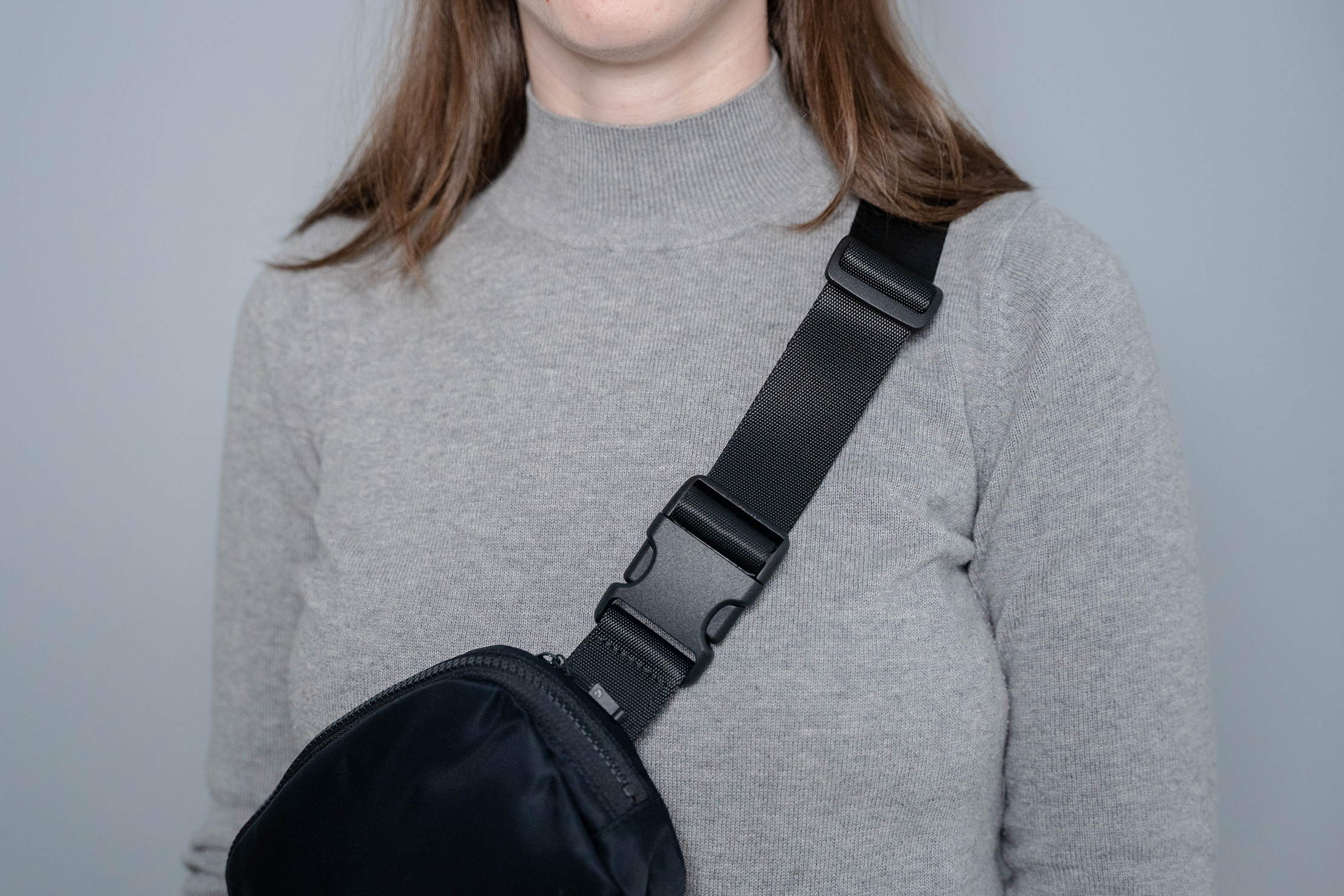 Simply put, it's relatively thick for the one-liter Everywhere Belt Bag. Even the quick-release buckle is as beefy as something you would find on a travel backpack's hip belt. However, if you think about it, it makes sense. First and foremost, this is a bag meant to be worn around the waist, so you can understand where the design is coming from.
The strap itself has a smooth, seatbelt-like finish that's not abrasive, even against delicate clothing. In addition to its thickness, it's also wide enough to effectively distribute all the weight that could potentially come from a meager one-liter bag. It's not a stretch to say that the strap is slightly overbuilt for the job it's been given, which makes it capable of sling-style carrying as well.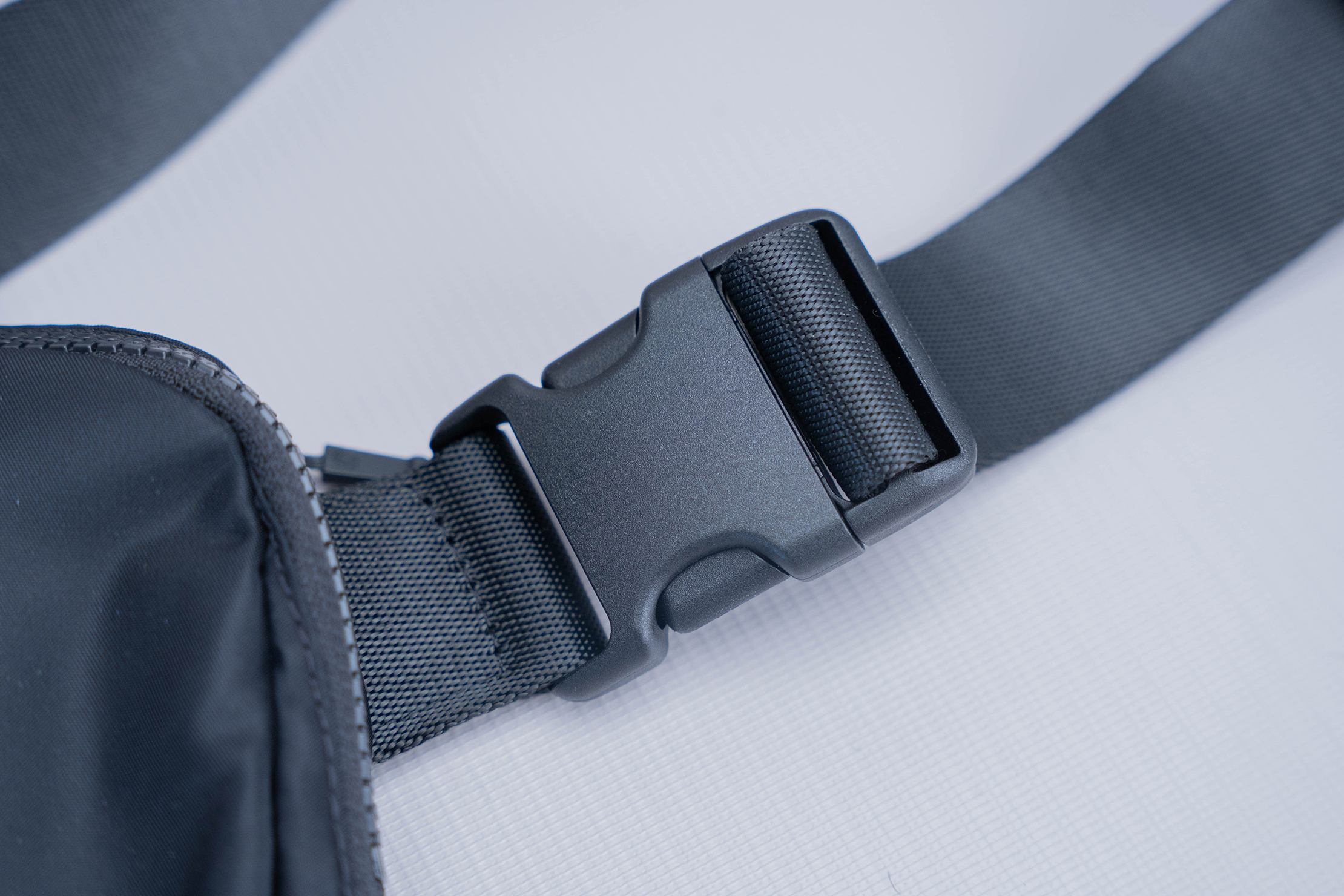 Admittedly, despite being a belt bag, we opted to carry the Everywhere Belt Bag as a sling most of the time. It's not that we're testing it at a disadvantage—not at all. In fact, it performs quite well when worn as a crossbody sling. It's not perfect, as it hangs lower than expected, but even this relaxed position doesn't feel saggy. We can always tighten the strap if we want it to be more centered, though a looser fit feels like the sweet spot.
Orientation is something to consider in crossbody sling mode. Having the bag at the front and the strap anchored on your left shoulder puts the quick-release buckle near the top and the main compartment's zipper further away at the bottom. This is our preferred way to carry the bag, opting to trade some compartment accessibility for an easier reach to the quick-release buckle. We also don't mind the industrial vibe given off by having the beefy buckle more prominently displayed.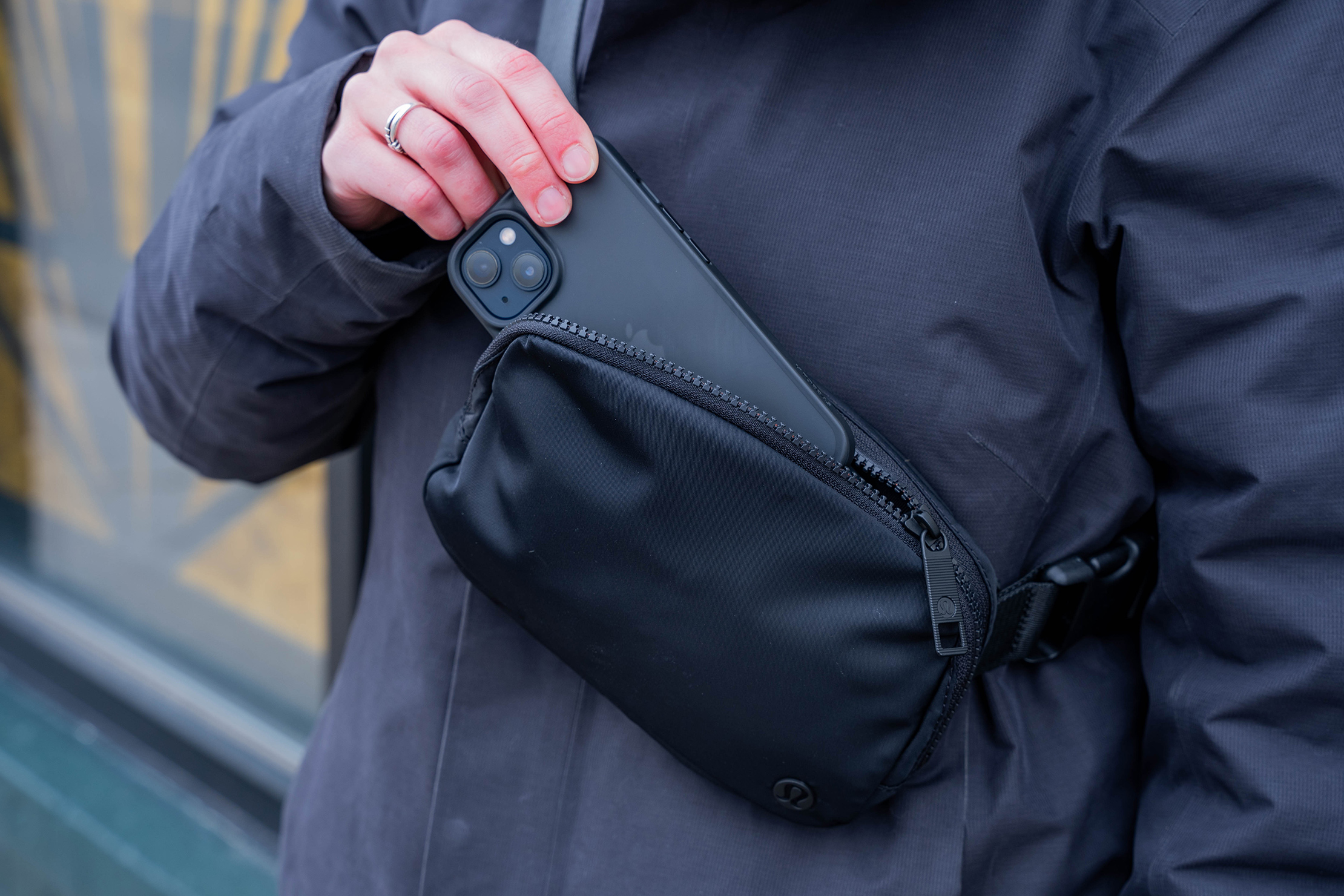 On the other hand, if compartment access is a priority for you, having the strap on the right shoulder is the way to go. It's a bit unfortunate that the main compartment only has one zipper because if it had two, you could shift the opening towards one side or the other. By the way, the buckle is also fixed to one side.
It would be unfair to knock points off the Everywhere Belt Bag just because it has some clunkiness as a sling. As a belt bag (or waist pack, as we'd like to call them), it's easy to wear and equally comfortable since the strap has a fair amount of length for adjustment. A bit of tinkering with the length should net you a reasonably comfortable fit.
Inside The Waist Pack
First up is the rear zipper pocket. It's wide enough to fit an iPhone 13 sideways, though it's already a snug fit. A larger smartphone may not go in at all or only go in part way. The mesh pocket inside the main compartment may also bulge against the rear pocket, so keep that in mind when you're filling in the bag. In the same way, anything too bulky inside the rear pocket itself may jut out and compromise carrying comfort since there's no back panel or any foam padding.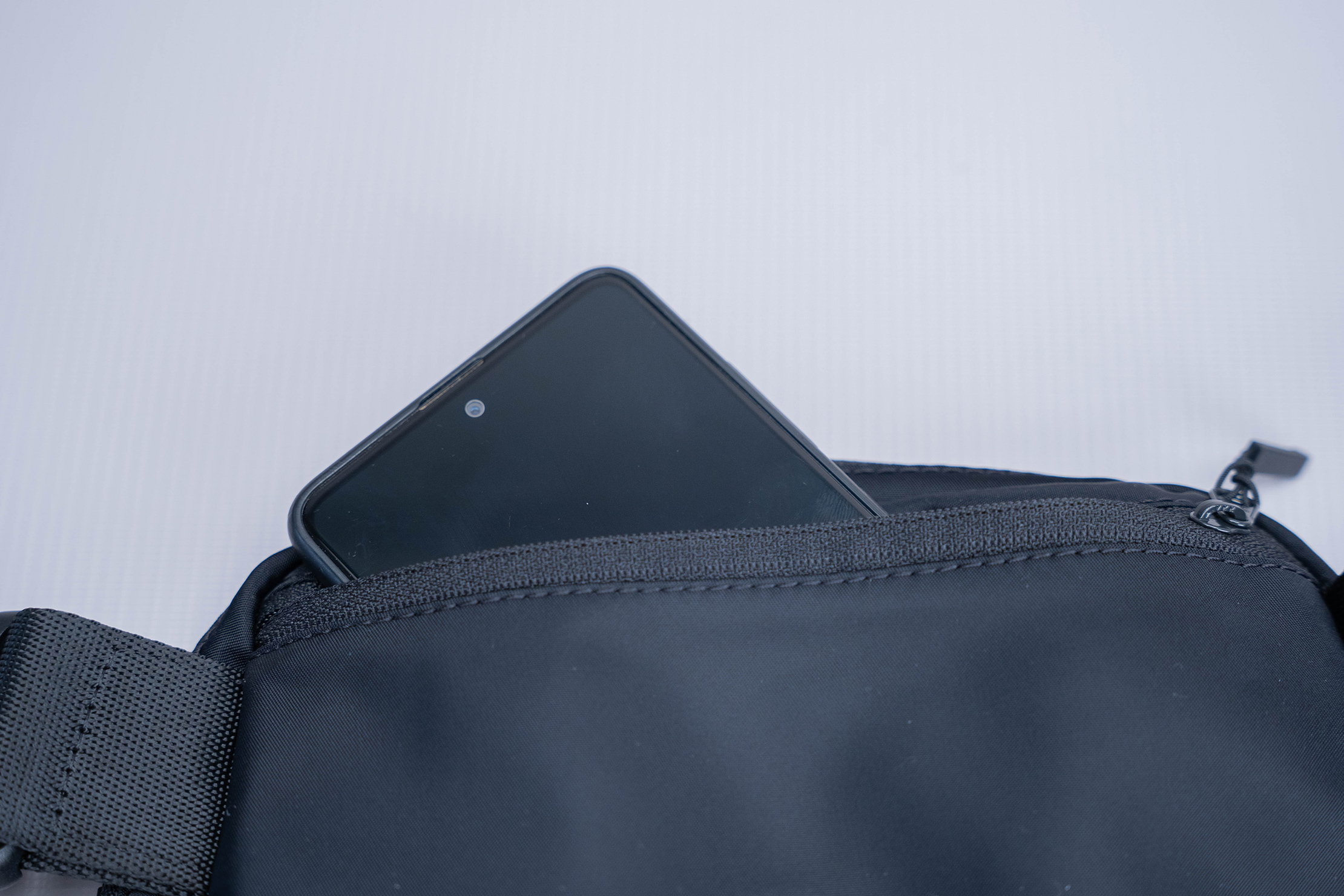 Next up is the main compartment. Despite the bag's small size, the interior gets a health serving or organization in the form of three mesh pockets. There's a wide one at the back and two smaller ones at the front. Our only complaint is that these mesh pockets feel too loose for our liking. Tighter elastics would've made organization cleaner and helped with overall accessibility.
To be fair, none of the items we put in all of the mesh pockets fall out. However, their looseness makes us think twice about haphazardly dumping small accessories inside; otherwise, they might drop into a pocket we don't want. And because the interior is also all black, searching for small items isn't very convenient.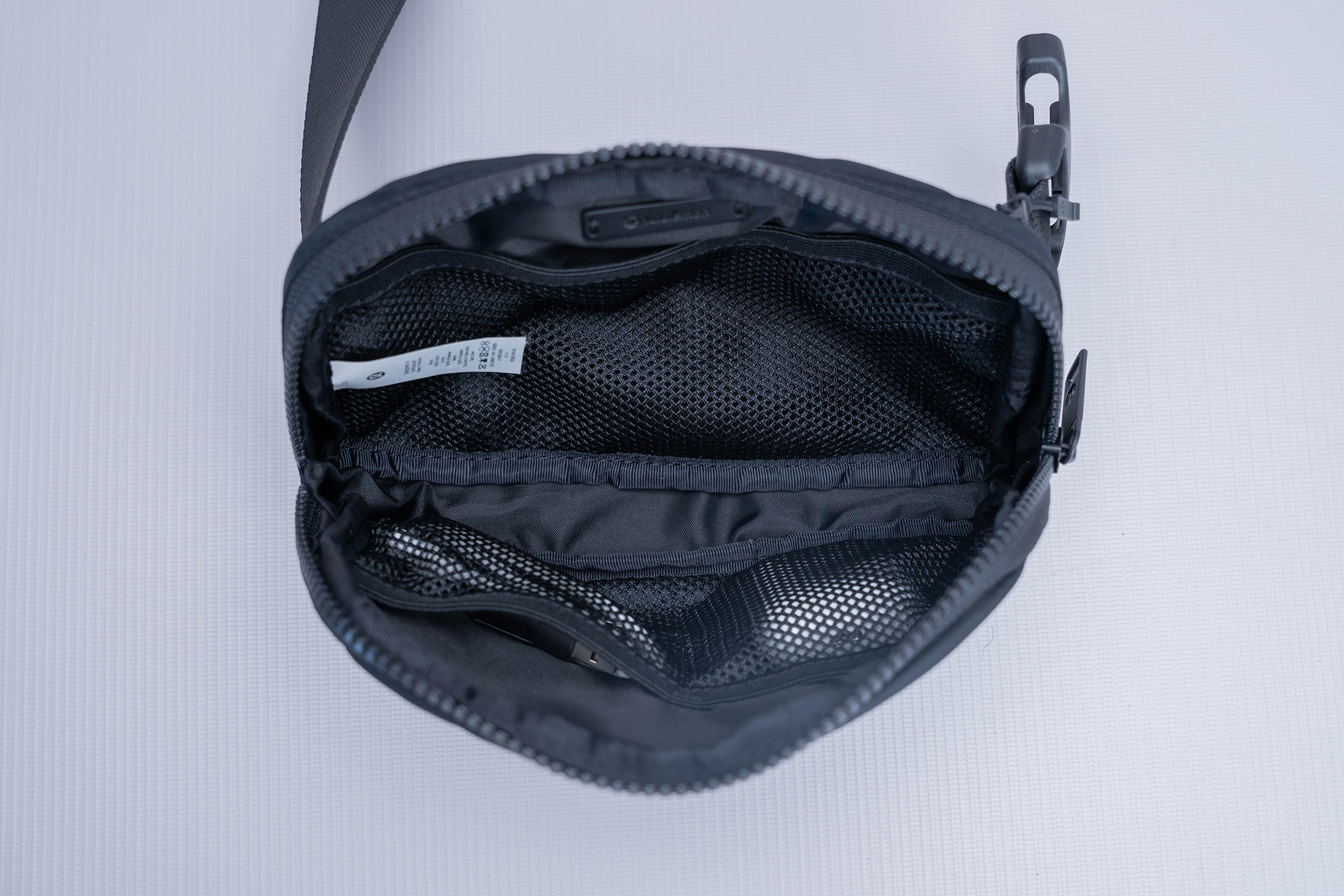 Space isn't really an issue for its size, thanks to how lululemon shaped the bag. It starts off narrow at the top but widens towards the bottom. This gives the bag a sizeable floor space for relatively large items like our wallet, a medium-sized power bank, or a bunch of keys.
If there were a litmus test for a sling's spaciousness, it would be a Nintendo Switch. Fortunately, the console does fit inside, though you'll have to detach the Joy-Cons to clear the width. There are no padding or other device protection measures around the bag, so it's not the best carrying case for a fragile gaming console. The mesh pockets' material also won't stop sharp items like keys from potentially scratching up the screen.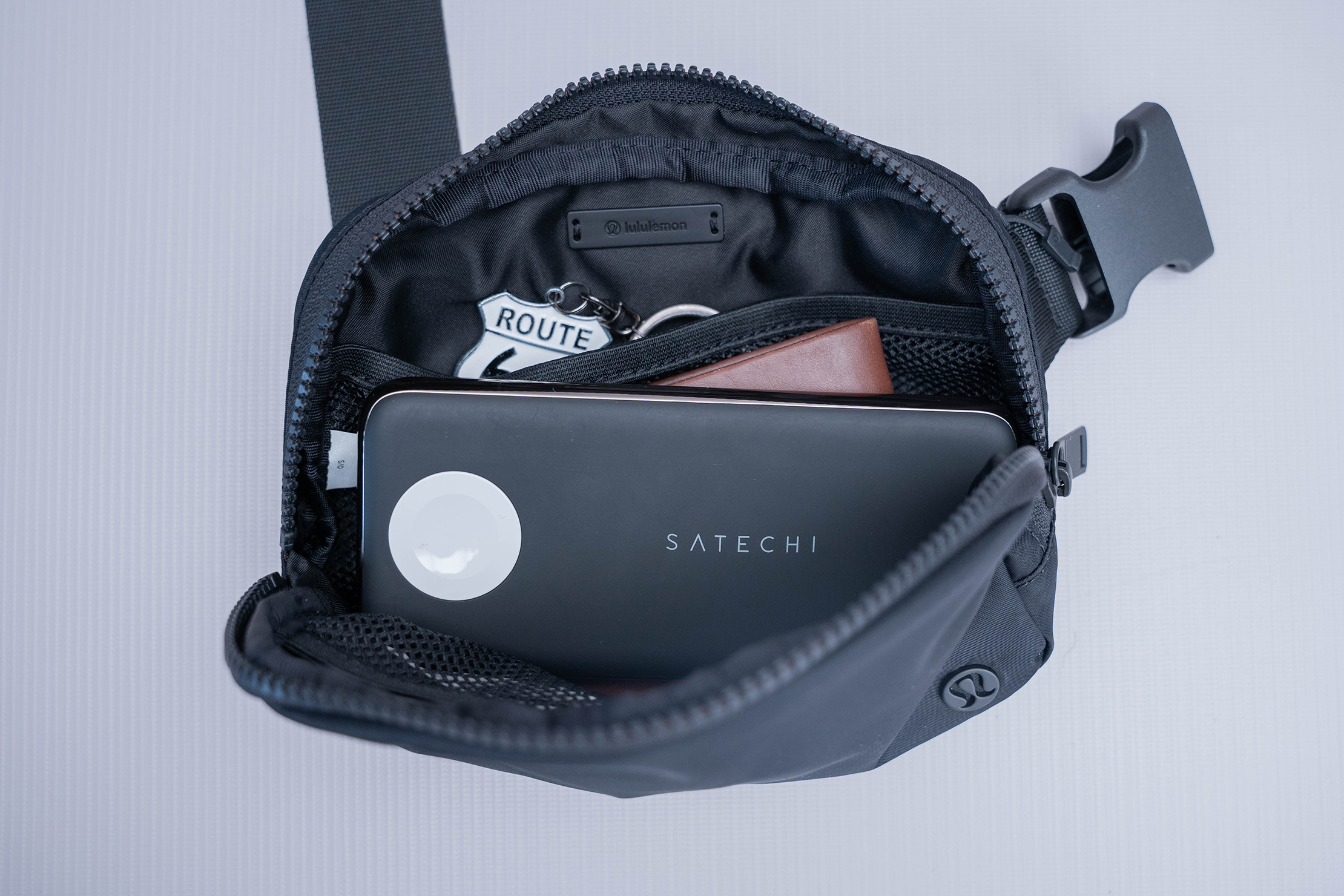 Despite its shortcomings, the one-liter Everywhere Belt Bag still impresses with the amount of organization it has. It doesn't settle for just a two-compartment setup, instead offering users additional mesh pockets to get things organized. The looseness of the mesh does somewhat impact accessibility, but we'll take it over having no organization at all.
Usage Timeline
Initial Usage
Condition: Excellent
Simple, fuss-free design
Opening is relatively wide for its overall size
Has a slight forward lean
2 Weeks of Use
Condition: Excellent
Decent amount of space for gear at 1L
Internal mesh pockets aren't as secure as we'd like
Only one zipper, so the opening faces downward depending on which side you orient the pack
Material is in great shape and still repelling water well
Access the Pro Community Discussion
Get your questions about the lululemon Everywhere Belt Bag answered from our team and the Pro Community right here on the page. Plus, join discussions with other members about gear, guides, and more.
Other Bags & Luggage Reviews