ALPAKA Bravo Sling Max V2 Review
When you want to take your tech on the go, the ALPAKA Bravo Sling Max V2 lets you do so with a comfortably-padded shoulder strap, although it tends to twist.
Our Verdict
Unlock the Pro Summary
Save time. Get access to brief summaries of our reviews so you can browse and make decisions more efficiently.
Pros
Magnetic keychain is quick to grab
Comfortable shoulder strap
Easy to swing from back to front carry
Cons
Thick gear can impact laptop sleeve access
Shoulder strap twists easily
Access can be slow around corners of water-resistant zippers
Recent Pack Hacker Video
Technical Details
Capacity

10l

Weight (oz)

24 oz (680.4 g)

Dimensions

15.4 in x 10.2 in x 5.51 in (39.1 x 25.9 x 14 cm)

Notable Materials

Ballistic Nylon, Ripstop Nylon, YKK Zippers

Manufacturing Country

China

Laptop Compartment Size

14"

Warranty Information
Buying Options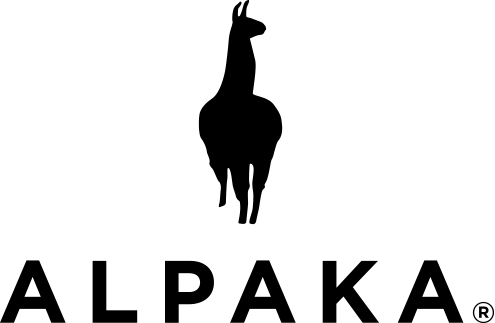 $129.00

$149.00
Full Review
Get up to 15% off ALPAKA • Join Pack Hacker Pro
A good laptop bag is essential if you're a digital nomad who needs to take your tech on the go. We have an entire guide dedicated to finding the perfect backpack for your tech gear and accessories. However, you may not need a 20-30 liter bag, nor want to haul all of that around when you're just heading to a coffee shop to work for a few hours as you enjoy a latte.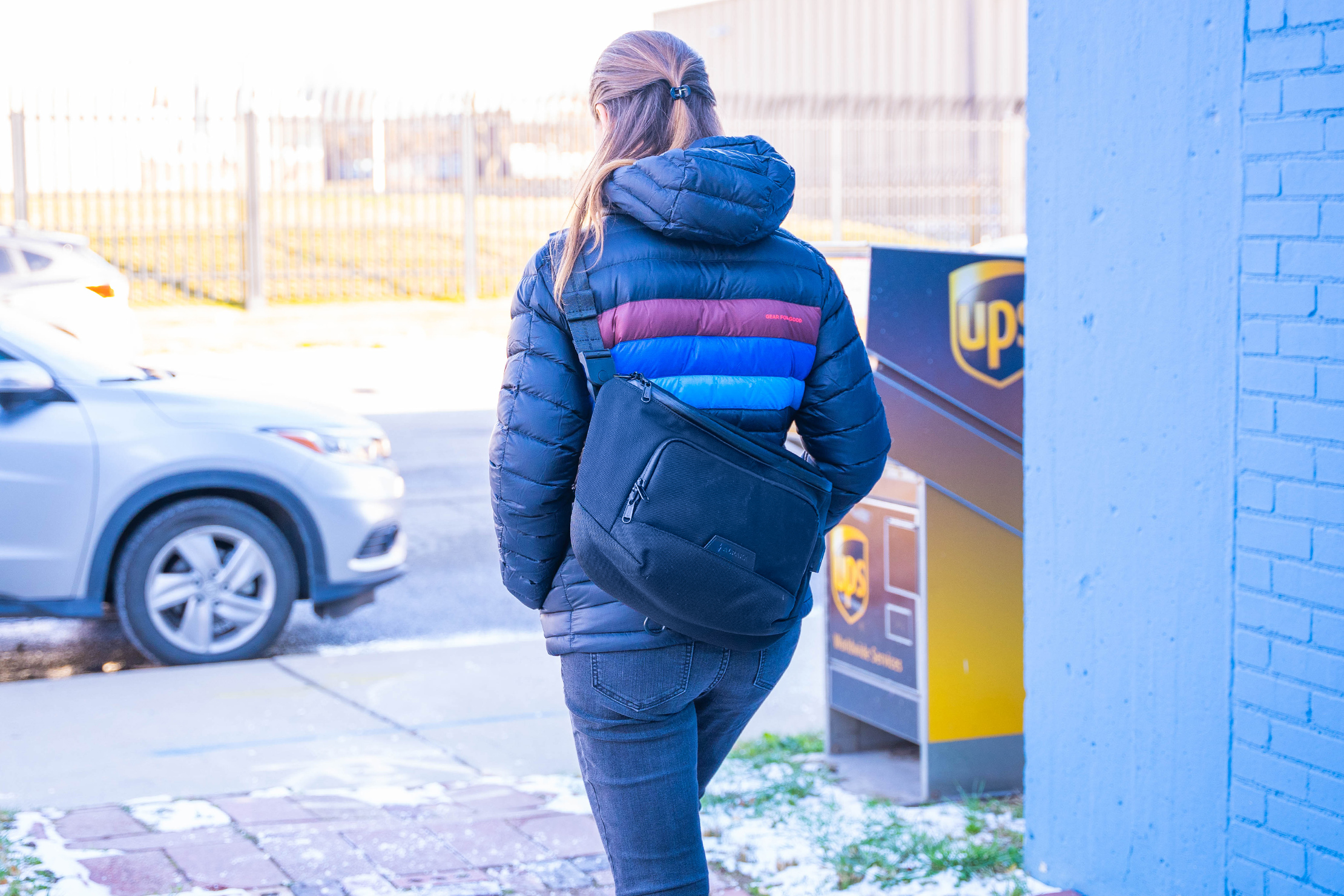 The ALPAKA Bravo Sling Max V2 incorporates many of the organizational features we like in a good travel daypack in a smaller sized sling that you can carry over your shoulder, crossbody, or on the handle of your rolling luggage. How does it fare over a few weeks of everyday carry? Let's find out.
External Components
The ALPAKA Bravo Sling Max V2 is weather-resistant and sleek in the 1000D ballistic nylon of the Jet Black colorway we're testing. You can also get it in a Graphite Grey colorway, which features 750D FauxWool, a blend of nylon and polyester. Each colorway also has thicker fabric at the bottom of the bag for extra durability, which is helpful since that's what's going to be hitting the ground in your car, a plane, or your hotel room. Whichever you opt for, there are water-resistant yet unbranded zippers—two of which can be locked to protect your gear if the situation calls for it.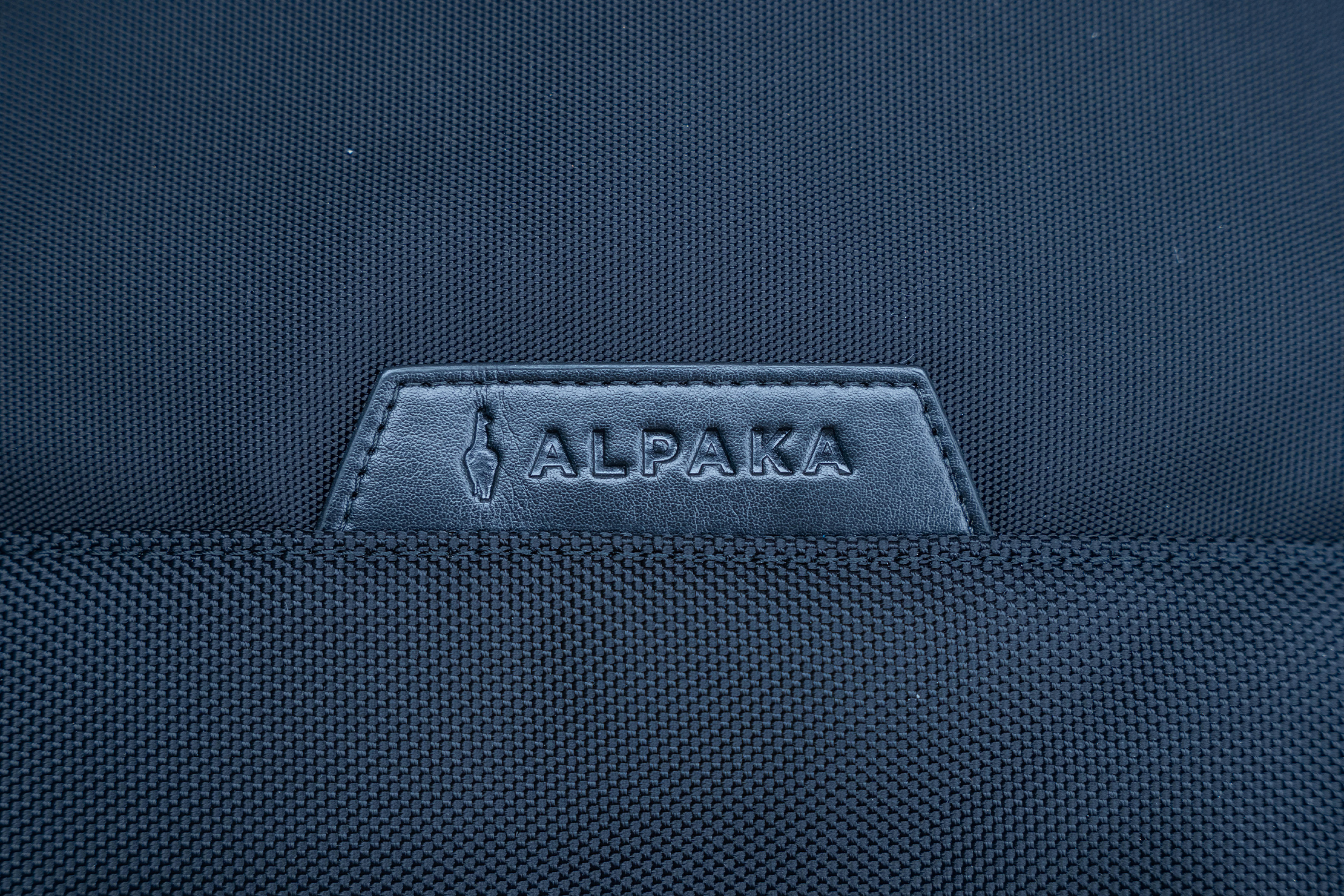 Centered in the front of the bag is a leather-like trapezoidal patch with the ALPAKA logo and brand name, which is also featured on the casing for the external USB charging port. All of the zipper pulls also have the ALPAKA alpaca logo. If you're going to market your brand with an animal, you might as well use it to your advantage, right? In this case, it's subtle enough that it doesn't stick out, nor is it too cutesy for a professional situation.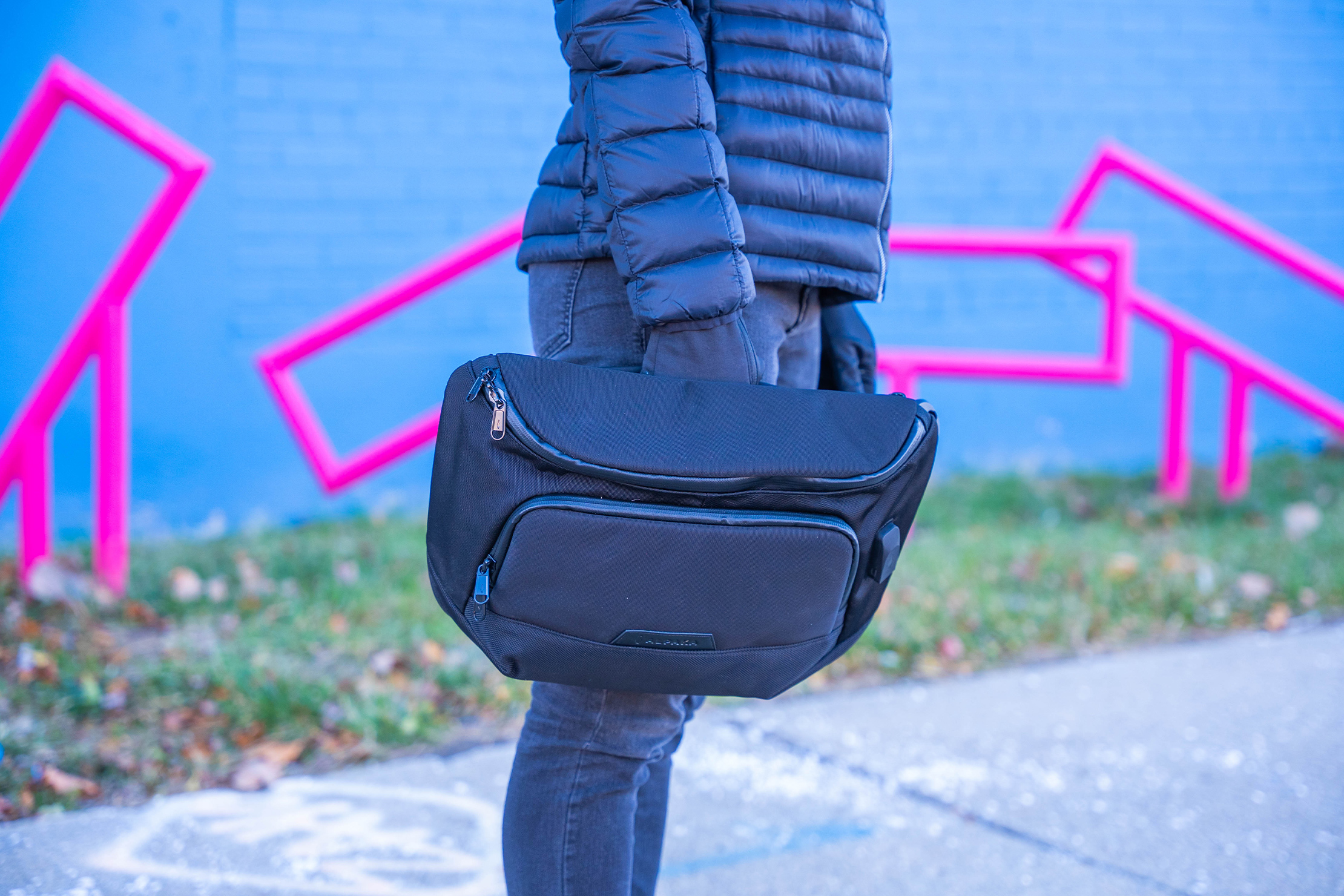 That's good because there is a well-padded handle for carrying this sling like a briefcase when you don't want the shoulder strap hanging around a meeting or under the airplane seat. The handle is on the back panel, so it also acts as a luggage pass-through if you pair it with rolling luggage or a larger briefcase.
On the bottom of the bag is a plastic D-ring attached with a short piece of webbing where you can attach the ALPAKA Modular Magnetic Stabilizer Strap, which is sold separately, if you prefer an extra strap to keep the sling from slipping as you move. If you don't have the extra strap, the ring's not in the way.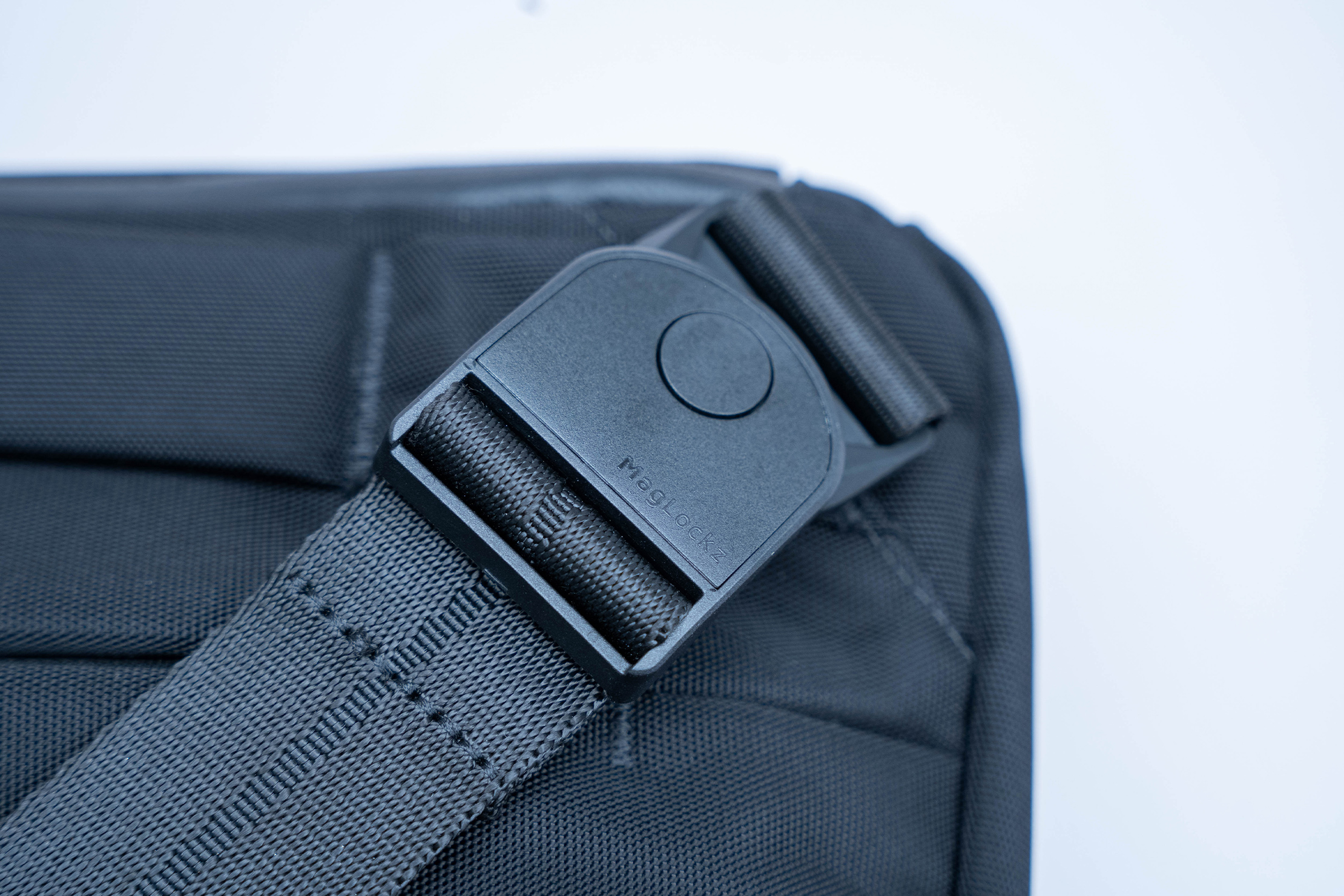 Now onto the adjustable webbing shoulder strap, which attaches to the bag via MagLockz on either side, so you can take it off if you don't need it. You can release the magnetic attachment by pushing a button on the MagLockz. A 2-inch wide piece of plastic is left on the bag, yet it doesn't get in the way. There are plenty of pockets where you can stow the strap when you don't want to use it.
To reattach the strap, line the button back up with the notch. It grabs on seamlessly. Since the magnet itself is round, it can rotate on the fixed attachment point, giving you greater flexibility for the strap to move with you. Of course, this also means the strap regularly turns and twists on itself, so you may have to untwist it to put it on, depending on the day.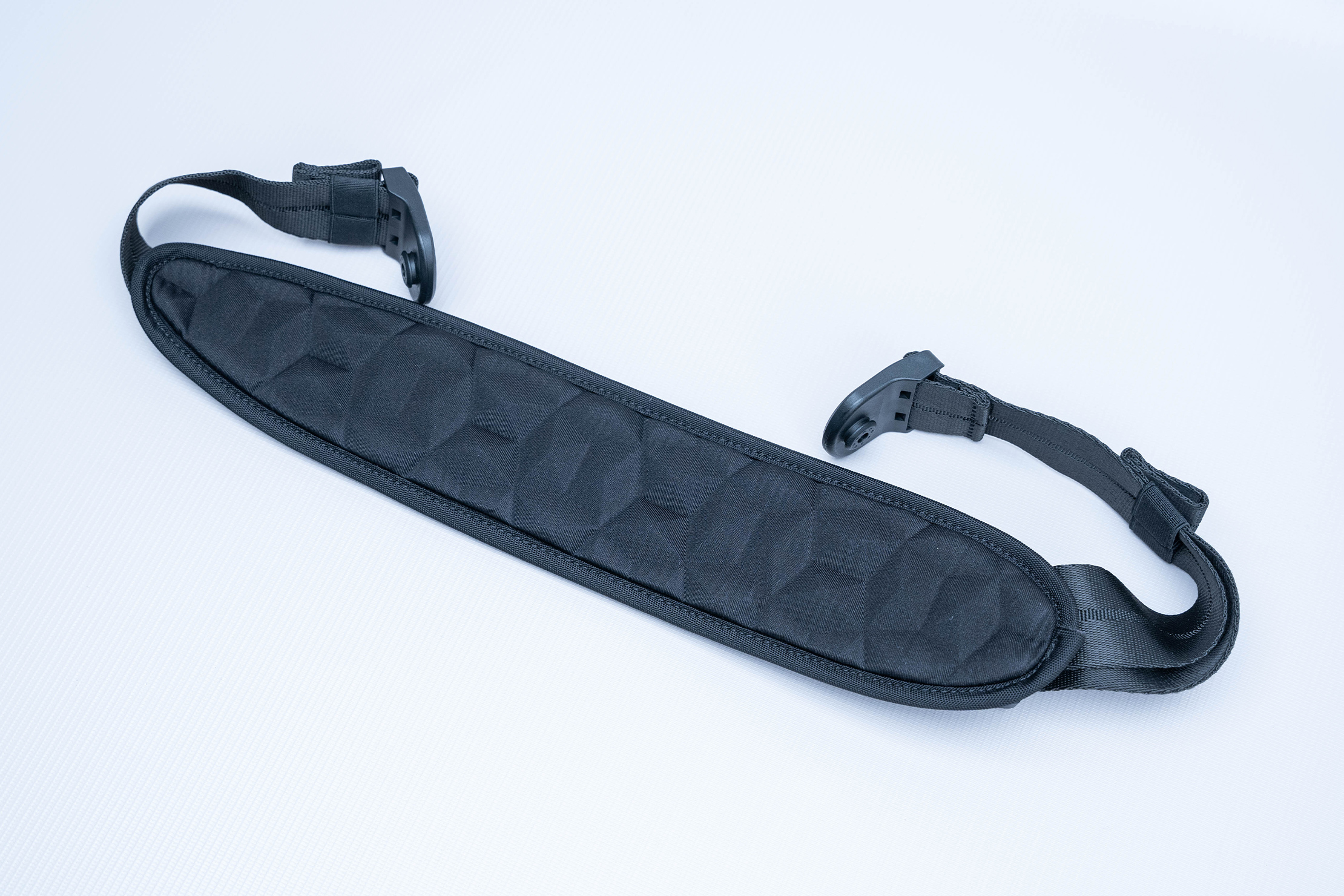 A 16-inch long shoulder pad encompasses the middle of the strap. The geometric-shaped cushion makes for an extremely comfortable carry. Along the top of the pad are loops of webbing where you can attach ALPAKA HUB Accessories, sold separately. You may want to check them out, however, as they come in handy with the Bravo Sling Max V2. Putting the HUB Clip to use on the strap keeps your keys within even easier reach than the front pocket, where ALPAKA includes a HUB magnetic keychain.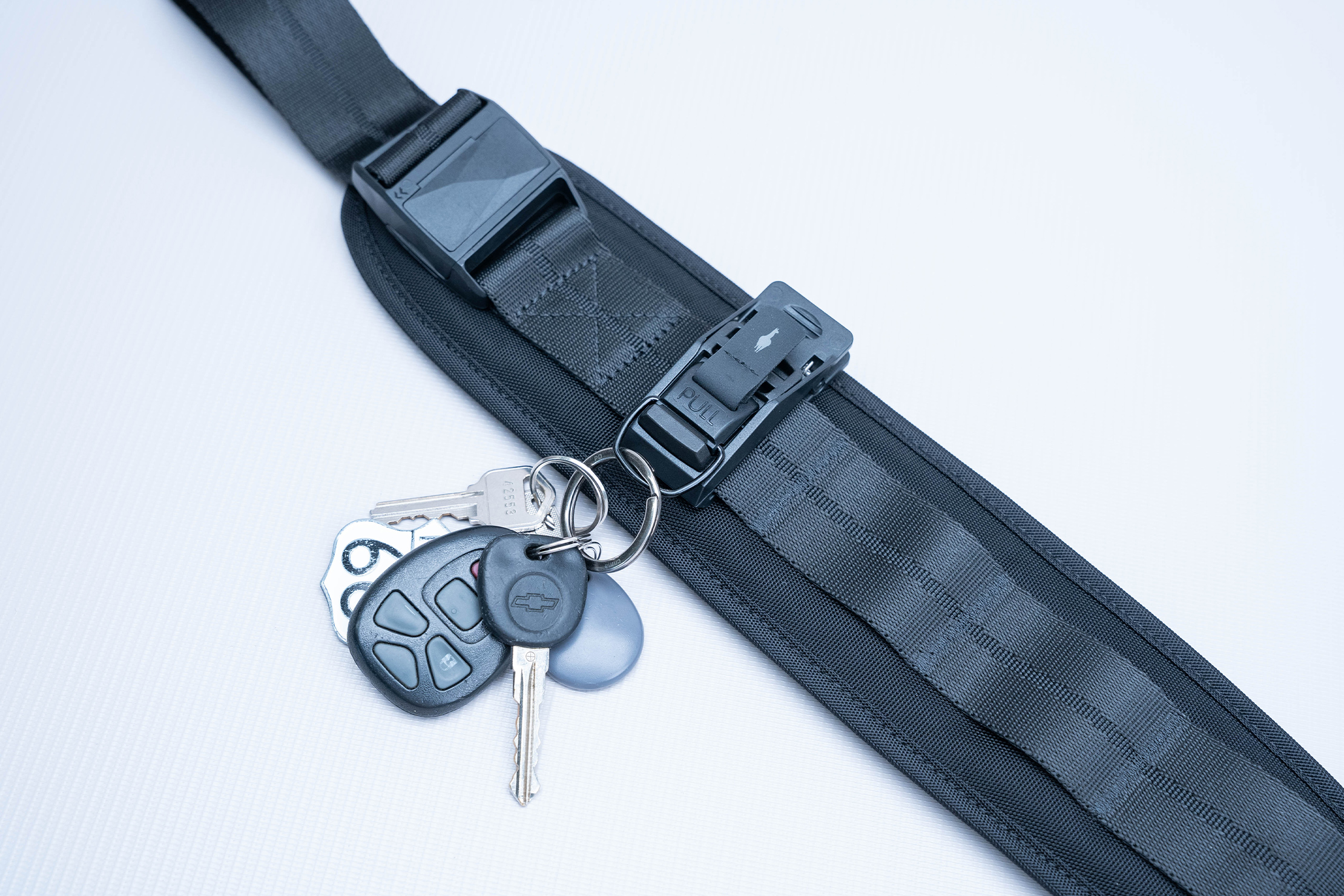 You can adjust the strap length through slide adjustments at the right-side MagLockz attachment point and on the left side of the shoulder pad, where there's a MagLockz buckle to separate the strap in two. Since the buckle ends up on your front if you wear the sling on your back, it's easy to undo to doff the bag should you have the fit dialed in tight. And, of course, strap keepers add to this bag's panache, so nothing is flapping around when you snug it up.
While this is a sling, not a travel backpack, it's still nice to see fairly cushy back panel padding. It protects your gear and prevents you from feeling what you're carrying, which is nice.
Fit Notes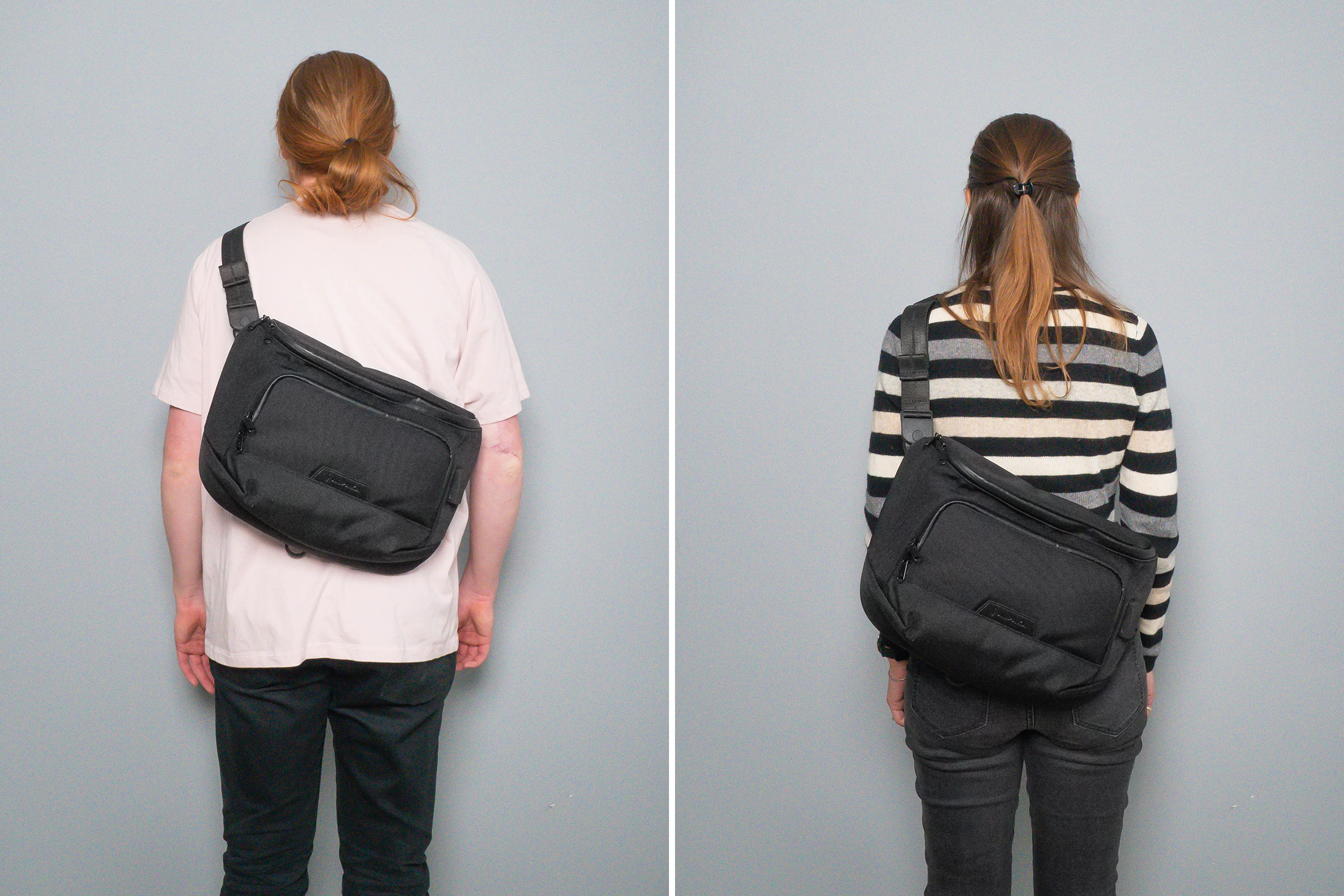 The ALPAKA Bravo Sling Max V2 is a sleekly polished, professional-looking bag. Although it's only 10 liters, we can't say it's minimalist, per se, as it protrudes by about 5 inches no matter what's packed inside due to the bag's shape. For the most part, that's not a big deal. However, if you find yourself in a tightly-packed subway car or bus, it may become one.
While many users find the sling comfortable, adjusting the strap can take some time. However, once it's in the spot you like, you can set it and forget it, so this isn't a huge deal. You can switch between wearing the sling on your front and back without the adjustment slipping out of place, which we like.
Inside The Sling
When you unzip the horseshoe-shaped front compartment, there's a bright blue 210D ripstop nylon liner. It's a nice contrast with the black bag and allows you to see everything stored inside the plentiful organization of the bag.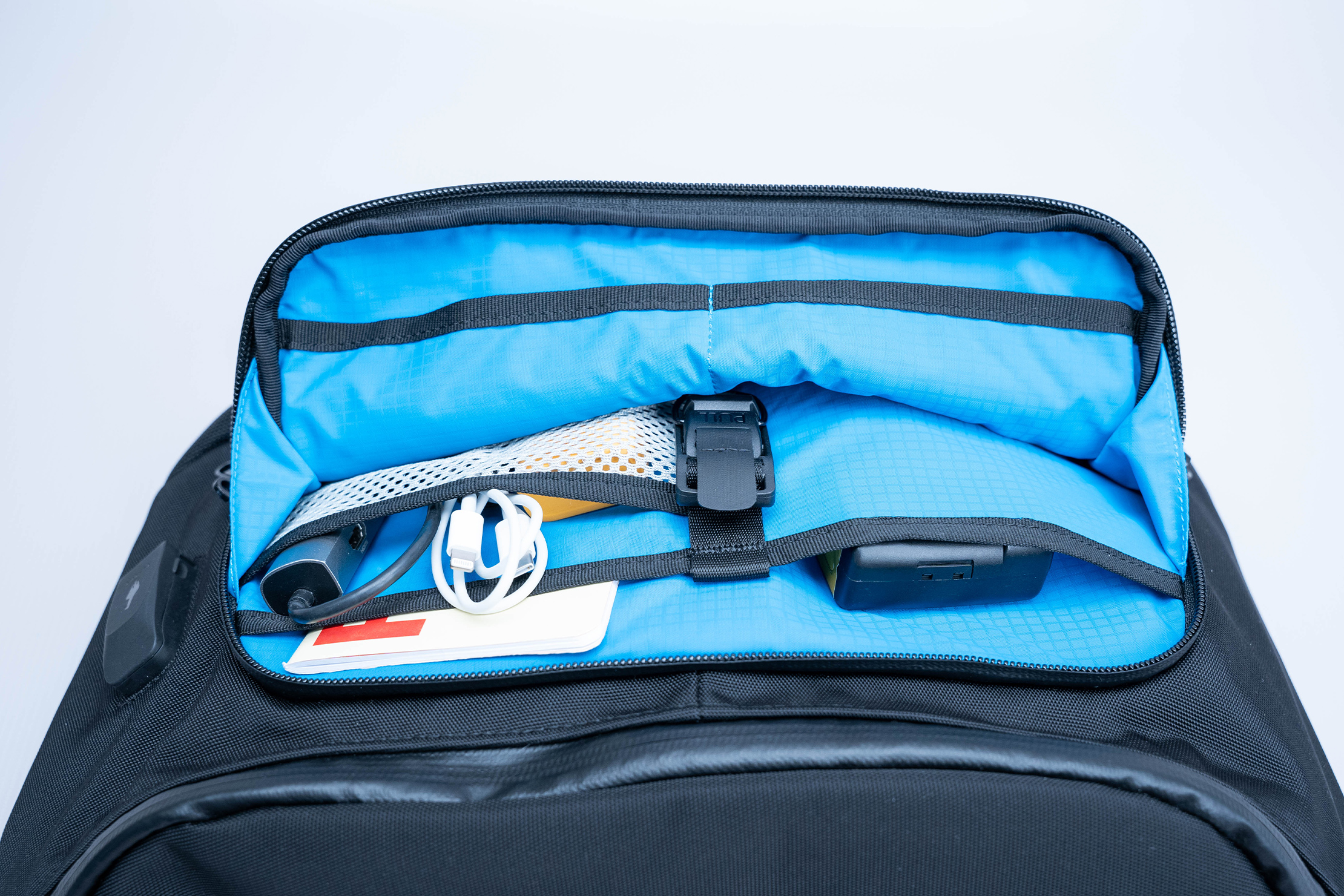 Bear with us now because there are a lot of pockets to mention. Along the front side of the compartment are two 5-inch wide liner pockets for your small daily essentials, like AirPods, hand sanitizer, and tissues. On the opposite side, against the main compartment, are two more liner pockets about an inch deeper than the ones on the front, and against the right-side pocket is a slightly shorter mesh pouch. Since these pockets are all about the same size, you can choose your own adventure as to what you want to stow where. You may want to slide your wallet in here, or you may decide to put it in one of the other sections we'll get to shortly.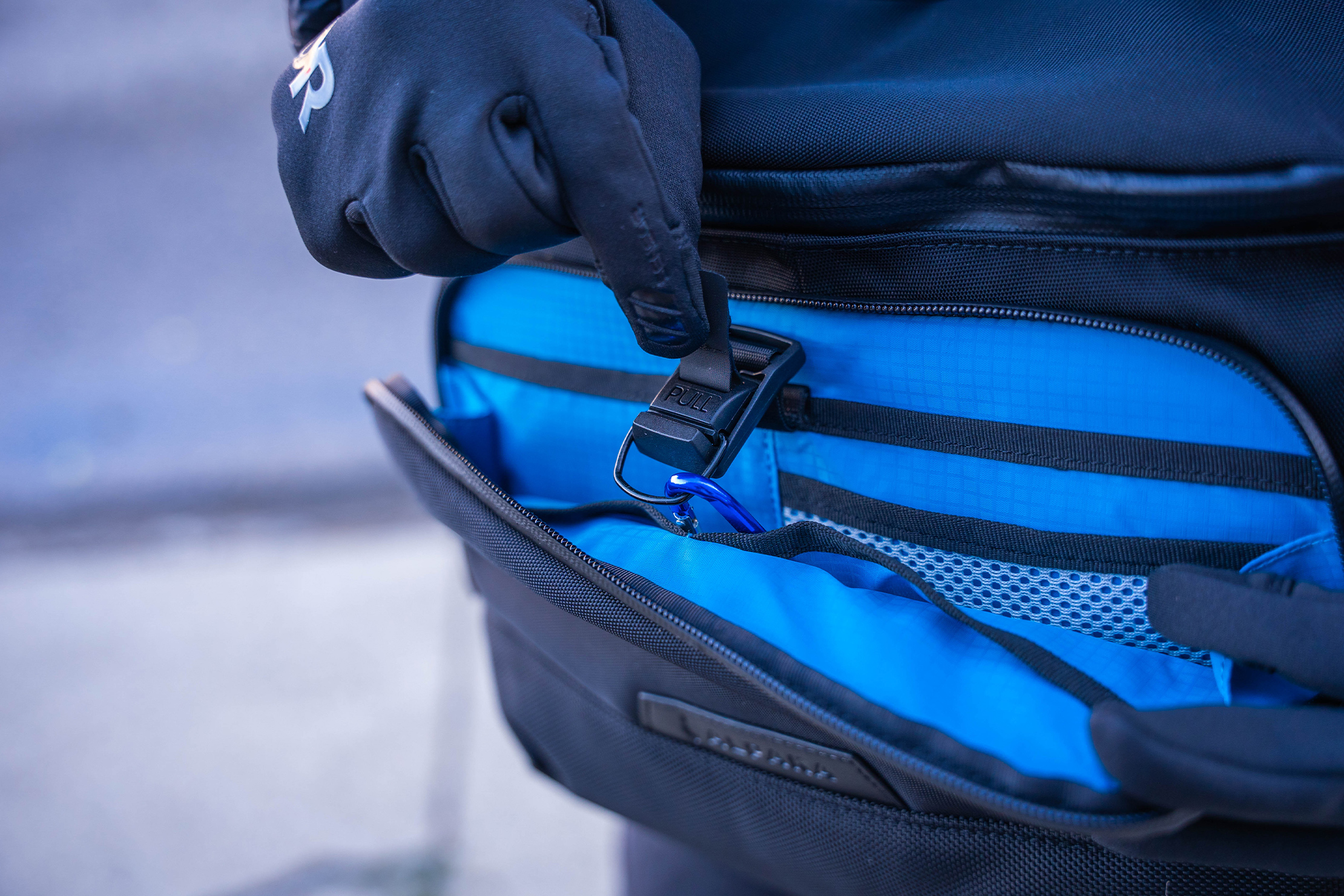 A magnetic key tether is in between the back two pockets, directly to the left of the mesh pocket. A Hypalon tab sticks up from a piece of plastic that says, "PULL." If you've ever watched or read "Alice in Wonderland," you know what can happen when you follow directions without knowing what will happen. Yet, we're happy to report that pulling the tab is how you release the magnetic keychain from the tether. The keychain that comes with the Bravo Sling Max V2 also connects to the HUB Clip, which you can clip to the shoulder strap, which (you see where we're going here) can be another convenient spot for your keys if you don't mind the extra charge.
Whether you do or not, the magnetic keychain works well. The magnet does not release if you tug on the keys or anything but the tab where it says to pull, so you don't have to worry about accidentally snagging your keys and having them pop off, never to be seen again (or something less dramatic).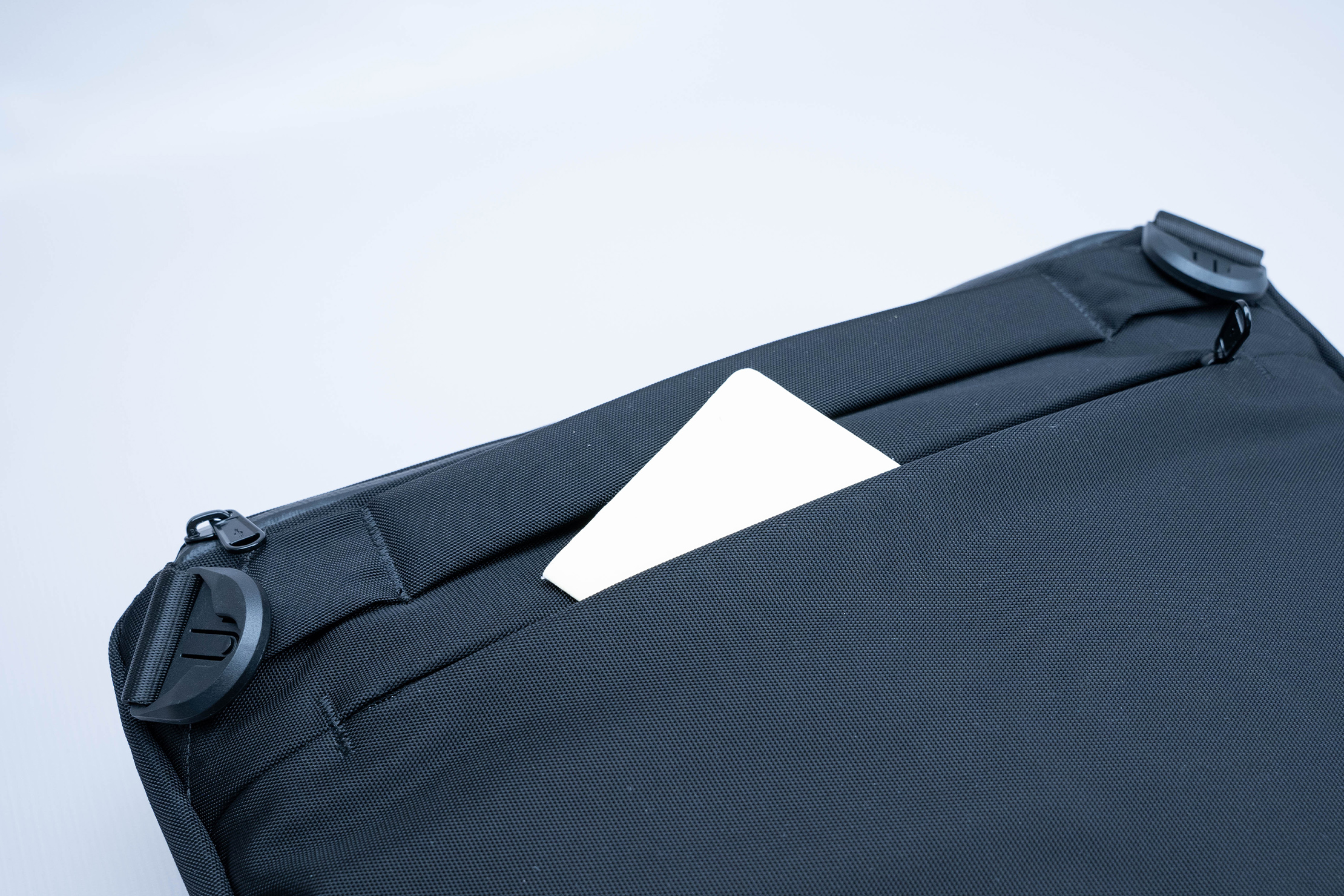 Enough about that, though—there are still three more sections to this sling! Flip it around to the back, and you'll find a zipper below the carry handle. It's not a water-resistant style. However, a fabric welt protects it from the elements and prying eyes, although it takes a little effort to get the zipper pull out from under the folds. It opens to a slim pocket that runs down the remaining length of the bag and its entire width. While it doesn't lock, it's a good place for thin, important items like your passport and travel documents. We also find it an easy place for a phone, although there's a pocket in the next compartment that could also work for you, depending on your preference and the size of your phone.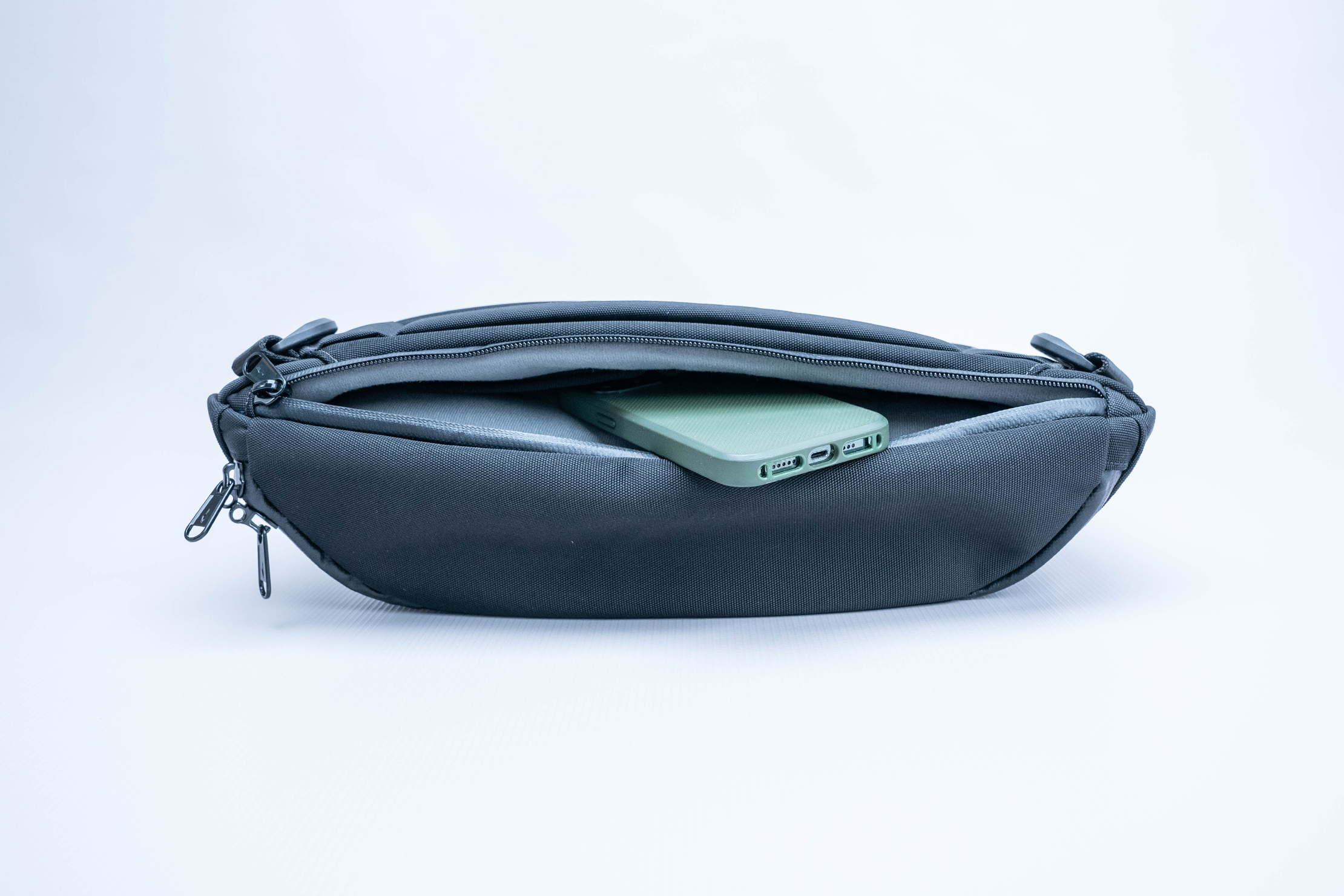 A large compartment lined with soft gray microfiber fabric is directly above the carry handle. Against the back of this section are various widths of 6-inch deep slip pockets. From the left is a 5-inch wide pocket where you can slot a phone, followed by three 2-inch wide pockets that are good for pens, cords, and other slim gear. This section is super soft because it's where you can slide a tablet. However, we need to mention that putting anything thick in this section—even the size of a spiral notebook—protrudes into the main compartment directly against the laptop sleeve. It can make it difficult to slide in your laptop when you have thicker gear in this rear compartment, though your mileage may vary.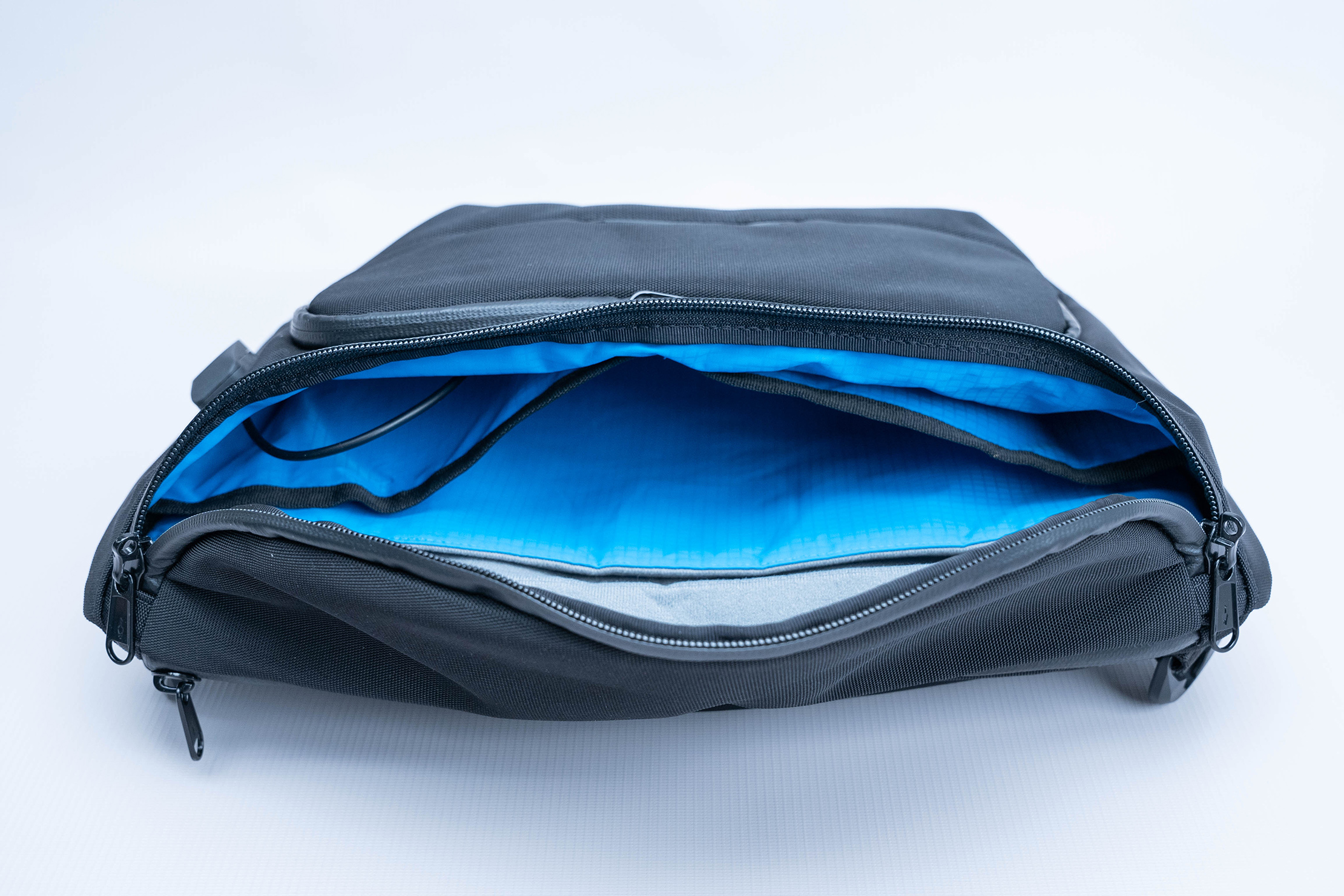 While the prior two sections open straight across the sling, the main compartment zipper arches away from you as you unzip it, creating depth for the section. It is also lined with the blue ripstop liner, although against the back is a laptop sleeve with gray microfiber where you can slot up to a 14-inch laptop.
On the opposite side are two large and deep pockets (about 8 inches wide by 6 inches deep) for your larger gear, like over-the-ear headphones to block out the noise at your workspace, a USB hub, or a battery bank. The latter works well in the right-hand pocket, as ALPAKA includes a USB-C cable here that feeds through to the external USB charging port on the right side of the bag. It is helpful if you want to use your iPad or phone and it needs some juice; you don't have to hold the battery bank at the same time or stow it in your pocket while using it.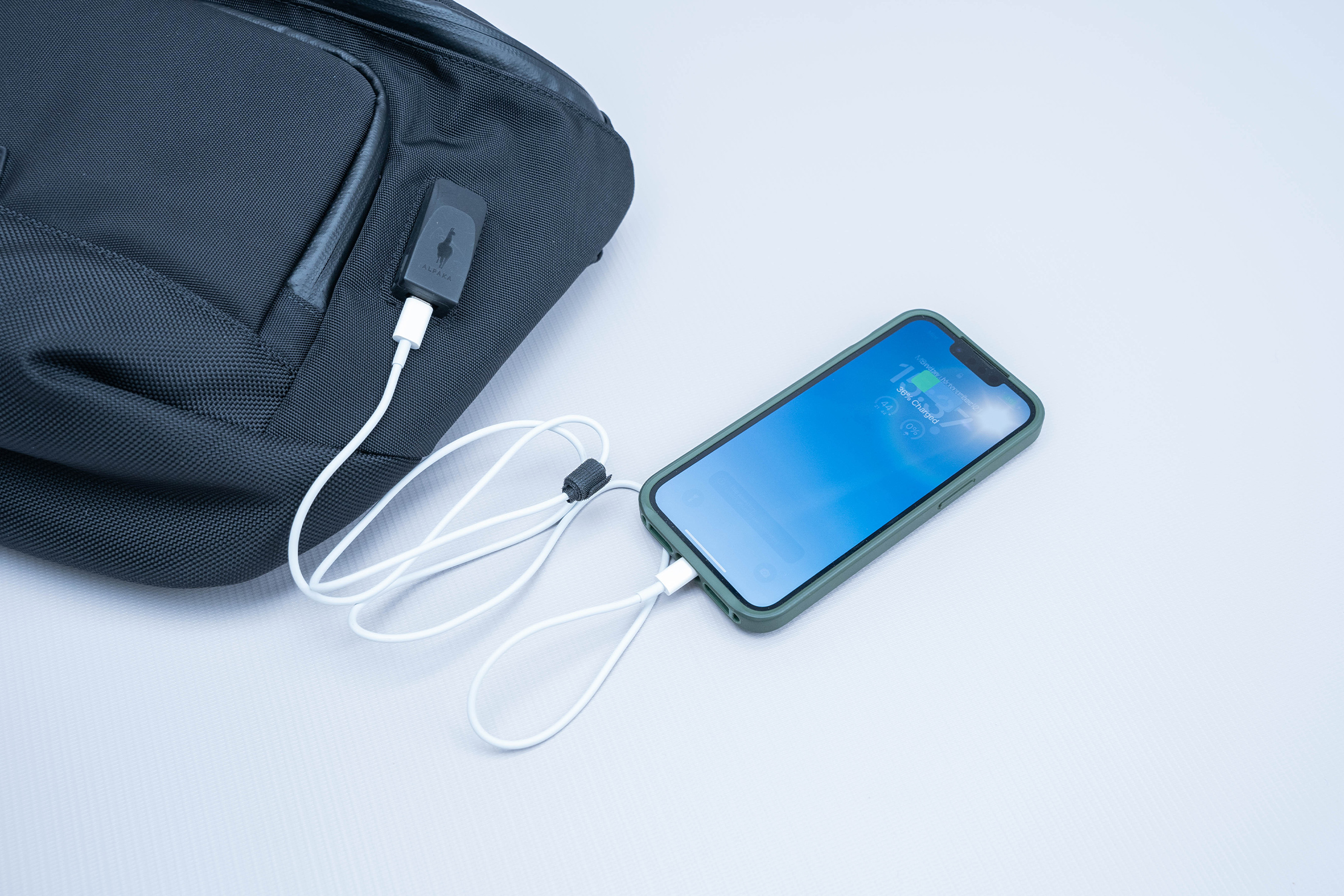 The charging port hides another tech feature, as well: a SIM tray eject pin. Pry the plastic casing of the charging port up to reveal the tiny pin, which is great if you're country-hopping and need to switch cellular carriers. It's difficult to pry up, and we have concerns about the casing breaking, however, it has not snapped yet, and if you don't need to eject a SIM card, you need never worry about this feature.
So whether you're working remotely or want to bring your tech on your trip, the ALPAKA Bravo Sling Max V2 may offer the organization you want in the sling style you like to carry.
Usage Timeline
Initial Usage
Condition: Excellent
Shoulder pad padding has an interesting geometric design
Digging the magnetic buckles and features
Integrates with ALPAKA HUB modular accessories
2 Weeks of Use
Condition: Excellent
Dirt brushes off fabric easily
Really digging the brightly-colored liner
Hidden back pocket is very slim, so gear rubs against zipper as you slide it in
Access the Pro Community Discussion
Get your questions about the ALPAKA Bravo Sling Max V2 answered from our team and the Pro Community right here on the page. Plus, join discussions with other members about gear, guides, and more.
Other Bags & Luggage Reviews