ALPAKA Bravo Sling Mini Review
The ALPAKA Bravo Sling Mini shares the same thoughtful organization as other offerings in the Bravo line while feeling much larger than its 4 liters in use.
Our Verdict
Unlock the Pro Summary
Save time. Get access to brief summaries of our reviews so you can browse and make decisions more efficiently.
Pros
Materials are durable and look professional
Hidden compartment for sensitive documents or passport
A Nintendo Switch and tablet fit in main compartment
Cons
Large footprint for 4-liter capacity
Water can seep in small holes at end of zipper tracks
Back panel D-ring rubs in use
Recent Pack Hacker Video
Technical Details
Capacity

2.5l

Weight (oz)

11.3 oz (320.3 g)

Dimensions

13.8 in x 7.5 in x 2.4 in (35.1 x 19.1 x 6.1 cm)

Notable Materials

Kodra Nylon, Nylon

Manufacturing Country

China

Warranty Information
Full Review
Get up to 15% off ALPAKA • Join Pack Hacker Pro
ALPAKA's Bravo Sling is one of their flagship offerings, and we've been around long enough to see a handful of them. Their latest and greatest offering is the Mini, at just 4 liters. We're curious if it shares any organizational features that enamors our team with the Max V2 or if a smaller design means less segmentation. Let's dive in!
External Components
The primary pack material is 500D Kodra Nylon. It has a matte look that we dig, and the exterior is durable and fairs well against light rain with the assistance of the zippers, which we'll get into in a moment.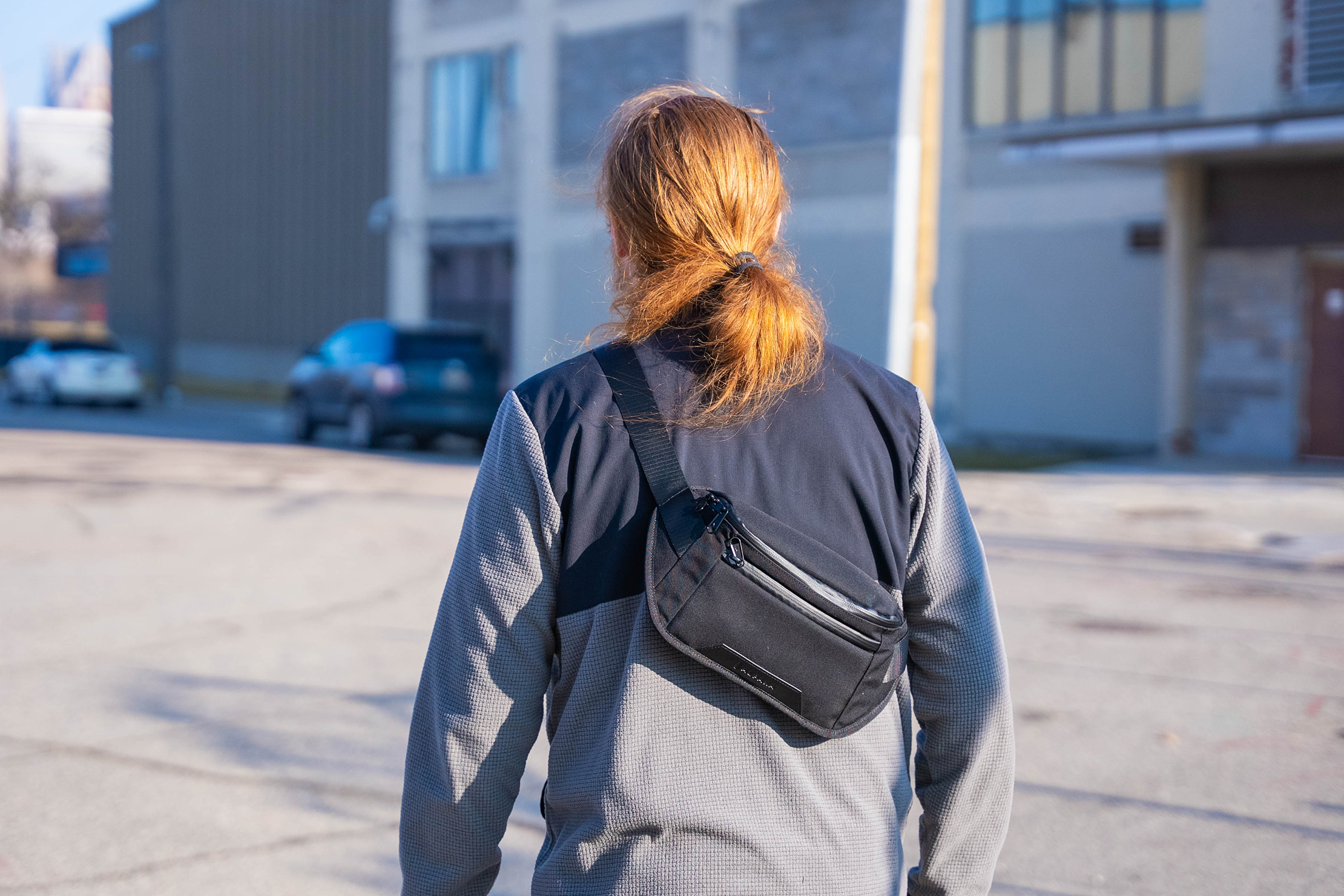 On the bottom, there's a pleather-like tab with the ALPAKA logo imprinted on it. It adds a lovely accent to the Kodra, and the text and image aren't too in your face. It's a subtle way to include branding without catching the eye, and we're here for it.
All the zippers on this pack are unbranded. They feel similar to what we've seen on other ALPAKA slings and daypacks in the past. The main compartment is lockable; however, a lock isn't included.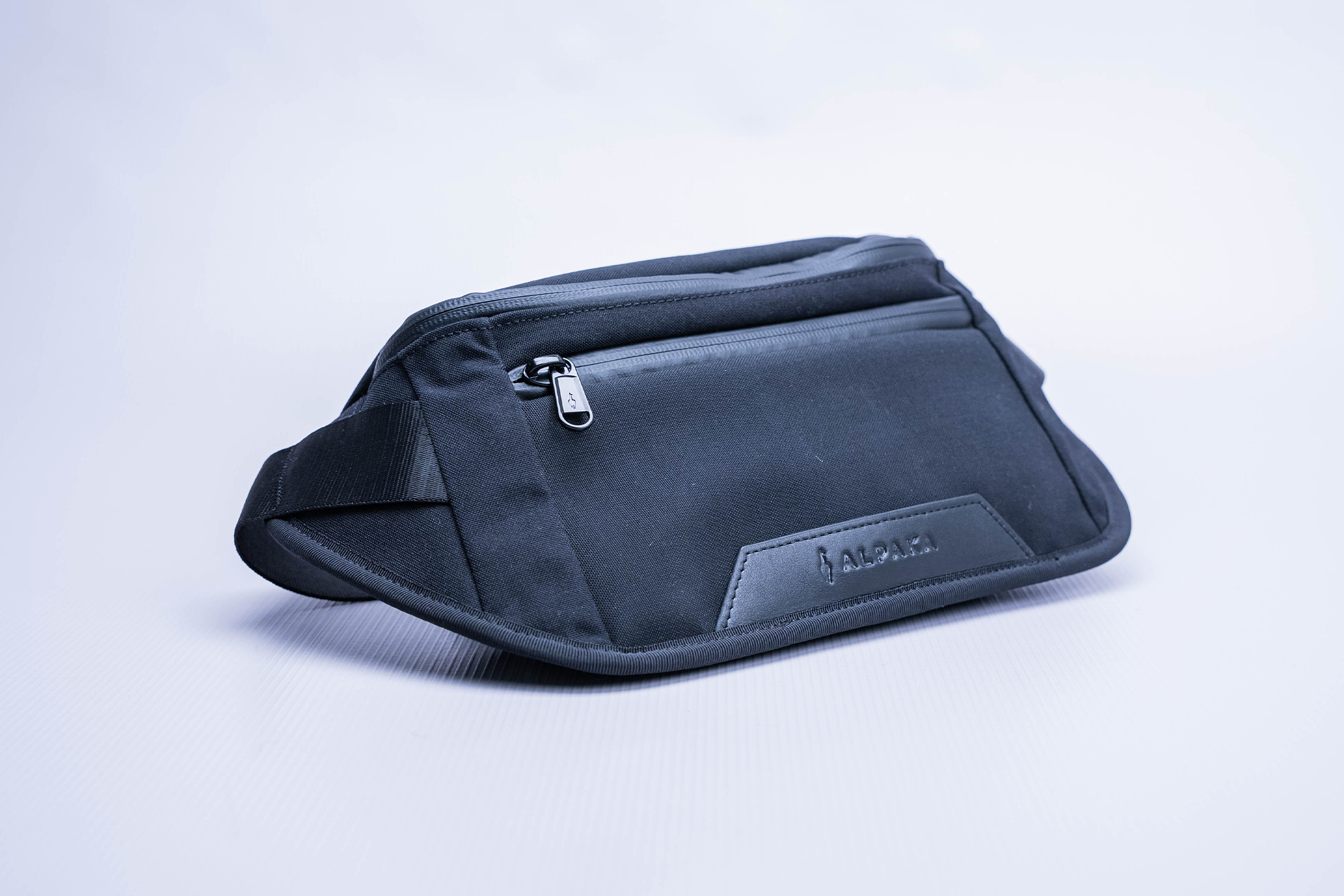 The three zippers have a water-resistant finish, helping to keep your gear on the interior dry. One small caveat is that the two zippers with a lone head have a small hole where they come to the end of the track. Water might sneak through there if you were walking in consistent precipitation.
There's a Maglockz buckle on the strap that uses magnets to close. We've used these in the past and dig them, though they take a little getting used to. They're flat, so if you're wearing a backpack, it won't be as noticeable, yet it's large enough that you still feel it.

ALPAKA calls two loops on the front diagonals of the pack where the strap connects 'Molle style webbing,' though they're just two basic loops crafted from nylon. You can attach a carabiner or hook-and-loop fastener here, which helps you bring gear that won't fit inside the main compartment.
Fit Notes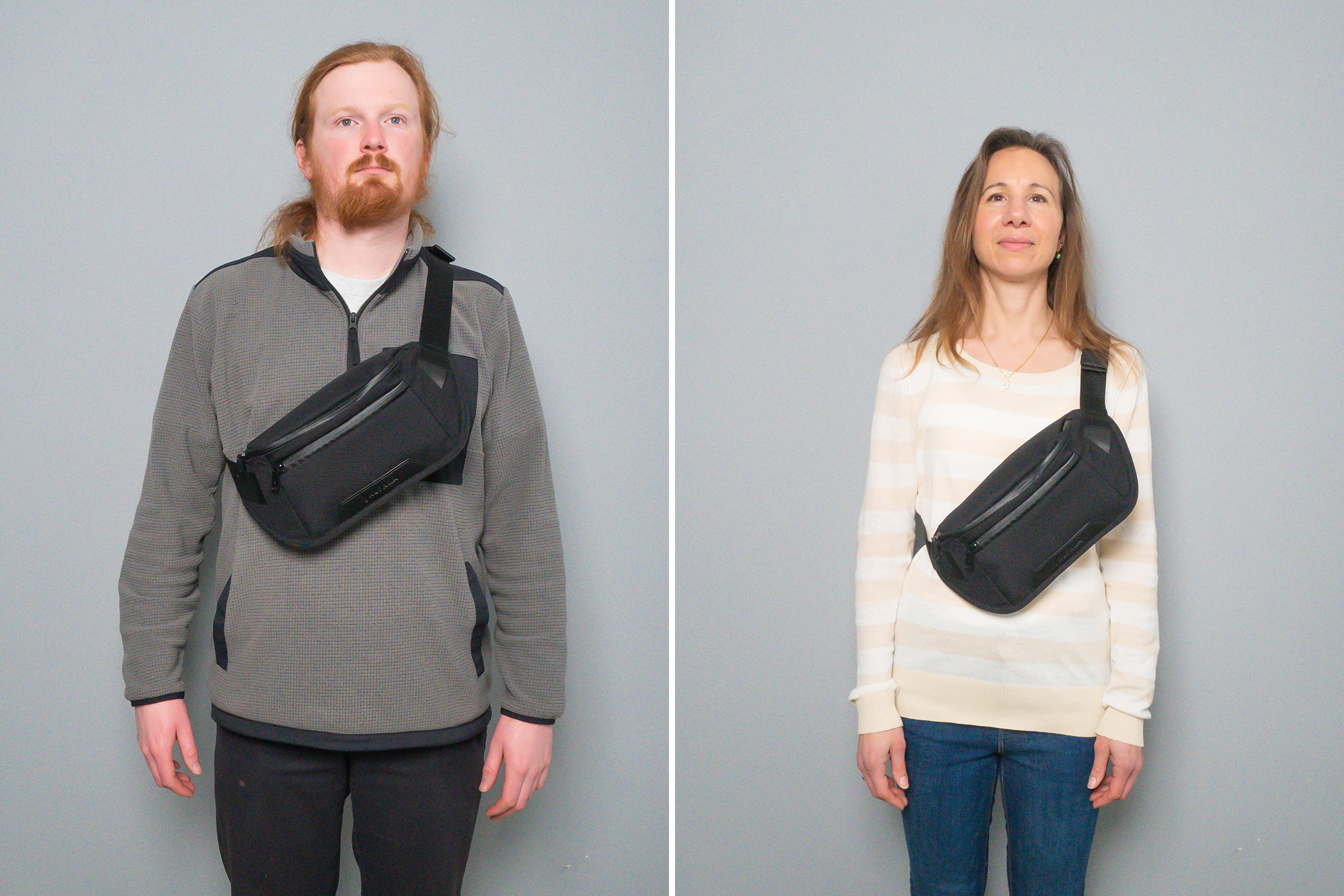 The back panel has some thin padding without aeration or channels for airflow. Considering the pack's small weight, we aren't missing either too much. On hot days, it will get sweaty.
There's a small D-ring on the bottom of the pack so you can attach ALPAKA's Magnetic Stabilizer Strap. This acts like a sternum strap around your side to make the pack more secure. We dig the ability to do that, but regardless, the D-ring on the bottom of the back panel feels out of place. It naturally wants to fold upwards, and you can occasionally feel it if you're wearing a thin shirt. If you attach the strap or a piece of gear to it, the ring folds downward, which ensures you notice it. We wish you couldn't feel it when it wasn't in use.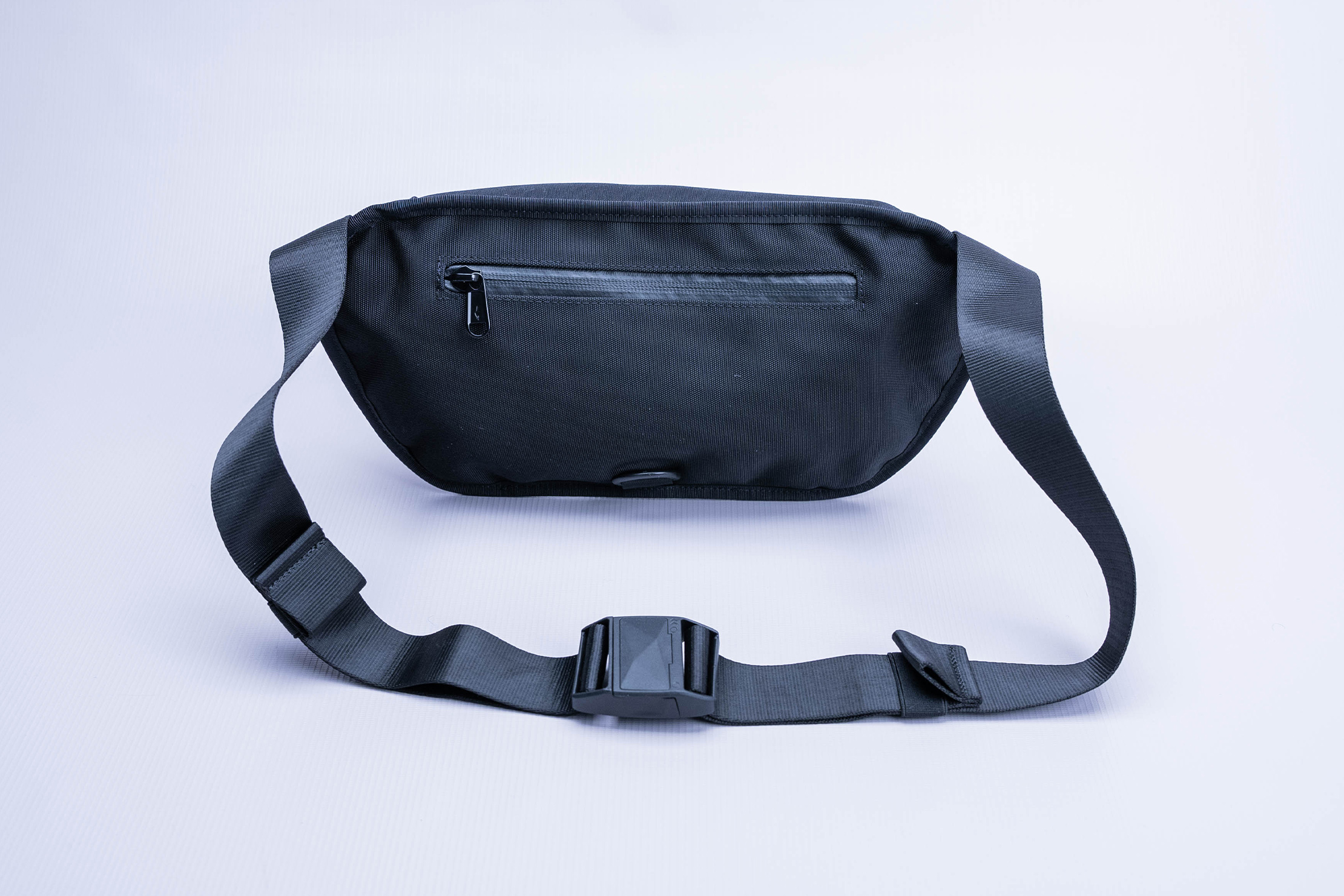 The strap is crafted from nylon and feels durable. It's relatively wide, which helps spread out the weight across your shoulder. There's no padding or aeration, though with the small weight of the pack, we haven't noticed it digging in.
The strap keepers blend in nicely and do a swell job of maintaining a clean look. They're easy to use, too.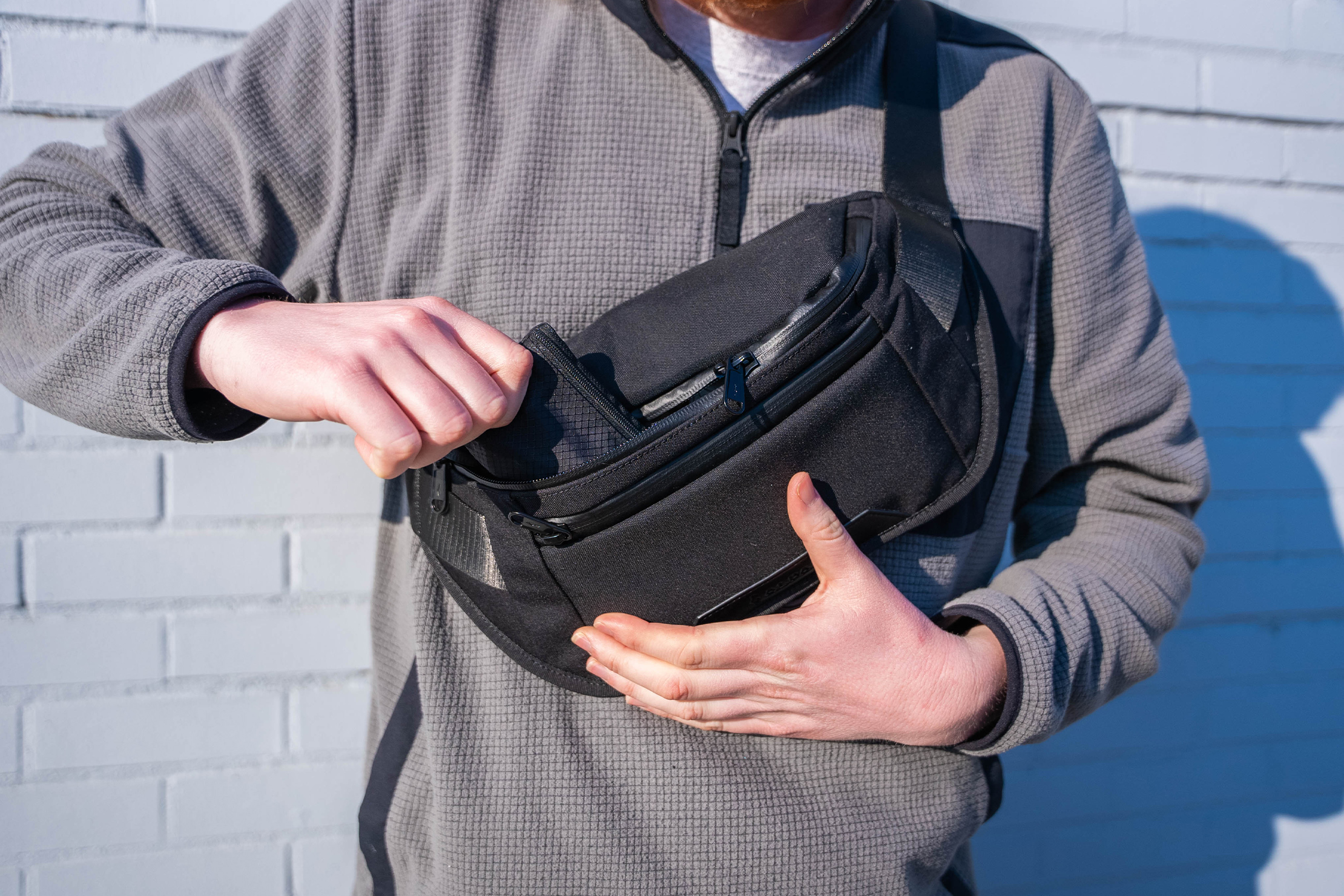 The sling's small capacity, coming in at 4 liters, has a large footprint. It feels as large as a six or eight-liter sling when you're wearing it, just lighter. It's comfortable, but it can feel like a lot.
Inside The Sling
All three compartments utilize a high-vis blue 210D nylon ripstop lining. It's reminiscent of blue Gatorade and helps find gear because most colors stand out against it. Well, unless all your equipment is the color of Cool Blue or Glacier Freeze Gatorade. Then, you might have an issue.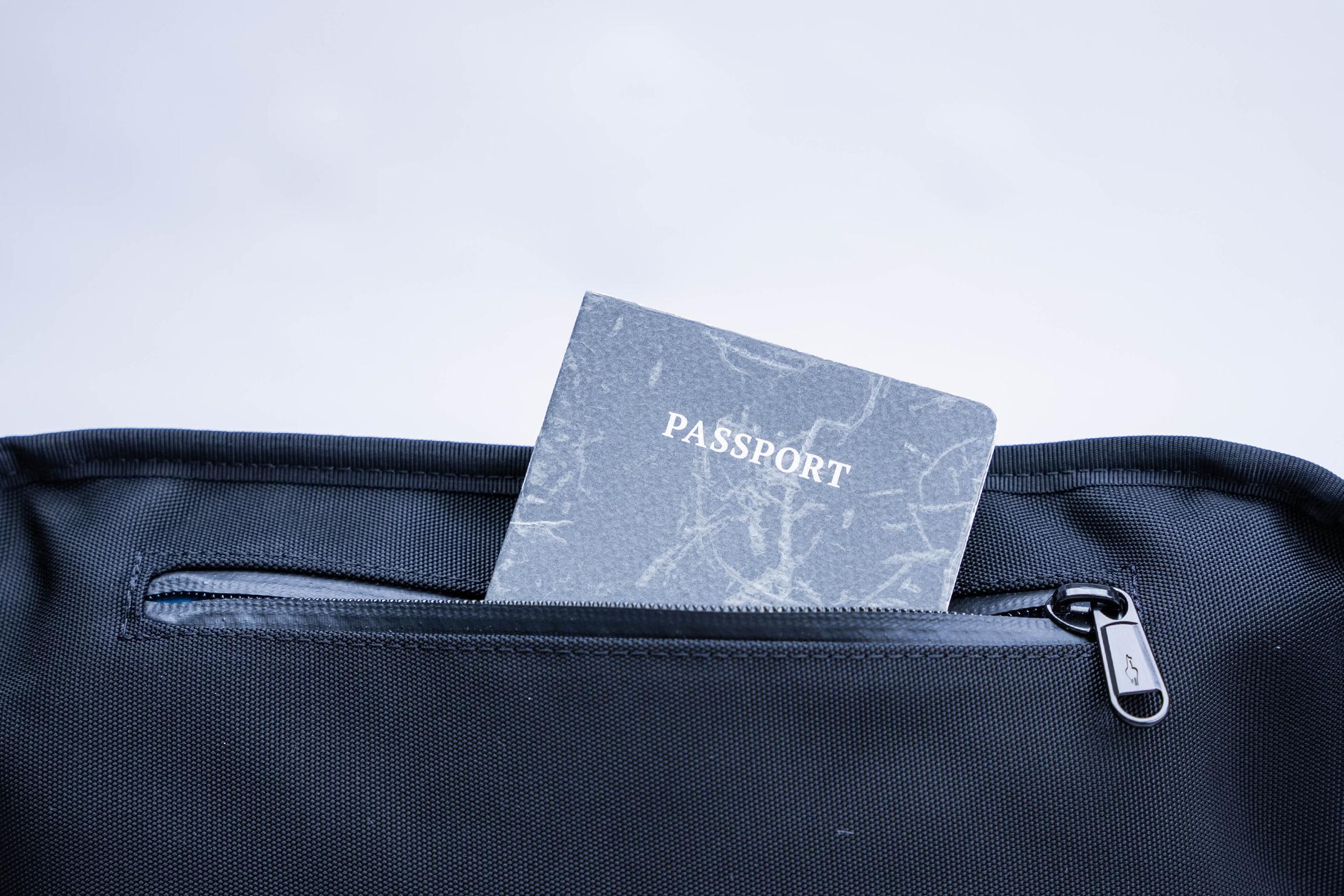 Wearing the sling conceals a hidden pocket on the back panel, although it's visible when the pack is off since it isn't behind a welt or anything. It's an excellent spot for a passport or other flat items. Bulkier items don't work so well here, as you can feel them when you wear the sling.
The sling has a small front pocket for quick use essentials. If you have a standard-sized phone, it should fit inside without issue. Plus-sized phones or those with large cases might be too large for the zipper to close. Additionally, there's a key ring inside. The end is removable, so you can detach your keys at a moment's notice. The strap isn't very long, but if the lock you're trying to open is easily accessible, you may be able to use your keys without removing them at all.
While the main compartment isn't huge, a lot is going on. There's a liner pocket for a small tablet or other devices along the backside. The interior of the divider has a soft microfiber-like lining to ensure your screen stays safe. This area backs up to the hidden pocket we went over earlier. Although there's a fair amount of padding, the adjacency is worth noting before you put your tablet on one side and the special rocks you found on a hike in Colorado on the other.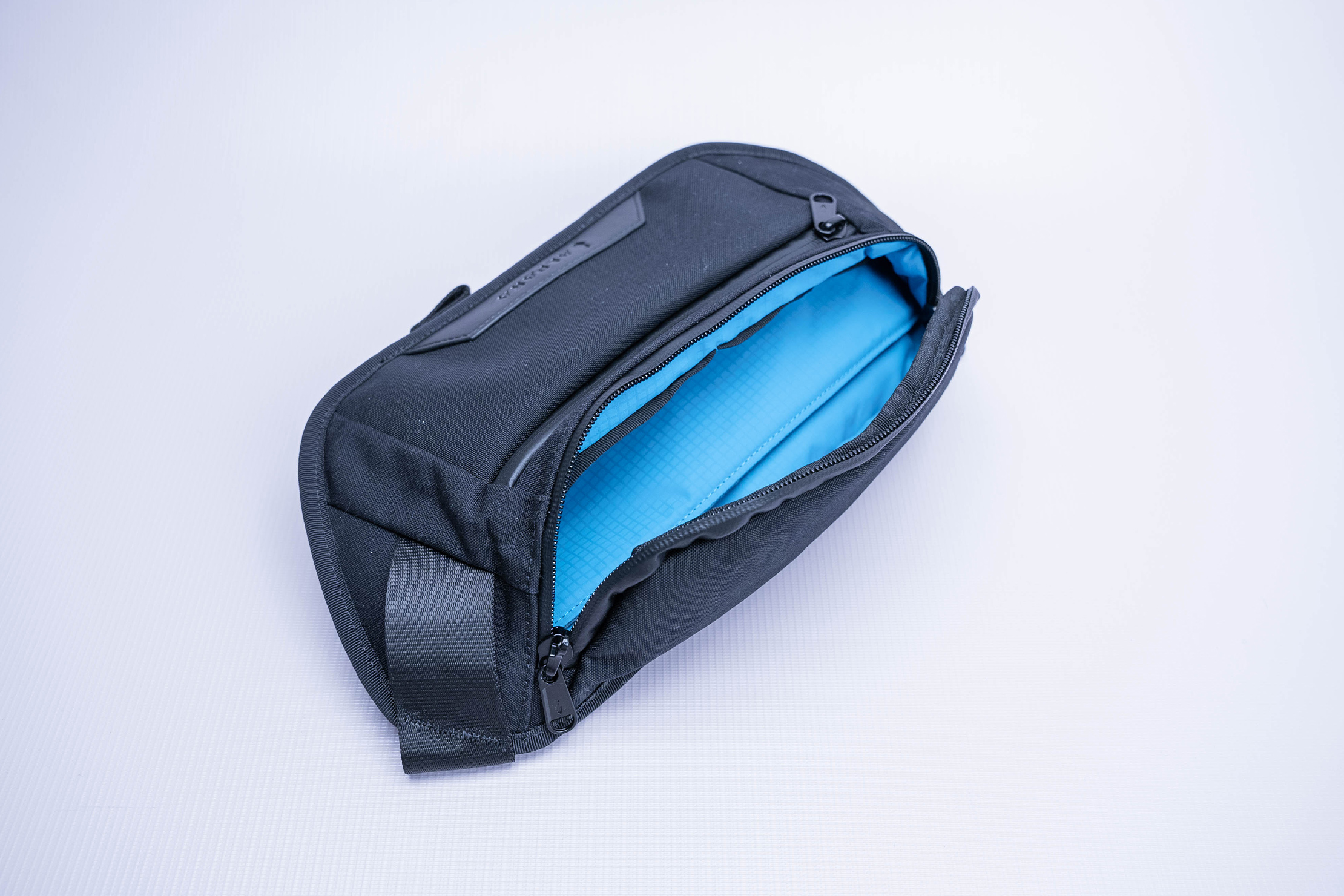 Two smaller liner pockets on the front side work well for a wallet or similar-sized gear. There's no topper, so tiny gear may fly out if the going gets rough.
There isn't much width in the rest of the main compartment, though it's enough to fit a Nintendo Switch. It'll fit behind the divider, too, but it's easy to grab it from this section and will work with a small case, too.
If electronics aren't your thing, you can fit a medium-sized paperback inside, a small notebook, or other flat items. There's ample padding on all sides, so your gear will be safe no matter what you stow.

Overall, the ALPAKA Bravo Sling Mini is an excellent sling for everyday carry situations or while traveling with your tablet and small tech. With all the space you save in your travel backpack, you can stock up on Gatorade to stay hydrated throughout your journey!
Usage Timeline
Initial Usage
Condition: Excellent
The exterior materials look sleek and feel durable
Zippers are unbranded, which always gives us longevity concerns, but ALPAKA zips have held up well in the past
Packaging says it's suitable for a Nintendo Switch—which we're eager to try
2 Weeks of Use
Condition: Excellent
The materials have held up well but are prone to holding onto dust and hair
We've found the strap to be comfortable, and it feels durable and secure
The zippers work well, but we worry about their longevity
Access the Pro Community Discussion
Get your questions about the ALPAKA Bravo Sling Mini answered from our team and the Pro Community right here on the page. Plus, join discussions with other members about gear, guides, and more.
Other Bags & Luggage Reviews