Trakke Banana Crossbody Bag Review
Handmade in Scotland, Trakke's Banana Crossbody Bag can be worn across your chest, on your back, or around your waist—but it doesn't have much organization.
Since our review, the Banana Crossbody Bag interior has been updated and now features two pockets and a metal key loop.
Our Verdict
Unlock the Pro Summary
Save time. Get access to brief summaries of our reviews so you can browse and make decisions more efficiently.
Pros
Sleek and minimal style
Can be worn as a sling and a waist pack
Highly durable, handmade in Scotland with high-quality materials
Cons
The strap can rub your neck when worn as a sling
The stainless steel buckles can jangle around a bit
The main compartment lacks any interior organization
Recent Pack Hacker Video
Technical Details
Capacity

2l

Weight (lb)

.44 lb (0.2 kg)

Dimensions

6.3 in x 13 in x 4.33 in (16 x 33 x 11 cm)

Notable Materials

Cotton, Stainless Steel, YKK Zippers, Canvas

Manufacturing Country

United Kingdom

Warranty Information
Full Review
Get up to 15% off Trakke • Join Pack Hacker Pro
Trakke makes waxed canvas bags built with travel in mind—and the Banana Crossbody is no exception. This sleek, 2-liter bag can be worn across your chest, on your back as a sling bag, or around your waist.
The Banana Crossbody is part of Trakke's new collection just released in 2019, featuring updates to its previous designs and a few new designs too. Handmade in Scotland, you can expect a high level of quality and keen attention to detail from the Trakke brand. We've enjoyed testing out their products in the past, so we were definitely excited to get our hands on the Banana Crossbody Bag.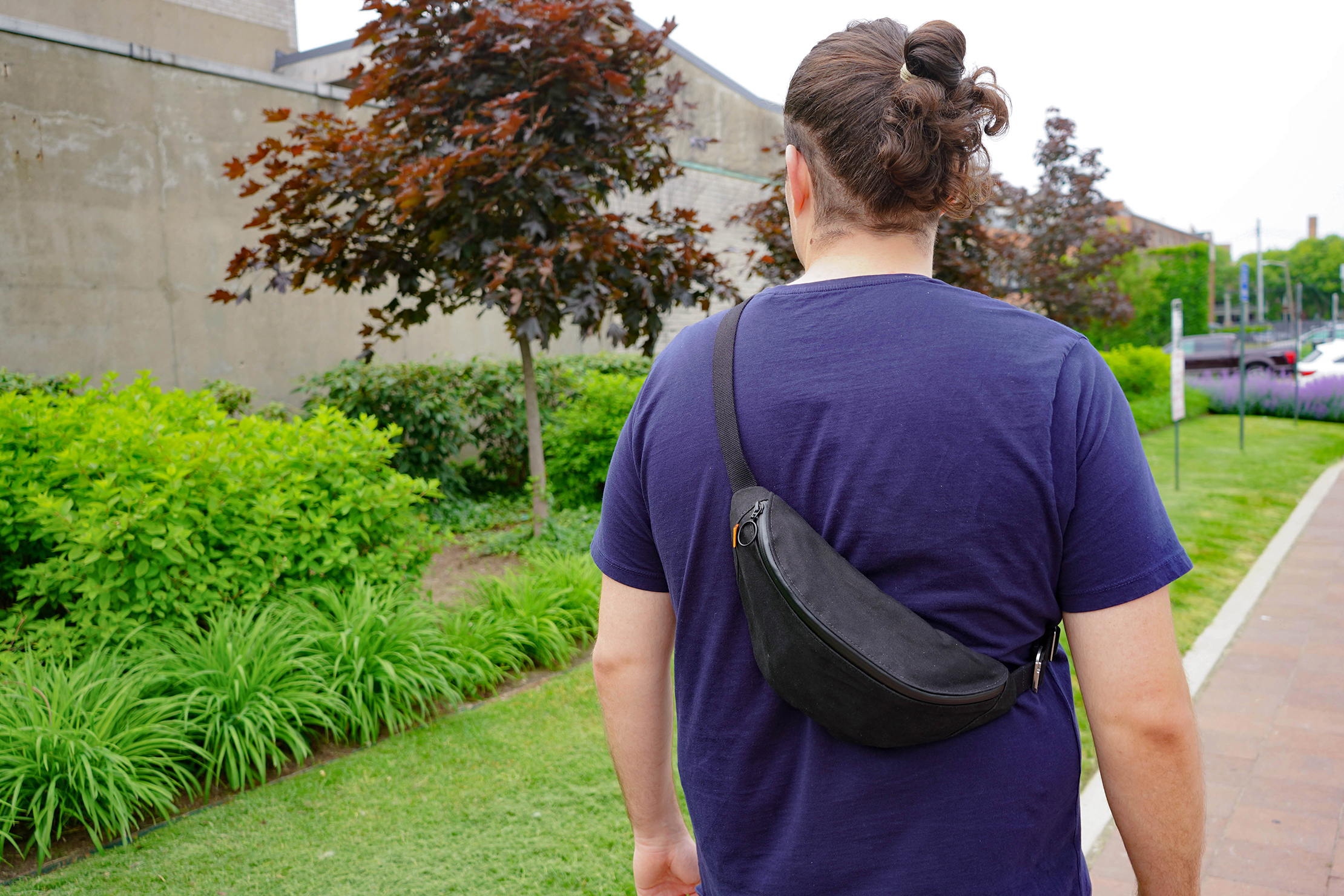 It's been just over a month since we started testing this pack, so let's dive in and check it out.
Materials & Aesthetic
The design and styling on the Trakke Banana Crossbody Bag are about as minimal as you can get, and we're totally on board with that. We dig how it looks in black—the color we've been testing—and at the time of this review it's also available in olive, navy, and a "guest" color that Trakke updates from time to time.
Anyone who follows our page knows we usually prefer black, but we've got to say, all of these colors look pretty fresh. We especially like the idea of the "guess" color that will be continuously updated.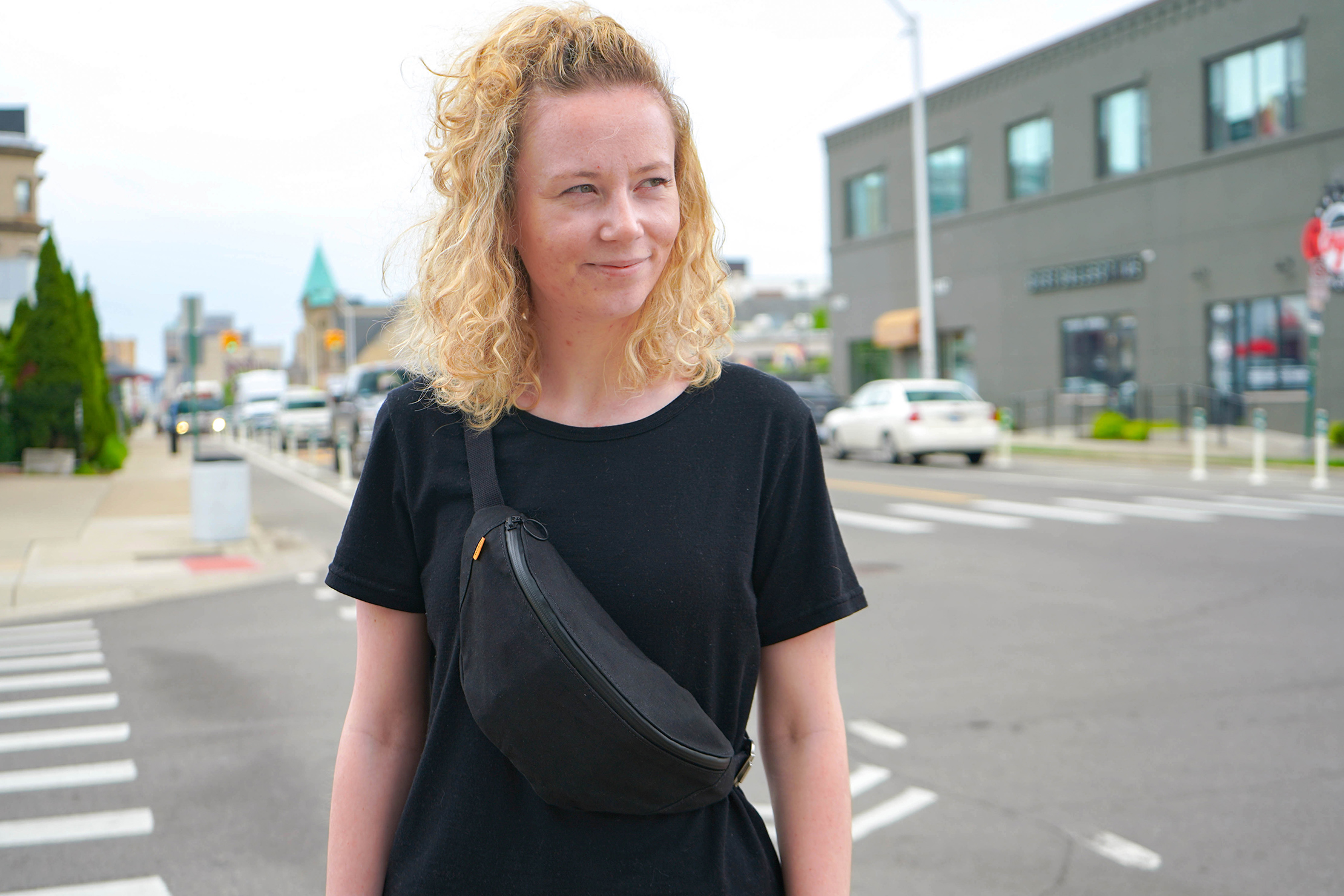 So we like the aesthetic, but will our audience agree? In this case, 41 percent of our Instagram audience approved while the other 59 percent gave the Banana Crossbody a thumbs-down in the looks department. We'd love to hear your thoughts in the future, if you aren't following us already. Just head over to Instagram and follow @packhacker to take part in future polls.
Like the bag itself, the branding on the Banana Crossbody is minimal. In fact, there's just one small, orange Trakke tag located on the side of the bag. We like how discreet it is, and it's quite a shift from Trakke's previous designs that featured a large white fabric square with logos and text. We didn't dislike that look, but we're definitely fans of the new branding direction.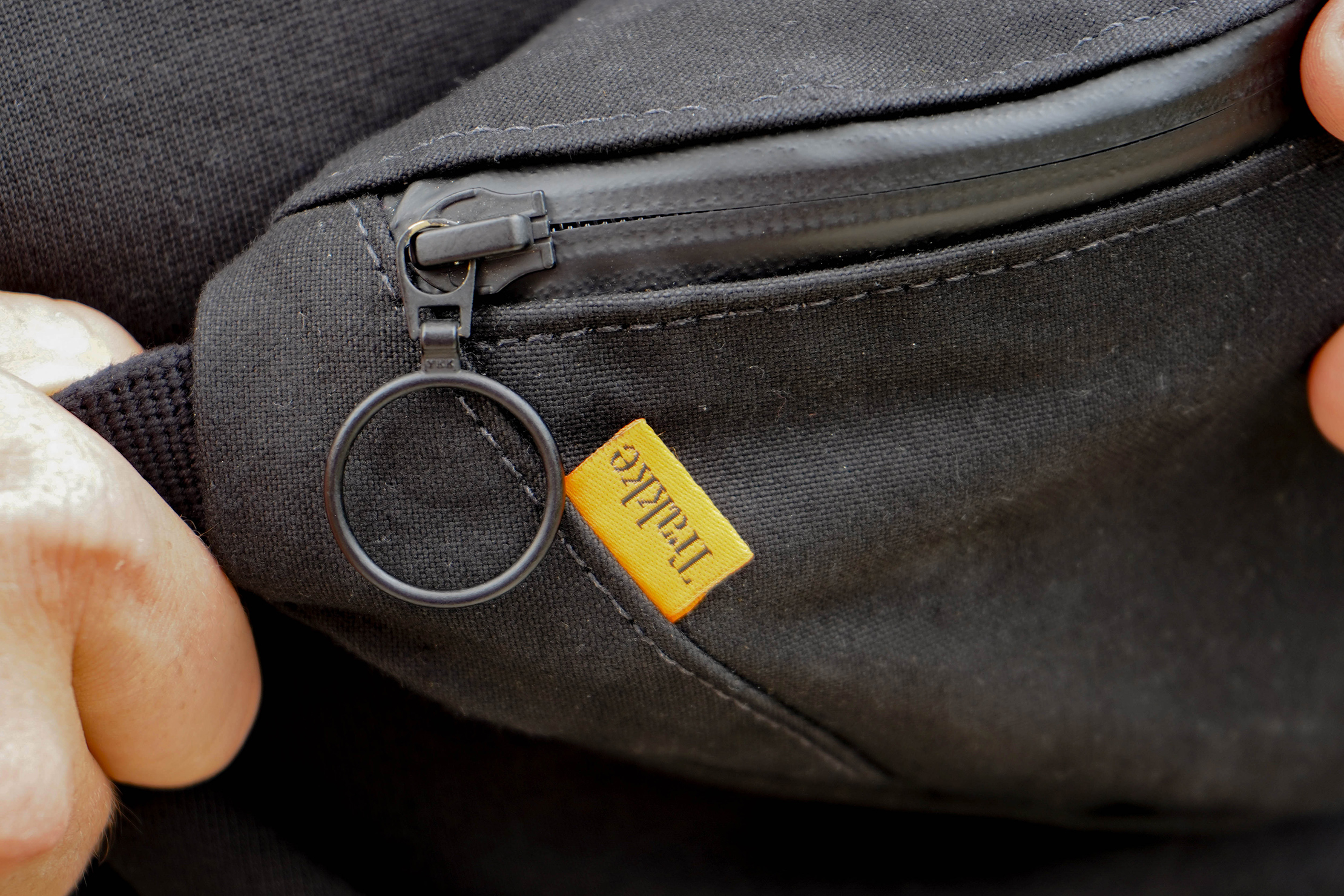 And the materials used on the Banana Crossbody represent an even greater change from Trakke's old designs. That said, it's still all high-quality—which is what we've come to expect from this brand.
The primary material is a 400 GSM dry-finished waxed canvas, which is highly durable, weather-resistant, and feels great to the touch. This material looks slightly more professional and holds its shape better than the previous material used on Trakke's products. We believe it will look newer for longer, too.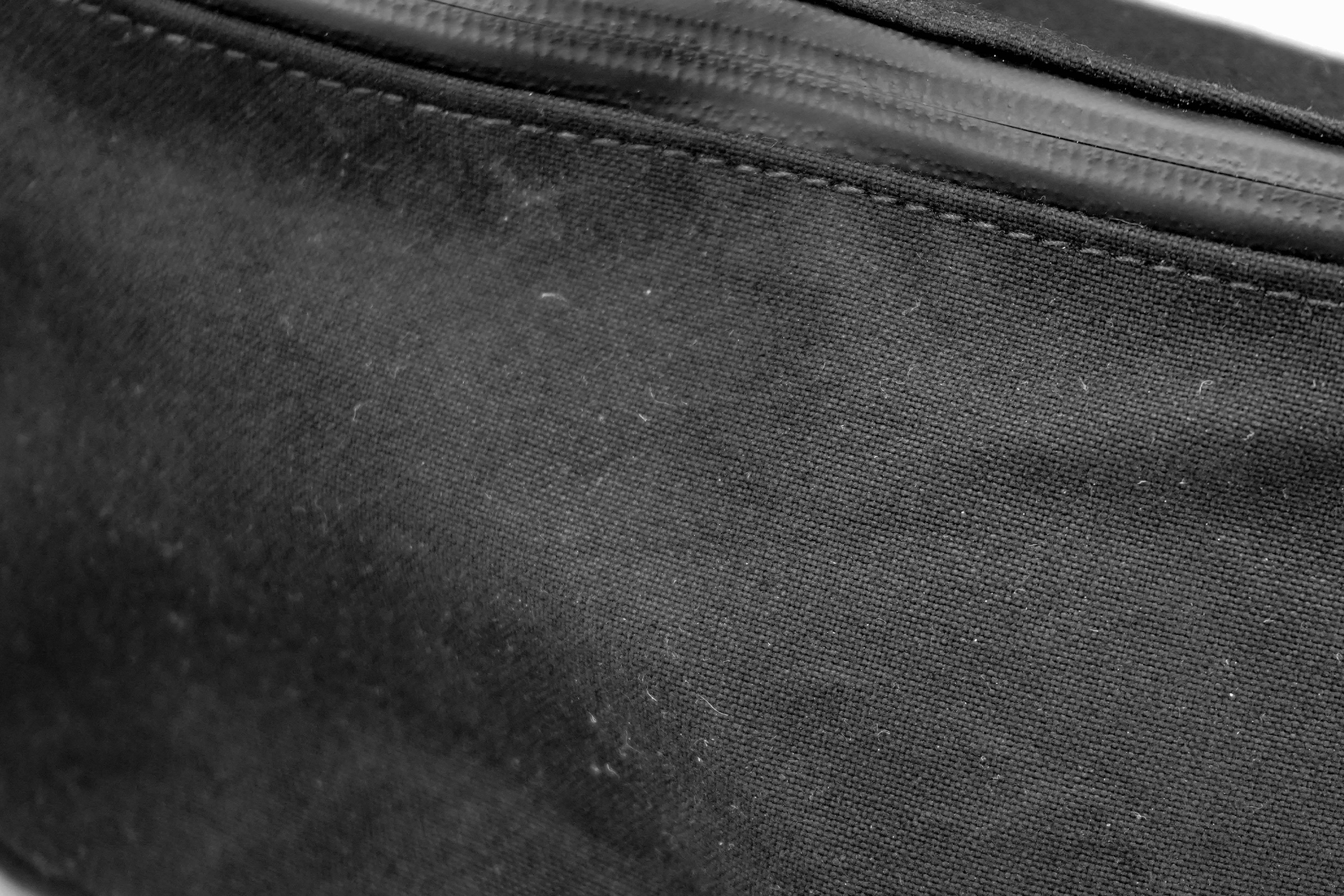 The zippers are weather-resistant YKK AquaGuard, which are some of the best zippers on the market. The AquaGuard seal covers the zipper, protecting your gear if you get caught in the rain. Plus, circular pull-tabs make zipping and unzipping the bag a breeze.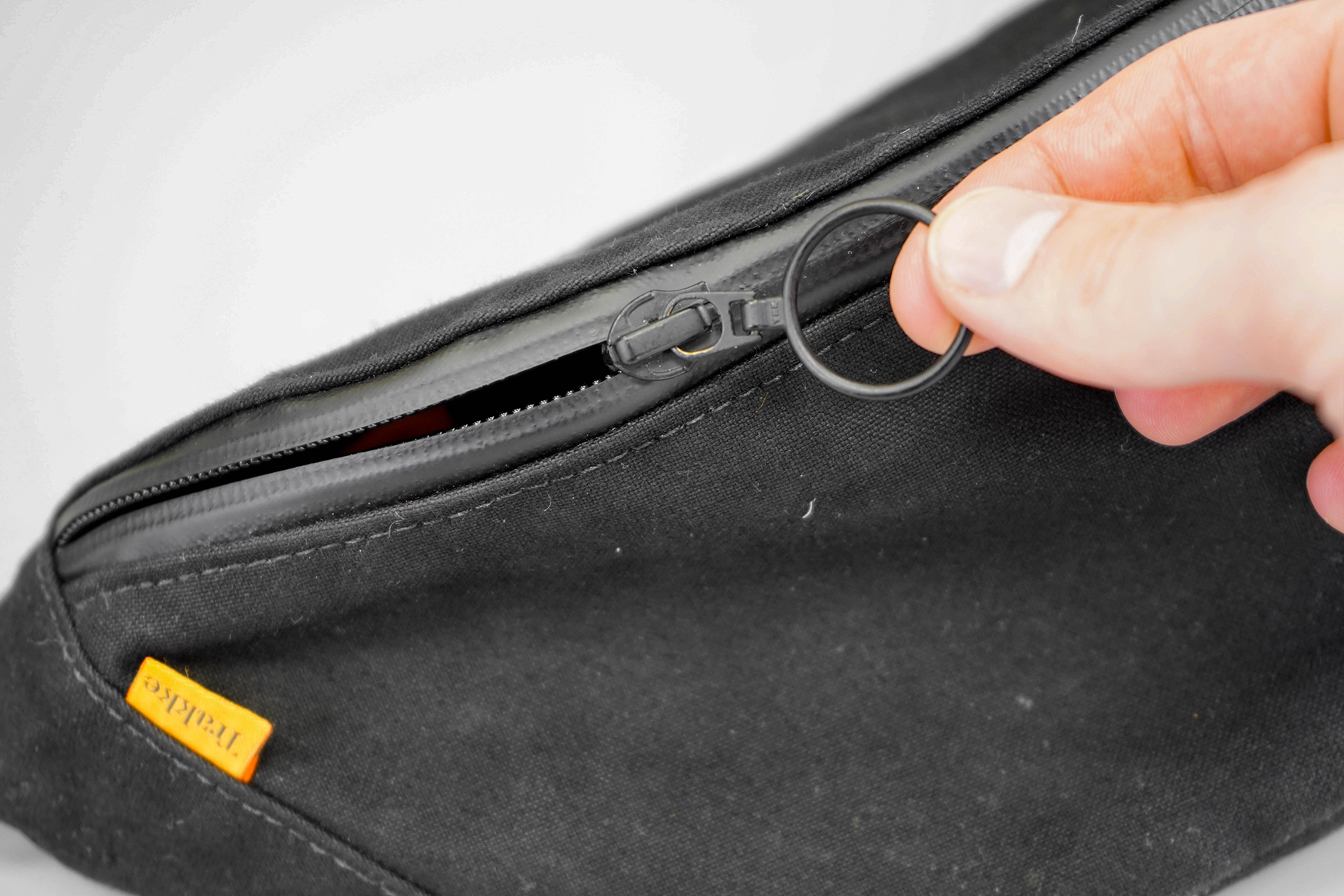 The buckles on the Trakke Banana Crossbody Bag are stainless steel and could be considered slightly over-specced for a bag this small—especially one that's designed to be worn around your waist or crossbody—but that's typical Trakke, and we're not complaining. These buckles are ultra-durable and increase the overall look and high-quality feel of the bag.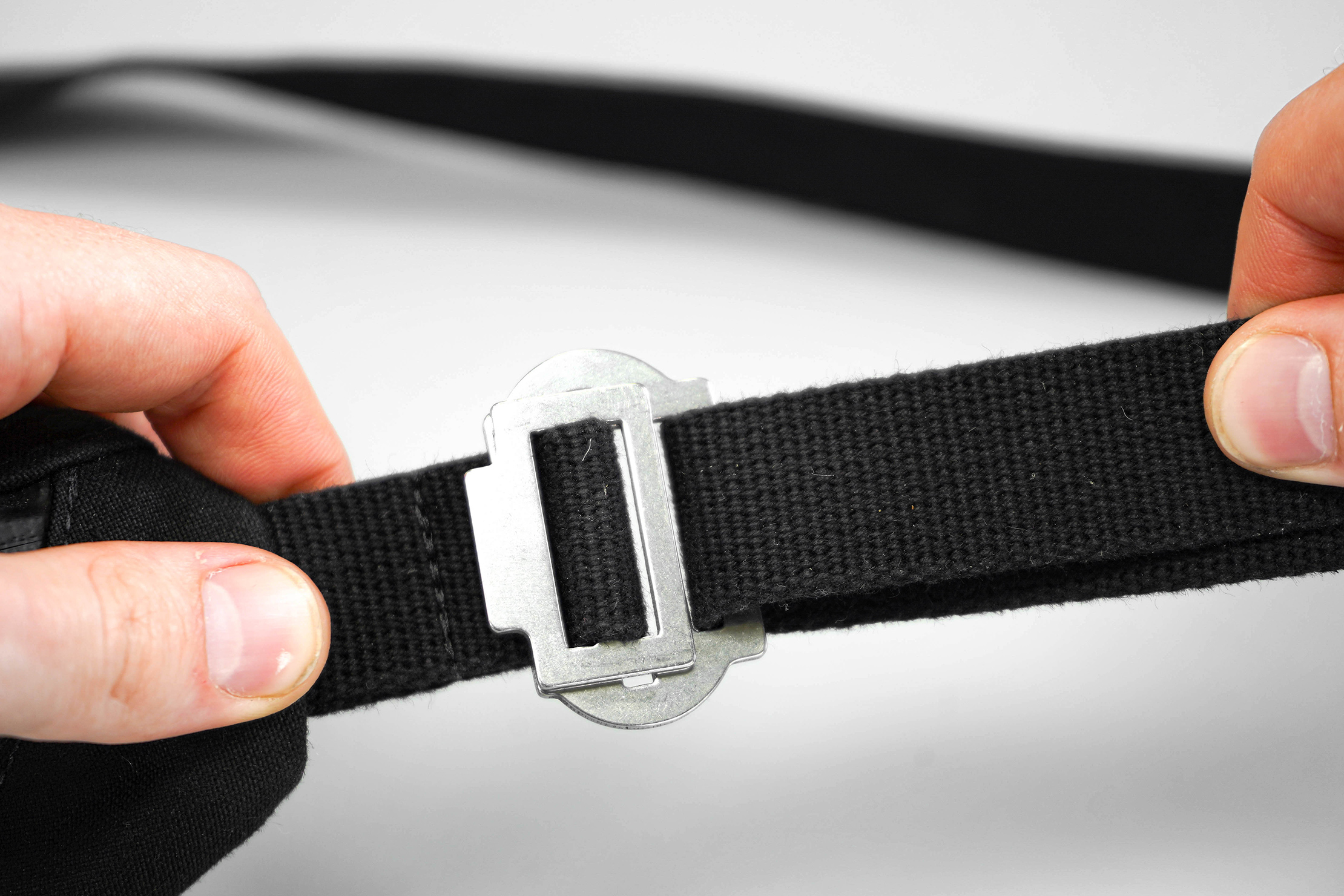 Components & Features
The Banana Crossbody can be worn in a few different ways. First, it can be carried around your hip in the old school fanny-pack fashion. We've found it's actually surprisingly comfortable and sleek this way.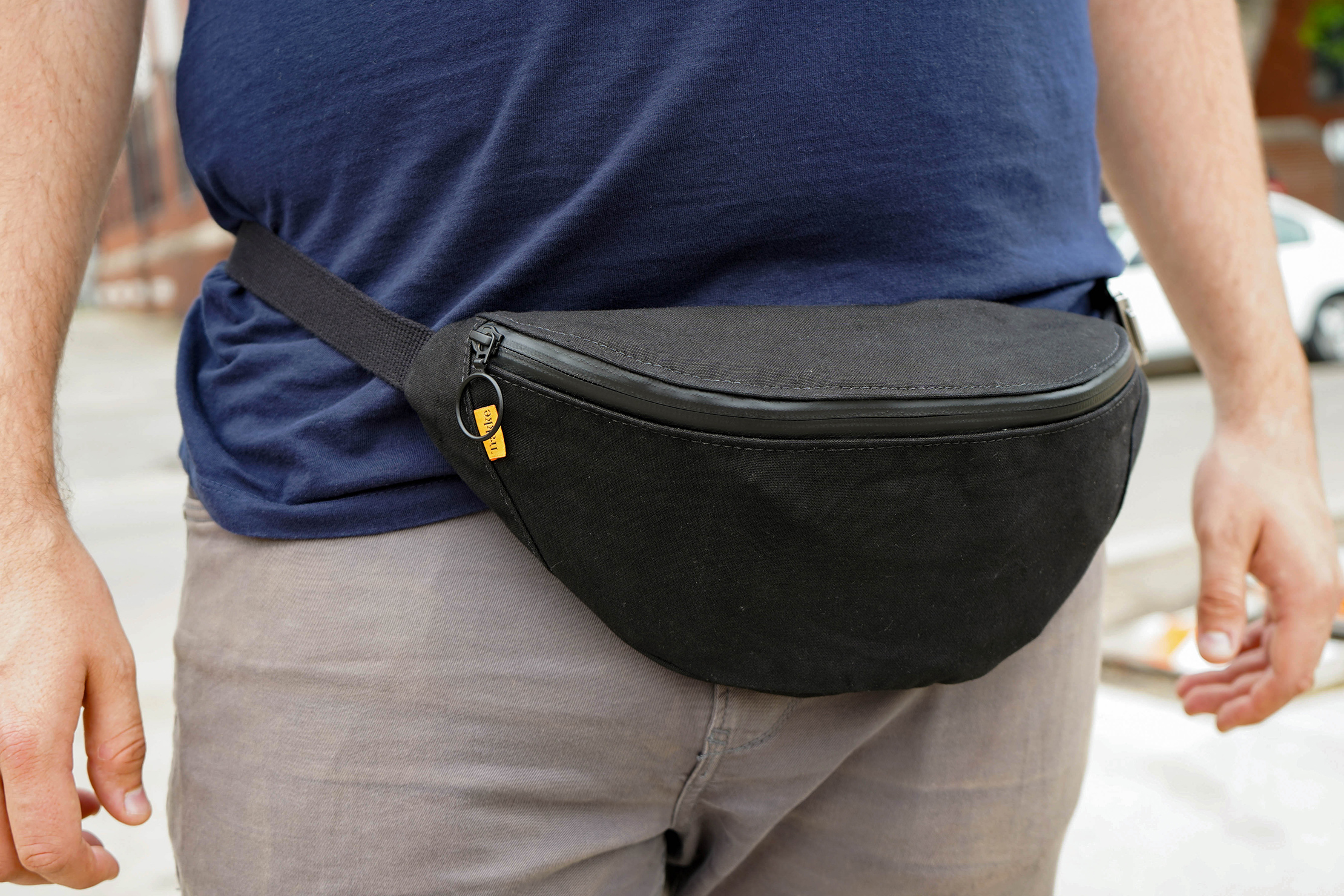 Next up, you can wear it over one shoulder as a sling-bag, either on your chest or across your back. We've actually found it's practical to wear either way, thanks to its ergonomic design and sleek, streamlined style.
One thing we really appreciate about this sling is that its shape and style allow it to fit and suit a wide range of body types. That's not the case with every bag, so it's a nice selling point.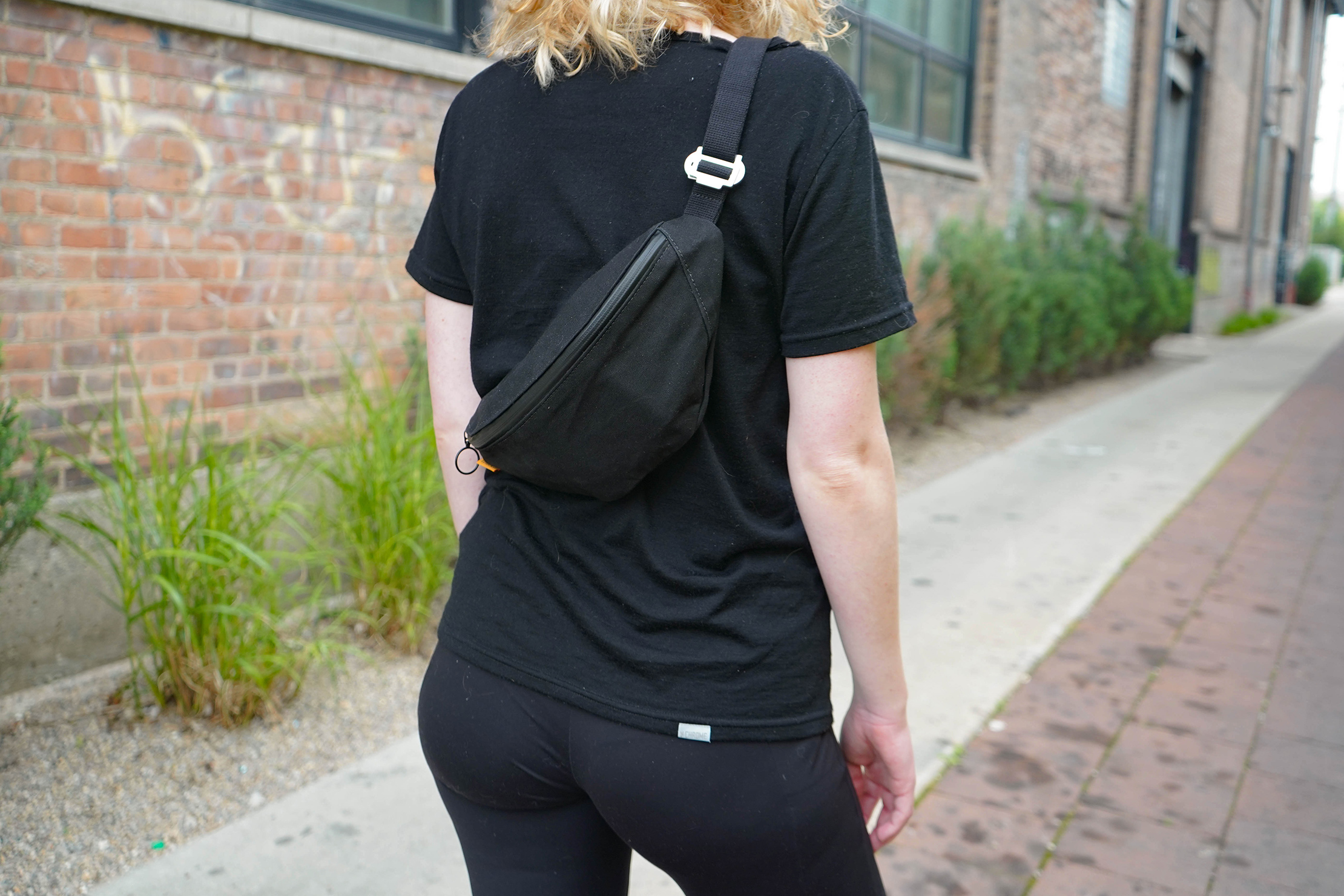 Opening up the Banana Crossbody, you'll find it's essentially just one open compartment inside. To give you an idea of its size, inside the sling we were able to fit some sunglasses in a case, wireless earphones, an Anker power bank, smartphone, an Orbitkey and a Pioneer wallet. This is about the max you'd want in there, since taking things out can get a bit difficult when it's fully packed.
We like the signature Trakke orange interior, which makes it easy to see everything you've got packed inside.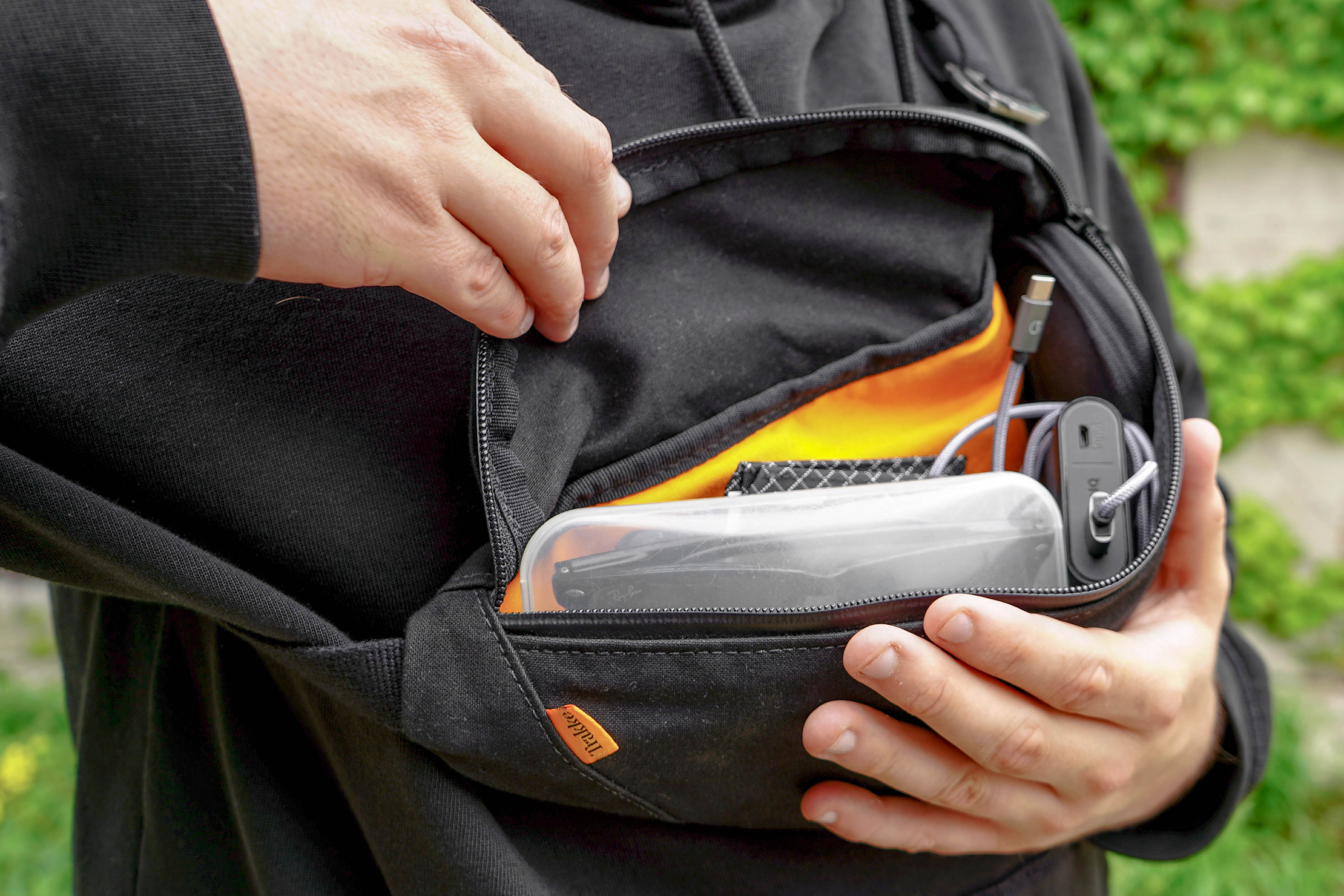 Unfortunately, we were disappointed with the sling's lack of internal organization. We wouldn't want too much going on, since we do like the fact that you can just drop whatever you want inside, but we would have liked to see a couple of sleeves at the back for tidying away smaller objects.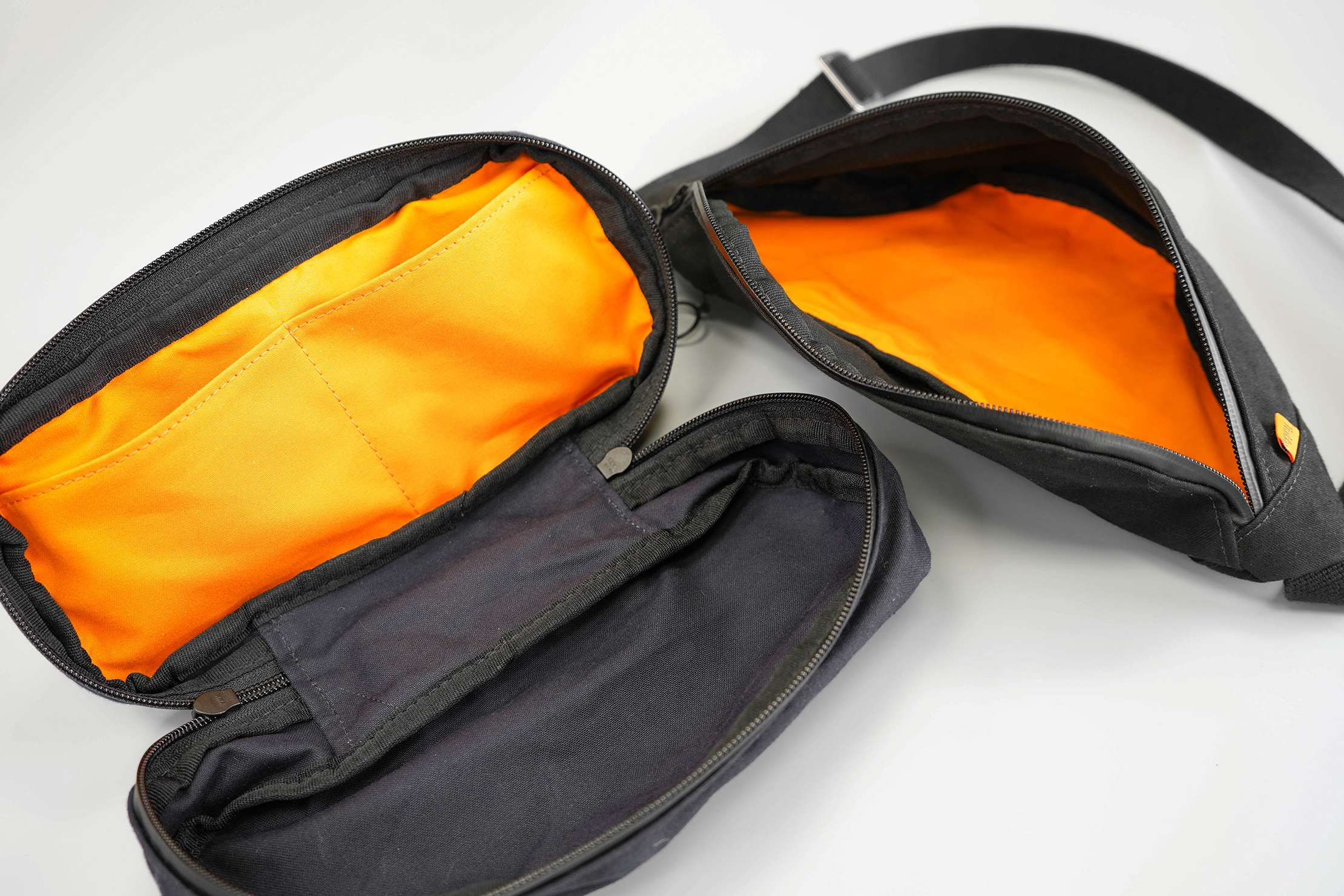 (Of course, we know those organizational features are possible for Trakke since their new Laggan travel pouches offer exactly that.)
The back zipper compartment, meanwhile, is a nice area for storing anything more valuable, such as your passport. This pocket does help with the organization issue and it's a great addition to the bag.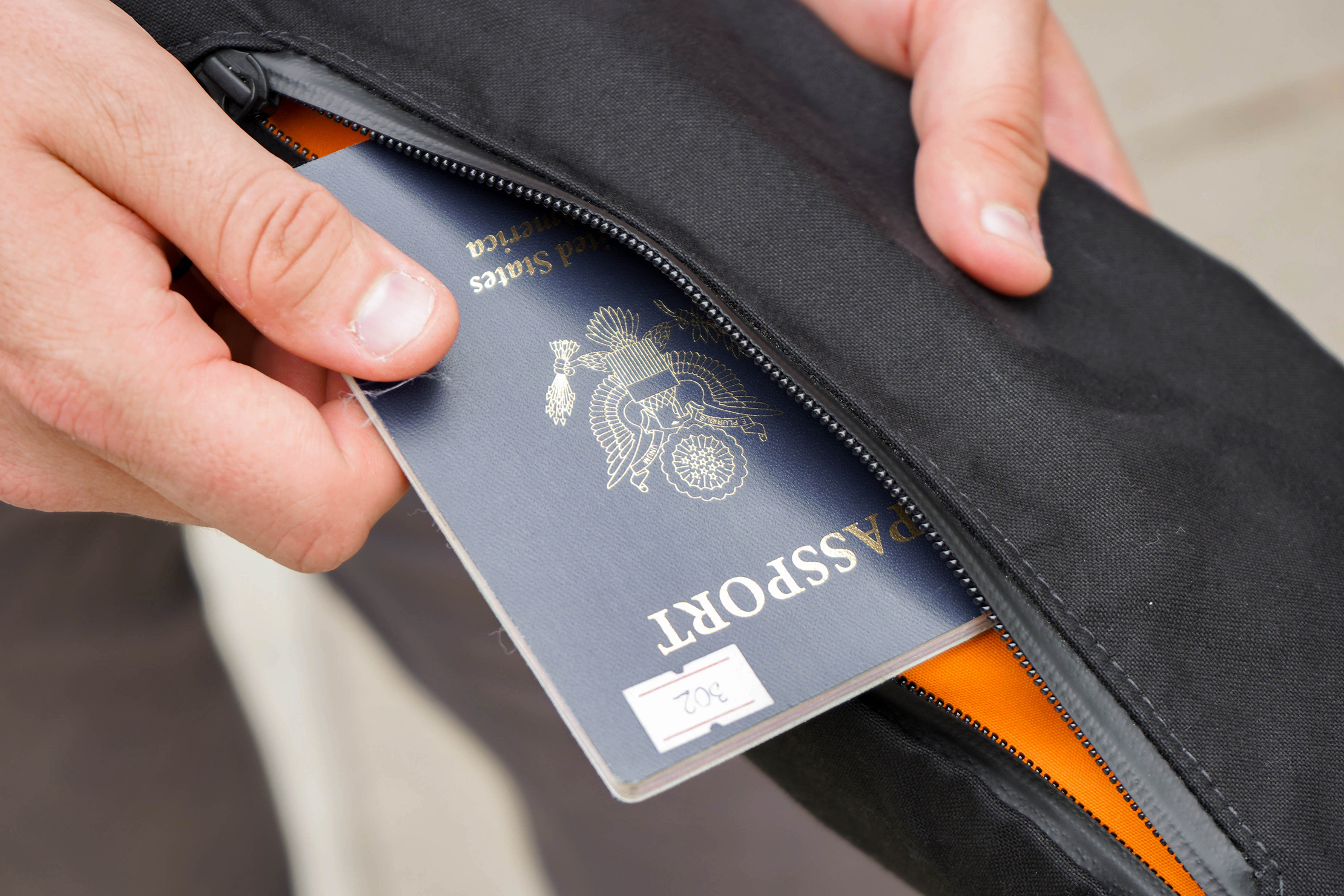 All in all, this 2-liter bag is an ideal size for carrying around your everyday carry items or travel essentials—basically, anything that would otherwise be in your pockets and then some.
Durability & Testing
At the time of this review, we've been testing the Trakke Banana Crossbody Bag for just over a month in Detroit, Michigan and we're pleased to report that there are no signs of wear and tear to speak of. Considering the high quality and super-durable materials used on the bag, we don't expect to see that happen anytime soon.
We did notice that when you wear the Banana Crossbody as a sling, it can rub your neck a bit if you're just wearing a T-shirt.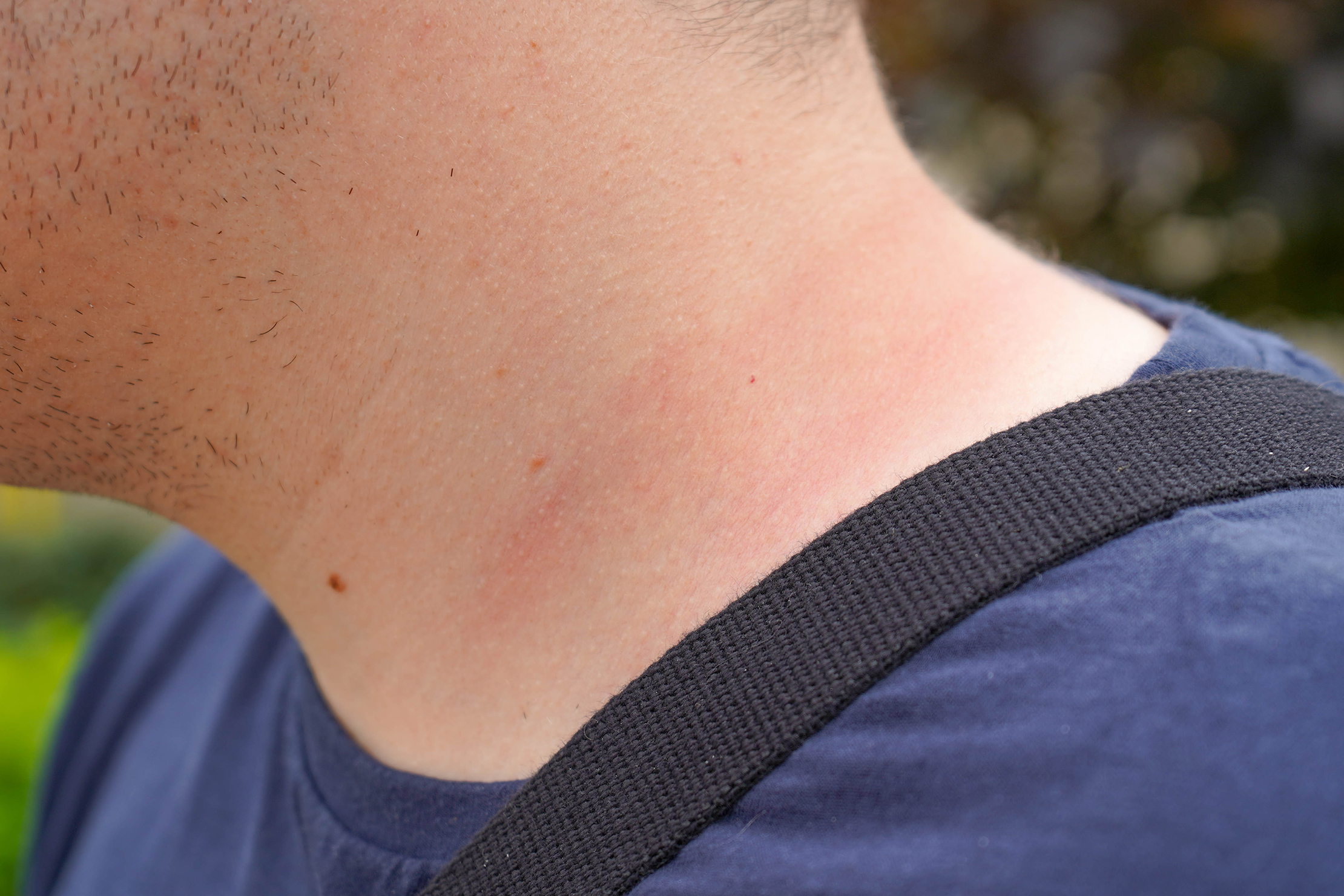 We do also think this bag could fit better if the attachment points were anchored accordingly—like they are with the Aer Day Sling 2, which has one attachment point on the top and one on the side. This does, however, mean that this bag can also be worn as a waist pack and it's suited to both left- and right-handers when worn as a sling.
One last thing to note from our testing is that we've found Trakke's new dry-finished waxed canvas picks up less dirt and fluff than the previous design, which is a helpful improvement.
Usage Timeline
Initial Usage
Condition: Excellent
The materials have that "feel good" vibe.
Contours to the body nicely.
We wish the strap was a little thicker.
We wish there was some internal organization vs two large pockets.
1 Month of Use
Condition: Excellent
The strap could be a little thicker, and some internal organization would be useful.
Access the Pro Community Discussion
Get your questions about the Trakke Banana Crossbody Bag answered from our team and the Pro Community right here on the page. Plus, join discussions with other members about gear, guides, and more.
Other Bags & Luggage Reviews