Minaal Crossbody Bag Review
We dig the sleek aesthetic and simple organization of the Minaal Crossbody Bag. We just wish it wore tighter to your body.
Our Verdict
Unlock the Pro Summary
Save time. Get access to brief summaries of our reviews so you can browse and make decisions more efficiently.
Pros
Clean, sleek aesthetic
Secret pocket is a nice touch
Digging the minimal organization
Cons
Sling wears floppy due to attachment points
Not much structure at the front of the bag
The dark interior color isn't great for visibility
Recent Pack Hacker Video
Technical Details
100 %
Carry-on Compliance
Capacity

2l

Weight (lb)

.65 lb (0.3 kg)

Dimensions

.9 in x 11.8 in x 2 in (2.3 x 30 x 5.1 cm)

Notable Materials

Nylon, YKK Zippers, Fidlock Hardware

Manufacturing Country

Vietnam

Warranty Information
Full Review
Get up to 20% off Minaal • Join Pack Hacker Pro
Minaal describes the Minaal Crossbody Bag as, "the bag for situations where you don't want to wear a bag." Basically, Minaal is describing all sling bags, which are ideal when you need to carry more than your pockets allow, but a daypack would be overkill.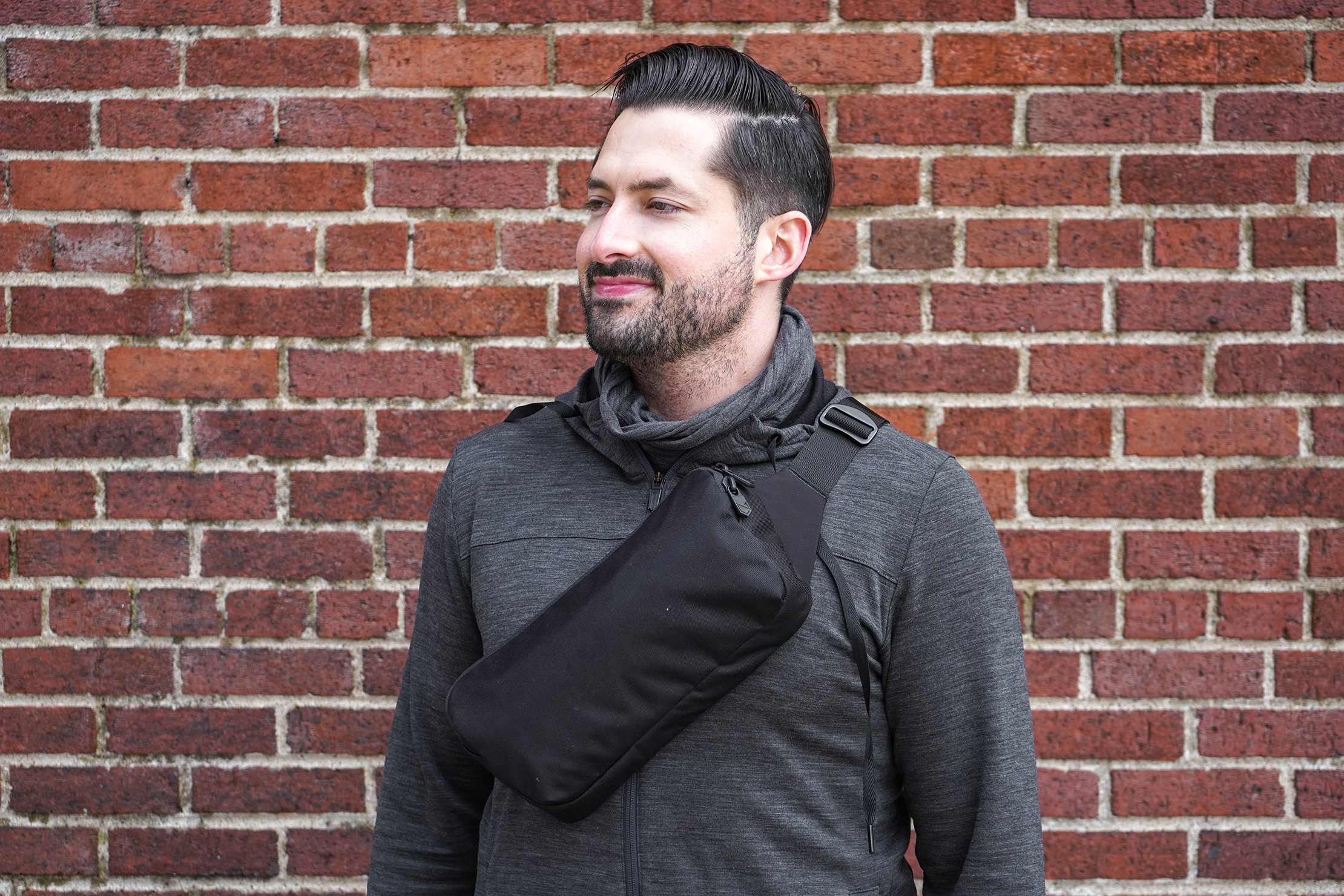 But how does the Minaal Crossbody Bag stack up against all of the other sling bags on the market? (Note—we're going to refer to the Crossbody Bag as a sling bag throughout this review because, despite its name, this bag is clearly a sling. It wears like one on both the chest and the back, and it only has a capacity of 2 liters.)
To find out, we've been putting the Minaal Crossbody Bag to the test for two weeks in Detroit, Michigan. So let's learn how it's performed.
Materials & Aesthetic
We're loving the clean, minimalistic aesthetic of the Minaal Crossbody Bag. At the time of this review, it's only available in Aoraki Black and…Aoraki Black. We think the black looks sleek and sophisticated, so we don't mind this (lack of) choice. But if you like your crossbody bags bright and flashy, this isn't the bag for you.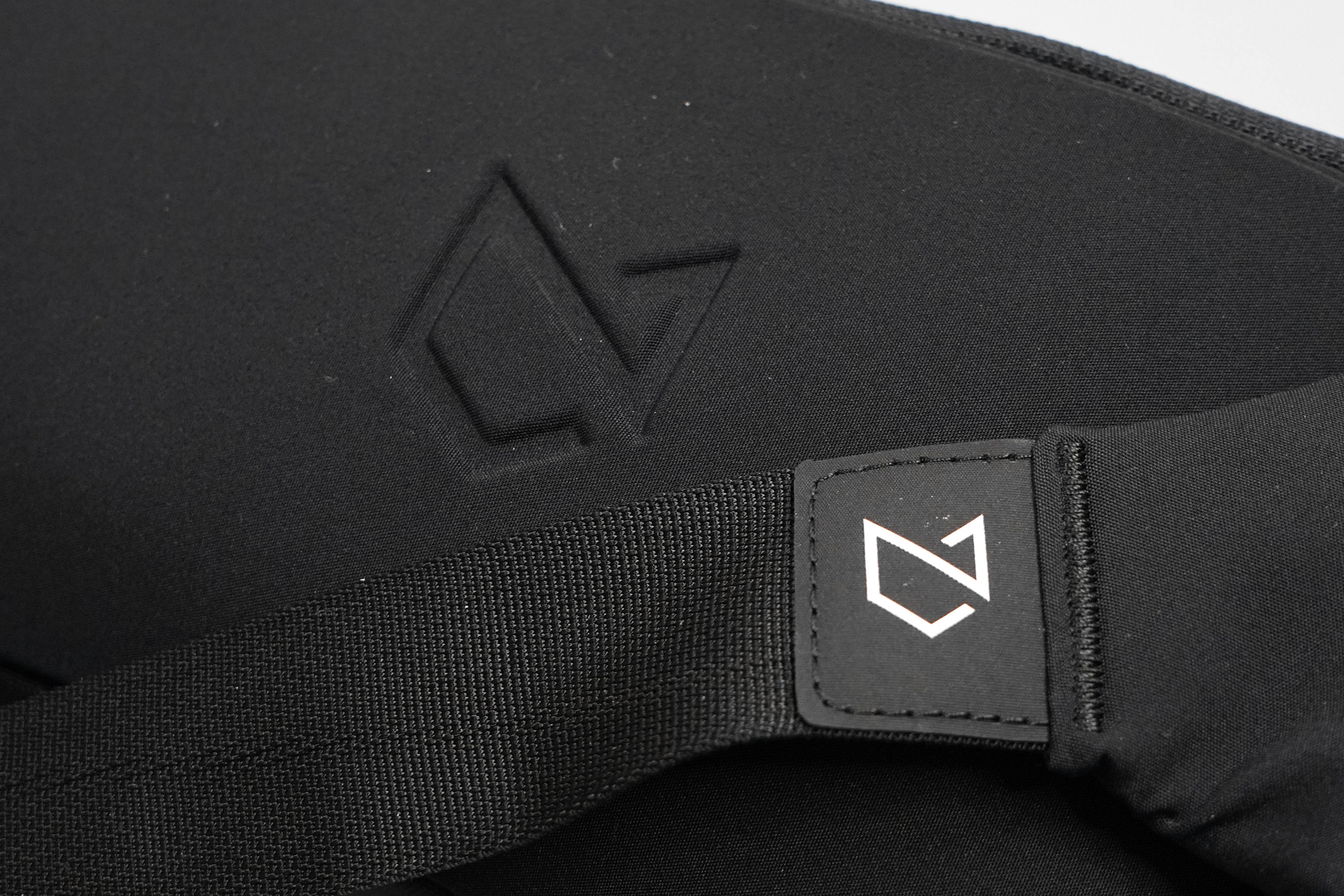 The branding is equally minimal. You'll only find the Minaal logo in a few places (on the strap, back panel, and hardware). Plus, we think the logo—which appears to have been updated recently—looks really nice. So no complaints there.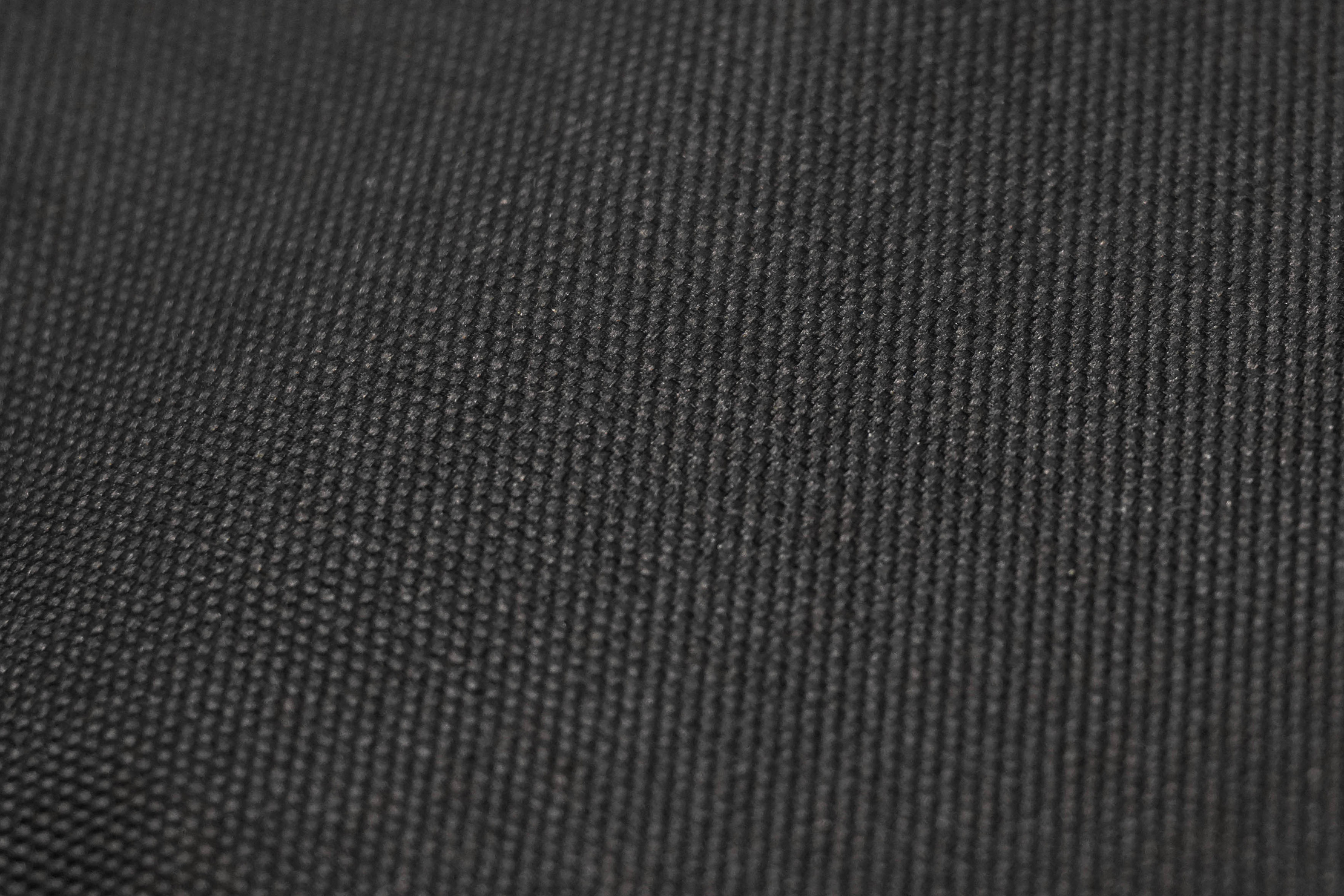 The pack is made of nylon, which feels nice in the hand. Nylon will also usually hold-up.
The exterior also doesn't appear to have any added weather-resistance. This isn't a huge deal, but worth pointing out if your day-to-day life involves inclement weather (hello residents of the Pacific Northwest).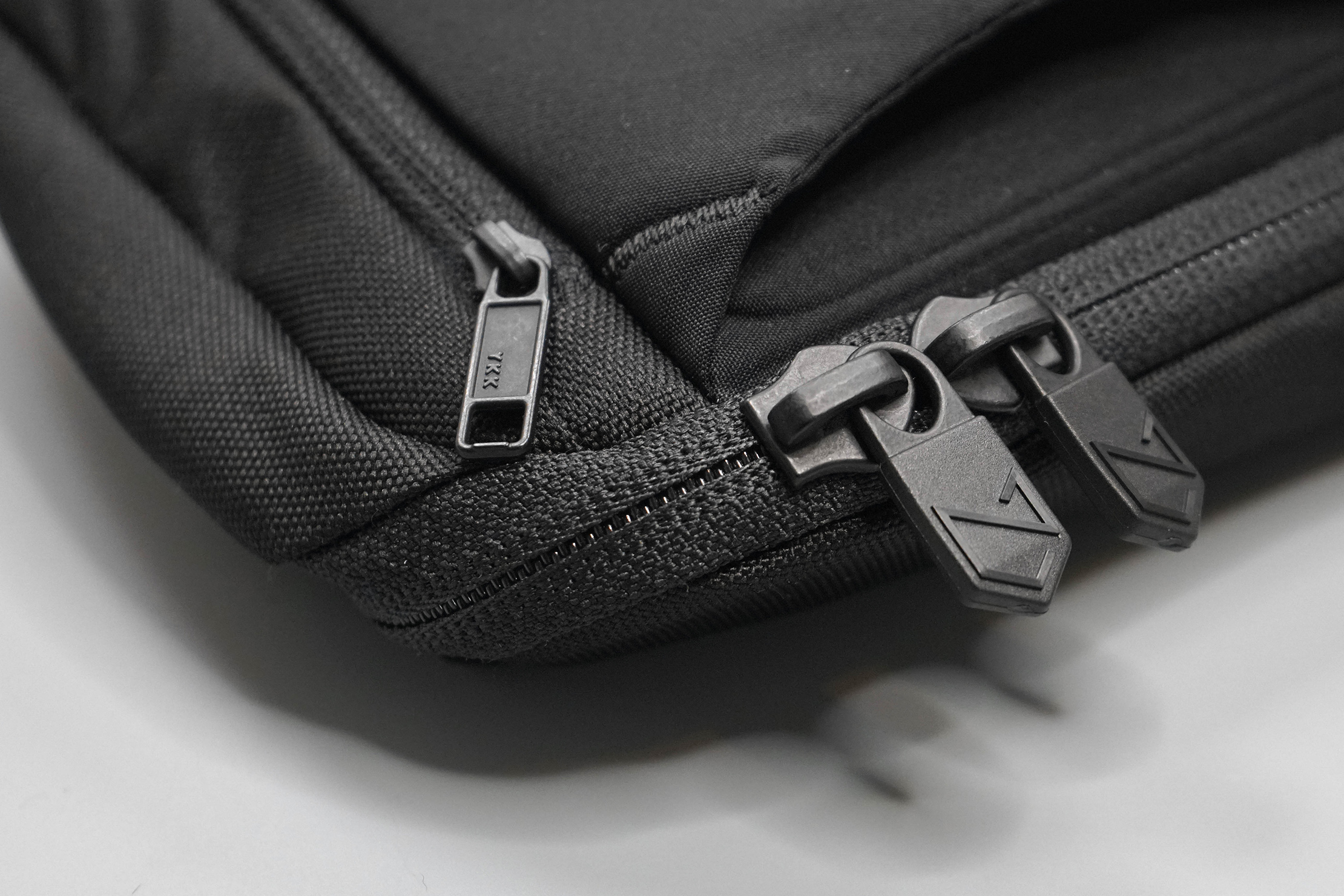 The zippers are all from YKK, which is a brand we've come to trust—after testing hundreds of backpacks and sling bags, we've had very few problems with YKK. There's also hardy and lightweight aluminum hardware. Finally, you'll find a Fidlock buckle (which we'll discuss in the next section of this review).
External Components
Like most slings, the Minaal Crossbody Bag doesn't have much going on externally. The webbing strap is anchored to the bag via "stretch-fabric connection wings" (as Minaal calls them). They're super soft and add a good amount of comfort.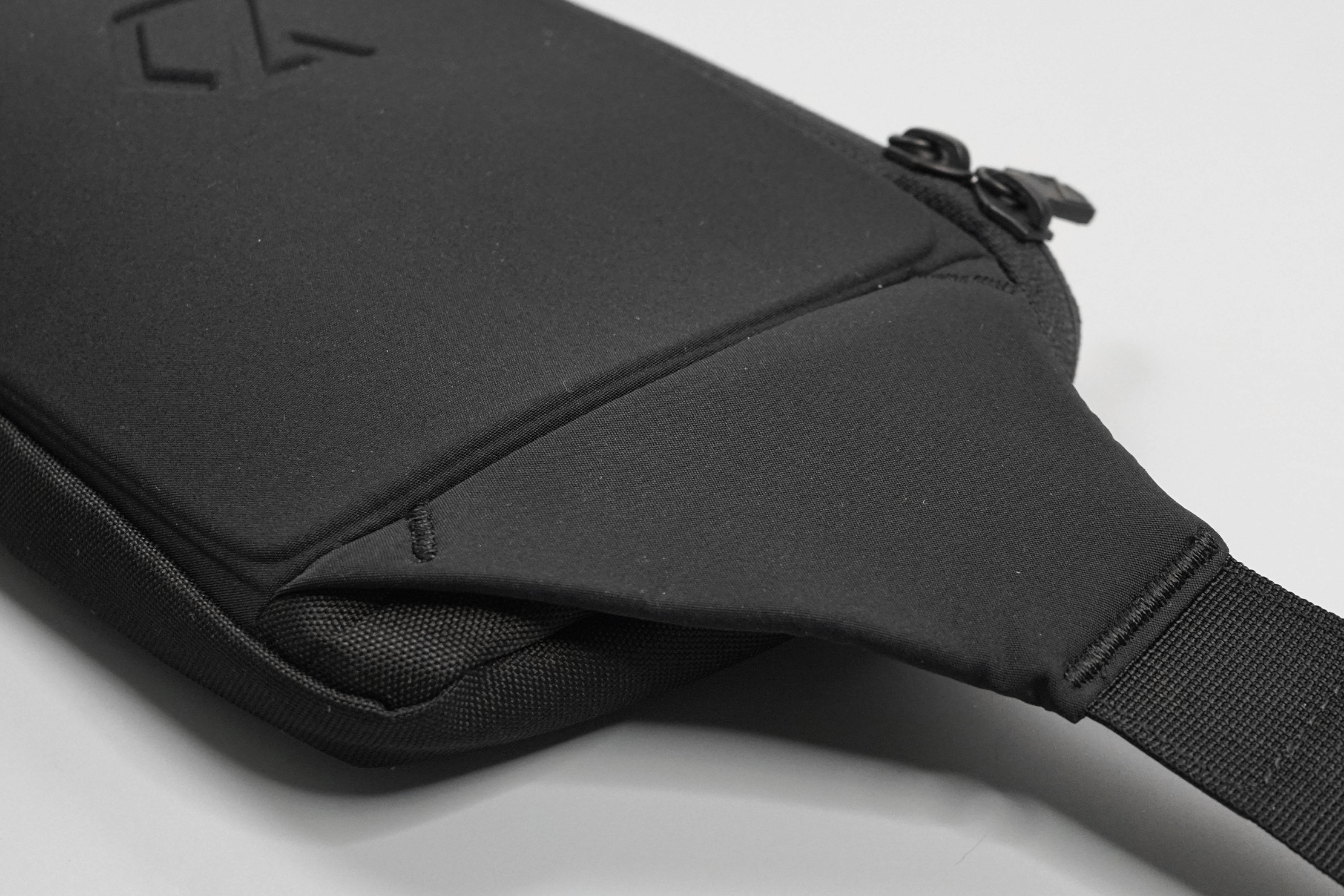 That said, when you're wearing the bag, a small gap frequently forms between the wings and your body. (We believe this is due to the way the bag is anchored to the strap via the wings.) This gap becomes more pronounced the more you've loaded out the sling. The fact that there's not much structure to the front of the bag doesn't help. Overall, the carry feels a little…loose. Essentially, the bag can tip forward on your chest (or backward, if you're wearing it on your back).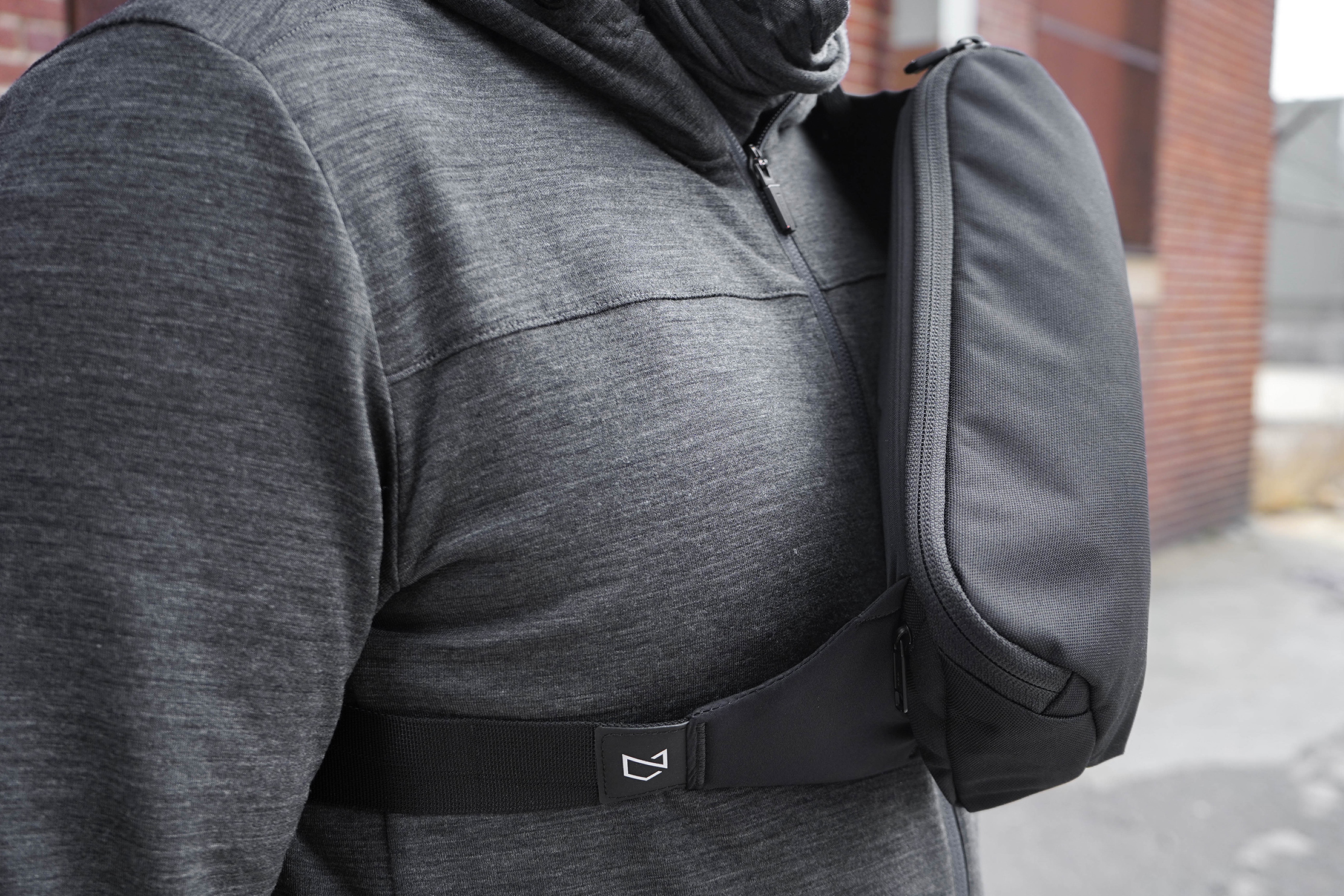 We've tested slings with similar designs—like the WANDRD D1 Fanny Pack—that have bypassed this problem by allowing you to clip the strap to the back panel, which effectively pulls the sling closer to your body.
This isn't a deal-breaker—at least in our books—but it's something we've noticed (and as thorough gear testers, it's our jobs to point this stuff out).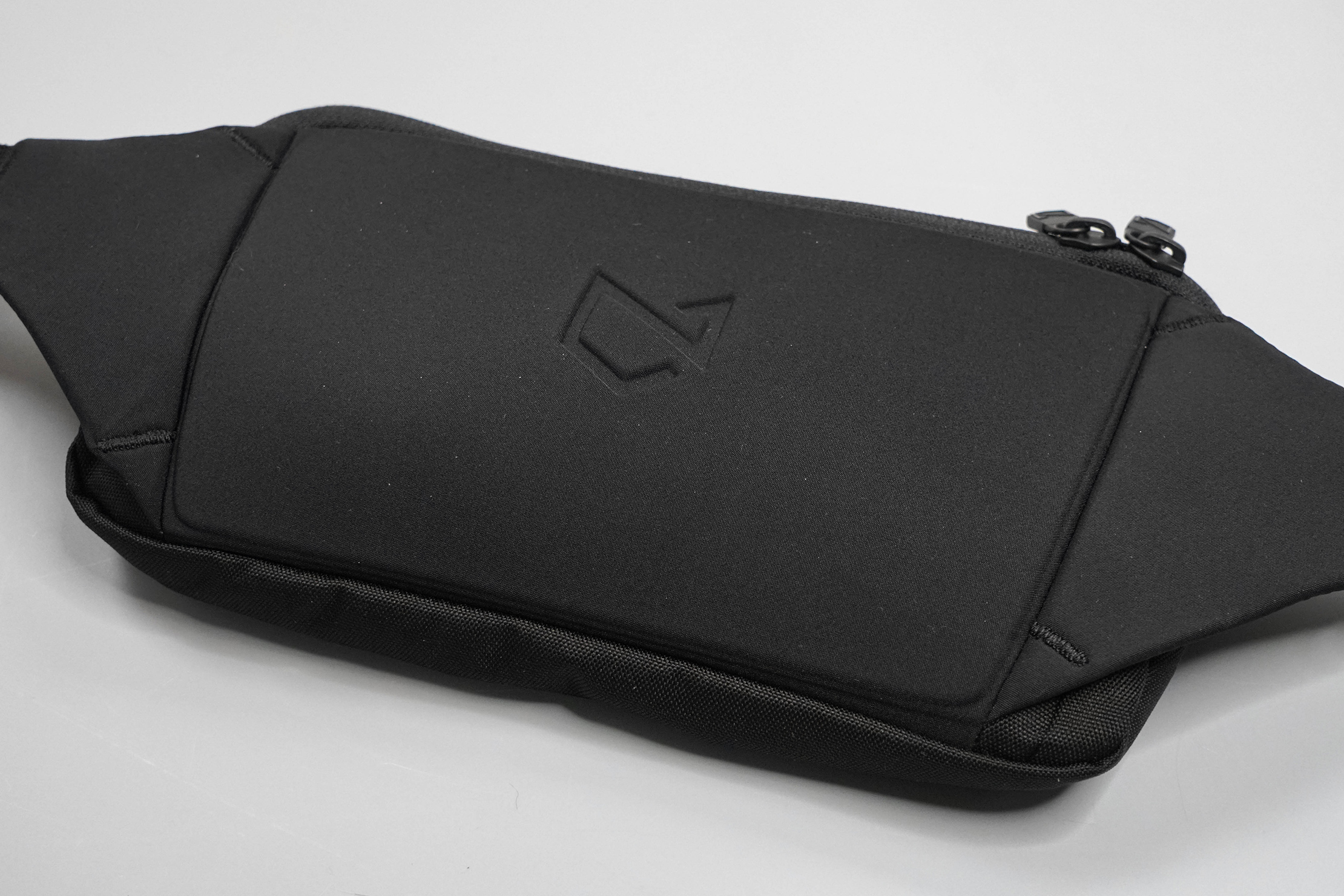 The strap itself is quite soft and nice. As is the slightly padded back panel.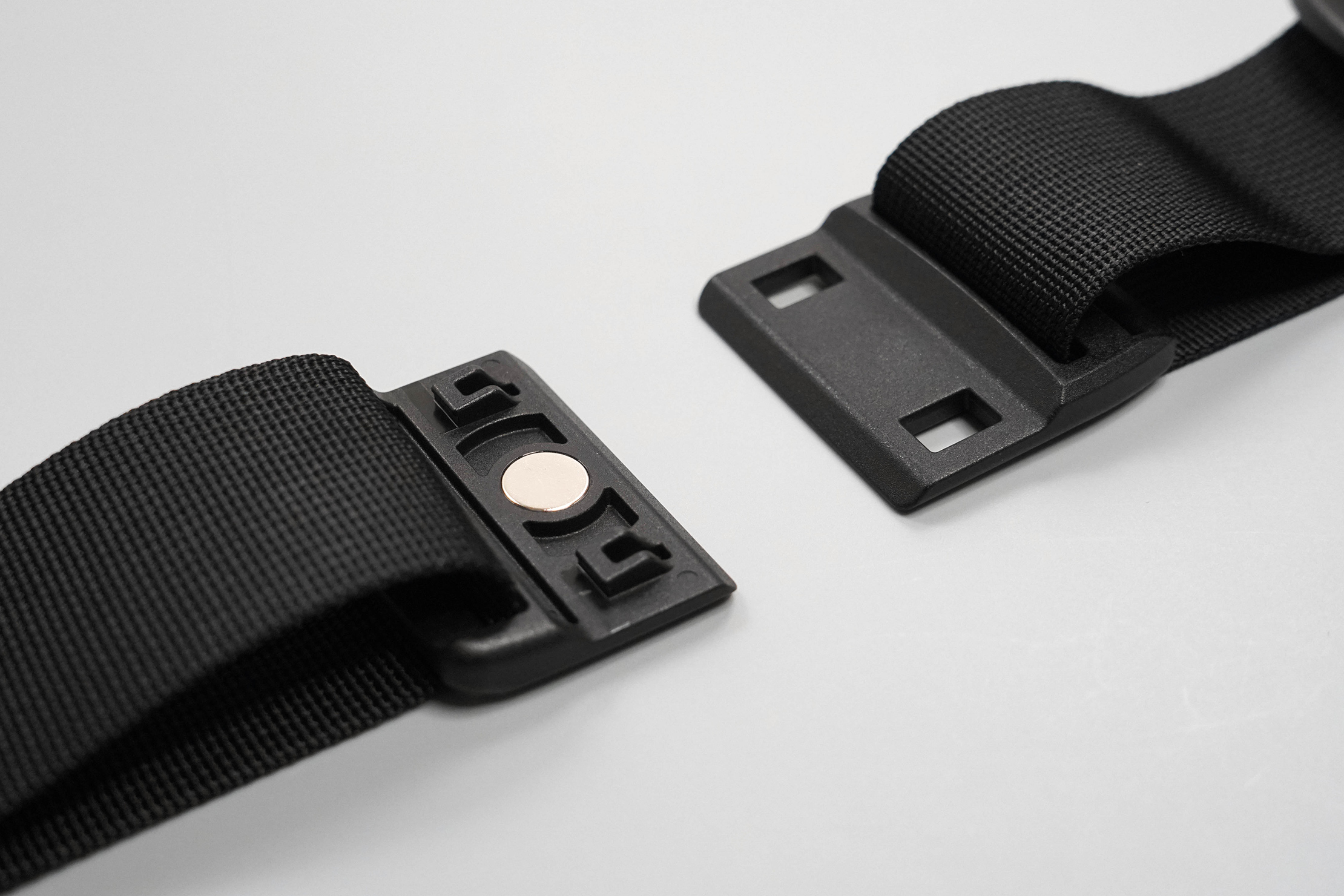 Now, as we mentioned in the previous section, the buckle on the strap is a Fidlock buckle. If you're not familiar, a Fidlock buckle uses magnets (as opposed to traditional clips). It may take some time to get used to, but once you have the hang of it you can work the buckle with one hand. Some people love Fidlock buckles, while others prefer traditional buckles. Even the team here at Pack Hacker is split. Suffice to say, this is one of those things that could be a pro or a con, depending on personal preference.
And that's it. Let's open this sucker up and take a look inside, shall we?
Inside the Bag
There are only two compartments on this thing, which is a good amount for a sling of this size. The first compartment, which is on the back of the sling, is ideal for items you want to keep extra secure (because this compartment will sit against your body, it'll be tough for wrongdoers to get inside of it). It's perfect for extra cash, a credit card or two, a collection of diamonds, a folded up treasure map…you know, the usual stuff. However, this compartment is on the smaller side, so it won't fit larger things.

And we're on to the main compartment. Now, it can be tough to work the zippers around the corners of this compartment when you're wearing the sling—we believe it has something to do with the density of fabric divided by the slope of the zipper plus the weight …Kidding. It just has to do with the fact that they're sharp corners to turn.
To skirt this issue, we usually don't open the main compartment all of the way. And, while we love the aesthetic of the zipper pulls, we would've preferred if there was a little more there to grab to make the zipping process easier.
The interior is the same black color as the exterior, which isn't ideal. We typically prefer bags that feature bright interiors that effectively "turn on the lights," making it easy to see what's going on.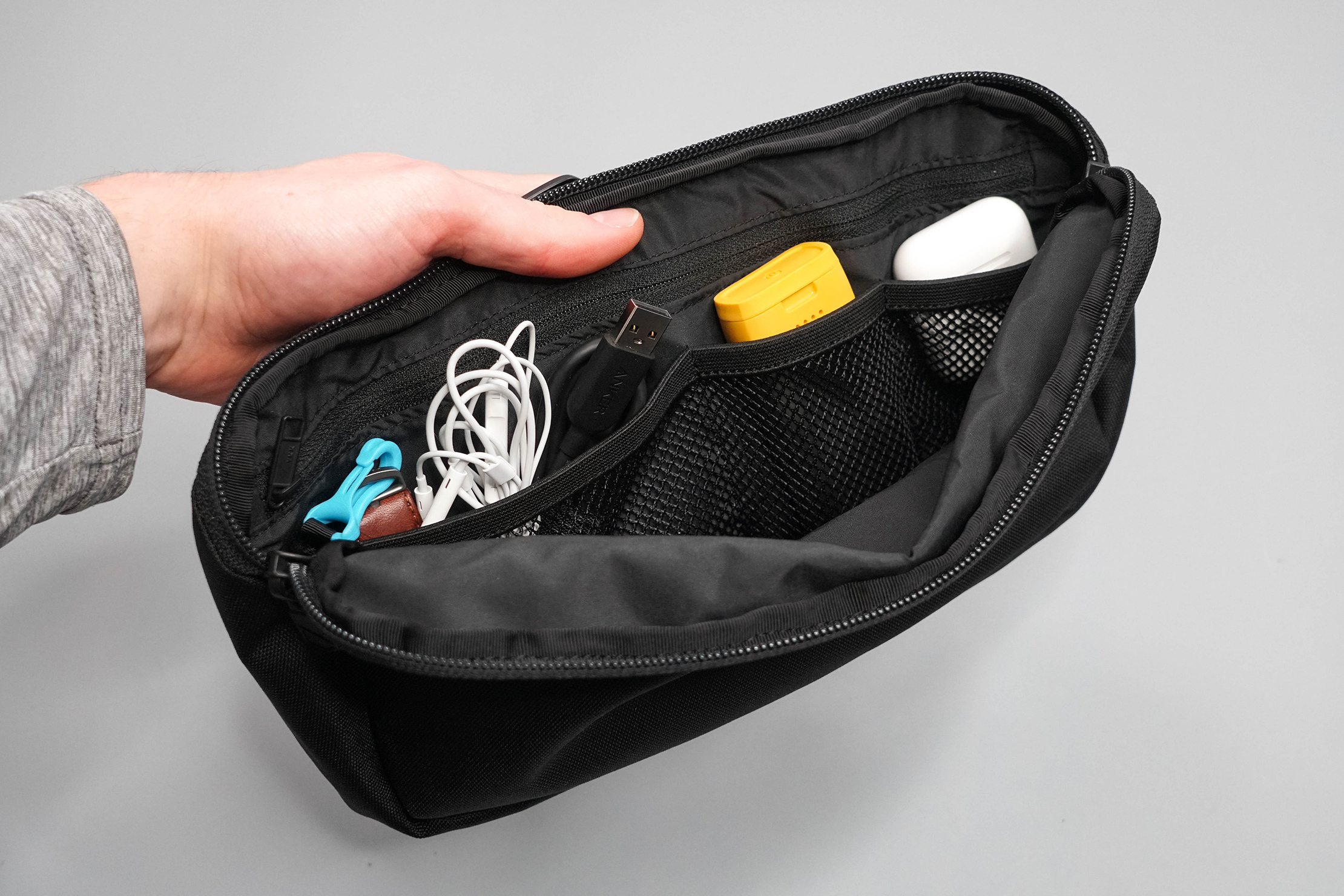 There's not a ton of organization inside of this compartment. There are three semi-stretchy mesh pockets against the back of the compartment. We like that they're three different sizes to fit a variety of gear. We've been able to fit things like a battery bank, spork, and USB cable in them.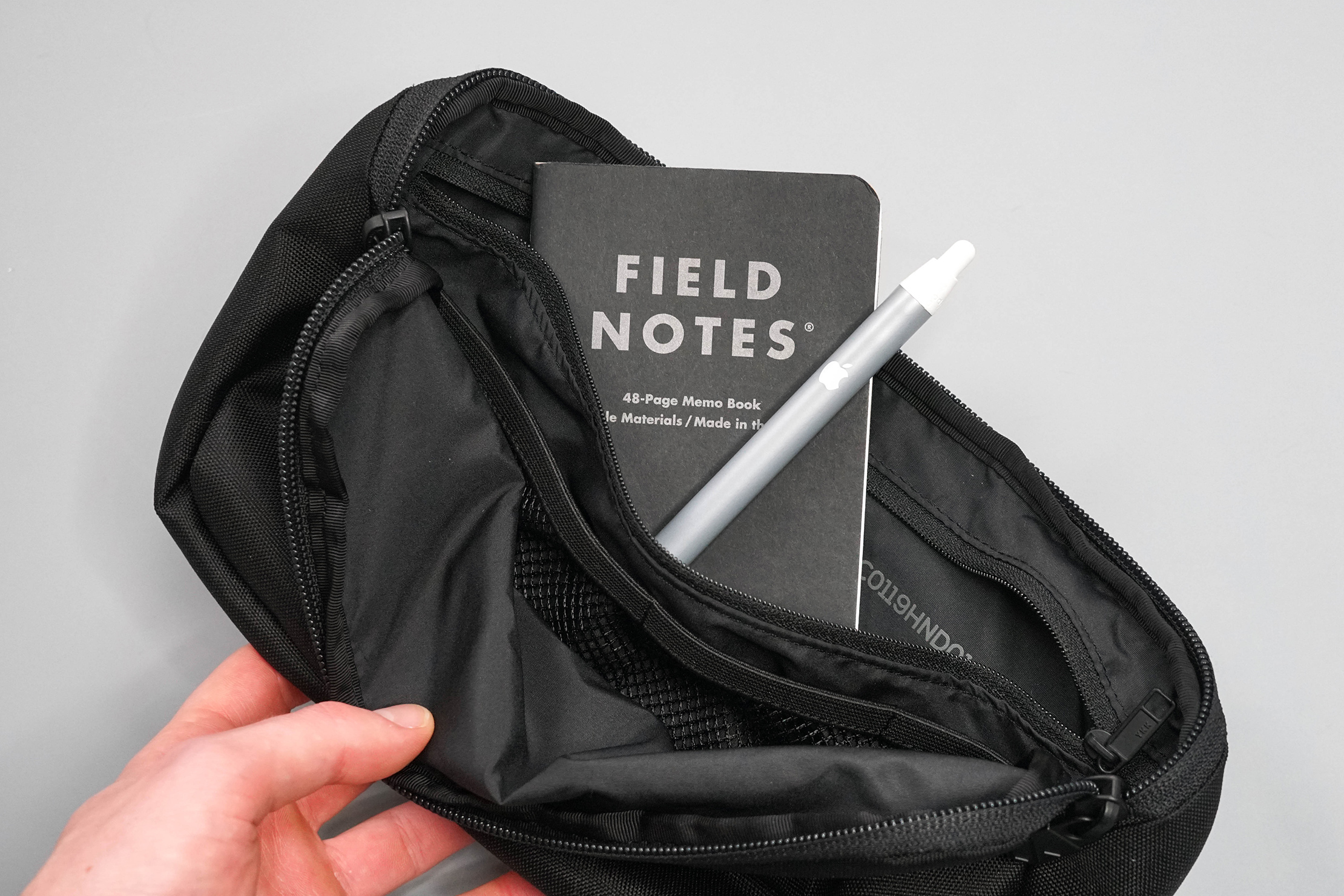 There's also a long zippered pocket where we've kept a notebook (a Field Notes notebook, to be specific) and compact travel pen. The last bit of organization is the bright blue key clip. We like that it's bright, making it easy to spot.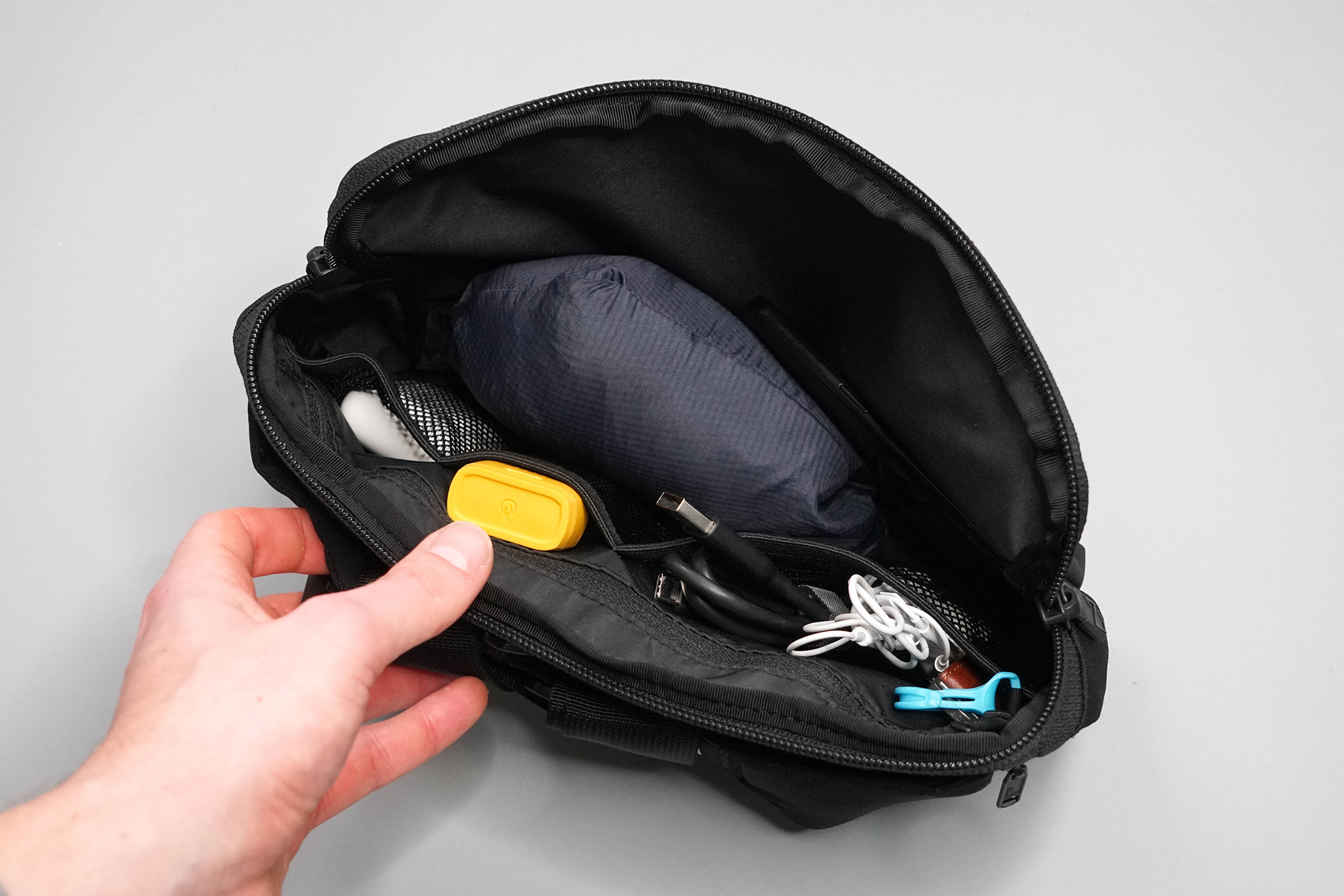 The rest of the compartment is a giant, cavernous space for the rest of your stuff. And, before you ask, yes this sling does fit a Nintendo Switch. It will also fit a ton of other stuff—your wallet, phone, a packable jacket, etc. Really, the main area of the sling feels a little large during everyday use. But, obviously, this depends on your setup.
Durability & Testing
As we mentioned at the beginning of this review, we've been testing the Minaal Crossbody Bag for two weeks. For the most part, we've thoroughly enjoyed using it as a daily driver. Not only does it have a sleek, minimalistic look that we're digging, but it has a good amount of organization for our setup. Our biggest gripe lies with the overall carry, which we would love to see improved in the next iteration of this bag (if there ever is a second iteration).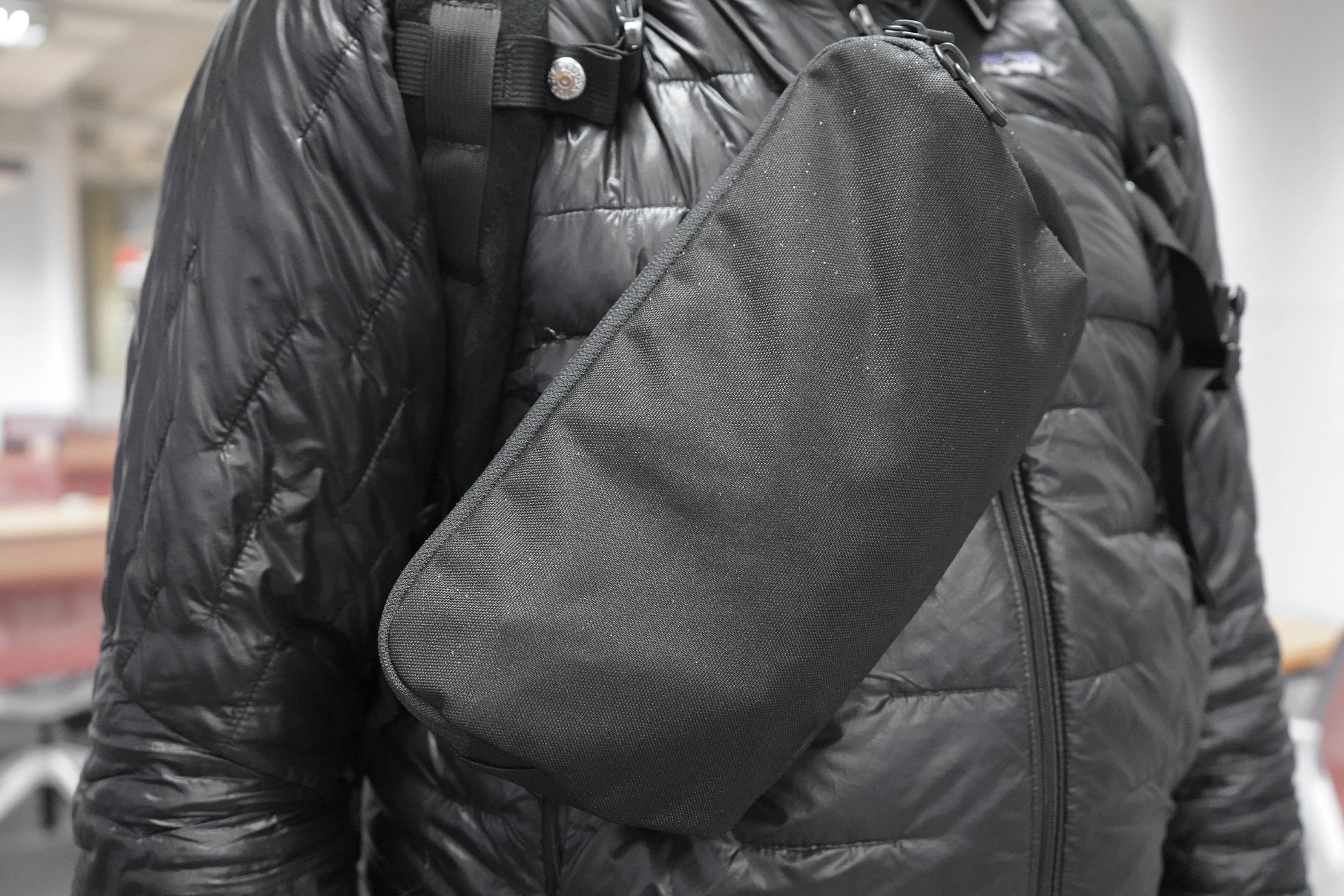 We have nothing to report from a durability perspective. The Minaal Crossbody Bag is looking as good as it was straight out of the box.
Usage Timeline
Initial Usage
Condition: Excellent
We're digging the simple, minimalist design, just enough organization without being overkill
Well padded back panel and strap attachment points for a comfortable carry
Secret zipper pocket on the back but only big enough for a few bills or credit cards
2 Weeks of Use
Condition: Excellent
Totes around a Nintendo Switch quite nicely
The main area of the sling feels a little large during everyday use
Digging the separate sized mesh pockets for different gear
The sling can sit a bit loose at times—there's no strap to pull the sling closer to the wearer's body. Example photo below, the left side features the strap mentioned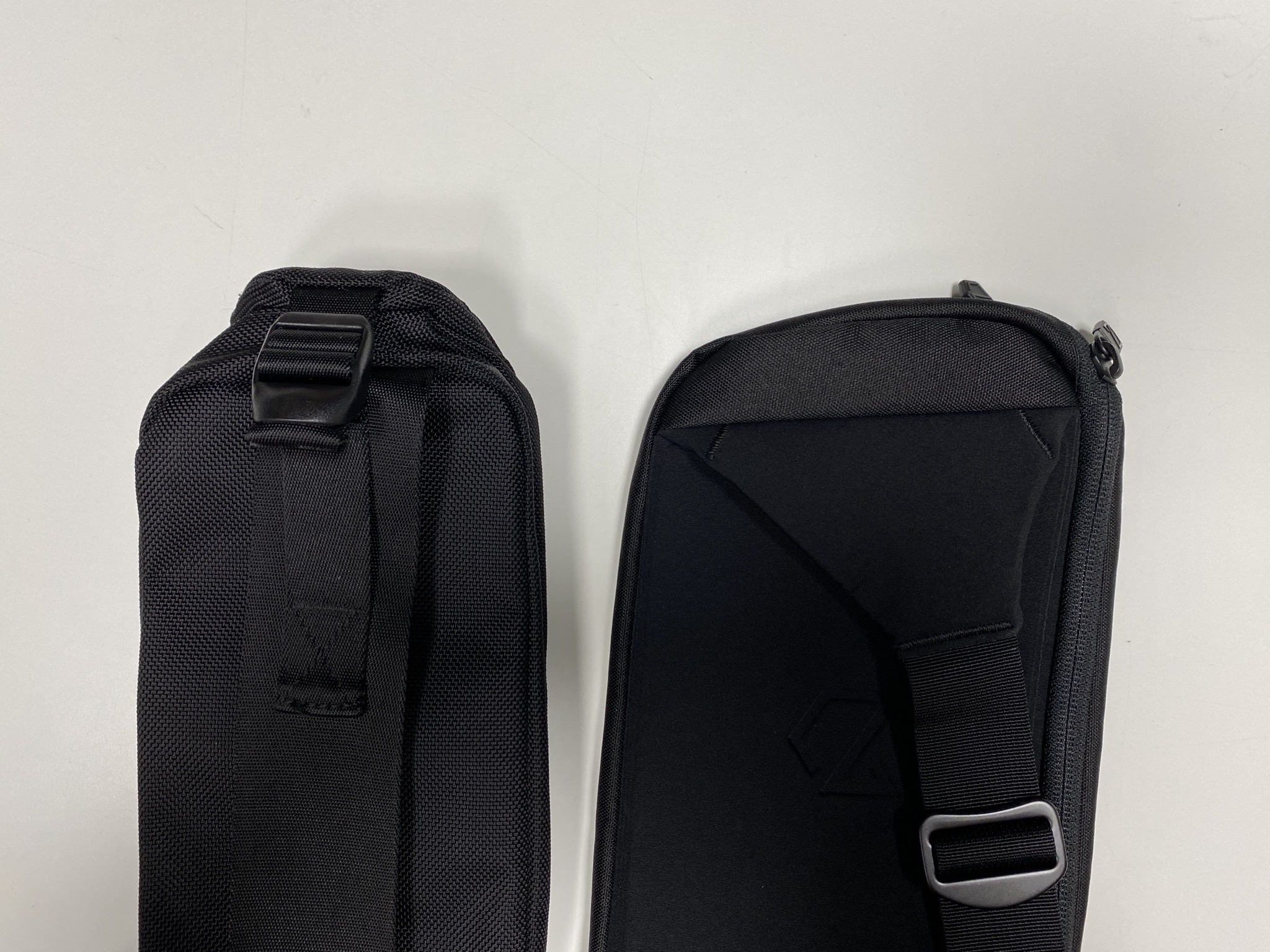 Access the Pro Community Discussion
Get your questions about the Minaal Crossbody Bag answered from our team and the Pro Community right here on the page. Plus, join discussions with other members about gear, guides, and more.
Other Bags & Luggage Reviews