WANDRD D1 Fanny Pack Review
Durable and versatile with a thoughtful design, the WANDRD D1 Fanny Pack is great for daily carry—but it starts to look bulky when fully packed out.
Our Verdict
Unlock the Pro Summary
Save time. Get access to brief summaries of our reviews so you can browse and make decisions more efficiently.
Pros
Durable, weather-resistant materials
Thoughtful overall design
Ideal amount of organization
Cons
Looks bulky when fully packed out
Black interior can make it difficult to see what's going on inside
Sling carry may be floppy when the pack is full
Recent Pack Hacker Video
Technical Details
100 %
Carry-on Compliance
Capacity

2.5l

Weight (oz)

9.45 oz (267.9 g)

Denier

1680D

Dimensions

6 in x 9 in x 3 in (15.2 x 22.9 x 7.6 cm)

Notable Materials

Ballistic Nylon, YKK Zippers, Fidlock Hardware, Nylon

Manufacturing Country

Vietnam

Warranty Information
Full Review
Get up to 15% off WANDRD • Join Pack Hacker Pro
The WANDRD D1 Fanny Pack is proud enough to have fanny pack in its name. (As opposed to the fanny packs that hide behind the modern terms of waist pack, hip pack, bum bag, etc.)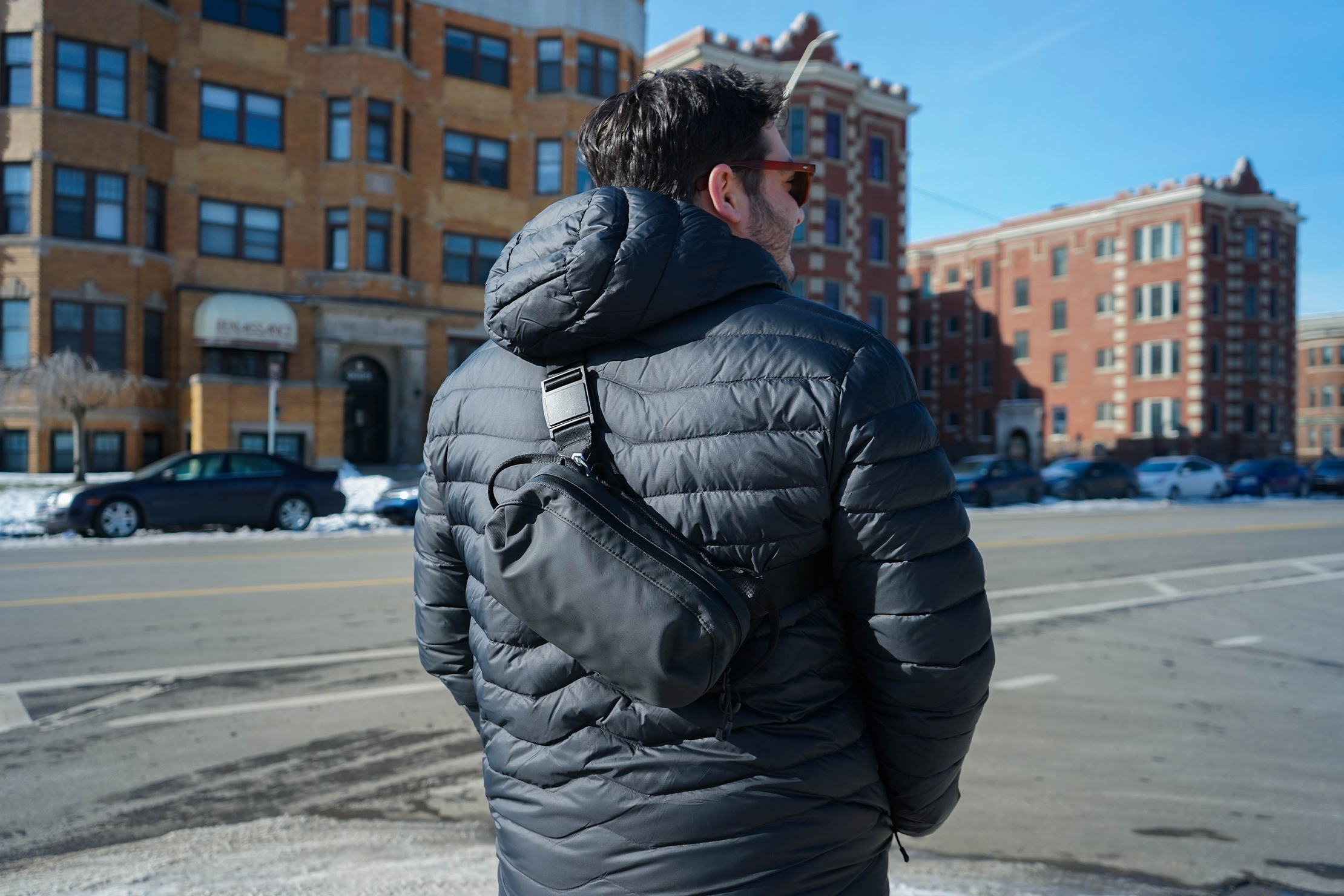 And it should be proud. This bag, which can also be worn as a sling, has a lot of clever things going on. Let's check it out.
Materials & Aesthetic
The D1 Fanny Pack is made from 840D Jr. Ballistic Nylon with 5pm coating and 1680D Ballistic Nylon toward the bottom. The zippers are from YKK, a brand that owns a huge percentage of the zipper market, and for a good reason—their zippers are built to last. The main zipper is a YKK AquaGuard® zipper, which has a polyurethane coating that repels water. The tradeoff is that the zipper is stickier than its non-water-resistant counterparts.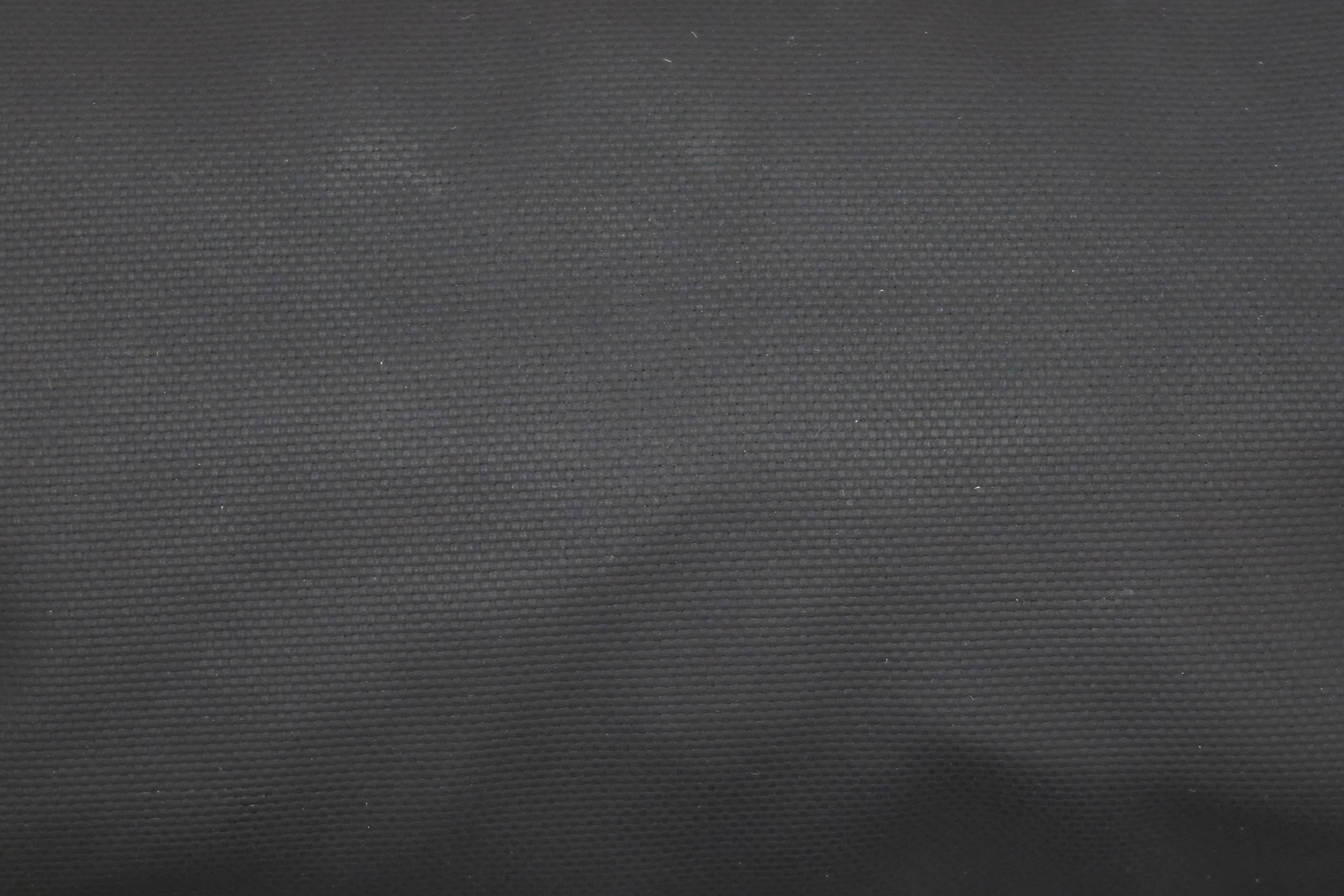 Technical language aside, all you need to know is that the D1 Fanny Pack is equally durable and weather-resistant. We've tested it in the pouring rain and during blizzard conditions without any problems. All of the stuff inside stayed dry. The fabric is also soft—it feels good in the hands.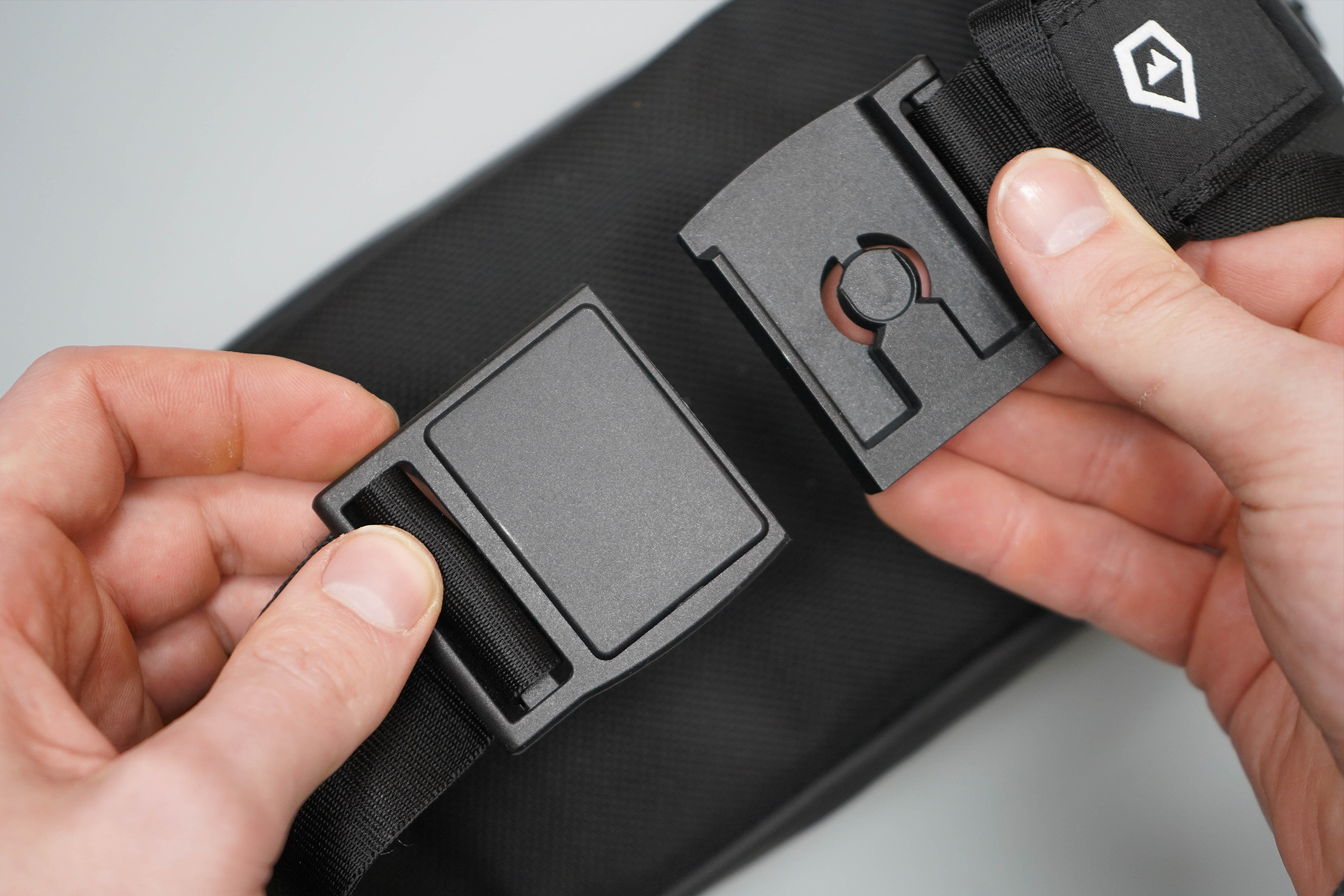 There's also a Fidlock buckle, which works via a magnet. We love this style of buckle because it looks dope, is fun to fidget with, and you can work it with one hand. It may take some time to get used to, however. And some people are worried about the security of these buckles because the magnet is more likely to disconnect than a traditional buckle if a wrongdoer tugs on the strap, but we haven't had any issues. The buckle feels secure (we've tested it by having a Pack Hacker team member tug on the strap to see if the buckle will disengage—it doesn't).
Because of these high-tech materials, the D1 Fanny Pack has a sleek, modern look to it. Which is further exaggerated by its rich black color (the only colorway available at the time of this review).
At the same time, this pack's oblong shape and minimal branding make it look like your traditional waist pack…for better or worse. We've fully embraced the waist pack trend, but you may be a little warier.
External Components
There's a lot of clever thinking going on with the external components.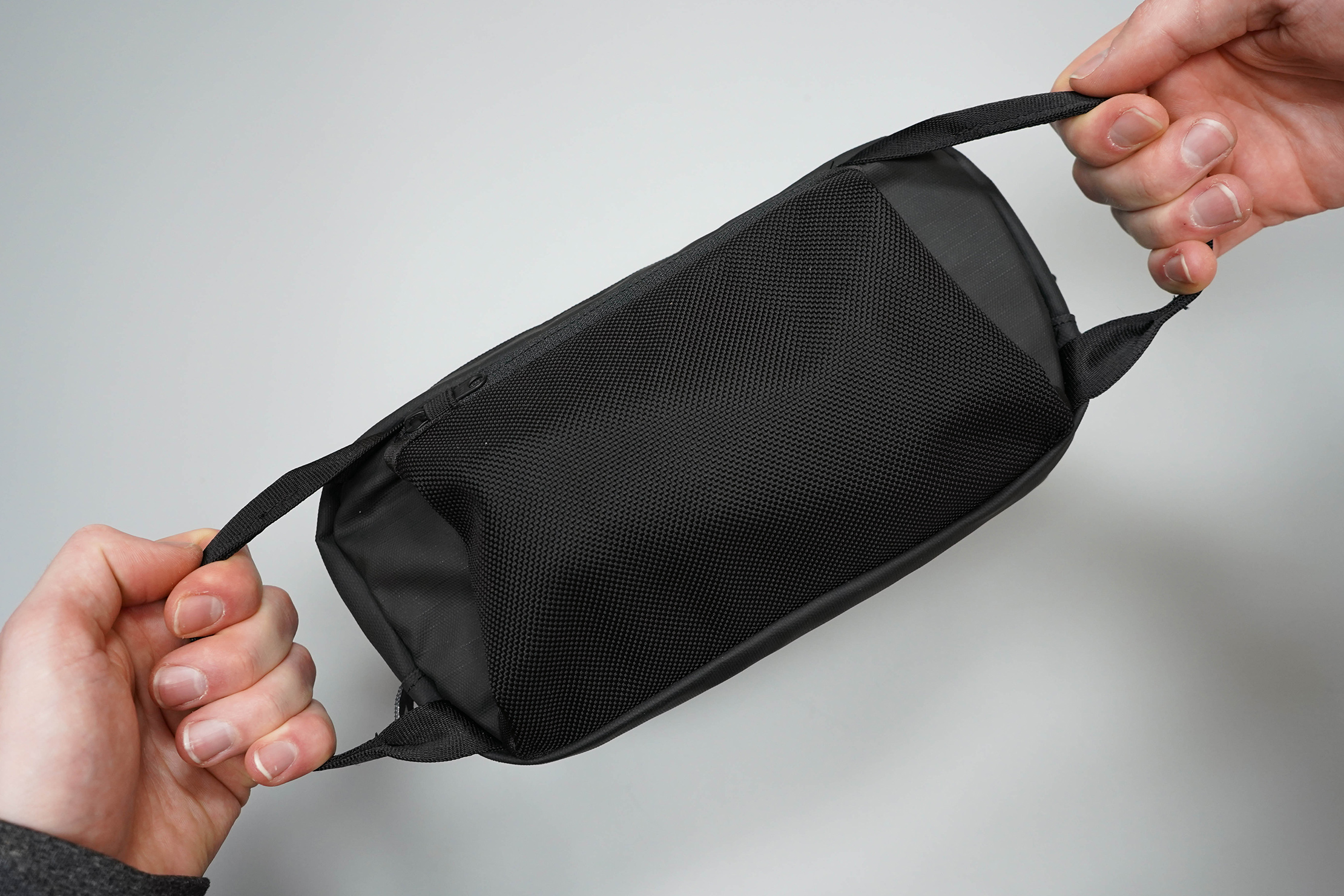 First of all, there are two grab handles, one on each side of the bag. You can use these handles in any number of different ways—carrying the bag short distances, pulling it out of your backpack, holding it straight out in front of you and swinging it like a pendulum for an excellent arm workout. You can also use the handles to hang the bag off of disgusting airport bathroom floors or wherever else disgusting floors are found (a Heroclip may help).
But wait, there's more. You can also use the handles to help you tug the zipper along its track. There are two pull tabs, but the handles are bigger and more convenient to use (although we also appreciate the inclusion of the pull tabs). Finally, you can use the handles in the way WANDRD suggests—to help you sling the bag forward when you're wearing it on your back.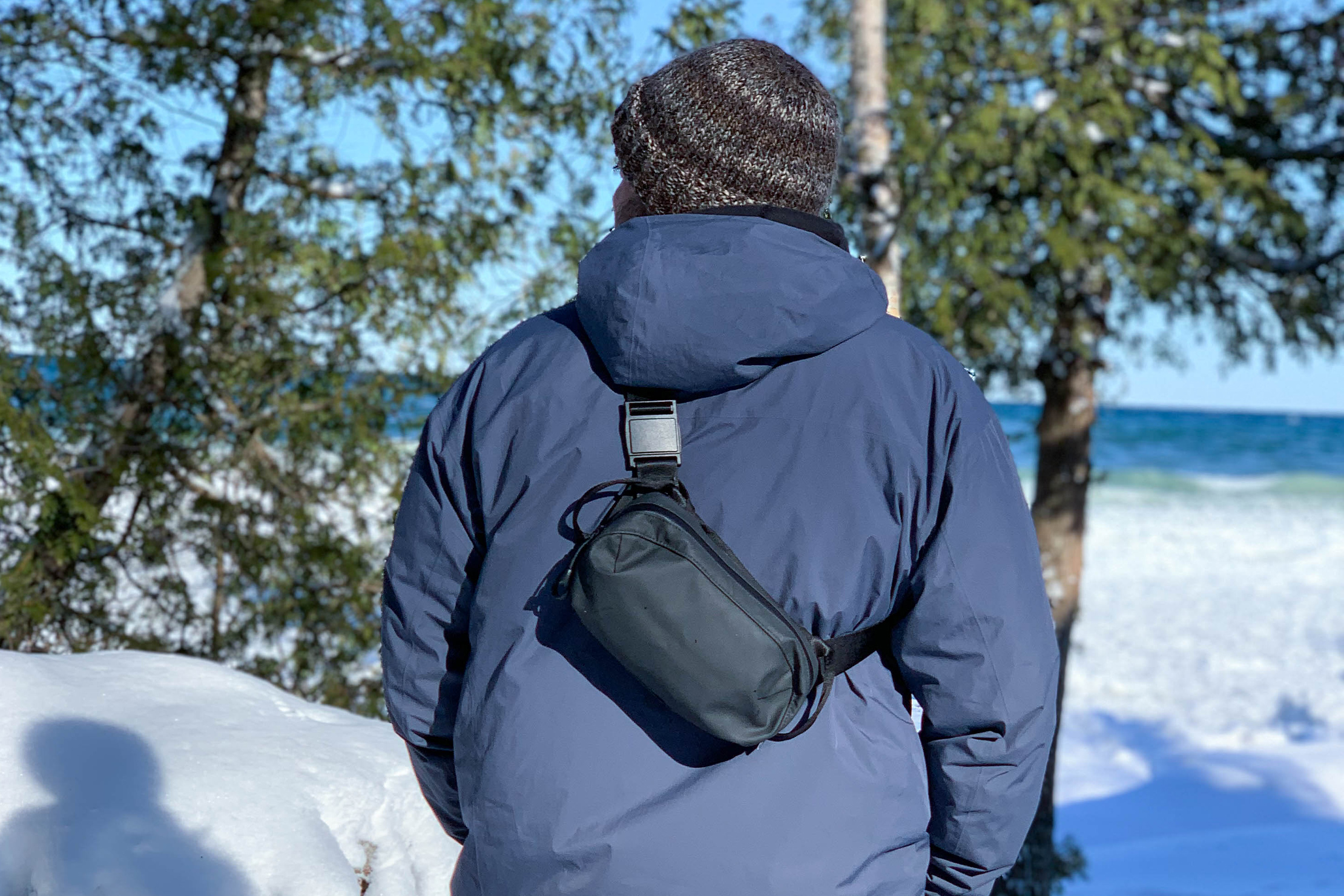 The strap has been designed so you can wear the bag as a waist pack or as a sling bag (across your chest or back). When you're carrying the bag sling-style, you can wear it on either shoulder. This is a huge plus since it can be uncomfortable to carry a sling on one shoulder for extended periods of time.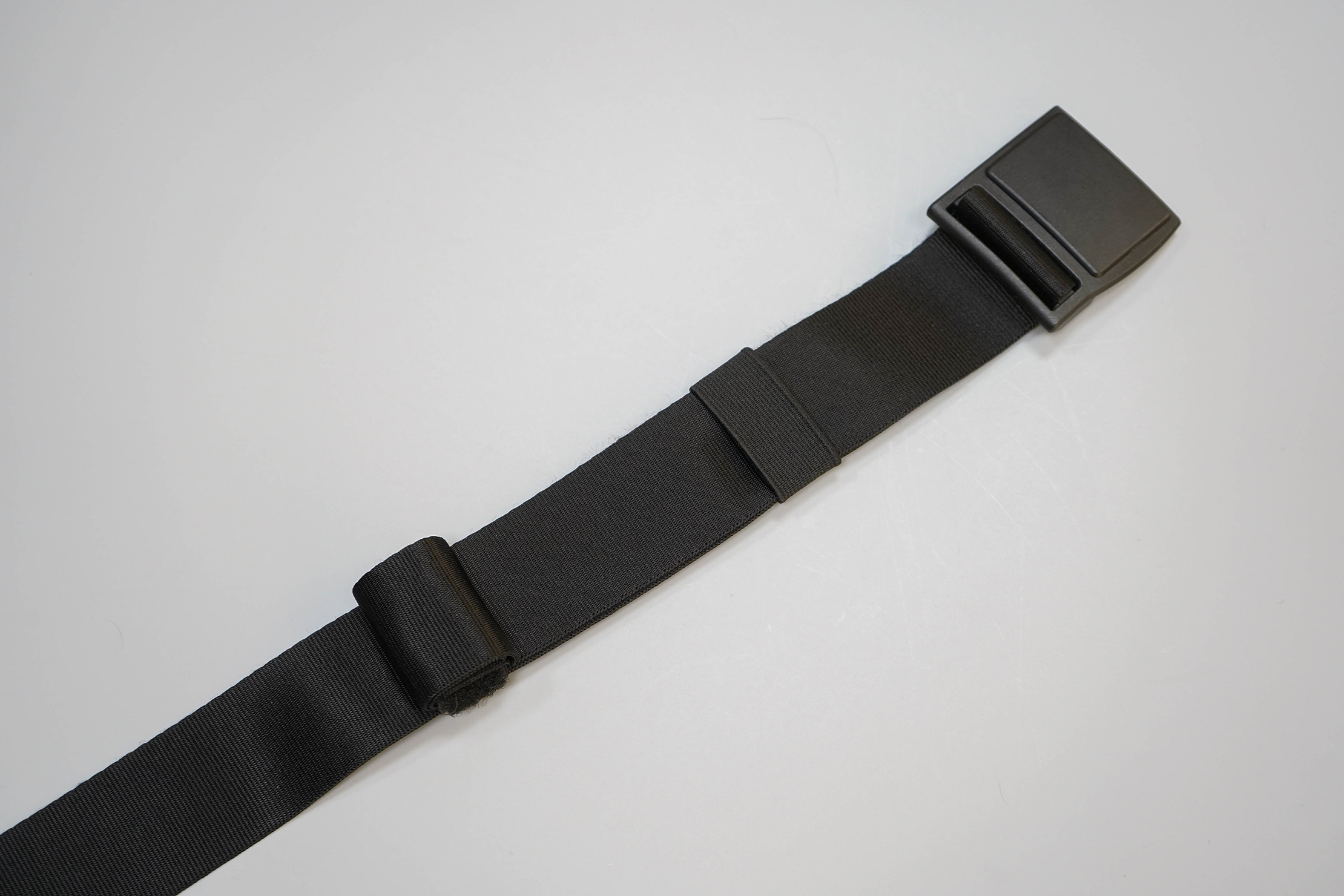 The strap itself is a simple, seatbelt style of strap, which works just fine for a bag of this size. And there's not one, but two strap keepers for that coveted #DangleFreeExperience. One is elastic, the other is velcro. You can undo the velcro one to adjust the strap a little bit easier, but you don't have to (in fact, we usually don't).
We like the off-center placement of the buckle—you can easily access it whatever mode you're carrying the bag (sling or waist pack). So you're always only seconds away from being able to take this thing off.
Alright, let's talk about the back panel passthrough and the D1 Fanny Pack's hook and loop system. This one took us a couple of weeks to figure out—WANDRD explains it in a YouTube video, but not on the product page. So pay attention.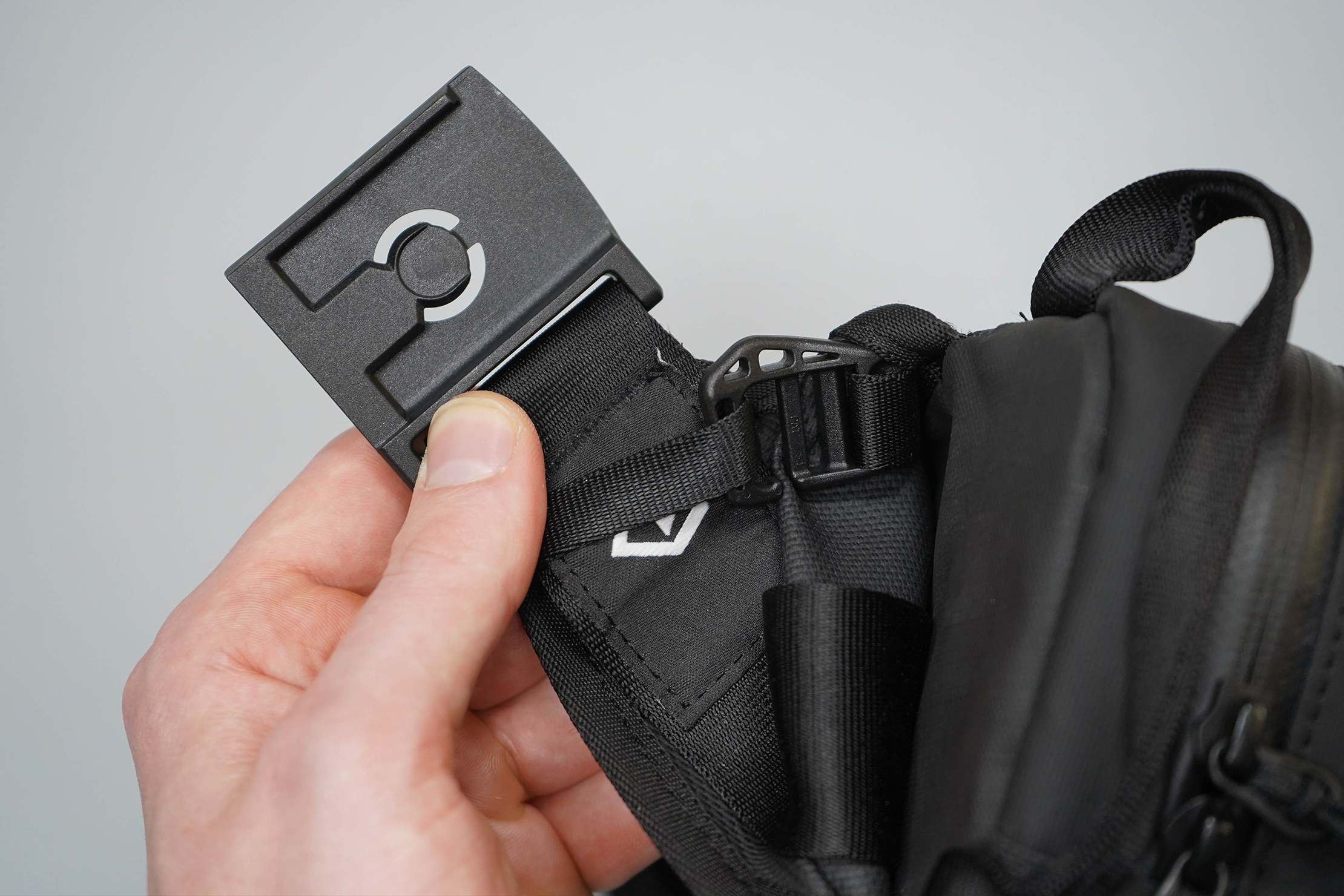 There are two hidden J-hooks tucked into the passthrough, one on each side. You're meant to hook them to loops on the strap, near where it attaches to the body of the bag. This keeps the bag tight to your body when you're rocking it sling style. If you're wearing the D1 in sling mode without using these hooks, it's floppy and sort of tips forward on your chest (or backward on your back). This hook and loop system is a clever workaround—we tip our (metaphorical) hats to the folks over there.
That said, when the loops are hooked to the J-hooks the whole thing looks a little messy. You can tuck some of the strap behind the back panel, but that impacts your access to the buckle. Not a huge deal, but we like everything to look as clean and streamlined as possible.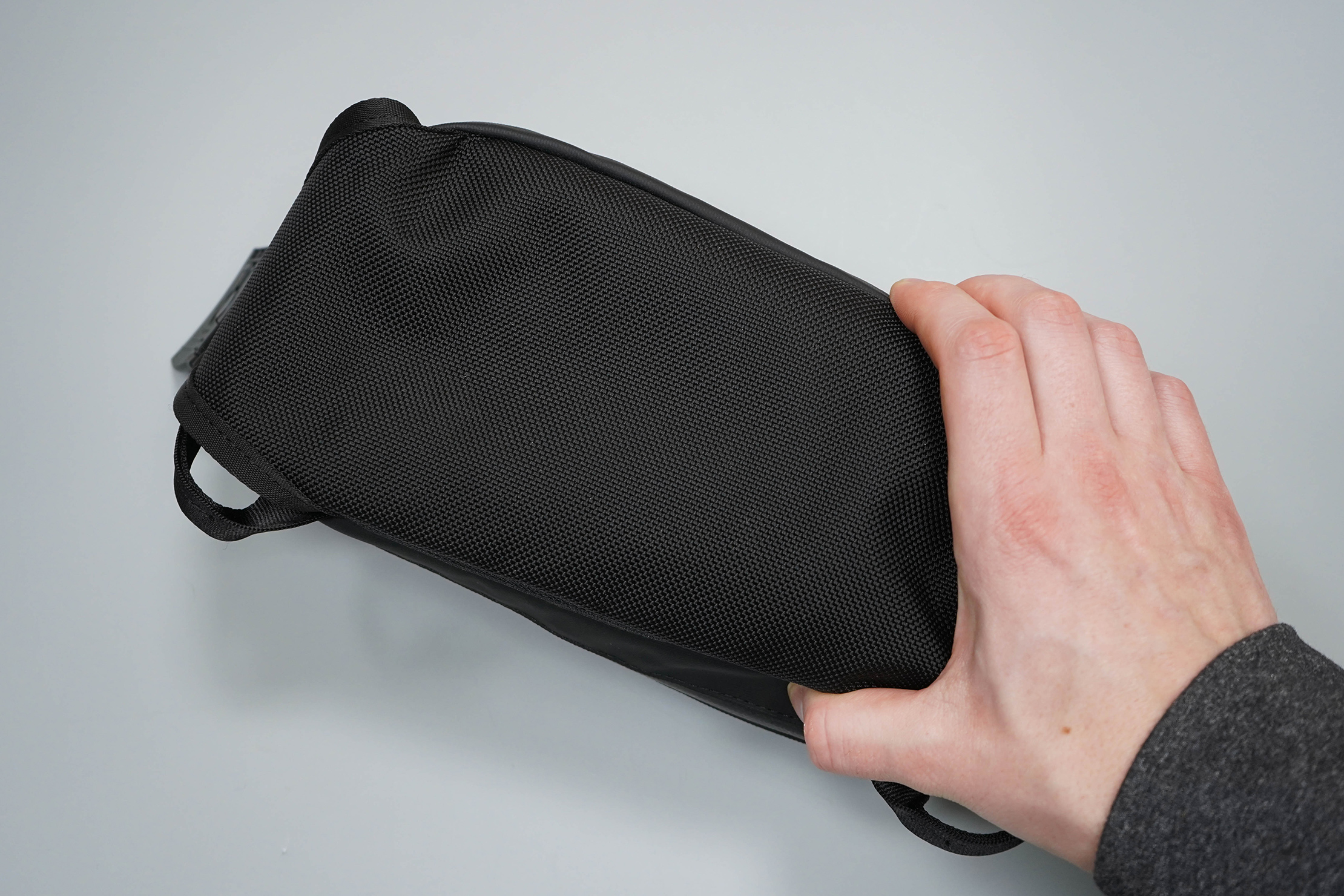 The back panel is nothing particularly special, although it has a frame sheet that makes it a little stiffer than most fanny packs/sling bags. That stiffness helps it keep its shape, but it's still flexible enough to be comfortable.
Inside the Sling Bag
There's not much going on inside the pack, but there doesn't need to be. The two compartments offer the ideal amount of organization for a sling/fanny pack (at least, for us).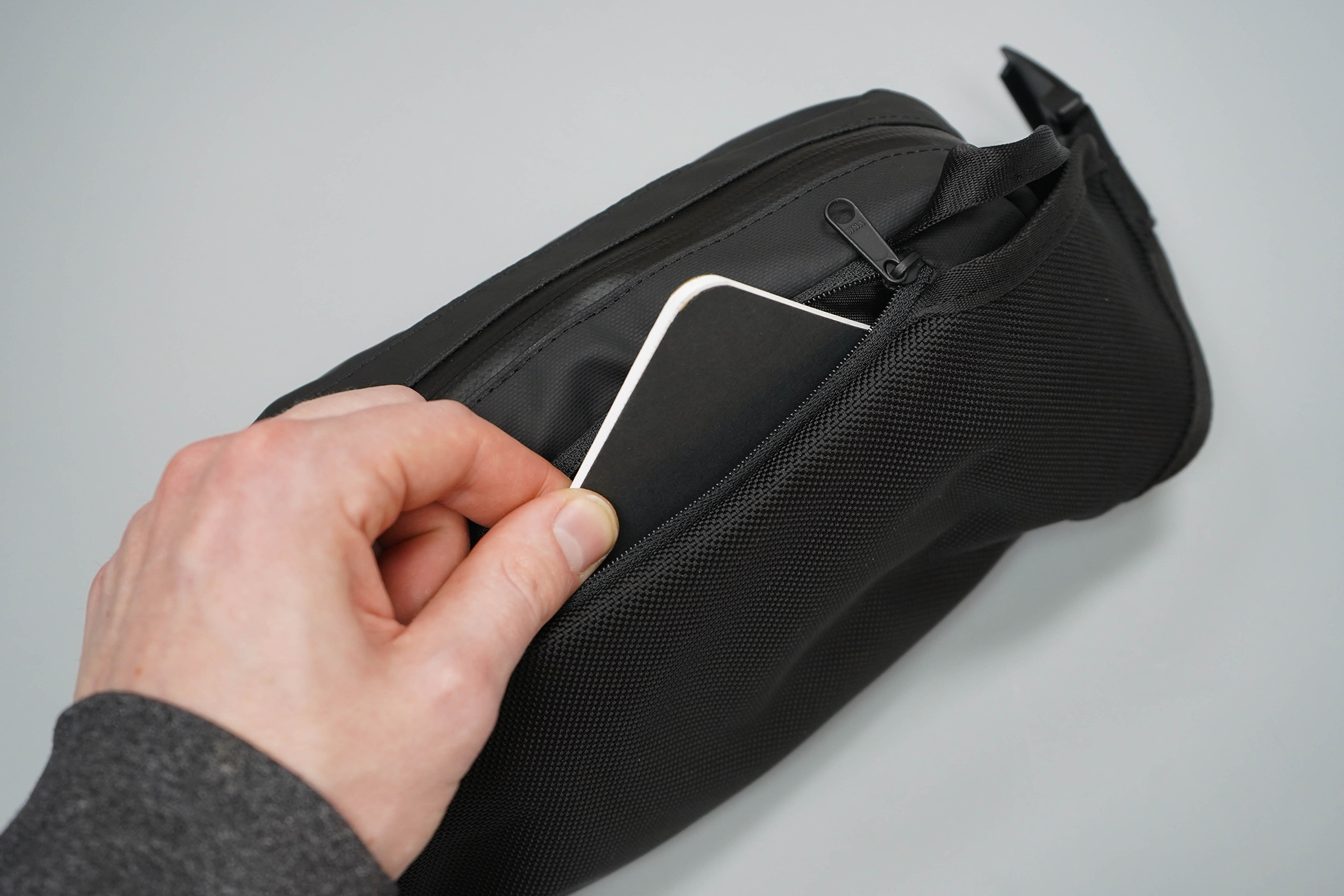 There is a zippered security pocket on the back of the bag. It's secure not only because of the zipper, but because it's low-profile and sits against your body. The zipper is also further protected when fully zipped by a little bit of elastic, making it trickier to rip open (we thought this would make it annoying to get and out of this pocket, but it's not a big deal). A pickpocket would have to be quite talented to get inside of this thing.
Suffice to say, this pocket is a great place for items you want to keep secure—a passport or two, a small wallet, extra cash and coins, your top-secret chocolate chip cookie recipe.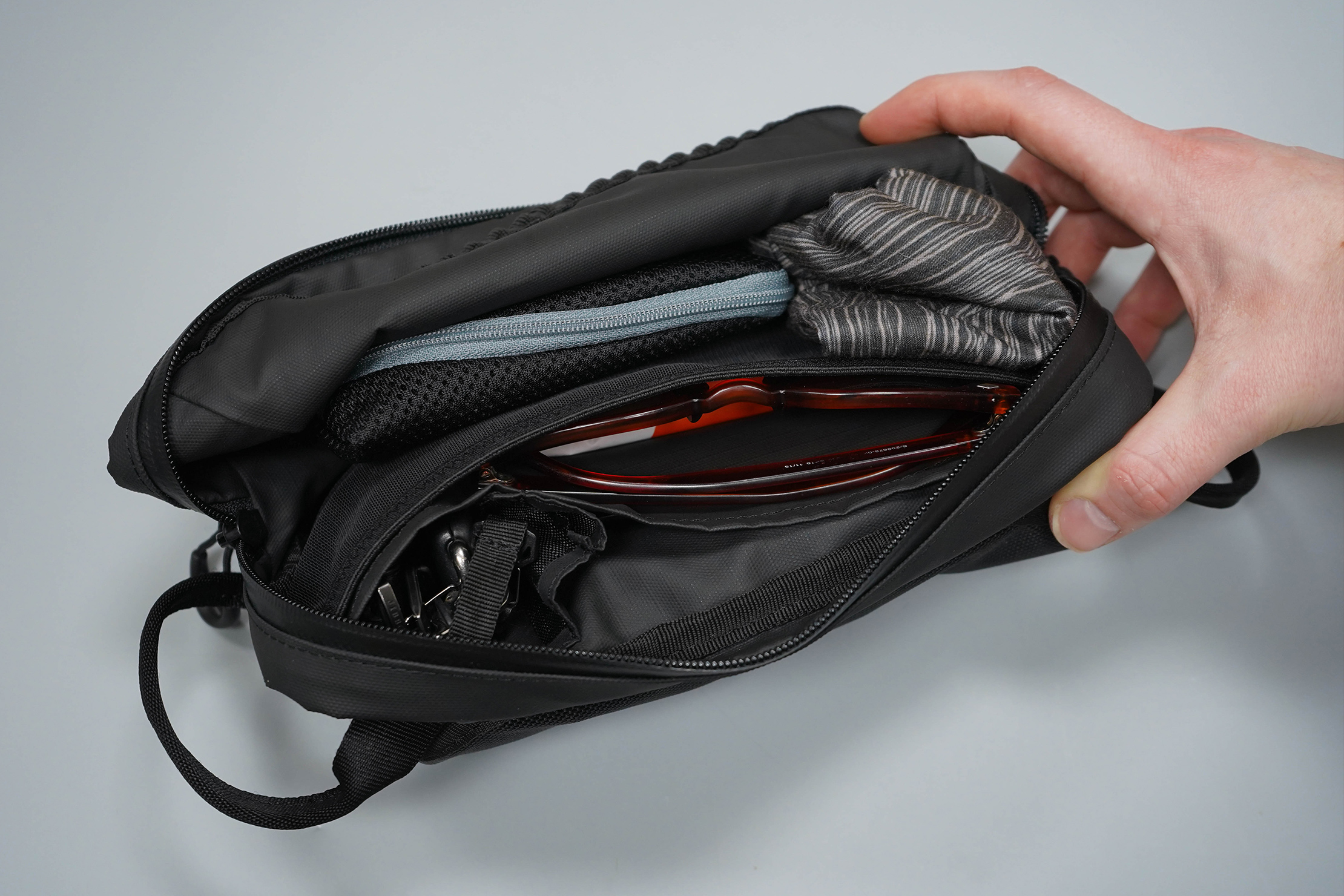 The main compartment is surprisingly roomy. Against the back, there's a small bit of organization. First of all, there's a stretchy mesh pocket with its own dimension. It's a good spot for snacks, camera accessories, sunglasses, or any of those kinds of items.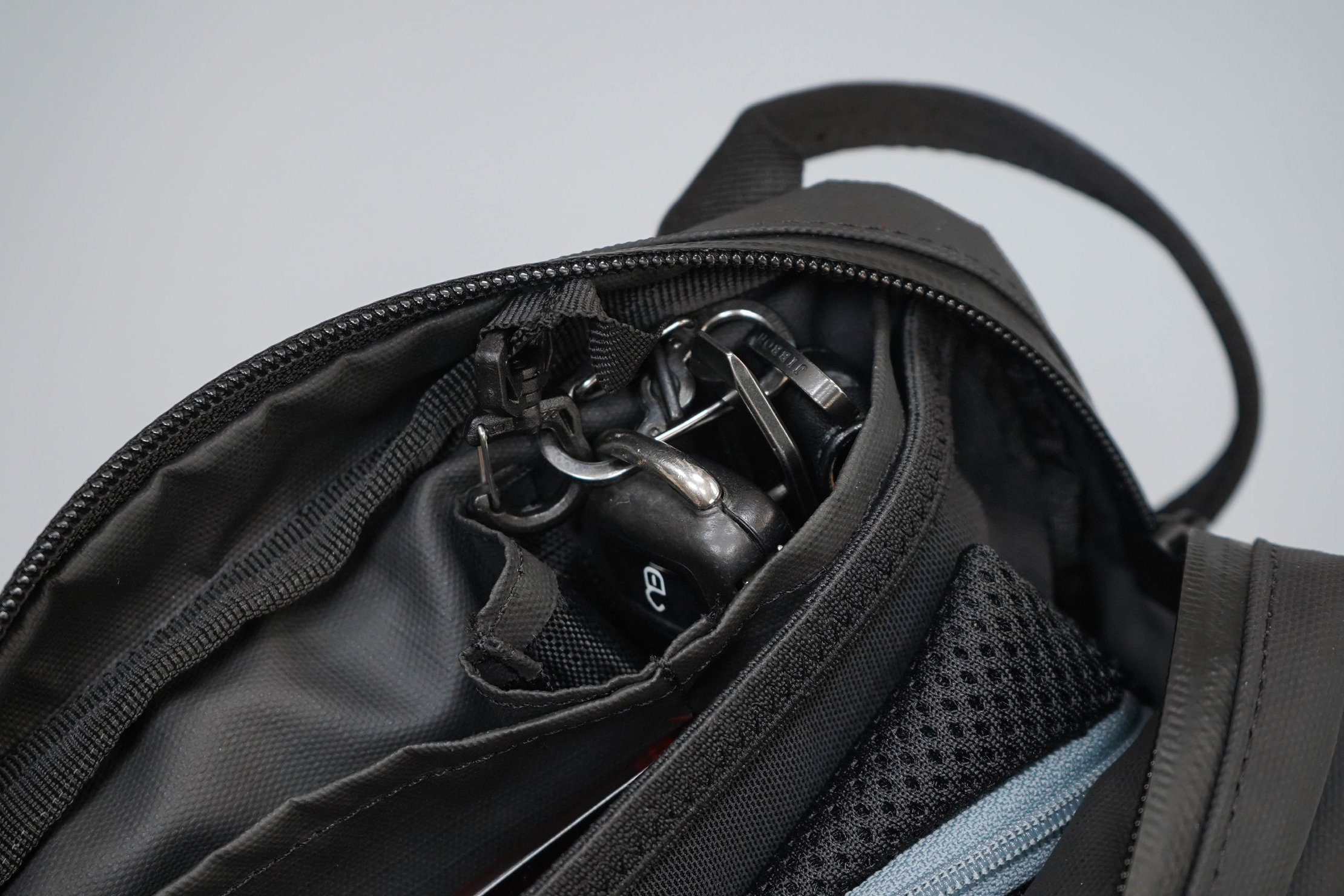 Behind that there are two divider pockets. The smaller one has a robust key clip inside of it, so it's essentially a key pocket. We love this design. It keeps your keys separate, ensuring they won't scratch or otherwise interfere with your other stuff (a common occurrence if you let your keys loose in a compartment of this size). We know it's a small thing, but it's probably one of the most thoughtful additions to this bag. And if you don't use this pocket for keys, it's a nice spot for small items you don't want to get lost.
The other divider pocket has been designed for a phone, although we prefer to stash a phone in the larger mesh pocket because it's easier to grab. We've used this spot for a Tom Bihn pouch to organize the random bits and bobs we carry on the daily.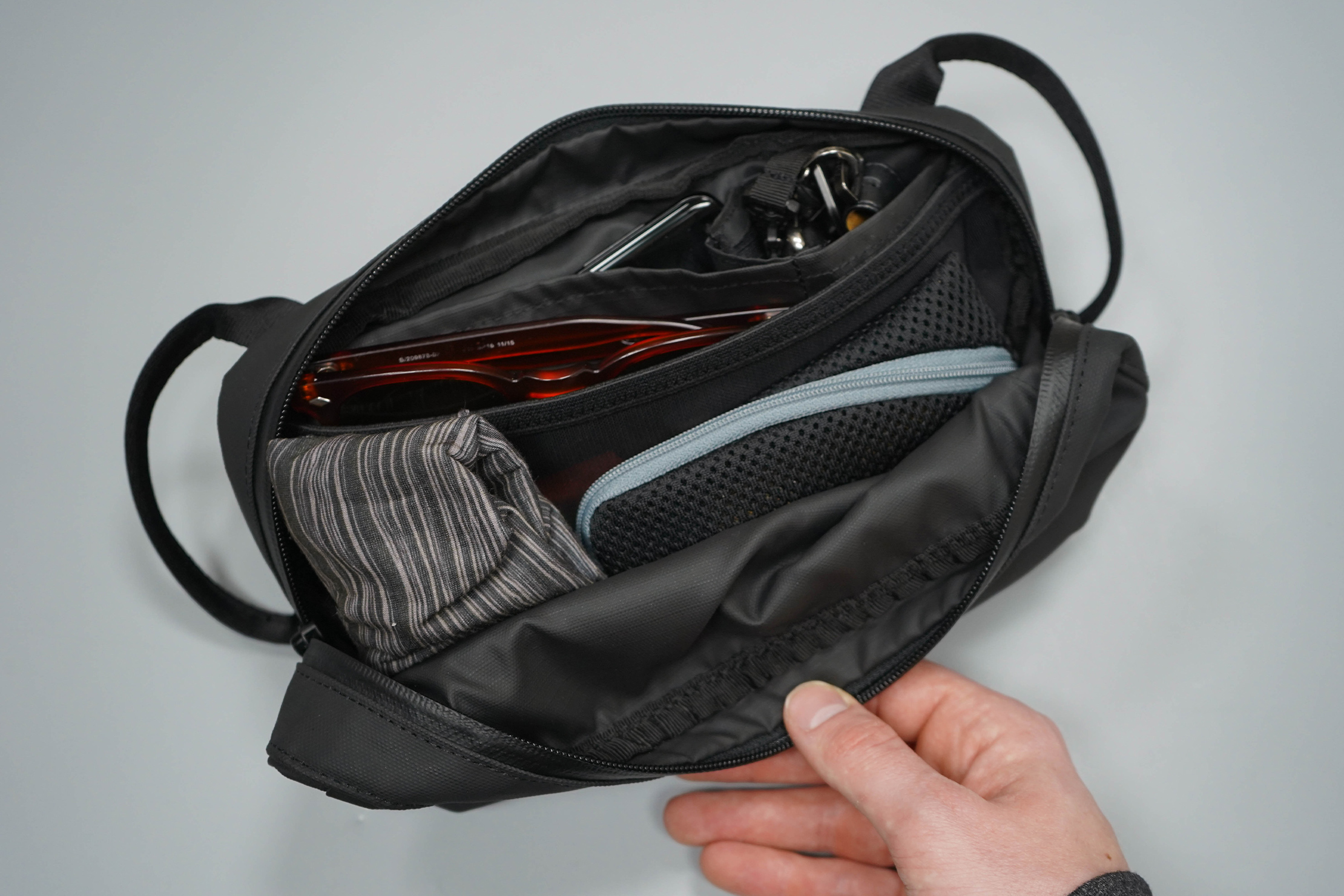 The rest of the space is a big ole bucket. You can fit a lot in this space. WANDARD advertises that there's enough room for a Sony A6000 or mirrorless cameras of a similar size (no surprise coming from WANDRD, a company that's known for its camera gear). If you do choose to use it for a camera, you can organize all of its accessories in the aforementioned divider pockets. We've tested this setup during a day out shooting photos and are happy to report that it's worked well.
You can also fit other things here—we've tested it with a winter hat and Buff. You could probably throw a packable jacket here too. The sky's the limit. But if you go buck-wild (meaning you stuff it full) the pack looks noticeably bulky. And it won't be as comfortable to wear as a sling—even with the clever hook and loop system it may flop about.
The black interior can also make it difficult to see what's going on inside, which could easily be improved with a light-colored lining. Because it's a sling bag and doesn't have significant depth, it's not the end of the world. Still, we always appreciate bag's that "turn on the lights" so to speak with a bright interior.
Durability & Testing
At the time of this review, we've been testing the WANDRD D1 Fanny Pack for approximately a month as a daily driver around Detroit, Michigan. We've also taken it on a few quick trips to northern Michigan, where it was up against inclement weather (including blizzard conditions). And so far, so good. We have no durability issues to report—no marks, pilling, scratches, anything like that. Overall, it's a solid sling/fanny pack with some clever thinking going on.
Usage Timeline
Initial Usage
Condition: Excellent
Some seriously heavy-duty materials for a fanny pack
Excess straps can hide behind the back panel for a dangle-free experience
Large Fidlock clasp as the main buckle on this pack make it easy to take off and throw back on
2 Weeks of Use
Condition: Excellent
The organization is just enough to keep things tidy without being overkill. Plus, this sling holds more than it looks—we've filled it up with our daily essentials and had plenty of room for a small mirrorless camera or a hat and buff.
1 Month of Use
Condition: Excellent
Been digging the versatility of this fanny pack. Especially since we figured out the hook system on the back (which took us a while). The magnetic buckle is easy to use one-handed regardless of carry mode and the side loops are great for grabbing/carrying/hanging.
Durability-wise, we have no issues to report. The materials are solid and pretty weather-resistant—we've even tested it in a northern Michigan blizzard.
Access the Pro Community Discussion
Get your questions about the WANDRD D1 Fanny Pack answered from our team and the Pro Community right here on the page. Plus, join discussions with other members about gear, guides, and more.
Other Bags & Luggage Reviews