Chrome Industries Kadet Review
A hybrid between a sling bag and messenger bag, the Chrome Industries Kadet will hold most EDC items—as long as you don't mind simple organization.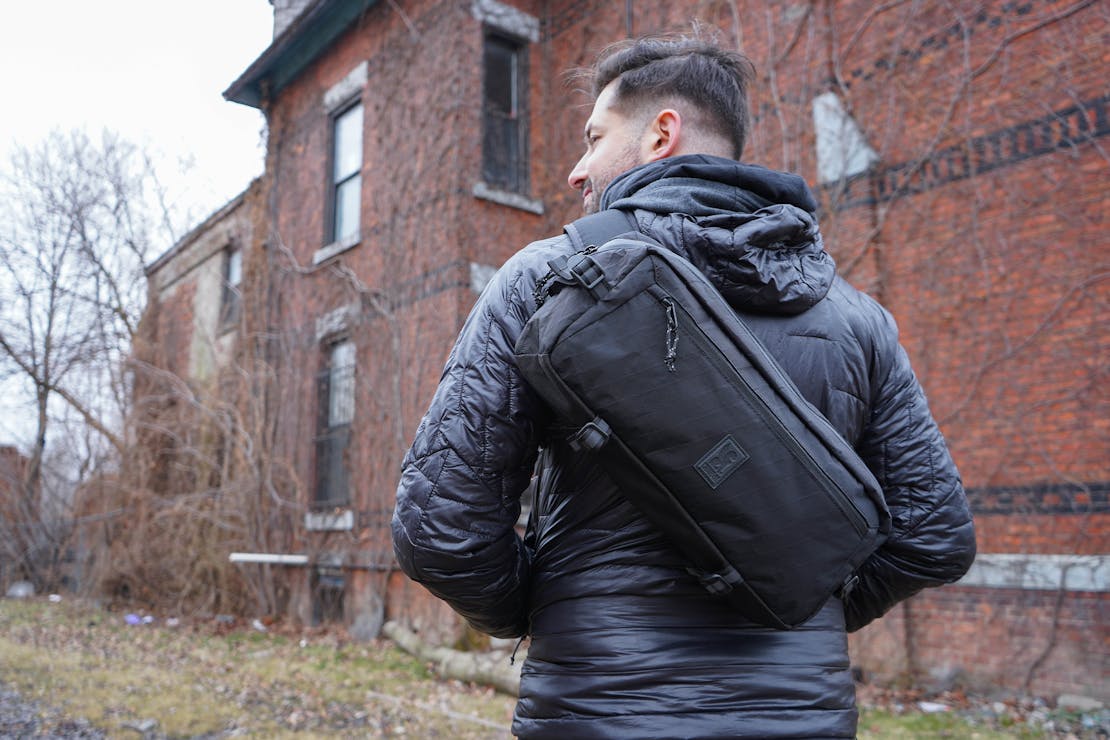 Our Verdict
Unlock the Pro Summary
Save time. Get access to brief summaries of our reviews so you can browse and make decisions more efficiently.
Pros
Made of quality, durable materials
Plenty of space for the daily essentials
Comfortable carry
Cons
Organization may be too minimal for some
Can overwhelm smaller frames when worn on the front
A small number of scratches on the buckle after two weeks of testing
Recent Pack Hacker Video
Technical Details
Capacity

9l

Weight (lb)

1.34 lb (0.6 kg)

Denier

1050D

Dimensions

8 in x 17 in x 4 in (20.3 x 43.2 x 10.2 cm)

Notable Materials

CORDURA®, Sailcloth, Nylon, Polyester, Thermoplastic Elastomer (TPE), Duraflex Hardware, YKK Zippers

Manufacturing Country

Vietnam

Warranty Information
Full Review
Get up to 10% off Chrome Industries • Join Pack Hacker Pro
Is the Chrome Industries Kadet a sling bag? A messenger bag? We're not 100% sure what to call it (the folks at Chrome say it's a messenger sling. Slingenger?). Either way, we've enjoyed testing this 9L bag as a daily driver in the Motor City for two weeks.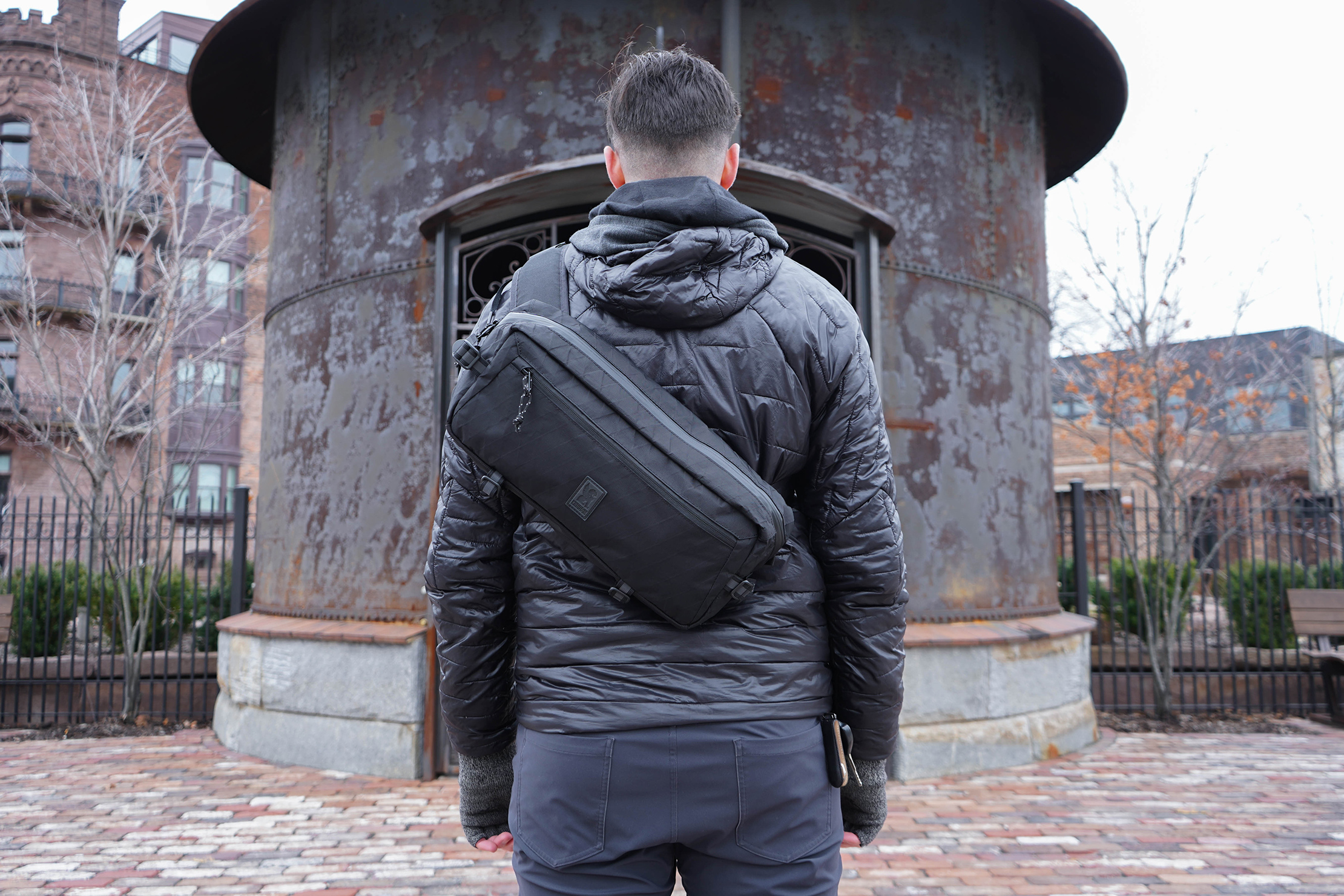 The Kadet has enough space to hold almost everything we need on a day-to-day basis. That is, everything except a laptop…But we're getting ahead of ourselves. Let's back up.
Materials & Aesthetic
Chrome Industries is known for its unique, edgy gear aimed at city-slickers and cyclists. And the Chrome Industries Kadet is no exception. It's larger than a number of slings out there—hence its messenger sling name—so it's not designed to be worn slung across your hips, fanny pack style. It also looks a little large when worn across the chest, especially if you have a smaller frame. Overall, we've preferred the back carry.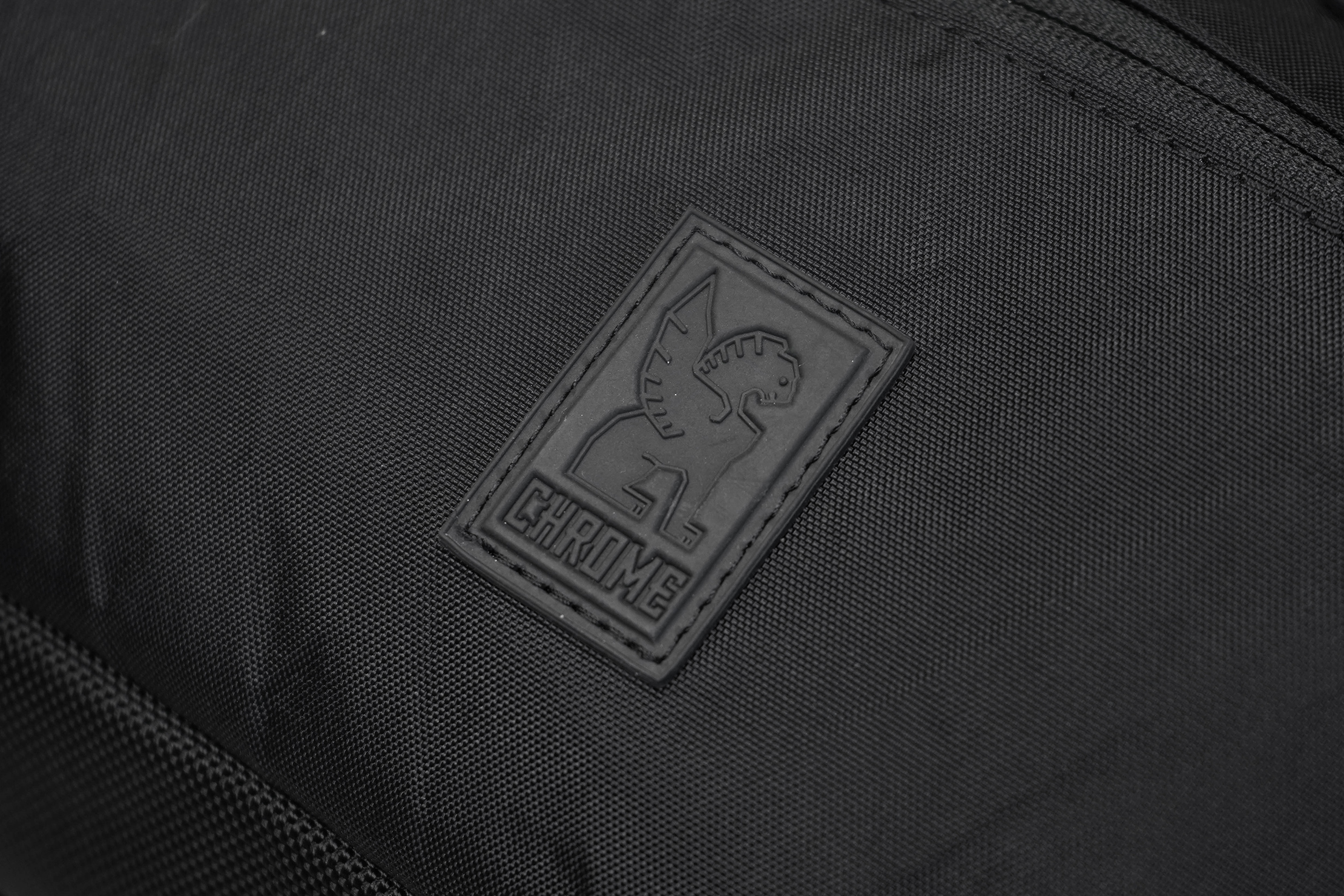 We've been testing the limited edition "BLCKCHRM 22X" version of the Kadet, which features a 22x nylon laminate exterior. This version is only available in the black colorway that we've been testing, which takes Chrome Industries' signature urban aesthetic up a notch. This colorway has a black-on-black griffin logo on the front of the bag (unlike the other colorways, which have a white border outlining the griffin).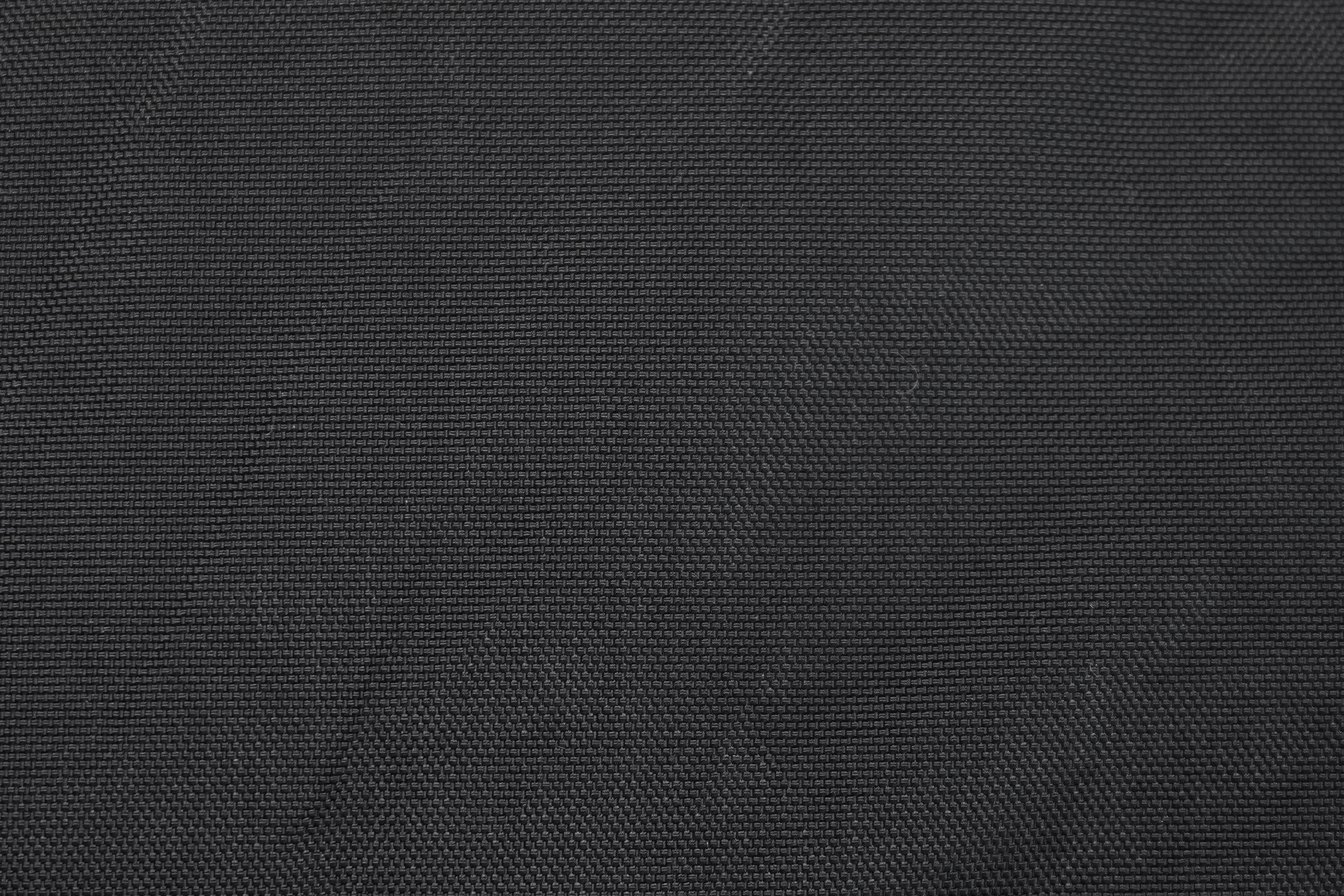 The traditional version of the Kadet features a 1050D nylon exterior. At the time of this review, you can pick up the traditional version in Black, Ranger (brown), and Navy Blue.
Both fabrics are durable and should treat you well. The Kadet also has durable YKK zippers, including a YKK AquaGuard® zipper on the main compartment for some solid water-resistance. To be clear, the bag is definitely not waterproof. But you should be okay if it starts to rain while you're out and about. The bulky aluminum buckle on the strap (which we'll discuss more in a moment) should also last.
External Components
Since we've already mentioned it, let's start with the aluminum seatbelt buckle. If you're familiar with Chrome then you're (likely) familiar with this buckle. The "iconic" (Chrome's word, not ours) buckle has been on Chrome bags since the very beginning. While the buckle is frequently silver on other Chrome gear, it's matte black on both versions of the Kadet.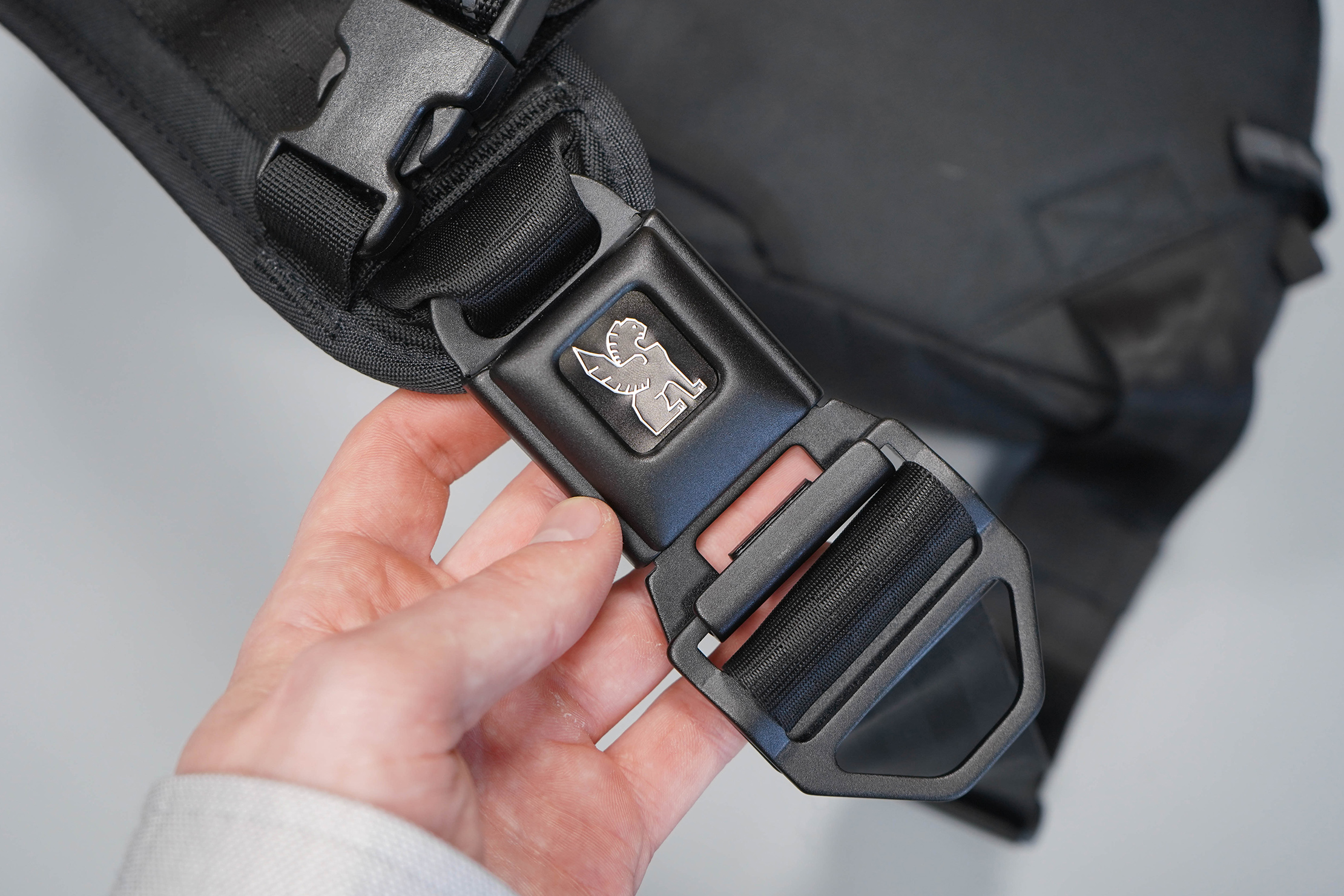 We're digging it. The fact that it's aluminum means it doesn't add too much weight. The buckle also has a bottle opener, which is a nice touch.
The strap has a quick-release mechanism, which has performed quite well during testing. With one hand and a few seconds, you can adjust the strap. That way you can seamlessly sling the bag forward to access your stuff or to take the bag off. You can also quickly tighten it when need be.
There's an elastic strap keeper, ensuring that all of the excess strap stays nice and tidy. We're huge fans of a #DangleFreeExperience here at Pack Hacker, so we appreciate this feature.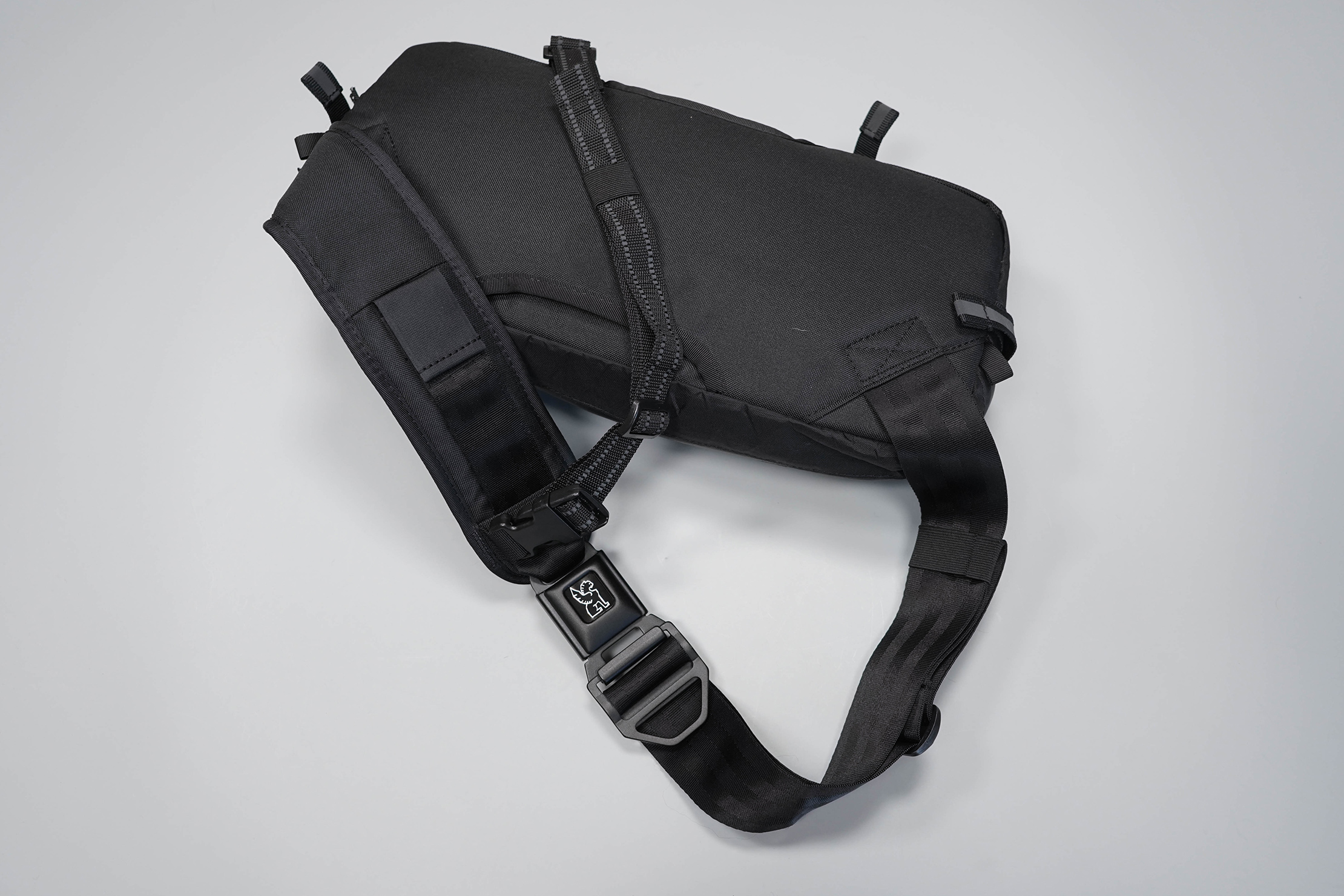 The strap itself has a good amount of padding and breathable mesh, helping keep the carry comfortable even when the bag's fully loaded out. There's also a removable strap that comes up under your arm to hold the bag tighter to your body. We like that this strap is removable since we haven't really needed to use it during testing. To be frank, we think it's unnecessary for a bag of this size and weight (at least for most circumstances). It's better for a larger bag like the Chrome Industries Citizen messenger bag.
That said, if you often ride your bike along a bumpy commute you'll probably appreciate this addition.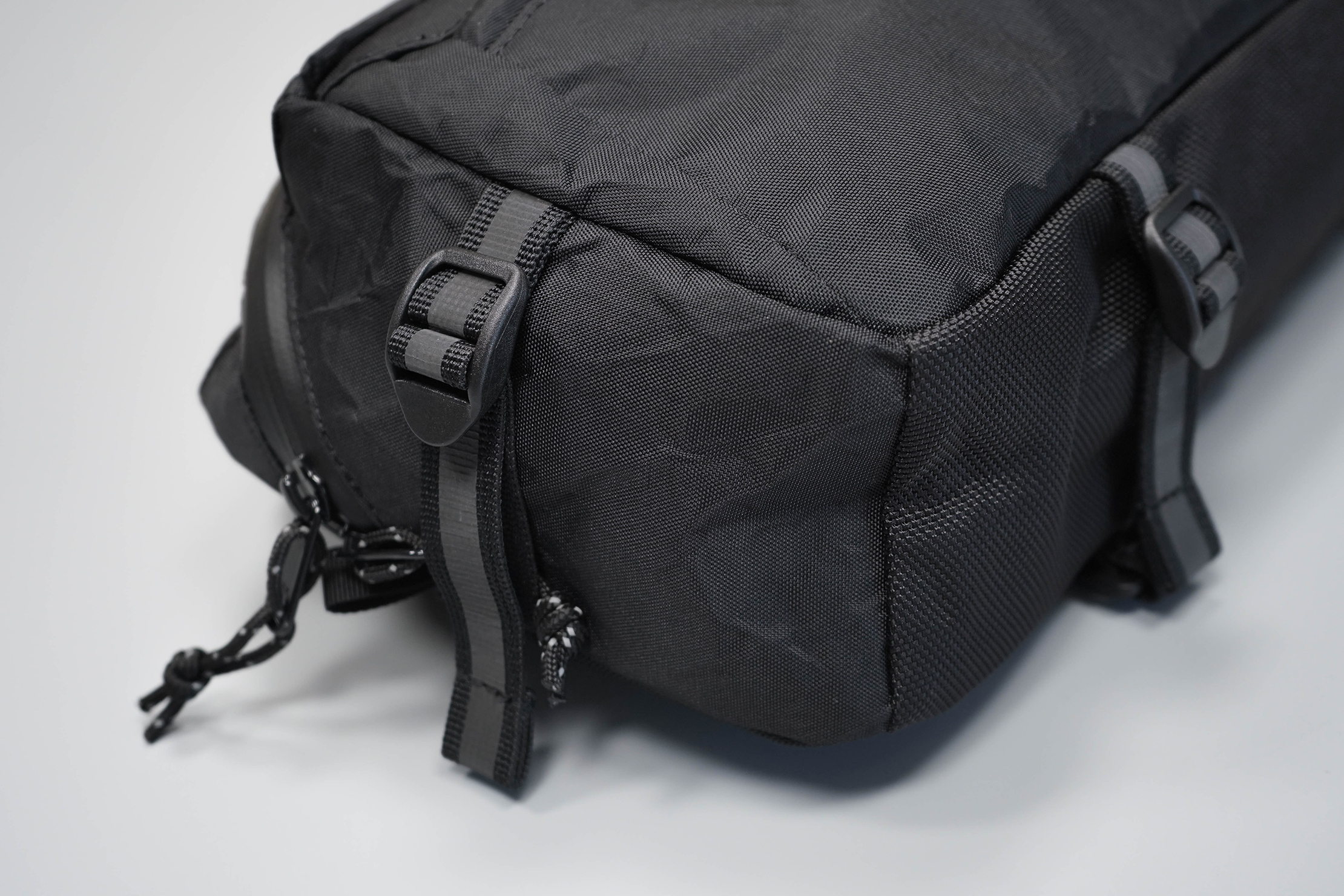 The Kadet also has four compression straps—two on the bottom and one on each side. They do a great job cinching the bag down if you're carrying less than what the total capacity can hold (which is a lot). You can also use the bottom compression straps to carry gear externally if need be—like a light jacket.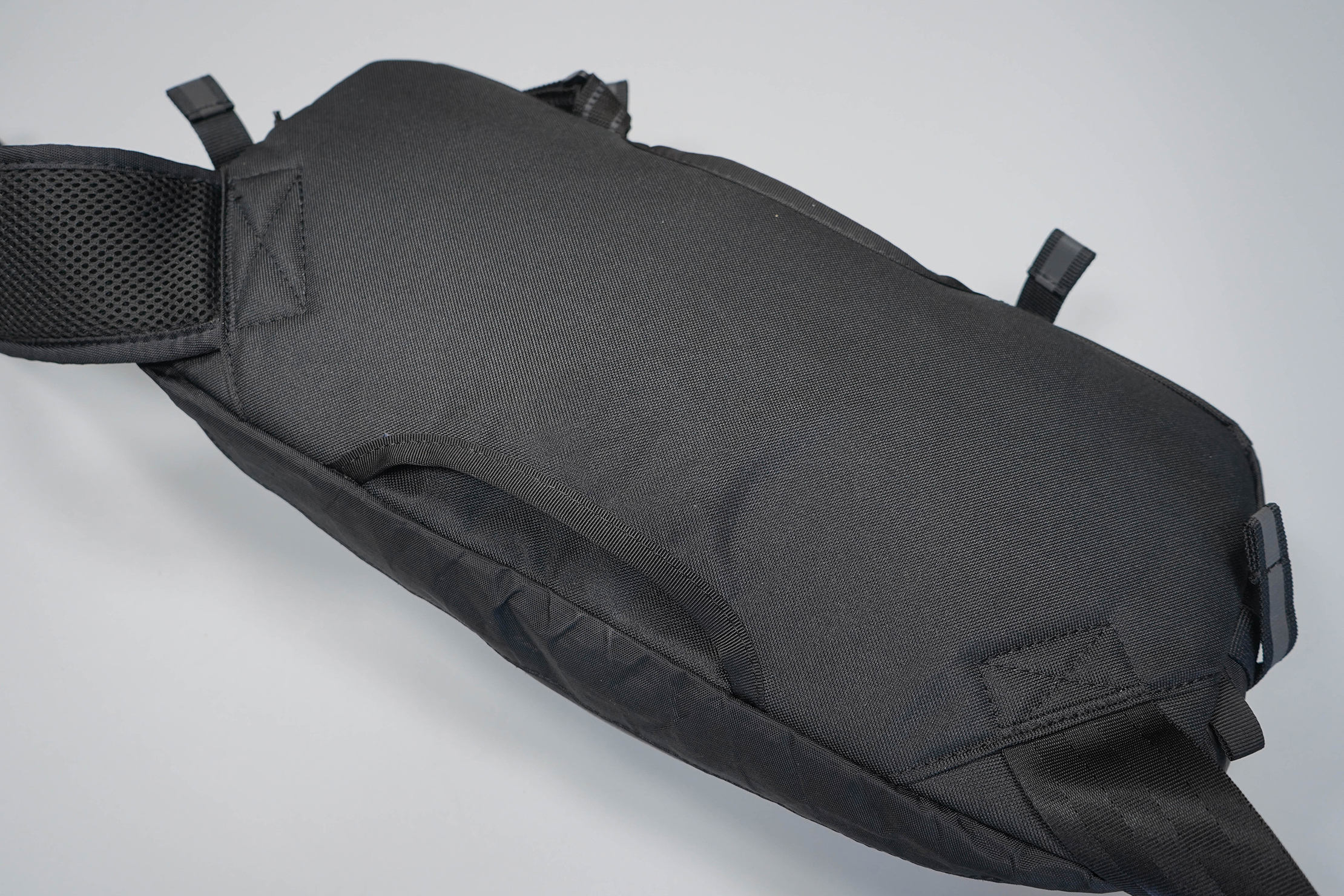 Finally, as far as external components go, there is a U-Lock holster on the back of the bag. Of course, not everyone needs a place to stash a U-Lock, but we think it's a nice touch and helpful for all of you bike commuters. Plus, it doesn't get in your way if you don't need it.
Inside the Sling
The interior of the Chrome Industries Kadet is simple…for better or worse. That's to say the minimal internal organization may be a pro or a con, depending on your use case and personality. If you like a spot for everything, then you won't be pleased with what the Kadet has to offer. But if you like to throw your stuff in a bag and go, then the Kadet will be right up your alley. You can also use accessory pouches to keep all of your smaller items from getting jumbled up (#PackHackerProTip).
There are two compartments on this thing. Both have a shiny, gray interior that helps you see what's going on inside.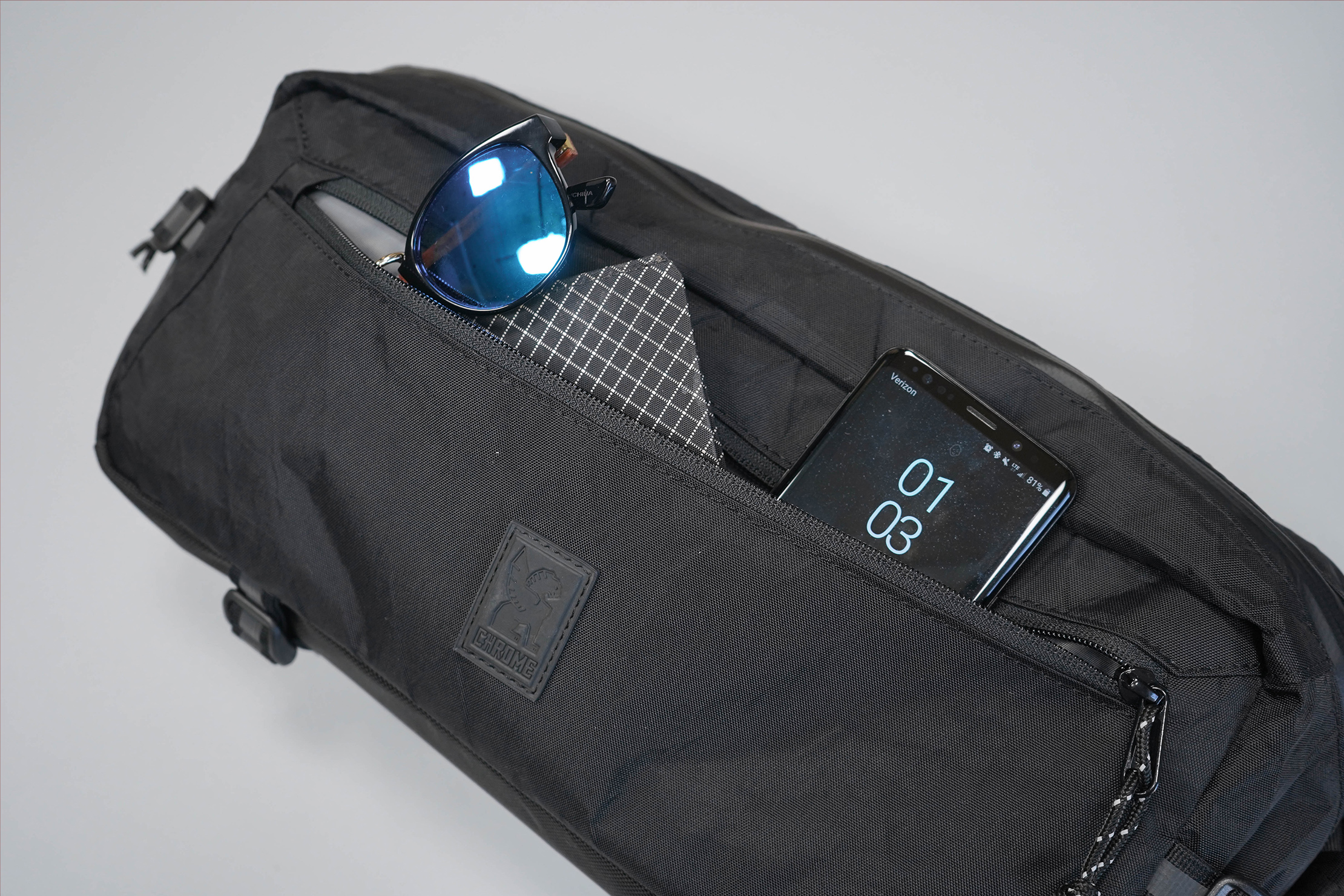 The front pocket has no further organization inside of it. It's a long pocket with plenty of space for quick-grab items. You know, the stuff you don't want to have to go digging for—say your phone or sunglasses.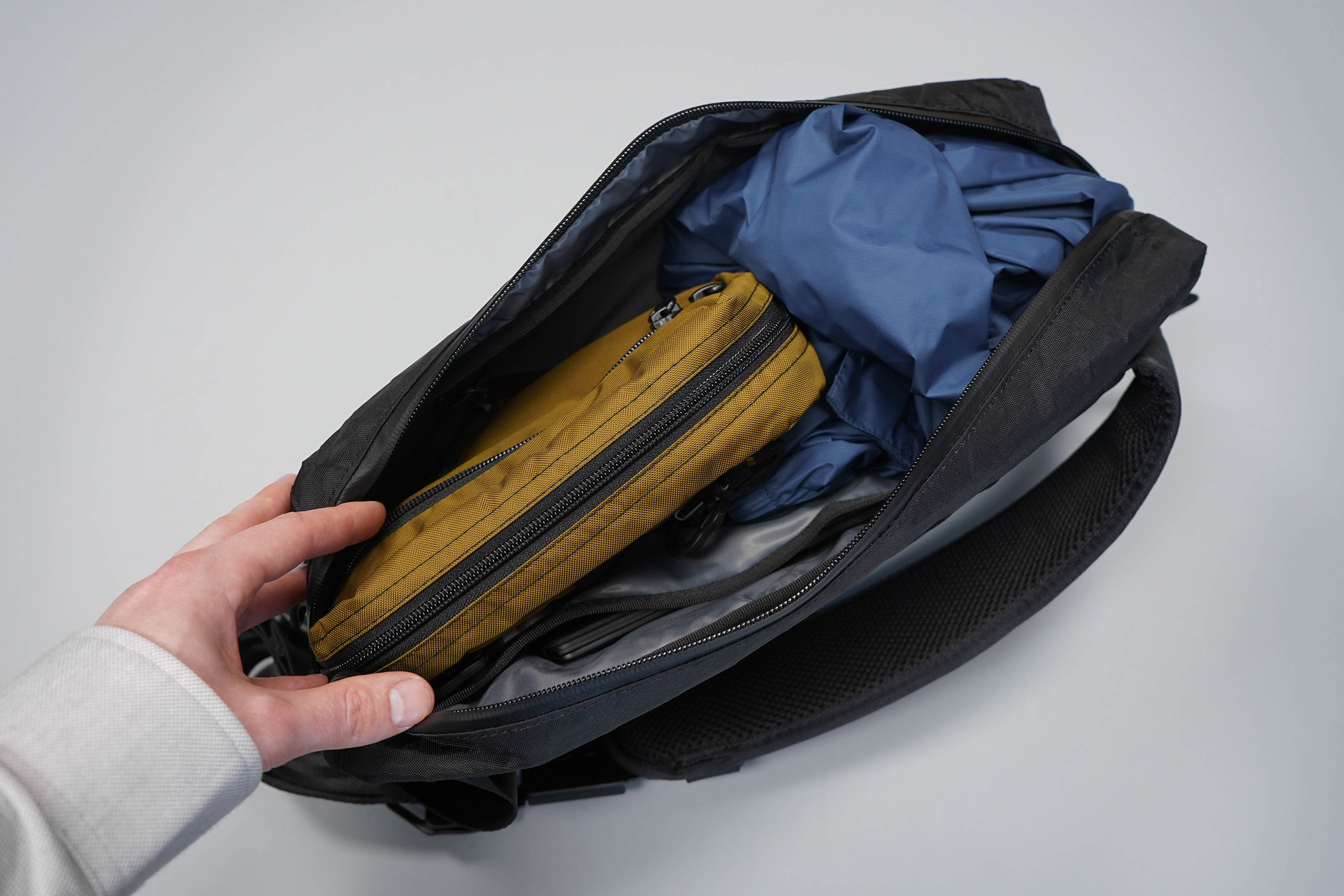 The main compartment has a ton of space. There's plenty of room for you to stash a tech pouch with all your accessories, a packable jacket, a water bottle, etc.
The organization is minimal. There's a large divider pocket against the back, where we've kept an a tablet and Field Notes Notebook. There are also two small, skinny divider pockets. They're essentially oversized pen sleeves—perfect for pens (go figure), a spork, bike tools, a Tide to Go Pen, etc. We're digging the fact that they're oversized, allowing for a variety of stuff.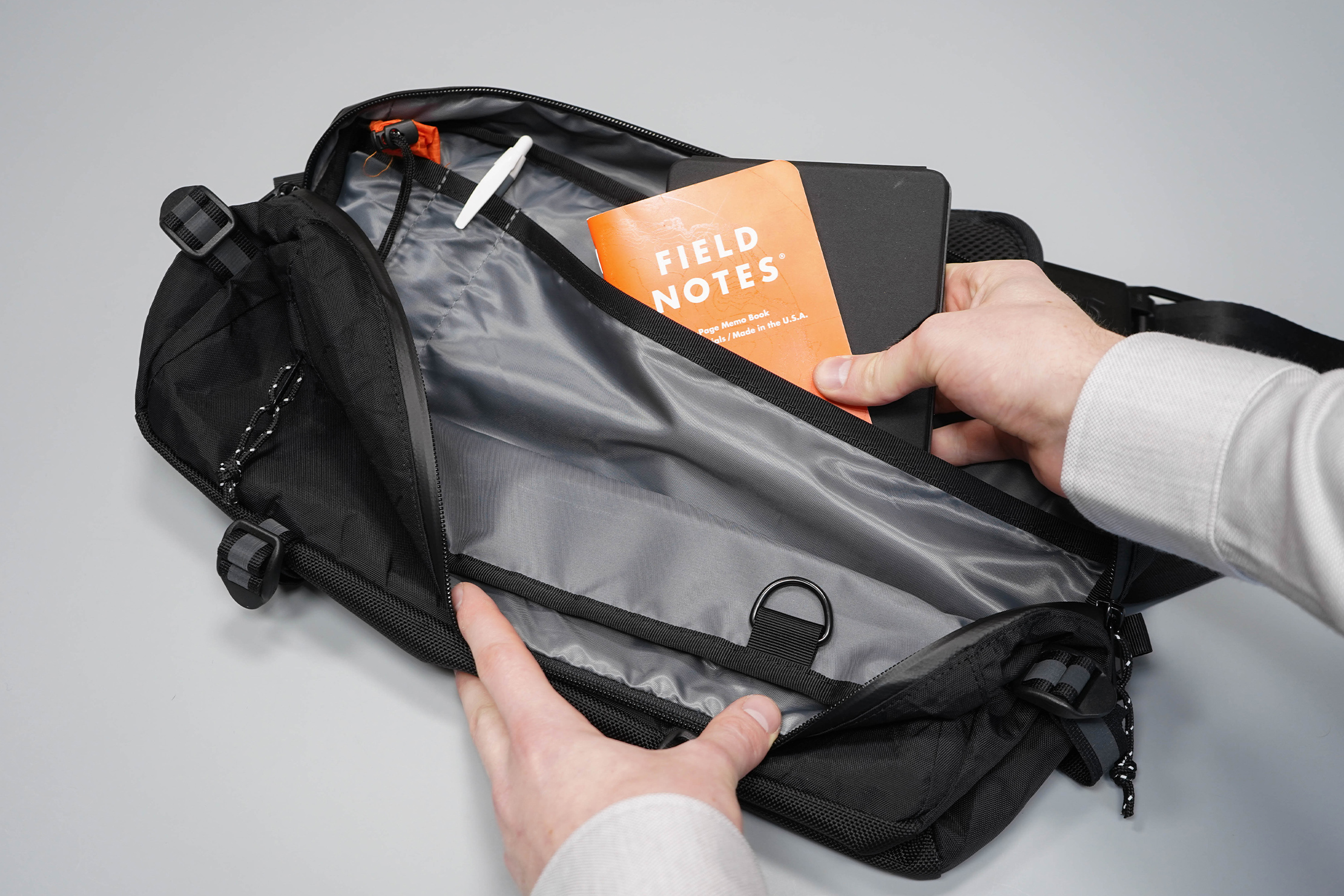 There's also a D-ring at the top of the compartment. You can use it for your keys or hook a carabiner to it and hang up smaller items that you don't want to go digging for.
Durability & Testing
All in all, we've been enjoying using the Chrome Industries Kadet for two weeks in Detroit, Michigan. As we said at the beginning of this review, it's almost perfect as an everyday bag. But all of us here at Pack Hacker use laptops for our jobs, which won't fit inside the Kadet. Still, it's a good size for day trips, as a supplemental bag to your daily driver, or as a daily driver if you have a computer at work/make a living offline.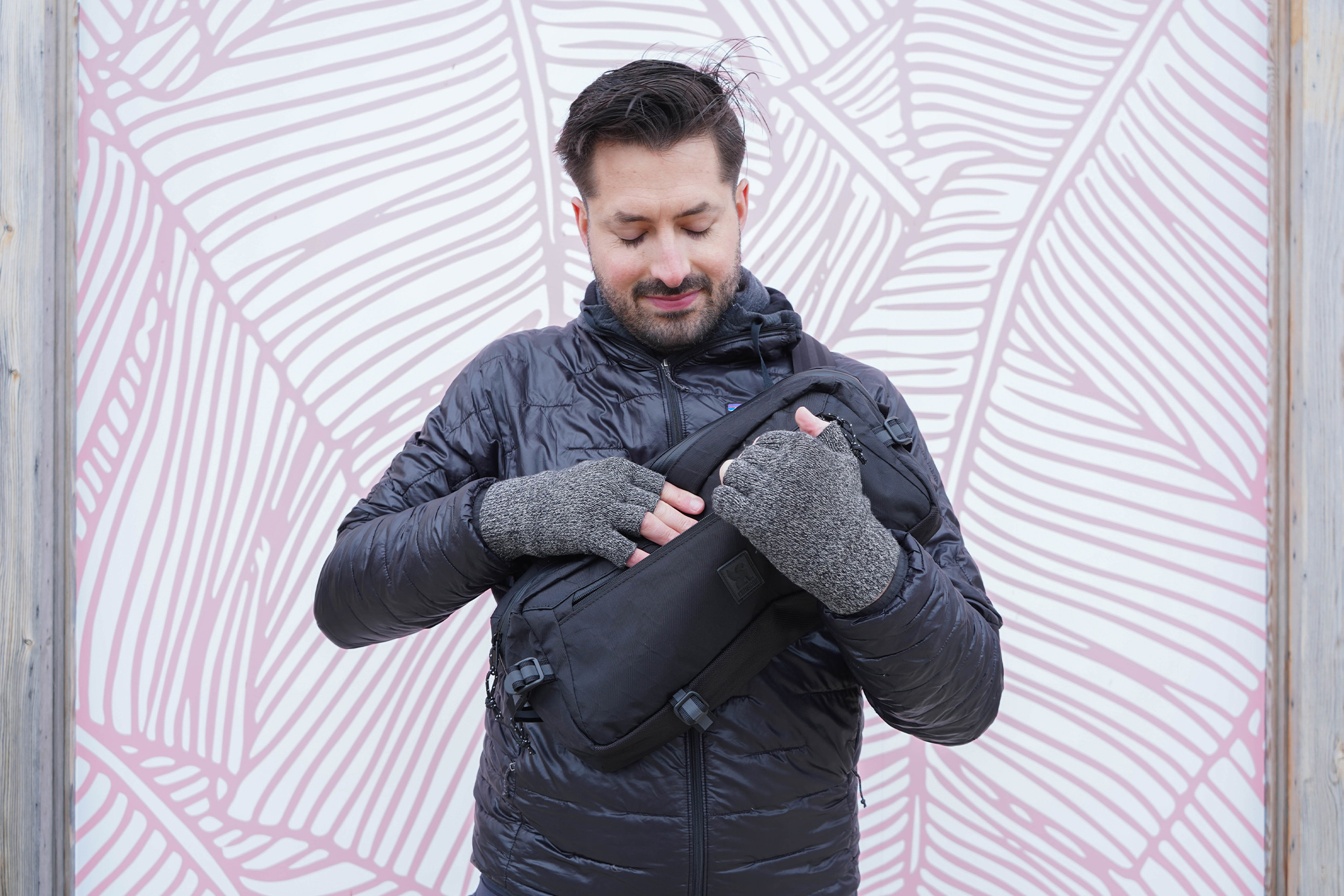 Chrome Industries is known for creating high-quality durable gear, so we're not surprised that we haven't had any major durability issues to date. That said, we've noticed a few small scratches on the black seatbelt buckle (the interior part that clips into the buckle and experiences the most wear). From our experience, we believe the black version picks up scratches more than the silver version because of the coating. It's not a huge deal, but worth pointing out.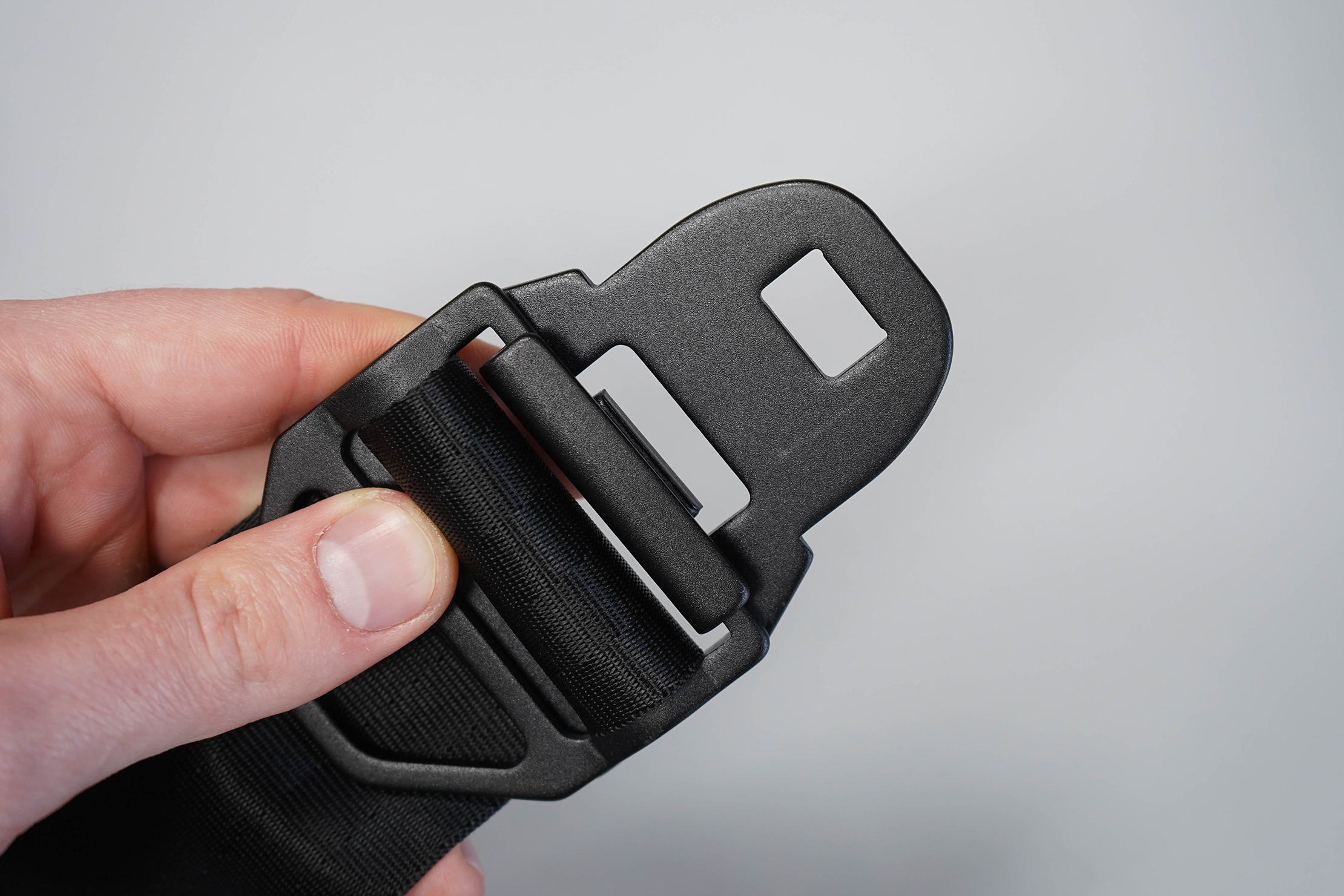 Usage Timeline
Initial Usage
Condition: Excellent
Digging the simple organization, but wanting a bit more
The 4 compression straps do a good job at keeping things together if you're carrying less than the total capacity can hold
Streamlined carry
We dig the matte black seatbelt buckle
A bit large to wear in the front of your body
2 Weeks of Use
Condition: Excellent
If we didn't need to carry around a laptop, this would be an excellent go-to bag for everyday carry
The main compartment doesn't have too much organization, but it's great for larger items like a water bottle, jacket, and tech pouch
Wearing the sling on the front feels alright, but it's about the largest we'd like to go for a 6'2″ person with a 42″ chest
We've been referring to this bag as a cross between a messenger and a sling, which we dig
The additional velcro buckle on the strap seems to be overkill for a bag of this size
Access the Pro Community Discussion
Get your questions about the Chrome Industries Kadet answered from our team and the Pro Community right here on the page. Plus, join discussions with other members about gear, guides, and more.
Other Bags & Luggage Reviews