Mission Workshop Spar Sling Review
The Mission Workshop Spar is a sling ideal for quick trips—with enough space for the essentials and a strap that can be worn across either shoulder.
Our Verdict
Unlock the Pro Summary
Save time. Get access to brief summaries of our reviews so you can browse and make decisions more efficiently.
Pros
Made of durable, quality materials
Excellent size for EDC or quick trips
Can be worn in three different carry modes
Cons
Heavier than other slings of a similar size
Strap adjuster sticks out and can get in your face
Minimal organization—but we kind of like it that way
Recent Pack Hacker Video
Technical Details
Capacity

8l

Weight (lb)

1.4 lb (0.6 kg)

Dimensions

15.5 in x 9.75 in x 3.25 in (39.4 x 24.8 x 8.3 cm)

Notable Materials

Fidlock Hardware, YKK Zippers, Duraflex Hardware, X-Pac

Warranty Information
Full Review
We have to assume the feeling you get traveling with only a single bag slung over one shoulder is the same feeling as flying. Of course, we don't know since we can't yet fly (wtf, technology?), but strutting down the streets of New York City with an 8-liter pack creates an unbeatable sense of freedom.
While some true minimalists out there may be able to travel the globe out of an 8-liter sling bag—to whom we tip our hats—we haven't taken it that far. We've taken the 8-liter Mission Workshop Spar on a day trip to NYC for a client meeting, with a flight out at a too-early-to-disclose hour in the morning and a flight back in the evening. And we've been testing it for everyday carry around Detroit for about a month now.
Psst, check out our guide on how to find the best sling bag for you.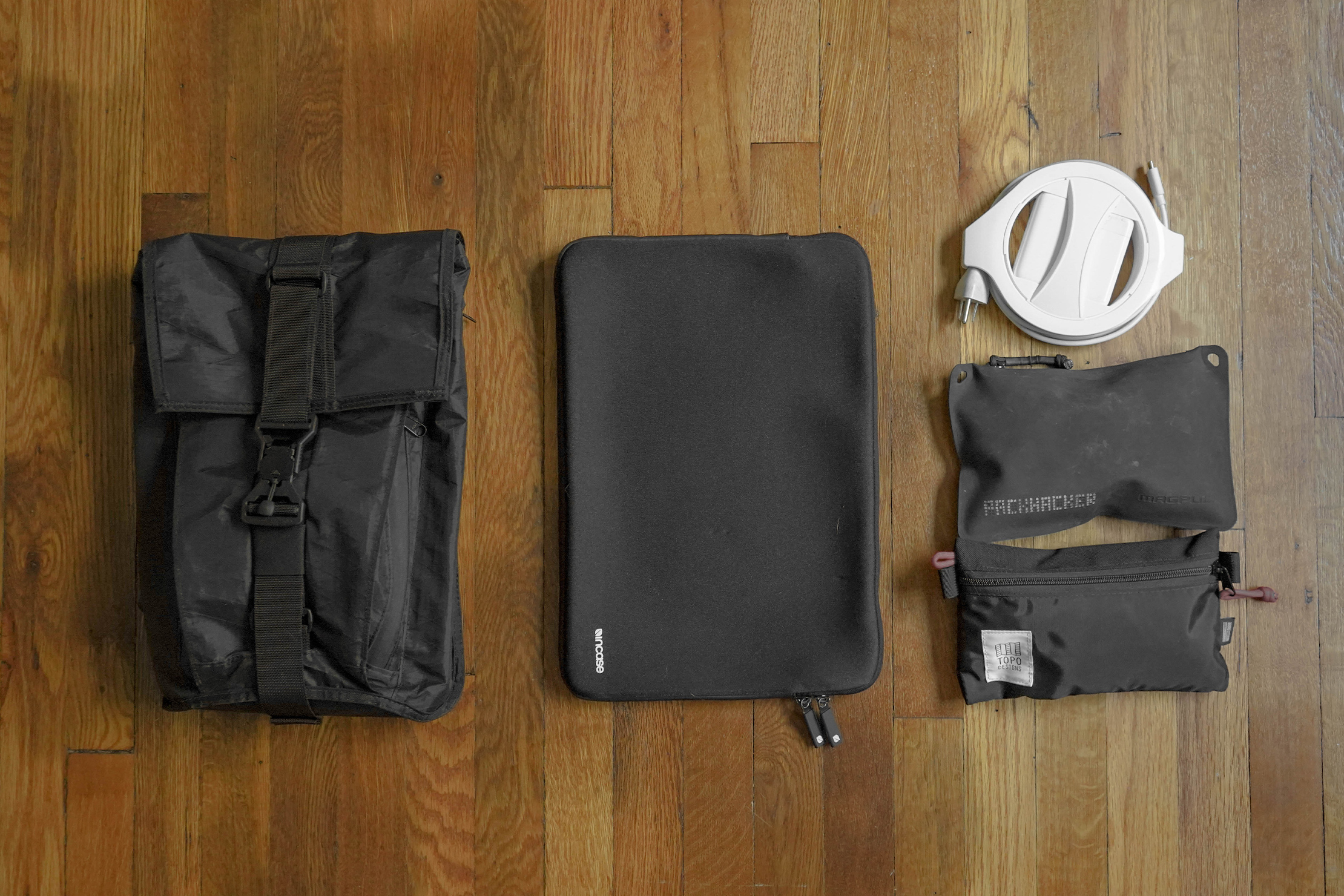 With a comfortable harness system, ample storage, and simple organization, the Mission Workshop Spar is a great companion. So let's check out the details.
Our Experience
Not everyone is a fan of Mission Workshop's signature tactical/futuristic style. It's like army gear for the 22nd century—and the Mission Workshop Spar is no different. It's available in four different colorways at the time of this review—black, gray, white, and black camo—and we think the black looks the least sci-fi, while the white screams it. As we said, this won't be everyone's cup of tea, but we've been digging it—especially in the black colorway we've been testing. Plus, we always appreciate companies that try to do something different. And you certainly can't deny that the Spar is unique.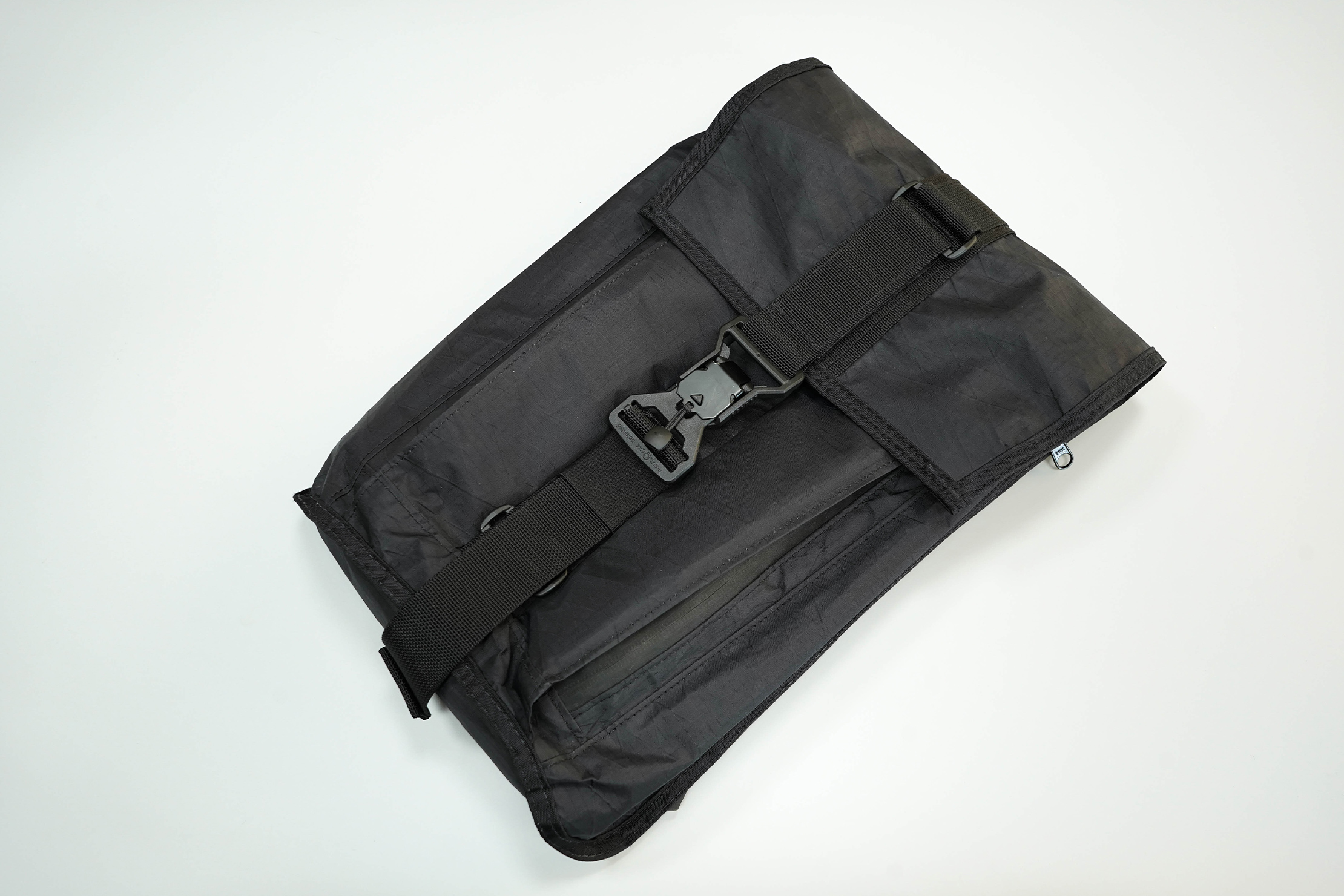 That being said, the aesthetic is still sophisticated enough that it works well for business meetings (and we speak from experience). In fact, it may even give you some style points.
At 8 liters, this sling is the ideal size for a quick zip to another city for work (or fun) or everyday carry (looking at you, bike commuters). Although there isn't much going on as far as organization goes.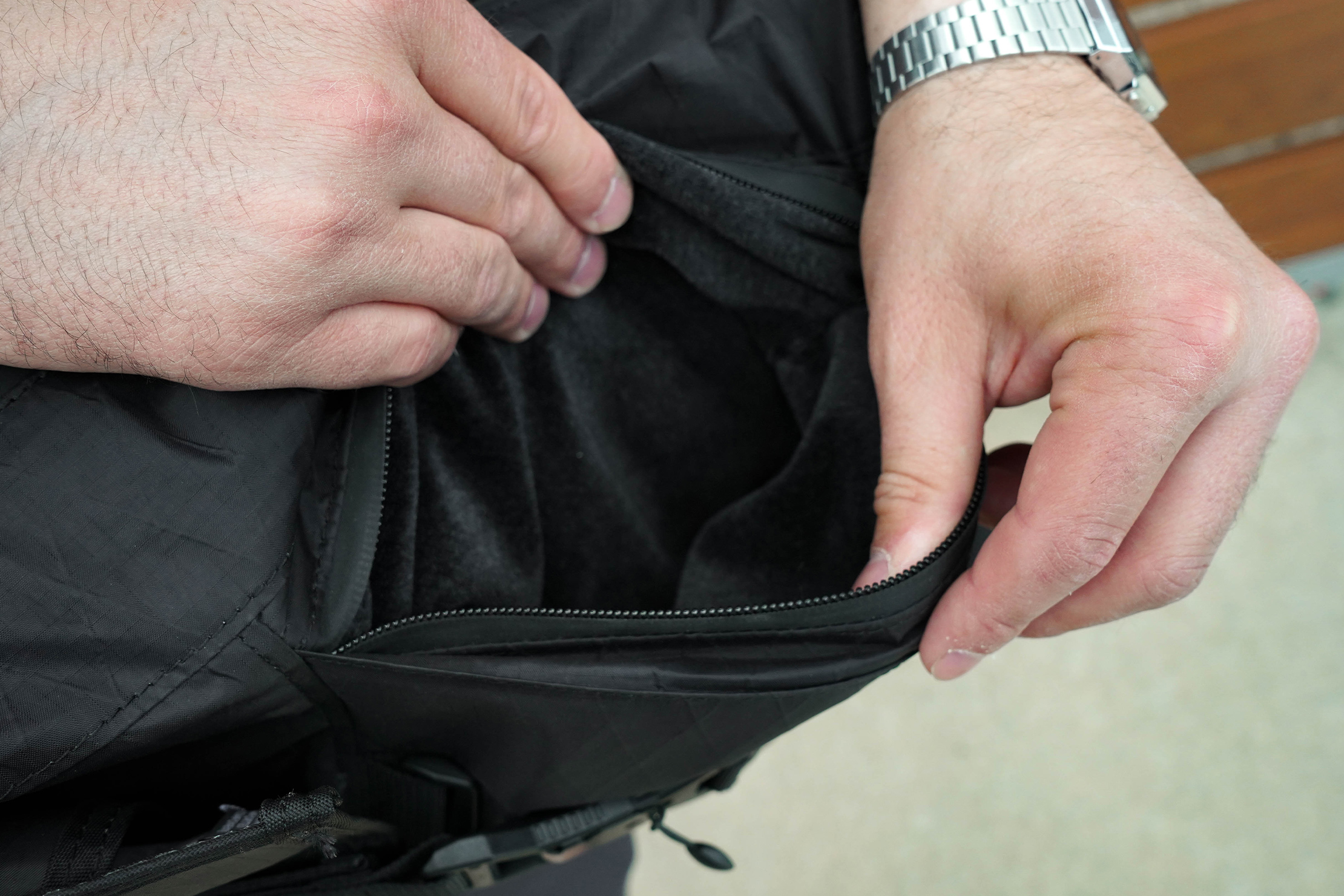 There are two pockets: a small, microfleece-lined quick-grab pocket on the front and a main compartment that can be accessed via the side zipper or from the top flap. The top flap can also be rolled closed. Inside the main compartment, there's a fleece-lined back pocket that is secured with a small slice of velcro.
While we would appreciate a touch more organization, we've made do by utilizing accessory bags and creating our own organizational system (#innovative).
In the main compartment, we've been packing a 15'' MacBook Pro (more like jamming, since this sling is built for tablets, but it works), tech accessories in the Topo Designs Accessory Bag, toiletries in the Magpul DAKA Pouch, and computer charger, which ended up being the perfect amount of stuff for a day trip to NYC.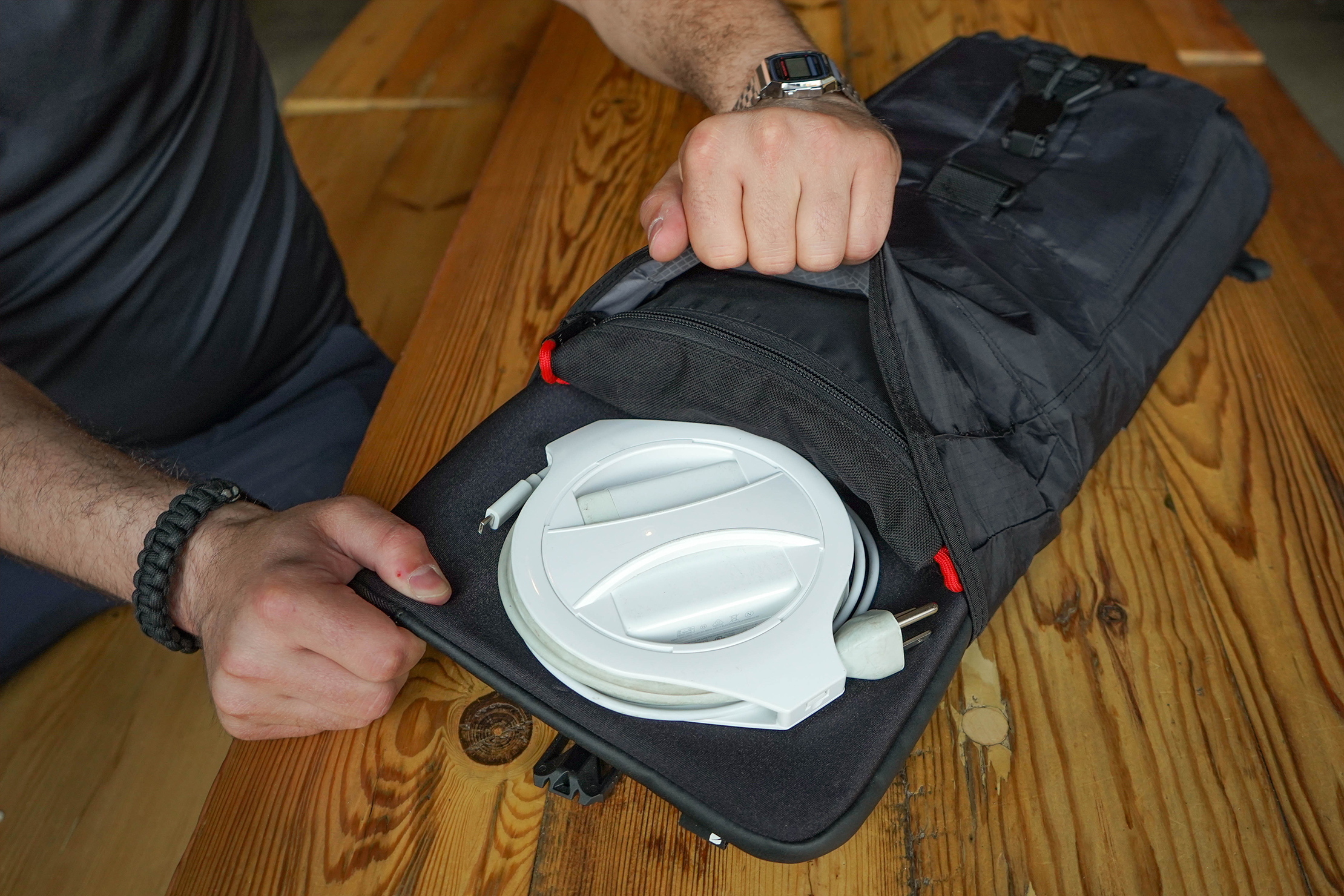 The Velcro back pocket is too small for a laptop, but it'll fit up to a 10.5'' tablet. To be extremely nit-picky here, the velcro target is a tad too small, meaning you have to be very precise when you close it to make sure the velcro sticks.
There's not much as far as protection goes for your laptop or tablet, which is why we suggest traveling with a laptop sleeve. Not a huge deal since we always recommend this—laptops ain't cheap!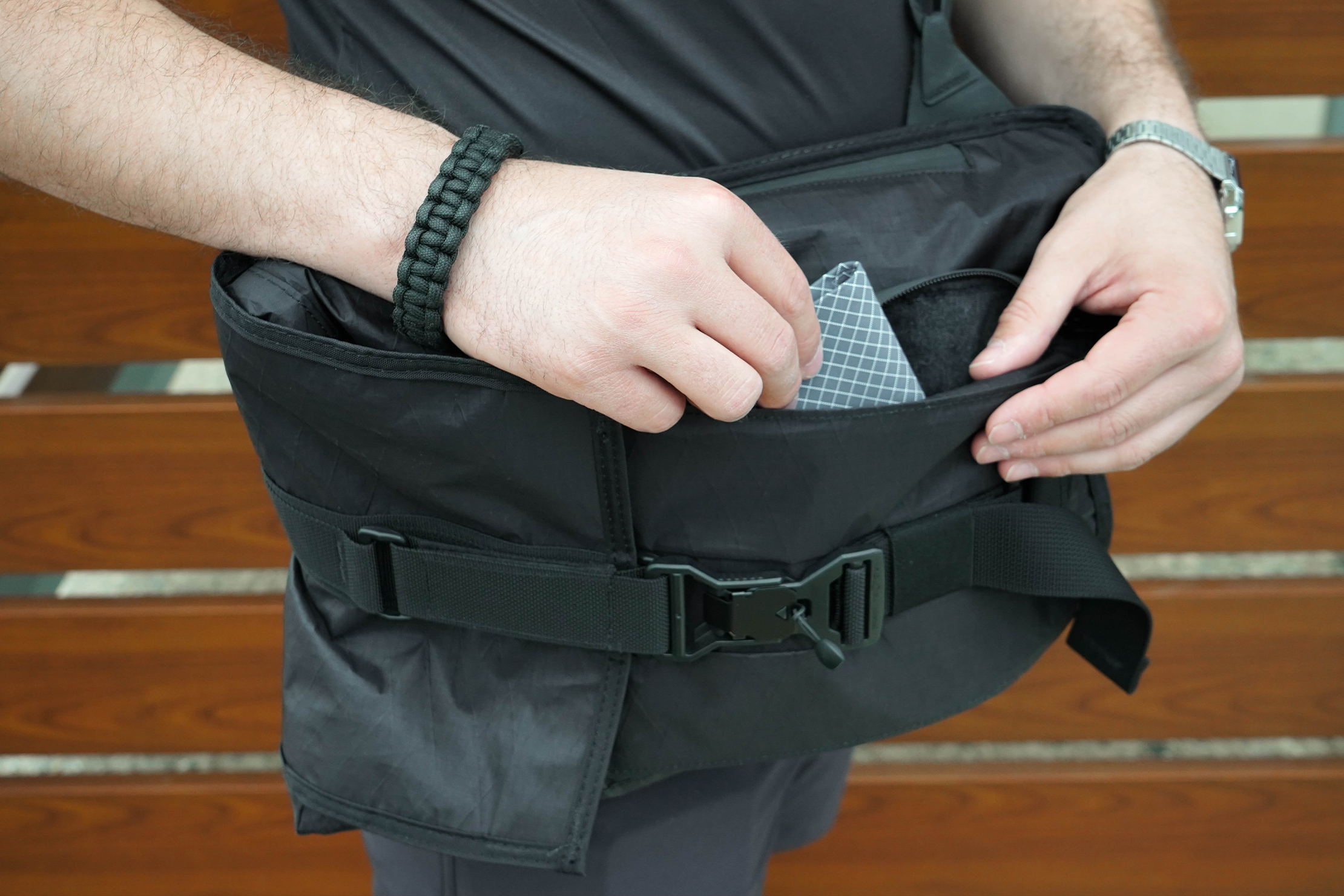 We've also been tossing the standard wallet, keys, sunglasses, and phone in the quick-grab pocket. While a small detail, we've been digging the key leash that's tucked inside of it. Many companies seem to throw key leashes on haphazardly, but this one doesn't feel like an afterthought. Made of metal, it should last you a while.
Overall, everything sits inside the sling nicely and, better yet, doesn't feel too heavy or awkward, which can be a problem with some of the larger-sized slings. Plus, accessing your stuff is easy and—dare we say—fun.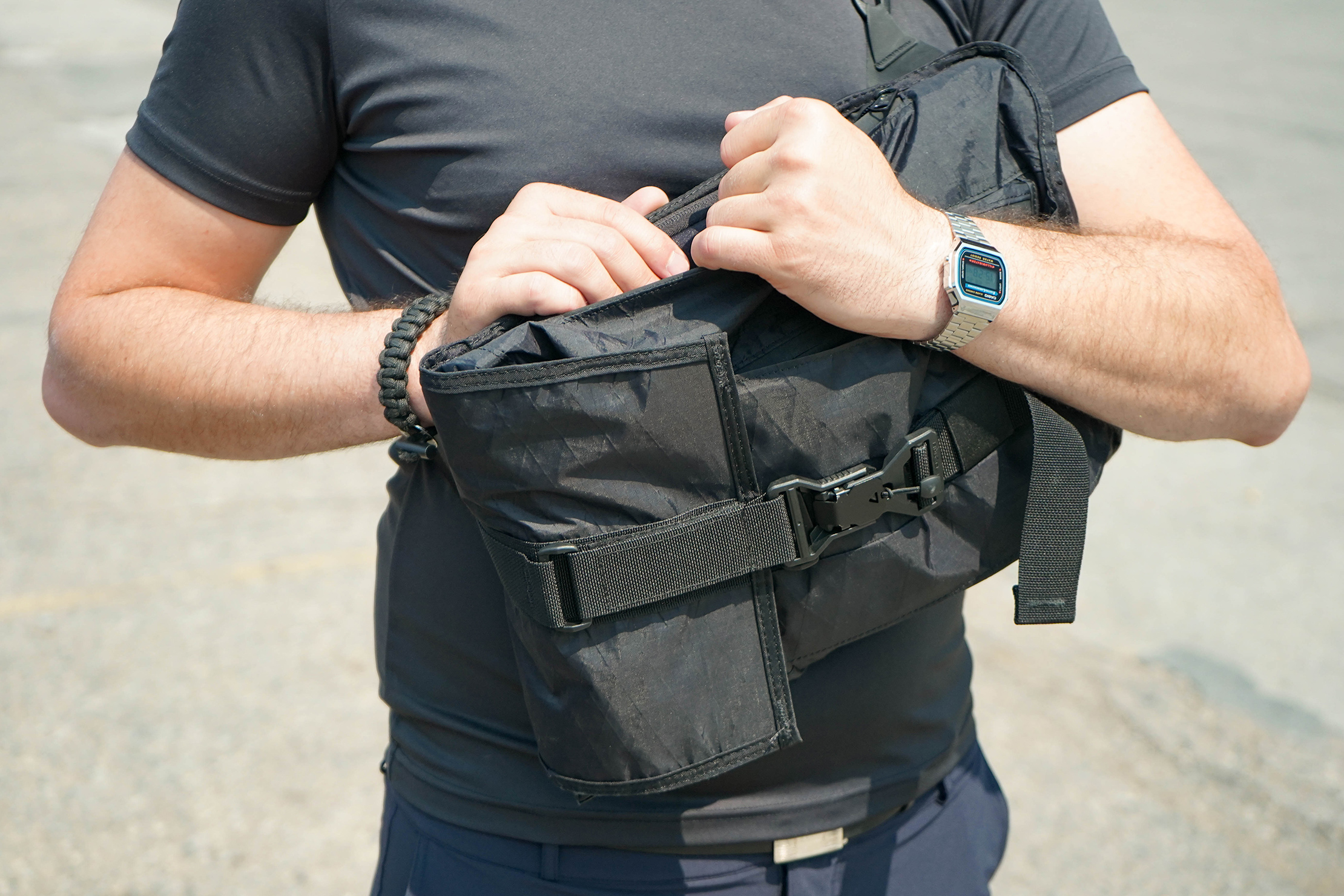 As we mentioned above, you can access the main compartment via a side zipper or from the top. The side zipper is helpful since, when wearing it over the left shoulder, you can "sling" your sling forward and quickly grab whatever you need.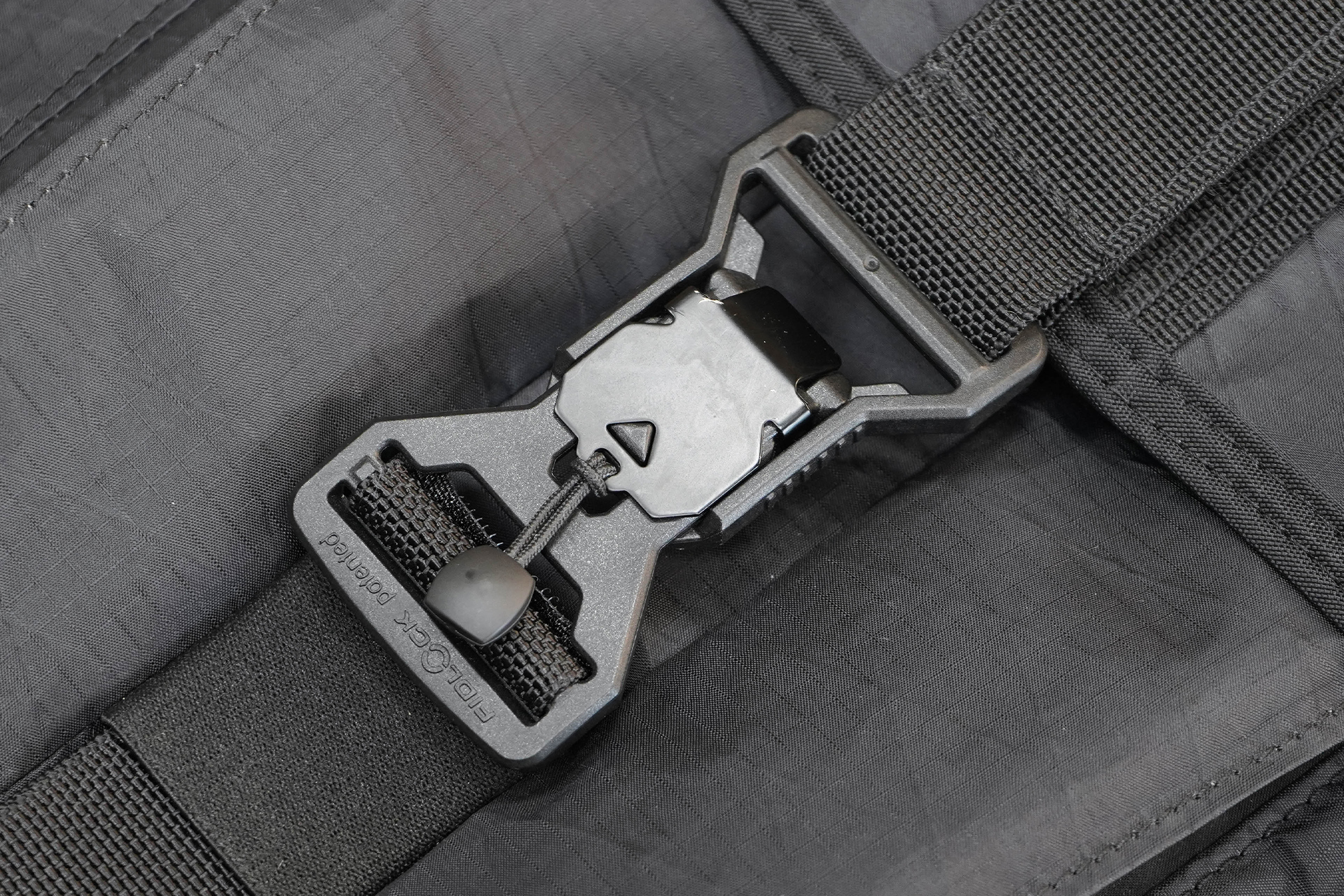 While "slinging" a sling is fun and all, the real fun starts with the magnetic Fidlock buckle that closes the main compartment. If you've never played with a Fidlock buckle before, trust us, it's a joy to fidget with. It also does its job by keeping the compartment securely closed and all—and can be easily undone with one hand—but the fidgeting thing is a real plus, even if your seat neighbor(s) on your next flight might not agree.
We've also enjoyed using the strap system, which can feel complicated at first but is quite lovely once you get used to it. The main strap is detachable (so you can attach a backpack harness or attach the Spar to other Mission Workshop bags—more on these later). If you do detach the strap, you can tuck in the lower attachment points to a hidden panel on the back. Additionally, the strap is built in such a way that you can wear the sling multiple ways.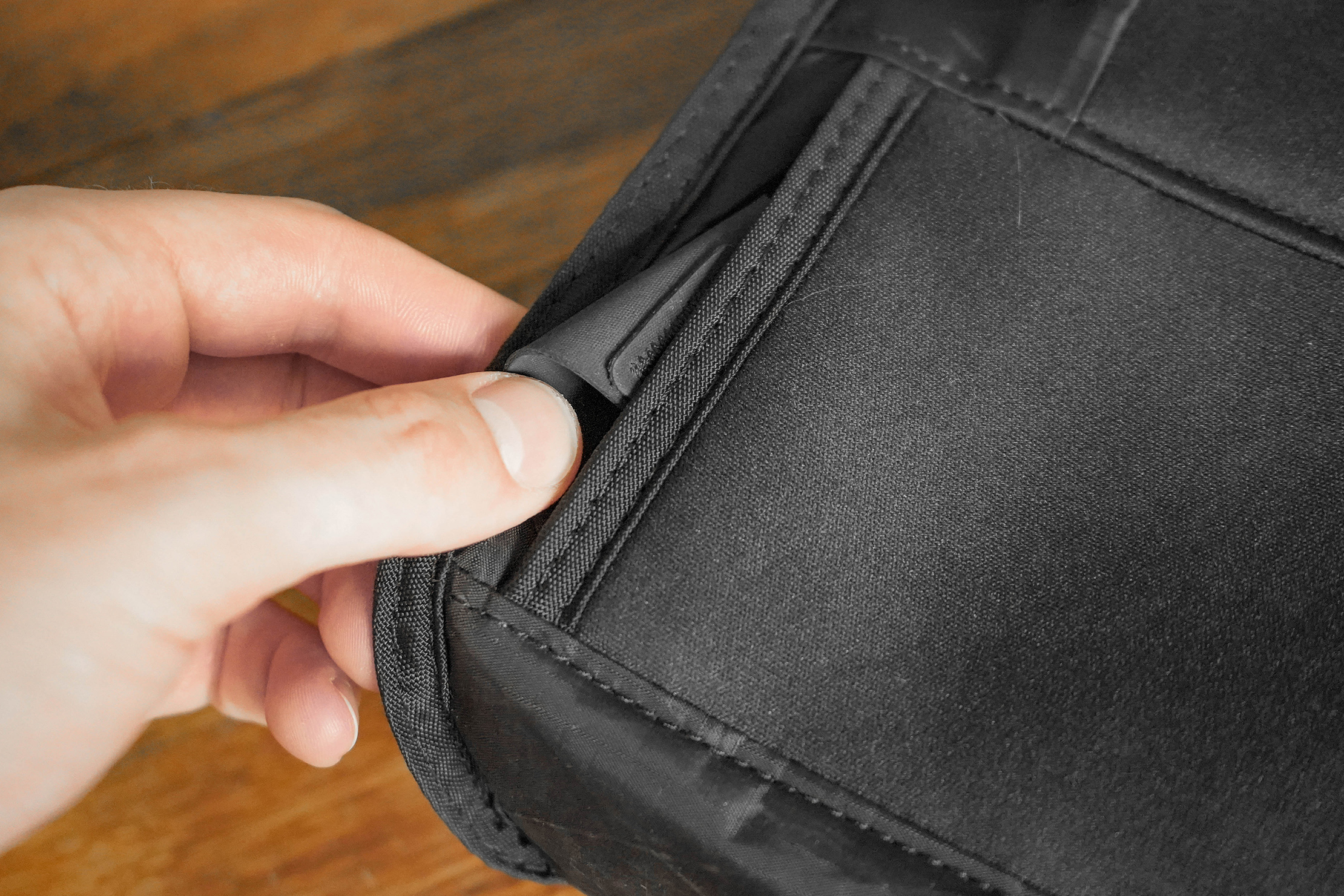 Predictably, you can wear it as a sling, with the strap sitting diagonally across your chest and the sling on your back. Perhaps the best part is that the strap can be connected on either the left or right side so that you can wear it over either shoulder (lefties, rejoice!). However, if you want to utilize the side-zip and the quick-grab pocket, you'll want to wear it over your left shoulder.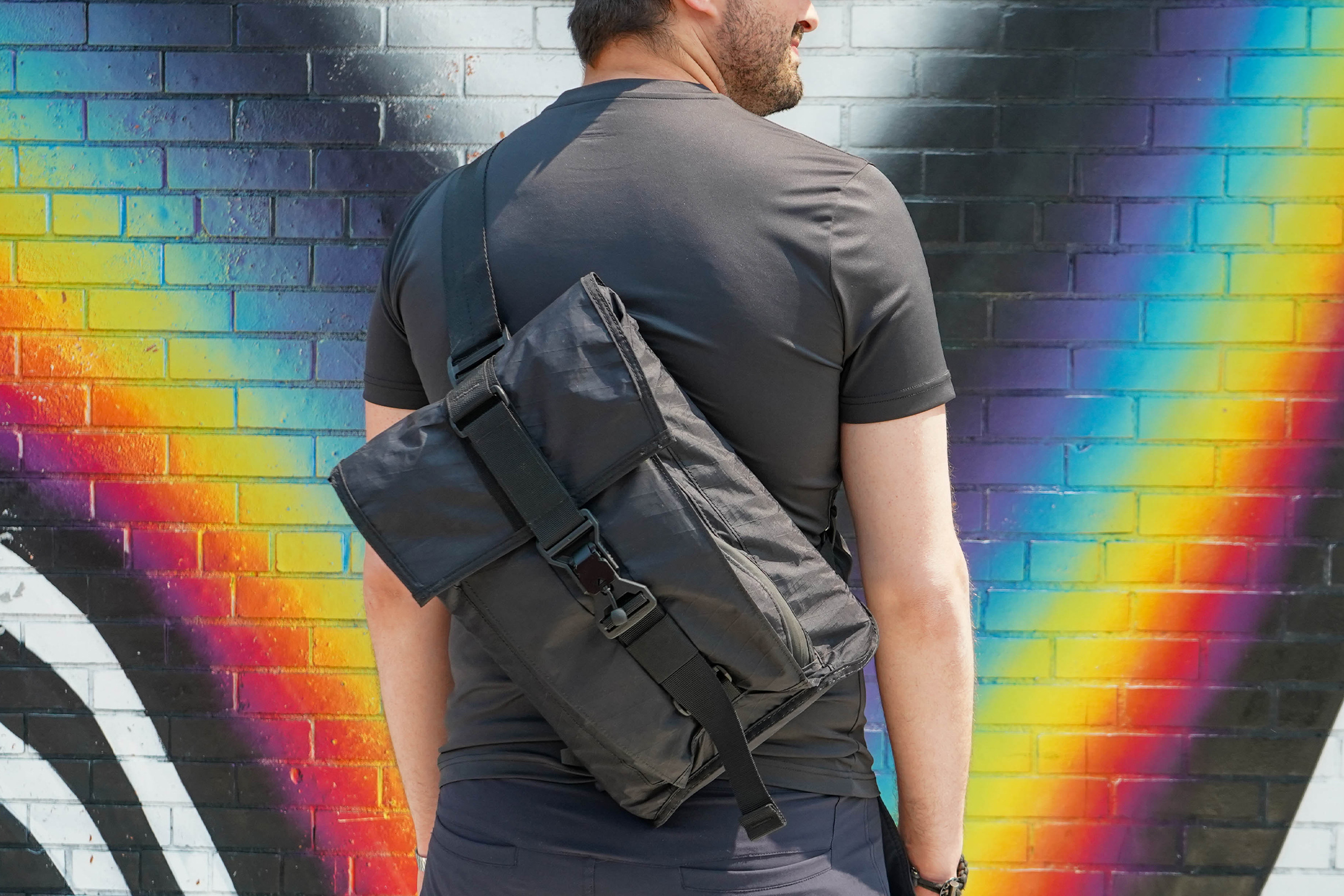 There's an additional, detachable strap that allows you to secure the sling tighter to your body. This is great when you're running late for a flight and don't want your sling bouncing all over the place as you sprint across the airport. Of course, if you don't care about your sling bouncing all over the place, you can detach this strap, throw it in the back of your closet, and forget it ever existed. It's nice to have options, you know?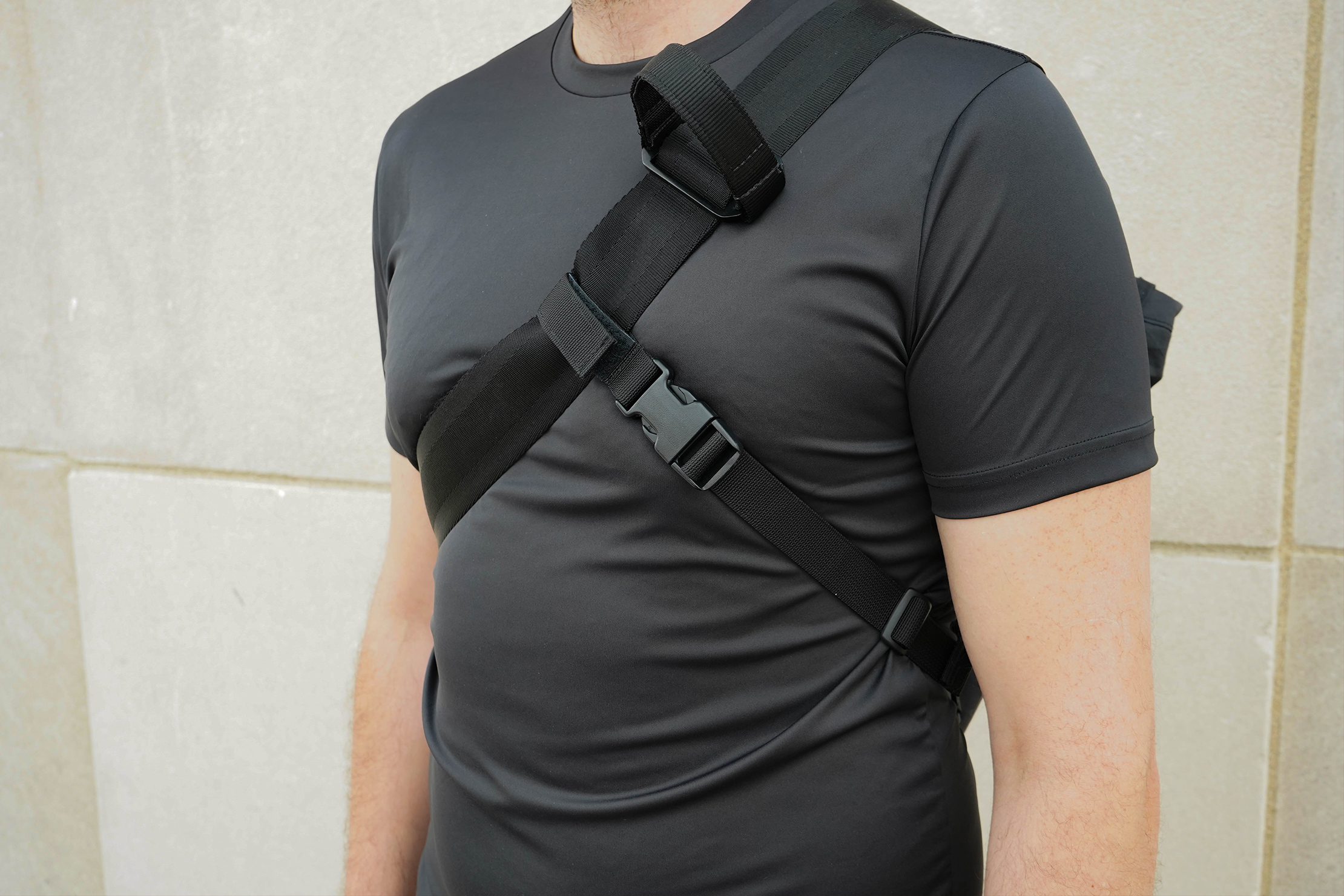 If you loosen the main strap, you can also carry the sling as a messenger bag. And, with an optional (re: sold separately) harness, you can even wear the sling as a backpack.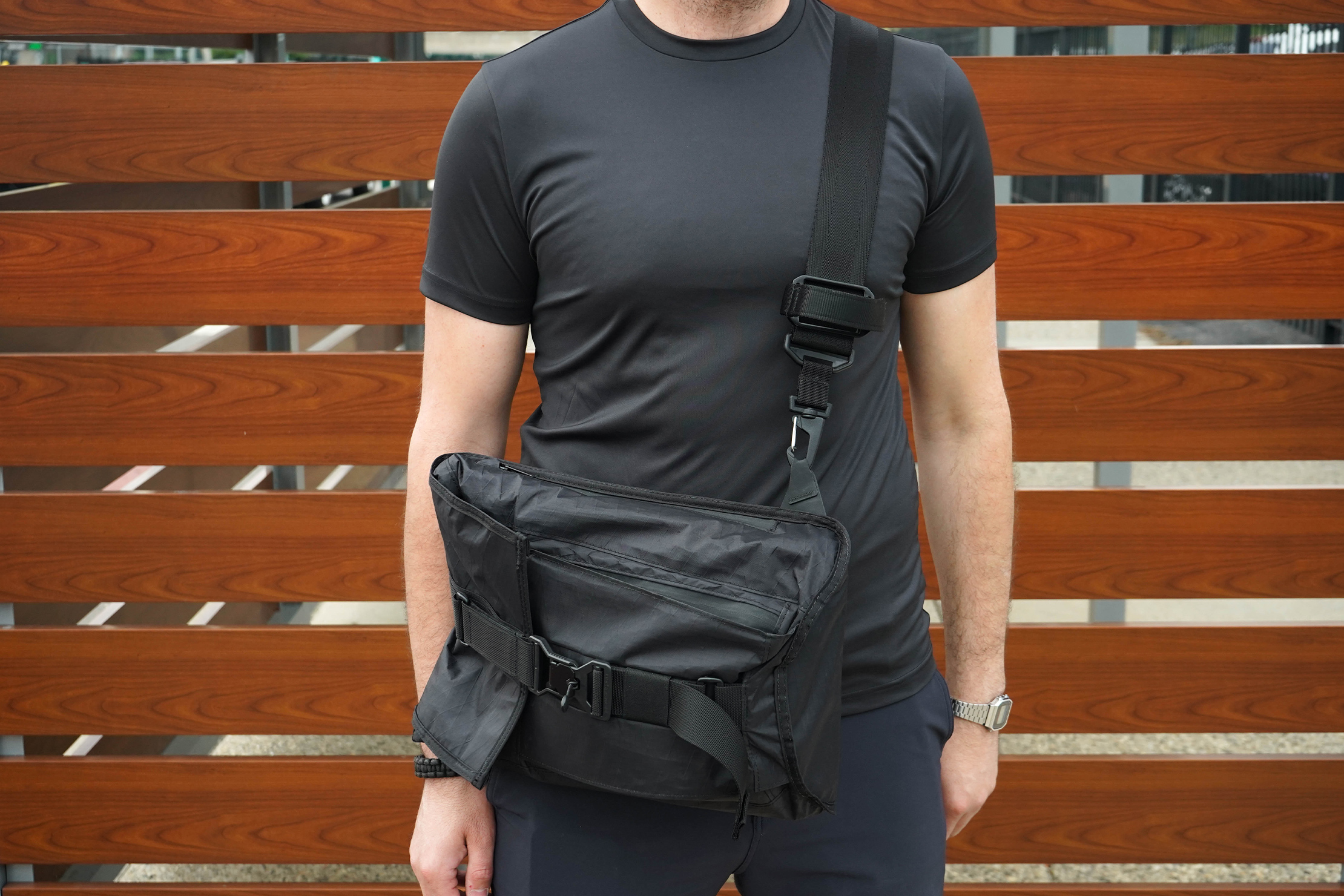 There's an aluminum buckle and webbed handle contraption which you can use to tighten or loosen the main strap, which we both love and find annoying. It's exceptionally smooth and quick to adjust the strap. Seriously, we've never had an easier time adjusting a strap—and we test a lot of packs. BUT the handle can sit on your shoulder in such a way that it'll get in your face. We still like it overall, but it's worth noting.
Noteworthy Features
As we said earlier, Mission Workshop has a futuristic 22nd-century thing going on, which seems appropriate since the Spar might last you well into the 22nd century. That's to say a significant feature of this sling is its durability.
The exterior of the sling is made from either Dimension Polyant VX-07 Diamond Ripstop or 500D Multicam® CORDURA® for the black camo colorway. We've been testing the black colorway— the Dimension Polyant VX-07 Diamond Ripstop—so we'll get into that in more detail, but both are durable fabrics that should serve you well.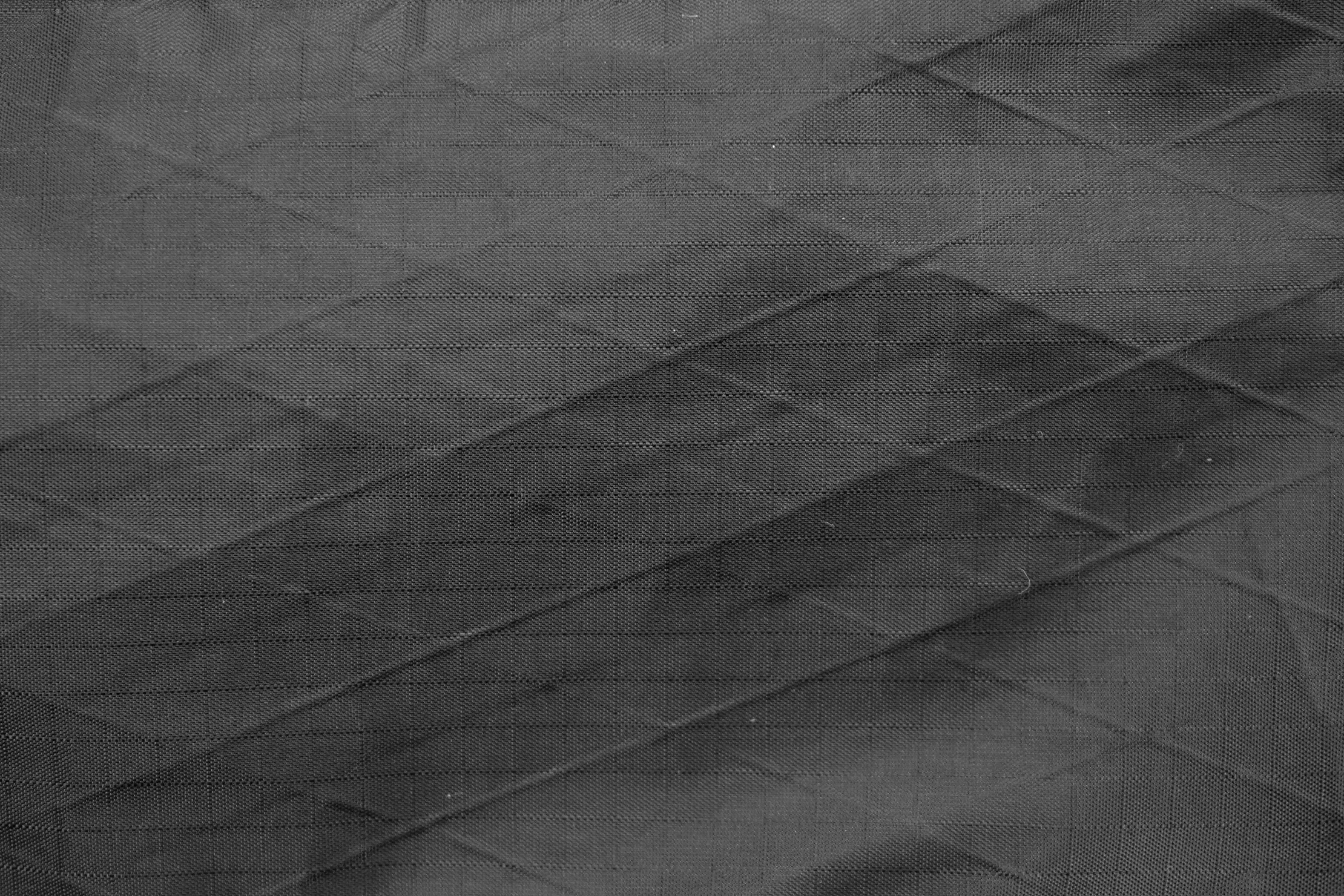 As the name suggests, the Diamond Ripstop stops punctures from becoming fully-formed rips, and this particular fabric works even better than regular ripstop since there are more "points" where the tears can be stopped in their tracks.
Compared to fabrics of equal durability, the VX-07 Diamond Ripstop is rather lightweight. But, compared to other sling bags of a similar size, the Spar is kind of heavy, clocking in at 1.4 pounds. Additionally, the fabric has a "swishy" quality about it and, thus, is louder than some other fabrics out there.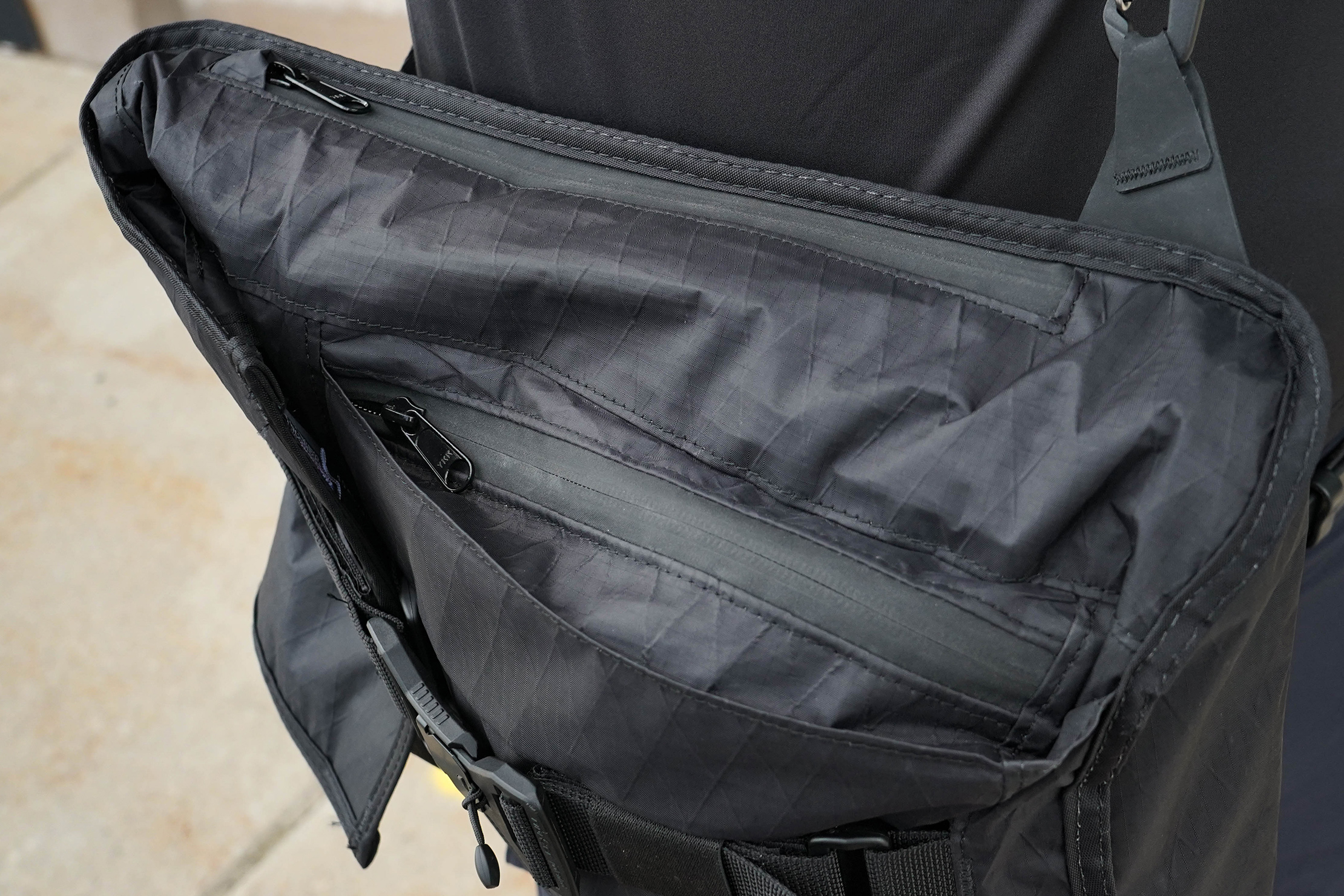 The two zippers on the sling are both YKK Aquaguard. YKK is a well-known brand praised for making durable products, and their Aquaguard zippers have a polyurethane coating to repel water. The entire Spar is weatherproofed, meaning you can get caught in a storm without worrying about your fragile tech gear getting ruined, which is always a plus (especially if you're the type of person who always forgets to check the weather forecast). But it's not built to be submerged in water, so we wouldn't recommend scuba diving with it.
Additionally, all of the hardware is aluminum, not plastic, which usually means better durability (but also contributes to that heavier weight).
Another great feature is the Spar's Arkiv®-system compatibility. Basically, the folks at Mission Workshop invented a way for a number of their products to work together in a broader ecosystem they've named Arkiv®. The Spar can hook to the exterior of Mission Workshop's R2/R6/R8 or Radian packs.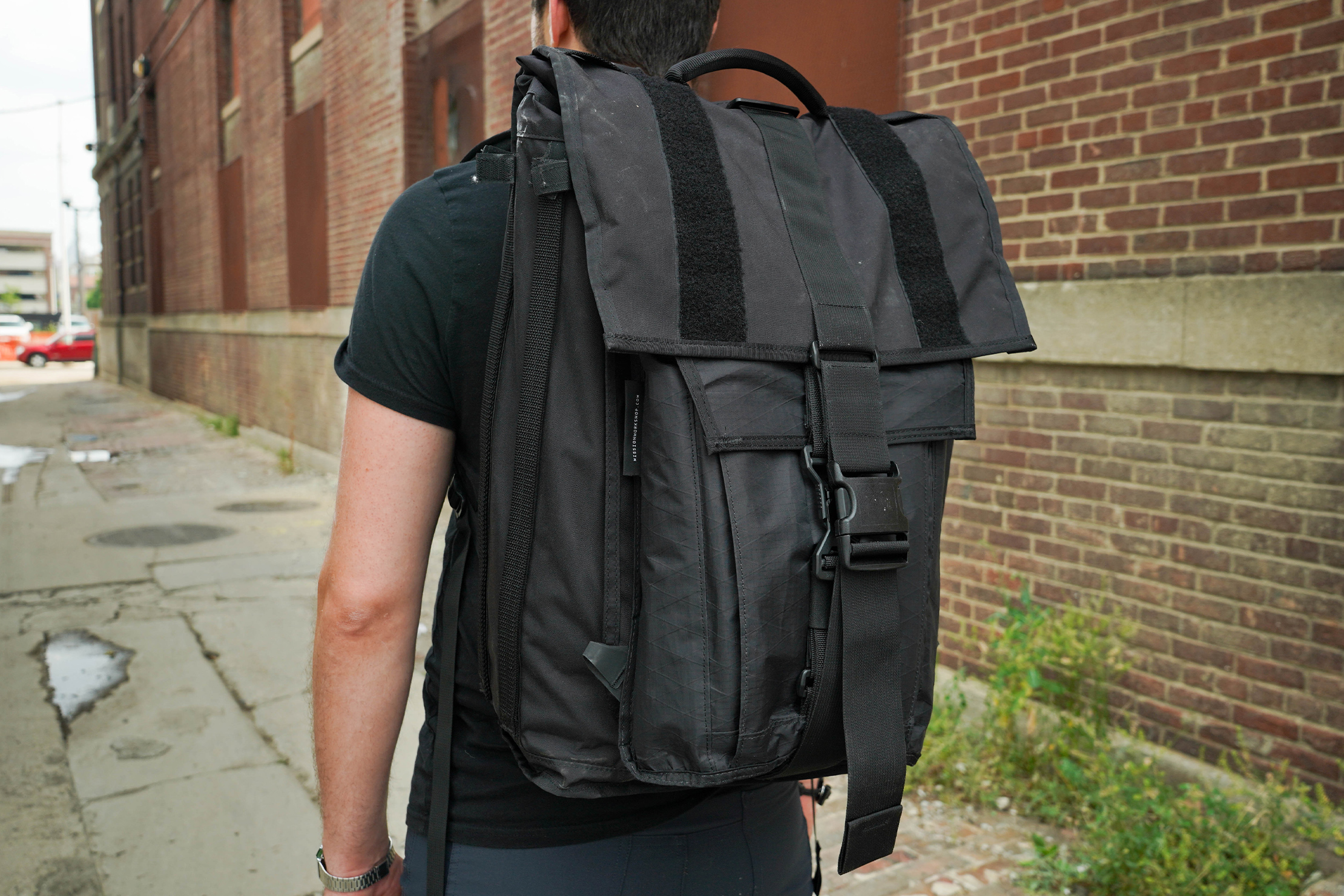 Now, the Radian pack is already massive. Adding this 8L sling to the exterior will only make it more massive, and may not be the sleekest option for air-travel (you'll probably hit a few people with your pack walking down the aisle). That said, being able to hook the Spar to a larger pack is nice for travel since you can easily detach it for day trips. No need to pack a daypack.
Final Thoughts
All in all, we're big fans of the Mission Workshop Spar Sling. It's an ideal size for short trips and looks both polished and unique. We're also digging that you can wear it as both a sling and a messenger bag, the latter being helpful when you're looking to avoid the dreaded back sweat (unfortunately slings of this size are like backpacks… you tend to get sweaty).
And we're also fans of the craftsmanship and quality materials. We've had no issues with durability so far and don't expect to.
Usage Timeline
Initial Usage
Condition: Excellent
Easy to swap carry styles when needed – we've even found a looser "messenger-style" carry to be comfortable depending on what you're carrying
We've been able to fit a 15″ MacBook Pro with a laptop sleeve, but it's tight
We like the modularity of this sling being usable with the Arkiv System for other bags
2 Weeks of Use
Condition: Excellent
Loving the strap system now that we've got it dialed.
1 Month of Use
Condition: Excellent
Access the Pro Community Discussion
Get your questions about the Mission Workshop Spar Sling answered from our team and the Pro Community right here on the page. Plus, join discussions with other members about gear, guides, and more.
Other Bags & Luggage Reviews