Bellroy City Pouch Review
As long as they're not overloaded, the Bellroy City Pouch's many pockets and separators offer sleek, helpful organization for all your essentials.
Our Verdict
Unlock the Pro Summary
Save time. Get access to brief summaries of our reviews so you can browse and make decisions more efficiently.
Pros
Great level of organization
Gusseted, self-compressing sides for flexibility when packing
Premium look and materials
Cons
Can get bulky when fully packed
Key leash feels cheap
No external attachment points to clip gear with a carabiner
Recent Pack Hacker Video
Technical Details
100 %
Carry-on Compliance
Weight (oz)

6.3 oz (178.6 g)

Dimensions

8.07 in x 6.5 in x 2.36 in (20.5 x 16.5 x 6 cm)

Notable Materials

Polyester, Nylon, YKK Zippers, Leather

Manufacturing Country

Philippines

Warranty Information
Full Review
When you're just carrying the basics, hauling a big, bulky bag can feel like overkill. In this case, something small like a sling or a waist pack that stays close to the body is your best bet.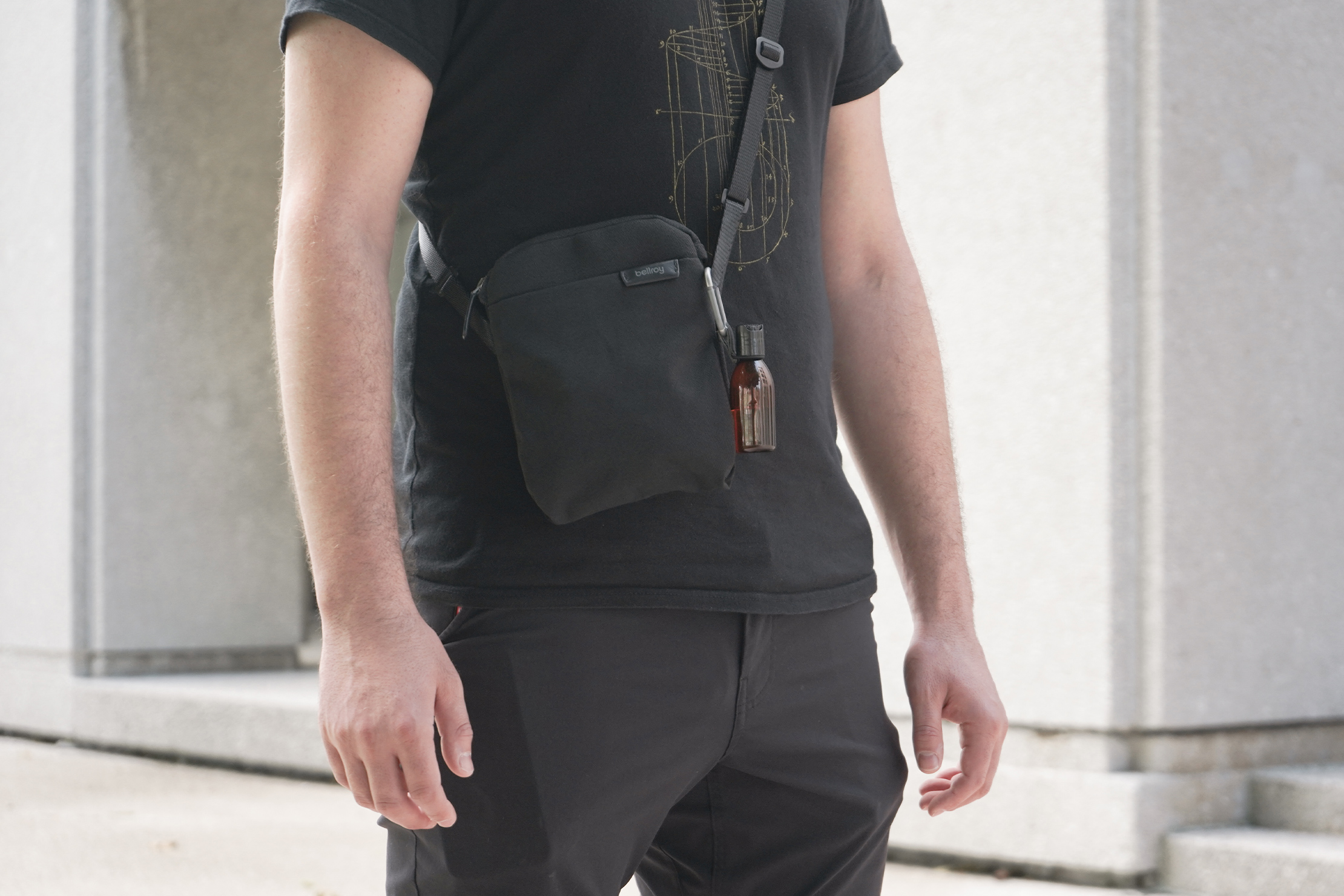 Enter the Bellroy City Pouch. It has ample space for your everyday items, and a great level of organization to keep everything segmented—all wrapped up in a minimal, streamlined design.
We've been testing the City Pouch for two weeks now, so let's dive right into this review.
Materials & Aesthetic
We've been digging this pouch's sleek and unique aesthetic. That said, it is more purse-like than other slings and waist packs that we've seen, which could be a positive or a negative to you depending on your preferences.
At the time of this review, you can pick up the Bellroy City Pouch in three different colorways—Marine Blue, Red Earth, and Black, which is the one we've been testing. We think this colorway gives the pouch a more muted, serious vibe if that's what you're looking for. If not, both Marine Blue and Red Earth offer an earthy aesthetic.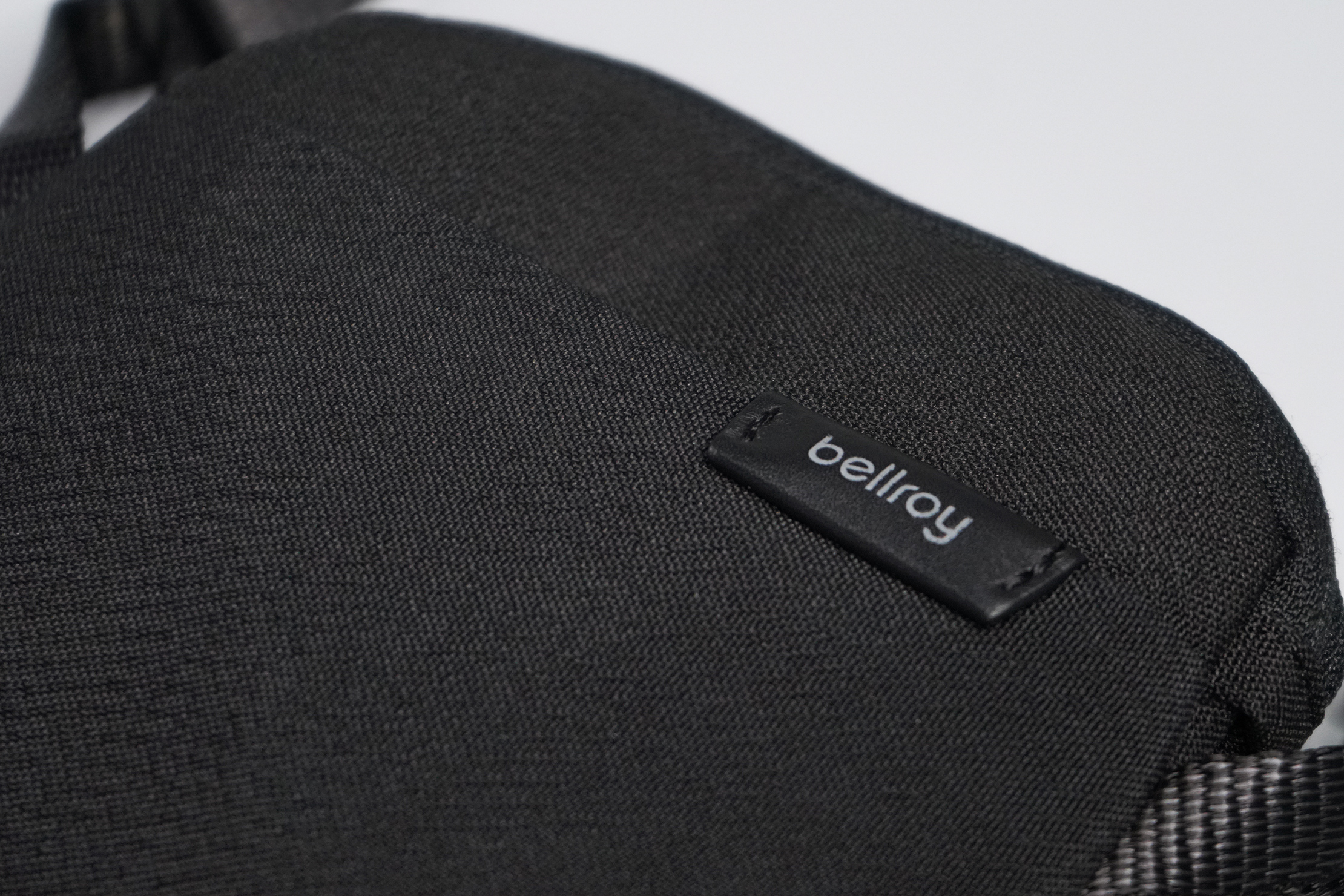 As always, you'll spot the Bellroy logo on the front, debossed in some high-grade leather with neat stitching that makes for a sophisticated accent. This branding keeps a low-profile, which is great if you're someone who prefers a more subtle approach.
Material-wise, you'll find recycled nylon on the shoulder strap and recycled polyester everywhere else on this pouch, which are fabrics that Bellroy uses on a lot of their new products. This material has held up well during testing—there are no scratches or scuffs to speak of—and we appreciate the sustainable direction this brand is moving in.
Now, this pouch isn't as water-resistant as the X-PAC fabric you'll find on the CODEOFBELL X-POD, for example, but you'll be just fine if you get caught in some surprise sprinkling weather.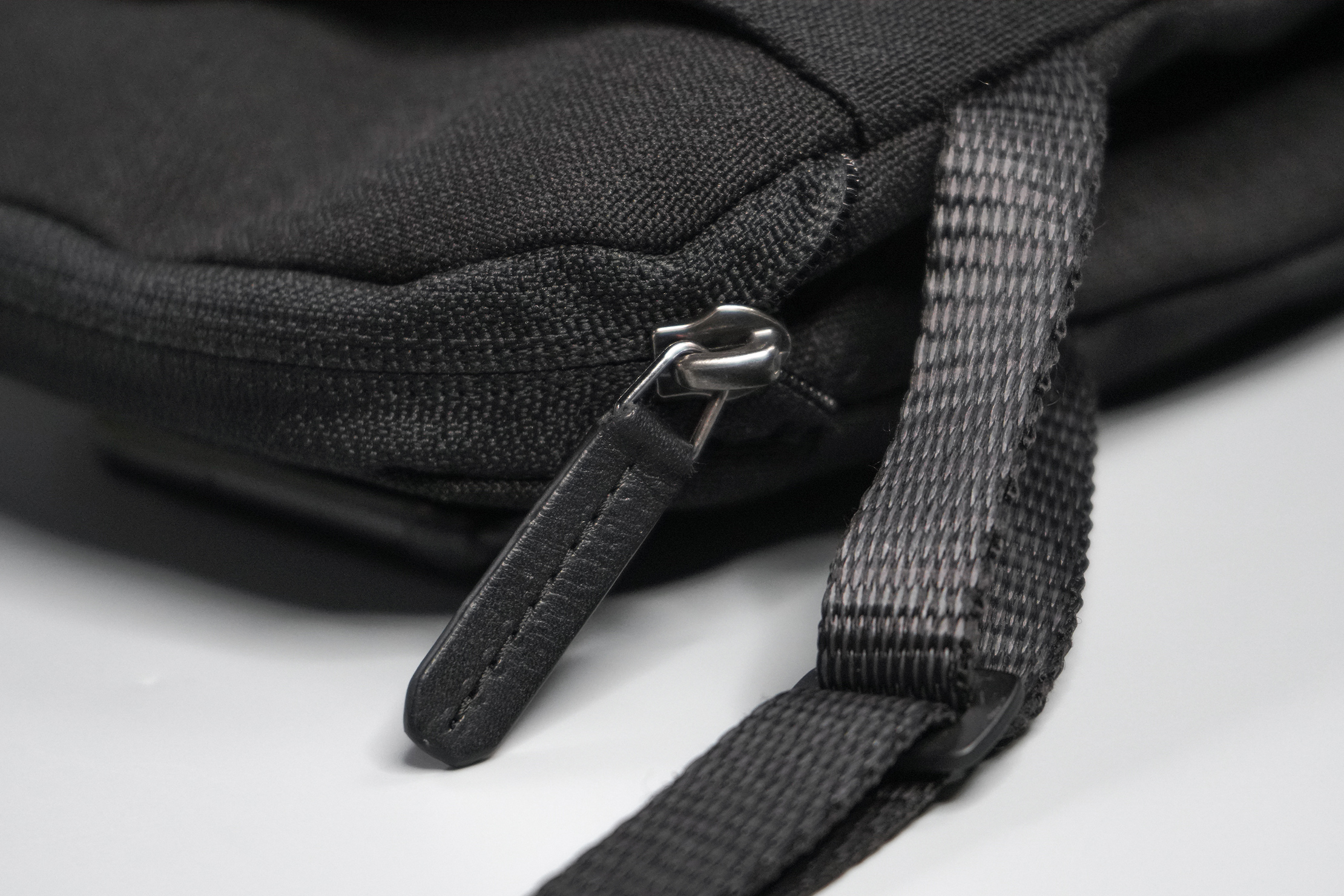 We're also happy to see some #5 reverse coil YKK zippers on here, with some easy-to-grab leather pulls. The reverse coil makes for a cleaner, more streamlined vibe, while the leather pulls add to that premium look and feel. As usual, these zippers have been working smoothly throughout testing.
You'll even find some Woojin and metal hardware on this pouch. The metal adjusters on the shoulder strap offer that same classy look we get from the zipper pulls, and while they have sustained some scratches so far during testing, they haven't affected the function—we think they add a little character to the pouch. We have some contrasting thoughts on the Woojin key clip, but more on that later.
External Components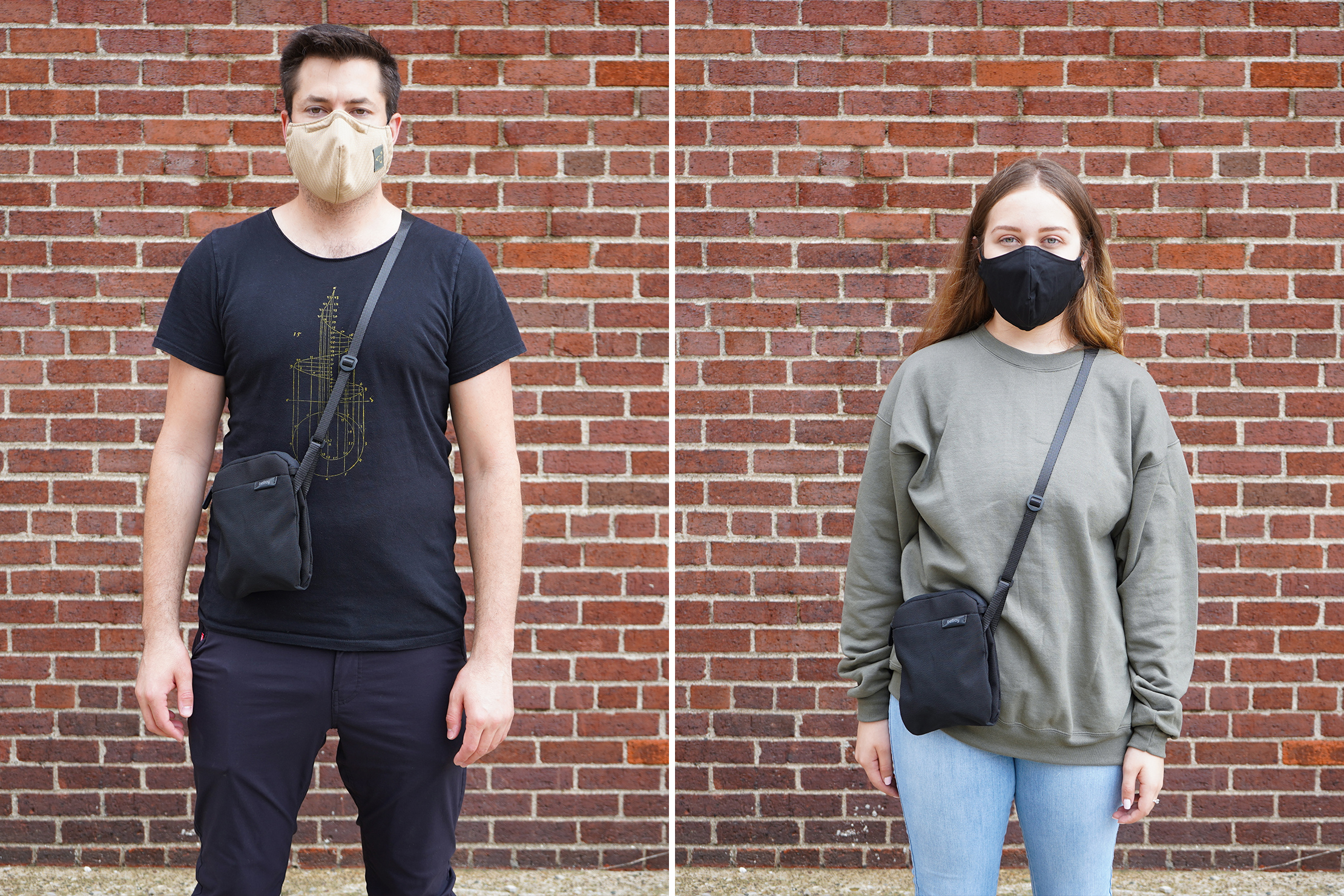 The nylon shoulder strap on this pouch is wider toward the top to help it stay secure on your shoulder, then starts to taper off, so you're not dealing with a big, bulky strap. There aren't any dedicated attachment points anywhere on the pouch to hook the gear you want to keep handy, so we've improved by using a carabiner to clip an Orbitkey Sanitiser Holder to the end of the shoulder strap. Of course, you can use this method for any other gear you may want to keep close by or out of the main compartment.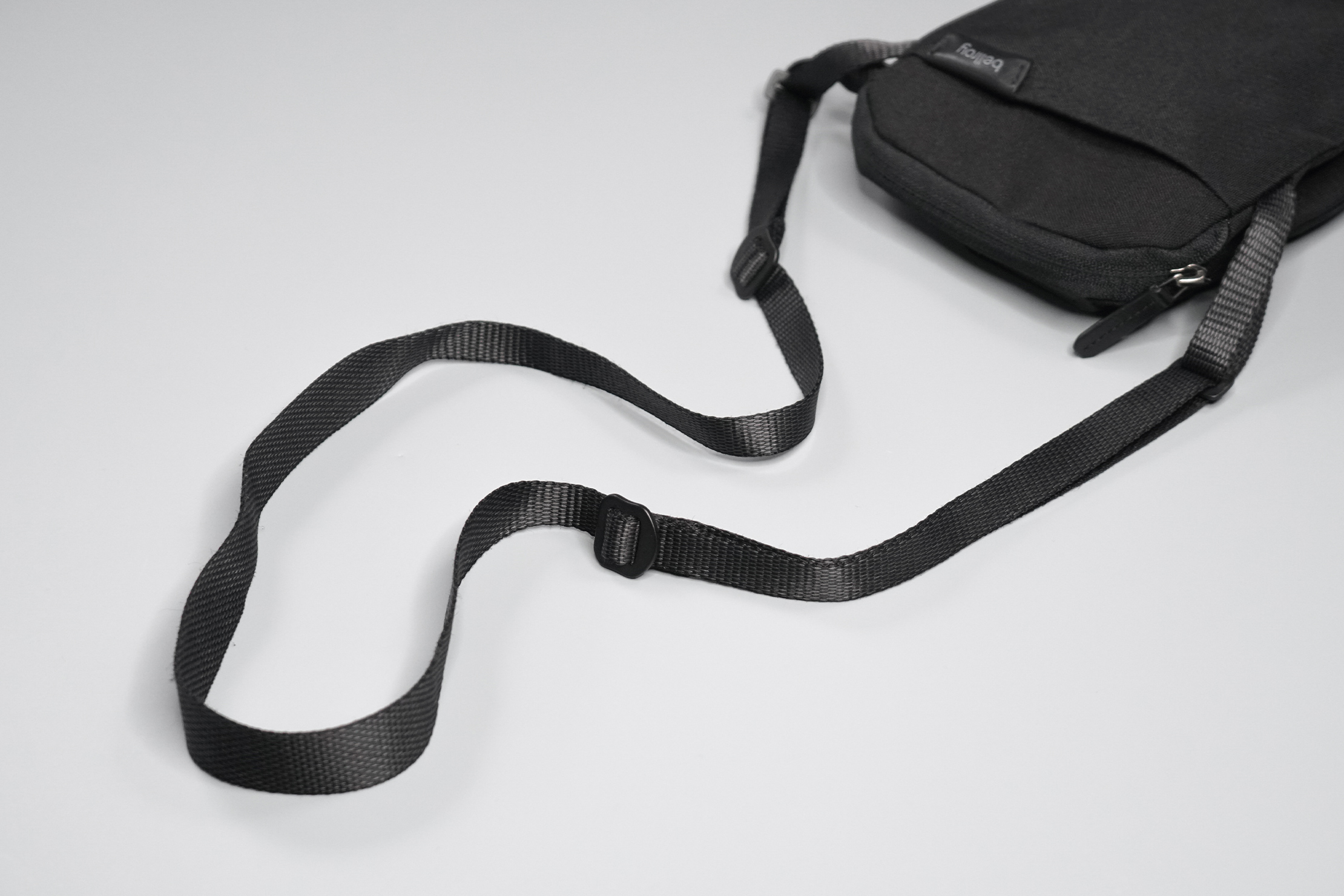 This shoulder strap also attaches to the pouch at two points on each side, so when you're carrying a lighter load, the straps pull upward to fold the gusseted sides of the pouch. This way it self-compresses for a nice, minimal look without the need for conventional compression straps. We loved this feature on the Bellroy Sling and are happy to see its integration here as well.
The City Pouch's gusseted sides also help it expand when you need to stuff it with more gear than usual. However, we've found that this pouch can still get pretty bulky when fully packed, even if you're keeping slimmer items inside.
Inside The Pouch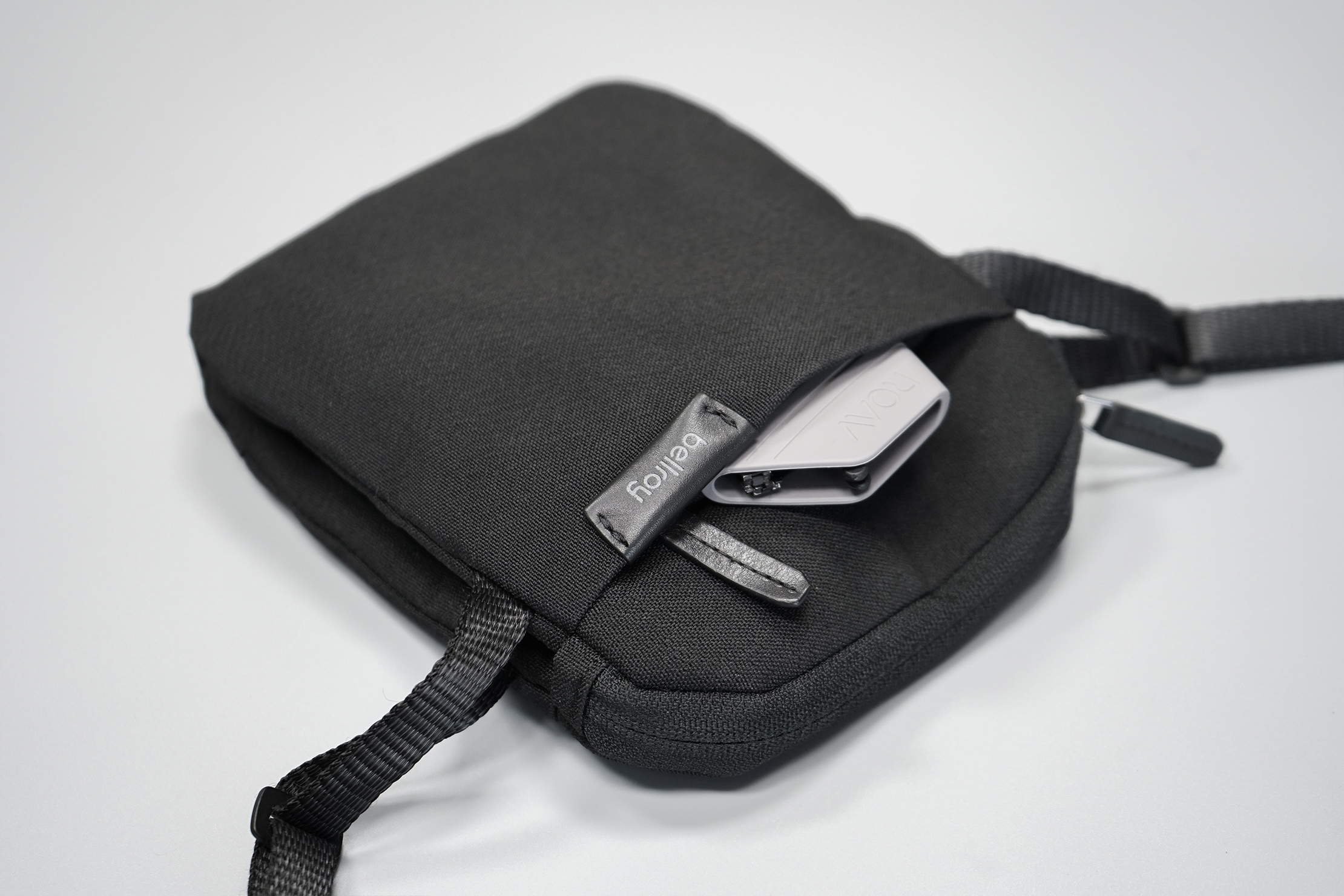 Let's talk about some pockets, shall we? First up is the zippered pocket on the front of the pouch. It has a tan interior, which makes it easy to spot whatever you keep inside—for us, that's mainly been a pair of collapsable ROAV Eyewear Franklin Sunglasses, so they're always handy when we need them. You can throw in other miscellaneous stuff, too, whether it's snacks or a charger or something else.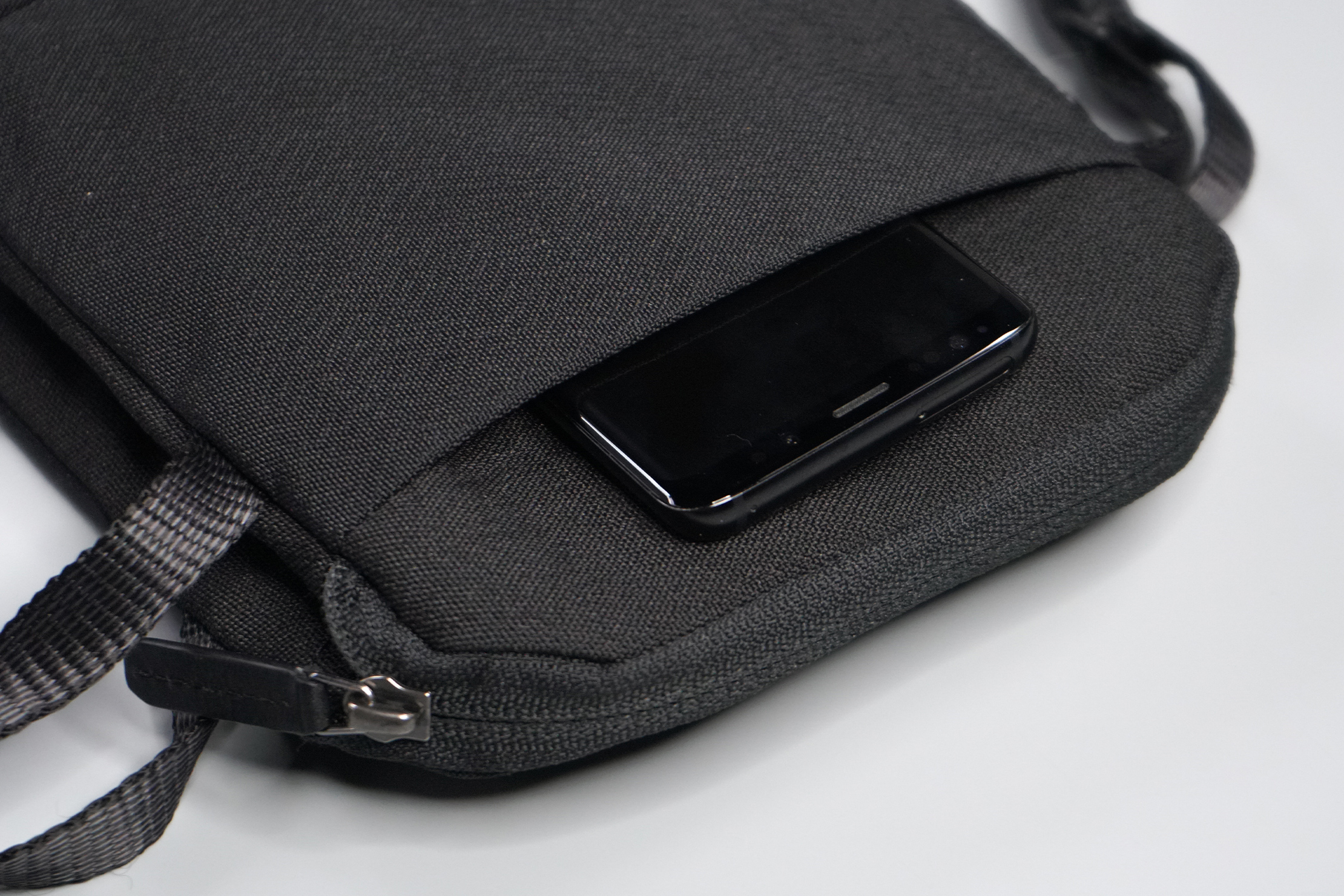 Then on the back is a sleeve that's been super convenient for stashing a phone during testing because it's quick & easy to access. Again, you can store other flatter items back here like a smaller notebook or folded documents if you have them. You just don't want to pack anything too bulky, as it can poke into your side while you're wearing the pouch. This sleeve also doesn't have any closure, so smaller items are not recommended, as they can get jostled around and fall out.
Now, it's time for the main compartment. There's a great level of organization here that has been great at keeping all our items segmented during testing. The first pocket at your disposal is against the front of the compartment, with a similar tan interior as the front zippered pocket, which again offers lots of visibility of your items.
We've found this pocket to be a great size for our Anker PowerCore Slim 10000 PD Portable Charger. We also tried keeping the Anker PowerCore II 10000, but it was just a bit too thick to fit nicely along with our other items, like our Jabra Elite 75t Wireless Earbuds—so flatter items are going to work best.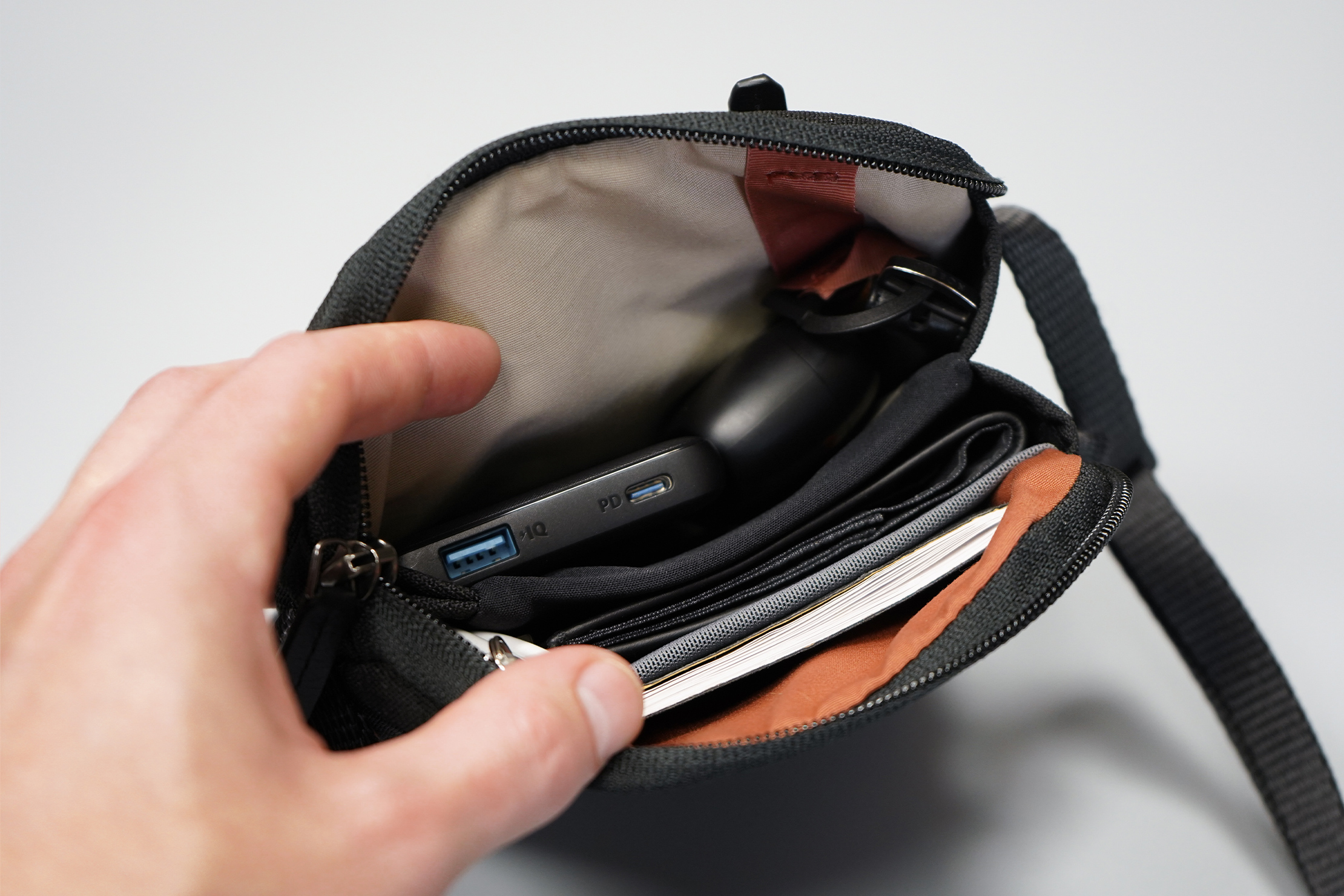 You'll also notice a key leash in this pocket, which we haven't been the biggest fans of. Its material feels cheap and almost like a ribbon you'd wrap a present with, so we're not confident in its durability. It also has a plastic Woojin clip at the top that only works at holding onto our keys about half the time, as it's easy for them to slip off. Overall, it detracts from the otherwise top-notch materials on this pouch.
We will say that its length is more convenient than other shorter key leashes we've tested in the past. With this one, you can have the pouch on, grab the leash, and reach your door or car or whatever else it is you're unlocking, without having to do that weird hunching-over maneuver (you know the one).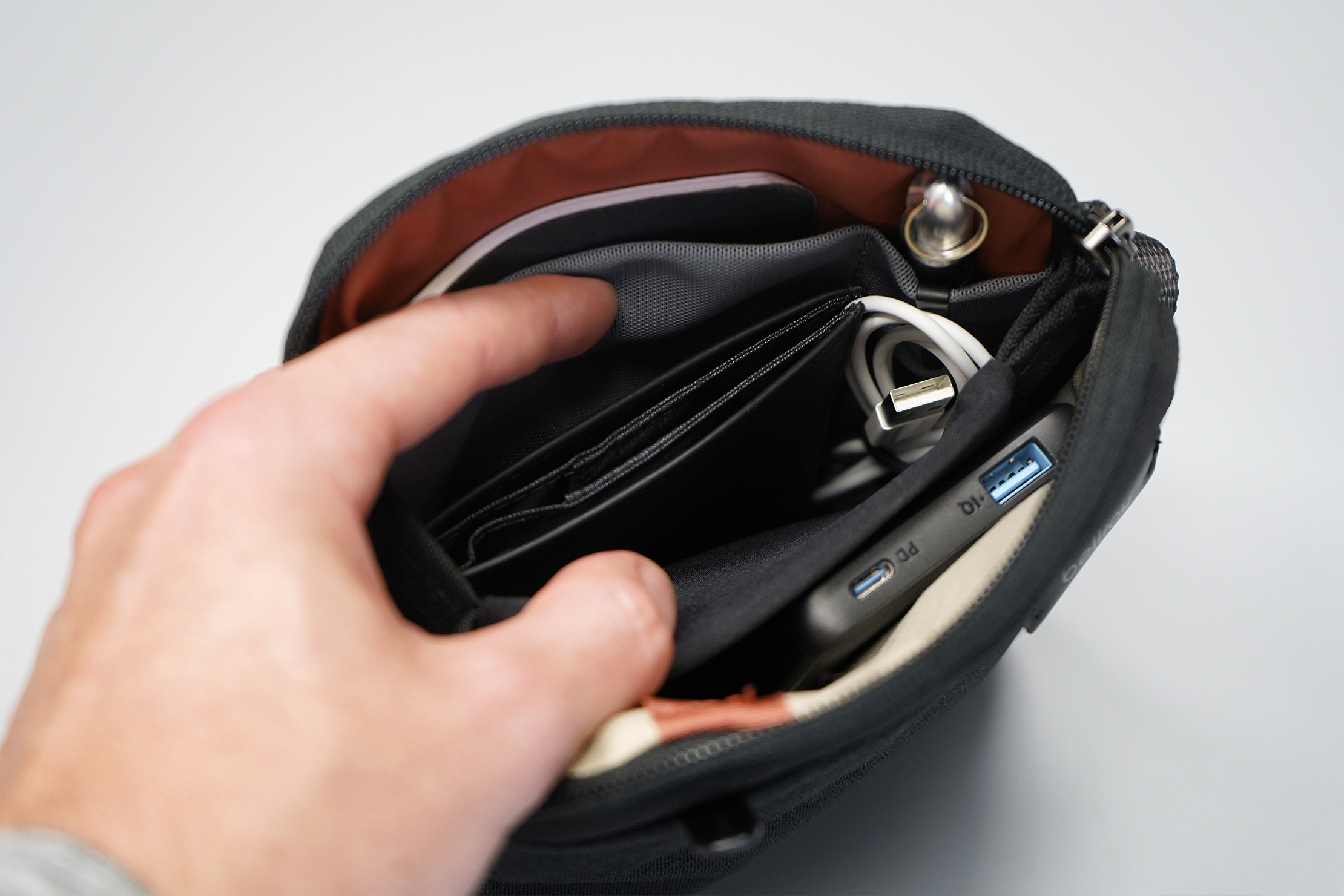 There's a nicely padded panel that separates this pocket from the middle of the sling, which is great if you are keeping your keys on the key clip, as the padding will keep them from poking into the gear you have stashed in the middle compartment. The same goes for any tech you keep inside, whether it be your phone or a small e-reader—the padding adds some protection, and it's appreciated.
Speaking of the middle compartment, we've been tossing the Allett Leather Original Slim Wallet inside for safekeeping, along with a cord to use with our power bank. Of course, you can slip anything you want in here. If you'd rather not let your items free float in this space, you can incorporate some pouches to keep them from getting in mixed in with one another.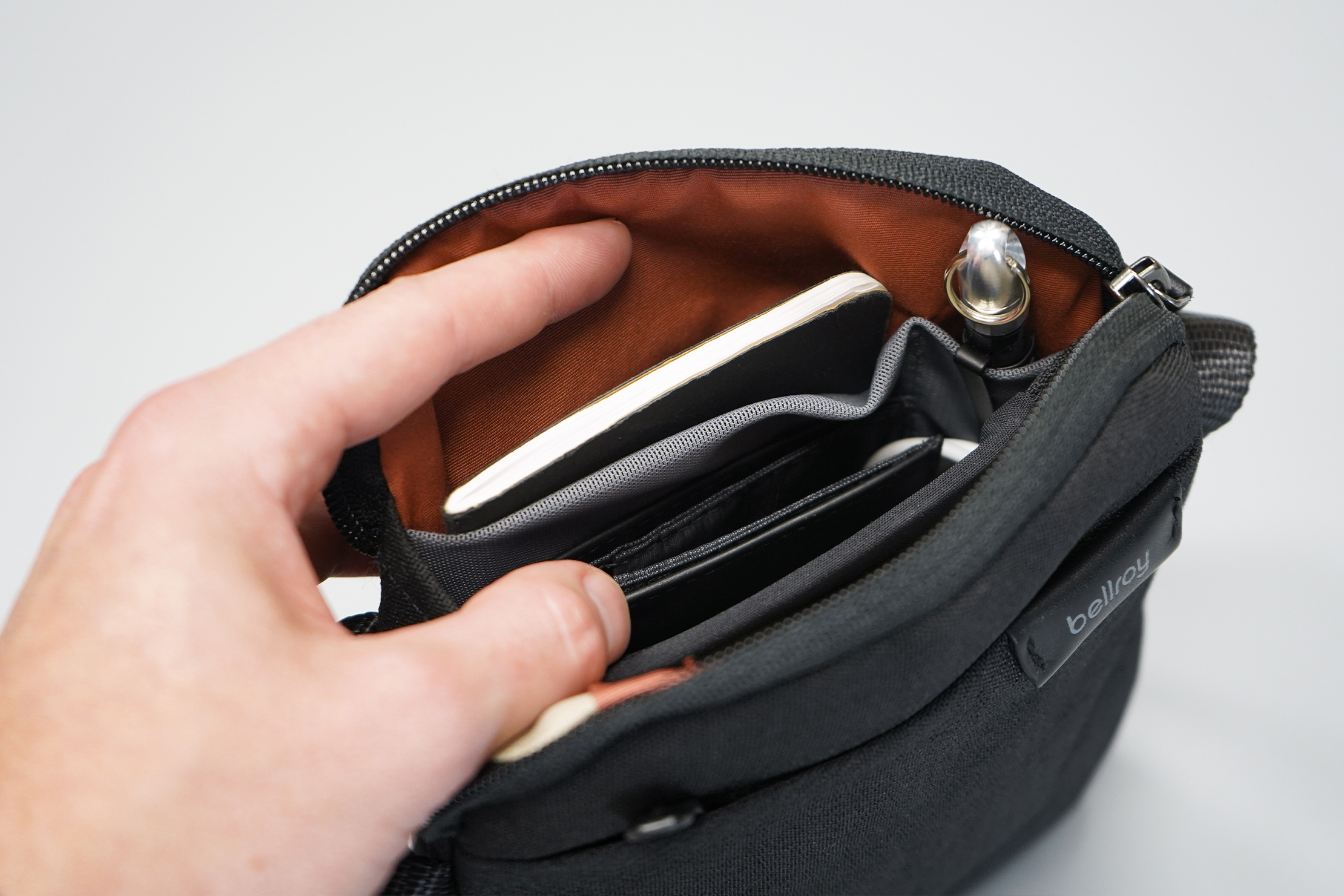 Then you have some mesh-like material toward the back of the pouch that creates a pocket that can hold a small notebook, as well as a pen sleeve. The interior on this side of the pouch is a brighter orange, like the key leash in the front pocket, so it adds some nice visibility when you're looking for your stuff.
Overall, it has been working great for storing our everyday essentials when we're getting around the city—as we said earlier, the materials have held up well so far, so we don't have anything crazy to share.
Usage Timeline
Initial Usage
Condition: Excellent
Slim design stays close to your body
Gusseted side design lets the bag expand as you fill it up
Padded divider in the middle helps protect your phone or small e-reader
2 Weeks of Use
Condition: Excellent
There is a lot of organization to utilize, and the best items to put inside will be flatter and slimmer. For example, we tested with a couple of different Anker battery banks. The PowerCore Slim 10000 was an excellent size for the interior pockets, but the PowerCore II 10000 was a little too thick to fit in comfortably with other items. Slimmer items like a phone, notebook, and e-reader all work well in these pockets. We were able to fit in more items than we initially thought were possible, and there's a ton of organization options.
We're not the biggest fans of the included key clip as it feels kind of cheap, but that's sort of a compliment for the high quality of the rest of the materials used on the City Pouch, which are top-notch.
When it comes to durability, so far, so good. No marks, scratches, or loose threads to speak of.
Access the Pro Community Discussion
Get your questions about the Bellroy City Pouch answered from our team and the Pro Community right here on the page. Plus, join discussions with other members about gear, guides, and more.
Other Bags & Luggage Reviews