Bellroy Sling Review
The Bellroy Sling is a 7-liter sling with a sleek, sophisticated look—but it falls short on practicality and organization.
Our Verdict
Unlock the Pro Summary
Save time. Get access to brief summaries of our reviews so you can browse and make decisions more efficiently.
Pros
Considered look and feel
Excellent soft and adjustable low-profile strap for a sling—one of the best we've seen to date
Inventive self-compression feature creates a nice versatile carrier
Cons
Keyring feels cheap compared to the rest of the sling
The main compartment is clunky to access and it's a bit hard to see inside
Very little internal organization options throughout
Recent Pack Hacker Video
Technical Details
Capacity

7l

Weight (lb)

.77 lb (0.3 kg)

Dimensions

9.05 in x 13.4 in x 3.94 in (23 x 34 x 10 cm)

Notable Materials

Leather, Polyester

Manufacturing Country

India

Warranty Information
Full Review
Is less really more? If you think so, the Bellroy Sling should be on your radar. It's a 7-liter sling with minimal organization, a sleek aesthetic, and some innovative features.
This sling comes from the Australian brand known for slim leather wallets and other stylish, simplified accessories. Given our positive experiences with Bellroy so far, we were excited to see its take on the increasingly-popular sling bag.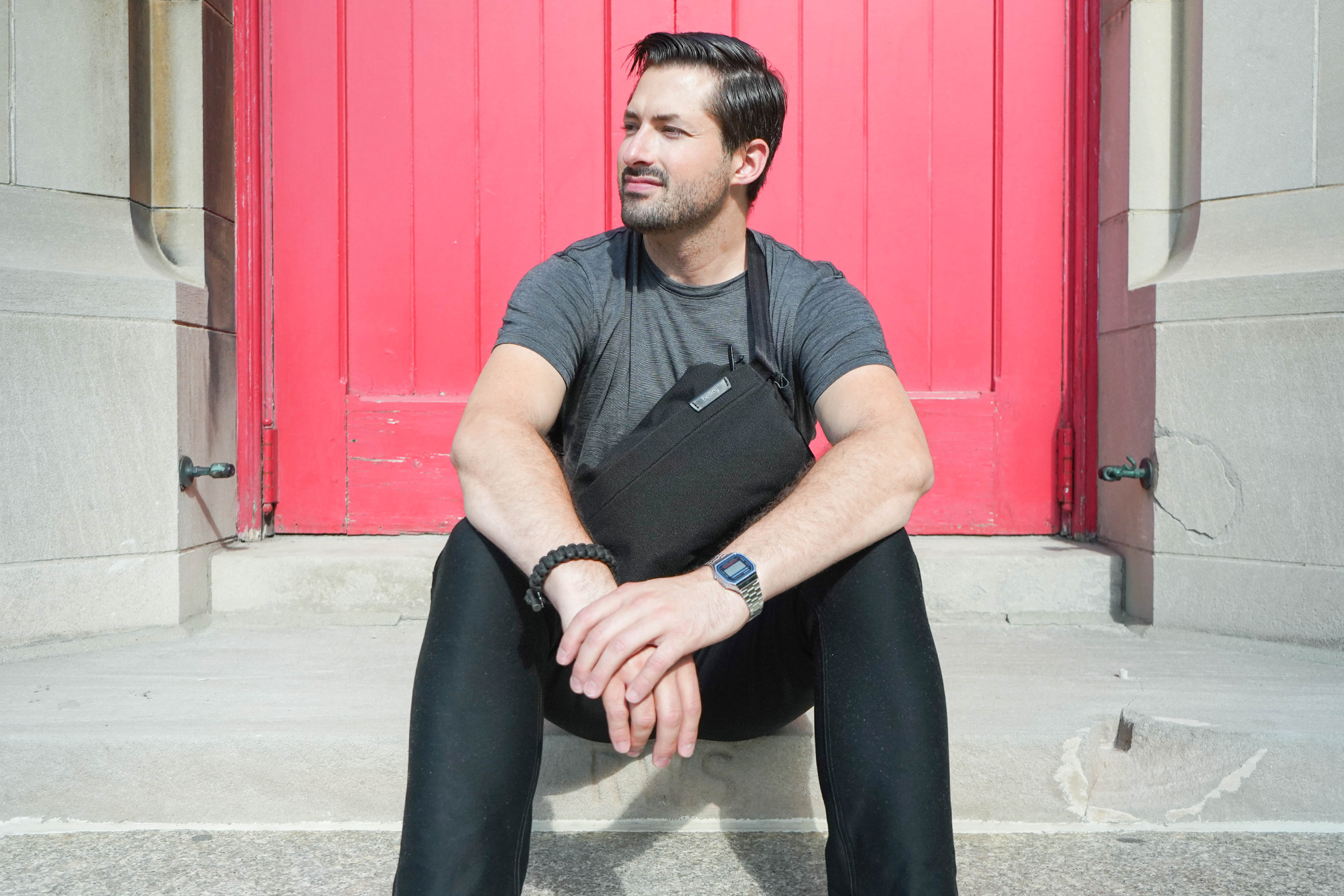 The Bellroy Sling has been our travel companion for three weeks in Detroit, Michigan, and we're here with everything you need to know about it.
So let's get to it.
Materials & Aesthetic
The Bellroy Sling matches the high-quality look and feel that we've come to expect from Bellroy—and we really appreciate this sling's aesthetic. It can be tough to convey a premium look with a sling, but we think Bellroy has done a great job achieving just that.
Of course, just because we're digging the look here at Pack Hacker HQ, doesn't mean you will. So, we took to Instagram to see what the people think—and you gave it a pretty decent nod of approval with 65% thumbs up.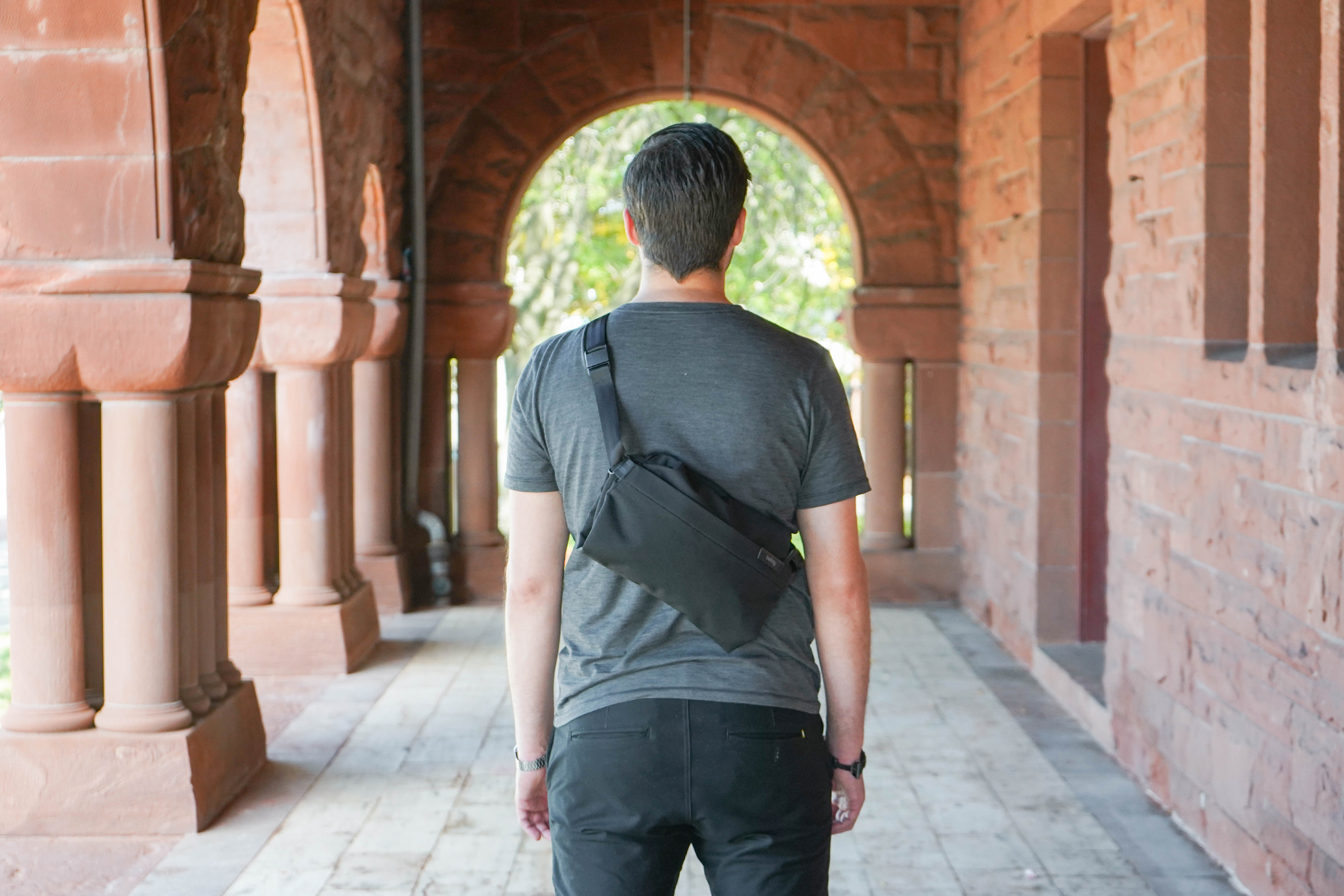 At the time of this review, the Bellroy Sling comes in four colorways: Black (the color we've been testing), Ink Blue (we have that too), Neon Cabernet (dope name, you've gotta admit), and Mid Gray (looks just like it sounds).
The main fabric on the Bellroy Sling is a Venture Weave polyester, which feels a bit rough to the touch and has lots of texture—but in a good way.
Bellroy also offers a "Premium Edition" of this sling that is made with environmentally-certified leather and sustainably-sourced fabrics. We're going to be focusing this review on the standard version since that's what we've been testing.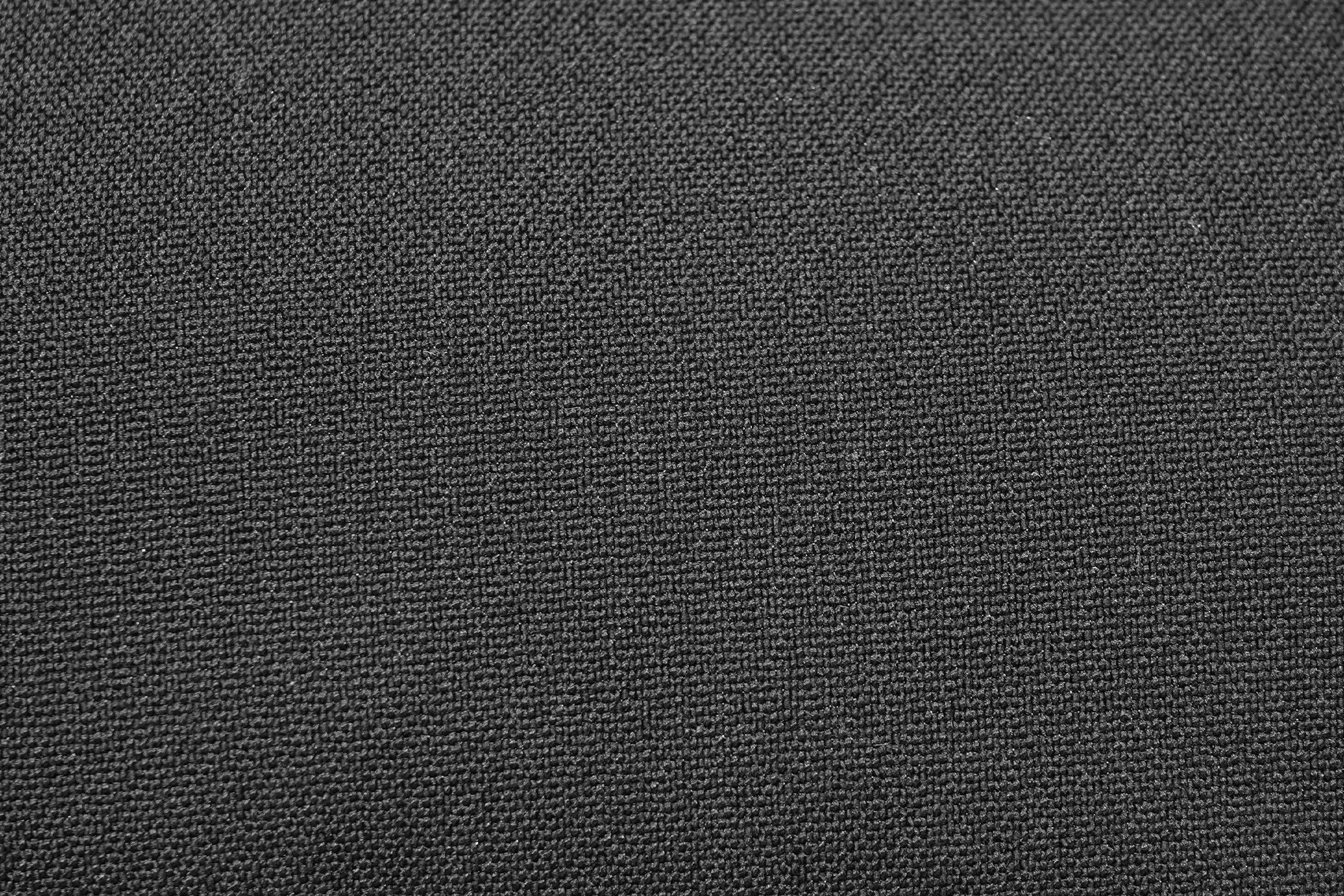 When it comes to branding, you'll notice a very simple Bellroy logo near the top on a small leather tab. The Black colorway has a black-on-black logo tag, while one on the Ink Blue version is tan.
Side note: We also noticed that the logo tag is slightly larger on the blue version than the black.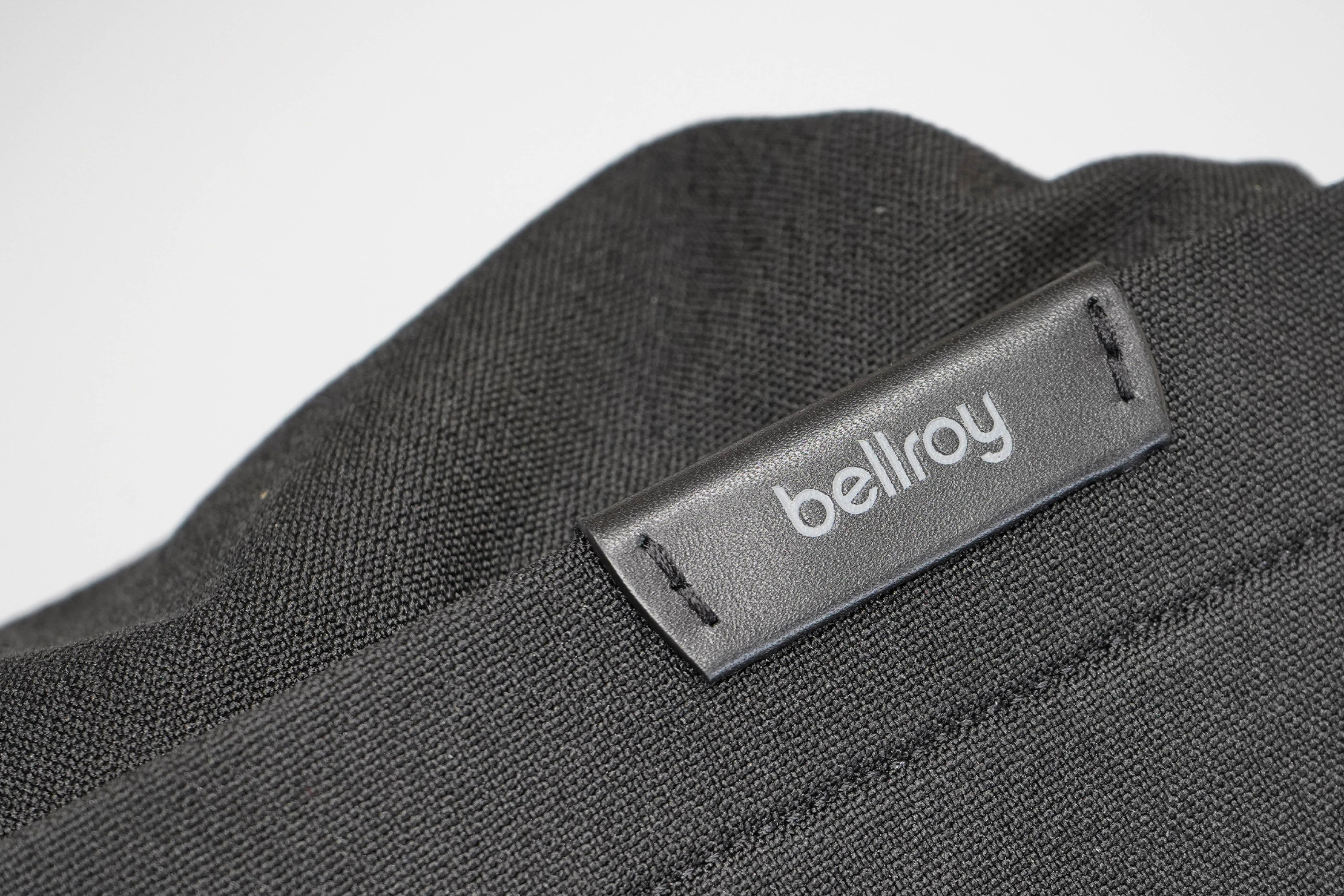 As for other materials, there's leather pulls on the durable YKK zippers, a magnetic main clasp (more on that in a minute), and a soft nylon strap. There are also some aluminum strap adjusters and an ITW plastic keyring.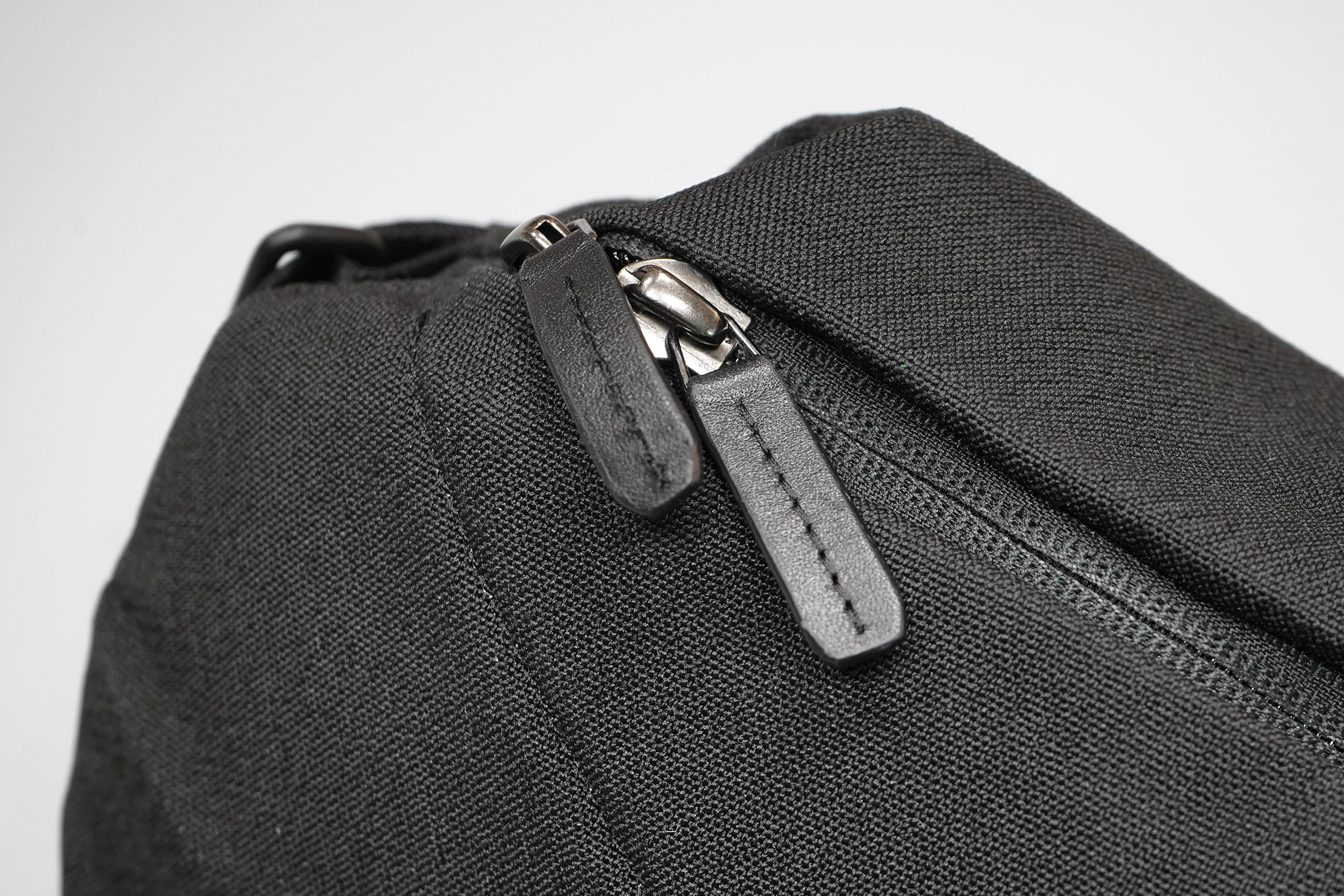 External Components
The exterior of the Bellroy Sling keeps is pretty minimal, which we love.
The back of the sling features a bit of padded paneling for added comfort. If you have something bulkier in the main compartment, that padding will act as a buffer to keep it from sticking into your back.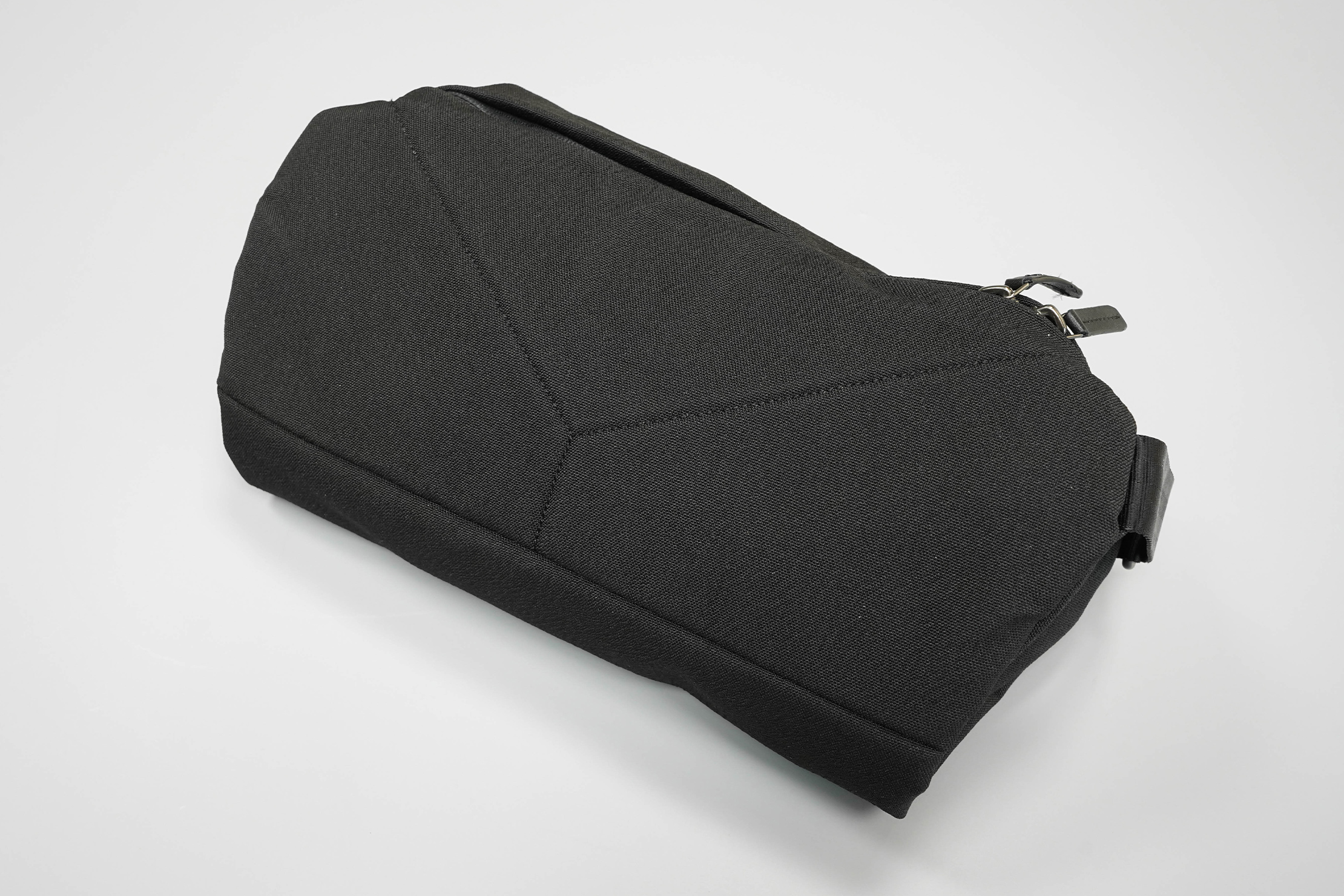 Now, on to the strap. You can tell some thought was put into this strap's design. We know what you're thinking—how innovative can a sling strap be?
Well, for starters, the strap is soft and thin which makes it comfortable to wear across your chest or back, even when rocking it with a larger travel backpack. It's also a completely dangle-free experience. The strap loops on itself so there's no loose ends or need for elastic keepers. Plus, the metal buckle glides smoothly when you want to adjust it.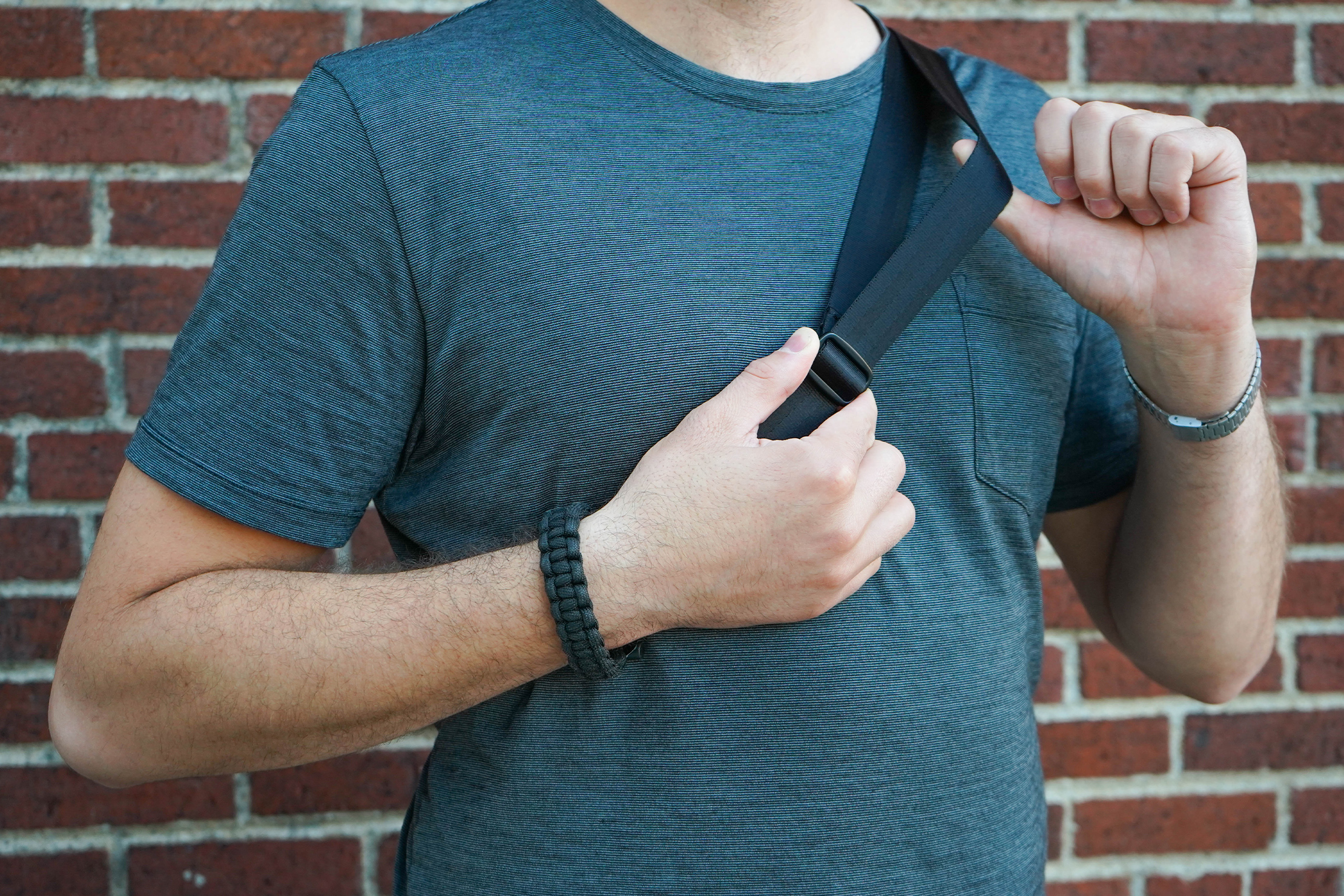 Remember that magnetic clasp we mentioned earlier? It's super easy to buckle and unbuckle quickly, even if you're not looking at it. Just get the magnet close and let it do its thing. We're big fans of how brands seem to be using more magnets to add streamlined versatility to the way their products function, so this is a nice plus.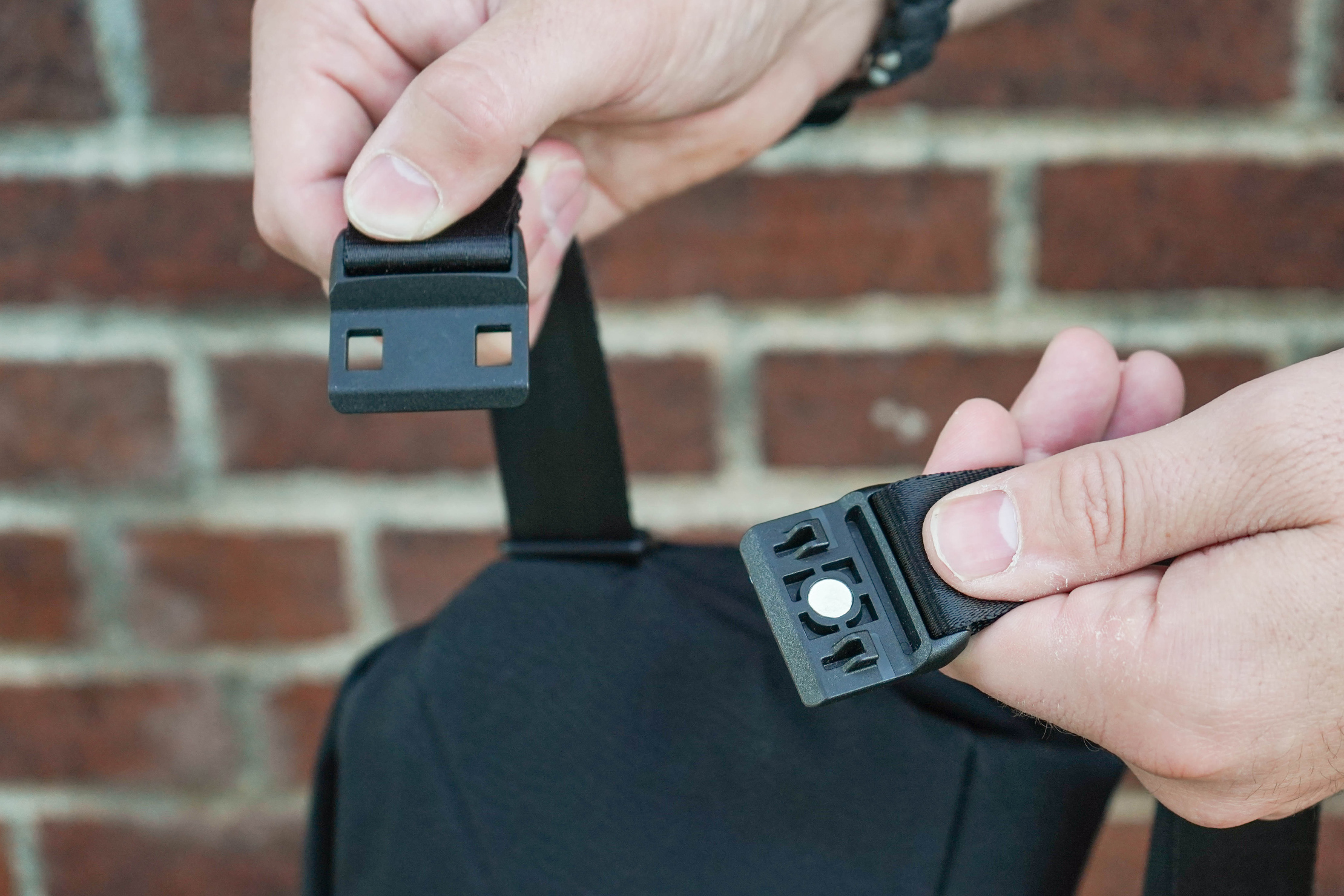 The last (and probably our favorite) feature the Bellroy Sling's exterior is its self-compressing method that's integrated with the strap. The front of the sling has aluminum anchor points at the sides that'll automatically pull against the sling as the strap tightens. This means the bag compresses naturally as you use it without the need for stand-alone compression straps.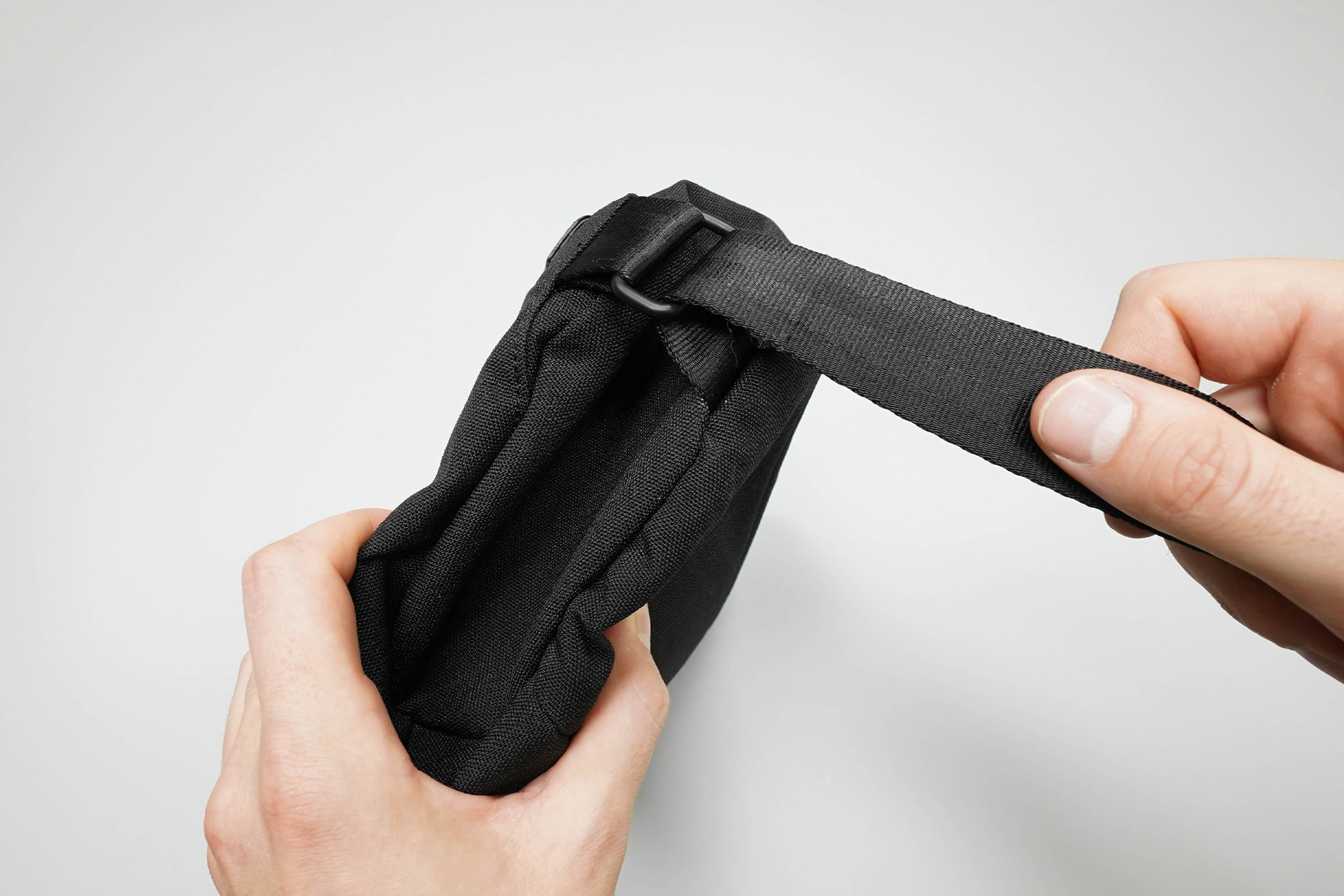 Fully expanded, the Bellroy Sling will hold quite a bit (it basically turns into a chunky rectangle). But, with the auto-compression feature, you can keep a low profile if you're wearing the sling with fewer items inside.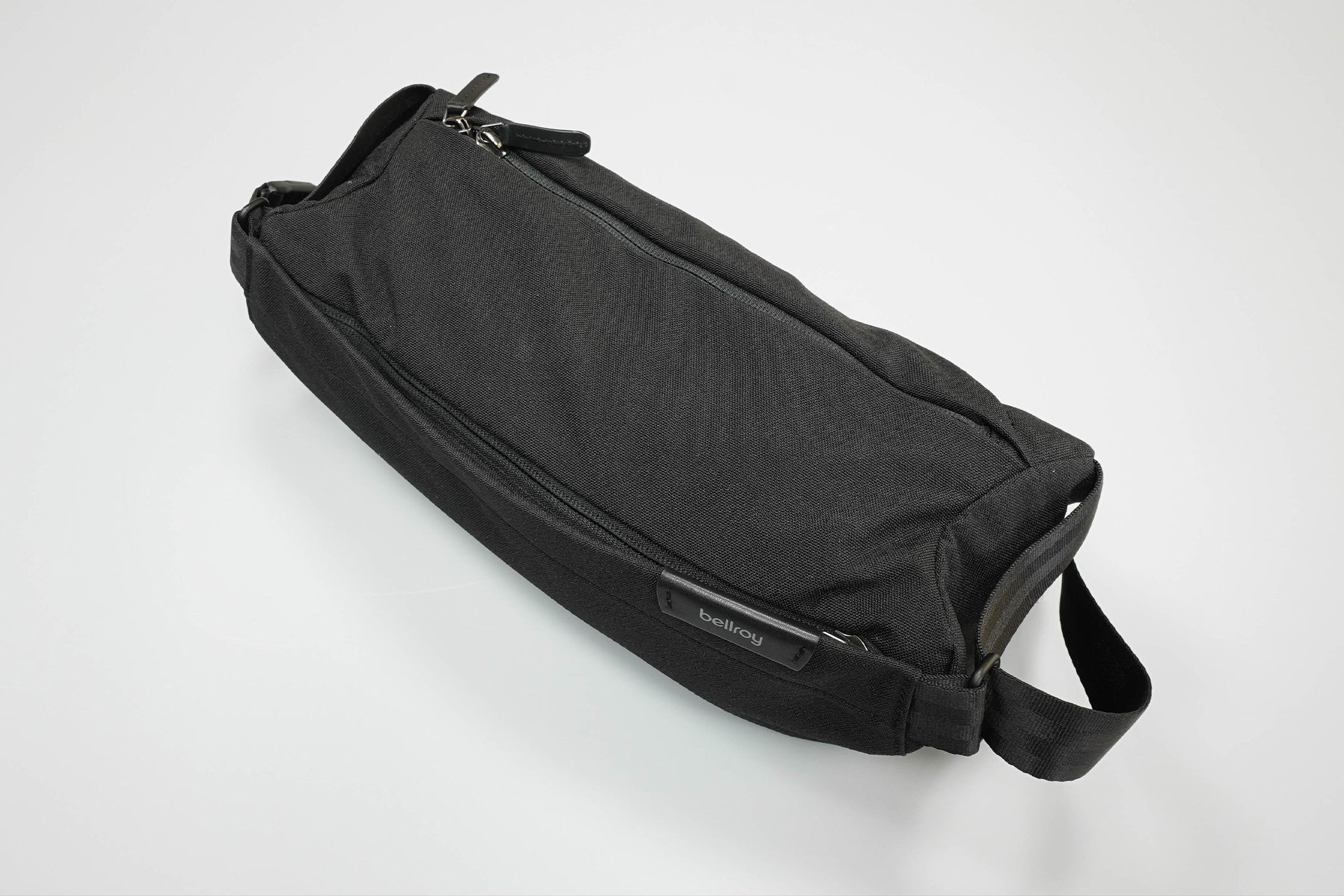 Inside the Sling Bag
Everything we've covered so far has been pretty positive. Unfortunately, inside the Bellroy Sling is where things start to go downhill.
When you're wearing the sling, the main compartment is closest to your body—which means you can get some T-Rex arms going on while trying to unzip and access the main pocket. This proved to be annoying throughout our testing. Plus, when the sling is less full and tight to your body, it can start to curve around you a bit—making it even harder to access the zippers.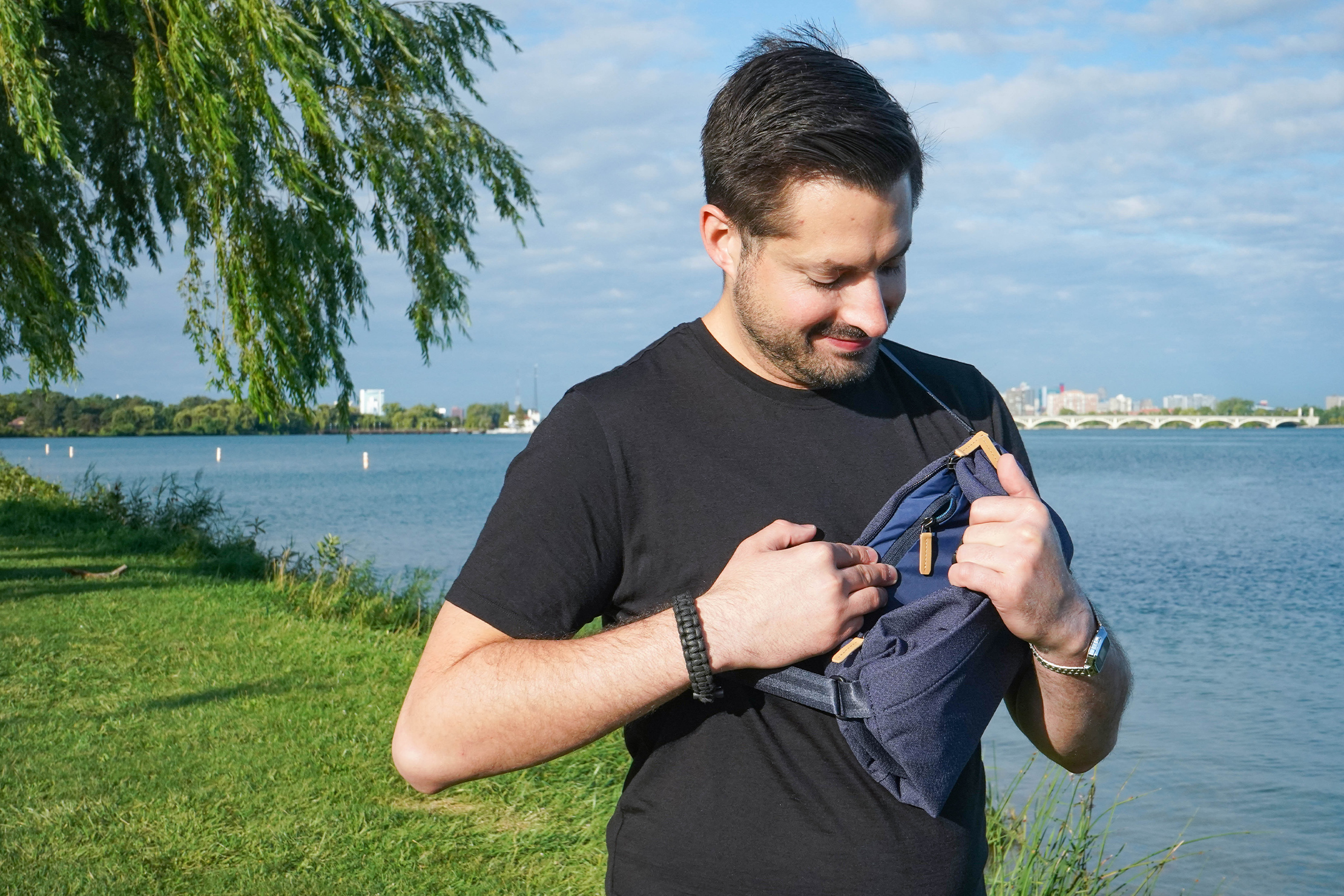 Once you get the sling open, you'll find a pretty large main compartment with very little organization. Along the back panel, there's a zippered pocket with soft lining inside, then a keyring opposite that. And that's it.
This lack of organization is not ideal if you're carrying smaller items, but it does work well if you need a sling to haul bigger things—like a water bottle and a camera.

The zippered pocket is a nice size for a smartphone and the lining means it shouldn't get scratched. We wouldn't recommend storing glasses here since it feels like they'll get smushed between the rest of the sling and your back.
A keyring is convenient. This positioning is not. If you have bulkier items inside this main compartment, they'll most likely block fast access to your keys. Generally, brands opt to put the keyring in a front or quick-grab pocket for easy access and we're not sure why the folks at Bellroy didn't go that route instead.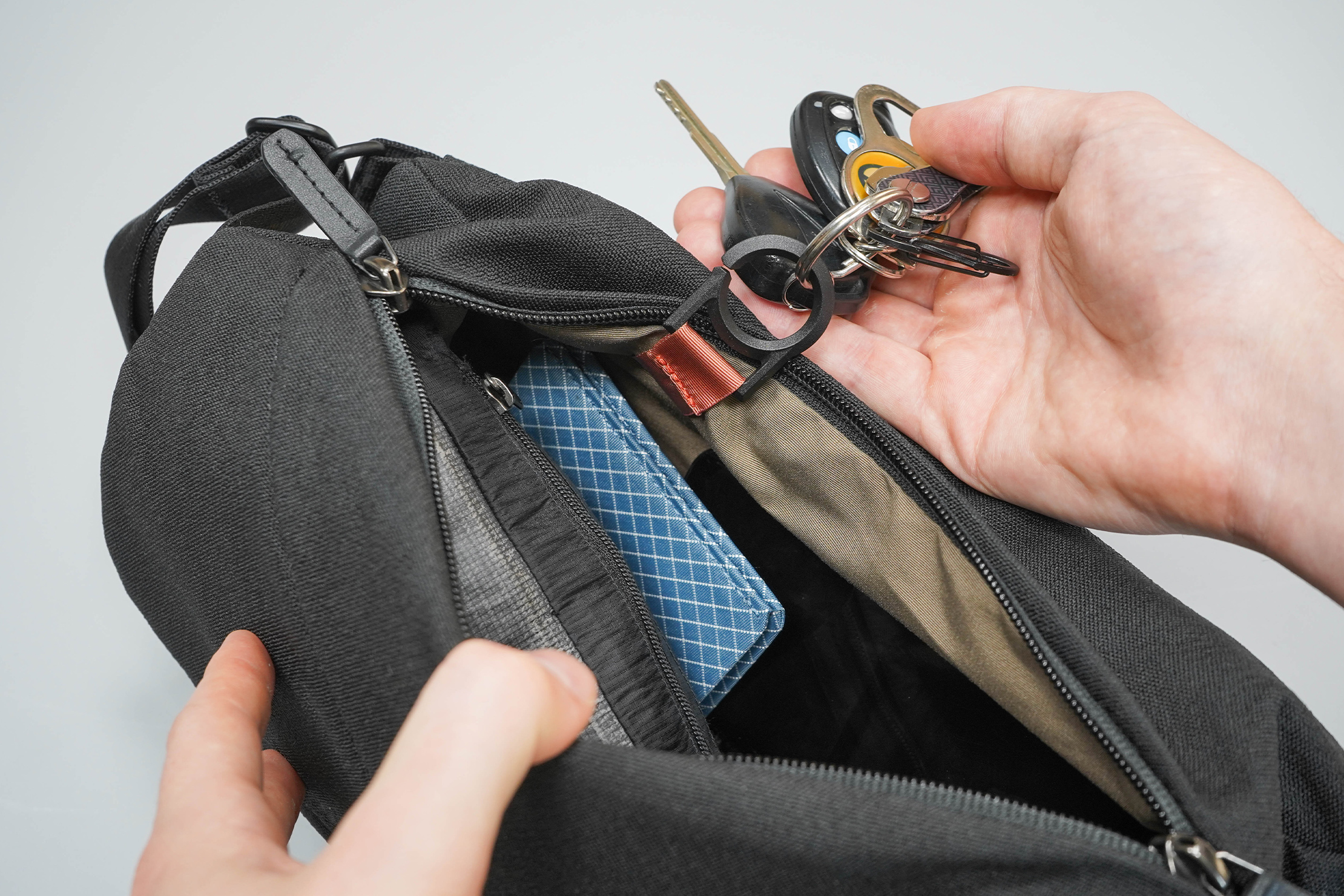 And, although we like the durable ITW hardware, the look and feel of the keyring—paired with the nylon that attaches it—just doesn't seem to match the premium feel throughout the rest of the sling.
Overall, the main compartment of the Bellroy Sling left us a little disappointed. We wish there was more standalone organization on the inside. Plus, it's hard to access the main pocket while you're wearing it—especially if you want to quickly unzip it and grab something—which sort of defeats the purpose.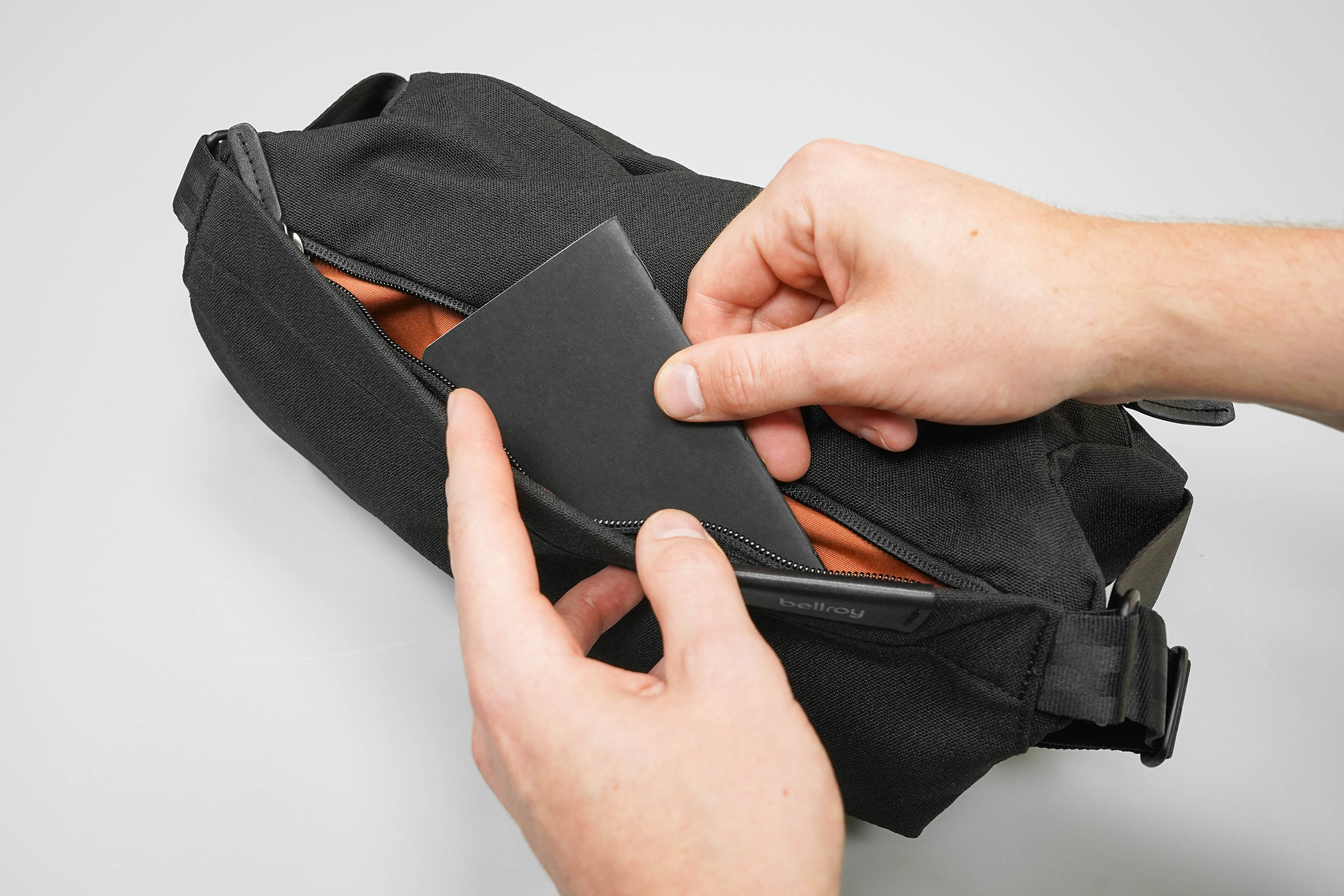 On the bright side, the small front pocket of the sling is much easier to access. We also really like the welting on the fabric used here, which somewhat hides the zipper and adds to this thing's streamlined aesthetic.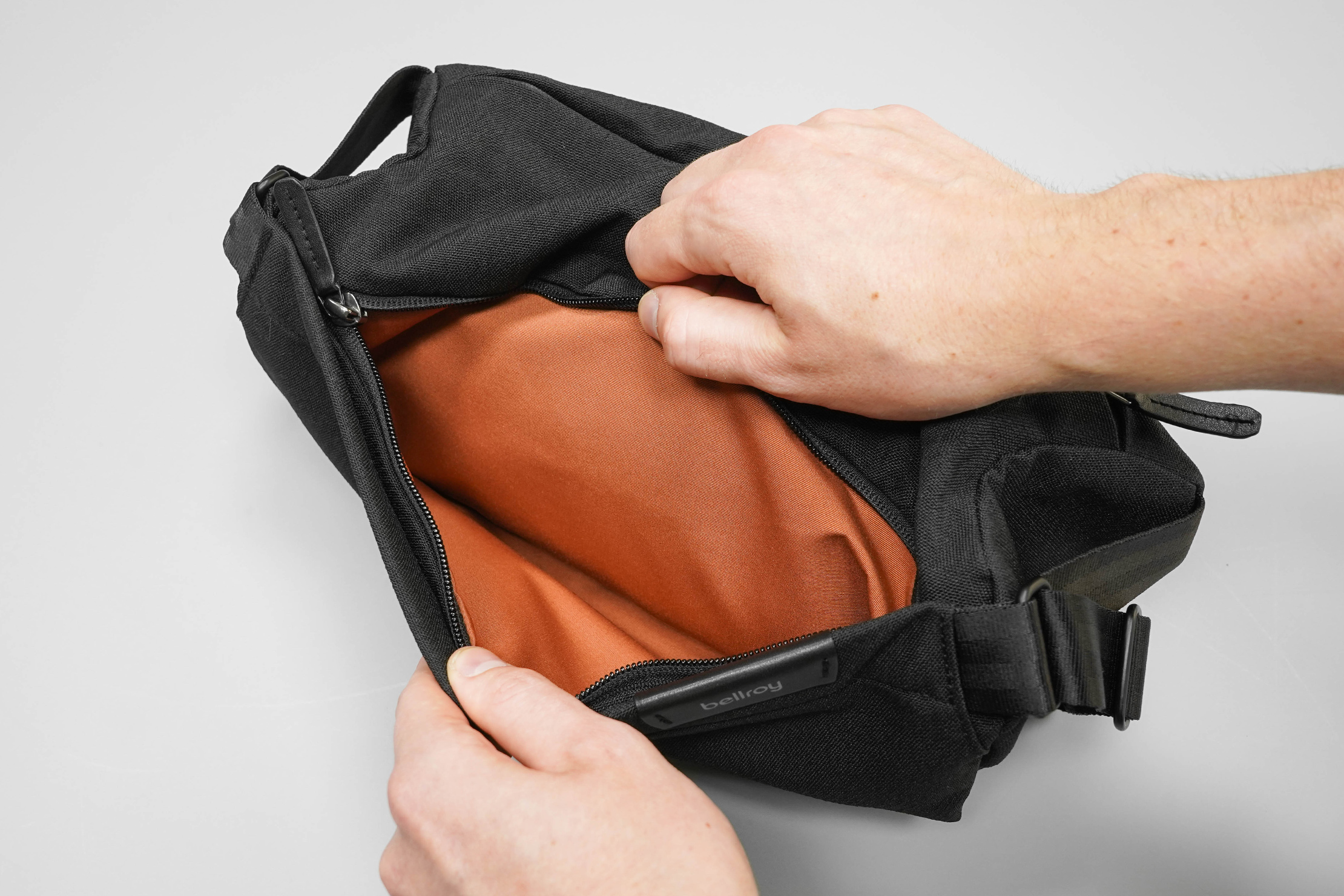 The high-visibility liner on the inside of this pocket is a great touch. Orange is used on the inside of the Black version, and a light blue is found inside the Ink Blue version. This liner really turns on the lights and allows you to see everything going on inside this pocket. We have to wonder, though, why that same high-visibility liner wasn't used in the main compartment.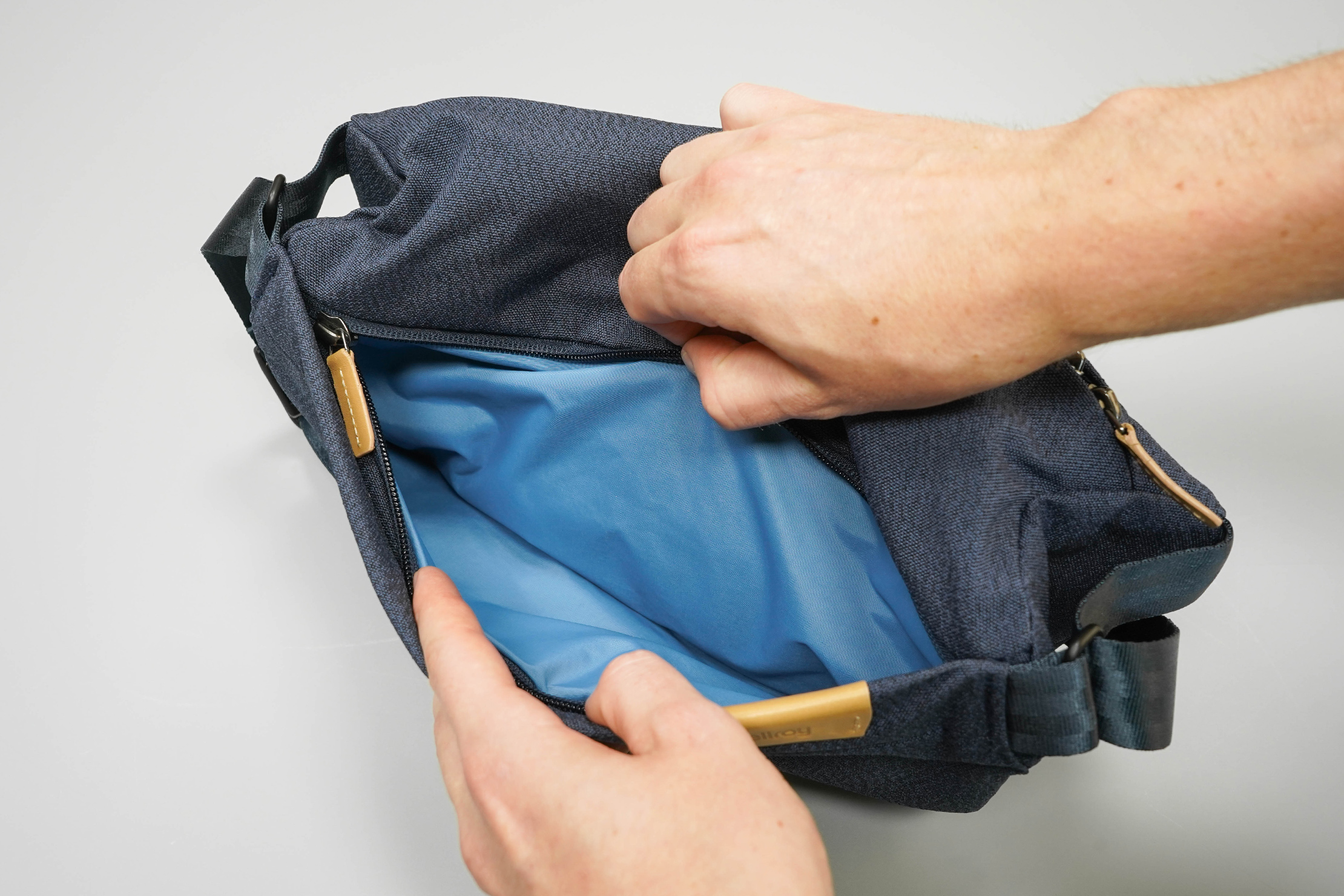 Like we mentioned not-so-long-ago, this front pocket seems like a better place for the keyring. And, again, we wish there was just a little more organization in this bag—even two liner divider pockets, for example, would have been nice options to have.
Durability & Testing
At the time of this review, we've been testing the Bellroy Sling for three weeks in Detroit, Michigan.
Generally speaking, we like the overall look and feel of this sling—and it's been comfortable to wear every day. Access, on the other hand, is a bit of a pain. It's difficult to get inside of the main compartment, and once you do, it's hard to sift through all of your items without any organization on the interior.
If you're carrying keys, your phone, a wallet, gum, and some lip balm, even that limited number of items can start to feel cluttered in either of the two pockets. But if you're carrying larger items, like a water bottle and a camera, and keeping those smaller items in your pockets, it does feel a little better to use.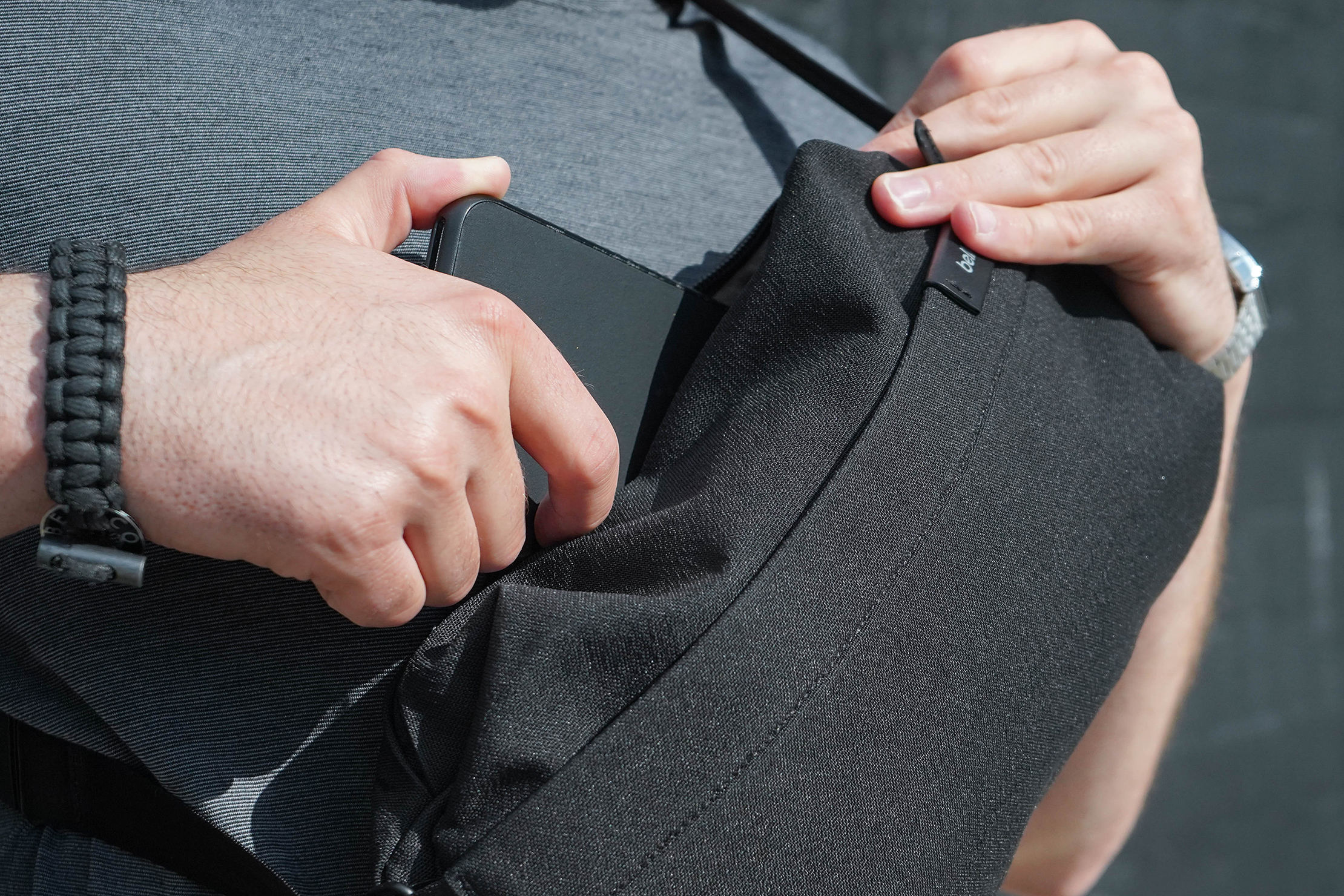 As far as durability goes, we have no issues to report so far. With a company that makes high-quality products like Bellroy, we don't expect any problems, but we'll make sure to update the Usage Timeline below.
Usage Timeline
Initial Usage
Condition: Excellent
Soft padded pocket for delicate items
Unique strap design allows this sling to self-compress while you wear it
Comfortable padded back panel
2 Weeks of Use
Condition: Excellent
Comfortable to wear thanks to the padded back panel, and we like the soft padded pocket for delicate items (probably not good for glasses though)
Digging the unique strap design that allows this sling to self-compress while you wear it, but having some accessibility issues overall
Could definitely use more interior organization
Access the Pro Community Discussion
Get your questions about the Bellroy Sling answered from our team and the Pro Community right here on the page. Plus, join discussions with other members about gear, guides, and more.
Other Bags & Luggage Reviews