KAVU Rope Sling Review
The KAVU Rope Sling has a fun vibe that feels at home on all your outdoor adventures. Just make sure you're strategic with how you pack.
Our Verdict
Unlock the Pro Summary
Save time. Get access to brief summaries of our reviews so you can browse and make decisions more efficiently.
Pros
Rope shoulder strap is more comfortable than it looks
Exterior zippered pocket holds a surprising amount of gear
Works well for bulkier items
Cons
Can only be worn on one shoulder—gets uncomfortable after a while
Have to be strategic with packing larger compartments
Zippers do not feel very durable
Recent Pack Hacker Video
Technical Details
Capacity

10l

Weight (lb)

.75 lb (0.3 kg)

Denier

600D

Dimensions

20 in x 11 in x 5 in (50.8 x 27.9 x 12.7 cm)

Notable Materials

Polyester, Woojin Hardware

Manufacturing Country

Vietnam

Warranty Information
Full Review
Get up to 50% off KAVU • Join Pack Hacker Pro
Finding the right sling bag for you and your needs can be daunting—but if you're looking for one that's got enough room for the essentials and fits right in with the outdoors, the KAVU Rope Sling is a solid contender.

This sling is part of the greater KAVU Rope Bag Collection which features seven bags, each made with a different type of fabric. Though we'll be focusing on the Rope Sling in this review, apart from the main fabric, the design on each of these bags is the same.
After two weeks of testing, we're ready to dive into the review. So let's go!
Fit Notes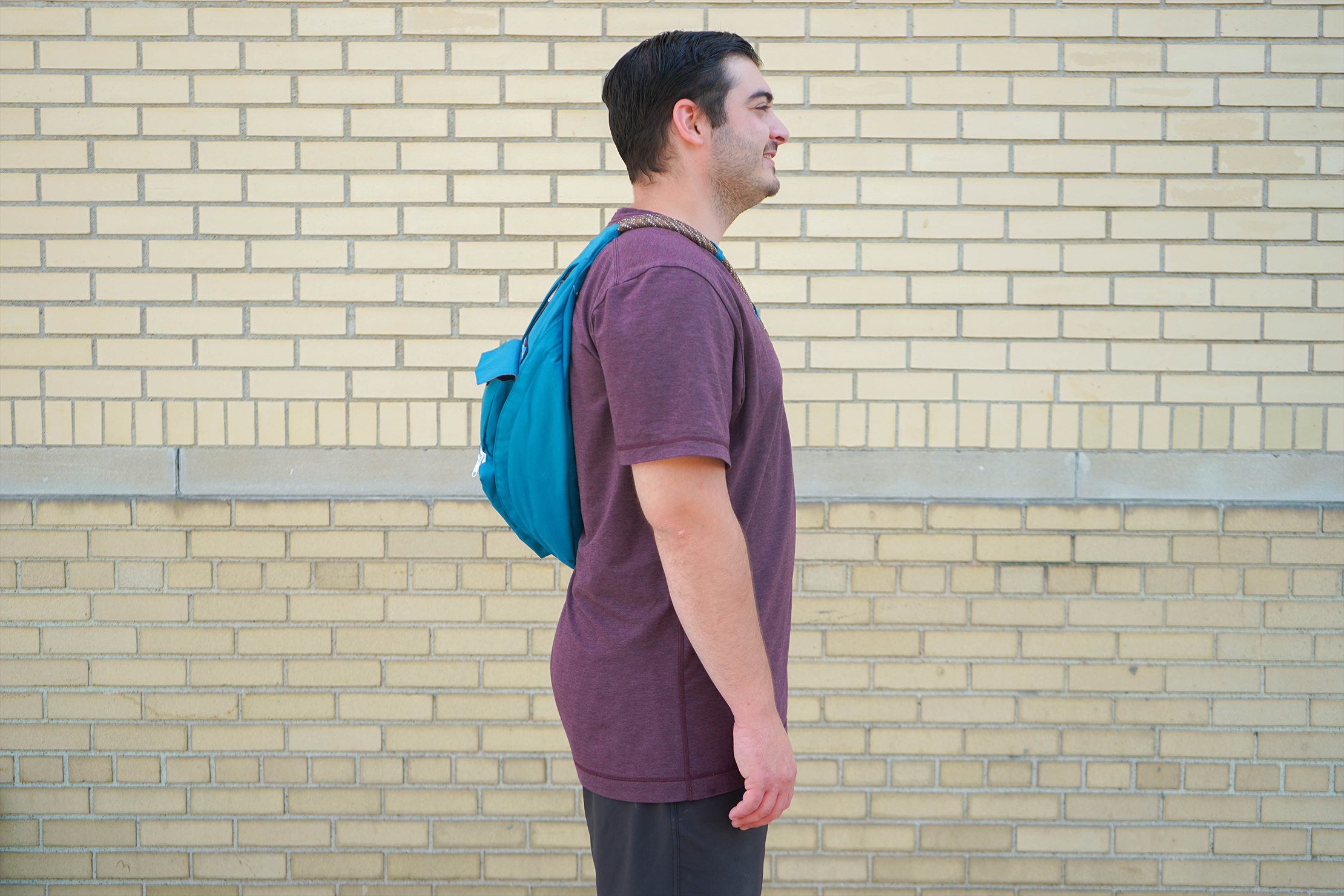 AJ—Height: 5 ft 8 in, Torso: 17 in
Comfortable overall
Easy to sling forward
Covers the majority of the back (feels kind of large but not too big)
Due to where it hits the body, the buckle and excess strap can get in the way of arm movement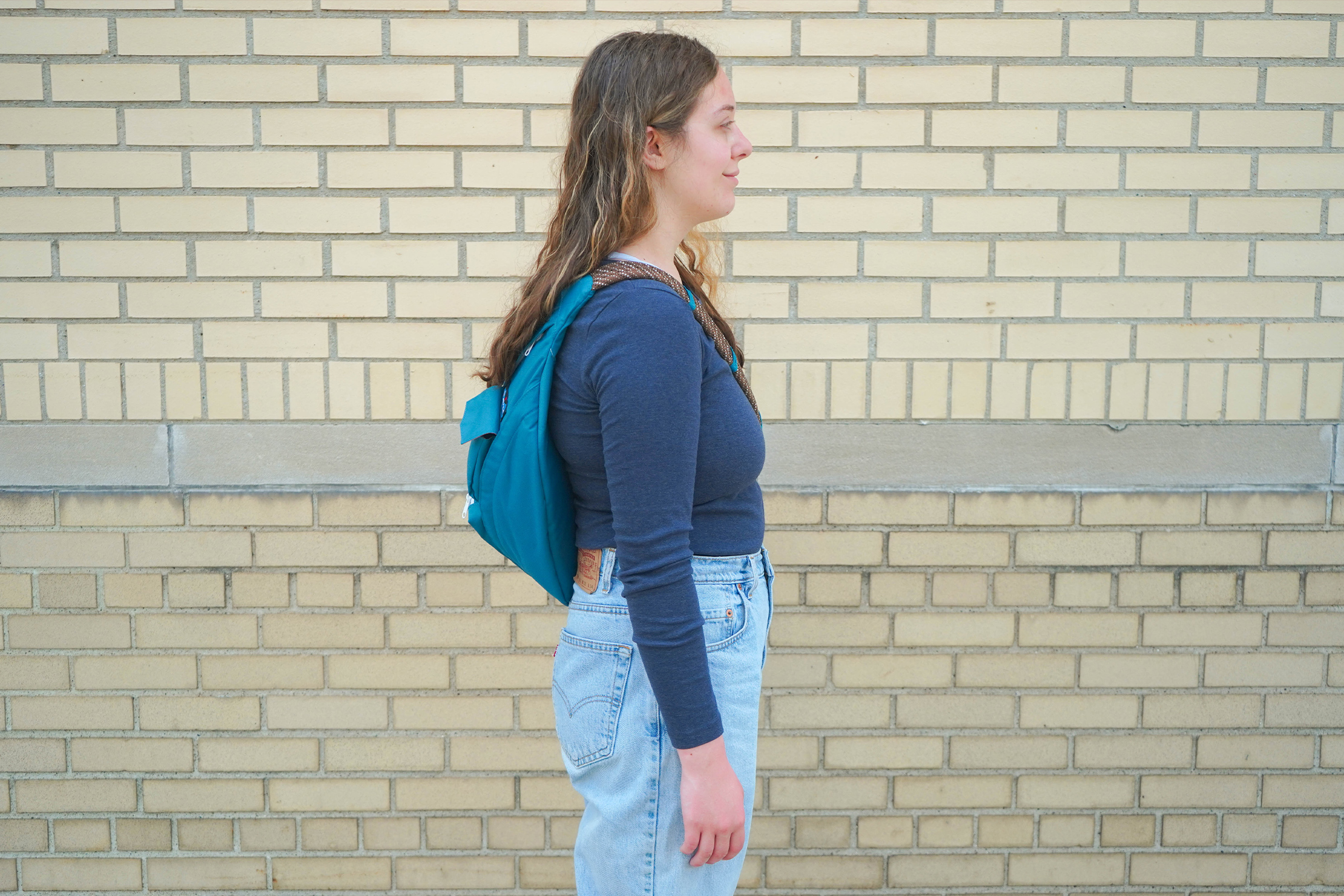 Riley—Height: 5 ft 4 in, Torso: 16.5 in
Have to cinch it down pretty far to fit comfortably, which makes for a lot of excess strap
Doesn't fit super close to the body—there's a gap between the bag and the back on either side
Needs readjusting more often
Materials & Aesthetic
We're digging the branding on this sling—there's exterior stitching on the backside in white thread that's pretty subtle (especially since it can't be seen when you're wearing the bag, as it sits against your back). But it is noticeable when you set the bag down, and it works as a nice, modern accent. There's also the KAVU logo on the front of the sling that displays a mountain range at sunset—which helps give this sling quite the outdoorsy aesthetic.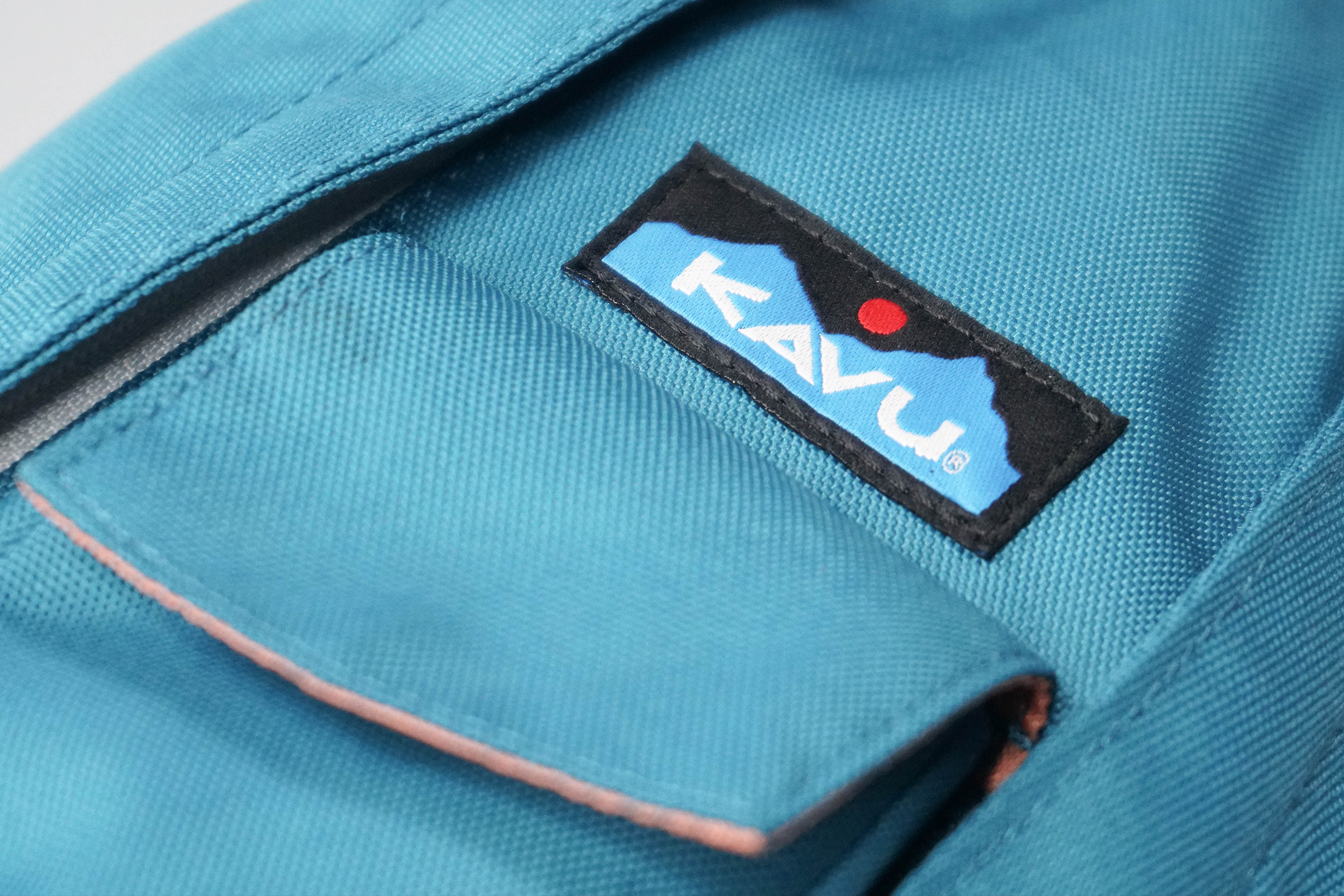 We've been using the Tranquil colorway during our testing, but at the time of this review, the KAVU Rope Sling is available in a ton of different colors and patterns—so you should be able to find something that speaks to you.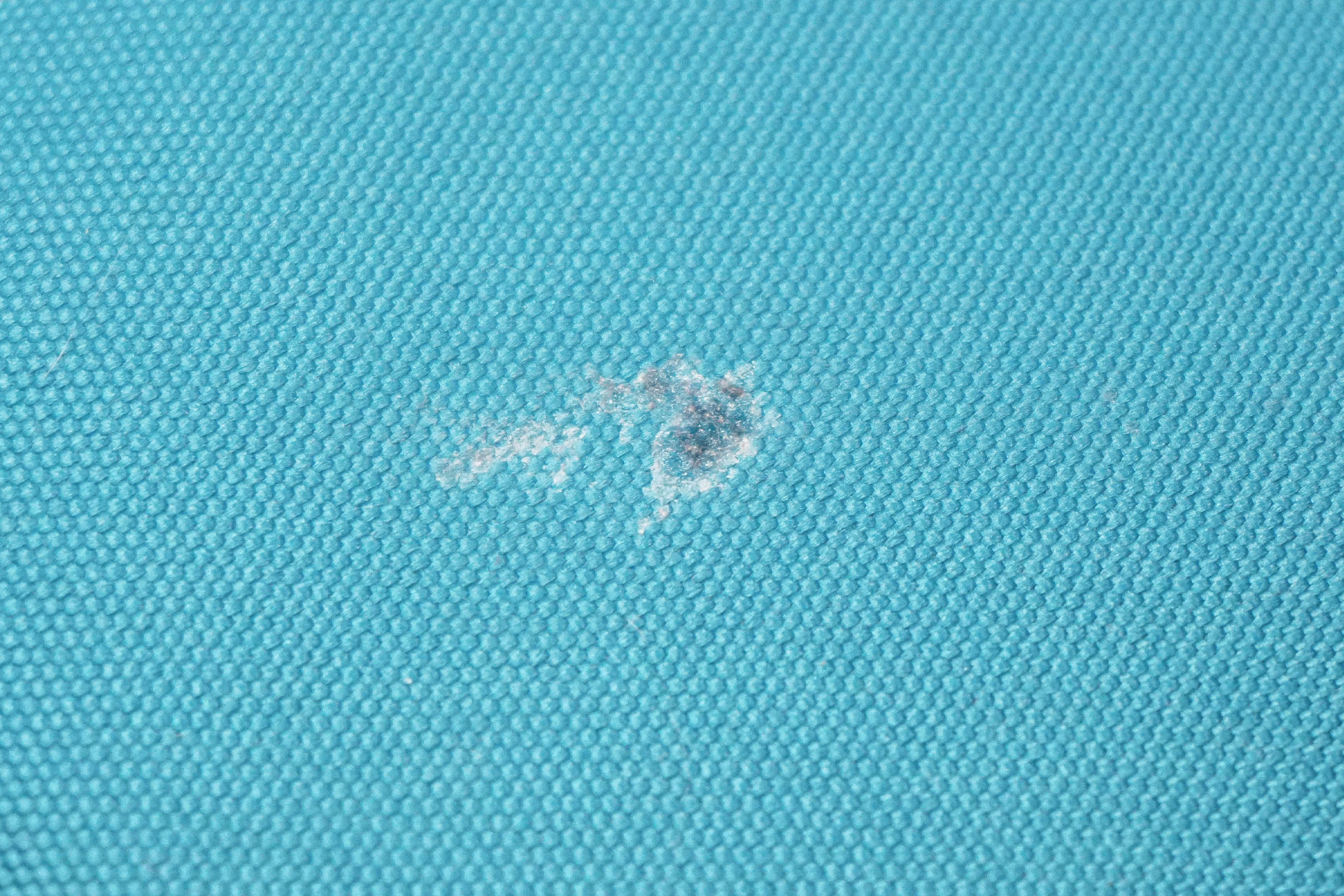 Looking at materials, this sling is made of 600D polyester that has held up well in our testing—that said, we have gotten some dirt and tree sap on here from walks through the Northern Michigan woods. If you run into a similar situation, KAVU recommends spot-cleaning with cold water (and you can also check out our gear cleaning blog for more information on how to keep your gear looking fresh).
The shoulder strap is where the KAVU Rope Sling gets its name—it's made with a thick rope that looks like climbing rope and, even without padding, we've found to be surprisingly comfortable. It's an interesting choice that we don't see often on bags (unless they're from KAVU, that is). This strap also adds to the bag's overall outdoorsy vibe—it's as if we feel the sudden urge to climb a mountain or hit the trail when we slip this thing on. (We'll talk more about this strap in the next section of this review).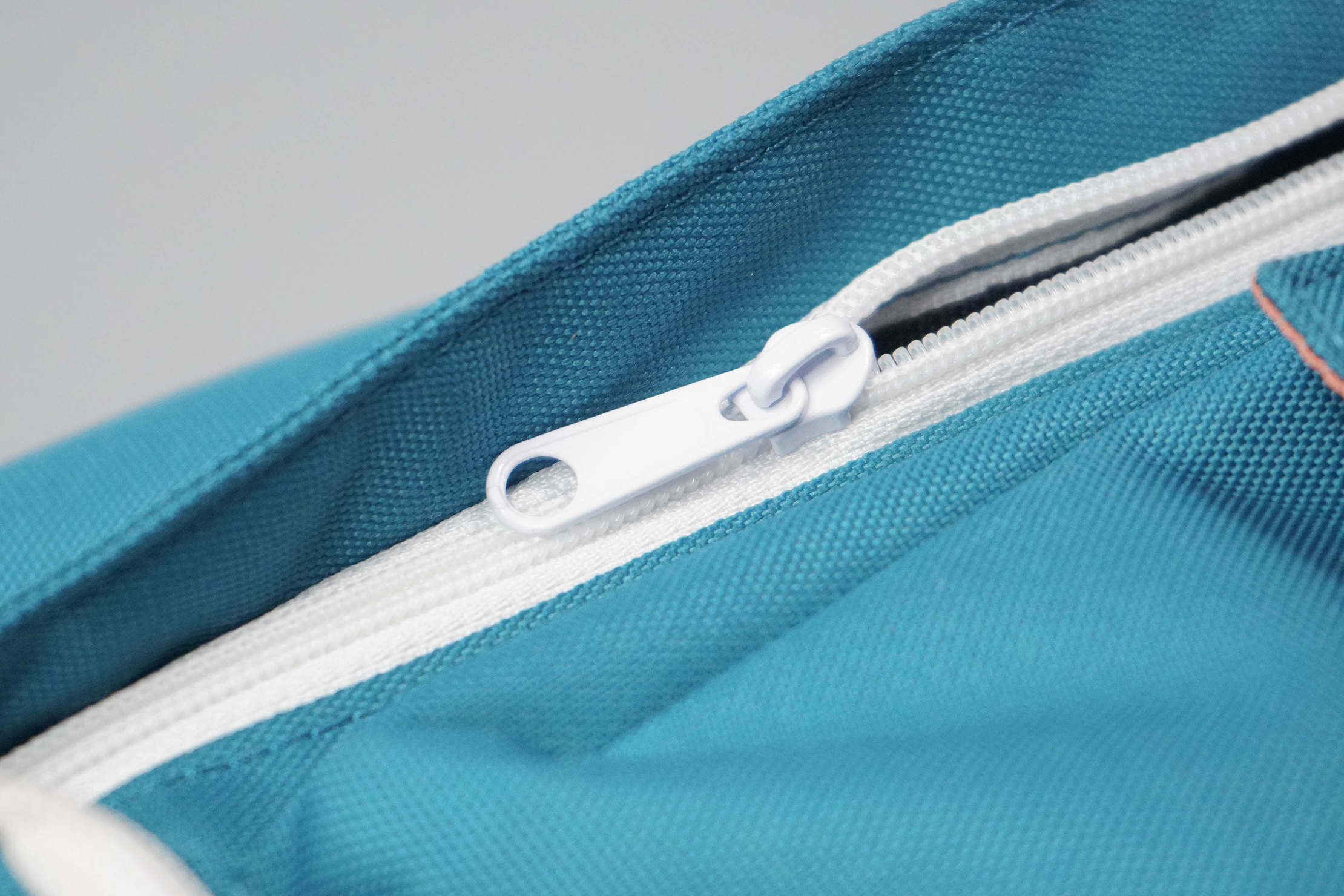 The generic metal zippers on here are pretty flimsy—they don't feel sturdy when we're using them, which raises some concern about their durability. We haven't had any issues with them breaking or sticking so far during testing, but it's something to note.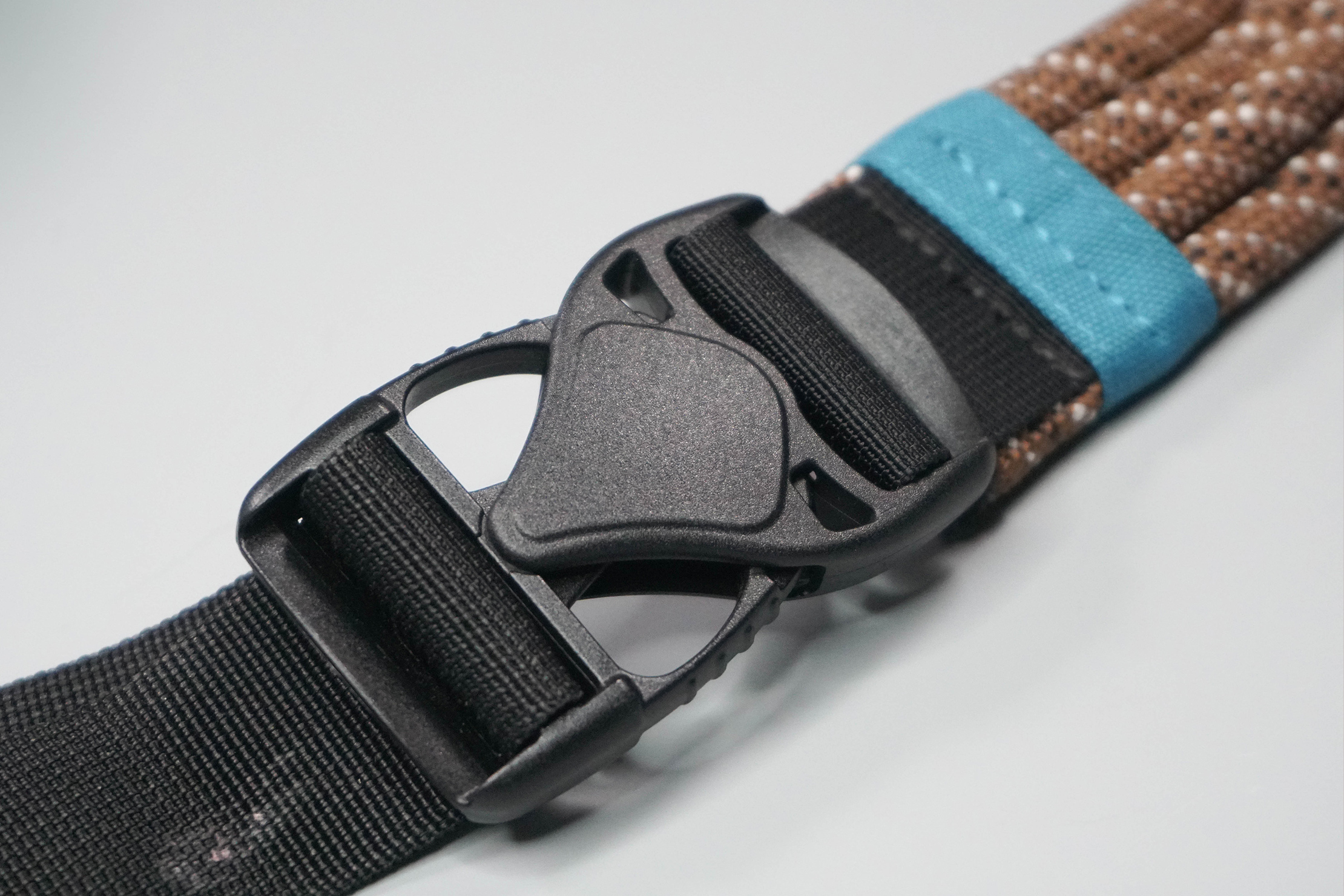 You'll also find a large, V-shaped Woojin buckle on here that can be used for taking the sling on and off. You can still opt to slip in and out of the sling if you'd prefer, but this buckle makes removing the bag quicker and easier when needed. It's been working smoothly in our testing so far, so no complaints there.
External Components
There isn't too much going on with the outside of this sling, which we like. But we do want to touch on a couple of things—starting with that shoulder strap we mentioned earlier.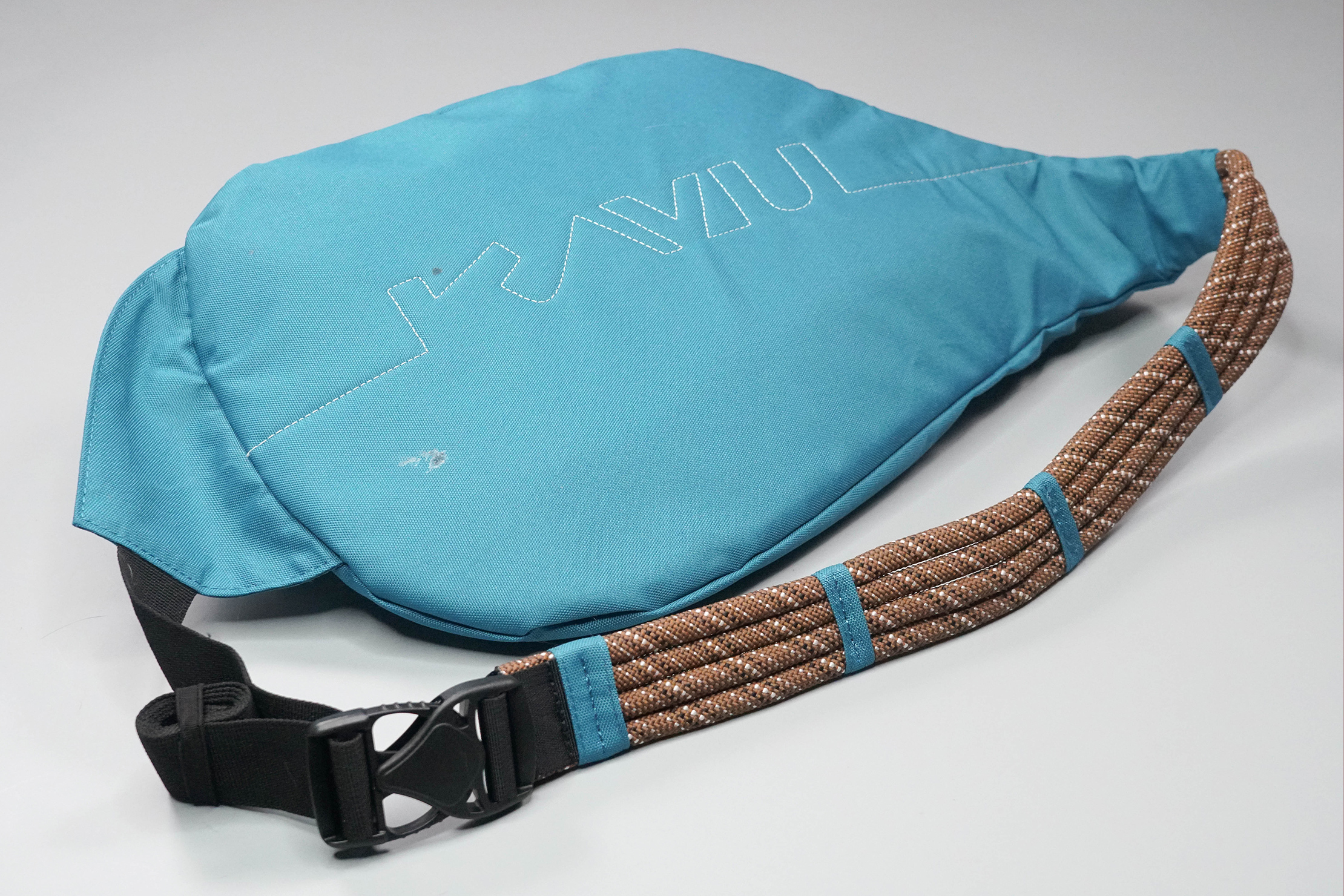 Now, while we've found the rope shoulder strap to be pretty comfortable, because of the way the strap is anchored you don't have the option of switching up your carry like you do with some other sling bags. You can only wear it on one shoulder, which gets uncomfortable after a while. This is an issue with other slings that have the strap attached in a similar way—like the Patagonia Atom Sling and Osprey Daylite Sling—and while it's not a deal-breaker, we'd still like to see a solution here that allows us to switch shoulders every now and then. And at 10L, this is a pretty large sling—so much so that it's not very comfortable (and not a great look) to sling around and carry on your chest.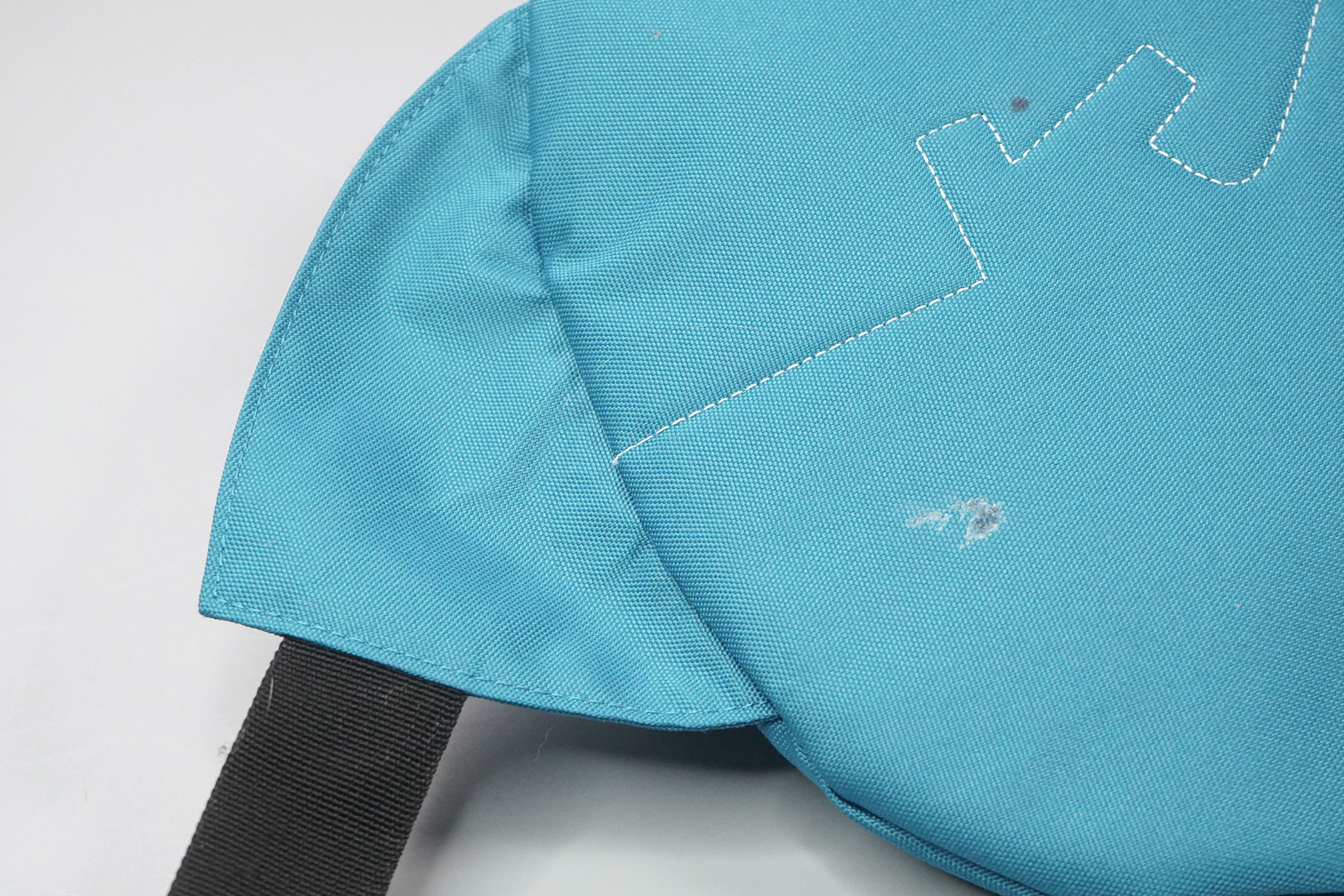 You'll also find an awkward-looking flap at the bottom of the sling that the end of the shoulder strap is anchored to. Based on our experience, it helps create some flexibility while adjusting the carry that allows the bag to better move with you (so it's not all over the place on your back).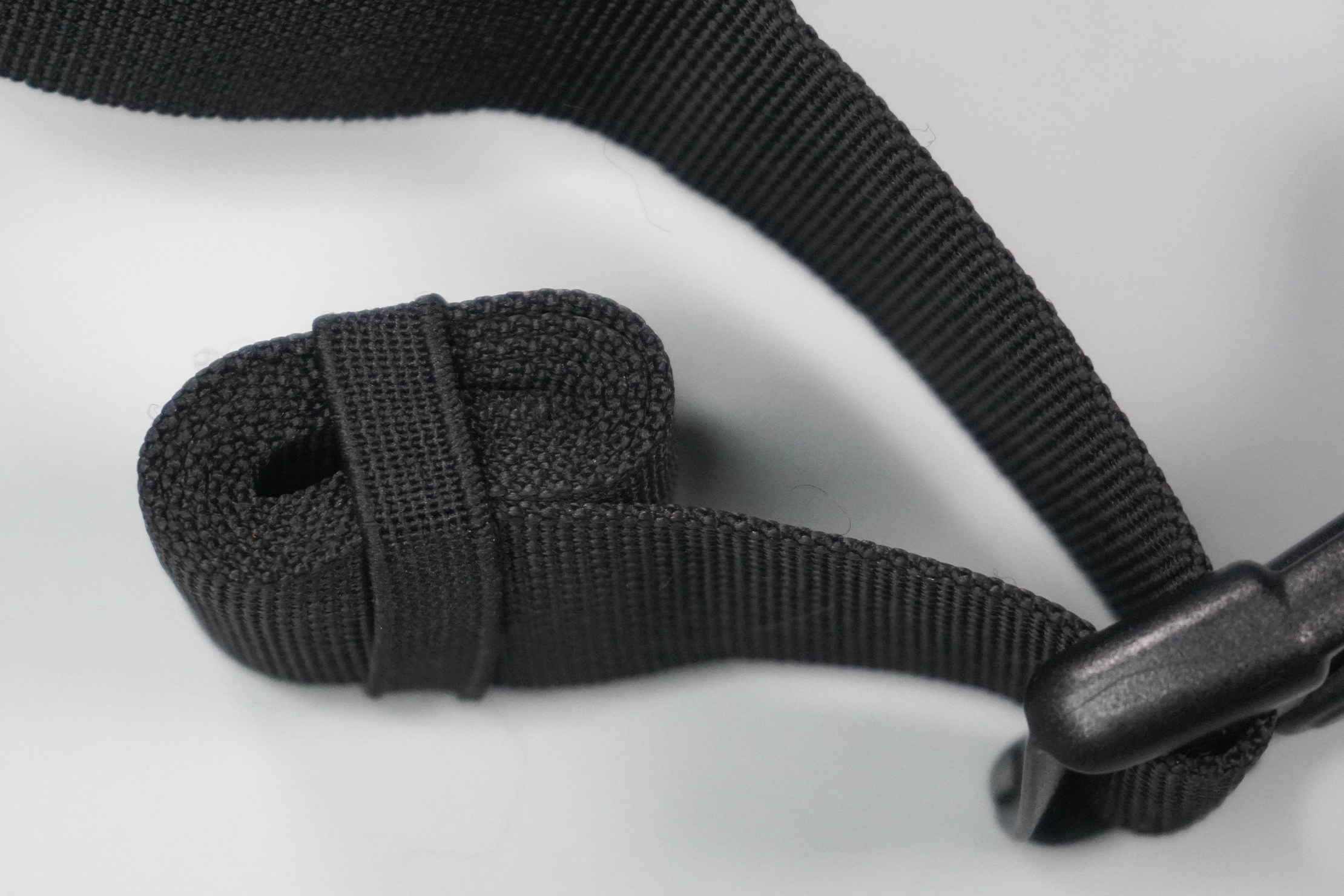 Once you have the shoulder strap adjusted how you'd like, you can roll up the remainder of the strap and secure it with the elastic loop at the bottom to get that #DangleFreeExperience. However, this can make it more difficult to loosen the strap when you're trying to take the sling off, as you may have to undo the elastic and unroll the strap if you don't already have enough room to slip out. Essentially, the less dangling you have to deal with, the more time it takes to get in and out of the sling.
Of course, you do have the option of unclipping the buckle instead if this becomes a problem for you, but it's still something to note. The keeper itself also tends to slip off more easily than something that wraps around the entire strap—again, not a deal-breaker, but definitely not ideal.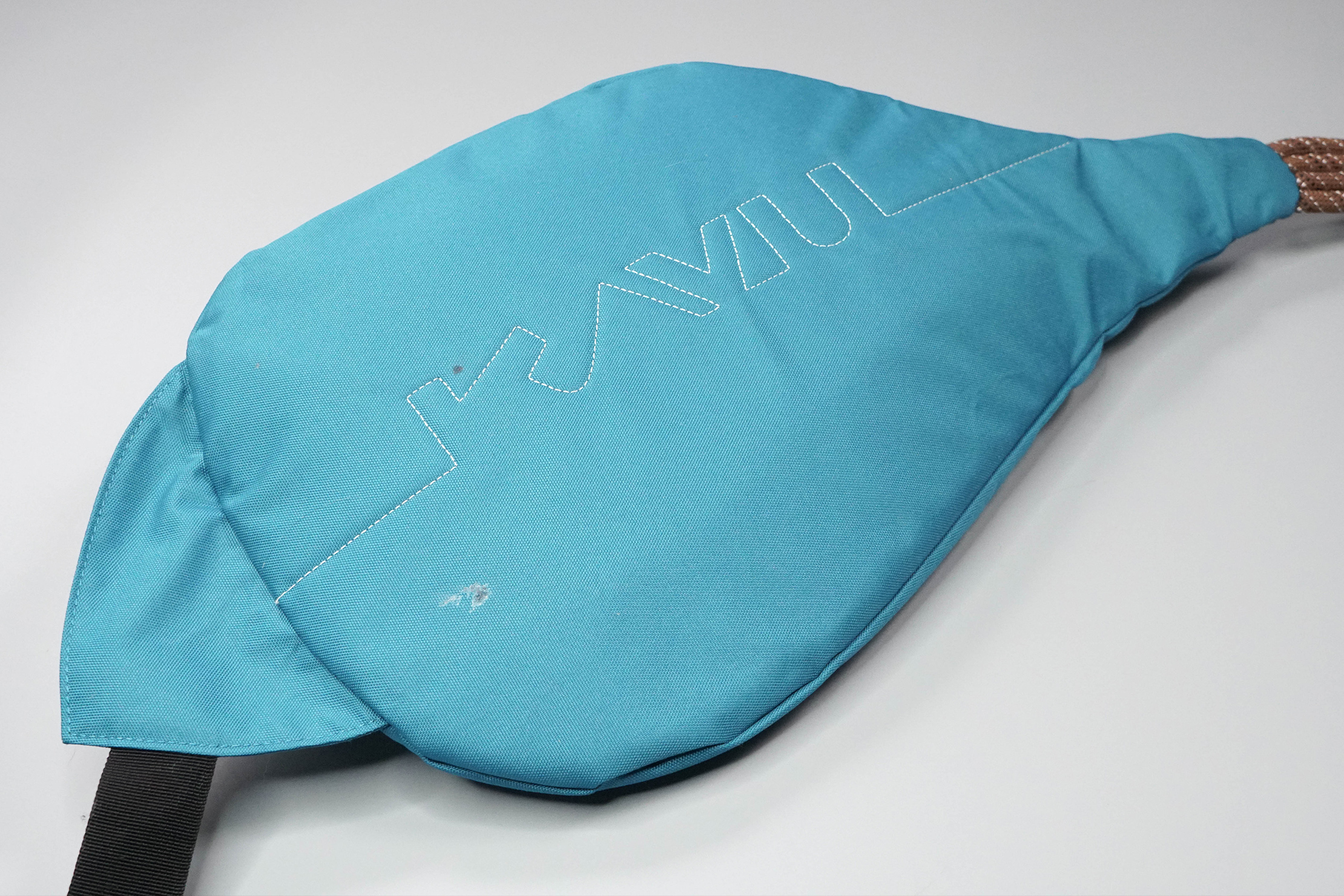 The last thing we want to touch on here is the back panel. There's some padding that helps with comfort, but it doesn't give it a ton of structure. There's also no frame sheet, so when the bag is stuffed full of gear it tends to feel bulky/bulbous against your back.
Inside the Sling Bag
The first thing you ma notice about the pockets is there's not a ton of storage for smaller items on this sling. We've essentially been using the external zippered compartment as a dump pocket for things like our wallet and keys—it has some dimension built-in, and actually holds more than you'd expect from looking at it (including most large smartphones). But the trouble is that to use its full capacity, you have to stack your things on top of each other—meaning it takes much longer than it should to sort through and grab what you're looking for if it's at the bottom of the pocket.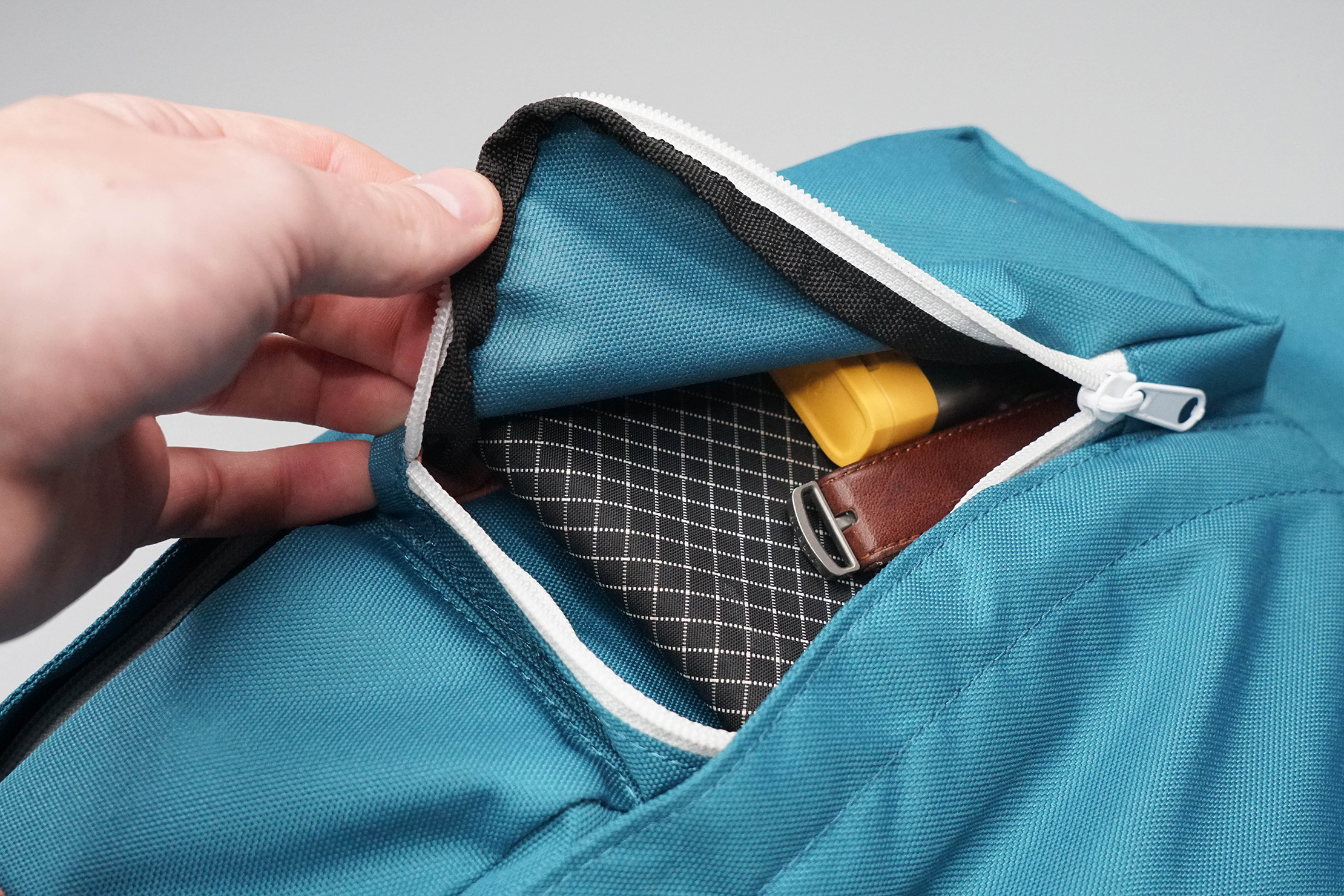 For reference, we've been keeping a wallet, keys, a small pouch for smaller things, and a tin of Altoids inside here. We've been stacking the wallet, pouch, and Altoids which together act as a kind of shelf to put our keys on top of. But because we have to stack our stuff for it to fit, we have to take everything else out to get to the gear that's stacked in first or at the bottom. And while we're fumbling around, it's then also easy for our keys to fall out—so it becomes one giant free-for-all. But again, the trade-off here is that it can hold a fair amount of stuff—the stuff just won't be as organized or quick to access as you might like.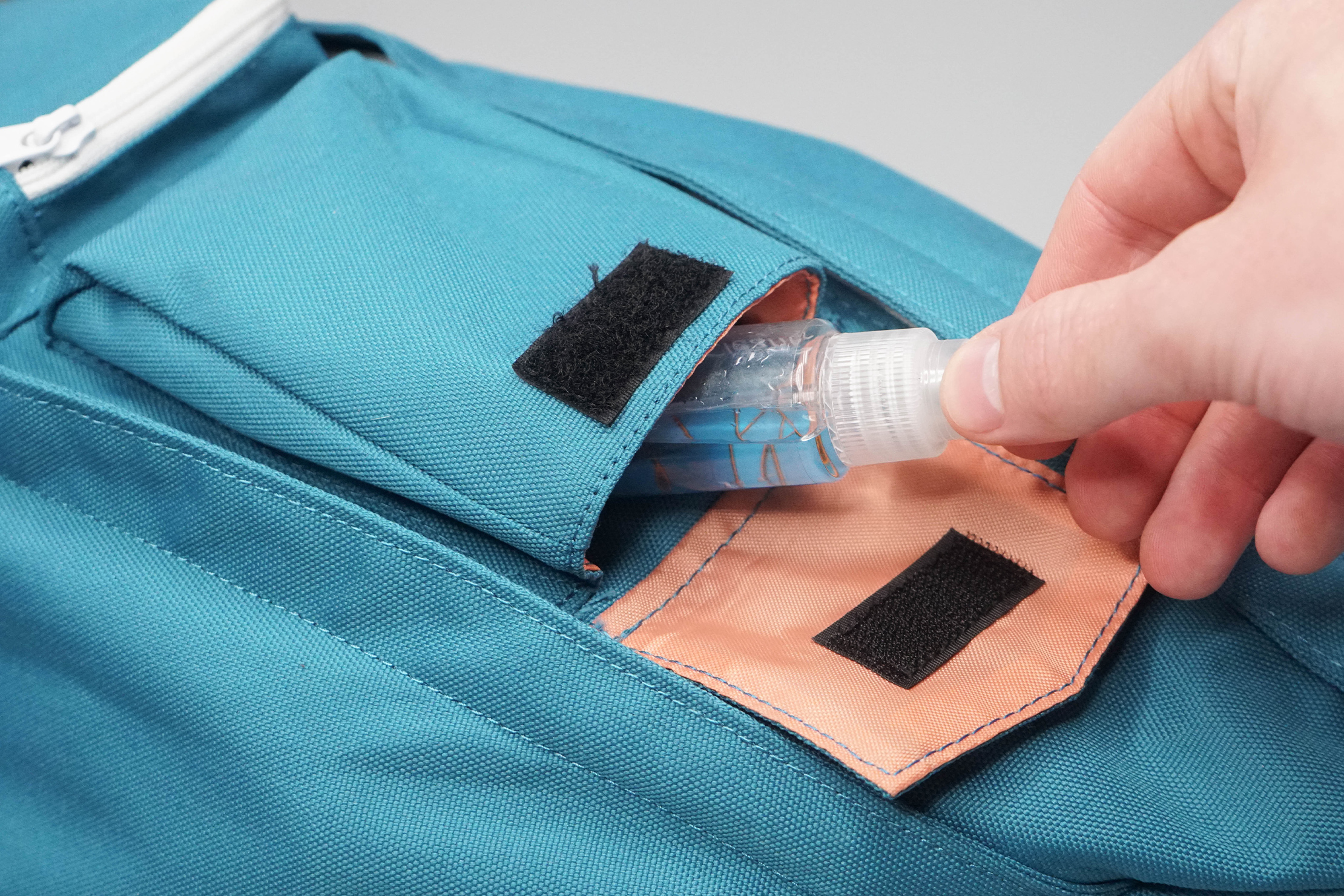 The other exterior pocket on this sling is secured by a velcro flap, so it's much quicker to access—however, while the velcro has been secure for the most part, it does leave pretty big gaps at the sides of the pocket. Because of this, we're not super comfortable keeping especially small and/or more valuable gear in here as it's easier for it to slip out if we're slinging the bag around. For us, it's been working well for items that are bulky, but not necessarily big—think a small bottle of hand sanitizer or a pair of sunglasses. But if you have something else that fits well in here, that works too.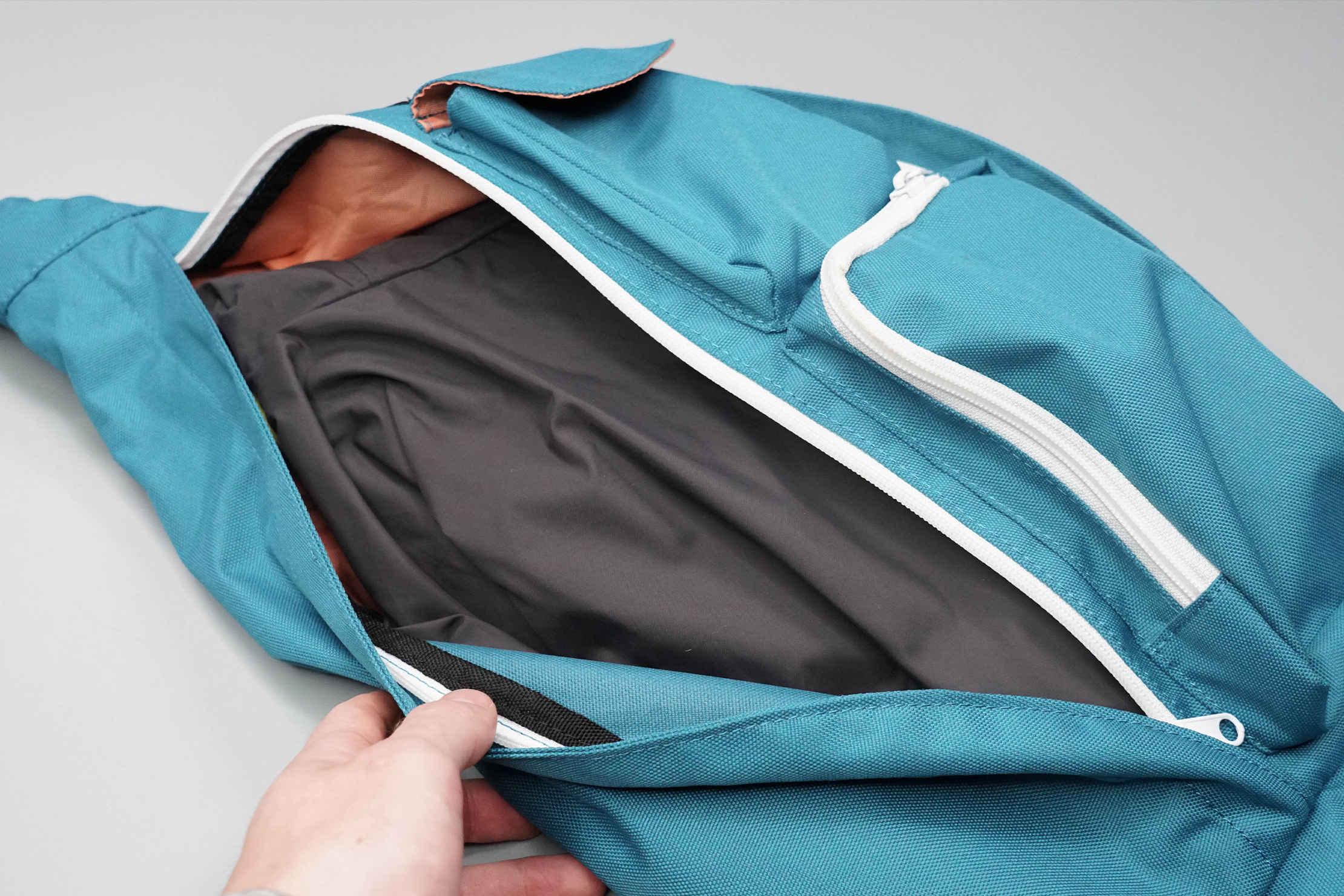 For the rest of your gear, there are two larger, vertical zip compartments on the KAVU Rope Sling. On the left-hand side (when looking at the zippers) is the main compartment, whose zipper is protected by a fabric welt for some added water resistance. It also gives this sling a cleaner look, which we dig. The interior is a nice, bright orange which makes our gear easier to find when we're looking for it—and because the zipper is vertical, you can sling the bag to the front, grab what you need, and sling it back quickly and easily.
Against the back of this compartment, you'll see a zippered pocket that works for flatter items like a passport or some extra cash. If you put anything too bulky here, you can feel it against your back (so not a great pocket for your pointy stuck collection). As for the rest of the space in here, there's no other organization, so bigger items like a jacket can fit in here no problem. And you can always use accessory pouches of your own to help compartmentalize your gear, but some more organization integrated into the sling would be appreciated.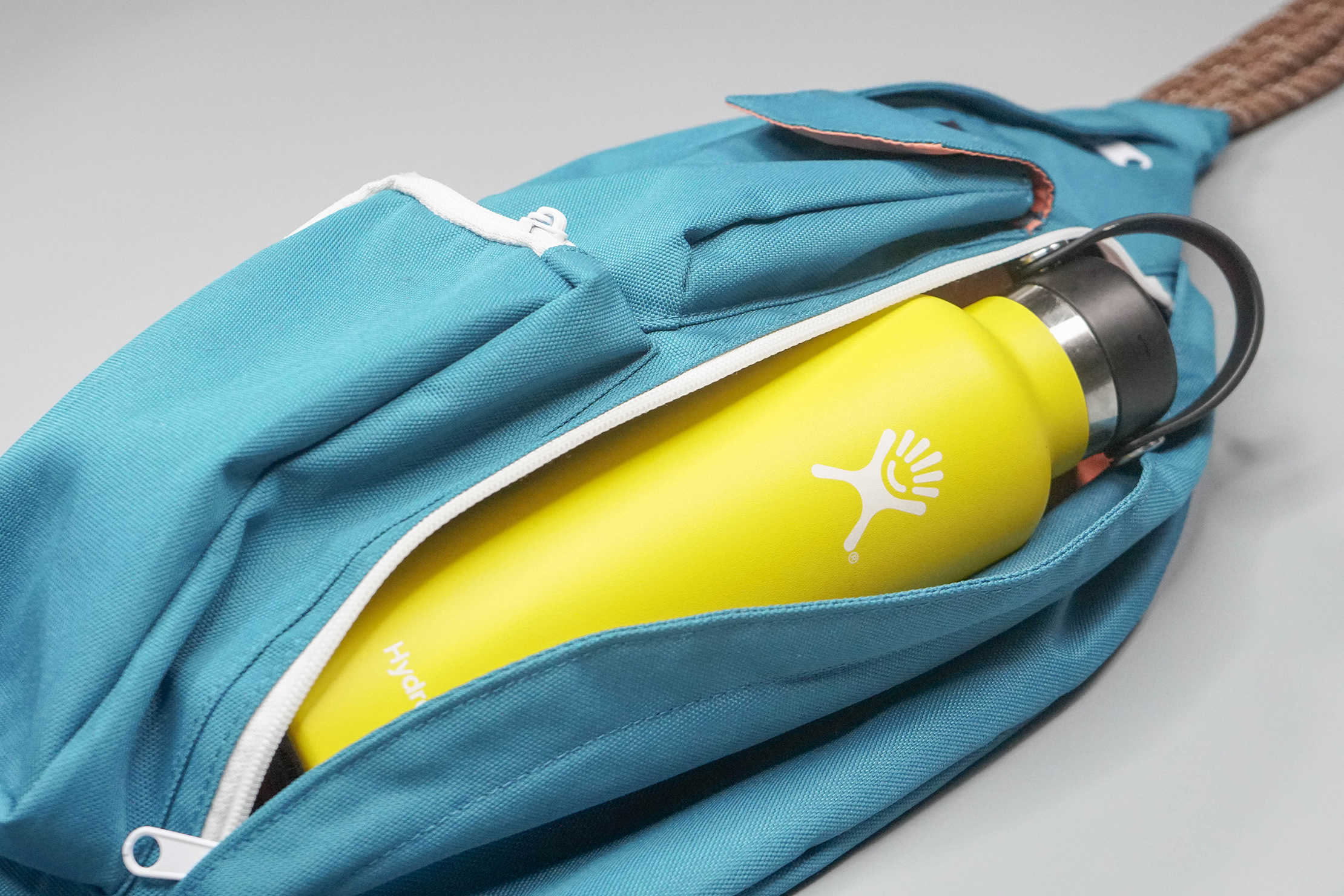 And on the right-hand side is another zippered pocket (also protected with a fabric welt) that we've been using to store a water bottle—specifically the Hydro Flask 32 oz Lightweight Wide Mouth Trail Series Water Bottle which fits in here quite nicely. The bottles in this collection are taller and slimmer than the average, but a standard 32 oz bottle still fits just fine. There's also room for other things, too, like snacks if you're carrying them.
Something to keep in mind with both of these compartments—they share space with one another. This means if you need to pack a lot in the main compartment (let's say a jacket, a lunchbox, a book or two) it's going to affect what you can pack in the right-hand compartment (your water bottle/other similar gear), and vise versa. So you'll need to be efficient with how you pack in these.
And even though it's large, we've found this sling works best for smaller hauls—a towel, bathing suit, and maybe a bottle of sunscreen if we're heading to the beach, or just a light jacket and water bottle, with some other essentials in the exterior pockets when we're out and about. Anytime we've tried keeping more, the sling gets bulgy (which makes it less comfortable to carry and, also, just look bad). Altogether, the sling's size almost works against itself—instead of creating more space for gear than a smaller sling, it not only lessens the comfortability of the carry but the efficiency of the storage.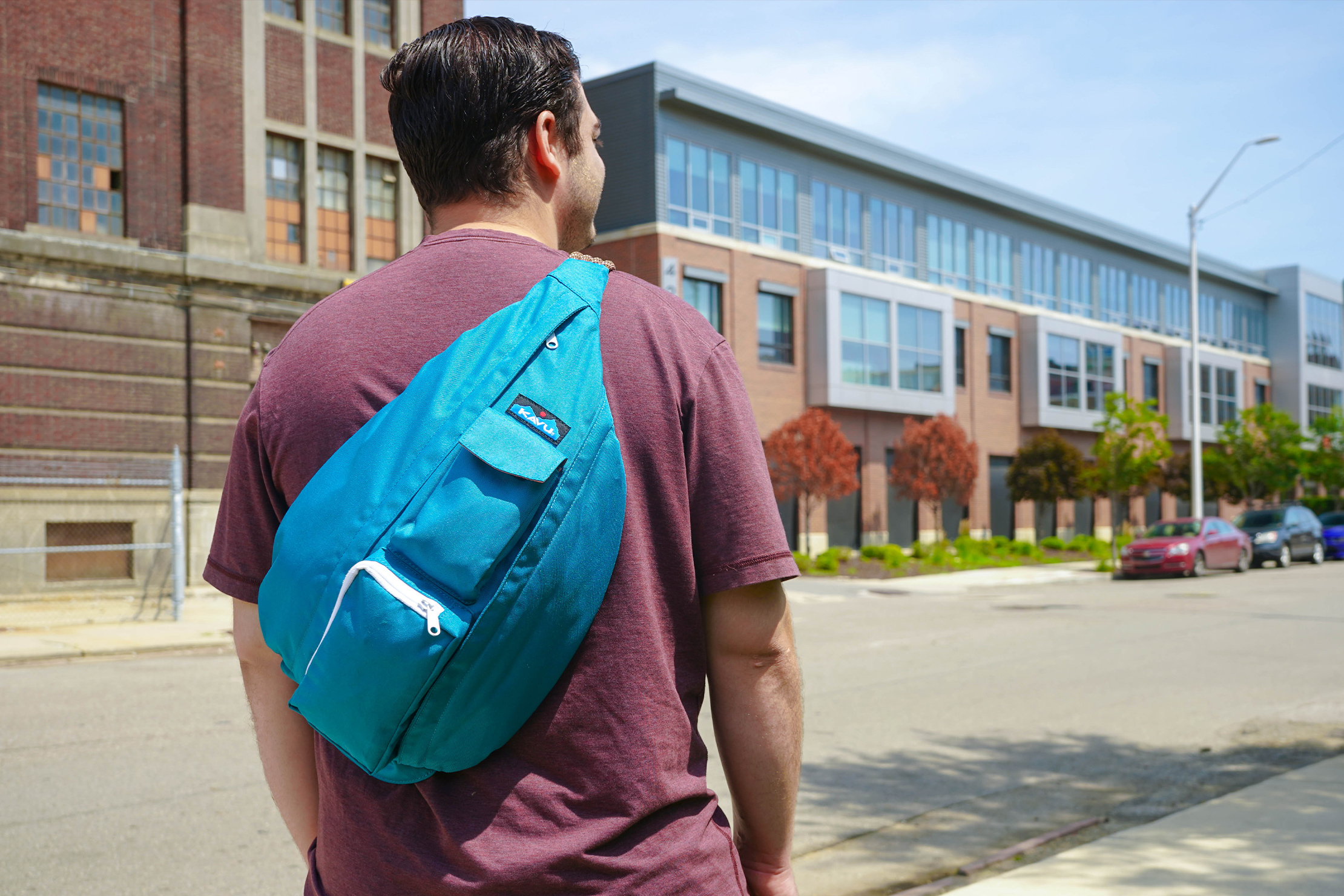 As for durability, everything has been holding up nicely—nothing else to report!
Usage Timeline
Initial Usage
Condition: Excellent
Rope shoulder strap is an interesting idea, looking forward to seeing how it breaks in
Zippers feel cheap and flimsy
Great color and style options
2 Weeks of Use
Condition: Excellent
Been using this bag for going out to the store, on walks around the neighborhood, and wandering through the woods of Northern Michigan. The rope strap has been pretty comfortable during our testing—although an option to carry it on either shoulder would be nice.
Organization works better for larger items. And since two larger compartments share the same space, we've had to pack strategically. If not, we've found it can get bulgy.
The outside zipper pocket holds a lot more than it looks. When stuffed, it can be a little slow/messy to access the items inside, but it's come in handy overall.
Access the Pro Community Discussion
Get your questions about the KAVU Rope Sling answered from our team and the Pro Community right here on the page. Plus, join discussions with other members about gear, guides, and more.
Other Bags & Luggage Reviews