REI Ruckpack 40 Review
The REI Ruckpack 40 is a solid travel pack with a slick look, excellent carry, stealthy organization, and a metric ton of functionality. If you couldn't tell, we like it quite a bit…but we're not huge fans of the laptop compartment or the lack of strap management.
Our Verdict
Unlock the Pro Summary
Save time. Get access to brief summaries of our reviews so you can browse and make decisions more efficiently.
Pros
Top access is great
Water bottle side pockets are excellently designed
Minimal aesthetic with big functionality
Cons
Poor laptop compartment
Can't hide the hip belt
Improperly anchored load lifters
Recent Pack Hacker Video
Technical Details
Capacity

40l

Weight (lb)

3.35 lb (1.5 kg)

Denier

210D

Dimensions

24 in x 13 in x 10 in (61 x 33 x 25.4 cm)

Notable Materials

YKK Zippers, ITW Hardware, Ripstop Nylon, Stainless Steel

Manufacturing Country

Vietnam

Laptop Compartment Size

15"

Warranty Information
Buying Options

$104.29

$104.29
Full Review
In this review, we're going to be checking out the Ruckpack 40 from REI—a one bag travel pack that offers a minimalistic form with some big functionality. And unlike most of the packs we test, we're actually going to be discussing two versions of this one—because it comes in a men's and women's version.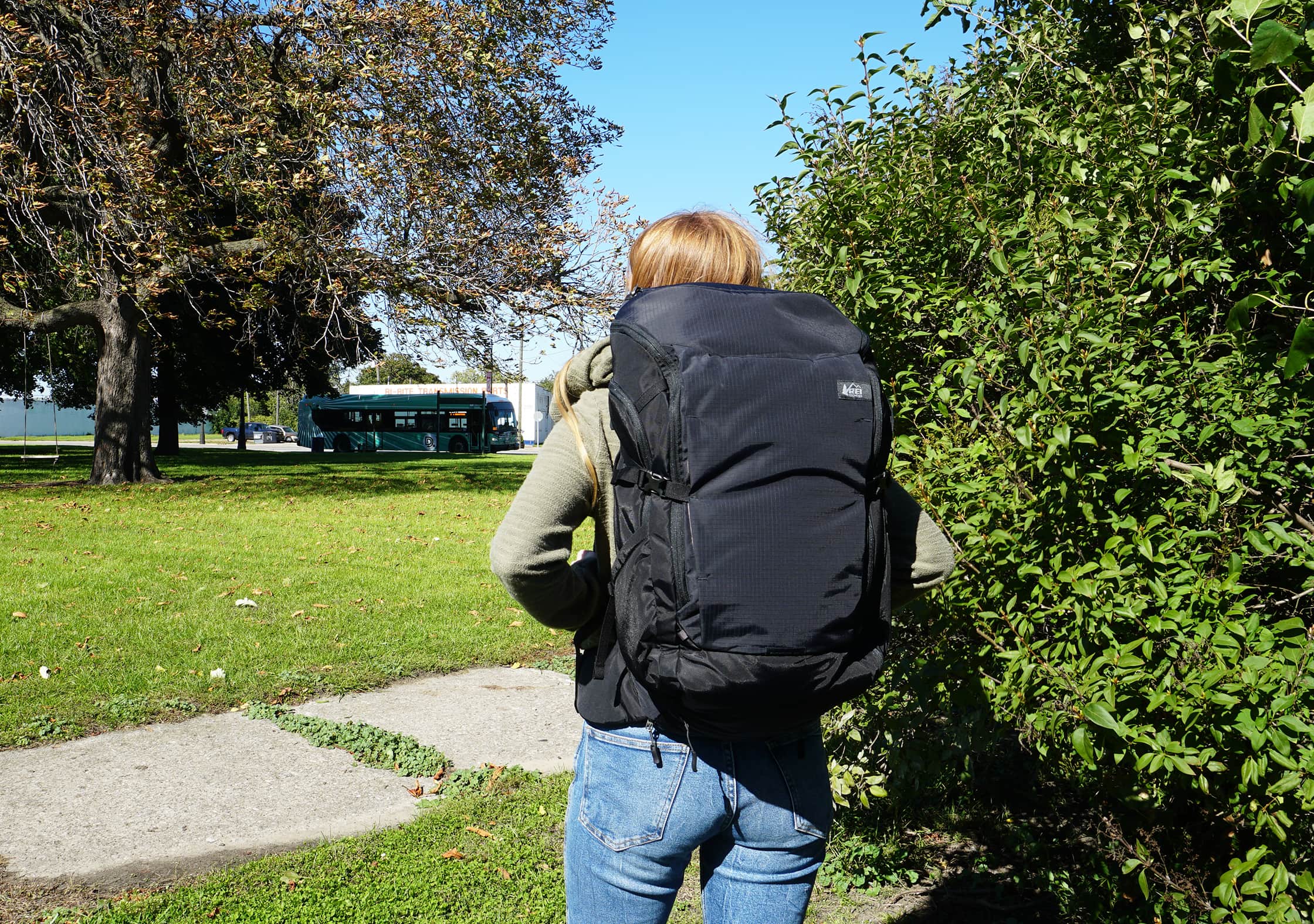 If you've never heard of REI—maybe you've been living under a rock or deep in the jungle for the past couple decades—you should know that they're a pretty freakin' cool company. They're an outdoor co-op that sells just about everything you could ever need for outdoor activities plus a whole lot more, including urban travel gear. They also donate a boatload of money to conservation and work pretty hard to achieve ethical and environmental excellence in their business.
And while they sell gear from a variety of companies, they also make their own stuff. Their own gear is mainly known for being budget-friendly and functional—and no surprise, the Ruckpack 40 fits that description perfectly. It stays true to REI's technical focus, but a lot of things have been optimized specifically for urban travel. (Which is right up our alley…)
Let's dive in.
Material & Aesthetic
At the time of this review, the Ruckpack 40 is offered in a couple of different colors, as well as a men's and women's version. The men's is offered in black and dark army cot while the women's version is offered in black, cacoa, and seaweed.
Of course, we went with black because, well…it's black. Did you think we were going to "go out on a limb" or something? Obviously not. We don't even know what that means.
We've really been digging the low profile from an aesthetic perspective, and our Instagram audience tends to agree. We ran a poll and found that 76% of our audience liked the look of this pack, while 24% didn't. Pretty good numbers there, and we'd have to agree with the majority.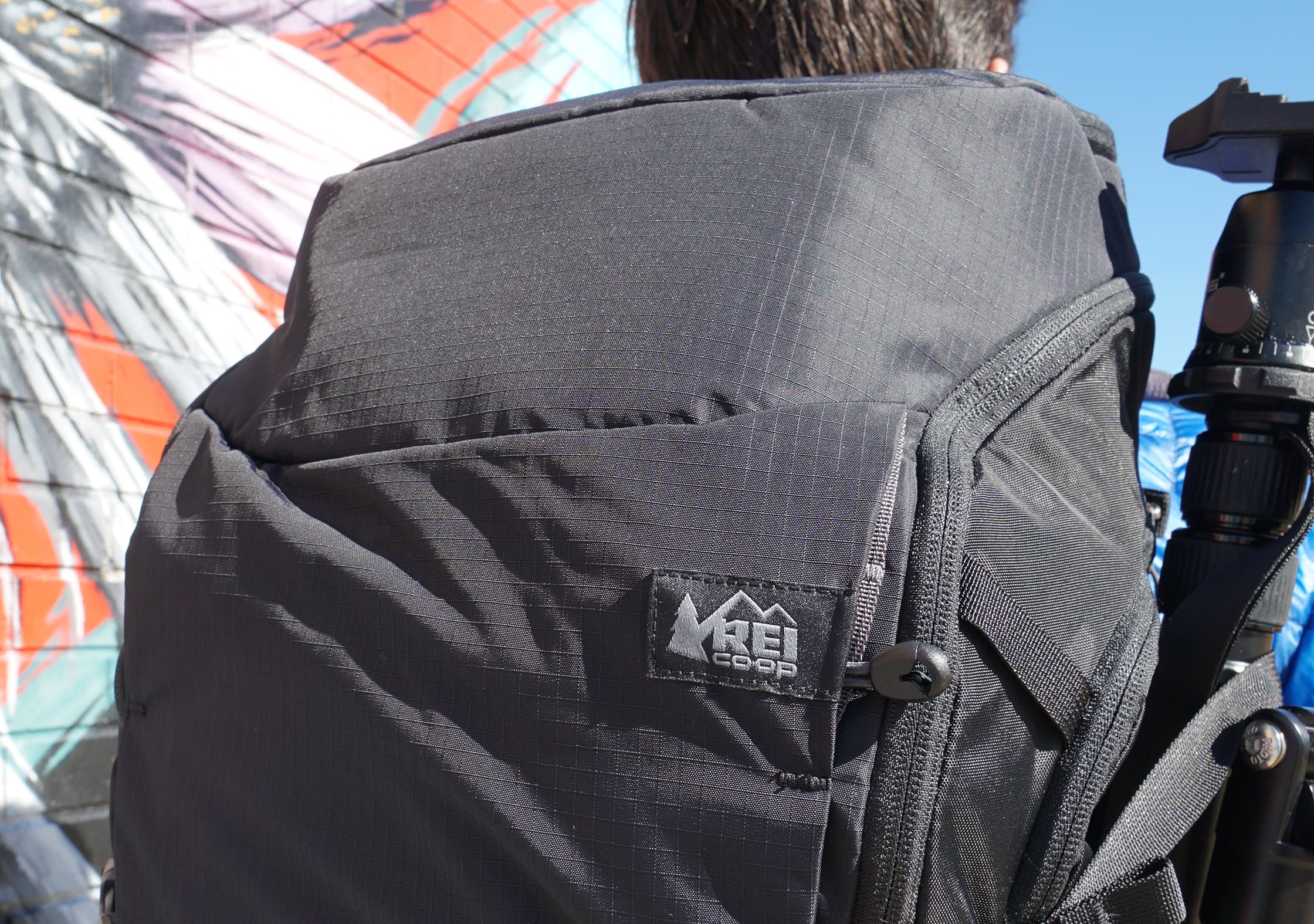 From a branding perspective, REI has kept things minimal. There is a subdued logo on the front of the pack, a small logo on the strap, a small label indicating the pack name and capacity, and a tag that indicates the men's or women's version of the pack. Nothing too crazy here.
From a materials perspective, REI has incorporated some good stuff across the board.
There are YKK zippers throughout, with the main compartment zipper being a #8 Racquet Coil zipper.
There is ITW plastic hardware throughout, which is a company that makes a lot of buckles for the military…AKA, high quality.
The exterior is made of a 210D ripstop nylon, which is a bit lower denier than we usually see on packs like this but the ripstop will help prevent smaller rips from getting larger.
And lastly, there is a spring steel internal frame that helps to give the pack some structure that is lost with the lower denier fabric.
And that wraps up the materials. Short, but surprisingly sweet!
External Components
To start off the external components, we'll dive into the harness system. And we should note that the main difference between the men's and women's versions of the Ruckpack is the harness system.

First of all, the straps are different. The women's version has slightly thicker straps, while the men's are more narrow. Each is shaped slightly differently, too. The women's harness is anchored a bit lower than the men's version, which is done to optimize the pack for smaller torsos—and because it's anchored lower, it also sits a bit higher on your back. While this does help to distribute the load better, it also means a ponytail or some longer hair might get kind of stuck in the back of the pack.

Is this a huge deal? Not really, your hair isn't going to actually get stuck.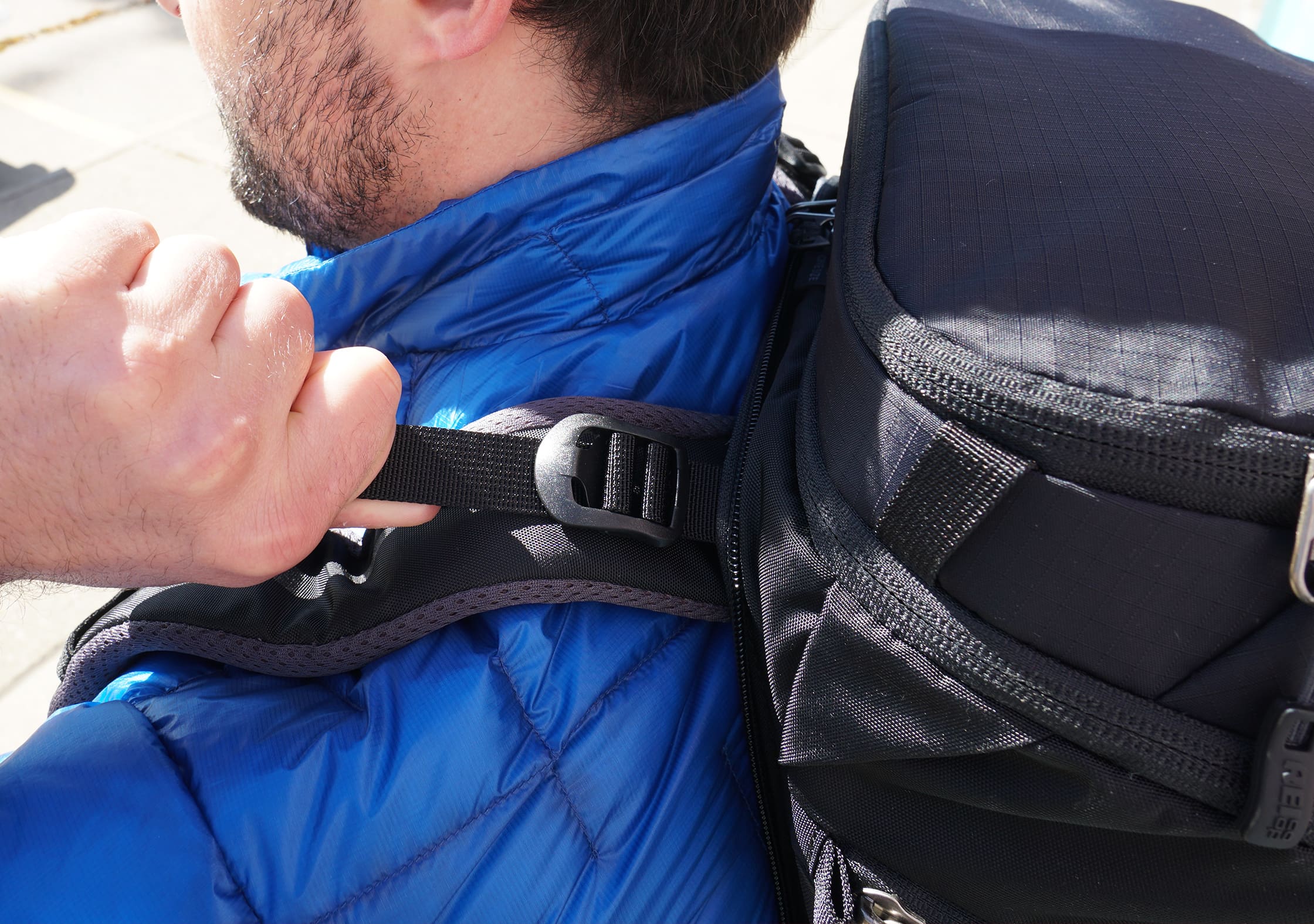 The straps themselves have some decent foam that helps provide a comfortable carry. Towards the top, there are some load lifter straps which help optimize where the weight is on your back and will help you adjust the pack to fit your specific body type.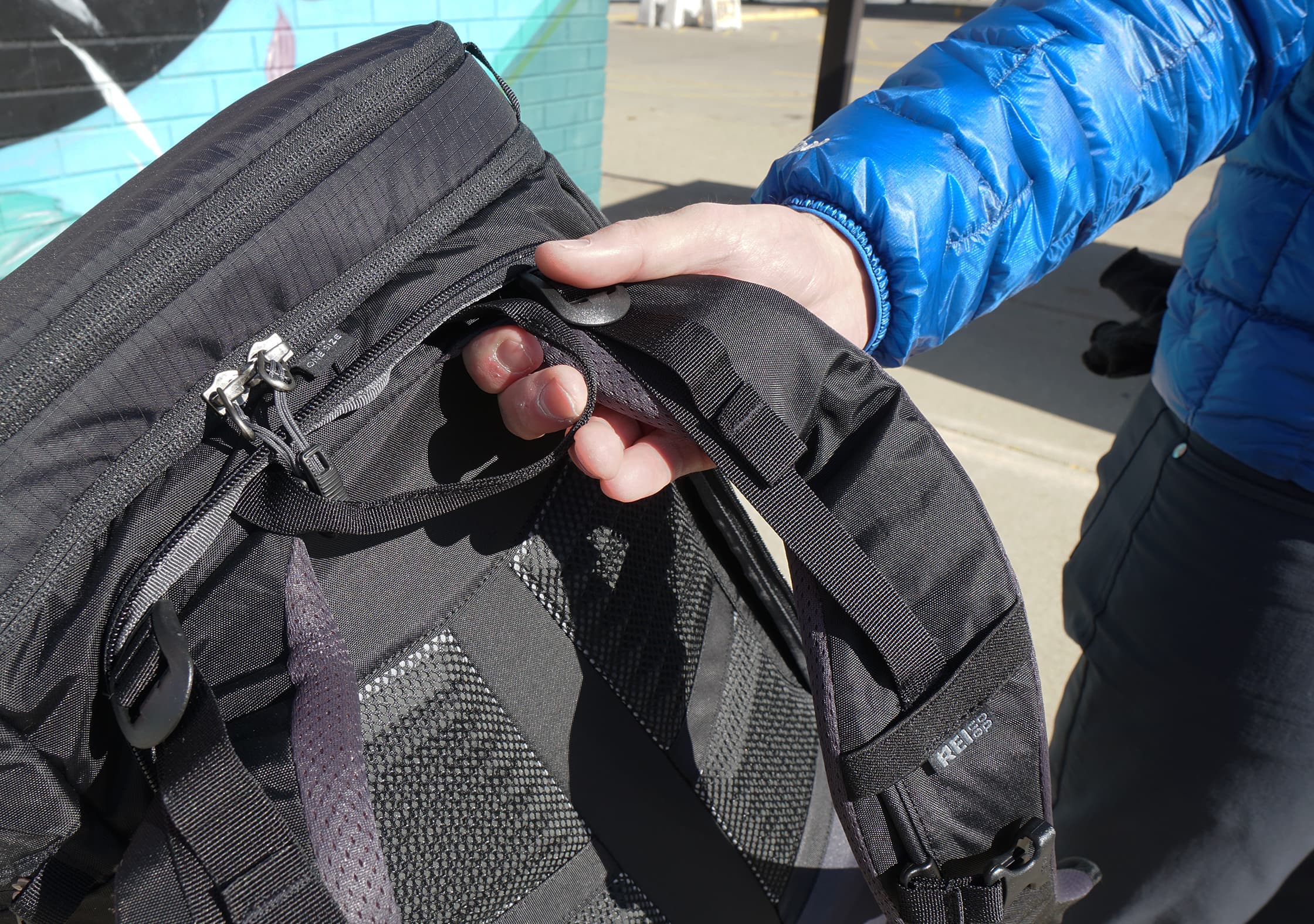 These load lifters are a little bit odd, though. The anchor is about halfway down the strap, so when you pull and tighten the load lifters the strap can get a big crumpled up. Most packs will anchor these a bit higher, so we're not exactly sure what REI's thought process was here. It's not exactly an optimal scenario, but it does work.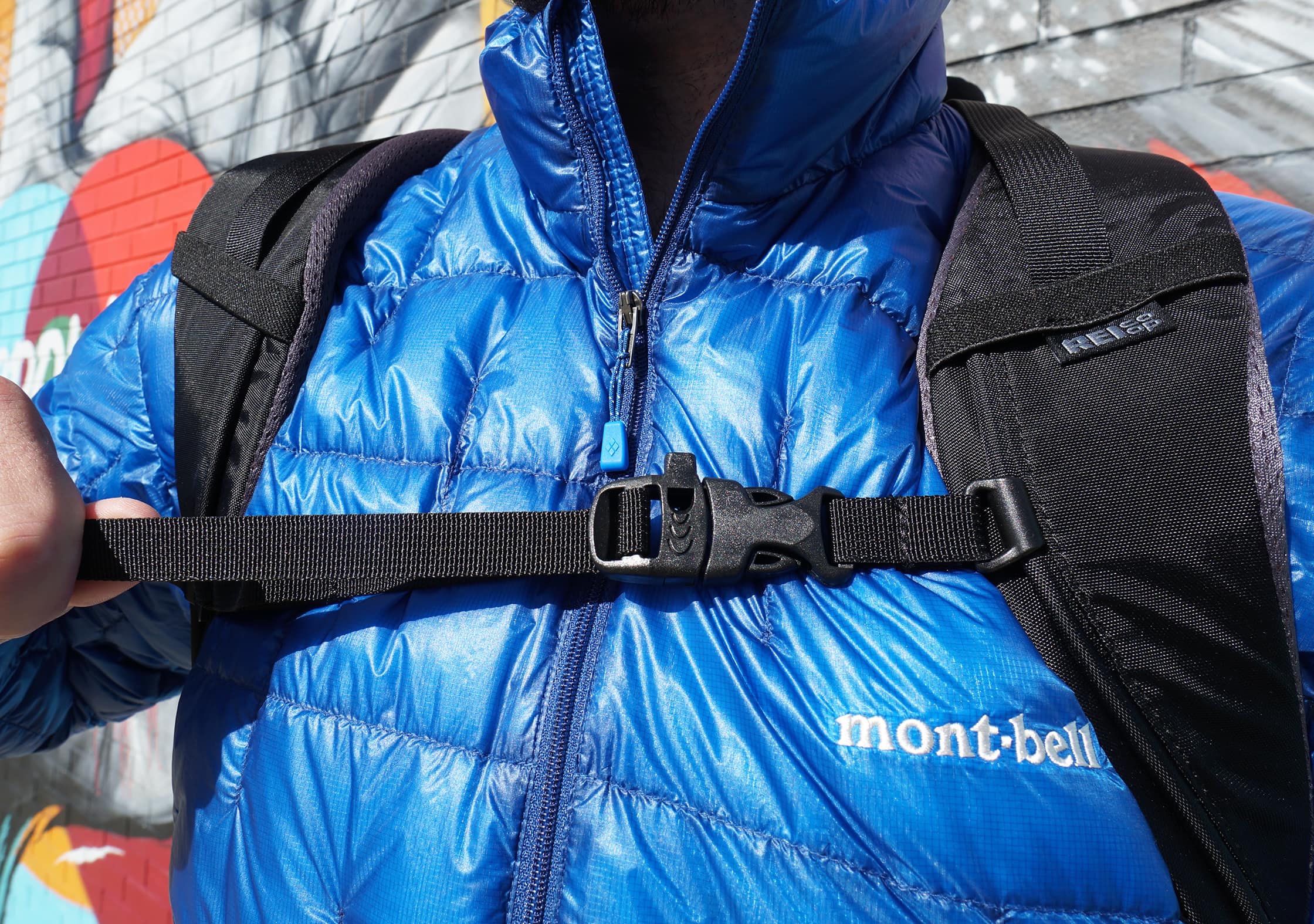 There's also a sternum strap with a built-in safety whistle, so if you ever get into a bind you can get the attention of just about everyone in a half-mile radius. (We haven't specifically tested this, but a half-mile seems like a decent guess. This thing is quite loud.) There are also two elastic loops on the straps which are useful for hanging a carabiner and attaching whatever you see fit.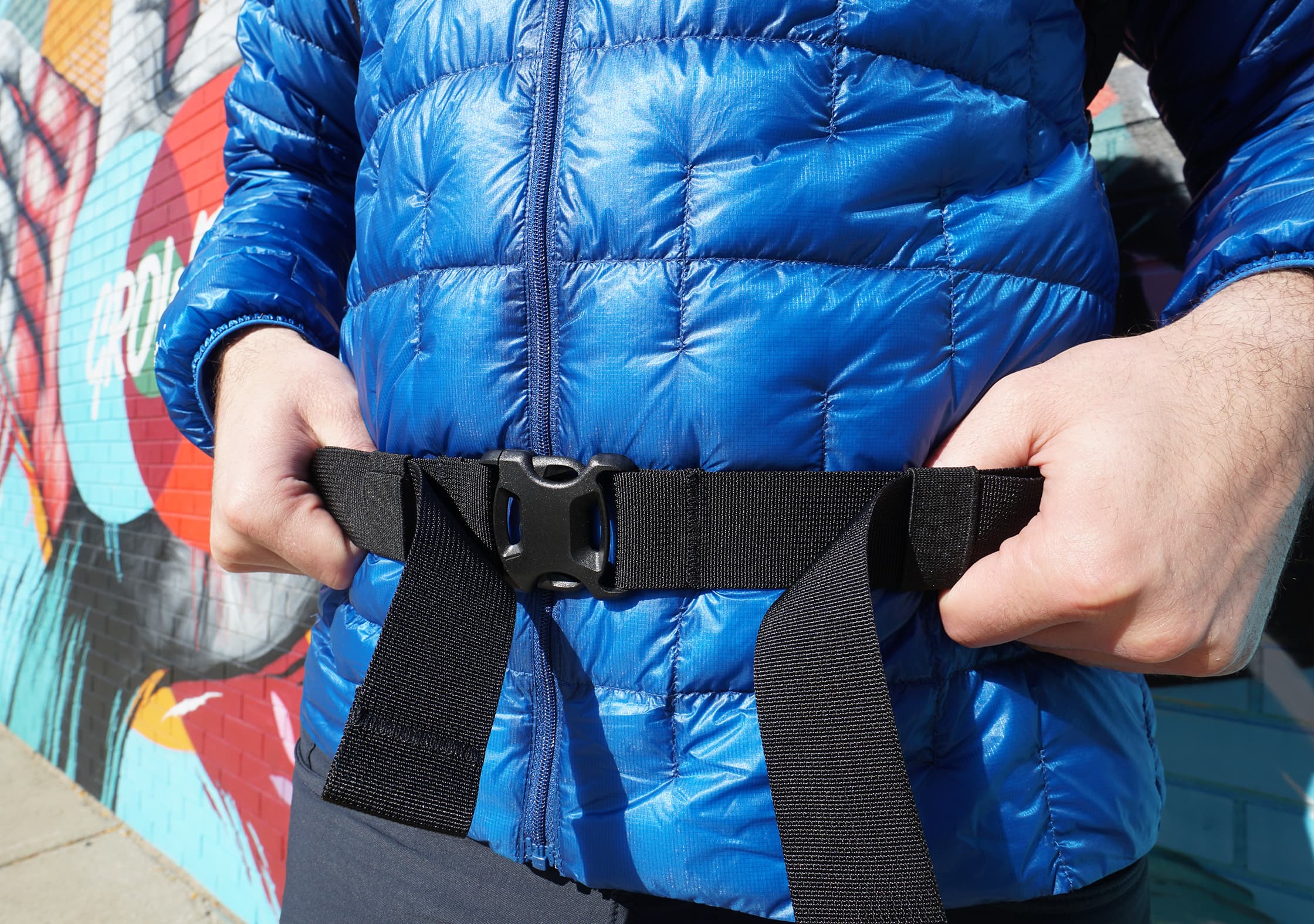 And finally, there's a perfectly padded hip belt at the bottom. We think this hip belt is the perfect size for urban travel—it's not too big but still provides a lot of support. That being said, it's not removable or hideable which is a huge bummer. When not in use it'll kind of just flap around at your sides. We've found this to be pretty annoying, and we tend to prefer removable or hideable hip belts so you can tighten things up when you don't need that extra support.
The hip belt does offer an elastic keeper for strap management, which we love. However, we wish these elastic keepers were on every strap on this bag. The sternum strap and shoulder straps don't offer anything in terms of strap management, which means you're going to have some dangling straps on various parts of this bag.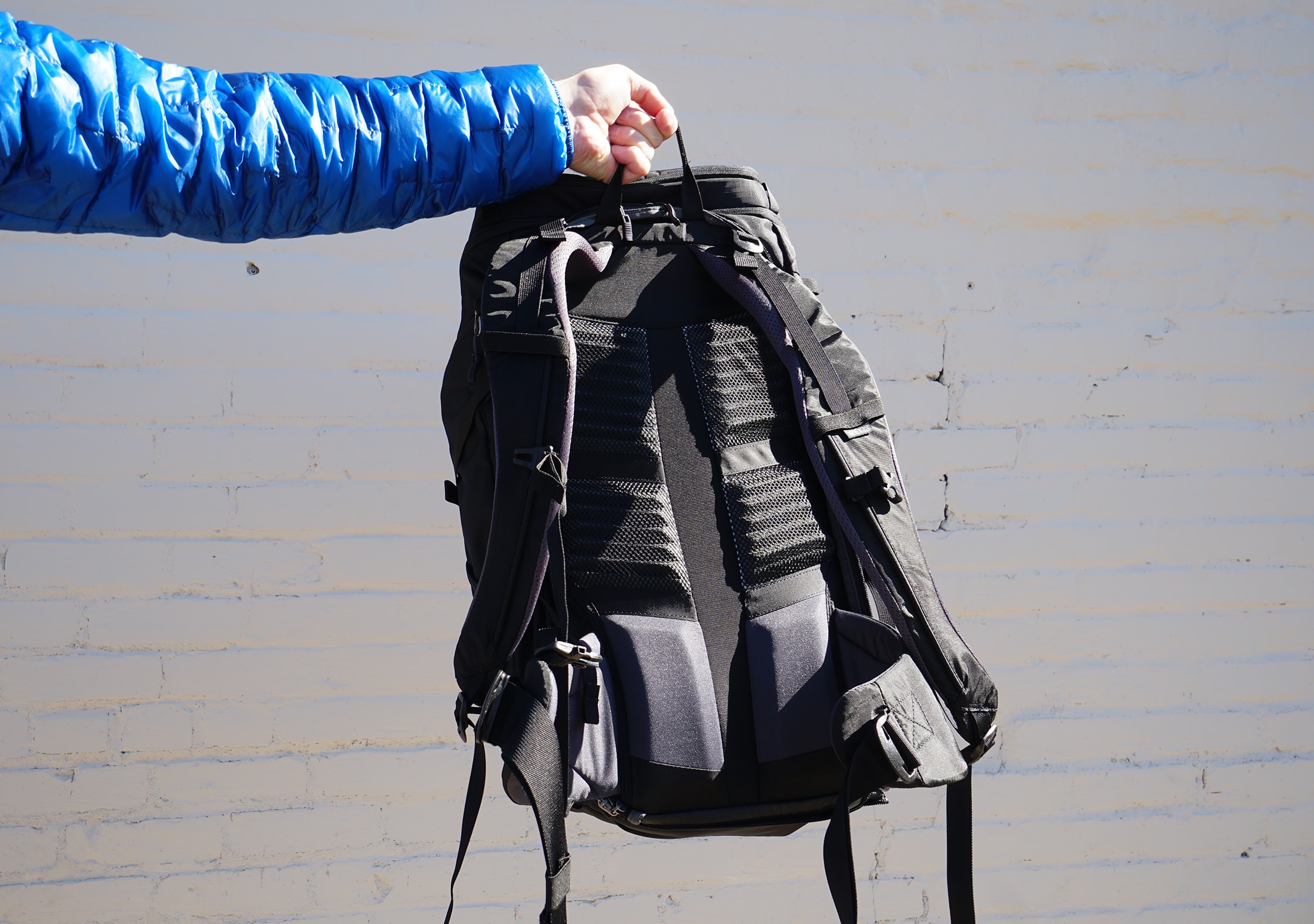 Moving on, there's a pretty hefty back panel that has some mesh and very dense foam. This helps give the bag more structure, but it might take some getting used to—you can definitely "feel" it on your back. At first, we thought it felt a bit weird, but as we used the bag more and more we really started to like it. It definitely helps with ventilation in addition to the structure, which is great.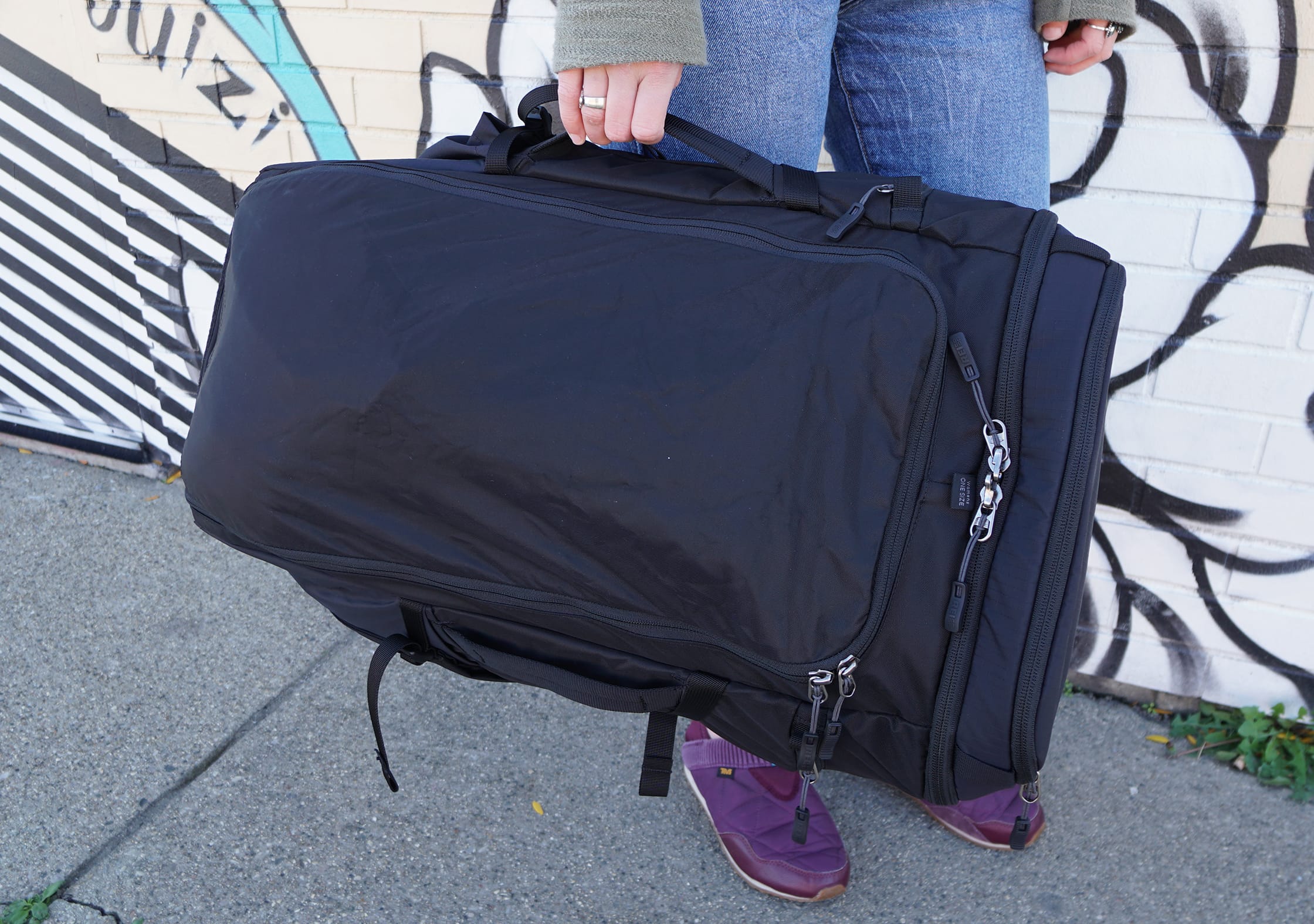 Now, although you can't hide the hip belt individually, the entire harness system does hide away. This is a great feature if you want to check your bag on a flight as it will keep all the straps tucked away as it's going onto the airplane. The whole system is pretty easy to use—just un-Velcro it from the bottom, unravel the flap and zip all the straps away.
It can be a little bit tricky to align the velcro perfectly, but you'll get better at it with some practice. One minor nitpick here is that there's always an exposed zipper on the outside of the pack. Some packs have a bit of a fabric to hide that, and we kind of wish they had done that here. It just looks a bit odd, although it obviously doesn't affect the functionality at all. (Are we seriously nitpicking about a visible zipper? Of course we are. It's what we do.)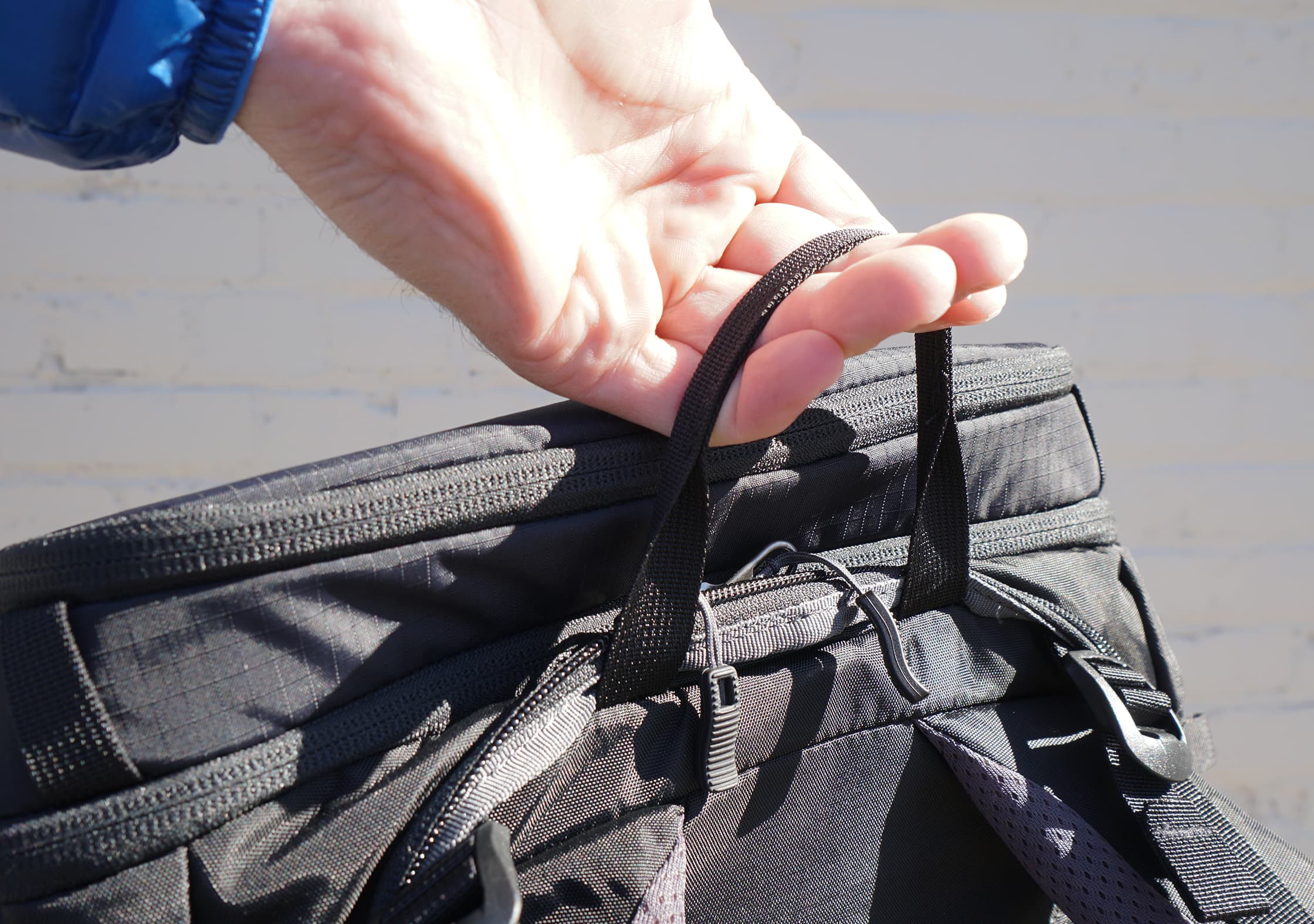 On the top of the bag, there's a stitched handled that you can use for…well, whatever you want. We tend to use these straps for hanging packs in less-than-ideal areas—like when you're in a public bathroom and there's an inch of water on the floor for no apparent reason. (Why does this happen so often?!)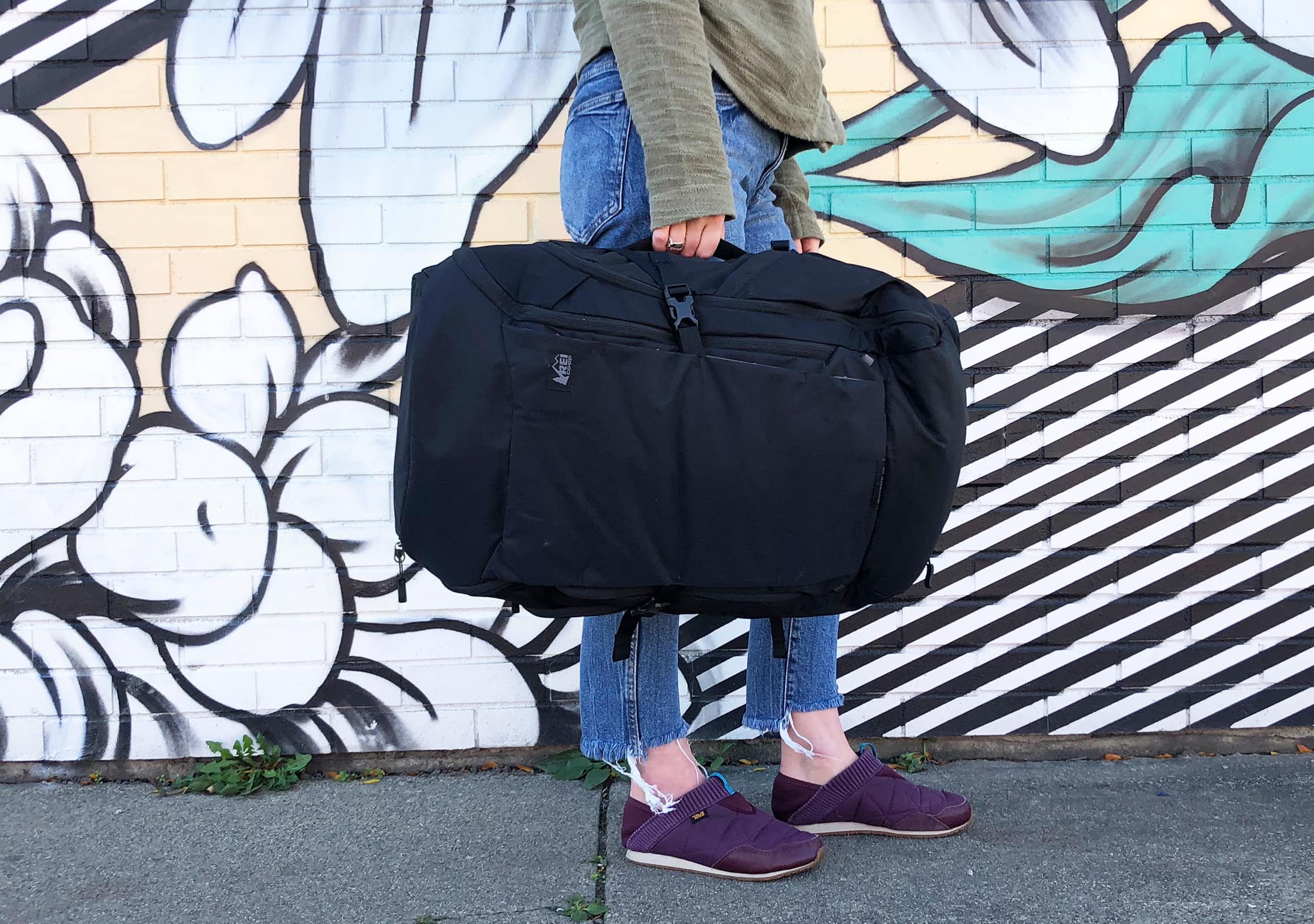 There are also two handles on each side of the pack, which are great for taking the bag out of the overhead bins or carrying to a cab. They aren't necessarily optimized for longer distance carry because they're anchored towards the back and side of the bag—meaning the weight isn't evenly distributed and the pack will be a bit tilted. So just stick with short trips on these things.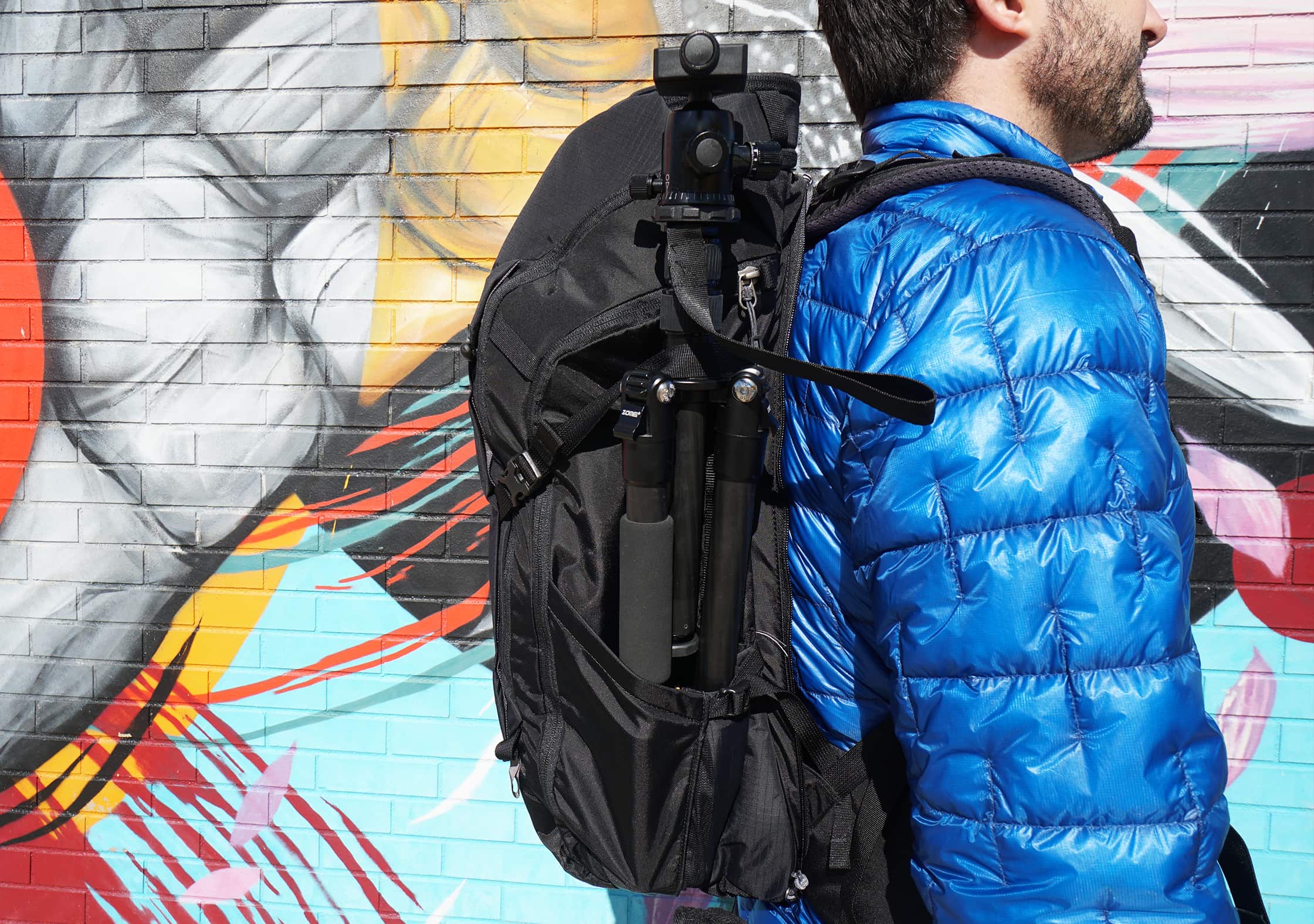 The side pockets—AKA, water bottle pockets—are large, compressible and expertly designed. And if you've been following Pack Hacker for any length of time, you know we don't say "expertly designed" very often, so listen up.
Each pocket has a small cinch strap with a nylon gusseted material and some stretchy mesh, allowing you to easily fit large or small water bottles in here along with any variety of items you might have. There are diagonal compression straps that will help you fit some longer items in, like a tripod, plus you can easily stuff a jacket in here with little to no effort. The compression straps also work well as…compression straps. If your pack is fairly empty and you want to compress it down a bit, they'll get the job done.
Above those compression straps are two nylon loops which can help hold in taller items as well. You'll probably want to utilize a carabiner here, unless you're securing something extremely thin that can just slide right through the loop.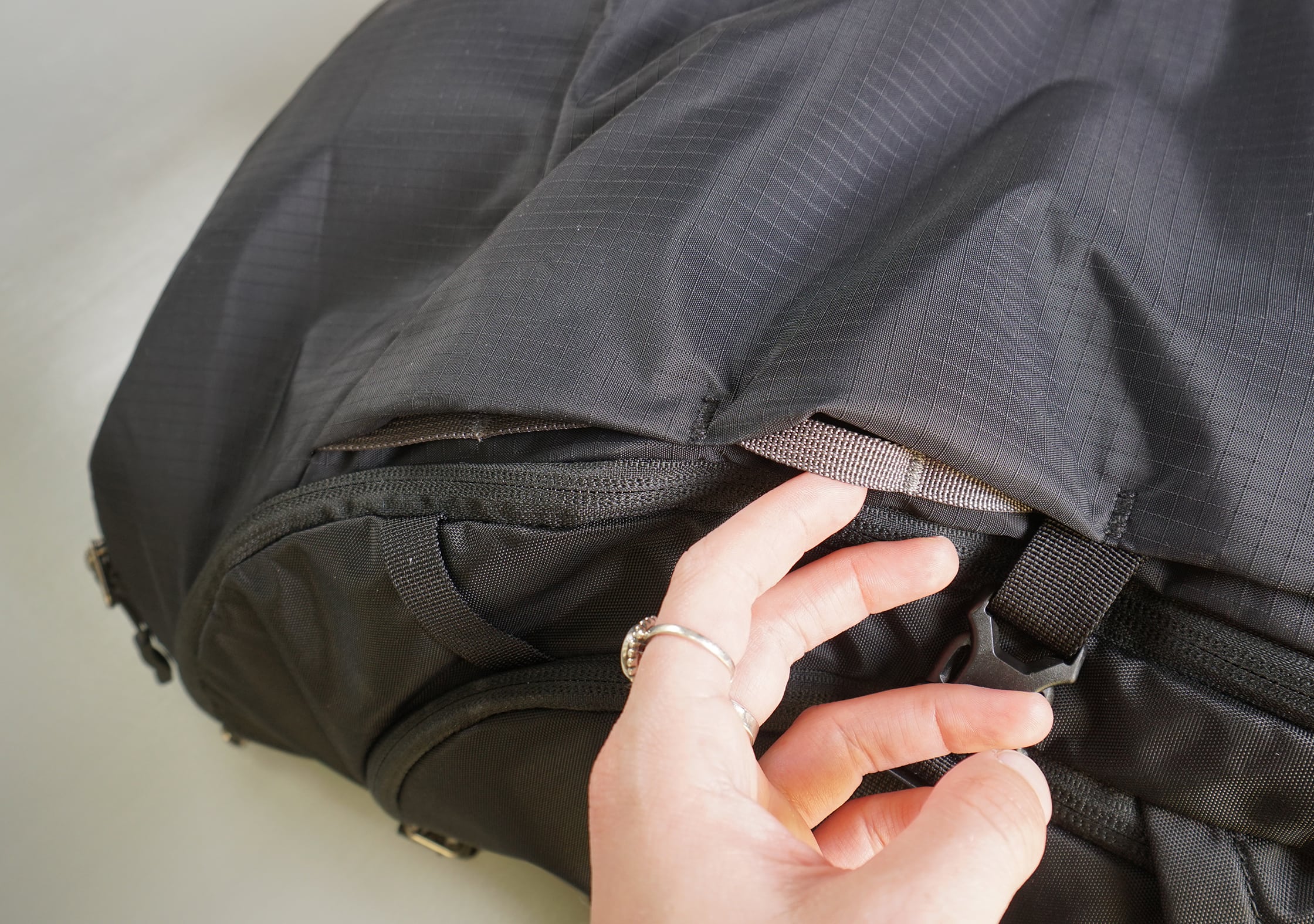 Now onto some of our favorite features on this pack that give it a high functionality while still keeping that minimal aesthetic (#backpackgoals). First of all, there is a hidden daisy chain on each side of the pack. This is great for the lash straps if you want to use them—but the thing we really like is that they're totally hidden by a flap of fabric when not in use.
Also, there are four small pockets here where the lash straps go that are ideal for holding trekking poles or other longer items. When you're not using these, they easily stow away to keep a low profile. This is great for urban travel, because you're not going to have a bunch of loops hanging off your backpack, getting caught on doorknobs and who knows what. (If you've ever been in the extremely awkward scenario of getting stuck in a busy doorway, you know exactly why this is so important.)
Between the side pockets, daisy chains, and compression straps, we think there's some really smart thinking from REI here and we love the functionality this stuff offers.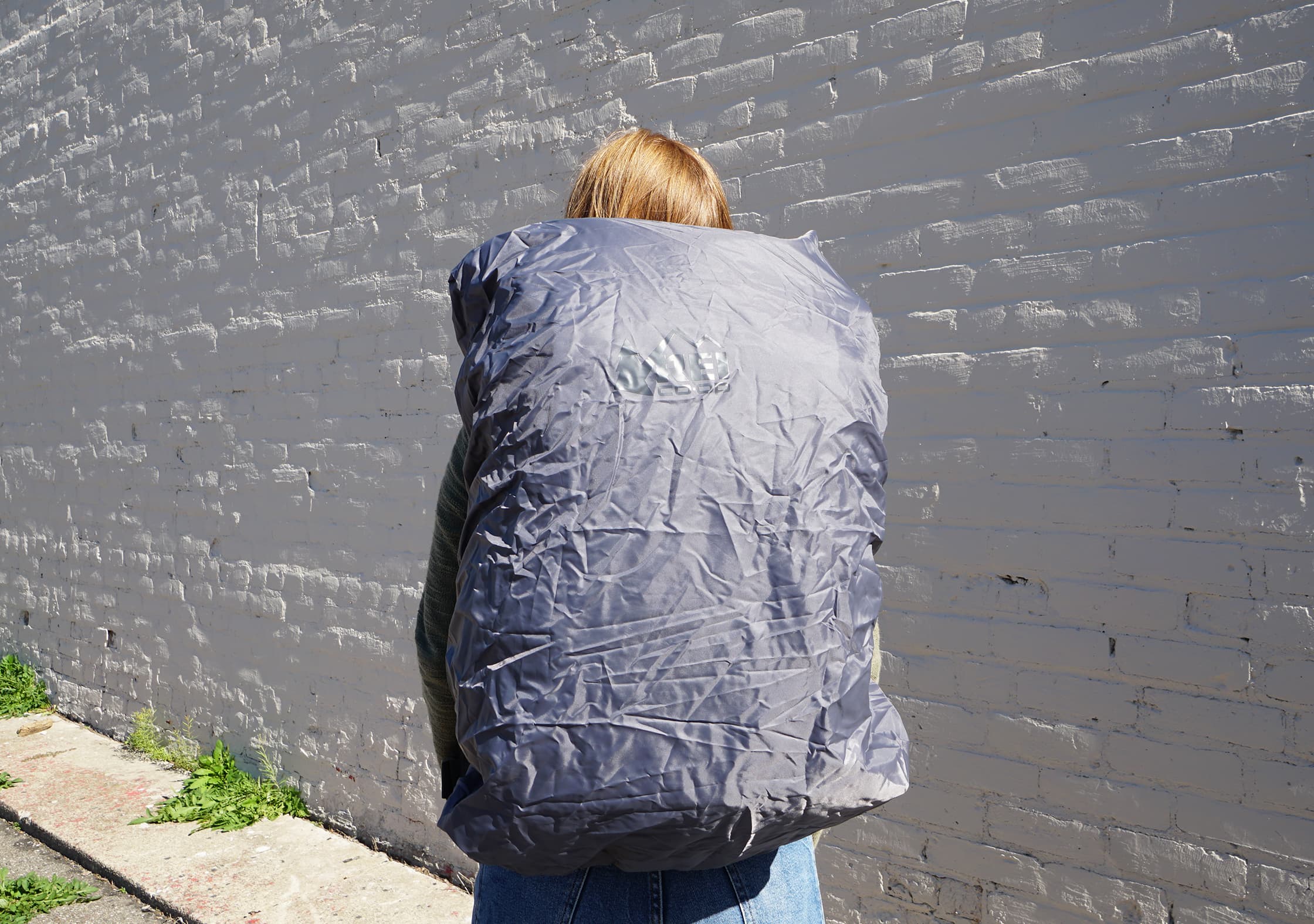 And for the last of the external components, there's a dedicated zip compartment on the bottom of the bag that holds a rain fly. This pack offers some weather resistance on its own, but having a solid rain cover—like this one—ensures that next level of weather protection. It's simple, it deploys quickly, it's super easy to throw on the bag, and it stays on well. Pretty much everything you want from a rain cover. You could also fit some additional items in that rain cover pocket if you're crafty—maybe some dirty clothes or sandals if you've got smaller feet.
Inside the Pack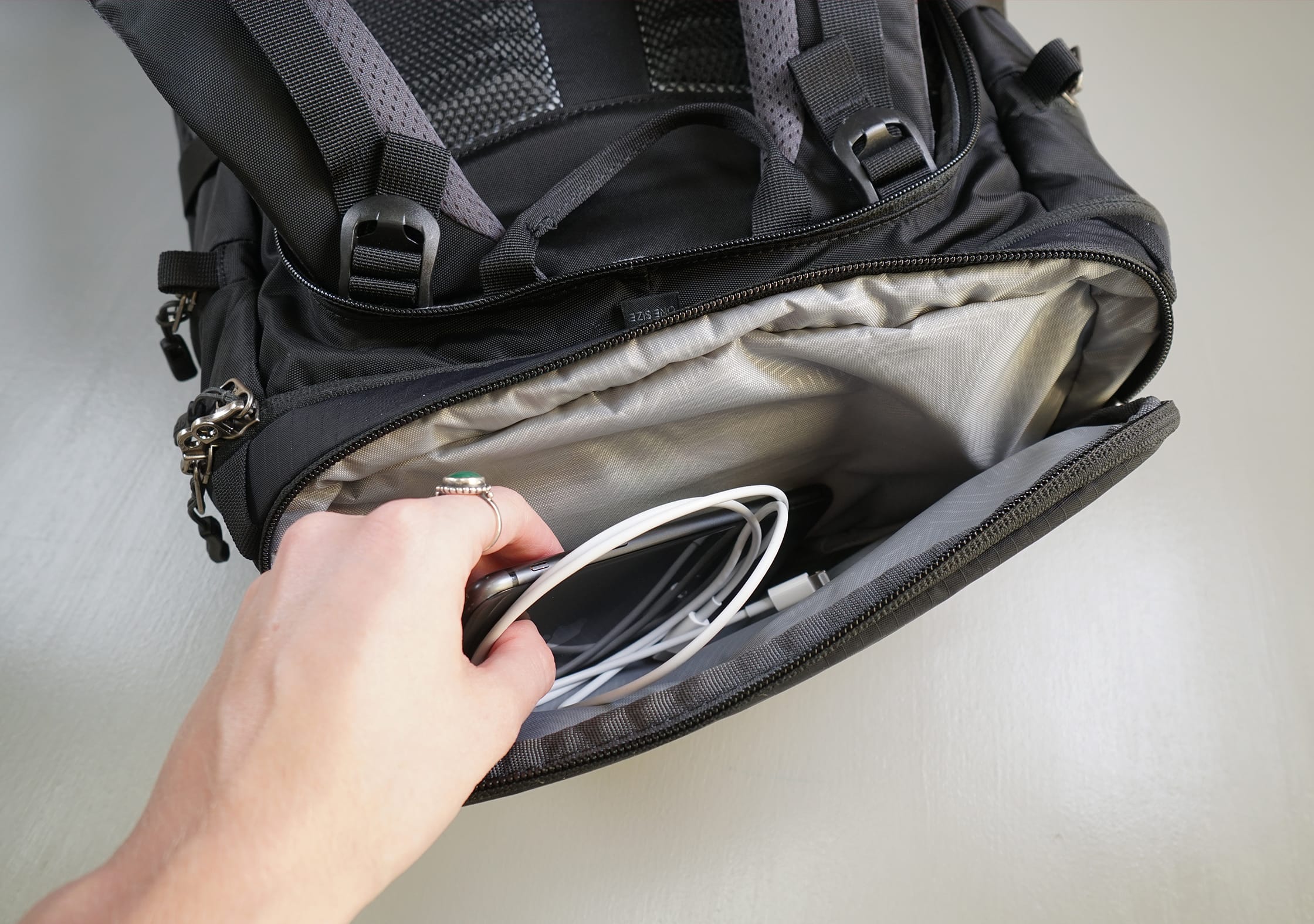 Moving on to the interior of the pack, let's start with the quick access pocket on the top. This thing fully opens up in a horseshoe fashion, allowing you to quickly access whatever is inside. (What an apt name for a pocket, right?) We love these types of pockets and think the placement here is great, although there isn't much organization.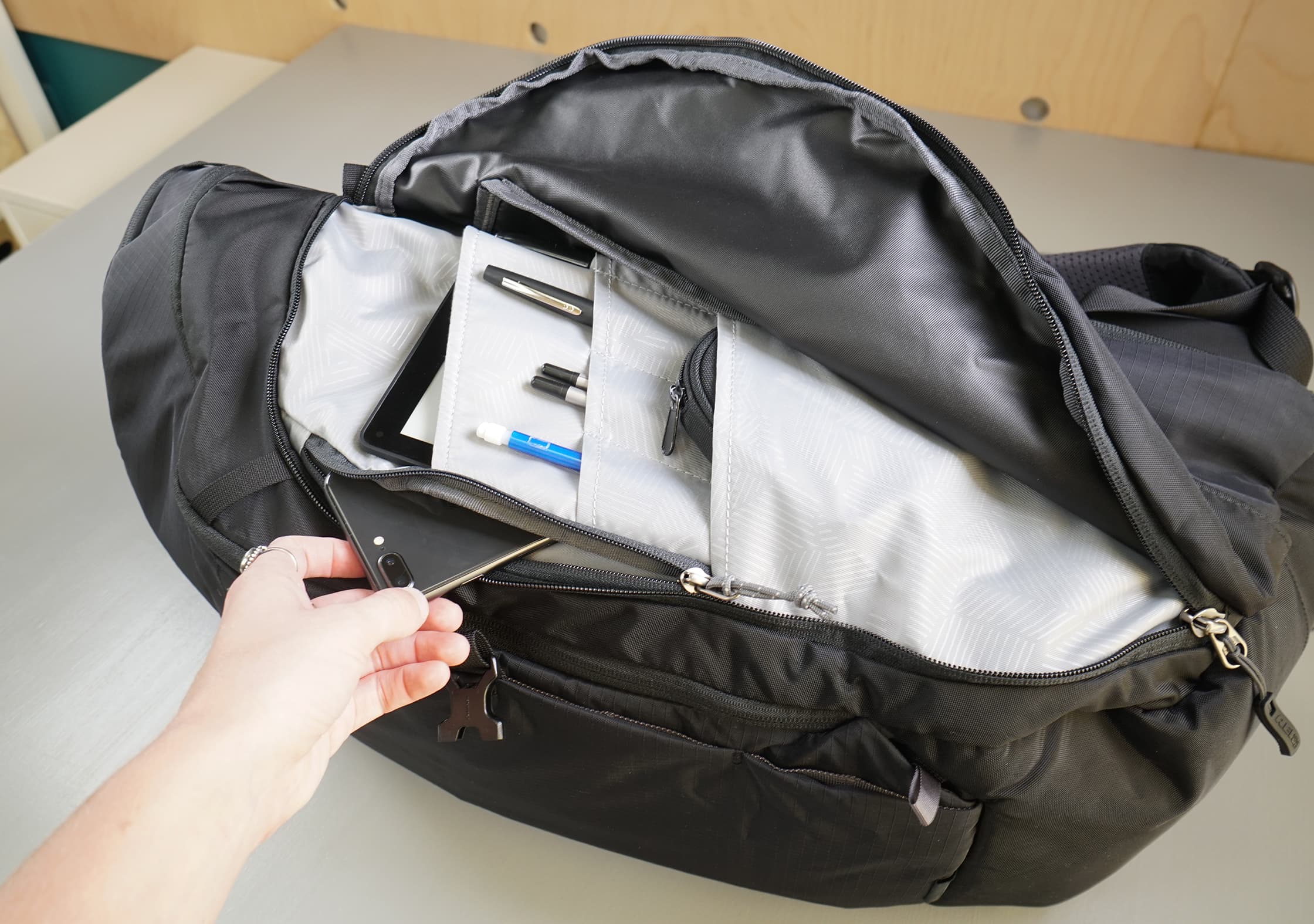 Next up, on the right-hand side there is a side access pocket with a bunch of organization. The YKK zipper is paired with a small pull tab which helps you open the side pocket with ease…which might sound like a silly thing to comment on, but it's one of those small little details you didn't know you needed until you have it. We really love it.
This whole side access system kinda reminds us of the Eagle Creek Global Companion pack or the Peak Design Travel line. And while we love the organization here, we wish there was something similar in the top pocket, just to a lesser degree.
The top sleeve on the side pocket offers a soft interior which is good for tech—anything with a screen. There are four pockets for pens, pencils, styluses…maybe a spork or portable chopsticks if that's your thing. And then there's one large divider pocket at the bottom and a zip pocket that goes behind the entire organization system.
Arguably, that zip pocket is a little bit more secure because it's under two layers of zippers—so it could be a good place for your passport or any other precious items.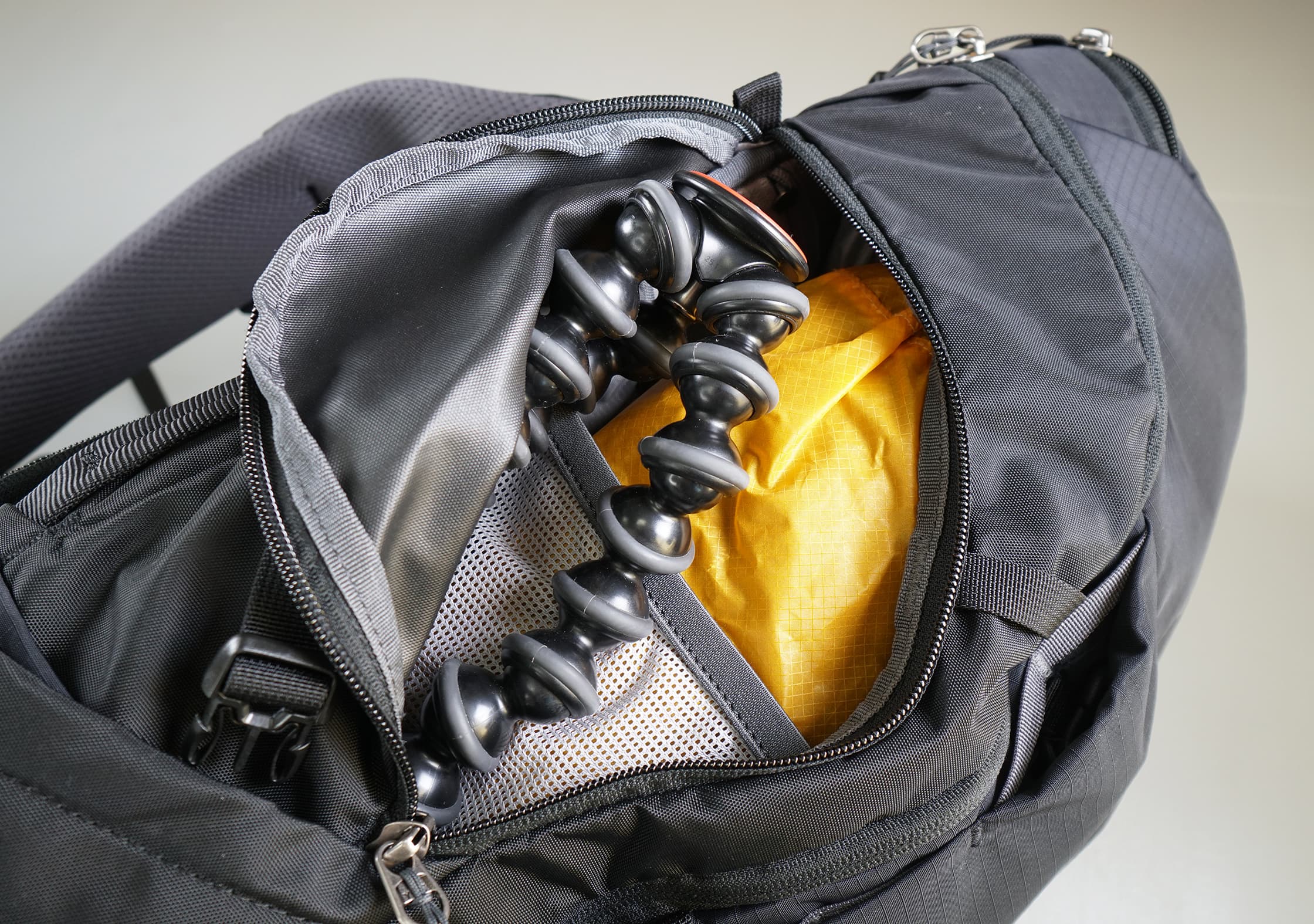 The left side pocket is a bit different—it only zips about halfway down the bag and it has an interior mesh stretch pocket that is good for a water bottle or any longer/flatter items. We've been throwing a portable keyboard in there with great success. We really like what REI has done with these pockets because they look symmetrical from the outside but they both serve a very different function. Something something highly functional, something something minimal aesthetic…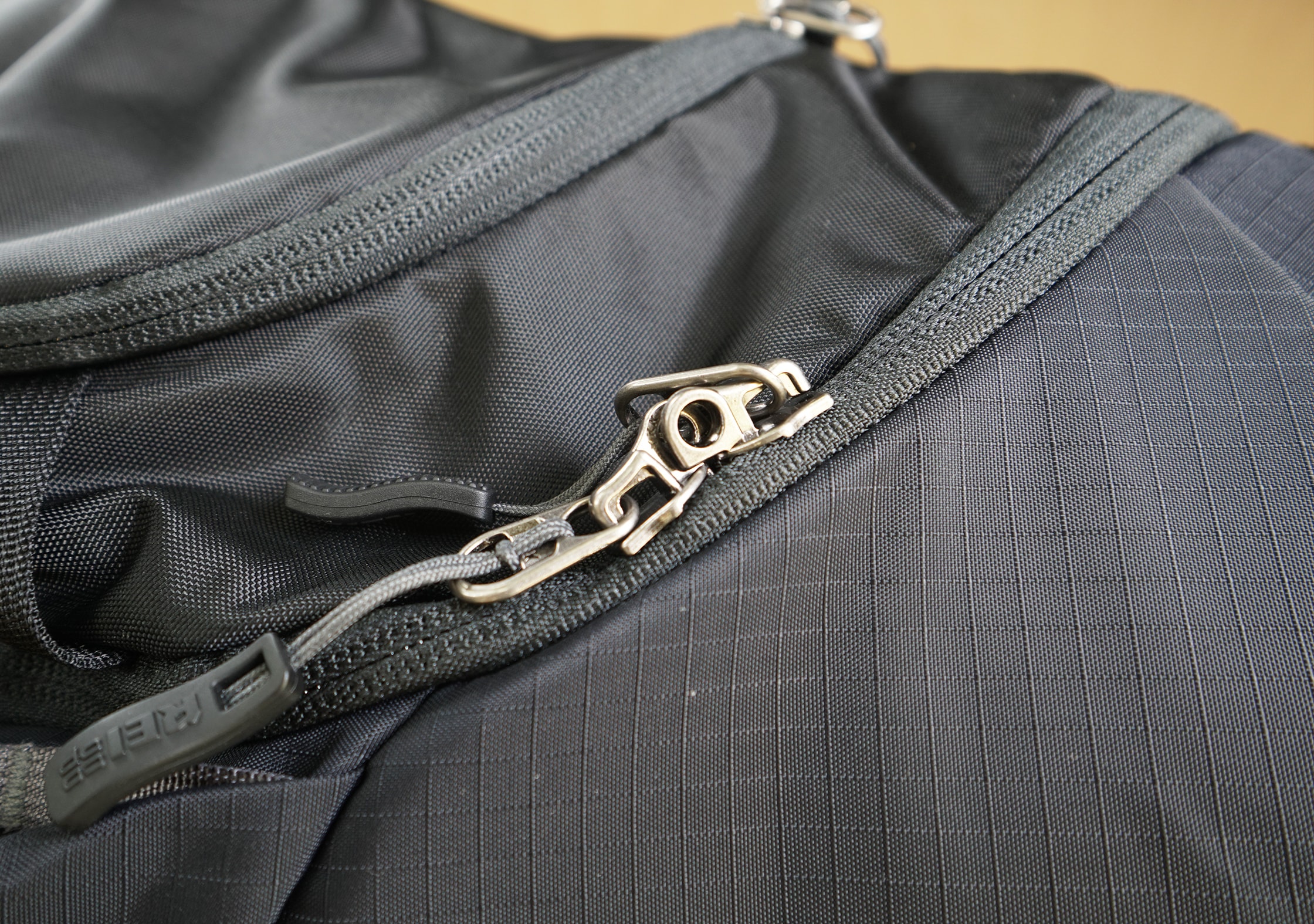 Moving on to the main compartment of the pack, we should first note that the zippers are lockable, which is a nice security feature. And our second note is that you can actually access the main compartment from the side pocket with the mesh, which does not have a lockable zipper. So…this isn't really a foolproof solution, but it's better than nothing. If you are looking for something a little more secure, you might want to take a look at a bag from Pacsafe. We've reviewed one and they definitely put security top of mind when designing their packs.
The zipper positioning on the main compartment allows you to get a nice, top-down view of the main compartment after unzipping it just a little bit, which we really like. This is an awesome design compared to a lot of other clamshell bags we've tested. Most clamshells open up all the way, but you have to unzip them quite a bit to get a good view of what's going on inside your bag.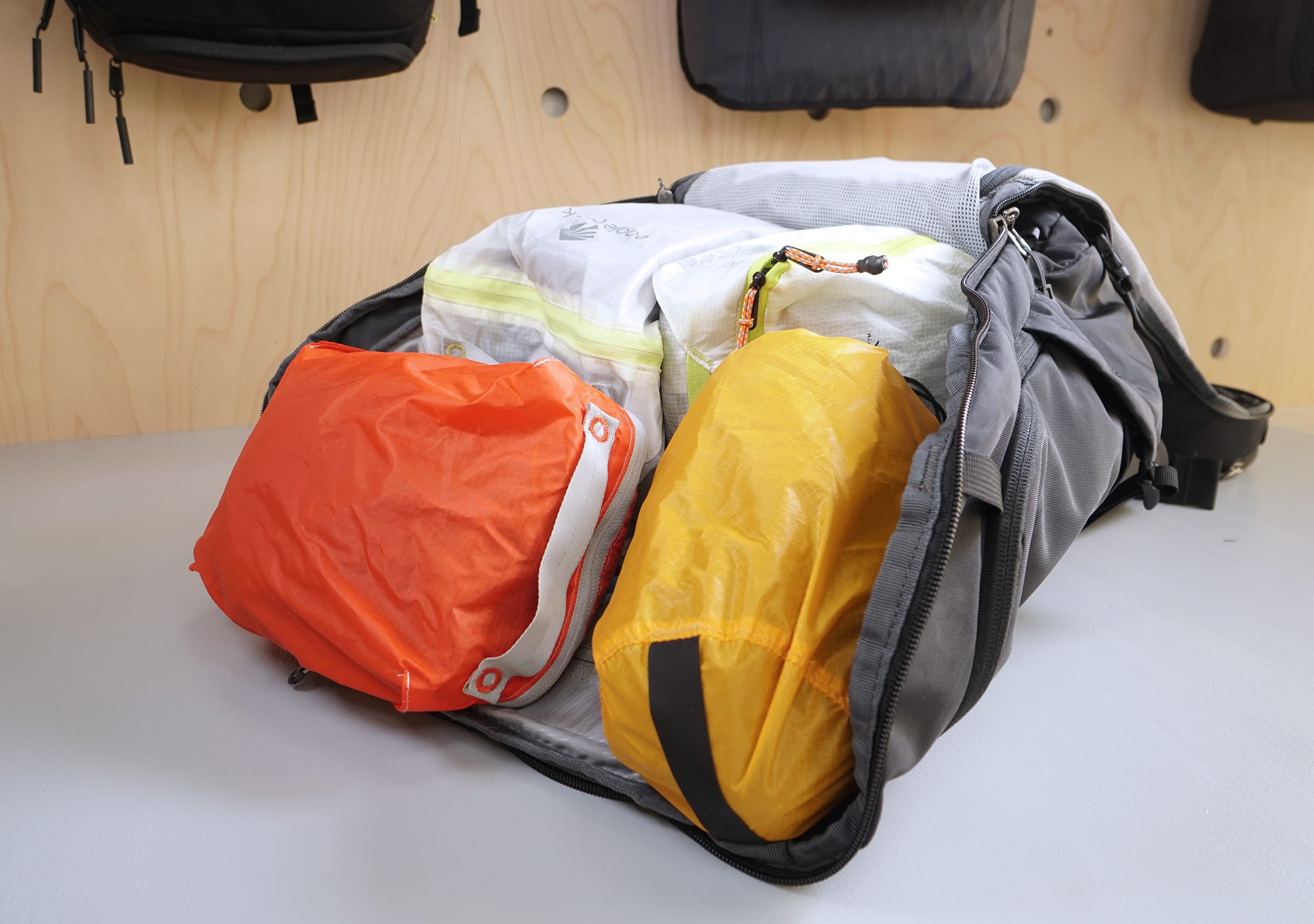 When you do open up the pack all the way, you'll need to unbuckle the side compression straps, which is a small annoyance. It's not ideal but it's also not as bad as some bags because there are only two on each side—as opposed to four, which is pretty common. Once opened up, this compartment is a pretty large, open space that's optimal for packing cubes. REI does make some packing cubes of their own, but really any brand will do here. We're a big fan of the Eagle Creek Pack-it Specter Cubes due to their low weight and high durability—but suit yourself! You could get by without packing cubes, but things will get pretty messy pretty quickly.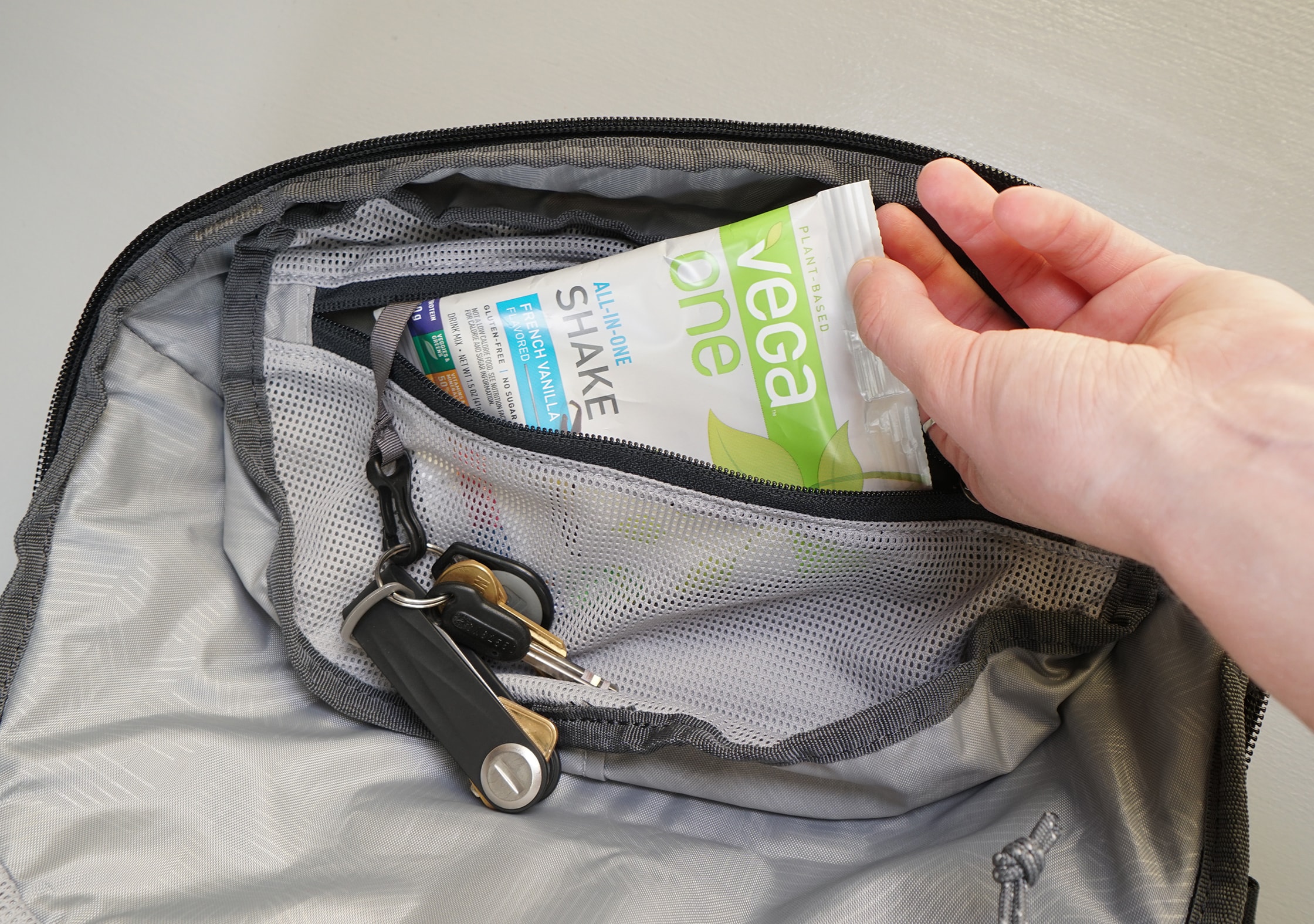 Inside the main compartment, there is a meshy, stretch pocket on the top which has a little bit of depth. There's also a plastic clip for keys, if that's your thing. Below, there is a larger mesh pocket which is good for flatter items or smaller things like underwear and socks if you aren't using packing cubes. And lastly, on the back of the pack there is a laptop compartment that also doubles as a place to store a water bladder. If you do go that route, there's a hydration port on each side of the bag so you can choose which side you want the hose to come out of.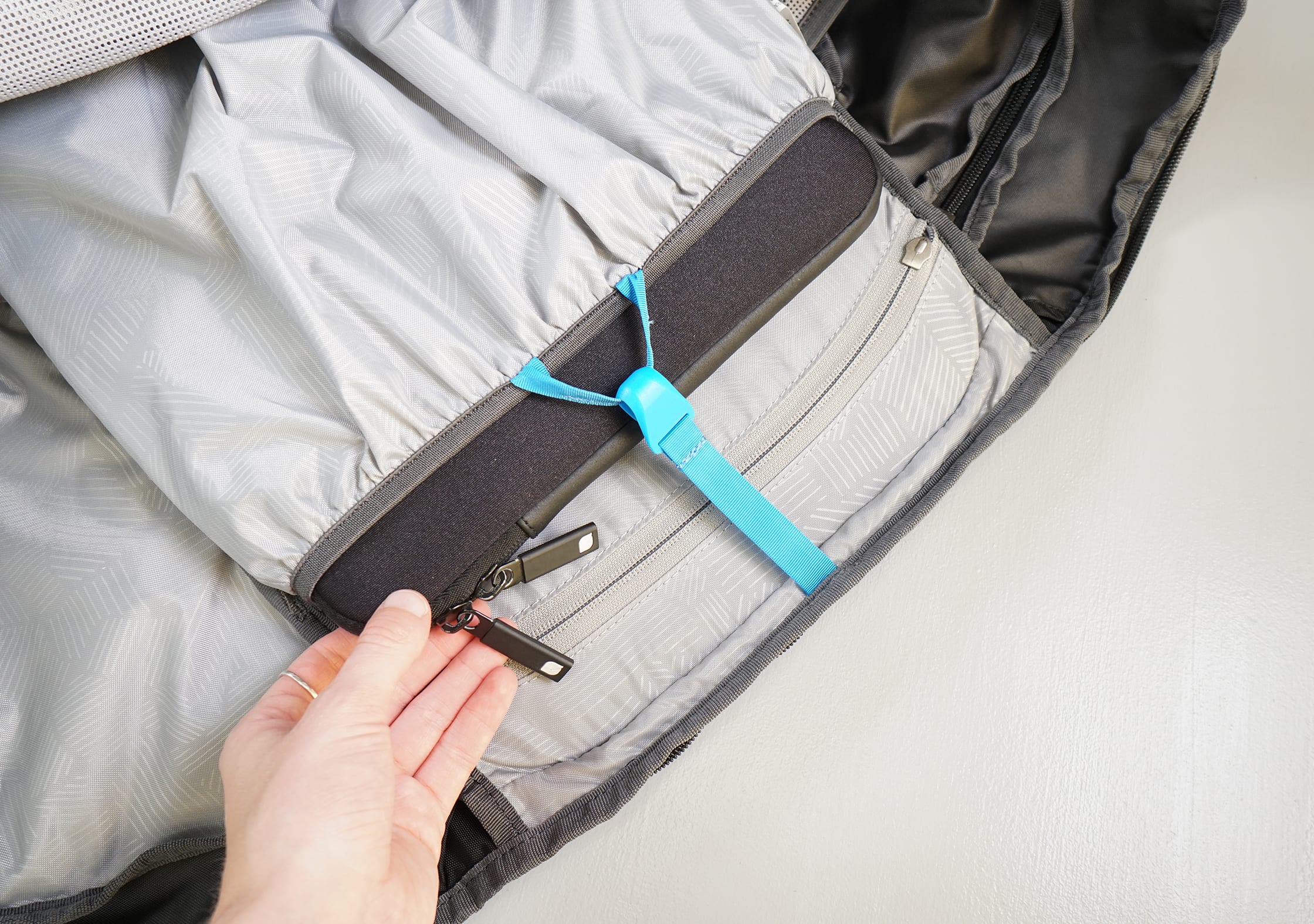 When using this compartment for your laptop we definitely recommend a padded laptop sleeve. There isn't much structure or padding and it's a bit loose overall. You may have noticed this little blue thing on top…it's just a little tab that helps secure your laptop a bit, but the whole sleeve is still not as "structurally sound" as we'd like.
And lastly, above that laptop compartment is a mysterious zipper. This is where you can access the frame sheet, so it's not really a legitimate pocket, but you might be able to stuff some things down there if you really wanted. Maybe it would be useful if you have an excess of cash or some top-secret documents you're trying to smuggle through customs. (Which is really not a good idea. Please don't do that.)
Durability & Testing
At the time of this review, we have been testing both the men's and women's version of this pack for one week each. We really like the fit of this bag, even though it does take some getting used to. Outside of that, we don't have much else to say. It's a great bag overall and although it's not the most durable pack we've tested, it should hold up very well. Good materials, slick look, high functionality. Pretty much what you're looking for with a travel pack.
Usage Timeline
Initial Usage
Condition: Excellent
The back panel is a bit odd, but we're getting used to it! Overall, enjoying this pack.
2 Weeks of Use
Condition: Excellent
Still going strong, it's a solid pack.
Access the Pro Community Discussion
Get your questions about the REI Ruckpack 40 answered from our team and the Pro Community right here on the page. Plus, join discussions with other members about gear, guides, and more.
Other Bags & Luggage Reviews