Osprey Transporter Global Carry-On Review
The Osprey Transporter Global Carry-On is well organized for one-bag travel, though its lack of structure can cause packing hiccups.
Our Verdict
Unlock the Pro Summary
Save time. Get access to brief summaries of our reviews so you can browse and make decisions more efficiently.
Pros
Harness system stashes out of the way for alternative carry methods
Plenty of organizational pockets and compartments for easy packing
Internal compression straps hold clothes in place
Cons
Overpacking could put you over an airline's bag dimension limits
Laptop compartment gets tight with fully-packed bag
TPU coating feels plasticky
Recent Pack Hacker Video
Technical Details
Capacity

36l

Weight (lb)

2.769 lb (1.3 kg)

Dimensions

19.69 in x 13.78 in x 10.63 in (50 x 35 x 27 cm)

Notable Materials

Recycled Polyester, DWR Coating, Thermoplastic Polyurethane (TPU), YKK Zippers, Duraflex Hardware, ITW Hardware

Manufacturing Country

Vietnam

Laptop Compartment Size

16"

Warranty Information
Full Review
When you're looking to get away and want to one-bag it, the Osprey Transporter Global Carry-On has the features you need to make that happen. The 36L capacity can take you through a long weekend without reusing pieces or even longer if you pack a capsule wardrobe. It includes a decent amount of organization, although it lacks some structure found in other travel backpacks. That can work for or against us, depending on the situation.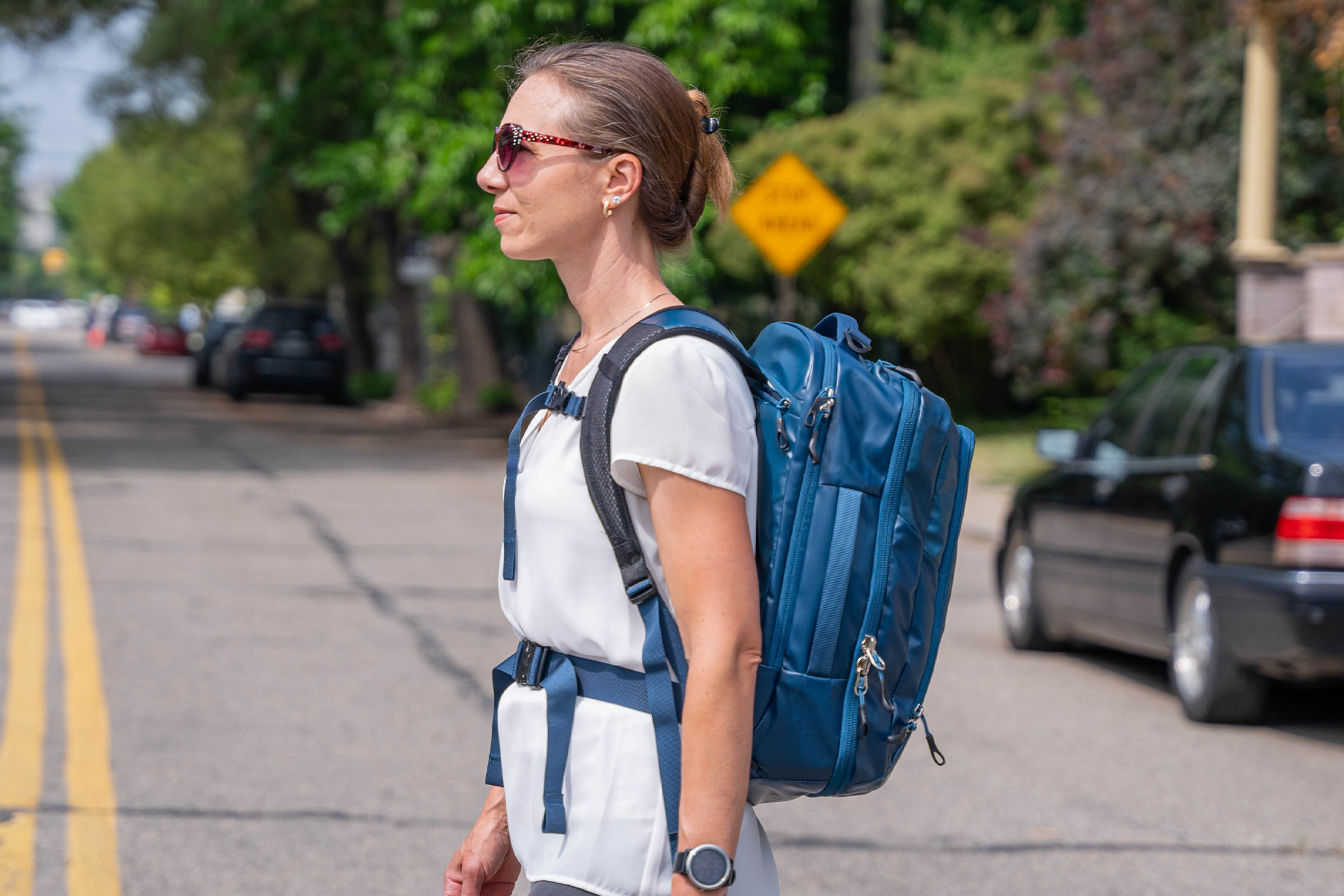 Osprey says it designed the bag's dimensions to fit within global airline carry-on standards. Still, the measurements they provide for the bag—specifically the 10.63-inch depth—knock this bag out of compliance for most airlines. However, don't despair and don't look elsewhere; when we unboxed this bag, we measured its depth around 5 inches. While we first thought there was a mistake on Osprey's website, we discovered when packing that its depth is deceptive—it expands quite a bit as you pack it out. That said, we strained the bag's capacity and tested the strength of the zippers to cram as much as we could inside and still only got to a depth of about 9 inches. That's within the guidelines for most major airlines, so depending how you pack it, the Transporter Global Carry-On is still likely to work for you. Check your specific airline's rules before your trip and measure your pack after it's loaded to avoid nasty surprises in the overhead bin.
All of that said, let's take a look at the reasons why you might want to choose this bag for your next trip.
Materials & Aesthetic
No matter how we pack it, the Osprey Transporter Global Carry-On has a boxy look, like strapping a suitcase to your back. That's basically what it is, but other travel backpacks, including Osprey's own Farpoint 40, streamline the look better than they have done here. You'll have to weigh if aesthetics or features are your priority. If the latter, keep reading.
As of this writing, the Global Carry-On is available in Black, Smoke Grey, and Venturi Blue. We're not sure what a "venturi" is, but we do like the colorway, and it's the one we've been testing. All three colorways feature a light gray interior. The primary material is 450D bluesign® approved recycled polyester, and the accent material is 600D bluesign® approved recycled polyester. Both fabrics have a PFC-free durable water repellent and are TPU coated. The bag's exterior has a plasticky feel that is a bit slippery to grab, especially when we're trying to zip an overstuffed compartment. The pros to this con are that water runs right off, it's easy to clean, and it seems very sturdy. You win some, and you lose some.

Like on its other products, Osprey splashes its name around this bag. Look for a 2.5-inch logo in the top center of the bag's front. The Osprey name is also on the straps and plastic zipper pulls. Another logo without the name is on the bag's rear, and Transporter is printed in all caps at the bottom of the front of the bag. You never know when someone walking past will want to know what bag you're sporting and be too shy to ask. A fabric tab at the rear says Global Carry-On.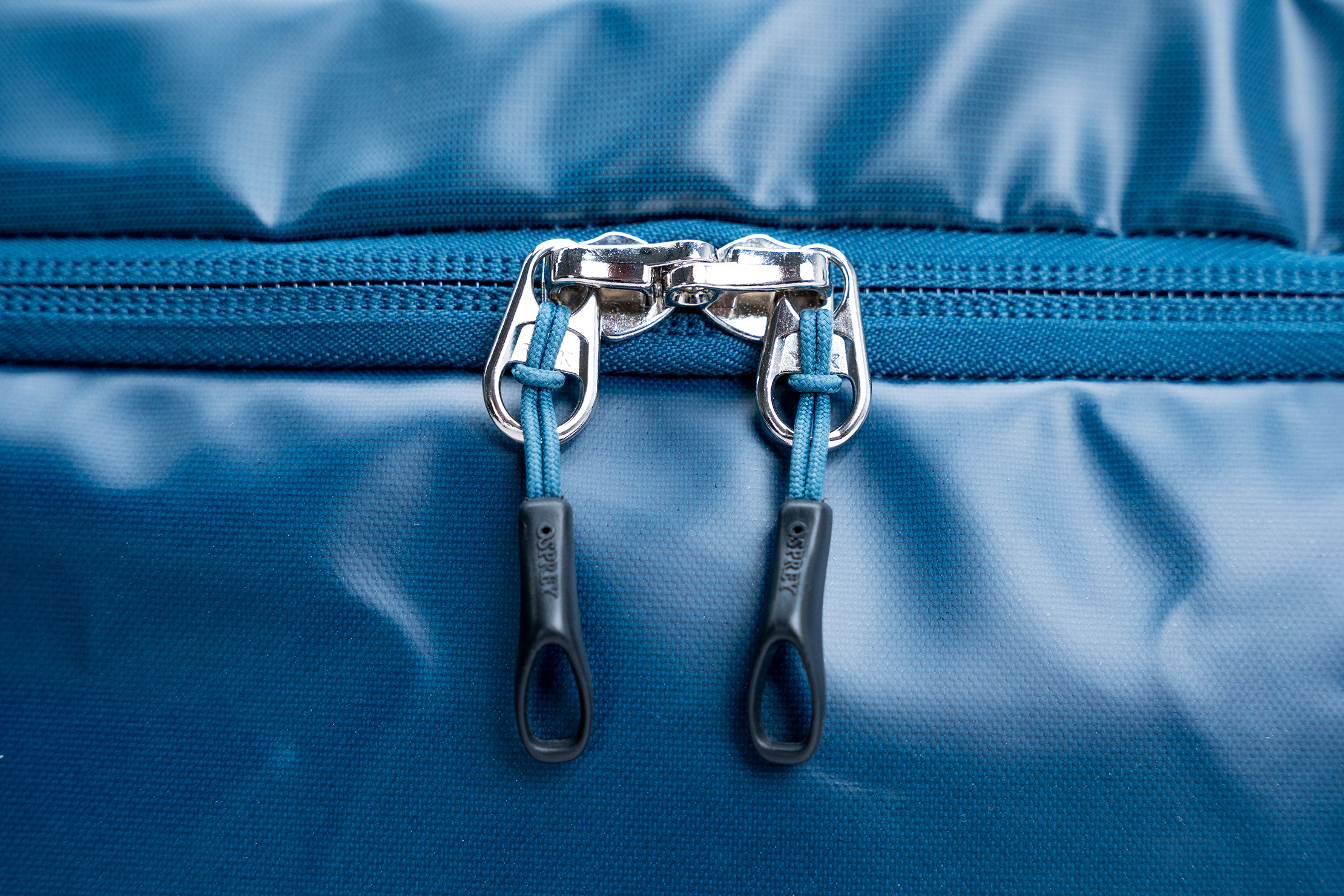 There is plenty of hardware scattered around this bag. Different sizes of YKK zippers are used throughout, including #10 Racquet Coil Zippers utilized for closing the main compartment. YKK designed RC zippers for luggage and backpacks where abrasion resistance is required. They're engineered to withstand rugged use. That's good because, as we'll get to later, you can really stuff this bag, and it's only the strength of the zipper standing between success and an unfortunate backpack malfunction. The dual-sided zippers on the main section and the laptop compartment include holes where you can slide in a luggage lock, but the front admin panel does not have that feature.
The zippers all feature 1.5-inch black molded plastic zipper pulls attached to the ends of colored cords for easy grabbing, which comes in handy as we put this bag through its paces. Internal zippers included corded zipper pulls in the same light gray as the liner.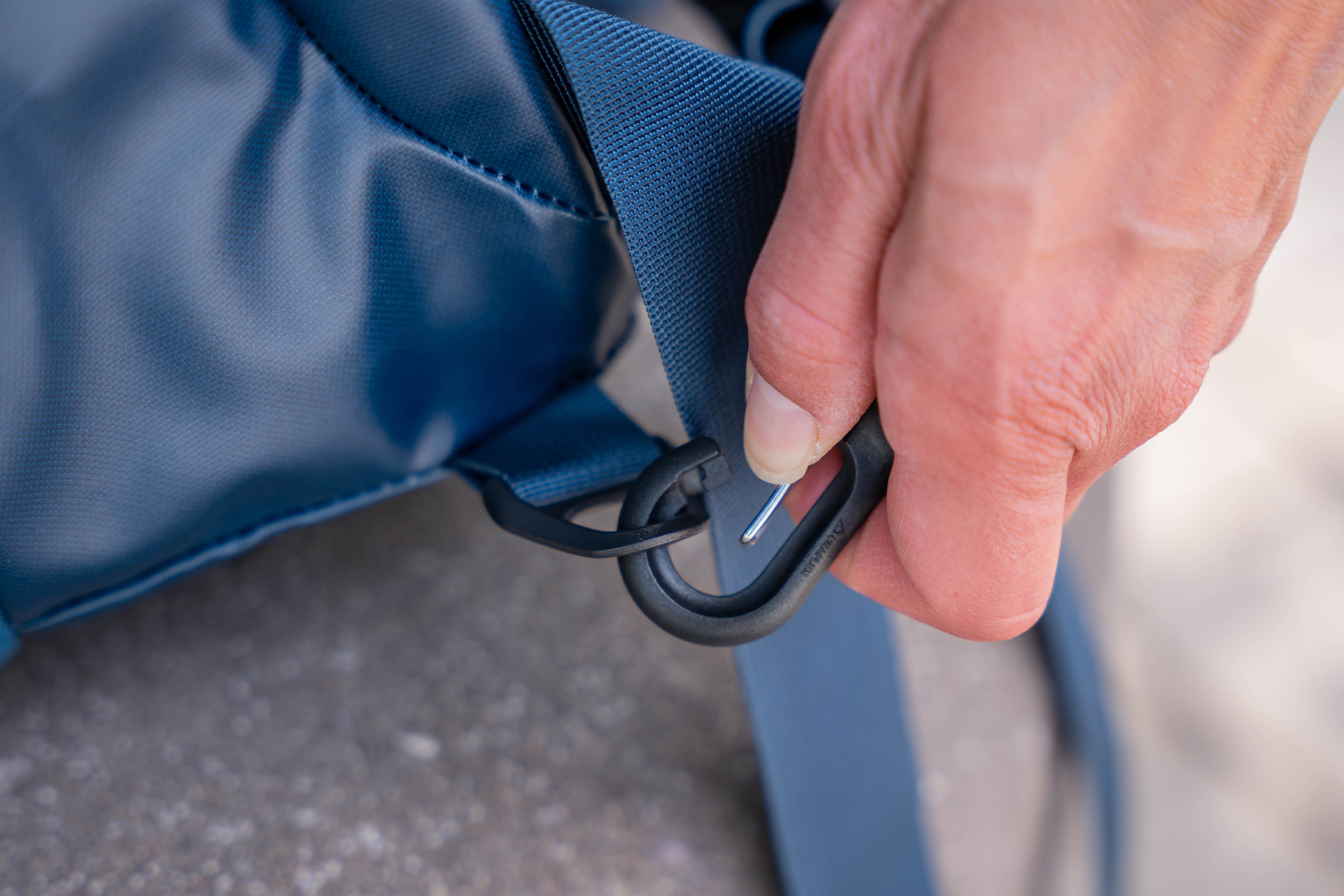 Two-inch hooks attaching the shoulder straps to the bag are Duraflex. All the clips are on a swivel, which is nice to prevent the shoulder strap used for horizontally carrying the bag from twisting. Osprey used ITW hardware for buckles on the sternum and waist straps.
Let's look around the outside of the bag.
External Components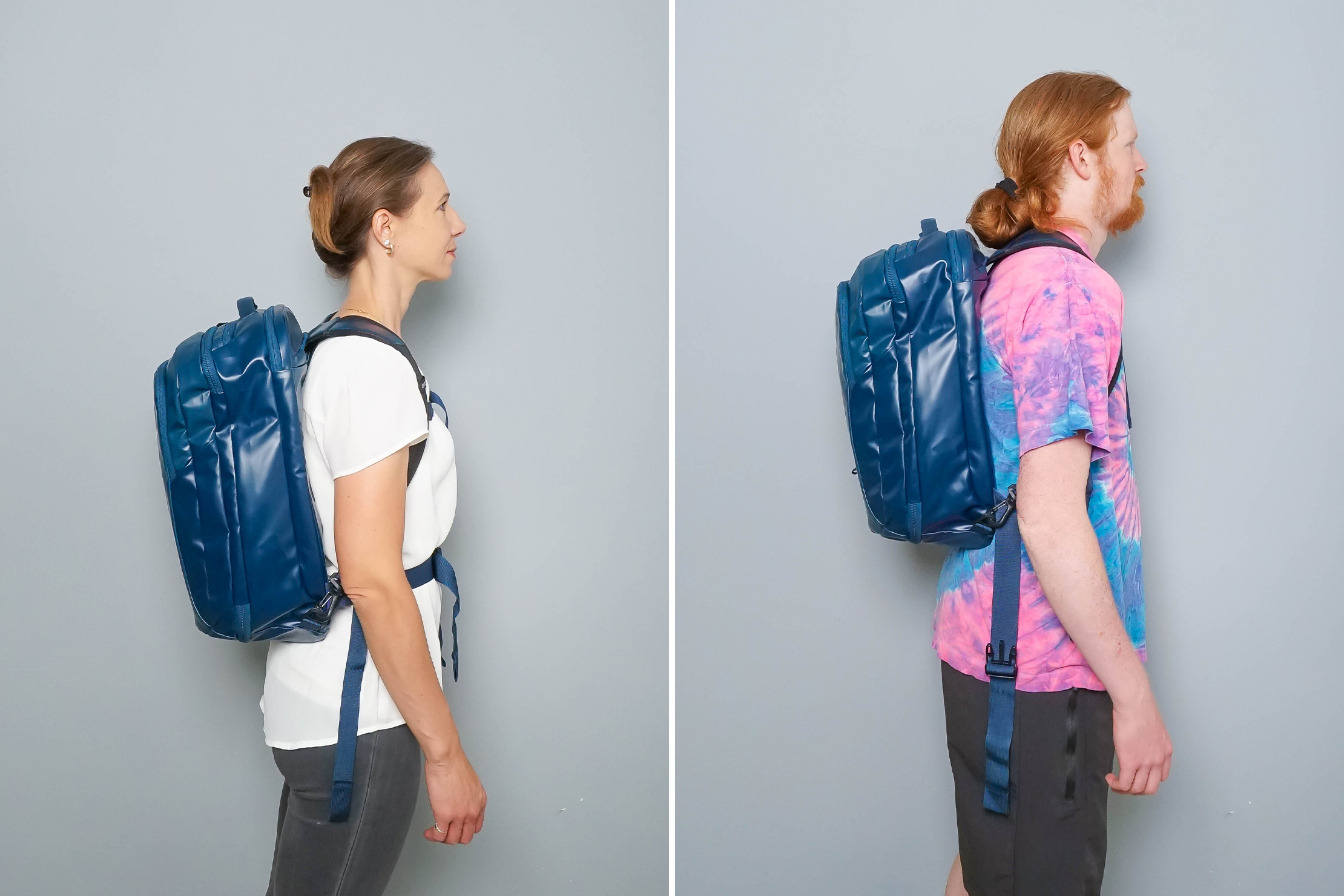 There are many ways to carry the Osprey Transporter Global Carry-On, and it's nice to have options when lugging around such a (potentially) hefty bag. Beginning with how you'd pull it out of the closet, there are 7-inch long thick webbing handles at the top and on the side of the bag, so you can carry it upright or briefcase-style. Either way, it maintains its shape without buckling. It's quite a large bag to haul this way for very long, but it's a good option to avoid whacking your fellow passengers in the face as you get off the airplane.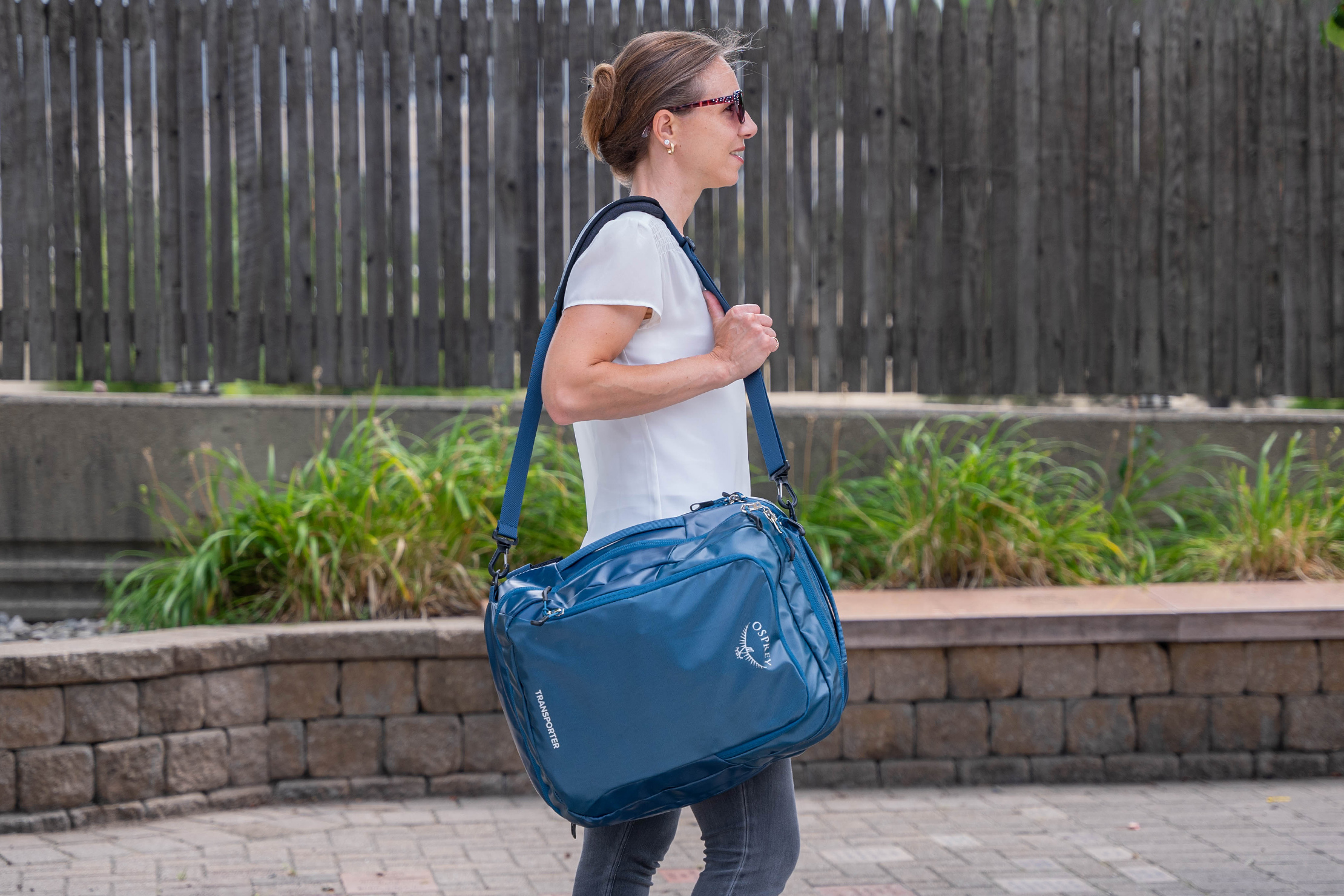 There is an adjustable, removable webbing strap for one-shoulder carry with a 10-inch long piece of thick padding that slides along to be wherever you need it. It's surprisingly comfortable to carry the pack this way, given the capacity, and we think the ¾-inch thick padding has a lot to do with it.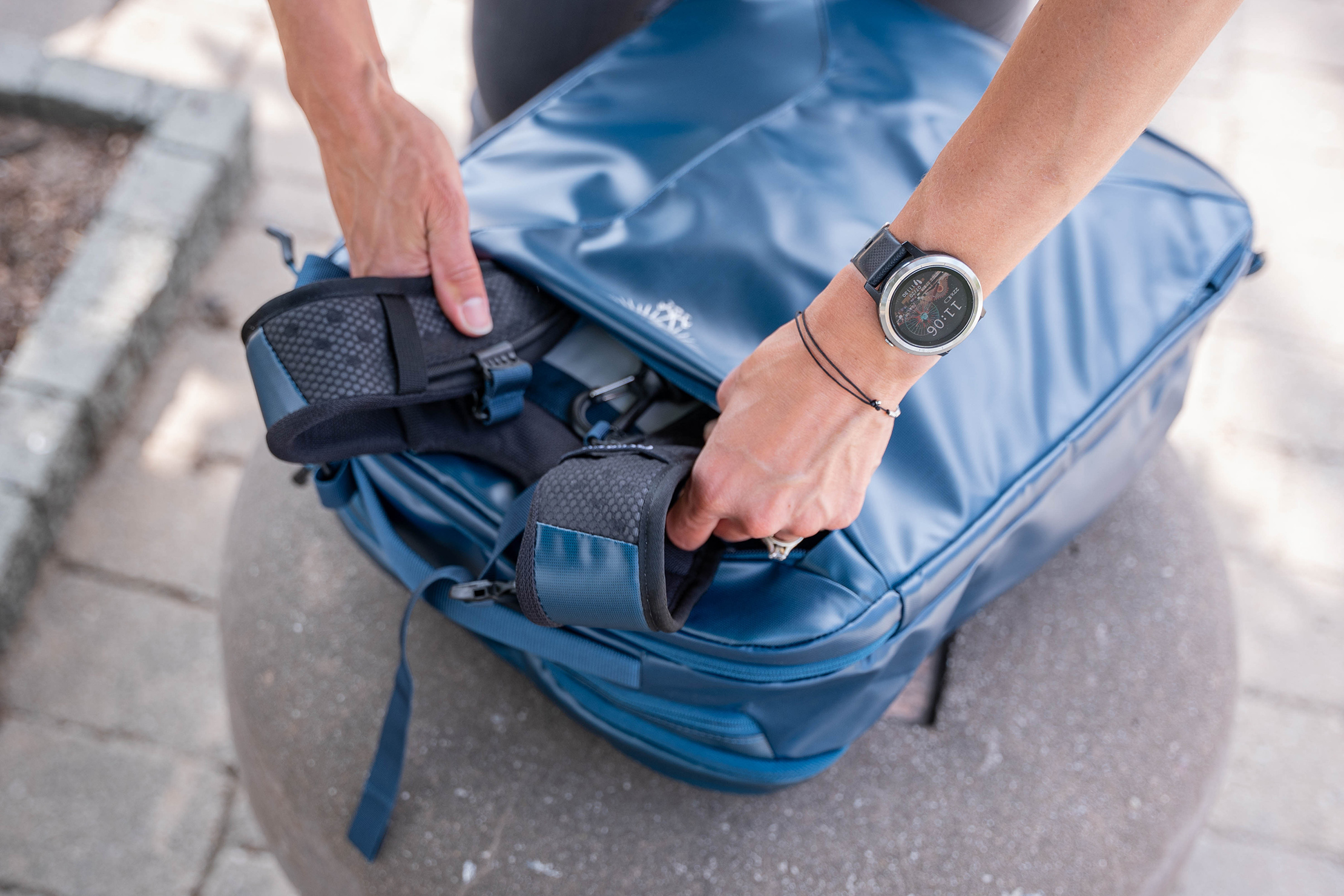 Finally, there is a hideaway harness system that can deploy to make the Global Carry-On a backpack. A zippered opening spanning the width of the bag on the rear opens to reveal two nicely-padded shoulder straps. Pull them out and hook them in to haul this pack on your back. They're incredibly comfortable, as well, due to their flexibility and padding, plus the breathable mesh underneath. An attachment point on each strap allows you to clip small items, or slide in your sunglasses.
A thin sternum strap slides along a rail on each strap, and the buckle features an emergency whistle if you find yourself in a sketchy situation. They slide very stiffly, so don't be afraid to tug! Once you find your perfect fit, the benefit is that it won't slide around easily.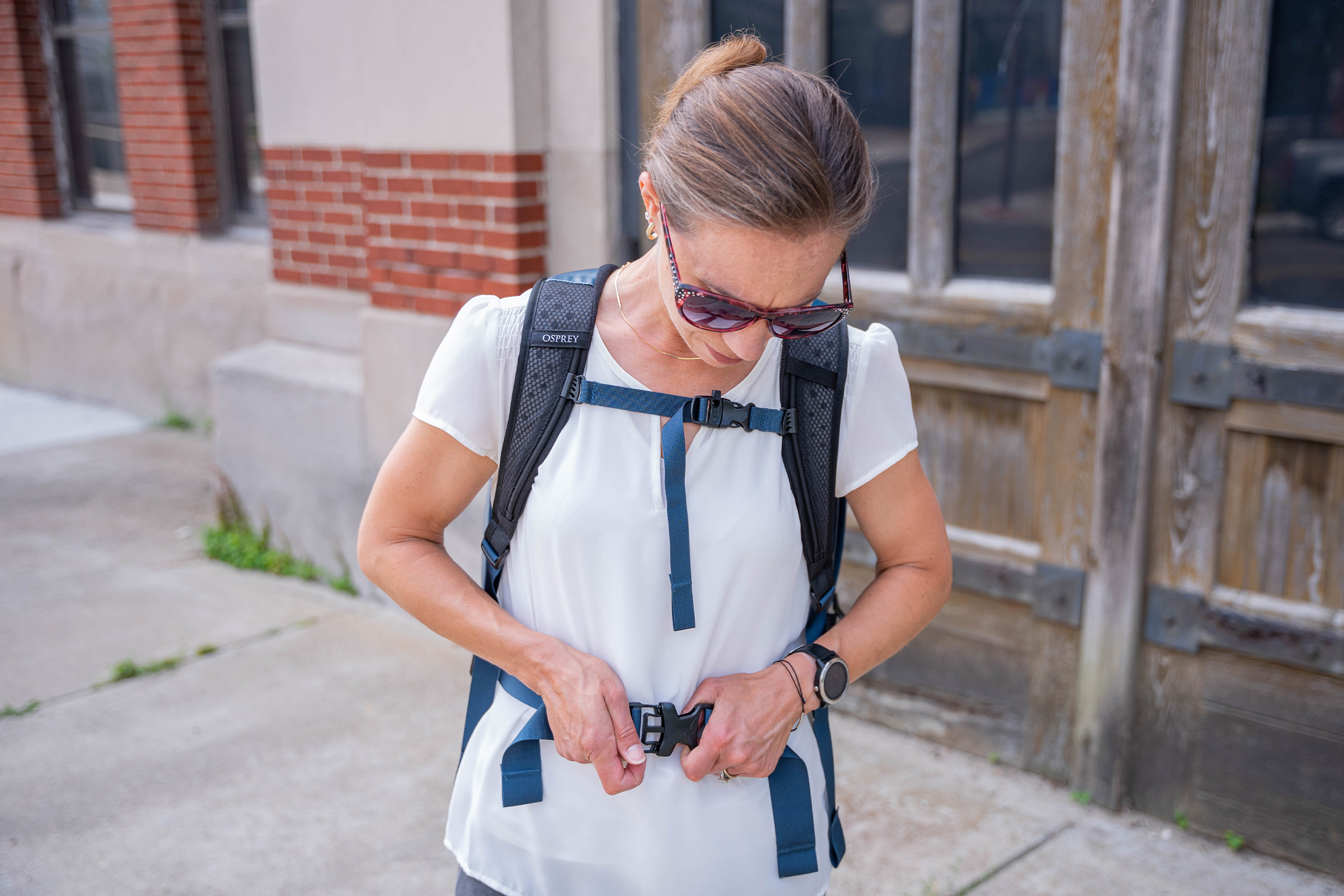 There are also hideaway waist straps so well-hidden we nearly missed them. They're plain webbing straps, like the sternum strap, and don't add much to the carry comfort, so we're glad they have slots on either side of the bag to slide in and stay out of the way.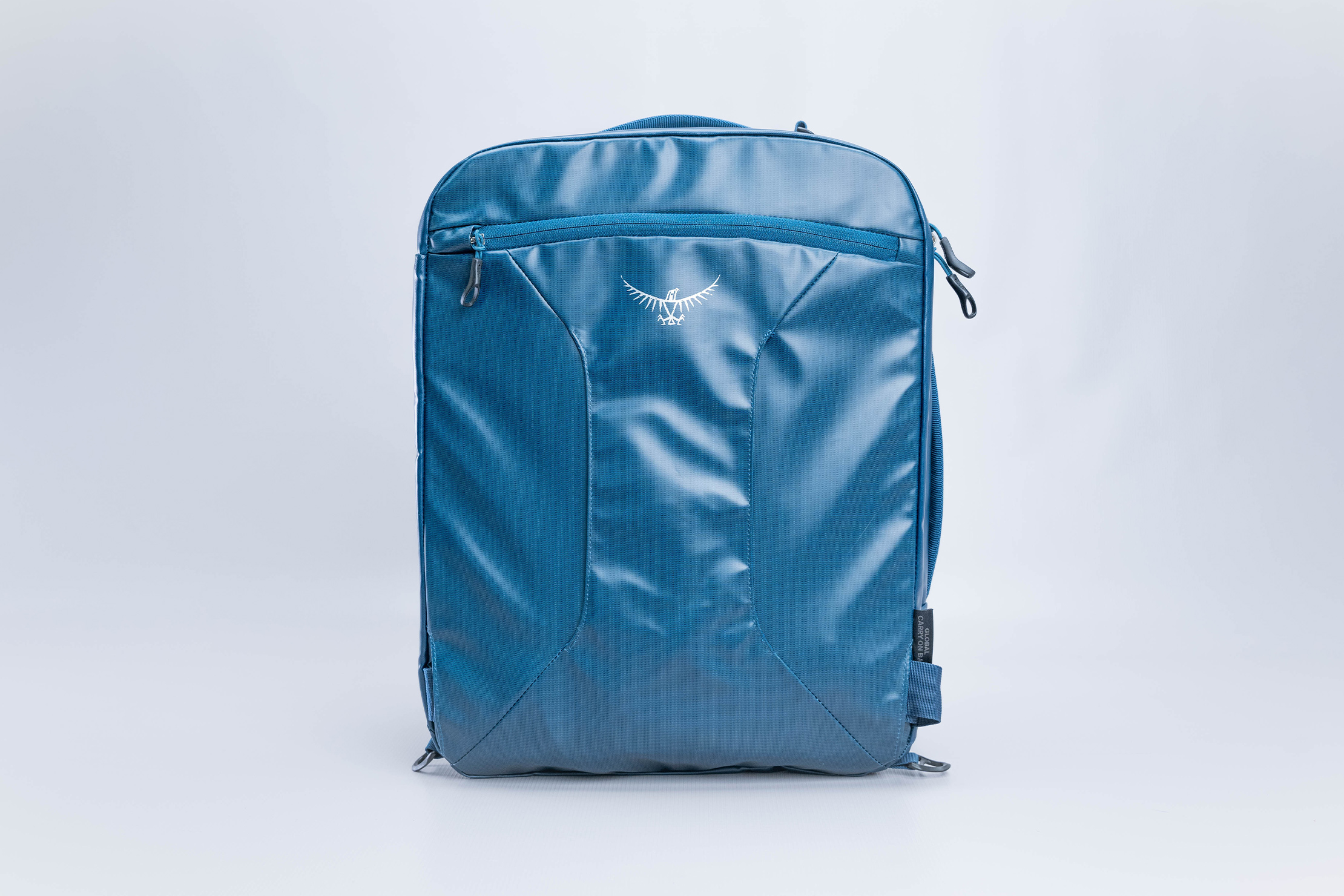 The back panel has minimal padding. It's only the thin foam of the rear laptop compartment between your back and this bag. This only seems to come into play when carrying a loaded bag with a laptop. In that case, you feel a bit of the device against your back. Osprey likely sacrificed some padding for added packing space, and we don't mind since this is a pack designed for airline travel. A backpack for a hiking trip through Europe wouldn't have the same size restrictions and thus, could afford to add more padding to the back panel.
Also on the back panel is a luggage pass-through strap, in case this bag isn't enough space for your trip, or you want to get your companion to haul it through the airport for you. It works well, although it does become more difficult to slide on the more you pack in the bag. It's not impossible, it simply takes a little more effort.
Now let's see how all of these features work together.
Inside The Pack
To begin, an admin panel spans the front of the bag. It's just thick enough to slide a notebook or a magazine. However, it also includes two 4-inch square pockets with elastic at the top, two pen slots, the ubiquitous red plastic Osprey key clip, and a 9-inch wide by 6-inch deep zippered pocket for storing tech accessories. In this section, we fit the smaller tech associated with digital nomad life, including cords, a mouse, dongles, and chargers. A wireless keyboard could also work here, though the pocket has no padding to protect it.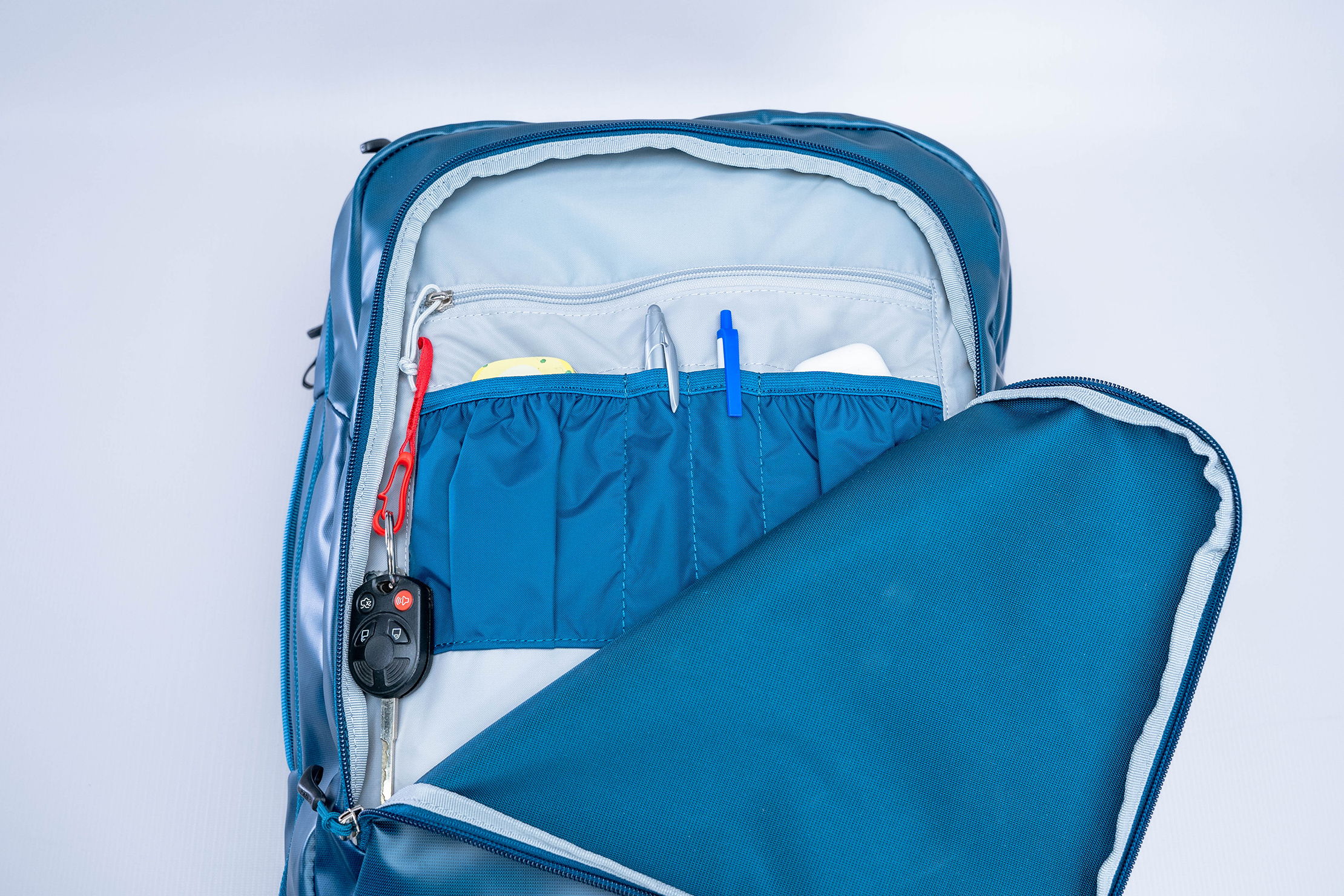 When we flip the bag over, we find a sizeable unstructured laptop pocket at the rear for up to a 16-inch device. It opens with dual-sided zippers that run along the top of the bag and three-quarters of the way down the left side. This section has minimal padding, so a case or sleeve would not go amiss here for some added protection. While it seems like there is plenty of space in this pocket when the bag is carrying less, adding more gear to the main compartment makes it more of a squeeze to slide in our computer. It's something to be aware of if you have a device thicker than a Mac; you may want to slide it in before packing the main section to be sure you have room. If you need more space, pulling the harness system out of its hideaway pocket may provide enough room so you can wedge in what you need.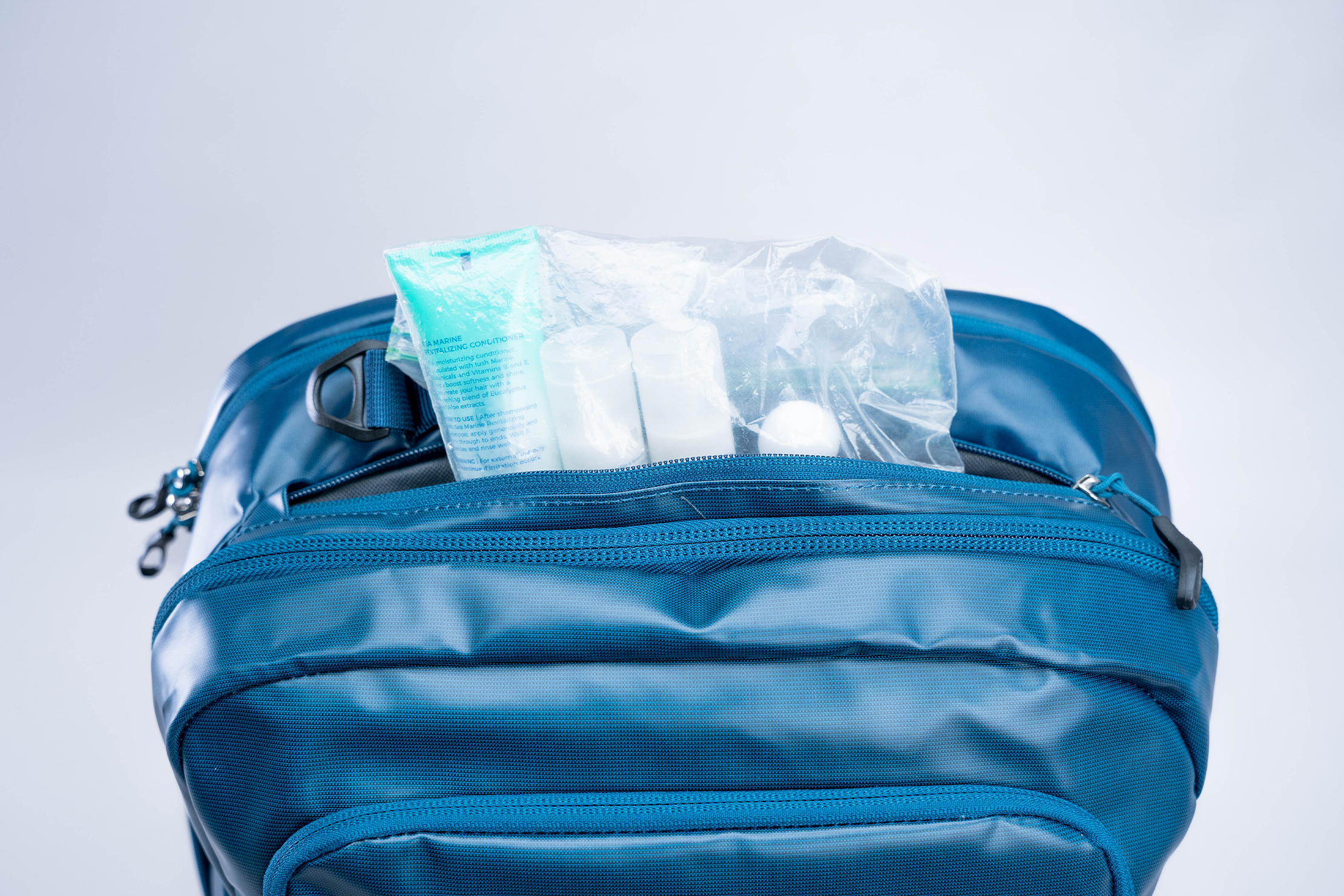 On the top of the bag, just in front of the carry handle, is a small zippered pocket where you can toss a phone, sunglasses, or your 3-1-1 liquids toiletry bag to have it within reach as you move through the TSA line.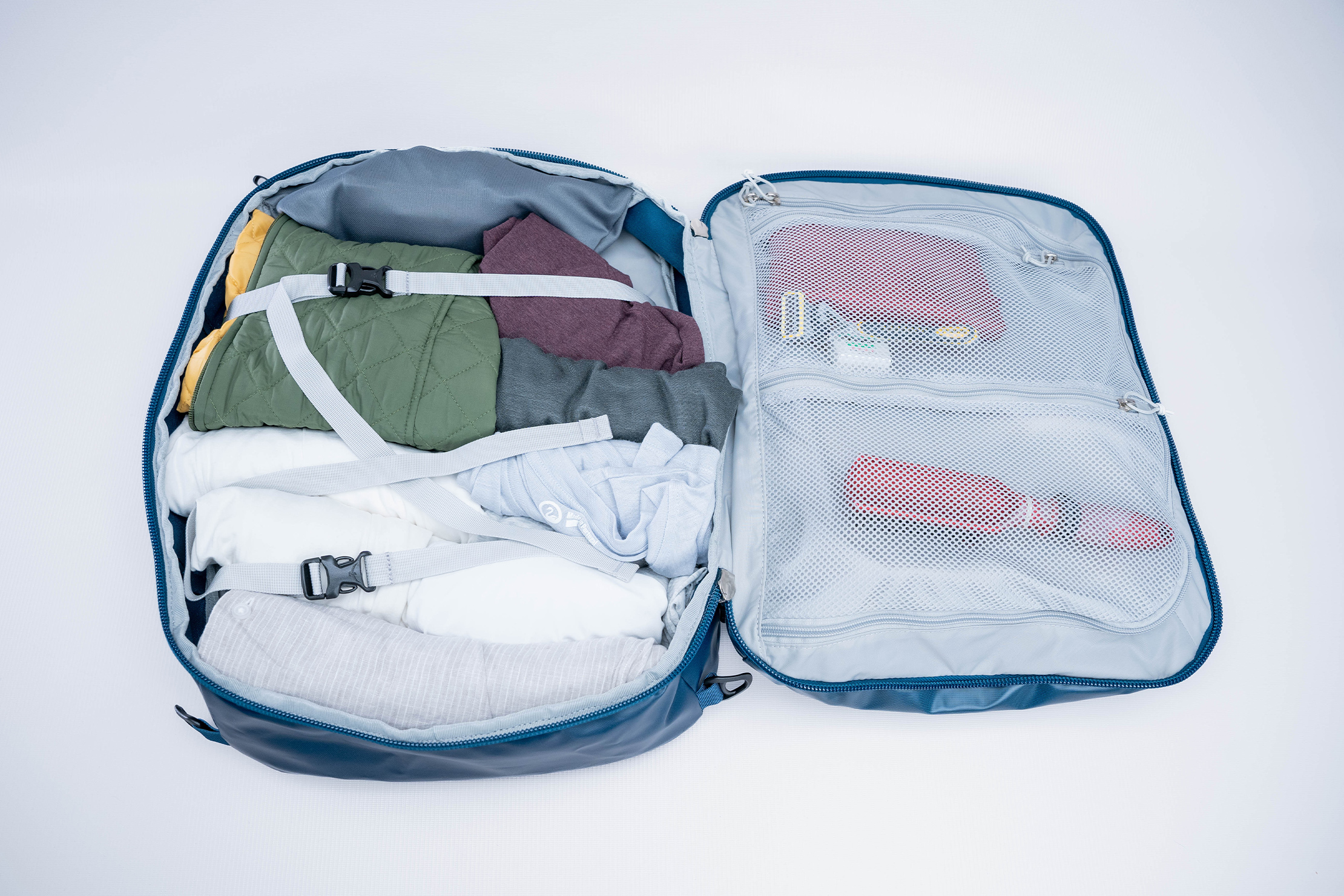 Now to the main compartment. It is divided into two main sections and opens clamshell to lie fully flat for easy packing. The lower two-thirds is an open space with two compression straps to hold items in place. Packing cubes would be helpful here, though careful packing and using the compression straps allows us to fit quite a bit in this part of the bag.
On the opposite side, adjacent to the front panel, is a zippered divider so we can keep shoes or dirty clothing separate from clean items. It includes two zippered mesh pouches for the remainder of our toiletries or other small things we want to keep separate. Realize that objects protruding from these pouches will fight for space with the items in the opposite section, though. Opening the divider allows access to the upper third of the bag, where there is enough depth for sneakers, towels, or other bulky or dirty items.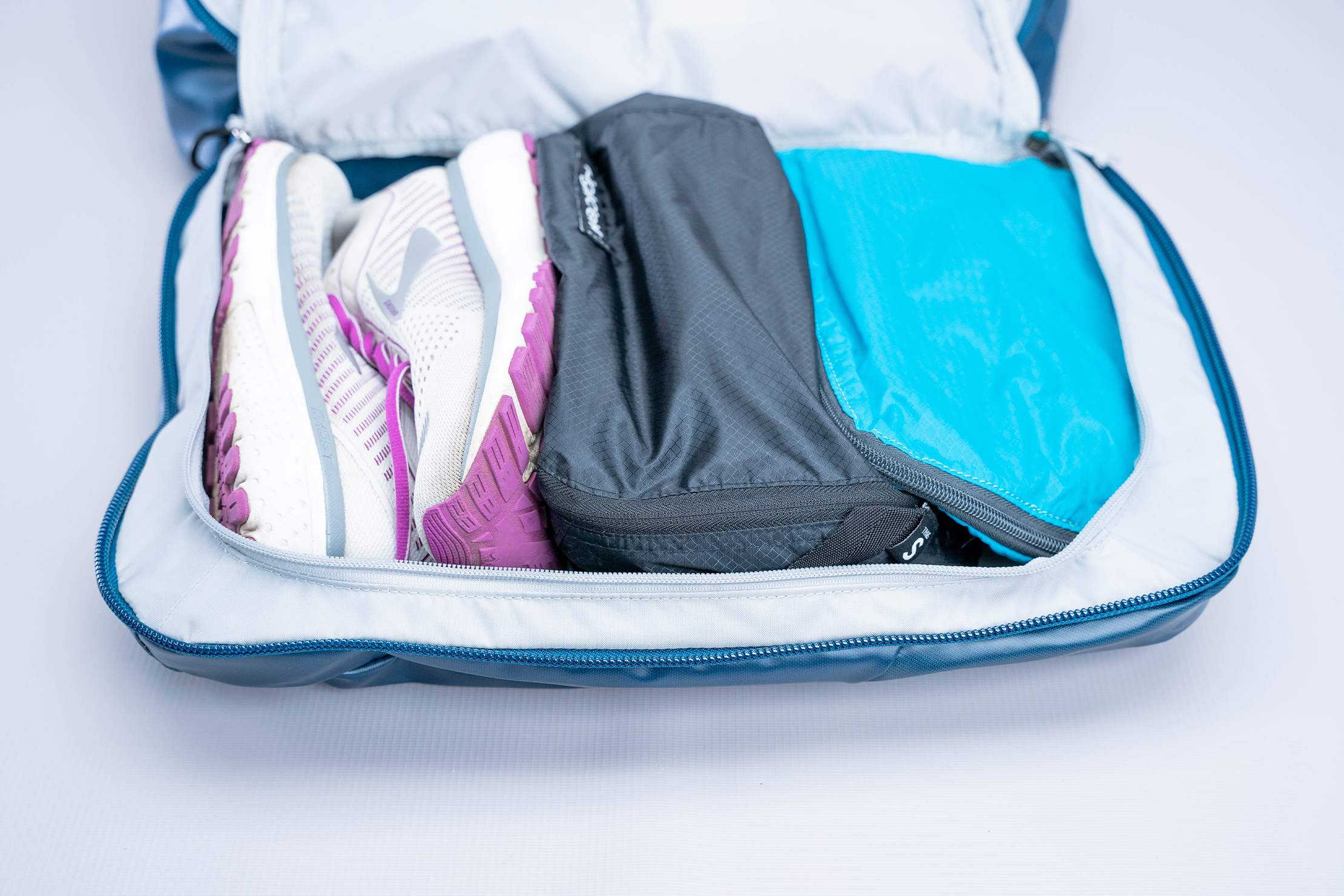 We want to mention that the unstrutured nature of the bag can be a boon or an impediment. It allows us to overpack without noticing until we go to zip it up, as the flexible sides let us overspill the bag's frame with rolled clothing. The first time we packed this bag for a weekend trip, we thought we had plenty of extra space until we went to zip the two sections back together. Practice makes perfect, though, and we soon learned the quirks of properly packing this bag. We're confident you will too. The flexibility, combined with the strong zippers, allows us to test the limits of its capacity by squeezing the zipper over tight corners to make ends meet. If you're looking to test the limits of how far you can get in a backpack, the Osprey Transporter Global Carry-On may get you there.
Usage Timeline
Initial Usage
Condition:
Backpack straps have their own zippered pocket when not in use
TPU coating makes the bag feel plasticky
Like the blue colorway
2 Weeks of Use
Condition: Excellent
Harness system works well, providing a comfortable carry
Convenient pocket for liquids makes it easy to get through TSA
Flexible sides make it easy to overpack
Access the Pro Community Discussion
Get your questions about the Osprey Transporter Global Carry-On answered from our team and the Pro Community right here on the page. Plus, join discussions with other members about gear, guides, and more.
Other Bags & Luggage Reviews