Pacsafe Venturesafe EXP35 Travel Backpack Review
The Pacsafe Venturesafe EXP35 Travel Backpack has beefed up security features that trade in quick accessibility in favor of protecting valuables.
Pacsafe's current model in production includes a handle for hanging the bag. Our pre-production sample does not have this feature.
Our Verdict
Unlock the Pro Summary
Save time. Get access to brief summaries of our reviews so you can browse and make decisions more efficiently.
Pros
Harness system is comfortable
Main compartment opens up wide for easy packing
Lockable zippers add a layer of theft deterrence
Cons
Quick access is hampered by anti-theft features
Water bottle pockets are loose for smaller bottles
Zippers are jangly
Recent Pack Hacker Video
Technical Details
Capacity

35l

Weight (lb)

3.33 lb (1.5 kg)

Dimensions

20.5 in x 12.2 in x 7.9 in (52.1 x 31 x 20.1 cm)

Notable Materials

Duraflex Hardware

Manufacturing Country

Vietnam

Laptop Compartment Size

16"

Warranty Information
Full Review
Get up to 15% off Pacsafe • Join Pack Hacker Pro
If there's one thing that deters any traveler from actually traveling, it's security—or lack thereof. Theft is something everyone wants to prevent and avoid on any trip. Think about it, losing even one article of clothing is a bummer, let alone a laptop, smartphone, or—god forbid—travel documents. It's a smudge on an otherwise pristine trip, so we always do our best to secure our belongings.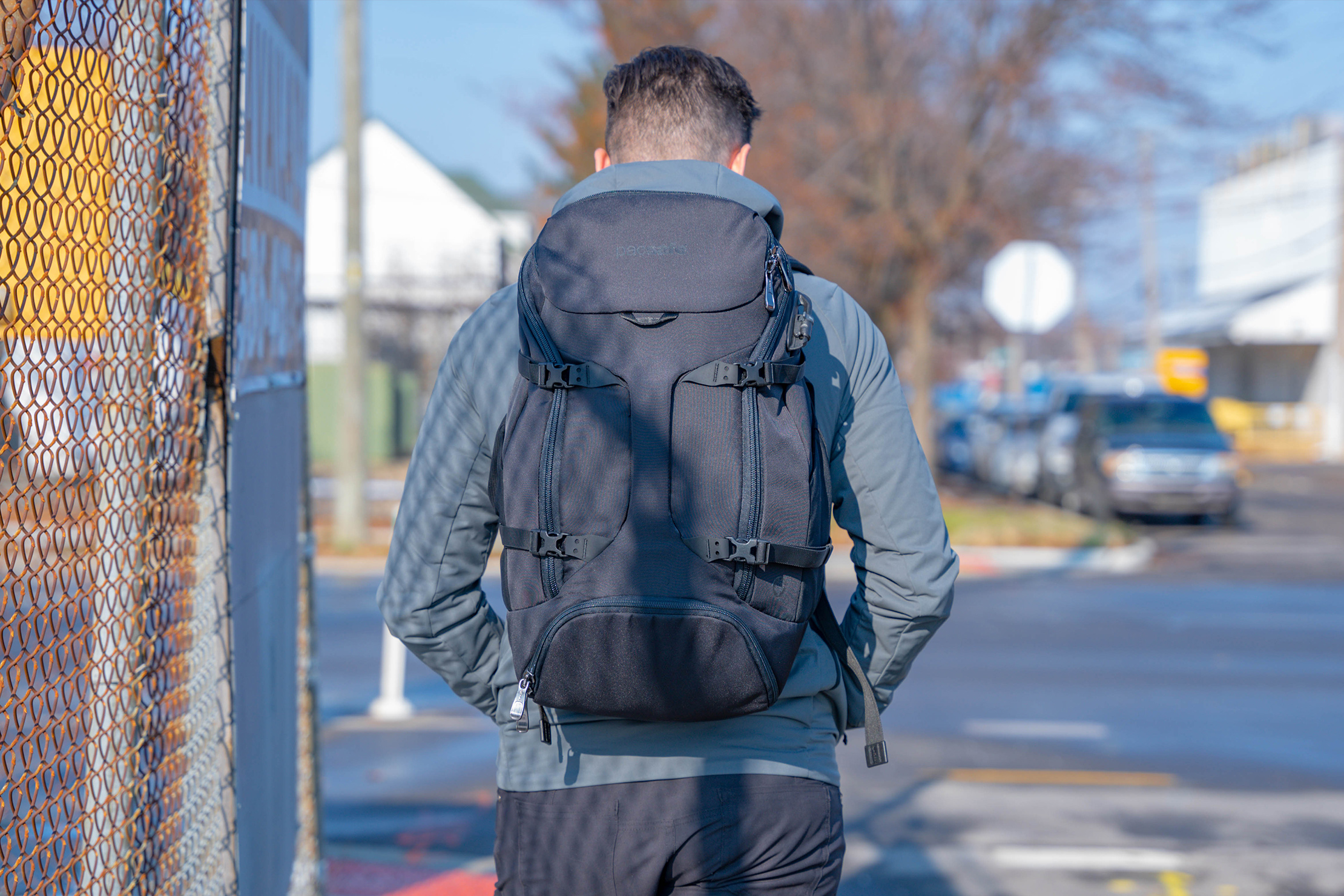 Pacsafe is a brand that takes the whole security thing up to the next level. Their gear lineup focuses on security features, and the Venturesafe EXP35 Travel Backpack is no outlier. It has the basics like lockable zippers, and then there's the built-in stuff like the slash-resistant eXomesh material and RFID-safe pocket. This one's for the security-conscious traveler (let's face it, we all are on some level), so let's get into it.
Materials & Aesthetic
The Venturesafe EXP35 makes it clear that it means business right off the bat. We're hard-pressed to find a section of this bag that isn't occupied by a seam, strap, buckle, or zipper. It's a busy-looking bag bristling with all the bells and whistles we've come to expect from Pacsafe. It's in the name: "safe," so you can expect multiple layers of security on top of the usual well-built backpack. Fans of the "less-is-more" design language can take comfort in the fact that the busy looks do come with a purpose, as we'll discuss later on.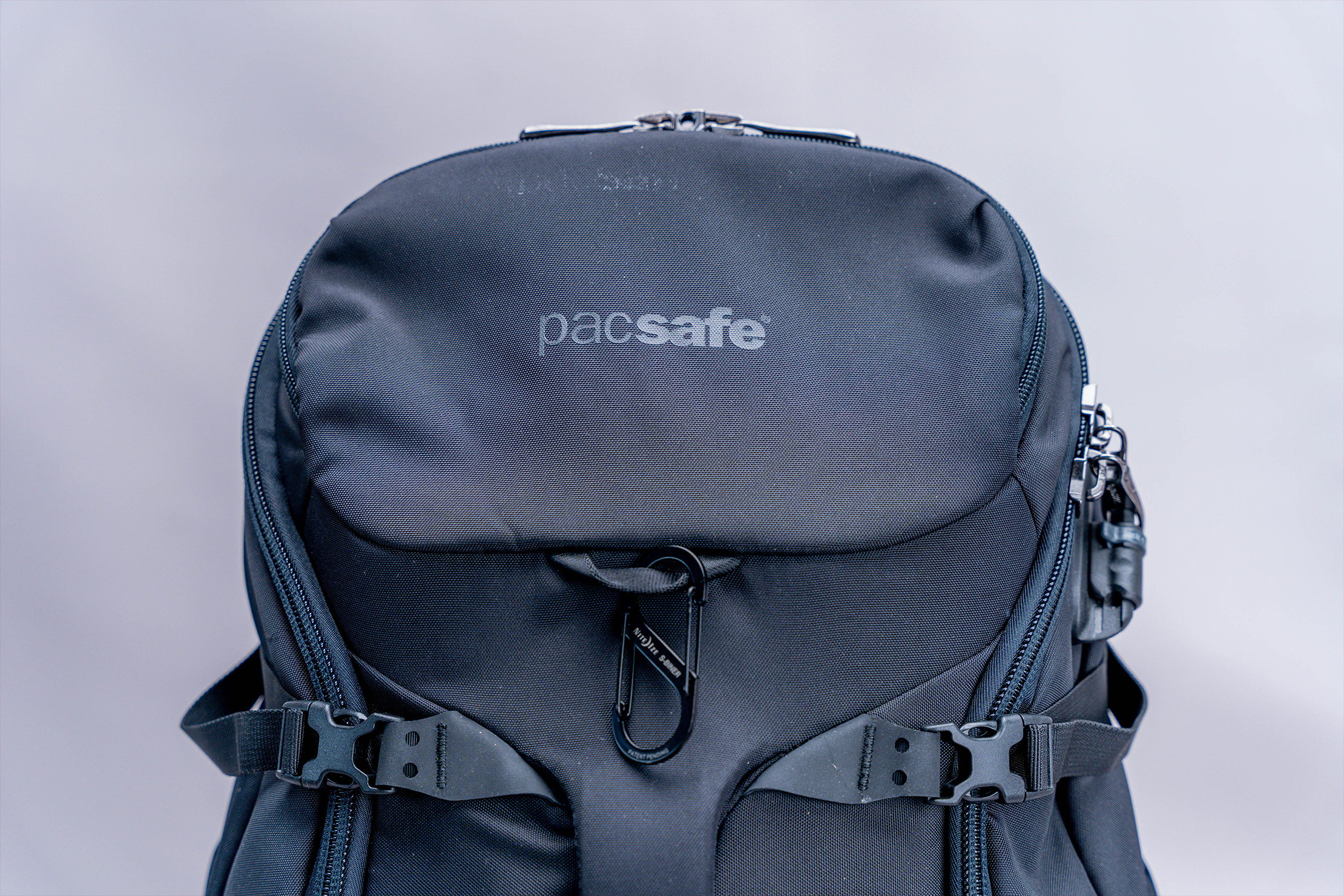 The styling is slightly reminiscent of Osprey's METRON with its compression straps and all-black aesthetic. It's also quite a unit of a bag at 35 liters. It's by no means the biggest backpack we've tested, but all the extra bits sticking out and the thick construction of the bag makes it feel somewhat bigger.
Now for the nitty-gritty details, a.k.a., the materials. The outer fabric is made from 37 recycled plastic bottles—thumbs up from mother nature there—but more than that, there's an underlying layer of cut-resistant eXomesh lining. For the uninitiated, eXomesh is a stainless steel mesh Pacsafe uses in a lot of their gear to protect against slashes and cuts—a nasty technique used by less-than-subtle thieves. Another aspect of the Venturesafe EXP35's security is the lockable KCC zippers with ToughZip technology to make them puncture-resistant. These zippers' shiny bare metal finish is quite eye-catching, and we hope their beefy appearance alone will be enough to dissuade theft. One minor gripe we have with the metal pulls is that they're jangly but that's more of a nitpick and far from a deal-breaker.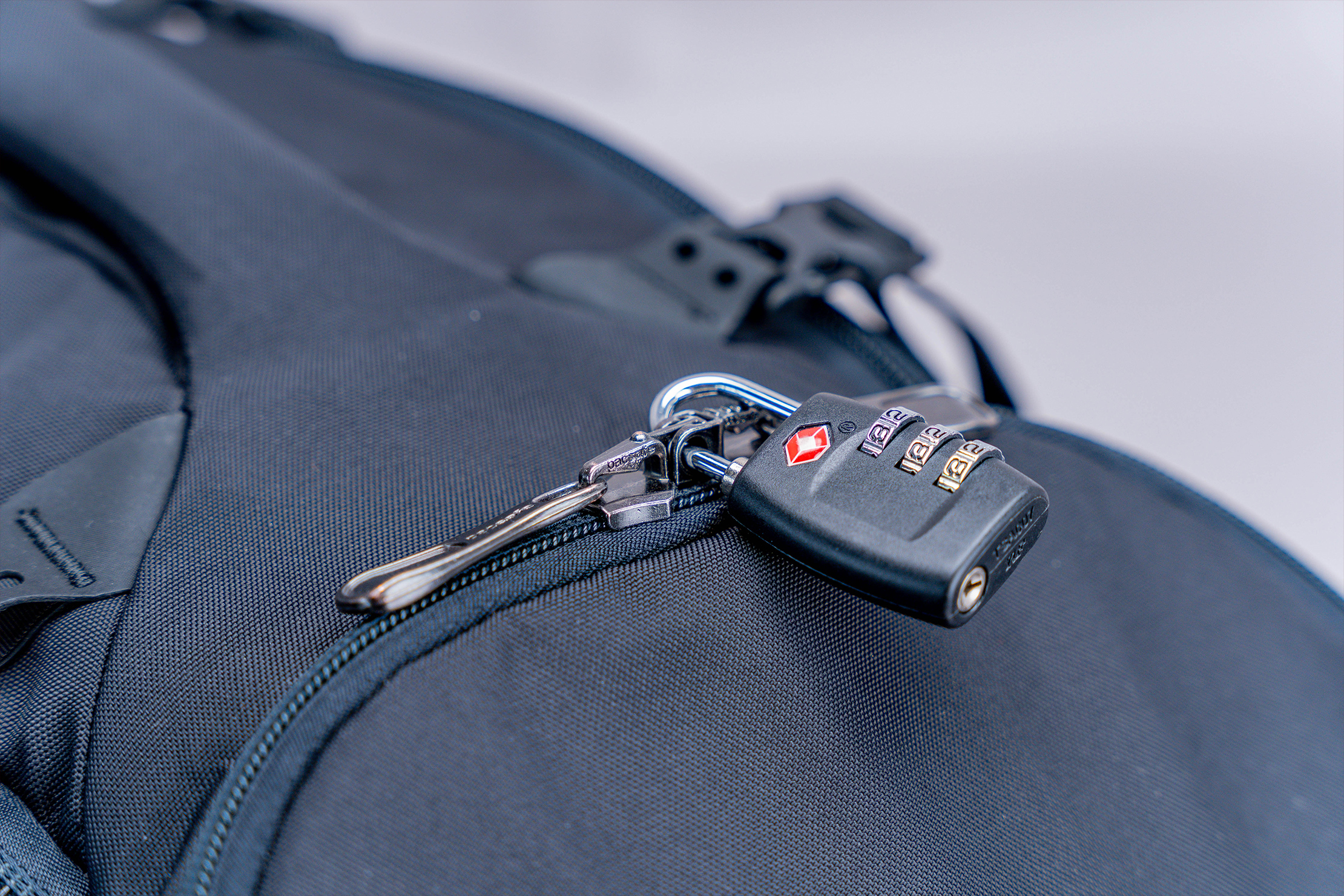 Other nice touches around the Venturesafe EXP35 include the Hypalon attachment points and Duraflex buckles. The former is a material we're well-acquainted with, and we're always glad to see it implemented where it makes sense. In this case, it anchors the compression straps to the front of the bag for a clean look. As for the Duraflex buckles, we haven't had many issues with their hardware in the past, and it's no different here with the Venturesafe EXP35. We're constantly working the compression straps' buckles, and they clip on and off smoothly, as do the adjusters on the load lifters.
External Components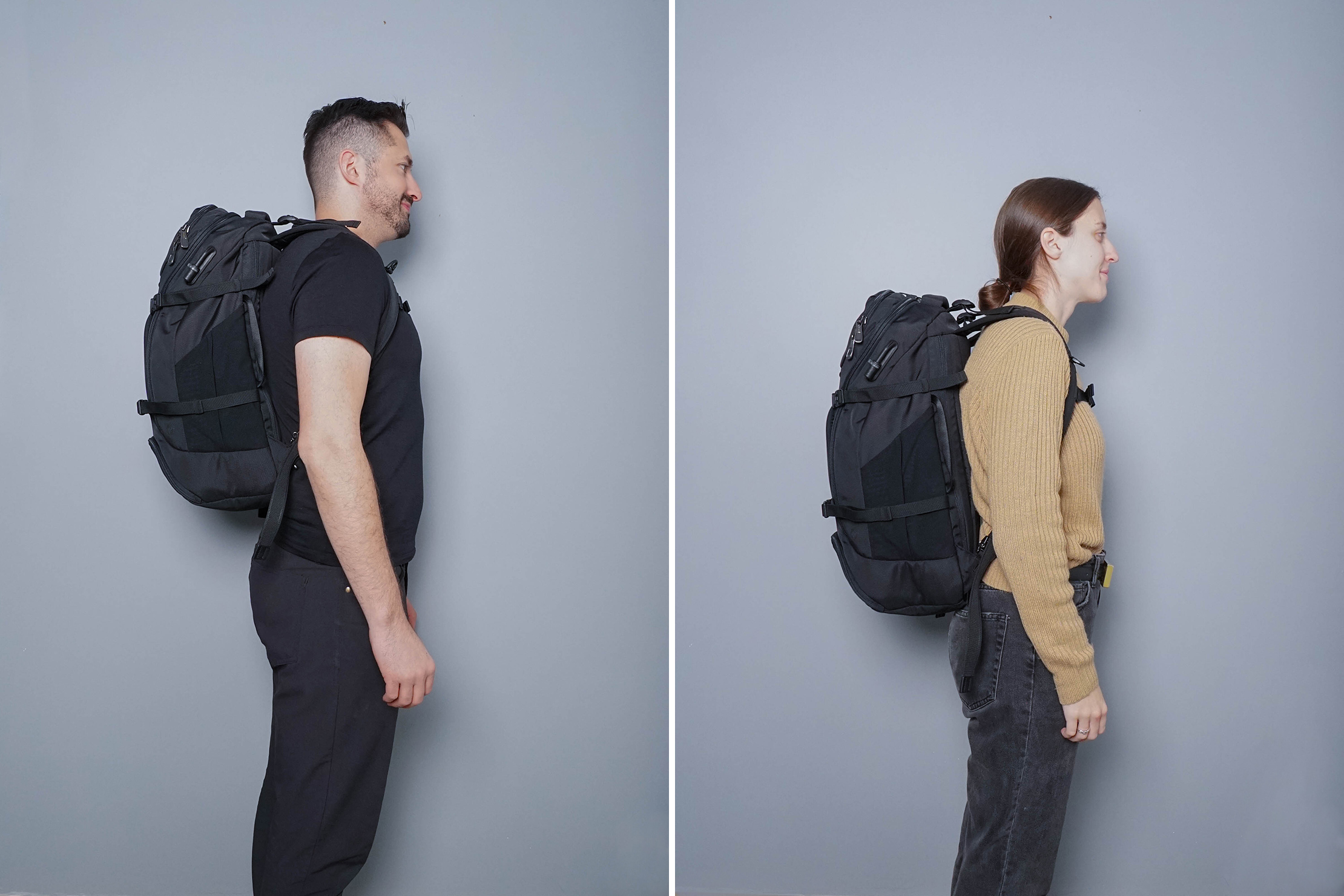 Moving onto the harness system, everything feels like it's lifted directly from a more hiking-focused backpack—which is a good thing in this case. The sheer thickness in some areas may be nearing overkill for a 35-liter backpack. But the amount of comfort we're getting? We're not complaining, not for a second.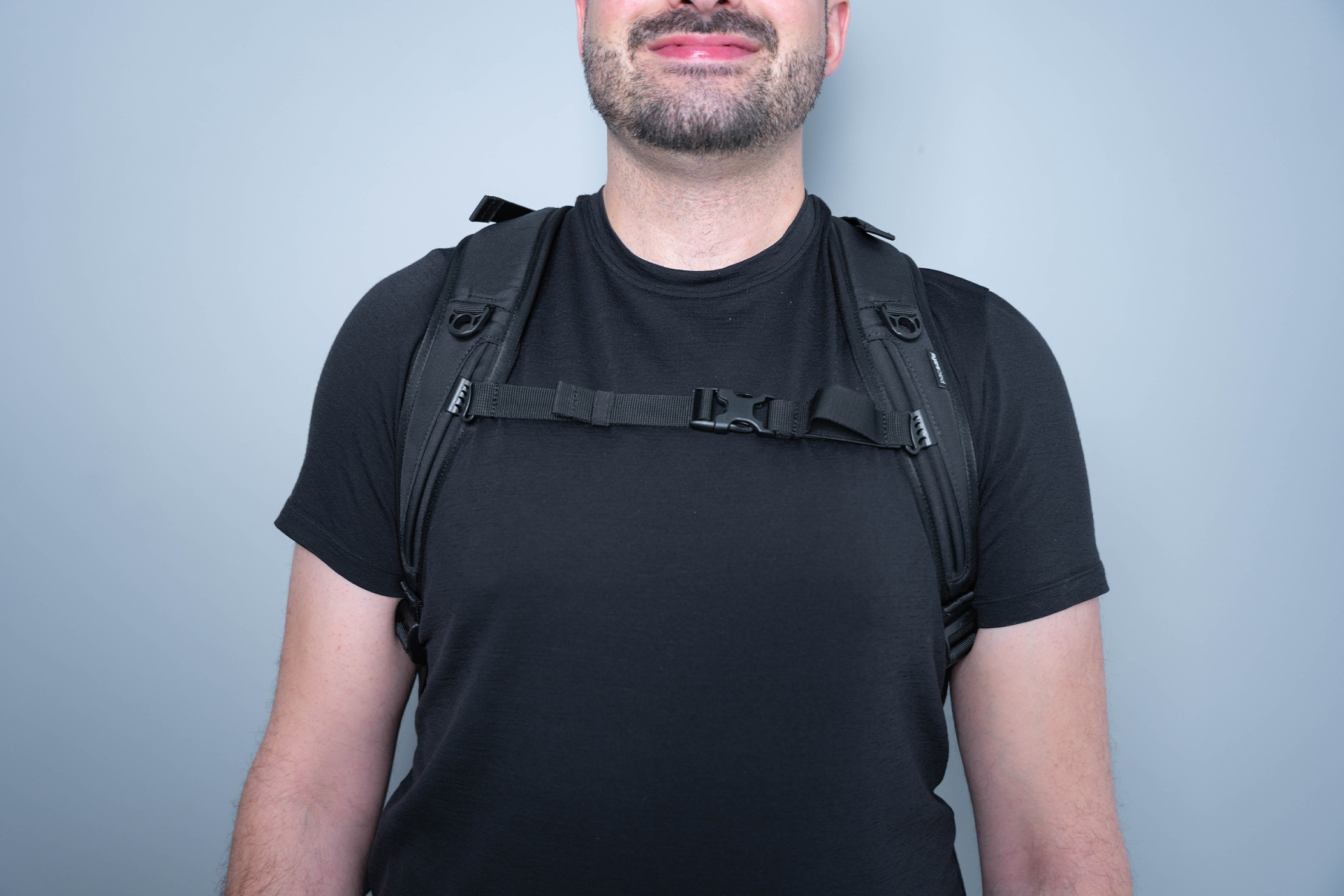 Once we have it on our shoulders, the straps don't feel like they're digging in harshly around the edges. The width is just right for distributing weight when the bag is fully packed with clothing, shoes, and accessories. The dense padding and mesh underneath can cope with the load and heat, though your mileage may vary depending on what gear you're carrying and how warm it is where you are.
Each shoulder strap gets an adjustable load lifter for a more secure fit. As mentioned earlier, these adjust easily, but not so much that the hardware slips on its own. We usually just set these straps before each trip, and the Venturesafe EXP35 feels snug and comfortable. It also helps that the sternum strap is our favorite kind: the slide-on-rail type. Adjustment is very granular along the length of the rail, and the simple side-release buckle is easy to clip and unclip. It's a no-fuss sternum strap—just the way we like it.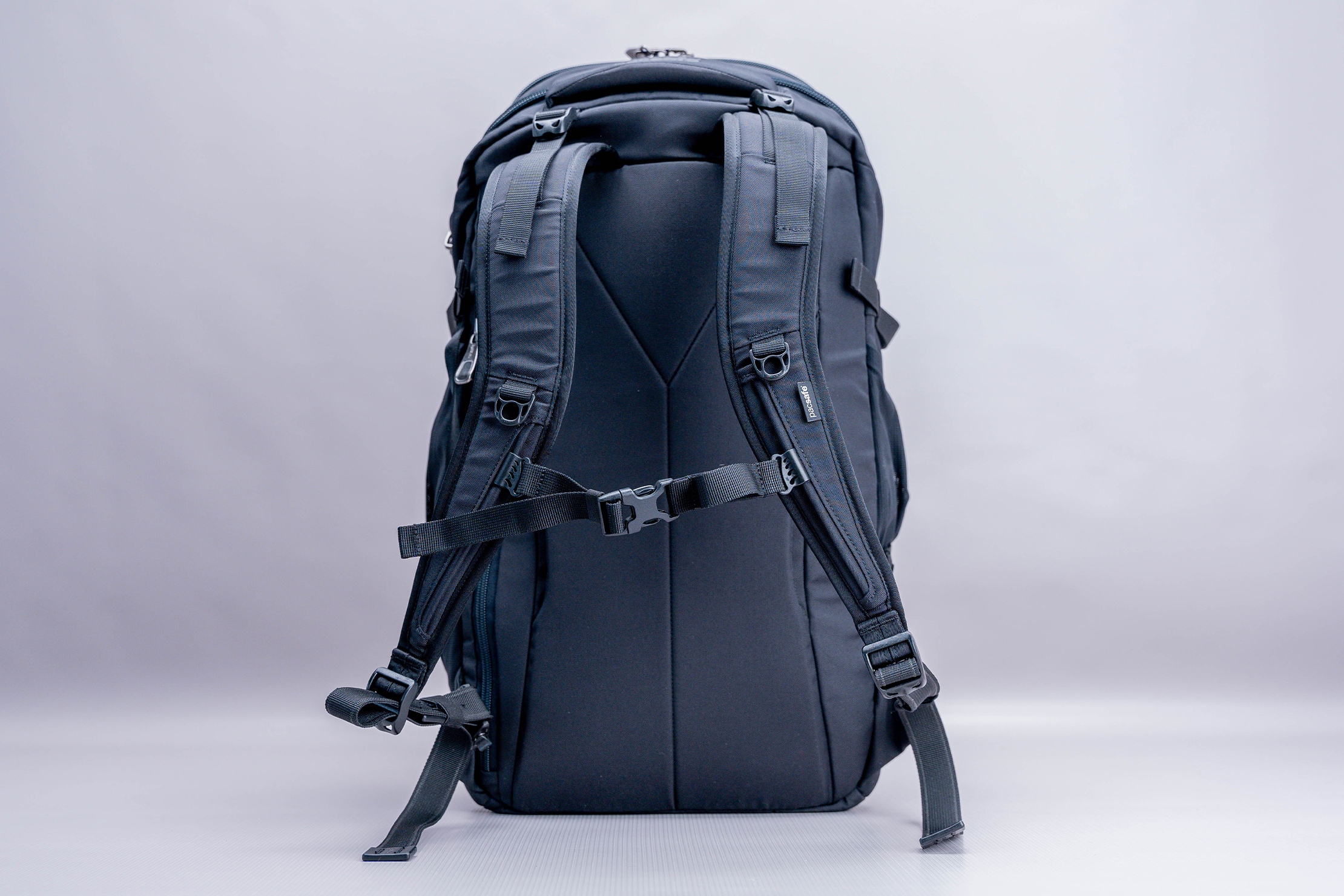 Other things we like about the shoulder straps include the D-ring attachment points, which are handy for accessories. The length adjusters come with strap keepers, and the ends are reinforced to keep them from fraying. Furthermore, the nylon material here is thick and strengthened to make them resistant to cuts and slashes. Judging by how much thicker than usual the nylon is, we don't need to knife this bag to test that out.
The Venturesafe EXP35 has another trick up its sleeve, too. The bag can be quickly and securely attached to a fixture (like a pole or table leg) by detaching one of the shoulder straps at the base. The thick nylon is mounted using a locking mechanism; just twist and push the end, and it slides right off. It seems very easy to do and therefore not very secure. But to the untrained eyes and hands, it's fiddly enough that the bag can't be snatched away quickly by a passerby.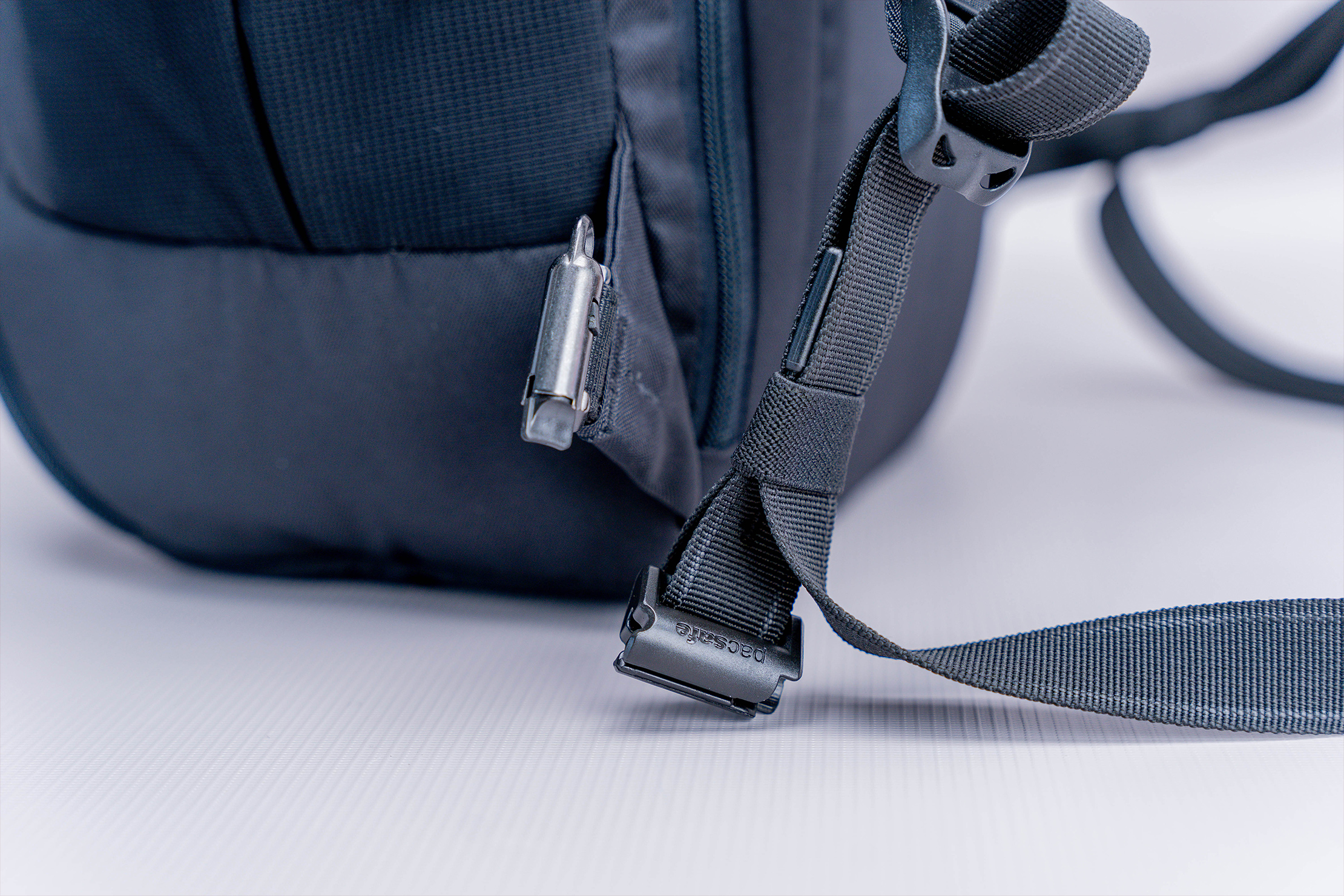 Unlike the shoulder straps, the back panel doesn't have mesh, but it's still well-padded and comfortable. The luggage pass-through is built right into the panel with no extra straps required. The tradeoff here is that the pass-through puts the bag horizontally on a rolling suitcase. If the bag's packed loosely inside, a horizontal orientation can shuffle things around and mess up organization. This is less of an issue for us since we use packing cubes, which we highly recommend for any traveler.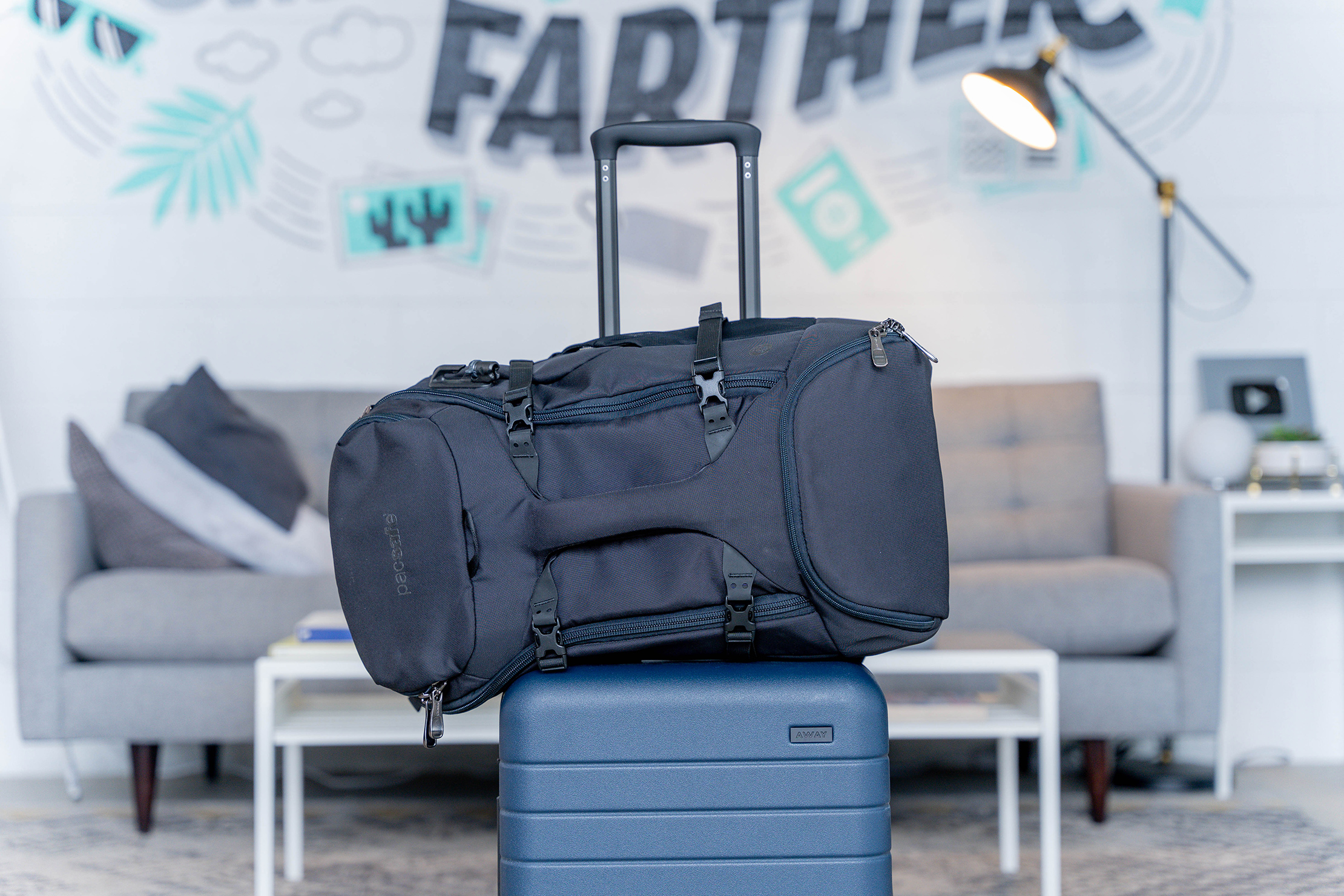 There's a super thick handle at the top and in front of the bag for secondary means of carrying the bag. They're well-padded and cushioned enough that they're not fatiguing to hold. The same can't be said for the right-side handle, though. It's a very thin nylon strap, and it's located more towards the back, causing the bag to tilt when it's used. Needless to say, we prefer using the front handle rather than the side handle for a brief-style carry.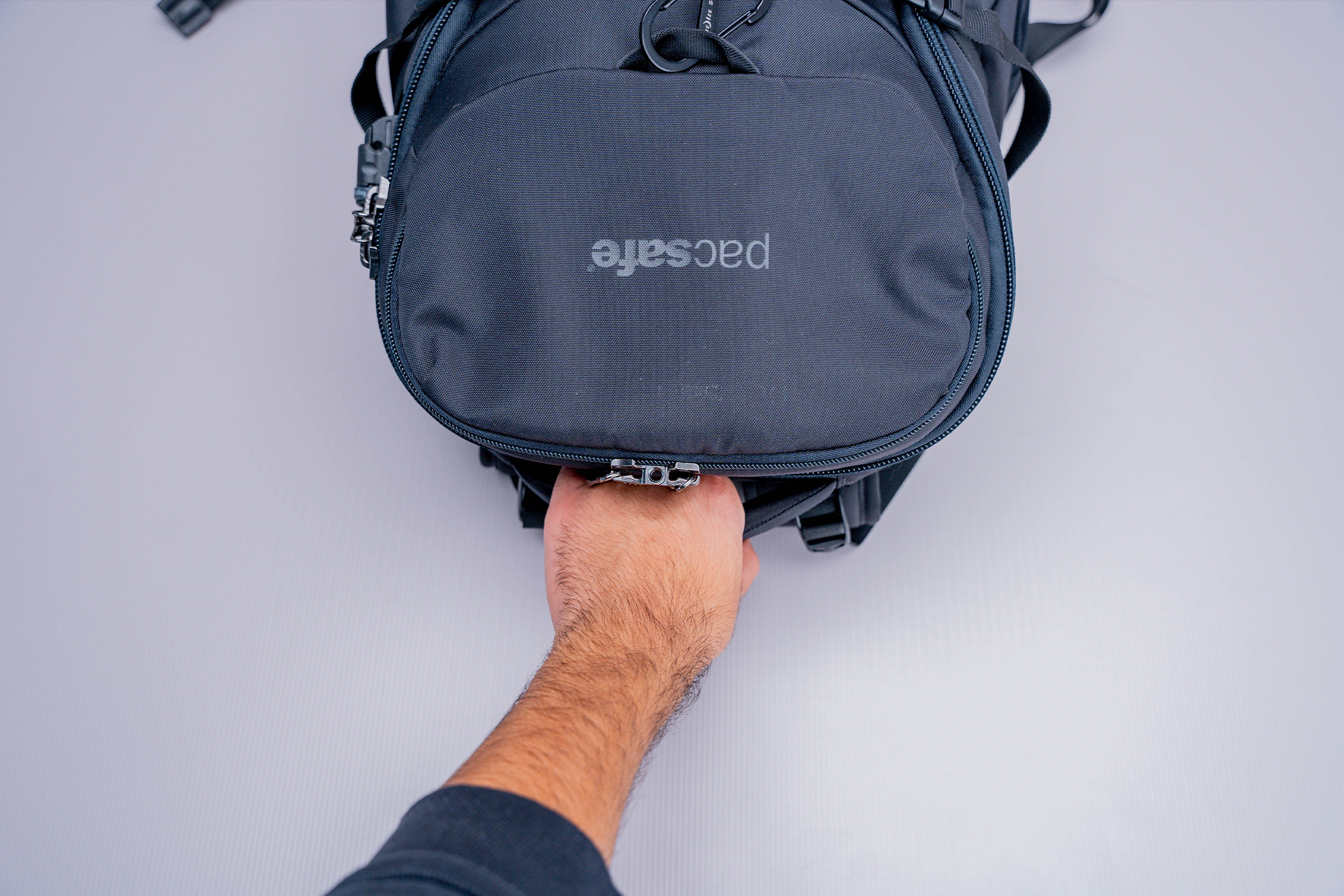 At the sides of the Venturesafe EXP35 are water bottle pockets. These are less satisfying than the rest of the bag. The material feels loose for our 18-ounce Hydro Flask as it relatively easily slips out of the pocket when the bag falls over onto its back. Fortunately, four compression straps around the bag can tighten the sides. We threaded one of the straps through the Hydro Flask's handle to really lock our bottle down. Pacsafe rates these water bottle pockets for up to 32-ounce or one liter bottles. Larger bottles like those fit better, but we still wish smaller ones fit just as well.
The compressions tighten down easily like the rest of the straps on the bag. With two on each side, the compression is quite balanced. They even keep the main compartment extra secure by getting in the way of the zippers. This does slow down accessibility, but each strap has a quick-release buckle to get them out of the way fast.

Last but not least, there is a loop at the front for attaching a bike light or a carabiner. With the number of straps and possible adjustments on the Venturesafe EXP35, it's not a bad bag to take on a bike, so having that extra loop is a nice bonus.
Inside The Backpack
We'll start with the bottom compartment. This is a dedicated pocket for shoes and/or dirty clothes. Shoes go in toes first to really maximize the available space. Yes, it's the type of shoe compartment that shares its space with the main compartment. That means your mileage may vary depending on what footwear you're putting inside. We put our men's size 10 ½ sneakers inside. The thin profile of our shoes robs some space from the main compartment, but it's nothing a little packing creativity can't get around.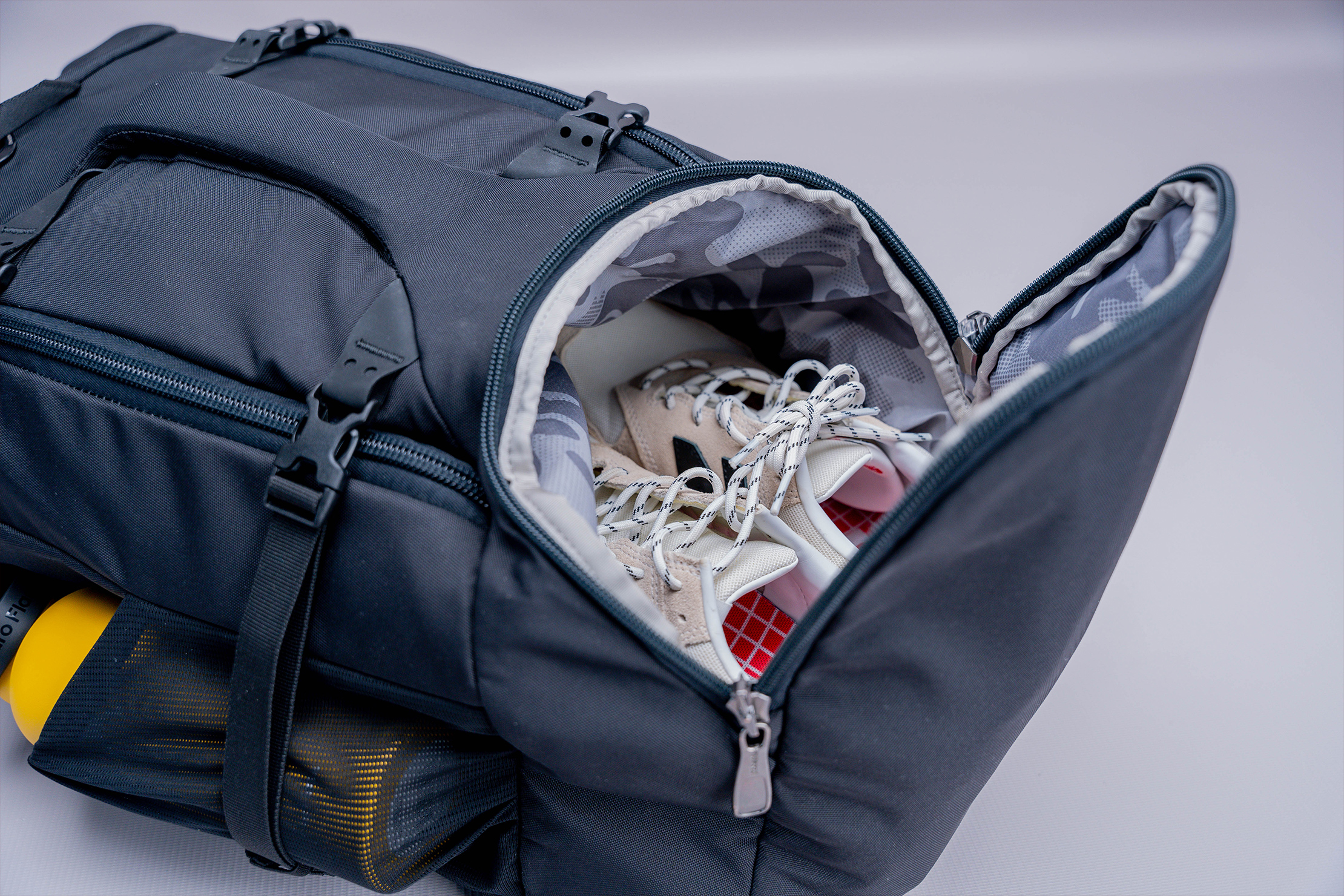 Around the back is the laptop compartment, designed for up to 16-inch laptops. Our 16-inch MacBook Pro fits no problem here, and there's a decent amount of padding front and back. Both the shoe and laptop compartments use dual lockable zippers. But instead of just simple overlapping zippers that share a small hole for a lock, there's some extra cleverness involved.
The ends of the zippers insert vertically. You push one and pull the other upwards to intertwine them together. They click into place securely without the need for a separate lock. Of course, a separate lock is more permanent since those require a key or a combination. The advantage of Pacsafe's locking zippers is that it's a nice balance of security that slows down theft while being relatively easy to undo for the user. We say "relatively" because it did take some time for us to get used to undoing the zippers. At the very least, this should mean thieves will have a trickier time with these than we do.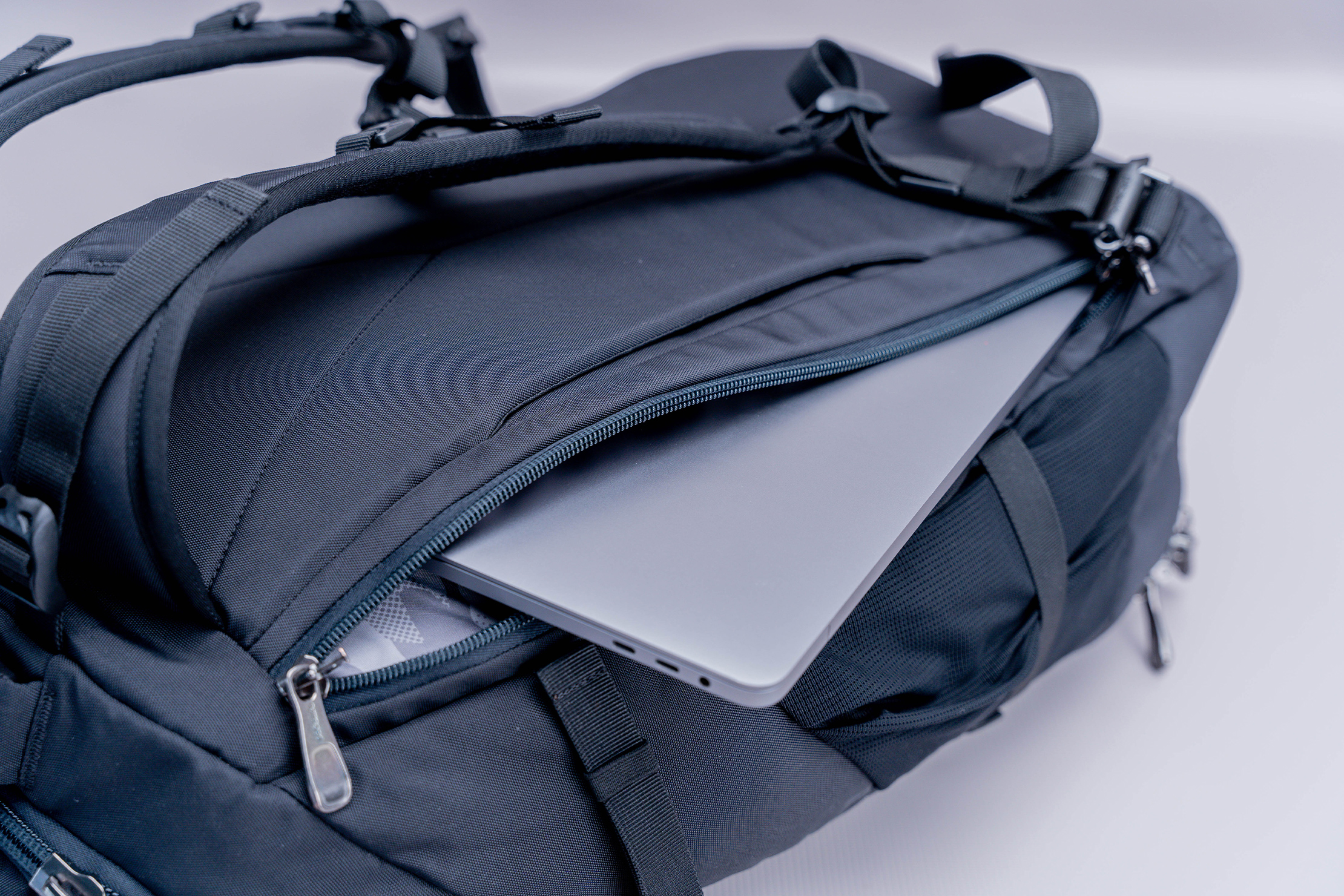 The top pocket uses the same dual zipper design. Inside, there's a fair amount of volume to play around with. We use this compartment as a dump pocket for our many everyday carry accessories that need to be accessed frequently. There's a built-in key clip inside, albeit a short one. Towards the back is an RFID-safe liner pocket for wallets that contain credit cards and IDs. There's also a zippered mesh pocket for smaller accessories like our Zippo and packet of wet wipes.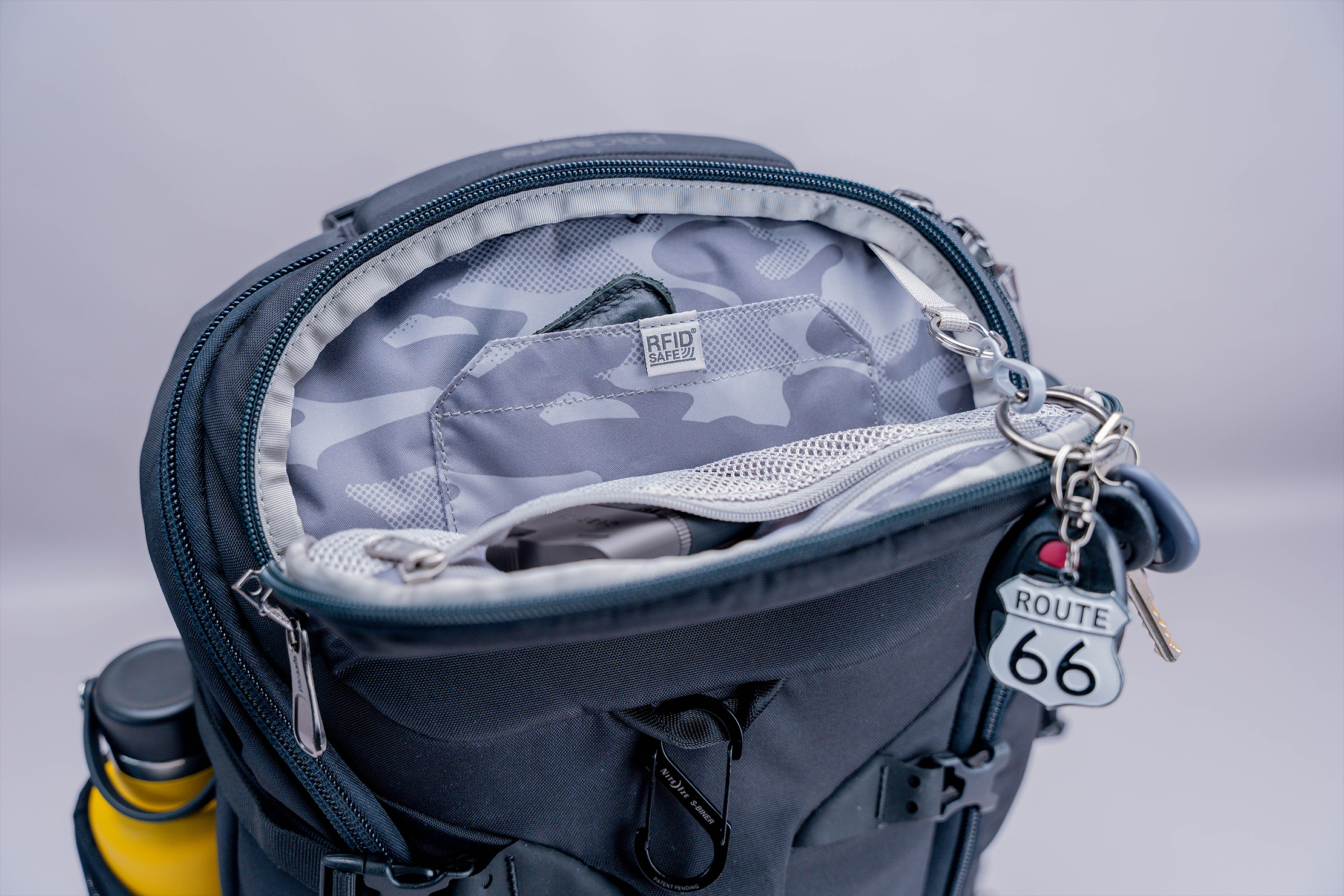 The volume and position of the pocket make it an ideal dump pocket. We especially appreciate it whenever we're going through airport security. All the items in our pockets quickly go in here where the TSA officer can easily check them. Once we're through, it's easy enough to re-pocket those items since the opening is very wide and the camo liner is fairly bright.
We've finally reached the main compartment. But before we start, let's go over the zippers again because these are extra special. The metal pulls are noticeably beefier, and they feature divots that allow them to combine snugly. In turn, the combined pulls can be locked into the Roobar Deluxe lockdown point located at the top right corner. There's a dial with a handy instruction detailing where to turn to lock or unlock it. Again, this added layer of security isn't as permanent as a dedicated lock, but it's a good deterrent nonetheless.
The main compartment itself opens up very widely. It's similar to a clamshell-style opening, but the top edge also folds out, making it even easier to access. If we were to compare it to something, it's like the top of a French crepe, or shawarma, or the French fries scoop fast food joints use. Regardless of what it resembles, the wide opening makes packing relatively easy since every inch of space is laid out well.
The only snag is that when the shoe compartment is utilized, we have to pack our way around it to make full use of the space. When it's not in use, the shoe compartment's baggy slack does just sit there freely, and it's worth rolling up and tucking away. Other than that, we dig the accessibility of the compartment as it's well suited for packing cubes and pouches alike.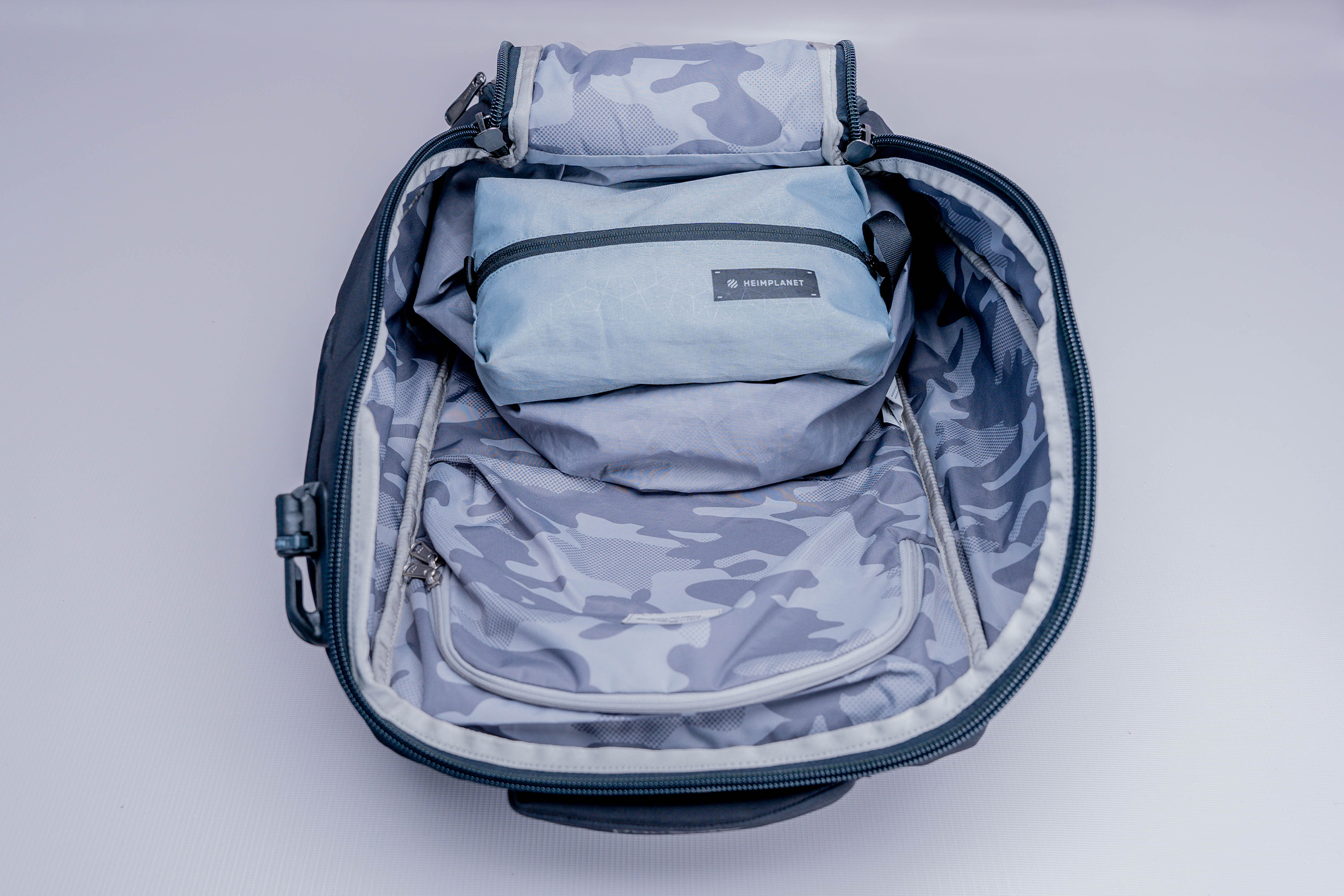 Something to note is that when the shoe compartment is in use, the Venturesafe EXP35 doesn't stand well on its own. But when we put a relatively flat-sided packing cube at the base of the main compartment and leave the shoe compartment empty, it does.
Lastly, towards the back of the main compartment is a security compartment, which is relatively spacious for its kind. There are two liner pockets, two pen pockets, and one smaller liner pocket. The organization is enough to fit small but important travel documents like a passport, tickets, cash, and IDs. The only problem with this security compartment is that it's kind of tricky to access once it's covered by clothing or packing cubes.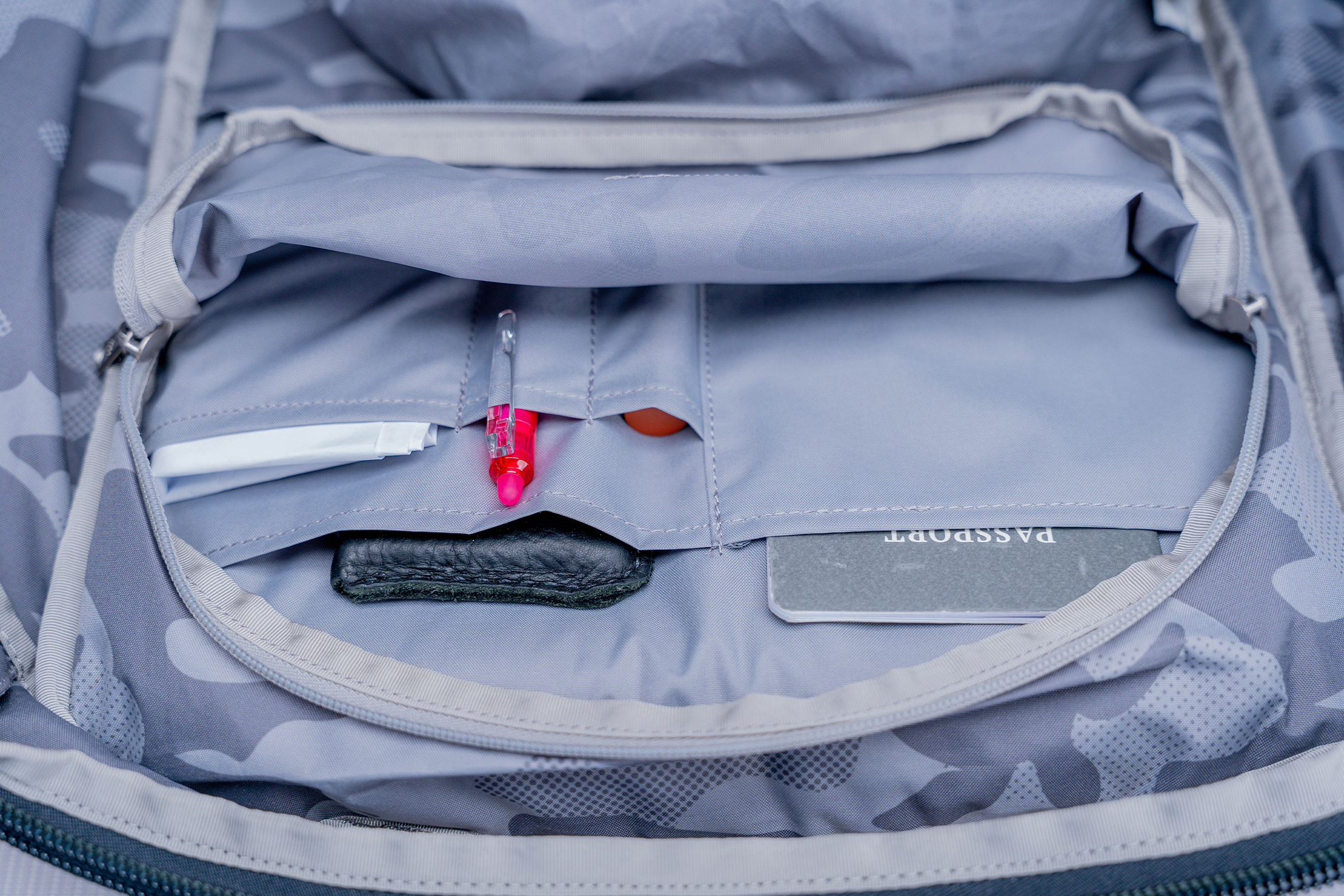 There's something to be said about that minor issue, though: accessibility vs. security. There's definitely a tradeoff between the two as we found accessibility isn't the Venturesafe EXP35's strong suit. However, from a safety and security perspective, the pros outweigh the cons for the Venturesafe EXP35—it carries comfortably, it's secure, and it's a well-built travel backpack.
Usage Timeline
Initial Usage
Condition: Excellent
The zippers click together without the need for a separate lock
Has a front handle for carrying the bag like a duffle
The recycled fabric is made from 37 plastic bottles
2 Weeks of Use
Condition: Excellent
The locking exterior zippers take some getting used to, but we're getting the hang of them and are able to access the bag quicker
This bag is great for theft deterrent; however, those that really want to get inside the bag can still get inside—the features just make it difficult
Comfy harness system
Zipper in interior pocket came off the track once, though not again—we're slightly concerned with the durability of the interior zippers
Separate shoe compartment is a nice touch, though it's hard for the bag to stand up on its own while in use—better to put a packing or camera cube at the bottom if this is important to you
Access the Pro Community Discussion
Get your questions about the Pacsafe Venturesafe EXP35 Travel Backpack answered from our team and the Pro Community right here on the page. Plus, join discussions with other members about gear, guides, and more.
Other Bags & Luggage Reviews