Gregory Detour 40 Backpack Review
The Gregory Detour 40 Backpack is a spacious and comfortable pack for outdoor adventurers and travelers alike, though it lacks stability to stand up on its own.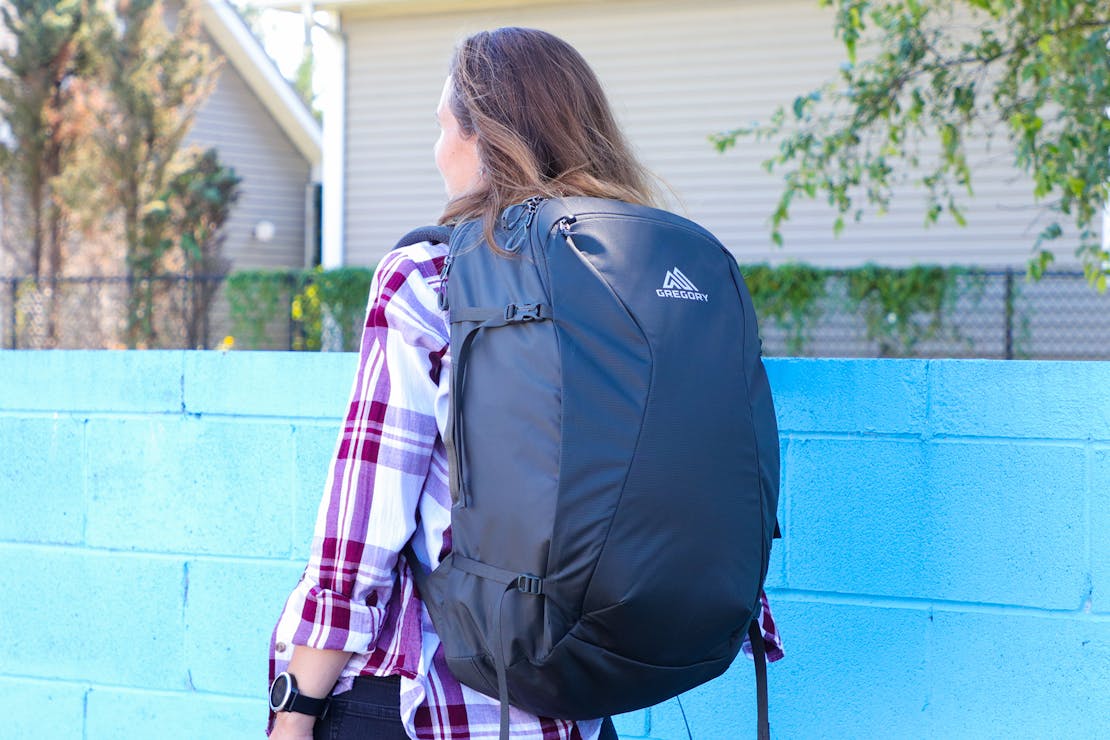 Our Verdict
Unlock the Pro Summary
Save time. Get access to brief summaries of our reviews so you can browse and make decisions more efficiently.
Pros
Front zippered pocket easy to reach when wearing
Padded shoulder straps comfortable for extended carry
Material dries quickly
Cons
Front-heavy when full and falls easily
Awkward to carry while using just one strap
Compression buckles block main compartment zipper
Recent Pack Hacker Video
Technical Details
Capacity

40l

Weight (lb)

2.25 lb (1 kg)

Denier

420D

on bottom & part of body; 240D also on body

Dimensions

22 in x 13 in x 9 in (55.9 x 33 x 22.9 cm)

Notable Materials

Nylon, Polyester, YKK Zippers, Duraflex Hardware

Manufacturing Country

Philippines

Laptop Compartment Size

15"

Warranty Information
Full Review
The Gregory Detour 40 backpack is no tiny pack. Measuring 22 inches tall and 13 inches wide, with an expandable depth of 9 inches, this backpack is meant to be a workhorse, not a purse. We're able to fit the gear we need with room to spare if we're efficient, but at its size, it's quite a beast for someone of a smaller stature to carry around fully packed. If you're looking for a travel pack that can handle hauling lots of gear on longer trips, this one may tick some of your boxes.

Whether we're getting away for the weekend, hitting the pool, or going for a long hike, the Gregory Detour 40 Backpack is a comfortable way to carry just about everything. At 40-liters, this backpack does a great job distributing weight to avoid discomfort during extended carry. The curved back panel works with the natural shape of your body, though this does lead to a few issues with stability when the pack is set down, so let's get into it.
Materials & Aesthetic
At the time of writing, it's available in Anthracite Grey or Spark Navy. Branding is minimal, with the Gregory logo unobtrusively centered in the upper half of the pack and a smaller Detour logo on the bottom right side.

The 100% nylon exterior is easy to wipe clean and dries quickly, as does the orange inner lining—which is great when it's packed with wet swimsuits and towels but needs to be used again the next day. The lining is made with 40% post-consumer recycled 135D polyester; it seems Gregory was thinking of the environment when designing this pack, using this lightweight, strong and eco-friendly material. The outer shell is a mix of 240D nylon and high-density nylon, keeping it light but still durable, and the bottom is high-density nylon for added resistance against damage no matter where you set the bag down.
Although the pack can expand out to 9 inches, there are two compression straps on either side to cinch it in. While we like that feature, we do wish there were strap keepers for a cleaner look and easier management. We found that the extra material swung around and sometimes caught in doors or small places.

The custom grip molded zipper pulls are a joy to use, but we found that the compression buckles block their way when opening the main compartment. All buckles are Duraflex, opening and closing with no sticking, and the YKK zippers slide easily even with the bag stuffed to capacity. The zipper on the front stash pocket features a catch you can slide the zipper pull through for security, but we found it difficult to undo on the fly, which impacted the quick-access aspect of the pocket.
External Components

The Gregory Detour 40 is a large backpack, but the padded airmesh shoulder harnesses with load lifters, padded foam back panel, and rail-adjustable sternum strap make it comfortable to carry around. While Gregory touts the back panel as being constructed with "breathable airmesh," we found that carrying it around for hours on a summer hike still leads to a sweaty back. The airmesh does, however, add a layer of separation so that moisture doesn't get through to your gear inside.

The front zippered pocket is easy to access—we had no problem reaching in to grab our phone or camera whenever we wanted and could even do so without undoing the sternum strap. Some team members with smaller frames also found that the load lifters help pull the shoulder harness higher on the back and bring the quick access pocket better within reach. A win-win, in our books.

The Detour 40 also has a durable water bottle pocket that's deep and wide enough to keep even a 40-ounce bottle in place (the one pictured below is a 32-ounce Hydro Flask), though keep in mind that larger bottles can cut into internal storage space. The pocket itself is pretty loose, but the adjustable strap at the bottom helps lock it in place.
There are two handles (haul handles, as Gregory calls them): one at the top of the bag and one on the left side. Both are made with tubular webbing, which is a fancy way of saying that the material is thicker for added comfort. They came in handy for carrying the bag over short distances when it is inconvenient to use as a backpack, but we wouldn't recommend carrying it this way for long.

The most comfortable way we found to use the Gregory Detour 40 is as a backpack, with both straps on and the sternum strap buckled. Slinging the bag over just one shoulder for short distances did not work well due to the large padded foam back panel, which spans the entire 22-inch height of the bag and causes it to slide off if the bag is full.
Inside The Pack
The Gregory Detour 40 features two main compartments: a zippered, padded laptop compartment with a false bottom for protection, and a main compartment with internal pockets, straps, and mesh sleeves for organization.

The laptop compartment is large enough to fit a 15-inch laptop easily, and the padding helps us feel secure knowing the computer will be safe. That said, there isn't any added cushion along the back panel, so you'll have to rely on the frame sheet for structure and protection. There is, however, enough room to use a laptop sleeve for added peace of mind, but that's up to you to decide whether or not it's enough.
A smaller laptop or tablet also fits in the compartment, but since the pocket is pretty deep, it can be difficult to grab smaller tech out when it's is fully packed. This could be a problem if you're trying to finish up work while waiting for a flight to be called and need to make every second count. The zipper extends slightly beyond the top edges of the pack, and if the bag is fully packed and visibility is low, it's easy to lose track of dongle adaptors or anything else in the compartment as it will slide out of reach. We recommend putting these objects in the main compartment, the external zippered pocket, or a tech pouch.

The main compartment has a U-shaped zipper that runs the entire height of the bag on both sides for a clamshell opening, which makes for easy packing. Being able to lay the pack down and fully unzip the compartment provides the opportunity to lay clothing out flat, while two sets of compression straps secure everything down during travel. We didn't find our items sliding around once the bag went vertical.
As for internal storage, there are two mesh sleeve pockets, each big enough for a water bottle, a pair of slim shoes, or a bottle of sunscreen. At the top edge is a zippered pocket with a mesh top that's a great place for AirPods, phone cords, and other items we want to easily access and not lose in the cavernous pack. That pocket also has a key clip inside, but it's small and easy to miss, and the clip is so tiny that it seems rather useless for a large set of keys.

The front flap keeps its rounded structure even when open, which maintains the aesthetic of the bag no matter what you pack inside. On this is an 8-inch tall liner pocket with a hook-and-loop fastener opening for small items, but it's hard to fit much in the narrow 5-inch opening. It easily fits a small notebook and pen, but we found it got tight pretty quickly. It could be another place to store power cords and headphones since there's only a small gap in the closure, but we found ourselves gravitating toward that mesh zippered pocket at the top. If you're looking for extra security, though, it's a great spot for a wallet or passport since it's more on the subtle side. Of course, as with all gear storage, your mileage will vary.

This roomy pack easily zips when at capacity, but we often struggled to get it to sit upright on its own. Because the bottom panel is less wide than the top of the pack and can be cinched in with the side compression straps, there is no stable bottom for the bag to sit on, and the weight forces it to fall forward. Over the course of just two weeks, this became extremely inconvenient, as we didn't always have something to lean it on.
Durability and Testing
After a hard two week's worth of usage, the Gregory Detour 40 still looks brand new. Dirt, sunscreen, and other detritus all wipe off quickly with a damp cloth. We took the Gregory Detour 40 on a road trip, a day trip to the pool, and hiking in the mountains, and it was a joy to use each time.

On the road trip, the separate laptop compartment made it easy to answer emails and then quickly re-stow the device on the go. A sweatshirt to keep away the chill of air conditioning and books for the long drive were easy to grab from the top of the bag.
Swimsuits and towels for three, along with sunscreen, bug spray, water, and phones all fit comfortably in the bag. We stashed sunscreen in the interior side mesh pocket and it was easy to grab without opening the entire backpack, which was convenient. After it became wet from carrying swimsuits home, it only took the Gregory Detour 40 about an hour to completely dry out, without leaving any water marks or stains.

The interior mesh sleeve pockets in conjunction with the one exterior side pocket mean the Gregory Detour 40 can accommodate three large water bottles without any tipping or spilling, which we appreciate. Cameras are easy to access from the front zippered pocket while continuing to hike, which is a feature we really appreciated. The padded shoulder straps are comfortable enough to be carried over long distances without causing back or neck pain.
Overall, however, the Gregory Detour 40 is a workhorse of a backpack. It's constructed well with durable materials, so we feel confident grabbing it when we head out for weekend adventures.
Usage Timeline
Initial Usage
Condition: Excellent
Main compartment opens fully for easy packing and unpacking
Front padded pocket is great for storing more delicate tech items
Zippers have built-in security features
2 Weeks of Use
Condition: Excellent
Quick access pocket really is easy to use while wearing
Internal liner pocket pocket great for small gear but struggles with larger items
Zippered internal mesh pocket is a great place for headphones, cords, and other items that get lost in big backpacks
Bag often falls over and doesn't stand up on its own
Access the Pro Community Discussion
Get your questions about the Gregory Detour 40 Backpack answered from our team and the Pro Community right here on the page. Plus, join discussions with other members about gear, guides, and more.
Other Bags & Luggage Reviews