TOM BIHN Techonaut 30 Review
The Tom Bihn Techonaut 30's flexible carrying options and organization makes it a comfortable choice to take with you, whether it's a casual day trip or a weekend out of town.
Our Verdict
Unlock the Pro Summary
Save time. Get access to brief summaries of our reviews so you can browse and make decisions more efficiently.
Pros
Contoured back panel feels comfortable in backpack mode
Flexible space sharing between main and bottom compartments
Can be carried three different ways
Cons
Top pocket's orientation can make access tricky
Larger flip-flops struggle to fit in the designated pocket
Water bottle pocket eats into the main compartment
Recent Pack Hacker Video
Technical Details
Capacity

30l

Weight (lb)

2.72 lb (1.2 kg)

1050D Ballistic Nylon | 2.56 lbs 1000D CORDURA Nylon | 2.54 lbs 525D Ballistic Nylon | 2.16 lbs 400D Halcyon

Denier

1050D

Ballistic Nylon | 1000D CORDURA Nylon | 525D Ballistic Nylon | 400D Halcyon

Dimensions

12.6 in x 19.7 in x 8 in (32 x 50 x 20.3 cm)

Notable Materials

Ripstop Nylon, Ballistic Nylon, CORDURA® Nylon, YKK Zippers, Duraflex Hardware, ITW Hardware, Woojin Hardware, Urethane

Manufacturing Country

United States

Laptop Compartment Size

16"

Warranty Information
Full Review
Even though we spend a lot of time carefully planning our trips ahead of time, there's always the possibility of the unexpected happening. Whether it's the erratic tropical monsoon or winning two kilos worth of fruit on your vacation (yes, it happens), you have to have options prepared just in case. Flexibility is one of the best tools you can have on the go, and it extends even to your gear.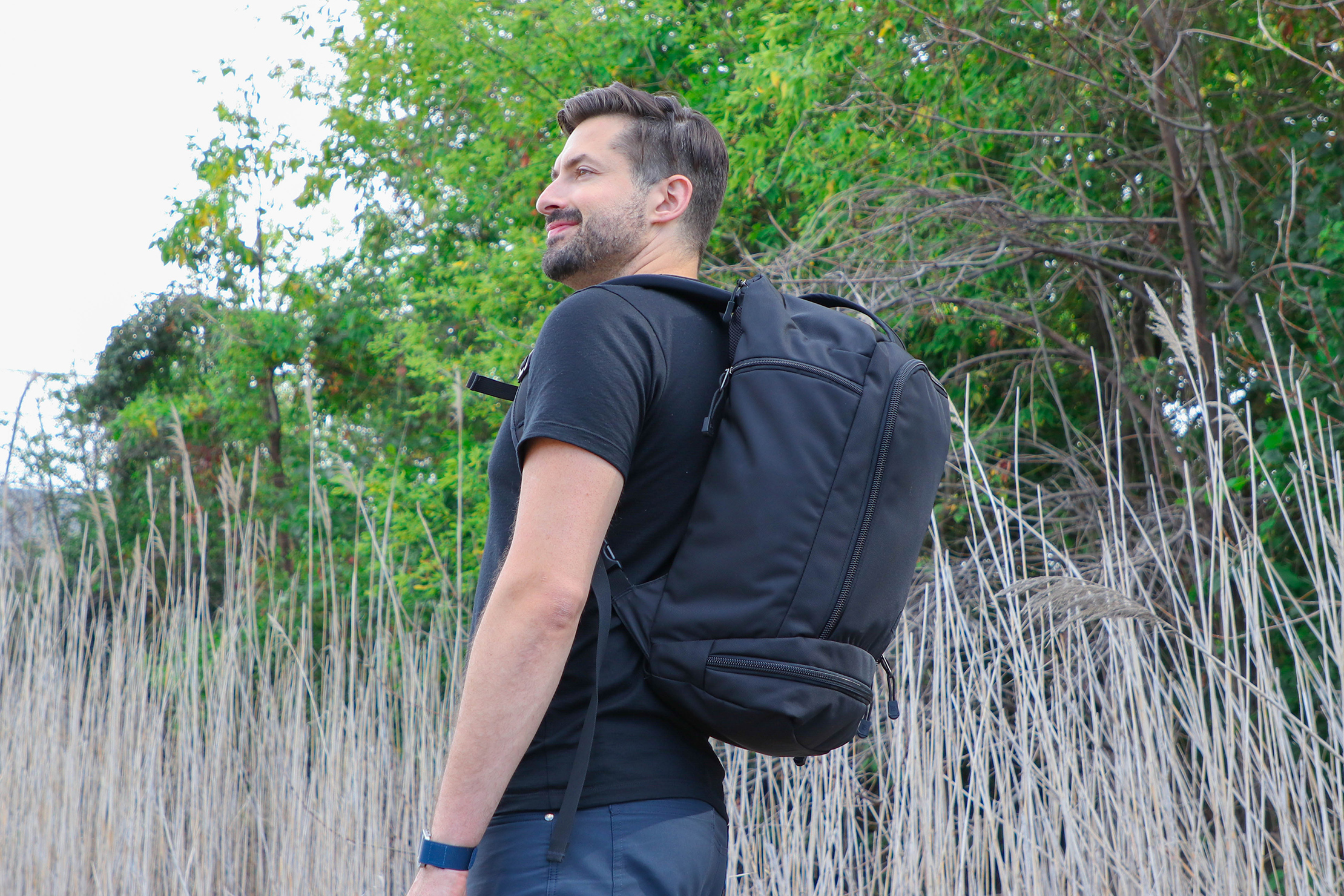 That's what we dig about Tom Bihn's Techonaut 30. It can be comfortably carried backpack-style or briefcase-style, or you can even put on an accessory strap for messenger-style carry. There are even two distinct quick-grab pockets for the different carrying styles. Plus, while the main and bottom compartments are separated, they can share available space. It's quite a feature-rich backpack, so without further ado, let's dive in.
Materials & Aesthetic
The Techonaut 30 doesn't shy away from having many lines courtesy of its various compartments—classic Tom Bihn styling. Take a gander at many of their bags, and you'll notice that a lot of them have a black outline surrounding the colorful fabric. It's one of those traits that distinguish one brand from another. WANDRD's bags have matte tarpaulin exteriors, Bellroy has leather accents on colorful fabric, and Aer has high-denier black nylon. It's a buffet of choices, and Tom Bihn is happy to serve as much as it can.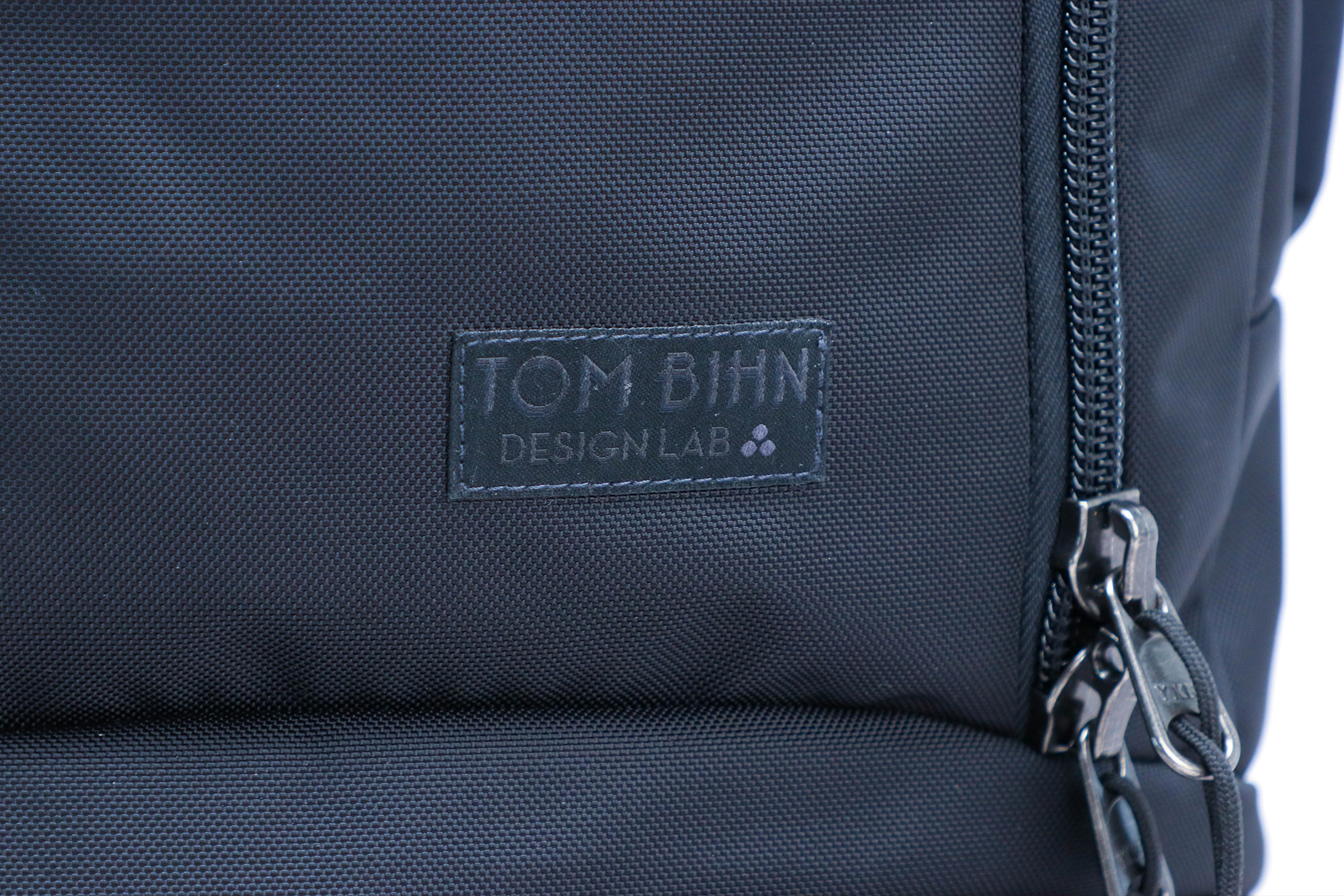 There's a wide range of colorways to choose from. At the time of writing, there are about eighteen different choices, each with a unique combination of fabrics and color. The sample we have here is extra special because it's a Design Lab edition, which comes with an exclusive black-on-black logo at the front, though everything else is the same as the standard model.
Our sample's Black colorway may not be everyone's cup of tea, especially when there's a ton of choices for color. But we think it's still a great option if you want something that will pair well with almost any other color. Oh, and don't worry, the exterior may be black, but the interior liner is Tidal—that's Tom Bihn-speak for very light blue, and it really aids interior visibility.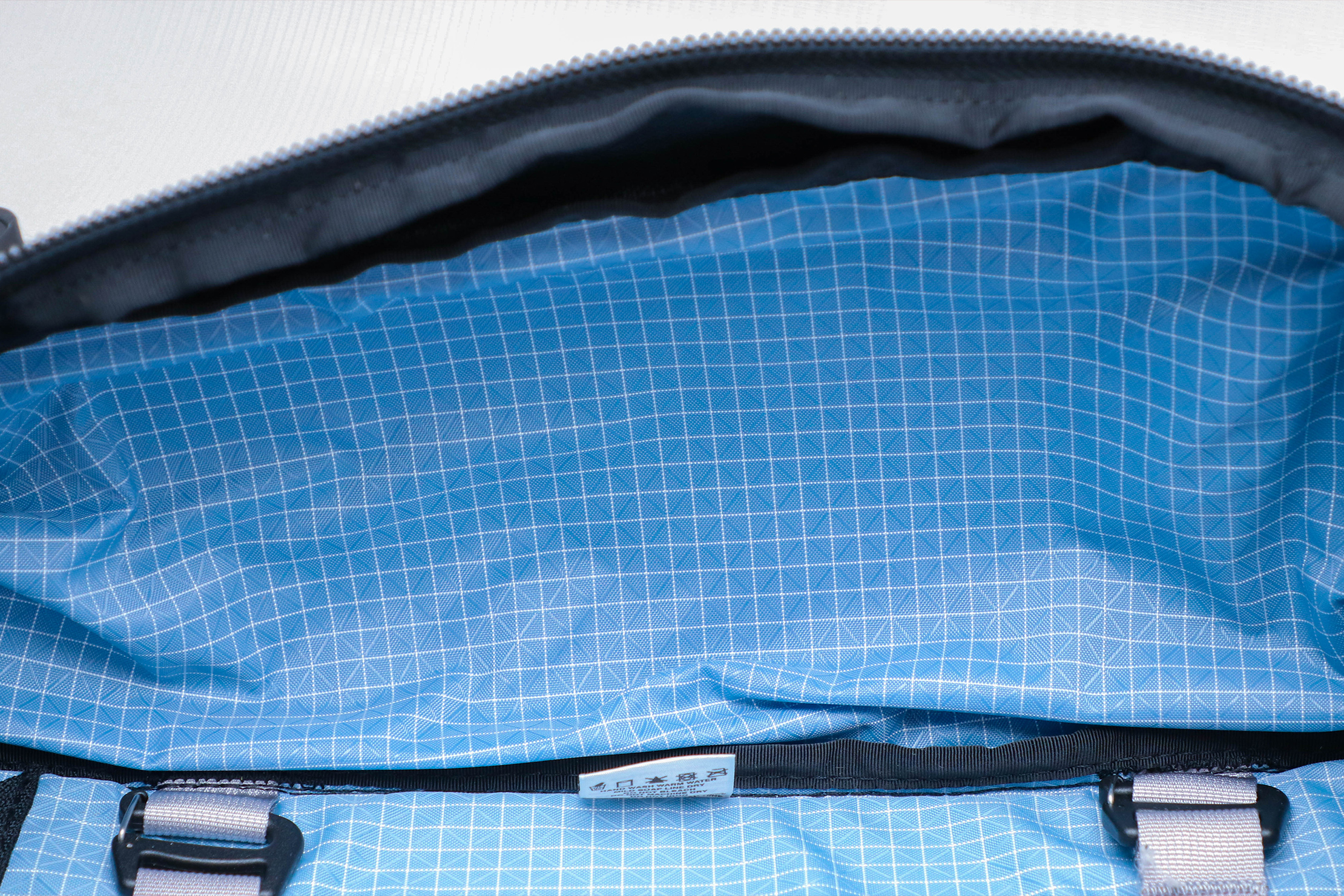 Now, let's get into the ingredients themselves. The model we have has 525D High-Tenacity Ballistic nylon, and it is one of Tom Bihn's lighter fabrics. Make no mistake though, it's pretty tough stuff, and it feels durable in hand. Inside, it's 200D Halcyon fabric—much lighter than what's on the outside, but it's ripstop, so tears won't quickly deteriorate.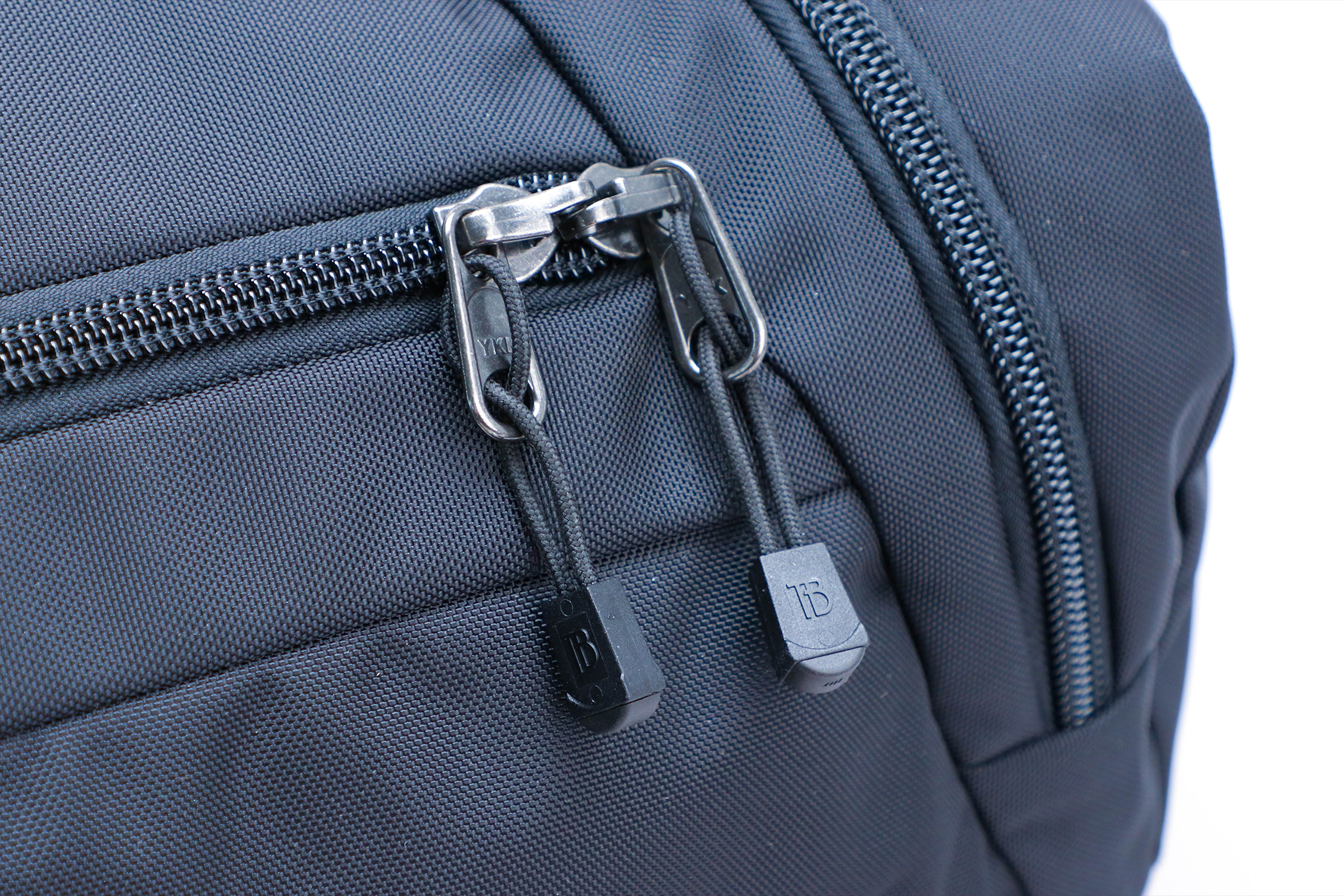 As per usual, Tom Bihn's also assembled an all-star team for hardware: Woojin and Duraflex hardware, as well as YKK zippers. A note about these zippers, they've generously included both metal and cord pulls. We have both of them installed, and it's the best of both worlds, in our opinion. They're that much easier to grab when they're used in combination; metal pulls make unzipping a breeze while the cord dampens any jingling.
External Components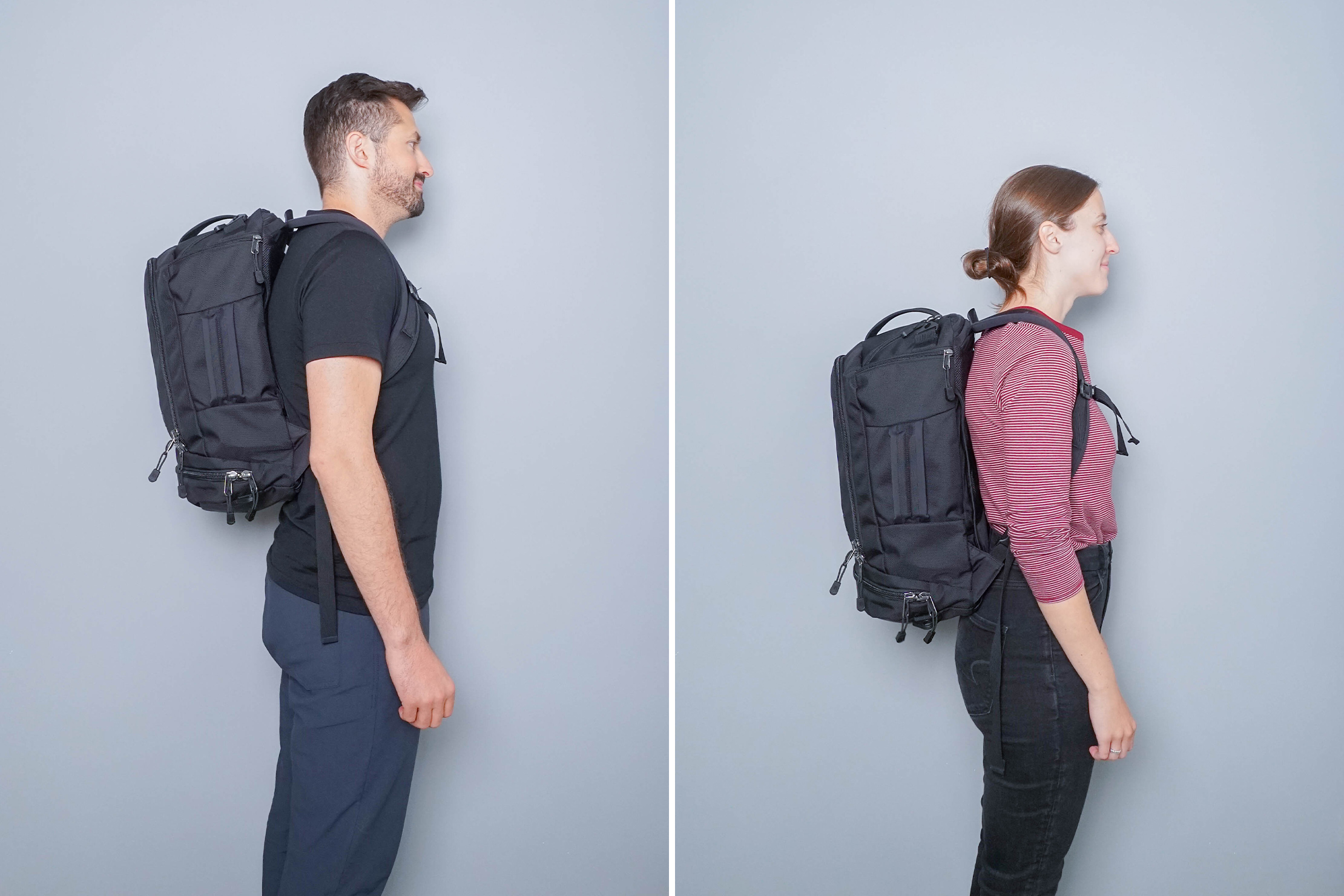 The Techonaut comes in two sizes, 30 liters or 45 liters—both definitely on the larger side of the size spectrum. That's good news for us since we like to make use of every cubic inch of space in our bags. We sure got good mileage out of either size, and we're happy to say that the harness system was a joy to use on the Techonaut 30.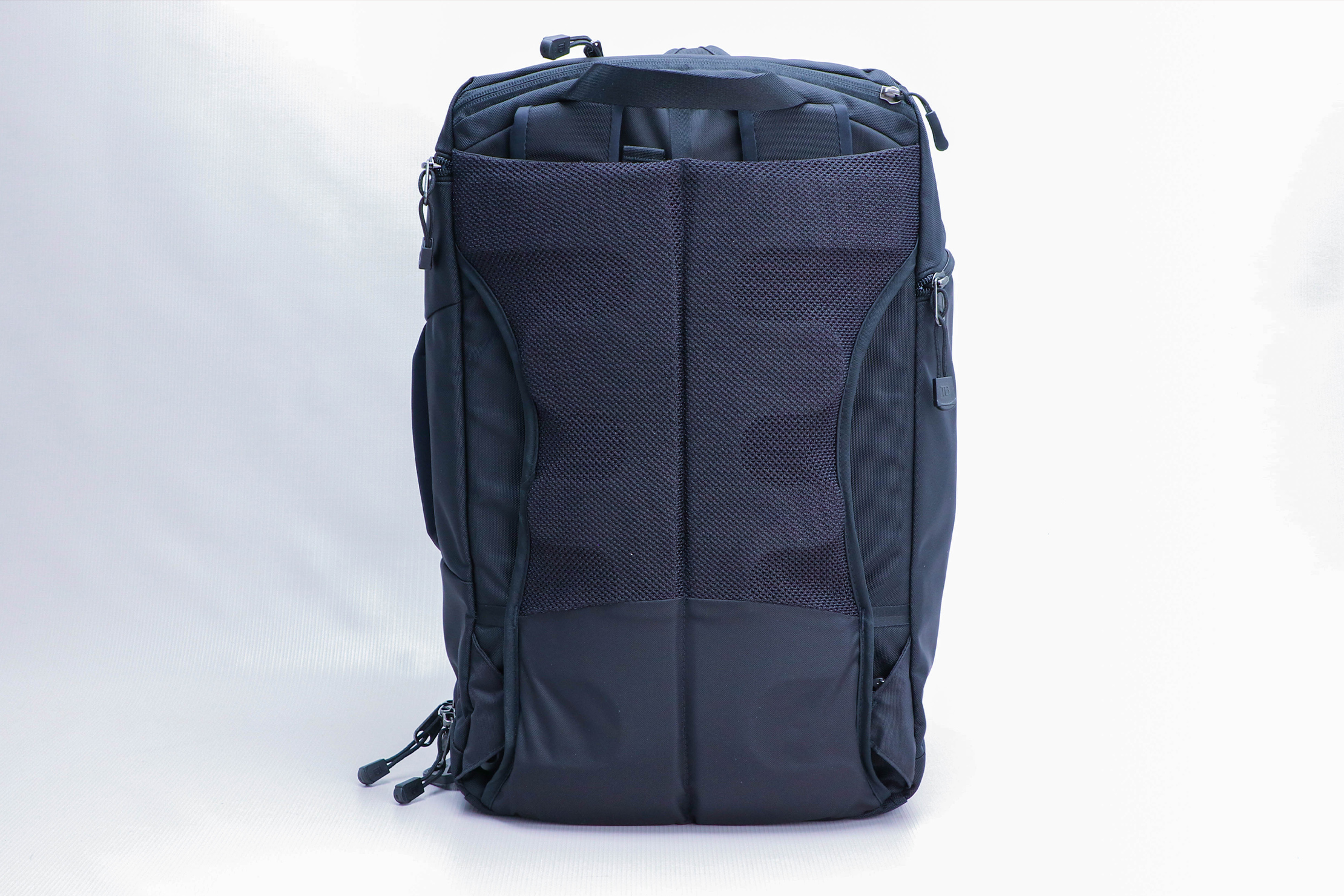 We're most eager to point out the Techonaut 30's carrying comfort—more specifically, the supportive back panel. First, it's covered in mesh, and there's quite a bit of space underneath for a luggage pass-through, so it's quite breathable. The back panel's actual structure is formed by a foam sheet resembling a spine that bends and contours depending on your movement and posture. The result is that the Techonaut 30 rests most of its weight around the middle of your back. It has a nice, balanced feeling for a bag that's 30 liters in size.
Then there's the pair of shoulder straps. The edgeless design coupled with dense padding means that they don't dig in harshly, even with a heavy load. Even grabbing and putting them on doesn't feel straining. That doesn't seem like a big deal, but those who work with their hands all day will appreciate the extra comfort. There is an included sternum strap, and though it's our preferred style with a simple side-release buckle, there's slack on both sides of the buckle.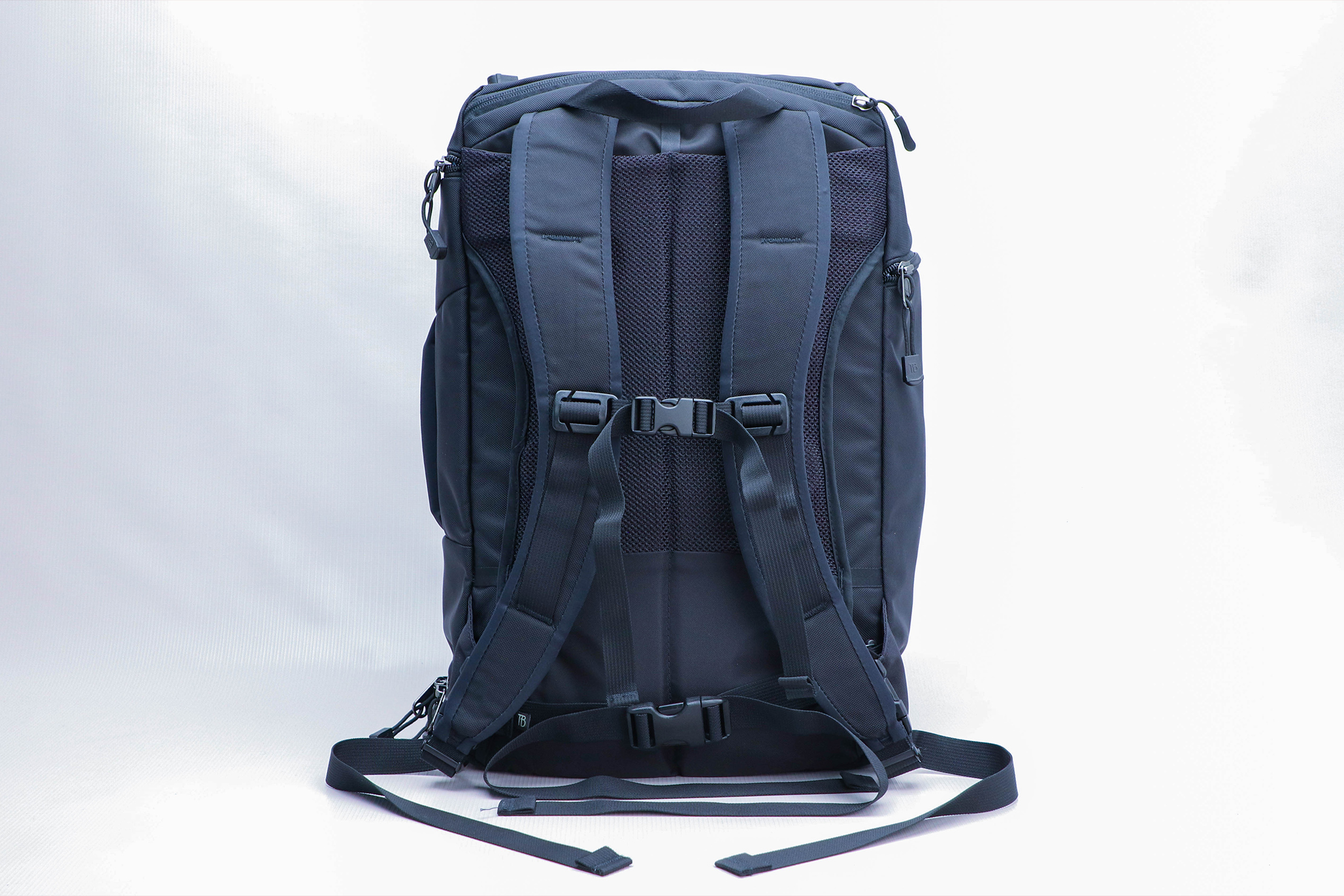 It makes for a bowtie-like appearance, which—while kind of adorable—is also kind of distracting. Fortunately, Tom Bihn has a slew of accessories to deal with this, including strap keepers. Other accessories include a more robust hip belt, but the one included is more than enough for our purposes. We sometimes take our bags with us during bike rides, and the included hip belt keeps the Techonaut 30 stable. You can also stuff it behind the back panel when it's not in use, so it stays out of the way.
There are three ways to carry the Techonaut 30: backpack, messenger, and briefcase-style. The Techonaut 30 has two attachment points for messenger-style carrying, one at the top and one at the bottom of the right side. This is where Tom Bihn's Absolute Shoulder Strap comes in handy, although you're free to use third-party straps as well. Moreover, these are handy for extra accessories like carabiners or luggage tags.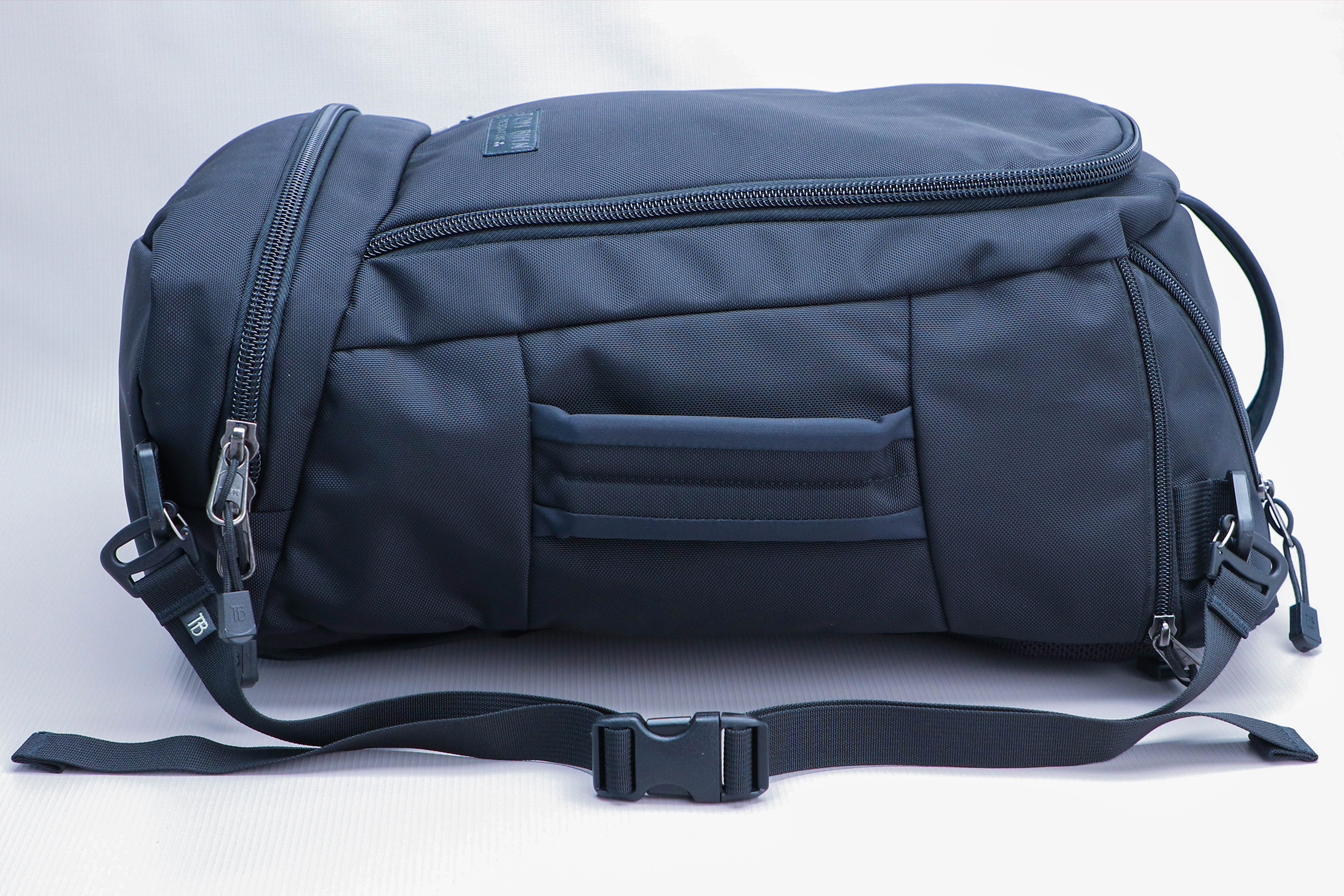 In between the attachment points is a well-padded grab handle for briefcase-style carrying. There is no metal stay underneath, so carrying it this way causes the bag to sag and bow—not a particularly huge issue, but it does affect the look. There's also a top handle, though it's oriented vertically rather than the more typical horizontal fashion. It's a bit unusual, but it does mean that the Techonaut 30's back panel rests against you while your wrist is pointing backward, which is arguably a more comfortable carrying style.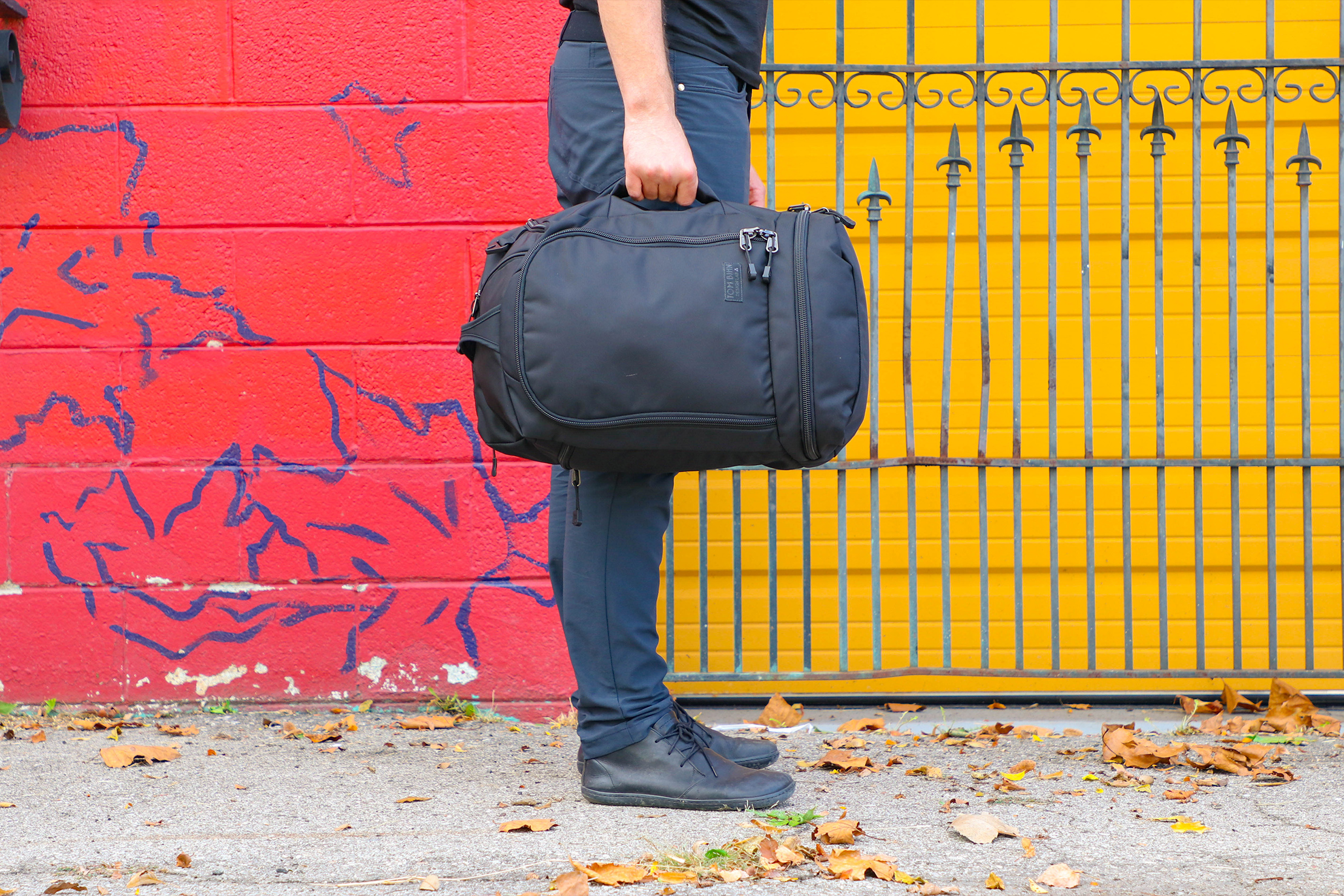 In either messenger or briefcase-style carrying, you can detach the shoulder straps via the clips at the bottom and stuff them behind the back panel. Unlike the Aeronaut's zippered strap compartment, each of the shoulder straps on the Techonaut simply stows into their respective halves of the back panel—it's a much cleaner approach. But if you're more of a fan of the typical nylon loop for hanging onto hooks, the Techonaut 30 has that as well.
Inside The Backpack
The sides of the Techonaut 30 are kept fairly streamlined, and that's thanks to a more integrated water bottle pocket. We have nothing against cupholder-style water bottle pockets, and that style certainly has its advantages. But for those looking for a water bottle pocket that's more secure, we think this design is better.

The downside of the Techonaut 30's water bottle pocket is that it cuts into the main compartment's space. This isn't an issue exclusive to the Techonaut 30, as many bags with integrated water bottle pockets do exactly the same. For reference, we use an 18-ounce YETI Rambler as our daily bottle, and it visibly cuts into the main compartment. So keep this in mind if you have a particularly wide water bottle.
On the right side, there's a drop pocket for everyday carry items. It can hold a fair amount of accessories like wireless earphones, a pack of wet wipes, loose change, and a pair of sunglasses. If you run out of space, there's also the top pocket for that, which is actually twinned with the right side drop pocket. Both of these pockets have built-in O-rings, and there's an included key clip that you can attach to either of these points. You may want to consider this too since we found access to the top pocket a little tricky.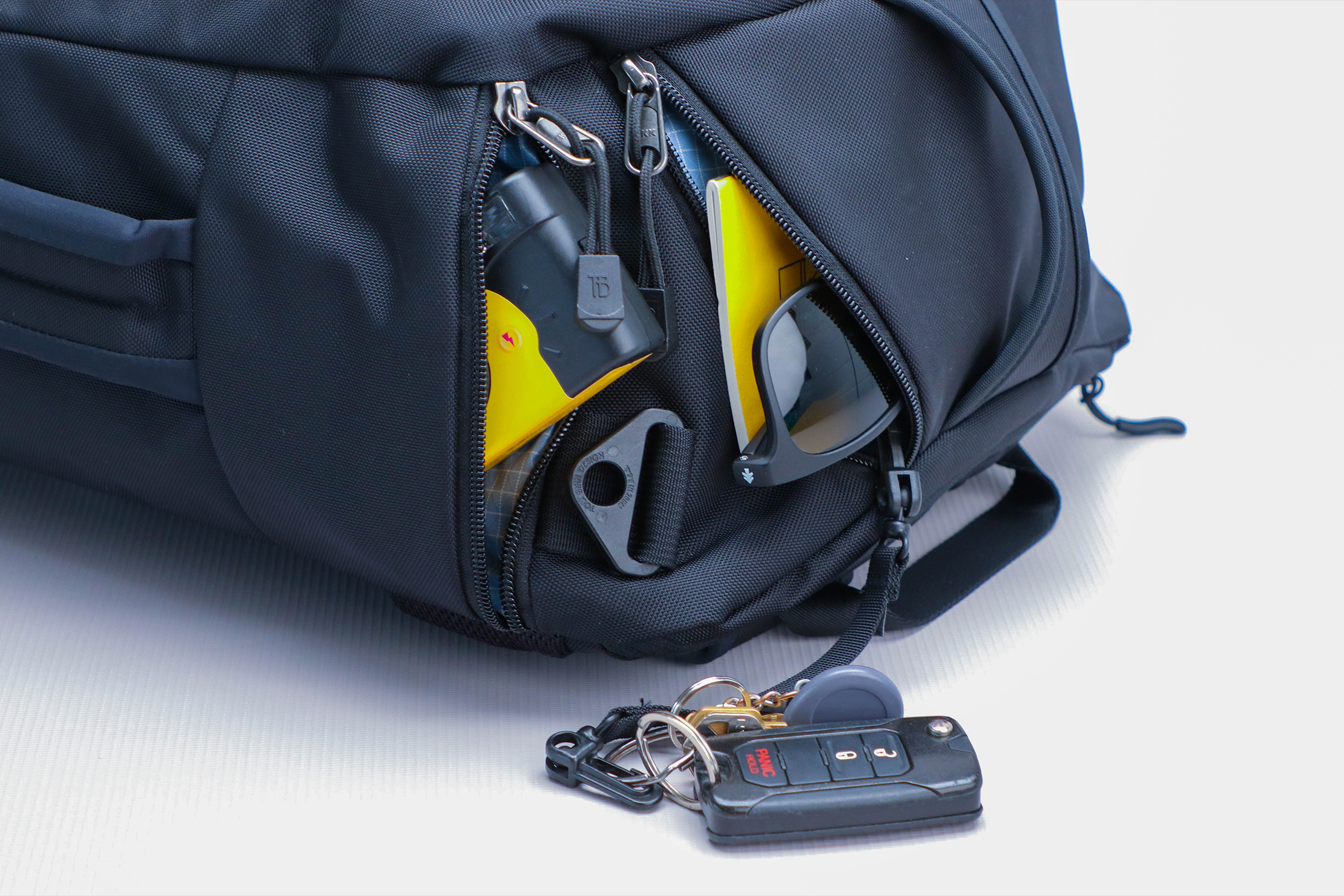 Because the top pocket has a sideways opening, you can't really peek into it like you would with a typical top opening. So our general tip would be this: use the right side drop pocket for EDC items if you're carrying the Techonaut 30 in backpack mode. Conversely, the top pocket's sideways opening is more convenient when the bag is in messenger mode.
Tom Bihn has kept the laptop compartment fairly simple but effective. It's a dedicated compartment located at the back of the Techonaut 30, with the same bright Tidal-colored liner the rest of the compartments have. If you're also throwing accessories inside, they shouldn't be too hard to fish out. As for protection, it's well-padded, and the aforementioned back panel provides decent structure as well.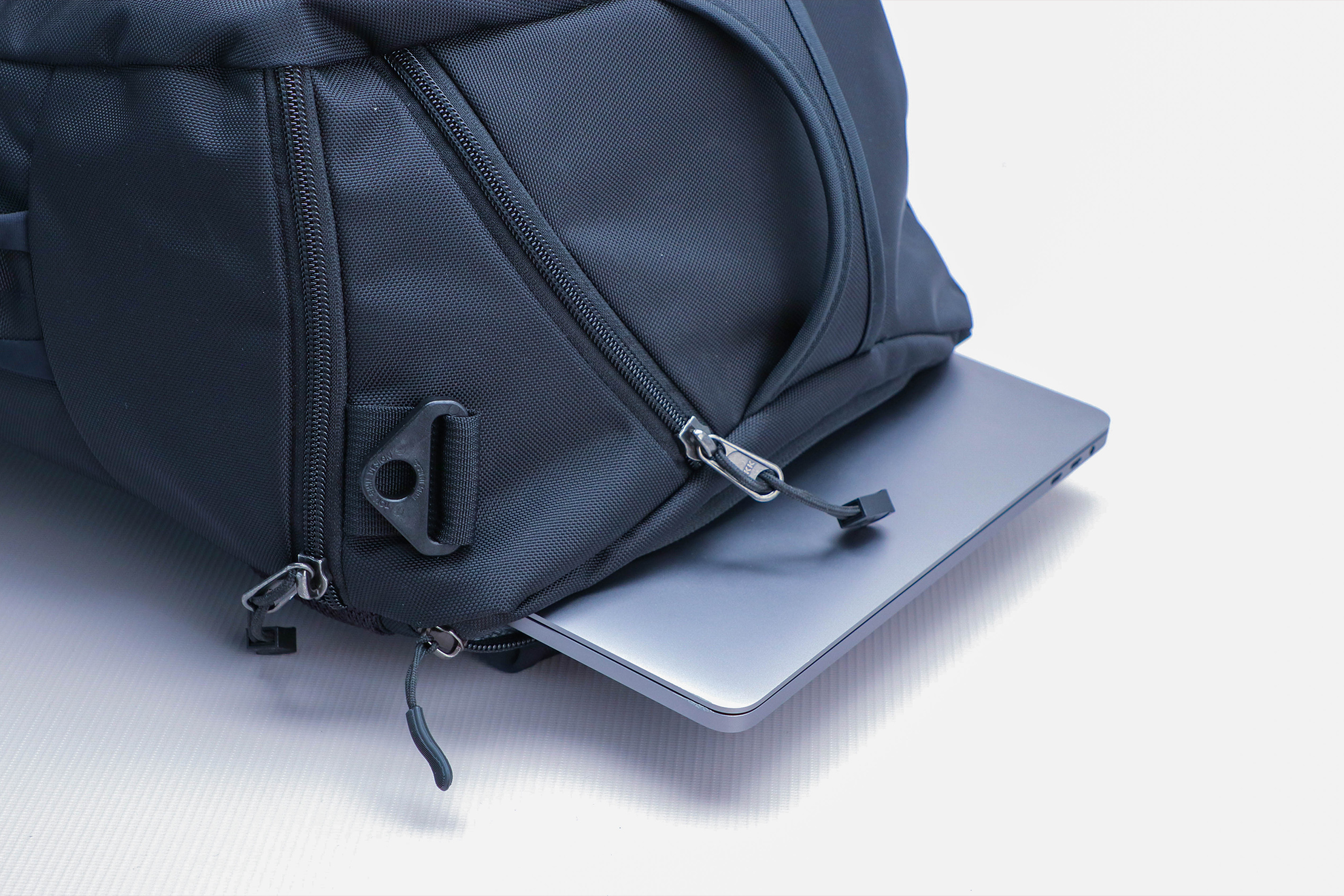 A majority of the Techonaut 30's capacity is shared between the main compartment and the bottom compartment. As a result, the main compartment appears smaller than one might expect from a 30-liter backpack. That said, Tom Bihn built in a clever trick to maximize the available space.
With or without packing cubes, getting clothing inside the Techonaut 30 is relatively easy. The opening is clamshell-style, so all the available space is immediately visible, like a big empty tub. Unlike a horseshoe-style opening, this minimizes the need for stacking items since it's easier to put bulky items side by side. There are two built-in compression straps to hold down two stacks of clothing. But if you're like us and prefer using packing cubes, the compression straps are a handy way of squeezing even more space out of the bag.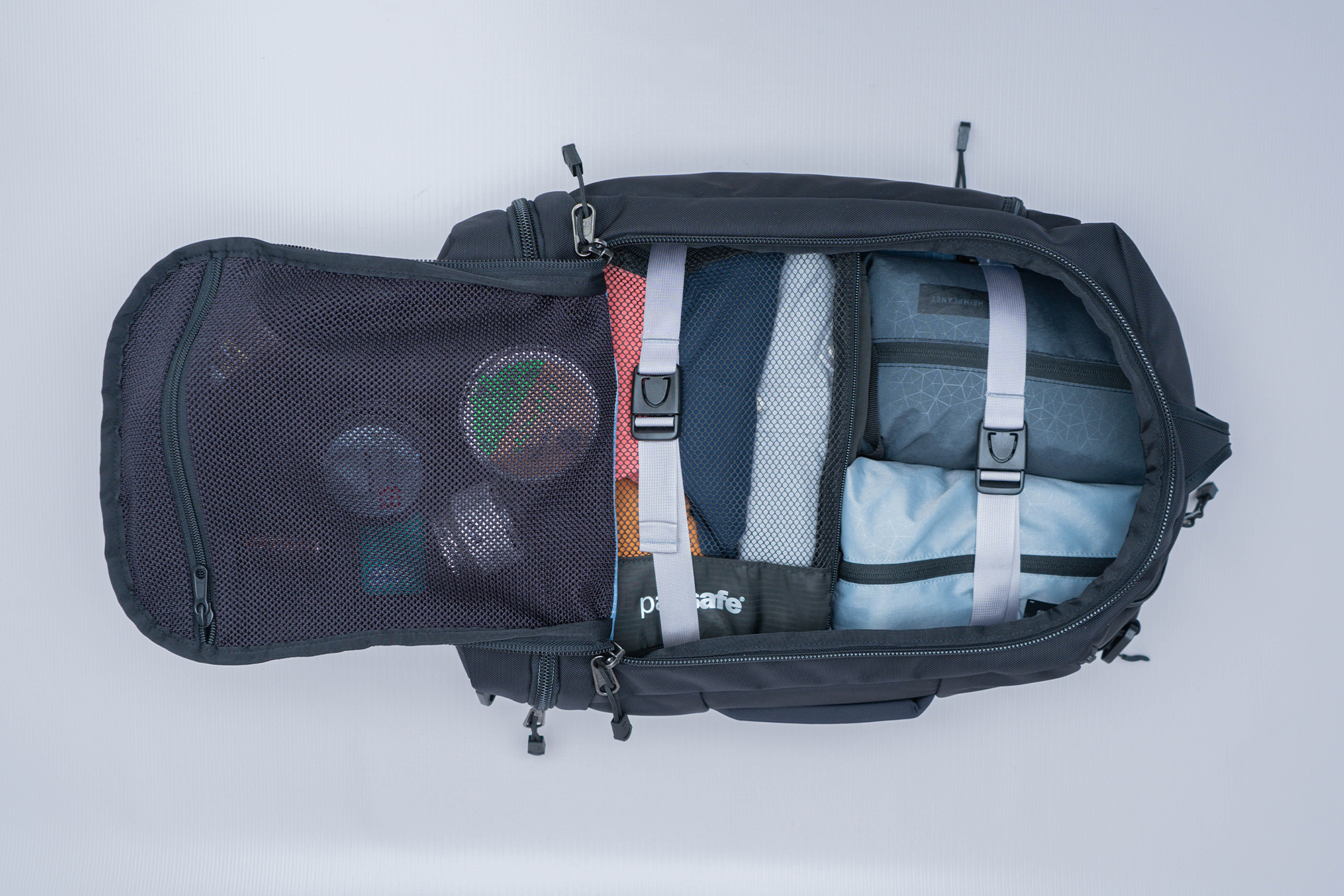 The main compartment's flap has a zippered mesh pocket. Out of all the Techonaut 30's pockets, this is the only one that doesn't have the Tidal-colored liner. Instead, it's purely black inside, but at least the mesh material helps with visibility. In case you don't have a separate packing cube for underwear or socks, this pocket has adequate space for a couple of them.
On the right side of the main compartment, there's a downward-opening pocket. It looks like an inverted internal water bottle pocket, but it's actually for a pair of flip-flops. Your mileage may vary depending on what size of flip-flops you wear. Ours is a pair of men's size 10, which is a tight fit for this pocket, but a pair of women's size 8 fits easily.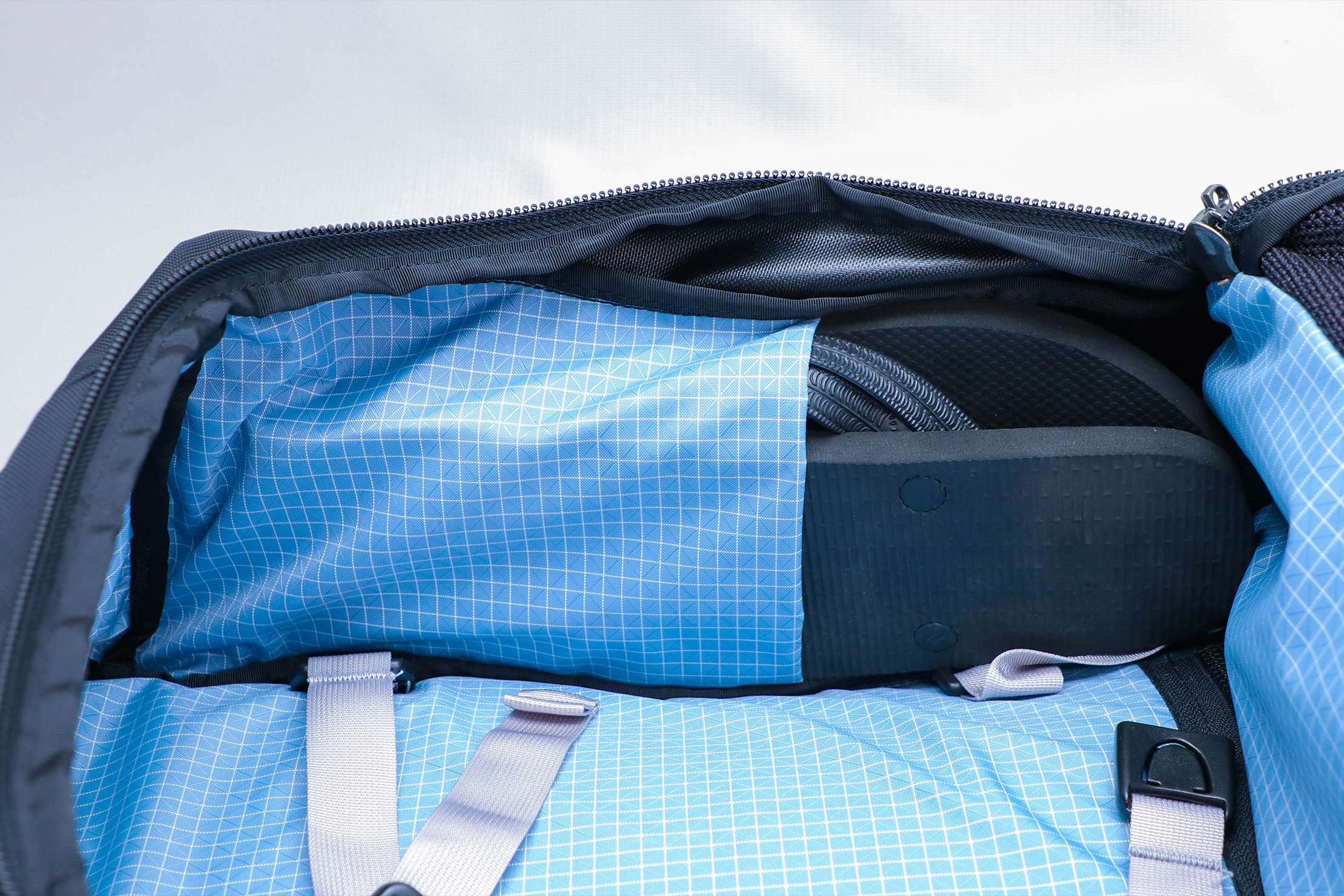 For footwear that's a bit bulkier, like sandals, there's also the option to put them inside the bottom compartment. The bulkiest piece of clothing we typically carry is our jacket and/or our sweater, so those go in there. The good news is that the bottom compartment has independent volume from the main compartment, so even bulky items don't cut in too badly.

The neat part is that if you don't need the bottom compartment, you can unzip the main compartment's floor to expand it towards the bottom. Depending on what you're packing or your preferred packing style, this is something worth considering. For example, maybe you need extra space inside the main compartment for a Dopp kit or a tech pouch. You can then shift all of your clothes towards the bottom and have extra space at the top for your extra pouches. The bottom line is that the space sharing between the two compartments is a good flexible option for those who need it.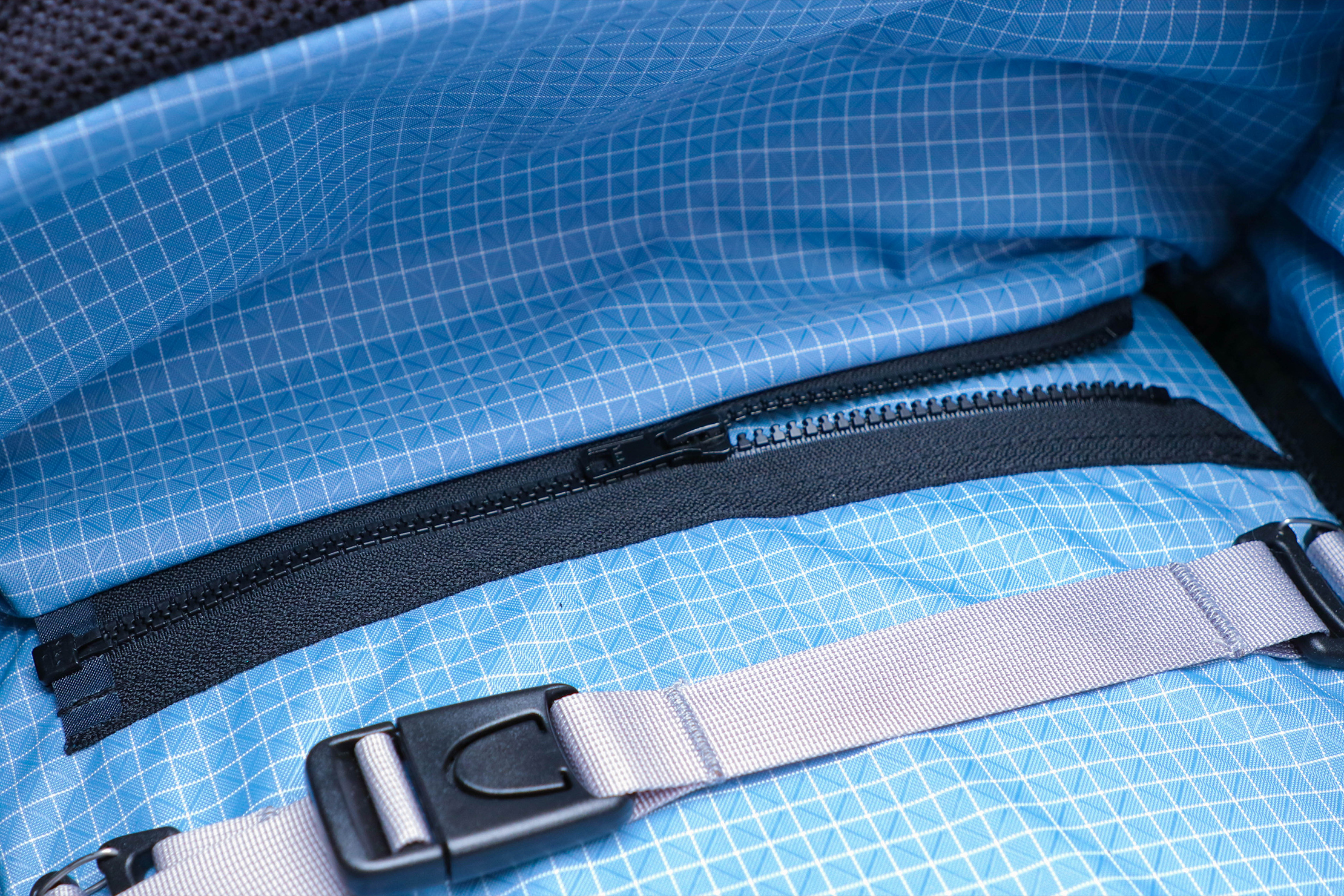 The Techonaut 30 is a textbook example of what we expect from a Tom Bihn bag. There are many clever features, like the main compartment's collapsible floor and the multi-style carry, making the bag very versatile. Overall, they nail a lot of the good features of the bag, with only a few nitpicks at worst (the slack on the sternum strap comes to mind) that go against it.
Usage Timeline
Initial Usage
Condition: Excellent
Three-way carrying styles: backpack, crossbody, or duffel
There are also three quick access pockets (left, right, and top side)
Access to the main compartment is via a peel-away flap at the front
2 Weeks of Use
Condition: Excellent
We think the back panel and laptop sleeve make this an improvement on the Aeronaut
The top quick access pocket can be hard to fish around inside due to the narrow opening but wide/deep pocket (depending on the way you're wearing the bag)
Of the 3 carry modes, we like backpack-mode the best—it's more comfortable than the Aeronaut, too
Access the Pro Community Discussion
Get your questions about the TOM BIHN Techonaut 30 answered from our team and the Pro Community right here on the page. Plus, join discussions with other members about gear, guides, and more.
Other Bags & Luggage Reviews