Deuter AViANT Carry On Pro 36 Review
The Deuter AViANT Carry On Pro 36 is a solid travel backpack with tons of organization at a great price—plus, it's available in both a men's and women's fit.
Our Verdict
Unlock the Pro Summary
Save time. Get access to brief summaries of our reviews so you can browse and make decisions more efficiently.
Pros
Comfortable carry in the men's and women's versions
Removable shoe compartment is a nice feature
Great airflow on the mesh back panel
Cons
The straps can detach without warning
Tech organization pocket is a bit too large
No option for a hip belt
Recent Pack Hacker Video
Technical Details
Capacity

36l

Weight (lb)

3 lb (1.4 kg)

Denier

600D

Dimensions

21.65 in x 13.386 in x 9 in (55 x 34 x 22.9 cm)

Notable Materials

Polyester, Polyamide, YKK Zippers, YKK Buckles

Manufacturing Country

Vietnam

Laptop Compartment Size

15"

Warranty Information
Full Review
The right backpack can make a big difference in your one-bag travel experience, and the Deuter AViANT Carry On Pro 36 is a solid choice.
Made by the German brand Deuter, the AViANT Carry On Pro 36 is a 36L bag (as you can probably tell by its name) that comes in both a men's and women's version. Our team has been testing both versions of this bag for a combined three weeks in Detroit, Michigan and around Europe.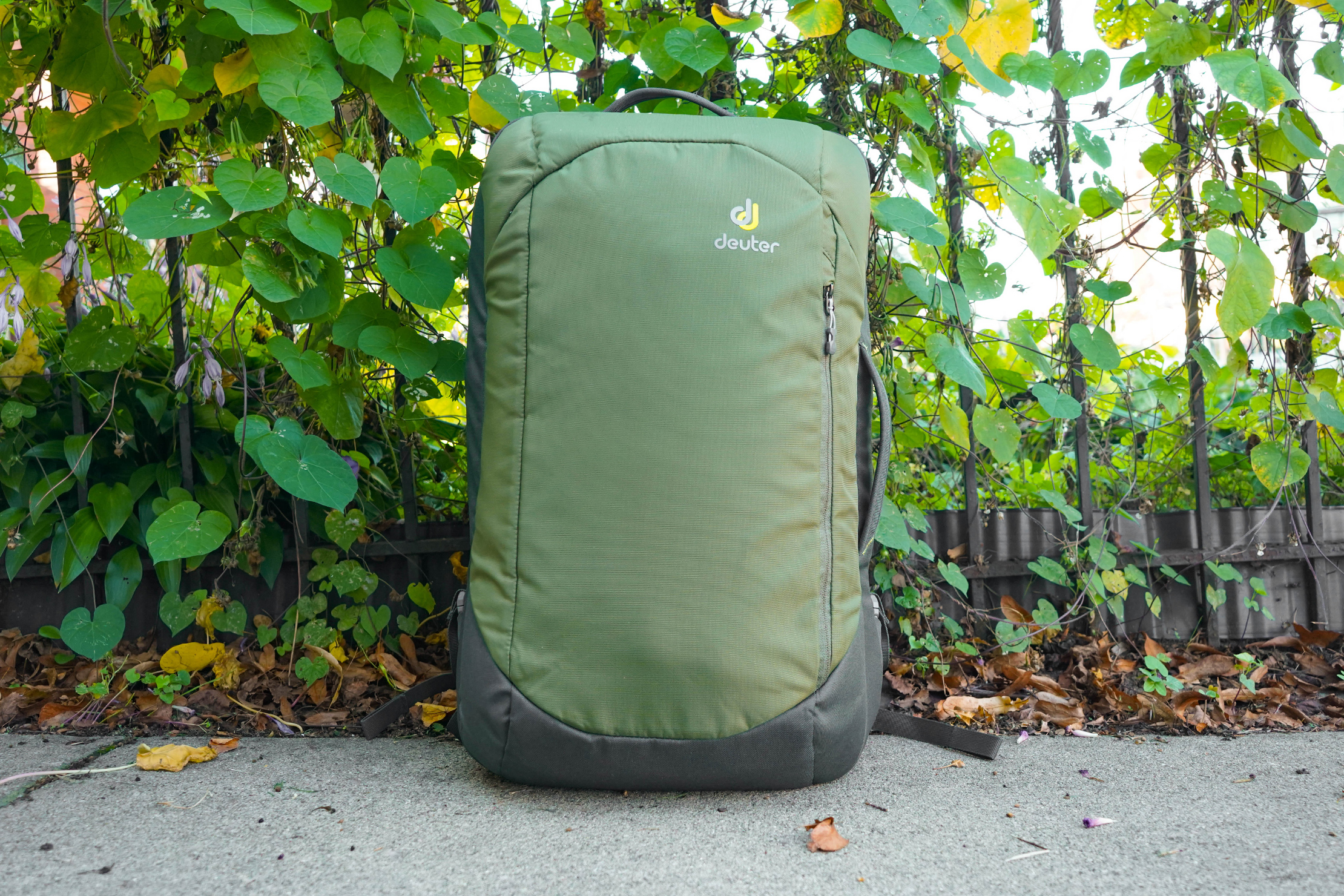 We've been digging the look and feel of this backpack from the outset and were excited to start testing it out. Here's what we've learned in our travels so far.
Materials & Aesthetic
The Deuter AViANT Carry On Pro has a simple, clean travel bag aesthetic. It reminds us of the look and feel to the Osprey Farpoint 40—one of the most popular travel backpacks we've tested.
At the time of this review, each version of the AViANT Carry On Pro 36 comes in a few different colorways. The men's version comes in Black, Midnight Navy, and Khaki Ivy (which is the colorway we've been testing).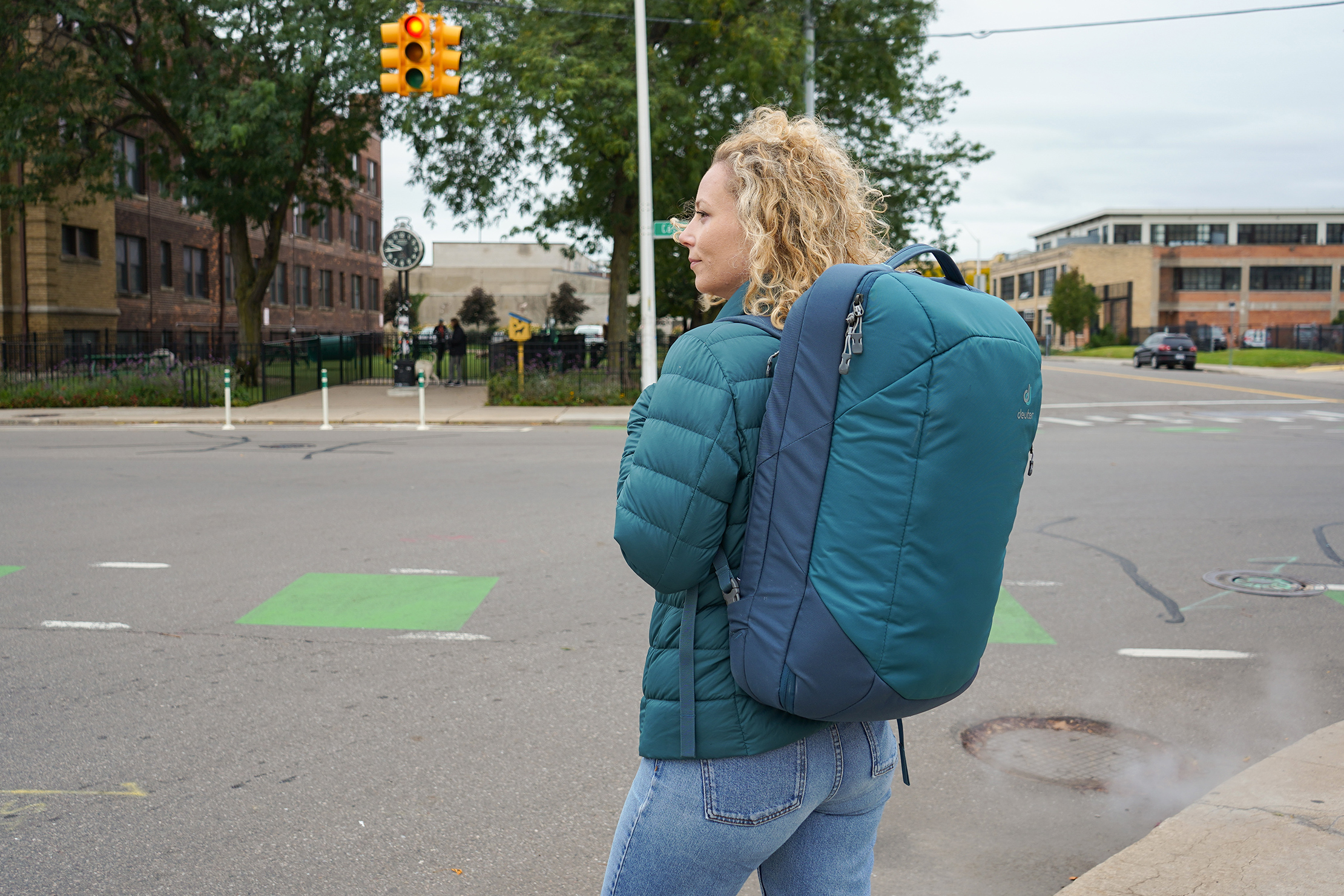 The women's version comes in three colorways, too: Maroon Aubergine, Black, and Denim Arctic (which we've also been testing). This model comes with a removable flower on the side to indicate that it's a women's version—which, if we're being honest, feels a little heavy-handed to us. Our staffer Taylor took it off immediately when she got the bag.
From a branding perspective, you'll find a Deuter logo at the front of the bag, another on the straps, one above the foam padding on the back panel, and then also on the zipper pulls.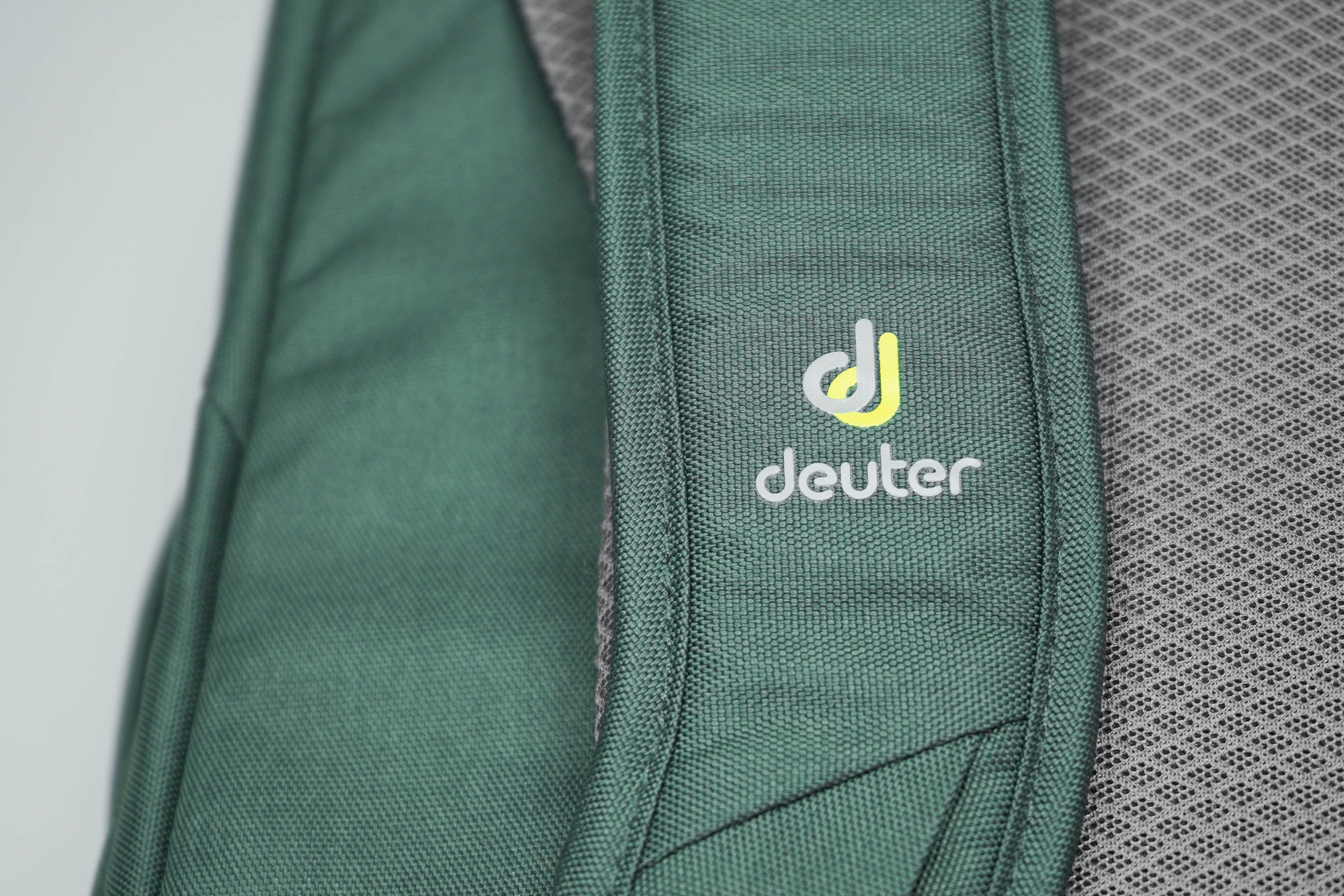 The name of the bag—AViANT Carry On Pro 36—is printed along the side, too. That might seem like a lot of branding overall, but it's typically what you get for a travel backpack with this aesthetic.
As always, we polled our Instagram audience to get their thoughts on the look of this bag—and the majority gave it a thumbs down. If you want to add your opinion to the mix on future polls, make sure to follow us @packhacker.
The main fabric on the exterior of this bag is a Polyamide and Polyester blend. This is a decent fabric for a travel backpack and, again, has a similar feel to the Osprey Farpoint 40. It's soft to the touch and has some decent durability qualities, too.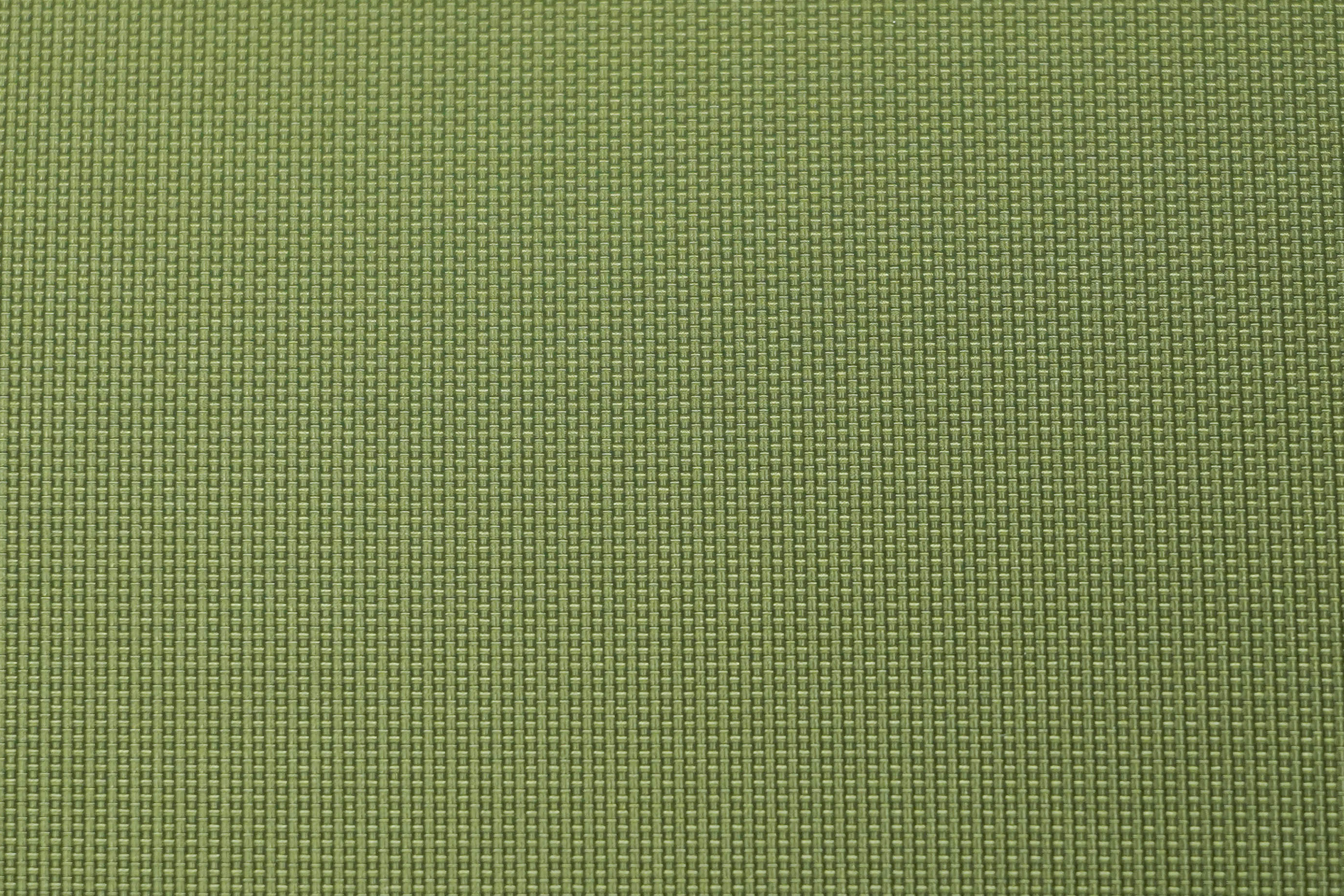 Another thing to note here is that there's foam padding used in some areas of the exterior of the bag. The padding helps this pack hold its shape even while empty—which we like as it keeps things sleek. Thinner bags can look a little wonky and lose their shape when not full, or if you start filling them up with gear of different sizes.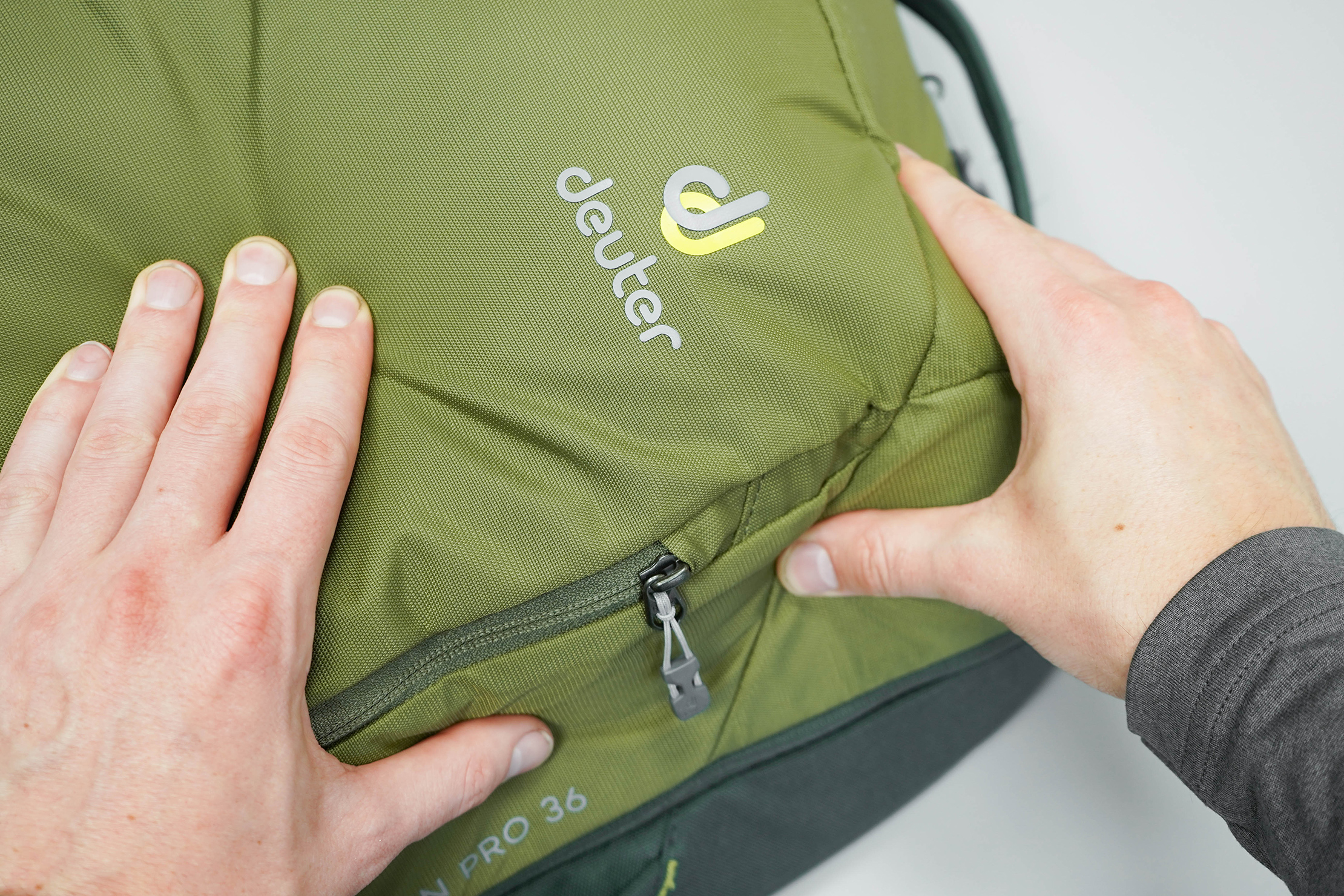 Plus, it's not too much foam—which we've seen before. There's enough to help the pack keep its shape but not make it bulky or unwieldy.
Wrapping up the other key materials in the bag, it features YKK zippers and buckles throughout.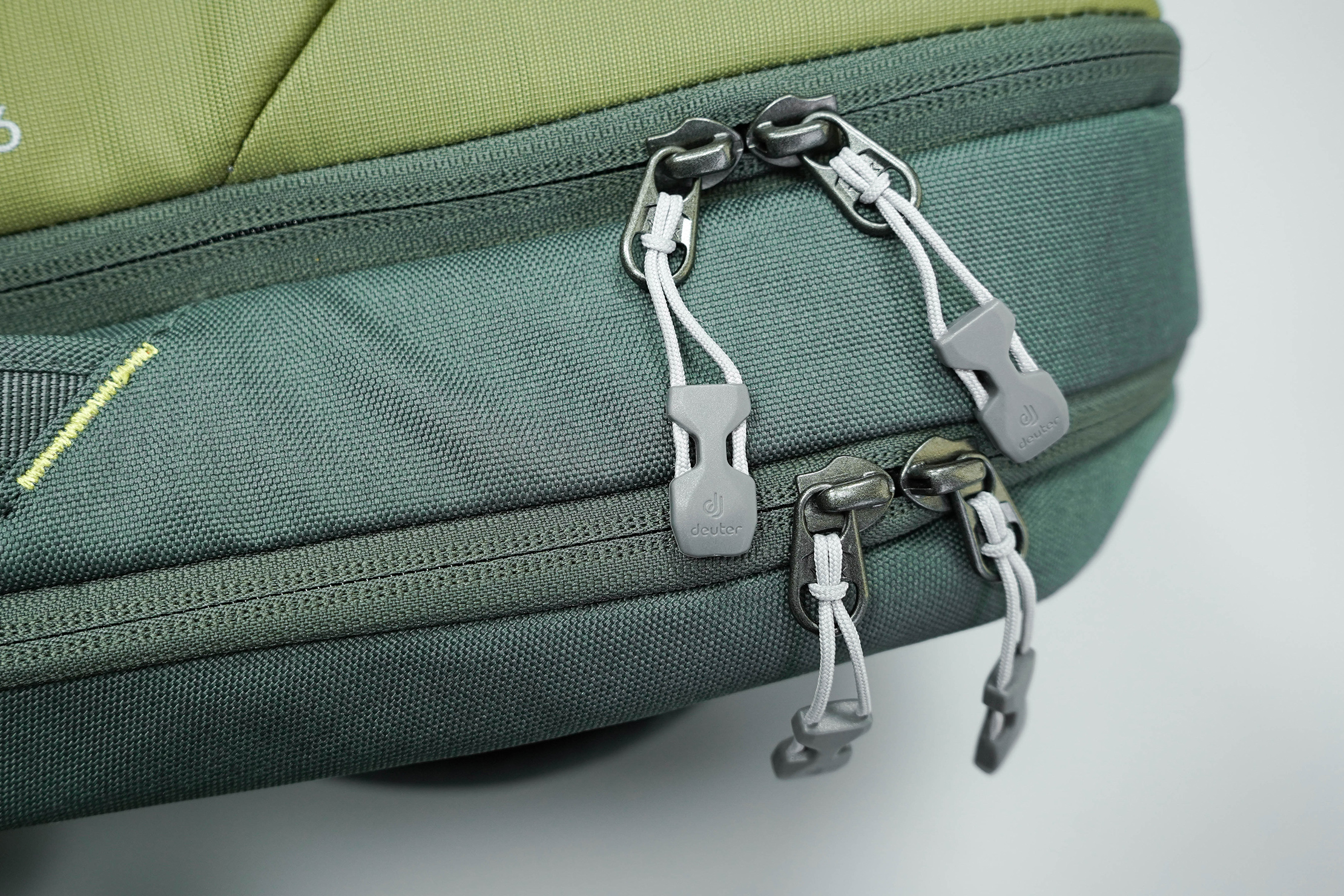 External Components
The harness system on the Deuter AViANT Carry On Pro 36 is pretty comfortable. Why? you may ask. Well, for starters the shoulder straps have a decent amount of padding. And the strap adjusters at the bottom glide nice and easy.
Also, the harness system is anchored a little lower on the bag. This moves some weight to the top of your back, which can help balance things out when carrying.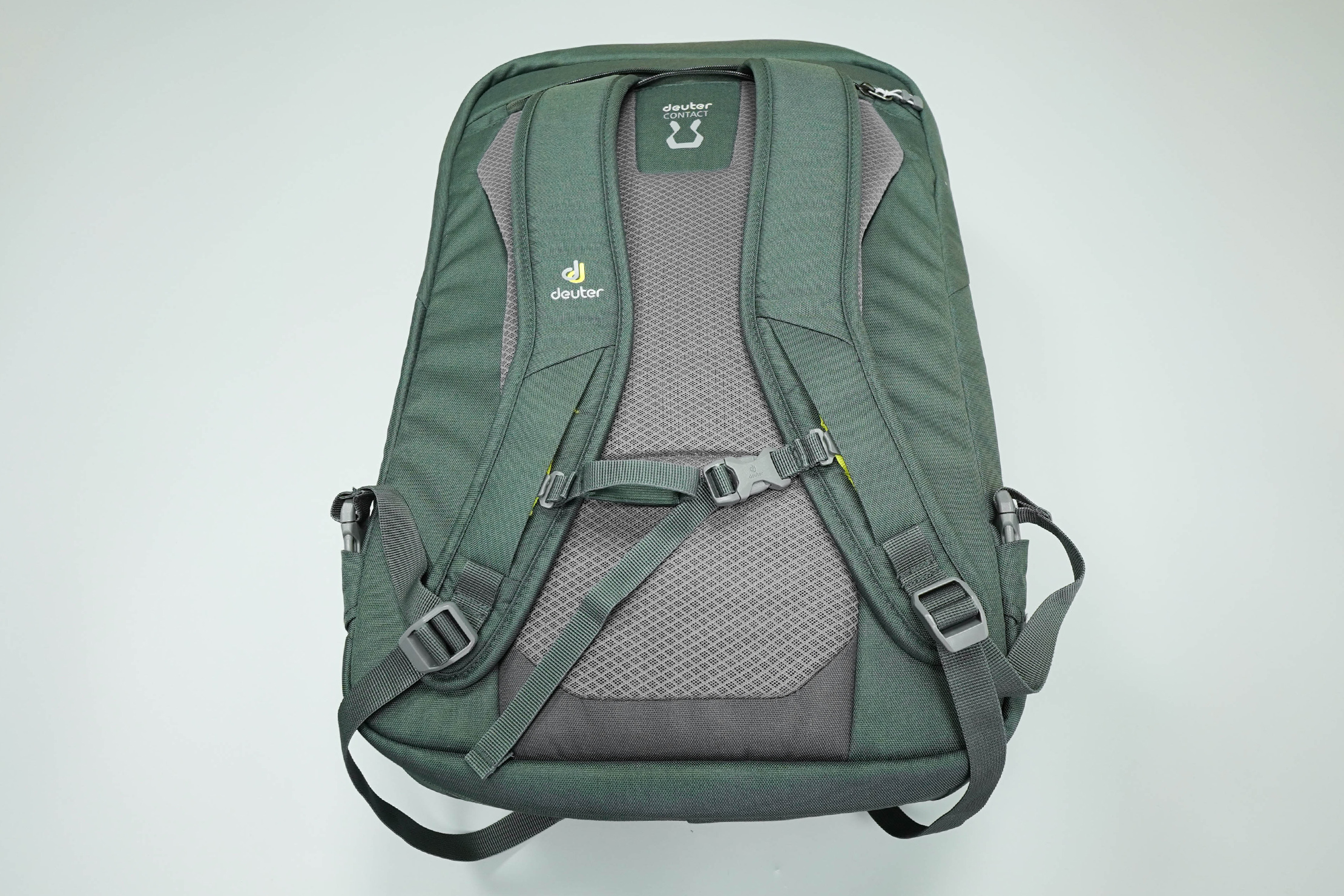 The sternum strap is adjustable, removable, and has a bit of elastic to move with you when you walk. We like the way this sternum strap is attached semi-permanently—the PALS-like webbing it's anchored to is covered by a fabric welt, making it a more secure fit.
And if you've read some of our other reviews, you'll know we've lost one too many sternum straps while testing bags that don't have a secure attachment like this.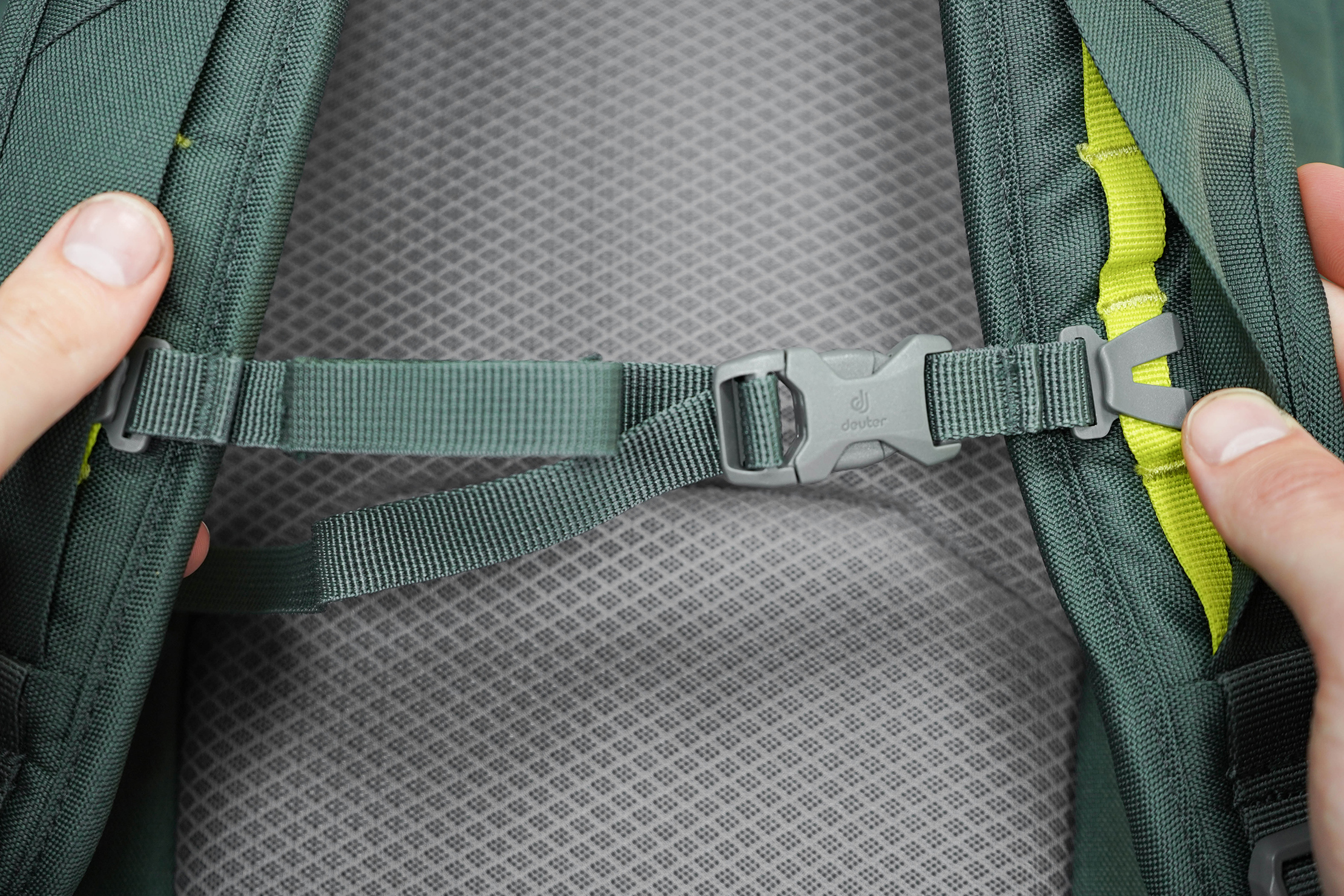 The foam back panel on the Deuter AViANT Carry On Pro 36 provides some nice airflow to help you avoid that dreaded swamp back. It's not always completely avoidable (especially when exploring hotter climates) but this backpack does a pretty good job with airflow.
Behind that back panel is a luggage pass-through—so if you're using this bag with roller luggage, you can stick it on the top and wheel it around the airport.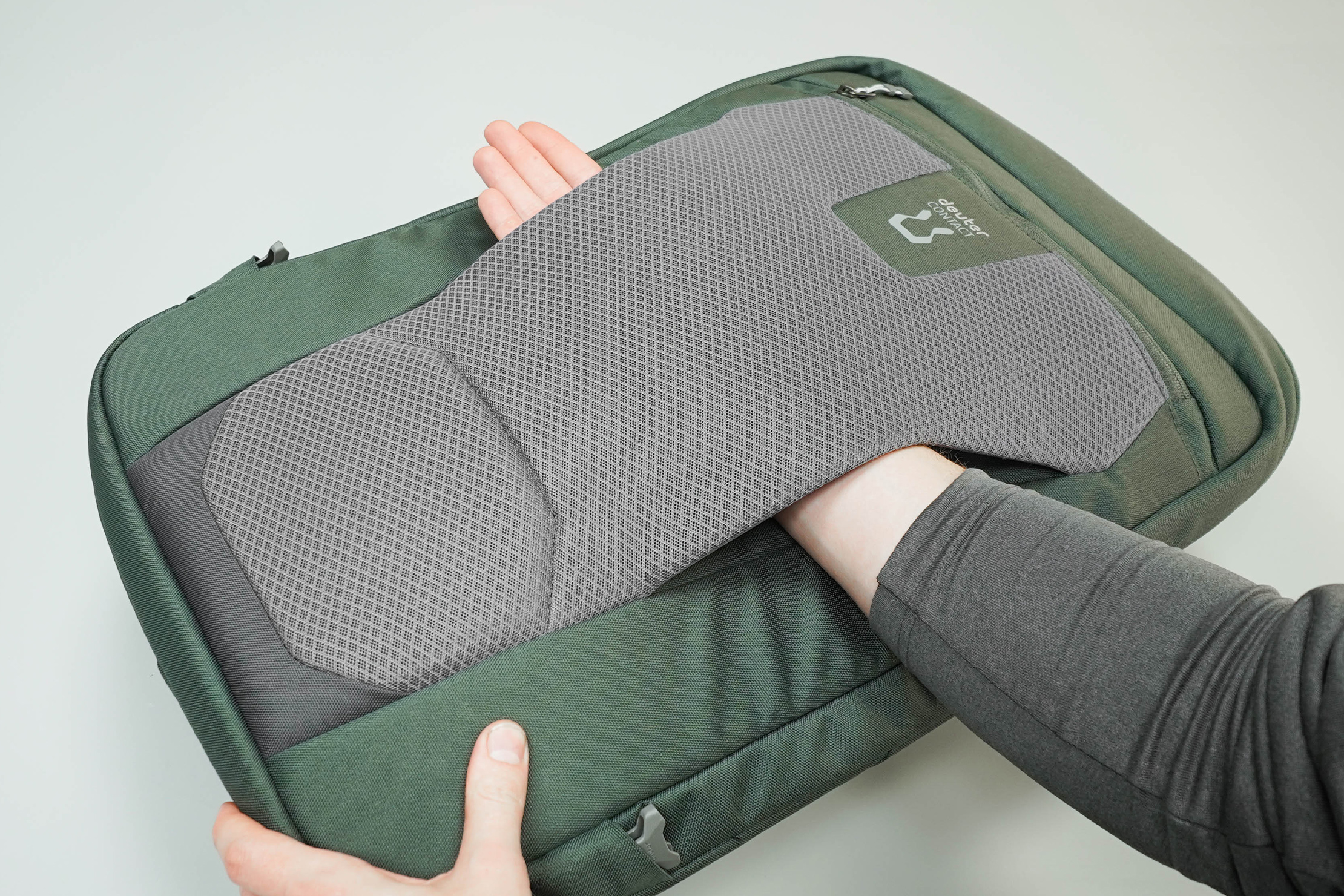 This harness system is not without a couple of drawbacks, though. We dig that the entire harness system can unbuckle and stow behind the back panel, but we've found that these straps can come undone without warning.
Between our three weeks of testing, the strap has disconnected from both the men's and women's bags a total of three times. It seems to happen when the bag is jostled around and the buckles are bumped on the sides.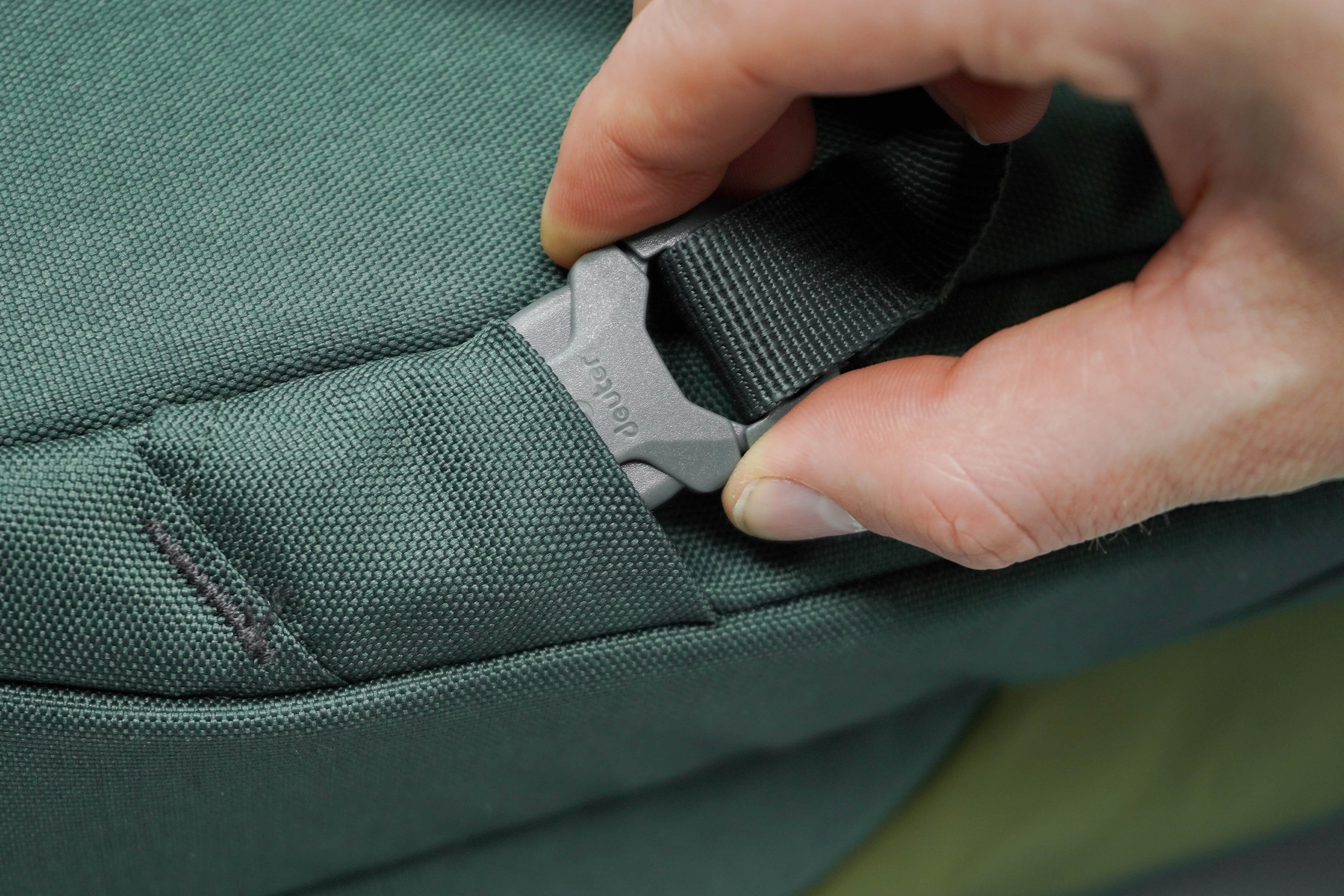 Obviously, this could be a big problem if you're throwing on this bag quickly and trying to sprint through the airport to catch a flight—basically the last time that you'd want the straps to disengage—so it's something to keep in mind. We wish Deuter would have considered designing this system a bit differently in order to mitigate that problem.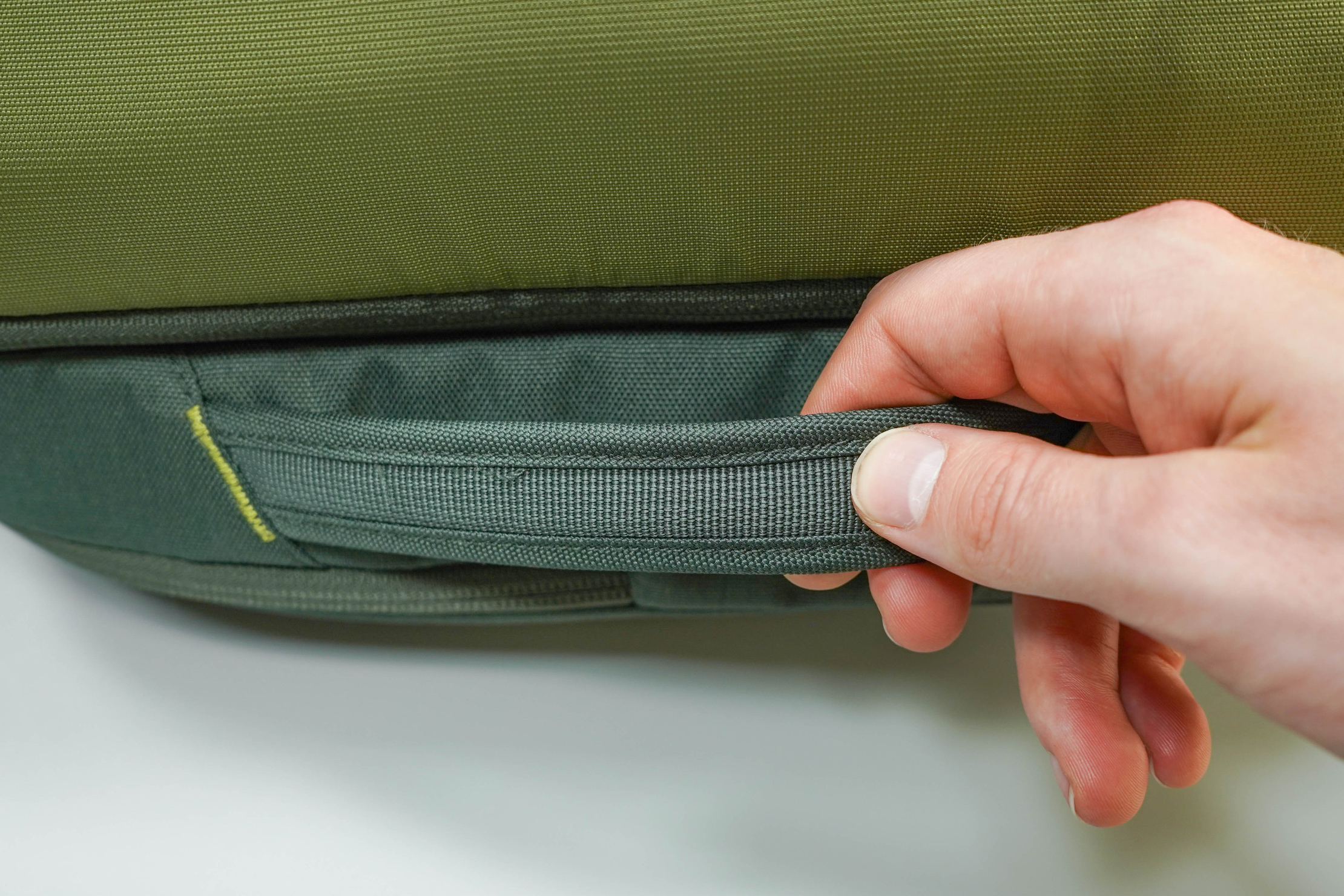 There's a carry handle at the top with just the right amount of padding. And one on the side, as well. Although the handle isn't exactly centered in the bag, it's sewn on an angle which helps offset the weight to some extent and helps it carry it straight up and down.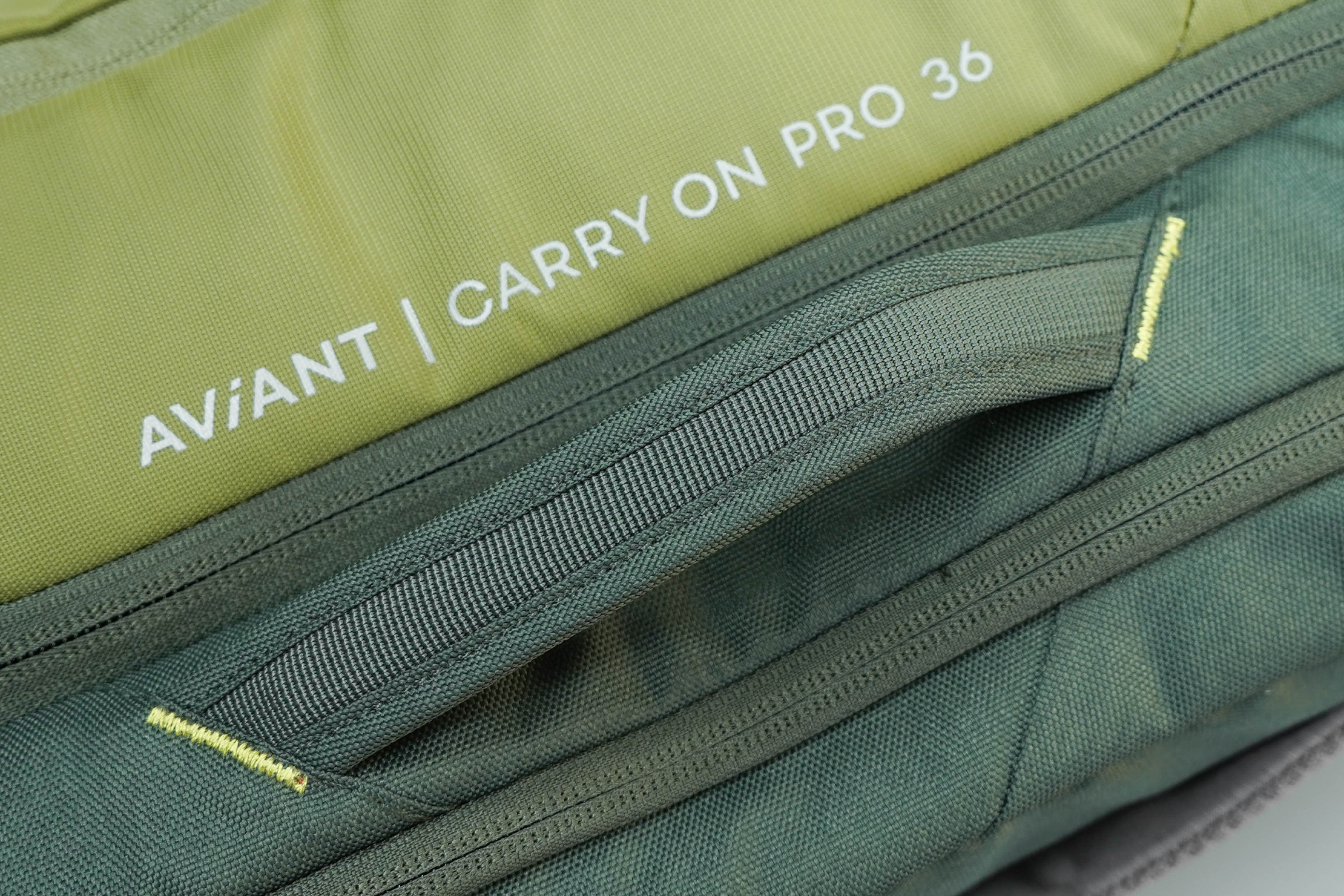 Lastly, there is no hip belt option on this bag at all. It'll be up to you whether that matters or not, but we tend to believe any bag at 30-plus liters should at least give you the option.
The rest of this bag is pretty minimal. There are no water bottle pockets on the sides (which could be an issue for some), no extra doodads, or rows of PALS webbing. And we like it that way.
Inside the Pack
Moving onto the inside of the Deuter AViANT Carry On Pro 36, it's safe to say there's plenty of organization.
The front pocket basically opens up to a giant bucket. This pocket is enclosed with a No. 5 YKK racquet coil zipper (which is the standard for bags and luggage in the travel category) and has no internal organization.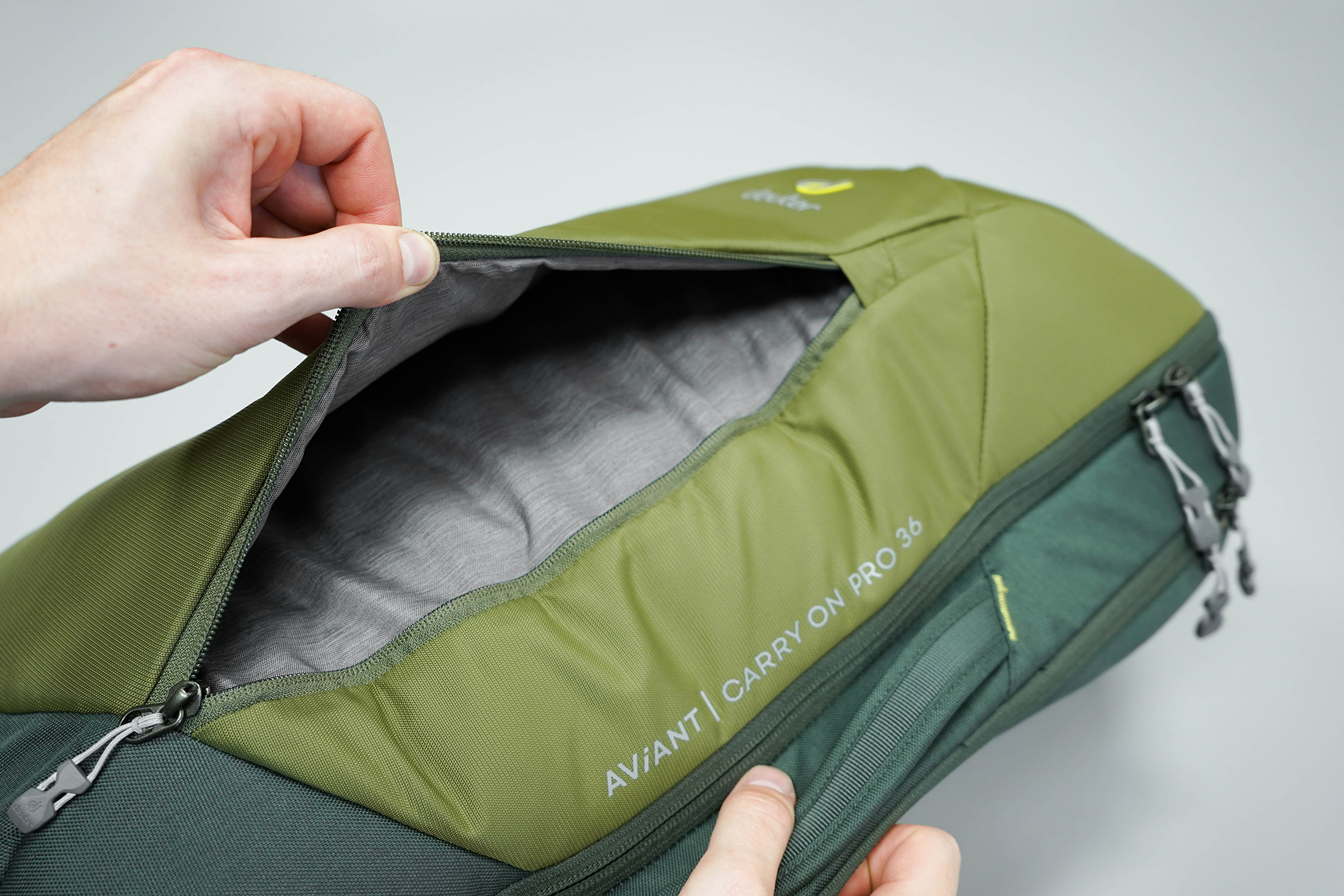 At the back of the bag, there's a big tech organization pocket—big enough to merit those italics. You can put this bag on its side and really peel this pocket open to get at your accessories.
There's a floating laptop compartment centered on the back of this pocket (up against your back while wearing the bag), which should help protect your laptop from unexpected drops.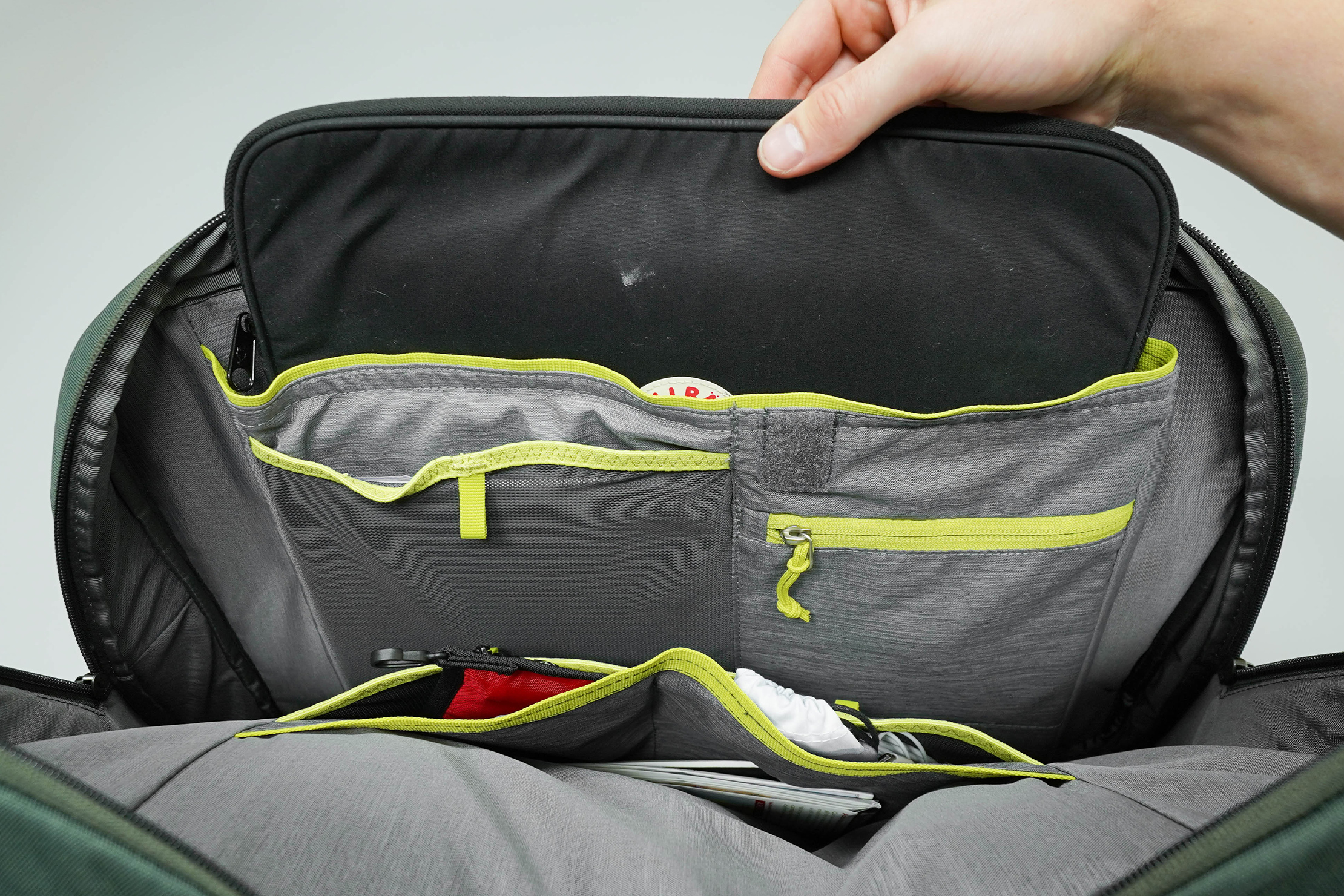 The laptop sleeve fits a 15-inch laptop easily. So easily, it could be considered a tad roomy. You can secure the laptop compartment with a velcro strap, but it's a little hard to use. And, on the bag we tested, the strap was misaligned.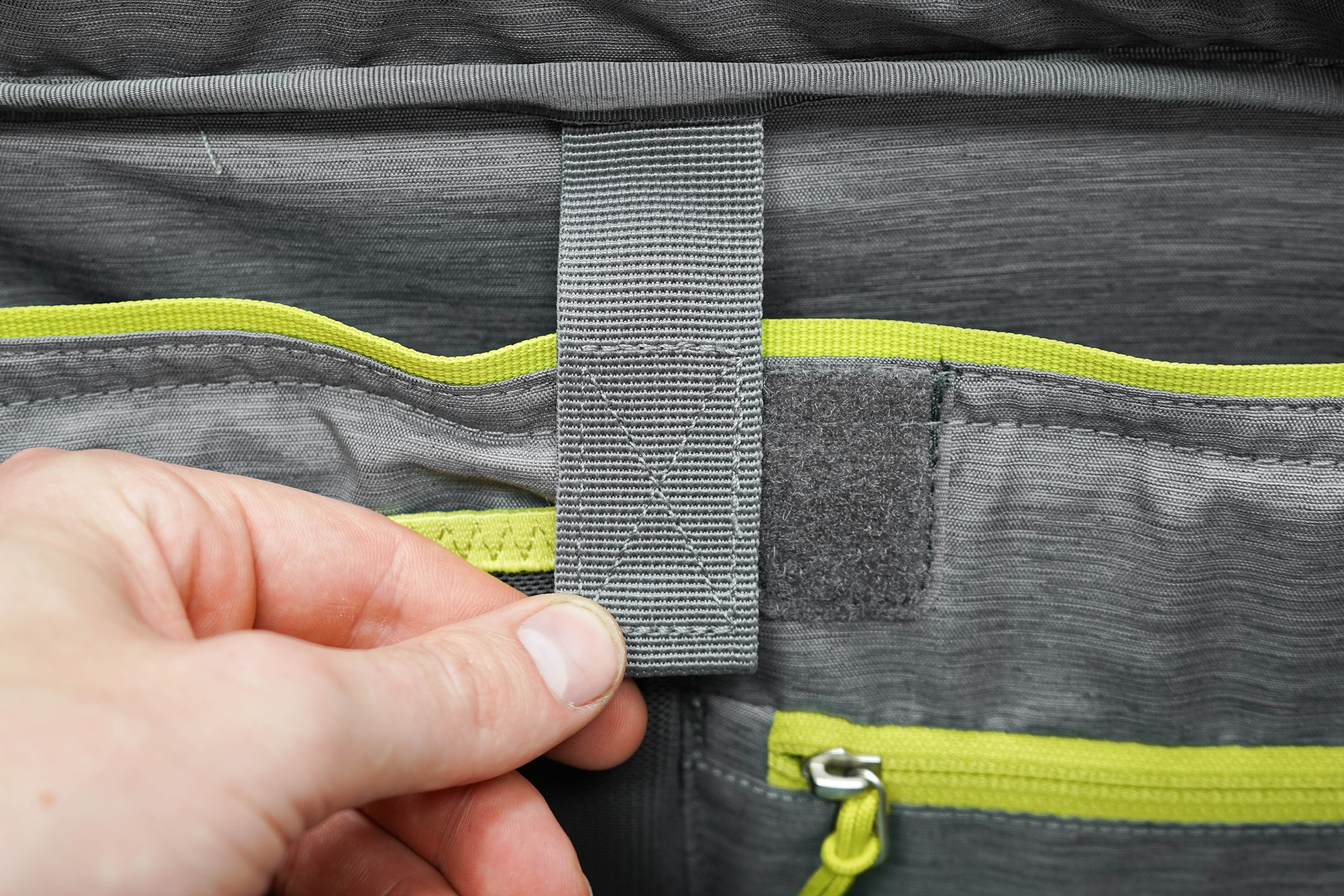 On the front of the laptop sleeve, you'll find two pockets: a stretchy mesh pocket that's good for a notebook or a tablet, and a smaller zippered pocket on that includes a keyring.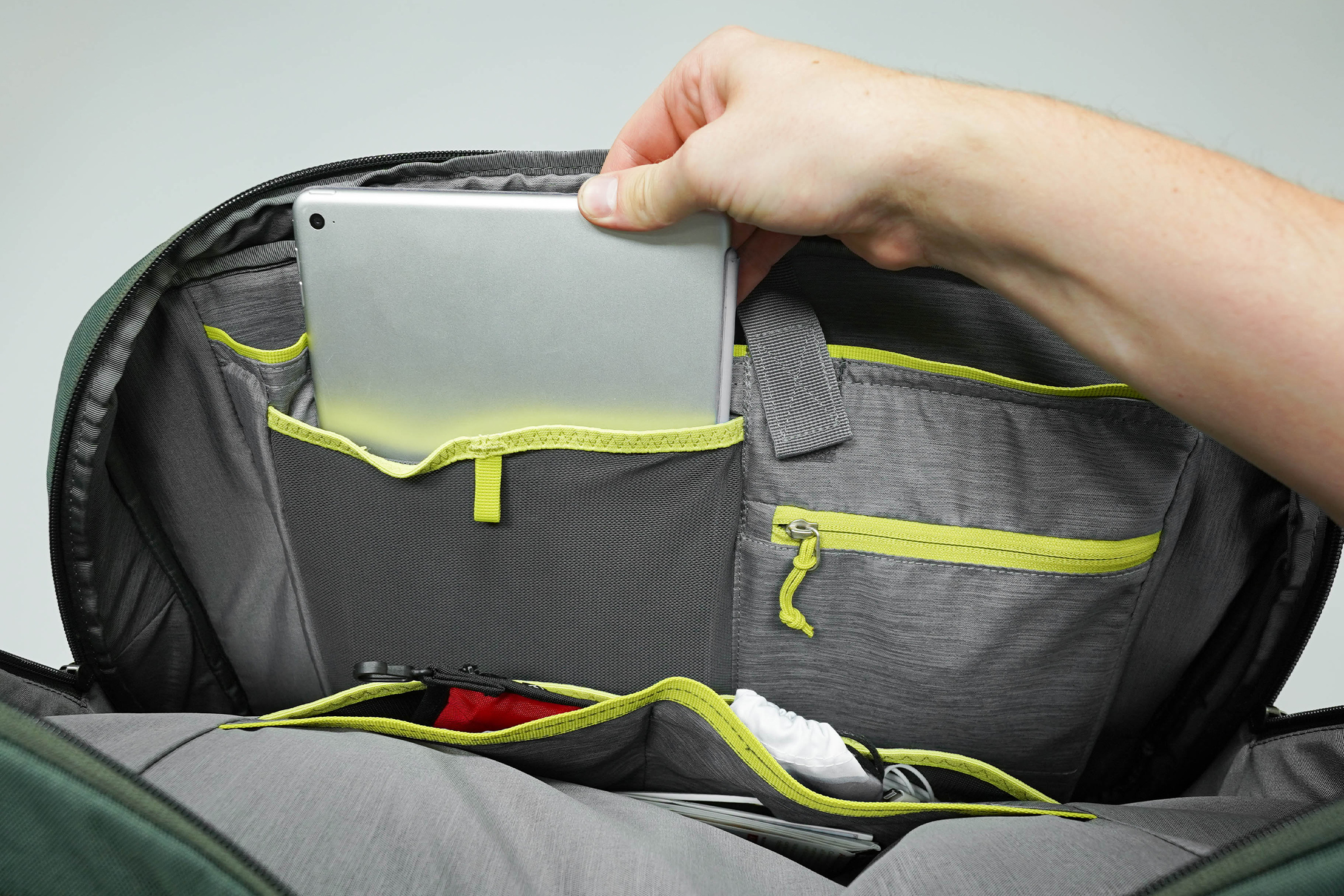 On the opposite side of the tech compartment, you'll see two stretchy mesh pockets—similar to the tablet/notebook pocket we just mentioned, but smaller—and a liner divider pocket that's ideal for flatter items or documents.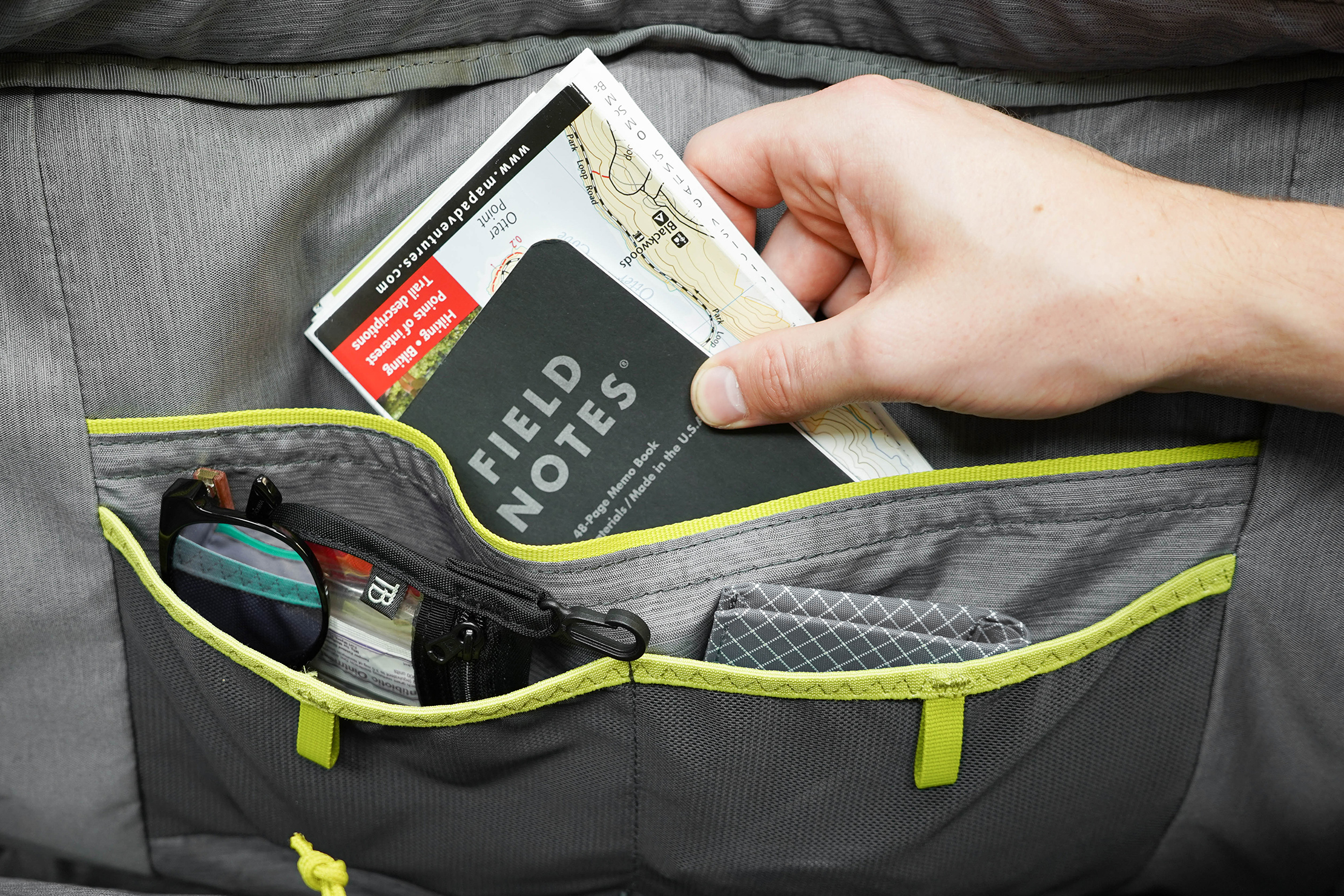 Overall, the organization is great. But it can feel a bit overkill. Like we said before, this pocket has a lot of volume—which means there could be less space for clothes. It's a bit large if you're someone who has more clothing than you do tech. That said, the organization does lay pretty flat if you don't want to use it.
Okay, on to the main compartment. Are you ready? Let's go.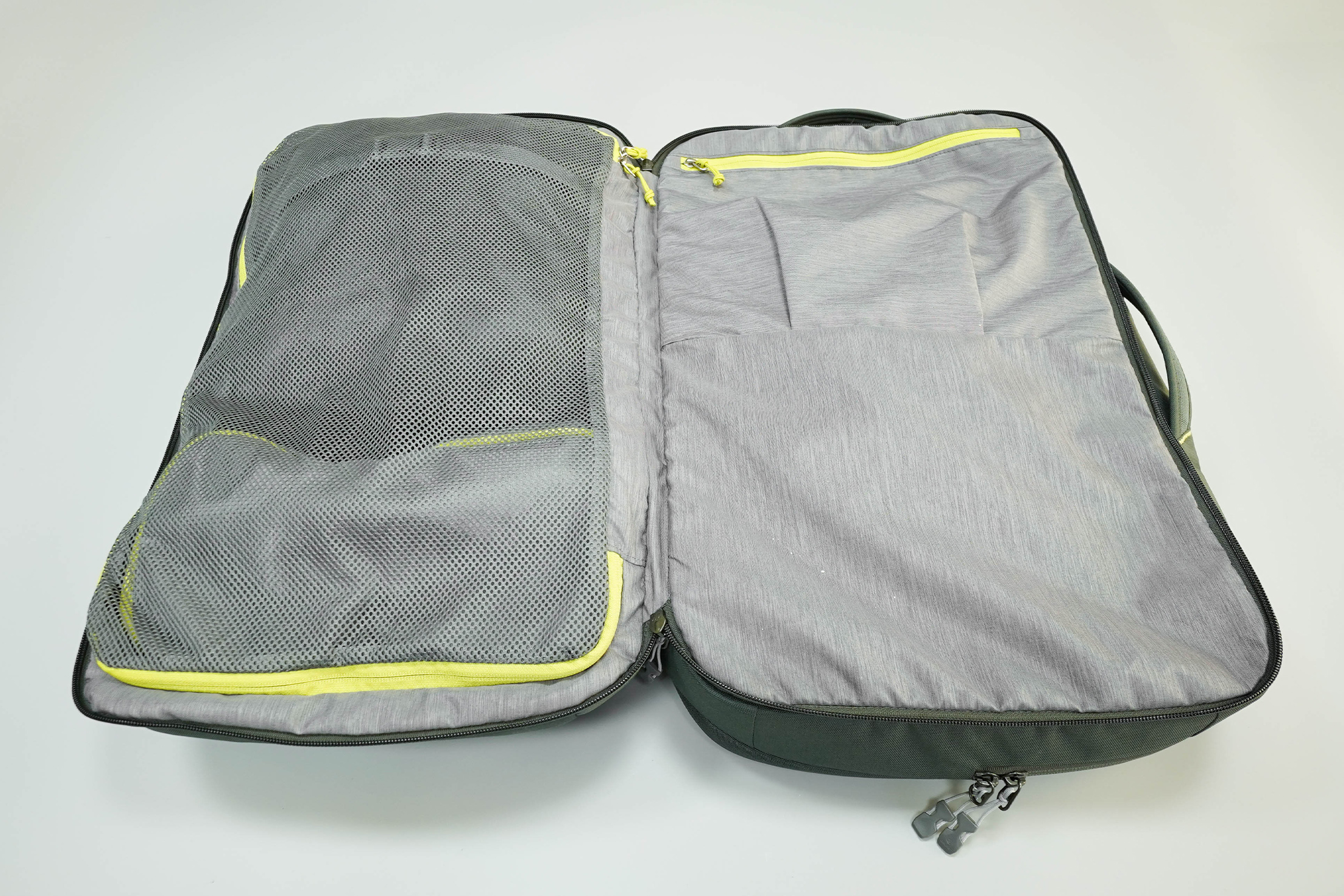 The main compartment of the AViANT Carry On Pro 36 opens up fully clamshell-style. Once you're inside, there's a zippered pocket toward your back that goes about halfway down. The zippered pocket also has some built-in dimension so you can fit larger gear without affecting the volume of that giant tech pocket.
Toward the bottom of this zippered compartment, you'll find a removable shoe compartment—which is a feature we really dig. It's held in place by four toggles, so it stays put securely when you want it and then removes easily when you don't.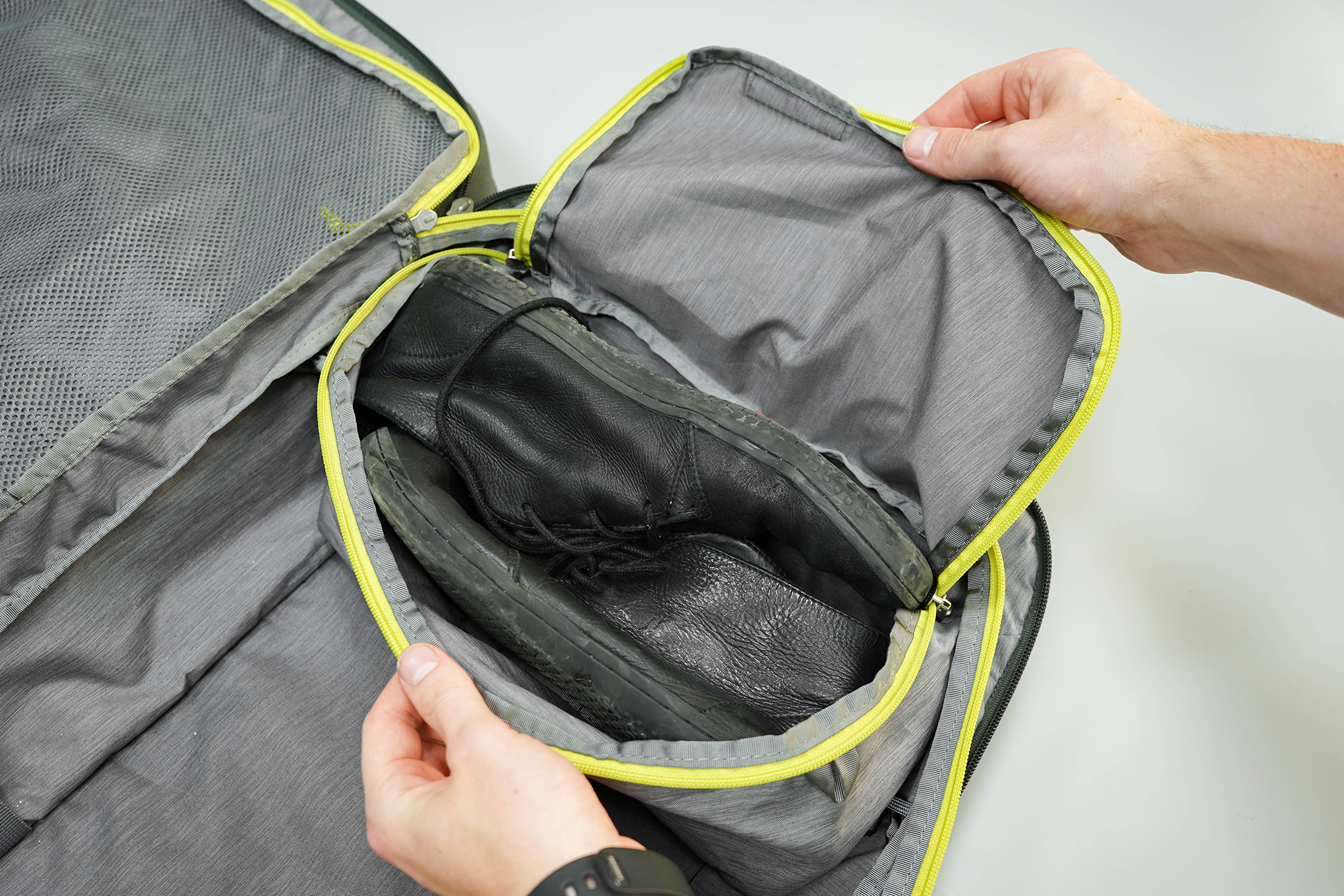 On the other side of the main compartment, there's a zippered mesh pocket that takes up about half of the main capacity. There are also two compression straps that help to secure packing cubes and clothing and keep everything in its place.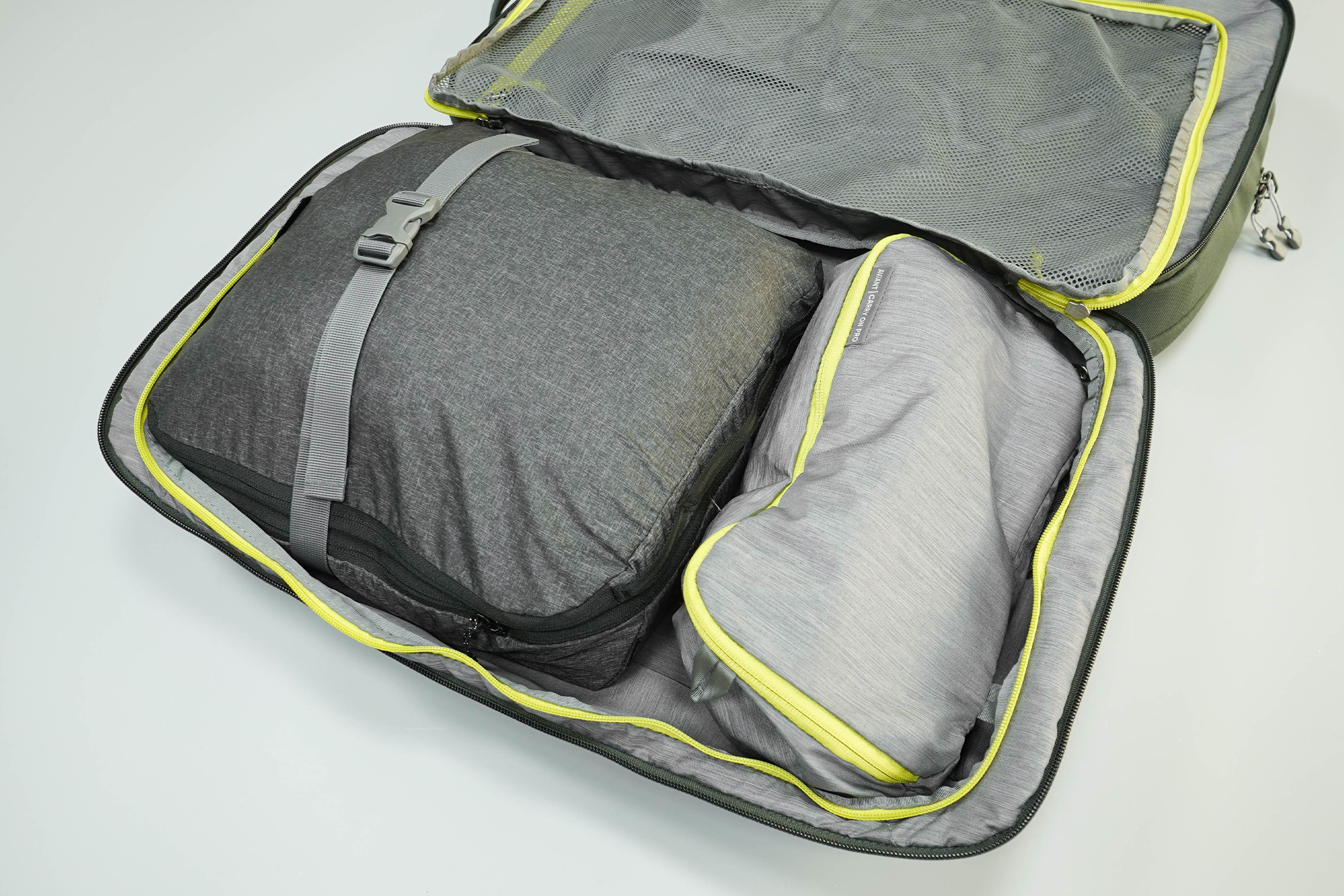 Durability & Testing
Like we said earlier, we've been testing the Deuter AViANT Carry On Pro 36 for a total of three weeks around Detroit, Michigan and on a trip to Europe.
In everyday use, we found the tech pocket to be larger than necessary and somewhat overdone. On Taylor's trip, she ended up using this space for her laptop—but also for more clothing. And she didn't need most of the pockets available.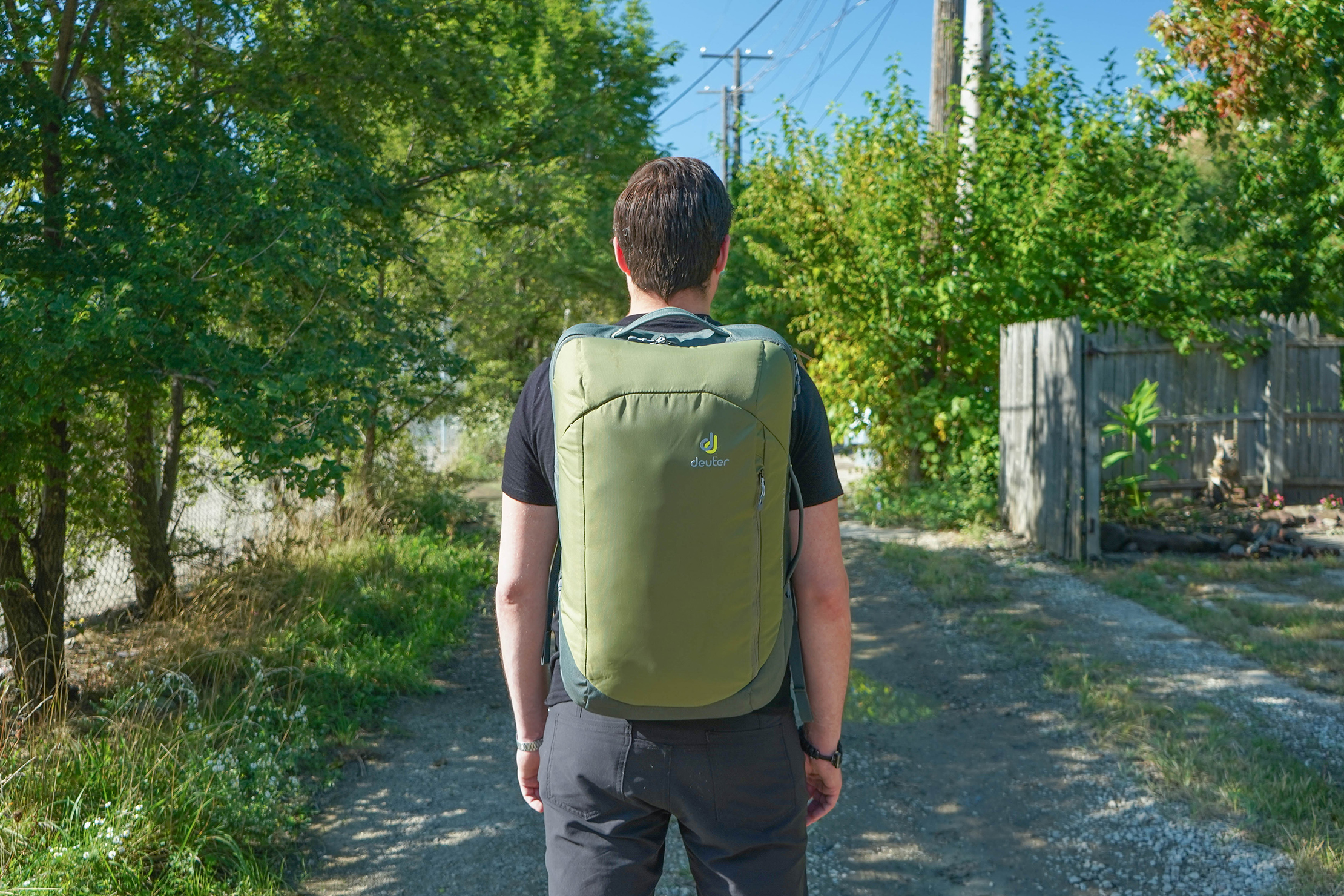 Another important note: A lot of the organization inside of this bag (especially the tech compartment) is sideways, so you'll need to be aware of how you carry the bag and how you set it down. If you have a lot of your items perfectly organized inside, they may get jostled around and disorganized inside of the main compartment, especially since a lot of the pockets don't have zippers.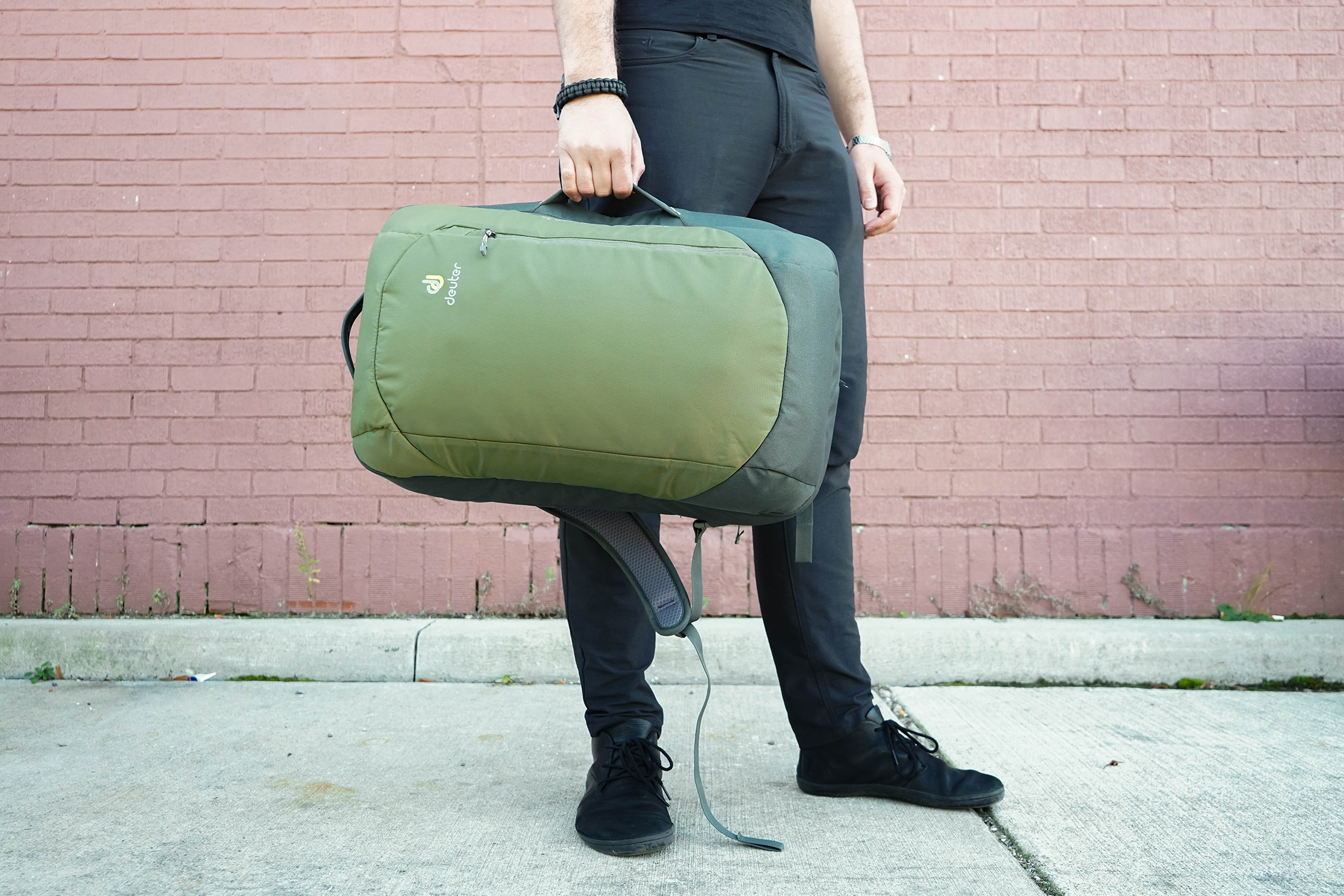 The good news is that the handles are on the correct side, so if you're carrying it in briefcase-mode, your tech items will stay right-side-up.
Remember that front quick-grab pocket we mentioned oh-so-long ago? Well, it turns out its a great place to keep snacks while on the road. Lots and lots of snacks.
Also, the AViANT Carry On Pro 36 comes with an NFC chip so you can register your bag to help find it if it's lost or stolen. We haven't needed to use this feature, but it could come in handy under the right circumstances.
Usage Timeline
Initial Usage
Condition: Excellent
TONS of organization
Comes in both men's and women's fit
Shoulder straps can be packed away into zippered pocket
2 Weeks of Use
Condition: Excellent
Lots and lots of organization (maybe overkill?)
Harness system is very comfortable
The straps have detached themselves a few times—definitely a concern when on the go
Access the Pro Community Discussion
Get your questions about the Deuter AViANT Carry On Pro 36 answered from our team and the Pro Community right here on the page. Plus, join discussions with other members about gear, guides, and more.
Other Bags & Luggage Reviews