Thule Landmark 40L Review
The Thule Landmark 40L is a carry-on sized backpack that's designed specifically for traveling around the world.
Our Verdict
Unlock the Pro Summary
Save time. Get access to brief summaries of our reviews so you can browse and make decisions more efficiently.
Pros
The hip belt distributes weight well and can be hidden
The SafeZone compartment can protect your valuable gear
The side water bottle pocket is sleek and practical
Cons
We have scuffs and marks already appearing on the fabric
The sternum strap can fall off when it's not locked in
Access to the SafeZone and the main compartment can be a bit too time consuming for our liking
Recent Pack Hacker Video
Technical Details
Capacity

40l

Weight (lb)

3.17 lb (1.4 kg)

Denier

600D

Dimensions

21.5 in x 13 in x 9.8 in (54.6 x 33 x 24.9 cm)

Notable Materials

Polyester, Duraflex Hardware, YKK Zippers

Manufacturing Country

Vietnam

Laptop Compartment Size

15"

Warranty Information
Full Review
Jet-setting goals? There's a pack for that. We review plenty of bags here at Pack Hacker, but the Thule Landmark 40L is designed specifically for traveling around the world—so you know we had to check it out. Thule describes the Landmark as a "travel pack ready for several months of passport-stamped adventures" with key features like a detachable daypack and built-in safety components.
That's a pretty big promise, so we've been anxious to get our hands on this carry-on-sized travel pack for a while now—especially when you consider how much we loved the Thule Subterra 34L, one of our top-rated packs.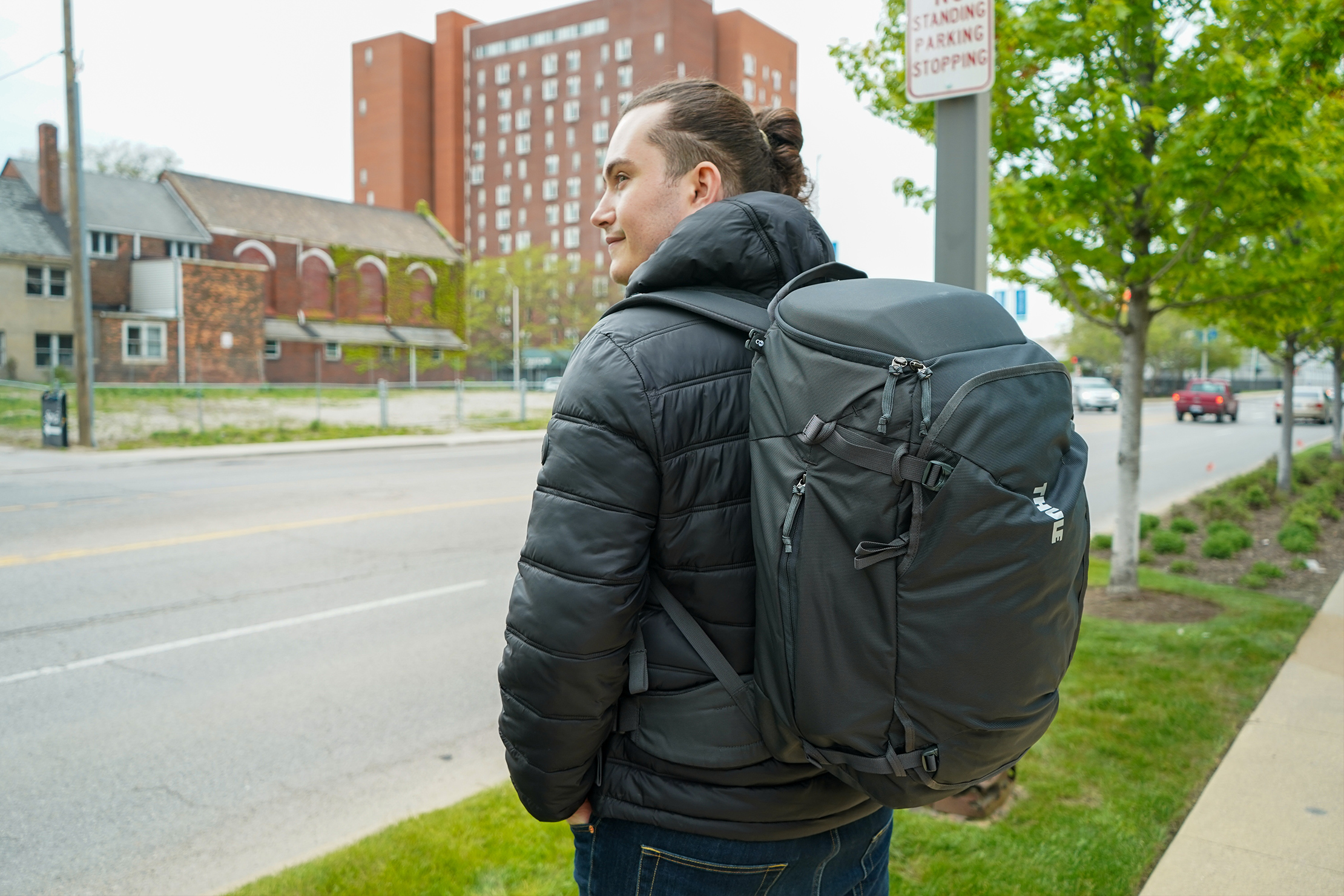 But does the Landmark perform as well as its sibling, the Subterra? We've been testing it almost daily for three weeks and we're ready to tell you everything we've learned. Let's get into it!
Materials & Aesthetic
First things first, let's talk options. The Thule Landmark is available in both a 60 and 70 liter version in addition to the 40 liter pack that we've been testing. They're all pretty similar; however, the 60 and 70 liter versions come with a detachable day pack on the front. That's not usually our style, since we prefer the one-bag carry-on approach, but it's there if you want it.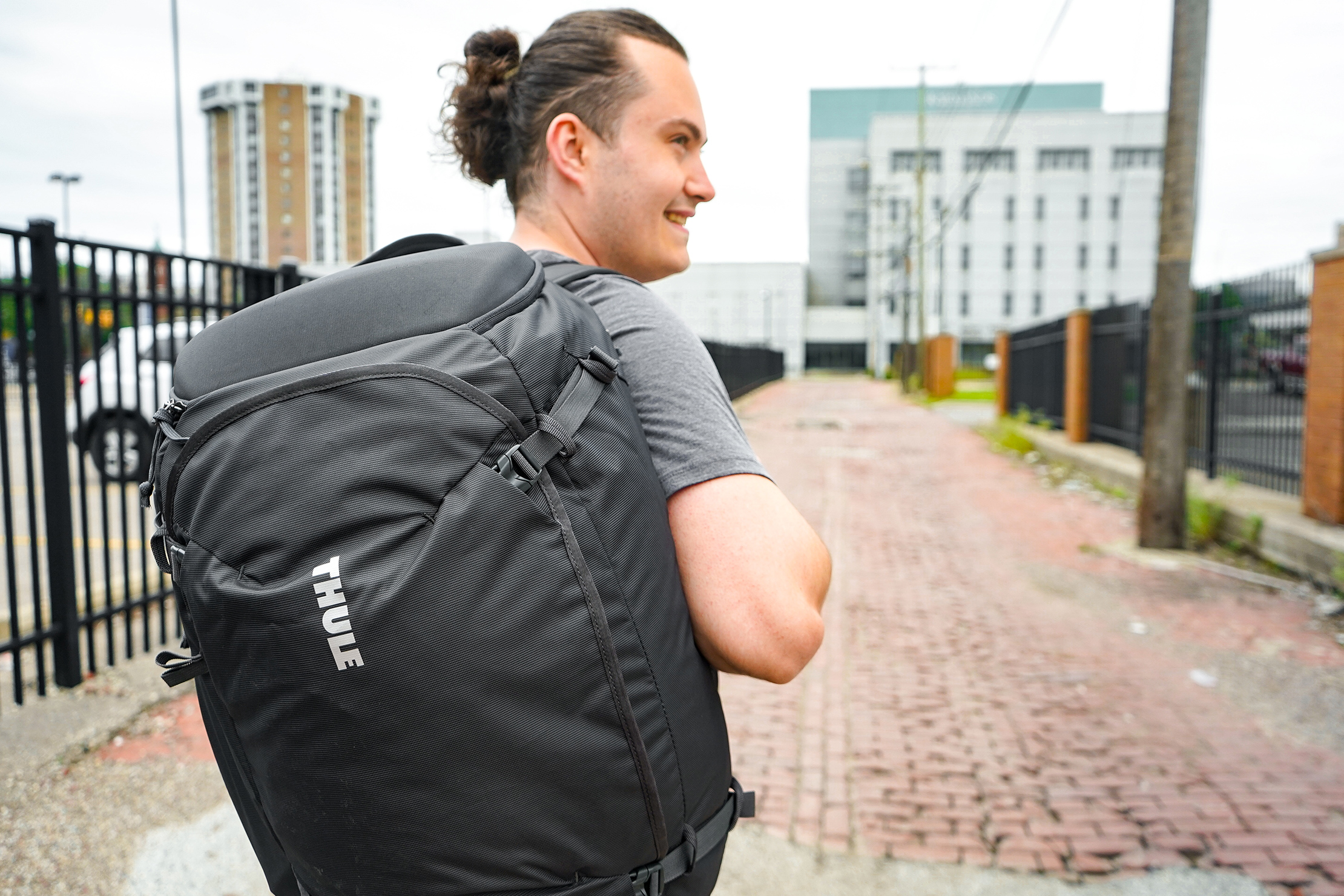 We should also just take a second to clarify that a 70 (and 60, for that matter) liter backpack is truly massive. It's definitely not going to work as a carry-on bag, and it's not going to be something you casually walk around with. We rarely feel the need to use packs over 40 liters, even for perpetual travel, but your mileage may vary.
A unique option on the Thule Landmark is that each size comes in either a men's or women's fit. The differences between them are slight changes in the harness system, which affect the way the bag carries. That's not an option you see every day on a travel pack, and we like that Thule went in this direction to make the bag even more customizable for the right fit.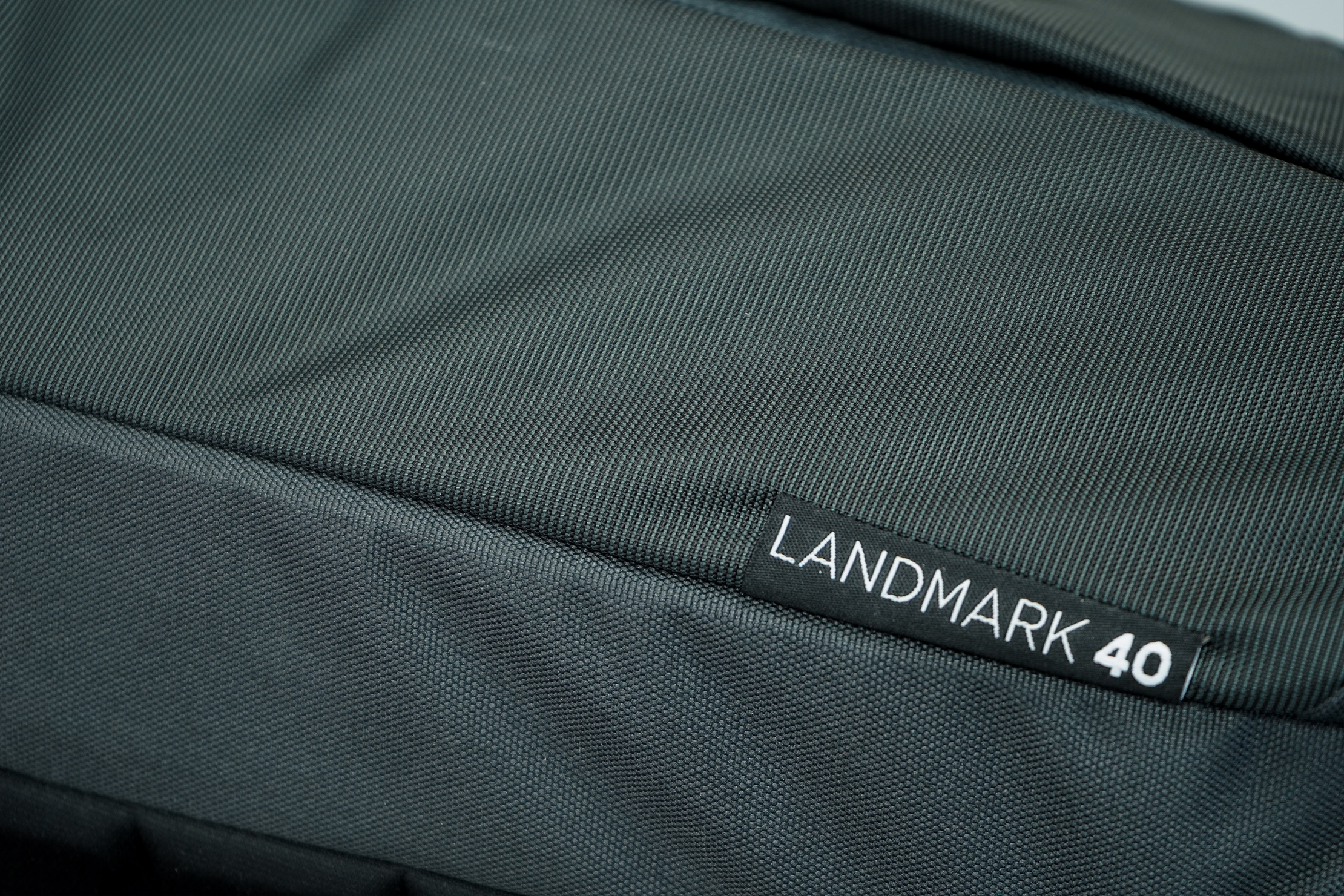 With its sleek and streamlined Scandinavian aesthetic, we're digging the overall look of the Thule Landmark—however, it does lose a few points in a couple of areas.
The first issue we've noticed is the hard-shelled "Safe Zone" at the top of the bag, which looks a bit odd and out of place. Then on the very front of the pack, the fabric can slouch down a bit and become slightly creased even when it's fully packed. A little bit of creasing isn't a deal-breaker, but this was probably a design flaw that could have been corrected.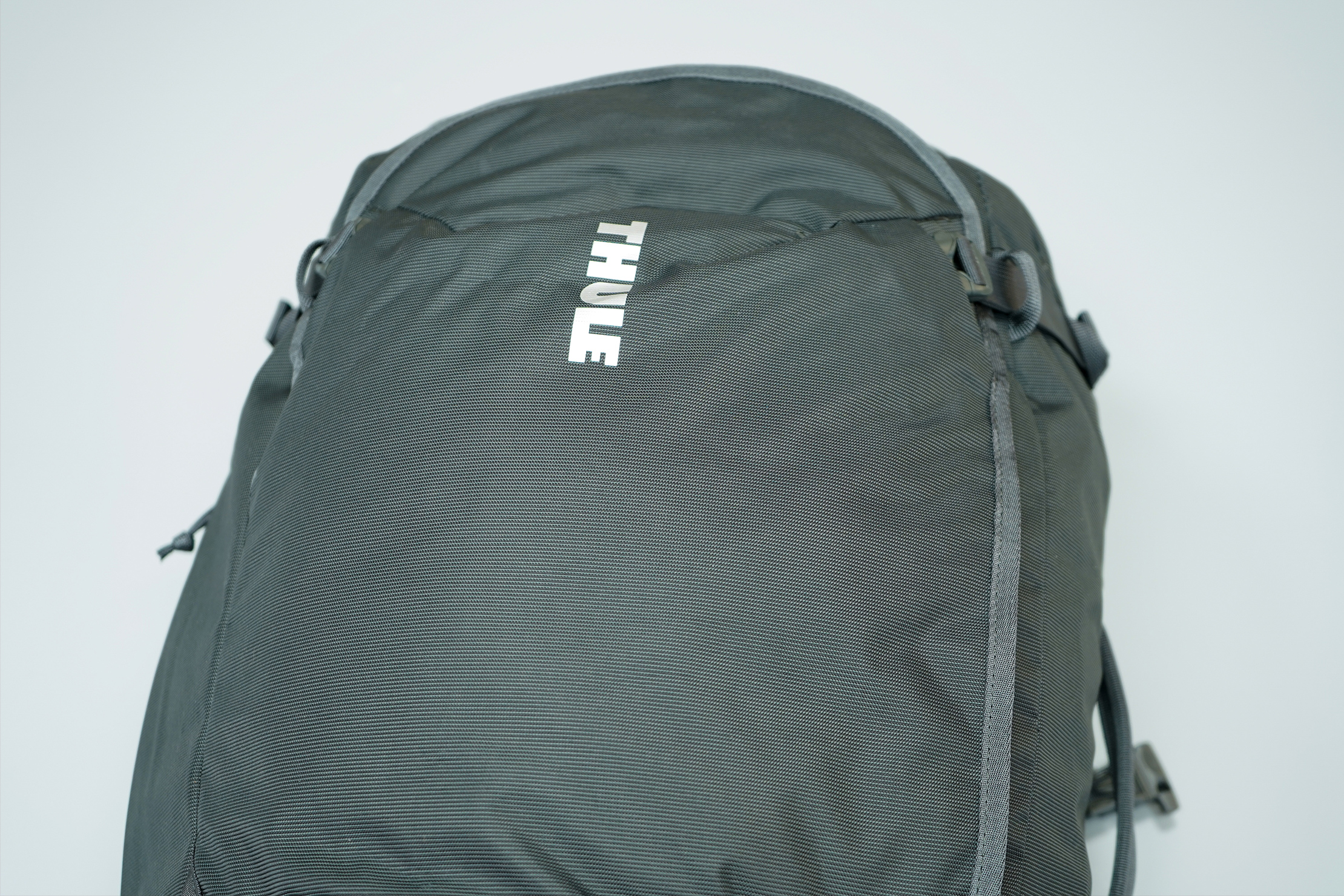 Never content until we get your opinion too, we asked our Instagram audience for some feedback on the look of the Thule Landmark. And the survey says … mixed opinions all around! About 52 percent of respondents liked it and 48 percent didn't. Ready to be part of future tie-breakers? Join us over on Instagram @packhacker.
Thought we were done talking options? Not quite! When it comes to colors, the Thule Landmark is available in Obsidian and Dark Forest for the men's version, and Dark Bordeaux and Majolica Blue for the women's version. Why not the same for both—or, better yet, all four colors in either version? We've been asking ourselves that, too. It would have been nice, but in the meantime we'll have to work with what they've got. We do like the muted tones and darker colors, since they typically perform better as travel bags by hiding scuffs and other marks.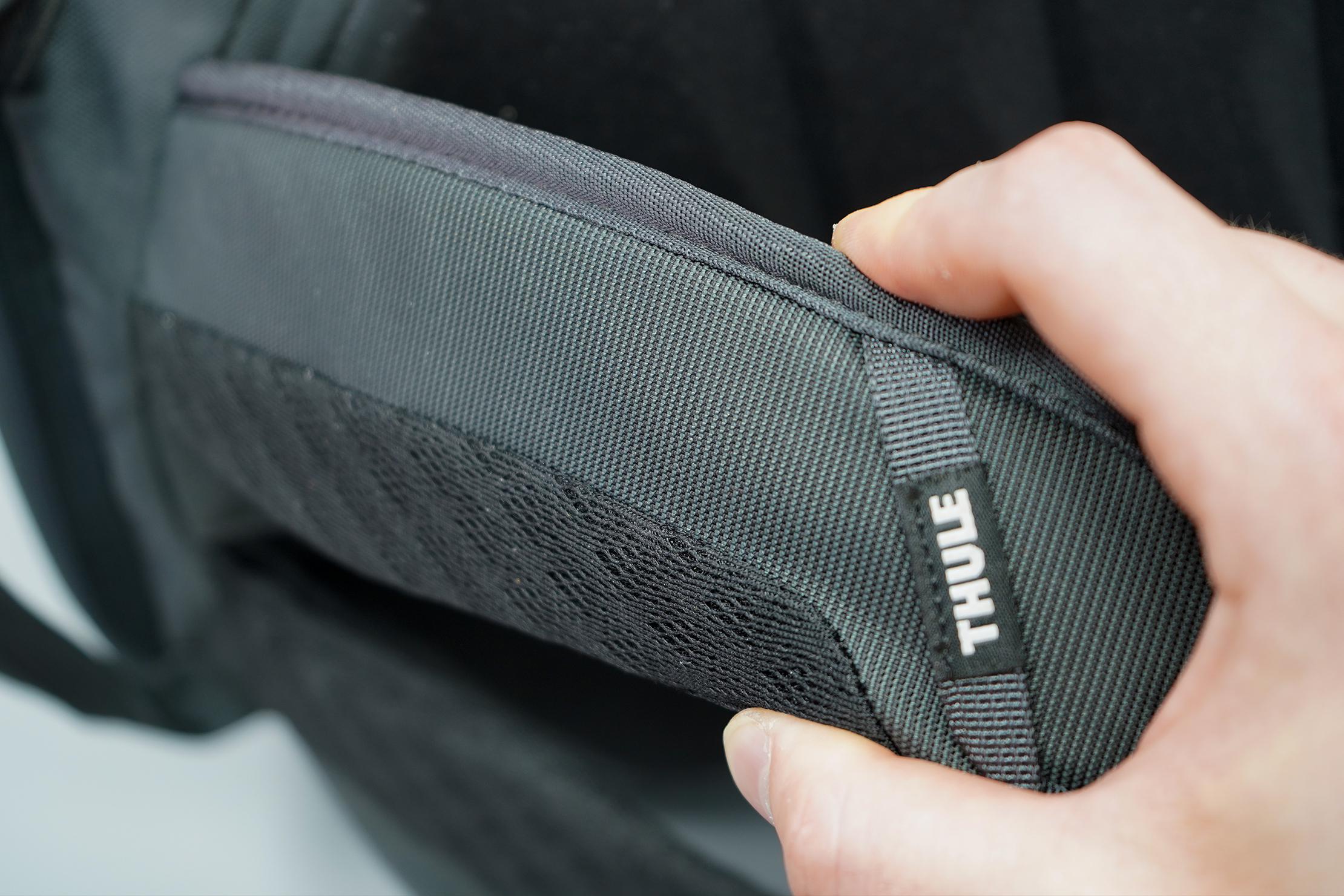 From a branding perspective, it's what you'd probably expect if you're familiar with Thule. You'll find a logo on the front of the pack—just like all of their other gear we've tested—and we like this fairly minimal approach. A small logo on the shoulder strap is also featured.
The materials include two different fabrics used on the outside of the pack. Thule went with a 420D Dobby polyester on the front and a 600D polyester on the bottom and back of the bag.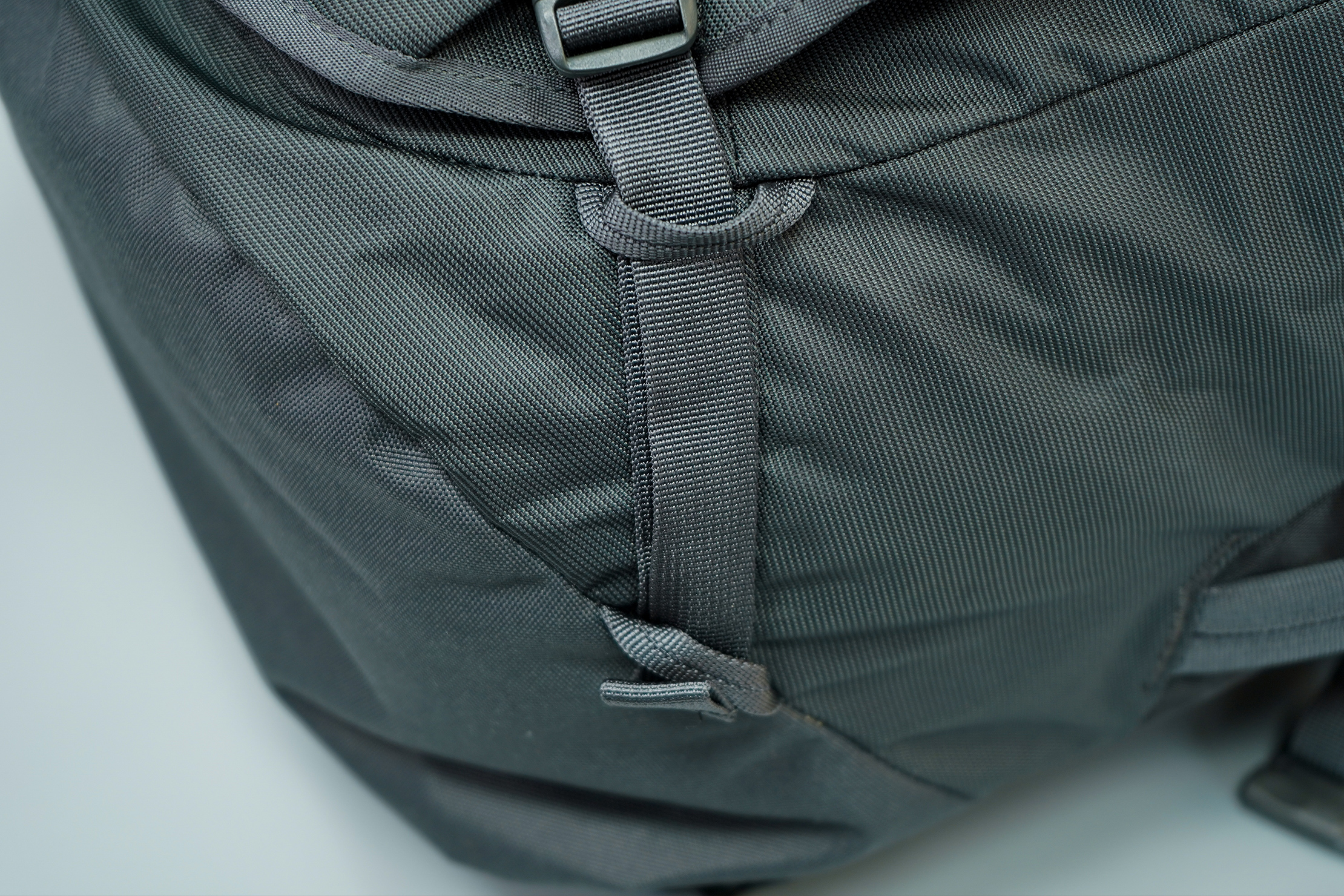 Compared to other travel packs on the market, these two fabrics are relatively thin materials. And while polyester isn't necessarily bad, we typically prefer nylon for its greater strength. The pack has been holding up all right for now, apart from a few scuffs on the top of the Safe Zone area, but it is a pack for hauling from country to country, after all. Could Thule have used something better—an 800D nylon like on the Subterra 34L, for example—to make it more durable? Absolutely. But again, it's tough to beat one of our top-rated packs.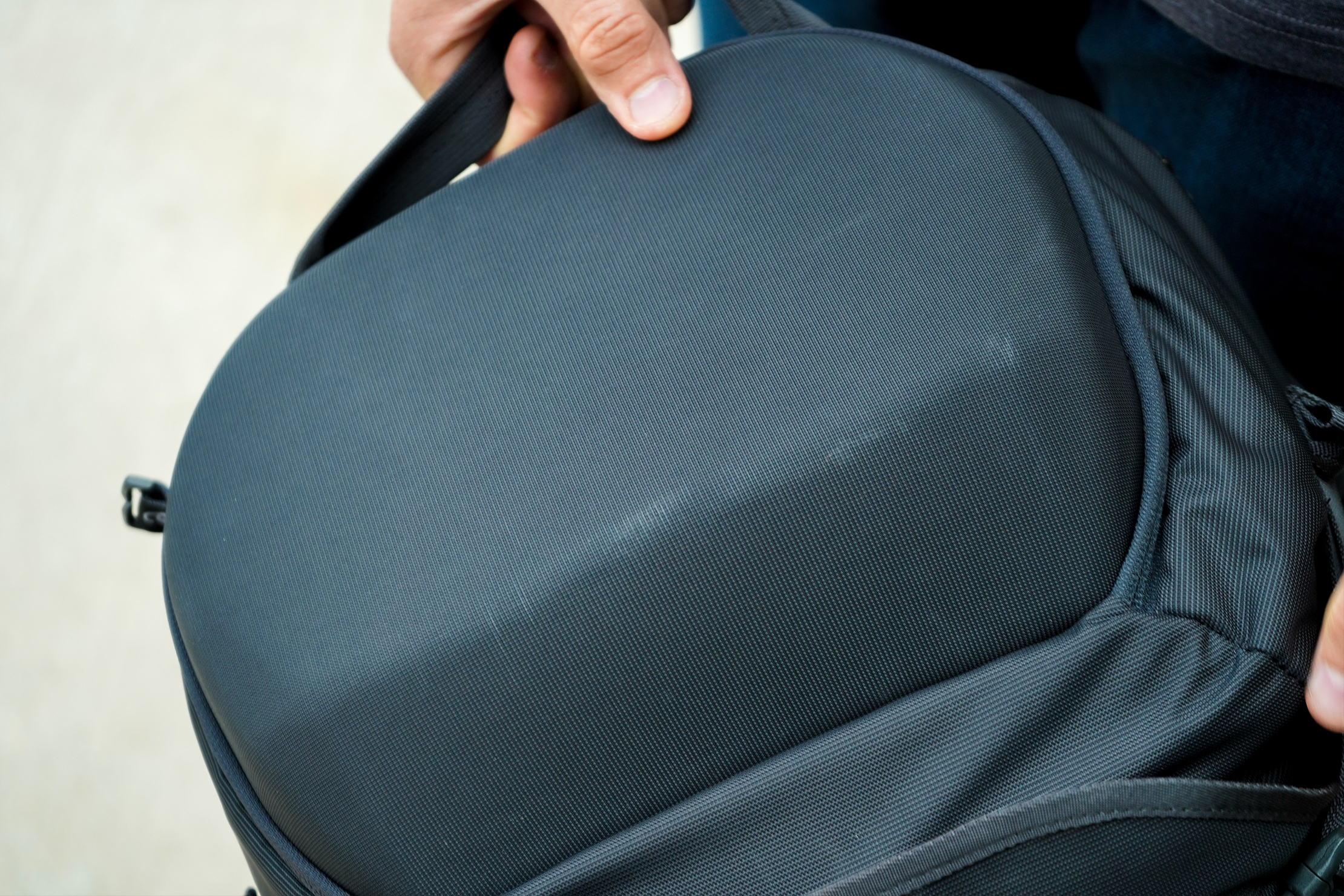 On a better note, Thule hasn't cut any corners with the hardware. The Landmark features YKK zippers and Duraflex buckles, which are ideal since both manufacturers make some of the best hardware available on the market and they've always performed well in our testing.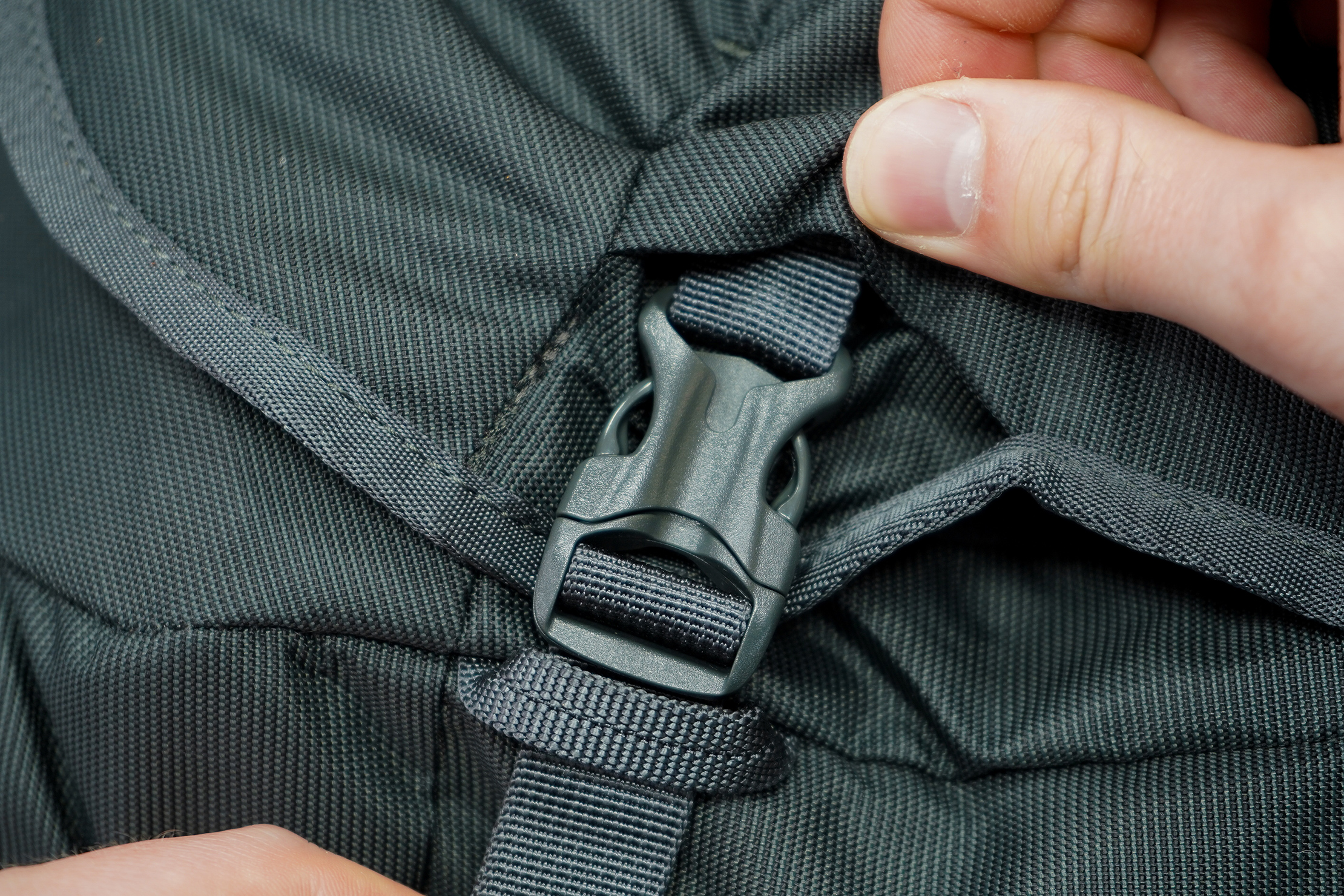 External Components
With a travel pack that promises to take you around the world comfortably, there's no doubt you'll need a solid harness system. The adjustable shoulder straps on the Thule Landmark are curved and densely padded, but we've found the side of the straps to be a bit hard. They don't necessarily dig in, but they could certainly be improved for a more comfortable fit.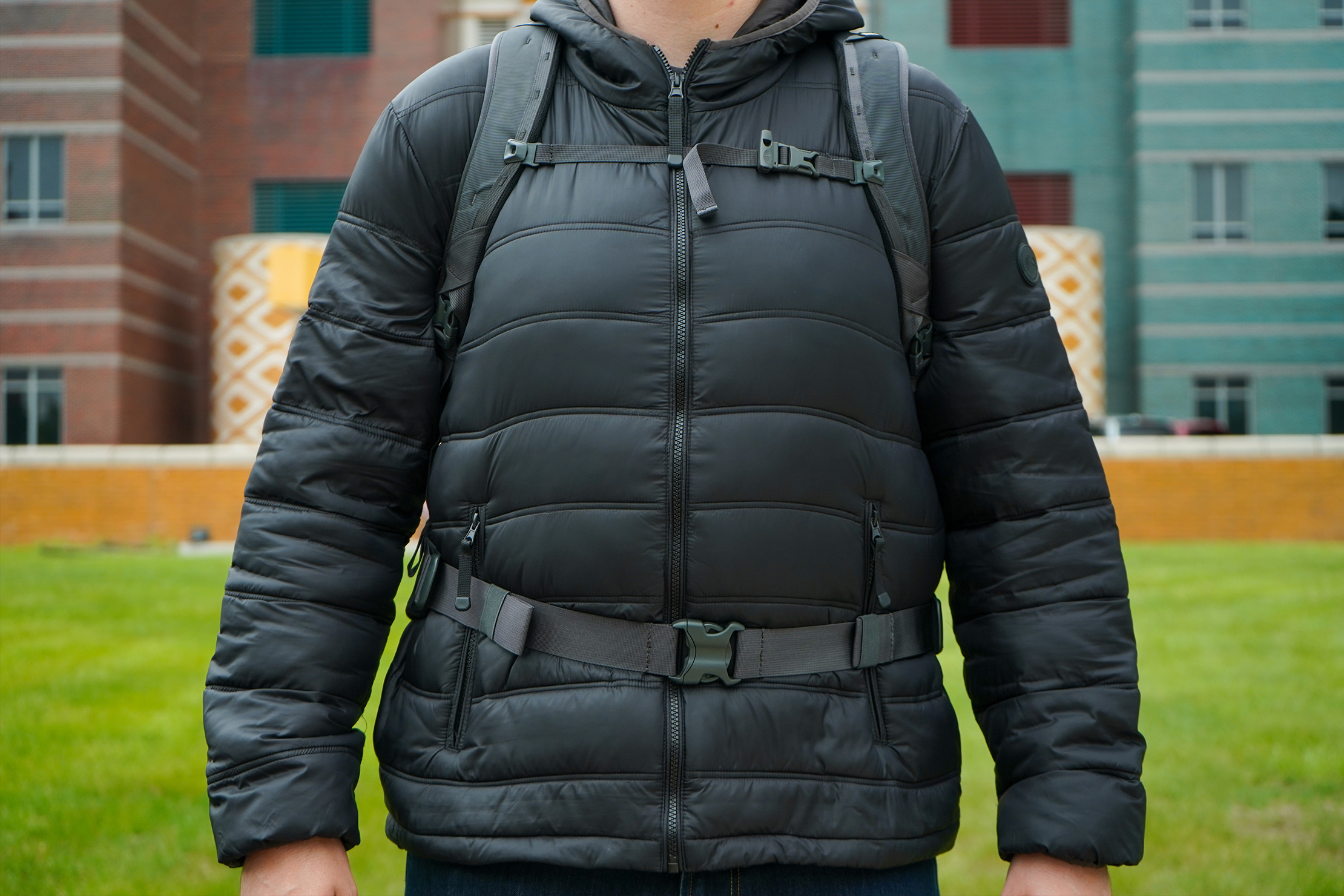 The back panel is padded and stiff, which makes it comfortable and prevents it from slouching down your back. That said, there's very little ventilation here. While this isn't a huge problem—back sweat is pretty much inevitable in most instances—just keep this in mind if you'll be traveling anywhere hot and humid.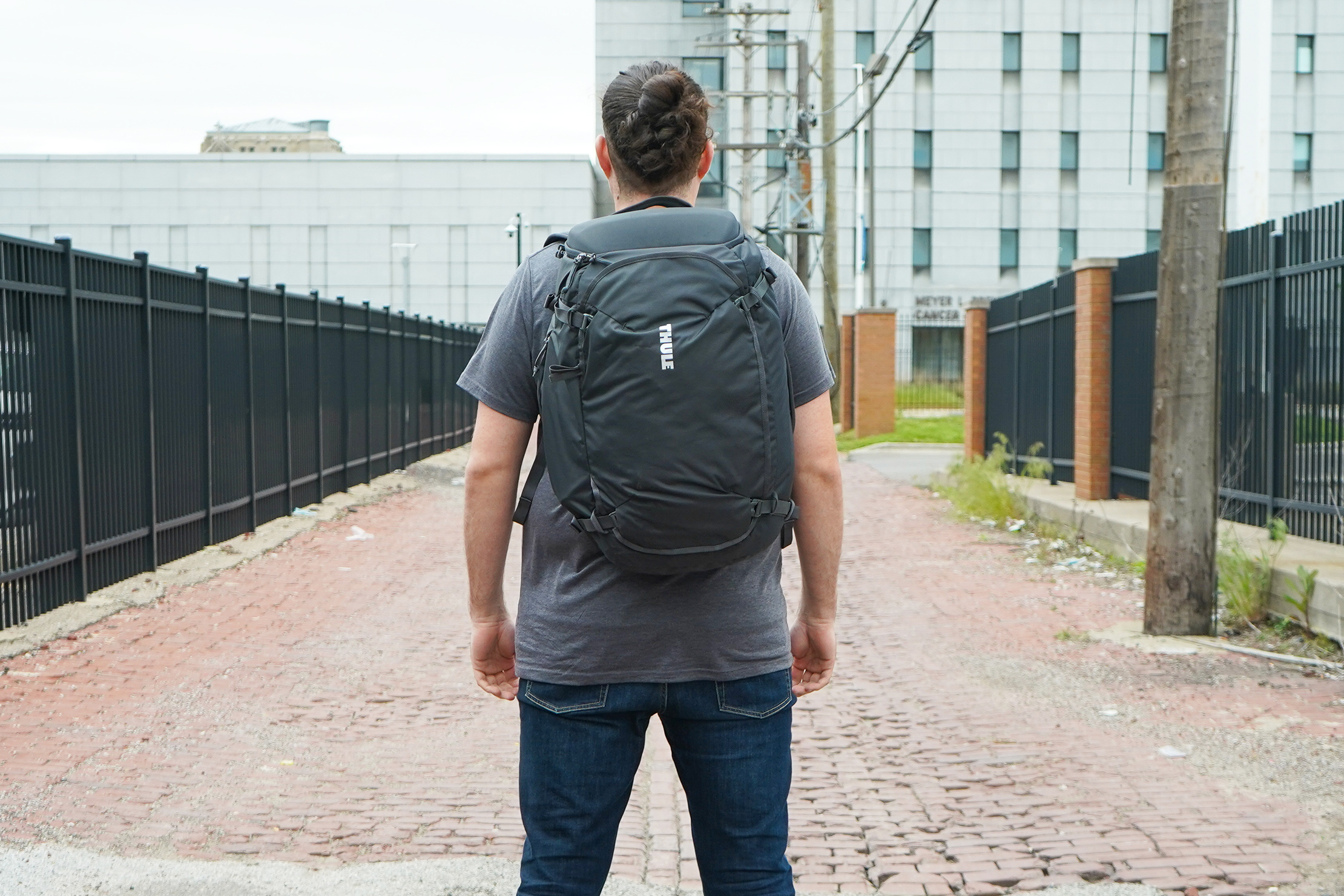 The Thule Landmark also comes with a detachable sternum strap. This sounds great in theory, but it's unfortunately a bit too detachable. The strap works well while it's locked in, but we were constantly worrying about it falling off when it wasn't. We're not exactly surprised about this, since the same thing has happened on other packs we've tested with similar sternum strap attachments.
The pack includes a hip belt, which is padded and provides a significant comfort boost when the pack is fully loaded. The hip belt helps to shift most of the weight from your shoulders to your hips, and you can't beat that. Plus, you can hide it away when not in use. On the other hand, when each side is pushed all the way in, it can bulk up a bit and dig into your lower back.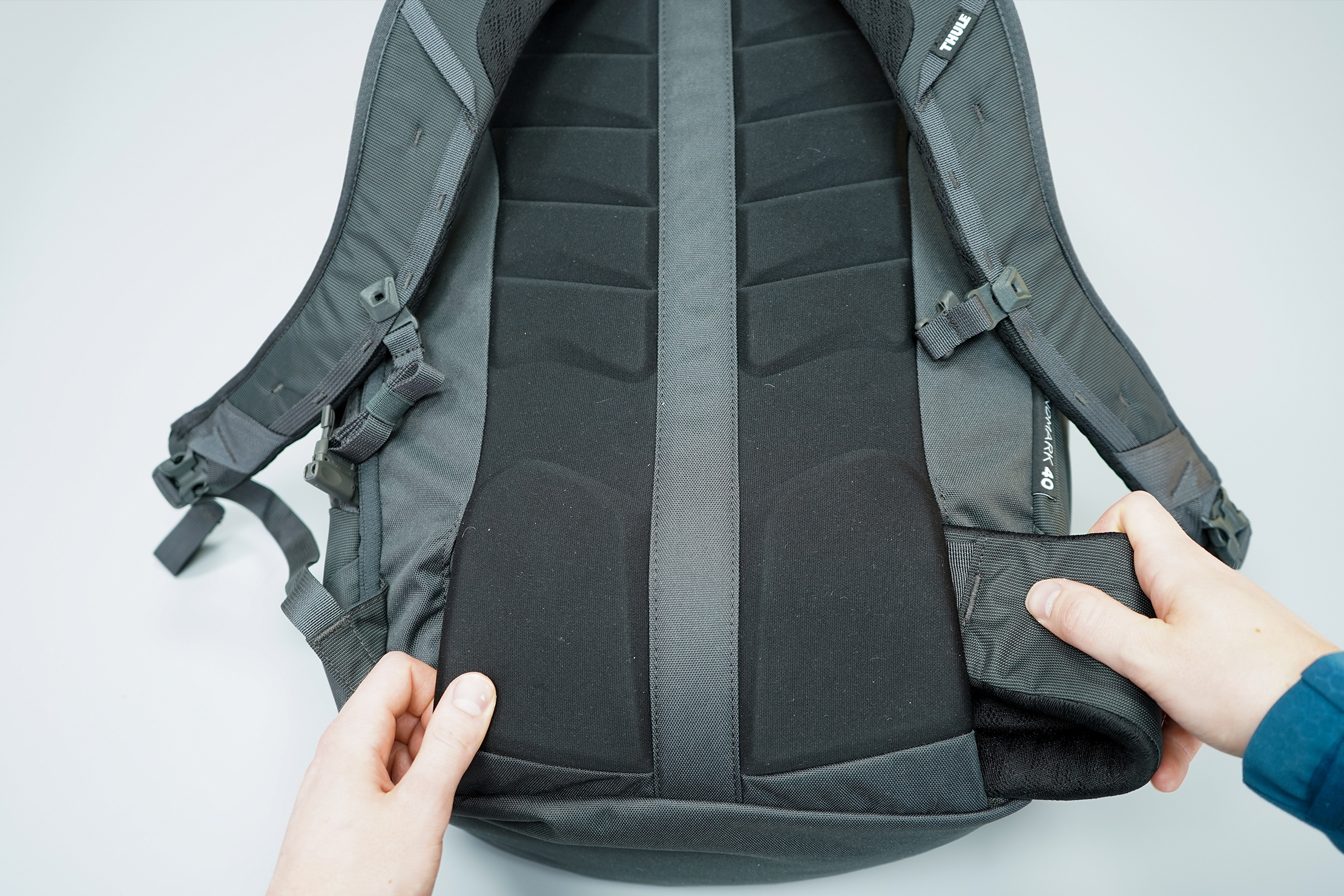 The shoulder straps on the Thule Landmark can be stowed away, too. We think this is another nice touch, and the whole system is slick and easy to use. Overall, the Thule Landmark carry is okay, but it's certainly nothing special for a one-bag travel pack that will see a ton of use—especially if you'll be carrying it for long stretches while traveling.
Grab handles are found on the top and right-hand side of the pack. Neither are particularly comfortable (where's that padding when you need it?) but they're easy to grab and super-functional: you'll surely use the top handle for hanging the pack up and the side handle comes in handy (ha) for snatching it out of an airplane overhead bin.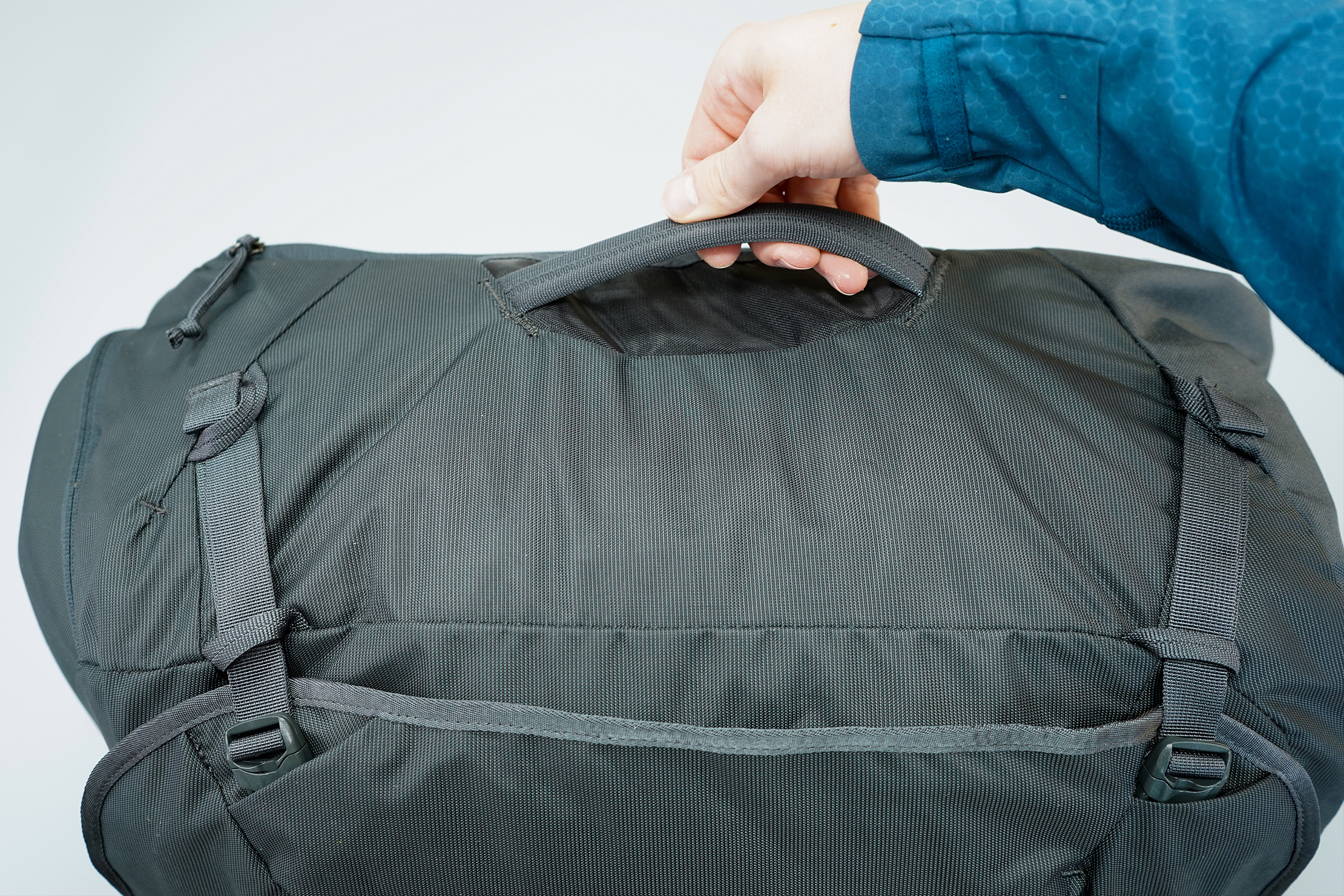 Finally, the zippers on the Thule Landmark have a few nifty features that you should know about. You can attach the zipper pulls to the outside of the bag, and the Safe Zone zippers at the top of the pack can be looped around a small attachment point. The main compartment zipper pulls can also be secured by passing one of the buckles through them and securing it in place. None of these aspects will necessarily stop someone from breaking into your bag, but they offer a solid deterrent. Plus, the main compartment zippers have a hole through which you can pass a padlock, making them completely secure. (Okay, you could argue that nothing is "completely" secure, but this is pretty solid in our eyes.)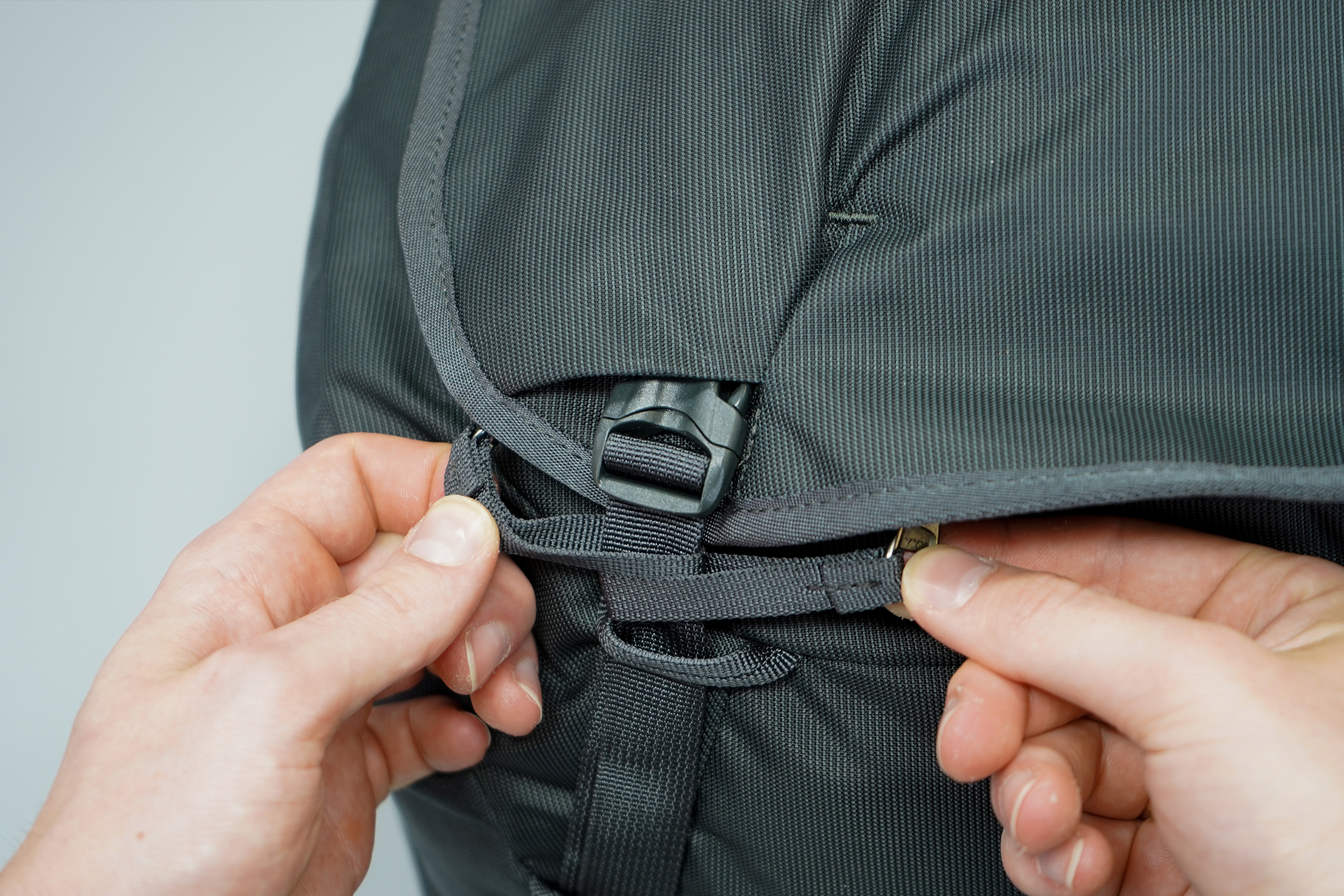 Inside The Pack
Moving inside the pack, let's take a closer look at that potentially troublesome Safe Zone compartment at the top. It is designed to hold valuables and its unique hard-shelled exterior should have no problem keeping them safe and secure.
Inside the top flap of the Safe Zone, a mesh compartment is available with some pen holders in front. The other side of the compartment has zippered access to two additional mesh sleeves and a key clip. We really like that Thule has tried something new with the Safe Zone compartment, but unfortunately we just don't think it panned out in this case since it's not quite necessary and also looks a little strange. Depending on how you plan to use this pack, though, it could be a major benefit.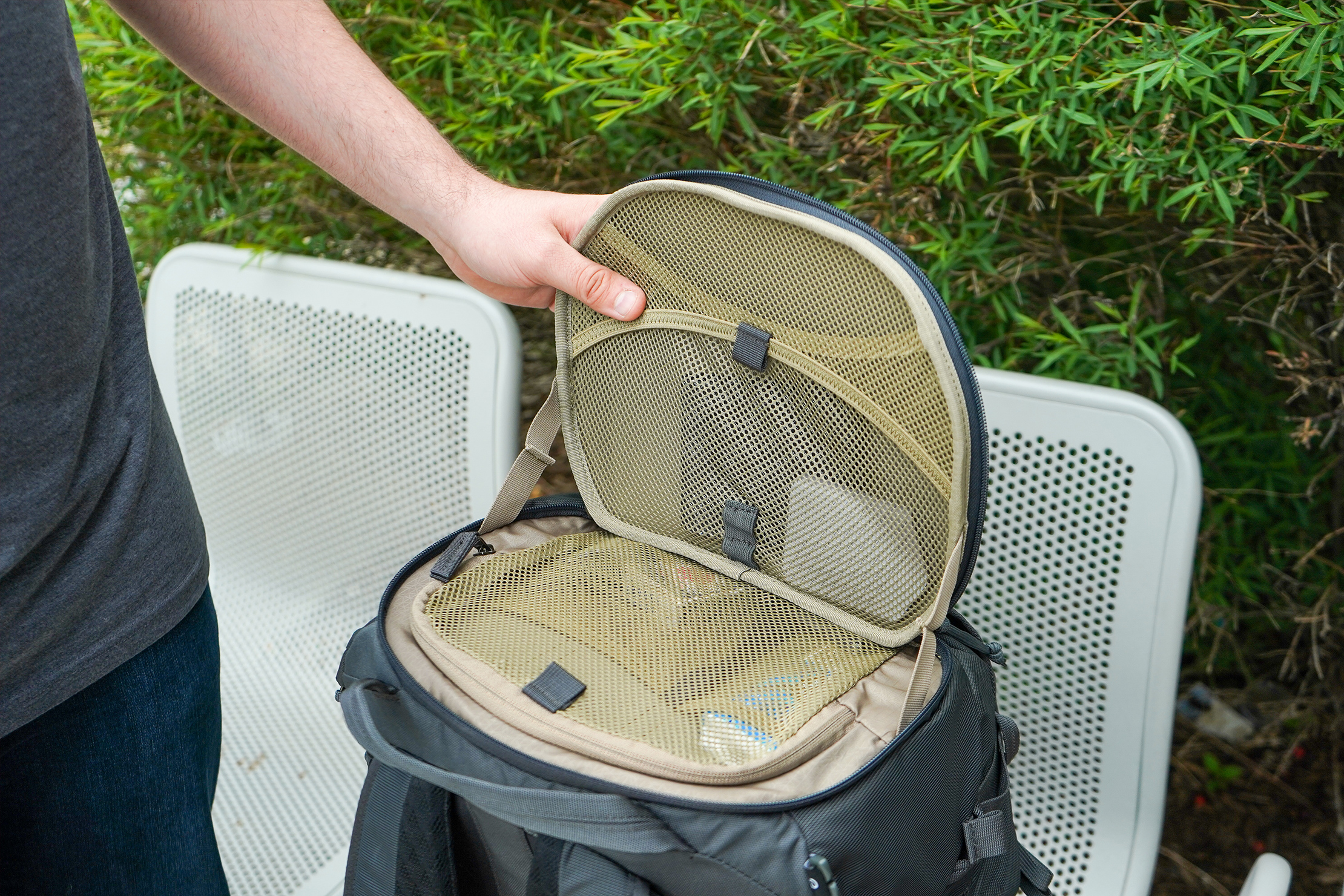 Moving down the side of the pack, a sleek side water bottle pocket is hidden away by a zipper. This is honestly one of the best side pockets we've seen in a pack we've tested, so we're pretty geeked about it. We like that it's hidden when not in use, yet super useful and functional when needed.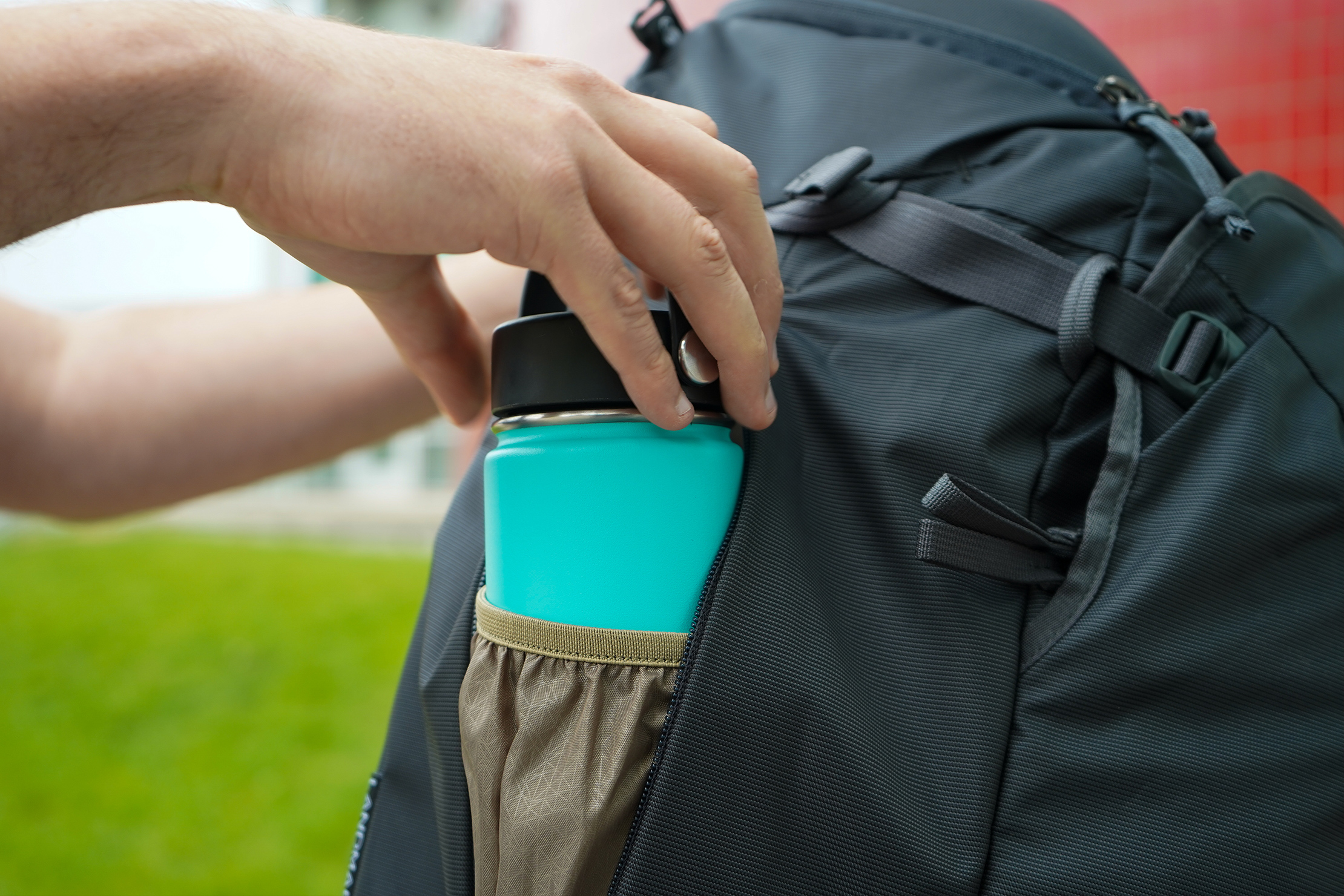 To access the main compartment of the Thule Landmark, you'll first need to undo all four buckles and unzip the entire front of the bag. Time-consuming, yes—but you'll get slightly quicker with practice.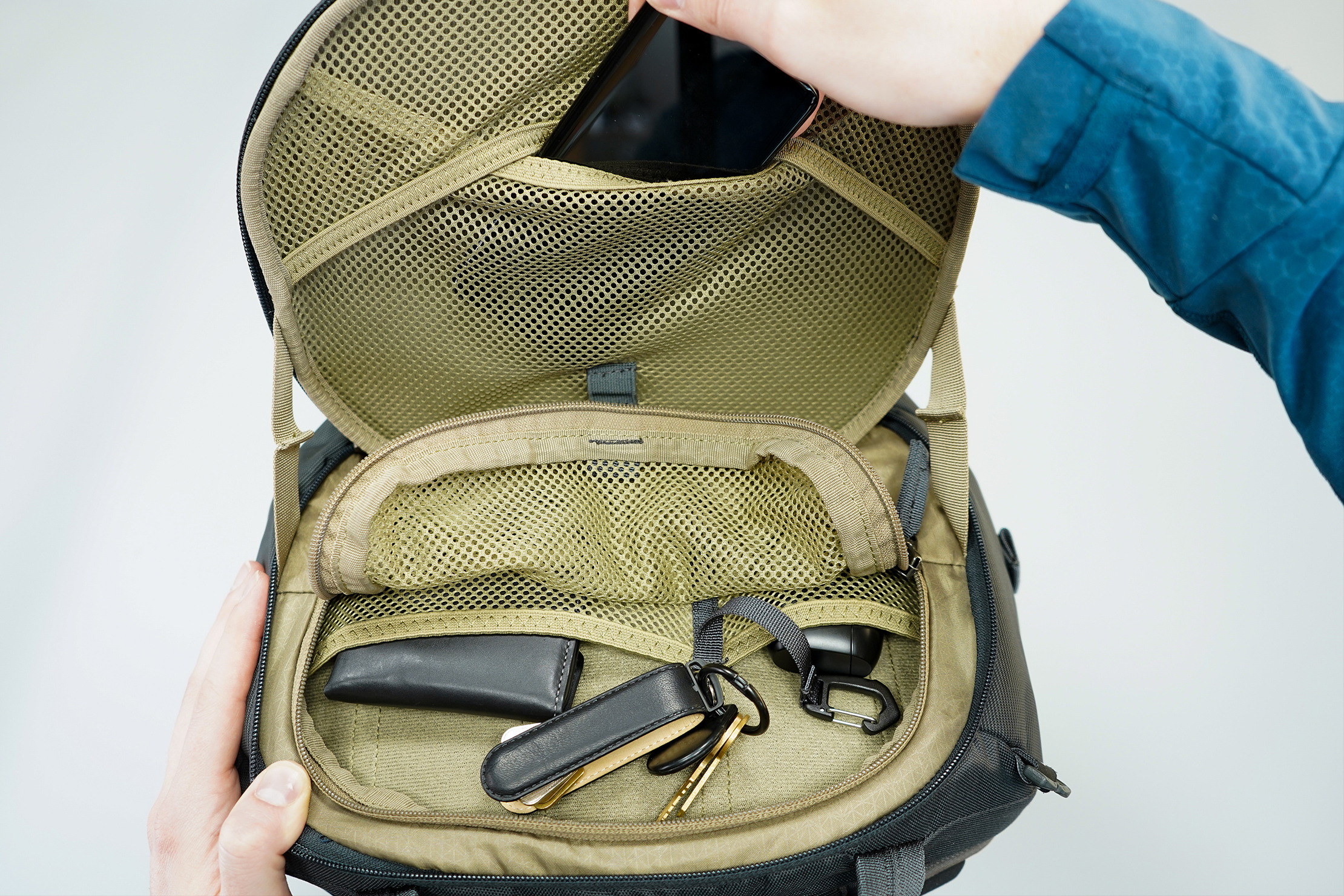 Once you're inside, you'll be greeted with one large bucket. As always, we highly recommend using packing cubes and pouches inside a large compartment like this. Otherwise, compression straps are available to hold everything down.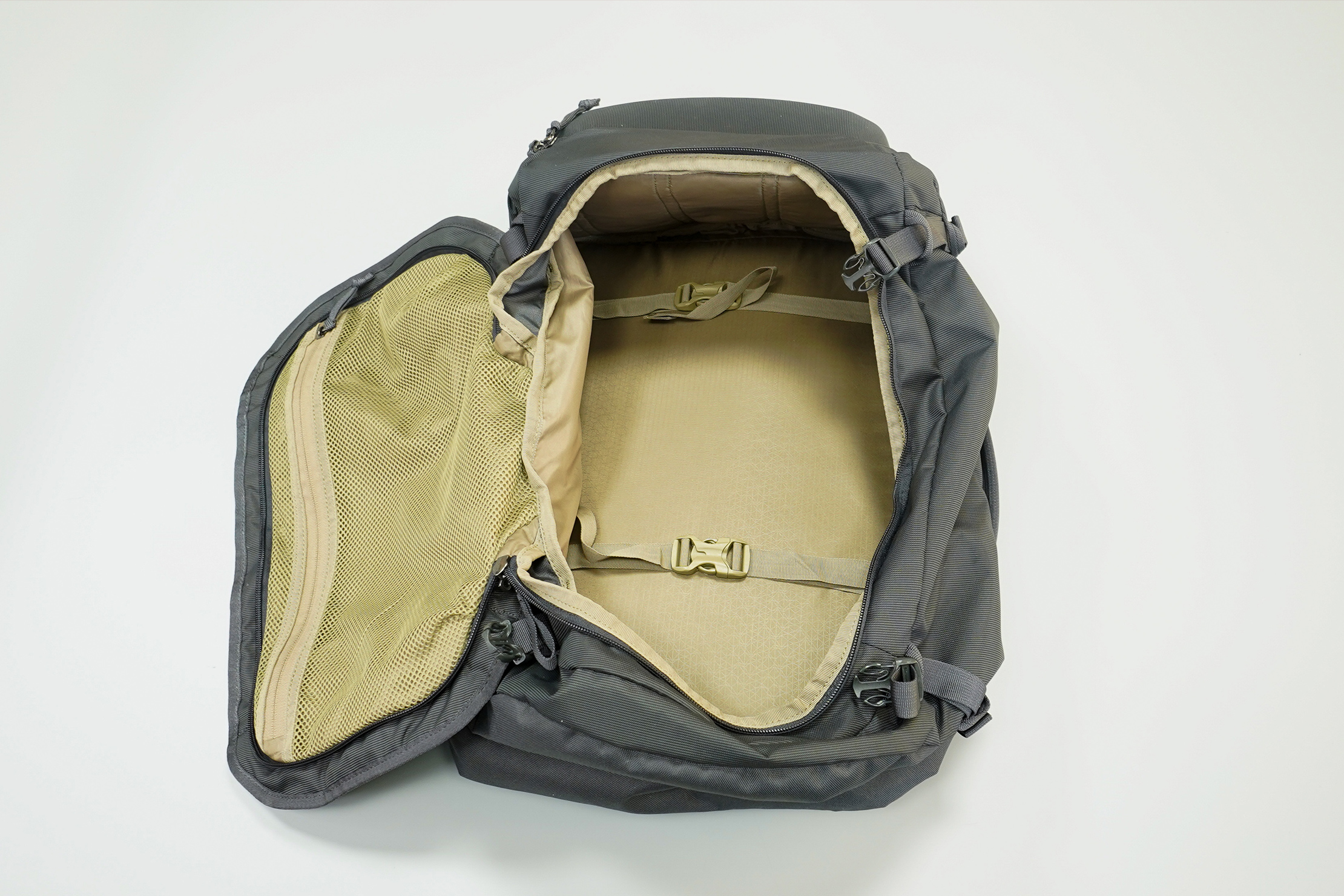 On the top flap, a zippered mesh sleeve is good for holding smaller and flatter gear and a covert cash-stash pocket is hidden at the top of this compartment (you wouldn't know it's there if you weren't told about it—which is exactly the point!).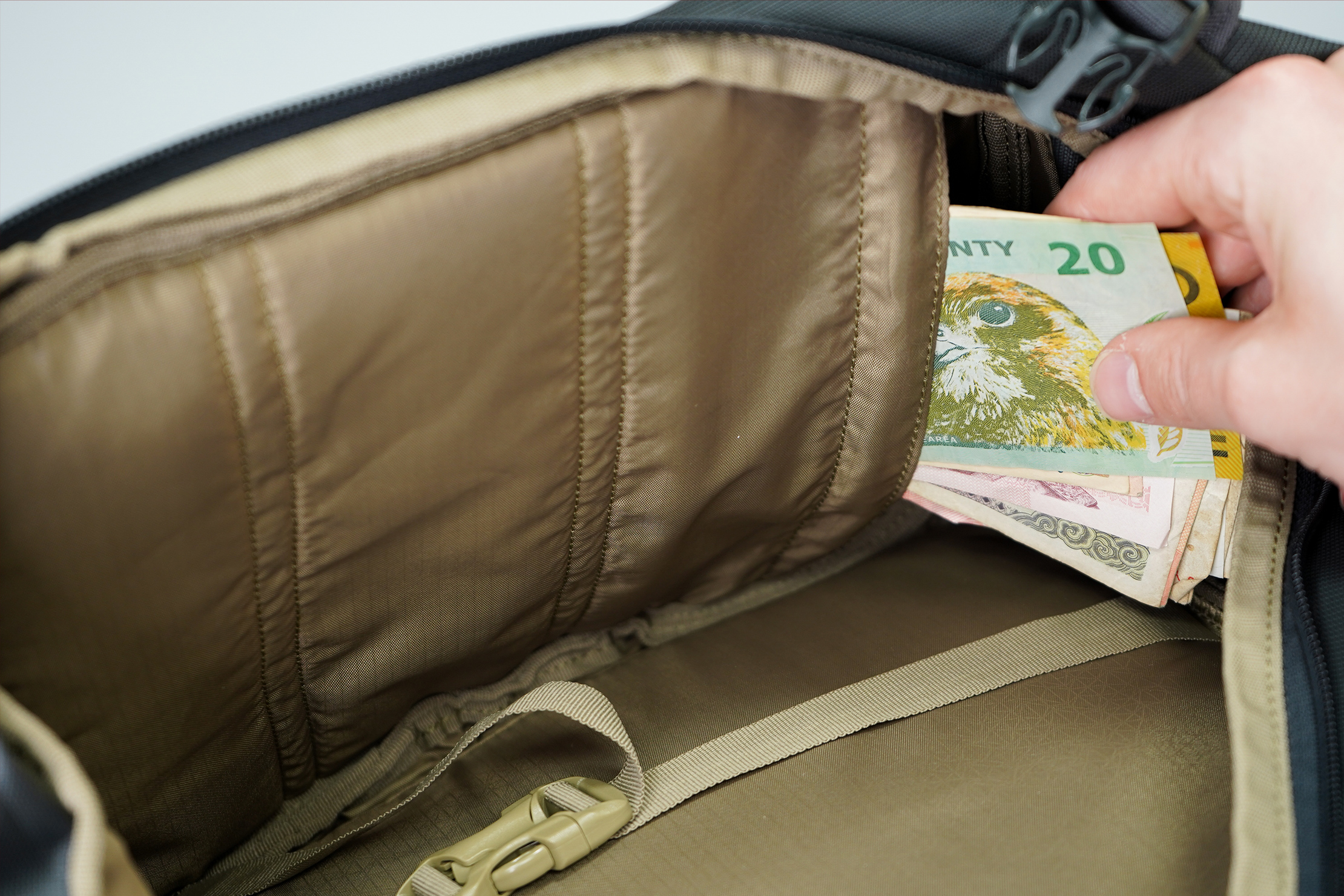 While this hidden pocket is a great place to put your cash and your passport, just remember that the access isn't quick; if you're going through an airport, for example, you'll want to have your passport within easier reach.
Wrapping up the internal components, you'll find a laptop compartment at the back of the Thule Landmark that can fit a 15-inch laptop (even with a sleeve on), and there's even a pocket for a tablet (a 12.9-inch iPad Pro fits). The laptop area is a floating compartment, which is something we always appreciate in a pack that'll be carrying your most expensive gear inside. The "floating" feature means the laptop space ends about an inch above the bottom of the bag—so if you drop the pack, your laptop should be just fine.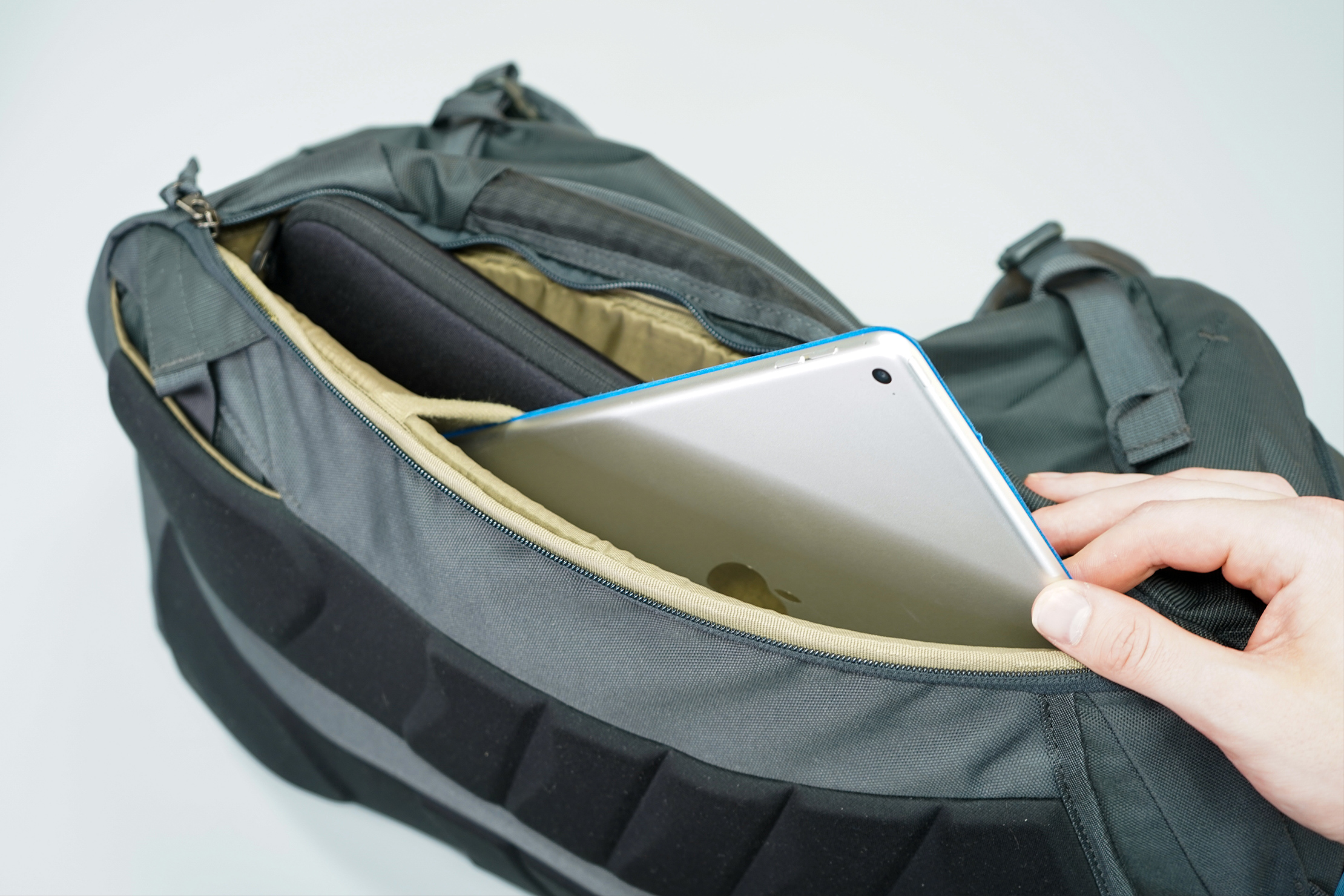 Durability & Testing
At the time of this review, we've been testing the Thule Landmark 40L around Detroit, Michigan for three weeks. The components and build-quality are great, which is exactly what we'd expect from Thule. But the thin polyester material—which makes up most of the pack's exterior—gives us some pause. Especially since we found some scuffs and marks on the top Safe Zone compartment after only three weeks of use.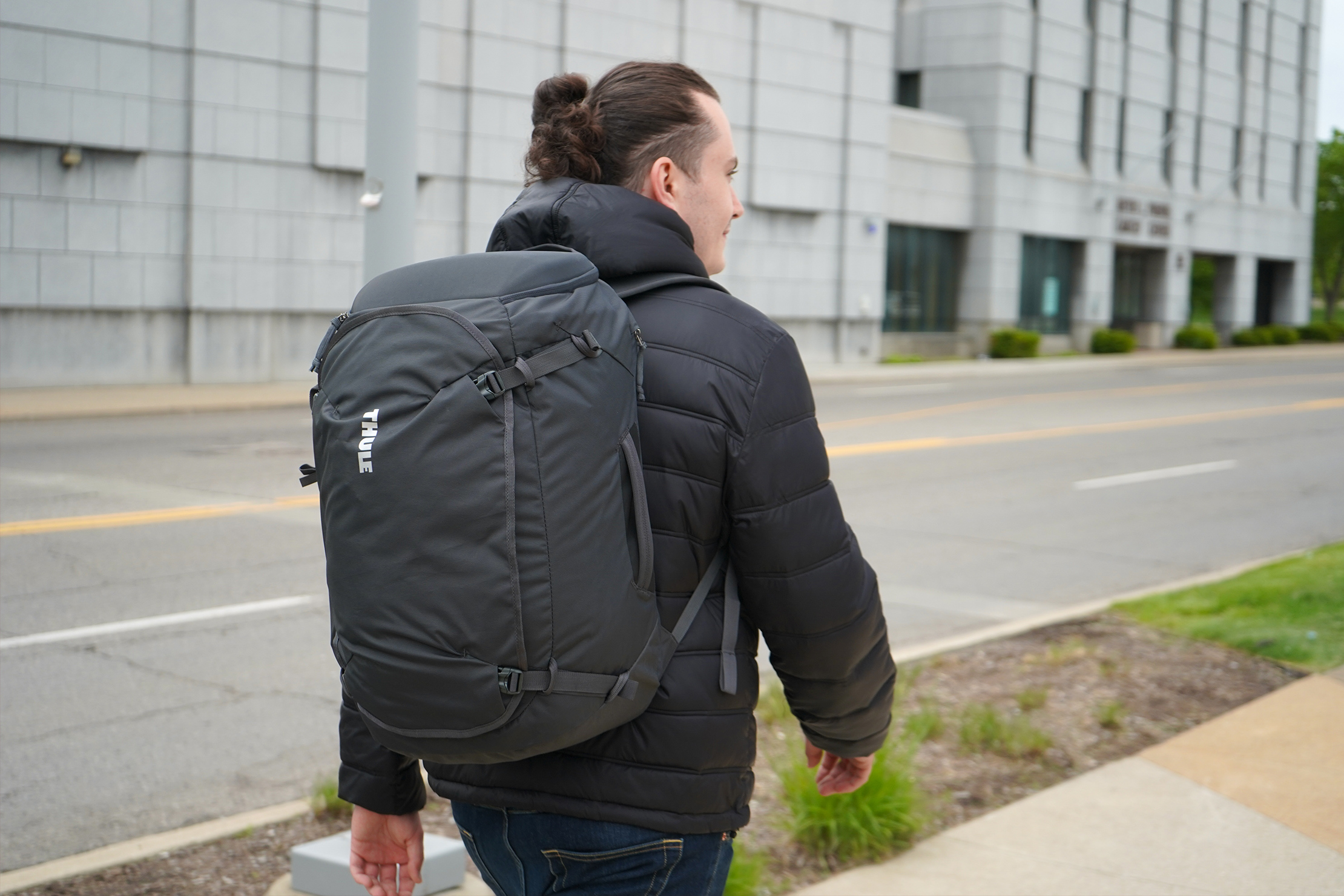 Beyond that, a small piece of stitching at the bottom of the pack's laptop compartment keeps causing the zipper to get stuck. While this could technically happen at any stage, it's frustrating and tends to be a sign of wear.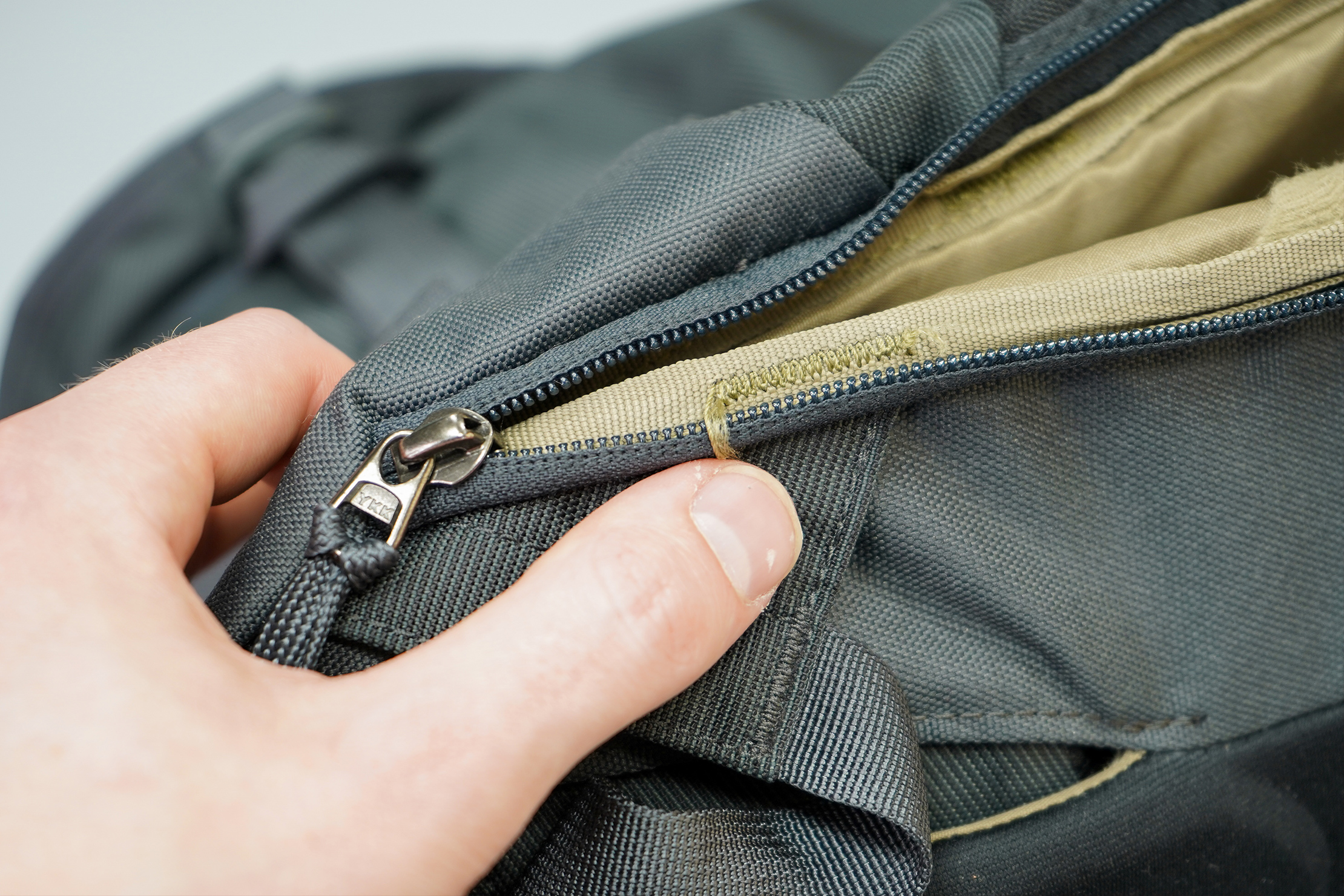 In testing, we've found the Thule Landmark 40L to be a welcomed addition to the adventure travel backpack market. Competing directly with the likes of the Osprey Farpoint, Osprey Fareview and the Eagle Creek Global Companion. However, while there are some unique and handy features, we were left wanting a bit more from this brand that has otherwise excelled with the other products we've tested to date.
Usage Timeline
Initial Usage
Condition: Excellent
Really excited to get testing this bag, it has a ton of potential!
Digging the pockets and hard shelled "SafeZone" at the top.
It's smaller than we expected, but it's still plenty big enough for one bag travel.
2 Weeks of Use
Condition: Excellent
Loving this water bottle pocket but the pack is overall a bit time-consuming to access.
1 Month of Use
Condition: Good
Noticing some fabric fraying and scuffs; otherwise holding up well.
Access the Pro Community Discussion
Get your questions about the Thule Landmark 40L answered from our team and the Pro Community right here on the page. Plus, join discussions with other members about gear, guides, and more.
Other Bags & Luggage Reviews