Able Carry Max Backpack Review
The Able Carry Max Backpack combines a strong cast of materials with flexible attachment points & pockets, though we wish quick access was streamlined.
Our Verdict
Unlock the Pro Summary
Save time. Get access to brief summaries of our reviews so you can browse and make decisions more efficiently.
Pros
Use of durable fabrics, held together by excellent stitching
The water bottle pocket is very roomy and zips away
Tons of webbing and loops to play and experiment with
Comfortable to carry for its capacity despite the lack of load lifters
Cons
The X-Pac's textured pattern might not appeal to everyone
Tablet sleeve is shallow
The rear pocket is tricky to access & doesn't have much width
Recent Pack Hacker Video
Technical Details
Capacity

30l

Weight (lb)

3.79 lb (1.7 kg)

Denier

210D

Dimensions

20.5 in x 12.5 in x 8 in (52.1 x 31.8 x 20.3 cm)

Notable Materials

CORDURA® Nylon, CORDURA® Ripstop Nylon, X-Pac, DWR Coating, YKK Zippers, Duraflex Hardware

Manufacturing Country

China

Laptop Compartment Size

17"

Warranty Information
Full Review
Get up to 10% off Able Carry • Join Pack Hacker Pro
"Max" Whenever a company decides to break out this moniker, it's usually to signify that they've pulled out all the stops. Capacity, size, numbers, you name it—whatever they think they can put out in excess, they will, in the name of improving their design.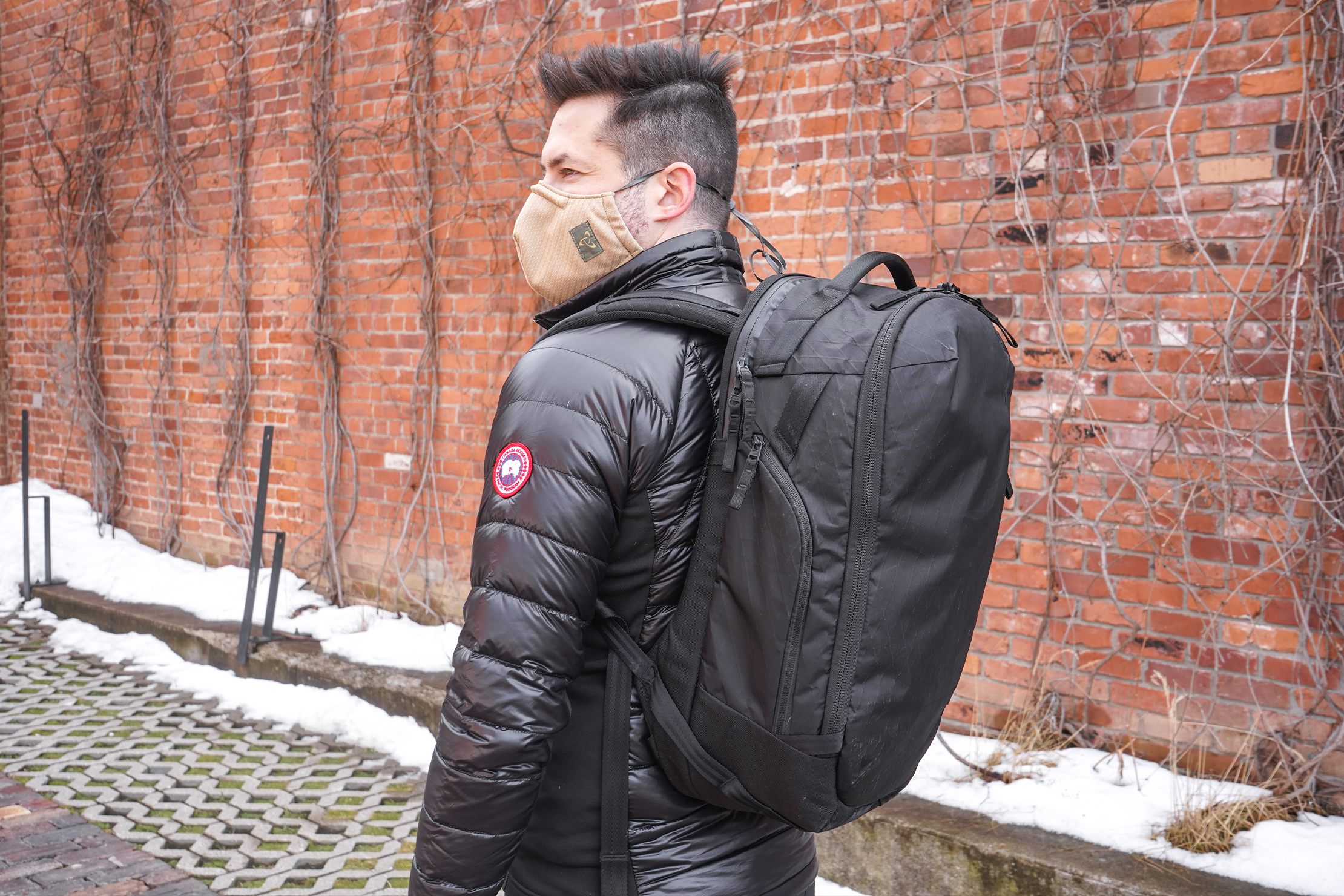 So what has Able Carry maxed out with their Max Backpack? Apart from a superb tag team of X-Pac and CORDURA Nylon backed up by strong stitching, it seems that exterior webbing has also been a top priority for the company. It certainly opens up many possibilities and flexibility for those who like to get creative with their daypack or minimalist travel backpack.
Materials & Aesthetic
The Max Backpack is dressed for an active lifestyle—that is to say, the textured pattern of the VX21 X-Pac fabric denotes a certain air of sportiness. It may not cater to everyone's taste, but we're more than agreeable to trade in a smooth look for some added weather resistance. And it's not like the backpack's unkempt, with only the typical amount of lines and seams running across the body as you would find on any other backpack. We even almost missed the branding entirely. Hint: It's on a Hypalon tab somewhere on the bottom right side.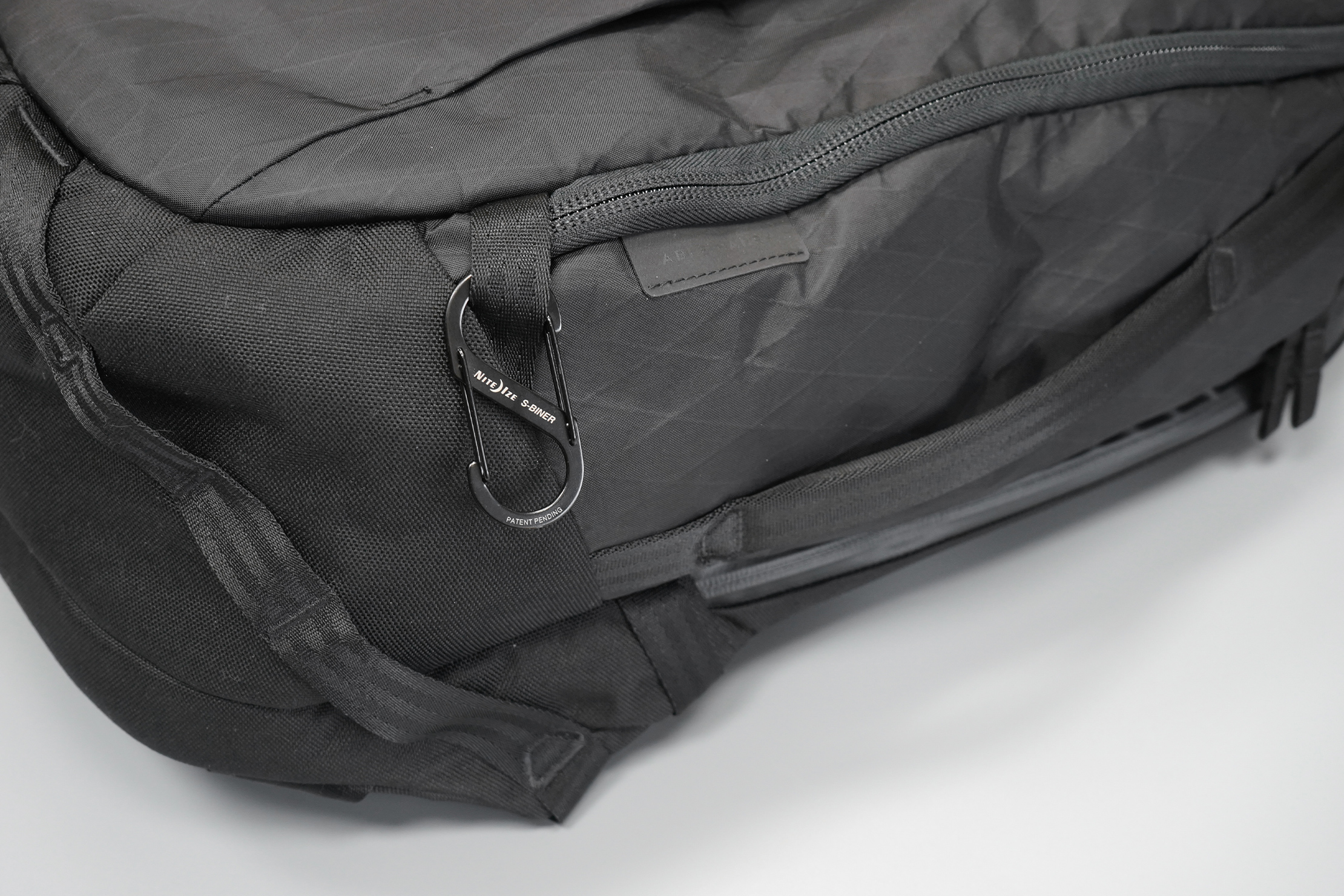 To put it bluntly, we dig the clean look.
If you feel the Tarmac Black is too discreet, other colorways make the textured look pop out. Also available are Ocean Blue, Earth Green, and Dark Forest MCB, Able Carry-speak for dark camouflage.
It's not all looks and no substance either, as Able Carry broke out the strong stuff for the Max Backpack. Aside from the X-Pac fabric around the body, there's also 1000D CORDURA Nylon at the bottom to bear the brunt of facing the floor, and 420D CORDURA Ripstop Nylon in the interior. Backing up the fabrics is a tried and true duo: YKK zippers and Duraflex hardware. With a resume like that, confidence is almost a given at face value.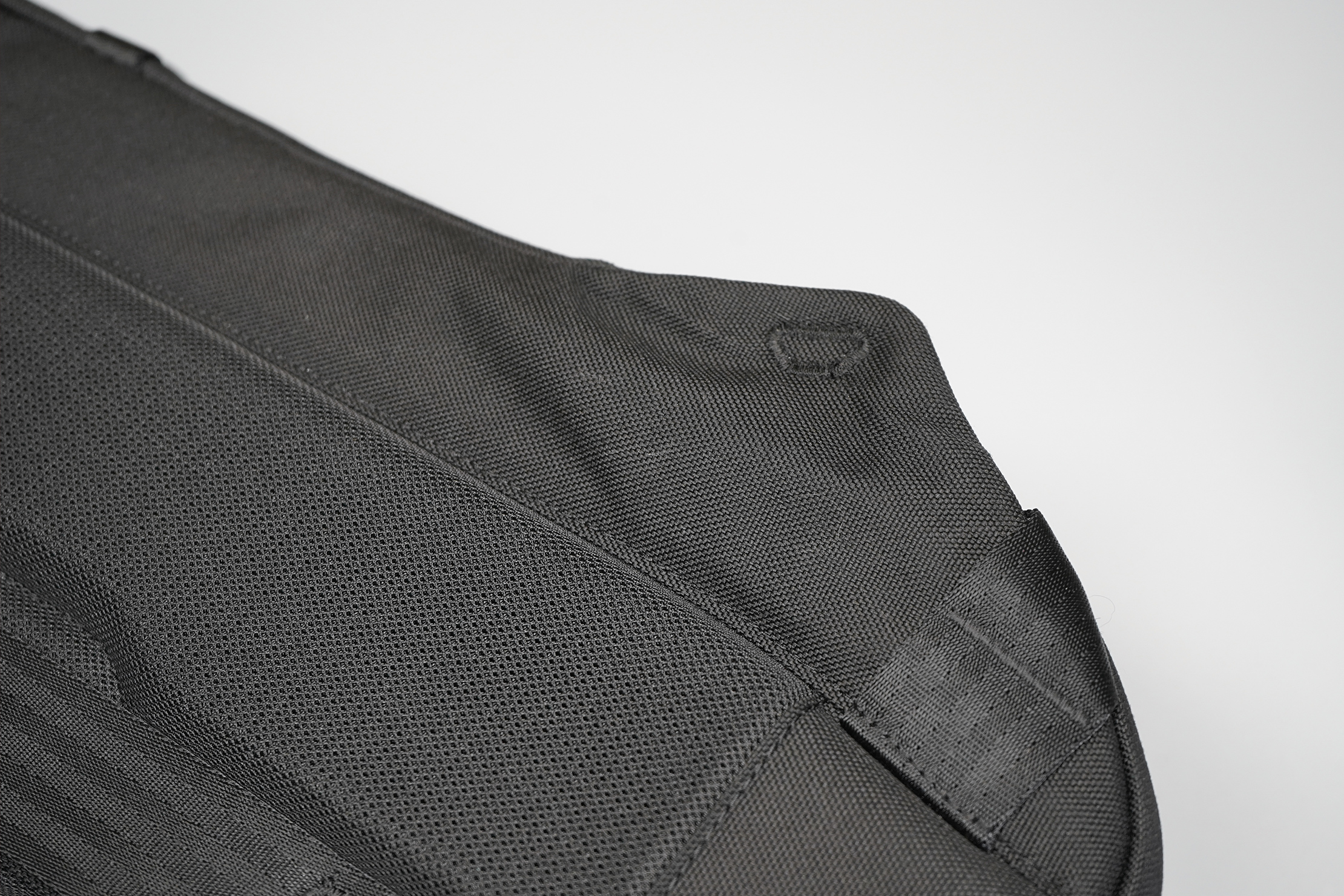 But here at Pack Hacker, we test things out and leave nothing up to fate, and we're happy to report that nothing has gone wrong in terms of durability. The fabric was able to withstand day-to-day use without issue, and the hardware works as intended, apart from a very minor nitpick we have with the main compartment's zippers, which we'll get to later on.
We also dig these trapezoidal-shaped stitching found along the external straps and seams of the Max backpack. They feel sturdy and reliable. Try as we might, there are no signs of them coming loose, and they almost feel like they're riveted in. You can have all the durable materials in the world, but it's stitching like this that holds it all together.
External Components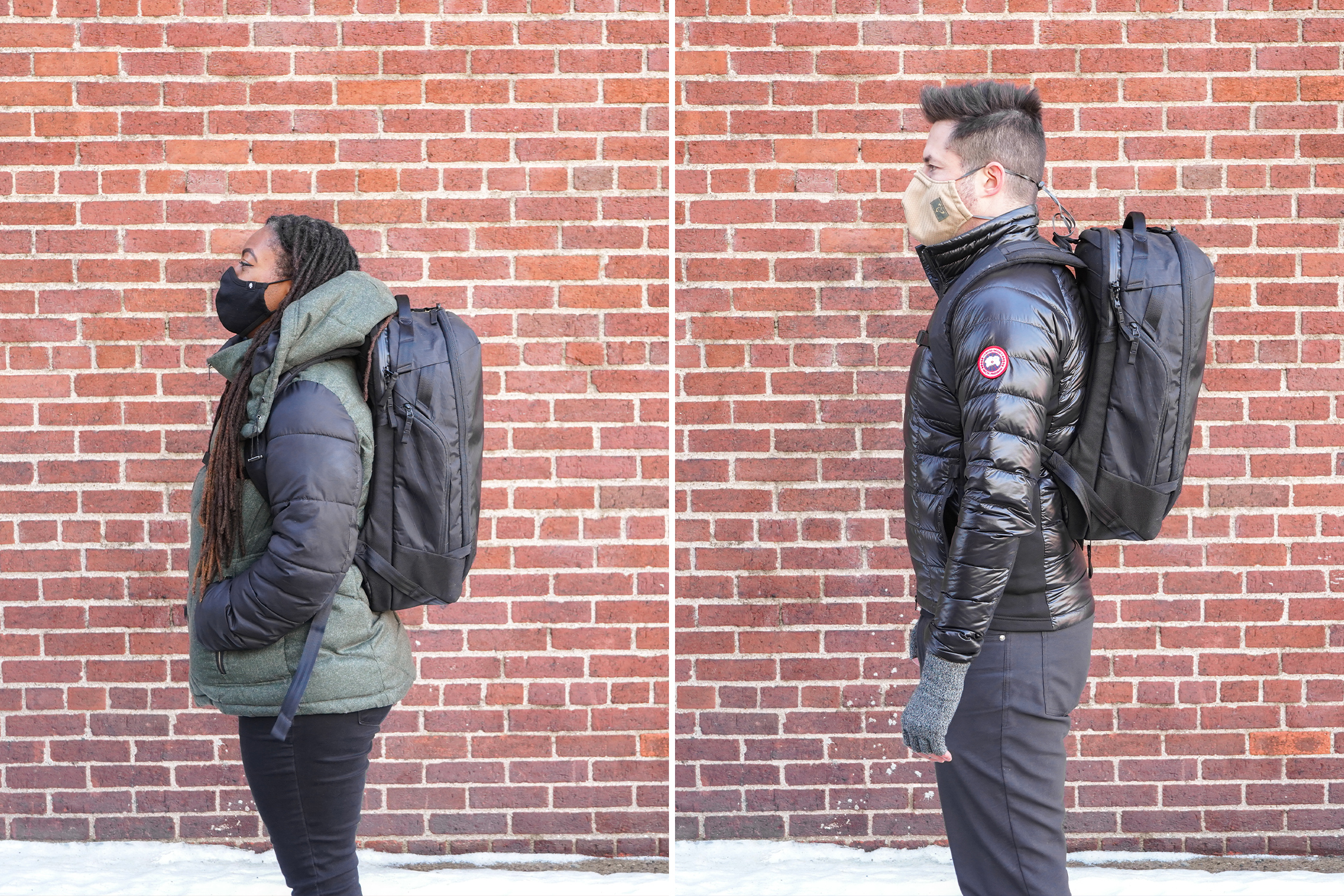 Able Carry has kitted out the Max Backpack with a capable harness system to go along with the 30-liter capacity. The shoulder straps are densely padded with a breathable mesh material underneath to keep things cool. But the top side is covered with the same X-Pac fabric found at the front of the bag for added durability and style. There is also nylon webbing along the top half of the shoulder straps, where you can attach various accessories via a carabiner. We do have to warn you, though, there are plenty of loops around the Max Backpack, and you'll be spoilt for choice as we tour the bag. Hang on to your accessories for now, and you can make your decision later.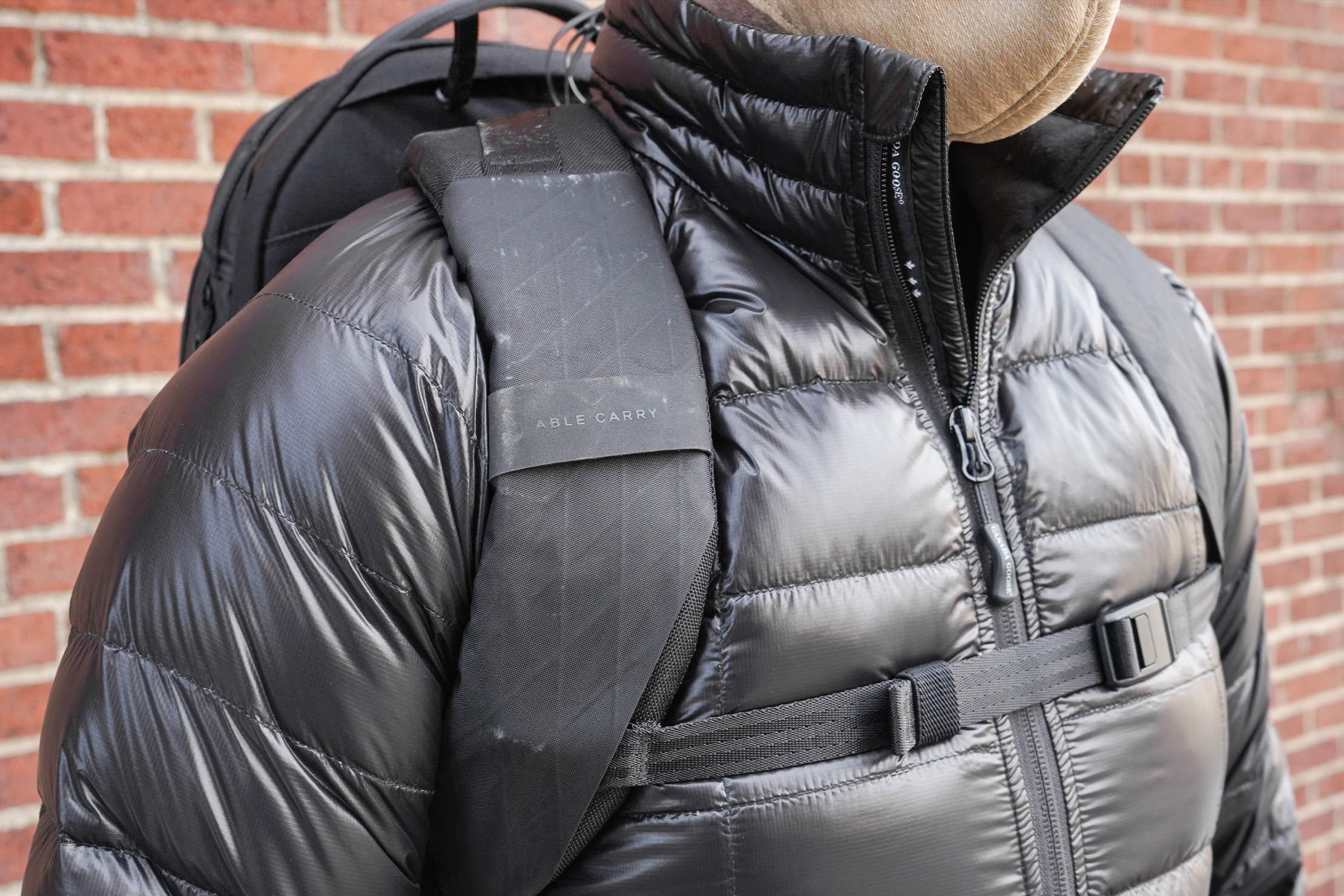 Also included is a removable sternum strap. It's neat that Able Carry shrouds the attachment and adjustment point for this sternum strap on both shoulder straps, adding to the clean look overall. We've also found that this feature allows you to store the sternum strap away tidily when it's not in use. The sternum strap locks in the middle using a magnetic buckle, which works well enough without any hitches. But we weren't completely sold on it since you need to push it in to unbuckle. Once you've got the strap tightened towards your chest, pushing inward isn't an ideal action, so we'd still take a traditional side-release buckle over this magnetic one.
The back panel has a large air channel running down the middle. The indentation is a little wider at the center, and that's to make grabbing on or raising the luggage pass-through easier. It has the same seatbelt-like material used on the sternum strap, and it's strong and wide enough to work well as a luggage pass-through despite the strap-like form factor.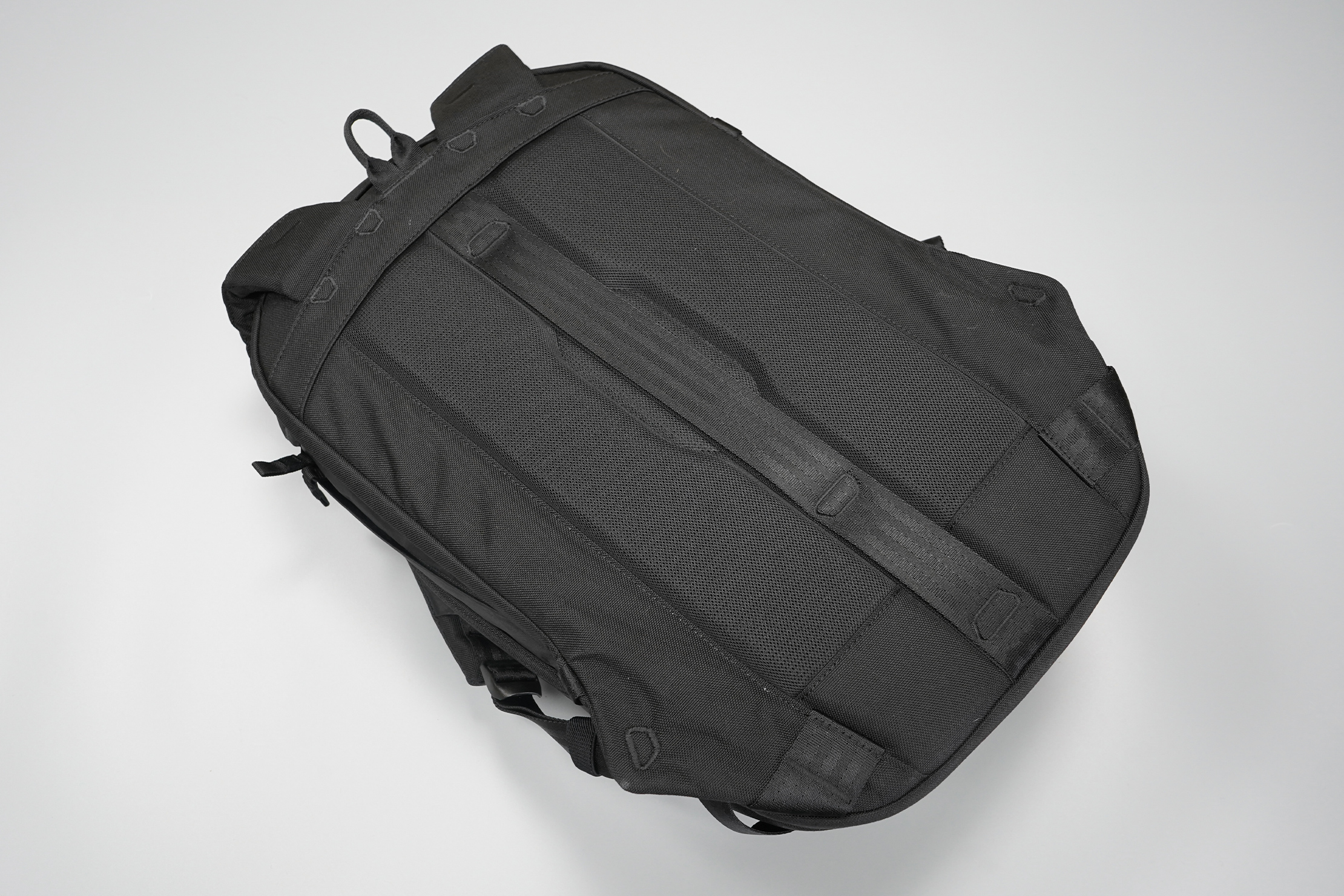 Despite the lack of load lifters you might find on other backpacks within a similar capacity range, the harness system was able to keep things comfortable, and maneuvering around with a fully-loaded pack is trouble-free and relatively painless.
If that's not enough, a top and right side handle are available if you wish to hand-carry the Max Backpack across a room or between cars. Both handles work well, with the top handle having thick padding that's easy on the edges of your hands, and the side handle can retain the bag shape and not have it just collapse into itself like other haphazard designs.
Going back to the webbing we mentioned earlier, the top and side handles are flanked by it. Apart from those, six loops are located at the bottom, directly integrated into the bag's A-frame, plus two more at the bottom half of the front at the seams. Then two more loops above the left side bottle pocket to compliment the loops on the right-side handle. Oh, and of course, there's also the obligatory loop in between the shoulder straps you can use to hang the bag onto a coat rack. Got all that? If you've lost count, then don't worry too much about it. They blend really well with the bag's style, and you'll probably re-discover them from time to time. But in short, there are plenty of loops to go around—and we haven't even talked about the interior yet.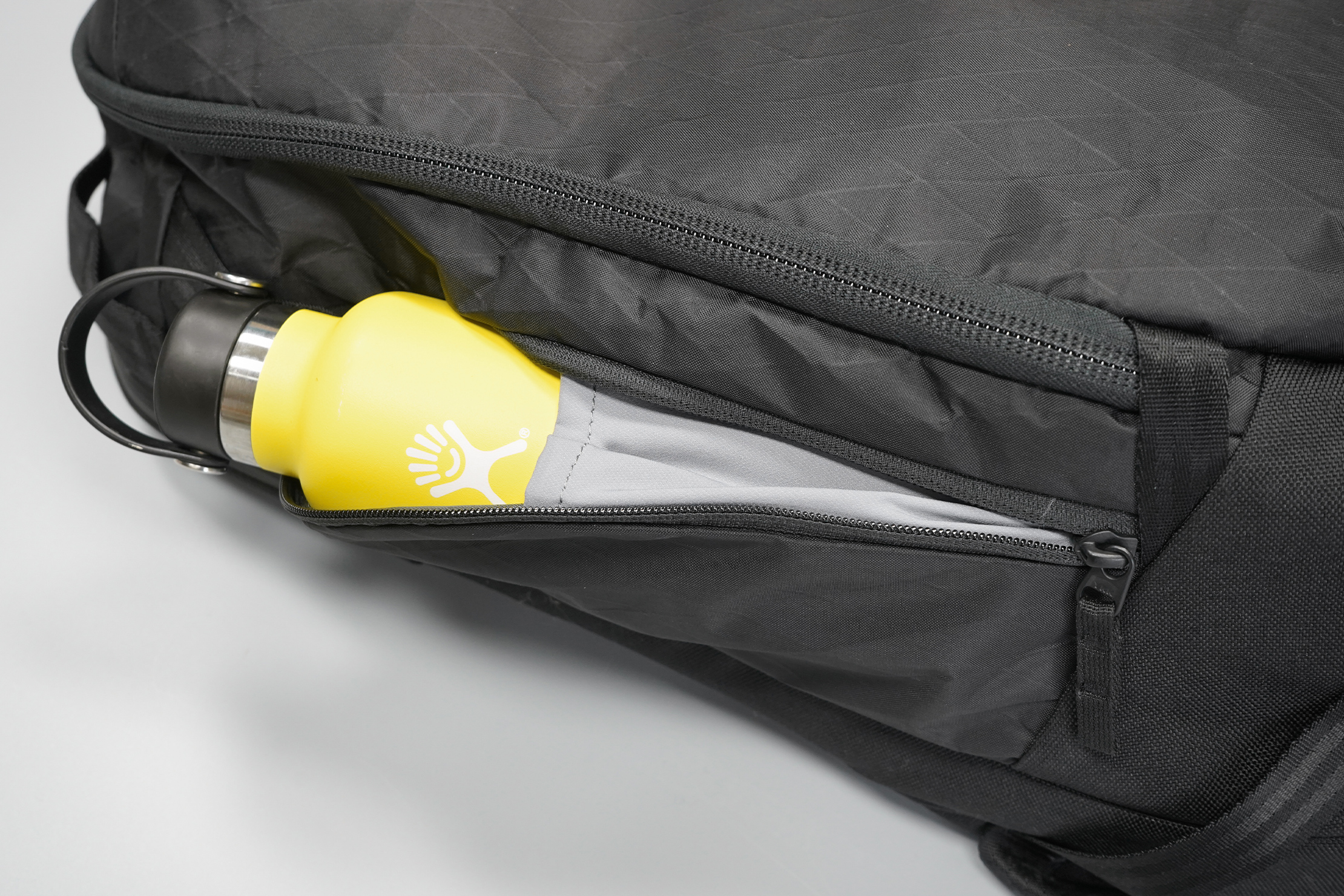 Lastly is the left side integrated water bottle pocket. The pocket is integrated seamlessly into the Max Backpack's body, leaving it with a streamlined profile without any protruding parts. The catch—as with all side pockets of this nature—is that it eats up a portion of the main compartment's space. But you have to take the bad with the good, and the good news here is that this side pocket is big enough to take in a 32-ounce water bottle. Maximize it as you please, but be mindful of what you're sacrificing from the main compartment.
Inside The Pack
The front quick-grab pocket opens up sideways. But unlike some bags with this type of opening, the internal mesh pockets are still aligned vertically. It makes total sense to have these pockets oriented this way since your backpack will be in an upright position for 90% of the time. These mesh pockets are made from a mix of nylon and spandex, giving them a bit of elasticity and good grip.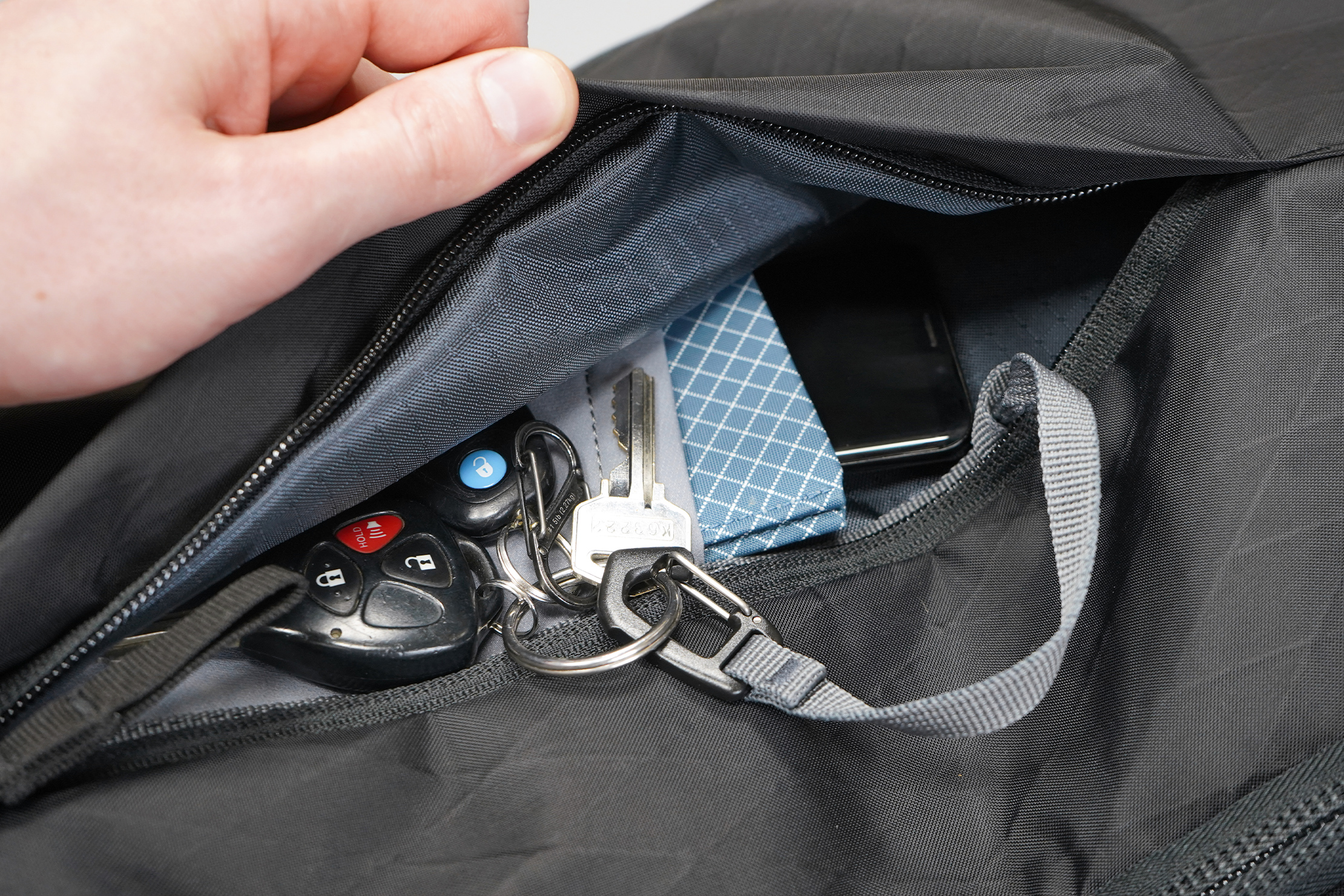 There's also a built-in key clip with a long leash. It comes attached, but it's also removable. There are three mounting points made from a daisy-chain arrangement stitched into the interior nylon fabric. That's two more degrees of adjustment than what you'd typically see from other bags with built-in key clips. All in all, the organization in this front pocket alone is already above average.
No sunglasses compartment for the Max Backpack, but there is a top-loading rear security pocket. The stiff material and fullness of the bag will dictate how well you can access the inside of this pocket, but it does go somewhat deep, almost half-way down the length of the bag. Accessibility-wise, this doesn't meet our criteria to earn the "quick-grab" label, but it's secure enough that it's fit for duty as a security pocket instead.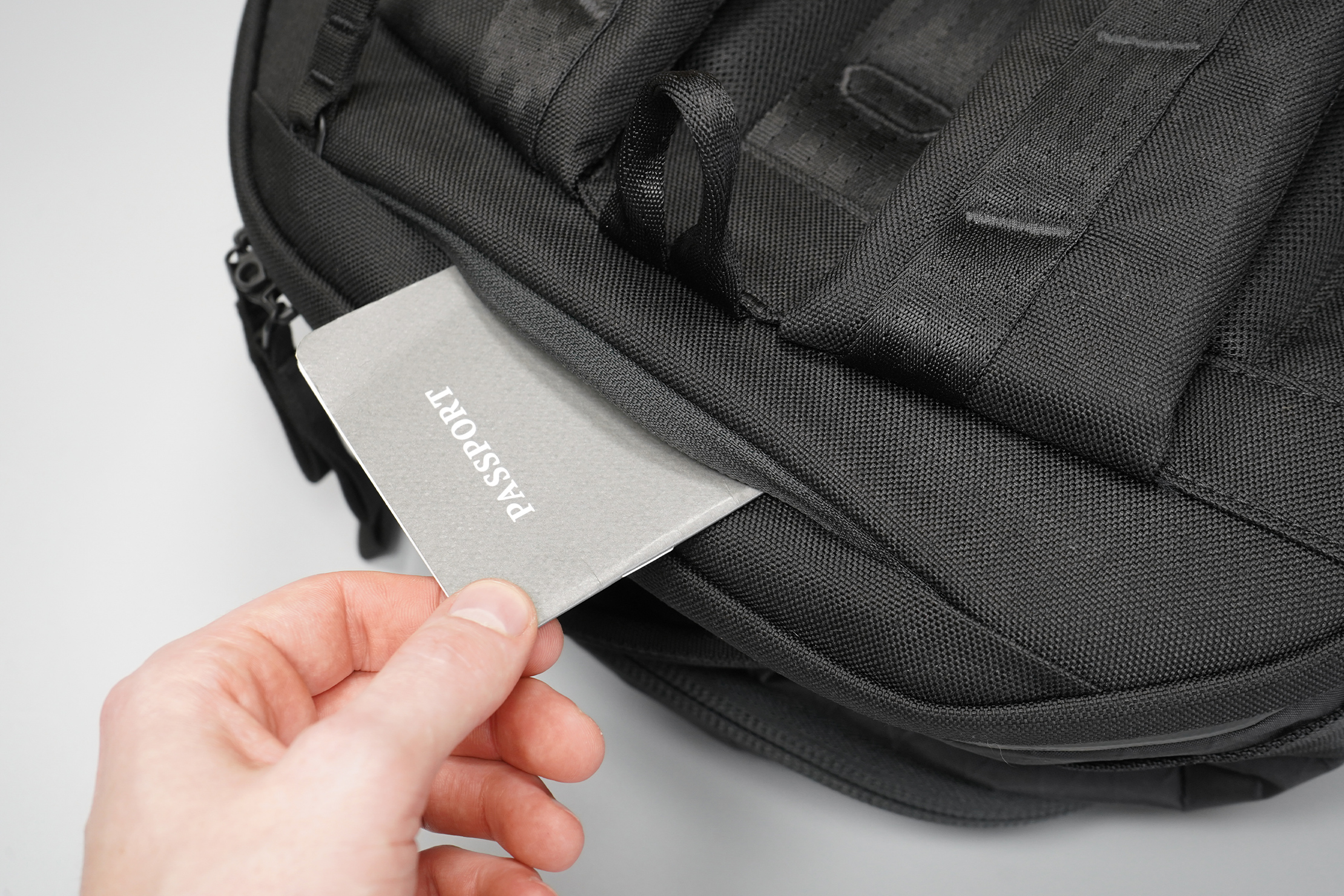 The laptop compartment is relatively straightforward, with a wide opening going half-way down to the sides and protected by AquaGuard YKK zippers. There are sleeves for your 17-inch laptop and your tablet, plus a pen silo big enough for two pens. Unfortunately, these sleeves don't have tabs or flaps to hold down your devices, so they may slip towards the non-padded top side of the compartment if the Max Backpack finds itself upside-down. Fortunately, this is somewhat mitigated by the top accessories pocket that bulges up once it's filled, but we still wish there was a way to secure our laptop and tablet inside the sleeve properly. It's worth noting that the tablet sleeve is quite shallow, so a velcro tab could work well here.
Also in the laptop compartment is a secret security compartment within the liner fabric behind the laptop sleeve itself. You access it through a zipper that exposes the back panel's frame sheet, and in front of that material is a velcroed pocket just wide enough for some important travel documents. It's unusual for makers to utilize this space, but this a neat feature that ups the Max Backpacks security features, so we approve of it.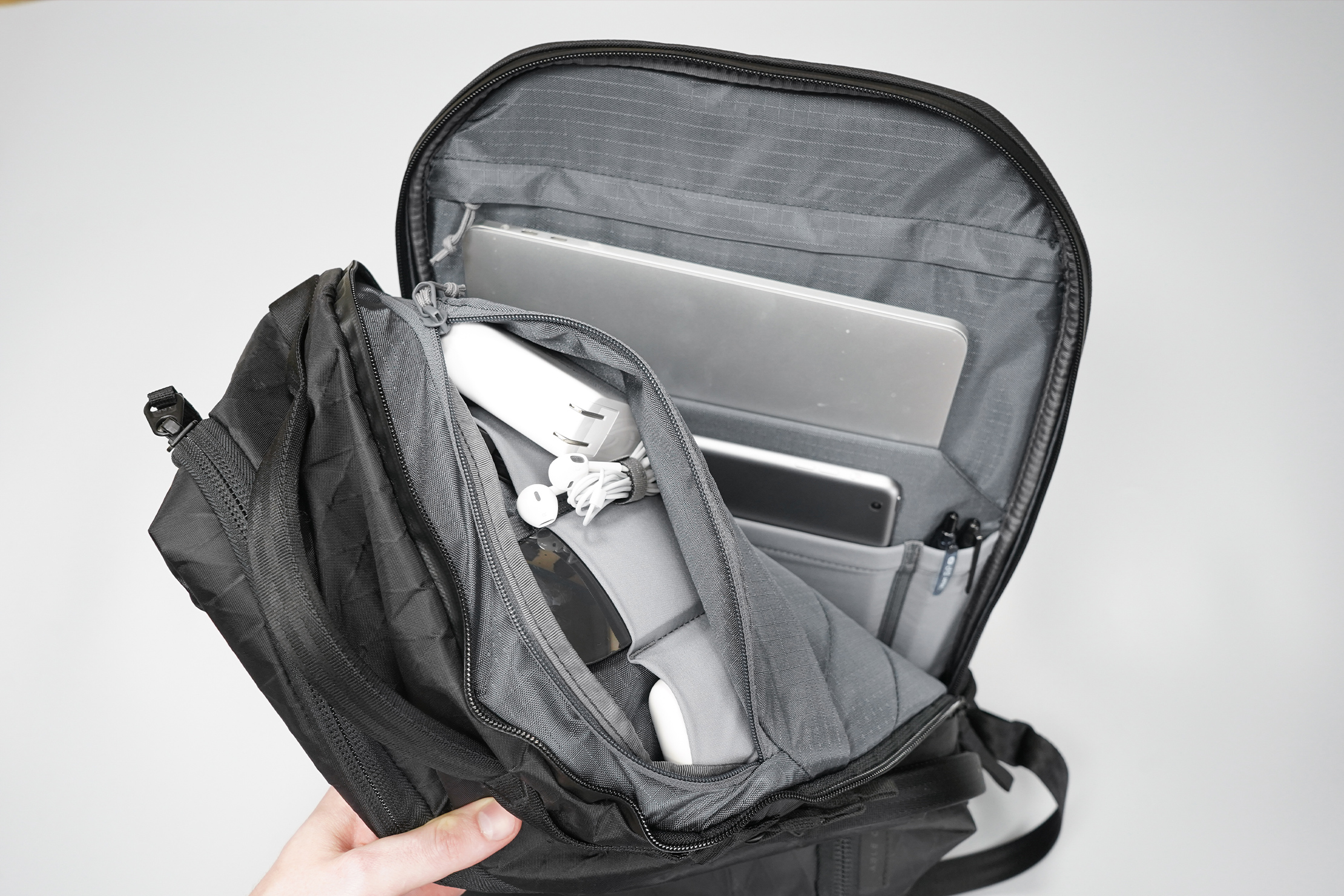 Lastly, along the top is an accessories pocket line with four semi-stretchy pockets similar to those found in the front pocket. You can fit a slim mouse in here along with a few small adapters and charging cables, and the small pockets can house memory cards and thumb drives while keeping them separated. A lone nylon loop is present here as well if you wish to hook anything into it.
But now we come to the main compartment. Yes, you can bet there are loops in here as well, so we hope you've saved some carabiners and accessories for this one. Before we can get into the main compartment, we do have to point out that there's a fair bit of resistance to the zippers, so you can't just recklessly pull on the front flap and expect the Max Backpack to cooperate and fully open up its main compartment. You'll have to go with a more gentle but firm approach for this one.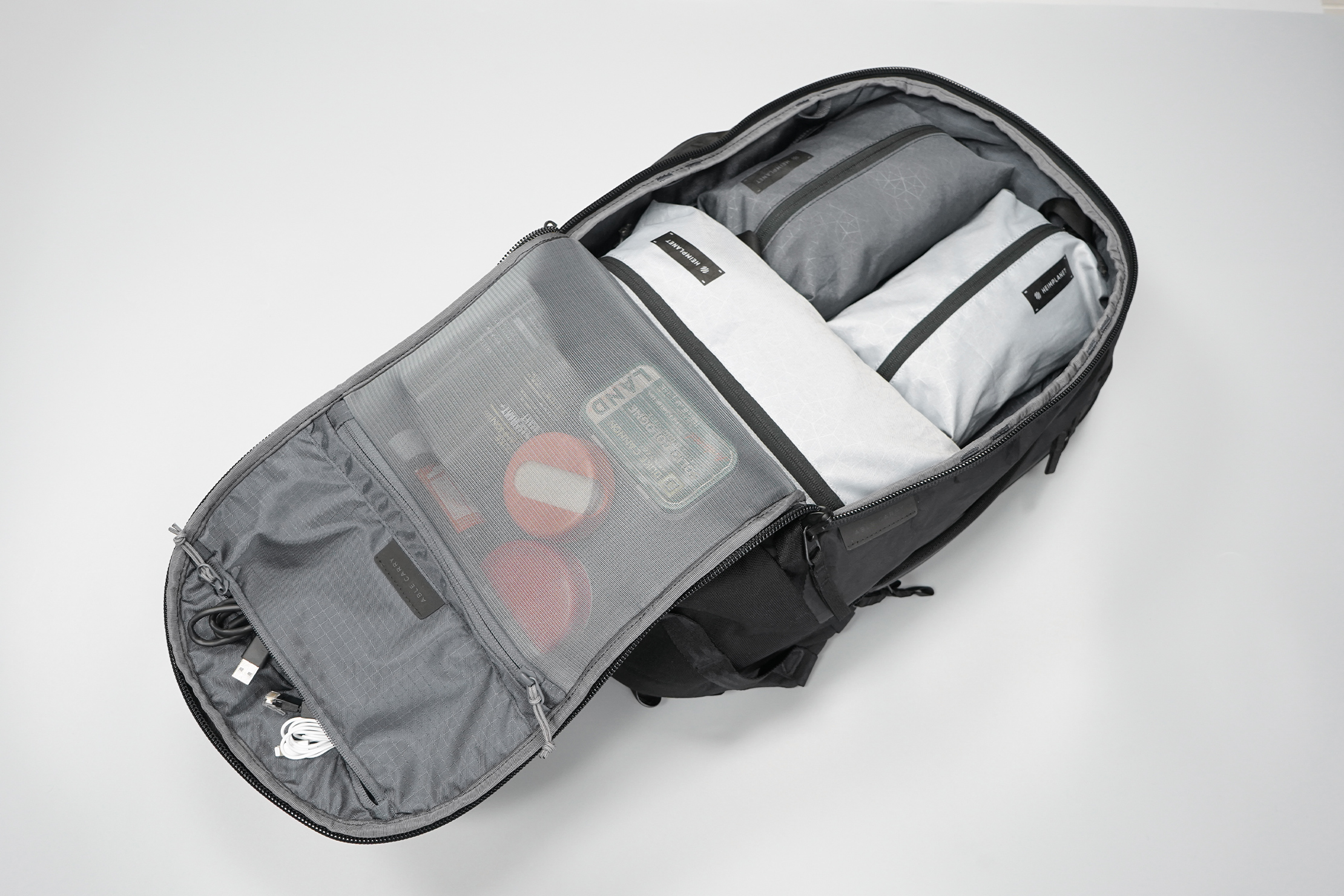 It's a clamshell-style opening, giving you full access to the entire space. As usual, we recommend some packing cubes and pouches to lend some organization to such an open space. Thanks to the stiff material, the Max Backpack's walls are structured enough that the walls don't collapse down while you're packing it. It's a common frustration with clamshell-style backpacks with soft material, one that's fortunately not present here.
But along the left side wall is the water bottle pocket. Depending on the bottle you use, an almost equal amount of space in the main compartment is taken up. You'll have to factor this in when planning your packing strategy, though it's just something you'll have to live with in exchange for a cleaner outer profile for your backpack.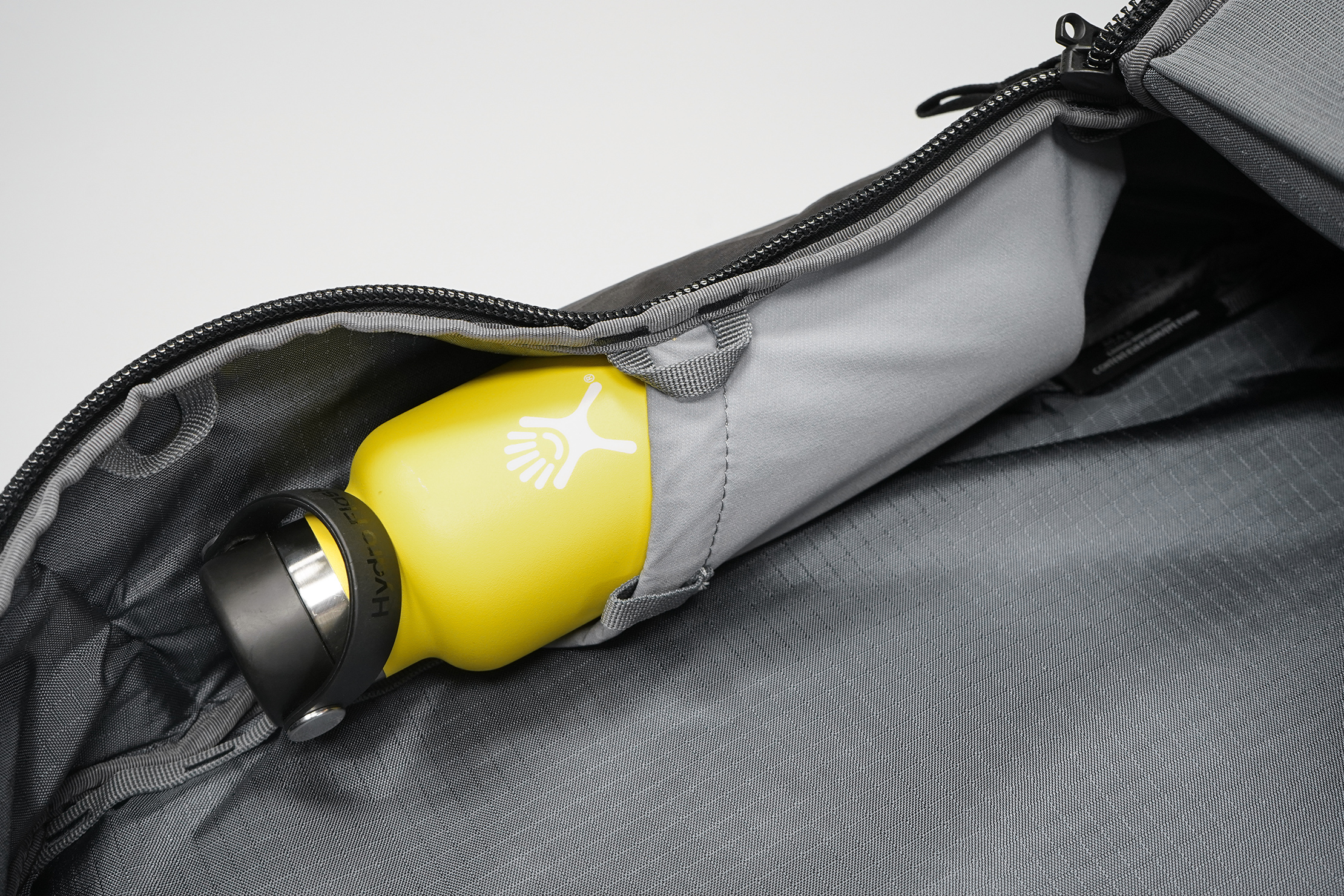 Speaking of that water bottle pocket, there's a stretchy nylon pocket on the opposite side of it in the main compartment. This pocket is big enough to hold a water bottle itself. For what reason? Well, if you need the external water bottle pocket as an extra quick-grab pocket, you can put your bottle inside in this stretchy pocket instead. In terms of pockets, Able Carry's Max Backpack isn't a stingy one.
On each side of the compartment are three loops. Able Carry currently doesn't have an ecosystem of their own. But if you have some extra accessory straps lying around, you can definitely hook them on there to lock down your clothes more securely. If you want to get even more creative, there are two arrays of webbings running top to bottom at the far back you can use to string up a makeshift pocket using some accessory straps. Or you can just use it to hang the souvenir keychains you've collected along your travels. Either way, we dig this kind of flexibility, and it opens up tons of possibilities with a little creativity on the part of the user.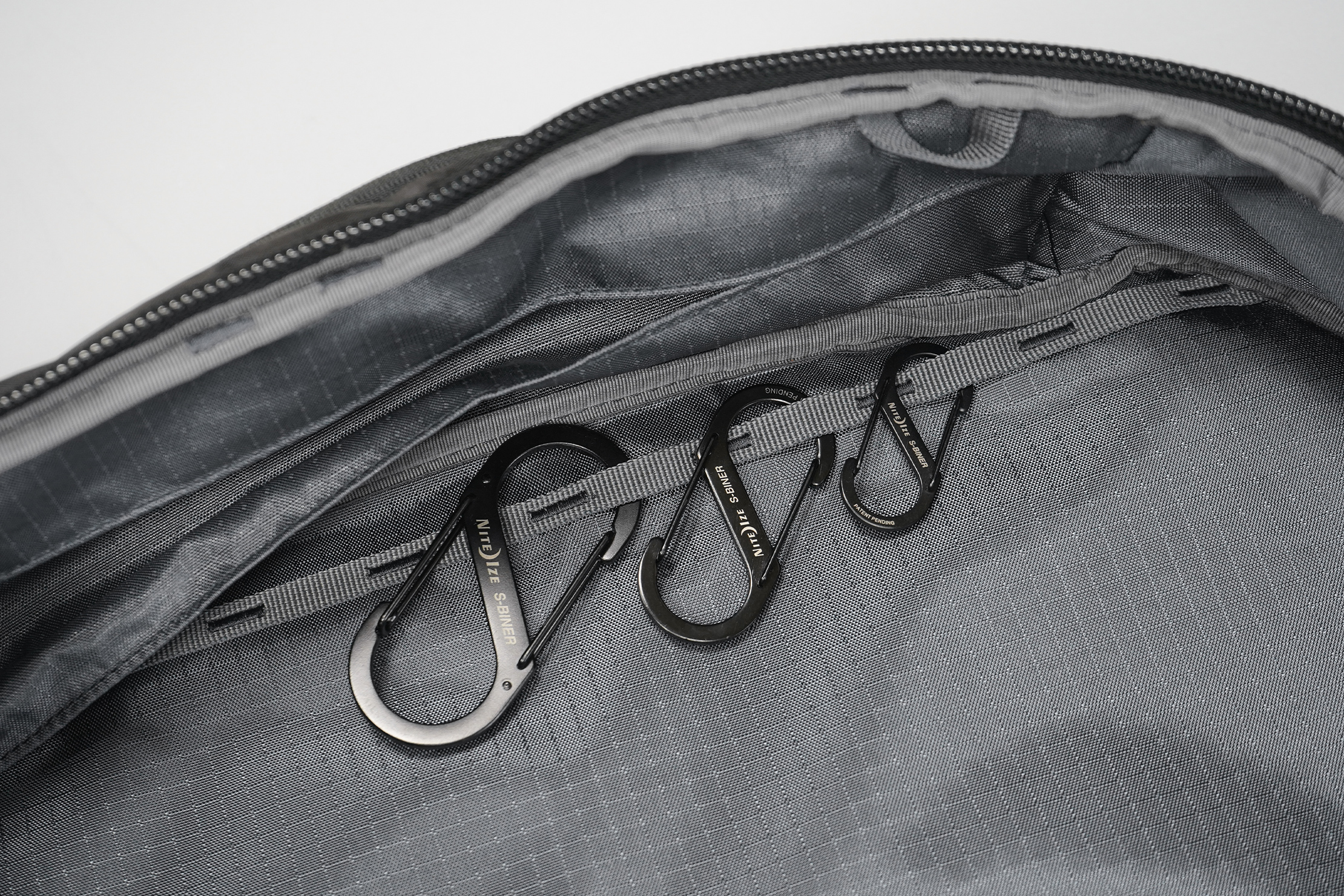 Moving on from loops and how to use them, a privacy pocket is located on the opposite side, perfect for personal toiletries. That said, the accompanying mesh pocket below it is not very see-through either, as opposed to most mesh. They stretch as any mesh pocket would, but not seeing the contents inside defeats half the purpose of a mesh pocket. It's a shame, considering that it has enough depth to hold a bunch of stuff, thanks to its gusset.
Wrap Up
Able Carry went all-in with the durable materials for the Max backpack, and the build quality is something worth commending. The amount of space and organization is superb. However, the laptop compartment could use a bit more protection through tabs for the laptop and tablet sleeve, the latter being relatively shallow. Furthermore, despite the lack of load lifters, the harness system makes carrying the backpack hassle-free and comfortable.
There are some quirks—both good and bad—that stood out to us. Most notably, the rear pocket was a little hard to access. Plus, the sheer amount of loops both in and out of the backpack. The loops are a bit overkill, but one could argue that too much is better than too little, and it didn't harm the overall utility nor aesthetic of the backpack in any way.
Overall, it's a well-rounded backpack with enough space and organization for light travel, tough build quality and flexibility for outdoor excursions, and portable enough to be viable for everyday use.
Usage Timeline
Initial Usage
Condition: Excellent
The harness system is as supportive as it were on the Daily Backpack variant
The fully-contained water bottle pocket dispels any fear of beverages falling out
The ensemble of durable fabrics inspires confidence
2 Weeks of Use
Condition: Excellent
We like that the big, interior water bottle pocket keeps the exterior clean, but can cut into the interior of the bag—especially if it's a 32 oz bottle, which fits
Great, durable materials used with the construction of the bag
The rigidity of the exterior fabric is excellent for organization and packing cubes—it doesn't collapse on the sides like some other bags but is still flexible
Main compartment zippers can stick about halfway down the bag of trying to open compartment quickly (not a big issue—more of a nitpick)
Just-right organizaiton for the travel pack use case—open space for packing cubes, but also pockets for organizing
Didn't love the "quick grab" pocket positioning or dimensions—it's a little tricky to get to
Super comfortable harness system that didn't seem to require load lifters
A pleasant, solid experience overall
Access the Pro Community Discussion
Get your questions about the Able Carry Max Backpack answered from our team and the Pro Community right here on the page. Plus, join discussions with other members about gear, guides, and more.
Other Bags & Luggage Reviews