Thule Aion 28L Review
Thule's Aion 28L Backpack features bluesign® materials and a dual-access compartment that can even take damp clothes—responsible and clever.
Our Verdict
Unlock the Pro Summary
Save time. Get access to brief summaries of our reviews so you can browse and make decisions more efficiently.
Pros
Versatile dual-access main compartment
TPU divider/pocket is good for stowing wet gear
Simple but comfortable harness system
Cons
Some loose threads on the daisy chain webbing
Expanded 32L mode comes at the cost of extra depth
Water bottle pockets lacking in grip
Recent Pack Hacker Video
Technical Details
Capacity

28l

Expands to 32L

Weight (lb)

2.71 lb (1.2 kg)

Dimensions

18.5 in x 11 in x 9.06 in (47 x 27.9 x 23 cm)

Notable Materials

Canvas, Recycled Polyester, YKK Zippers, Duraflex Hardware

Manufacturing Country

Vietnam

Laptop Compartment Size

16"

Warranty Information
Buying Options

$189.95
$189.95
Full Review
Thule is a brand we typically associate with big, no-nonsense-looking bags, yet are rich in features. Take the Landmark 40L and its SafeZone compartment, for example, or the separately carry-able laptop bag of the Subterra Convertible Carry-On. The Subterra 34L even comes with its own large packing cube; it's not the best, but it is included. The point is that Thule is always trying new features with these unassuming black bags, and that's pretty exciting.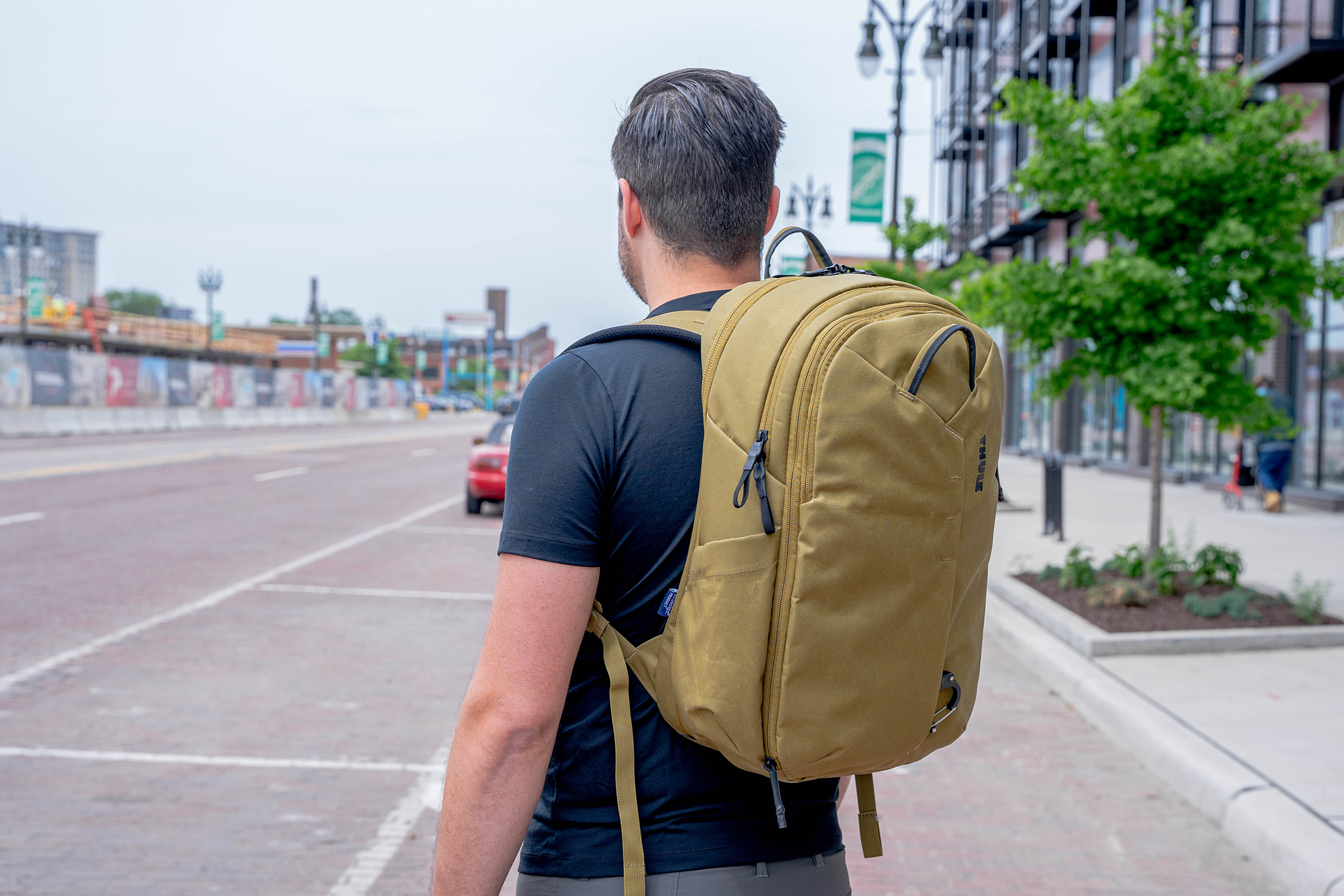 The Aion 28L Backpack's design may come off as too simple at first glance, with its clean aesthetic and humble harness system. Look at it much closer, though, and you'll start to appreciate the clever design hiding in plain sight. From the shrouded daisy chains at the front to a water-resistant pocket in the middle of the main compartment, this bag's definitely hiding some aces up its sleeves. That sounds pretty Thule to us, so let's not wait and dig right into this bag.
Materials & Aesthetic
The Aion looks clean and minimal for a backpack of its size. There aren't many external features that stick out, and, for the most part, the fabric does most of the talking. It's a 600-denier waxed canvas shell fabric, and it looks absolutely right in this Nutria colorway. For the uninitiated, waxed canvas is the sort of fabric that just screams "heritage styling," second only to leather, in our opinion.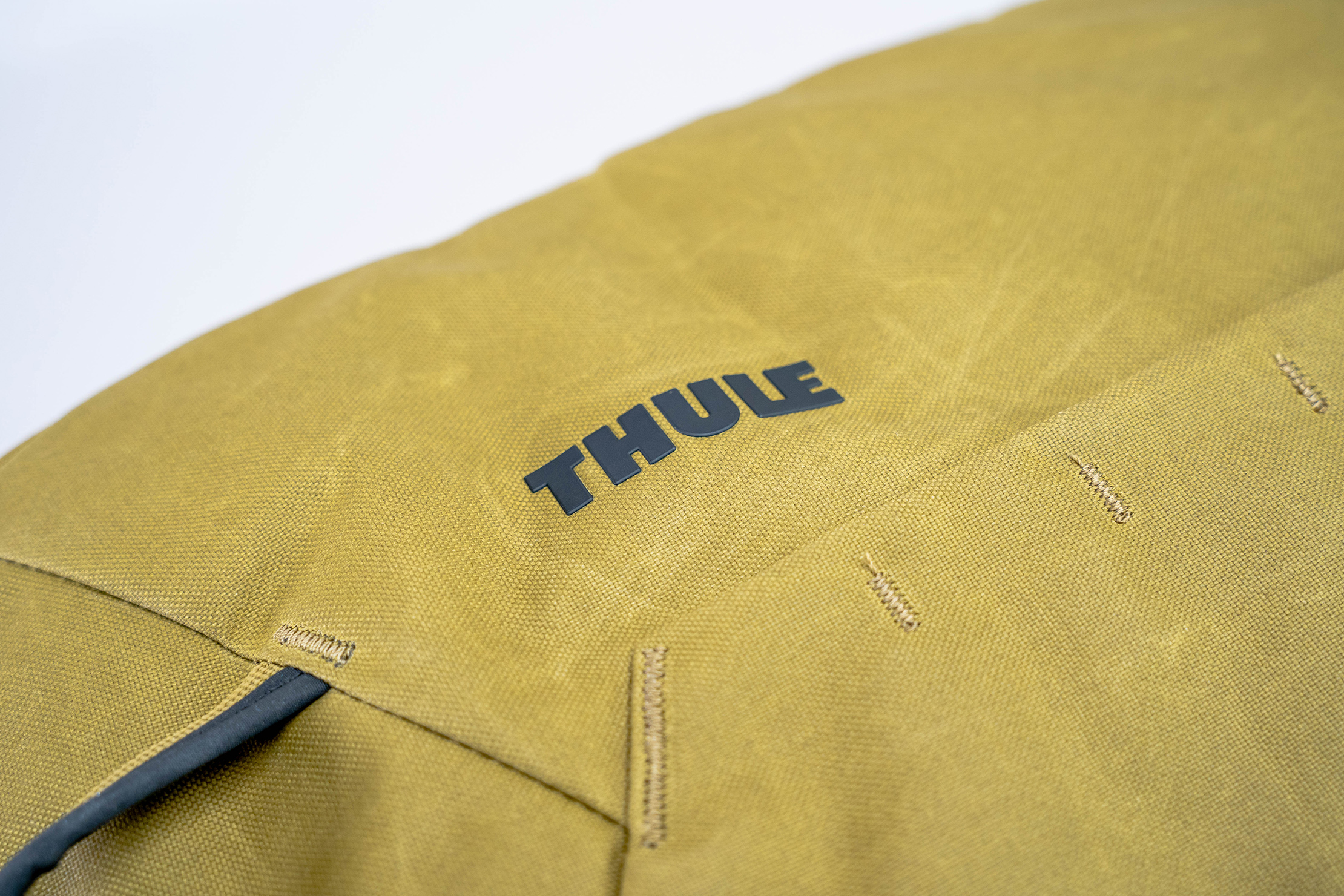 One trait of waxed canvas fabrics that makes them stand out is how easily it marks up. Case in point, the WaterField Designs Outback Duo Laptop Brief also features waxed canvas, and you can clearly see where we've run our fingernails on the fabric. The same goes for the Aion, but it's not as obvious. In fact, the markups are quite subtle and not really noticeable under bright lighting conditions. To some people (including us) the patina adds to the bag's charm since it gives it that worn-out look you get from heritage-style gear. To note that while the fabric does mark up, the patina is more on the wax coating rather than on the fabric itself, so the material's integrity doesn't have any issues whatsoever.
Oh, and for the black-on-black colorway lovers out there (including us), there is a black option for the Aion as well. Still, the Nutria has grown on us over the weeks, though our consumption of granola bars has inexplicably gone up as well. Coincidence?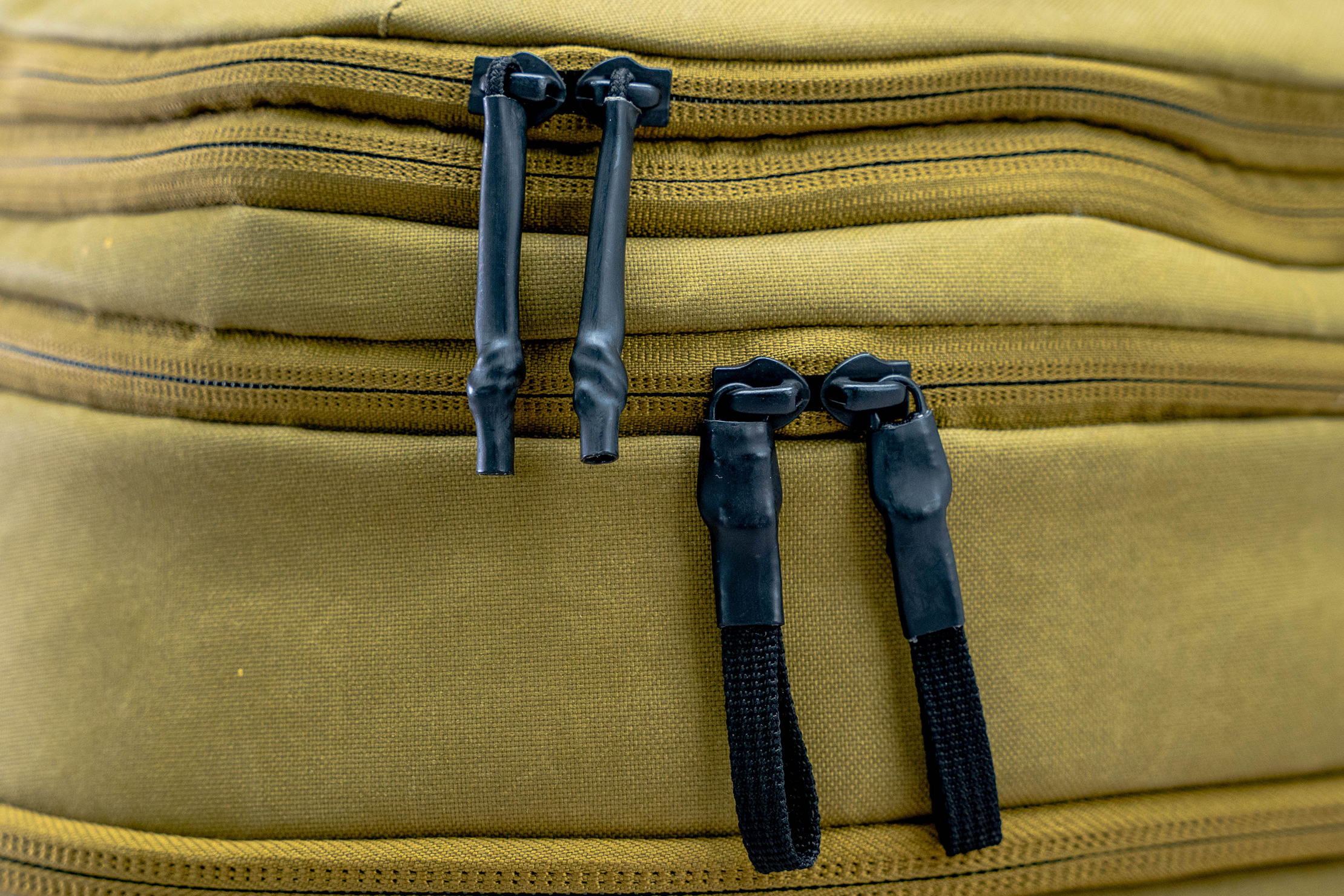 Speaking of granola bars, the Aion does feature other noteworthy ingredients as well. The zippers are ever-reliable YKK-branded ones, and the hardware (buckles, adjusters, etc.) is courtesy of Duraflex, also a reputable brand. You'll also be happy to know that the Aion is bluesign® certified, meaning that it's made with materials that have been produced with sustainability in mind. For example, the Aion's main fabric, liner, and mesh are all 100% recycled from plastic bottles—neat, huh?
External Components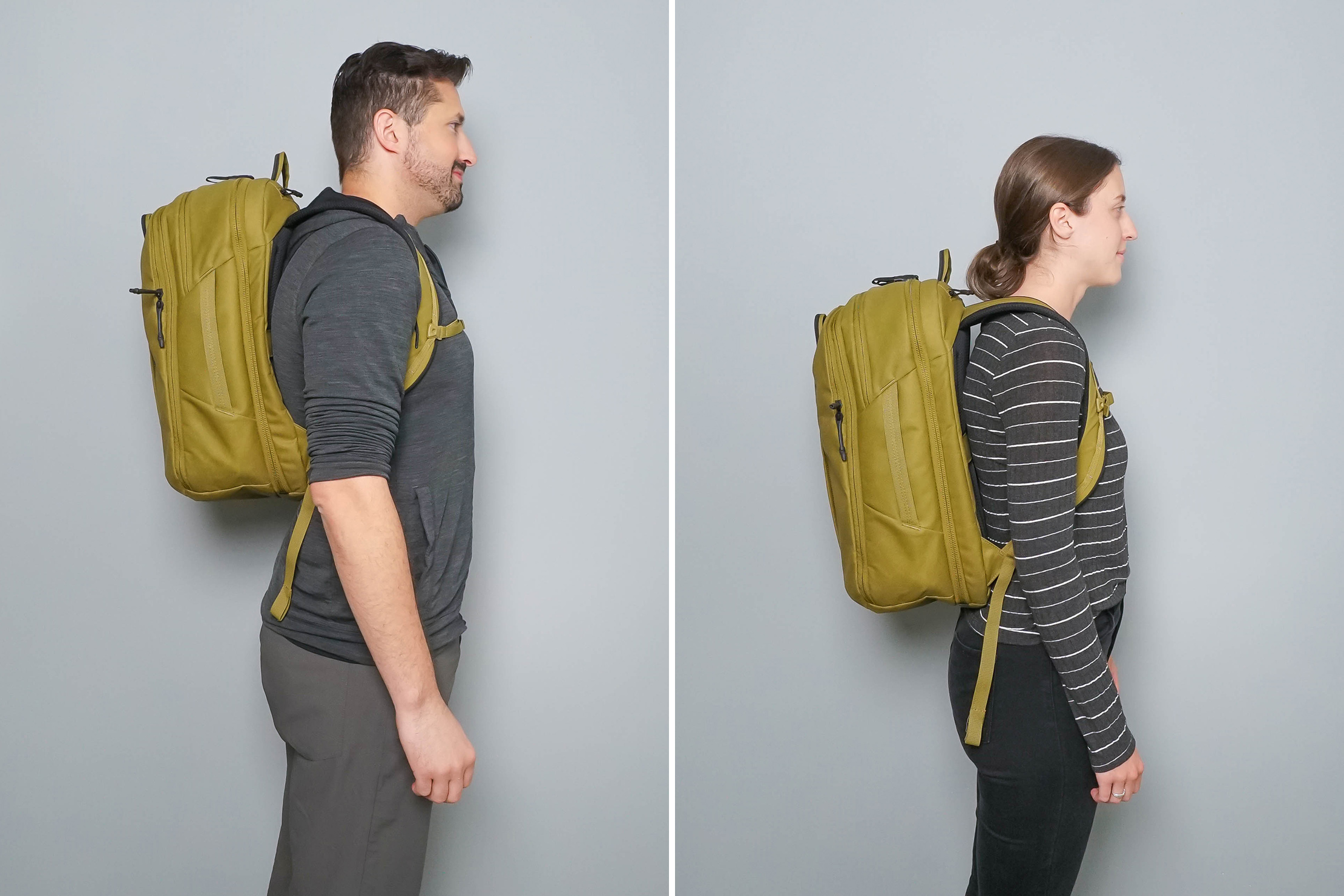 The shoulder straps are wide and well-padded with foam covered in mesh. There's not much to say, but that's only because Thule nailed the basics here, and there's really no need to go overboard. Strap keepers are the one "luxury" we're glad to see here. Strap keepers are one of those features that, once you've tried a bag with them, it's hard not to look for them in the future. We just don't like dangling straps #sorrynotsorry.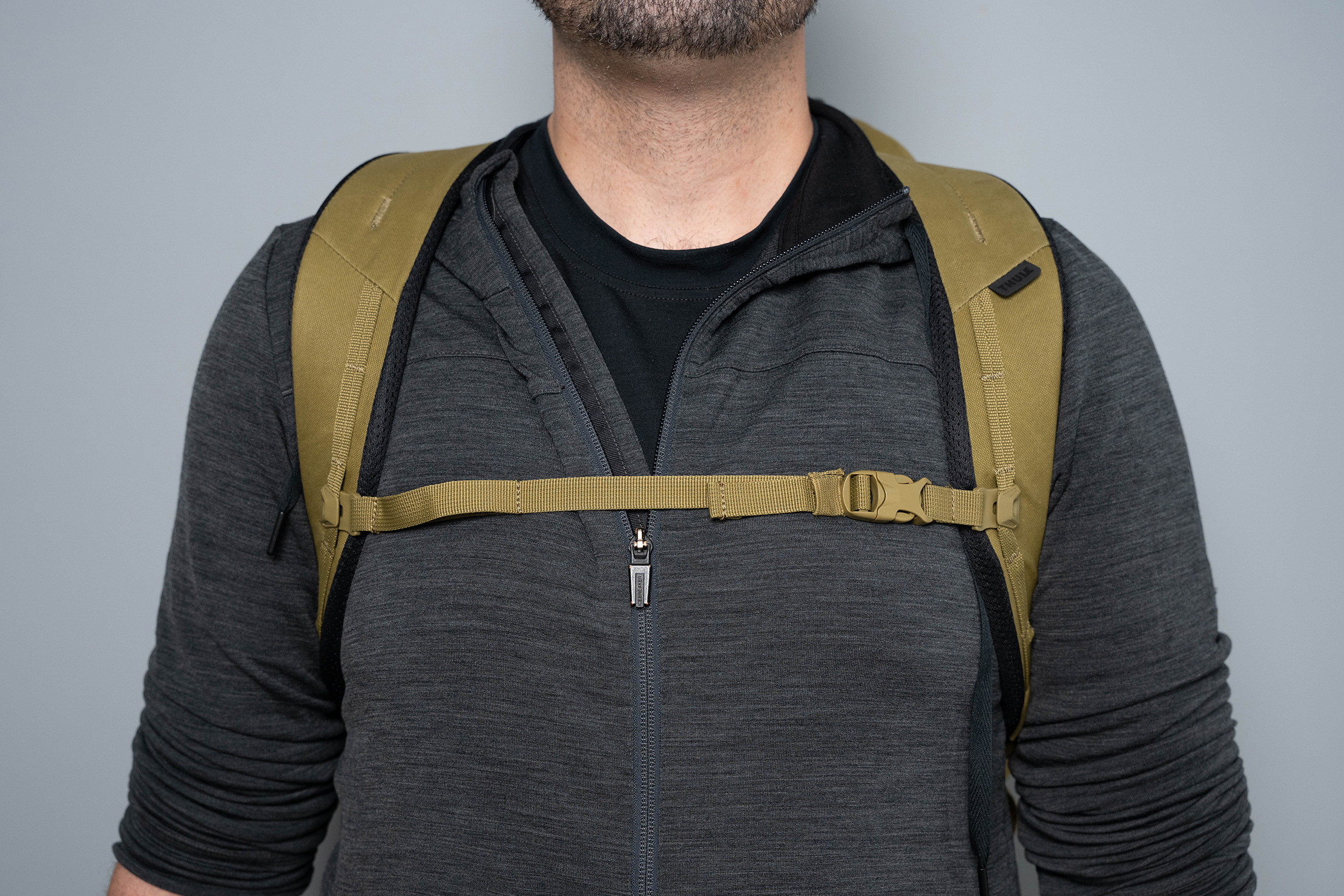 If we do have one nitpick about the shoulder straps, it would be the daisy-chained loops where the sternum strap attaches. In our book, this is less easy to adjust than a sliding sternum strap and less granular as well. One advantage loops have, though, is that you can use the rest to hang accessories.
The back panel uses the same kind of foam and mesh as the shoulder straps do. As with the straps, Thule did a good job of padding out the panel, making sure the fit stays comfortable and breathable. That said, your mileage in comfort may vary depending on how warm it is and how much you sweat in general.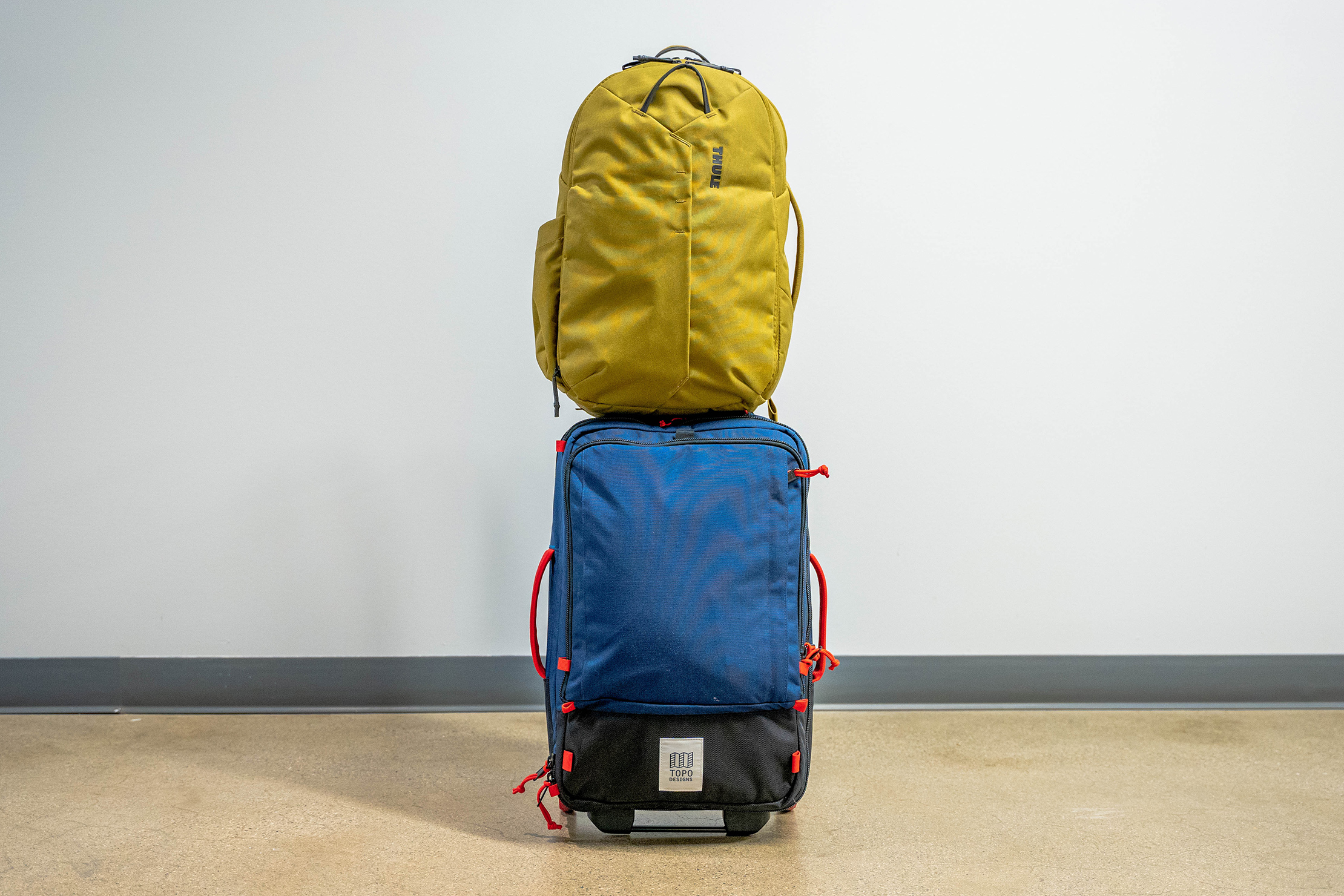 The overall fit feels comfortable and easy on the back. The sternum strap does feel a little tight out-of-the-box, but that's easily solved with some adjustment. That said, the fit does start to feel less optimal once the Aion's expanded to its 32-liter mode, which adds extra depth. This wedges out the bag's face and makes the fit slightly back-heavier, at which point a hip belt or load lifters may be desirable.
To be fair, Thule has thought of this, which is where the Aion Sling Bag comes into play and doubles as a hip belt. Unfortunately, it's a separate purchase, so we're not factoring it into this standalone review.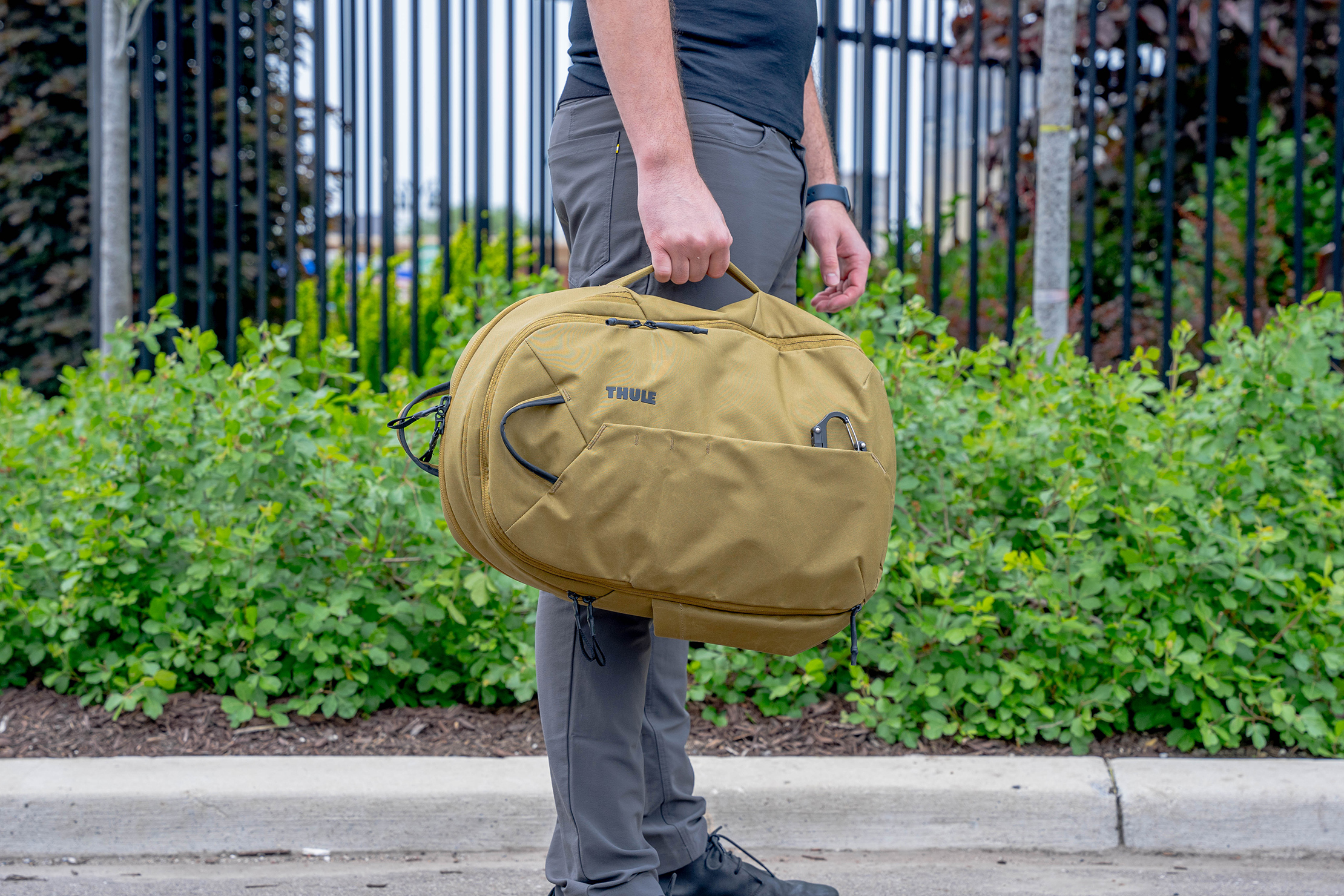 Also on the back panel is the luggage pass-through. The Aion's luggage pass-through is a simple strip of fabric that runs across the surface. We like that it's wide because it can accommodate even those rollers with excessively wide handles. The pass-through is also thoughtfully centered, and while that may be a no-brainer, we're not taking it for granted. We've seen other bags like the Eagle Creek Explore Backpack 26L, whose luggage pass-through is so low that it leans awkwardly on a roller. Now imagine the kind of lean you'd get if it were a fully-packed and expanded 32-liter Aion.
Next up are the Aion's handles. The side handle is firmly anchored to the Aion's side, preventing any awkward leaning. This is something that's sometimes overlooked when it comes to side handles. A tilt may lead to the bag scraping on your pants or bare legs when carrying it by the side handle—uncomfortable, to say the least.

Up at the top are two handles. At first glance, these seem to be similar to tote handles that you can use simultaneously. However, they're too short and/or not close enough for that purpose. Instead, they're independent, though we're still a bit puzzled as to why there are two handles in the first place.
The rear top handle would be your typical run-of-the-mill handle most backpacks have. On the other hand, the front handle seems meant for carrying the bag while it's open (you'd hold both top handles while the clamshell is folded open). This seems a bit extra to us and not all that essential, but it is there in case you need it. Plus, you can always just use it to hang off extra accessories if you want to.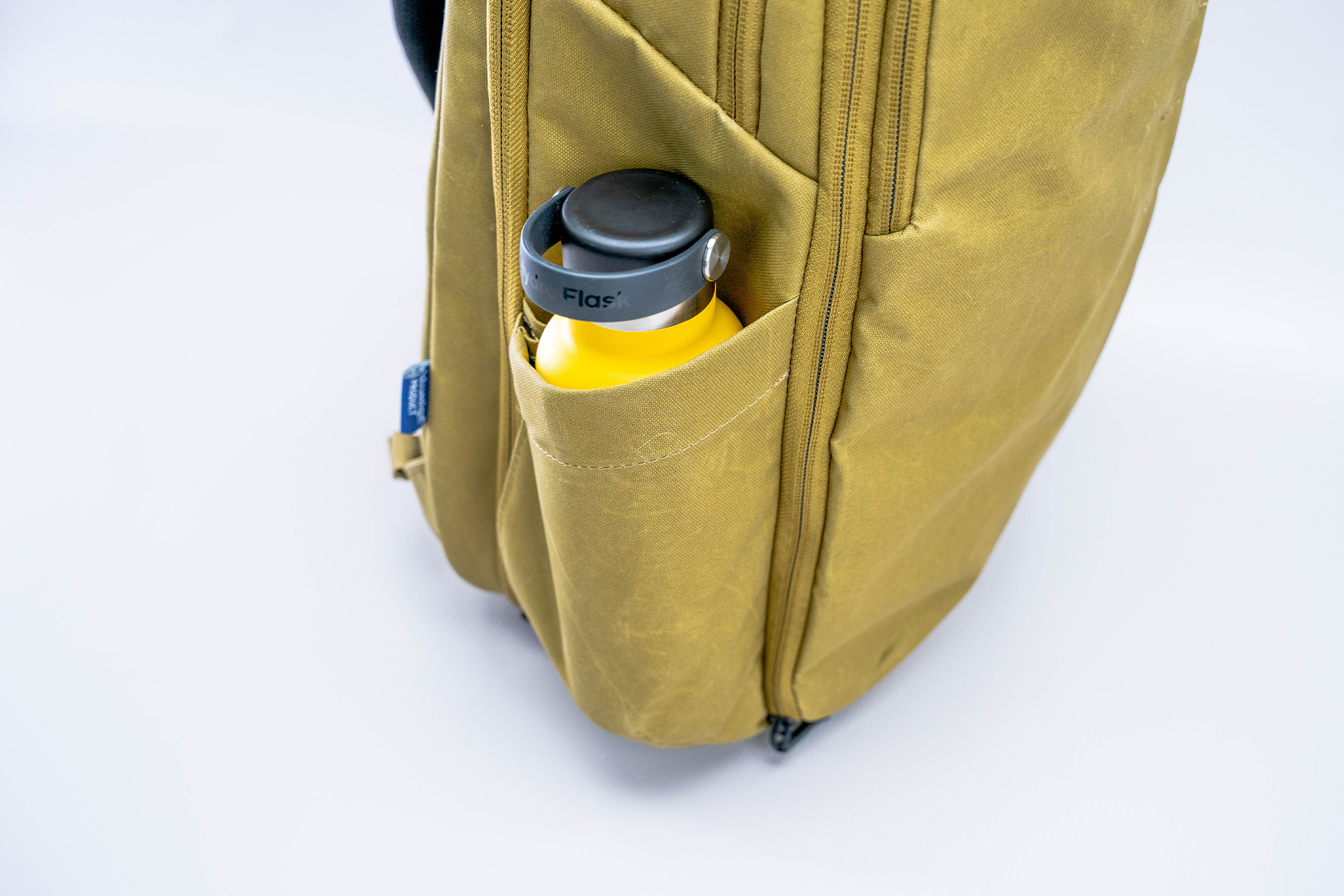 The Aion has a water bottle pocket on its left side. Its grip is not the best, unfortunately. We're using an 18-ounce Hydro Flask, which is a stainless steel insulated bottle. These typically have a sleek finish on the outside, so they tend to slip against the fabric. The Aion's water bottle pocket is deep and does stretch (and has a gusset, too!). However, it lacks sufficient grip to hold the relatively slender Hydro Flask in place when the bag falls over to its side.
A hack we typically do is anchor the bottle's handle to a nearby loop or hardware. This would be a compression strap, D-ring, or external loop of any kind—none of which are near enough the Aion's water bottle pockets.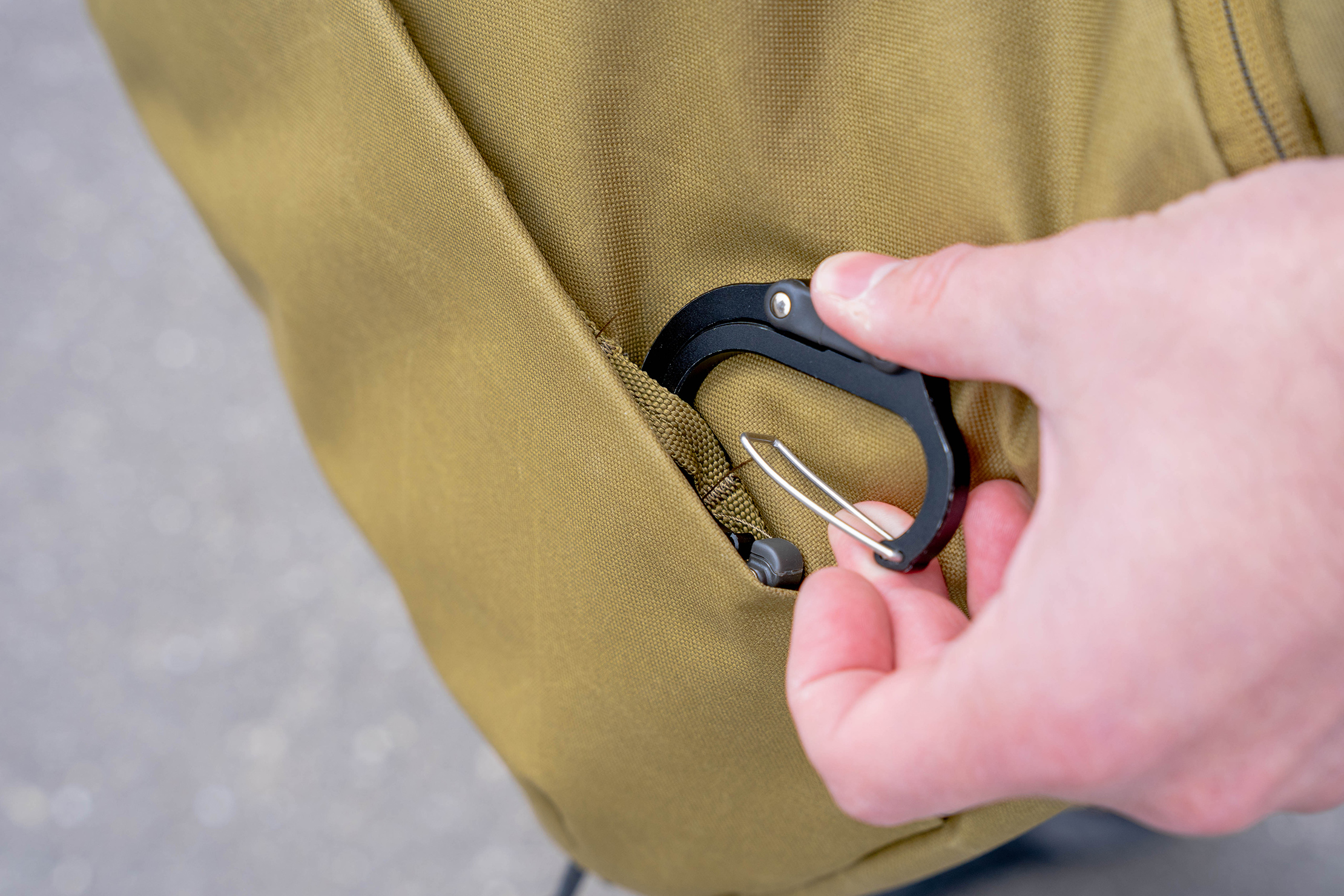 Lastly, at the front of the bag is a daisy chain of loops. They're not immediately obvious since a gusset shrouds them. This may be for purely aesthetic reasons, but we do like that they're stealthily hidden and maintain the Aion's fairly minimalist look. There are a few loose threads around the daisy chain, so the fact that it's hidden works in its favor.
Inside The Backpack
We'll start with a staple feature of travel backpacks: a hidden pocket. The Aion's hidden pocket is located near the top edge of the back panel. The opening is about the size of a passport's width and has about an inch of allowance. Apart from a passport, there's ample room for something a little bulkier, such as a smartphone, a wallet, or a stack of super-secret-awesome-sauce travel photos.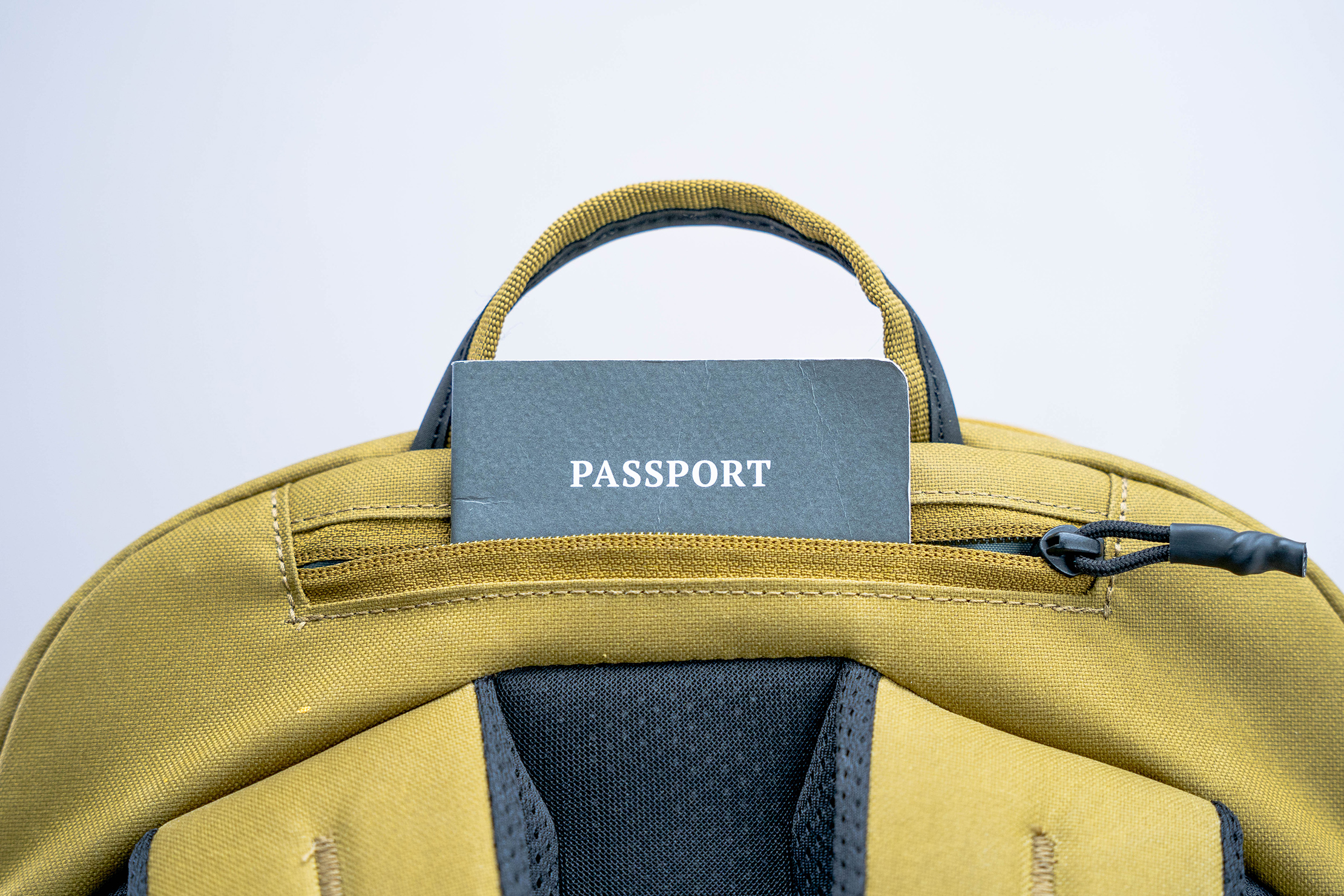 Take note that while the pocket does have room, access isn't fast, nor is it a top priority since it's a hidden pocket.
The Aion's front compartment contains most of the organization you'll want to use the most for everyday carry items. We're talking about small gear like pens, chargers, power banks, travel mice, and house keys.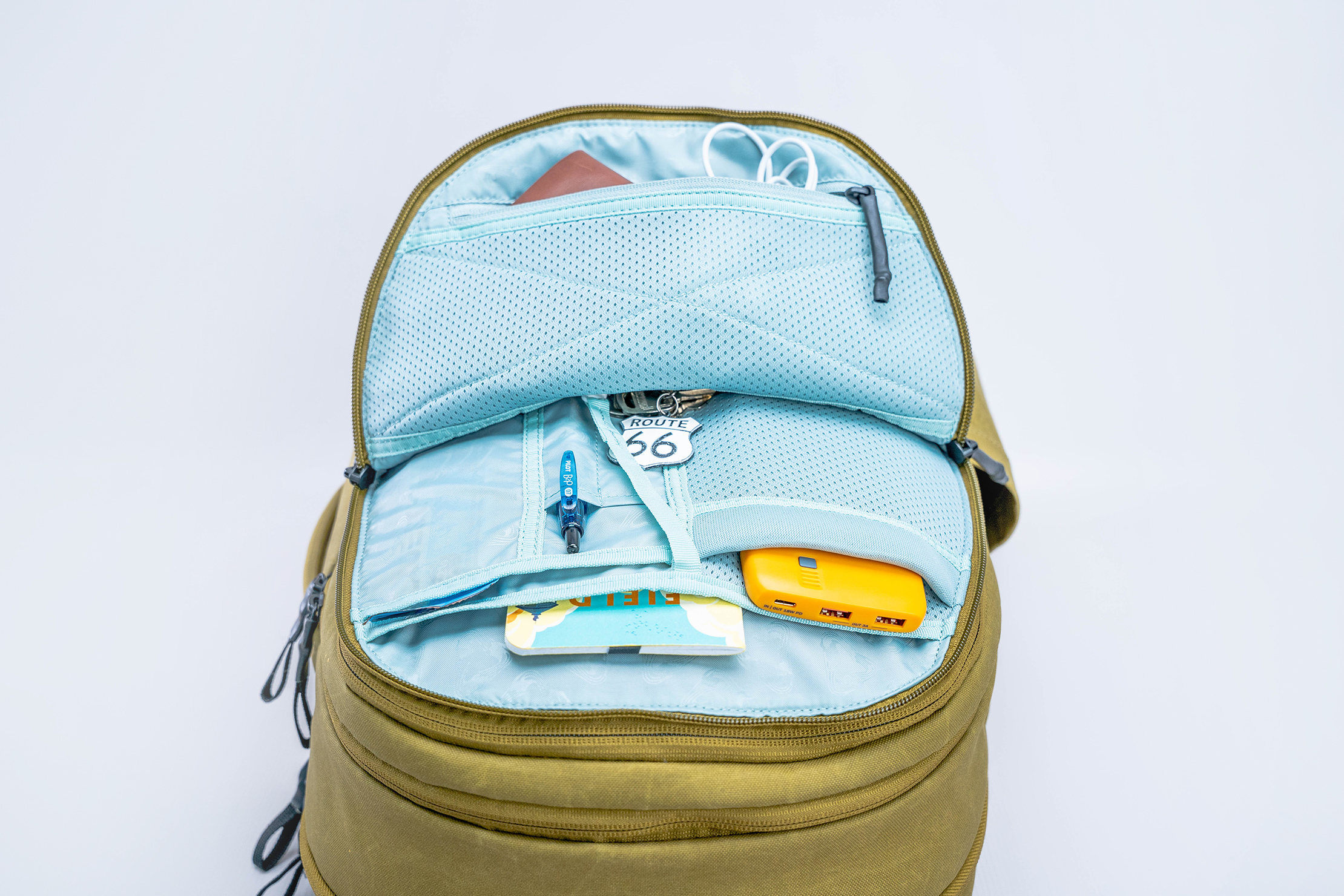 On the front side is a zippered mesh pocket. It's spacious enough to be used as a general dump pocket for adapters and thumb drives. The mesh itself feels soft and cushioned, so it's not a bad place to put a pair of sunglasses, either. Towards the back is the bulk of the front compartment's organization. From top to bottom, you get a drop pocket, a key leash, two liner pockets, two pen pockets, and a small mesh pocket. All of these pockets are fairly open, so gear may still fall out of the bag when it's tipped over.
It's worth noting that there's some space at the bottom of the compartment. The best-fitting gear we could throw in there is a hard case for our sunglasses, but a small tech pouch or toiletry bag should fit just as well.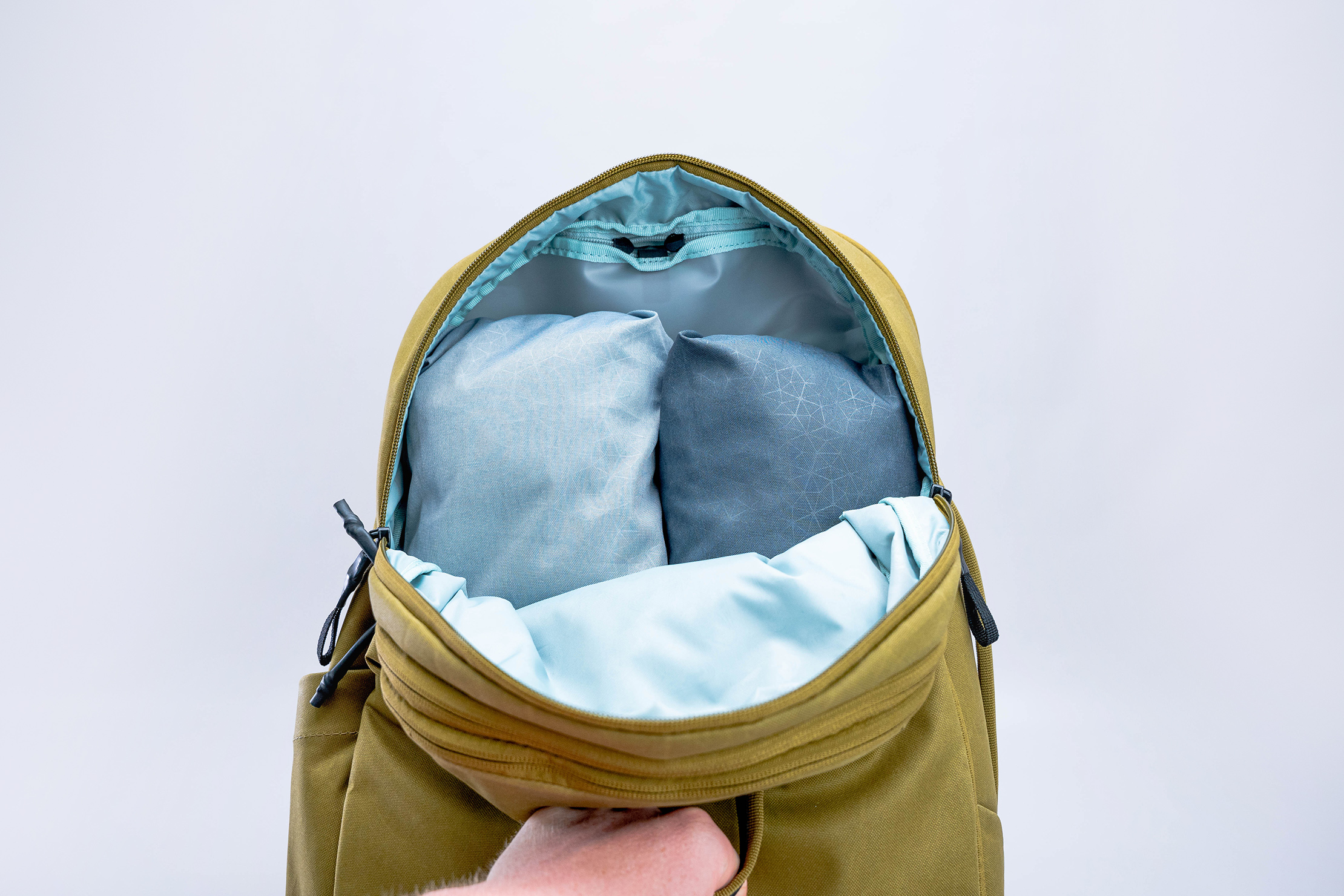 There are two ways to access the main compartment. You can either go from the horseshoe-style opening from the top or through the clamshell opening of the laptop compartment. Access via the horseshoe-style opening is, as expected, the quicker way since it's more or less how you would do it on a daypack. For packing purposes, though, you'll want to use the clamshell opening of the laptop compartment.
From the laptop compartment, access to the main compartment is covered with a TPU (thermoplastic polyurethane) fabric divider. The divider itself actually forms a pocket, with a zippered opening at the top where you can slip gear in. The key property of TPU is its water resistance, which is why you'd often see base fabrics like nylon and polyester coated with it. This makes the pocket an ideal place to stow wet gear such as used swimsuits. Just make sure to wring them out thoroughly since water can still seep through the zipper elements.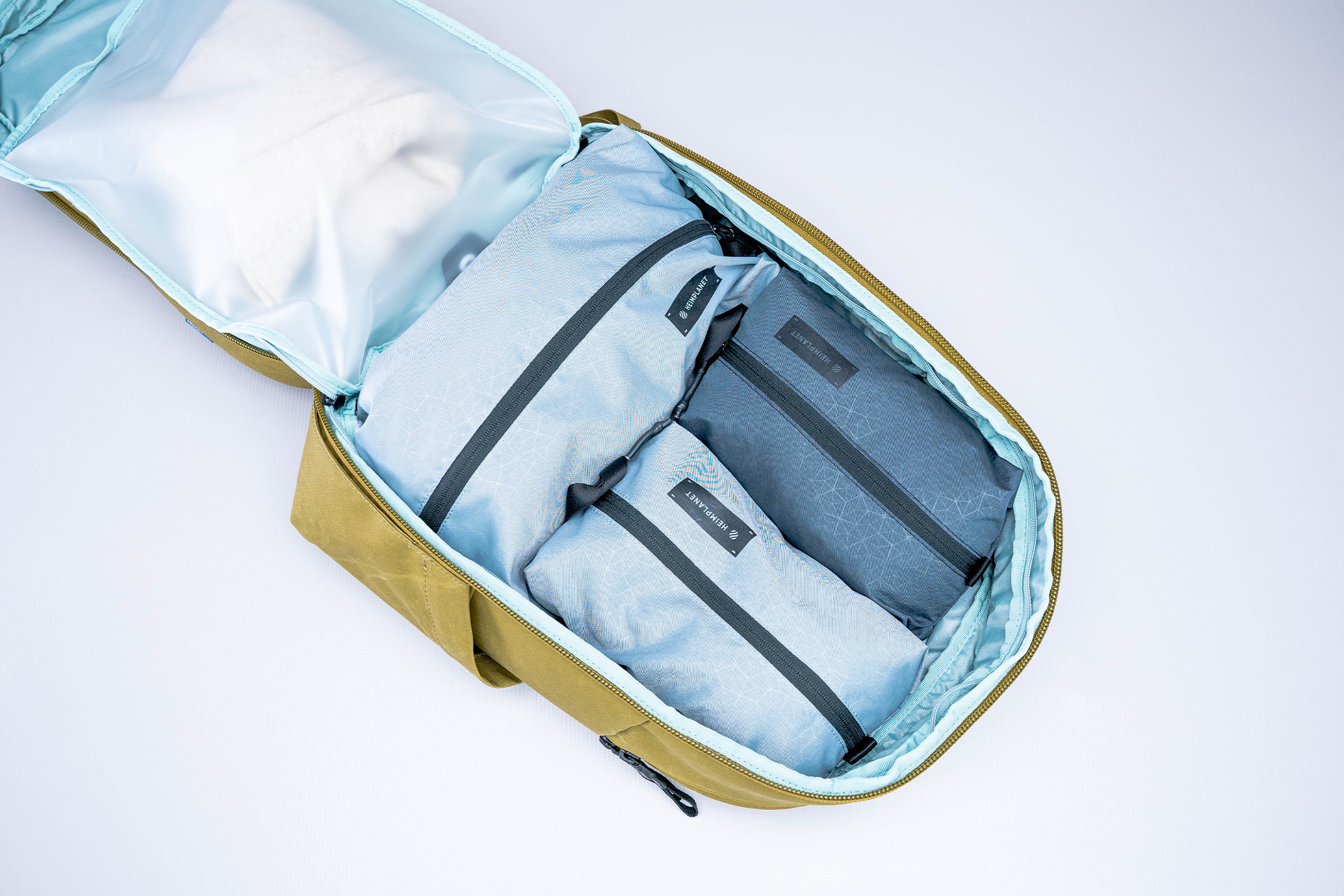 The TPU divider has another set of zippers that allow it to unravel fully. There's even a pull tab that lets you peel the divider all the way down. We dig how this works; it's similar to how Peak Design's packing cubes have a quick access system. If you're not familiar with that, a more common analogy would be a popsicle's wrapper—you just peel from the top to get to the good part.
One minor nitpick is that since the zippers run along the edge where there's a lot of fabric, they sometimes get stuck when zipping back up. Fortunately, those incidents aren't catastrophic bag-ruining experiences and are more minor inconveniences. Another thing to note is if you don't want this TPU divider at all, you can simply roll and stow it away in a compartment at the bottom.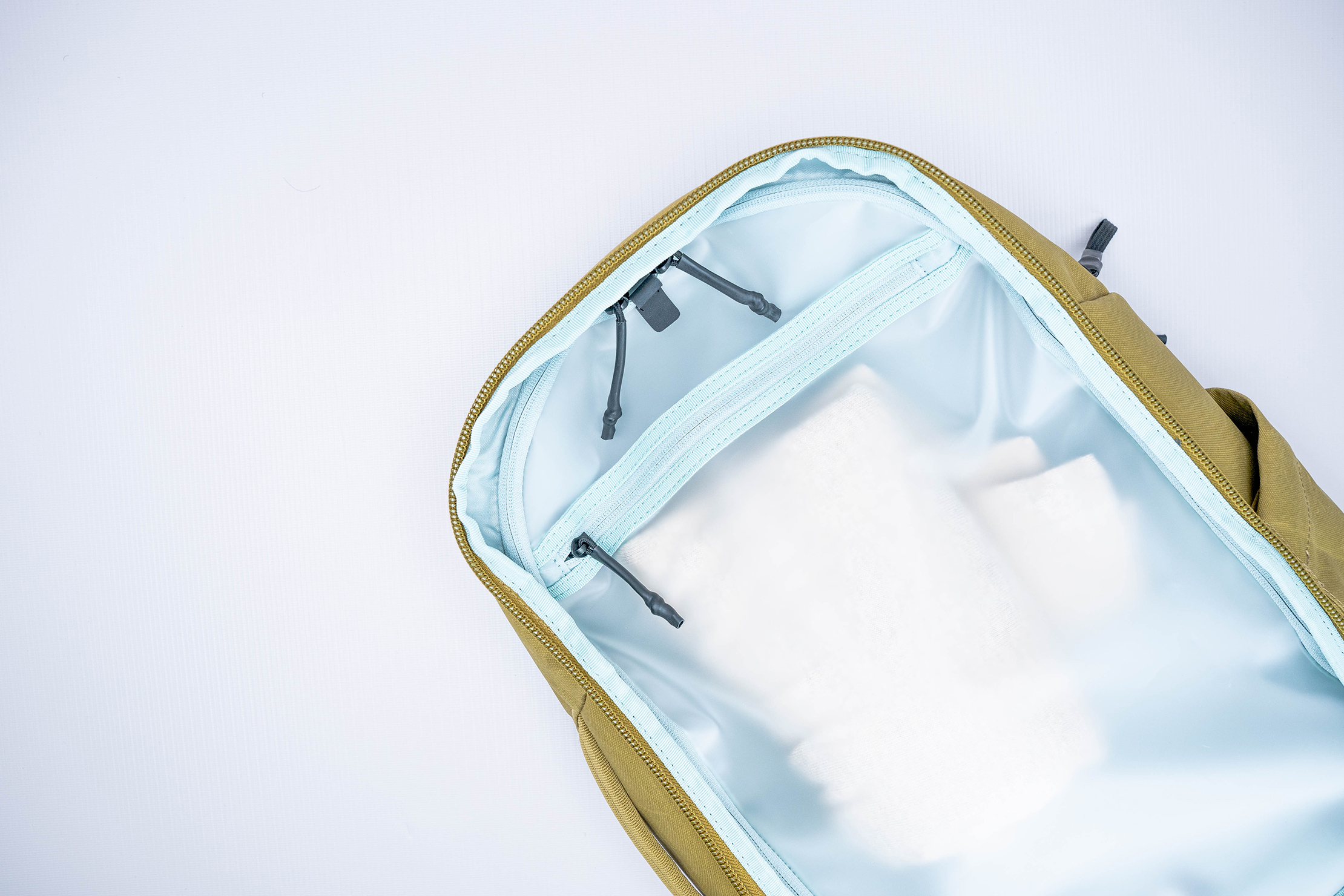 Tl;dr is you get the best of both worlds: everyday quick accessibility via the horseshoe-style opening and the ease of packing via a fully clamshell design.
Inside you'll find a bucket-style interior that's packing cubes and pouches-friendly. It's spacious enough for a week's worth of clothing (your mileage may vary). If that's not enough, you can expand the Aion by unzipping the expansion system for an additional four liters of capacity—just keep in mind that it affects how the bag carries.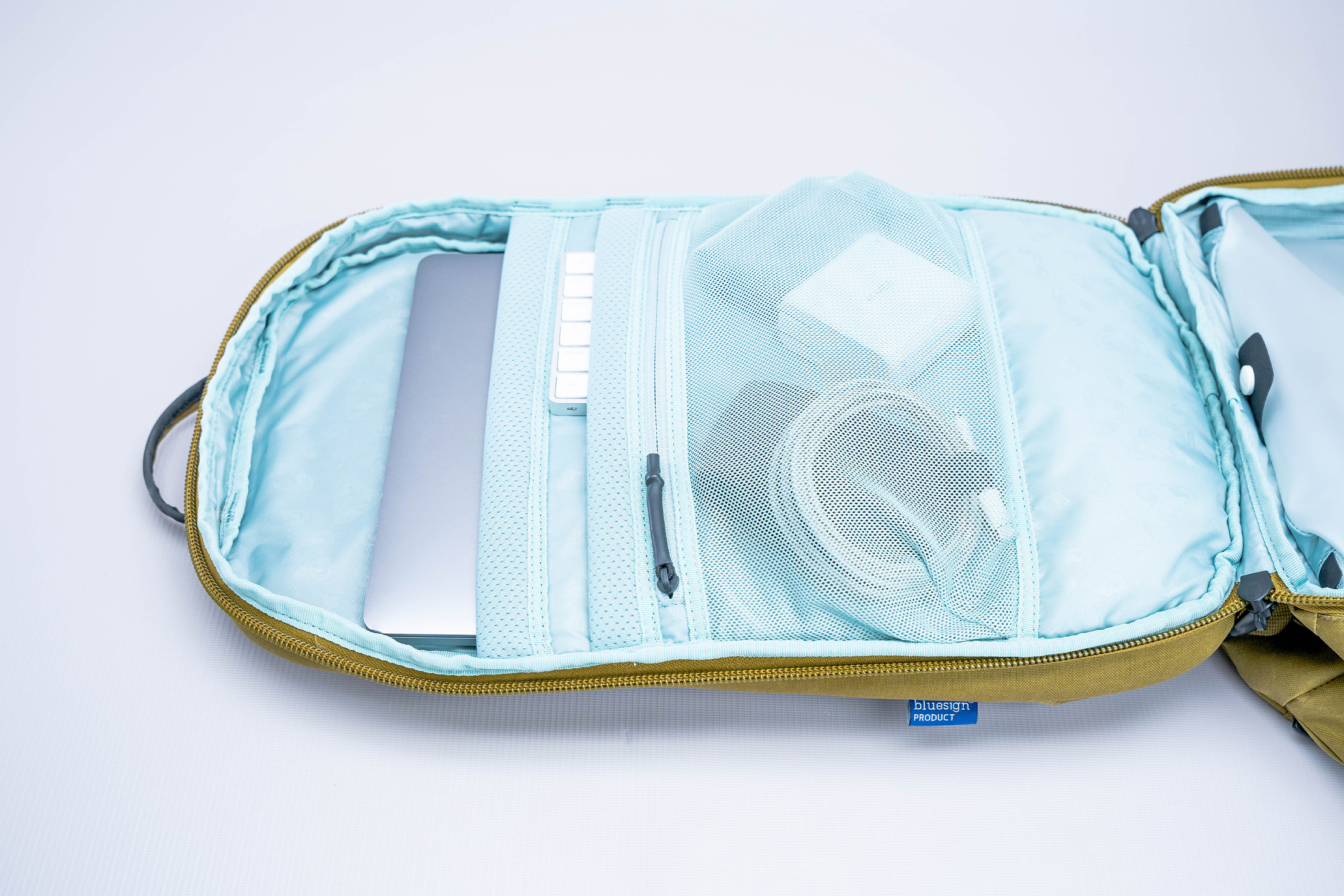 The laptop compartment's organization is pretty straightforward. There's a 16-inch laptop sleeve, followed by a tablet pocket right in front. Below is a zippered mesh pocket. This is where accessory cables or a laptop charger would go, but we opt to stuff it with our socks instead. This creates a bump that cuts into the main compartment, but thankfully, it's a soft bump, so it's not too intrusive.
By the way, the mesh isn't cushioned, unlike the one in the front compartment. That means space is maximized better so that even the bulkiest of laptop chargers can fit. All of the laptop compartment pockets are, in general, relatively spacious, and we don't have trouble fitting gear where they belong.
The Aion's main strengths lie in its interior features. We dig the convenience of having dual access to the main compartment and the clever integration of a water-resistant pocket in the middle. The waxed canvas and its patina deserve praise as well; it makes the Aion charming in its own way. The overall aesthetic may be simple, but we would be remiss if we judged the Aion by looks alone and not by the thoughtful design inside.
Usage Timeline
Initial Usage
Condition: Excellent
Slick look & feel
Our colorway, Nutria, already has some marks on the outside of the bag which is breaking in that classic, waxed canvas look—it adds character to the bag
Feeling confident in the YKK Zippers
Front handle isn't something we've seen on a lot of bags—curious to test it out
A good amount of organization – will be interesting to see how it's used.
Daisy chain is nicely hidden, but still functional—though there are some loose threads on it right out of the box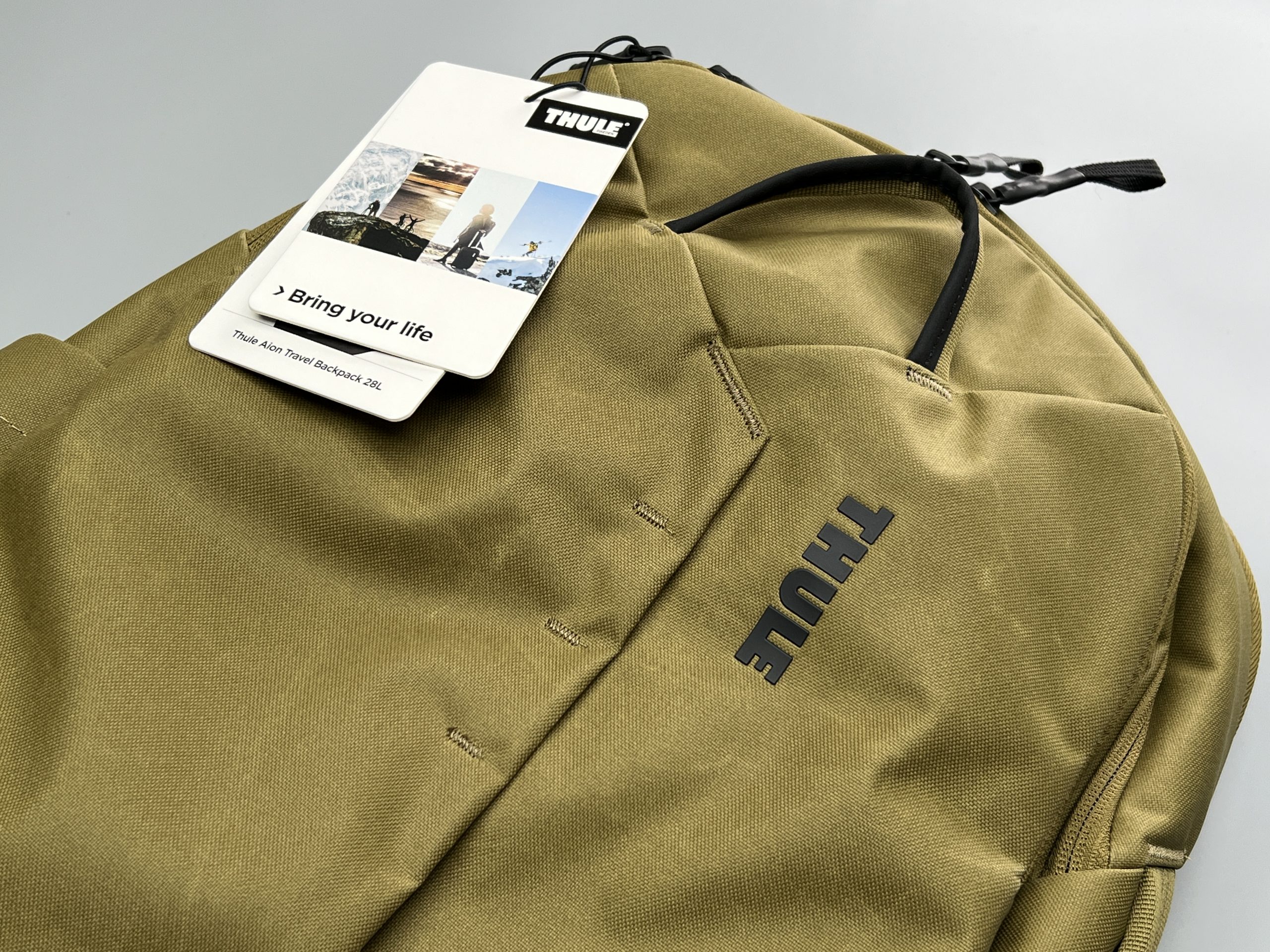 2 Weeks of Use
Condition: Excellent
Waxed canvas didn't get quite as marked up as we thought it would, so, steer clear if you're looking for that worn canvas look
Water-resistant TPU interior pocket proved nice for a wet bathing suit
Pack carries comfortably overall, but we didn't love the extra depth that was added when zipping into 32L mode
Access the Pro Community Discussion
Get your questions about the Thule Aion 28L answered from our team and the Pro Community right here on the page. Plus, join discussions with other members about gear, guides, and more.
Other Bags & Luggage Reviews