Eagle Creek Explore Backpack 26L Review
Eagle Creek's Explore Backpack 26L works in tandem with an included hip pack, though both leave some to be desired.
Our Verdict
Unlock the Pro Summary
Save time. Get access to brief summaries of our reviews so you can browse and make decisions more efficiently.
Pros
Included hip pack is a great value add
Fit and comfort feels contoured and ergonomic
Plenty of organization options in the main compartment
Cons
Main pack lacks a quick-access pocket of its own
Hip pack slides independently along its strap—not optimal for a sling-style carry
Luggage pass-through's low position makes the bag tilt forward
Recent Pack Hacker Video
Technical Details
Capacity

26l

Weight (lb)

1.98 lb (0.9 kg)

Dimensions

10.75 in x 21 in x 8.5 in (27.3 x 53.3 x 21.6 cm)

Notable Materials

Recycled Polyester, Zoom Zippers, Woojin Hardware, ITW Hardware

Manufacturing Country

Indonesia

Laptop Compartment Size

16"

Warranty Information
Full Review
Get up to 20% off Eagle Creek • Join Pack Hacker Pro
Eagle Creek's Explore Backpack 26L has two distinct parts: the backpack and the hip pack. It's a two-part system, though that's not exactly revolutionary per se. We've seen our fair share of similar concepts like modular bags, accessory ecosystems, and, well, just straight-up systems. Say, for example, Gravel's Backpack Travel System, which is more or less the bag equivalent of a buffet.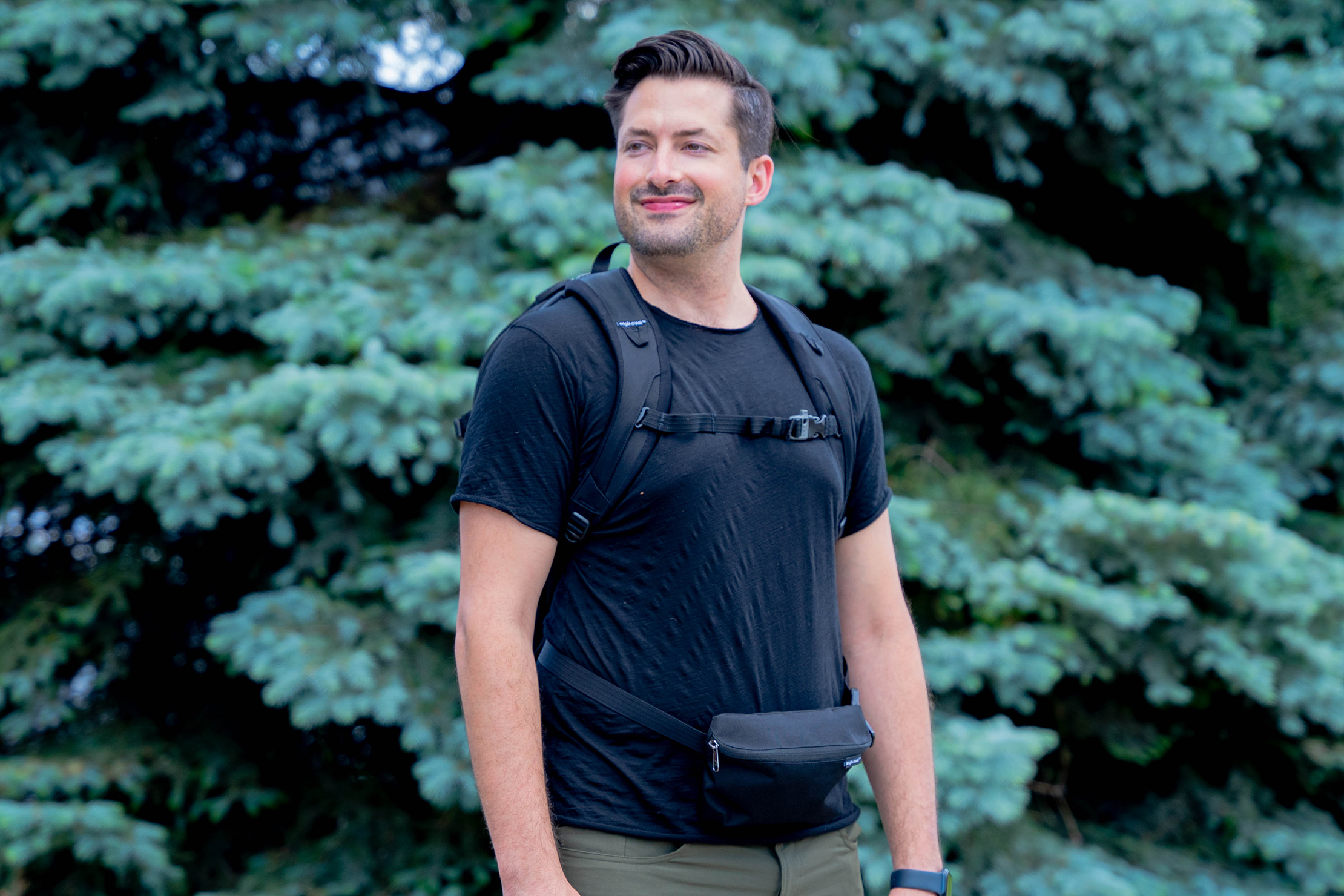 The Explore is more down-to-earth than that. The 26-liter backpack is just the right size to be used as an everyday carry while having suitable features for light travel—features such as lockable zippers, an easy-to-pack semi-clamshell-style opening, and a luggage pass-through. It does have a glaring lack of a quick-access pocket, and that's where the hip pack comes in. Find out how in the review below.
Oh, and just a quick note before you jump in, we will be referring to the backpack itself as the Explore, while the hip pack is just that: the hip pack.
Materials & Aesthetic
Eagle Creek makes the claim that the Explore is as functional on the trail as it is stylish in the city. We can see where they're going with that because the Explore does indeed look very sleek. It's not obnoxiously encumbered with straps, mismatched shades of colors, and enough branding to put us off. Instead, it has a clean, very urban aesthetic, while its tall and rounded shape still hints at its outdoorsy roots.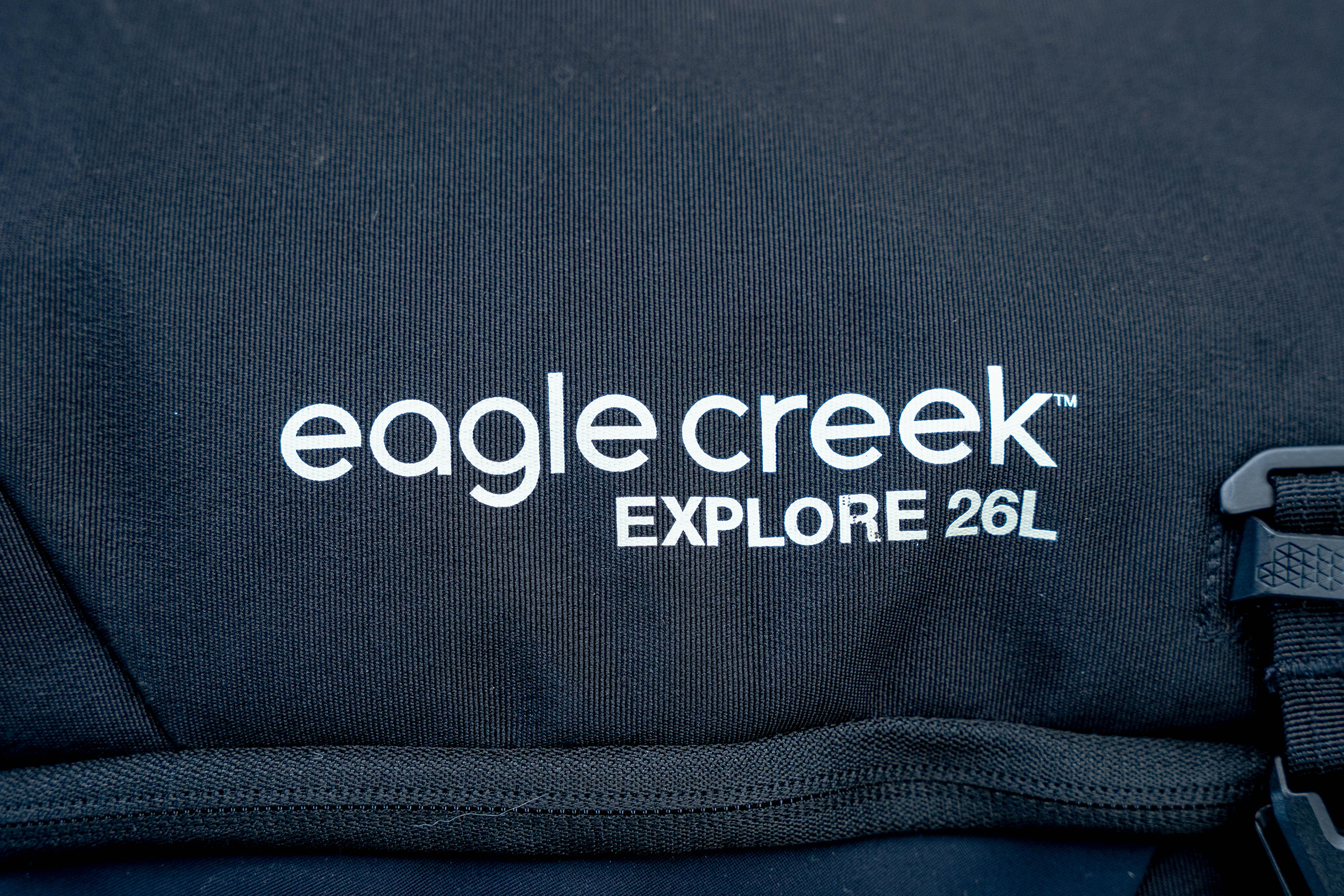 To be clear, we feel that the Explore is more geared towards urban travel, though it can certainly hold its own along a trail. The main material is RENU fabric made from 100% recycled water-resistant polyester. It's not the toughest-feeling material we've laid our hands on, but it's held up really well throughout testing. We have the black colorway, which means stains are hidden a little bit better compared to colored ones. At the time of writing, other colorways available include Midnight Sun and Kauai Blue. Translation? Red and dark blue, respectively.
The hardware is an interesting mix of different brands. For example, the sternum strap buckles are from ITW, while the compression and waist strap buckles are from Woojin. Meanwhile, the adjusters for the shoulder straps are from Duraflex. We can only speculate on why Eagle Creek decided to source the Explore's hardware like this. What we do know is that all three brands are reputable, and none of the buckles or adjusters on the Explore have failed thus far.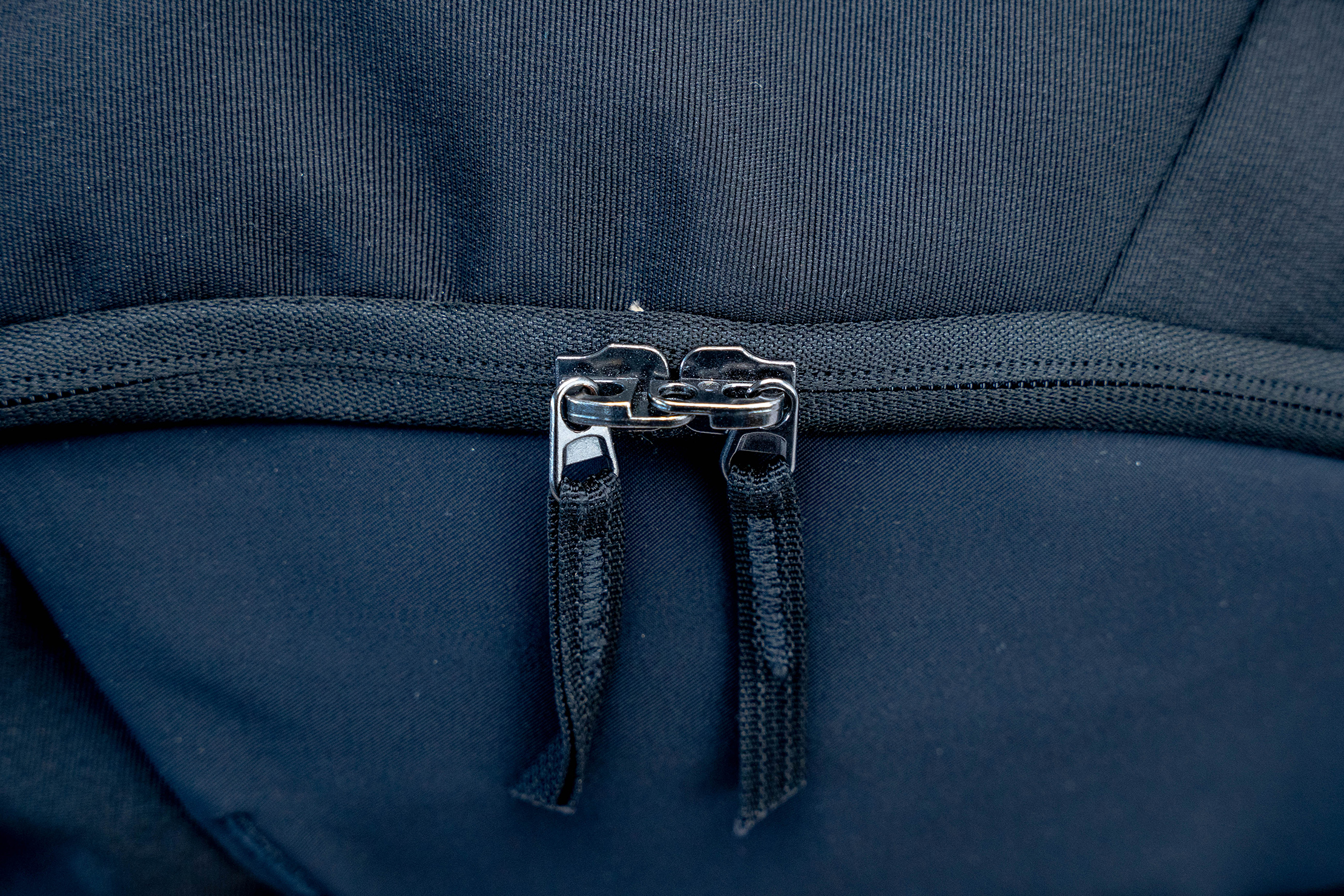 The same goes for the lockable Zoom zippers. Admittedly, we're more fans of YKK zippers since they rarely (if ever) fail. We're a bit more skeptical of Zoom zippers because we have seen a handful of issues with them on other bags. The good news is that the Zoom zippers on the Explore have performed well so far, with no issues to speak of.
External Components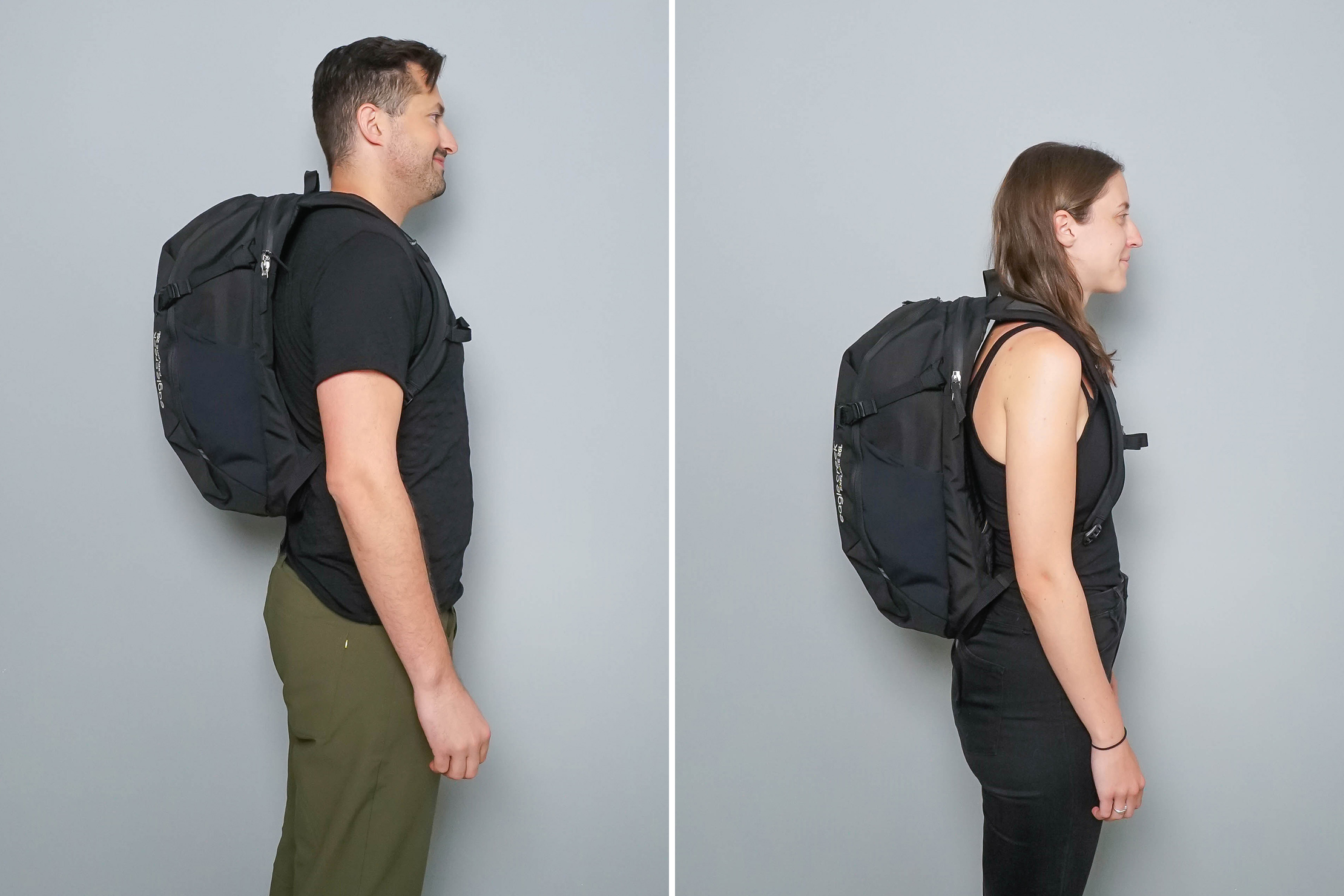 We'll first go over the hip pack since it's an external feature in and of itself. Our first instinct when we first got our hands on it was to use it as a sling. For context, we generally lean more towards sling-style carrying versus the hip or waist pack style. Unfortunately, this hip pack isn't quite optimal as a sling because the bag slides independently along the strap. It settles low even when the strap's tightened, though it's not uncomfortable to wear.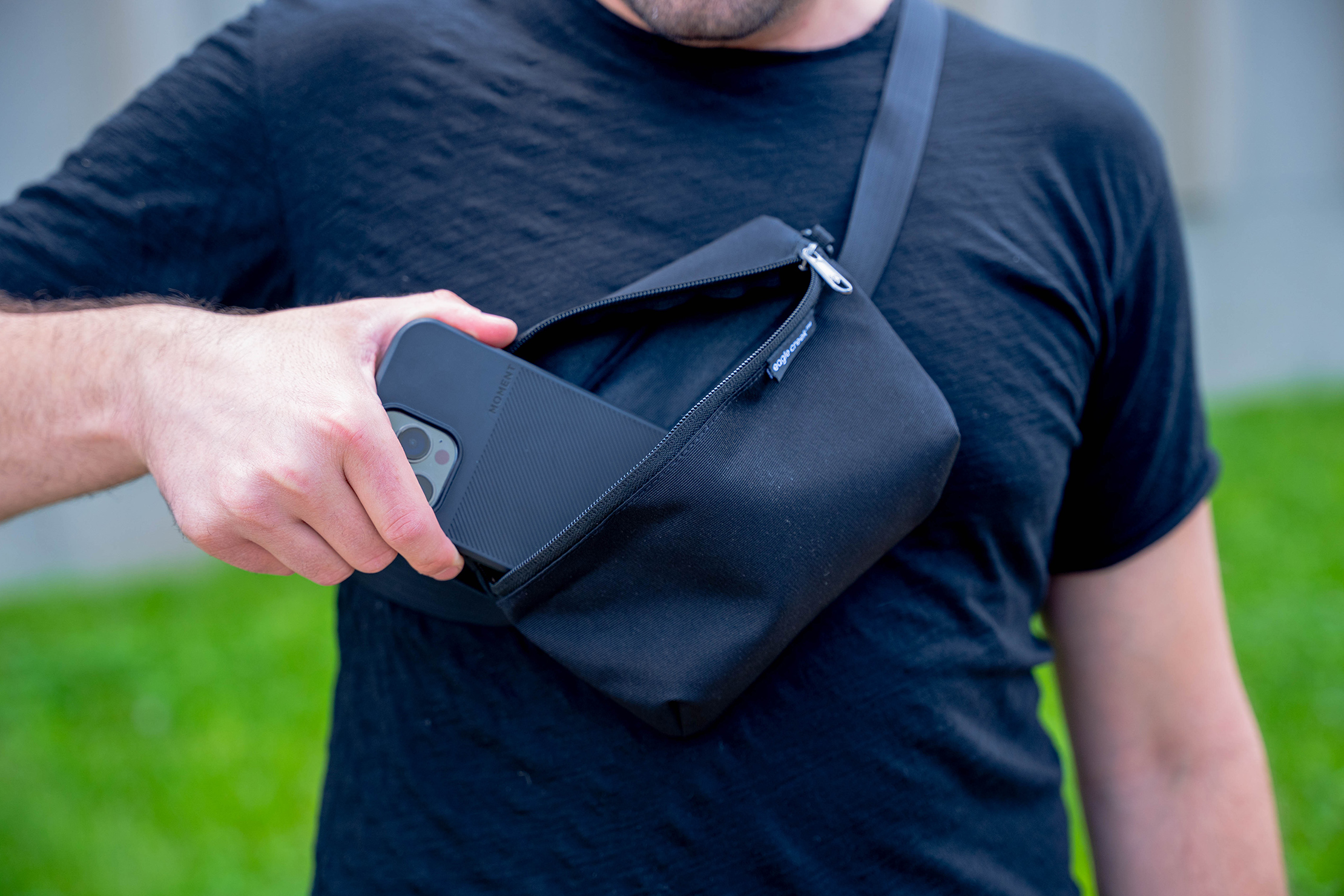 Apart from wearing it independently as a hip pack or a sling, there are at least two other carry options. Use it as a hip pack & hip belt combo by threading the strap through the pass-through near the lower section of the back panel. Or, front mount it by threading the strap through the side loops where the compression straps are attached to.
Alternatively, you can ditch the hip pack's strap (or use it as a waist strap) and then use it as a pouch. There's a small clip on the side in case you want to attach it to a loop, external or otherwise. Lots of "straps" going on for sure, but the bottom line is there are a ton of ways you can utilize the hip pack.


There's more to discuss, but we'll save that for when we get to the interior section of the review. For now, let's check out the exterior features of the backpack.
The shoulder straps are amply padded, with subtle details that help minimize discomfort. Look a little closer, and you'll notice that the top section has holes covered in mesh. There's also a subtle air channel underneath, though you'll only really notice it if you feel for it. These small features help heat escape a little bit easier, though we can't say precisely how much of an impact they make.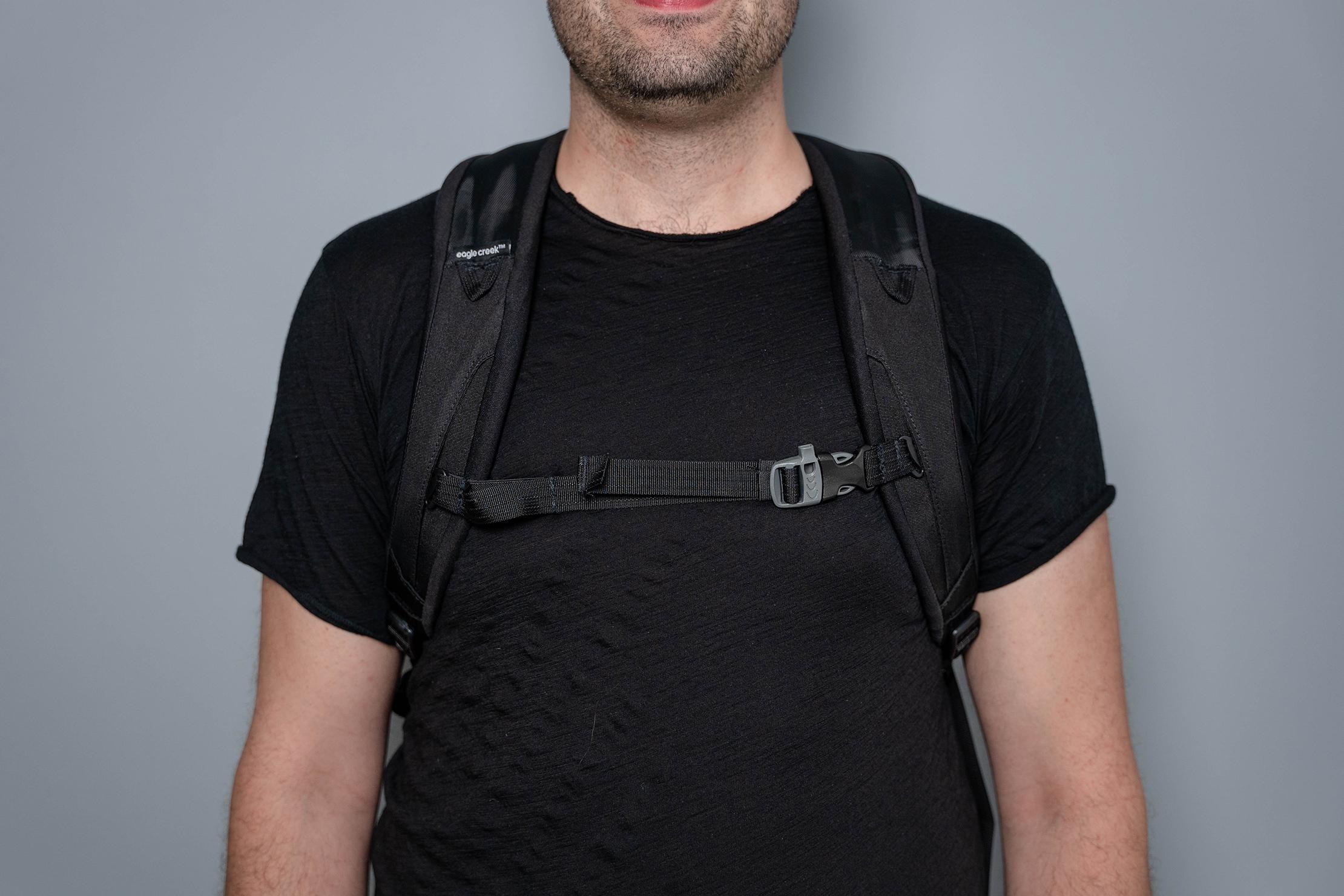 Moving down along the shoulder straps, we find loops with one on each side. Next is the on-rails sternum strap. We've said this a lot, but we'll say it again here: This is hands-down our favorite kind of mounting for sternum straps. If done correctly, they're secure, easy to adjust and have a wide degree of movement. We'll even give Eagle Creek bonus points here for cleaning up the look by shrouding the rails with fabric.
The sternum strap itself is pretty straightforward. It uses a simple side-release clip with a built-in whistle; no fancy magnetic buckles to be seen here. That's more than okay with us as we find those somewhat fiddly to use most of the time.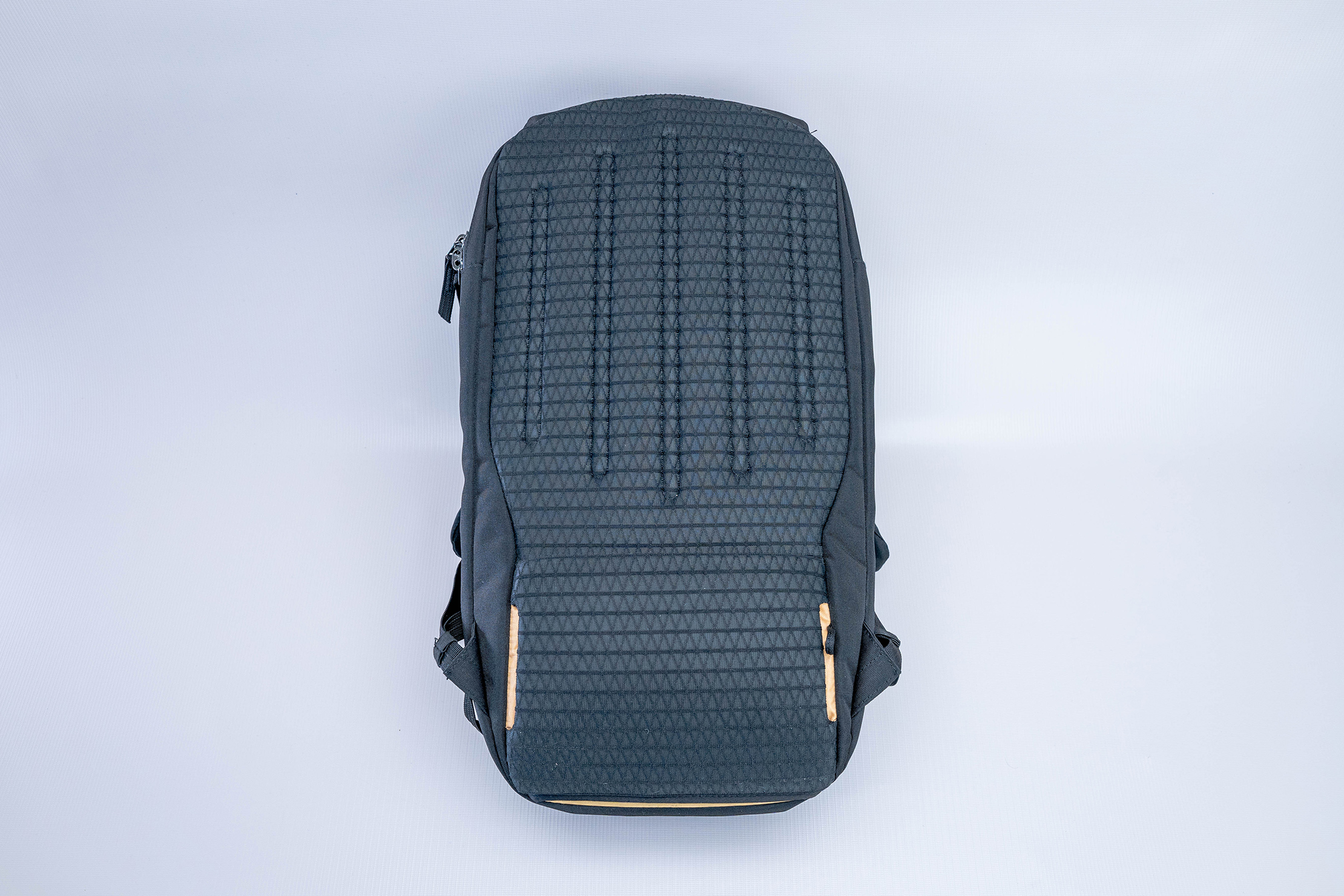 What we are happy to see is the inclusion of strap keepers, not just on the sternum strap but also for the shoulder straps and even the hip belt. We can't get enough of these since we hate dealing with dangling straps. As you move up the size ladder for bags, the more strappy they tend to get, and, at some point, you stop taking strap keepers for granted.
On the subject of size, some of you may be wondering if it's worth using the waist strap on a 26-liter backpack. The short answer is no. However, it's still a welcome feature in case you need extra stability. In our opinion, the waist strap is more useful as part of the hip pack.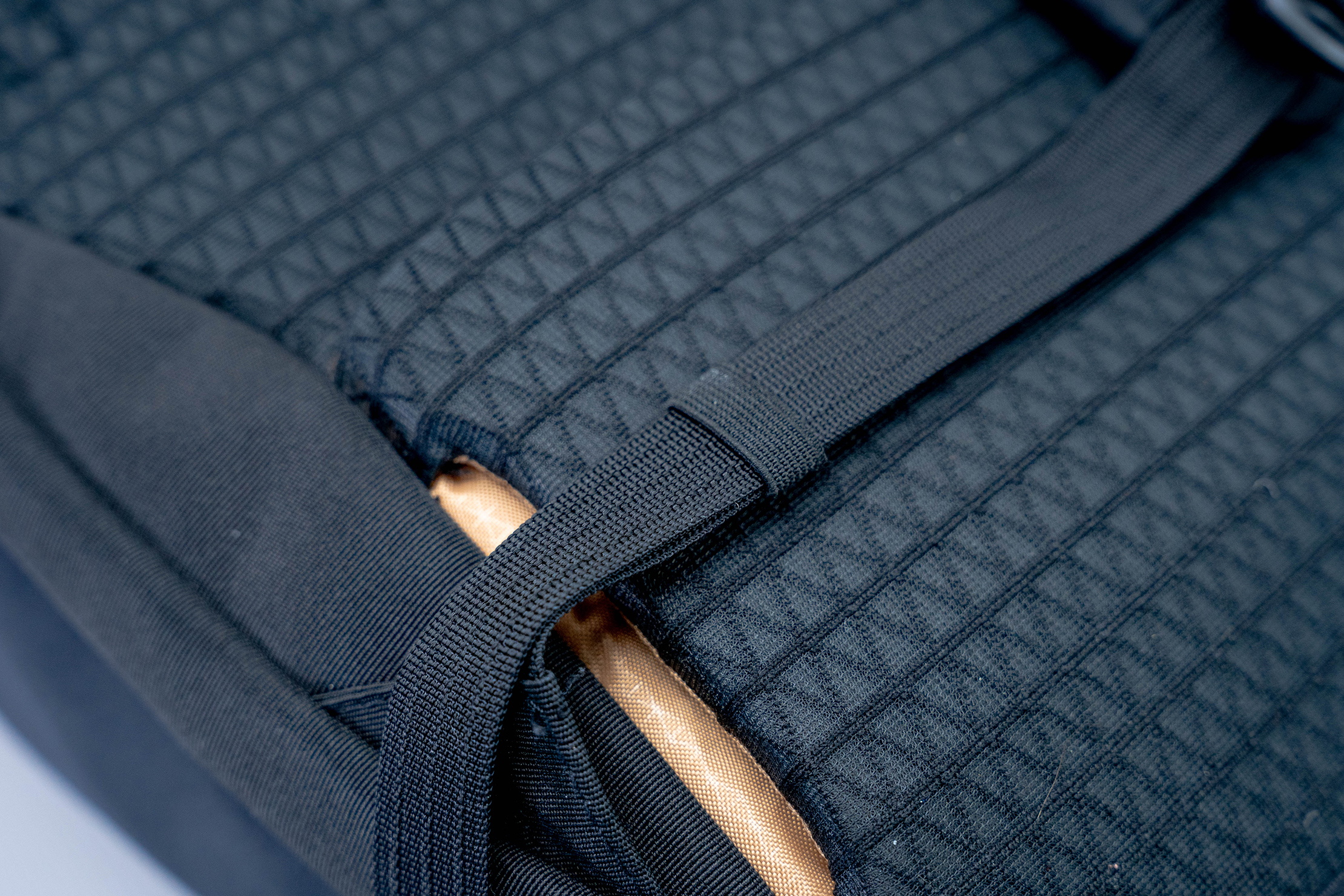 Lastly, the back panel has a fairly granular triangular pattern that gives it both structure and flexibility. The whole surface is covered in mesh, and there are five vertical air channels, though they don't go all the way to the edges. As far as back panels come and go, the Explore's doesn't stand out in terms of breathability, nor is it suffocatingly hot. Your mileage may vary depending on factors such as the weather and how sweaty you are in general.
We're generally pleased with how ergonomic wearing both the backpack and hip pack is (the slipping issue notwithstanding). The shoulder straps have a nice contoured feel near the front of our shoulder, in part because of the bag's shape but also because of how well-padded they are. It's also worth mentioning that the top portion of the back panel ever-so-slightly wedges out for a better fit. This is a feature we sometimes see on much larger travel backpacks, and we're glad to see it implemented here as well.
Other than the fit, we also kinda dig how well the Explore and its small hip pack look together. No part is out of place, and everything feels purposeful. Of course, we'll understand if the sling and backpack combo doesn't appeal to you—to each their own, right?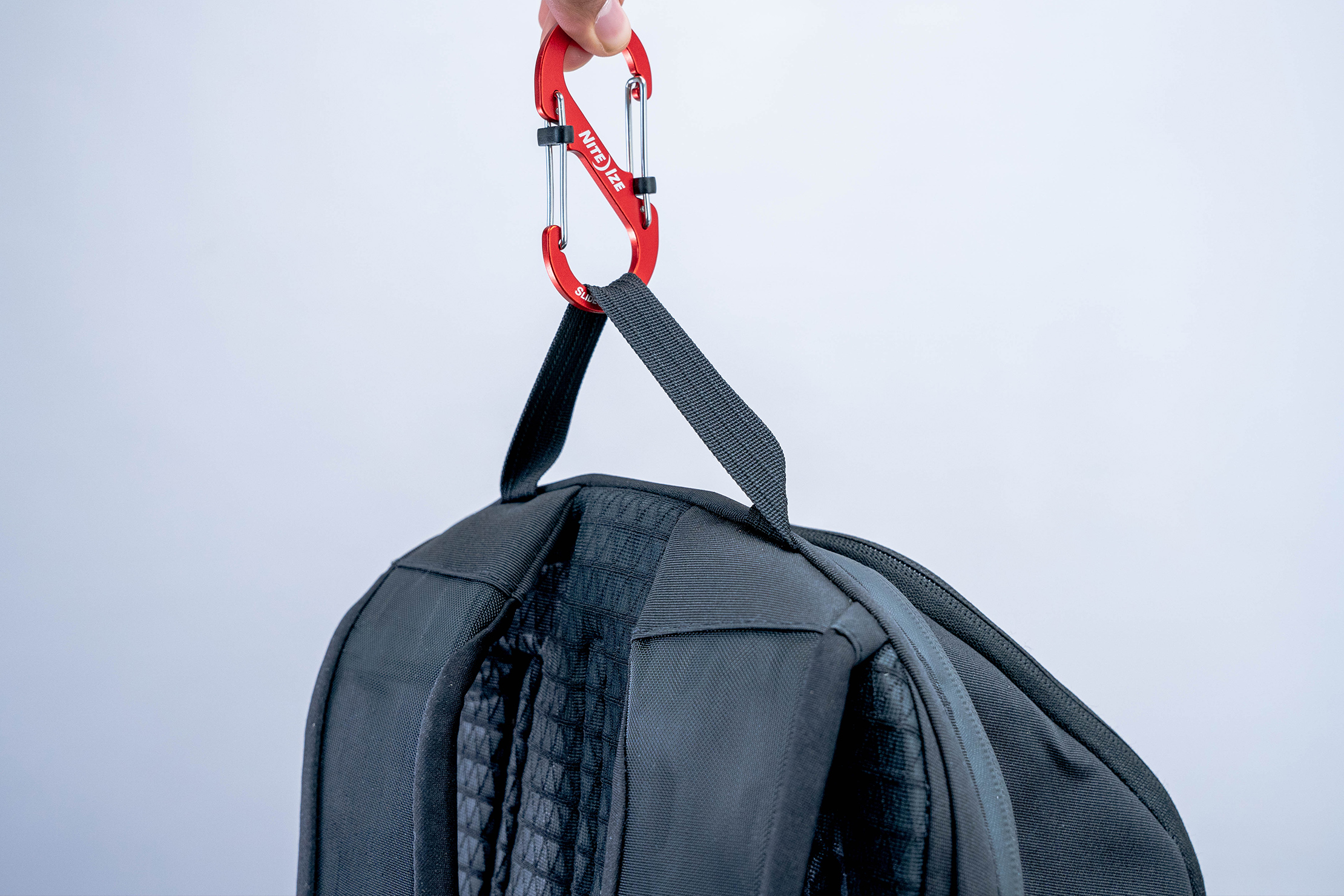 If we had a nitpick about the comfort, it's that the top grab handle is a bit long. Thus, we can feel it scrape our neck from time to time, especially when we have a carabiner clipped to it.
If you do get tired of lugging the Explore around, putting it on rolling luggage is an option. There's a pass-through for it near the lower section of the back panel, located behind the waist strap pass-through. Unfortunately, since the pass-through is located at such a low position, this makes the bag lean awkwardly. We recommend using a carabiner or a clip to anchor the top handle to your roller's handle to prevent this. That said, it's far from ideal if you have to do that.
So, is there a positive side to this lower placement of the luggage pass-through? Yes, it's a place to stash the shoulder straps. It's a hack we came up with so that the straps don't dangle. Again, we put a lot of emphasis on minimizing dangly-ness because they're honestly a pain when they catch on something.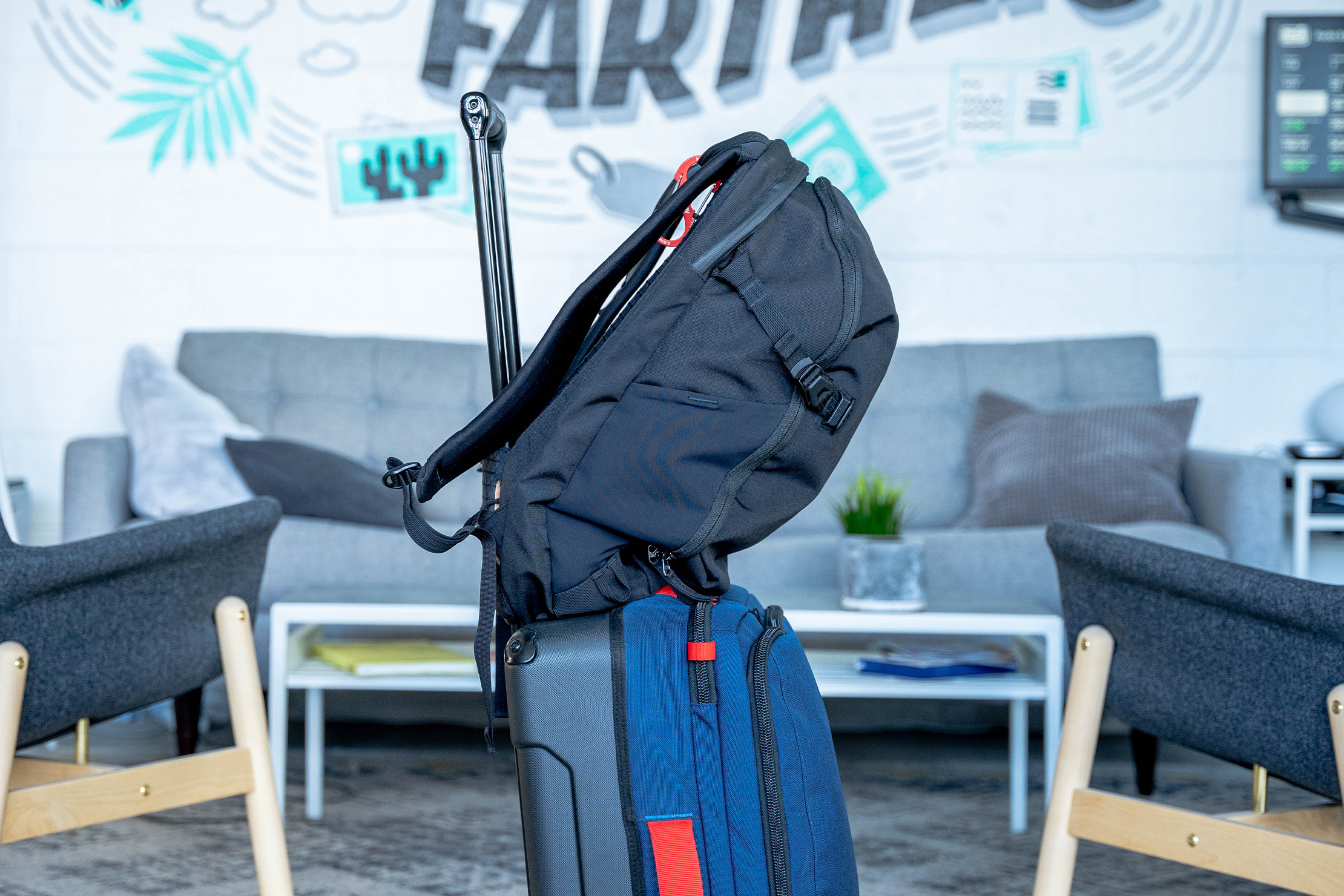 Water bottle pockets are thankfully included with the Explore (hydration is an important part of exploring, after all). They're made out of stretchy mesh with some bar tack stitching around the edge for reinforcement. They're also sufficiently deep that our slender 18-oz Hydro Flask doesn't just drop out when the bag is flipped. Mind you, a full bottle can still slip out, so it's worth using the compression strap to anchor the handle if yours has one.
Compression straps do as their name suggests: they compress. More specifically, they compress the unused extra capacity, so the bag doesn't feel floppy.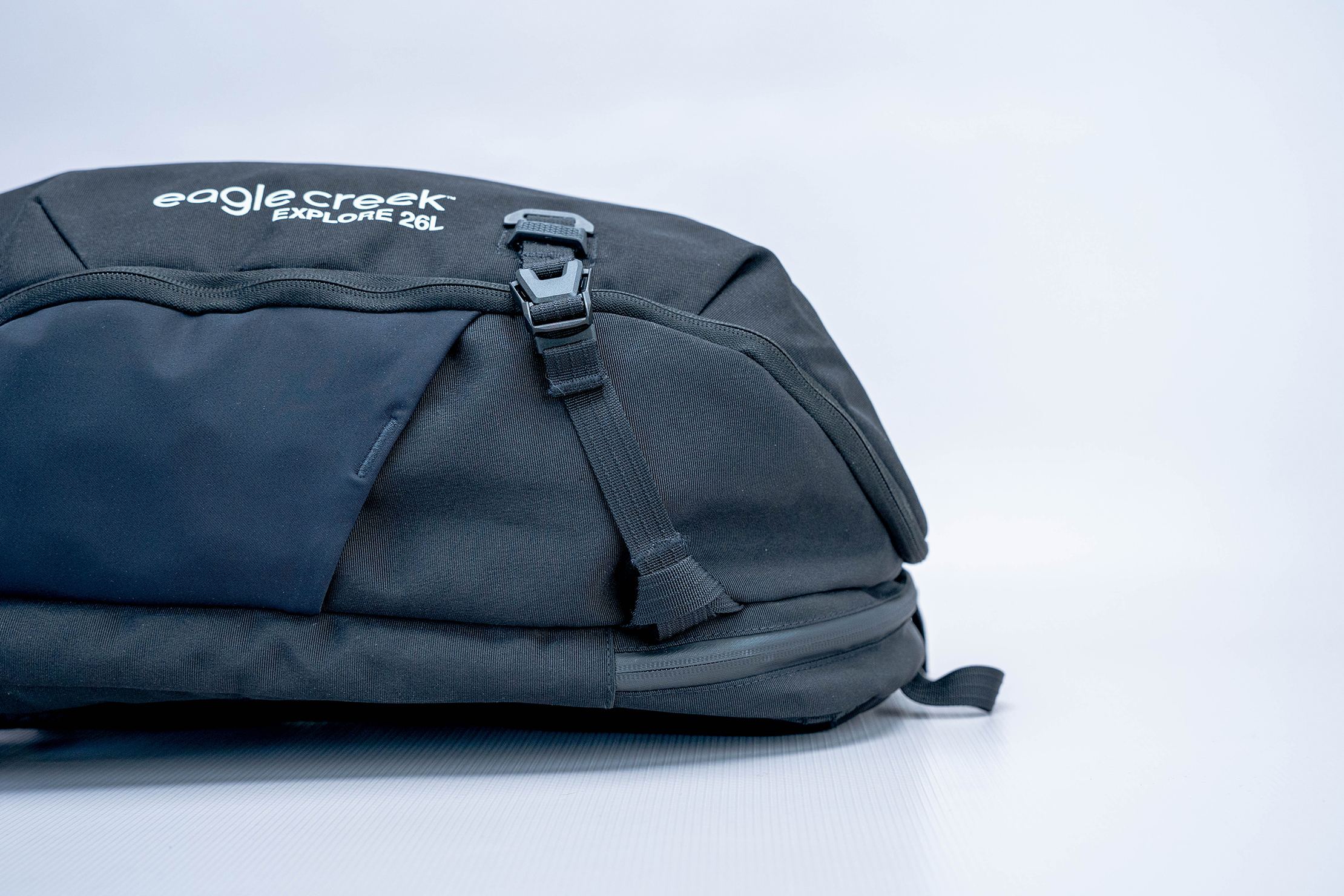 The Explore's compression straps mount via loops at the sides but use toggles at the front. Yes, they're completely removable, and they each have quick-release buckles if you need to undo them.
If we were to nitpick, we'd say these straps do get in the way since they overlap the main compartment's opening. To be fair, since it's easy to undo them, we're inclined to say this is a non-issue. However, we do end up just leaving the compression straps at home most of the time to make main compartment access as fast as possible.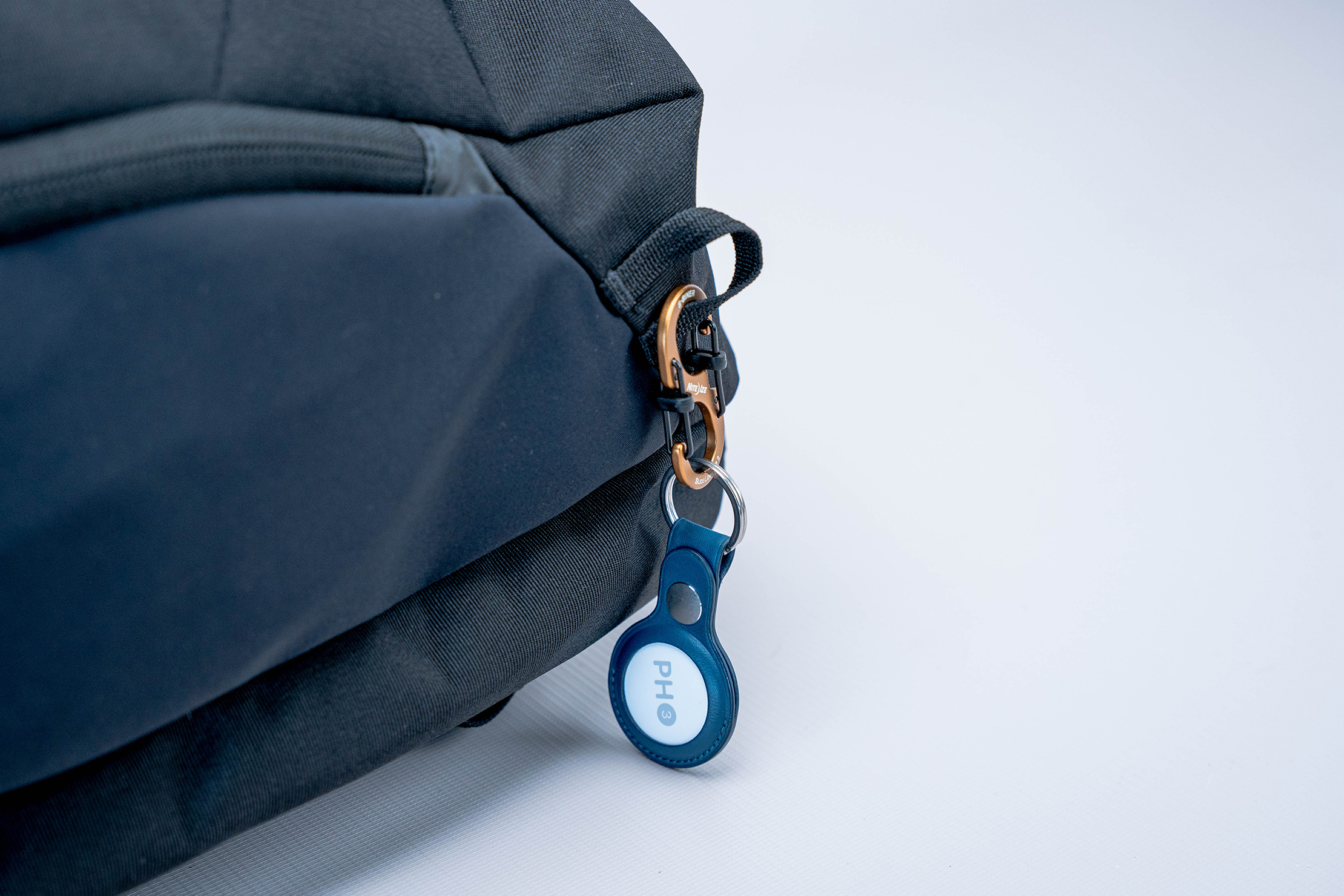 Before we get inside the Explore, there are two extra loops on the outside we have to point out. One is on the left just below the water bottle pocket, and the other is on the right opening of the hip belt pass-through. Loops like these are handy for attaching accessories like luggage tags, smart trackers, or even souvenir keychains—all of which we have plenty of.
Inside The Bags
Now let's circle back to the hip pack. Inside, you get a grand total of zero internal pockets. There are no liner, mesh, or security pockets, not even on the outside. The main compartment acts as one giant dump pocket for all quick-grab items. Add to that the fact that the interior liner is all-black, and it doesn't sound very promising. However, keep in mind that the hip pack is only a module of the Explore. In other words, it's more helpful to think of this as a detached quick-grab pocket.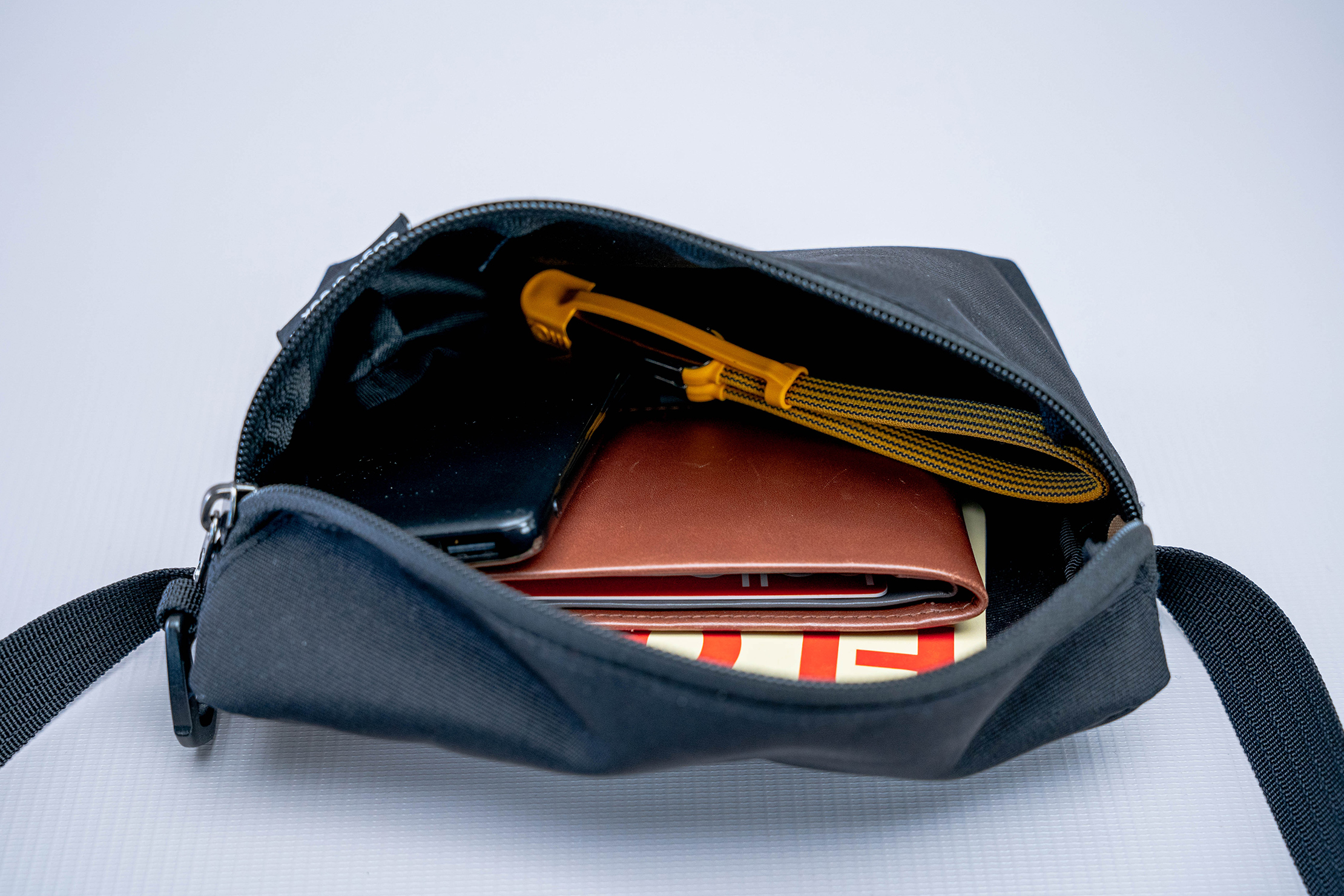 On the other hand, we still wish the backpack had a quick-grab pocket of its own. It's just super handy to have a secondary dump pocket where we can quickly stash items whenever we go through airport security.
The main compartment opens up semi-clamshell-style. We say it's "semi" because the zippers stop a few inches from the bottom of the bag. Still, it's way wider than what you'd get from a typical horseshoe-style opening, so we're giving this a pass. The zippers themselves are lockable, and you can line up the main and the laptop compartment's sets so you can use just a single lock for both.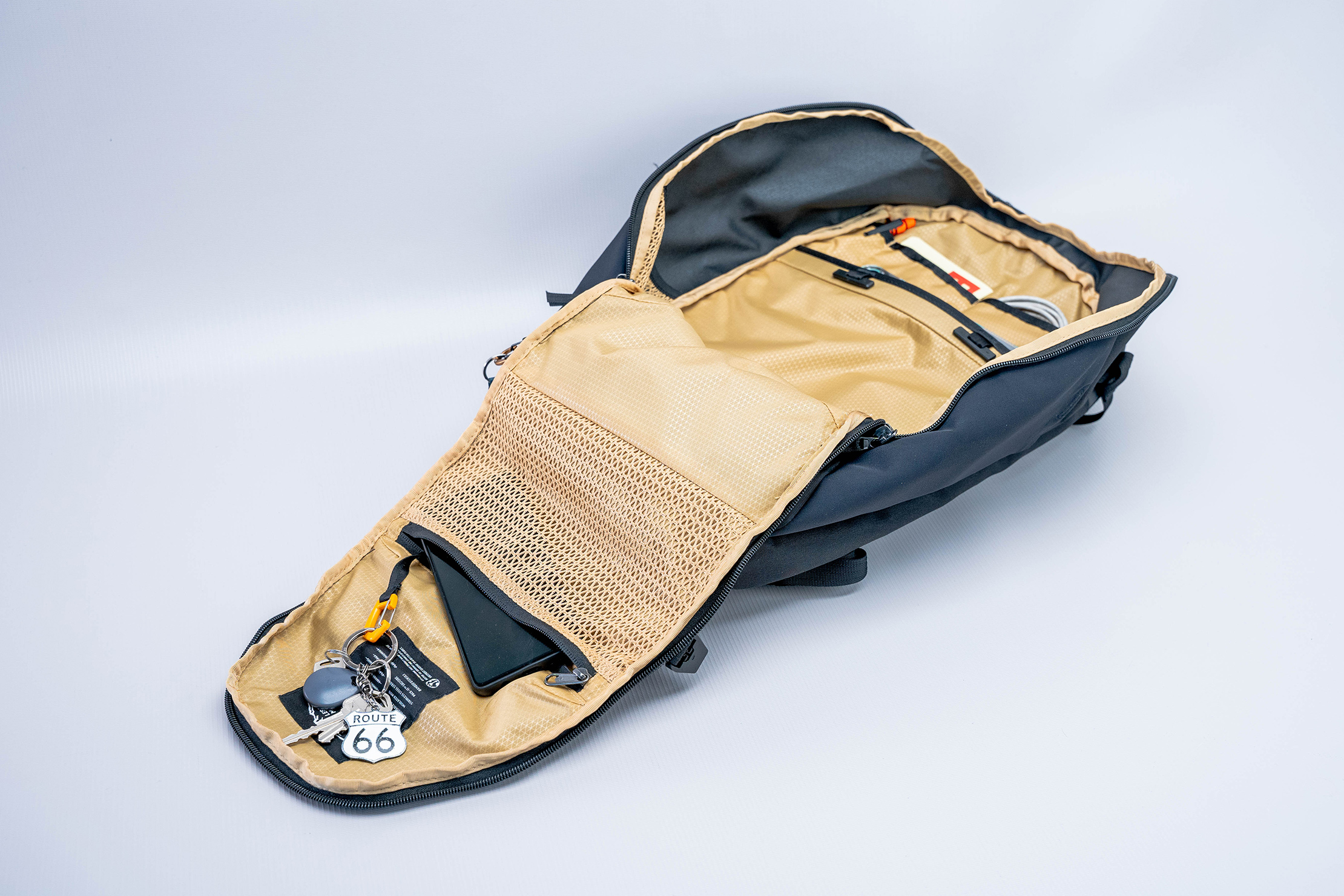 On the lid side of the main compartment is a wide mesh pocket. This is pretty much the lone sealable pocket inside of the Explore. This would have been a great alternative to an external quick-grab pocket, especially since there's a built-in key clip inside. However, since it's located relatively low towards the bottom, reaching it is quite tricky.
At the back, you get a pair of passport-sized liner pockets at the top flanked by pen pockets, and then there's a wider sleeve just below for a tablet. There's also a pair of toggles along the lip of the tablet sleeve that corresponds with Eagle Creek's Pack-It system. We're using the Pack-It Reveal Org Convertible Pack to take advantage of this, but keep in mind that Pack-It accessories are a separate purchase.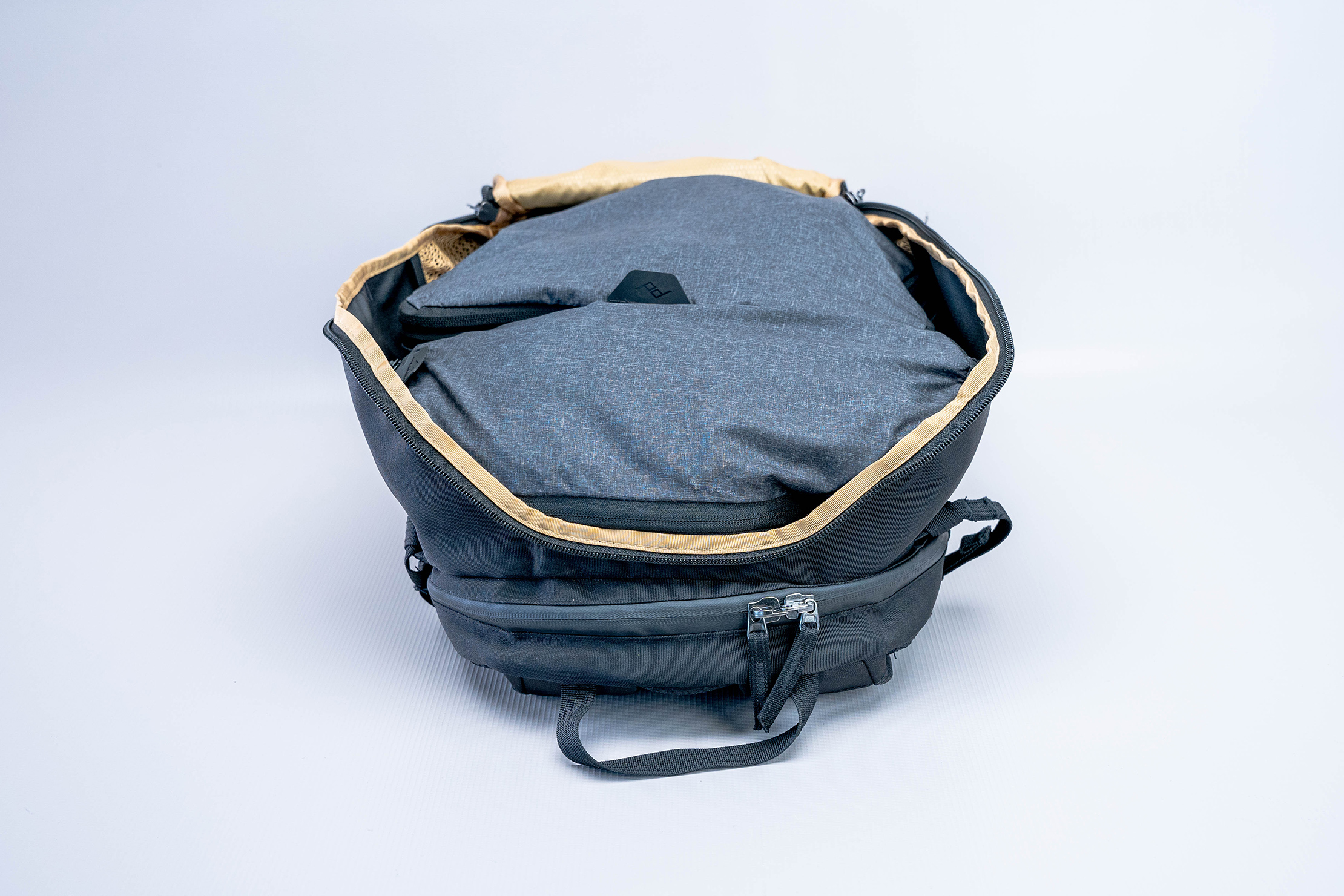 Towards the sides are mesh pockets. We used one to hold our laptop stand and the other for our merino wool buff plus a pair of gloves. Since these pockets are at the sides, they're right up against the external water bottle pockets. As you can imagine, if you occupy both the water bottle and internal mesh pocket, a substantial part of the main compartment's space will be taken up.
Not that the Explore is lacking in terms of space. The 26-liter volume is enough to pack a few packing cubes worth of clothes. Something to watch out for is how the space is shaped. It tapers slightly like a V towards the bottom, so it does feel tighter as you stash a few packing cubes inside.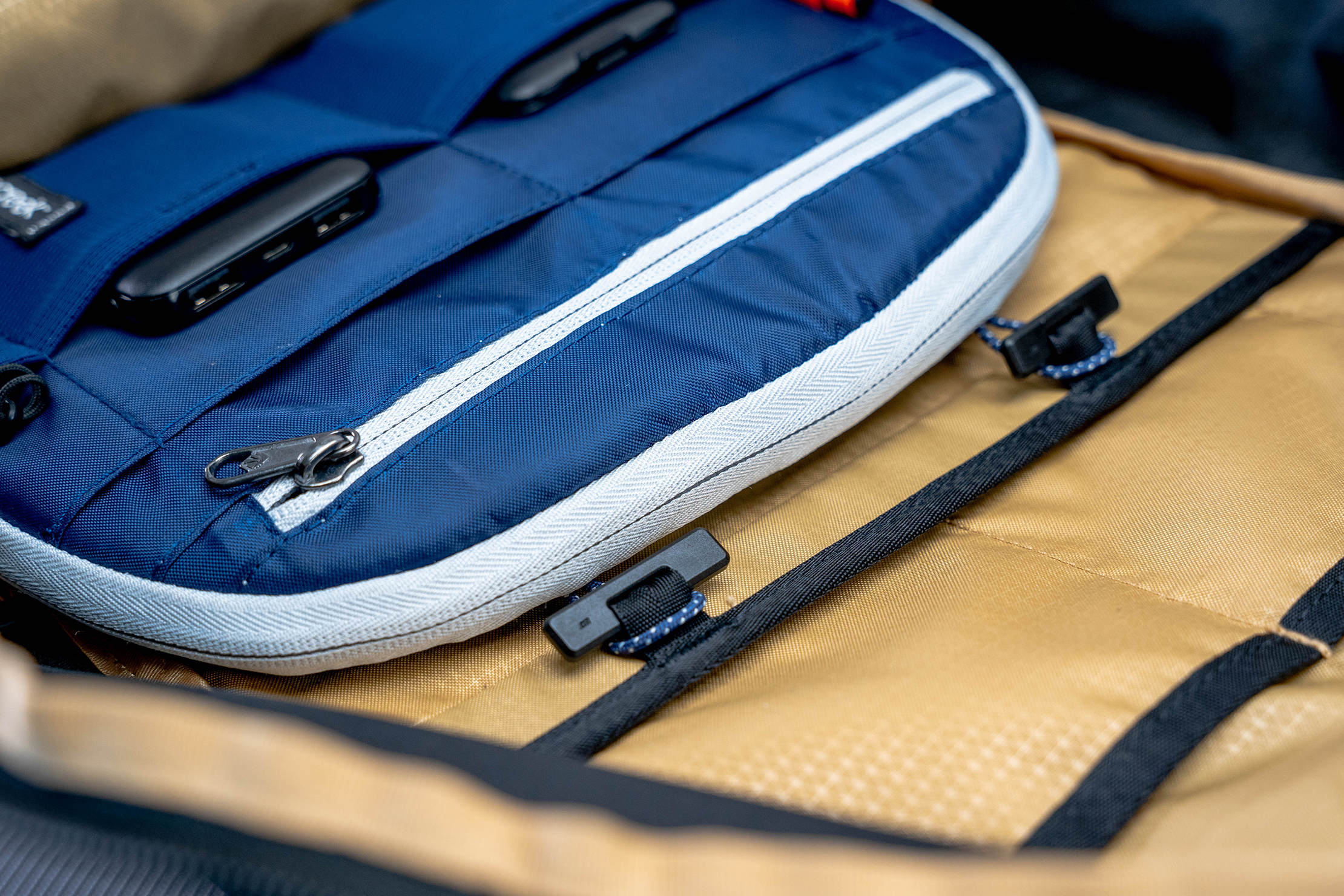 The explore has a dedicated compartment for a laptop, rated for devices up to 16 inches. We're most impressed by the over-an-inch worth of false bottom it has underneath. For those unaware, a false bottom is the space between the floor of a laptop compartment and the bottom of the bag itself. In other words, it's a buffer meant to absorb minor to moderate shocks from setting the bag down.
Aside from the false bottom, there's a lot of padding inside the compartment. The laptop gets its own dedicated sleeve, while the adjacent space can be used for extra gear like documents or a travel-sized keyboard.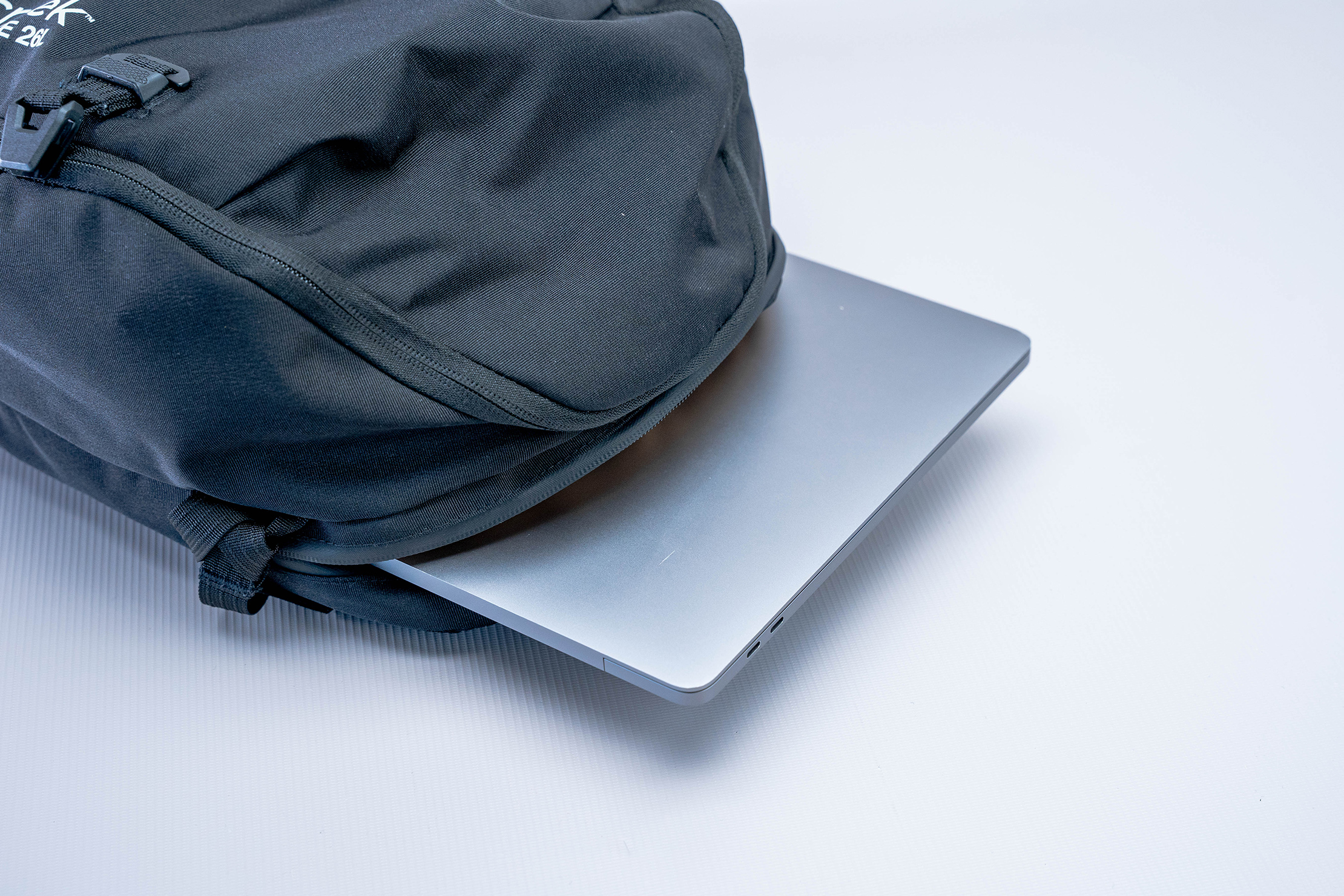 As a whole package, the Explore and its accompanying hip pack work well, though individually, they're a bit lacking. The hip pack is a good way to store quick-grab items but lacks organization. Meanwhile, the Explore itself lacks the convenience of having its own quick-grab pocket, making the hip pack a must-have during travel. In a way, this system may seem a touch too interdependent, but we do enjoy using it because both pieces fully complement each other. As the old saying goes, teamwork makes the dream work.
Usage Timeline
Initial Usage
Condition: Excellent
Sleek looking bag from Eagle Creek
Included waist bag seems excellent in concept—curious to see how it feels in practice
Non-YKK zippers has us a little nervous
There's a lot of organization on the back of the main section of the pack—something we typically have trouble organizing
Strap keepers included—great
2 Weeks of Use
Condition: Excellent
Wearing the waist pack sling-style is tough since the bag slides independently of the strap – this is good for waist pack mode though
The packs fit is ergonomic and contours to the back nicely
Straps are cushy and comfortable for a 26L pack
Bag's primary zipper gets blocked by compressions straps, which hinders quick access
1 Month of Use
Condition: Excellent
We removed the compression straps which gives the bag more of a sleek look—the bag is faster to access, too
Still comfy!
Wishing for a quick access pocket on the outside of the pack
Access the Pro Community Discussion
Get your questions about the Eagle Creek Explore Backpack 26L answered from our team and the Pro Community right here on the page. Plus, join discussions with other members about gear, guides, and more.
Other Bags & Luggage Reviews