WaterField Designs Outback Duo Laptop Brief Review
The leather and canvas-clad Outback Duo Laptop Brief from WaterField Designs turns heads with its heritage look and premium materials, though it has limited space for daily carry.
Our Verdict
Unlock the Pro Summary
Save time. Get access to brief summaries of our reviews so you can browse and make decisions more efficiently.
Pros
The look gets better over time with patina
Comfortable to carry with the well-padded shoulder strap
The built-in rear sleeve makes it easy to pair with your suitcase
Cons
Not much room for anything other than your laptop and its accessories
The non-adjustable magnetic tab can be hard to close if the front pocket is full
Shoulder padding doesn't slide independently of the strap
Recent Pack Hacker Video
Technical Details
Capacity

5l

Estimated

Weight (lb)

2 lb (0.9 kg)

Dimensions

10.5 in x 16 in x 2 in (26.7 x 40.6 x 5.1 cm)

Notable Materials

Leather, Nylon, Canvas

Manufacturing Country

United States

Laptop Compartment Size

16"

Warranty Information
Full Review
If you also find yourselves bored and tired of the free token bag that came with your laptop, then it might be time to look into more tasteful options. You could go for a capable nylon brief like the ones we checked out from the likes of Aer and Chrome Industries. That, or you go all-in on a more retro, leather 'n canvas vibe like we're covering here.
For you, young professionals in the crowd who are settling into the hustle and bustle of city life, a laptop bag that can fulfill your carry needs and make a fashion statement is a match made in heaven.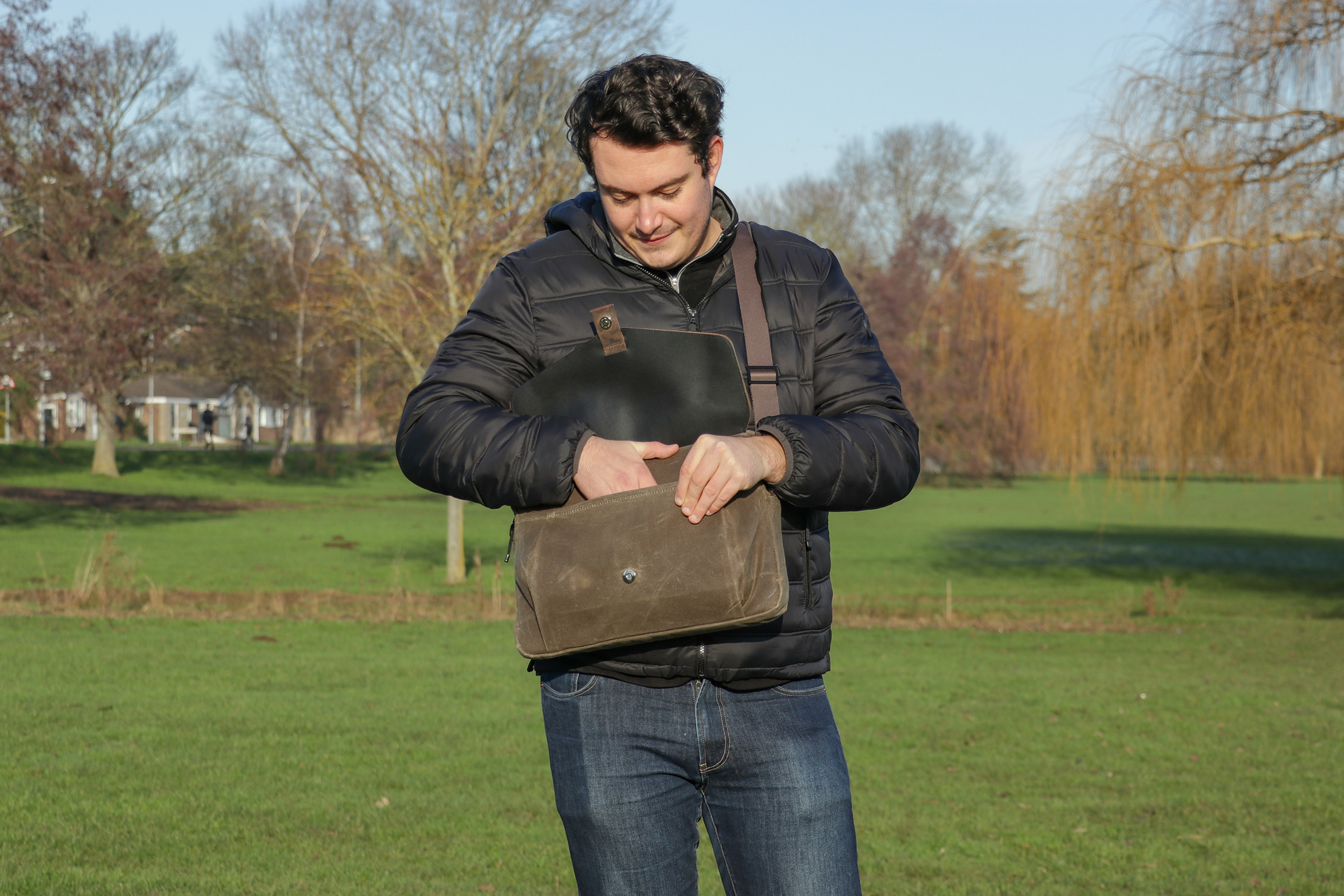 Today we meet the WaterField Designs Outback Duo Laptop Brief. Dressed in full-grain leather and waxed canvas—can it overcome its relatively slim design and limited front pocket space? Read on to find out.
Materials & Aesthetic
We won't mince words: we dig the looks the Outback Duo has going on mainly because we're fans of full-grain leather and waxed canvas. But also because—from afar—whoever is wearing this bag looks like they're carrying a huge brief-shaped tile of chocolate, broken off a gigantic chocolate bar. WaterField Designs only mentioned "chocolate leather" once on their product page, and it stuck with us, we suppose.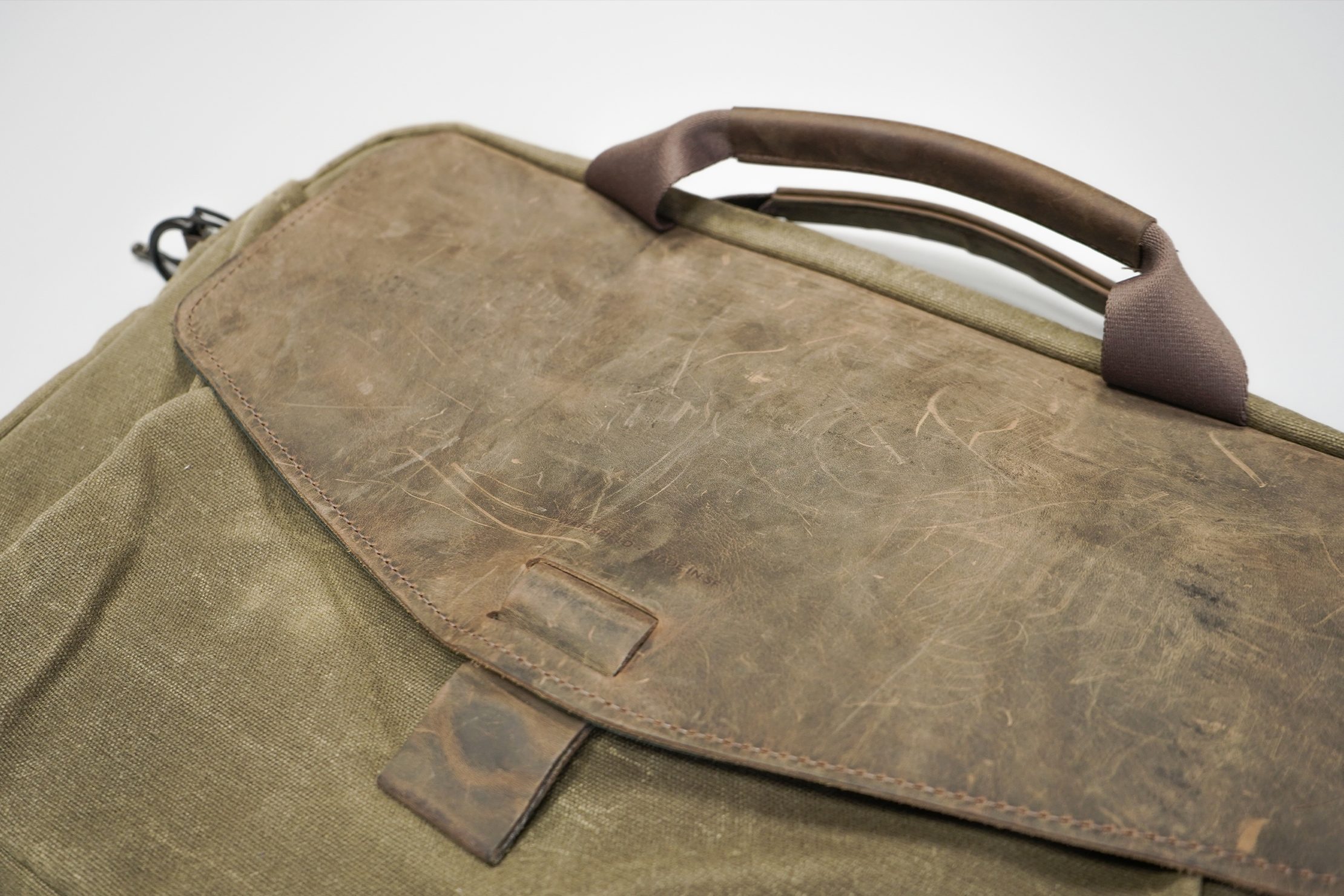 It's a classy, vintage design that strongly appeals to those looking for something outside of the polyester or nylon sphere. But other than this chocolate leather on waxed canvas combo, there's also a black ballistic nylon version with either black or chocolate full-grain leather options. We don't know about you, but chocolate leather on black nylon clashes a bit too much for our tastes.
By the way, we can't help but feel the need to remind everyone that there's no actual chocolate involved in any of these. Temptation egged us on to give it a taste, but a smell test was sufficient enough to assure us that there's no presence of cocoa in the fabric.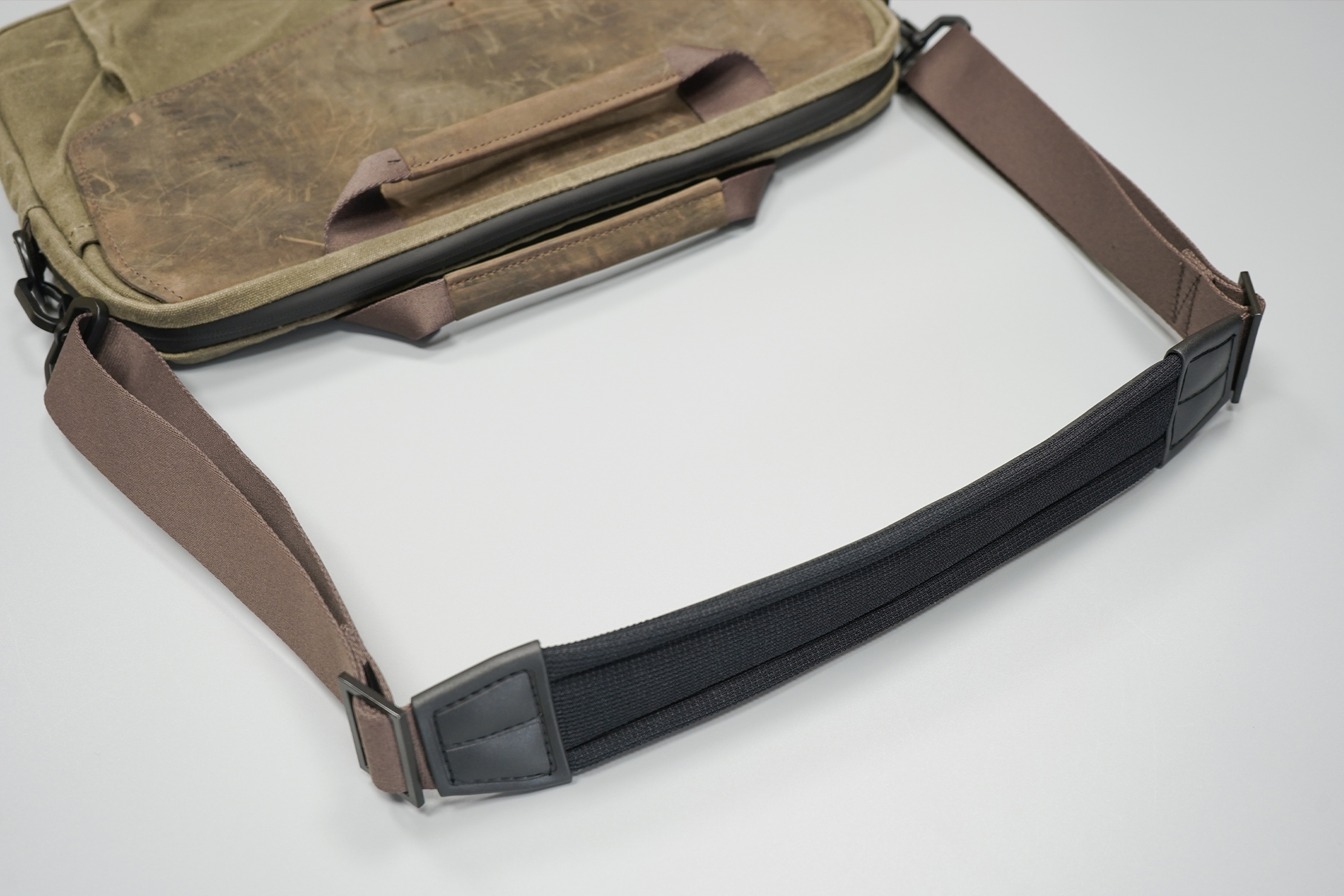 Strangely, this bag is minimalist, yet also not at the same time. We've combed through every inch of the exterior, but there's no branding we can find, nor are there any outlandish angles, cuts, or shapes. It's the leather and waxed canvas that makes it stand out. The way it's gathered patina throughout our time with it gives it a personality of its own.
The materials used—including the metal hardware on the shoulder strap and its mounting points—all look and feel rugged. A small note on the waxed canvas: there's an optional Martexin Original Wax coating you can re-apply to keep the fabric looking fresh. It's not necessary by any means, but it's nice to see the people who made a product make an effort to help people maintain their purchase.
This waxed canvas has a nice feel in the hand, by the way. It's hard to relay in words, but we enjoyed the fabric's feel in our hands.
External Components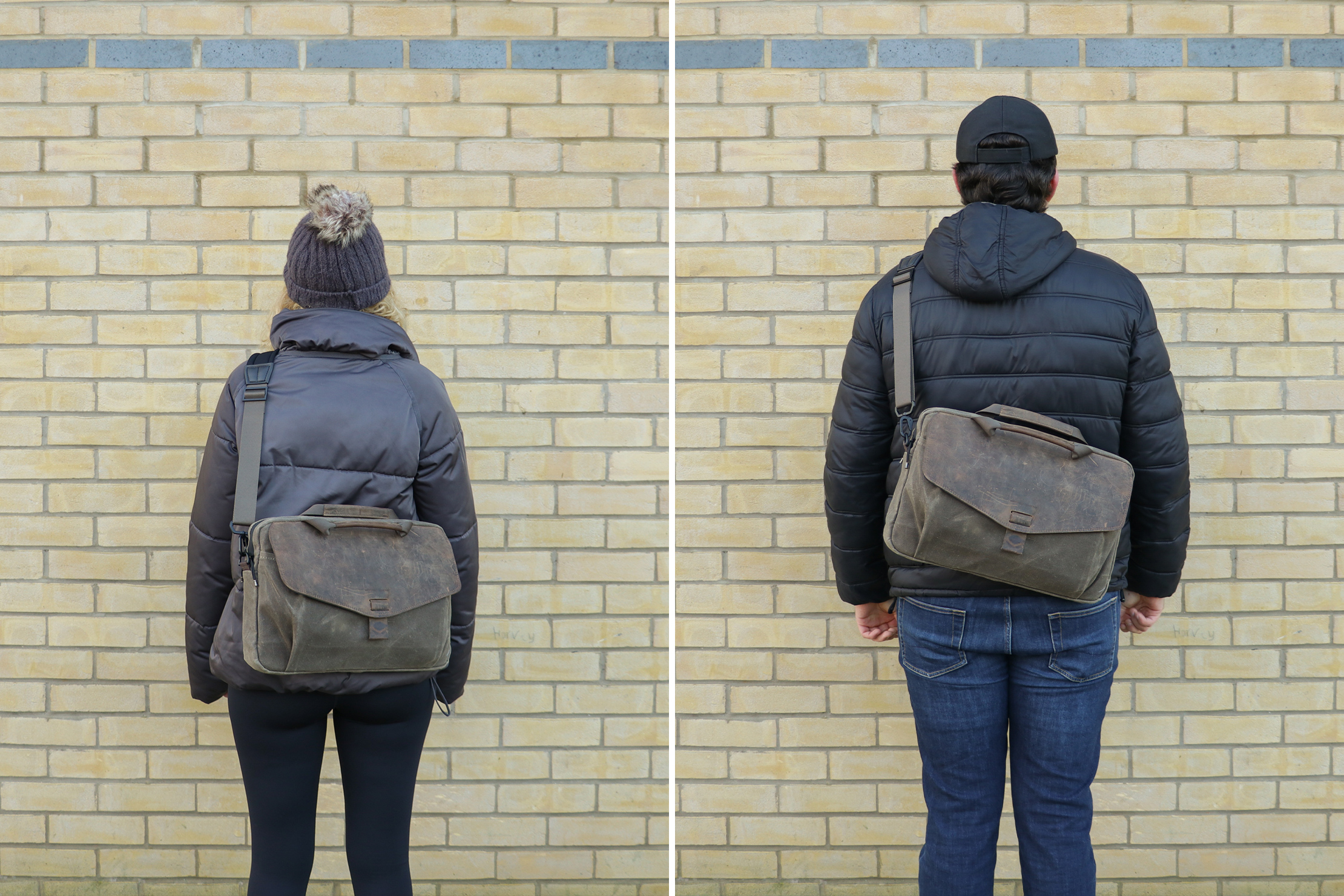 WaterField Designs has kept the outside mostly devoid of features—there's not even a quick-grab pocket—so we'll keep this section brief—pun fully intended.
The shoulder pad—ahem—excuse me, the Supreme Suspension Shoulder Strap is something WaterField Designs is proud to call as such. We think rightfully so too, due to the well-padded shoulder guard with double-thick neoprene. It's comfortable to carry on the shoulder, even when fully-loaded, and it comes with an excellent amount of length to adjust via the metal buckles. This strap is available as a stand-alone product, but we're glad to see it included with the Outback Duo as standard.
The one nitpick here is that the Supreme Suspension Shoulder Strap's padding does not move independently of the strap itself. If you want to wear this thing crossbody sometimes, then reposition it to your shoulder other times, you're going to need to find the right length that works for both styles, so you're not continually readjusting the strap.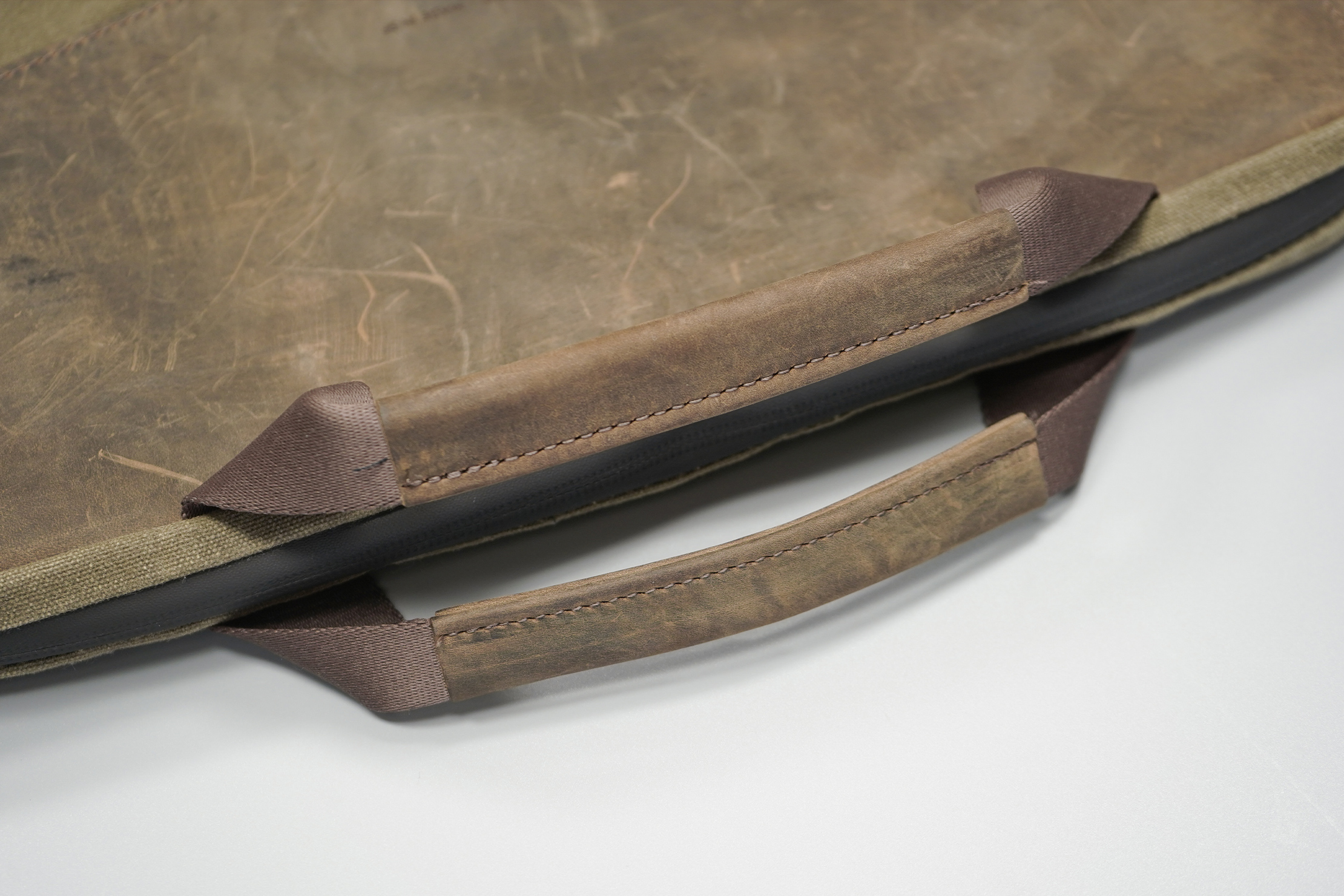 Of course, there are some standard handles that are also well-padded, as this is still a brief first, and a messenger bag second. The pair of handles are wrapped in leather, so you can always have that premium-feel as you walk across the terminal or hallway.
The back is relatively barren, except for the thoughtfully placed pass-through sleeve, which you can use to thread the Outback Duo through your luggage's telescopic handle. As comfortable as the Supreme Suspension Should Strap is, having a weighty brief on your rolling suitcase is still better than it being on your shoulder.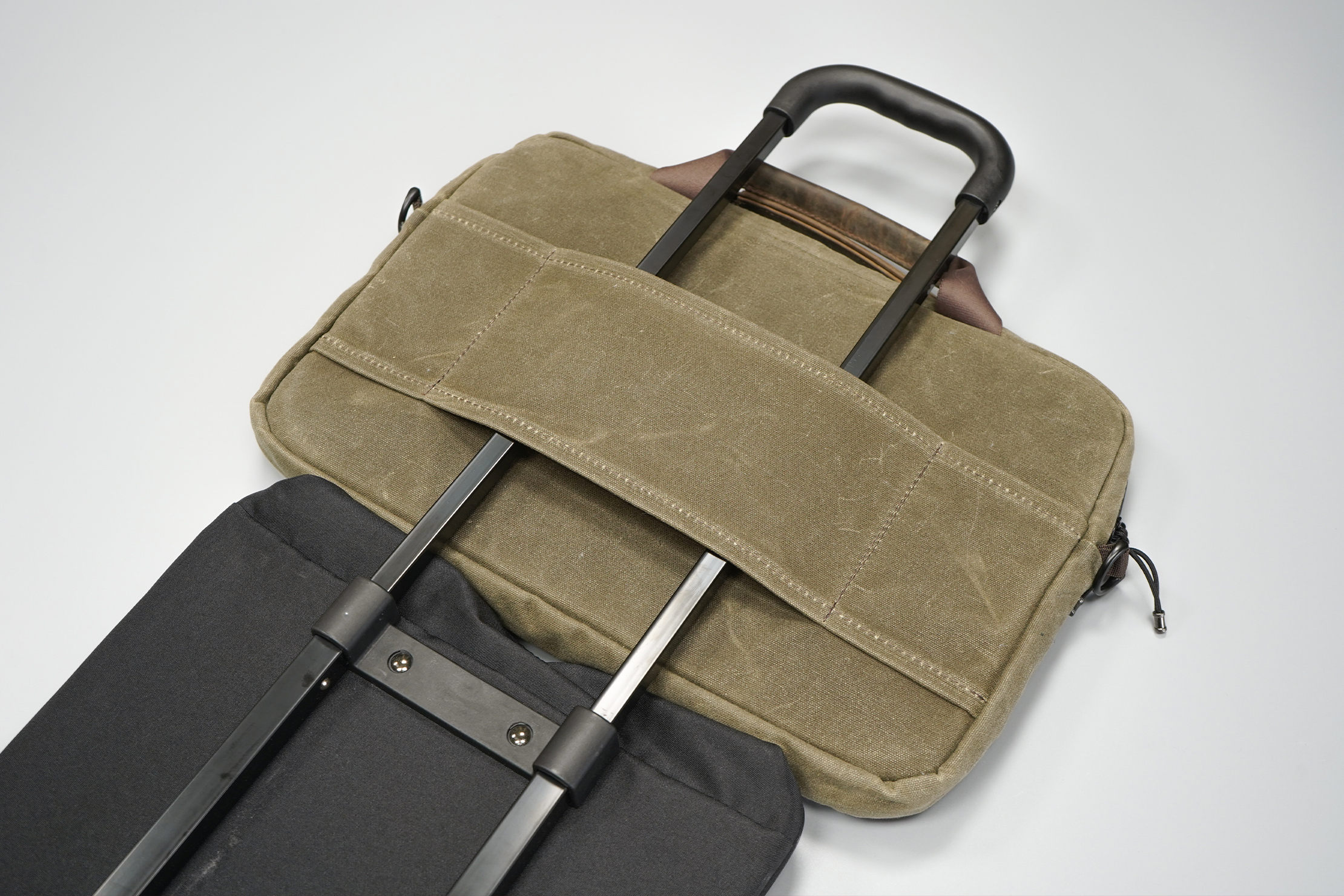 Lastly, we have to talk about the front flap's magnetic tab. It's a strong magnet that's been relatively worry-free. In testing, we felt no pressure that it was going to burst and become undone without our knowledge. However, the tab has little to no length adjustment. If you mismanage the bulk of the front pocket, say if you put a very tall and bulky mouse and thick power adaptors, closing the tab may be a bit of a challenge.
Inside The Pack
We'll start with what's under the chocolate hood flap. It's an ideal accessory & stationery section with different-sized pockets lined up against the waxed canvas. Three silo-style pockets hold your pens and are wide enough to take even thick markers, boxcutters, glue sticks, highlighters, etc. Next to those are similarly-wide pockets for your slim mice, smartphone, and/or power banks. The usual large stuff (i.e., laptop power adaptors) goes in front of those pockets. Again, we caution you to smartly manage the bulk as much as possible so that the magnetic tab can still find its way into place.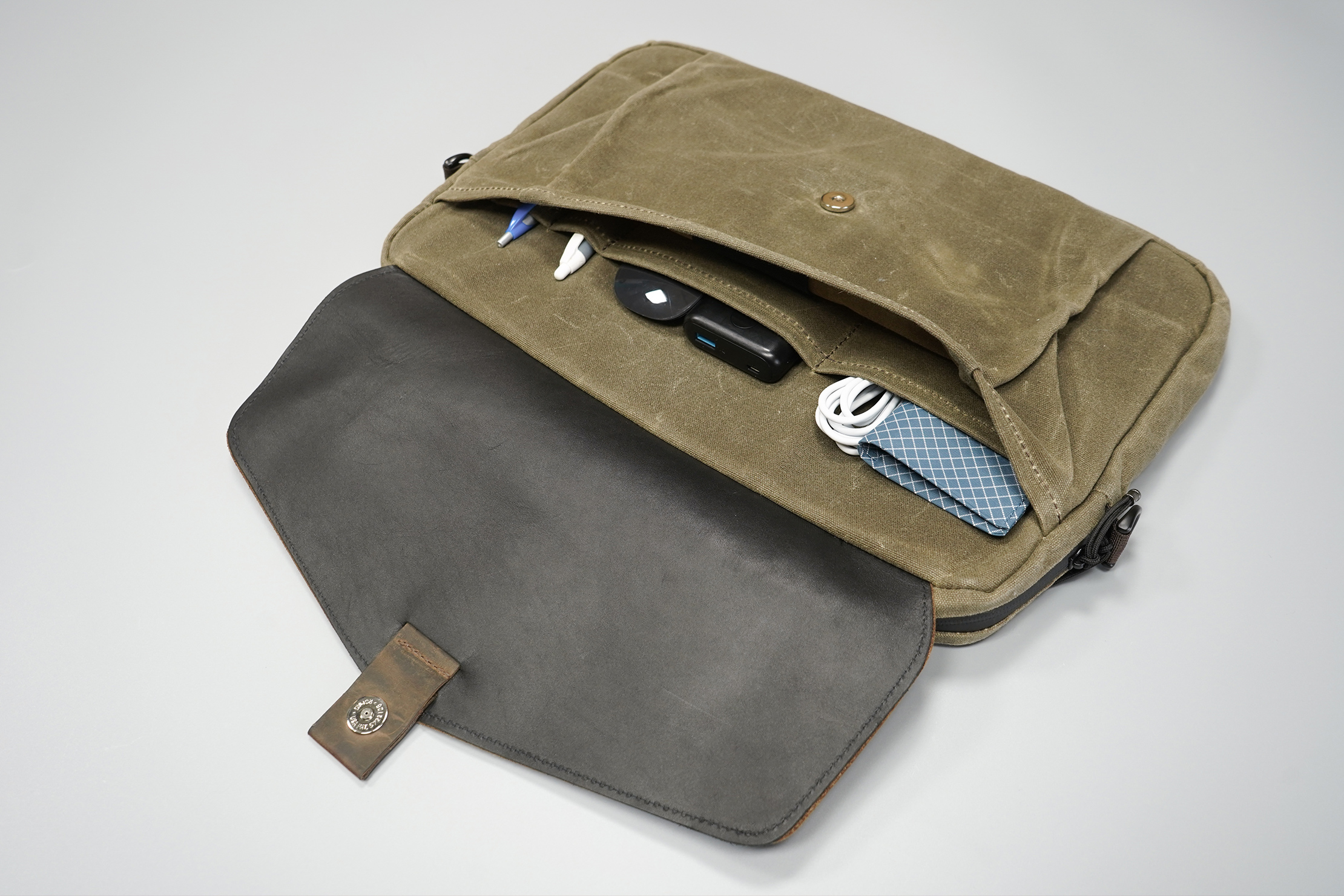 Unzip the main compartment, and a bright interior lined with gold-colored fabric greets you. Everything is easy to see and find thanks to the vivid color. However, we recommend using a proper pouch or organizer instead of throwing small pieces of gadgetry in there will-nilly.
Now we come to why it's called the Outback "Duo": there's room for two 16-inch laptops. Naturally, we put our 16-inch MacBook Pro in there to make sure—and indeed, it does fit. Our laptop nestles in snuggly, even with a dedicated laptop sleeve. Once zipped up, soft padding cocoons your devices with enough material to absorb a reasonable bump.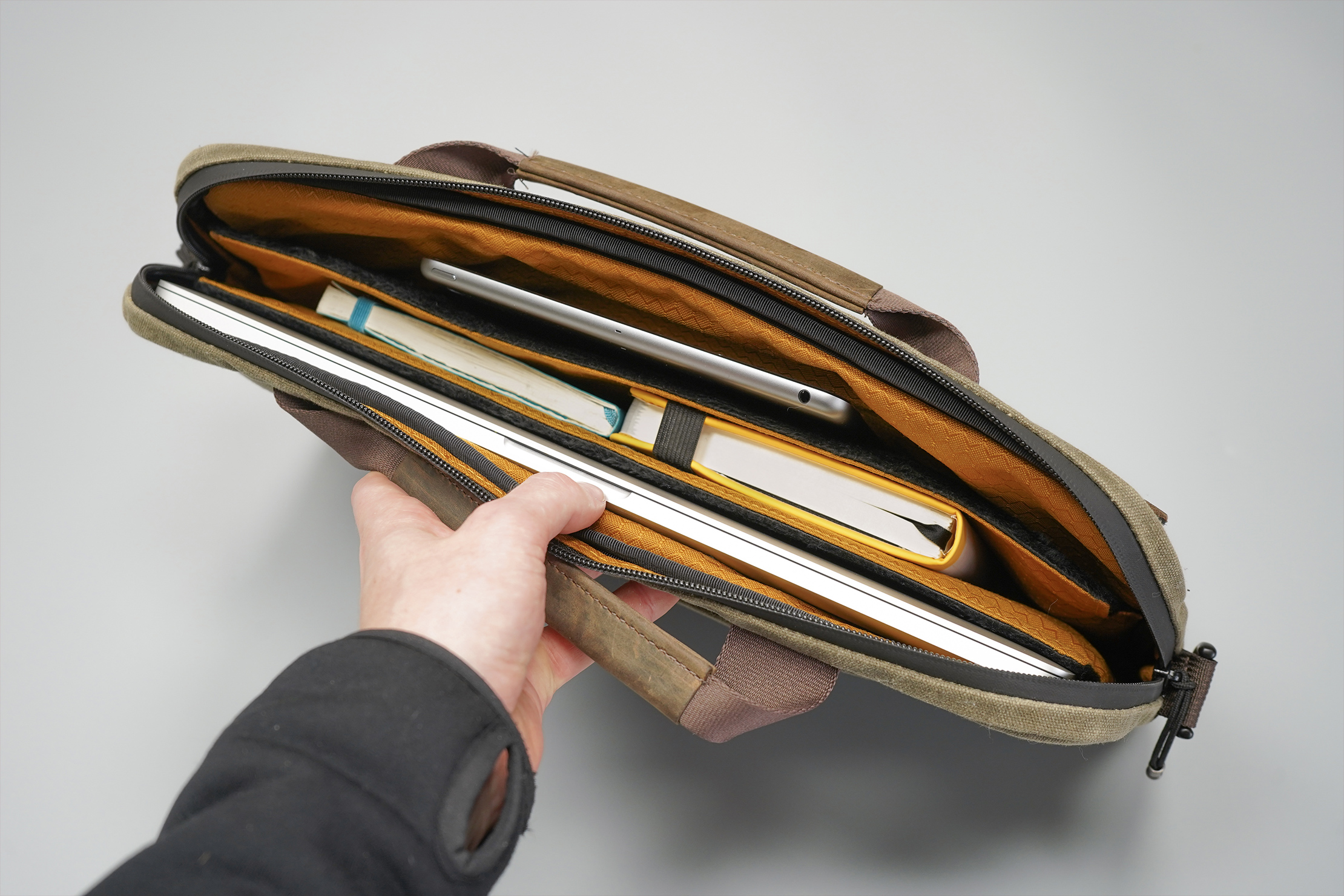 There's not much room left with two laptops inside, plus their accompanying chargers and accessories, save for an extra tech pouch or company documents and folders. It's a small brief with an even slimmer profile, purpose-built for a laptop or two, and a few extras.
One look at the interior should suggest as much. There are no extra liner pockets, no hidden compartments, no anchor points, no mesh pockets—just two laptop compartments and a space in between—very simple.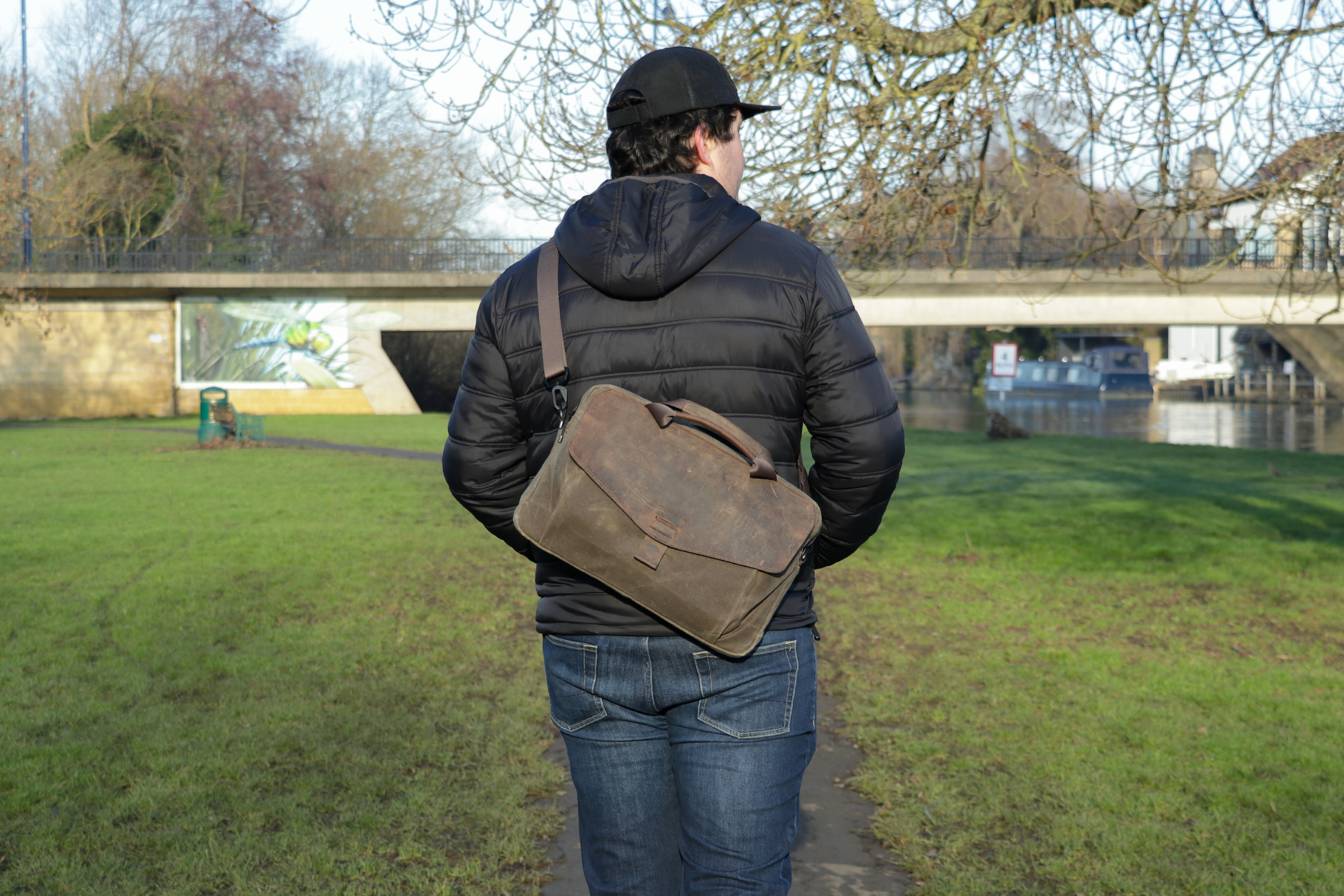 So it's not going to "wow" the digital nomad by any means. Maybe the "digital" part, but there's nowhere to put extra clothing. In that regard, there are much more versatile and capable choices under the daypack category that can sustain both you and your laptop's hygiene. But that doesn't mean the Outback Duo doesn't have its place.
Anyone who's just moving from office-to-office or office to a remote work location will be served well by a brief. Pair it with another, larger bag for clothing or additional gear and you're cooking. In the Outback Duo's case, it has enough room for a laptop and a good amount of documents. Let's face it, fitting in two 16-inch laptops is a very niche use case. But a more practical use for the extra padded-compartment would be a safe, well-protected document compartment.
With its old-school aesthetic and a less-is-more approach to space and organization, the Outback Duo Laptop Brief strikes a balance of style and portability fit for the sophisticated and trendy professional who's always on the prowl in the bustling business district.
Usage Timeline
Initial Usage
Condition: Excellent
This slim brief hides two 16 in laptop compartments that are soft and well padded
Just enough space for your tech gear and not much else
Leather material will accumulate a lot of marks and scratches on its way to its broken-in, heritage final look
2 Weeks of Use
Condition: Excellent
We've found this bag delivers a very comfortable carry, whether your using the handles as a brief, or the shoulder strap as a messenger
The orange interior lining has been useful for quickly locating smaller items inside the main compartment
The scuffs, marks, and scratches create a nice patina on the leather, we're not always fans of this but it works really well on this bag
It can be hard to completely secure the magnet on the front pocket when it's full, but the magnet is still strong even when it's not directly centered
This bag definitely feels premium, and we think it looks pretty great too, especially the waxed canvas and chocolate leather version we've been testing
Access the Pro Community Discussion
Get your questions about the WaterField Designs Outback Duo Laptop Brief answered from our team and the Pro Community right here on the page. Plus, join discussions with other members about gear, guides, and more.
Other Bags & Luggage Reviews