Aer Commuter Brief 2 Review
The Aer Commuter Brief 2's snap fastener handles may slow down your access, but the bag's sleek, muted aesthetic and ample organization are well-suited for the workday.
Our Verdict
Unlock the Pro Summary
Save time. Get access to brief summaries of our reviews so you can browse and make decisions more efficiently.
Pros
Versatile carry options
Ample and efficient organization
Durable, weather-resistant materials
Cons
Shoulder strap padding isn't adjustable
Internal water bottle pocket doesn't accommodate larger bottles
Snap fasteners on handles can slow down access to main compartment
Recent Pack Hacker Video
Technical Details
Capacity

13l

Weight (lb)

2.9 lb (1.3 kg)

Denier

1680D

Dimensions

11.5 in x 16 in x 5.5 in (29.2 x 40.6 x 14 cm)

Notable Materials

Nylon, Polyurethane, CORDURA® Ballistic Nylon, YKK Zippers, Duraflex Hardware

Manufacturing Country

China

Laptop Compartment Size

15"

Warranty Information
Full Review
Get up to 10% off Aer • Join Pack Hacker Pro
If you're looking for a sleek, sophisticated option for carrying your everyday gear that looks at home in a professional environment, the Aer Commuter Brief 2 is a solid option.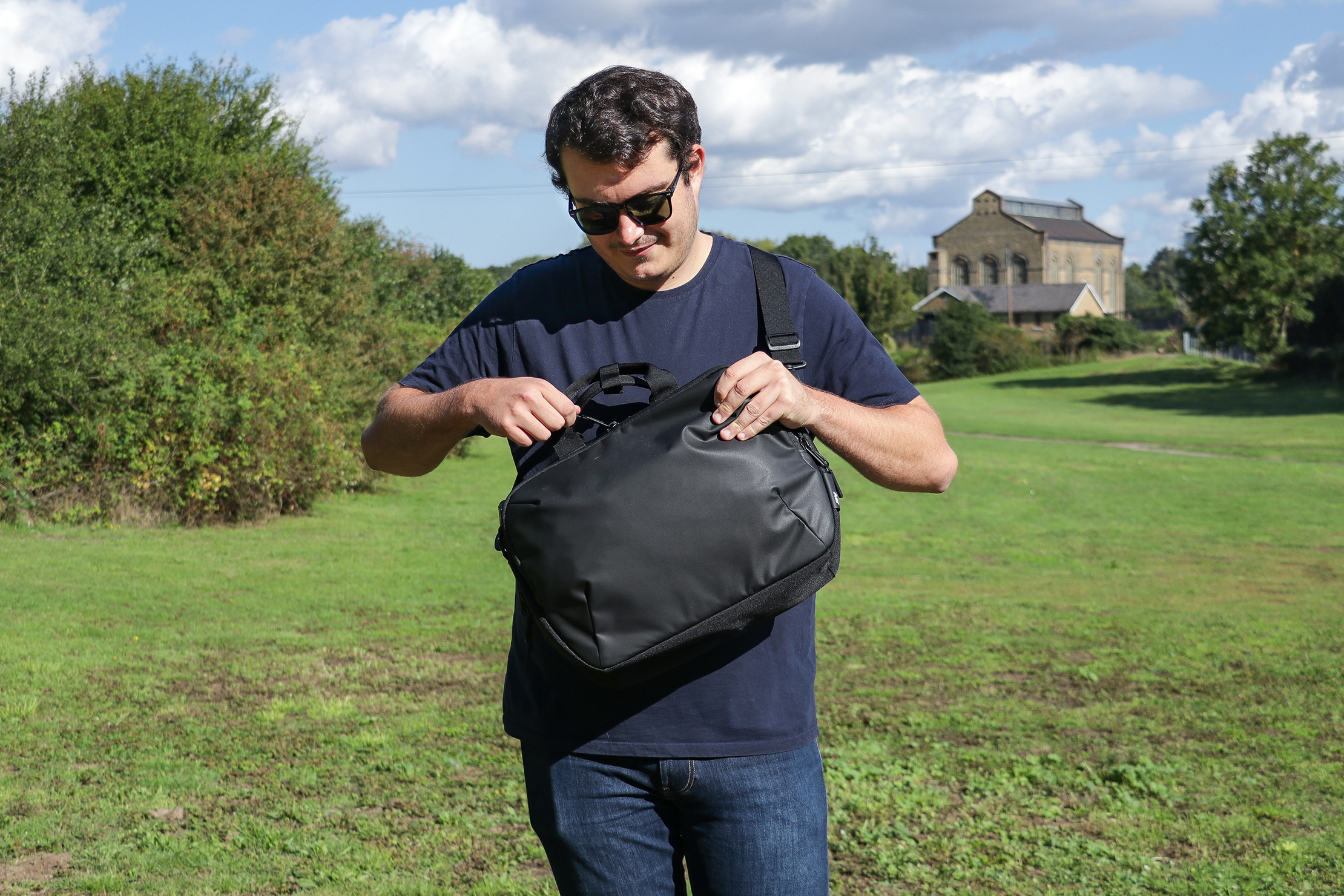 This bag comes to us from Aer's Work Collection, which features several new iterations of previous bags, including this one (hence the "2" in the name). We'll be focusing on the Commuter Brief 2 in this review, but feel free to check out reviews of other products in this line, including the Aer Slim Pack, Aer Tech Pack 2, and the Aer Day Pack 2.
We've been testing this thing for two weeks now and we have a lot of things to go over, so follow us into the review!
Materials & Aesthetic
As you can probably guess from the name, the Aer Commuter Brief 2 is designed for your commute. Its matte finish on the front gives it a clean, sophisticated look, so it'll look at home in the office and other professional environments.
This bag is only available in Black at the time of this review, though we think this colorway contributes to the brief's muted vibe. We're digging its subdued aesthetic. However, only about 46% of you like the look, according to our Instagram poll, so your mileage may vary.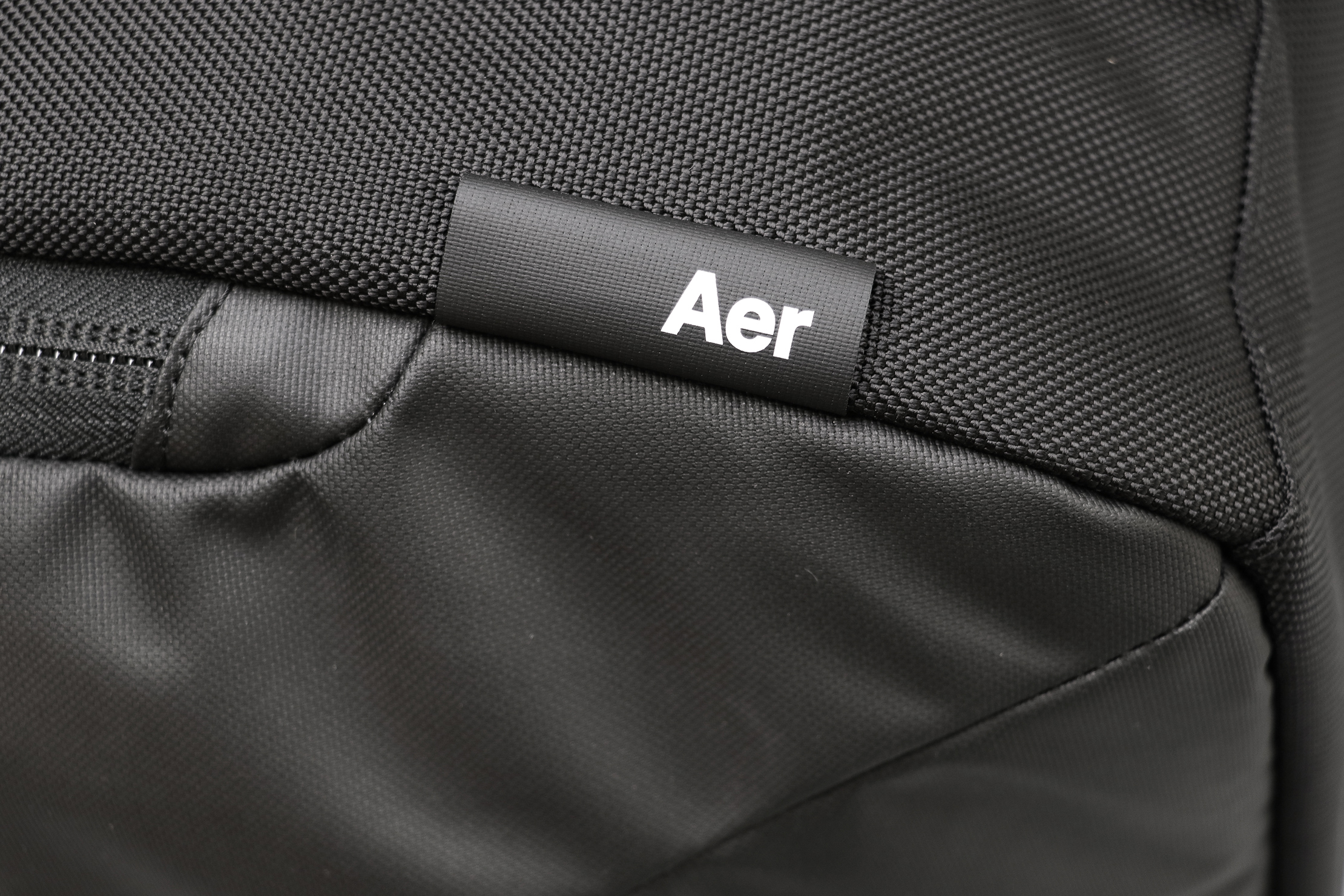 Aer typically keeps their branding subtle, and the Commuter Brief 2 is no exception. You'll find their logo on a small white-on-black tag on one side, as well as on each one of the bag's zipper pulls. It doesn't draw any attention, and we dig it.
Like the other bags in the Work Collection, this brief is constructed with an 840D nylon face that's coated in polyurethane for added water resistance, and 1680D CORDURA Ballistic nylon everywhere else. Not only will it keep your gear protected in some drizzly weather, but it adds to the brief's sleek look.
We have noticed some scuffing on the material but it's merely aesthetic so far. We're more concerned with the loose thread we've also spotted after only two weeks of testing, as it raises some questions about its durability, though everything else has held up just fine.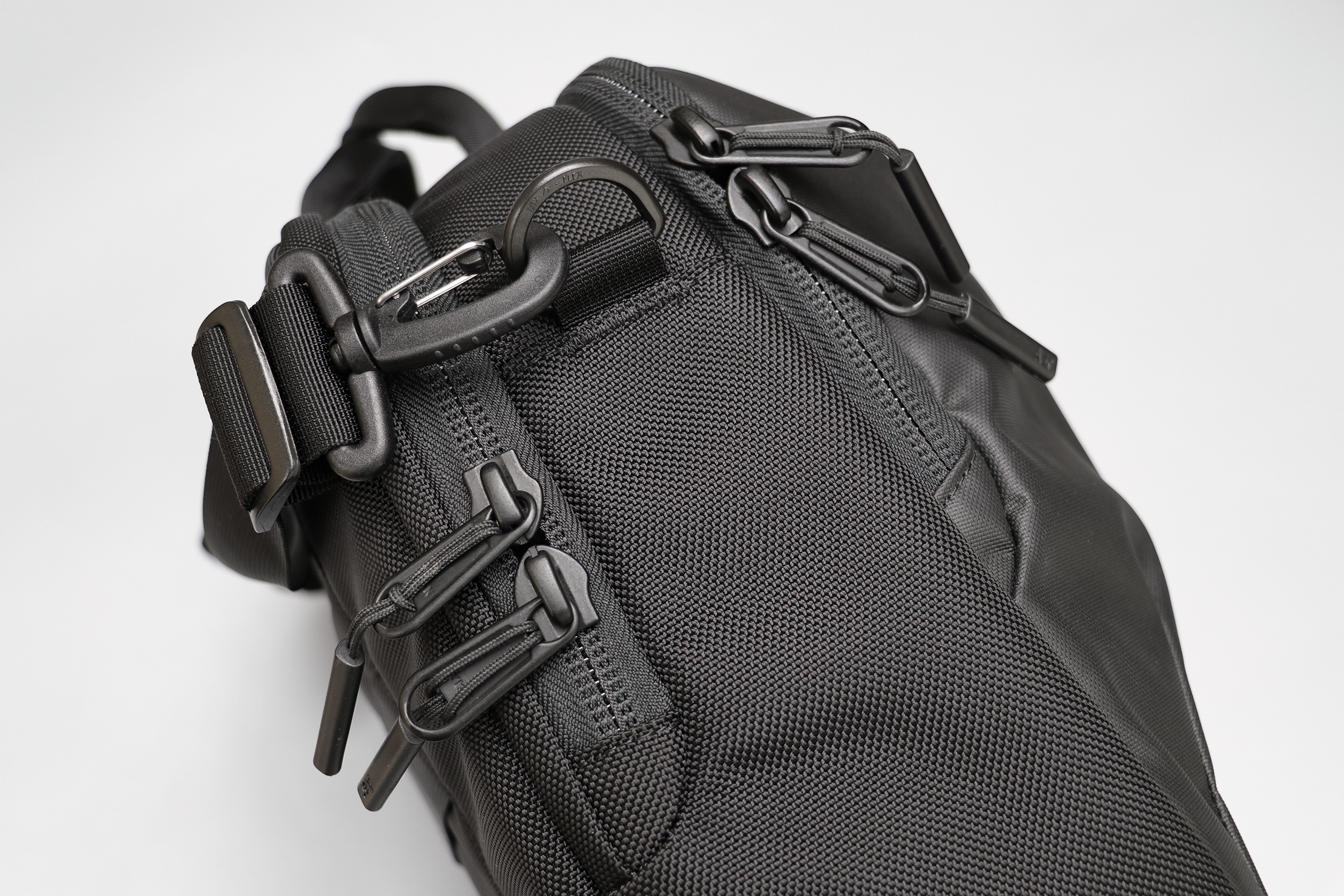 The zippers come to us from the trusted brand YKK, which we've had the pleasure of testing on many bags in the past. They have some jangly zipper pulls that are easy to grab but also get quite loud when you move the bag around. This isn't ideal, but they do make for a smoother zip which we appreciate. As expected, these zippers have all been working well so far during testing.
Then we have some Duraflex hardware, which is another brand we've had lots of positive experiences with. Everything has been working as it should be, so there's nothing out of the ordinary to report.
External Components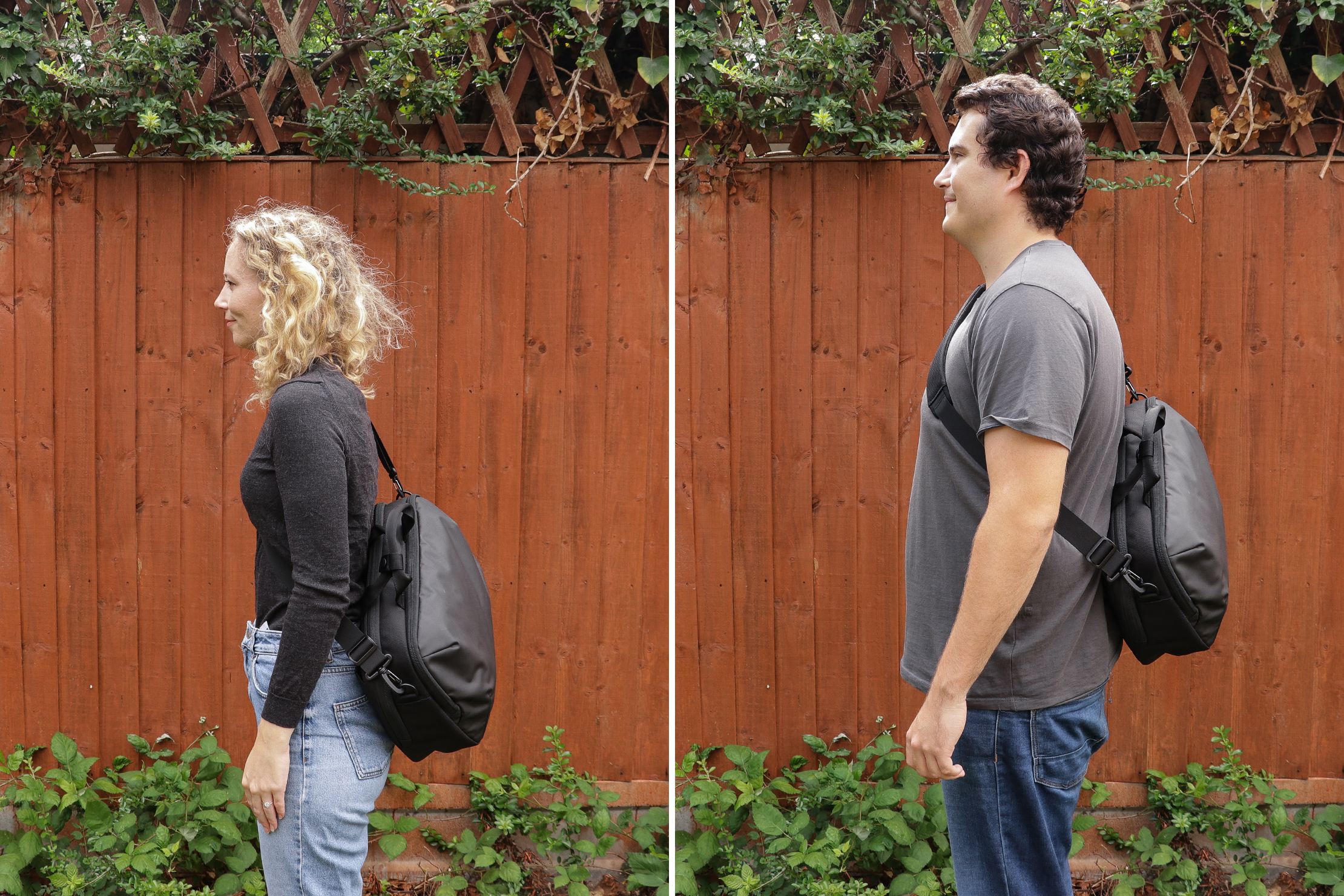 We have just a few things to cover before we get into this bag—starting with the carry. You can wear the Commuter Brief 2 over the shoulder, crossbody, or as a regular brief, and we've found it to work pretty equally among these three styles of carry.
There's a removable shoulder strap that you can throw over your shoulder when you want to carry it more as a messenger bag. It has some nice padding that makes it comfortable to wear—however, it's not adjustable, so you can't move it to wherever it feels best.
We've tested it on some of our taller team members and found that when the strap is maxed out, the padding sits on the chest rather than the shoulder, and it stays there due to the lack of adjustability. This may not be as big of an issue if you have a smaller frame, as it all depends on your body type, but it's something to note. You won't run into this problem if you're wearing it on one shoulder, too.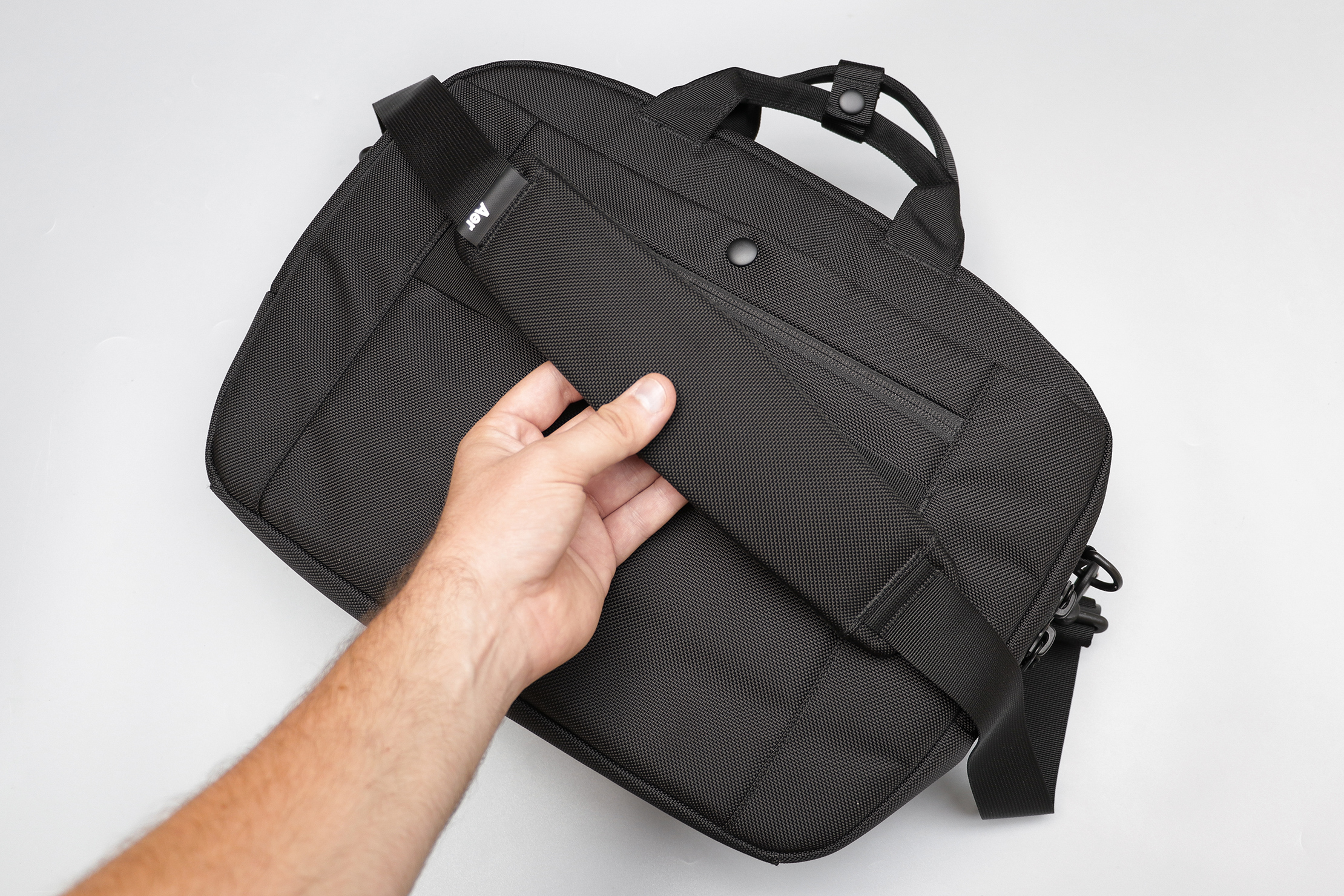 You also have two handles at the top that connect so you can carry this thing in a true brief style. They're even convenient for picking the bag up if you need to grab something out. You'll have to unbuckle the handles to get into the main compartment which slows down our access some, but overall these handles have been comfortable and helpful during testing.
These handles are also helpful for when you're traveling and need to slip this brief in and out of tight spaces, like overhead bins, the space under your seat, or even when you're going through security. When you're in tight spaces like these, it pays off to have a compact bag that's easy to maneuver.
On the back of the bag is also a luggage pass-through that's secured by velcro. It's great for when you want or need to wheel this thing around on your roller luggage when traveling, such as a quick business trip. When not in use, it lies flat against the bag for a clean and minimal look and doesn't stick into our sides when we have the brief slung over the shoulder.
Overall, this brief is well-structured, and we appreciate that it stands upright all on its own. This way, we can have it next to us when we're working and quickly and easily reach inside and grab what we need. Plus, it doesn't sink into a puddle of fabric on the floor when we take all of our stuff out.
Inside The Bag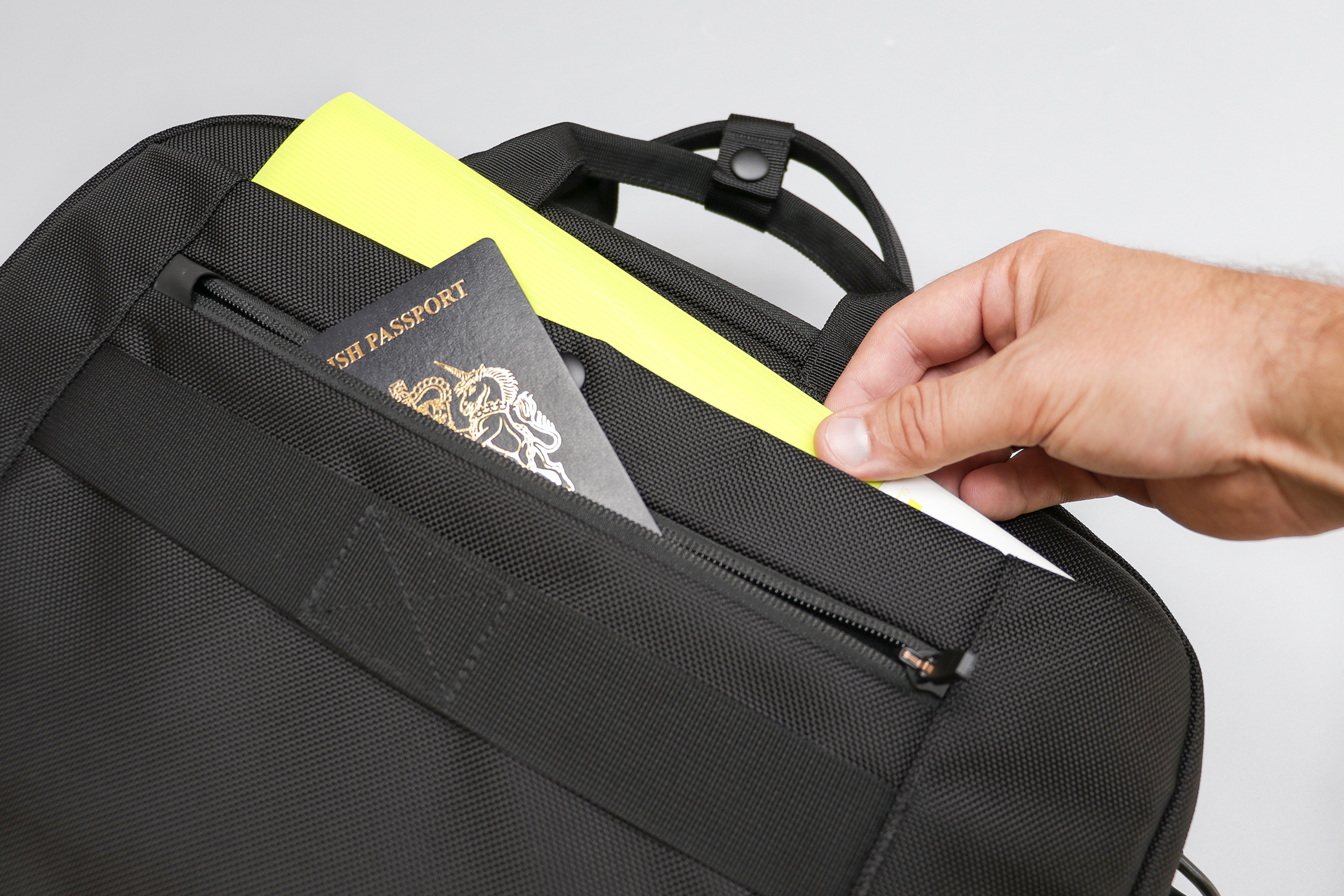 For external pockets, the first one you have at your disposal is the large sleeve on the back panel that secures with a snap fastener. It stretches most of the width of the bag and works best for flatter items such as travel documents if you travel with them. It doesn't have full closure, so water may get in if you encounter some surprise showers, which is something to be aware of.
In front of this pocket is another smaller pocket that's great for your more valuable and frequently-used gear—your phone, passport, and the like. It sits against your back so your stuff is always secure, though this means you also don't want to pack it with anything too bulky—you don't want anything poking into your back.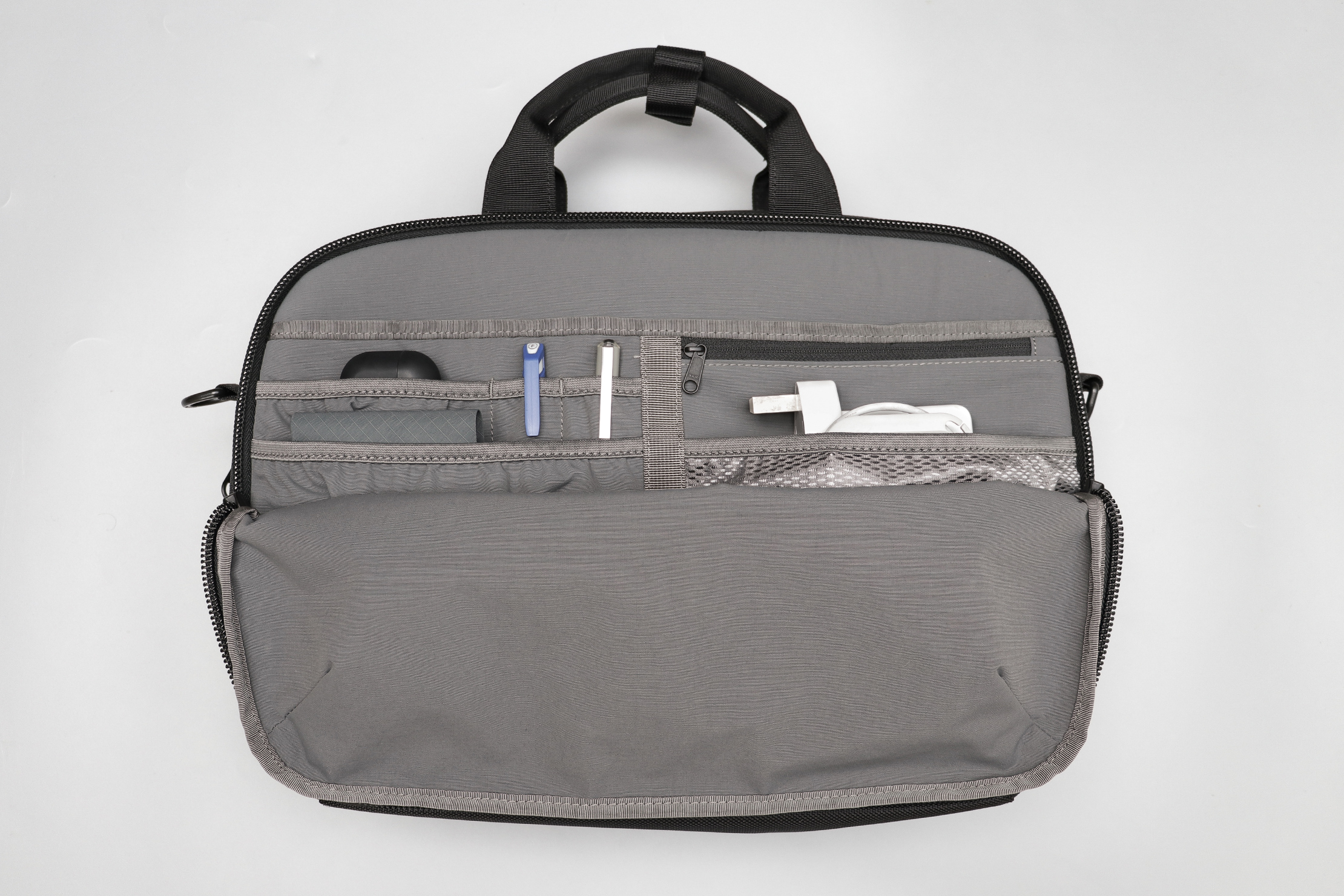 Then we have the front compartment. There's a lot in the way of organization, including a small zippered pocket. We didn't get a ton of use out of this pocket during testing, but since it's the only pocket with closure in here, it's a nice spot for stuff you don't want free-floating in the open space of the compartment. Especially if you have any sharper gear that could dig into the laptop sleeve.
There's also a small key clip inside. It's plastic and feels okay in the hand, but it isn't the most premium key clip we've ever tested—you also have to go through two zippers to get to it, so it's not the quickest to access either.
Below this zippered pocket is a medium-sized mesh pocket where we've been keeping a wallet so it's not mixed in with our other gear. We've been digging the feel of this mesh which is almost silky in hand. You can also use this pocket for tech accessories such as cables or dongles if desired, and you'll find a similar liner pocket next to this mesh pocket which is yet another spot to stash any miscellaneous items so they're segmented from the rest of your gear.
Above the liner pocket is another shallow sleeve that works for even smaller items. During testing, we've been stashing a lock and a pair of Apple Airpods Pro headphones and it's worked well. Of course, you can keep whatever you'd like inside. Next to this sleeve you also have two pen sleeves to keep pens, pencils, or a stylus handy.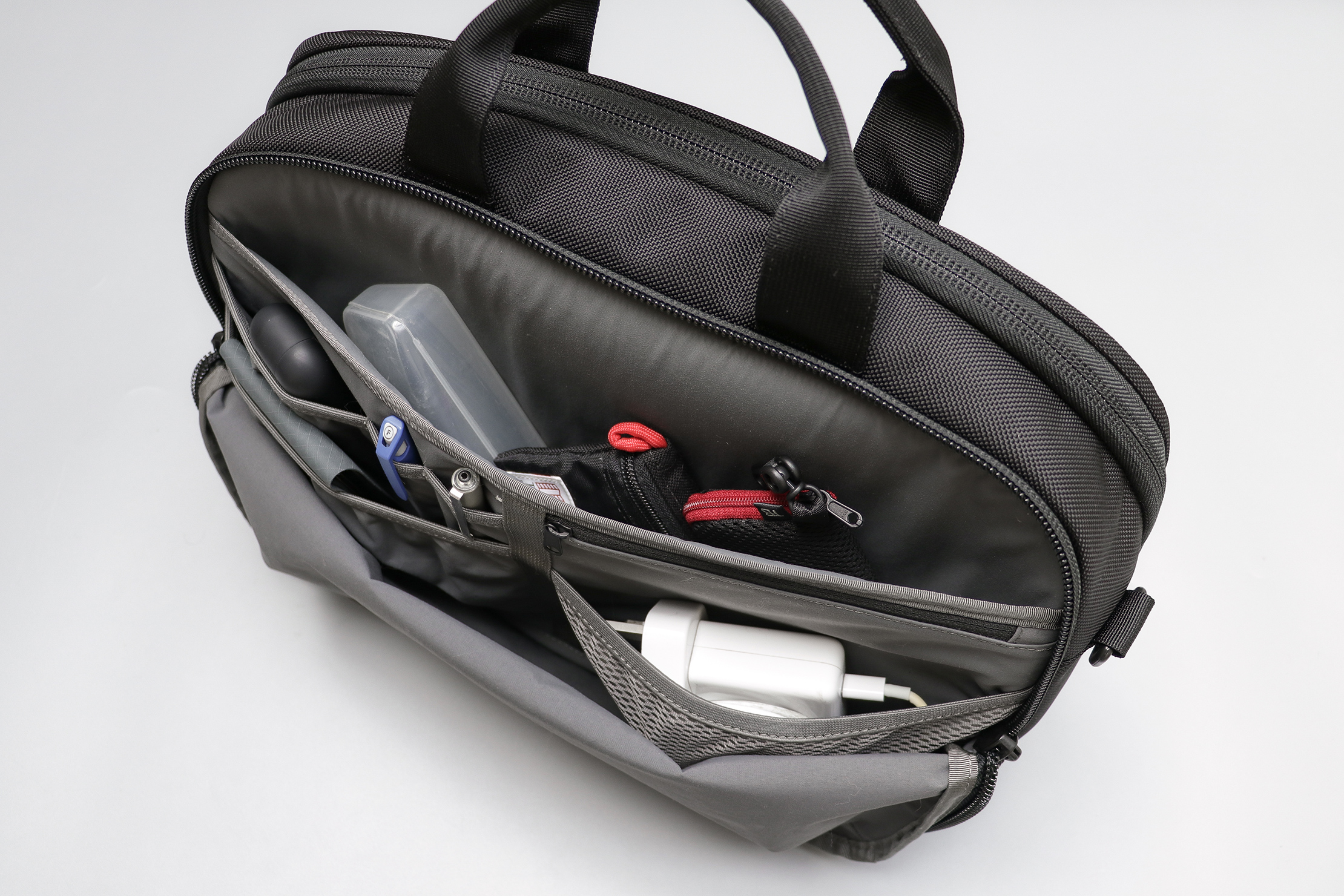 Behind all of these pockets is a larger sleeve that stretches the full width of the compartment. You can easily store a keyboard, documents, and things of that nature back here, though we've been slipping a pair of sunglasses and a Tom Bihn Color Zipper Ghost Whale Organizer Pouch inside.
We're big fans of tech pouches here at Pack Hacker, but with all this organization, we haven't felt the need to use one with this bag. We also like that when we are wearing it as a messenger bag, we can easily swing it to the front and grab whatever we need from inside this compartment. Everything is organized and easy to access, and we dig it.
Lastly, there's the main compartment. Although this brief only holds 13L of gear, it's rather spacious on the inside. There's not much organization, so you can integrate pouches or packing cubes if desired. If not, it works well for keeping larger, bulkier items like over-the-ear headphones, a sweatshirt, etc.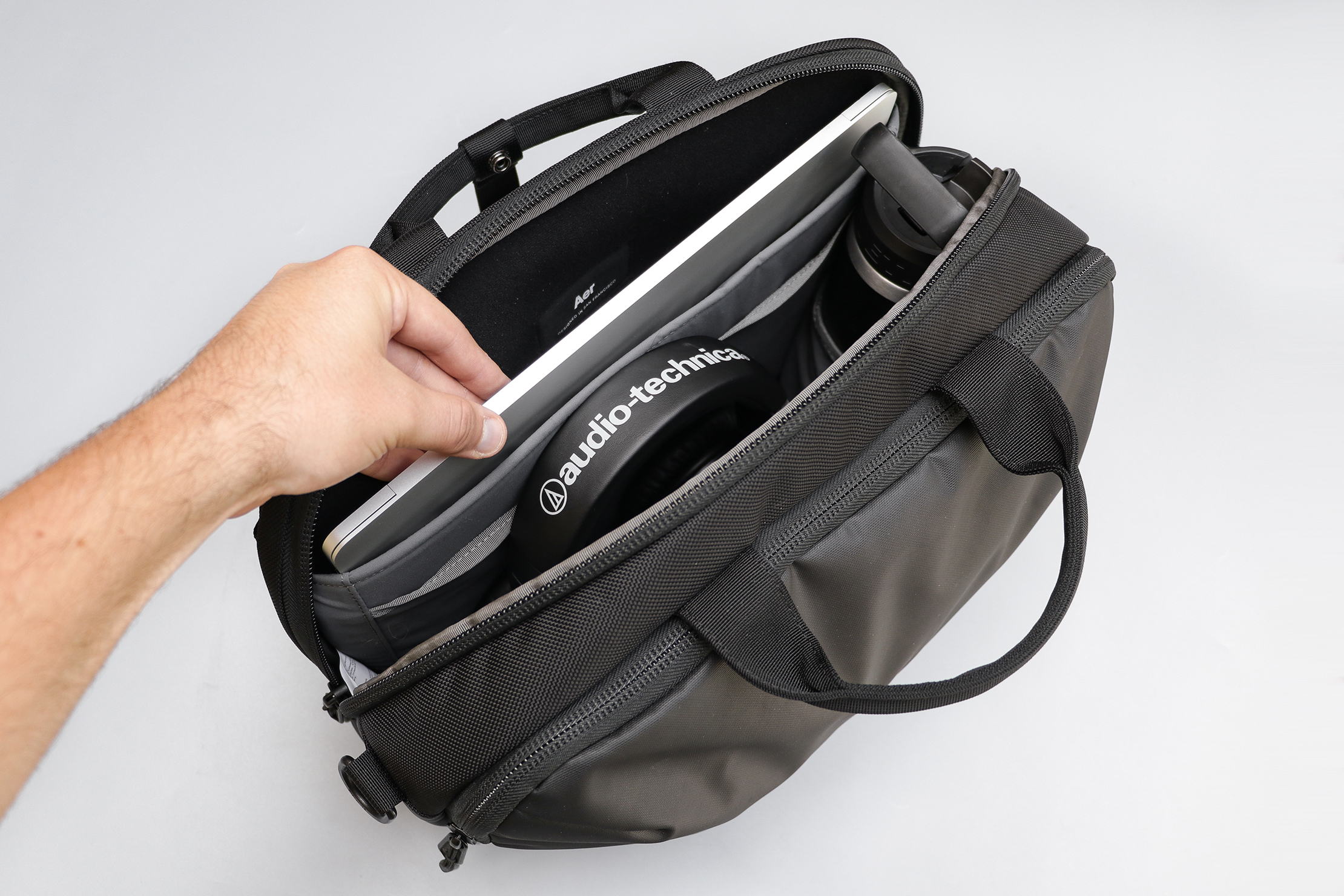 There's no pocket for a water bottle on the outside of the bag, however, there's a pocket on the inside that will hold one. Because the brief isn't very tall, this pocket doesn't accommodate larger bottles—we've found even the YETI Rambler 18 oz Bottle to be a tight fit. You also might not be comfortable keeping a water bottle so close to your tech if you're carrying a laptop inside, so your mileage may vary.
Against the back wall is a sleeve that fits up to a 15" laptop. It has some dense padding and soft, fleece-like material that protects your tech from scratches. We haven't felt the need to keep a laptop in a protective case when we have it in this sleeve as it feels well construction, and there is a false bottom, albeit slight. You may feel more comfortable keeping your tech in a case because of this on the off-chance you drop the bag or it gets shuffled around on a rougher commute.
In front of this laptop sleeve is another sleeve that you can use for a tablet if you travel with one. It's suspended, so your gear is better protected from any damage in this sleeve than in the laptop compartment. You're not limited to just keeping a tablet or e-reader inside, though. You can also keep more documents, a notebook, or any other gear in here that you might have instead.
Then you have some free space in the middle to store your bulkier gear, whether that includes a pair of over-the-ear phones, a sweatshirt for if the weather turns, some books to read when you have some free time, or anything else you may be taking with you on your commute. All of it is easy to spot and grab when needed, and the structure of this bag keeps this compartment from looking lumpy or bulky when fully packed.
Usage Timeline
Initial Usage
Condition: Excellent
Can be carried comfortably by the shoulder strap or briefcase handles
Laptop compartment is soft and well padded
Materials are durable and extremely weather-resistant
2 Weeks of Use
Condition: Excellent
The organization in the front compartment means you don't have to carry a tech pouch if you don't want to
The look of the bag definitely lends itself to a smarter aesthetic and we like it
We've enjoyed the fact that it stands up on its own in testing so far, it's surprisingly handy when you're out and about or at your desk
Access the Pro Community Discussion
Get your questions about the Aer Commuter Brief 2 answered from our team and the Pro Community right here on the page. Plus, join discussions with other members about gear, guides, and more.
Other Bags & Luggage Reviews