Aer Slim Pack Review
The Aer Slim Pack is a minimal, sleek, and sophisticated bag with ample organization. We just wish it was more comfortable to carry.
Our Verdict
Unlock the Pro Summary
Save time. Get access to brief summaries of our reviews so you can browse and make decisions more efficiently.
Pros
Just-right level of organization
Slim, minimal aesthetic
Soft lining and false bottom in the laptop compartment
Cons
Stiff, feels like a brick on our back
No mesh on the back panel (gets hot and sweaty in warmer weather)
No external water bottle pocket
Recent Pack Hacker Video
Technical Details
Capacity

8.5l

Weight (lb)

1.9 lb (0.9 kg)

Denier

1680D

Side exterior

Dimensions

16 in x 11.5 in x 3.5 in (40.6 x 29.2 x 8.9 cm)

Notable Materials

Nylon, Polyurethane, CORDURA® Ballistic Nylon, YKK Zippers, Duraflex Hardware

Manufacturing Country

China

Laptop Compartment Size

15"

Warranty Information
Full Review
Get up to 10% off Aer • Join Pack Hacker Pro
If you're anything like us and prefer to pack as minimally as possible, we have an idea of what you're looking for in an everyday bag—something that's low-profile, but still has enough room and organization to fit all the essentials.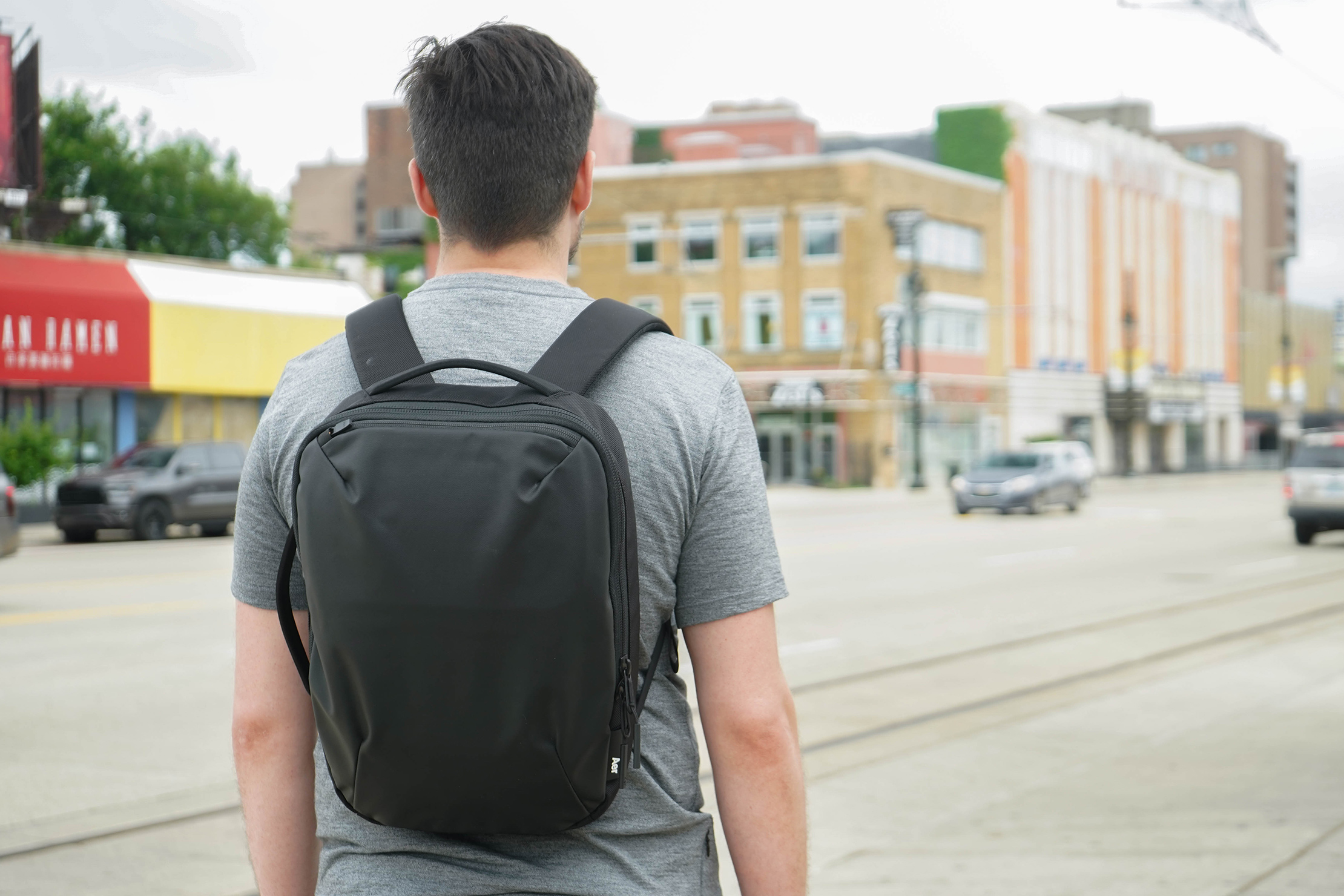 Enter the Aer Slim Pack. It's a minimal bag with plenty of compartmentalization for your everyday essentials. It's the smallest backpack in Aer's Work Collection, and the only new one (the others are updated versions of previous Aer packs). We'll be focusing on the Slim Pack specifically in this review, but if you're looking for something bigger, check out our reviews of the Tech Pack 2 and Day Pack 2 from the same collection.
We've been testing this pack for two weeks now, and we're ready to jump in—so let's do it.
Materials & Aesthetic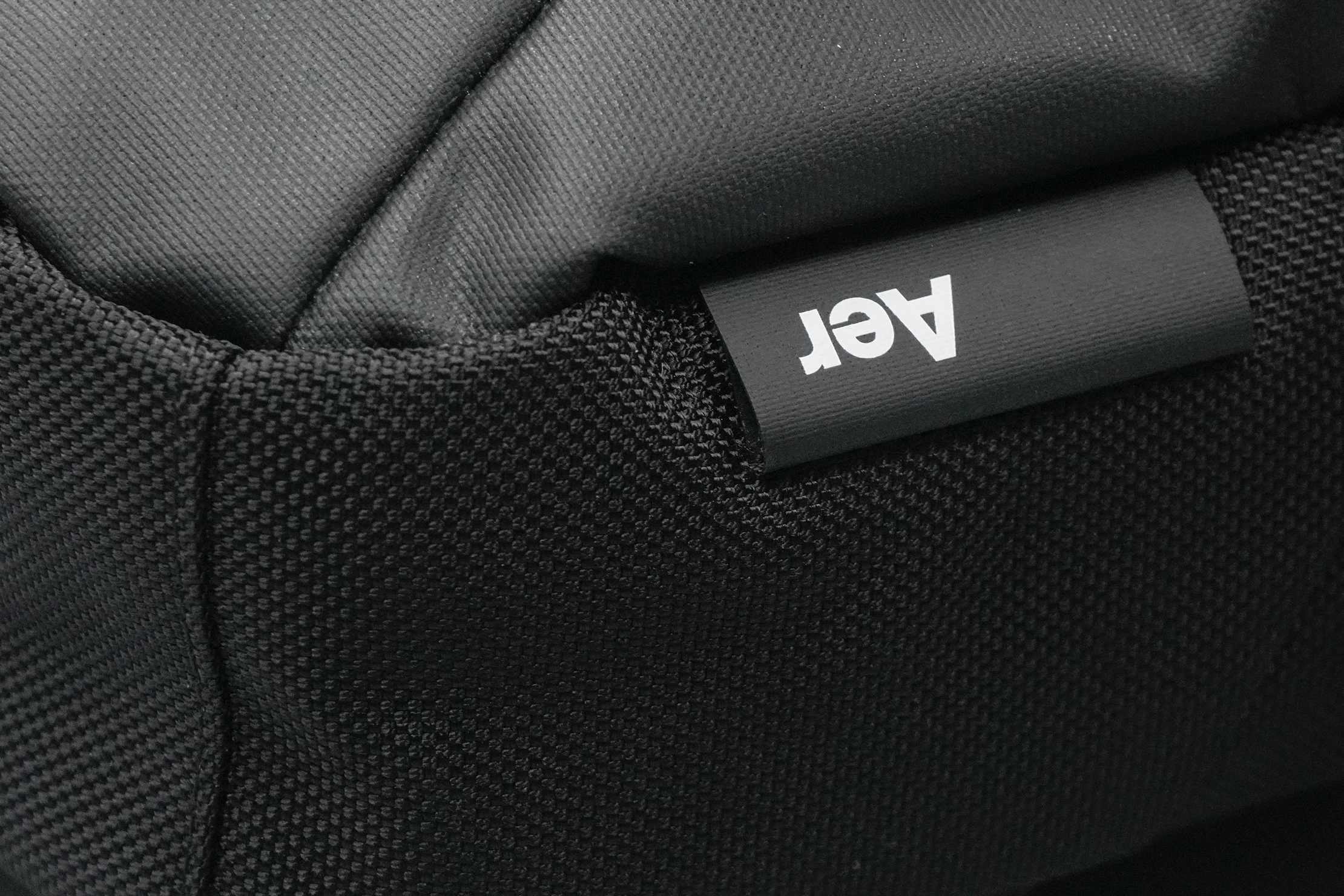 There are some Aer logos throughout the bag, which you'll find on the zipper pulls, on a tag at the bottom-right corner, and sewn into the back wall of the main compartment. They're nice and subtle which helps this bag retain a clean, streamlined look.
At the time of this review, the Aer Slim Pack, along with the rest of the Work Collection, is only available in one colorway—Black. So, if you're looking for a more colorful, vibrant bag, this might not fit your aesthetic. But for us, we're digging the black-on-black—it keeps this bag looking sleek and gives it an air (or should we say aer) of sophistication.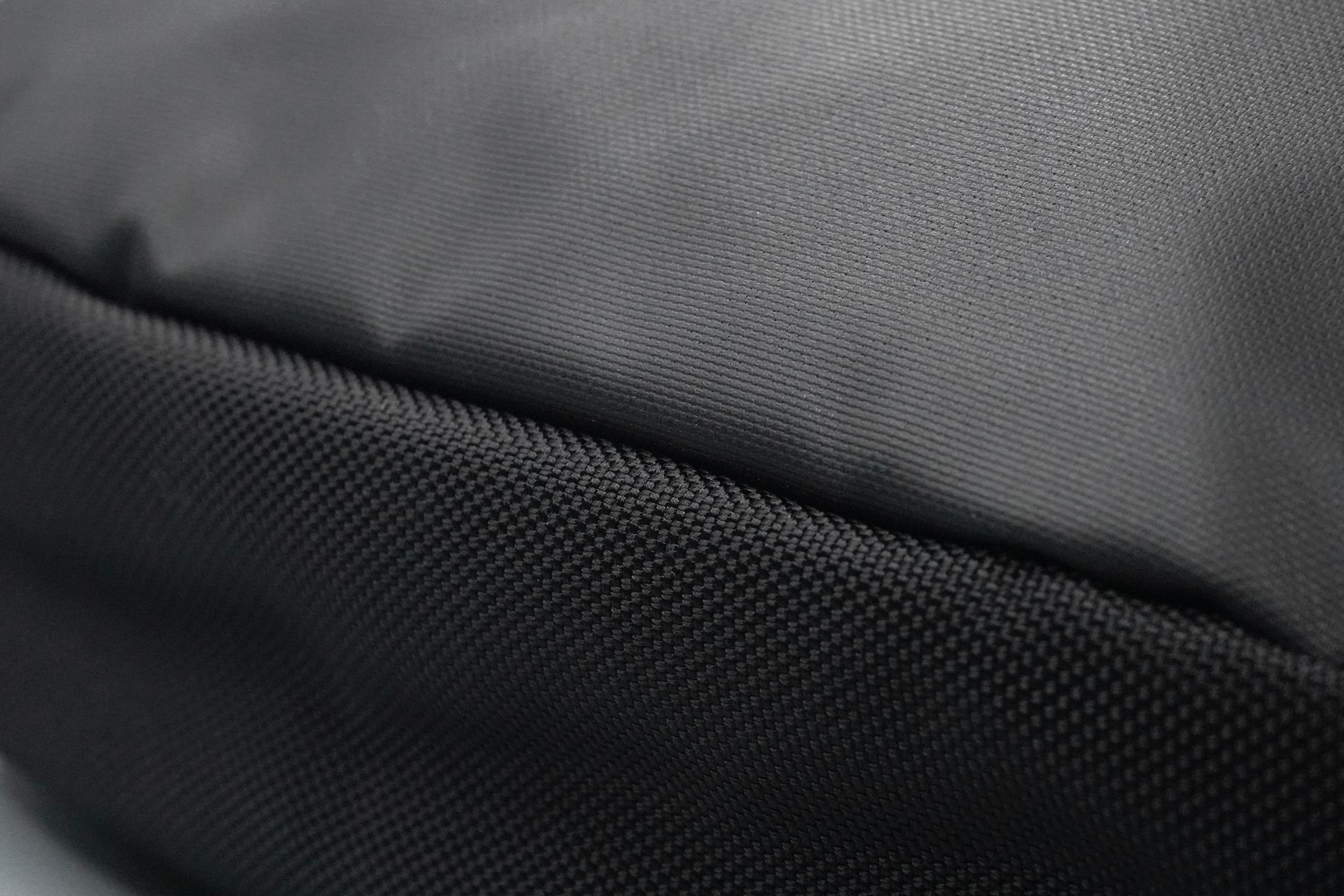 This pack is made with classic Aer materials. And by that, we mean 840D nylon finished with a durable, water-resistant PU (polyurethane) coating, with 1680D CORDURA ballistic nylon everywhere else. We're happy to report that these fabrics have held up well throughout our testing—which is exactly what we expect from Aer. So far, our gear has been dry and there aren't any holes, scratches, or scuffs to speak of.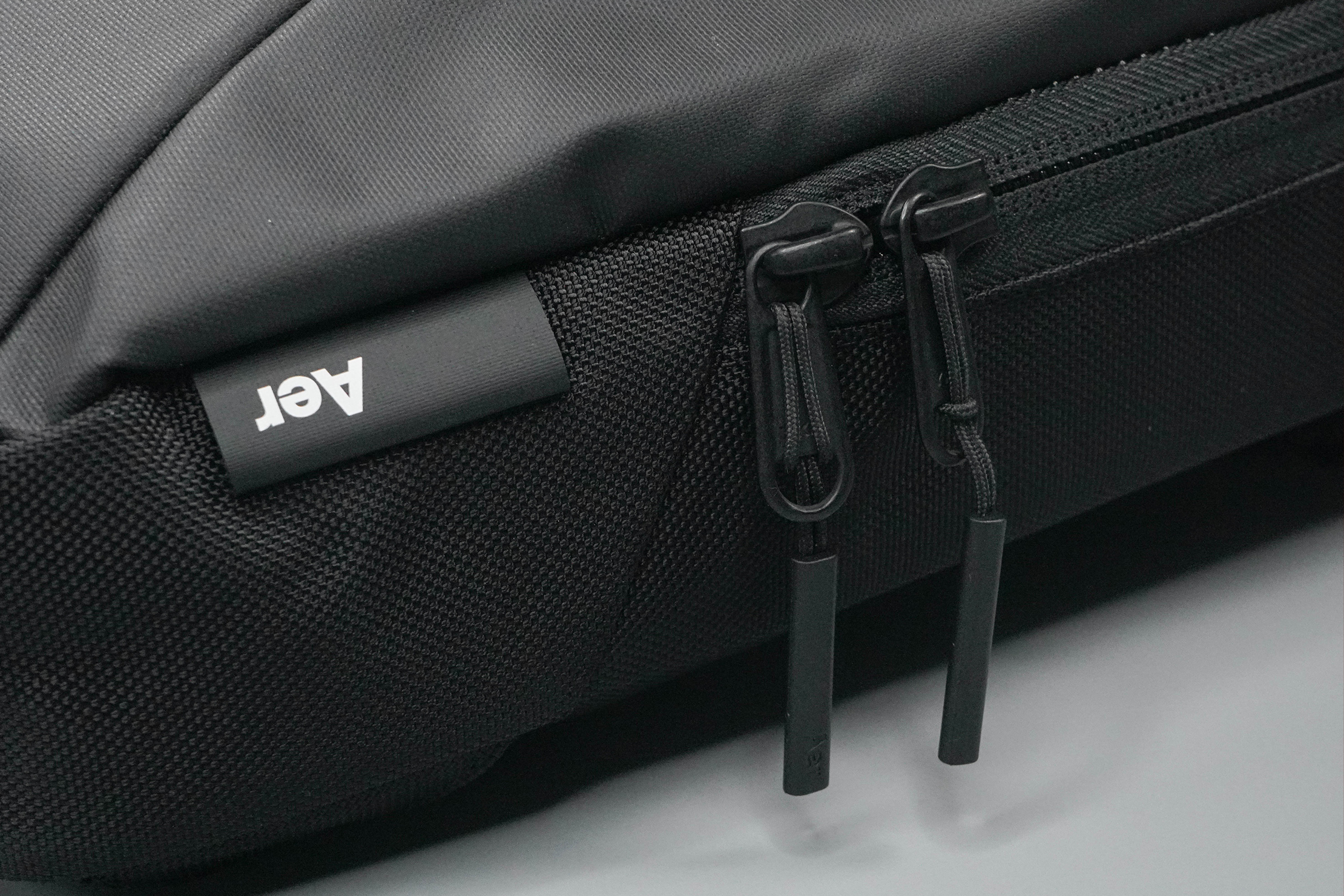 The zippers on here come from the trusted brand YKK, with Aer's typical jangly pulls. They're not weather-resistant AquaGuard zippers like you'll see on the Tech Pack 2 from the same collection, but we've found during our testing that these zippers work much more smoothly anyway, so no complaints.
And last (but certainly not least) on the list of materials is the Duraflex hardware—which we've tested lots of on other bags. And we're happy to report that, as usual, everything is working as it should.
External Components
The shoulder straps on the Slim Pack are nicely padded and lined with mesh that makes them comfortable and breathable, especially for a pack of this size. It's still an all-black bag, though, so it can get a little warm on our backs when we're out in the summer heat.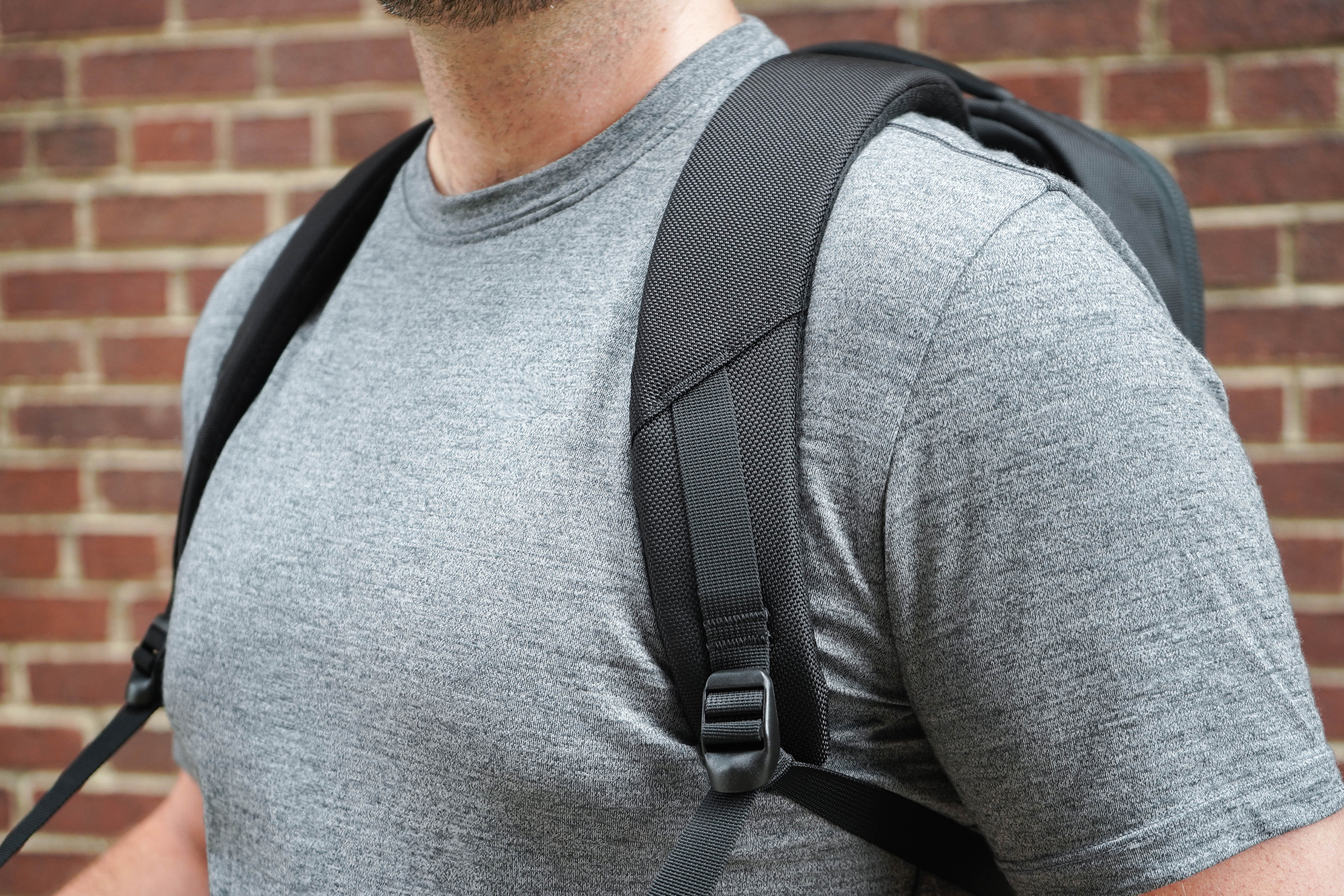 There are some elastic keepers on here as well to keep excess strap managed, which we always appreciate (because a #DangleFreeExperience is a happy experience). What you don't have is a sternum strap. It hasn't been an issue during our testing as it's not a necessity for us on a bag this size. That said, if you like having that extra stability, you might miss it.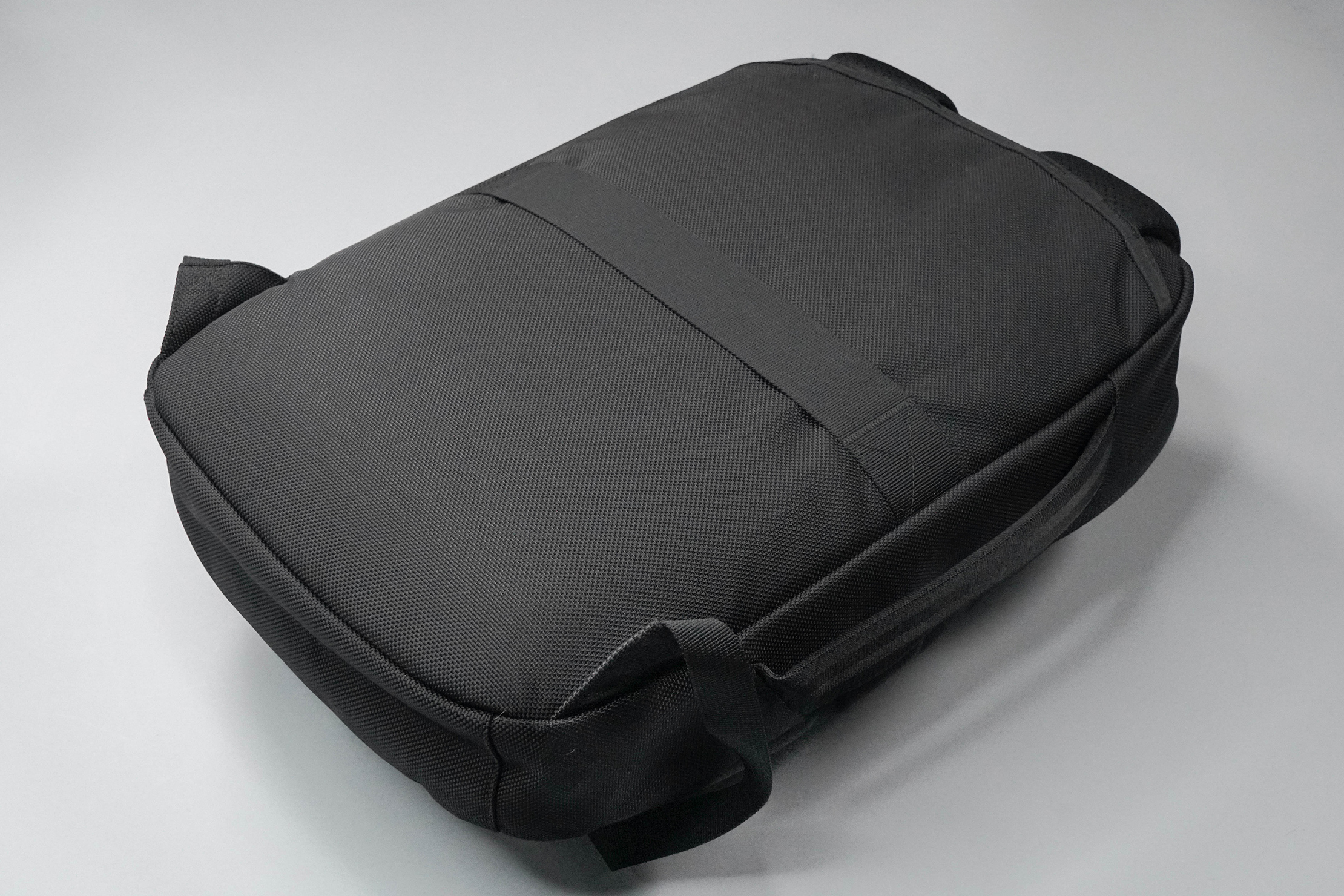 As for the back panel, you don't have that same padding and mesh lining—so you don't have the same comfort, or breathability to help keep that dreaded Swamp Back at bay (and again, it's a black-on-black bag so this is especially a problem when you have the pack on in warmer weather). But you do have a luggage pass-through, so if you're traveling with the Slim Pack and roller luggage (say, for a business meeting), you can slip this pack over the handle for easy rolling through the airport, public transport, etc.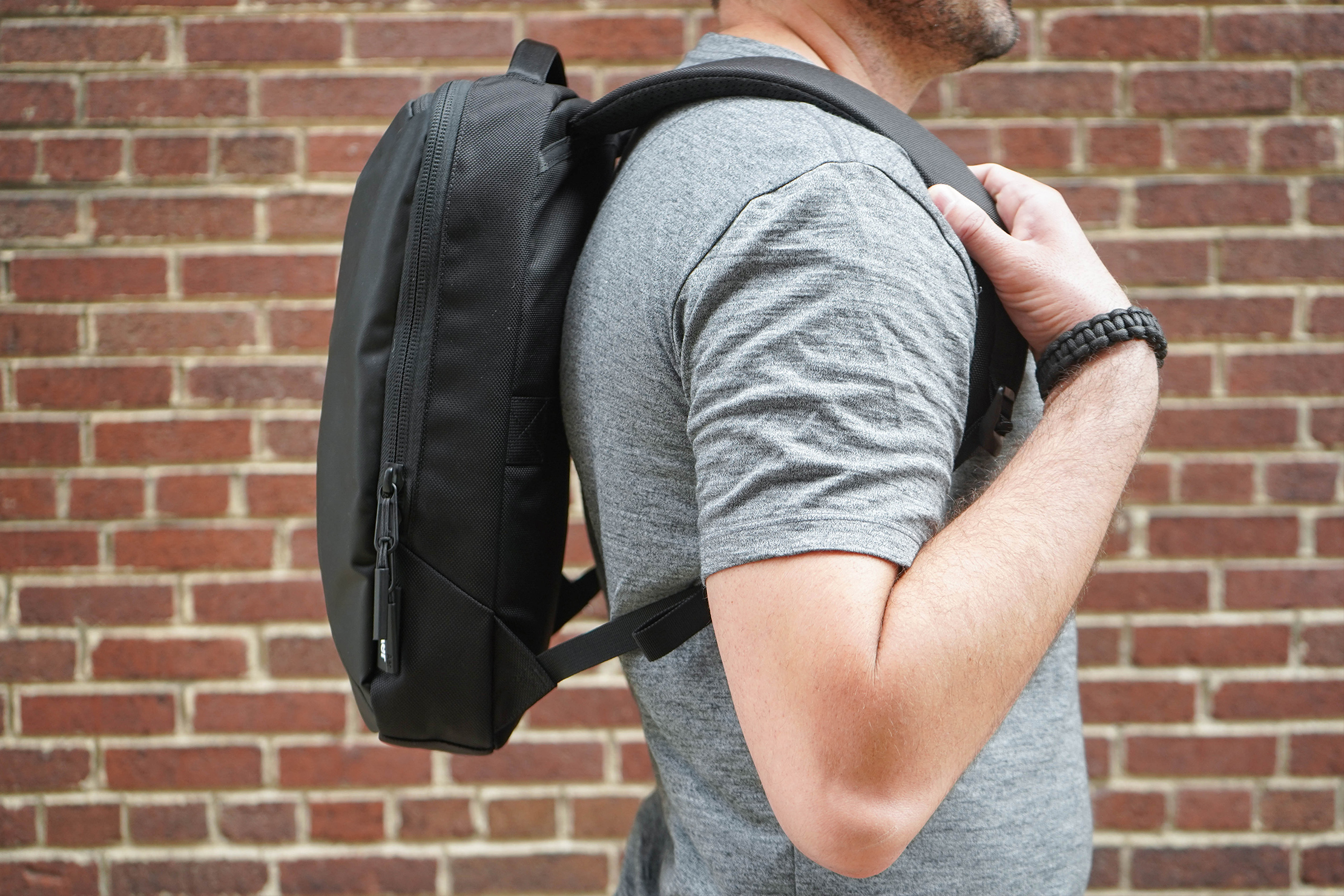 Now, something we want to talk about here is the fit—we've been experiencing a recurring phenomenon with the bags in the Work Collection that we've coined as "hover back." The bags feel as though they pull away from our backs when we've got them on, leaving gaps that feel unnatural and uncomfortable (and it's especially worse when we've got a laptop inside).
We've had this problem with the other two backpacks in the Work Collection as well, so we wanted to gauge whether our Pro Community has had any similar experiences. After some great discussions, we've deduced that this issue arises from not one, but a few factors, including the bag's height, structure, and anchoring of the shoulder straps.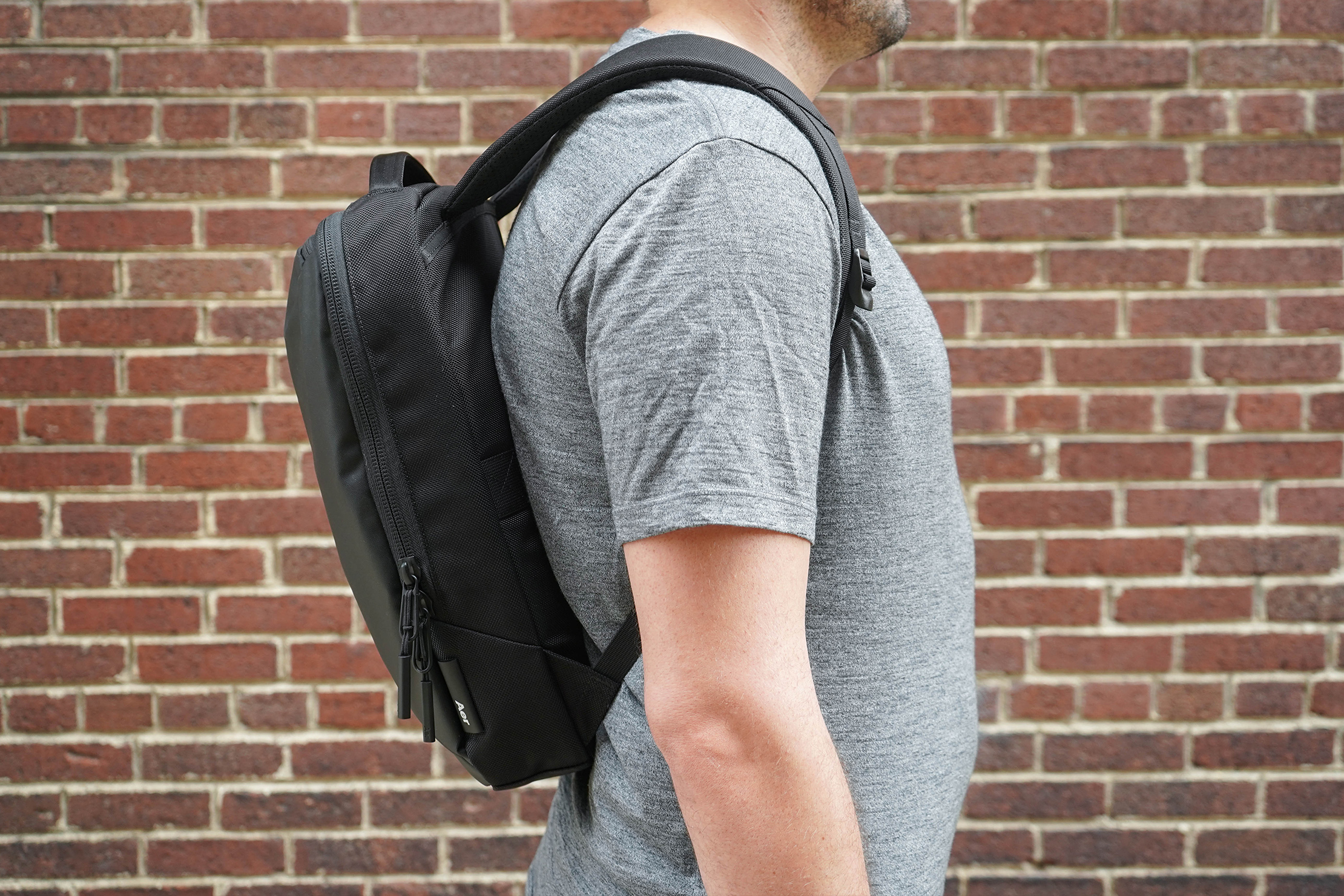 Height-wise, this pack is short. And we prefer to carry bags higher up on our backs, as that's where they often feel the most comfortable (especially for our taller team members). When we do so, the bottom of the bag is left floating off of our bodies. The only real solution we've had to the hover back problem is adjusting the bags so they sit lower than where we'd usually wear them, as this helps them fall more comfortably into the smalls of our backs.
As for its structure, these bags are pretty rigid—the Tech Pack 2 more so than the Day Pack 2 or this bag, but rigid nonetheless. This is great as it allows them to stand upright on their own and helps protect the gear inside. However, this also makes them stiff and causes them to feel like bricks on our backs.
The way the shoulder straps are anchored is stiff and not very flexible. We've compared against the North St. Bags Weekender Meeting Bag which we've also reviewed and is a similar size. Even though the straps are far less padded, the way they attach gives them more flexibility, allowing them to better curve to our backs. To sum it up, the Slim Pack's harness system is essentially working against itself—and can make the carry a little uncomfortable.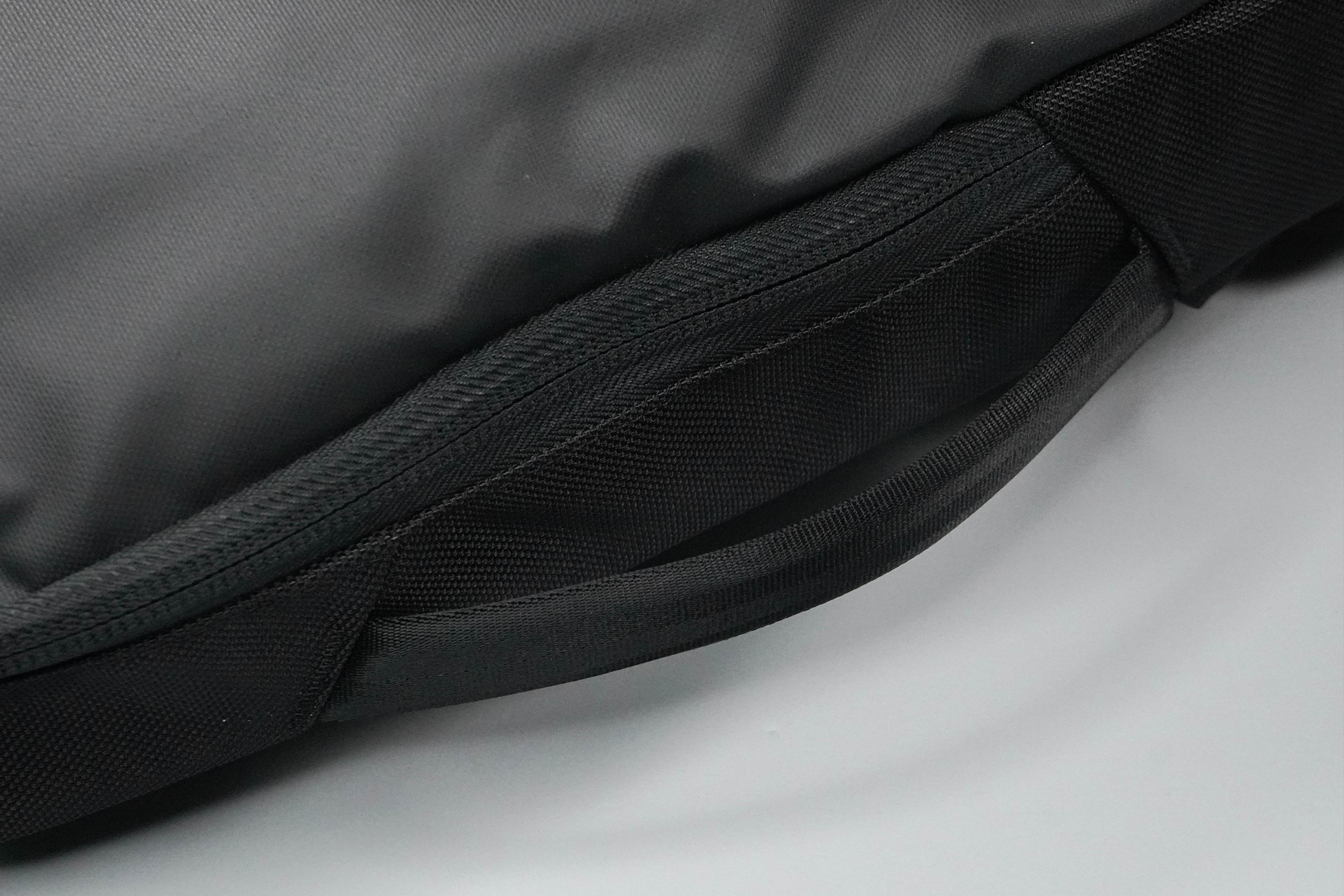 You also have two grab handles on here that are made with a smooth seatbelt-like material—they're nicely padded and comfortable in the hand. The handle at the top works for hanging and picking the bag up, while the side handle allows you to carry this bag briefcase-style whenever you're feeling it (or easily grab it out of an overhead bin when you're traveling).
Because this bag is pretty slim, there's no room for an external water bottle pocket. The capacity in this bag is a little tight as well, so you don't have a ton of room to keep a bottle inside either (and might not want to keep it close to your tech, anyway). This isn't a deal-breaker for us, but it might be for you, especially if a water bottle is on your list of daily essentials. So it's something to note.
Fit Notes


Tom—Height: 6 ft 2 in Torso: 19.25 in
Feels a bit like a brick—stiff on the back especially with a laptop
Is most comfortable when straps are loose, but then the shoulder strap adjuster hardware is level with the chest
Straps feel a little "stiff"
We tested against the North St. Bags Weekender Meeting Bag whose straps are thin, but more flexible both in the material, and at the anchor point, which was more comfortable


Riley—Height: 5 ft 4 in Torso: 16.5 in
Top of the shoulder straps dig into shoulders (better when straps are looser)
Can be tightened more than when Tom is wearing it, but still feel the "hover back" (when the bag feels like its pulling away from the back, and leaves gaps at the bottom)
Inside The Pack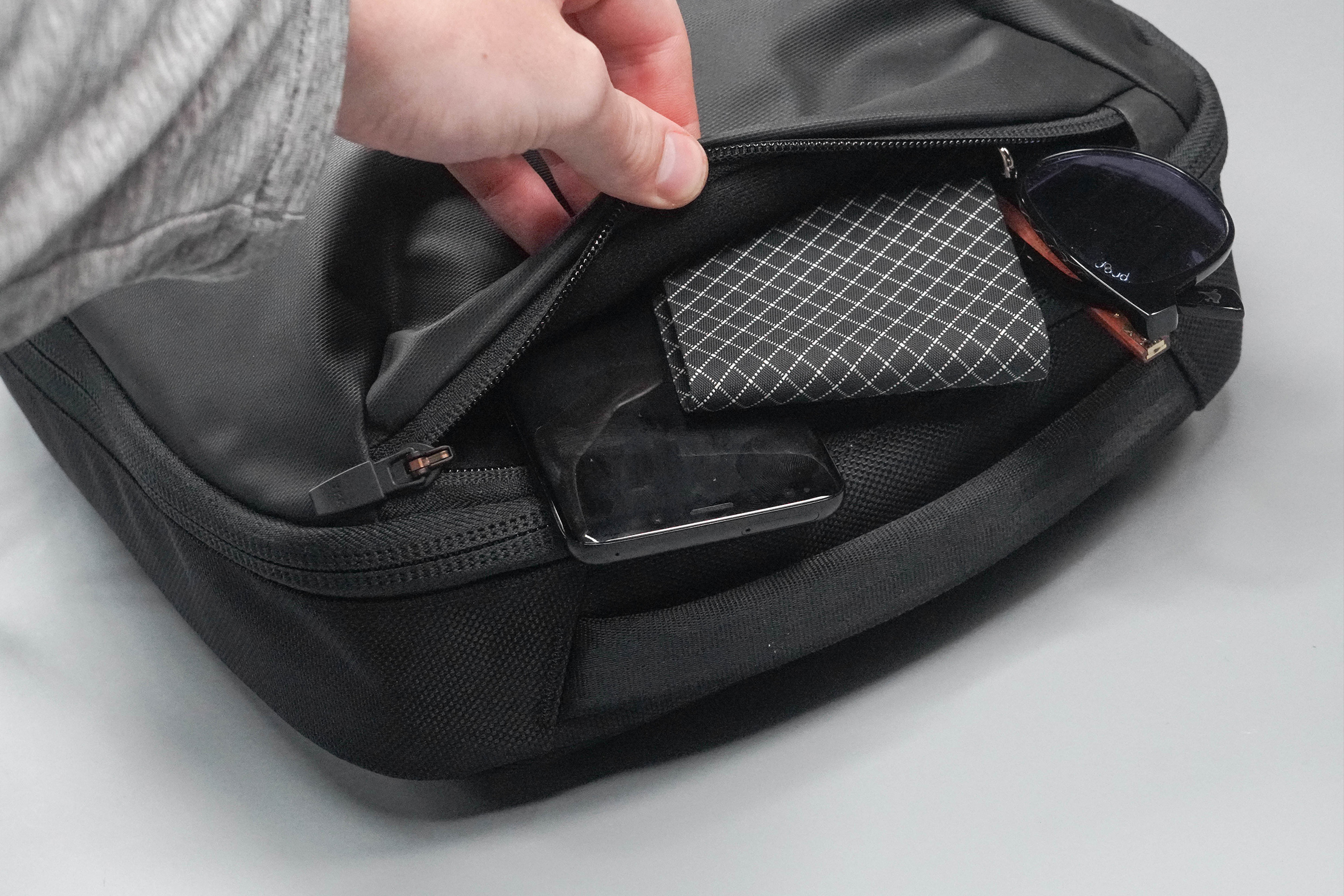 Now that we've covered the outside, let's get inside this pack. The first thing we'll touch on is the medium-sized, zippered quick-grab pocket at the top of the bag. It's a great spot for your more frequently-used gear, like keys or your phone. Plus, it's lined with a super soft, fleece-like material, so if you do keep your phone or a pair of sunglasses in here, they're protected from any scratches. We saw this material integration on the Aer Capsule Pack Max and have been digging it ever since.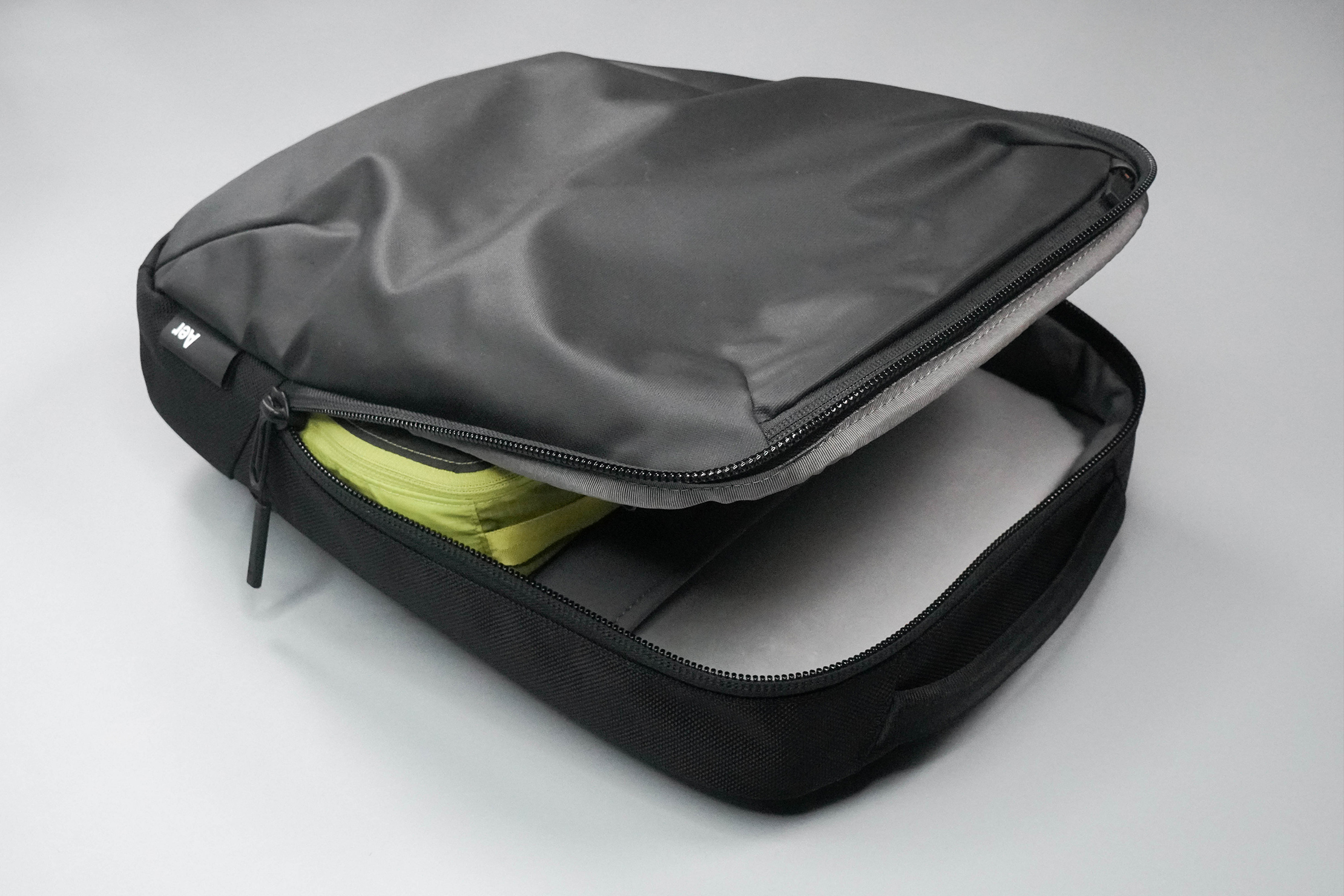 And then you have the main compartment. It opens horseshoe-style and folds over about two-thirds of the way, which gives us plenty of visibility and access inside. And once you've got it open, you'll notice quite a few pockets on the front flap—this organization is similar to what you'll see on other Aer bags (and that's because it works).
You have a sleeve that can easily fit some documents or a tablet if you use one—though this pocket doesn't have a false bottom, so if you are planning on throwing a tablet in here, we recommend keeping it in a protective case. On the front of this sleeve at the top is a zippered pocket, where we've been keeping some smaller tech accessories like an Apple Magic Mouse, a dongle, as well as a charging block. You'll also find a key clip in here if you're looking for another spot to stash your keys. It's plastic but still feels strong.
Now, you'll have to be a little strategic without how you pack in here. If you have too many bulky items, you're going to have a bulky pocket, which can steal space from the pockets below it and affect what you're able to pack in them. You do also have a key clip in here if you're looking for another spot to stash your keys. It's plastic but still feels strong.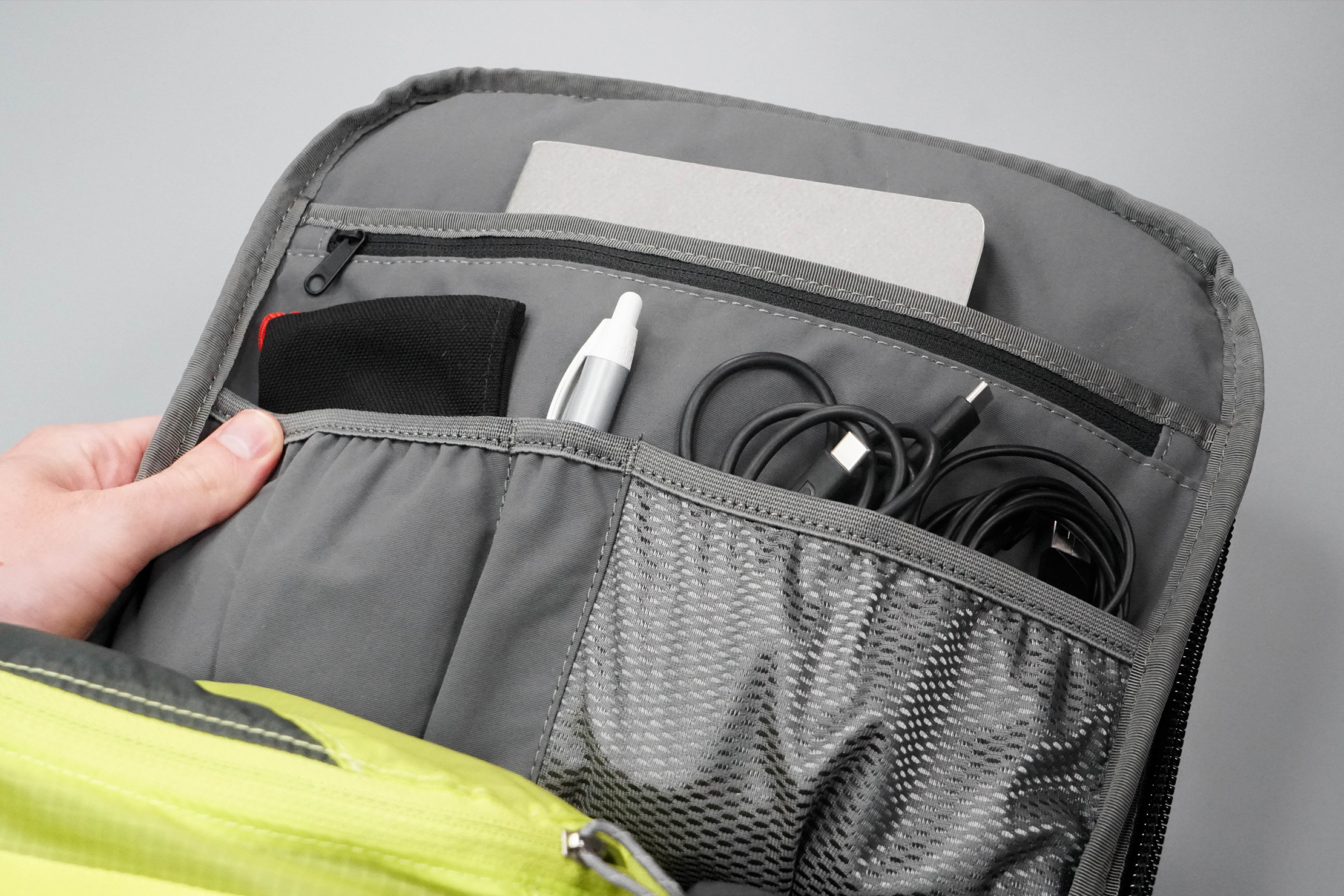 Below this zippered pocket, you'll find some more organization. There's a medium-sized mesh pocket on the right-hand side where we've been stashing some more dongles, as well as a trusty spork (for all of our snack emergencies). This mesh is pretty flexible so we're able to pack out this pocket nicely.
To the left of this pocket is a small sleeve that's great for keeping a pen, pencil, or stylus handy. And to the left of that is an also medium-sized elastic pouch that fits a small notebook along with a Tom Bihn Ghost Whale Organizer Pouch that we've been using to stash a pair of headphones.
Against the back wall of the main compartment, you have a laptop sleeve that can accommodate up to a 15" laptop. It's densely padded and also lined with that same soft, fleece-like material as the quick-grab pocket to help protect our tech from scratches. Another one of the upgrades we've really appreciated in the Work Collection bags is a false bottom integrated into the laptop sleeve. That said, this pack has the slightest false bottom of the three, so we're not getting quite the same level of protection that our laptops deserve when we're setting the bag down, or from accidental drops.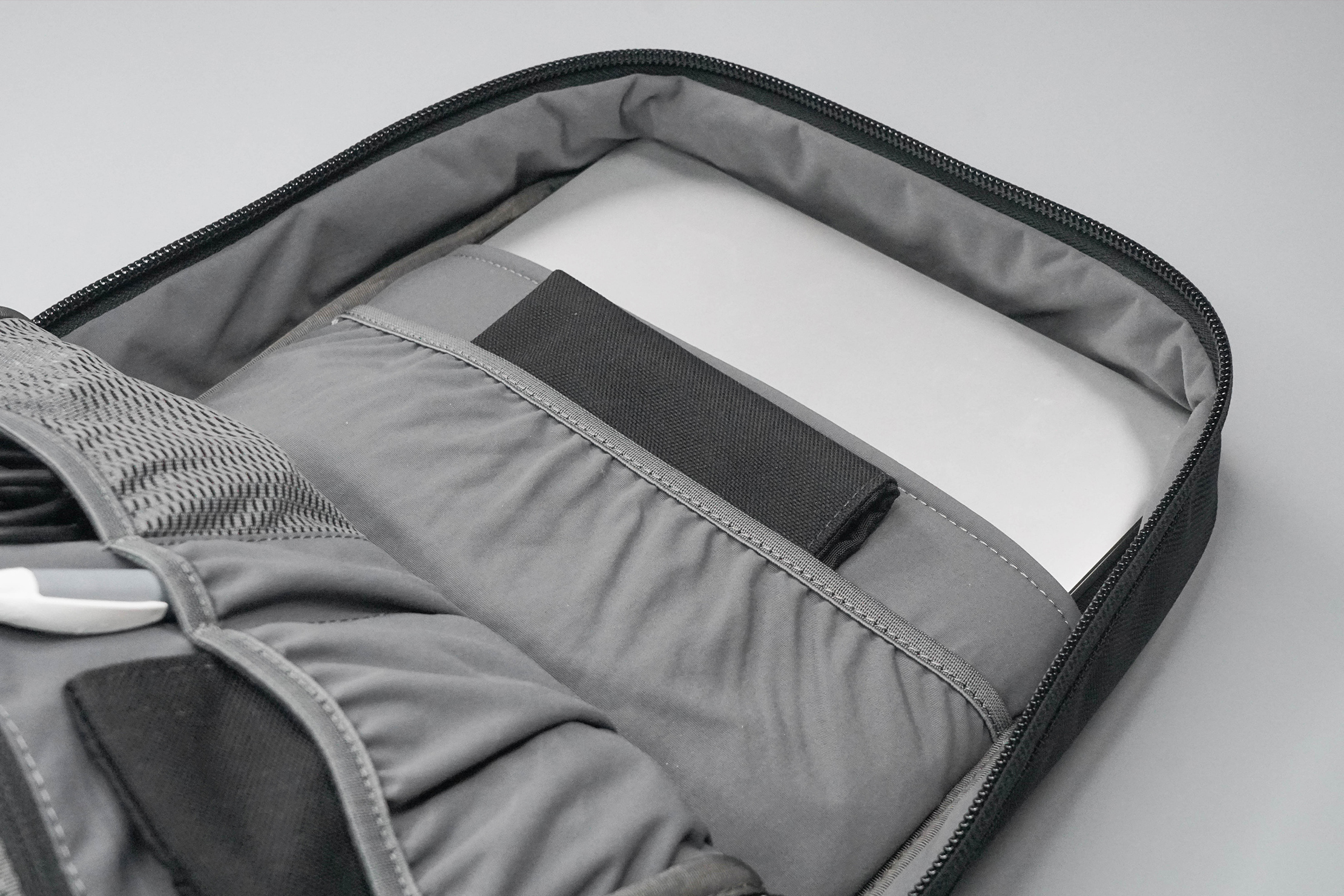 The back rim of the pack is thin enough to fold back in order to easily slip your laptop out, but it's still not as quick as something like the Mystery Ranch Rip Ruck 24, for example, that has a crease in the top part of the back panel you can bend out of the way entirely.
And in front of this sleeve, you also have an elastic pocket. It's long enough to fit a keyboard, even when inside a protective sleeve (which is what we've been using it for), but it can also work for other flatter items—documents, notebooks, and the like.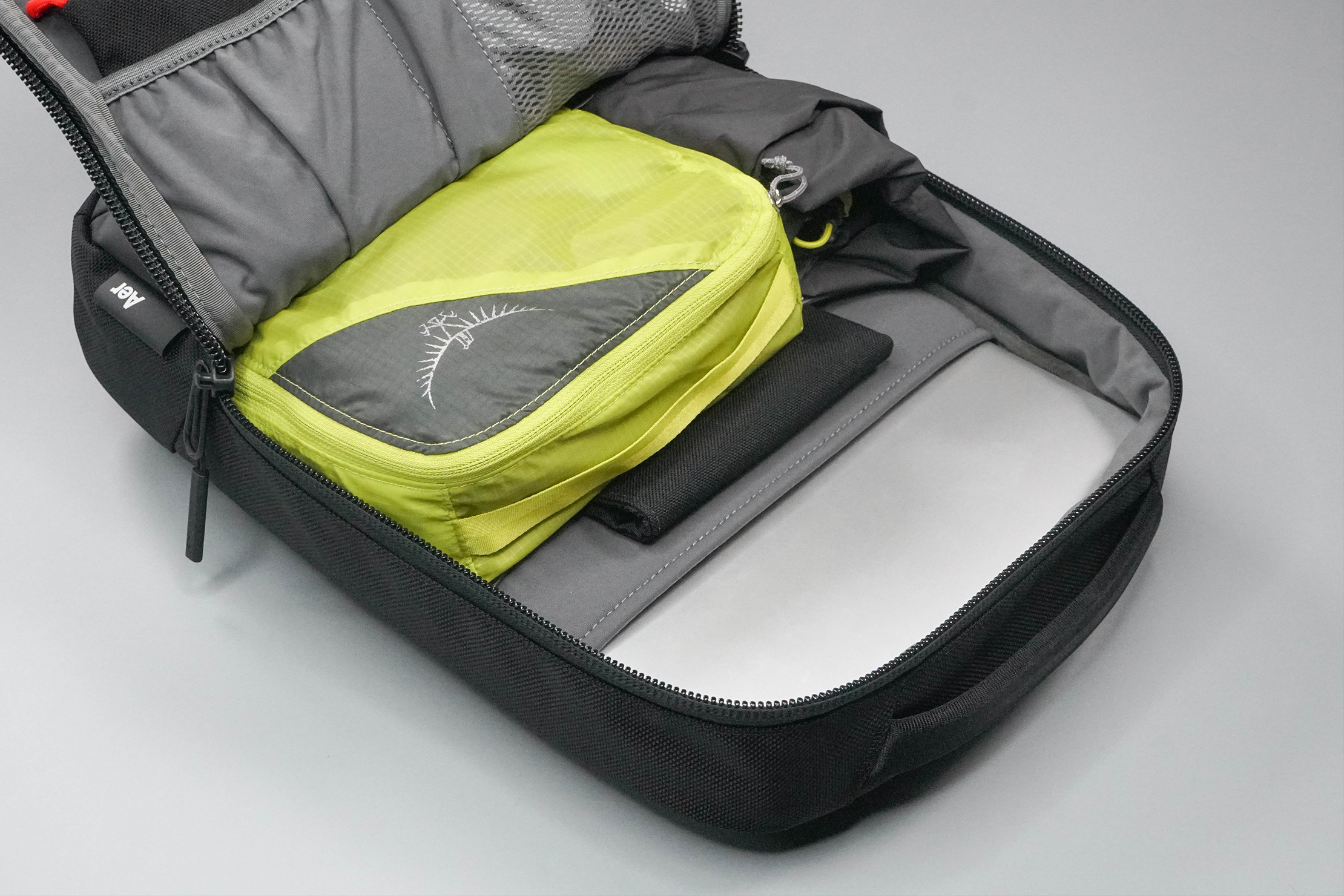 As for the rest of the main compartment, you do have some room if you want to throw in some loose items like a compressible jacket or sweatshirt. We've also been able to stash a Roost Laptop Stand in here no problem. But if you're using this pack for the office, something you won't be able to fit in here is a large or bulky lunchbox. Also, if you have the front flap pockets fully packed, it can obstruct your access to the open space at the bottom of the compartment. We haven't had a ton of issues, but it's something to keep in mind.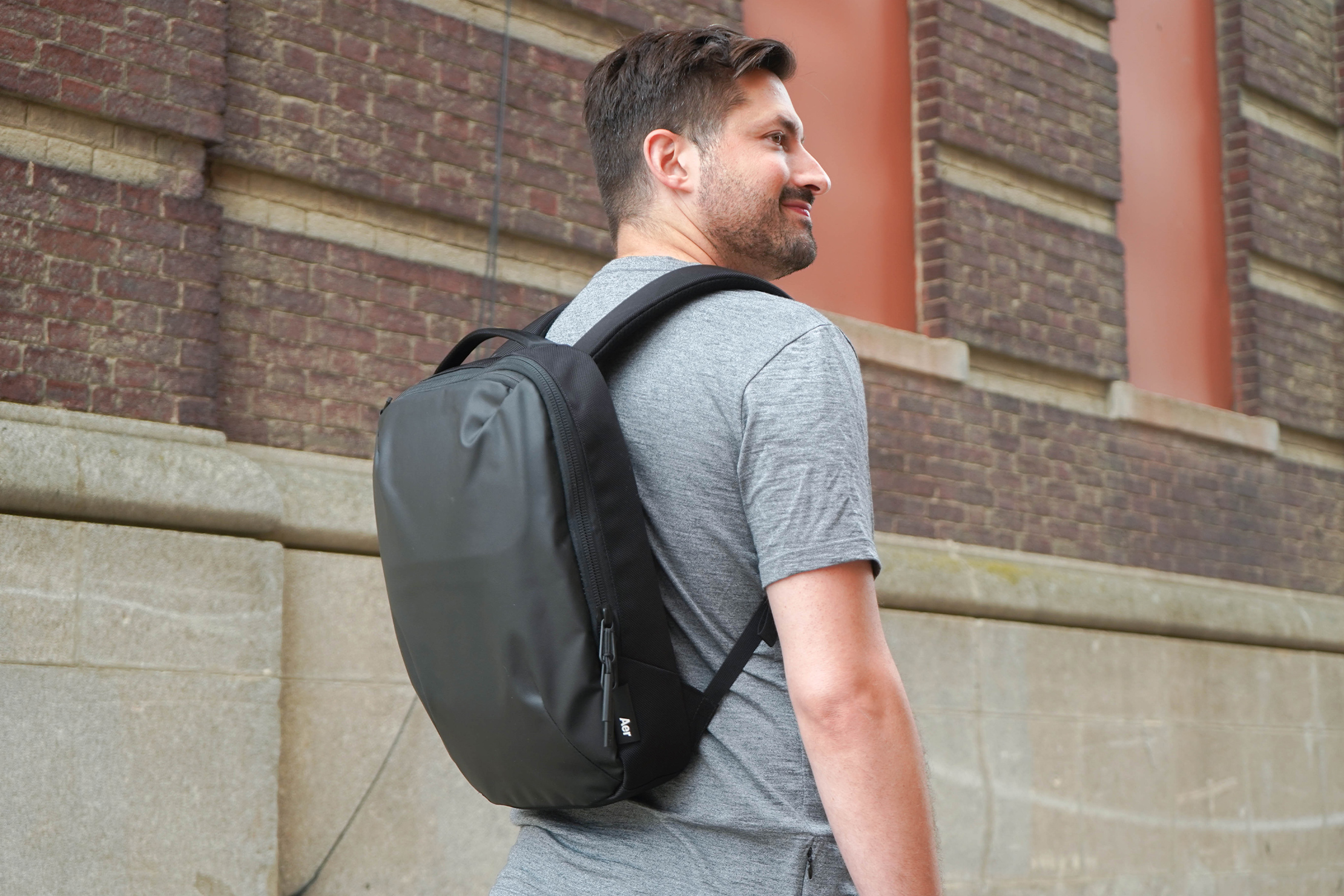 To wrap things up, everything is as it should be durability-wise—no complaints to share.
Usage Timeline
Initial Usage
Condition: Excellent
Great size for your laptop and some tech accessories
Shoulder-straps can stow away if you want to carry it by its side handles
Durable and water-resistant materials
2 Weeks of Use
Condition: Excellent
Excellent, just-right organization
Liking the thinner profile—it fits everything needed for a day of work
The material in the laptop compartment and top pocket is soft to the touch and feels nice in the hand—excellent material choice
The pack can sit oddly on the back and not contour—especially with a laptop inside—feels like a brick
Access the Pro Community Discussion
Get your questions about the Aer Slim Pack answered from our team and the Pro Community right here on the page. Plus, join discussions with other members about gear, guides, and more.
Other Bags & Luggage Reviews