Aer Capsule Pack Max Review
The Aer Capsule Pack Max has an ideal blend of open space and organization. We just wish the zippers were smoother to use.
Our Verdict
Unlock the Pro Summary
Save time. Get access to brief summaries of our reviews so you can browse and make decisions more efficiently.
Pros
Great blend of organization and open space
Harness system is very comfortable and still retains a minimal look
Versatile modes of carry—each works pretty well
Cons
YKK AquaGuard zippers are sticky (more noticeable in some areas than others)
Zipper pulls are jingly and can be loud
Stuff can fall out of the top non-zippered organization pockets when switching between carry modes
Recent Pack Hacker Video
Technical Details
Capacity

40l

Weight (lb)

4.1 lb (1.9 kg)

Denier

1680D

Dimensions

22 in x 14 in x 9 in (55.9 x 35.6 x 22.9 cm)

Notable Materials

CORDURA® Ballistic Nylon, YKK Zippers, Duraflex Hardware

Manufacturing Country

China

Laptop Compartment Size

15"

Warranty Information
Full Review
Get up to 10% off Aer • Join Pack Hacker Pro
The Aer Capsule Pack Max is a 40L one bag travel pack that's been designed in collaboration with Nine Hours, a Tokyo capsule hotel group.
This bag comes in two sizes—the Capsule Pack which is 35L and the Capsule Pack Max which is 40L. While we've been testing both, we're going to focus on the 40L Capsule Pack Max in this review.
At the time of this review, the Capsule Packs are the newest editions to Aer's line of travel gear. And since we've tested several solid products from the folks over there, we've been excited to get our hands on this bag.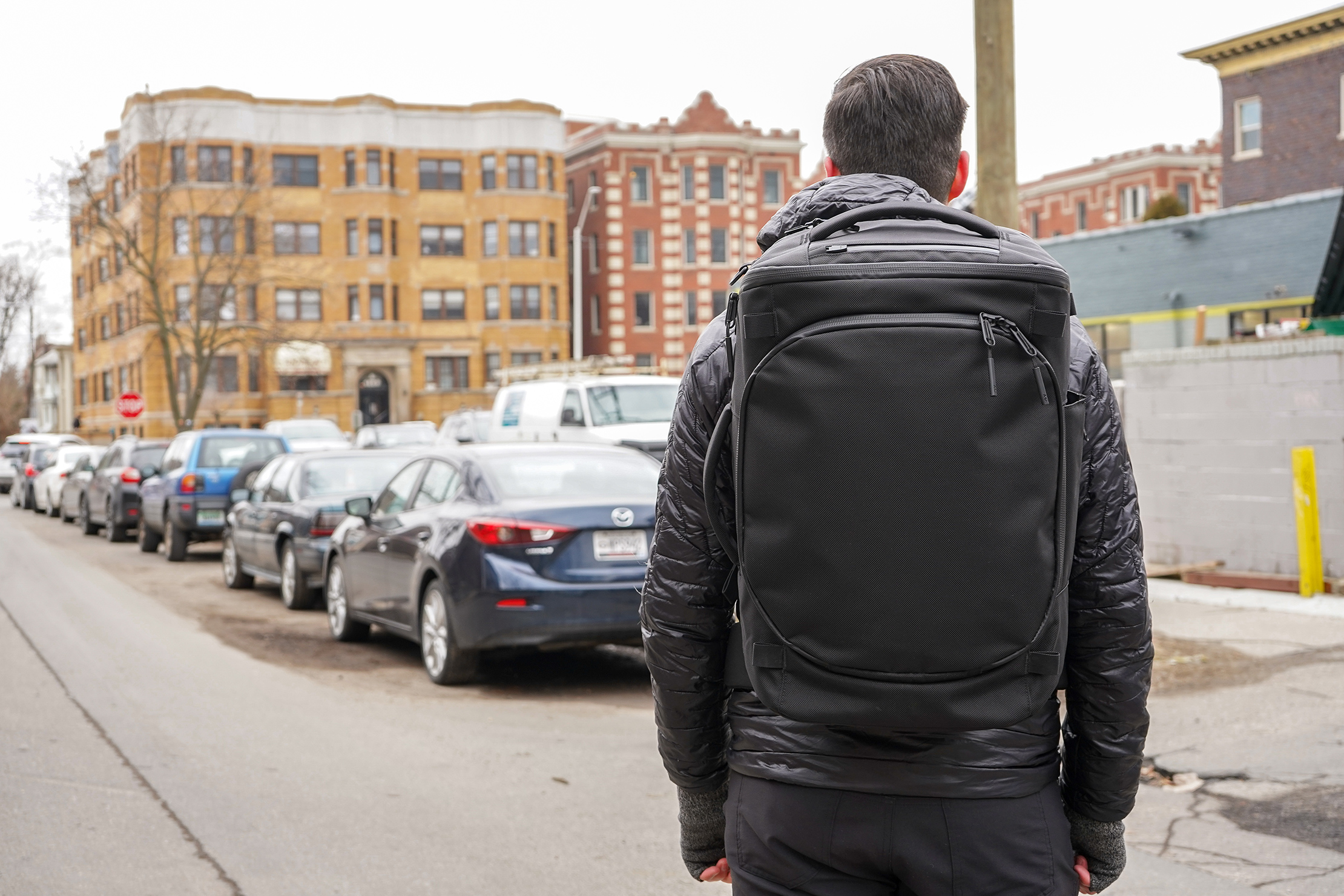 We've been testing the Capsule Pack Max for three weeks around Detroit, Michigan, putting it through its paces while fully loaded up. Read on for all the details.
Materials & Aesthetic
The main opening on the 40L Aer Capsule Pack Max has a very similar style and shape to what you see on Capsule hotels in Japan—specifically the ones from Nine Hours. These are basically tiny hotel rooms designed for short stays—quick business trips, staying in the city overnight after the Toyko trains have stopped running, etc. Aer has captured the function and the visual essence quite nicely here and it goes along well with the partnership.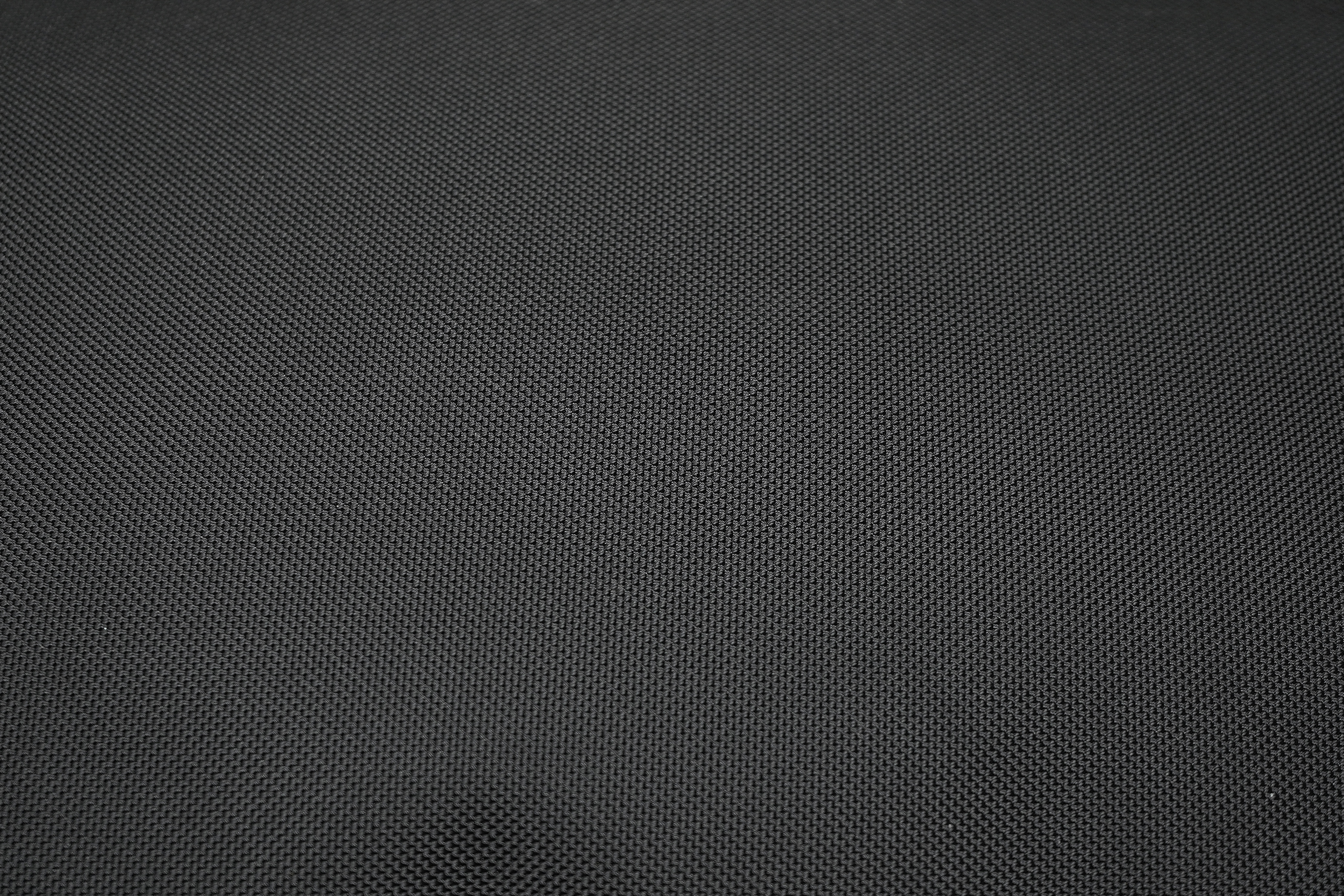 In typical Aer fashion, the materials on this bag do not disappoint. The main fabric is 1680D Cordura nylon, which is super-durable and a great choice for a bag. If you're familiar with other Aer products, they use this fabric on just about everything. We think this type of fabric makes a lot more sense on a large travel backpack than on a smaller travel wallet.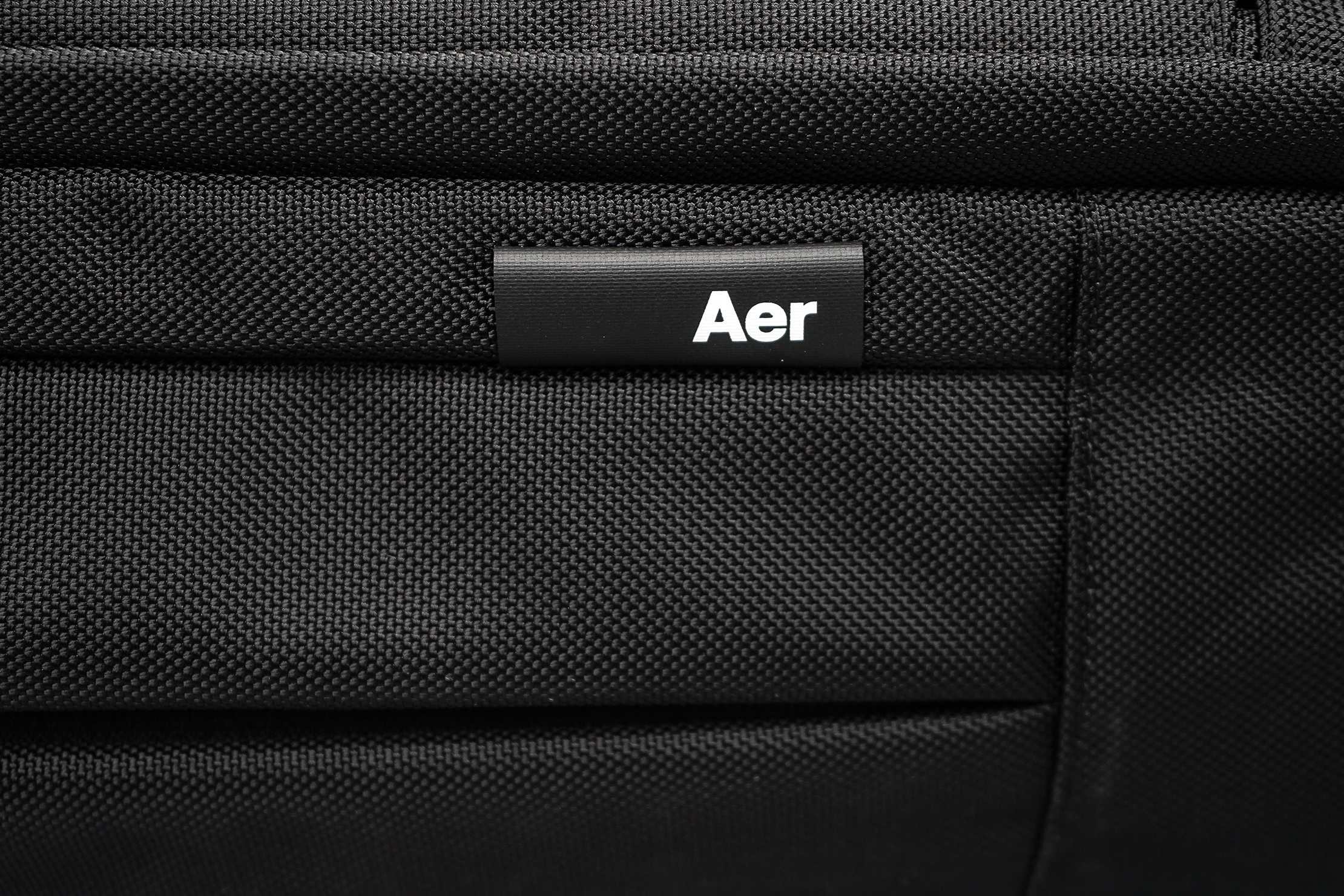 At the time of this review, the Capsule Pack Max comes in one color: black. And there's very minimal branding going on—you can see small logos on the zipper pulls and the side of the bag.
Generally speaking, we like the look of this bag (this should be no surprise if you know us here at Pack Hacker). The black colorway and minimal branding mean it will blend in—which is something we always appreciate while traveling. Of course, you may disagree. That's why we ask our Instagram audience to vote on the looks of bags we review. But, since this one is a new release, we do not have the results of our audience poll at the time of writing. If you're reading this review on launch day, head over to our Instagram to participate! We'll update the Technical Details section of this review once the results are in.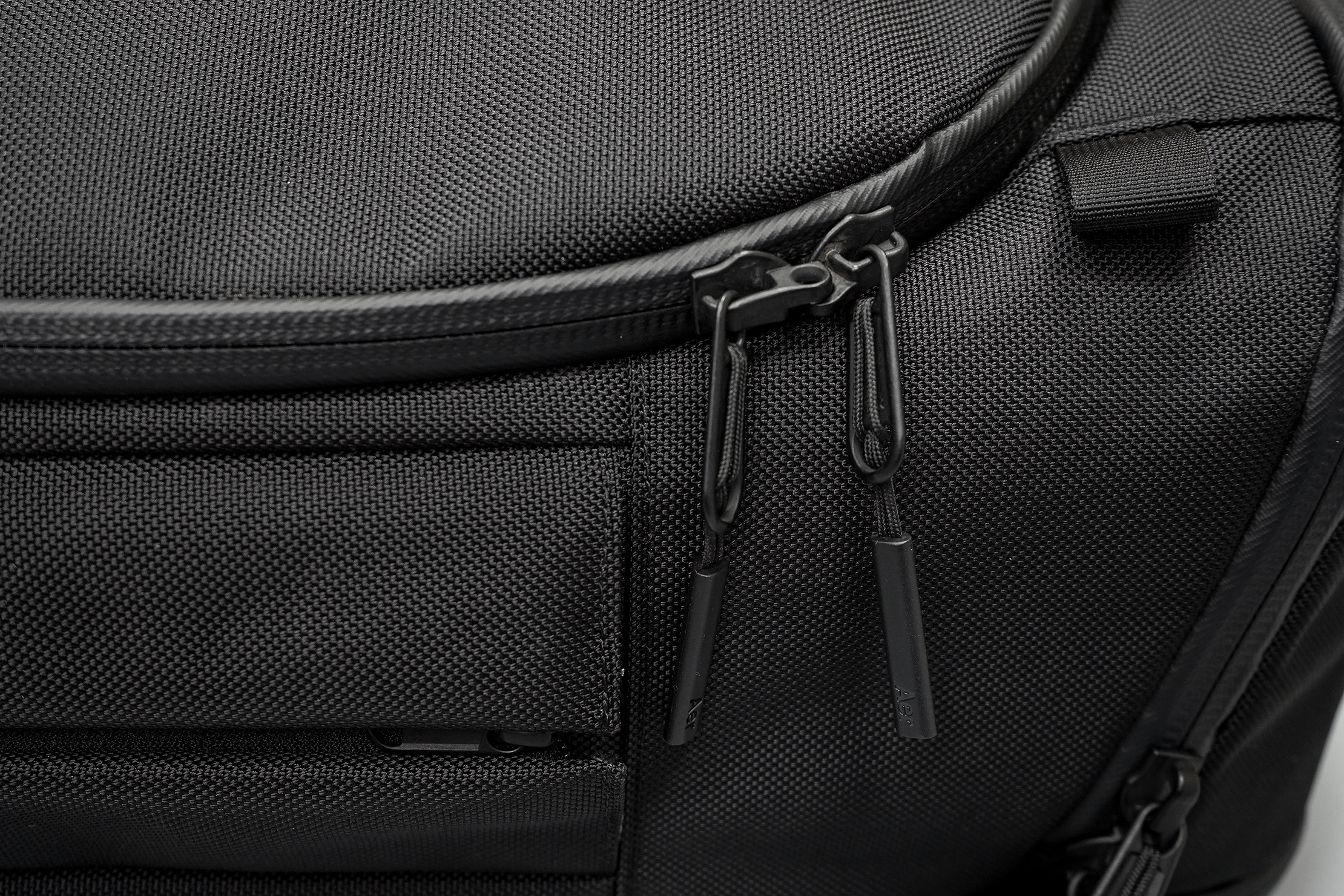 Wrapping up the rest of the materials, the Aer Capsule Pack Max features durable weather-resistant YKK zippers. We've got some nitpicks with these zippers in some areas on the pack, but we'll explain more on that later in the review. The zipper pulls themselves can be a little bit jingly and noisy, which we've noted in other reviews of Aer products, as well. The durable, Duraflex hardware used throughout the bag is another great choice.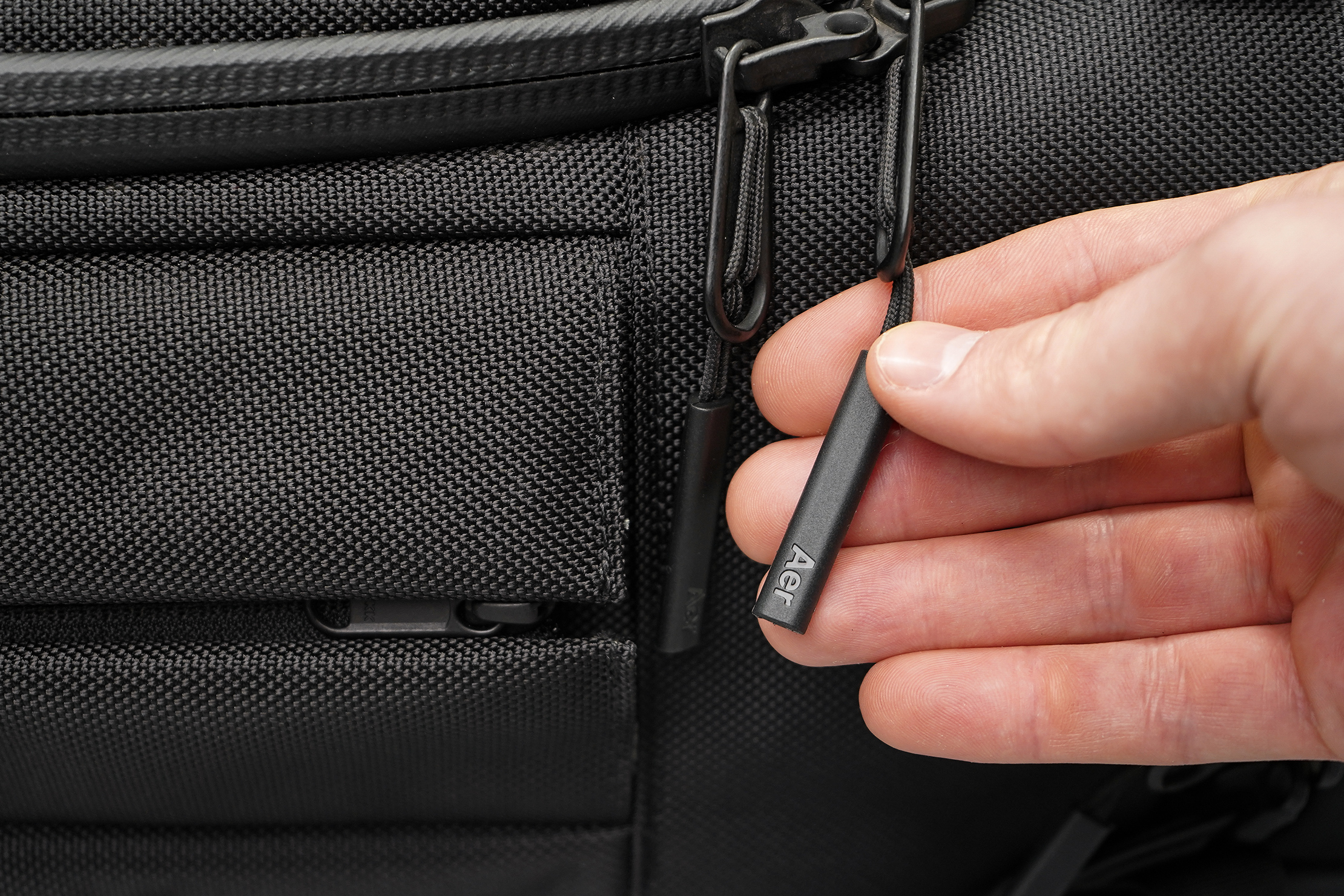 Exterior Components
The harness system on the Aer Capsule Pack Max is pretty minimal looks-wise but is still fully functional. It's pretty great. There are load lifters at the top that help combat saggy carry by pulling the bag closer to your back. These are awesome to have on a 40L pack—and are even nice on the smaller 35L option as they can make the carry much more comfortable if you dial them right.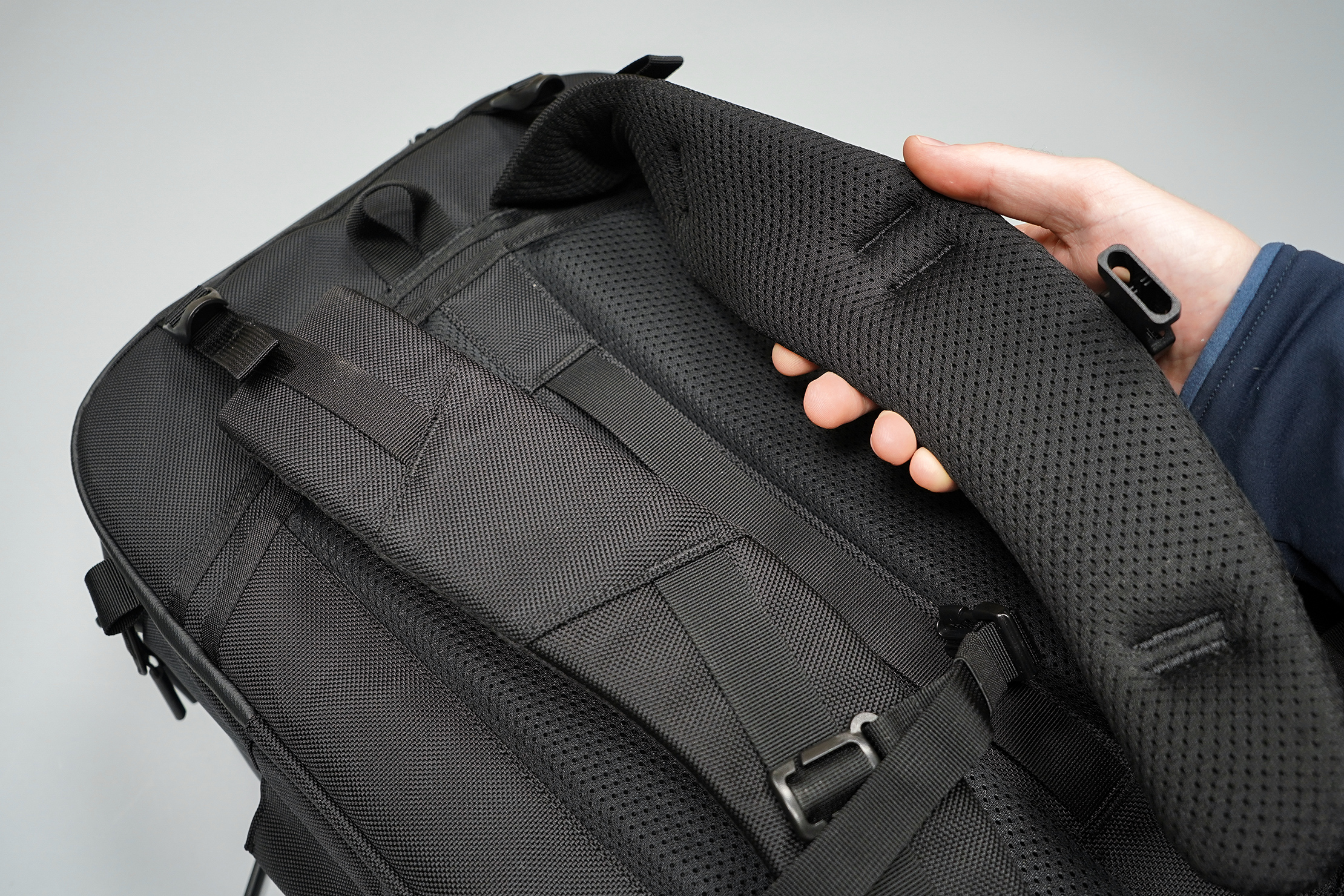 The shoulder straps themselves have two layers of padding. The first layer is a cushiony air mesh that's comfortable and promotes breathability. The second is a pretty dense layer of foam. Plus, these straps are edgeless which makes the carry a little bit more comfortable.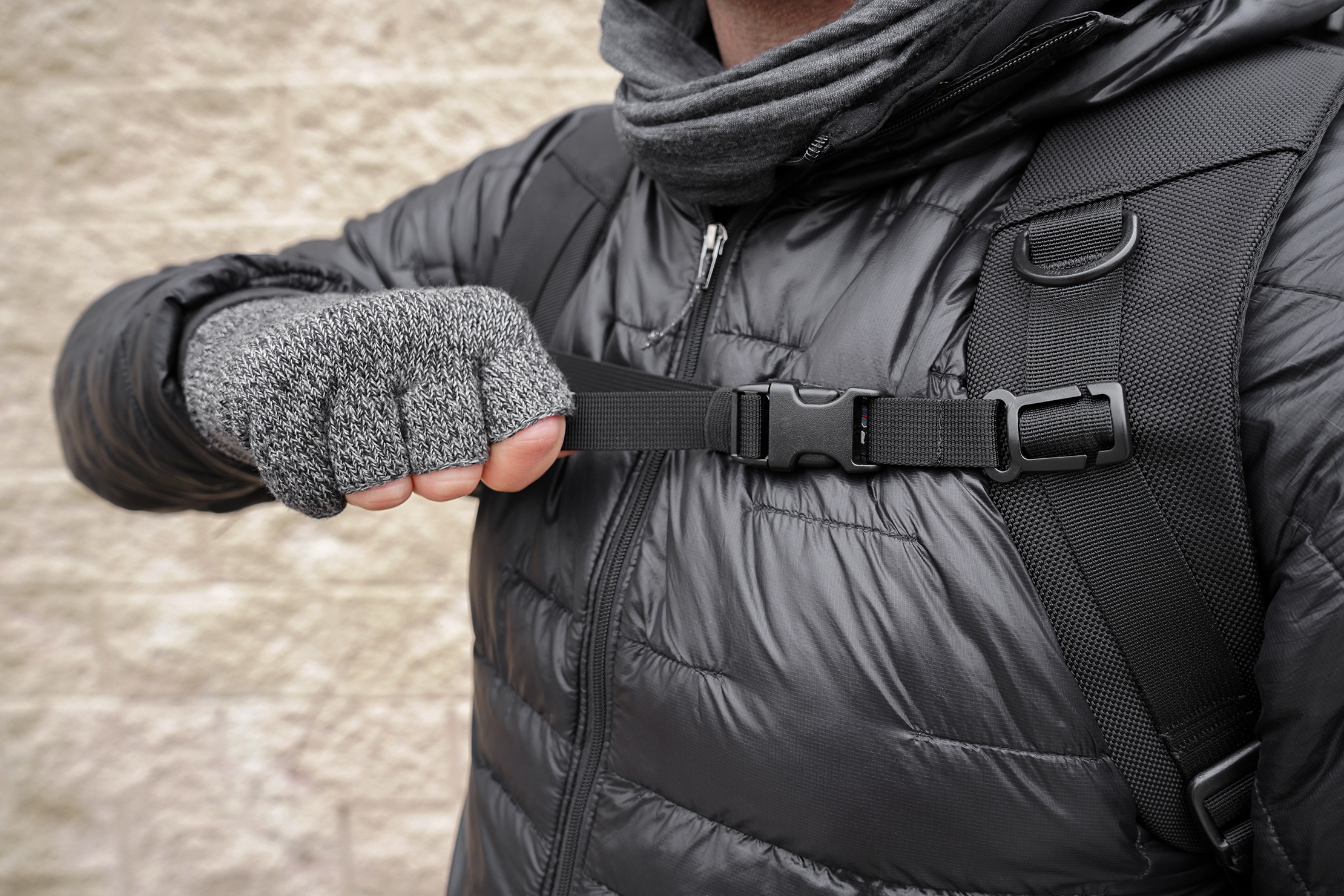 The sternum strap on this bag is adjustable and removable. It's well-attached so it should not fall off, but it's easy to remove if you prefer. There's a D-ring on the wearer's left-hand side of the sternum strap, which is handy for attaching smaller gear via a carabiner or clip.
Moving down the shoulder straps, the durable Duraflex strap adjusters are nice and smooth. Plus, you'll find a small elastic loop below that helps manage excess strap giving you that coveted #DangleFreeExperience.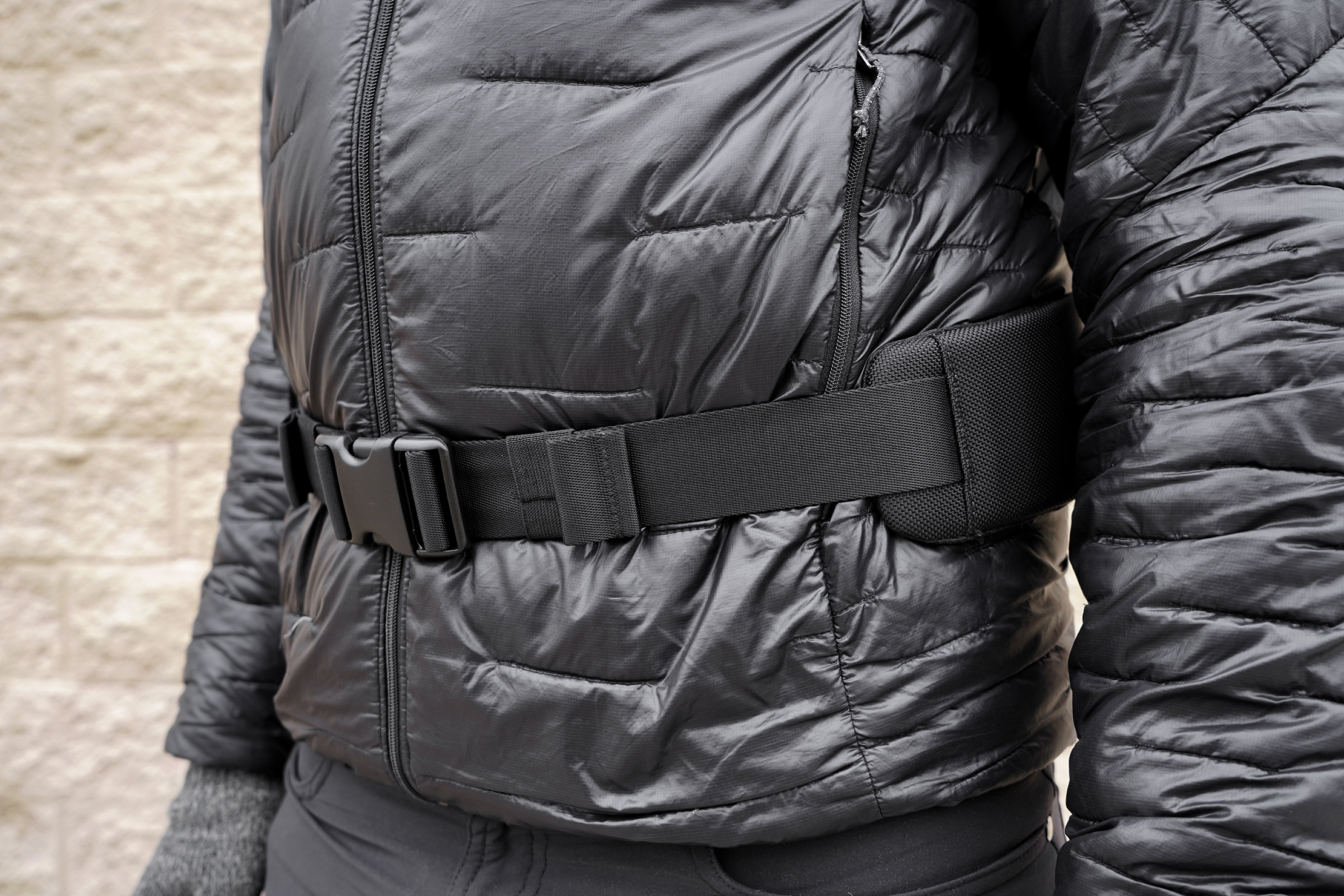 There are two nylon tabs are the bottom where you can attach a hip belt. We're gotta say—the size and padding on Aer's hip belt are just about perfect for urban travel. It's padded enough and gives some great support without being overly large or unwieldy. It's length, however, is a little short.
During our testing, we've found the hip belt to be tight when wearing all of our winter layers outside in Detroit (which are not that bulky). This lack of excess length means less dandling straps but it will be harder to use if you're a larger person and/or wearing multiple winter layers. It's not a deal-breaker for us, but it's something to keep in mind.

The entire harness system on the Aer Capsule Pack Max can detach and stow behind the back panel to keep things tidy when you're using the other modes of carry (more on those in a bit) or if you plan on checking your bag. The attachment clips at the bottom of the bag also stow away—it's quite clean when everything is tucked away.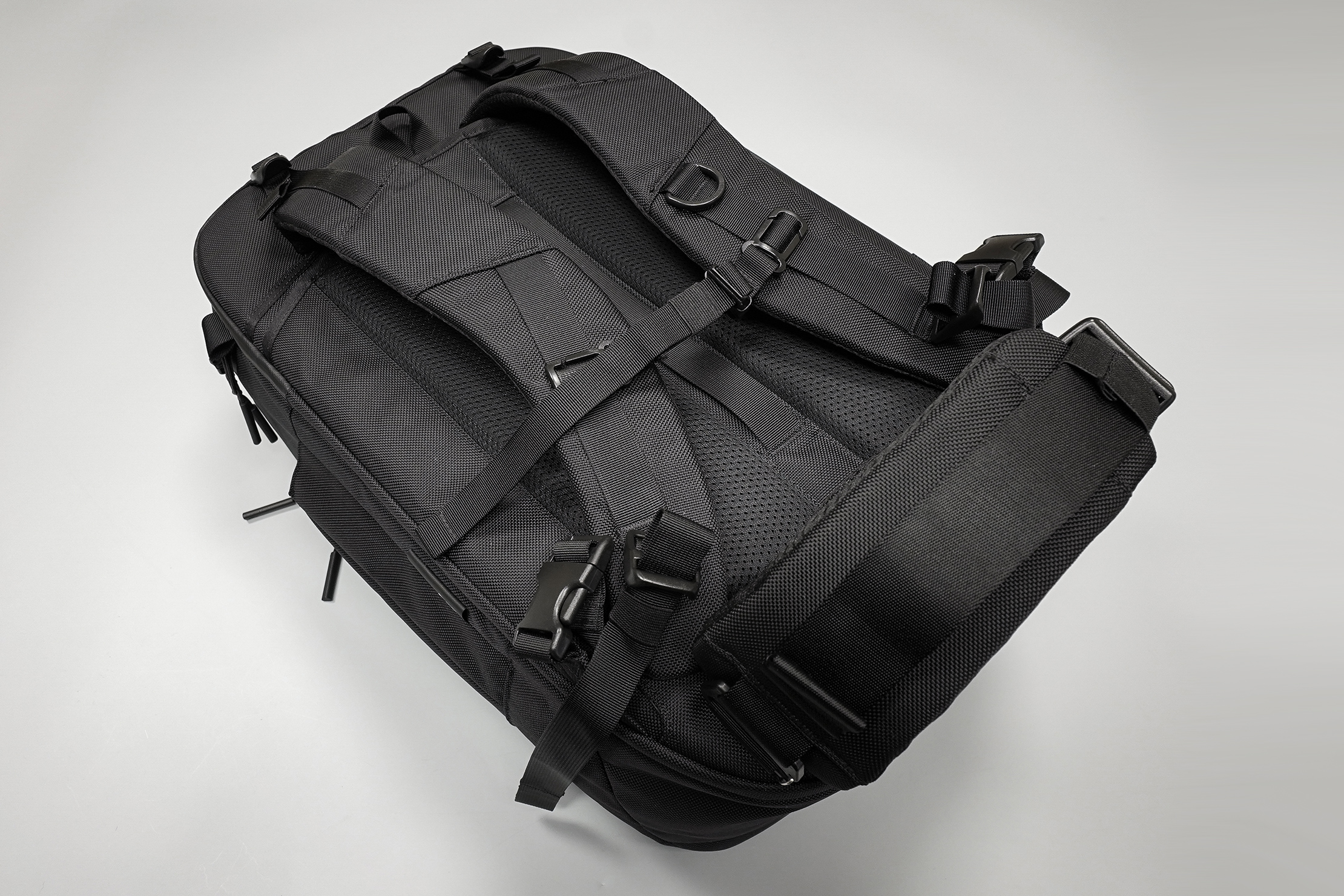 Speaking of the back panel, it has some air mesh to help promote breathability—or at least as much breathability as possible when you're hauling around a big heavy travel backpack. There's also a strip of nylon in the back that functions as a luggage passthrough, which is convenient if you're traveling with rolling luggage and you want to stick this bag on top. This strip can also function as a handle if you want to pick up the bag while it's lying flat on the ground. There's a small loop at the top of the bag so you can hang it up if needed.
Now, let's talk about those other two modes of carry we mentioned earlier. The Aer Capsule Pack Max can be carried in both briefcase and messenger mode.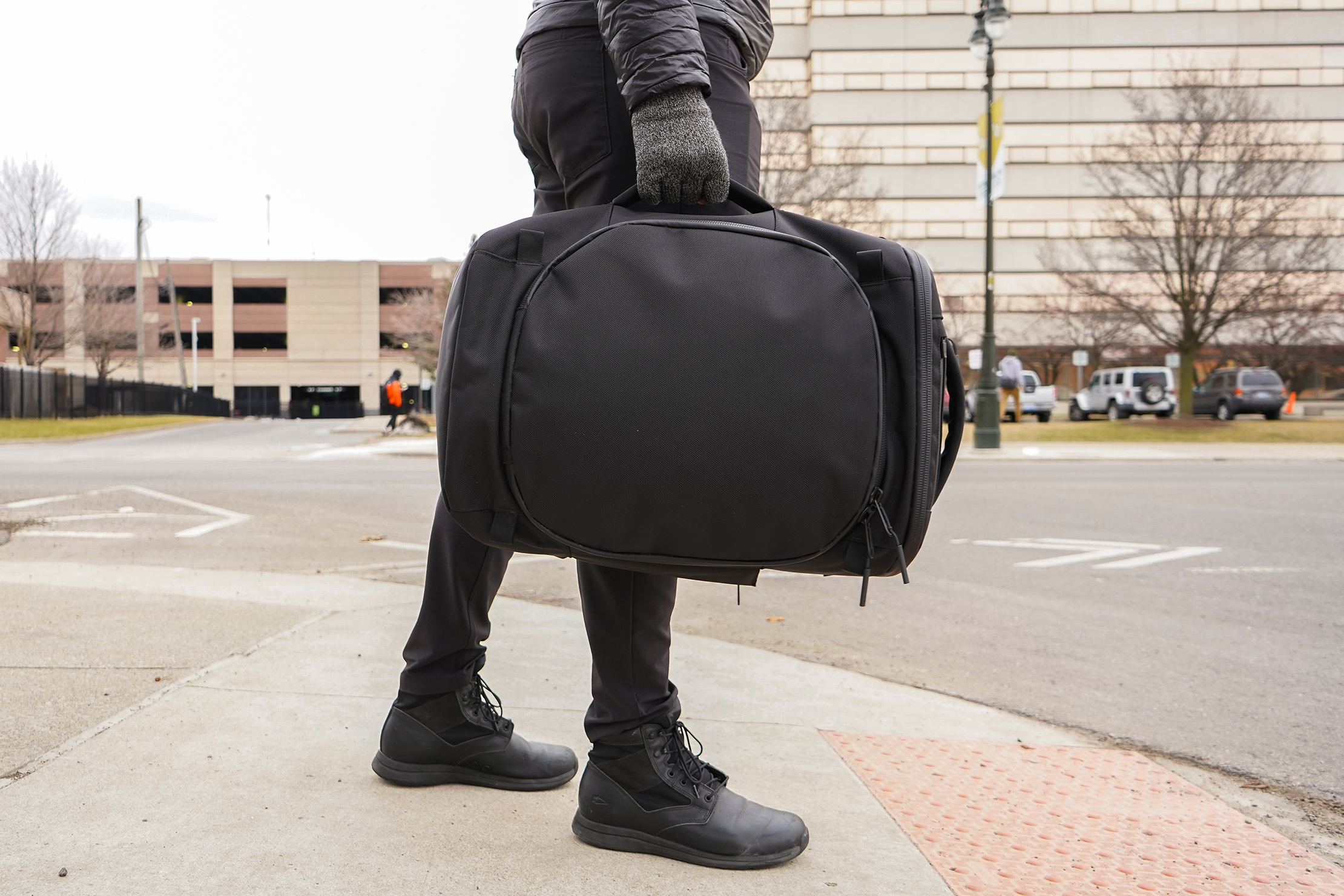 For briefcase mode, just hide the shoulder straps and you're good to go. This carry works a little bit better than we initially thought. First, because the padded grab handle is properly anchored across the bag and doesn't pull a bunch of excess fabric as we've seen in other packs we've tested—giving it a clean look. Second, because the frame sheet on the back of the bag is stiff and robust—keeping this thing structured.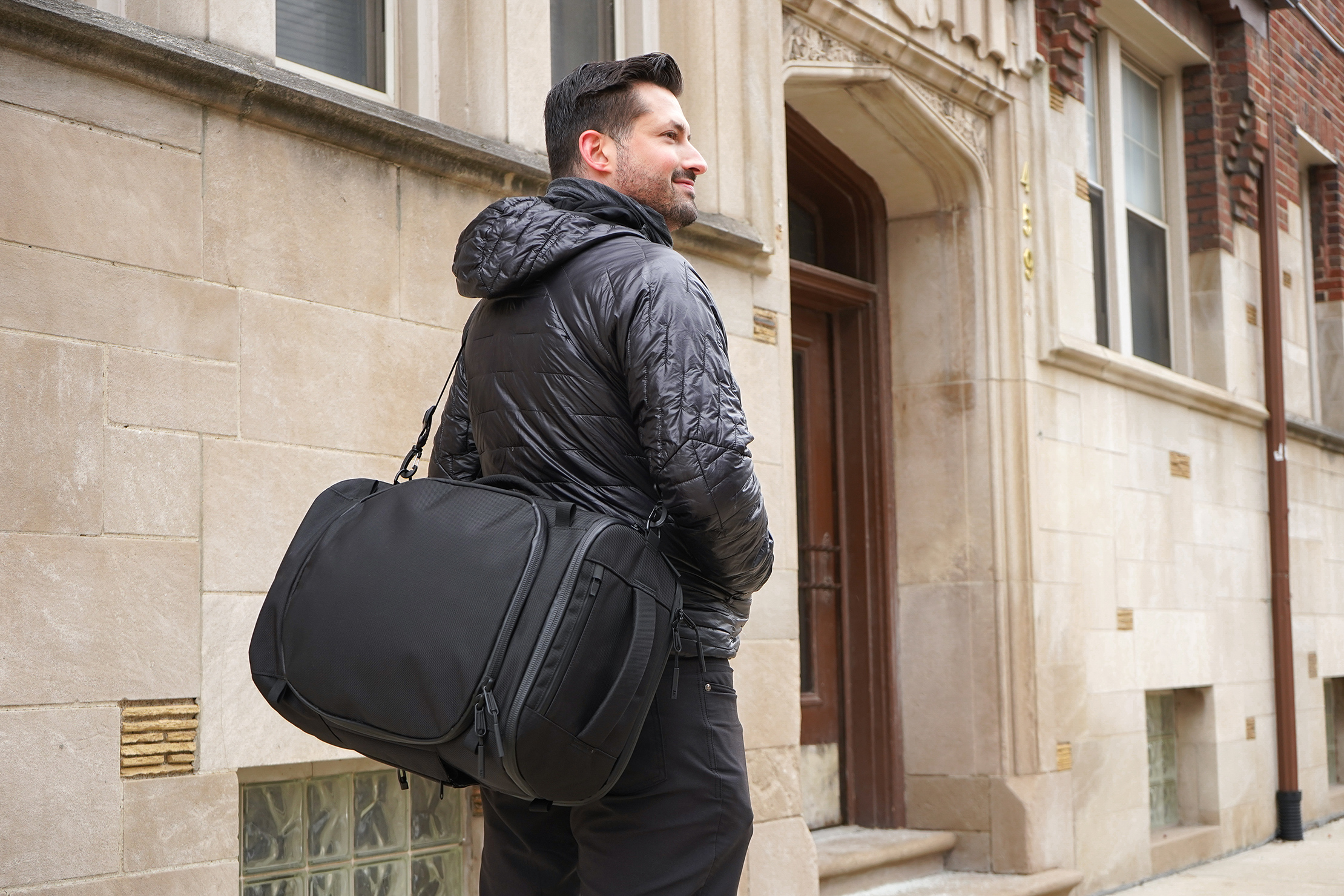 For messenger mode, simply attach the crossbody shoulder strap to the two D-rings on the bag. We think the bag is a bit large to carry this way, but, of course, your mileage may vary. We've found it to be a little more fitting for the smaller version of the pack.
The crossbody strap on the Aer Capsule Pack Max attaches with Duraflex buckles and has some nice padding—similar to the shoulder straps of the bag. It's comfortable once you get adjusted right. And getting it adjusted right is key. Our gripe with this strap is that the padding is a bit short—as in it doesn't cover very much of the strap.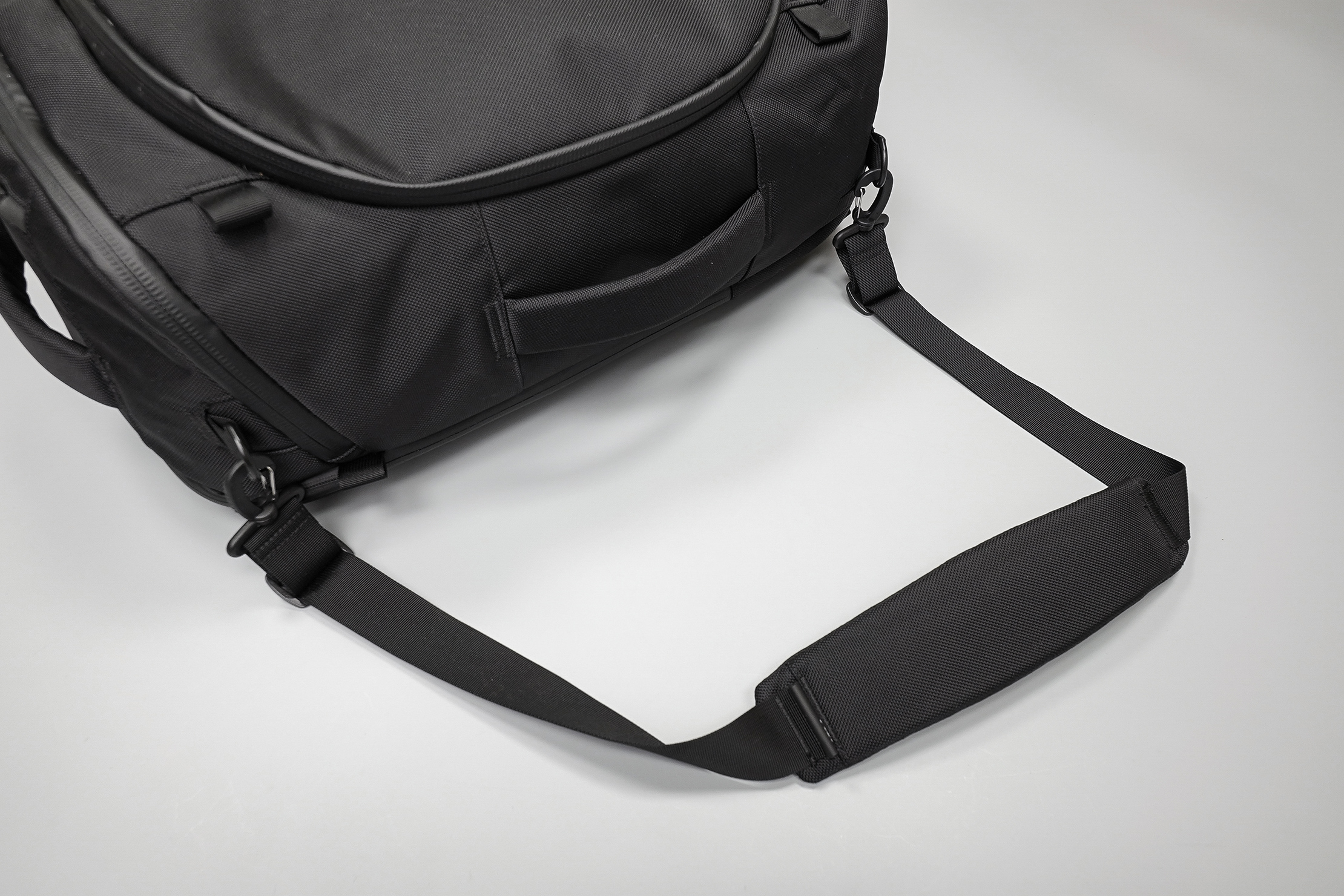 Other bags often have long padding here or they'll opt for smaller padding that can slide around. On this strap, the padding is fixed where it is so you have to adjust each side of the strap to get the padding centered on your shoulder just right. While it looks clean, it can be finicky to adjust.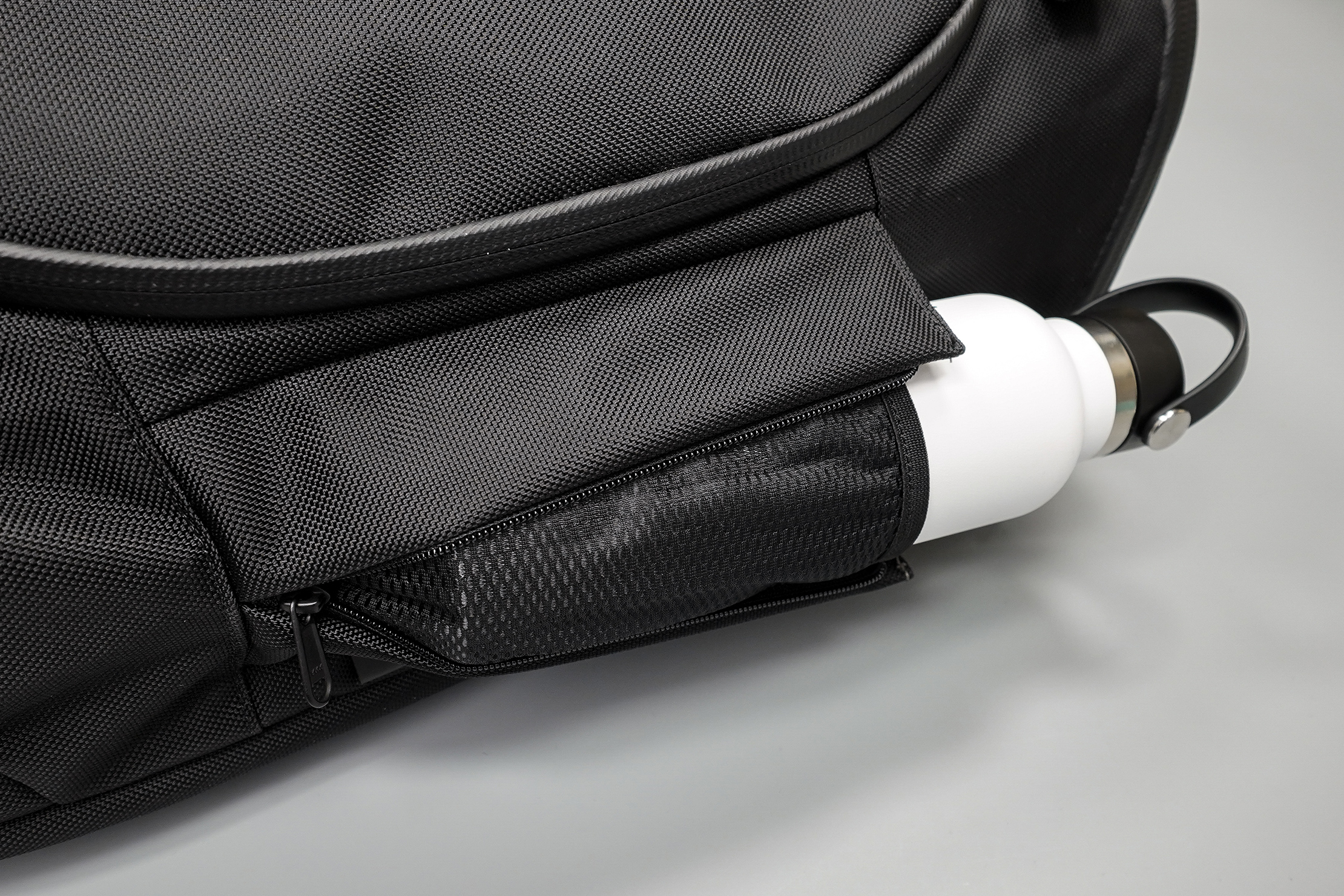 On the opposite side of the bag from the D-rings and briefcase handle is a small water bottle pocket. When not in use, it zips flat to the bag. When unzipped, it creates a tall compartment that can fit different sizes of water bottles (just don't try fitting your Nalgene in here).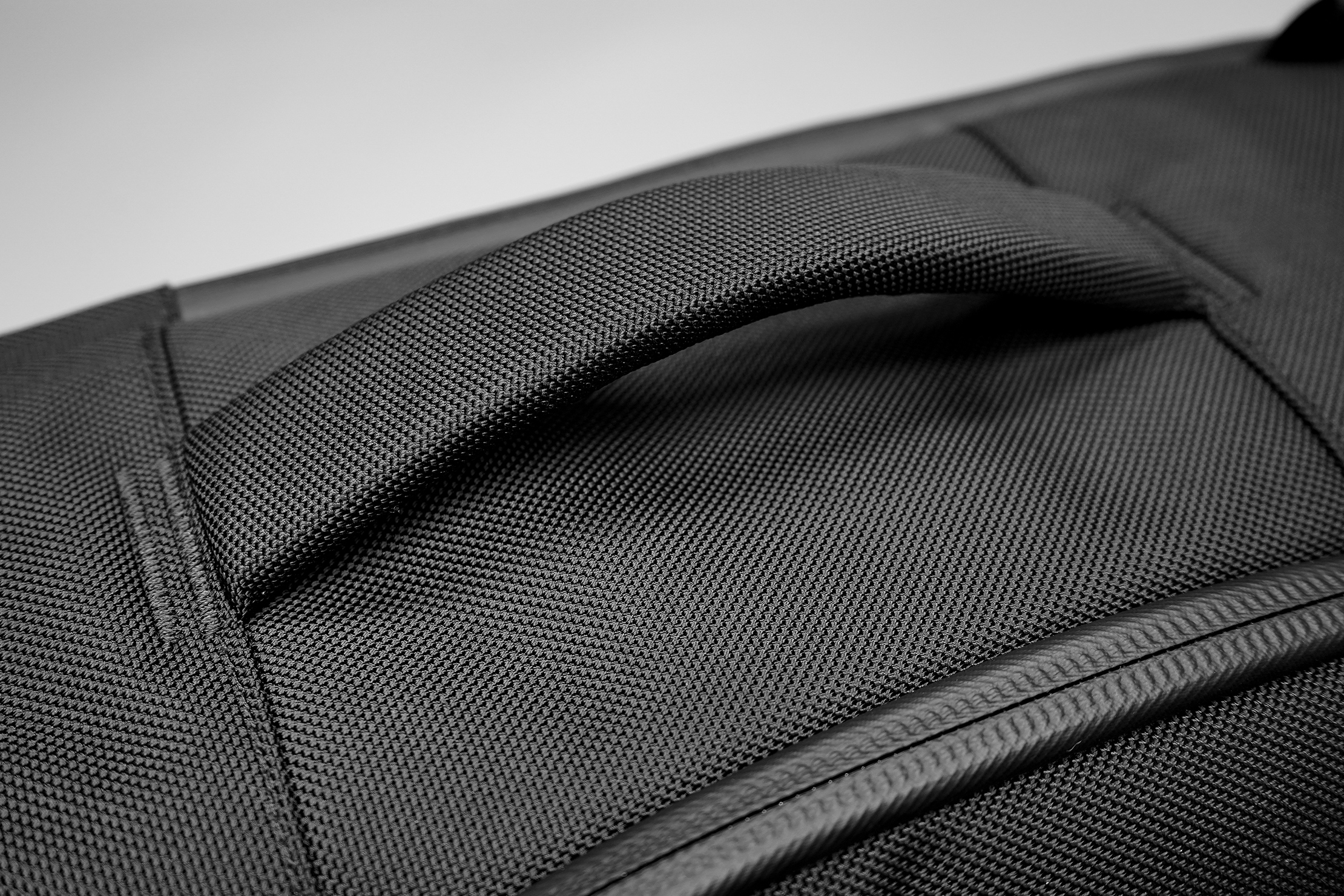 At the top of the pack, you'll find another handle that's pretty similar to the side briefcase handle. Other bags of this style—that have both a backpack mode and a duffle bag mode—typically have handles on both sides of the bag, so you can easily cart it around when open or while you're loading it. The Capsule Pack Max does not. We would've liked to see that feature here (since it does make this style of bag a little bit more convenient to use) but it's not a deal-breaker. That said, even something like the nylon webbing that we've seen on the back panel could be really useful on the bottom of the bag—just to have something else to grab onto and cart this thing around with two hands.
Throughout the rest of the Aer Capsule Pack Max, you'll see various smaller pieces of webbing. You can grip onto these tabs while your zipping and unzipping the bag, or use them to attach smaller items with a carabiner.
Inside the Pack
First up, there's a quick-grab pocket at the top of the Aer Capsule Pack Max which seals with a lay-flat weather-resistant YKK zipper that promotes a clean look. There's also a nice zipper garage at the end to help keep out excess water. Opening this pocket, it is pretty much the same size as the sewing pattern seen on the outside of the bag.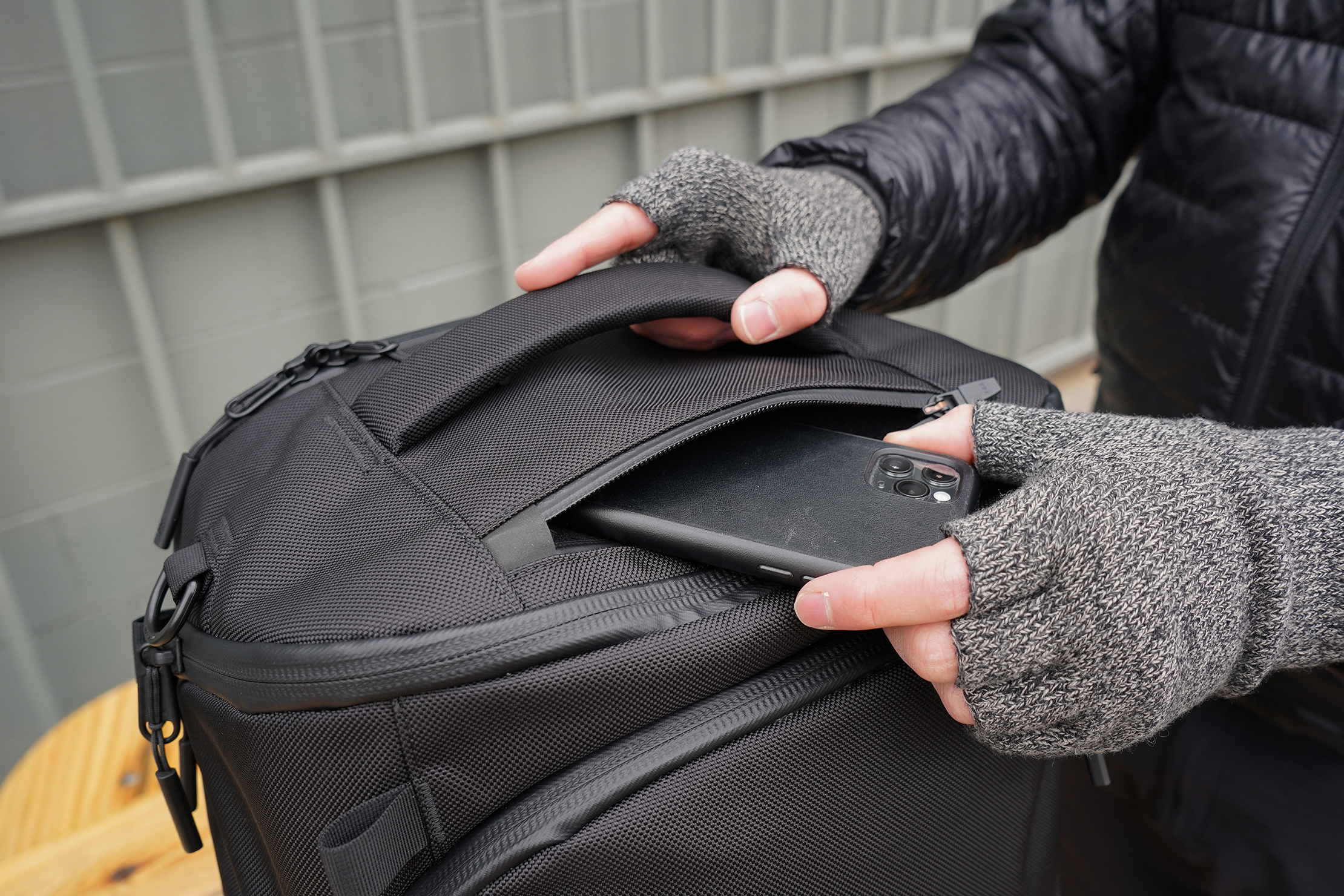 There's foam padding inside this pocket that feels so good you'll find any excuse to stick your hand in (but, like, not in a weird way). It will also help protect your phone or other gear. We're really digging this liner, which we haven't actually seen in any other bags yet.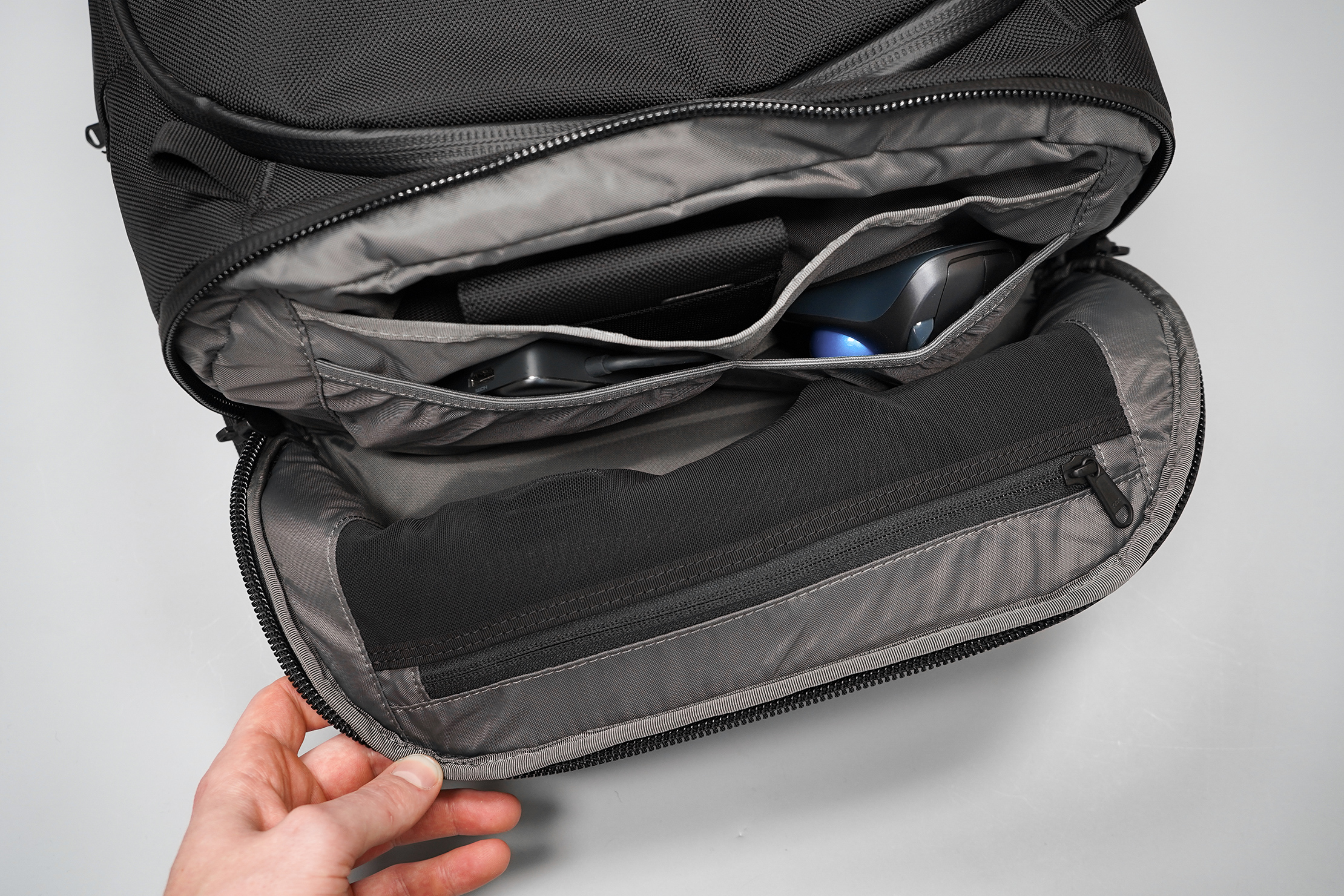 Next up, the larger organization pocket at the top of the Capsule Pack Max has a slightly angled zipper on the sides and opens up to reveal ample space for organization. On the top flap of the pocket, there's a stretchy mesh pocket and a zipper compartment that goes across the entire flap. It has plenty of stretch to accommodate differently-sized items. We dig that this pocket is zippered so all your stuff inside will stay secure and organized—even if the bag gets jostled around in transit. There's also a small key clip inside that's pretty basic.
Opposite the zippered pocket, there are three stacked liner pockets. One that goes the full width of the compartment and two in front that split the length halfway. These liner pockets are not zippered and we've had a bit of trouble with things falling out into the main space of this compartment, becoming a jumbled mess. Now, this can be better or worse, depending on the items you put inside. Larger items are fine but think twice about anything smaller. There's also a decent amount of open space in the middle of this compartment to hold additional gear like tech pouches or other things you like quick access to.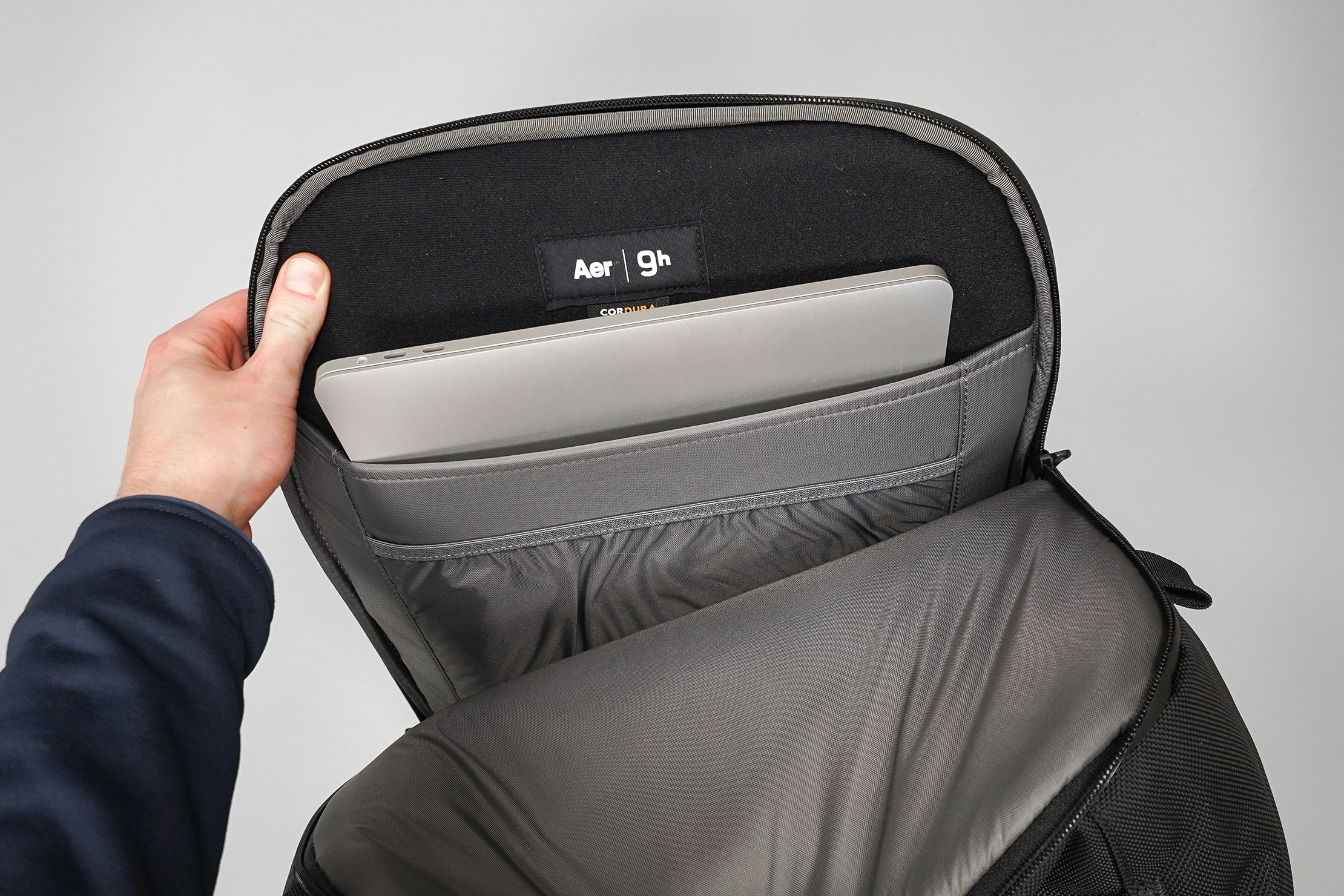 The left-hand compartment on the Aer Capsule Pack Max, which is against the wearer's back, is the laptop compartment. The zipper opens up about a third of the way down one side (the wearer's right) and about two-thirds of the way down the other (the wearer's left). The laptop sleeve has that same padded material as the quick-access pocket, which, again, feels great. And we like that there's a false bottom to keep your laptop safe from unexpected drops.
Now, we just want to point out that the original version of the Aer Travel Pack 2 did not have a false bottom in the laptop sleeve. They've recently rolled it out on the newer version of that bag and we love that they're following suit with the new Capsule Pack Max, as well.
In front of the laptop sleeve is a liner divider pocket that's good for a tablet or documents. There's also a pretty large open space inside this compartment that could fit other flat items or a larger laptop that won't fit in the dedicated sleeve.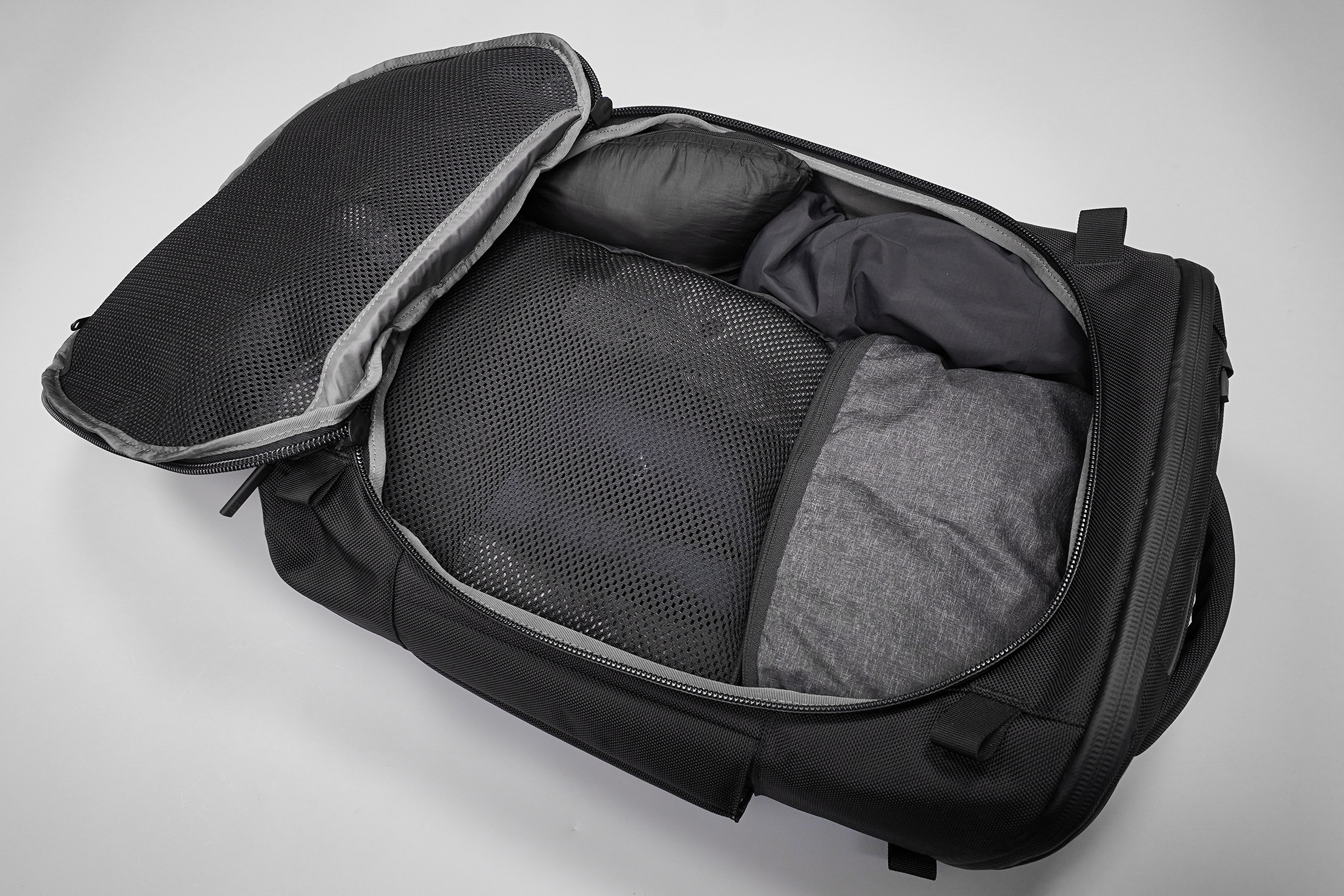 The main compartment on the Aer Capsule Pack Max is shaped like a capsule door. It's pretty cool—although this is where the AquaGuard zippers become a problem. Due to the rounded path of the zipper coil and the bag having limited structure, these zippers are very tricky to unzip—even if you're holding the nylon loops. The laptop compartment we just talked about is easier to use (even though it uses the same style of zipper) because it leans on that stiff frame sheet and doesn't move around much.
Unfortunately, these AquaGuard zippers being so tricky to use on the main compartment is probably our biggest gripe with the Capsule Pack Max. While AquaGuard zippers do help a lot with weather resistance, they can definitely be sticky and trickier to zip. And it makes accessing your stuff inside the bag slow.
Once you get the main compartment open, you're greeted with a bucket of empty space. It's great for filling with packing cubes. (Aer's packing cubes would work, or you can check out our packing cubes guide to find the best ones for you).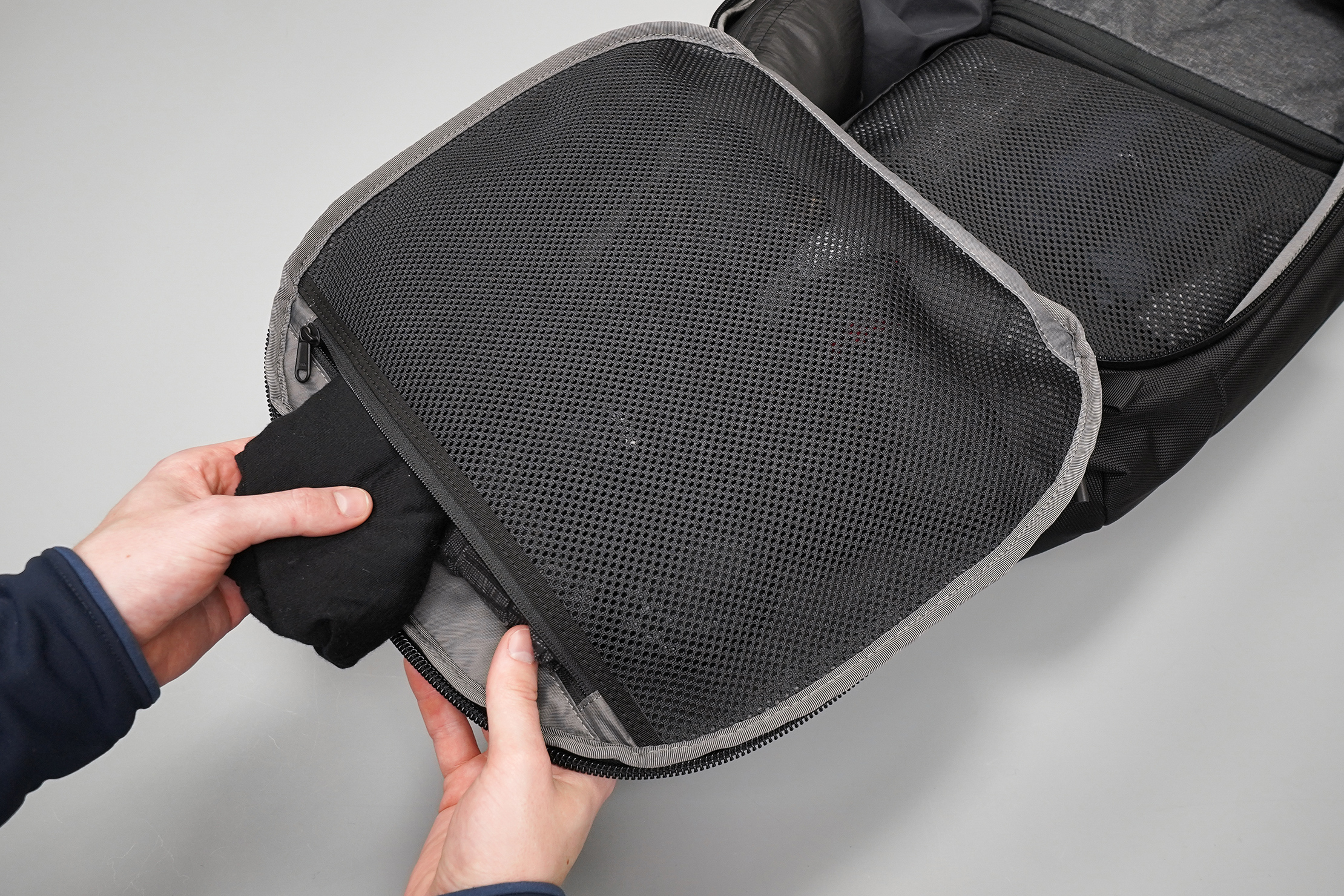 The top flap has a zippered mesh pocket for organizing things like socks and underwear, or a hoodie or packable jacket. The mesh here is stiffer than the stretchy mesh you'll find in the top pocket. A stiffer mesh makes sense here for the larger volume—that stretchiness would probably not be great once you start loading up this pocket.
Durability & Testing
At the time of this review, we've been testing the 40L Aer Capsule Pack Max for about three weeks in Detroit, Michigan.
We've filled it to the brim with packing cubes, testing it as we would on a trip. We've also used it about half-full with our daily tech gear to test it in more of an everyday carry situation. (Got to be thorough, you know?) In both cases, the Capsule Pack Max has held up really well.
One of the things that we love about this bag compared to other similar hybrid bags we've tested is that it still really keeps its shape when empty. The stiff frame sheet just makes it a joy to carry no matter how much is inside—something you can't say about a lot of other packs of this style.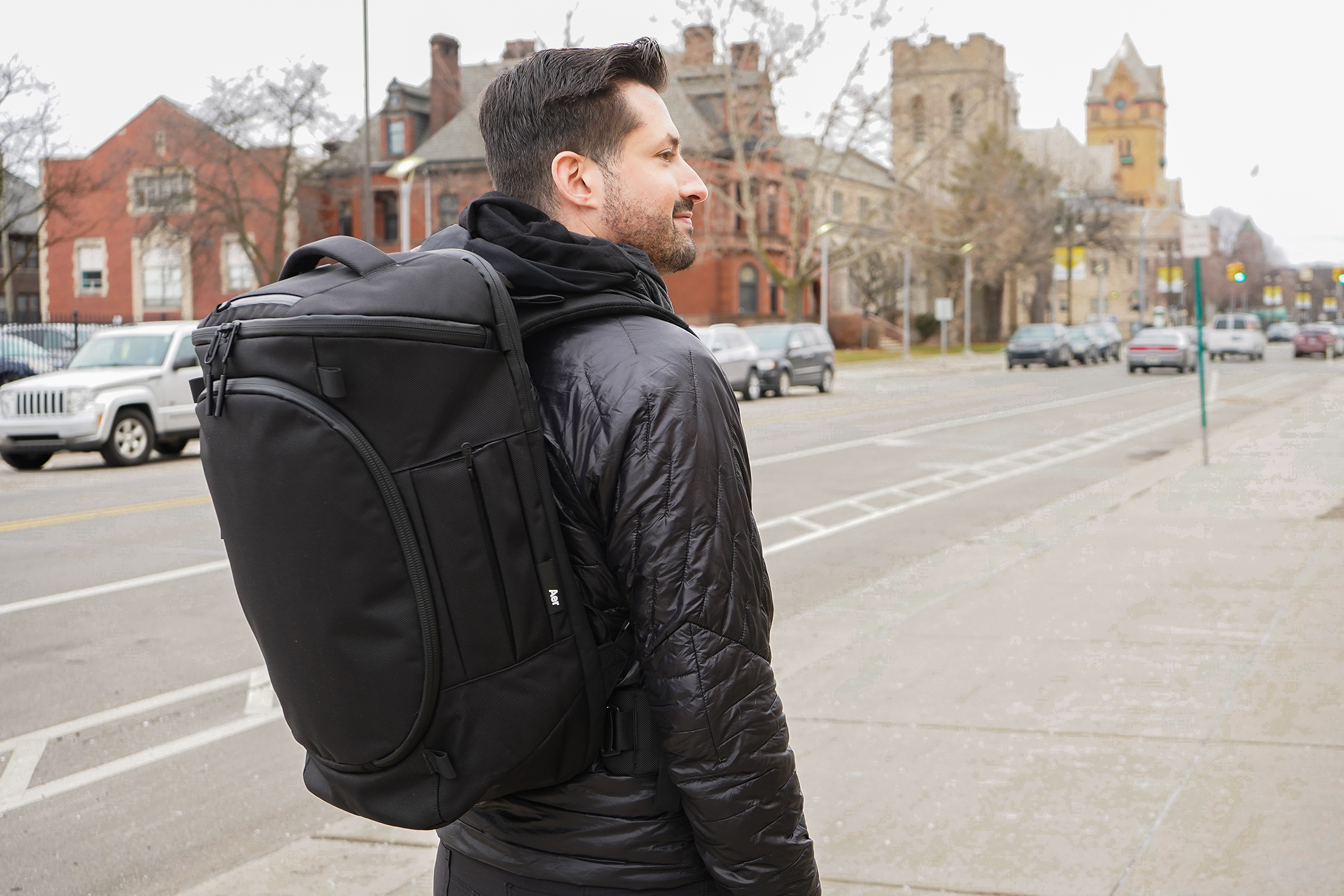 We used the Aer Capsule Pack Max while biking in the rain and snow, getting tons of dirt, slush, and salt kicked up onto it. We're happy to report that it's all wiped off easily. And everything inside has stayed dry in lighter rain. Although the bag is weather-resistant, you may want to grab a rain cover if you plan on staying out in the rain for long periods of time.
Plus, the hip belt has made the Capsule Pack Max very comfortable to carry, both on the bike and while walking around. And we've had no durability issues so far, which is not surprising on a bag from Aer.
Usage Timeline
Initial Usage
Condition: Excellent
The main opening of the bag is cleverly shaped like a door of a room in a capsule hotel
The main opening is a little sticky with the YKK Aquaguard Zippers
Dig the soft material in the laptop pocket and quick-grab pocket
The smaller profile means it carries decently in duffle mode
Really digging the overall look, feel, and cohesive feature set
2 Weeks of Use
Condition: Excellent
Digging the design, structured frame sheet, and top-notch materials on this bag. The blend of organization and open space is great—but we're having some difficulty with the zippers on the main compartment. Durability-wise it's holding up well, even in the rain and snow.
Access the Pro Community Discussion
Get your questions about the Aer Capsule Pack Max answered from our team and the Pro Community right here on the page. Plus, join discussions with other members about gear, guides, and more.
Other Bags & Luggage Reviews