Aer Day Pack 2 Review
The Aer Day Pack 2 is that just-right size, with a just-right amount of organization—but we've been having some issues with its harness system.
Our Verdict
Unlock the Pro Summary
Save time. Get access to brief summaries of our reviews so you can browse and make decisions more efficiently.
Pros
Just-right size and organization
Rigid structure helps protect gear (and allows it to sit up on its own)
False bottom in laptop compartment
Cons
Not the most comfortable carry ("hover back")
Structure can make capacity feel tight inside the bag
Square, bulky shape (not as bad as the Tech Pack 2)
Recent Pack Hacker Video
Technical Details
Capacity

14.8l

Weight (lb)

2.9 lb (1.3 kg)

Denier

1680D

Side exterior

Dimensions

17 in x 12 in x 5.5 in (43.2 x 30.5 x 14 cm)

Notable Materials

Nylon, Polyurethane, CORDURA® Ballistic Nylon, YKK Zippers, Duraflex Hardware

Manufacturing Country

China

Laptop Compartment Size

16"

Warranty Information
Buying Options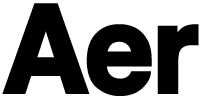 $140.00

$140.00
Full Review
Get up to 10% off Aer • Join Pack Hacker Pro
Aer began its journey back in 2014 with the idea for one cohesive bag that works for both the gym and the office. Fast forward to today, and Aer has not only created even more sleek and efficient bags, but revamped some of their originals—which is how we came to know the Aer Day Pack 2.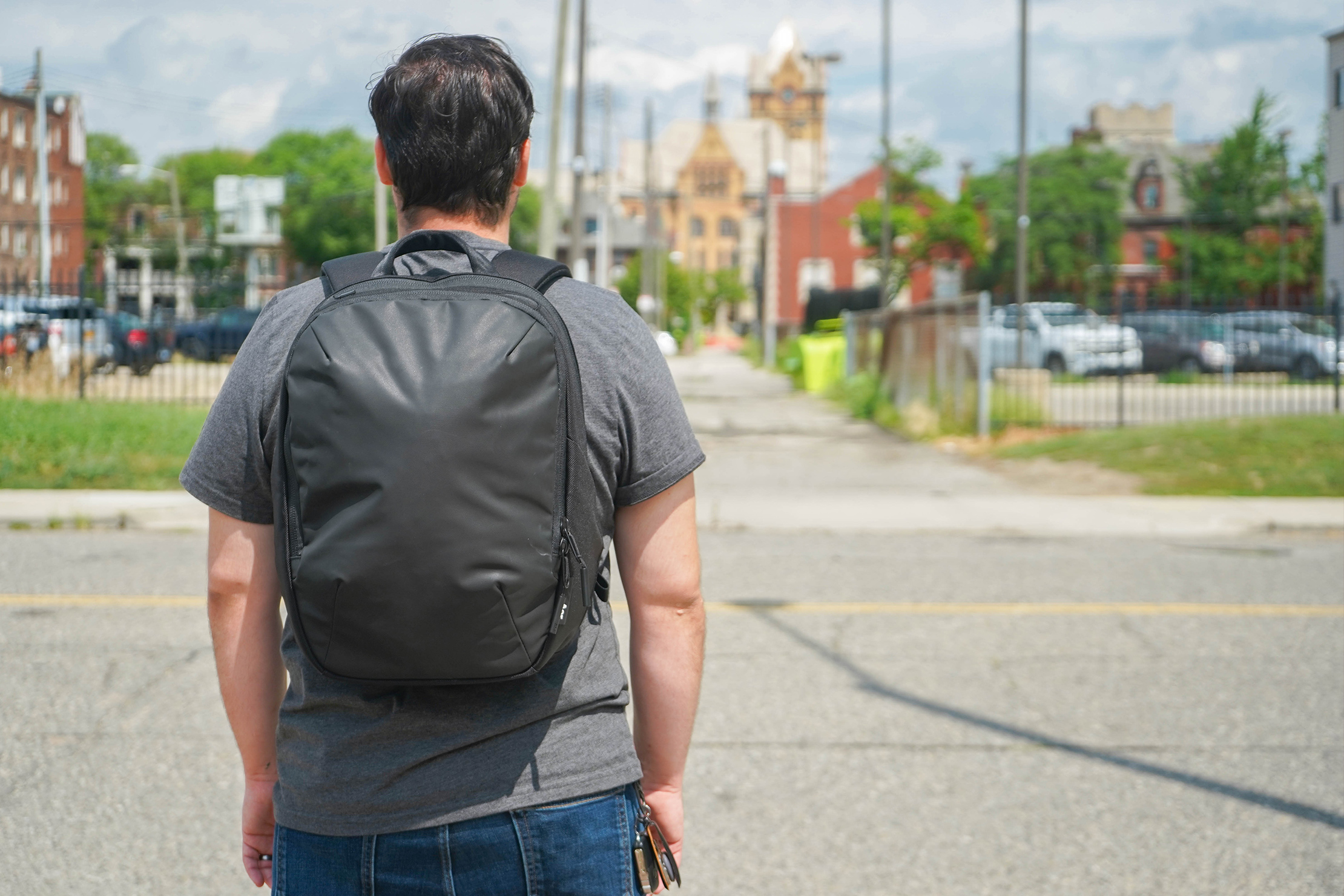 This pack is the middle-sized backpack in Aer's Work Collection—if you're looking for even more space check out our review of the Aer Tech Pack 2. And if you're looking for something even smaller, then the Aer Slim Pack may work better, both of which are from the same collection. That said, we'll be focusing on the Aer Day Pack 2 in this review, which we've been testing with this bag for two weeks. What do we have to say about it? Lots. So let's get to it.
Fit Notes


AJ—Height: 5 ft 8 in Torso: 17 in
"Hover back"—bag feels like its pulling away from the back and leaves gaps at the bottom
Fits better when the bag is adjusted looser, but then we're carrying it lower than preferred
Adjustment buckles are higher up and hit at a weird spot


Riley—Height: 5 ft 4 in Torso: 16.5 in
Have to cinch the straps down pretty far to get it comfortable
Shoulder straps dig into shoulders (better when straps are loosened, but then the bag is lower than preferred)
Materials & Aesthetic
At the time of this review, the Aer Day Pack 2 is available in one color, and that's Black. If you're a fan of Aer, this shouldn't be a surprise. And for us, it's totally fine—similar to the Tech Pack 2, the black-on-black color scheme displays a sleek, minimal aesthetic. The two also share a prevalent square shape—but this bag is slightly slimmer (and looks slightly less like a giant box on our back).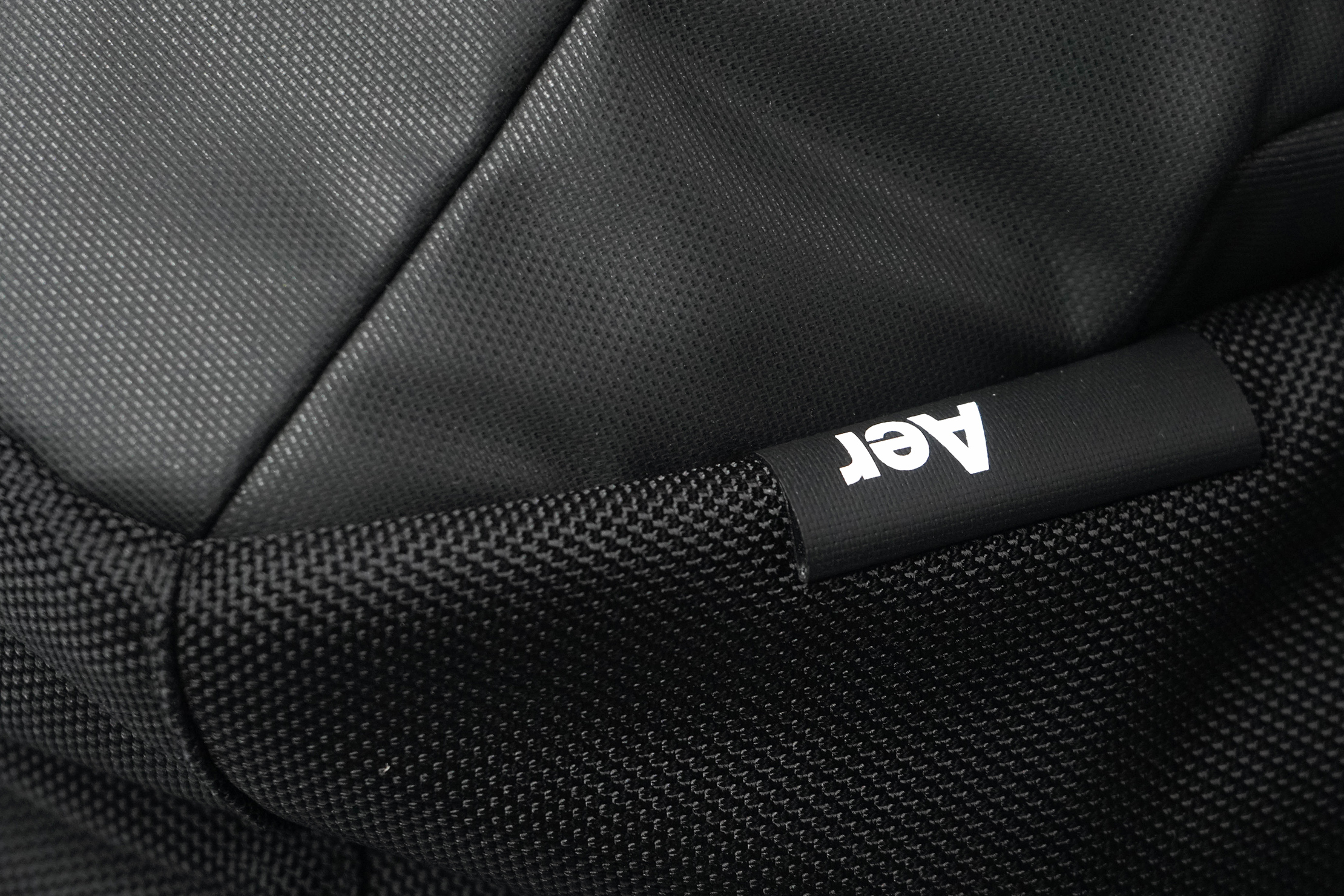 There's some subtle branding on here—you'll see the Aer logo on a small tag on the bottom-right side of the bag, sewn into the back wall of the laptop compartment, and on the zipper pulls. They blend in nicely with the surrounding material of the bag, which helps give it a clean look.

This bag is made with classic Aer materials—which means an 840D nylon face finished with a PU (polyurethane) coating for durability and water-resistance, and 1680D CORDURA ballistic nylon throughout the rest of the pack. We expected it to be super robust, due to our other experiences with the material on other Aer bags, and we're happy to report that it's held up well so far in testing.
You'll find YKK zippers on here, but they're not AquaGuard like on the Tech Pack 2 and a lot of other Aer products—and we're not upset about it. We've found these zippers to work much smoother during testing, which is a trade-off we're willing to take. Of course, your mileage may vary.
And last up on materials is the Duraflex hardware, which we have tons of experience testing with on other bags. No complaints here—smooth sailing so far.
External Components
Let's focus on the harness system first, shall we?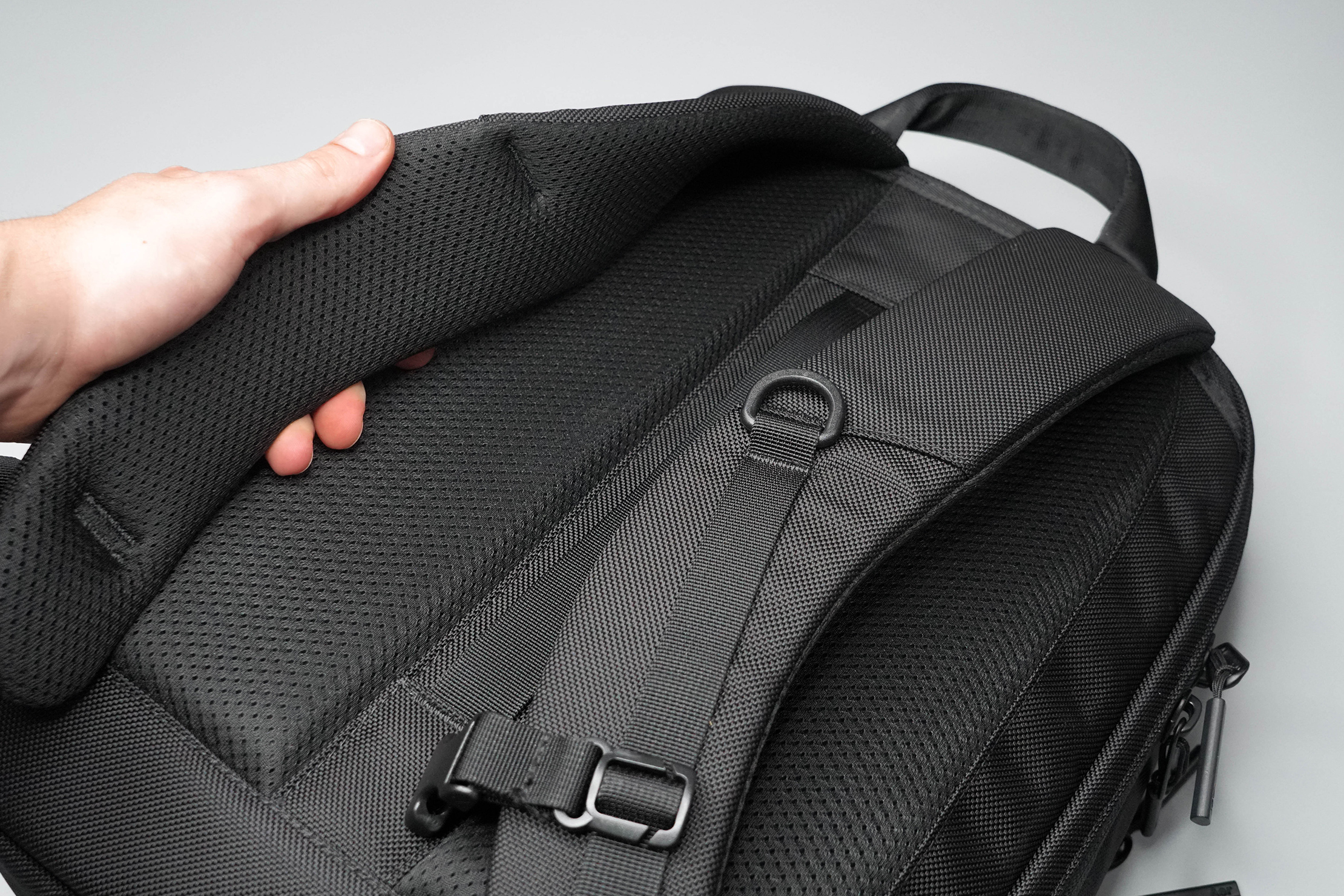 These shoulder straps are similar to what we've seen on other Aer bags—they aren't winning any awards for plushness, but the amount of padding is comfortable enough for a pack of this size. They're also lined the mesh that adds some breathability to help mitigate sweat. However, it's still an all-black bag, so it can get pretty warm on those hot summer afternoons.
You've also got a D-ring on the left strap that you can hook a carabiner to and use for external storage, should you need or want to use it. As well as some elastic keepers to keep dangling to a minimum.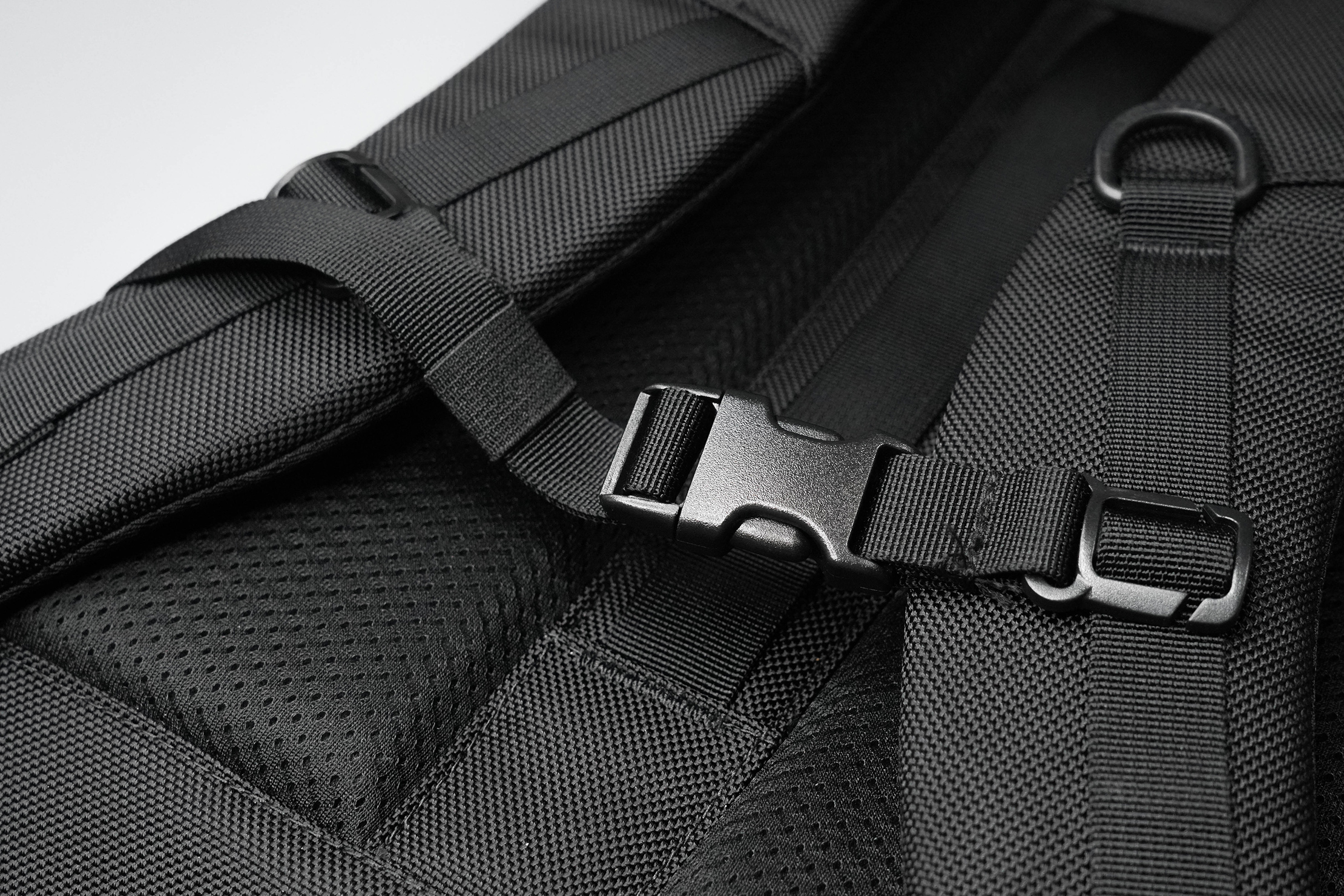 The sternum strap is securely attached to the shoulder straps, and can easily be adjusted up and down to wherever you find it most comfortable. The buckle has also stayed secure throughout testing, so no issues there. It's got an elastic keeper to extend your #DangleFreeExperience even further, which we appreciate.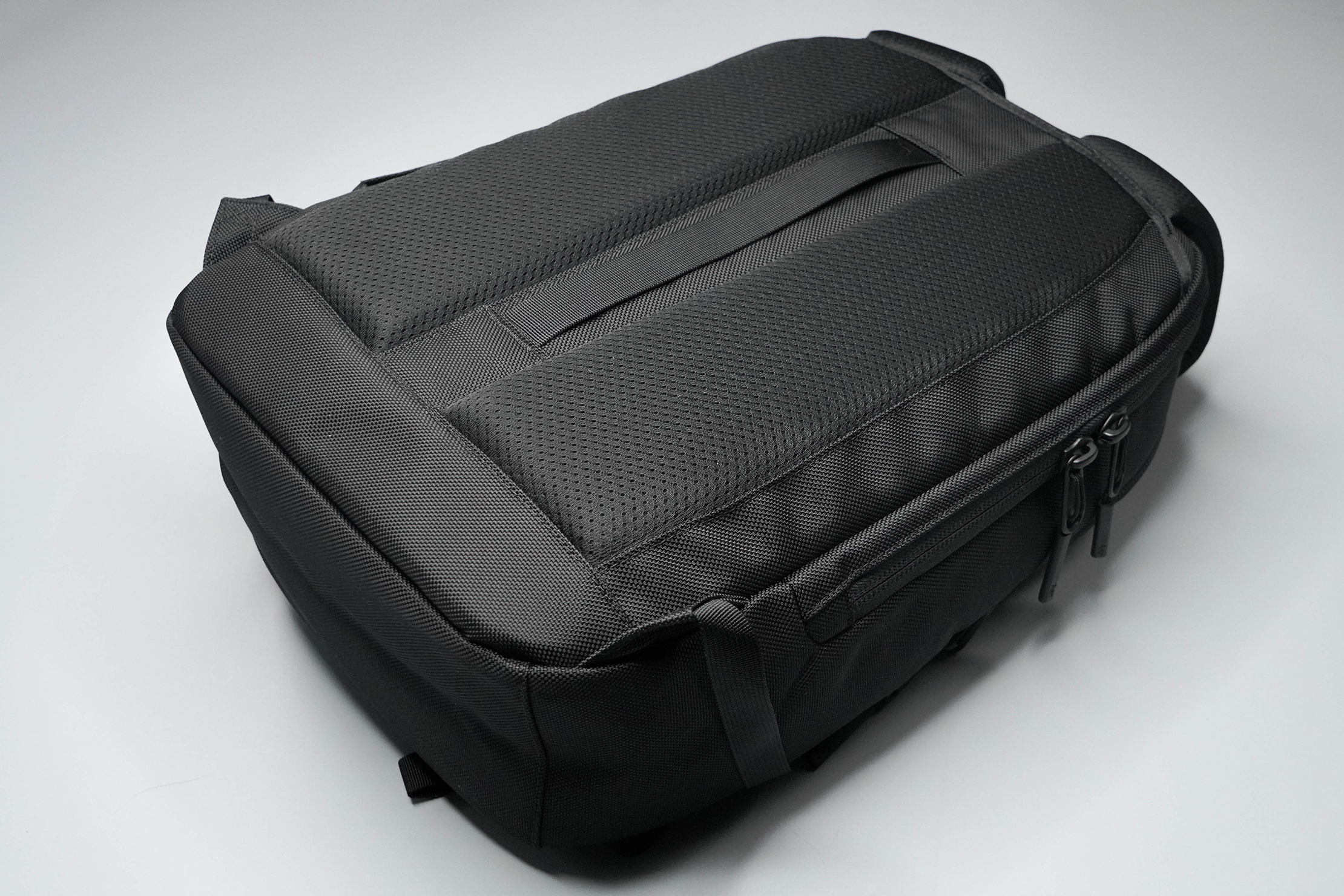 Flipping it over, this bag's back panel is nicely padded, lined with mesh, and has a built-in channel to facilitate airflow—but again, this black-on-black bag retains some heat when worn out in the sun. Inside of this air channel, you'll also see a strap that acts as a luggage pass-through. So if you're wheeling your rolling luggage around the airport, you can slip the handle through this pass-through and wheel around both with ease.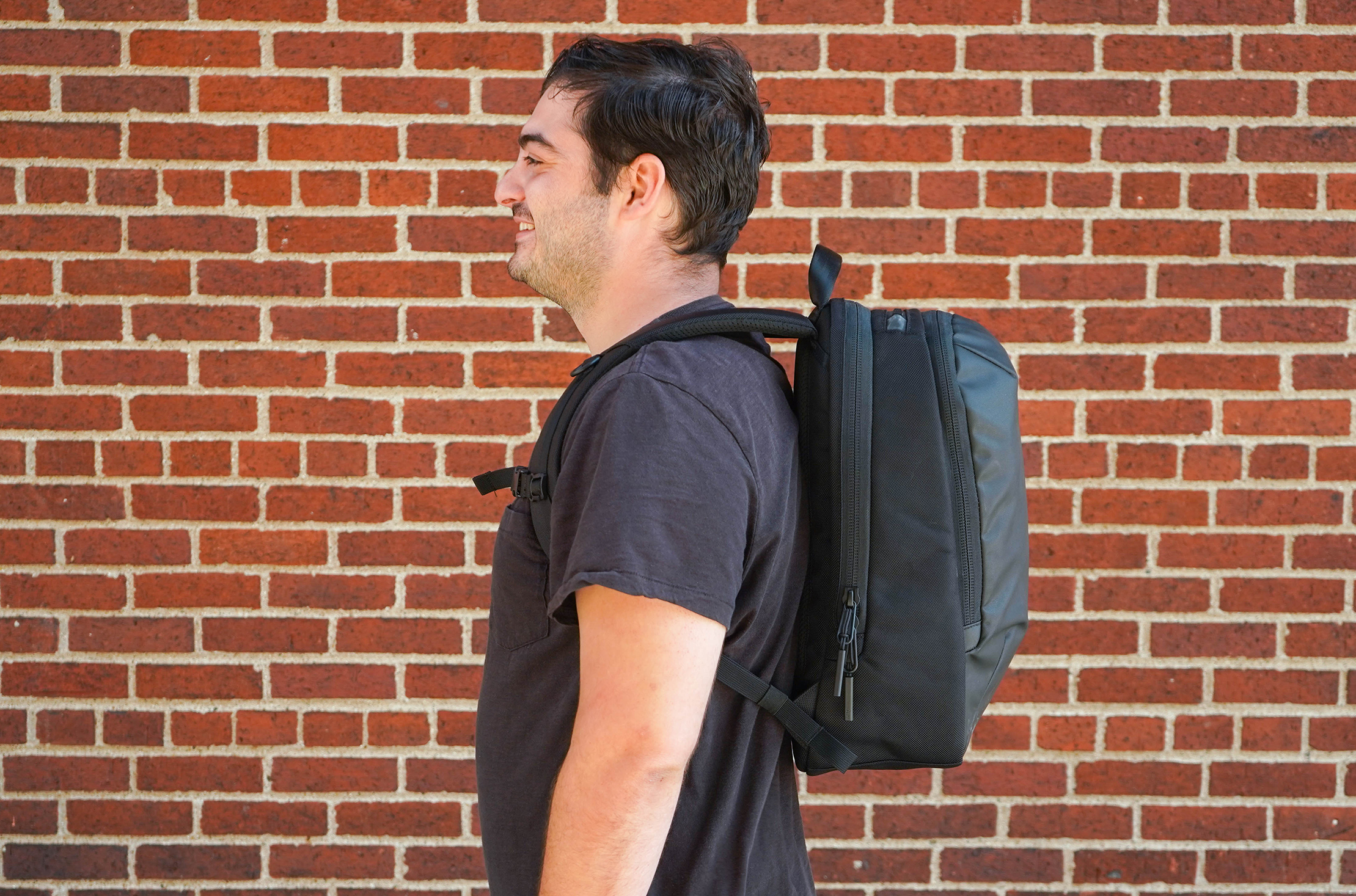 Now, regarding the carry, something we've noticed during testing is that the bag kind of pulls away from our backs, leaving a pretty significant gap—especially when we've got it cinched higher up. We've been calling this "hover back" and we think the term sums it up pretty nicely. Adjusting the bag lower helps it to fall more comfortably into the smalls of our backs, and mitigate most of this floating feeling, however, we don't typically prefer to carry a bag quite this low.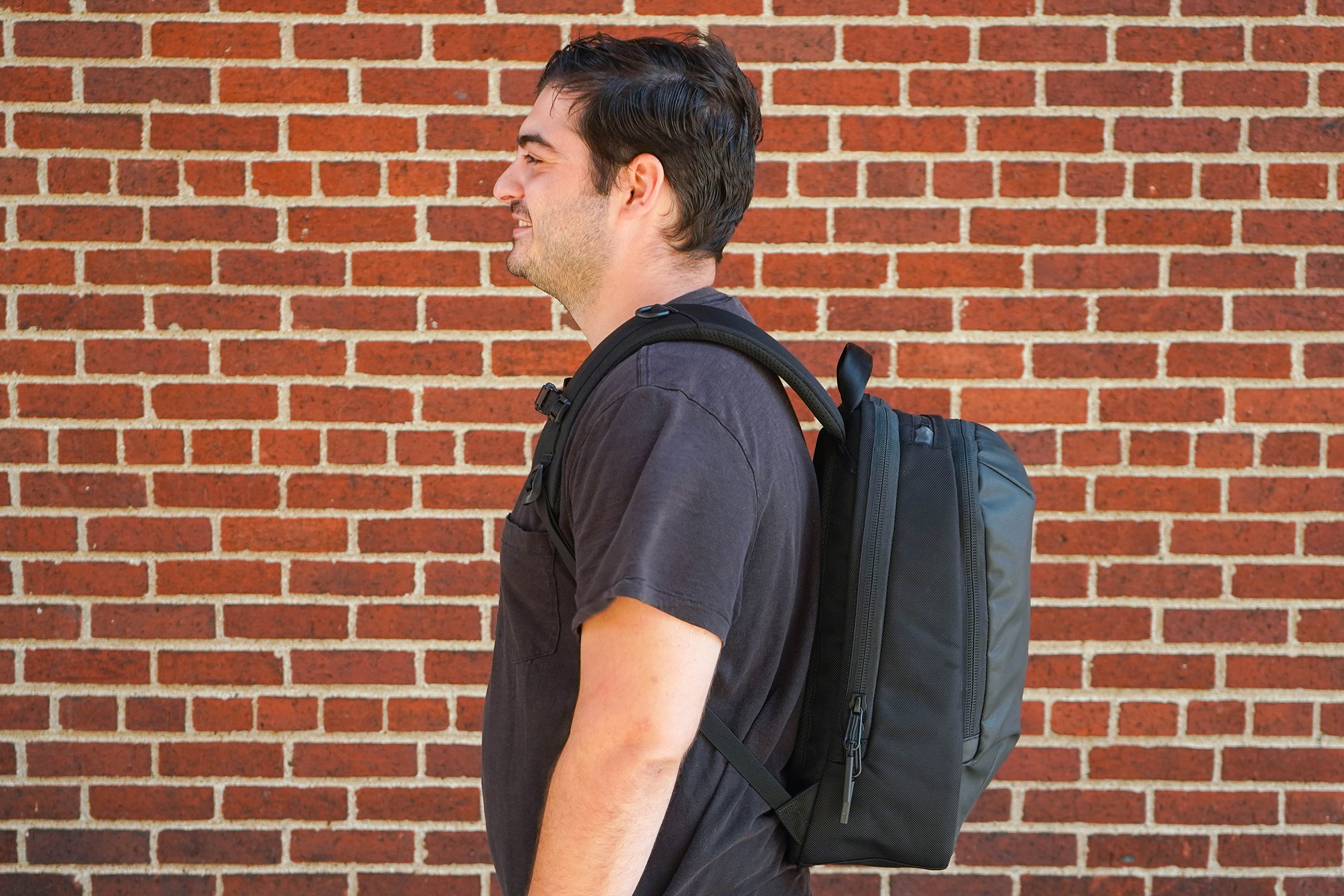 We've experienced the same issue on all three backpacks in the Work Collection, and have even reached out to our Pro Community to see if they've had any similar experiences with these or any other bags with similar features. After some great discussion, we've concluded that the problem stems from a mix of factors—how the straps are anchored, the rigid structure of the bag, as well as the bag's height.
Regarding the straps, they're pretty stiff and the way they're anchored makes them unable to curve to our backs as much as on some other packs we've tested. The bag itself is also stiff. It has built-in structure that allows this thing to stand up on its own and helps protect your expensive tech. However, it also means this pack does not have any give or curve to your back.
In terms of height, this bag is relatively short. We prefer to carry bags higher up because it's typically where we find it most comfortable (and we think it looks better). But, since this bag is short and rigid, the higher you have it adjusted, the more you can feel the bottom floating off your body (hence, "hover back"). We've found that adjusting the bag lower down helps the "hover back" issues, but it's lower than we typically prefer to carry backpacks.
So basically, when it comes down to it, this bag seems to be working against itself—which impacts the carry in a negative way. That said, while we've had this issue with all the backpacks in the Work Collection, we've found the Day Pack 2 to be the most comfortable of the three.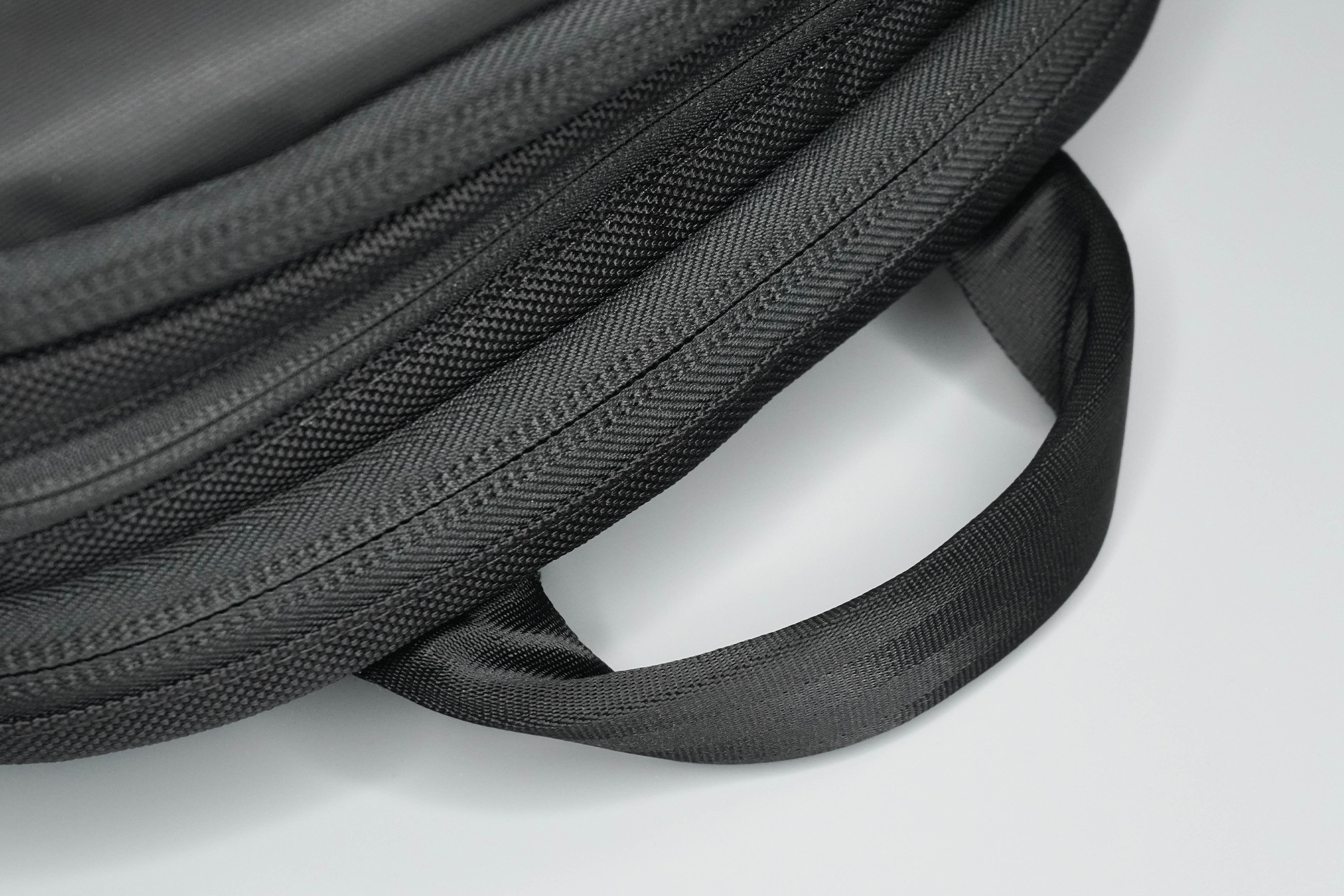 At the top of the bag, you'll find a padded grab handle made with a seat belt-like material. It's smooth and comfortable in the hand and sticks out to where it's easy to grab when we need to pick the bag up. And, as we touched on earlier, thanks to all of its structure, this bag will stand upright all on its on when we need to set it down again.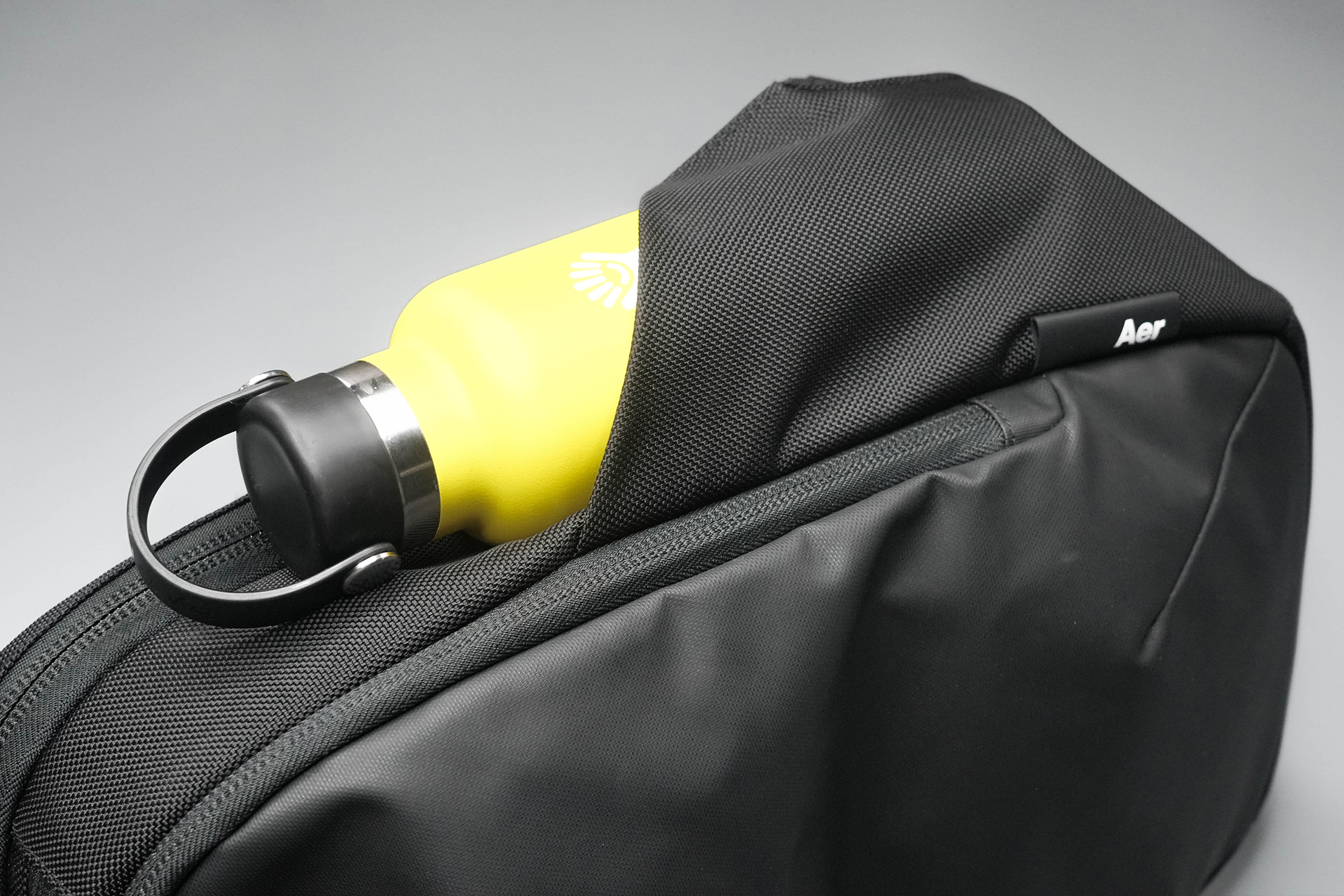 You've also got an exterior water bottle pocket on one side. There's an elastic band that allows it to expand to fit your bottle while keeping the pocket flat against the bag when empty. We've been able to keep the Hydro Flask 32 oz Lightweight Wide Mouth Trail Series Water Bottle. It is a tight fit—while it's slimmer than the regular 32oz Hydro Flask bottle, it's still a pretty large bottle.
Inside The Pack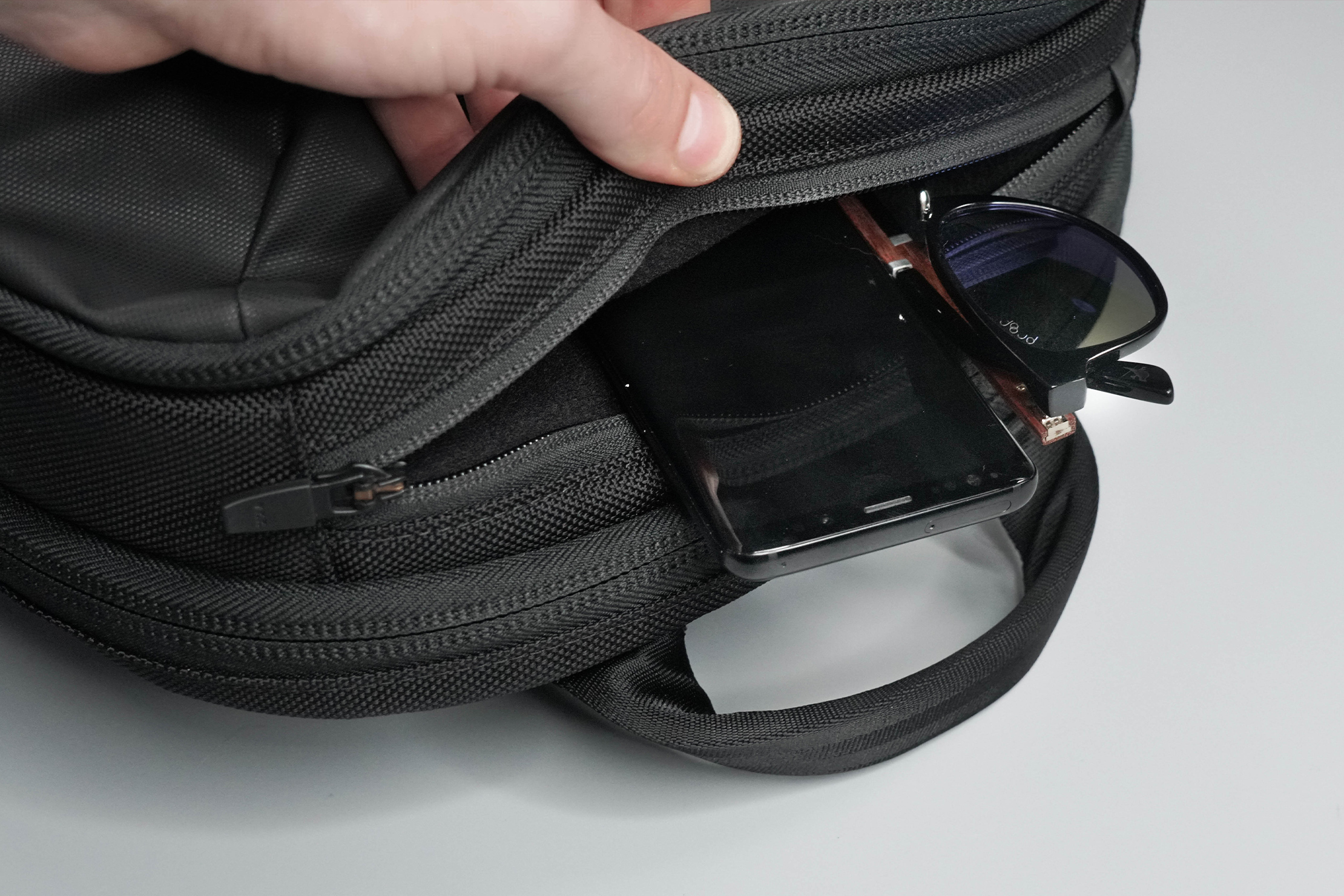 There's a zippered, quick-grab pocket at the very top of this bag that's lined with a soft, fleece-like fabric to prevent scratches—which means it's a safe spot to stash your phone or a pair of sunglasses. It's also quick to access, so you can keep your more frequently used gear up here, instead of having to fumble around for it inside the front or main compartment.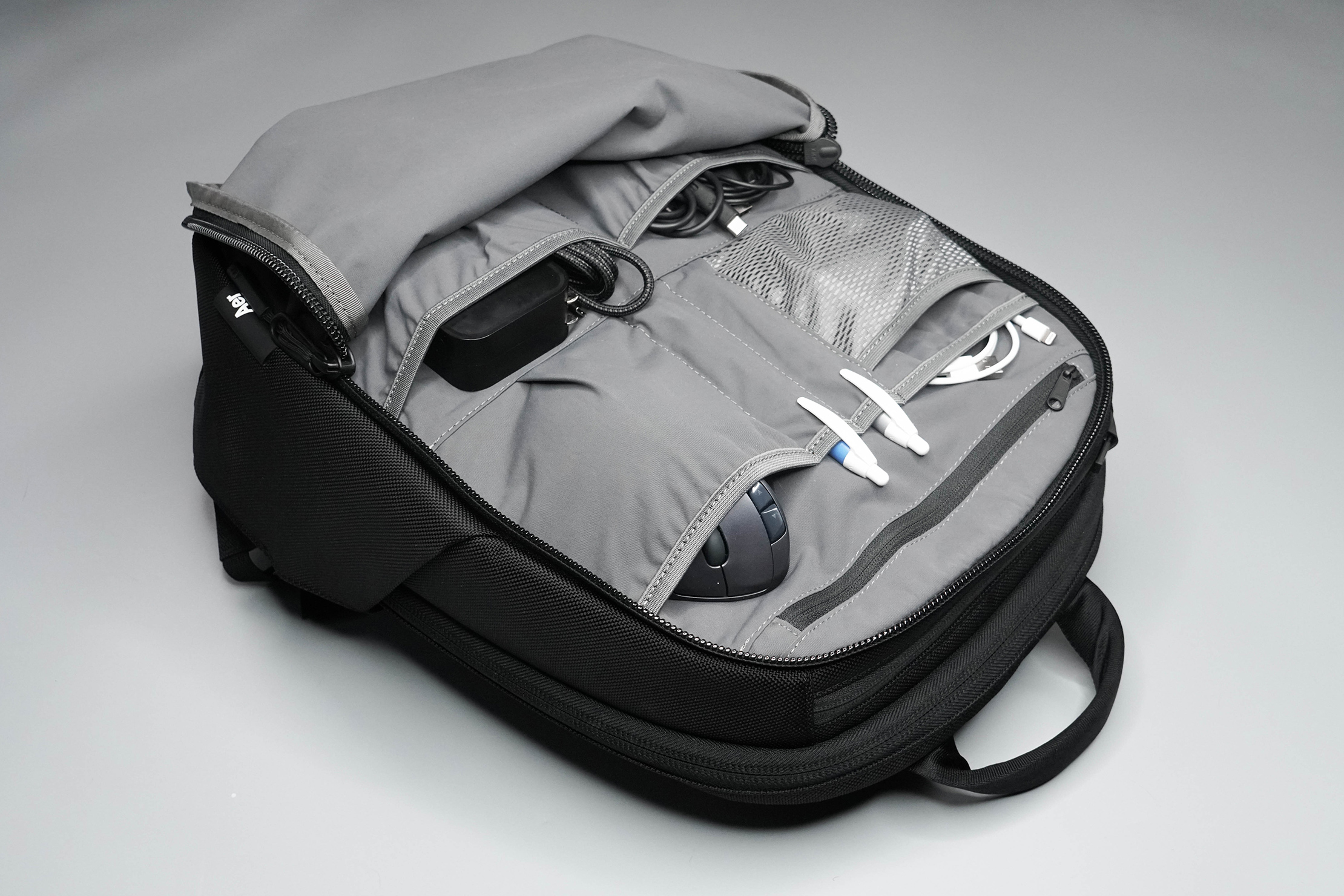 The next thing we'll look at is the front compartment. If you're familiar with Aer, the setup in here will probably give you some deja vu—its organization is similar to what you'll find in other Aer bags such as (get ready for this one), the Tech Pack 2. We know, shocker. But this repetition is welcomed, and that's because it works.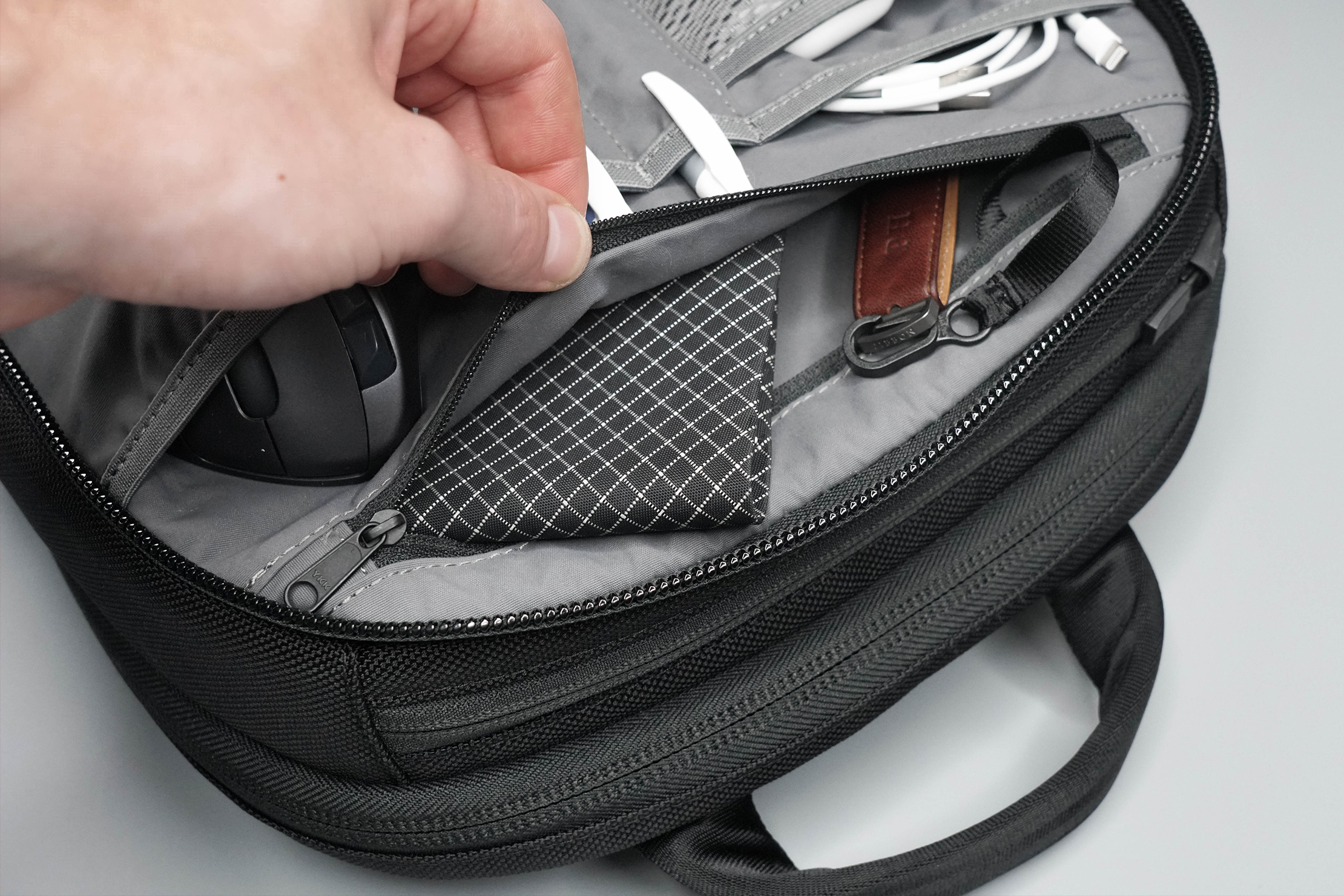 At the top, you have a zippered pocket, with a key leash inside. The leash isn't super long and the clip itself is plastic but feels durable enough to handle holding your keys.
In addition to our keys, we've also been keeping a wallet in here, so it's nice and secure. But, something to note—we've found that if your keys and/or wallet (or whatever you stash in here) are on the bulkier side, it interferes with the space in the pockets in front of it, making it more difficult to fit your other gear.

And below this, is a wall of liner pockets with elastic at the top—two medium pouches and two small sleeves. The medium pouches work for great for something like an Apple Magic Mouse or other accessories of a similar size, while the sleeves hold your pens, pencils, or a stylus if you have one.
There's also a mesh pocket in front of the liner pocket to the left (when facing the organization) where you can keep a pair of headphones, a flash drive, or any other smaller accessories you need to pack. We like that the elastic on these pockets are nice and tight, so we're not worried about our gear bobbing or falling out while we're on the move.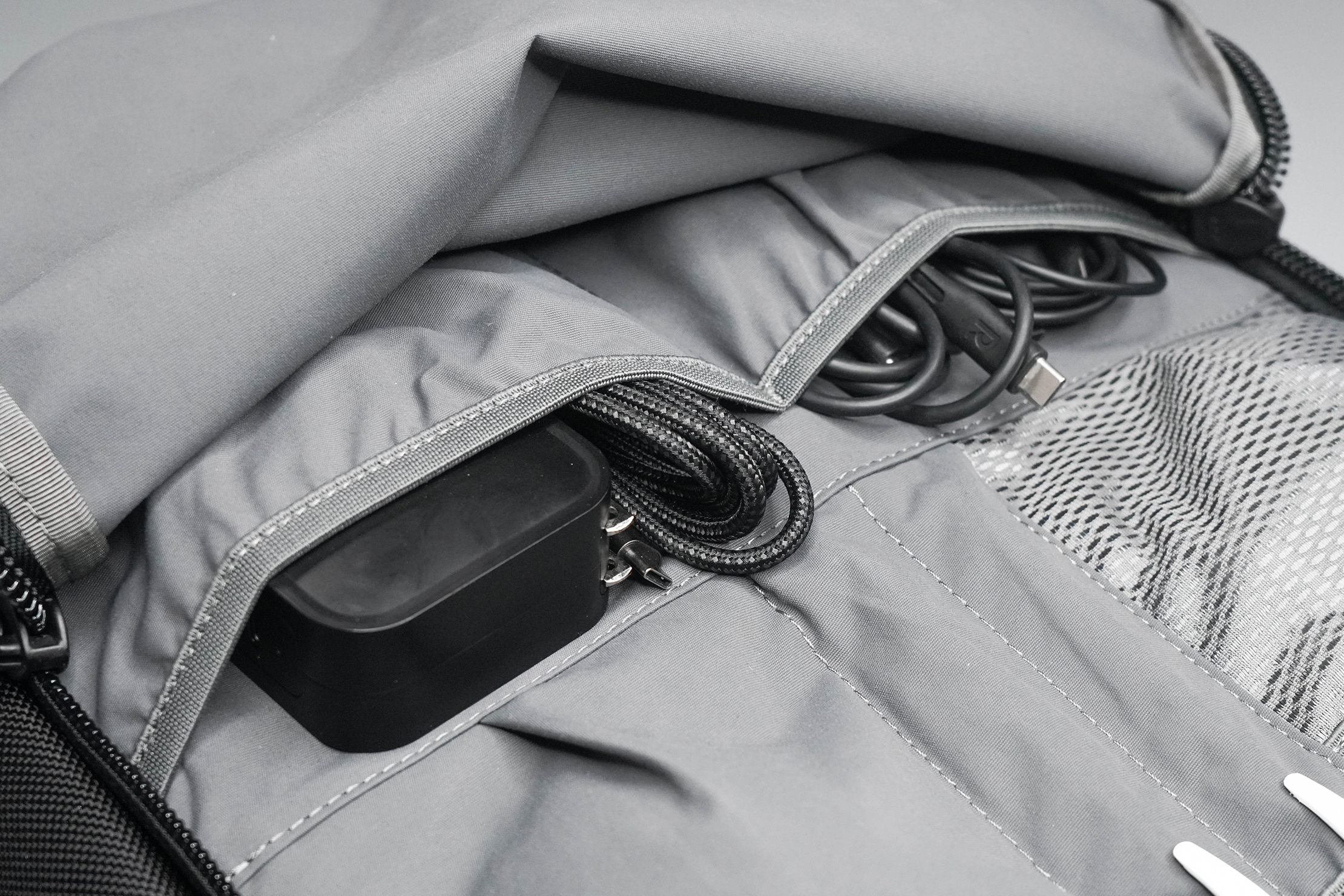 And below these pockets are two more large pockets. They're a great size for an Apple MacBook Pro charging block and cord and have been working well in our testing. But if all of that isn't enough, you've also got some open space at the bottom of this compartment to let some gear free float. The exterior corners are stitched in a way that allows this compartment to accommodate some bulk—nothing crazy, but things like a Roost Laptop Stand, for example, have no problem fitting in here.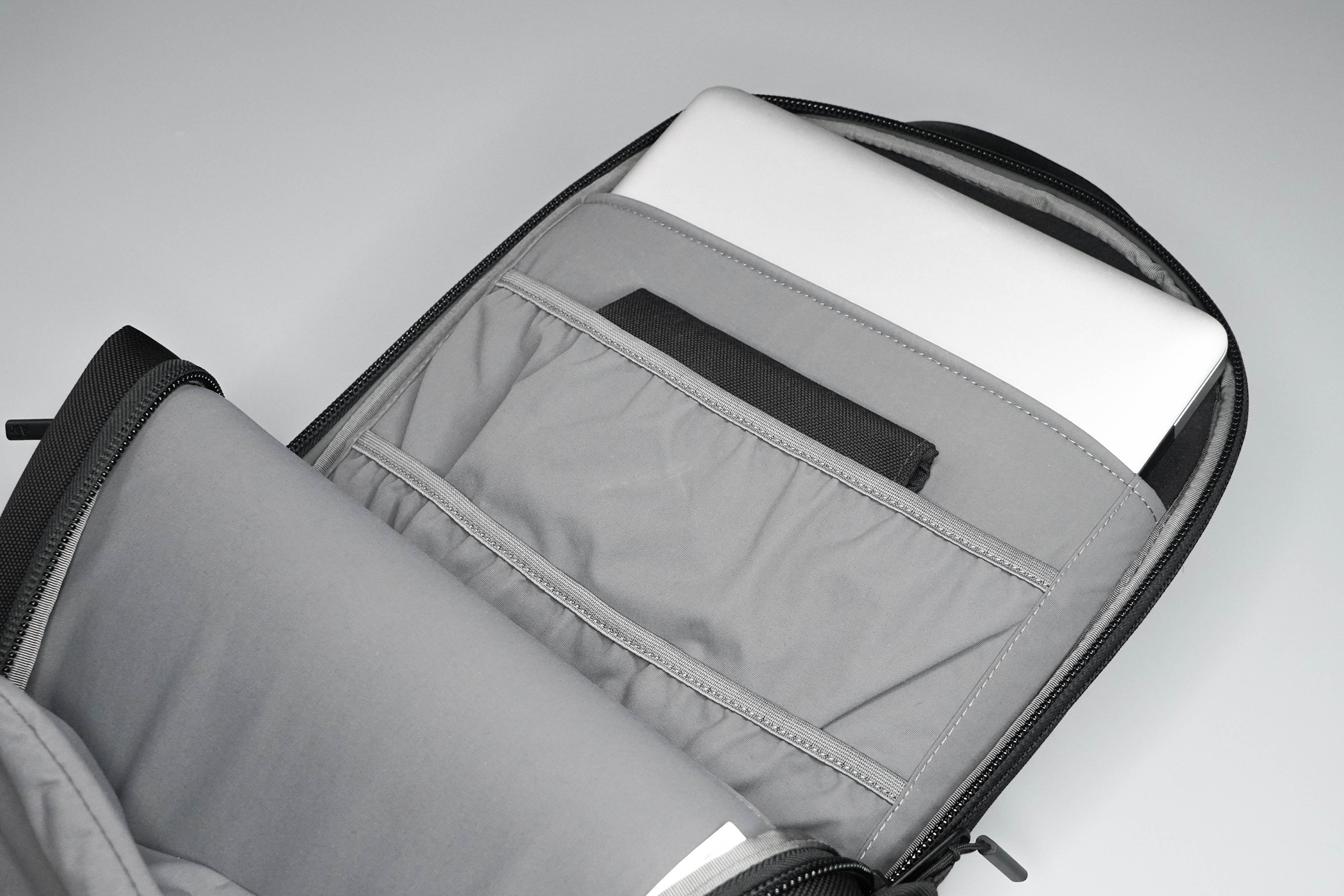 Now that we've finished with the front compartment, we can get into the main course (or compartment, rather). Against the back wall is a padded, suspended laptop sleeve that holds up to a 16" laptop. Thanks to the false bottom, it will protect your tech from the daily abuse of carrying it everywhere you go (and you know, accidental drops). This is an upgrade from previous Aer bags that do not have any kind of false bottom—and we're happy to see it integrated here. It's also lined with the same fleece-like fabric as the quick-grab pocket, which means our laptop is safe from scratches.
You also have two pockets stacked along the front of the laptop sleeve. They're secured with elastic like the pouches in the front compartment so they do have a little stretch to them. We've opted to keep flatter things inside like a keyboard, tablet, or documents so as not to bulk up the rest of the compartment. Especially because the rigidness of this pack can make capacity feel tight as it is.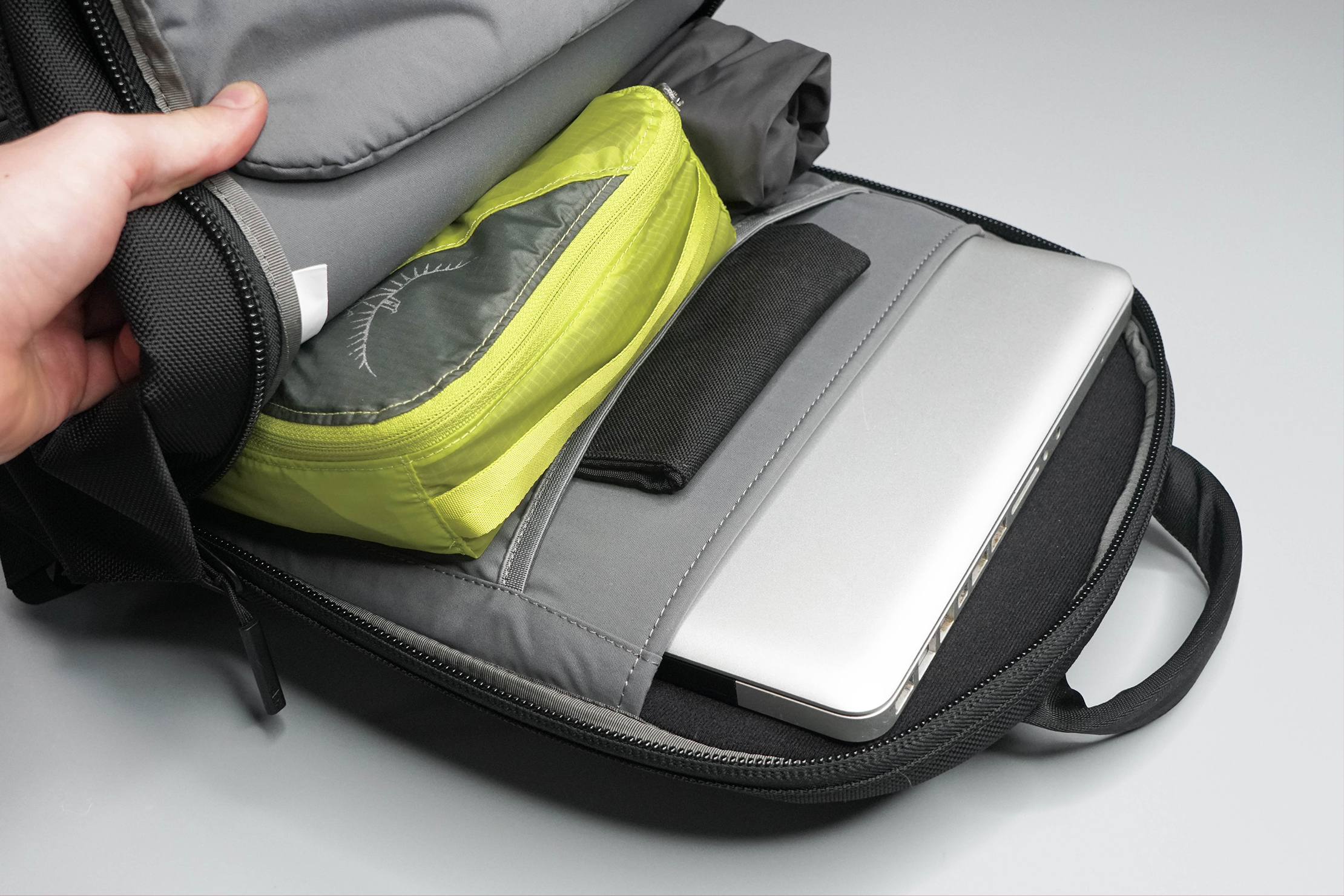 That said, there is some open space at the bottom where you can stash a jacket (just in case you run into some drizzly weather). If you're taking this thing to and from the office, something like a larger or bulkier lunch box won't fit.
Now if you're looking to open up this space a bit more, there's a zippered pocket just below where the front flap bends that houses a small frame sheet. This is part of what gives this compartment its structure, but if you want to take it out and use the pocket for other gear, you can—the bag will still mostly retain its shape without it.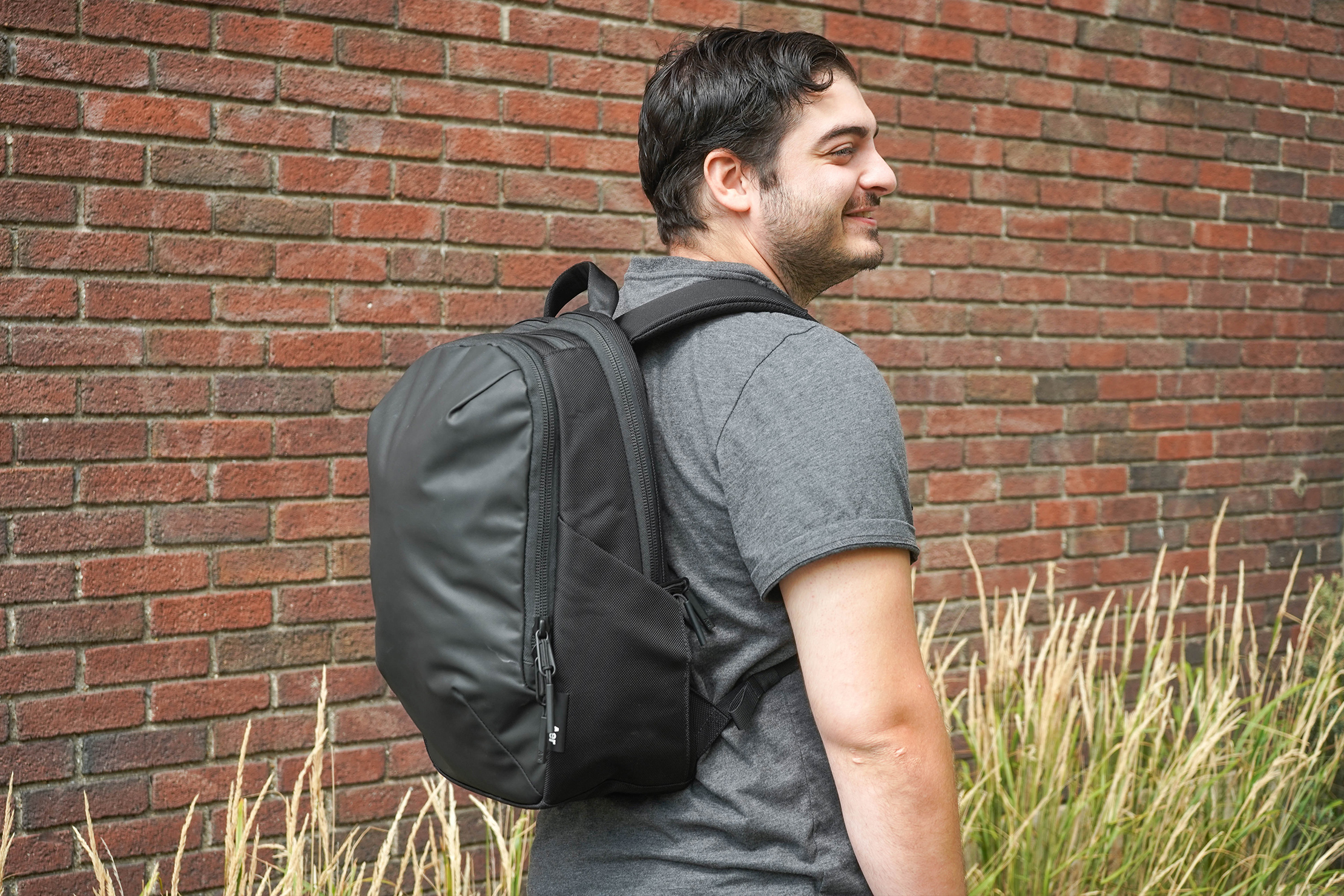 To round out our experience, we haven't had any issues durability-wise—which is what we've come to expect from Aer. Everything is holding up nicely.
Usage Timeline
Initial Usage
Condition: Excellent
A very premium look and feel
Perfect amount of organization for all your EDC items
Bag can stand up on its own thanks to its stiff structure
2 Weeks of Use
Condition: Excellent
Digging the size and organization of this bag—it's just right for us
The Main compartment is a little tight, but we've had enough room to stuff a jacket and lunch
While the harness system has some decent padding, it's not the most comfortable to carry. It tends to feel like the bottom of the bag is pulling away from our bodies—especially when the bag is cinched up
Durability-wise, there are a couple of aesthetic scuffs on the front panel, but nothing too concerning
Access the Pro Community Discussion
Get your questions about the Aer Day Pack 2 answered from our team and the Pro Community right here on the page. Plus, join discussions with other members about gear, guides, and more.
Other Bags & Luggage Reviews