Aer Tech Pack 2 Review
The Aer Tech Pack 2 has ample, efficient organization for our tech and everyday essentials—but its rigid structure doesn't make for a very comfortable carry.
Our Verdict
Unlock the Pro Summary
Save time. Get access to brief summaries of our reviews so you can browse and make decisions more efficiently.
Pros
Great amount of organization for tech/everyday essentials
Durable, weather-resistant materials
Integrated false bottom in the laptop compartment
Cons
Feels stiff on our backs, especially when cinched higher up (like we're carrying a brick)
The rigidness of the pack can make capacity feel tight
Water bottle can slip out of pocket when bending over
Recent Pack Hacker Video
Technical Details
Capacity

17l

Weight (lb)

3.8 lb (1.7 kg)

Denier

1680D

Side exterior

Dimensions

18 in x 12 in x 7 in (45.7 x 30.5 x 17.8 cm)

Notable Materials

Nylon, Polyurethane, CORDURA® Ballistic Nylon, YKK Zippers, Duraflex Hardware

Manufacturing Country

China

Laptop Compartment Size

16"

Warranty Information
Full Review
Get up to 10% off Aer • Join Pack Hacker Pro
We're no strangers to Aer's sleek, efficient, black-on-black packs that work for carrying all the essentials, whether it's for travel or just the daily grind. And over the last two weeks, we've gotten to know another one—the Aer Tech Pack 2.

This pack is part of Aer's Work Collection, featuring updated versions of some of their previous packs. In this review, we're going to talk about the Aer Tech Pack 2, which is a revamp of the original Tech Pack that features new materials and new organization, while still retaining that classic Aer craftsmanship.
You know what they say, time flies when you're testing bags—so let's get to it.
Materials & Aesthetic
In typical Aer style, the branding on this pack is pretty minimal. You'll find a white-on-black tag on the bottom right side of the bag and on the inside of the laptop compartment, as well as a glossy Aer logo on each one of the exterior zipper pulls. All of these are subtle and blend in nicely for a streamlined, professional aesthetic.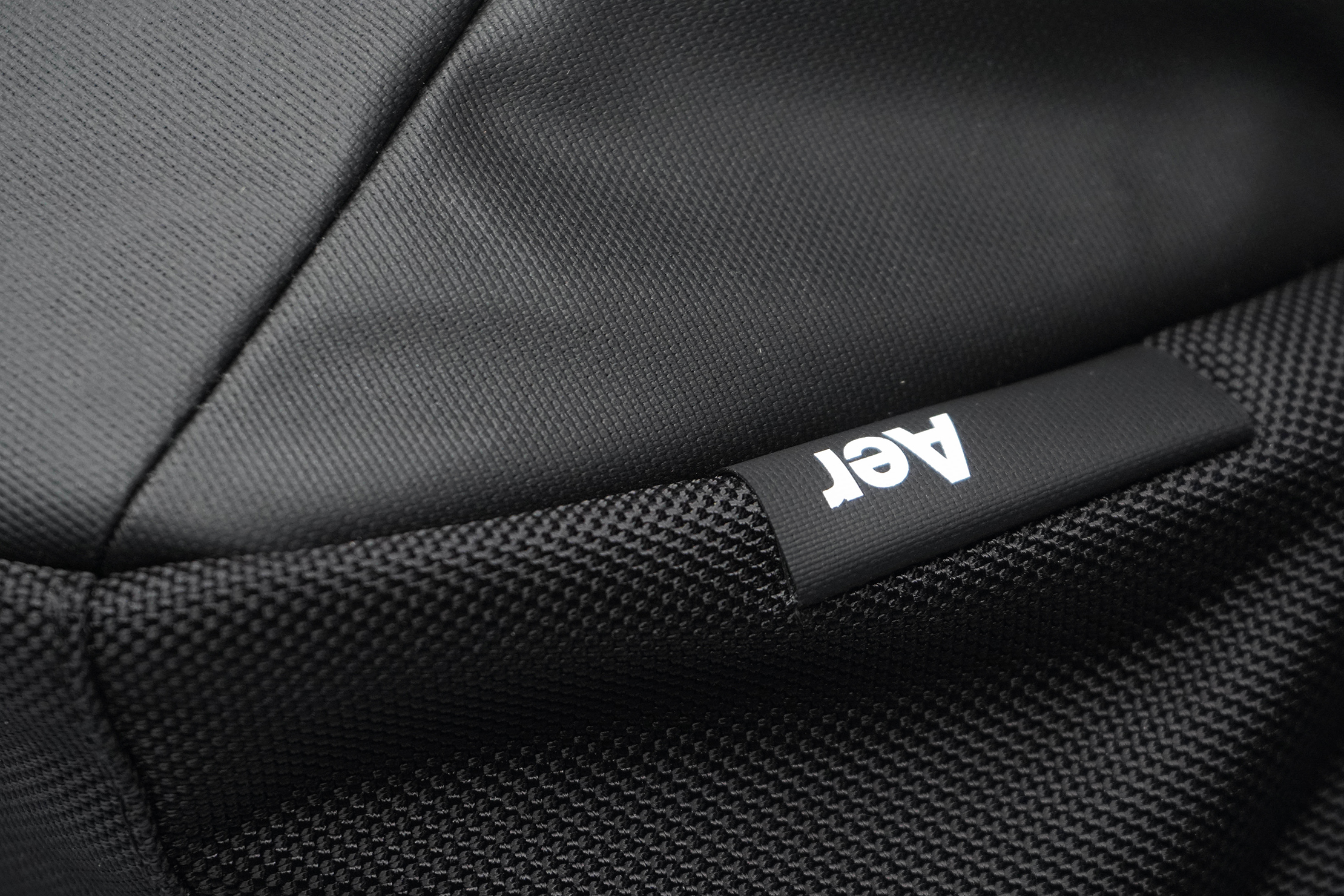 At the time of this review, the Aer Tech Pack 2 is only available in black—so if you're hoping for something more vibrant, you won't find it here. It doesn't bother us any as we think the black-on-black of the materials helps keep this bag looking sleek. Due to its bulky, square shape, however, we can't say this thing is low-profile—it's noticeably big when we've got it on. Its shape also has a big impact on the carry, but we'll get into that in the next section.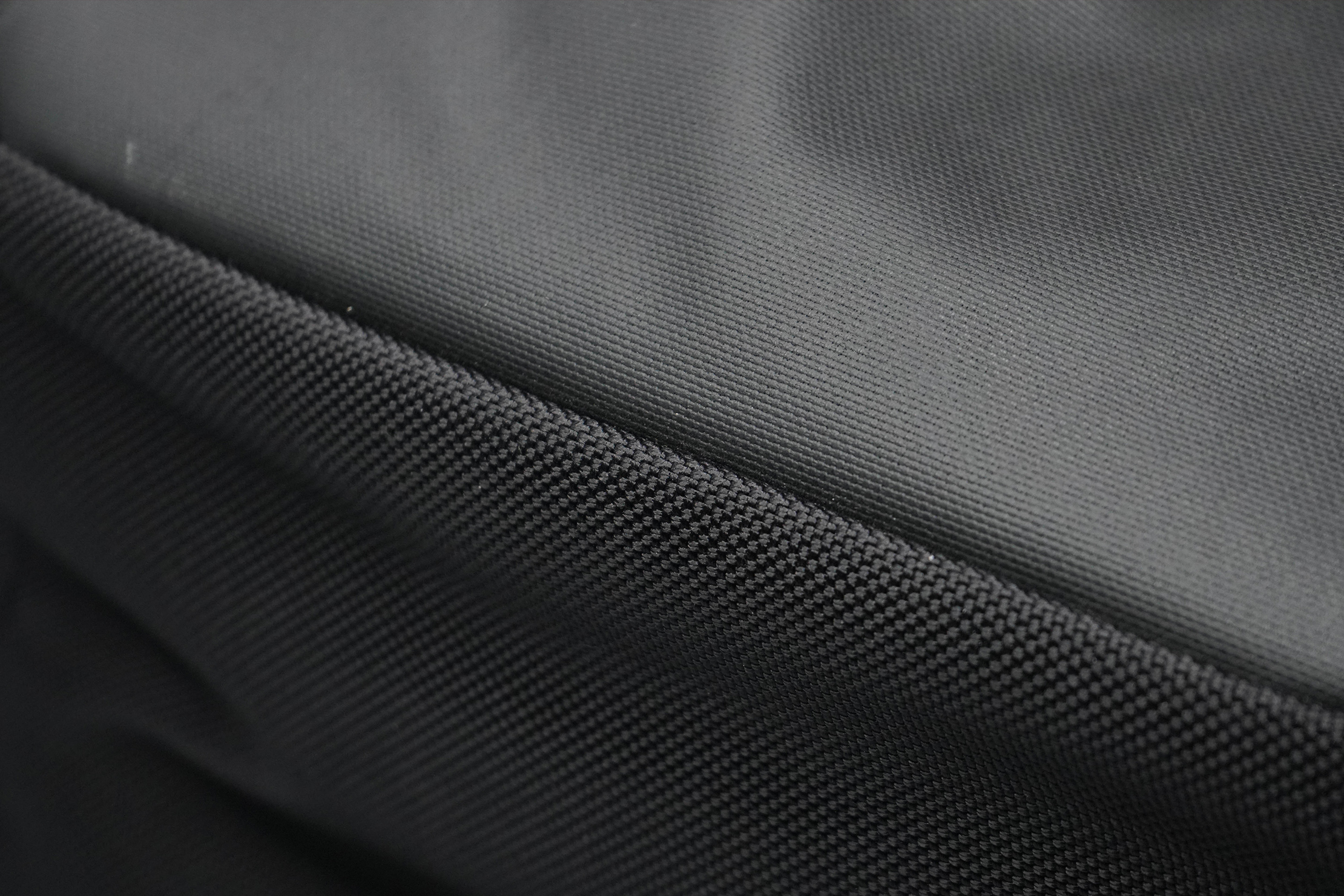 Material-wise, the front of this pack is made with 840D nylon finished with a PU (polyurethane) coating for added durability and water resistance—and added sleekness, aesthetically speaking. It has sustained some scuffs during our testing, but they're minor and merely aesthetic so far. The rest of the exterior is constructed with 1680D CORDURA Ballistic nylon. Aer uses this fabric on almost everything, and it does not disappoint—it's a tough material that always holds up (in our experience, anyway).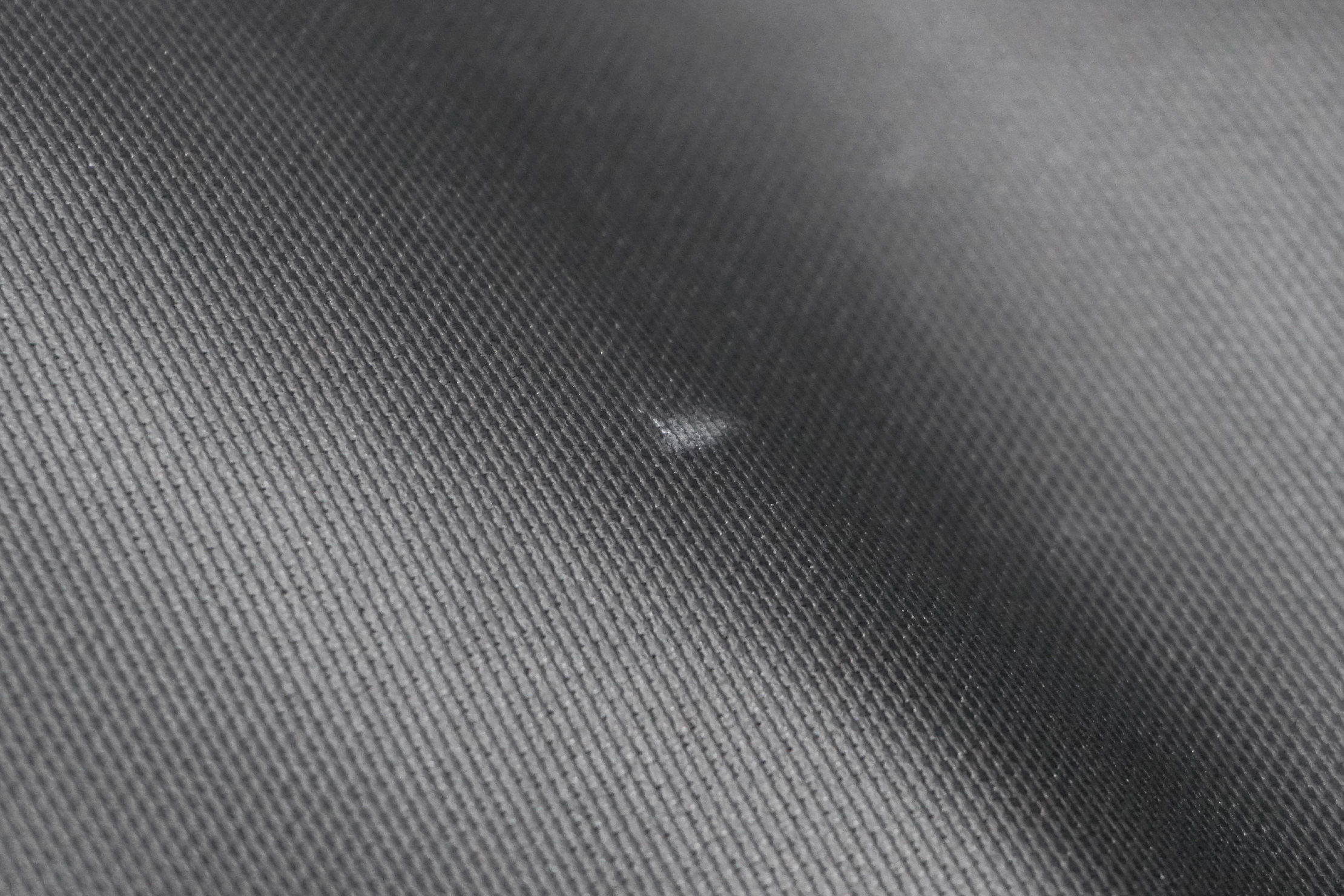 You'll find AquaGuard YKK zippers throughout this pack that are robust and water-resistant, to protect your gear from the elements. But they can also get sticky when we're using them, especially around corners, which can slow down our access. And while the look of this bag may be subtle, the zipper pulls are not. They're super jangly (if you're familiar with Aer bags you've probably encountered these before). So for all the international spies who may be reading this, this pack is not very stealthy—you may need to keep looking.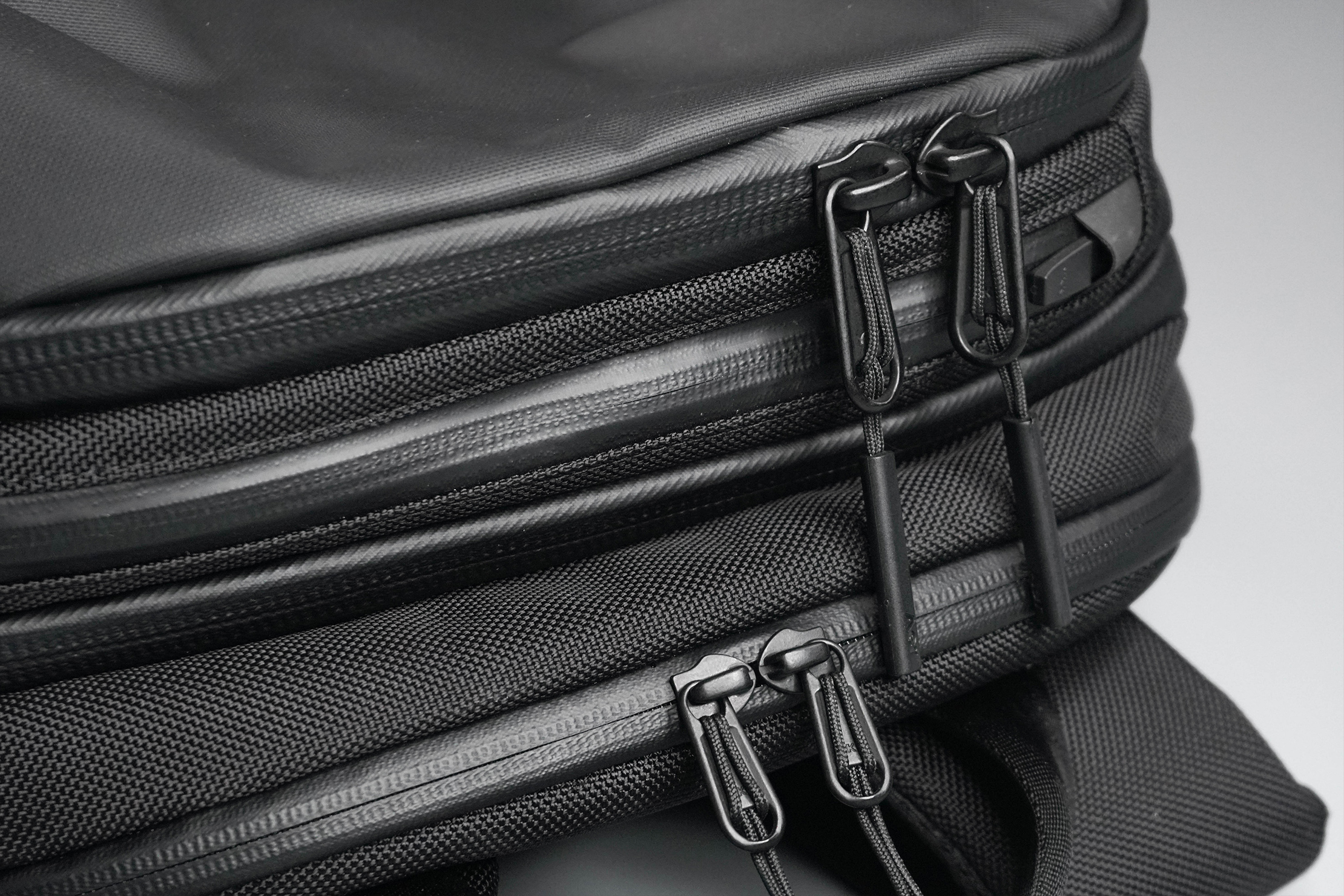 And lastly, there's some Duraflex hardware on here. Like most of our experiences with the brand, everything has been working smoothly so far in our testing.
External Components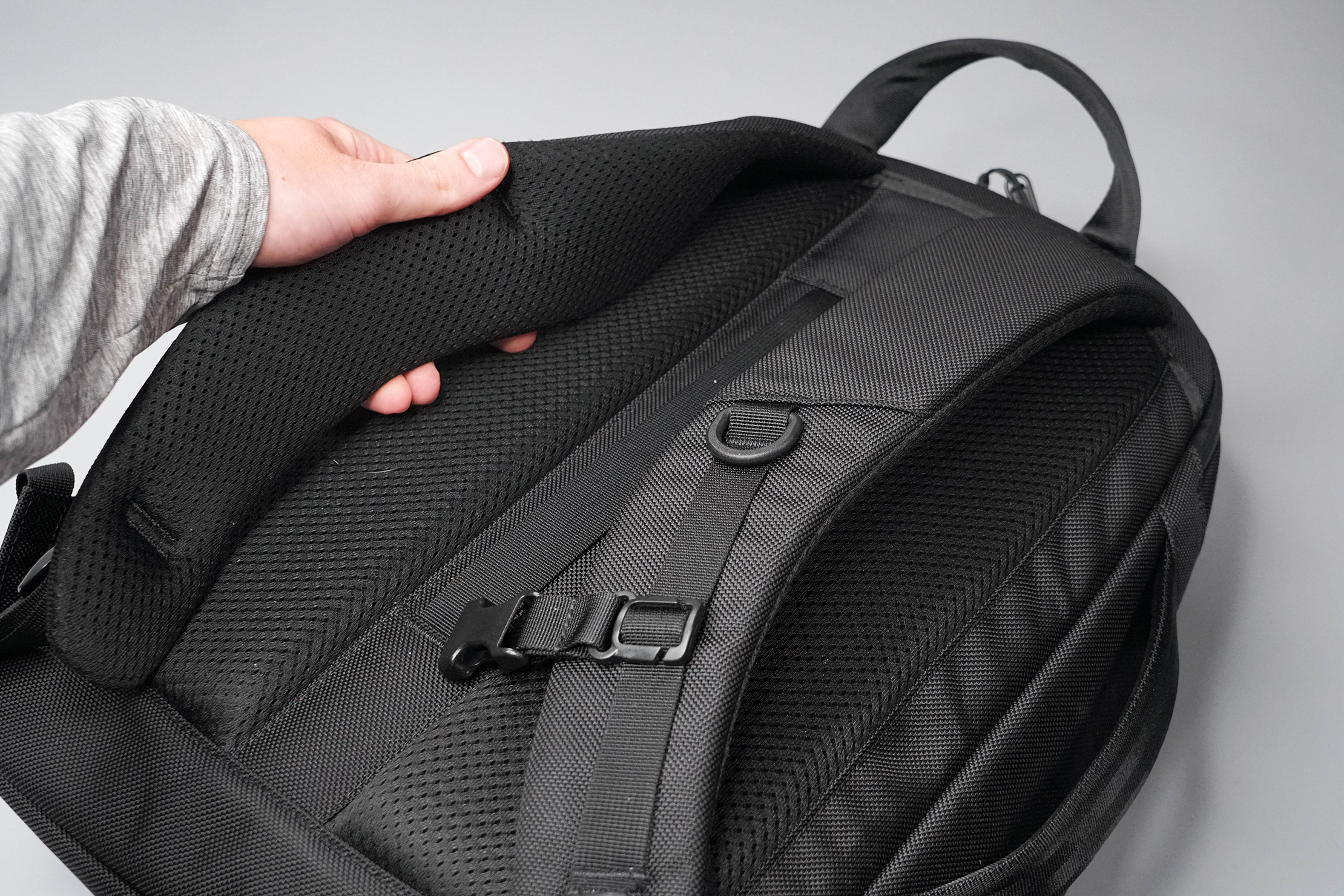 The shoulder straps on the Tech Pack 2 are also classic Aer (are you sensing a theme?). The amount of padding makes them comfortable enough, but not overbuilt. They're also lined with mesh for some added breathability—although it's an all-black bag, so we've found it still gets pretty toasty when we're out in the summer heat. On the straps, you've got a D-ring where you can attach a carabiner and strap keepers to help contain all the excess strap (so at least you're not dealing with any dangle).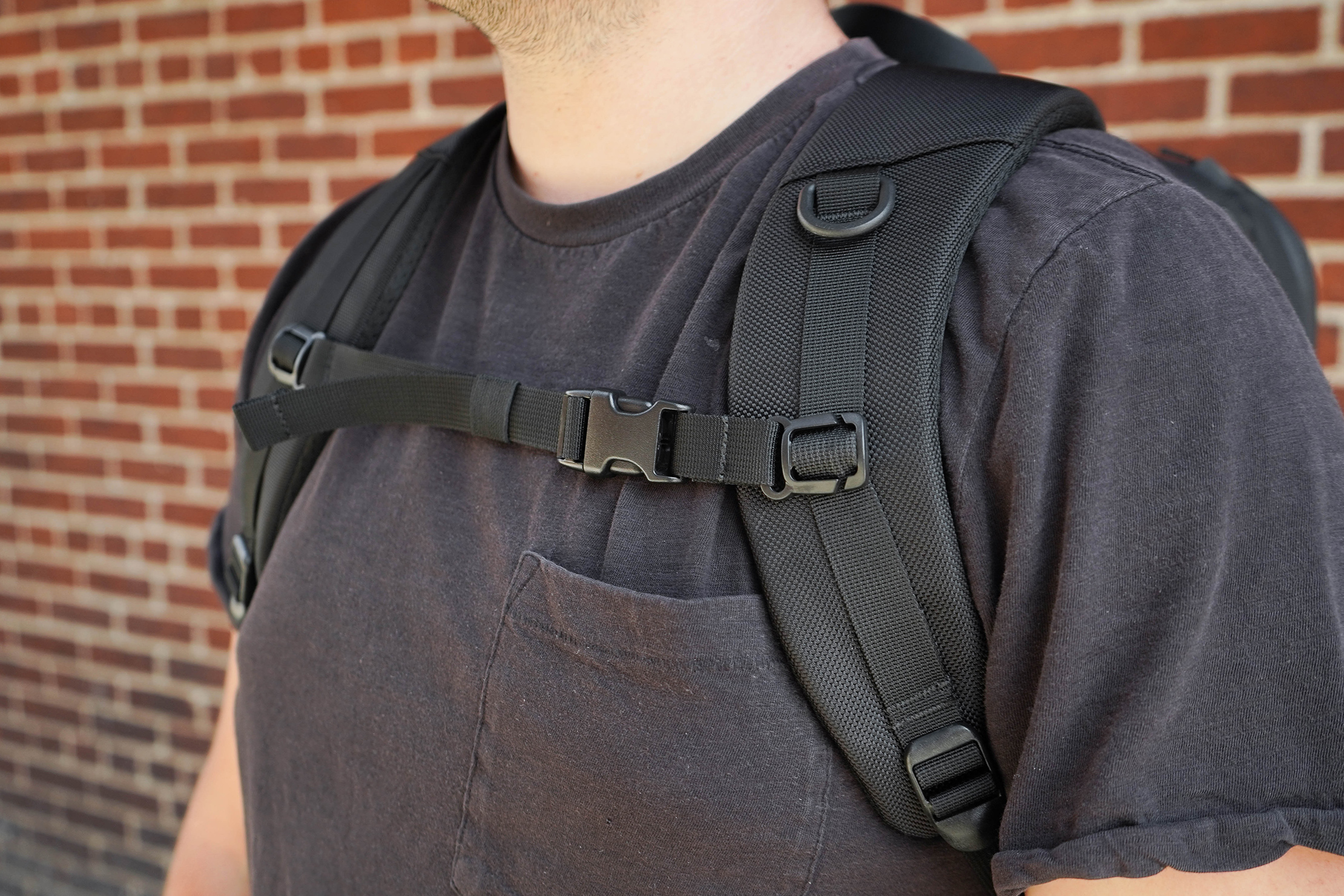 As for the sternum strap, it's pretty standard—you can adjust it by sliding it up and down to wherever it feels comfortable. Its attachment feels secure so we're not worried about losing it. And like the shoulder straps, it has an elastic keeper to keep dangling to a minimum.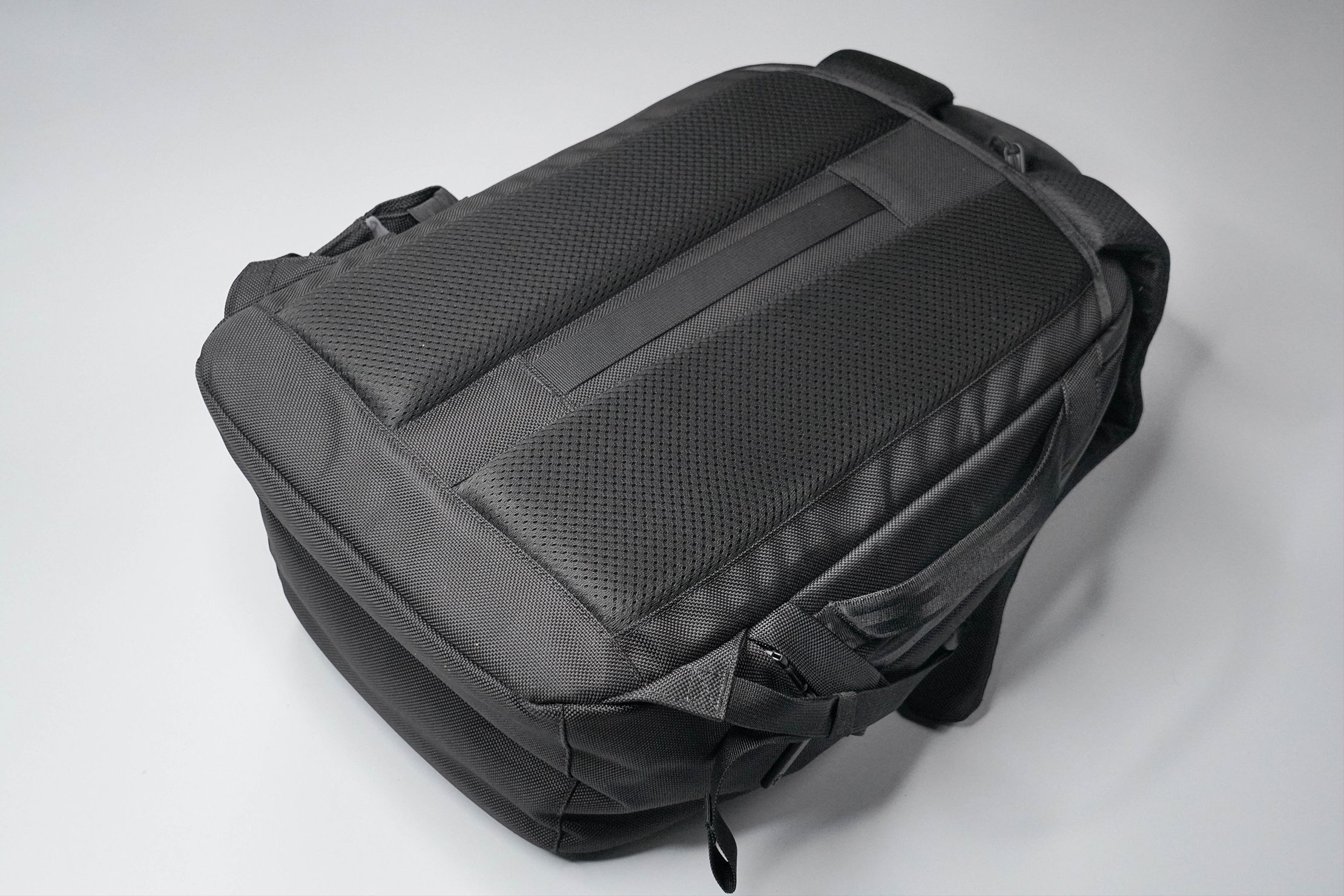 The back panel on the Tech Pack 2 has some dense padding and mesh lining, with an air-channel down the middle to create more airflow—but again, it's a black-on-black bag, so that dreaded Swamp Back still makes an appearance in warmer weather.
There's a luggage pass-through inside of the air channel so if you're traveling with roller luggage, you can easily slip this bag over the handle. We've also it works as a handle to pick the bag up if it's ever laying on the ground with the back facing up (which isn't often because this pack's rigid structure allows it to stand upright on its own, which we appreciate).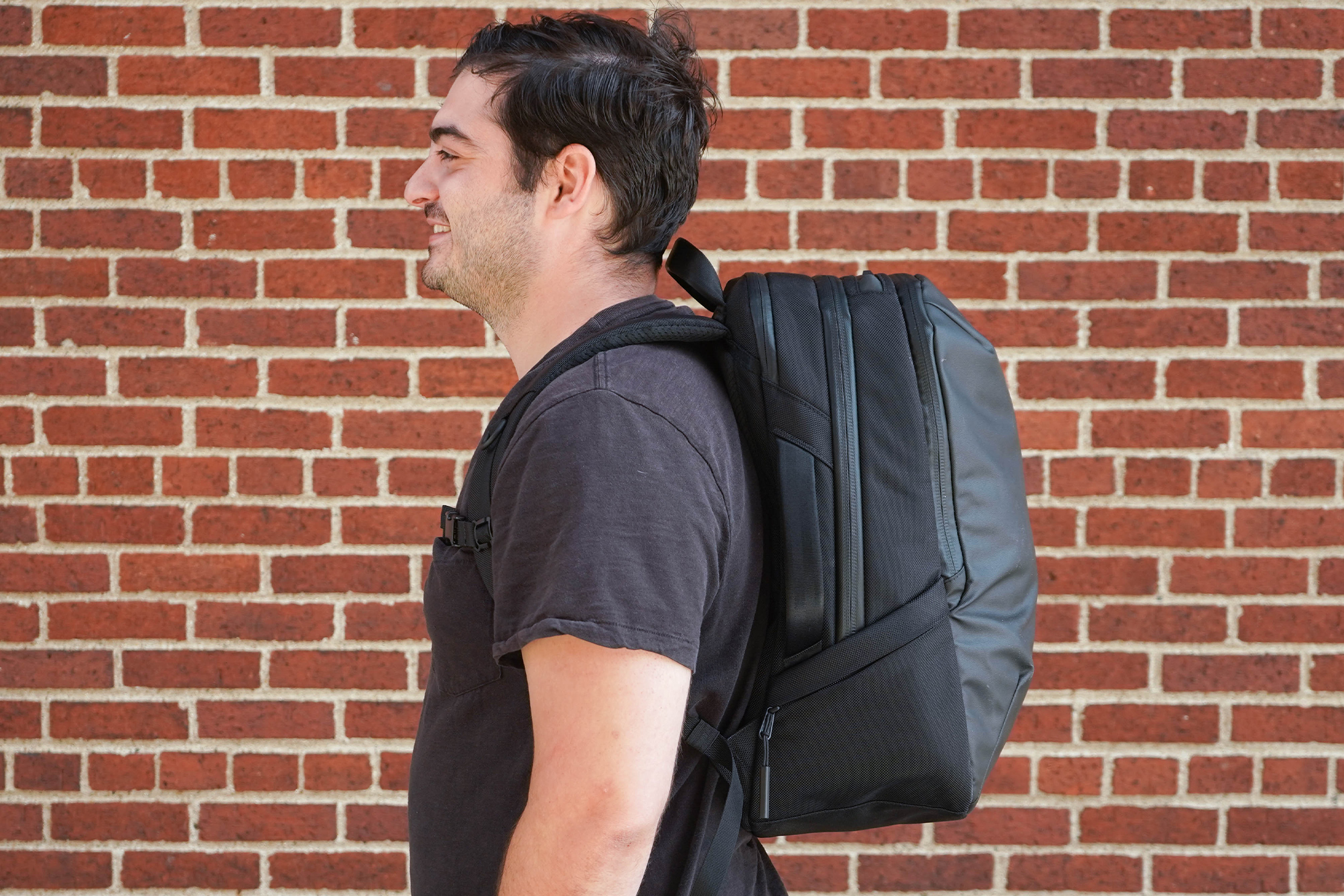 Now, let's talk about this bag's structure. It's nice that the pack can stand up on its own. However, we can also feel this structure when we're carrying it—and not in a good way. The back panel is very flat against our backs, especially when we try to cinch the straps down to carry the bag higher up. This makes the carry pretty stiff, like we're hauling around a giant brick. The bag also feels like it's pulling away from our back, leaving a large gap at the bottom (a phenomenon we've been calling "hover back").
We've been testing the other backpacks in the Work Collection on multiple members of the team and have all experienced the same thing across the board. During testing, we even reached out to our Pro Community to see if anyone has experienced anything similar. After some great discussion, we concluded that this issue comes from not one, but several places: the structure, as we mentioned, the bag's height, and the anchoring of the shoulder straps.

We typically prefer to wear bags nice and tight, and higher up on our backs as this is what we find most comfortable. This is when hover back is the worst on this bag. The stiffness works against the curve of your back and, since the pack itself is on the shorter side, the bottom of the pack has that floating (or hovering) feeling. The remedy we've found is wearing it lower than we usually do, so it slips more comfortably in the small of our backs. And even so, it's still not quite as comfortable as some other bags we've tested with a curvier, more flexible back panel.
As for the shoulder straps, while they have nice padding, they're not very flexible due to the way they're attached. Something like the Mystery Ranch UA24, for example, has some extra fabric between the bag and the shoulder straps that's flexible and curves to your back more (if you need to adjust, you're pulling on this fabric instead of the entire bag).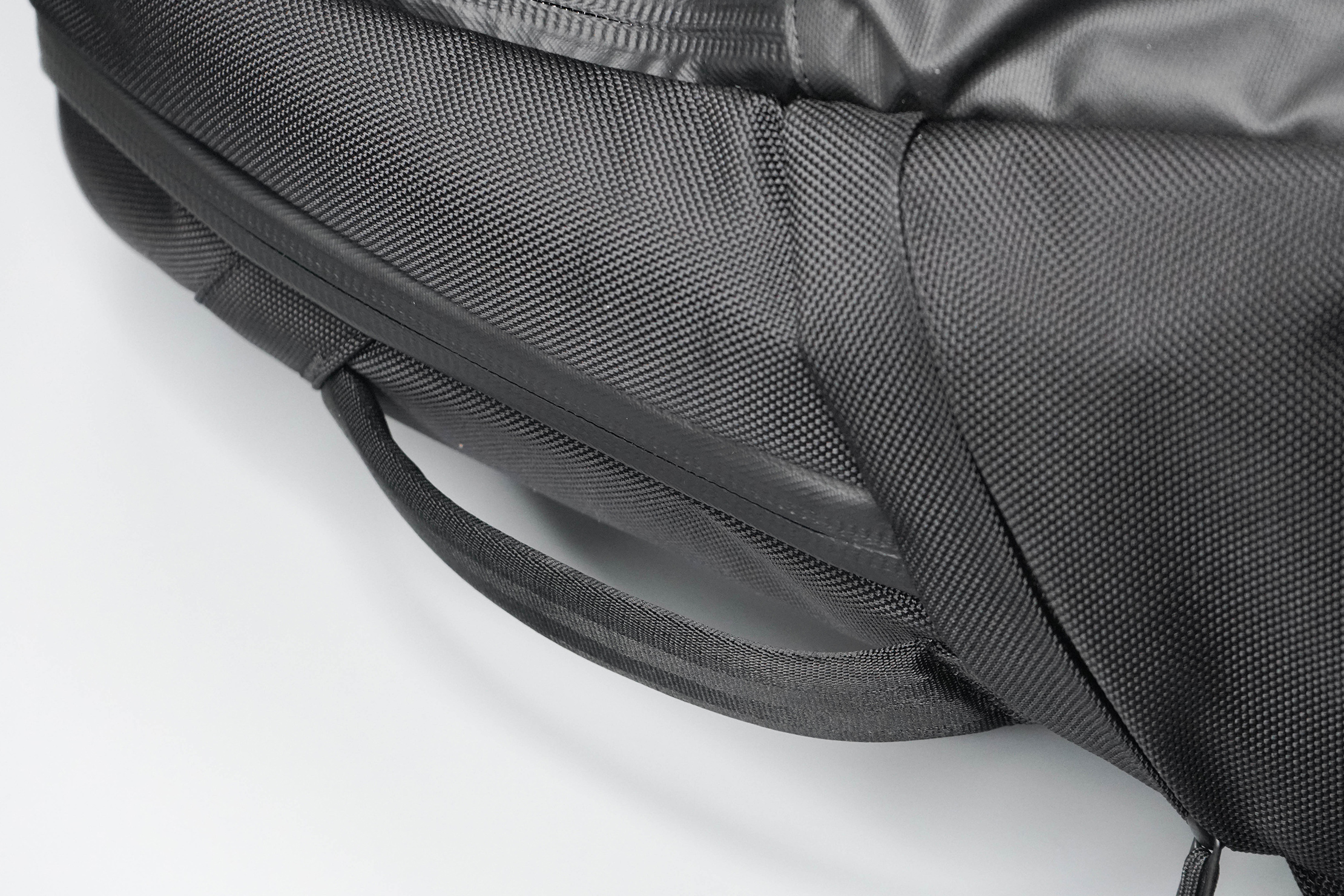 Okay, moving on. You'll find two grab handles on this pack—one on top and one on the side. They're made of a smooth, seat belt-like material and padded with foam so they're comfortable in the hand. We've especially been digging the top handle. It sticks up fairly high so it's super easy to grab, making it convenient for hoisting the bag up to access our gear, or quickly grabbing-and-going when the pack is standing up on the ground next to us. And the side handle allows you to carry the bag briefcase-style (or easily pull this thing out of an overhead bin or trunk of a car when need be).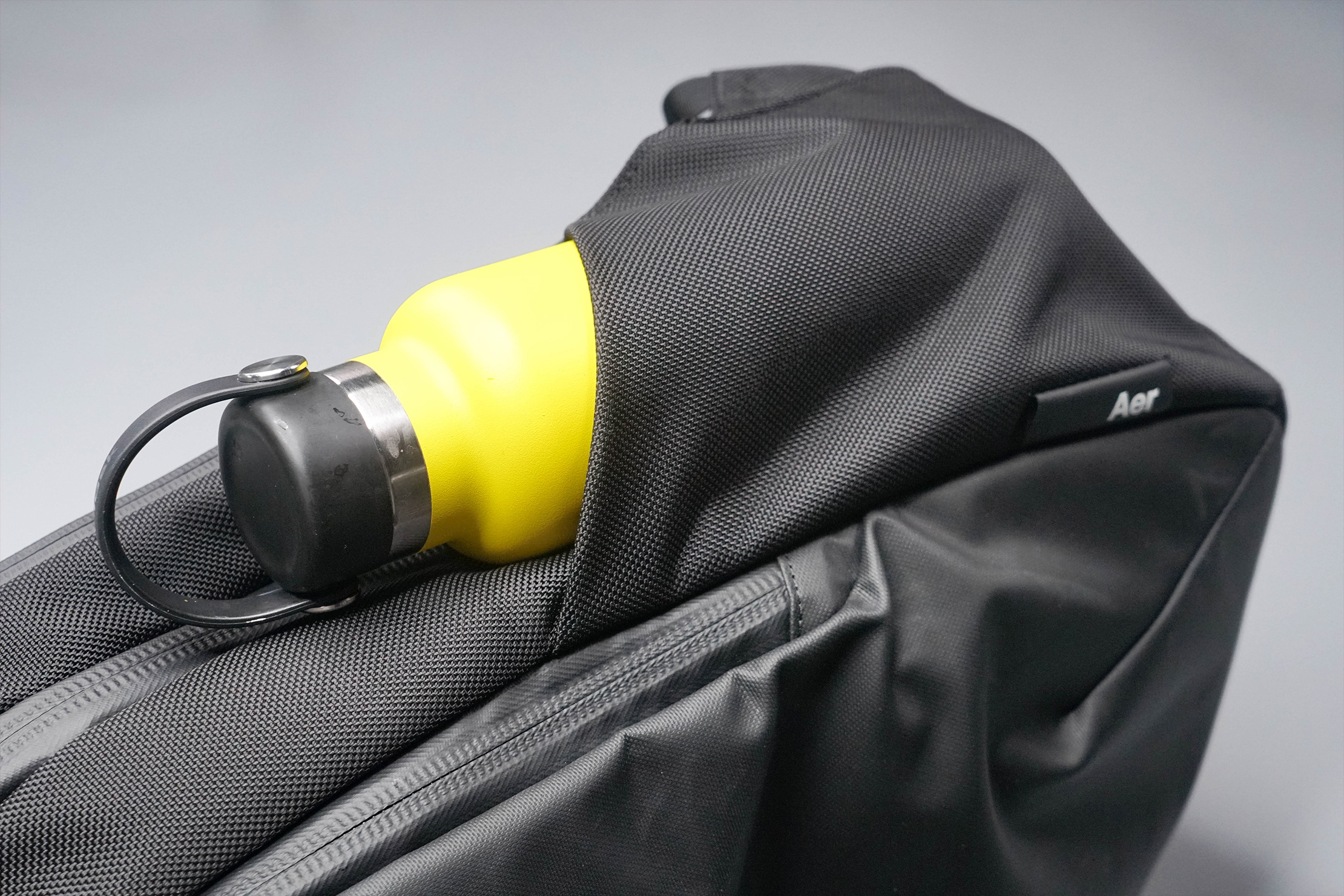 And you have a pocket on each side of the bag. On one side is a water bottle pocket. We always appreciate an external water bottle pocket as it keeps your beverage handy and you don't have to store it inside with your tech and other gear. This pocket has an elastic band to help it stay as flat as possible, but also flex to accommodate larger bottles. The Hydro Flask 32 oz Lightweight Wide Mouth Trail Series Water Bottle fits in here quite nicely.
That said, it did fall out once during testing while grabbing the bag out of the car. And while it's only happened this one time, we're now always thinking about the possibility of it slipping out. It's not the end of the world, but still, something to note.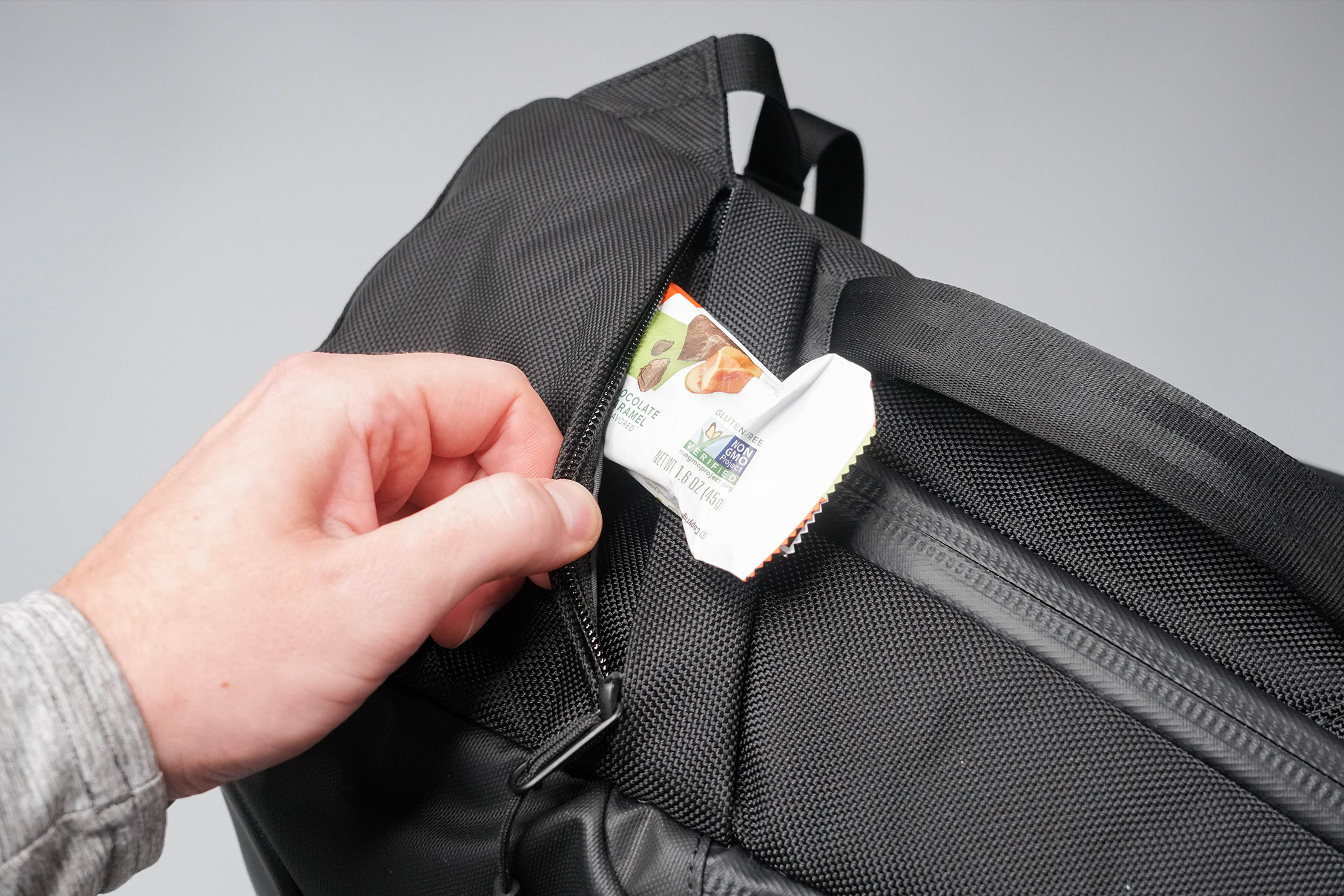 The pocket on the other side is smaller and secured with a zipper. It doesn't have much dimension to it, so it works for flatter gear. We've been able to fit most smaller quick-grab items—snacks, lip balm, your phone if you'd prefer to keep it here than at the top of the bag, and anything else that you don't want to have to go inside the bag to get.
Fit Notes


AJ—Height: 5 ft 8 in, Torso: 17 in
Feels flat against the back
"Hover back"—bottom of the bag feels like it's pulling away from the back
Would prefer to have it cinched up tighter, but have to wear it lower than normal to help with the "hover back"
Shoulder straps are a little stiff/inflexible but harness system is comfortable enough (not overbuilt)


Riley—Height: 5 ft 4 in, Torso: 16.5 in
Looks especially big and bulky
Very top of the bag feels far away from the back
Feels like carrying a brick
Doesn't feel comfortable even when cinched lower to help with "hover back"
Inside the Pack
Now that we've covered the outside, let's get inside this thing. At the very top of the bag is a quick-grab pocket with a soft fleece lining—so no worries about your phone or sunglasses sustaining any scratches. There's also some padding built in to keep our stuff protected.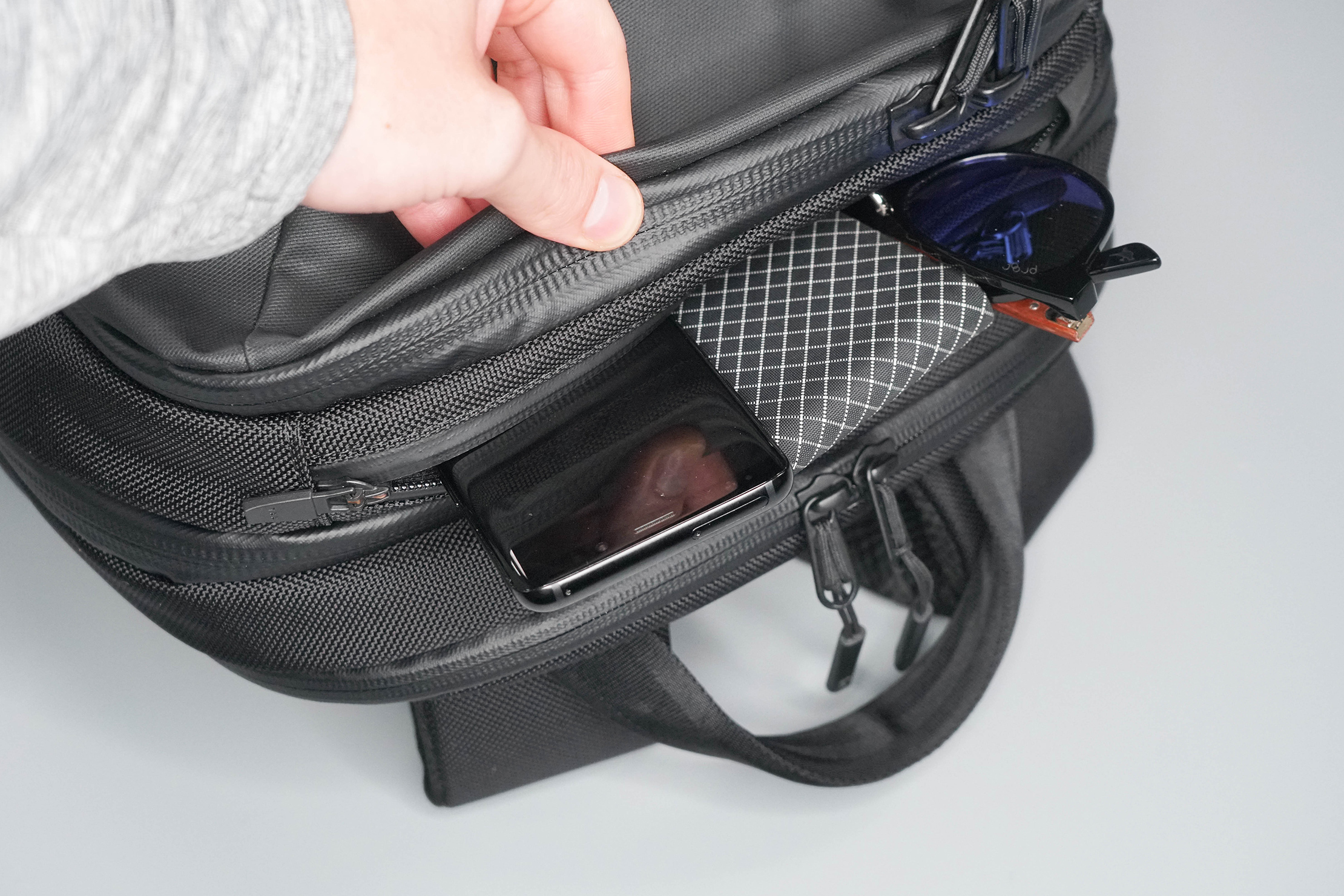 And the zipper is water-resistant, which is ideal for when we're keeping our phones in here—we definitely don't want any water getting inside. Some other things we've been stashing in here? Our wallet and a pair of sunglasses, so we're not holding up lines or damaging our eyes.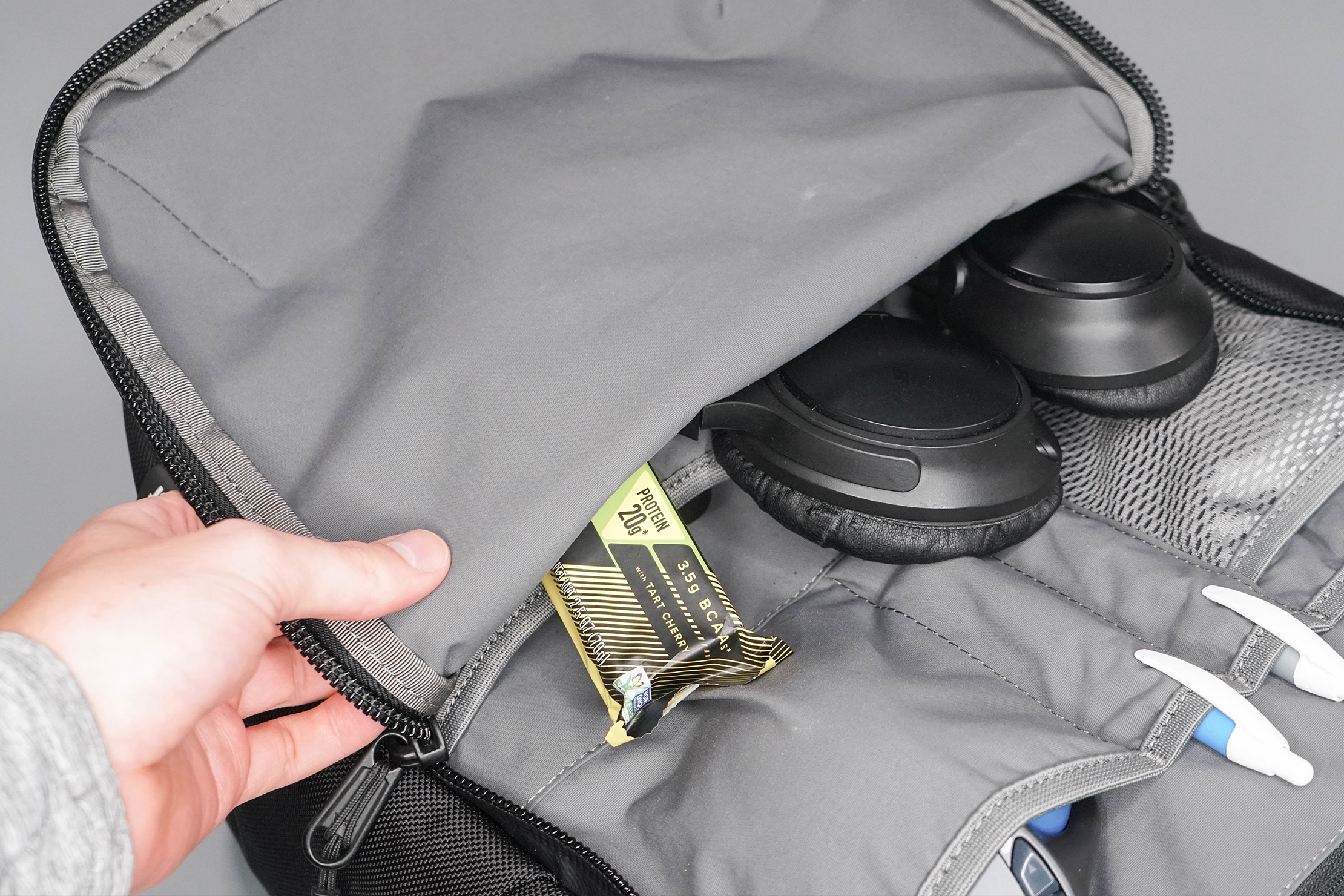 Organization-wise, the Tech Pack 2 is separated into three large compartments. The first compartment, at the front of the bag, handles the organization of your tech accessories. If you're familiar with Aer bags, this admin pocket should come as no surprise—it's simple, effective, and offers just enough compartmentalization.
What's different is the liner material. In older Aer bags, there's a more swishy fabric. The material in here is a good kind of rough—it feels more rugged and durable and has a subtle matte finish, rather than appearing shiny. We like its integration here, and we hope to see it in other Aer bags in the future.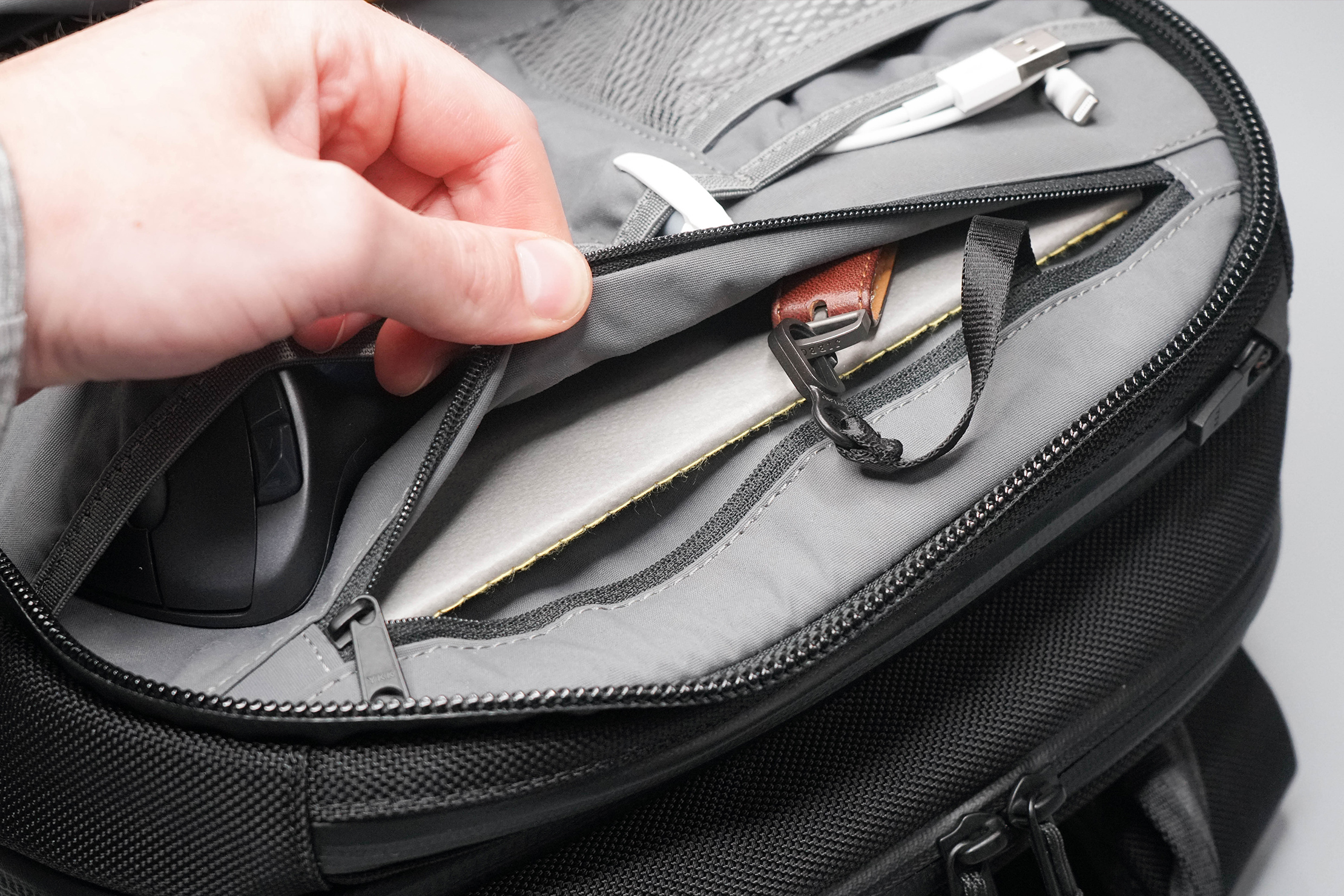 Now, we're fans of tech pouches around here, but we've been using all the pockets inside of this compartment to get a feel for its organization. Starting at the top, there's a zippered pocket where we've been stashing a Baronfig Vanguard Softcover Notebook—it fits well vertically, and is super easy to just grab and go. If you have this or another notebook of a similar size, you do have the option to keep it loose in the open space, but if we have bulkier items in the lower pockets then the notebook can get in the way and make them slow to access.
This pocket also houses a key leash so you're able to store your keys in here in addition to or instead of a notebook as well. The clip itself is plastic and doesn't feel the sturdiest, but gets the job done. As for the leash, it isn't very long, which means that depending on what you're opening, you'll have to unclip your keys or do one of those awkward, bent-over maneuvers to get it unlocked. Not a deal-breaker, but something to note.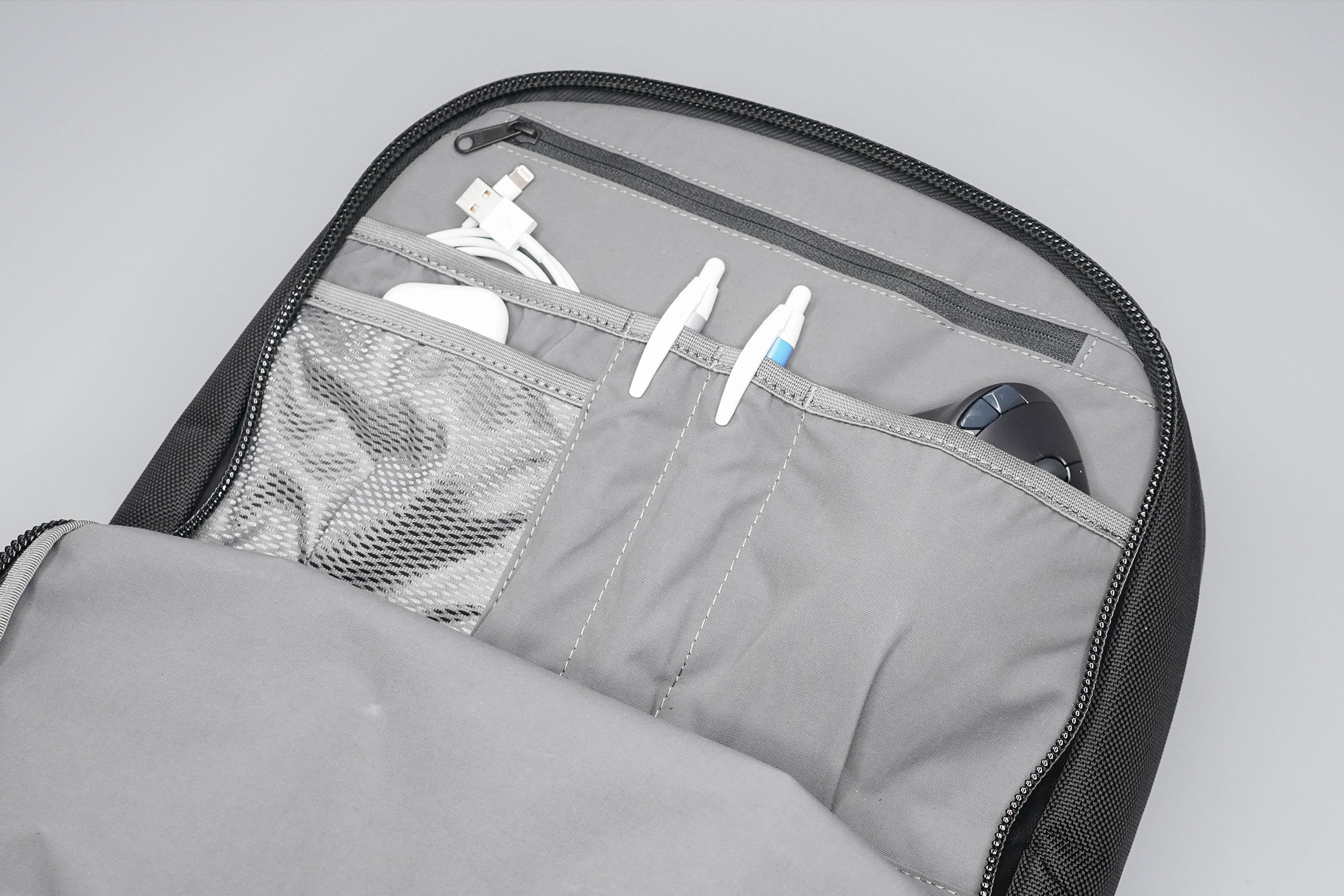 Below the zippered pocket are four liner pouches that span the full width of the back wall, with elastic at the top to help keep your things secured inside. The end pockets are larger and work great for storing things like an Apple Magic Mouse. And on one side, the end pocket also has another, smaller mesh pocket in front of it that's a great size for a pair of Bluetooth earbuds (that's what we've been keeping in here, anyway). Then between those end pockets are two sleeves for keeping pens, pencils, styluses (styli?) handy.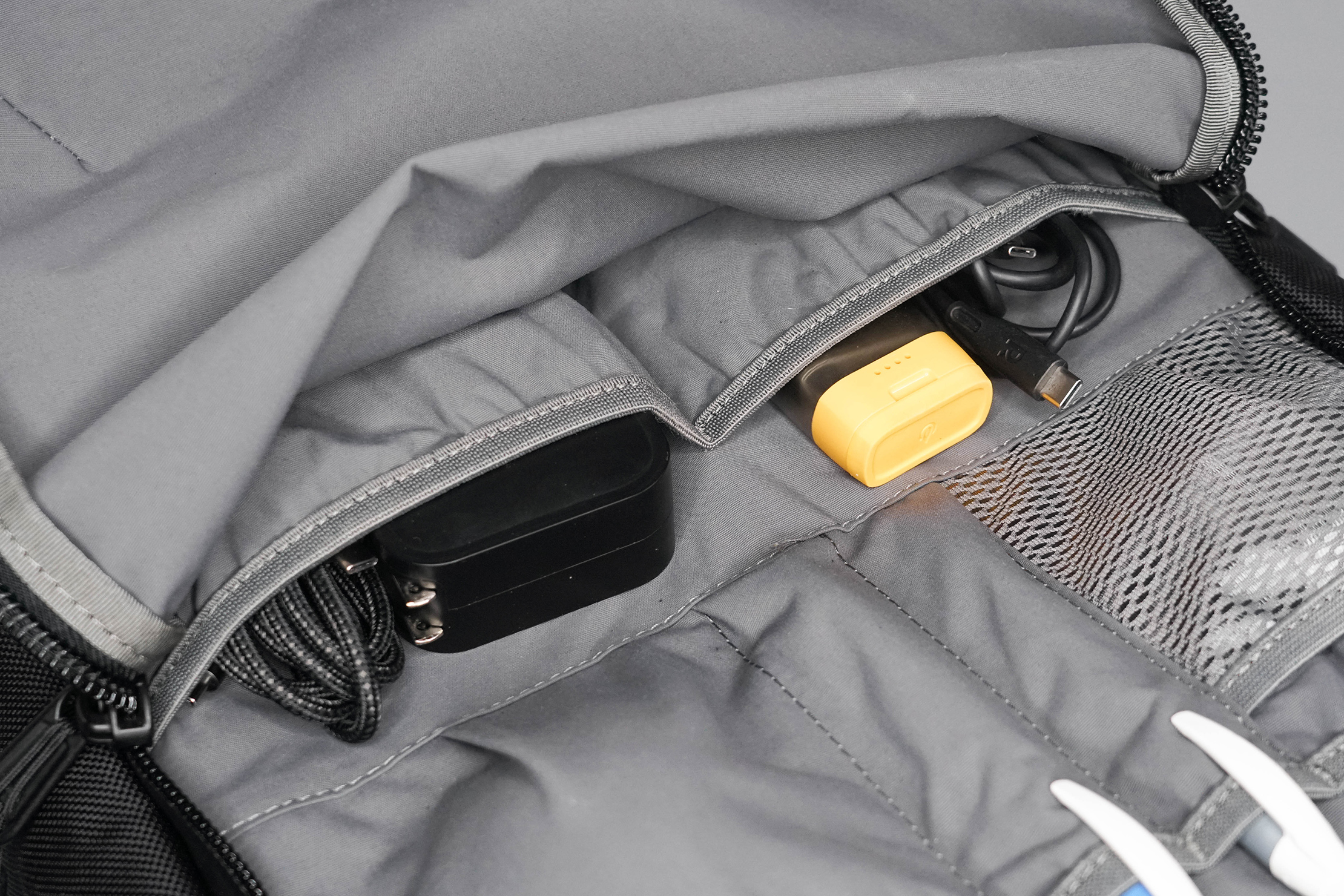 Below these are two more pouches that are a little bigger than the pockets we just talked about. We've been keeping an Apple MacBook Pro block and charger in one, and miscellaneous loose cords and dongles in the other. Depending on the size of your notebook, you can also try squeezing it into one of these pouches, but that hasn't worked well for us in testing.
There's also some dimension to this compartment, so there's plenty of room for a Roost Laptop Stand, a larger pair of headphones, or other loose things like a snack or two.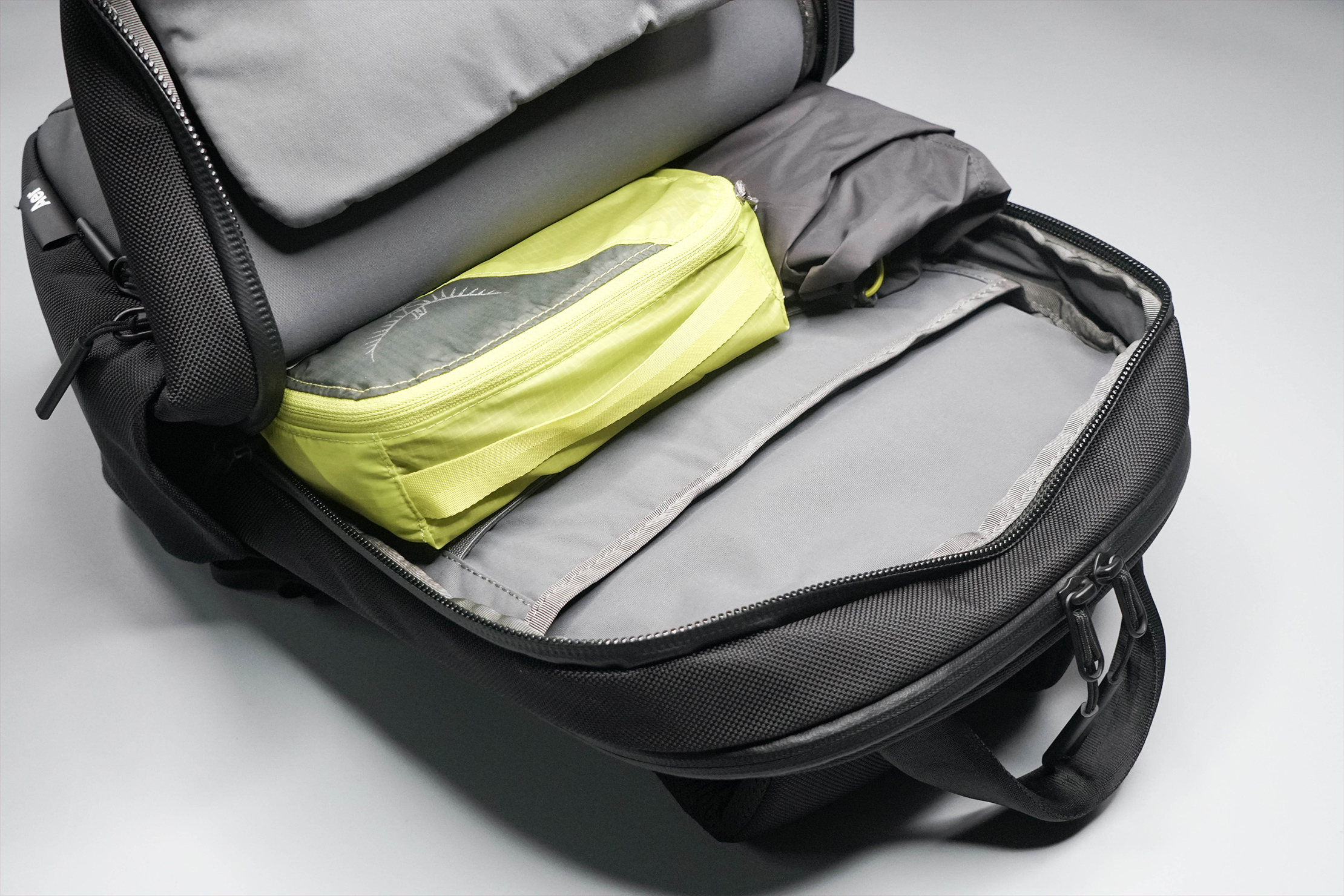 Next, we have the main compartment. Something we noticed about this compartment is that while the rigidness of the pack helps protect gear and allows the bag to stand on its own, it can also make the capacity inside feel tight. We've been able to keep a compressible rain jacket inside (for those all-of-a-sudden showers), but if you're packing something bulkier like a lunchbox, this tightness can make it difficult to get in and out.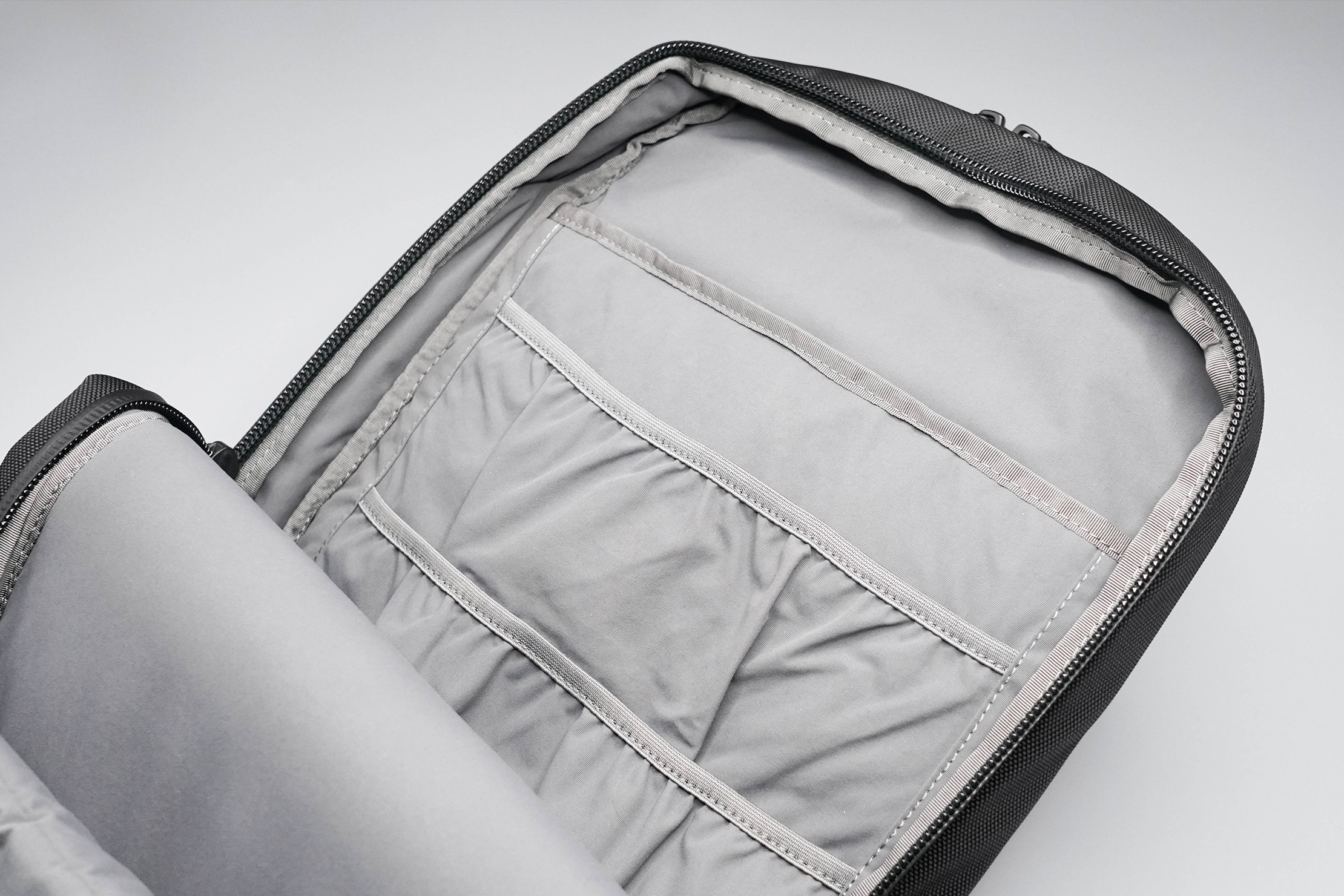 You'll see three sleeves against the back wall to help organize your gear if desired—the top sleeve has some padding and works if you want to store a tablet inside, though we still recommend keeping it in a protective case. Both this one and the middle sleeve are long enough to accommodate a Roost Stand also if you don't want to keep it in the front compartment. If not, all of them can work for documents and other flatter items, too.
The rest of the main compartment is open space. We've been able to keep everything we need for an overnight trip inside this thing (an outfit or two and a small Dopp kit) along with our daily tech gear. So if you're going on a short business trip, you can get away with this as your only bag—if you pack minimally, of course.
Also, something to note—inside of this compartment on the front flap is a zippered compartment that houses a small frame sheet. It just provides a little more structure to the front, but you can remove it if you're looking for a little bit of extra room for your things,. The bag isn't going to get floppy without it.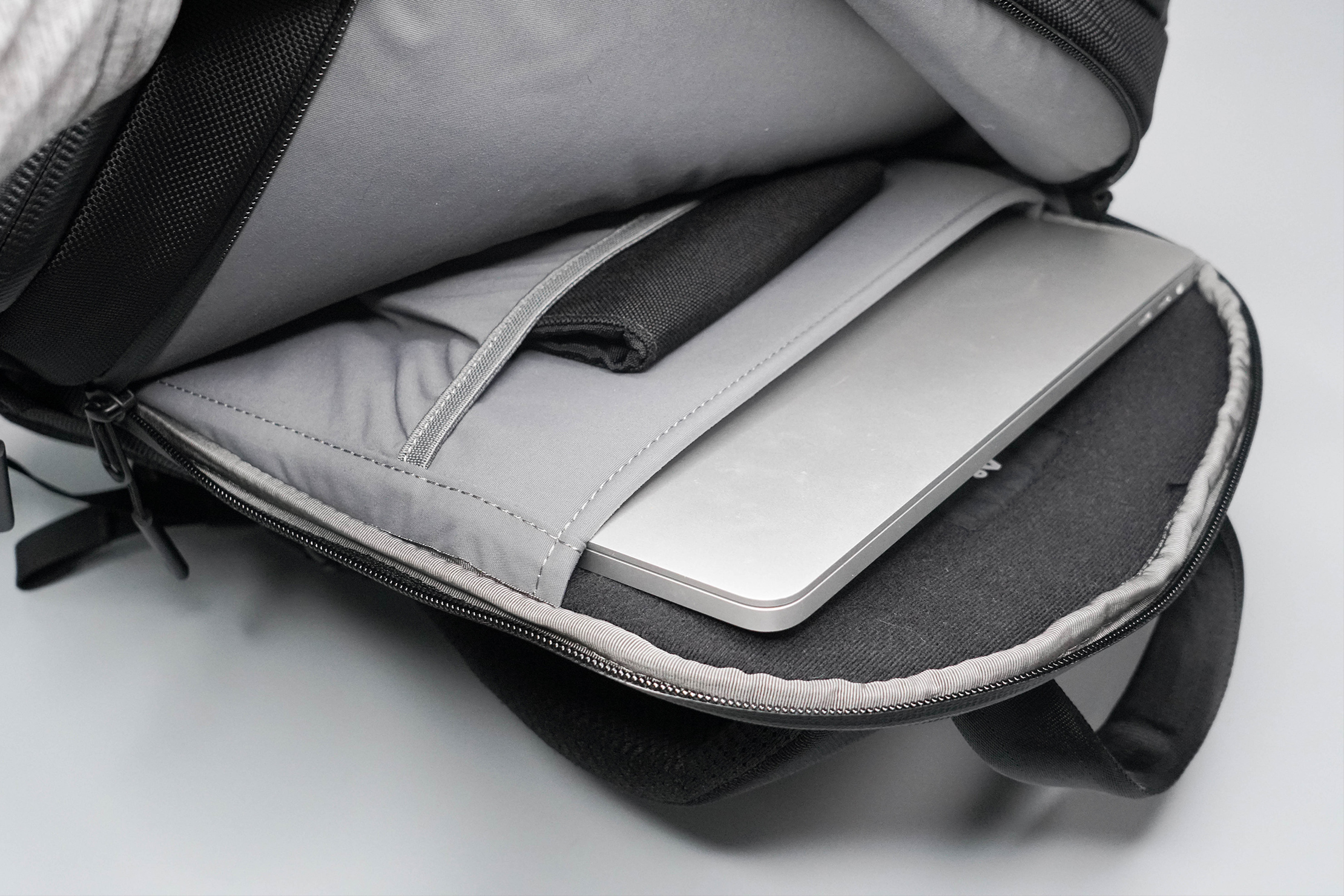 And at long last, we have the third and final compartment—the laptop compartment. Two zippers secure this compartment, though you'll notice one unzips farther down than the other. The left-hand zipper comes down about three-quarters of the way while the right-hand zipper only comes down about one-quarter. This is done to offer a nice quick-access point from the side for grabbing your tech.
Similar to the main compartment, there's a sleeve that holds up to a 16" laptop with a nice and soft felt lining to protect our tech from scratches. It also has a false bottom that offers some added protection for when you're setting the bag down or accidentally drop it. We're happy that Aer has implemented false bottoms on their bags as it was one of our biggest issues when testing the earlier version of the Aer Travel Pack 2, for example. It's looking to be the new standard for bags moving forward (which is great, because laptops are expensive and deserve some protection).
In front of the laptop sleeve is an elastic pocket that we've been using to stash a Bluetooth keyboard. Of course, if you've got something else that fits, then by all means, you do you.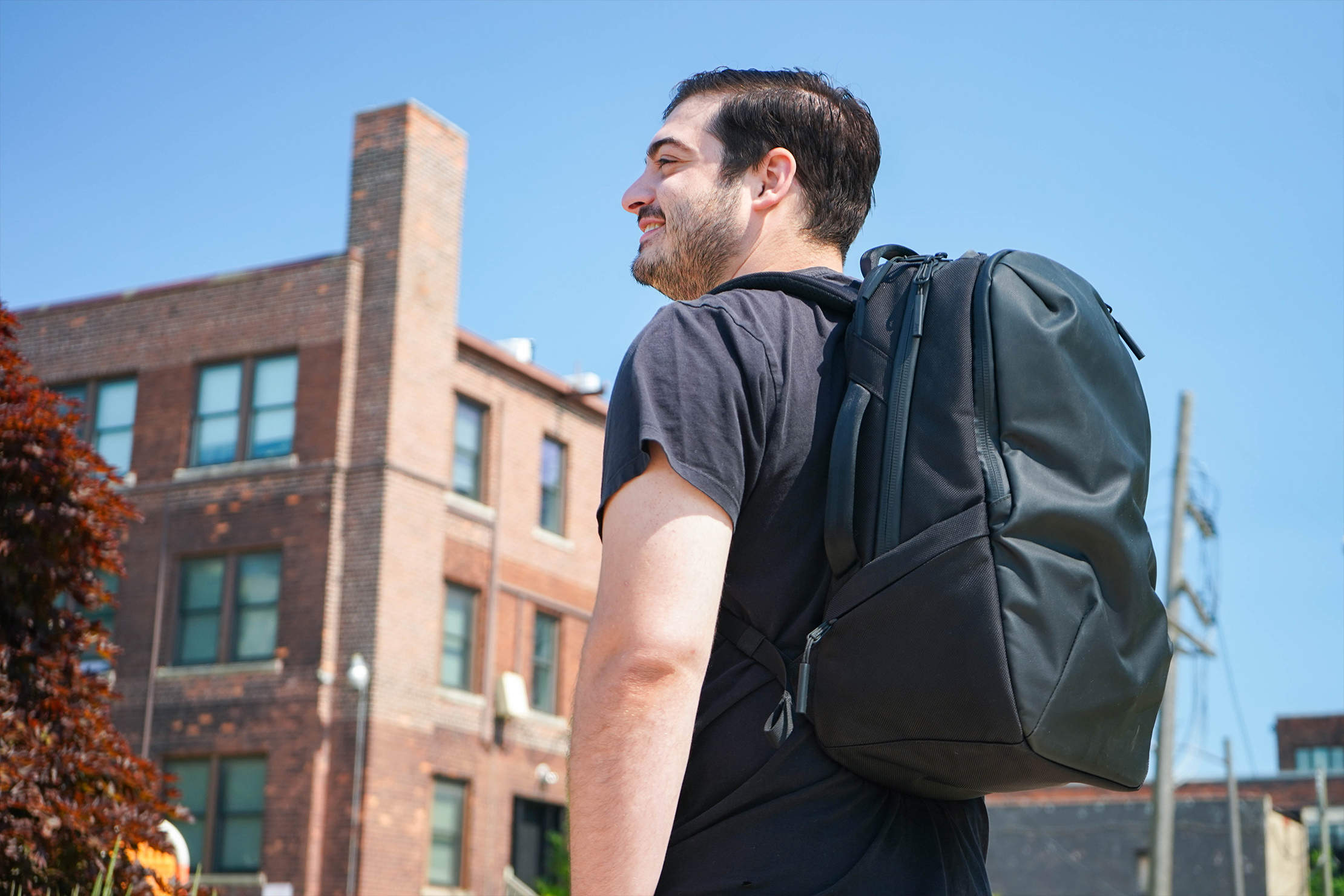 Other than those few scuffs we mentioned earlier, everything is in tip-top shape durability-wise.
Usage Timeline
Initial Usage
Condition: Excellent
Great amount of organization for all your tech and EDC items
Laptop pocket is padded, soft, and suspended so your laptop is well protected
Extremely durable construction and materials
2 Weeks of Use
Condition: Excellent
Great amount of organization that works well for our everyday work accessories
The rigidness of the pack is nice for protecting your gear and enabling the bag to stand up on its own. It also makes the capacity feel tight as it can be difficult to get larger things (like your lunch, for example) in and out. That said, we've been able to fit everything we need for an overnight trip in this bag (well, this bag plus a sling)
We can also feel the pack's rigid structure while wearing it—especially when we have the shoulder straps cinched up tighter since it doesn't give or curve with your back. We've found the carry to be more comfortable with the straps adjusted a little looser
Access the Pro Community Discussion
Get your questions about the Aer Tech Pack 2 answered from our team and the Pro Community right here on the page. Plus, join discussions with other members about gear, guides, and more.
Other Bags & Luggage Reviews