North St. Bags Weekender Meeting Bag Review
The North St. Bags Weekender Meeting Bag works well for EDC and as part of a modular travel system. We just wish the laptop sleeve had a false bottom.
Our Verdict
Unlock the Pro Summary
Save time. Get access to brief summaries of our reviews so you can browse and make decisions more efficiently.
Pros
Sleek and low-profile
Versatile carry options
Works well for EDC and travel (in the Weekender system)
Cons
Capacity feels tight
Shoulder straps aren't the most comfortable
No false bottom in the laptop sleeve
Recent Pack Hacker Video
Technical Details
Capacity

9.5l

Weight (lb)

1.375 lb (0.6 kg)

Denier

500D

Dimensions

15 in x 12.5 in x 3 in (38.1 x 31.8 x 7.6 cm)

Notable Materials

CORDURA® Nylon, X-Pac, Sailcloth, Duraflex Hardware, Lenzip Zippers

Manufacturing Country

United States

Laptop Compartment Size

13"

Warranty Information
Full Review
Get up to 25% off North St. Bags • Join Pack Hacker Pro
If you're anything like us, you pretty much always need to carry your everyday tech essentials—whether you're traveling across the country or across town to the coworking space.
At 9.5L, the North St. Bags Weekender Meeting Bag has just enough room to carry said essentials—laptop, chargers, dongles, maybe a snack or two. And it's part of North St.'s Weekender system, so you can attach it to the Weekender Backpack when you need to bring that tech on longer trips.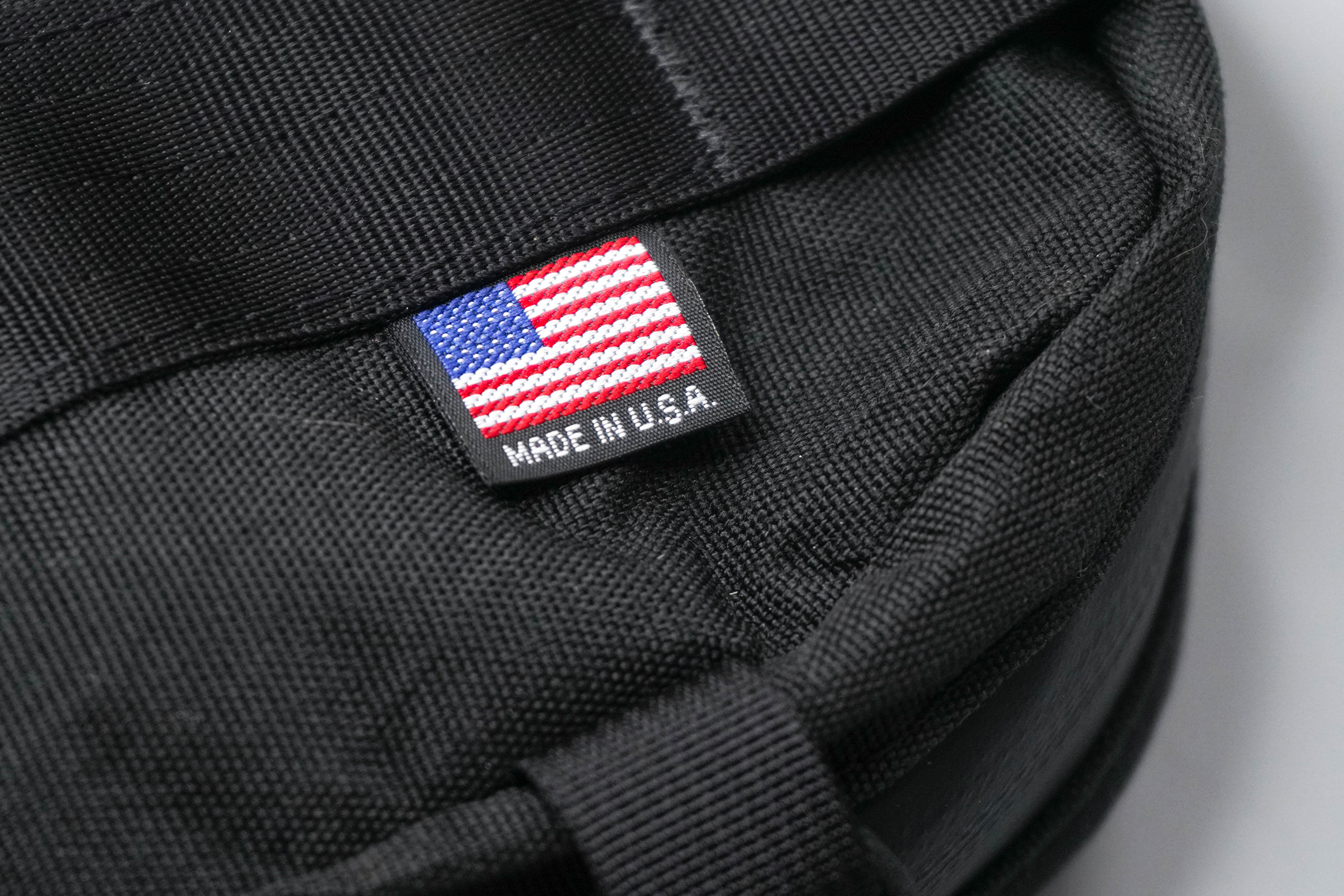 Plus, the folks at North St. Bags are keen on sustainability and making things by hand. So this bag is also eco-groovy and American made.
And now, without further ado, let's get to the review.
Materials & Aesthetic
The Weekender Meeting Bag has a slim profile and sleek look (mostly because it's so slim). At the time of this review, it's available in two colorways—X51 Black, the one we've been testing, and X10 Midnight. Both of these colors are on the darker side, which we're fans of for both travel and everyday carry.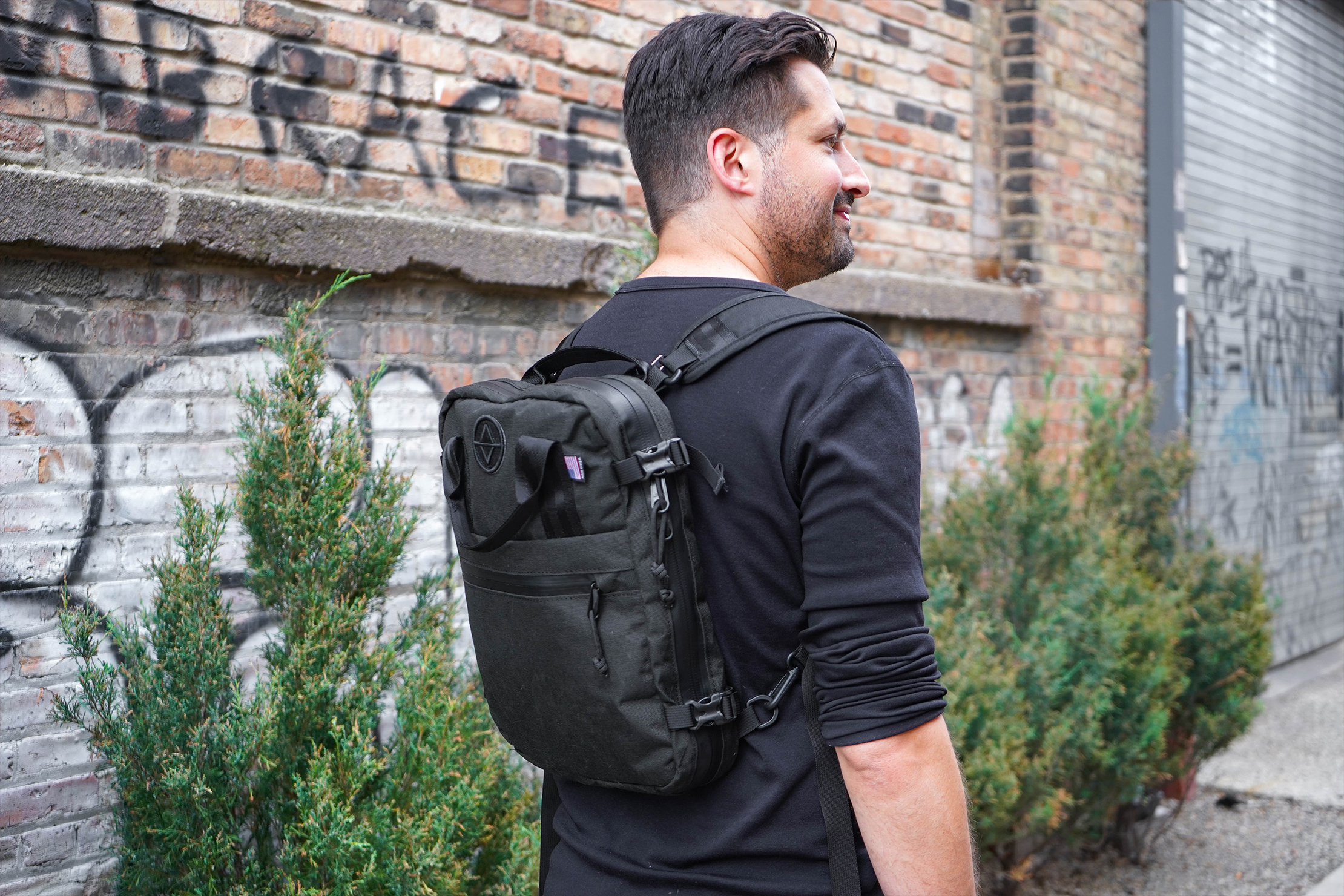 We typically see the North St. Bags word mark on other gear we've tested from the brand, which tends to stick out. However on the Weekender Meeting Bag, their logo is sleek, geometric, and adds to the minimal aesthetic. It's much more subtle—we dig it.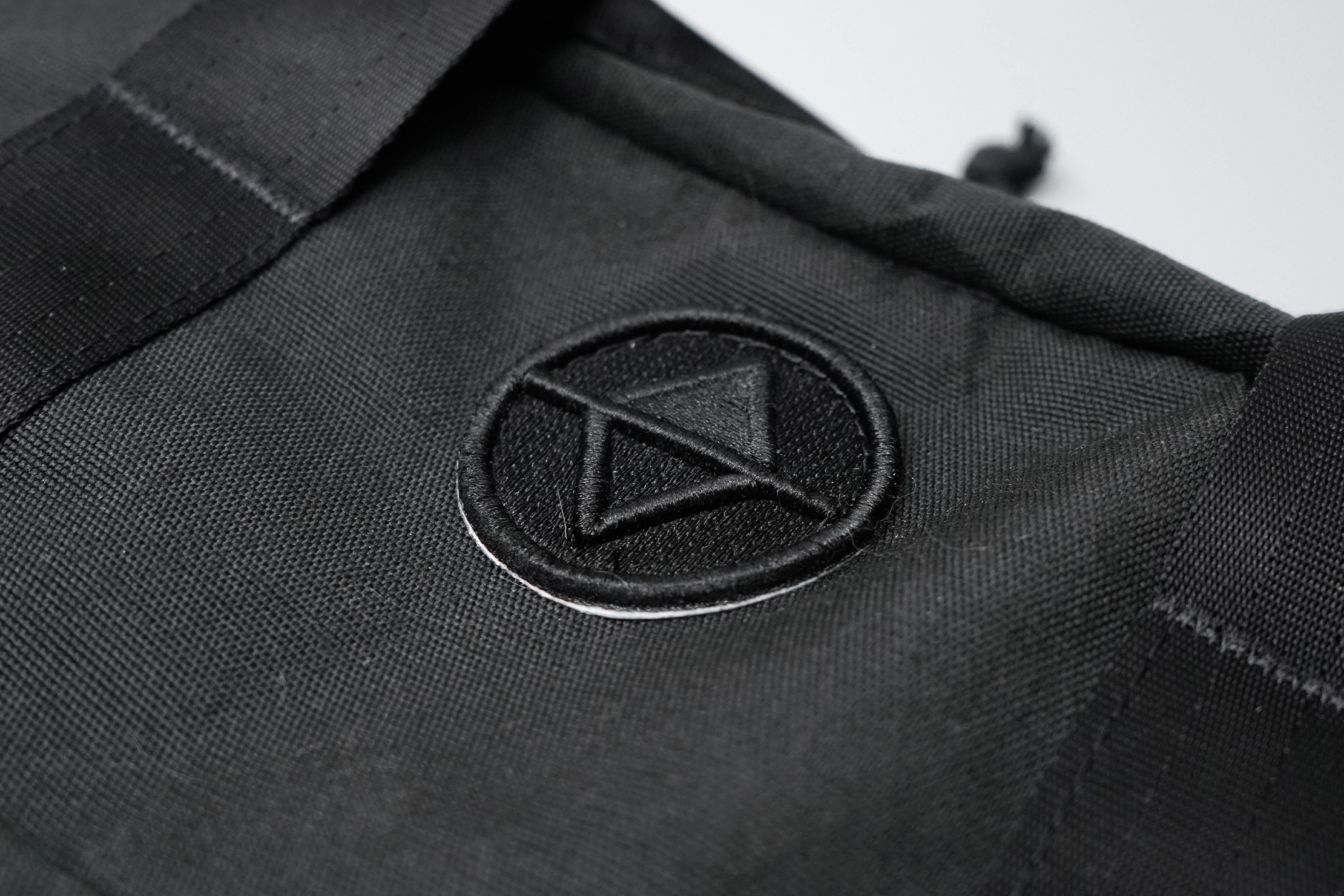 As for the material itself, this bag is made with X51 fabric, which is 500D CORDURA nylon that's backed with a waterproof X-Pac sailcloth. What does that mean? It means that the material is durable and water-resistant enough to keep up with your daily adventures (and Portland's drizzly climate, where the bag is made).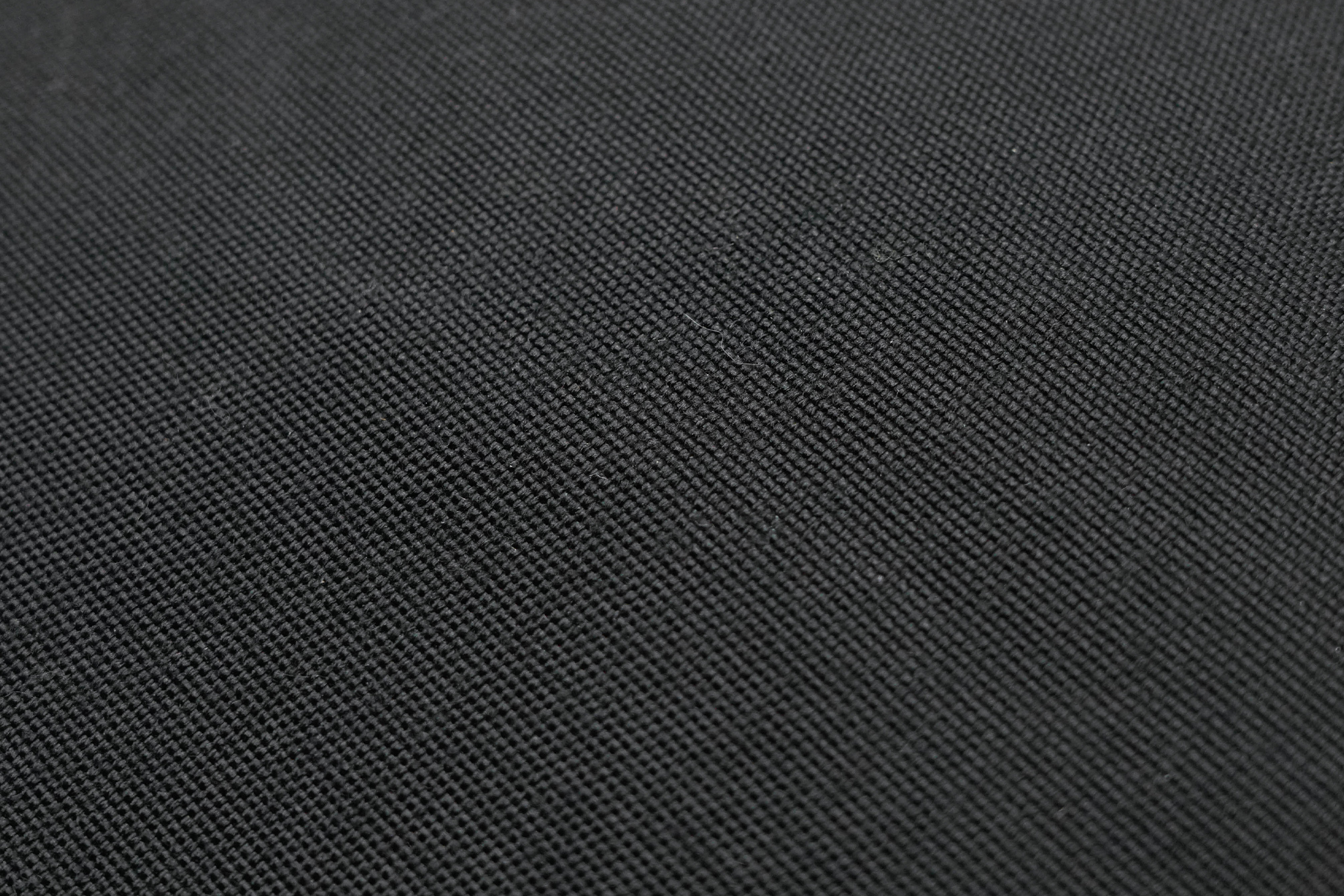 And that weather resistance extends to the bag's zippers. They're #10 water-resistant zippers from Lenzip which help keep the rain out and moisture away from your stuff. (Plus, there's a zipper garage on the front pocket that makes sure you're getting an even better seal every time.)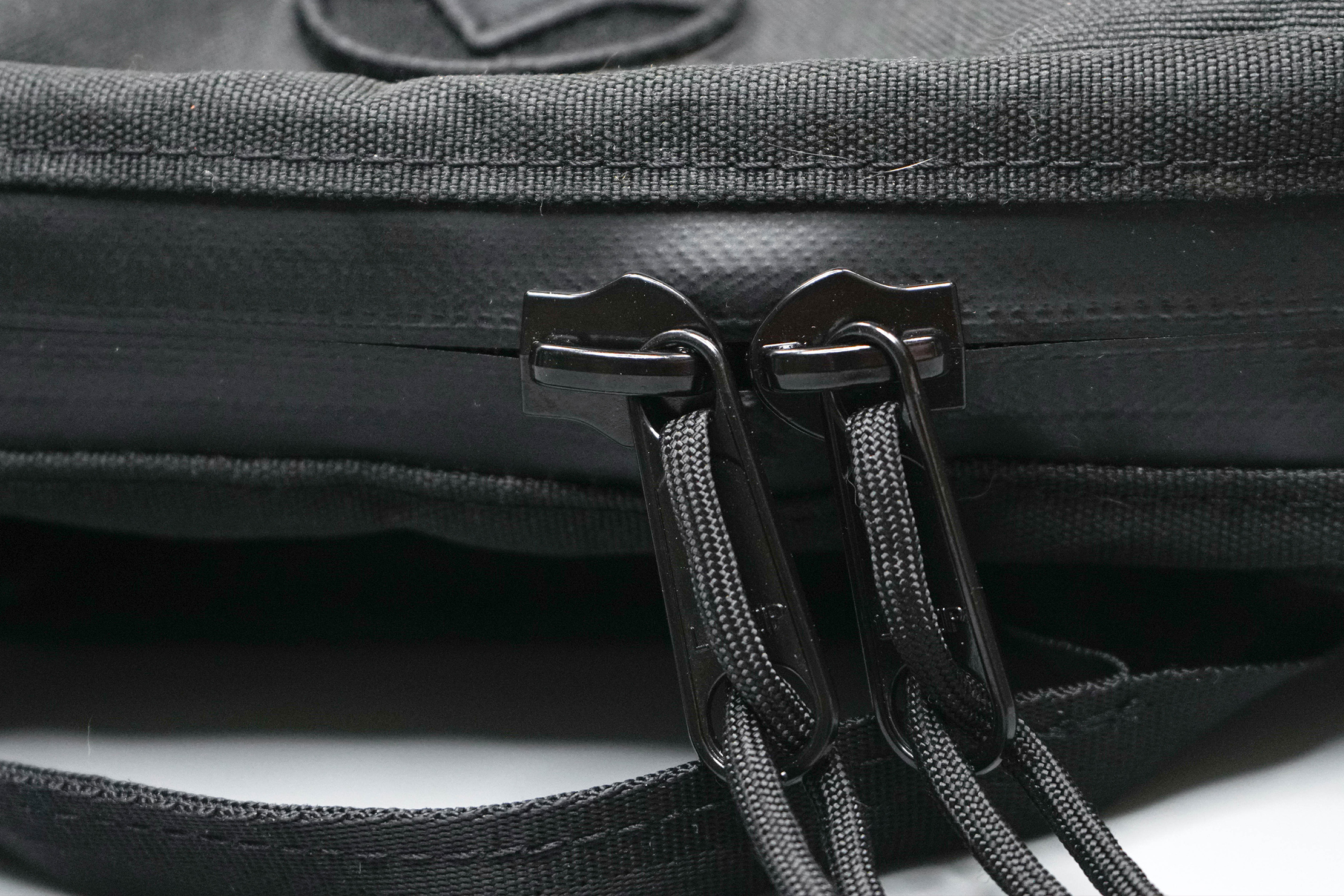 Wrapping up materials, the hardware is from Duraflex, which we typically have good experiences with.
External Components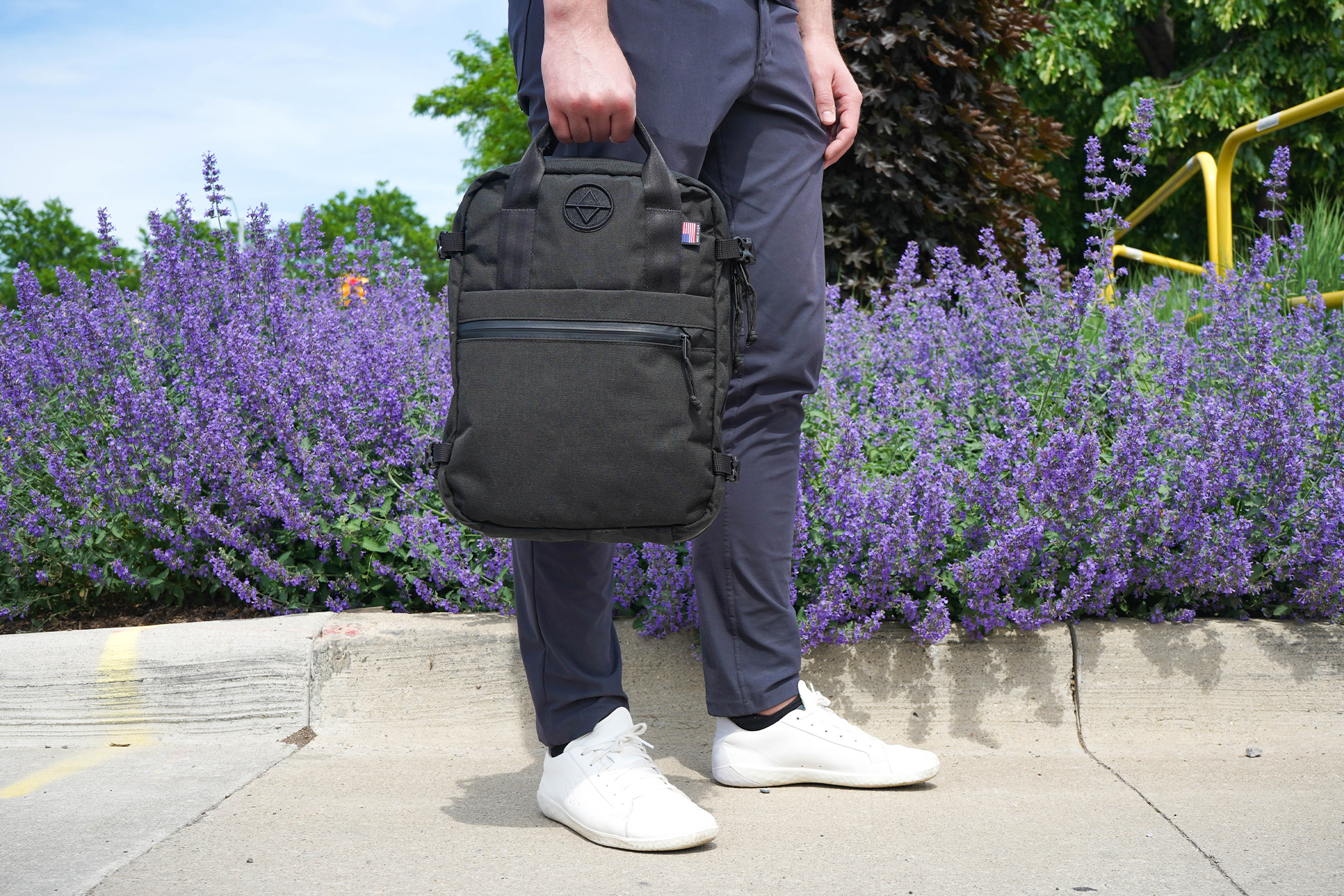 There are three different ways you can carry the Weekender Meeting Bag—you can use the shoulder straps to carry it like a backpack, you can grab it by the top handles like a tote, or you can attach it to the Weekender Backpack.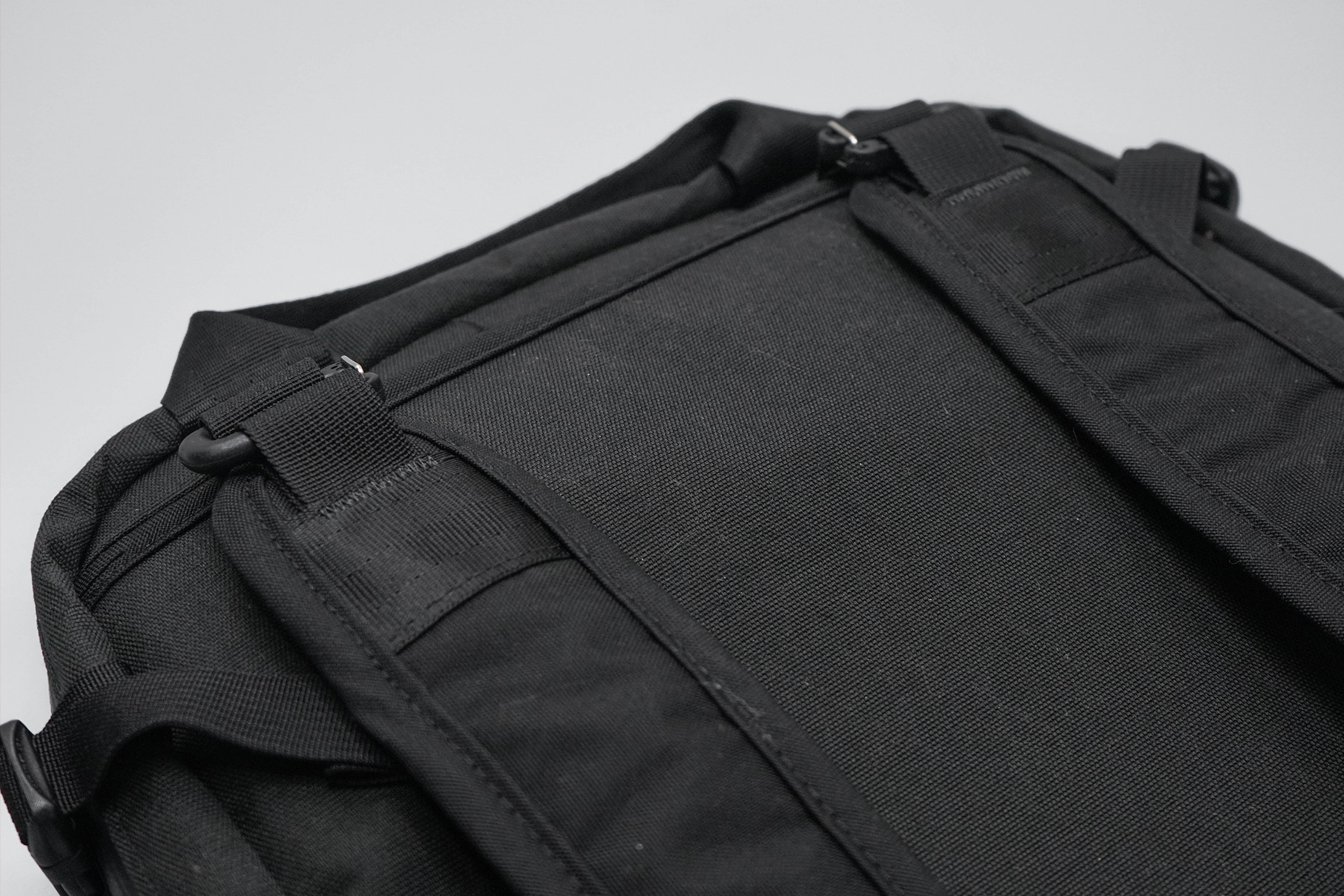 Let's start with the shoulder straps—they're comfortable enough. If these straps were on a larger bag, they'd be pretty uncomfortable. But they work for a bag this size. You typically aren't hauling around too much weight (unless you're EDC consists of gold bricks). The straps themselves are pretty thinly padded however they are lined with a lightweight mesh to help with breathability.
There's small plastic hardware that you can tuck the remainder of the strap into for that #DangleFreeExperience. While the clip gets the job done, we typically prefer an elastic keeper that goes around the strap as it feels less bulky.

The shoulder straps attach to the bottom of the bag using 360° swivel clips which are quick and easy to take on and off. If you're carrying the bag in one of the other modes, you can either tuck the straps into a sleeve on the back or remove them completely using gatekeeper buckles at the top of the strap.
The back pocket meant to stash the shoulder straps stretches most of the length of the bag, so when you are using them—or if you remove them completely—that frees up some room for possibly storing important documents or other flat things you might need to take with you.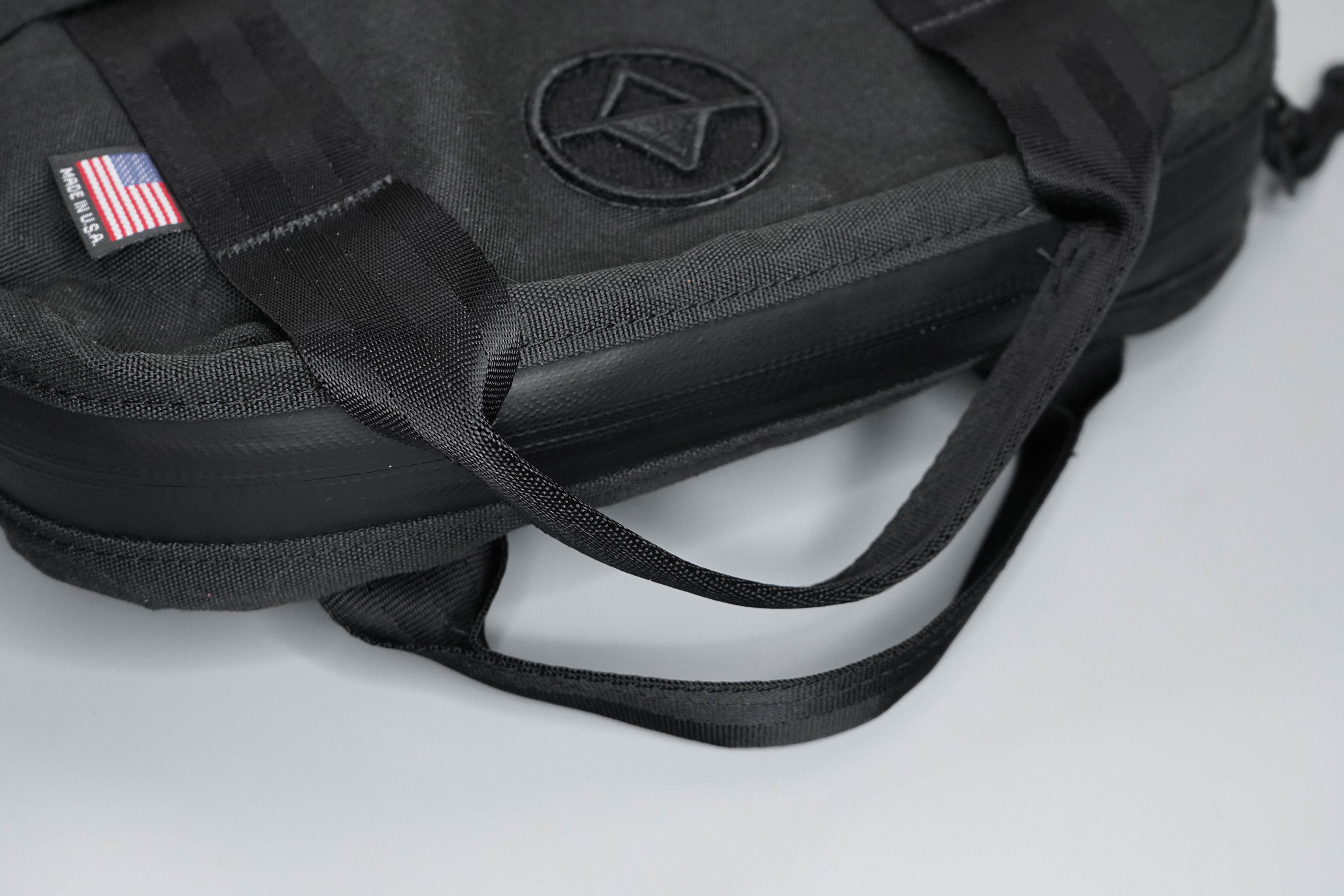 The handles are made with a smooth, seatbelt-like material. And, again, they're comfortable enough—they're folded at the top for extra support when you're holding the bag. These are great for when you want to carry it as more of a tote than a backpack. Say, if you're walking into an important business meeting.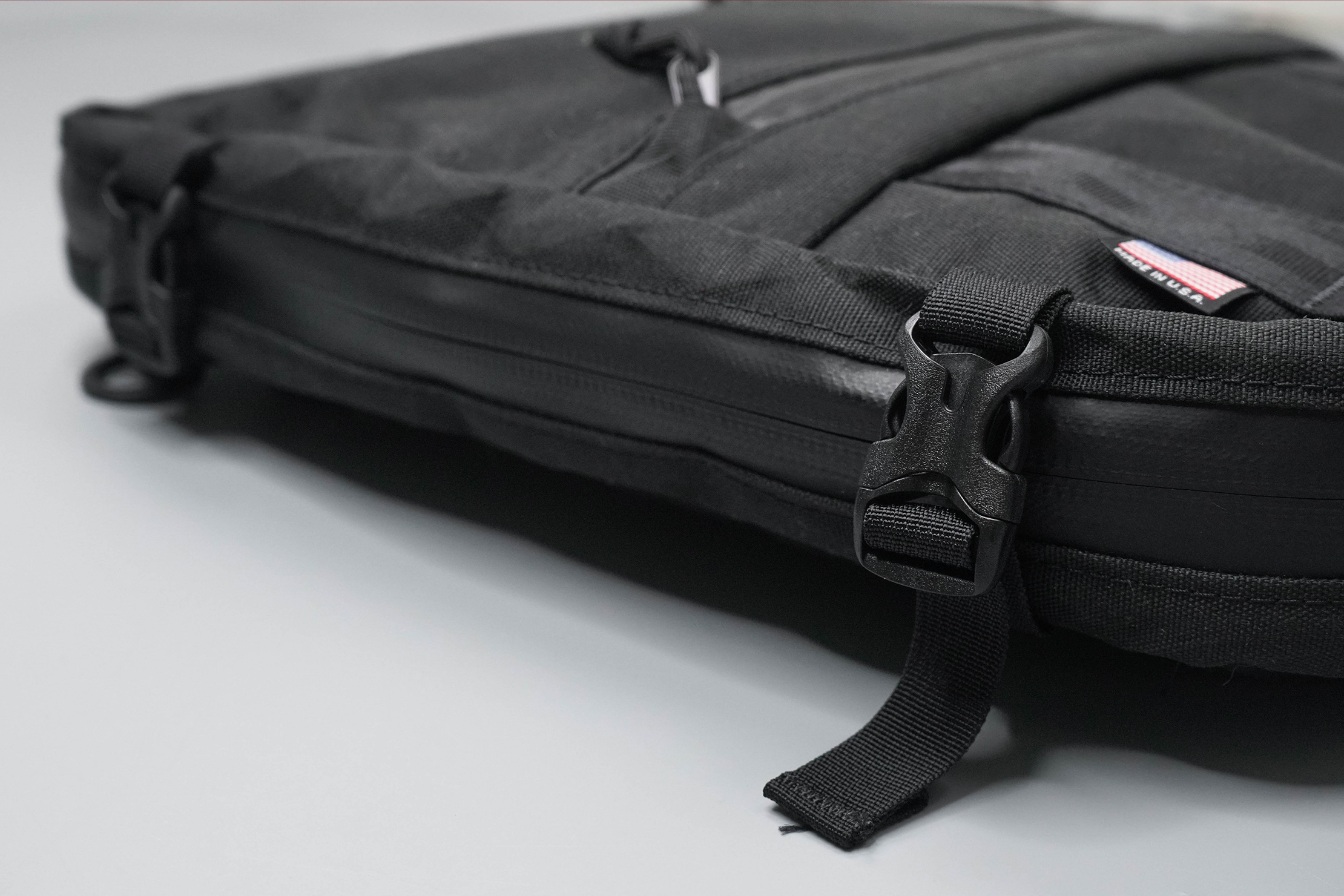 And then on each side of the bag, you'll see two buckles with which you can attach the Meeting Bag to the larger Weekender Backpack. These buckles also work to help compress the bag flatter, albeit only slightly, as they don't have much give to them and the bag is pretty flat already. But more on that in the next section of this review.
Inside the Pack
The main compartment of the Weekender Meeting Bag opens up fully clamshell-style. Because of this, we were expecting the side buckles to be more annoying than helpful when not attached to the Weekender Backpack as they get in the way if you're trying opening this thing up. But we've found them to work another way when in EDC mode—as zipper stops. When they're buckled and you open the bag, the top zippers are blocked from unzipping completely, creating a small opening at the top. This is nice for if you need to quickly get into your bag, grab, and go. However, if you want to open the bag completely, you'll have to unbuckle them.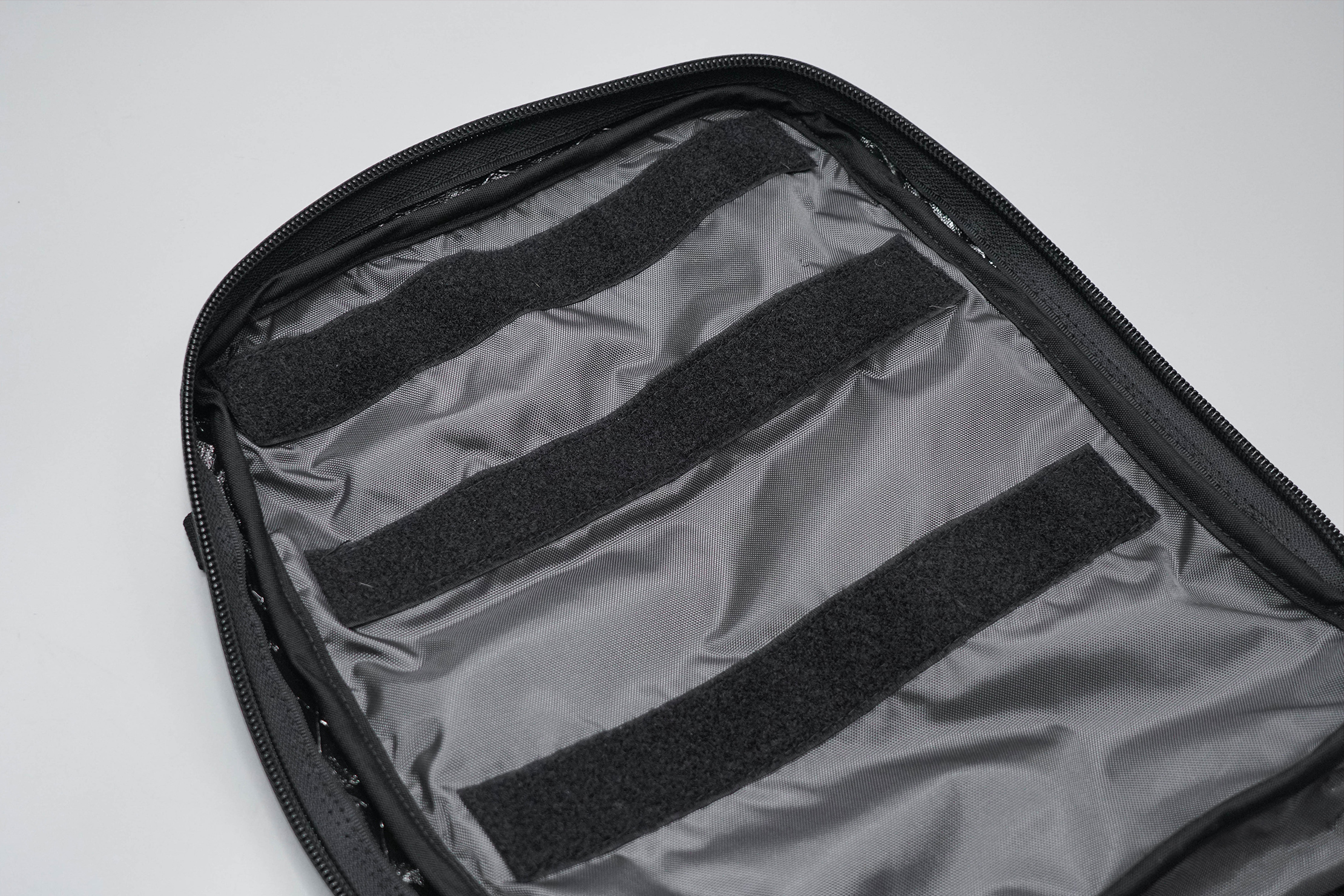 The inside of the Weekender Meeting Bag is rather simple. You'll find five lines of velcro—three on one side, two on the other—where you can attach the Velcro-In Organizer Pocket Set which are designed specifically for the Weekender bags.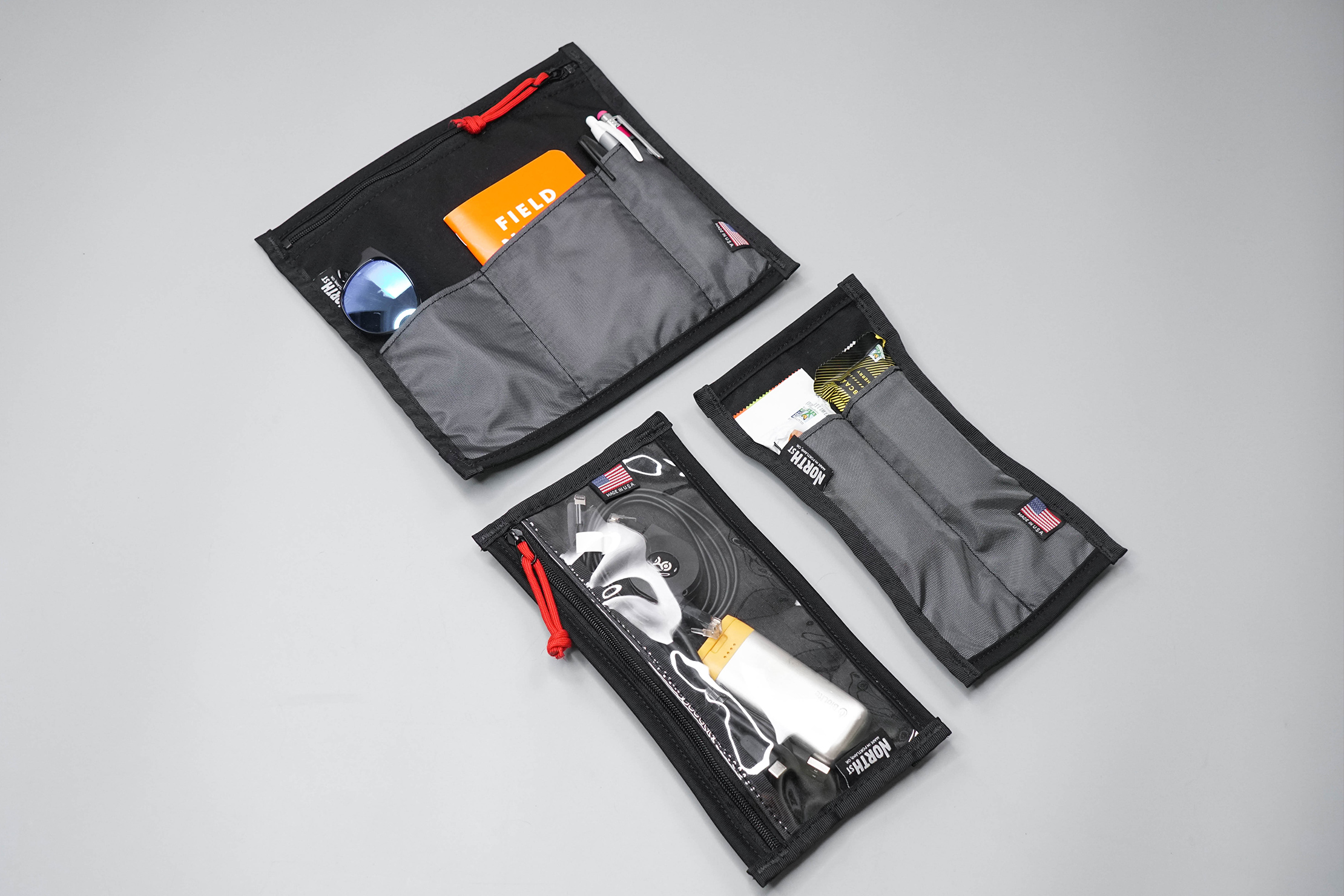 We won't go too into detail about these pockets here, though we will say that without the pocket set, you're left with an empty bucket to dump your stuff. With them, you have some organization for your smaller gear—feel free to check out our usage notes for more of our thoughts on the Velcro-In Organizer Pocket Set.
Of course, you could also create your own organization system using whichever accessory pouches you desire. Or attach other velcro compatible accessories to the strips inside the bag.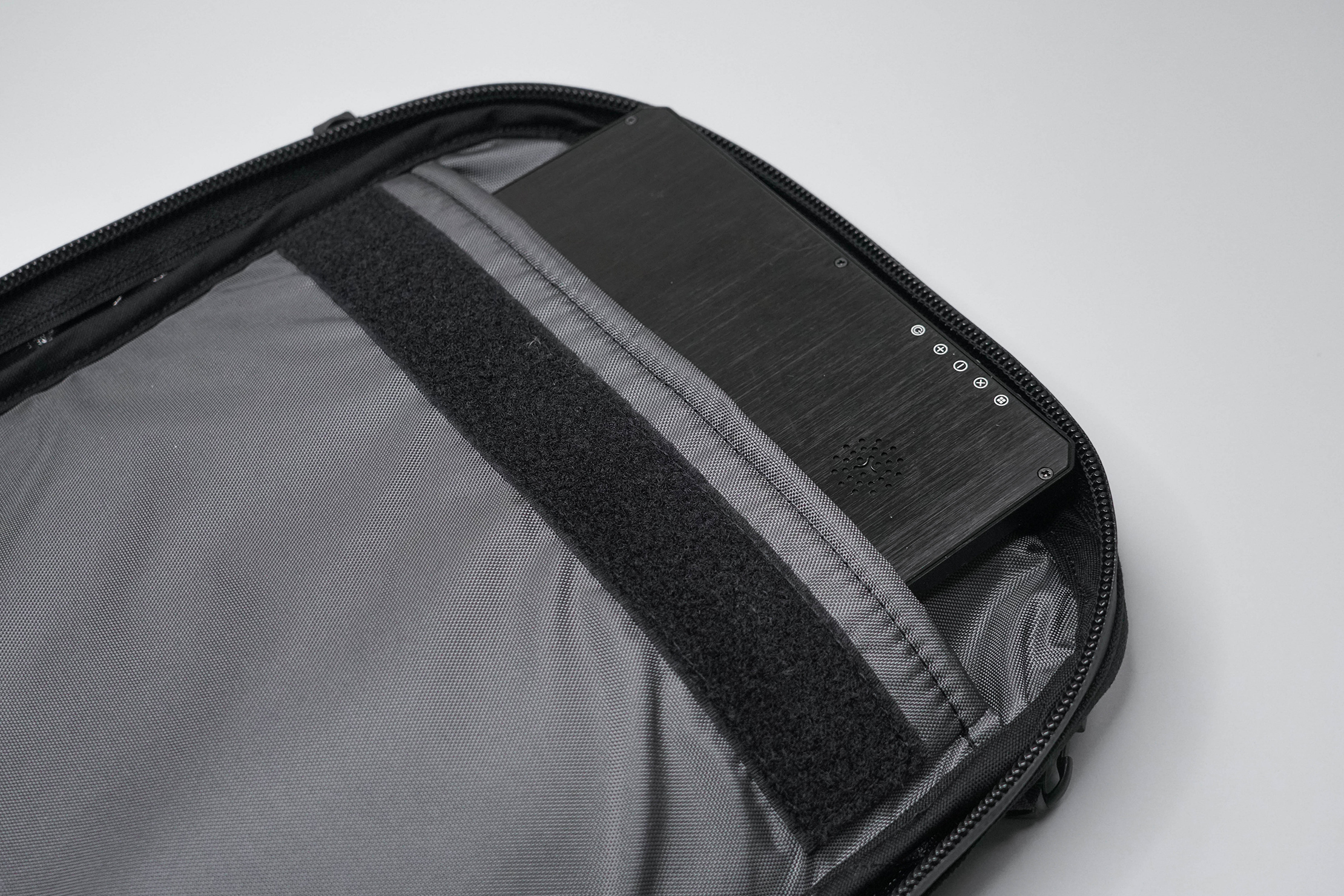 There's also a 13" laptop sleeve against the backside of the bag. We have, however, been able to fit a 15" laptop during our testing. It works well enough—although the larger laptop can get caught on the inside lip of the bag when taking it out. If you fold it over before pulling out the laptop, you should be good to go (we have been anyway). The sleeve has some foam padding but it's not significant. It also extends to the edge of the bag without any sort of false bottom or extra padding—so there's no extra protection for your laptop if you drop it.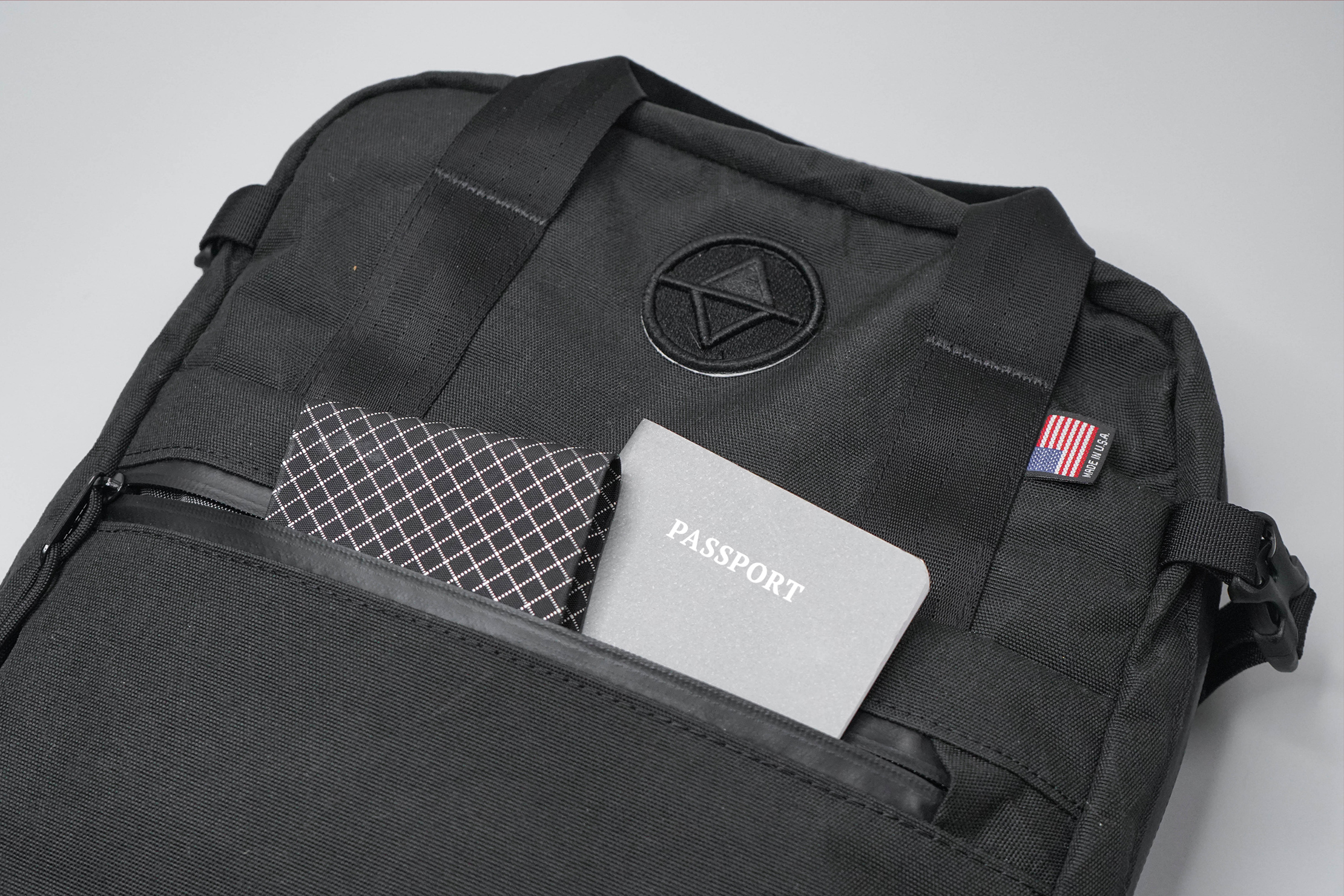 And finally, on the front of the bag, there's one zippered pocket. You can fit about a medium-sized journal or notebook in here or throw in your wallet, keys, or other quick-grab items.
Durability & Testing
We've been testing the Weekender Meeting Bag for about three weeks around Detroit. It works well as an EDC bag on its own, with some added functionality for travel when attached to the Weekender Backpack.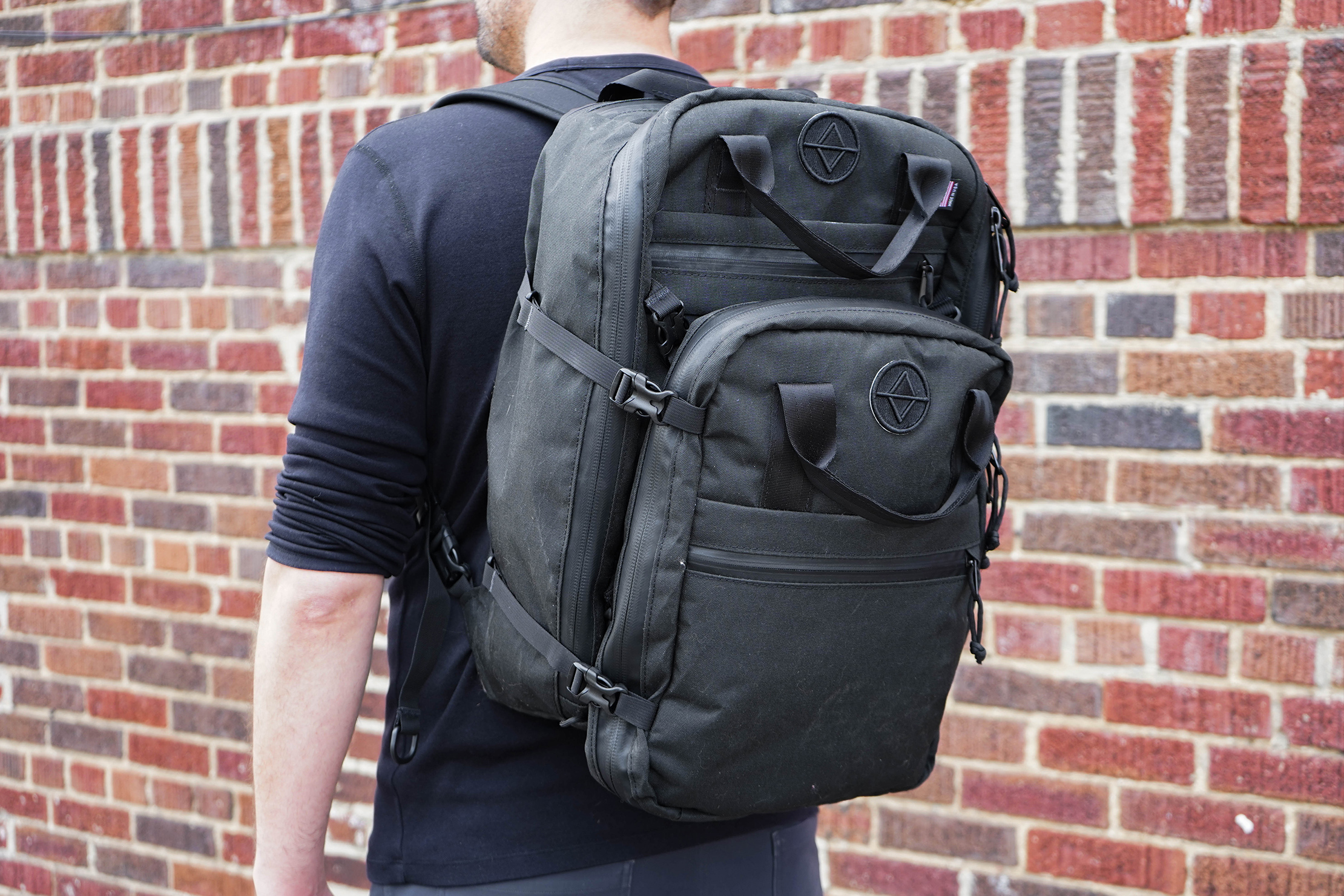 Like we said earlier, we've been testing this bag mostly with Velcro-In Organizer Pocket Set as well. While you can organize with your own pouches, these velcro ones are nice because they don't move around (and they've been specifically designed to work with this bag).
As far as durability goes, the material on this bag has held up nicely. It feels sturdy and durable in the hand, and has performed well in our testing so far—no tears or scuffs to report.
Usage Timeline
Initial Usage
Condition: Excellent
Great sized bag for your everyday items but not much more
Can be attached to the outside of the Weekender Backpack for an easier carry
Can be carried as a backpack or tote
2 Weeks of Use
Condition: Excellent
The tote handles are soft and comfortable to grab.
The backpack straps are a little thin, but get the job done for a bag of this size.
At first, we thought the side buckle straps on the bag would be annoying, but they provide a nice zipper stop when only opening the top to get items out quickly.
Integrates really well with the Velcro-In Organizer Pocket Set. We appreciate that the pouches stay in place and don't get jumbled on the bottom of the bag.
Access the Pro Community Discussion
Get your questions about the North St. Bags Weekender Meeting Bag answered from our team and the Pro Community right here on the page. Plus, join discussions with other members about gear, guides, and more.
Other Bags & Luggage Reviews