North St. Bags Weekender Backpack Review
The North St. Bags Weekender Backpack works well as part of a modular travel system—although its lack of structure can make it floppy.
Our Verdict
Unlock the Pro Summary
Save time. Get access to brief summaries of our reviews so you can browse and make decisions more efficiently.
Pros
Sleek, low-profile
Can be used in a modular travel system (Weekender system)
False bottom in the laptop compartment
Cons
No structure/floppy
No organization in main compartment (without separate pouches)
Side handle is in an odd spot (bag tips forward when we grab it)
Recent Pack Hacker Video
Technical Details
Capacity

28l

Weight (lb)

2.75 lb (1.2 kg)

Denier

500D

Dimensions

18 in x 12 in x 8 in (45.7 x 30.5 x 20.3 cm)

Notable Materials

CORDURA® Nylon, X-Pac, Sailcloth, Lenzip Zippers, Duraflex Hardware

Manufacturing Country

United States

Laptop Compartment Size

15"

Warranty Information
Full Review
Get up to 25% off North St. Bags • Join Pack Hacker Pro
There are a ton of daypacks on the market that can easily be equipped or expand so that they're travel-ready when you need them to be—like the Osprey Daylite Travel Pack, for example. Reverse that process, and you have the North St. Bags Weekender Backpack.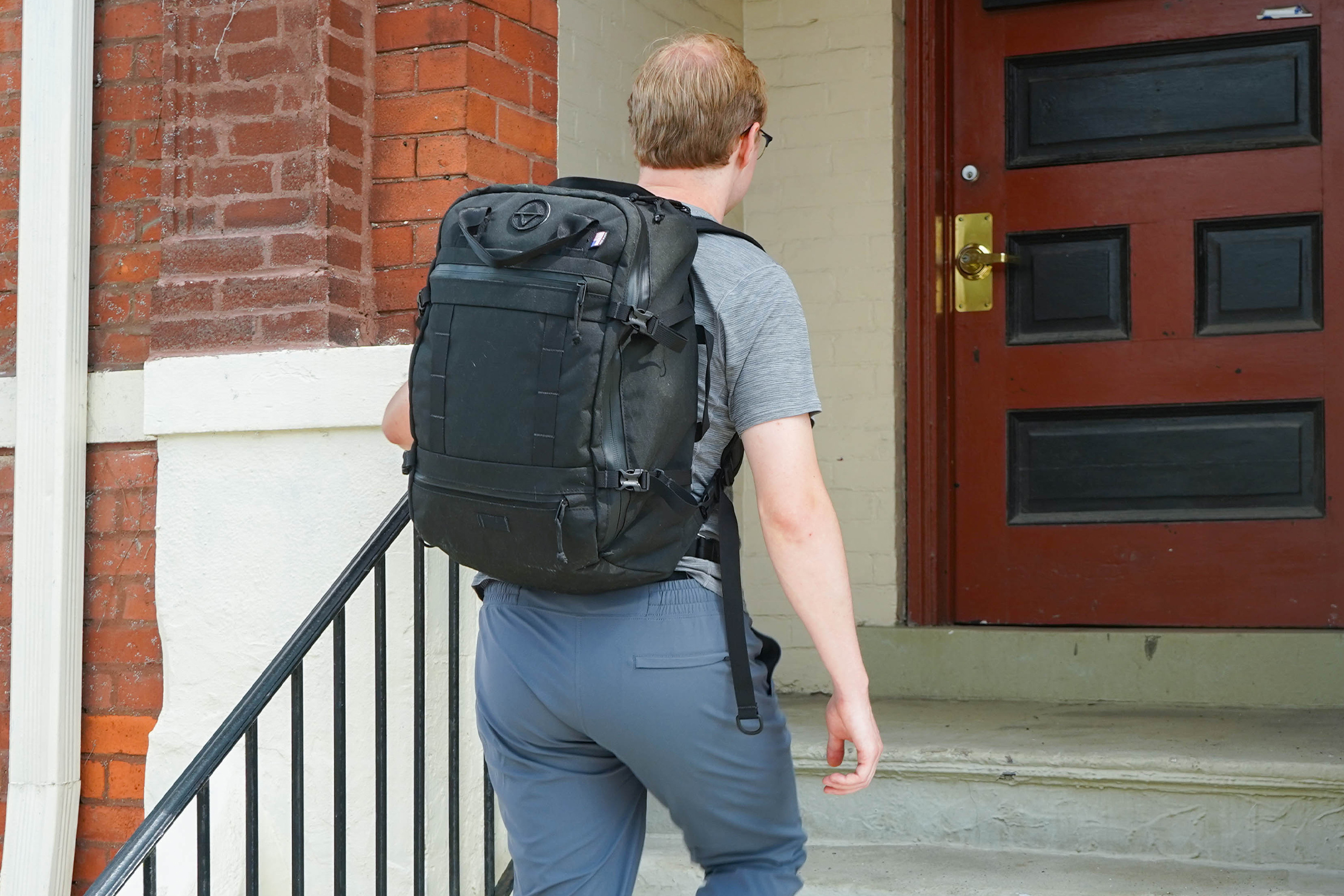 This pack is part of a modular travel system and allows you to attach the Weekender Meeting Bag. When used together, you get the storage you need for those shorter adventures and an everyday pack when you get to your location. And while the Weekender Backpack is simple on its own, you can also attach the Velcro-In Organizer Pocket Set and customize its internal organization to your needs. But we're getting ahead of ourselves.
We've got two weeks worth of testing this bag under our belts—so let's talk about it.
Materials & Aesthetic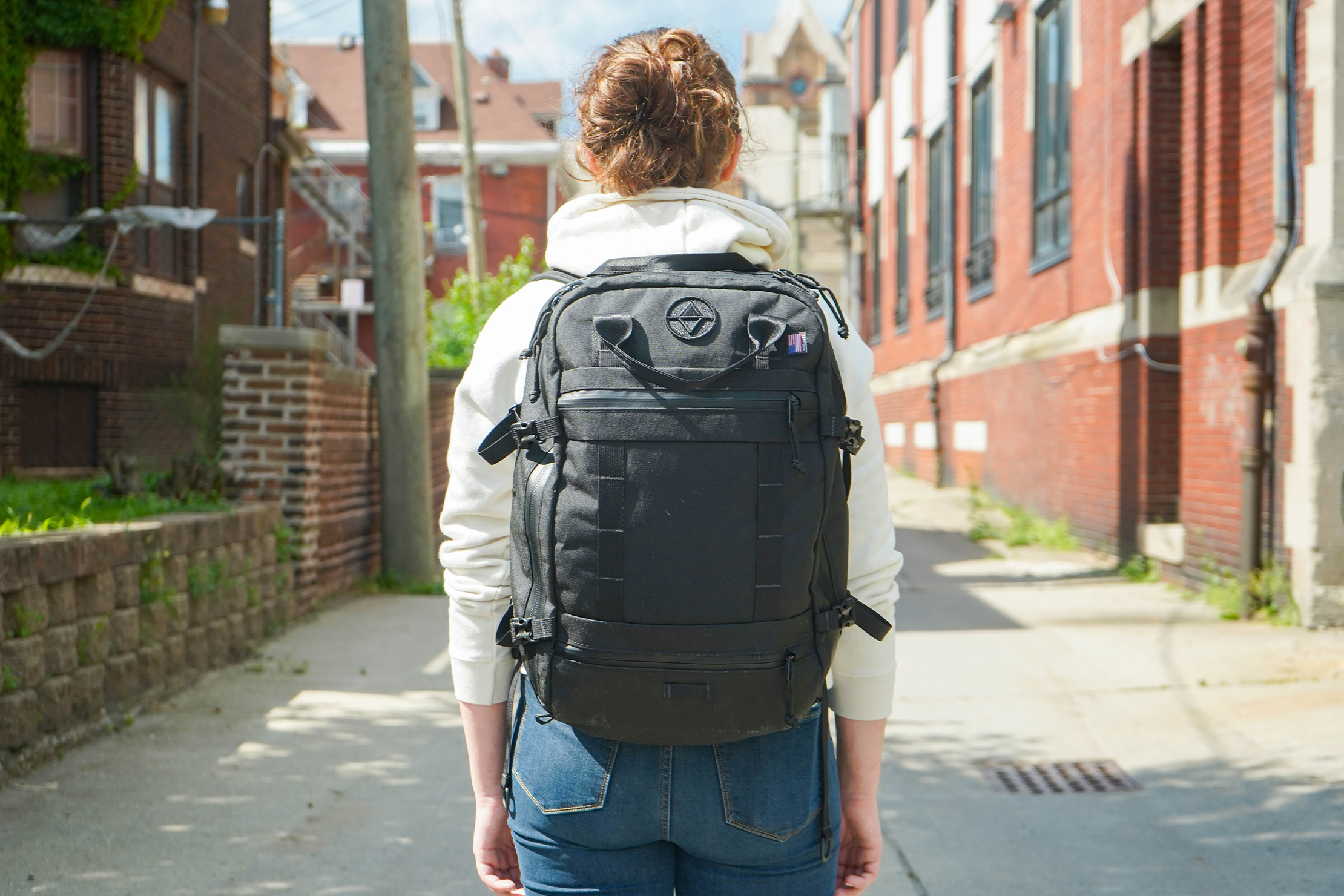 The Weekender Backpack essentially looks like if you took the Weekender Meeting Bag and gave it a good stretch—it has that same sleek, minimal aesthetic, just with more storage. What this bag doesn't have is structure.
There isn't a frame sheet or a stiff back panel to help it stand upright or retain its shape, which makes the bag floppy—and causes some issue with the carry that we'll get into later in the review. But even so, it's been performing surprisingly well in our testing, and we do dig the low-profile look.
At the time of this review, the Weekender Backpack is only available in one colorway, and that's X51 Black—so if you're hoping for something a little more colorful, you're not going to find it here. But if you're familiar with us here at Pack Hacker, you should know that an all-black bag doesn't bother us any. We like how this colorway helps it blend in with whatever crowd we find ourselves, whether we're traveling or out exploring a new city.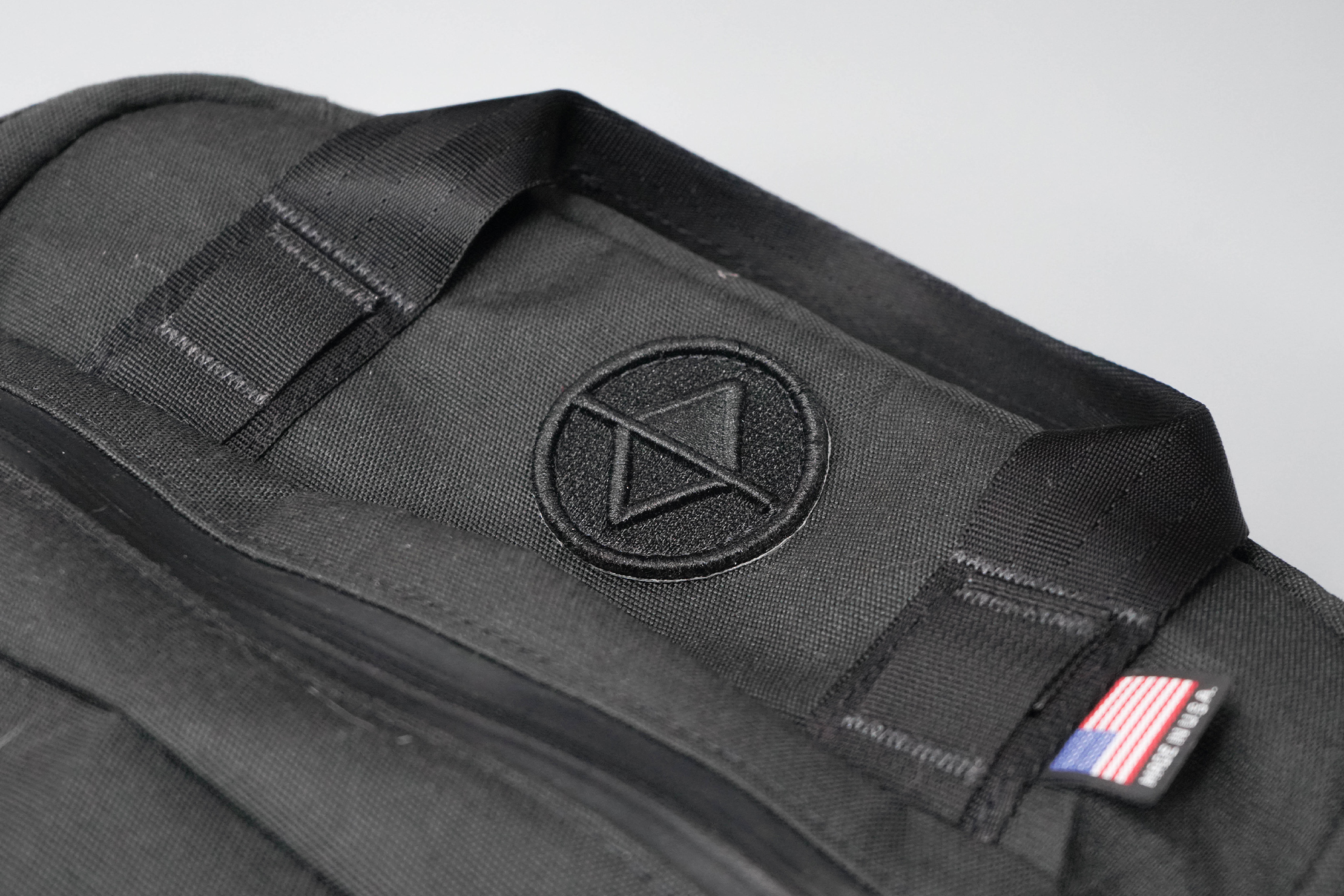 Like the Weekender Meeting Bag, this pack is branded with the geometric North St. Bags logo. It's sleek, black-on-black, and much more subtle than the North St. Bags wordmark we've seen on some of the other gear we've tested from the brand. (So if you prefer minimal branding like us, you'll dig it.)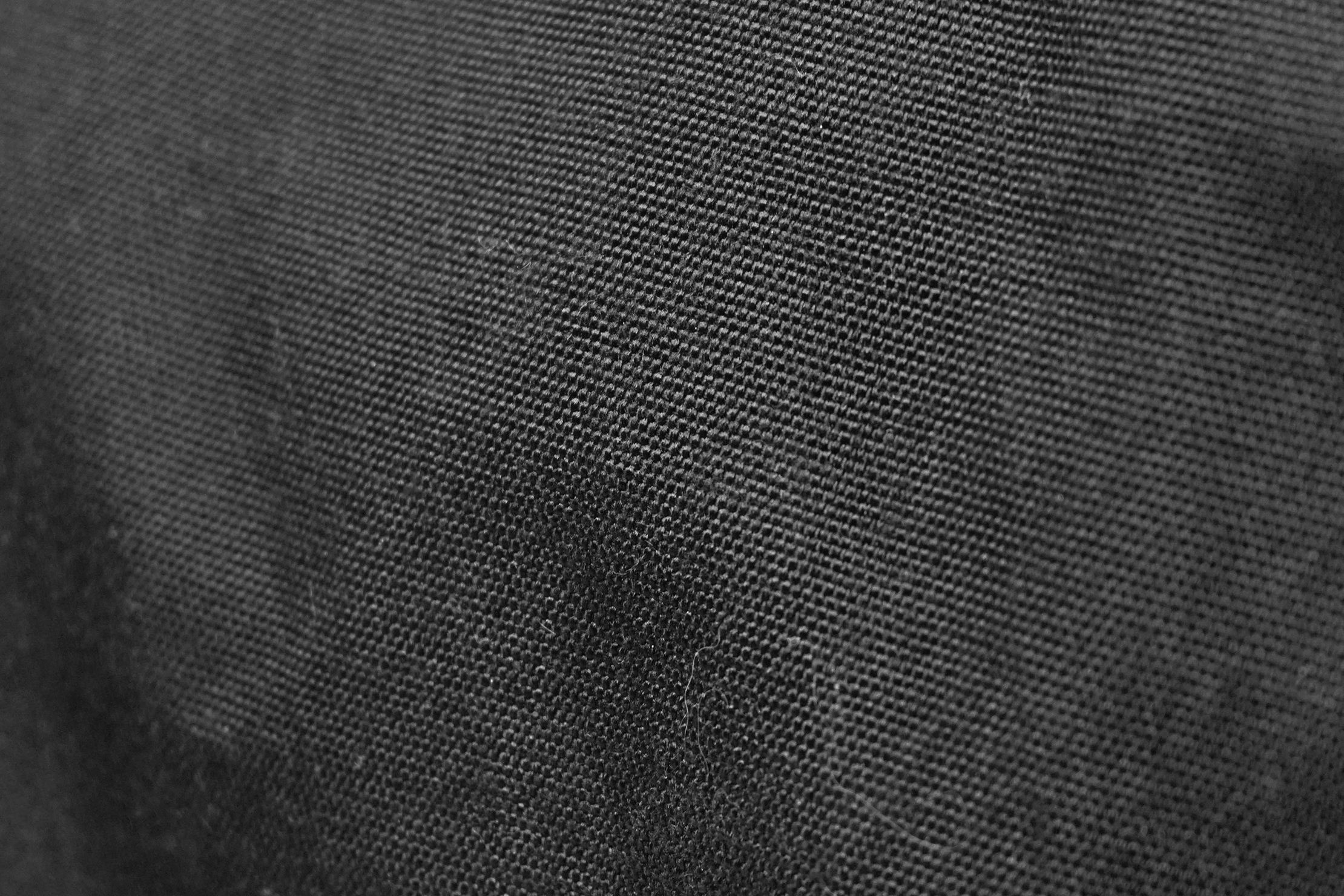 Material-wise, this thing is made with X51 fabric, which is 500D CORDURA nylon backed with a waterproof X-Pac sailcloth—meaning it's durable and water-resistant enough to safely handle your gear, rain or shine. (But most likely rain if you're somewhere like Portland, where the bag is manufactured.) The bag has sustained some scuffing on the front, but it's minor and merely aesthetic damage so far—just something to note.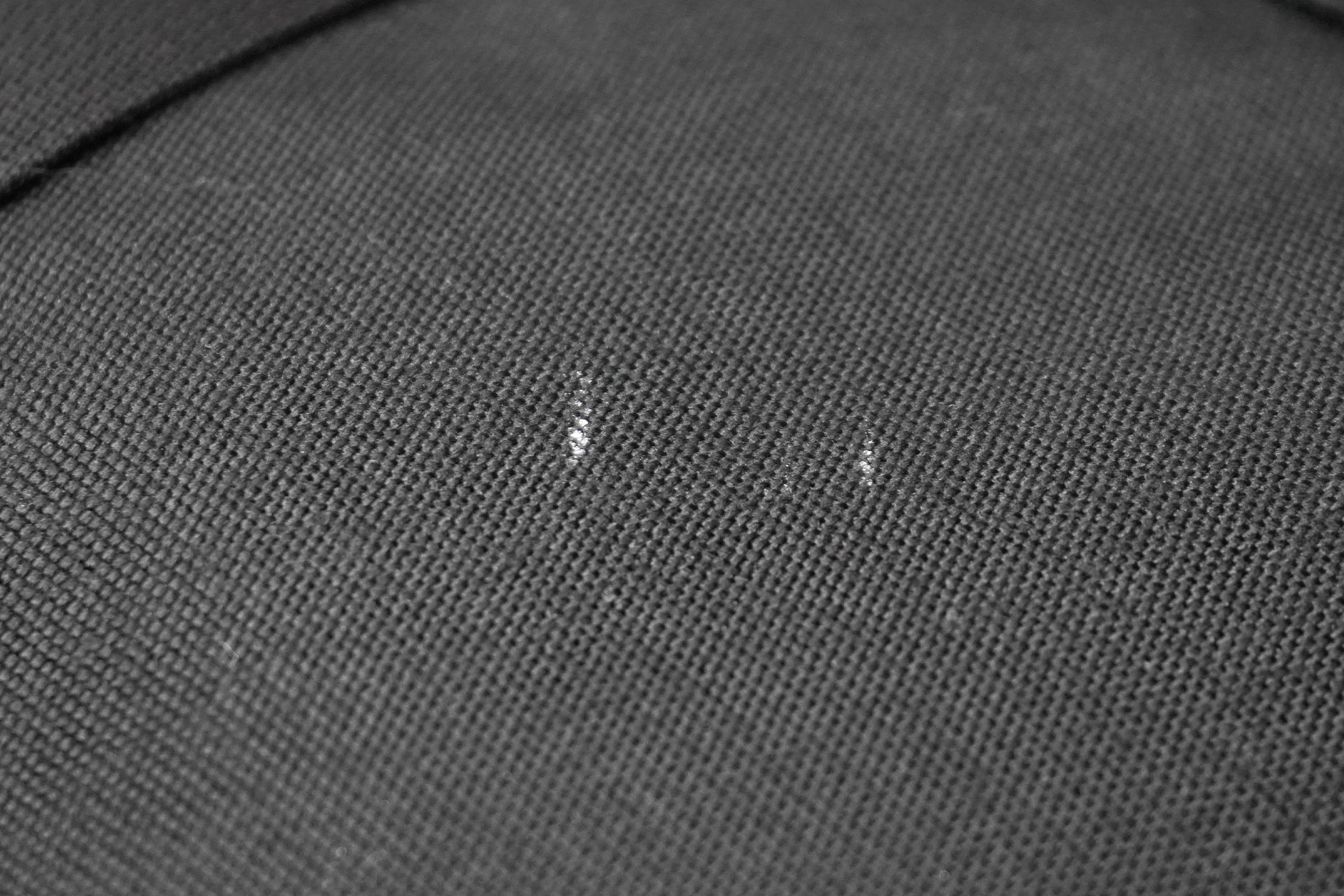 You'll find Lenzip zippers throughout the bag—#10 water-resistant Lenzip zippers, to be exact. We appreciate the added protection that these zippers offer for our gear. They even have easy-to-grab pulls and built-in garages to tuck the zippers into to ensure your bag is sealed and secure. We're always a little skeptical when it's not YKK, but these zippers are robust and feel up to the task. And they've all been working smoothly throughout testing, so no complaint here.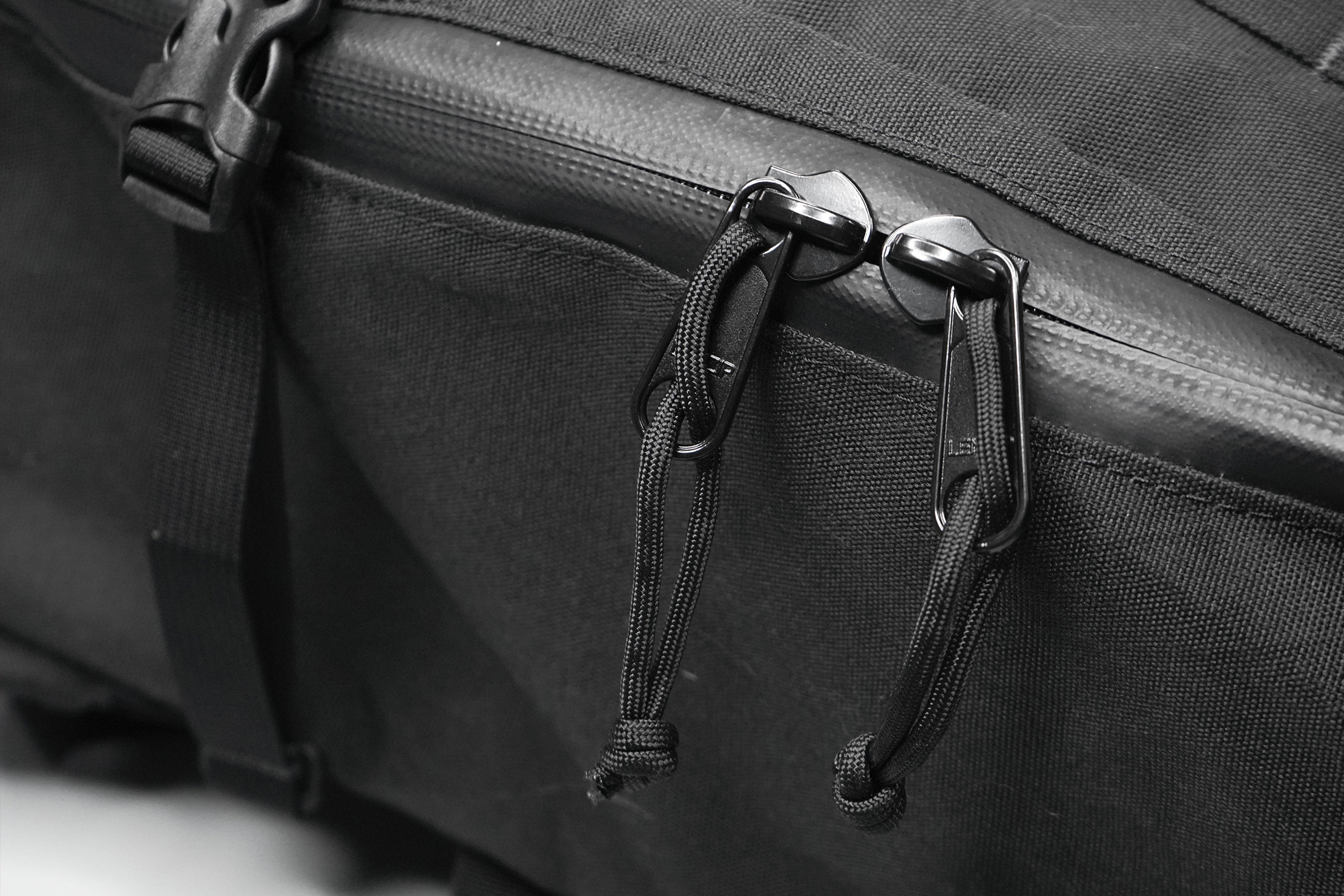 To round it all out, you'll find Duraflex hardware, which we've tested lots of on other bags. As usual, everything is working well.
External Components
There are a few things we want to cover on the outside of this bag, including pockets, straps, and of course, the harness system as a whole—which is where we'll start.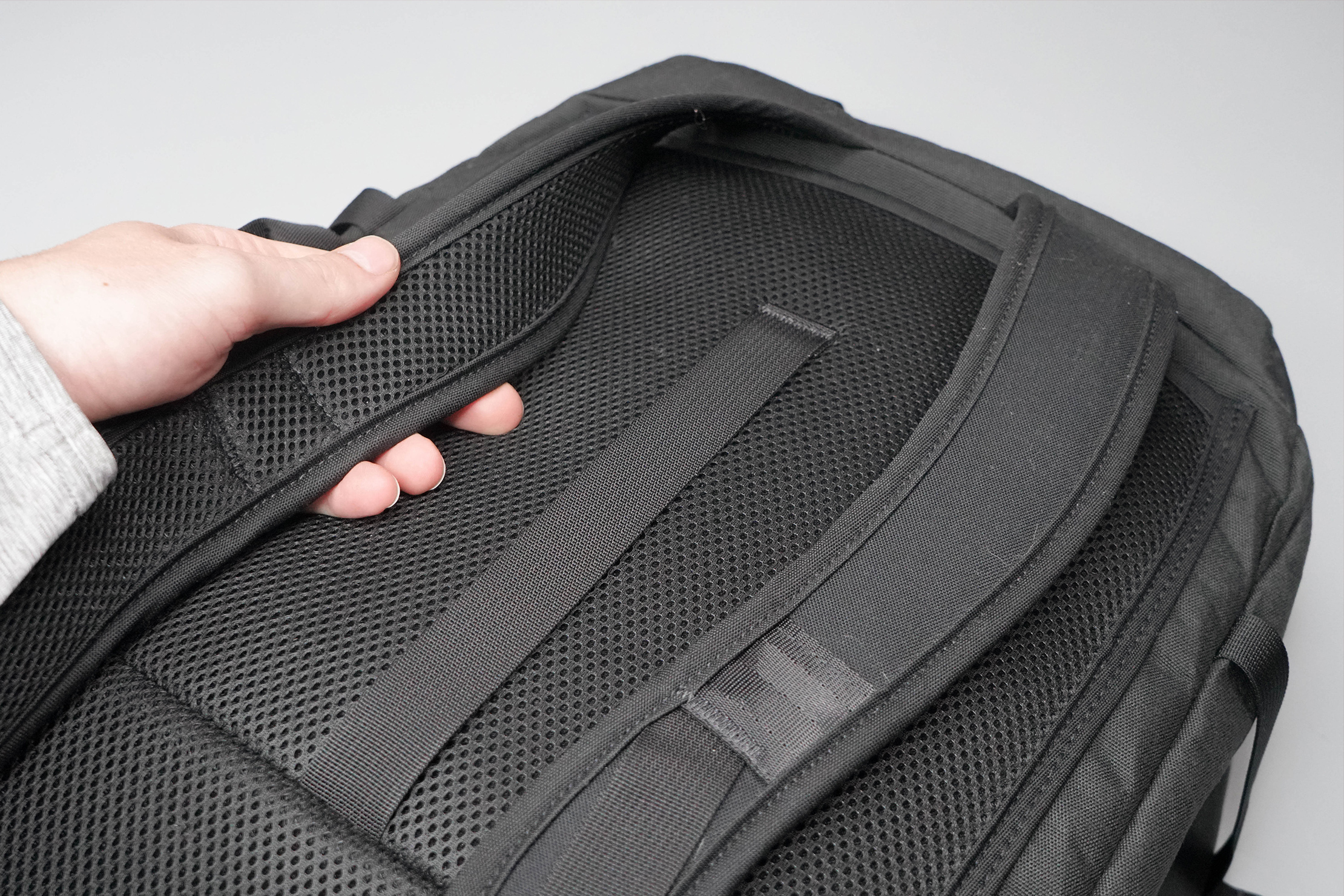 The shoulder straps themselves are pretty floppy—they're thinly padded and aren't very stiff. But the nice thing here is their width—they're wider than the straps you'll see on some other bags meaning they work well at evenly dispersing weight. So even though they don't have a ton of padding, we've still found them to be pretty comfortable. There aren't any strap keepers on here, so if you have to cinch this bag up to get it comfortable, you're going to have to deal with some dangle.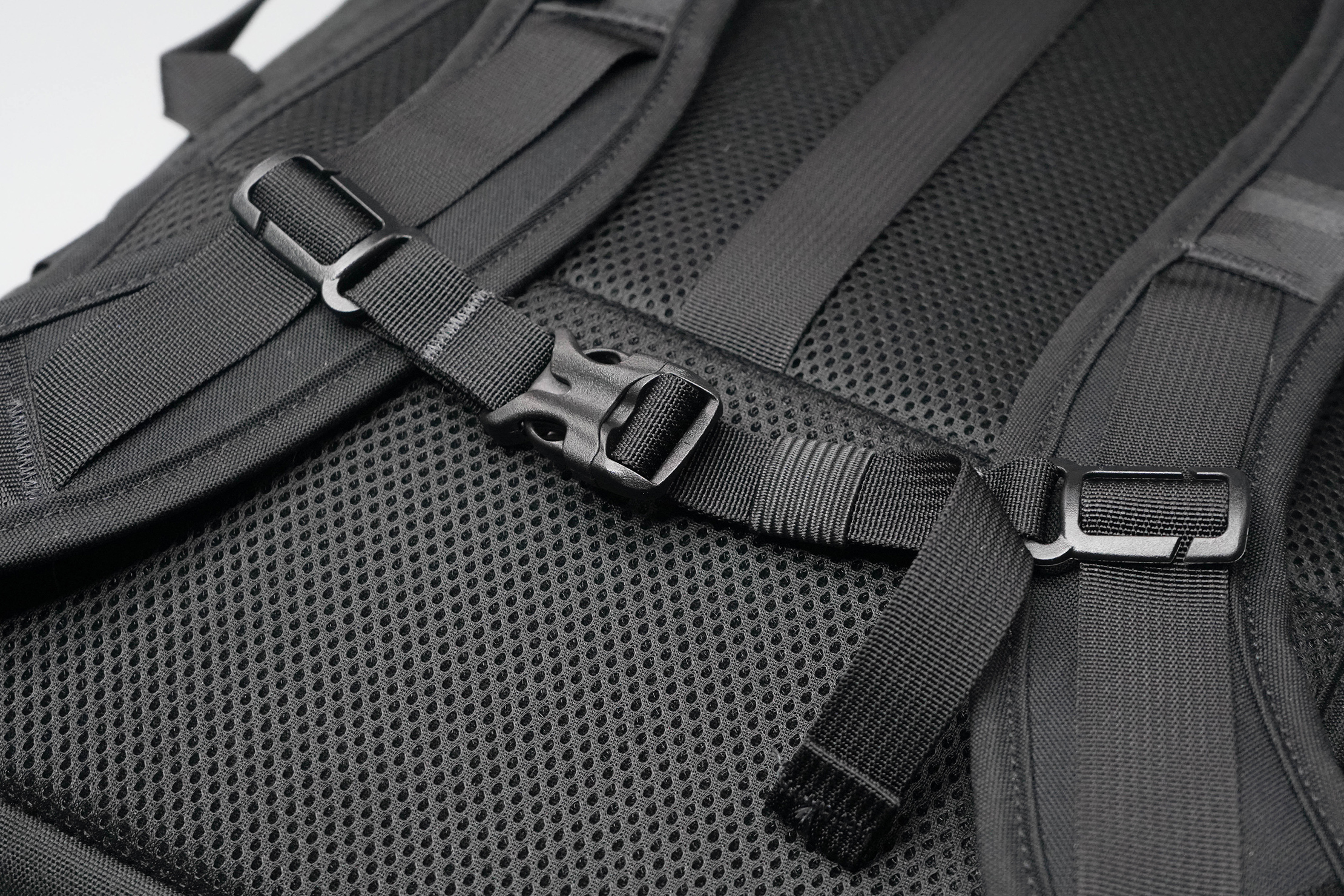 And then you have a pretty standard sternum strap. You can adjust it by sliding it up and down to wherever it feels comfortable. And it's securely attached, so we're not worried about it coming undone (and losing it in the process). Plus, it's got a handy elastic keeper to help manage excess strap, which we always appreciate.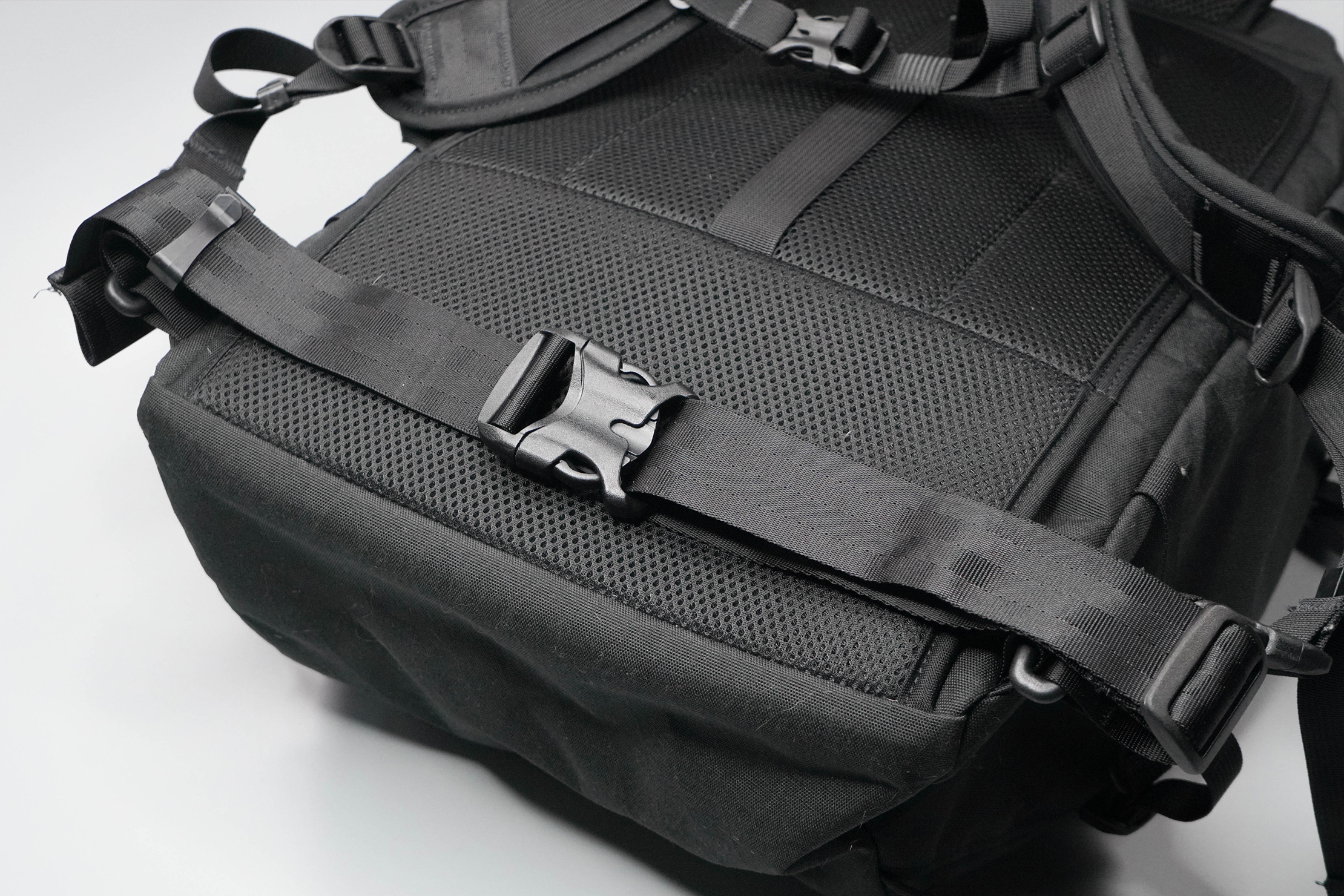 The hip belt on here is more of a waist strap—and by that we mean, it's just a nylon strap. There's no padding, but we've actually found it to be one of the more helpful waist straps of this style that we've tested. We've found that oftentimes hip belts run across our stomach as opposed to our hips because of where they're positioned on the bag, but this one is at the perfect height for us and sits comfortably on our hips.
It also helps keep the bag closer to our body—as, again, this bag doesn't have much structure and gets pretty floppy, which can cause it to buckle and feel far away from our backs. But everyone's different. If a hip belt isn't a necessity for you or you don't find it as effective, it's attached to the bag by gatekeepers clips that you can disengage and then store the belt in the sleeve at the bottom of the back panel.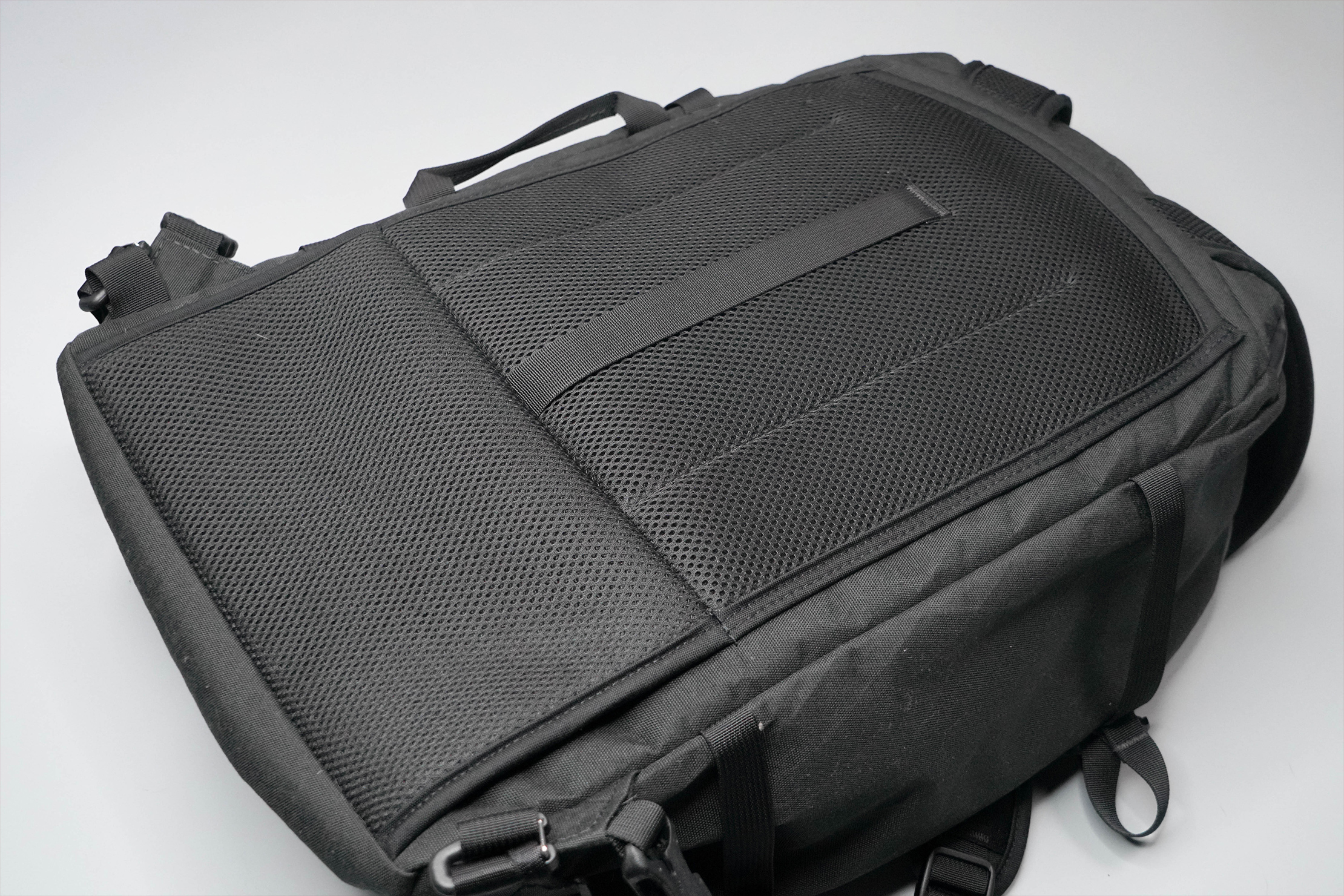 Speaking of the back panel, it has lots of mesh lining for added breathability, which is appreciated when you're carrying an all-black bag in the summer heat. There's also a luggage pass-through so you can easily slip this thing on to your rolling luggage and wheel it all around the airport, public transport, and wherever else you need to go. But as we mentioned before, there's no frame sheet or stiff padding back here to give the bag structure.
Now, this lack of structure is convenient for if/when you're packing the bag away for later use, as you can scrunch or fold this thing down pretty flat. But when you've got in on your back, it feels floppy, especially if the bag isn't fully packed out. If you're looking for a way to remedy this, we've found that keeping a laptop in the back compartment does help give it some structure, and even more so if the laptop is in a protective case—but like we explained in the Matador SEG42 Travel Pack review, it's kind of weird to have your laptop act as a frame sheet (a very expensive frame sheet).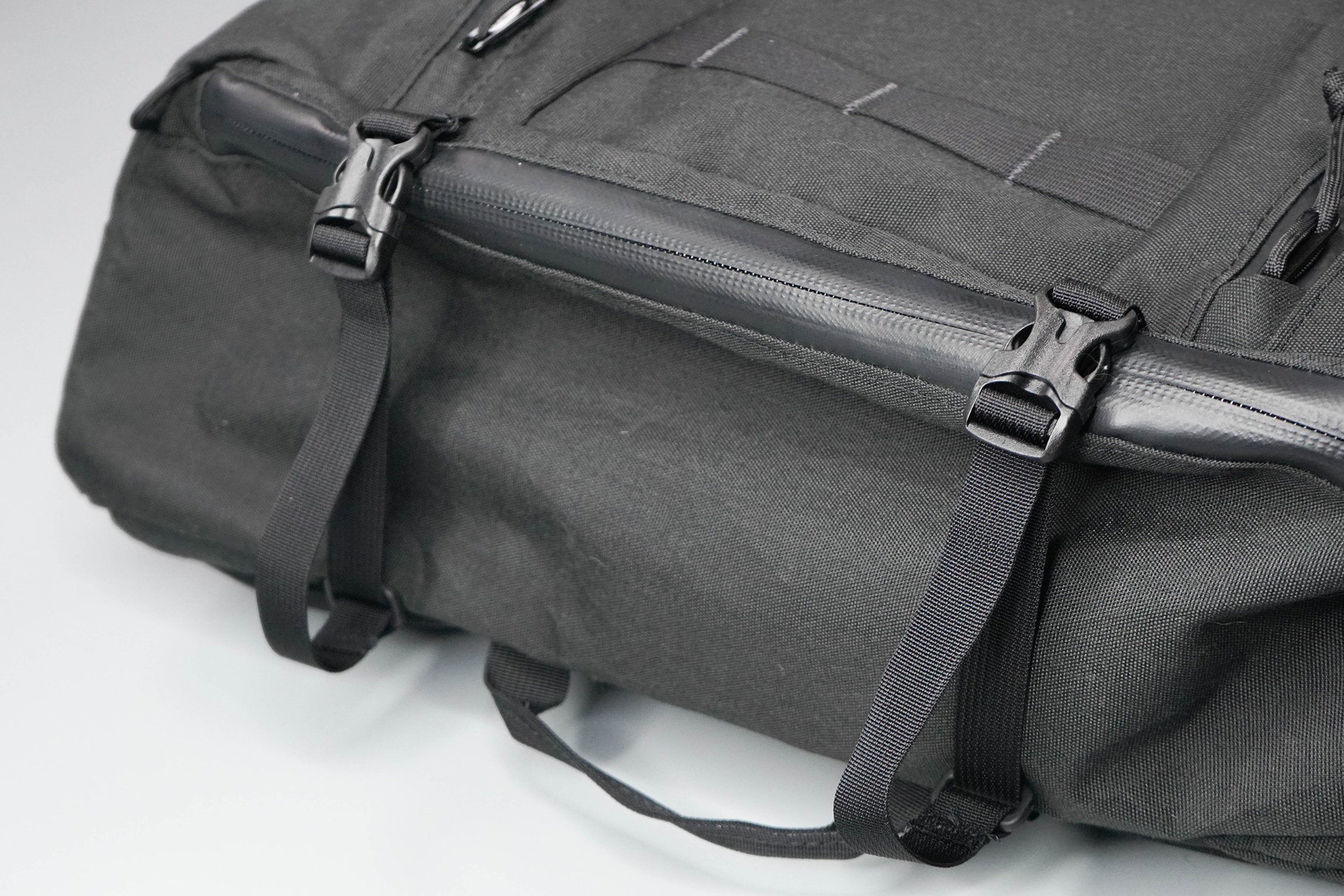 Something else that we've found helps with this structural issue are the compression straps. You have two on either side that, when cinched down, help to better define the bag's shape. And these straps stay in place, so you're not having to constantly tighten them throughout the day (which we've had issues with on other bags). Cinching the bag down this way also keeps it nice and minimal, which is something we love in a bag—whether it's for travel or just our everyday haul. And no matter how far you tighten them, the excess strap is always managed—another spot where you're #DangleFree.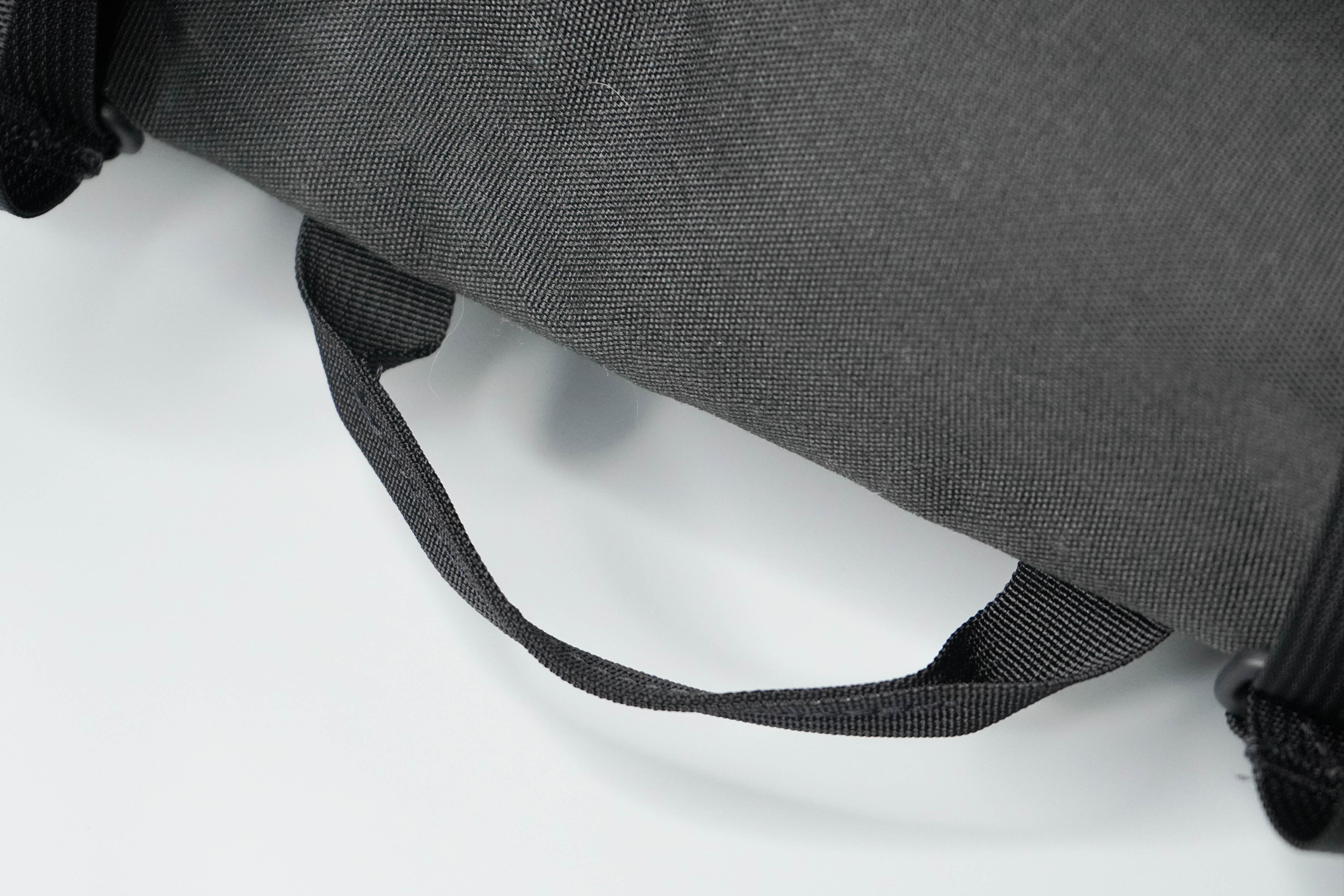 You'll find a handle on the side of the bag for if or when you want to carry this thing briefcase-style. It's made of some folded nylon webbing and is pretty small. But the bigger problem is that the handle isn't positioned directly in the middle of the side of the bag—it's closer to the back panel. As a result, the bag tips forward and becomes too floppy for us to carry this way (that, and it's not a great look). To be frank, we haven't found this handle very useful.
The top handles, on the other hand, are thicker and more comfortable. And since there's two of them (a front and a back), they make it super convenient to pick the bag up even when it's open. If it were just a front or just a back handle and we picked it up while it was open, all of our stuff would fall out—but the combination of both allows us to carry it while in full clamshell-mode (and we dig it).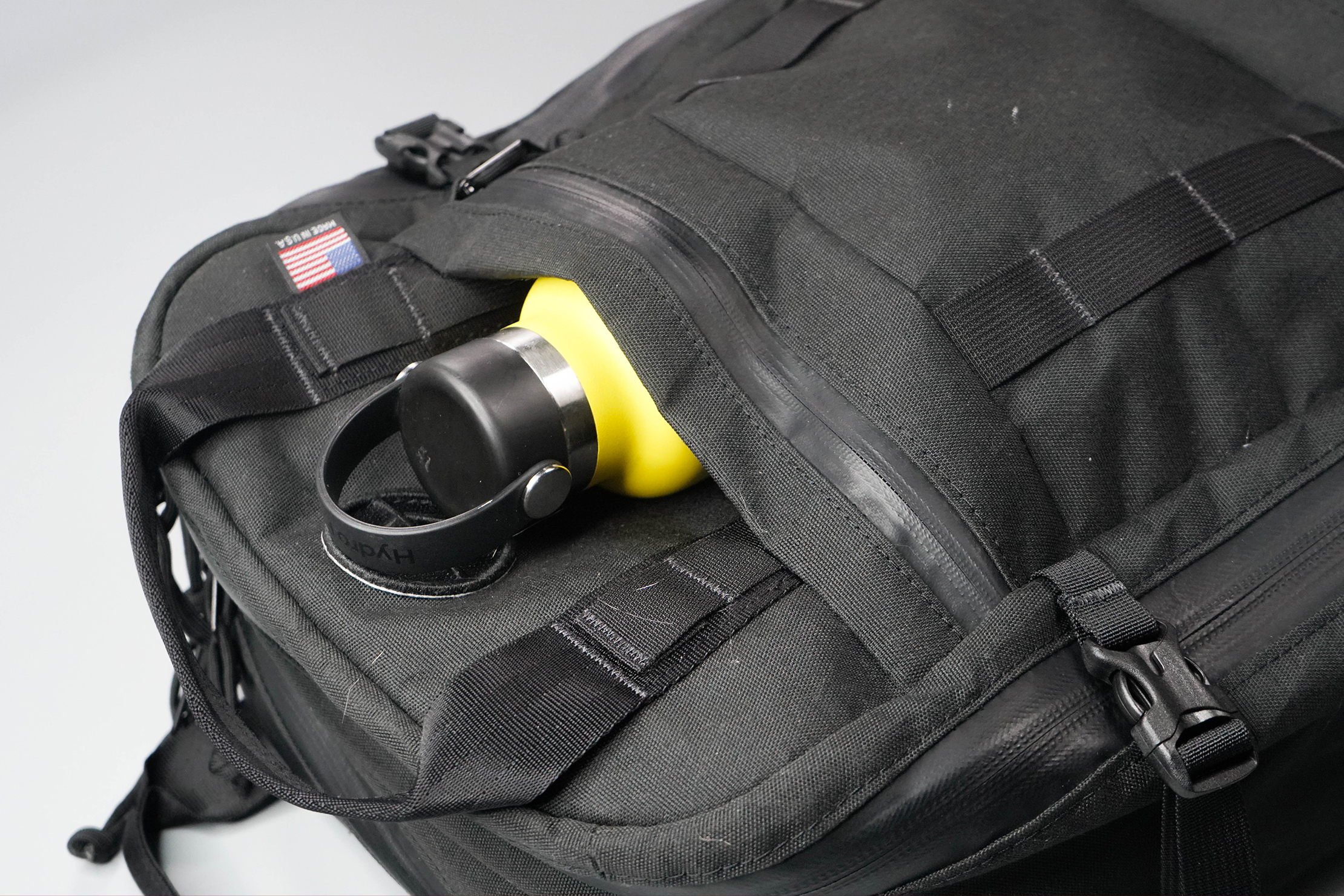 Normally, if a bag has a water bottle pocket, you'll see it on one (or both) sides of the exterior—but on this bag, it's smack dab in the middle. In this case, the front is probably a better spot for it, as it could get in the way of the compression straps. While we typically recommend a smaller water bottle for travel, we have been able to fit a YETI Rambler 36 oz Bottle in here. It does borrow quite a bit of space from the main compartment, which may affect what you're able to pack inside, but it is doable.
We've also found that keeping a bottle in here helps some with weight distribution so that we're getting more of an even carry, especially if it's a heavier bottle. Something to note—it's not secured by any elastic, so it's easier for the bottle to slip out when bending over or if the bag ends up upside down. We haven't had it happen during testing so far, but we recommend exercising caution.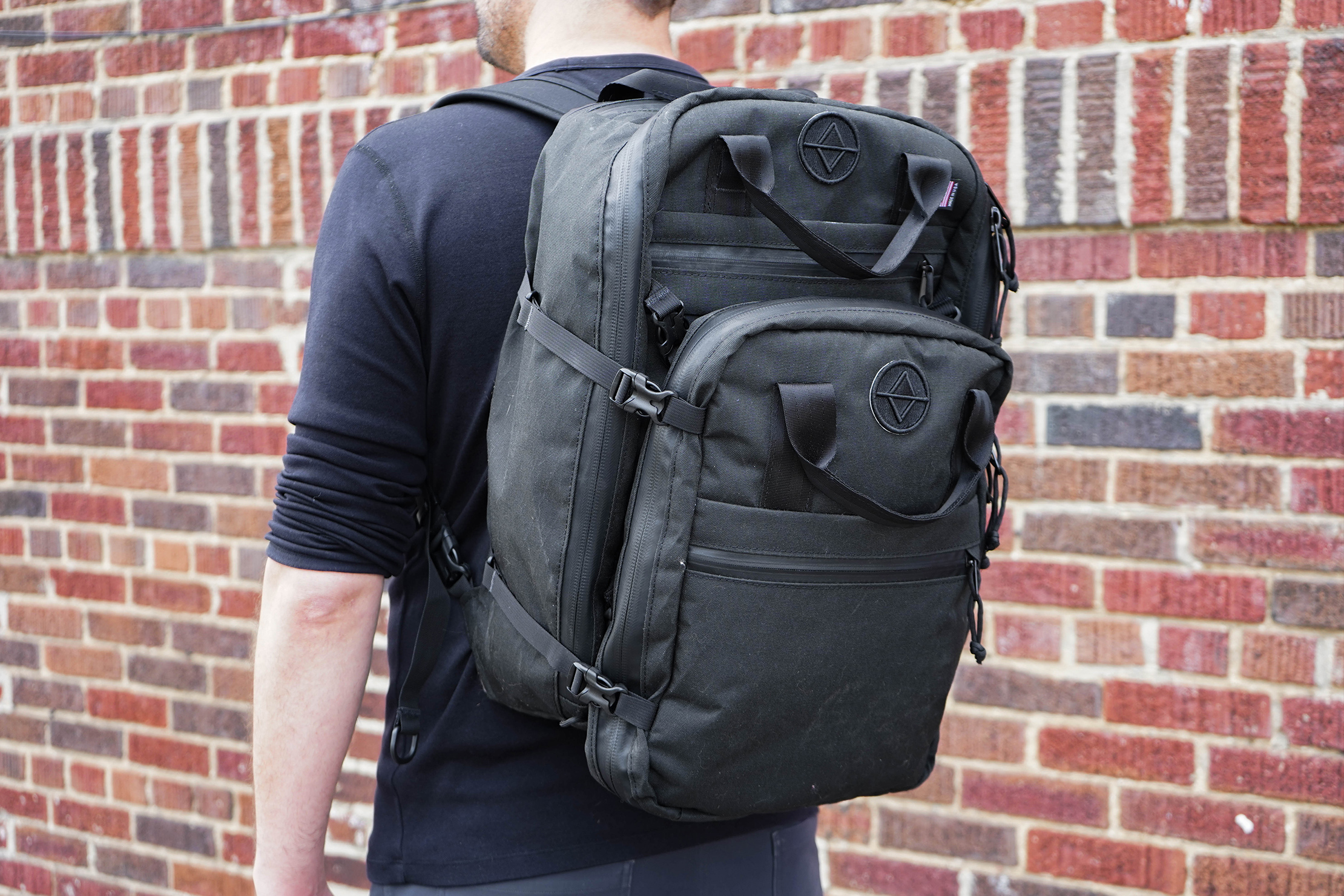 And to wrap up the outside, there are also two daisy chains on the front of the bag where you can attach a carabiner and take advantage of some external storage. This is also where you can attach the North St. Bags Weekender Meeting Bag—just slip the compression straps on the Meeting Bag through these chains, and buckle them into place. Then you can detach it and use it as a lighter, slimmer everyday pack, or keep it on and use it for some extra storage/organization. You also have a small loop at the bottom on either side of the Weekender Backpack that works for attaching a bike light.
Fit Notes


Tom—Height: 6 ft 2 in, Torso: 19.25 in
No structure, but feels better against the back with a laptop inside
Carry feels more even with a water bottle in compartment on the front of the bag
Waist strap was actually in the right position (they're often too high up)


Riley—Height: 5 ft 4 in, Torso: 16.5 in
Not enough strap to adjust to where it's comfortable
Spans entire torso, so it looks especially big
Doesn't feel very structured (can feel a gap in the middle of the back)
Inside The Pack
This bag's look is bigger than its bite (or storage, more like). It's pretty large (and again, floppy) for a bag of its size. But at 28L, it has plenty of room to carry what you need for a short trip—and we've been packing it as if we were traveling during testing. Its storage is split between the main compartment, a laptop compartment, and various quick-grab pockets.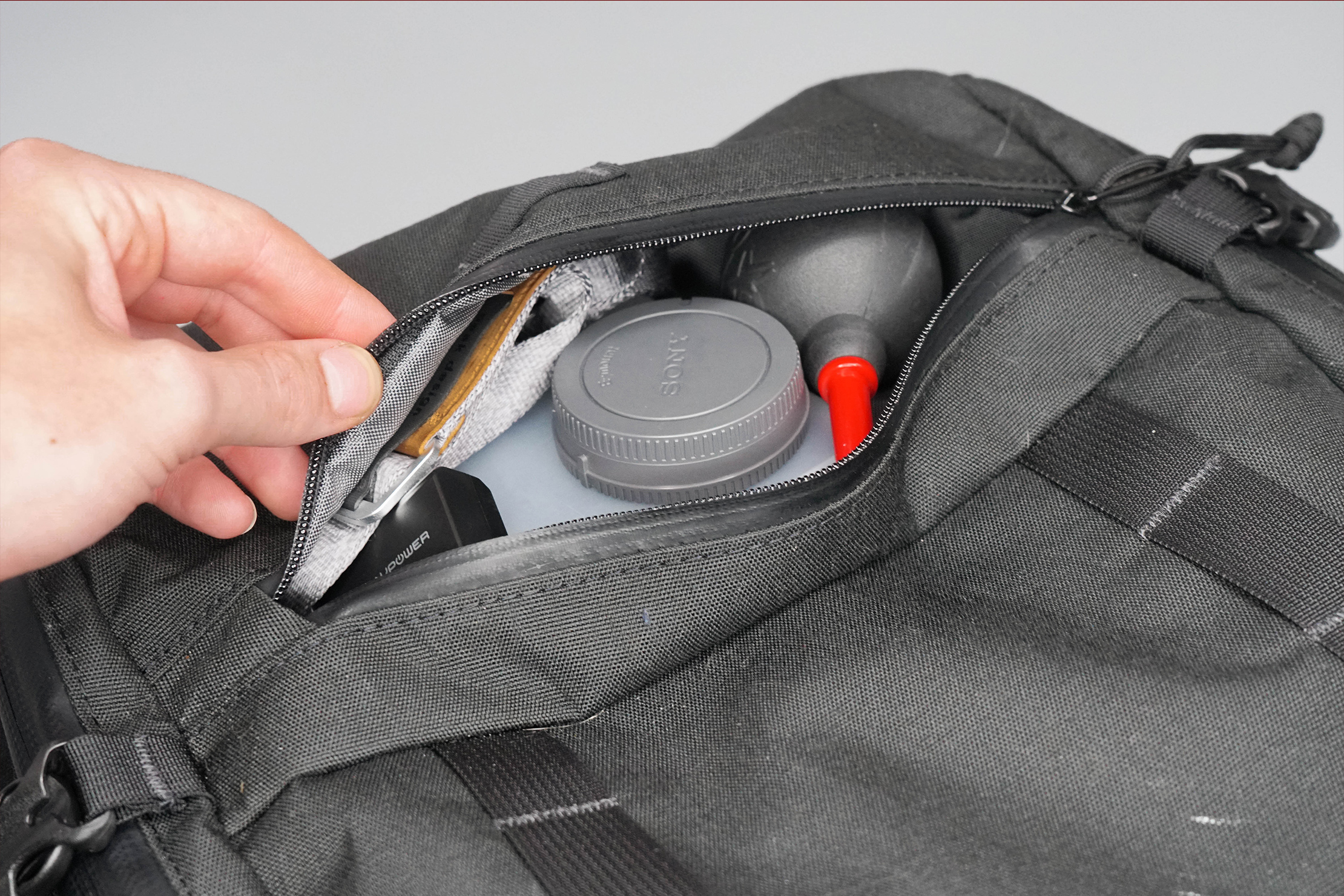 Let's look at quick-grab pockets first. Starting at the bottom, there's a wide but shallow zippered pocket where we've been storing some smaller camera accessories—filters, batteries, a lanyard, and so on. Since it's toward the bottom of the bag, it's the slowest of the pockets to access, so it's not the best spot for your most frequently-used gear.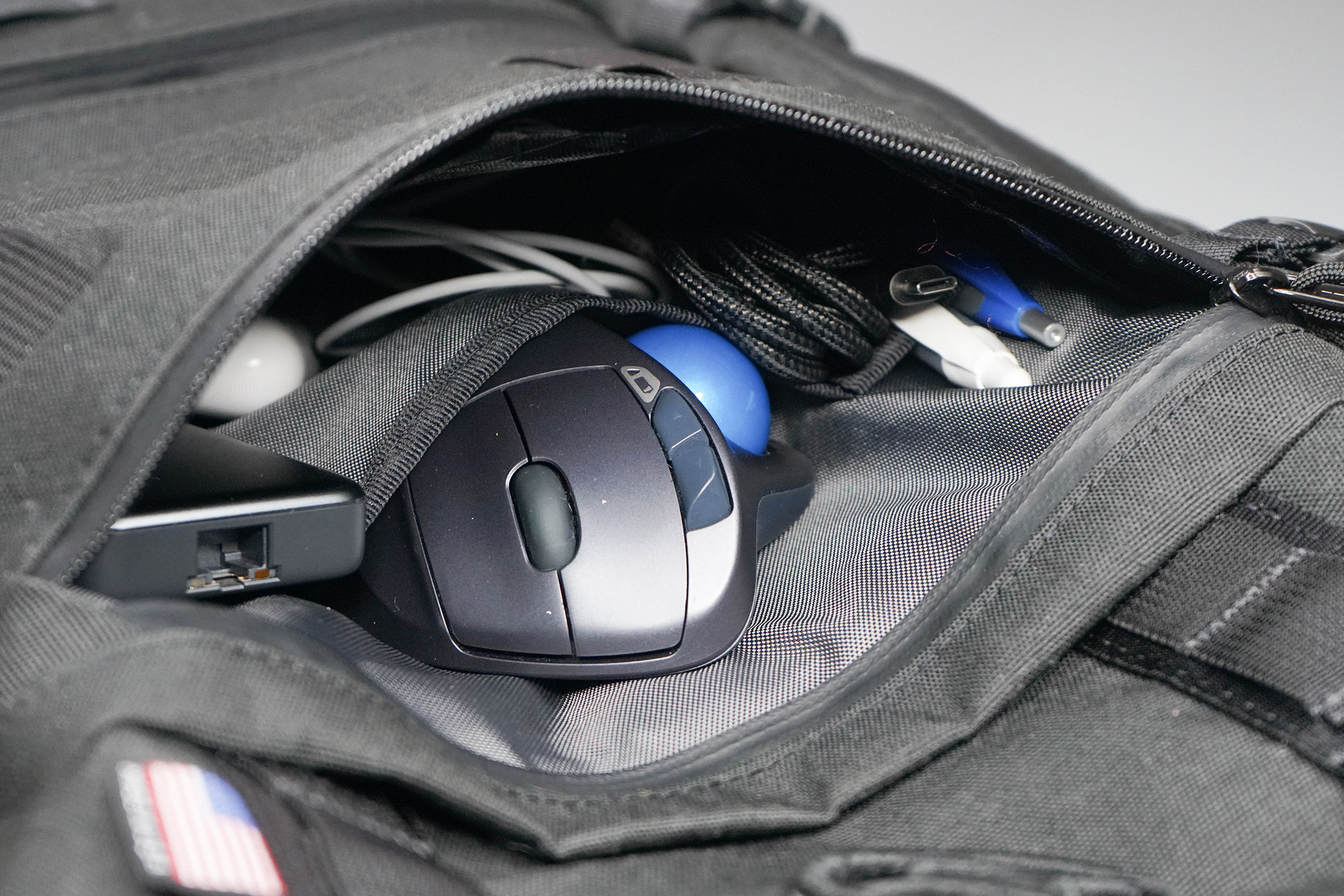 Moving up, you have a much bigger quick-grab pocket. There are two dividers in here. The first one stretches the full length of the back wall and is a convenient spot for a mouse (the computer kind, duh) or other bigger accessories. The second is a smaller sleeve on the side to keep a pen, pencil, or stylus handy. Since this pocket has some more depth to it, we've been using it as a sort of tech dump-pocket—chargers, dongles, other larger cords, and accessories can fit in here just fine.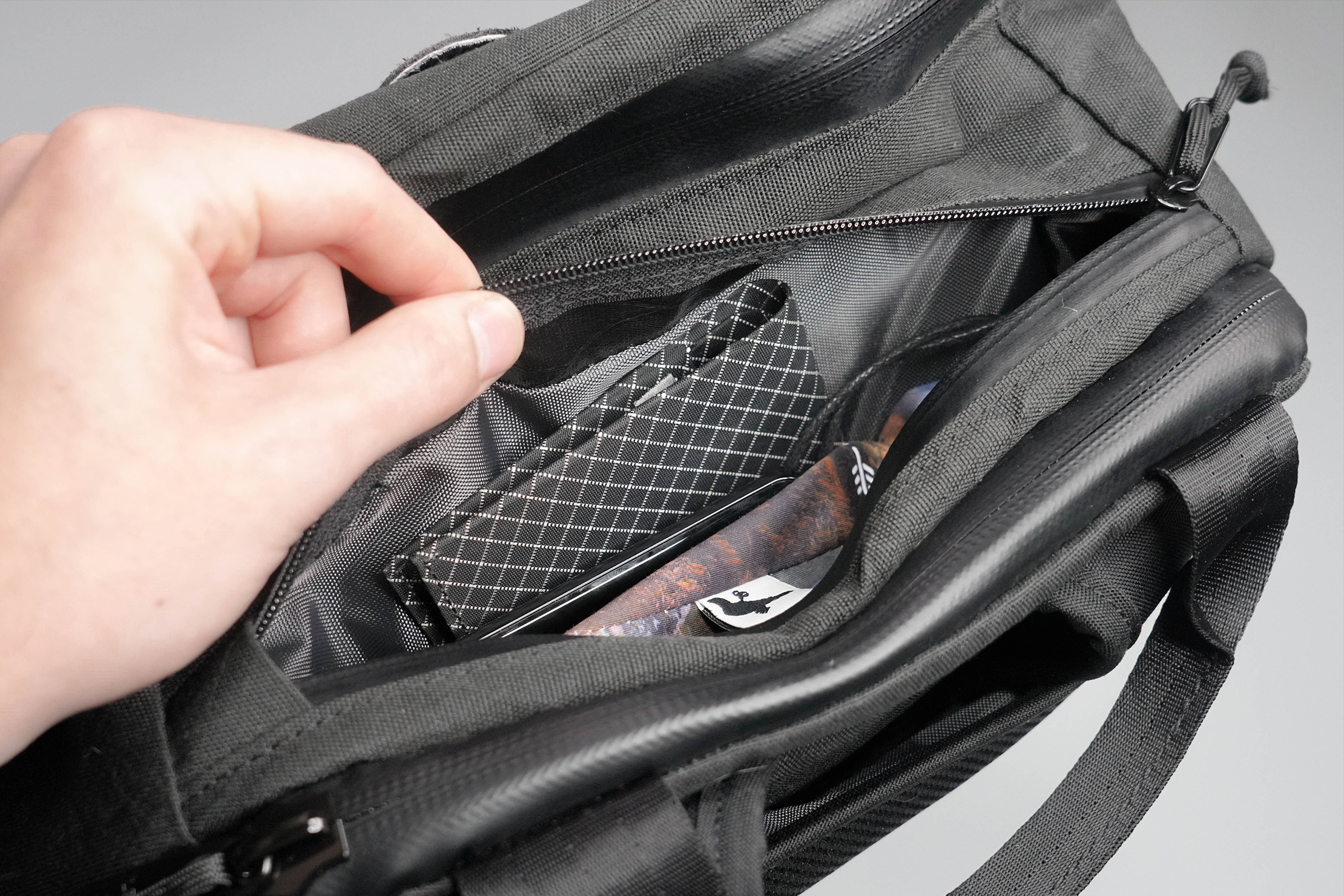 And then you have the third quick-grab pocket at the very top of the bag. It's a great place to stash that frequently-used gear you want to keep handy—your wallet, phone, or even a pair of sunglasses. There's not a very soft liner material in here (it's more of a traditional swishy fabric) so if you are keeping glasses of any kind in here, we recommend doing so in a protective case to help avoid any scratches.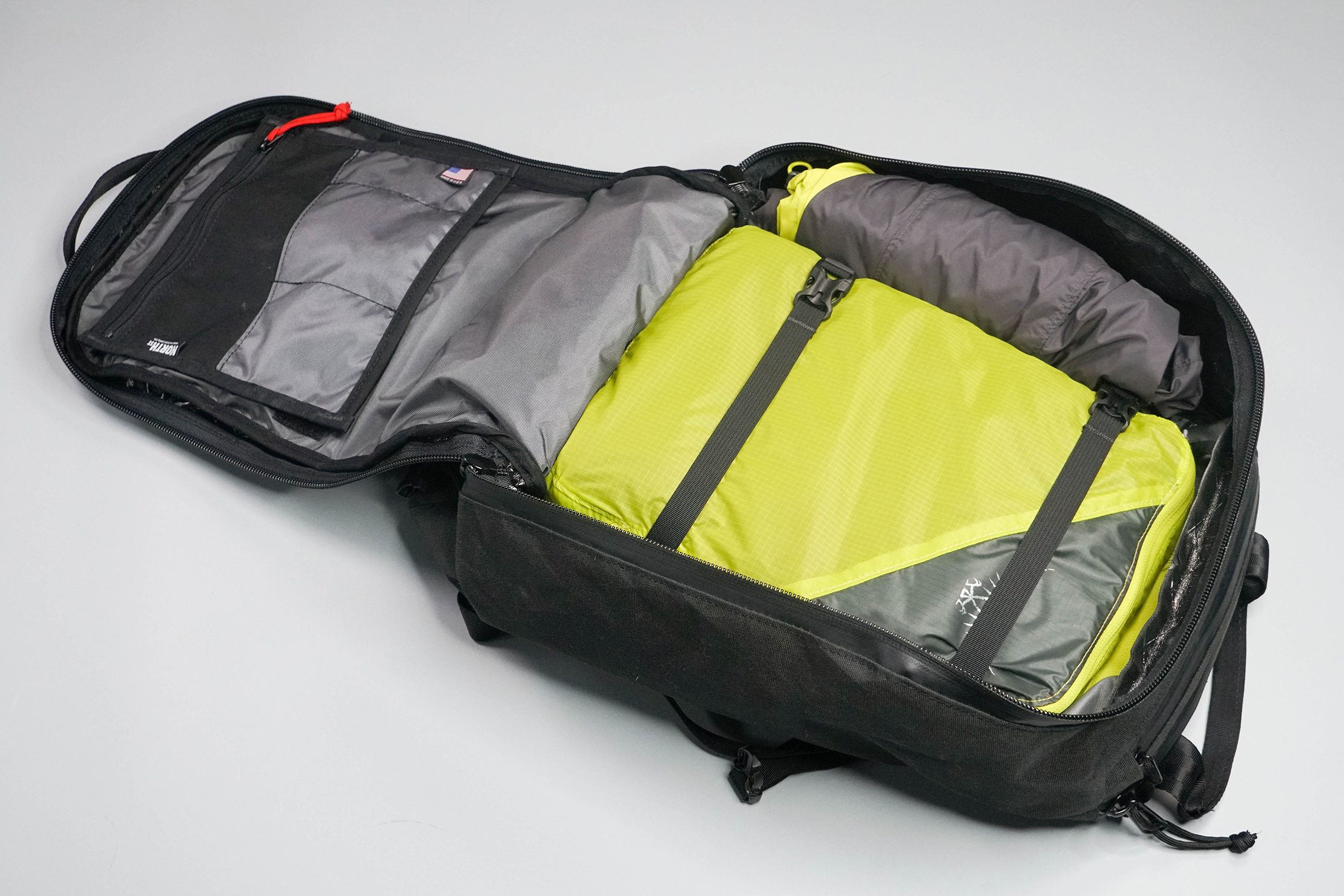 As with many bags with compression straps, you'll have to undo them to get into the main compartment—and then this thing can open up in all of its full clamshell-fashion glory to give you easy access to everything inside.

Once you do have it open, the first thing you'll notice is that there's not much going on here in terms of organization. In fact, there's no organization to speak of. You do, however, have three velcro straps along the front flap and the back wall where you can attach some of North St. Bags accessory pouches, like the Velcro-In Organizer Pocket Set, to customize your own organization. Of course, you can always opt to use your own pouches or packing cubes. Or a different North St. Bags velcro set if you find that it works better for your gear. You also have two compression straps against the back wall that work for securing those packing cubes into place, should you use them, or any other gear you have inside.
We've preferred to just keep one pouch from this set inside to keep smaller things like pens and pencils organized, and have found that it works better when attached to the front flap of the bag. It can go against the back wall, but those compression straps we mentioned can get in the way. Especially if you're using them to secure other gear, which can really get in the way of whatever you're securing to the velcro (and it doesn't help to have organization you can't access).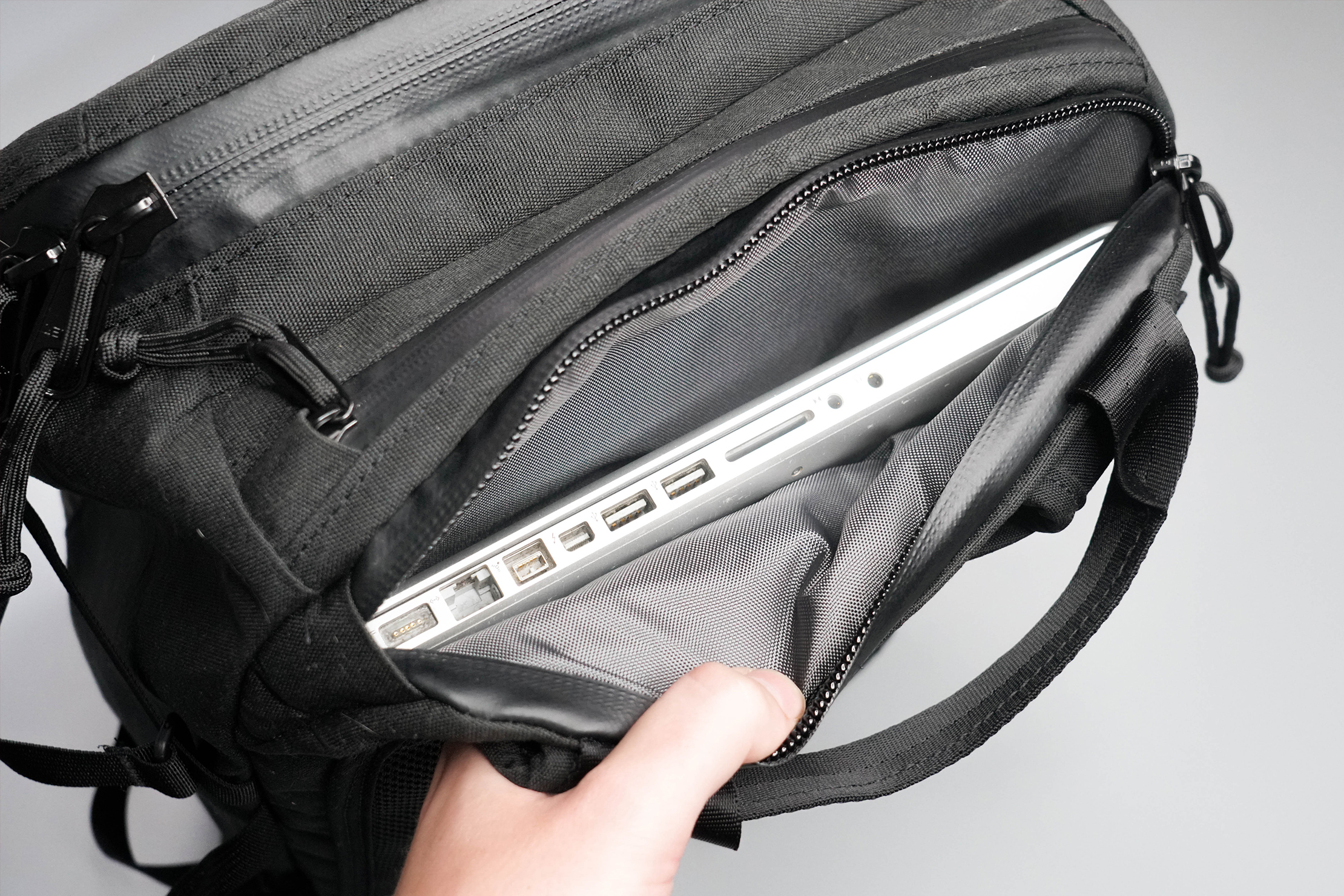 And last, but certainly not least, you have a laptop compartment at the back of the bag. At first glance, this pocket doesn't look very large, but it stretches almost the full length of the bag. We've been able to fit a 16" MacBook Pro, even with a protective case on. There's a false bottom that offers some added protection for your laptop when it gets jostled around and when you're setting the bag down (and for when you accidentally drop the bag if you're as clumsy as we are).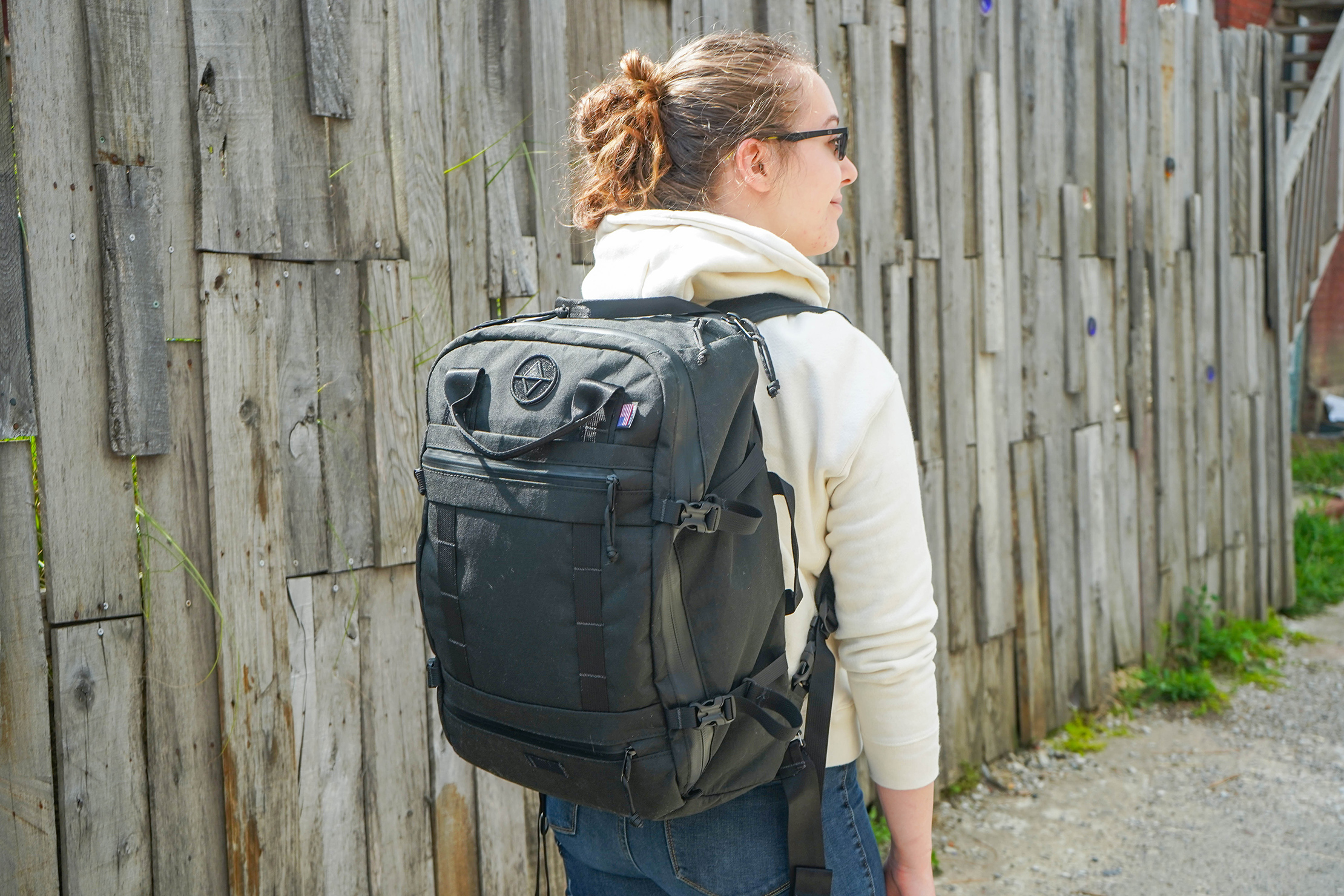 Besides that scuffing we mentioned, everything is as it should be durability-wise—nothing else to report.
Usage Timeline
Initial Usage
Condition: Excellent
Pretty minimalist-style bag, no organization in the main pocket
Organization can be added in and attached to the internal velcro
Floating laptop compartment to help protect your laptop
2 Weeks of Use
Condition: Excellent
This bag has no structure to it so the floppiness takes a little getting used to. However, after adding a laptop in a case to the laptop compartment and cinching down the exterior compression strap, this bag has turned into a very comfortable carry.
Access the Pro Community Discussion
Get your questions about the North St. Bags Weekender Backpack answered from our team and the Pro Community right here on the page. Plus, join discussions with other members about gear, guides, and more.
Other Bags & Luggage Reviews