Osprey Daylite Travel Pack Review
Despite a few nitpicks, we're digging the Osprey Daylite Travel Pack for its carry, clever interior organization, and expandable main compartment.
Our Verdict
Unlock the Pro Summary
Save time. Get access to brief summaries of our reviews so you can browse and make decisions more efficiently.
Pros
The zippered expansion is there when you need it and out of your way when you don't
Really comfortable carry
Thoughtful interior organization inside the main compartment
Cons
Would've appreciated a dedicated top handle
A small snag in the ripstop material after one month of testing
Compression straps impact access to the main compartment
Recent Pack Hacker Video
Technical Details
Capacity

18l

Not expanded, 24L expanded

Weight (lb)

1.3 lb (0.6 kg)

Denier

210D

Main material

Dimensions

17.73 in x 12.21 in x 9.85 in (45 x 31 x 25 cm)

Notable Materials

Ripstop Nylon, Nylon, Packcloth, YKK Zippers, ITW Hardware, EVA Foam, YKK Buckles, Woojin Hardware

Manufacturing Country

Vietnam

Laptop Compartment Size

15"

Warranty Information
Full Review
If you're familiar with Osprey's Daylite Series, then you're not going to be too surprised by the Osprey Daylite Travel Pack. There's a lot of similarities between the Daylite Travel Pack, the Daylite, and the Daylite Plus—including a great harness system, outdoorsy vibe, and overall versatility.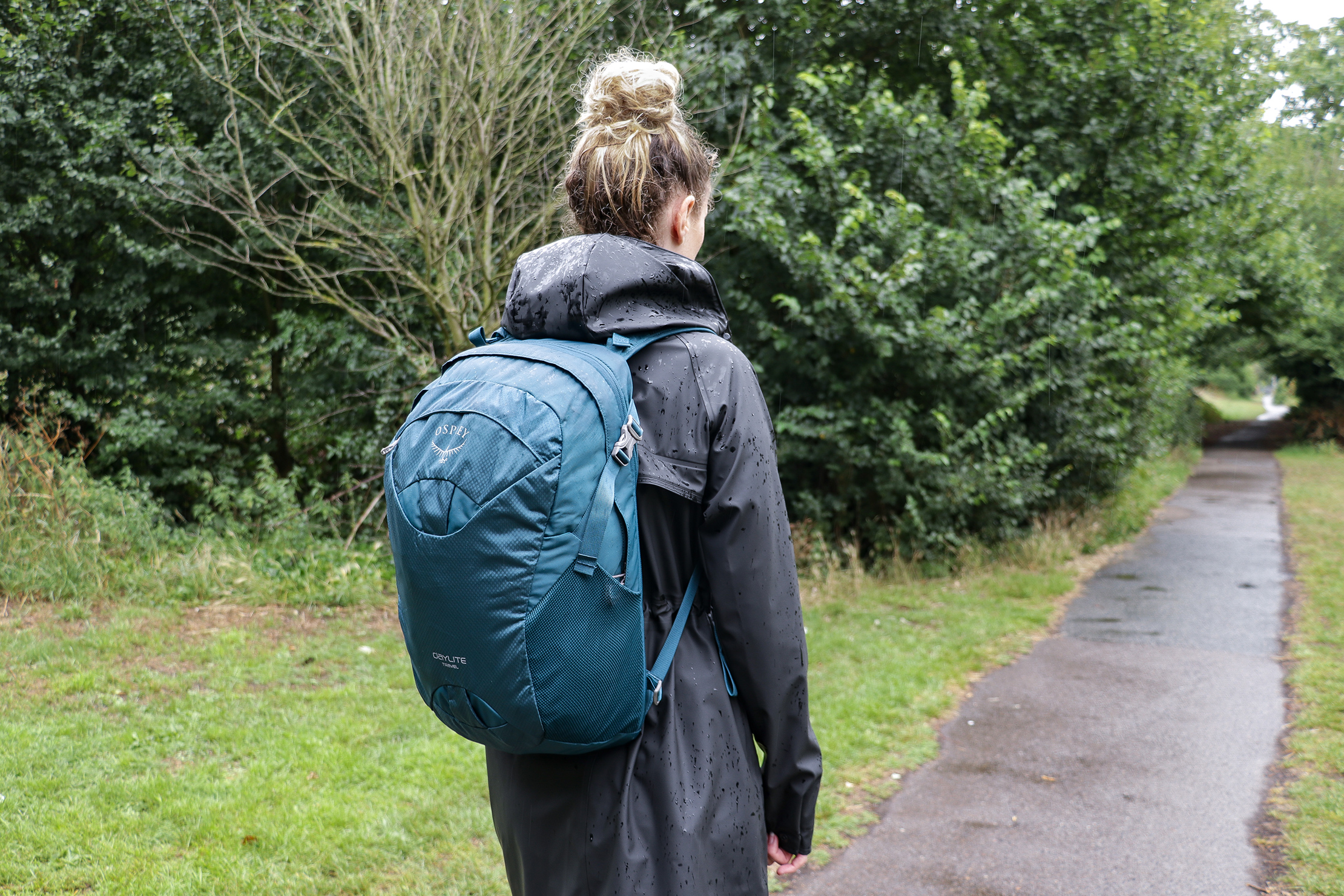 Even Osprey's tag-lines for the bags are similar. The Daylite Travel Pack has been designed to be "the ideal streamlined companion for on-the-go essentials." Whereas the Daylite is advertised as a "lightweight and versatile companion." Similar, right?
So what makes the Daylite Travel Pack different? Well, for starters, it has a zippered expansion that transforms this thing from an 18L to a 24L pack. Plus, there are slight differences in the interior organization. But, we're not going to do a side-by-side comparison in this review. If you want to compare directly, you can check out our reviews on both of the Daylite and Daylite Plus.
Today, we're going to review the Daylite Travel Pack as its own bag. So, let's get into it.
Materials & Aesthetic
Osprey is a well-known brand that specializes in outdoor gear, so it's no surprise that the Daylite Travel Pack has an outdoorsy vibe. The three colorways that are available at the time of this review—Black, Amulet Purple, and Petrol Blue—emphasize that sporty look. As do the various attachment points and straps that hang off the pack's exterior.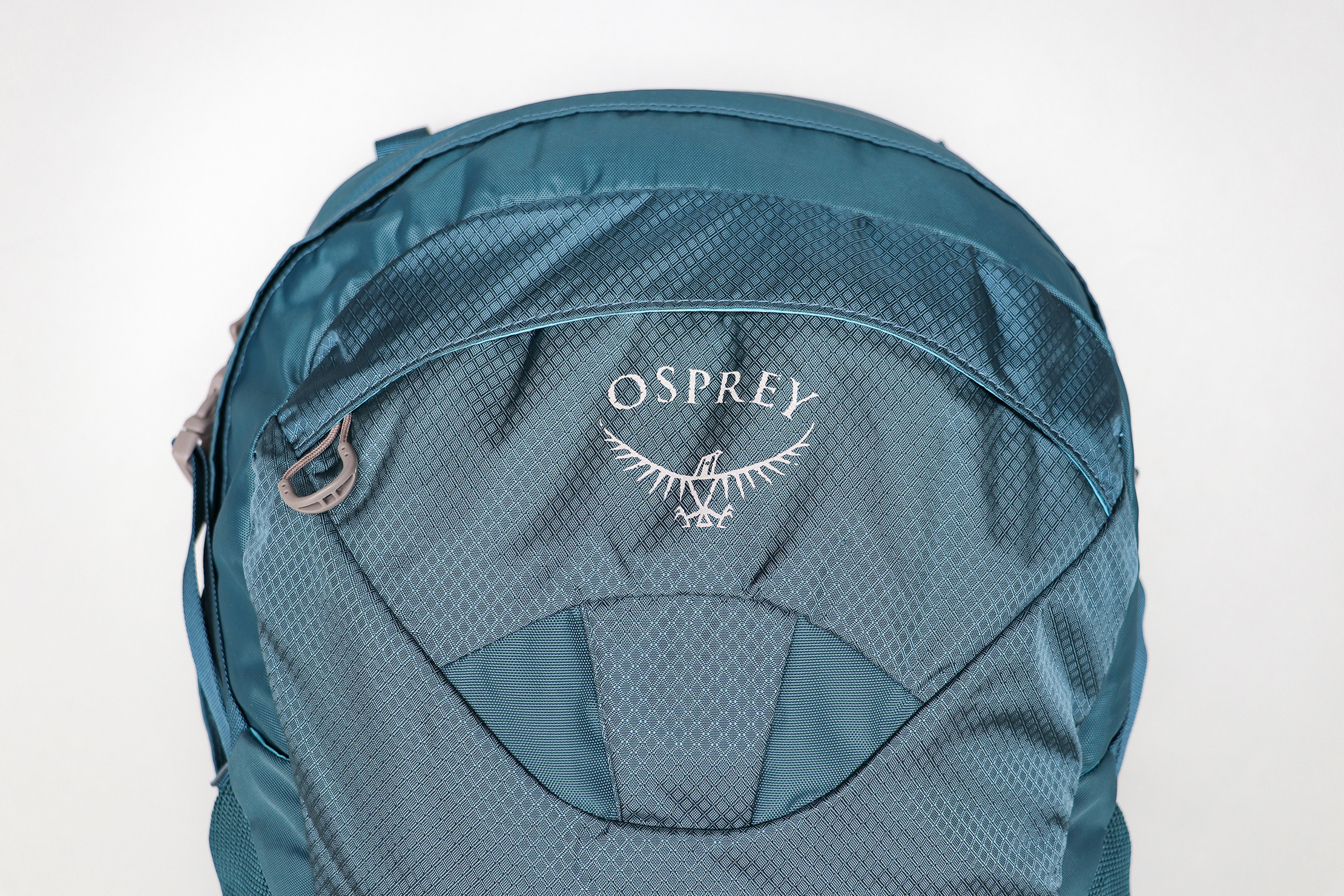 While the Osprey logo and product name splashed across the front of the pack clearly indicate that this bag is from Osprey, the branding isn't too over the top…at least compared to other Osprey packs we've tested. And, despite its outdoorsy aesthetic, the pack is still minimalistic enough that you can rock it in a city. This is especially true if you opt for the black colorway and don't use the exterior attachment points. (If you love Osprey as a brand, but wish that its aesthetic was more urban, check out the Arcane series. #PackHackerProTip.)
Now, because we know that beauty is in the eye of the beholder, we asked our Instagram audience whether or not they were feeling the look of the Daylite Travel Pack—and 77% said yes. That's quite the approval rating. In fact, it's one of the highest approval ratings we've seen to date! (And higher than the similar-looking Daylite and Daylite Plus.)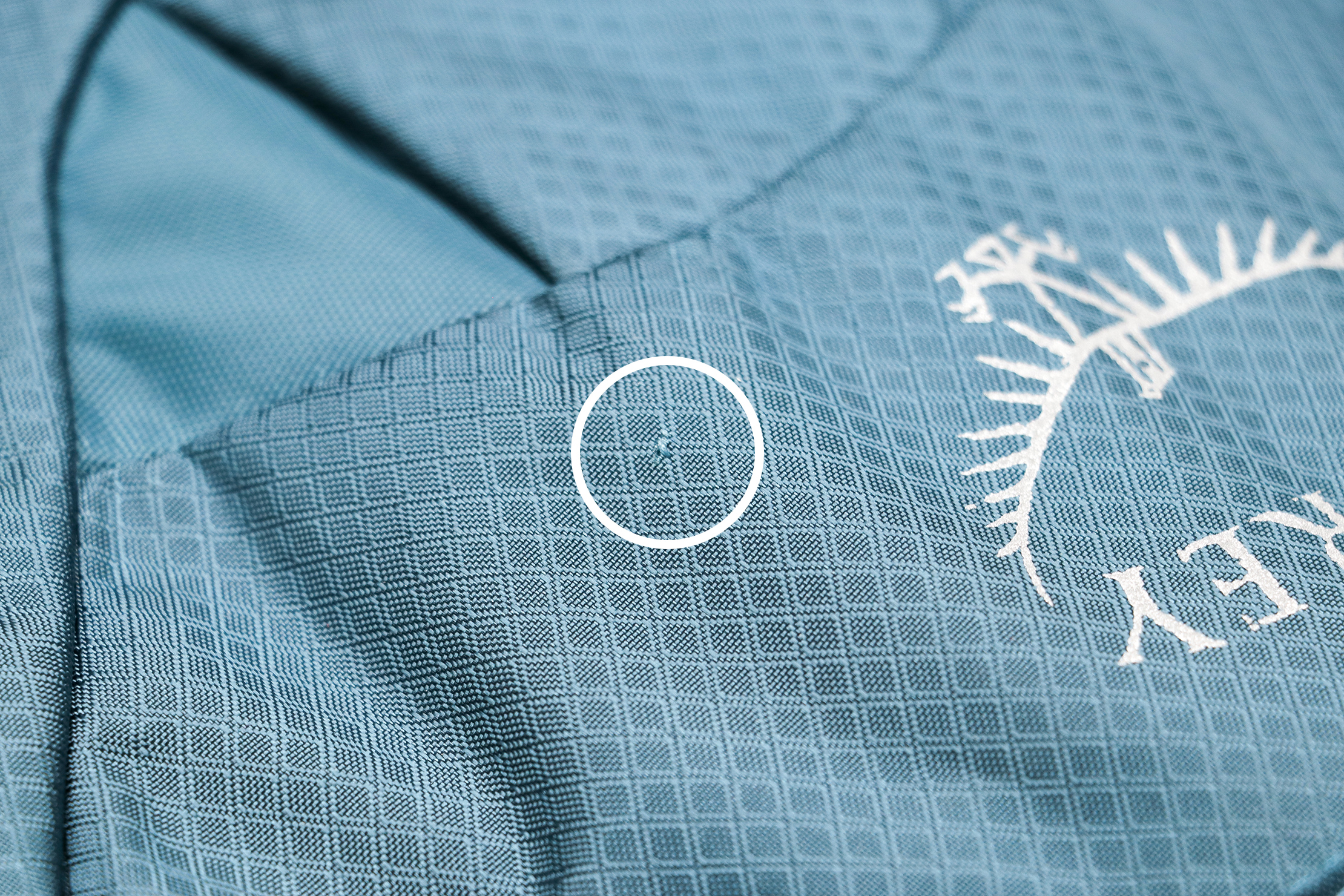 Moving on to materials, this pack is made from 210D Nylon Double Diamond Ripstop. You can see the diamond ripstop pattern (for better or worse), which also has a noticeable gleam to it (again, for better or worse). The ripstop is nice because it stops small punctures or rips from spreading into gigantic pack-ruining holes. At least, in theory. The downside is that this fabric isn't the most durable option on the market. After a month of testing, we've already noticed a small snag in the material, just beneath the logo. The good news is that it has been there for a decent amount of time and hasn't gotten any worse (for which we credit the ripstop material). We'll be sure to keep you updated in the Usage Timeline if anything changes.
You'll also find 400HD Nylon Packcloth on the bottom and accented throughout the pack.
Due to these fabrics, the Daylite Travel Pack is lightweight, clocking in at only 1.3lbs. Of course, that's not as lightweight as something like the Osprey Ultralight Stuff Pack. But considering this pack has a solid harness system and organization, that's pretty dang good.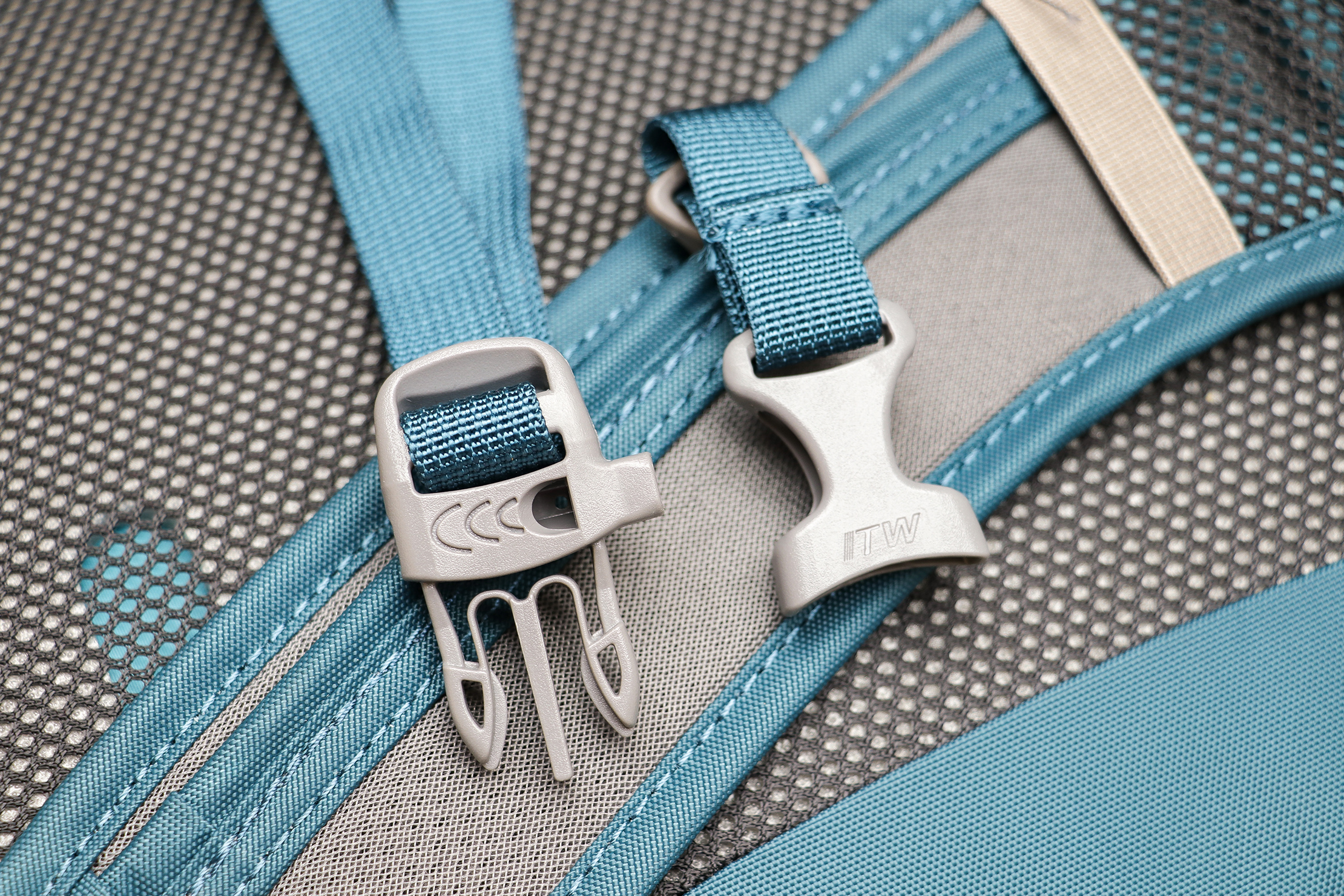 Finishing off the materials, there are YKK zippers as well as YKK and ITW hardware. We've had great experiences with both brands and don't foresee any problems arising there.
External Components
As we've already mentioned, Osprey specializes in outdoor gear, so we're not surprised by how comfortable the harness system is.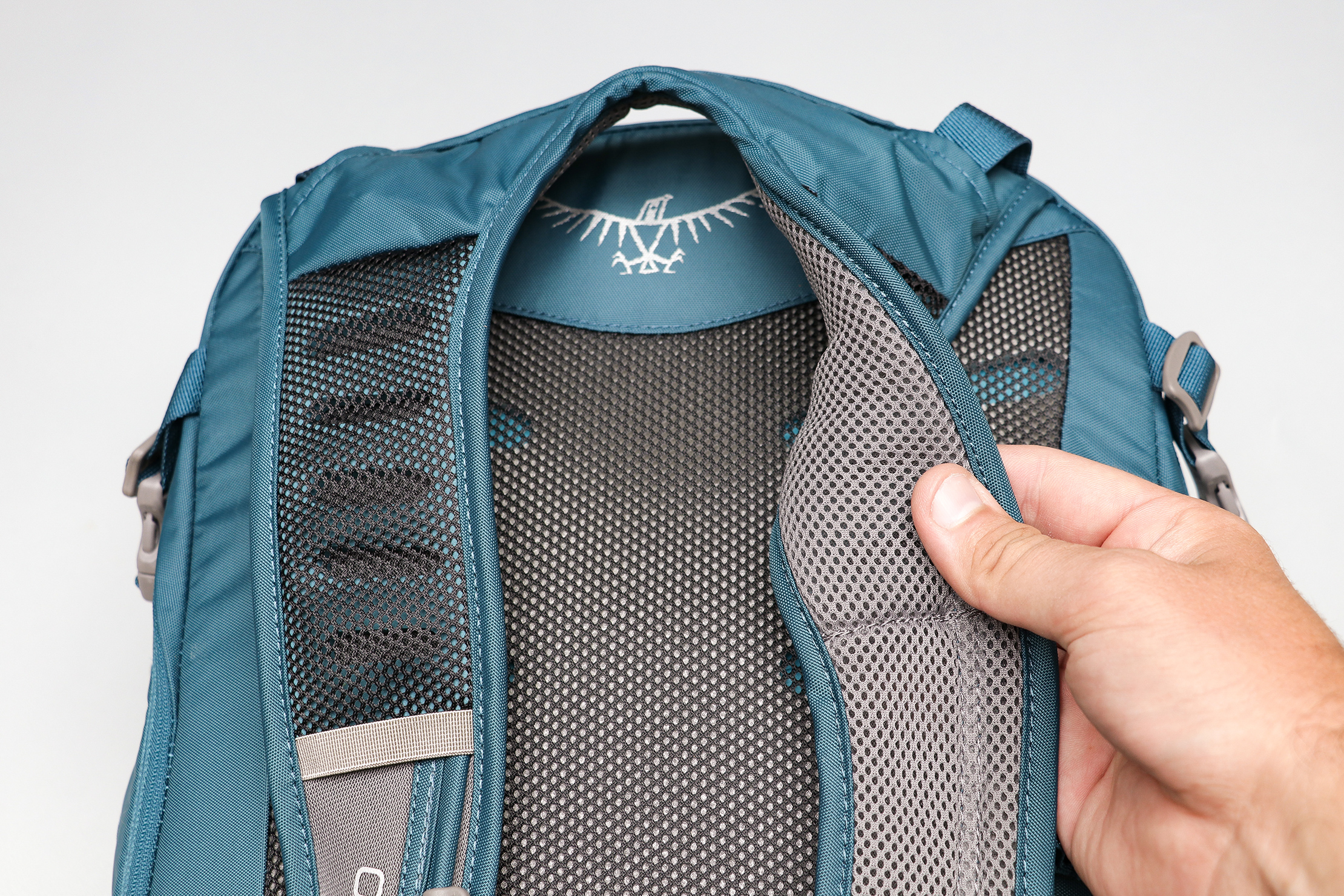 The shoulder straps are somewhat thin but densely padded. The straps feature EVA foam at the top where they sit on your shoulders and are curved to better fit human bodies. (So, if you're an alien, robot, or otherwise not human, we would suggest a different pack.) They're also super easy to adjust—we've been digging the loops on the bottom of the straps that help your grip as you loosen or tighten.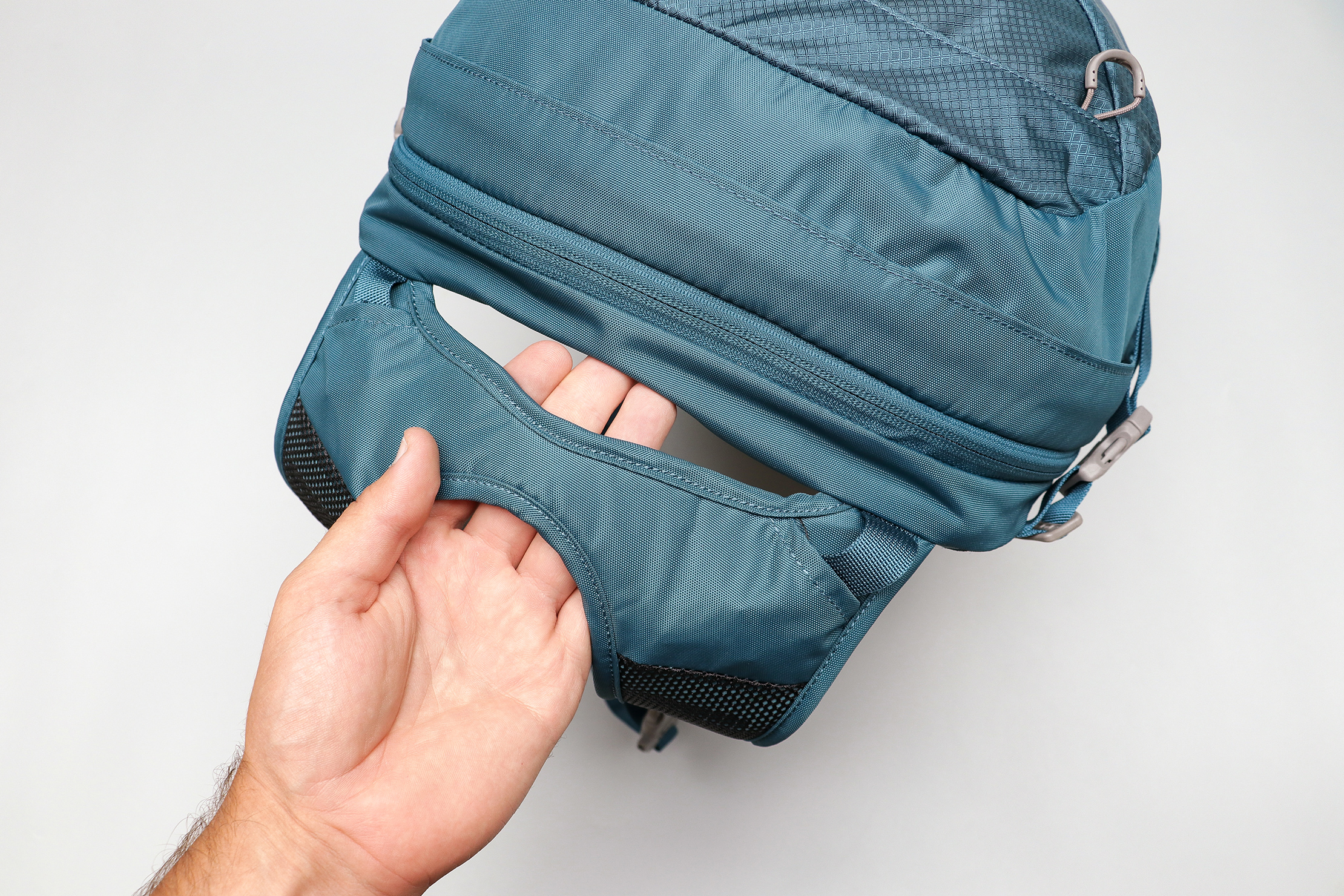 The shoulder straps are attached to the top of the pack in a unique way with the top handle integrated into it. We don't think it's an effective top handle as it's not super convenient to grab. Throughout testing, we found ourselves wanting a dedicated handle and mostly grabbing the shoulder strap itself when maneuvering the bag. But we like this design as it helps distribute the weight of the pack across your shoulders, which adds to the overall comfortable carry. We're not backpack engineers, but we think Osprey could keep this integrated-handle design for that weight distribution and include a separate top handle.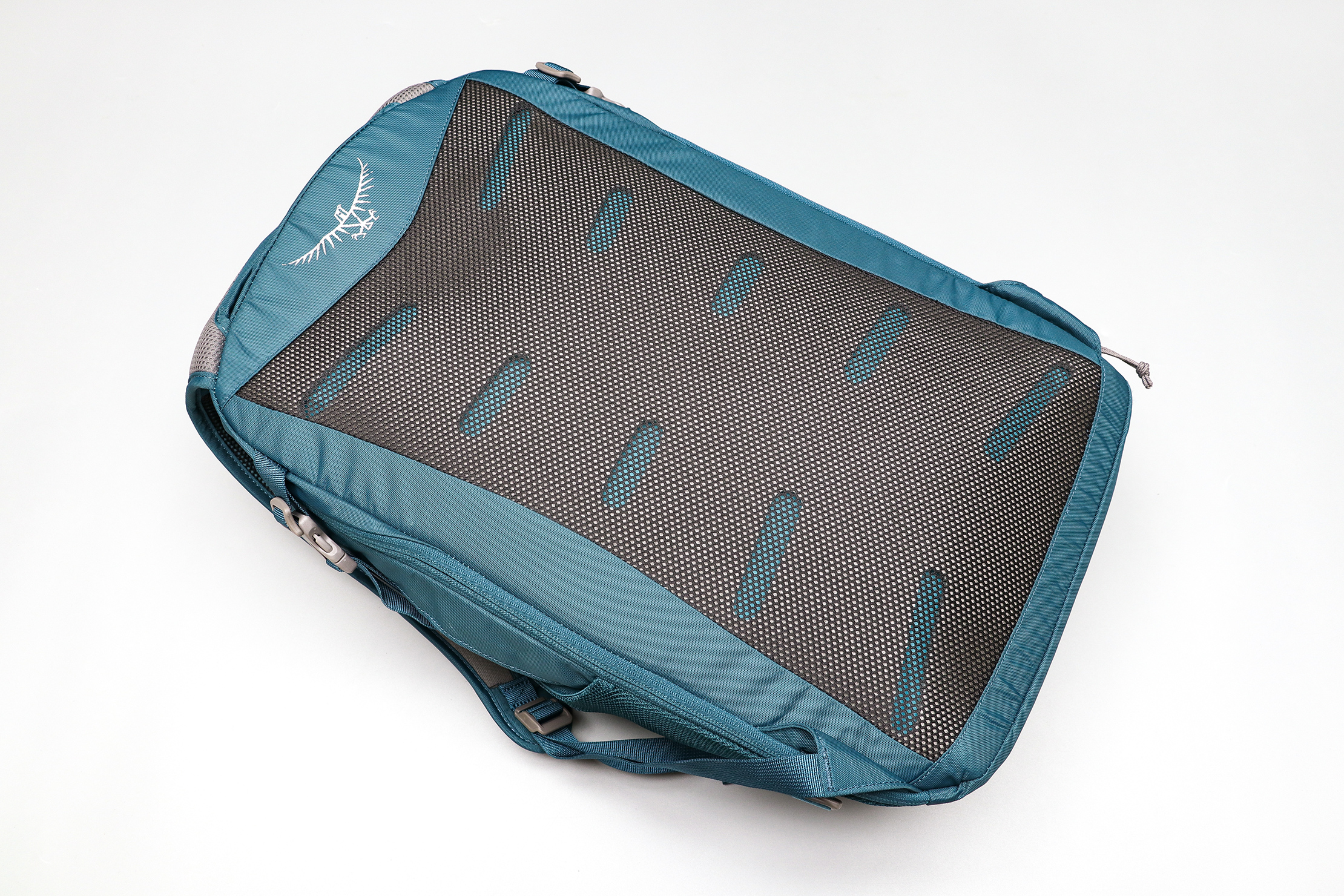 The back panel features the same dense padding as the shoulder straps. Both also have deep air channels and a layer of mesh for superb breathability. Of course, as with all backpacks, you still may get that dreaded swamp back on hot days. But it's one of the more breathable back panels we've tested.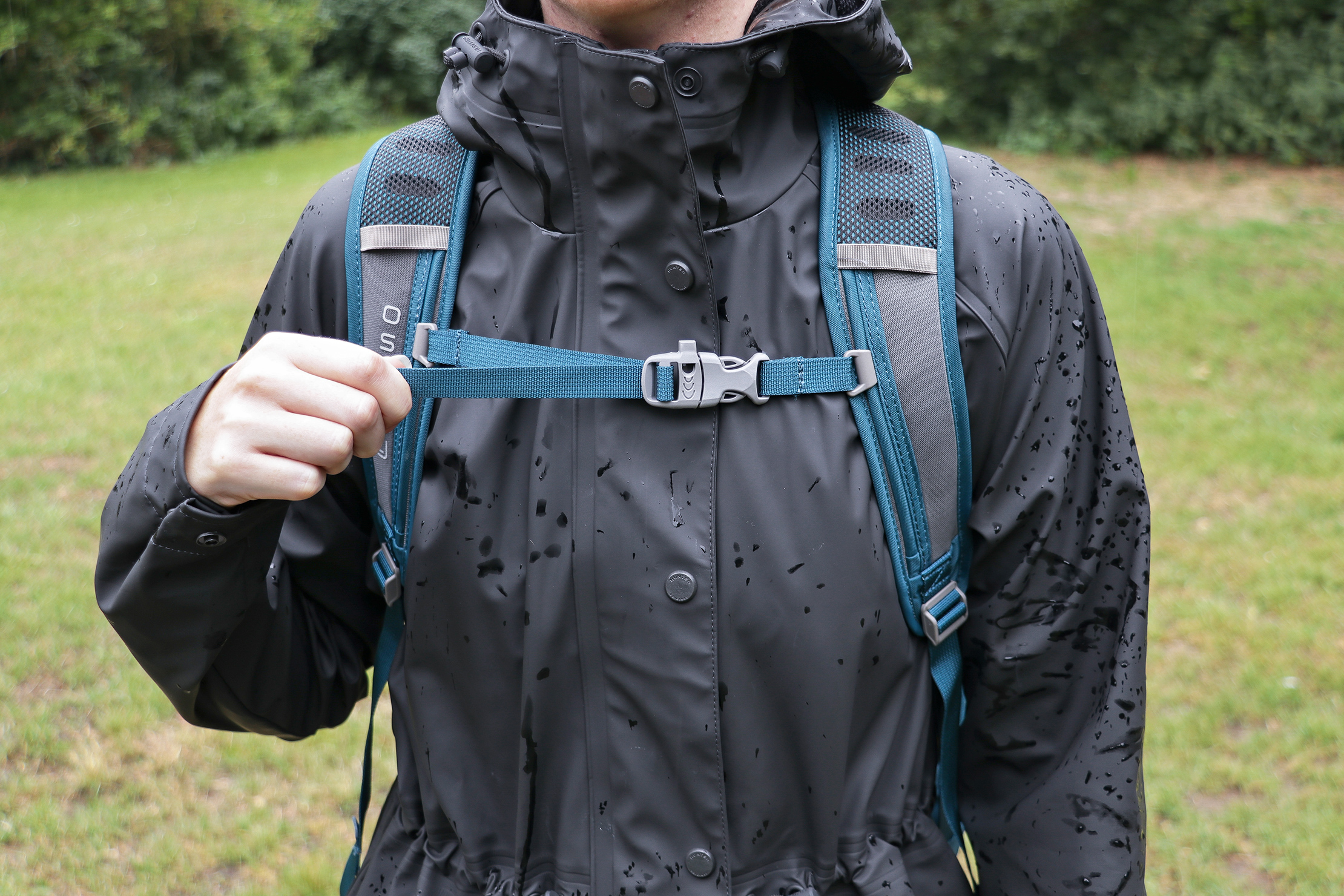 The harness system also includes an adjustable sternum strap. It's adjustable by rail, which we like because 1) it feels secure and 2) you can get it to precisely the right spot on your sternum. It also has an emergency whistle built into the buckle. Hopefully, you never need to use it (the exception being a spontaneous whistling-a-song moment), but it's nice to know it's there. Now, we would've liked the sternum strap to be slightly elasticated. We've seen this design on other sternum straps we've encountered and found that it moves with your body better that way. However, that's a small nitpick.
This pack doesn't have a hip belt or a place to attach one. We wanted to point this out as this could be a deal-breaker in your books. (And you might expect one as the Daylite and Daylite Plus packs both have hip belts.) But we don't think this is a big deal by any stretch. At 24L fully expanded, this pack isn't large enough to need a hip belt.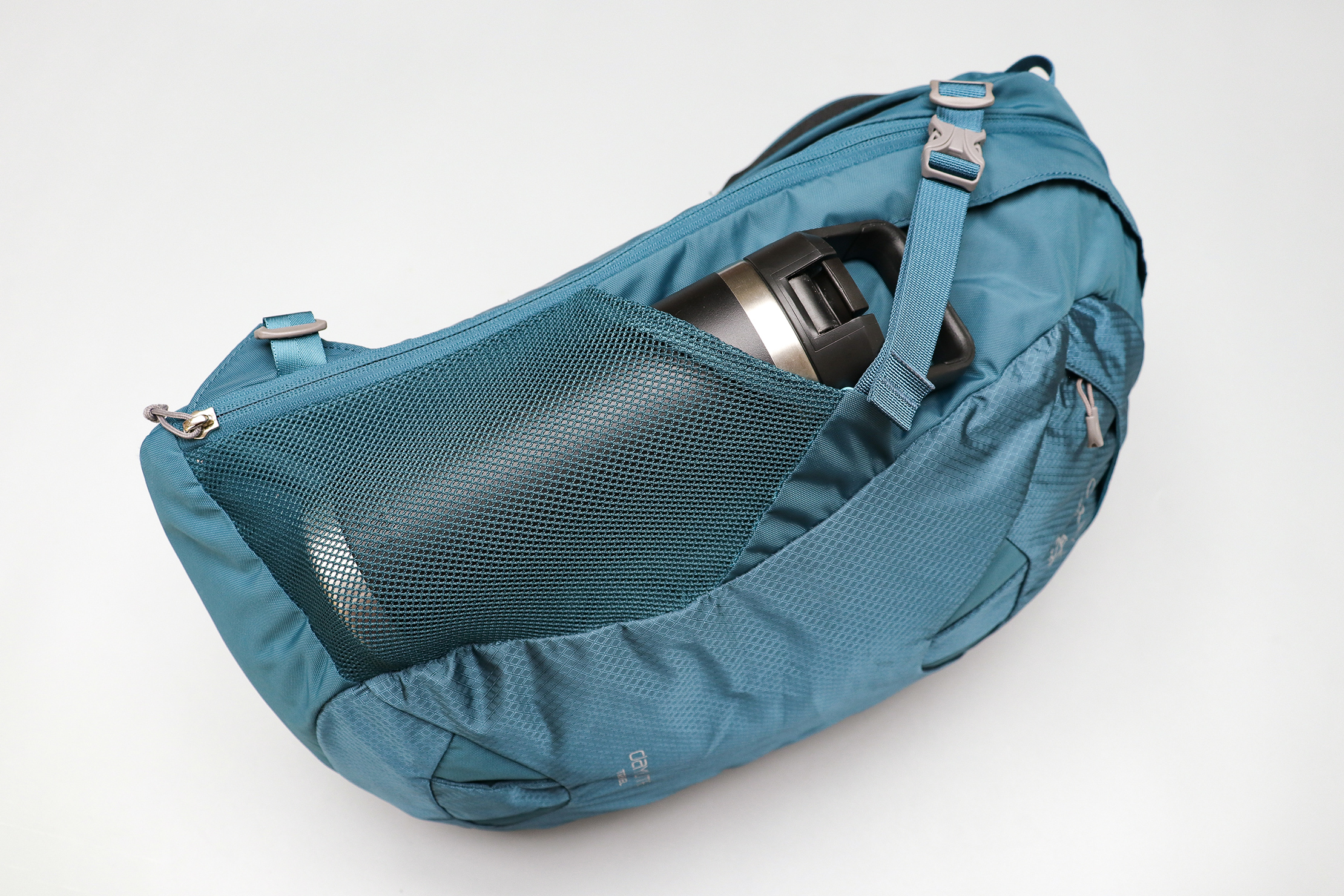 Moving away from the harness system, let's talk about the two water bottle pockets. There is one on each side of the pack. We were wary about these pockets going into testing because the water bottle pockets on the Daylite Plus are less than ideal (which is our nice way of saying that they are borderline useless—water bottles frequently fall out of them). But we're really happy to report that these water bottle pockets are great! (So happy, we're throwing down an exclamation point.)
They are elasticated at the top and securely hold average-sized water bottles. They also can be used in conjunction with the compression straps at the top to secure taller objects, like a bigger water bottle or tripod.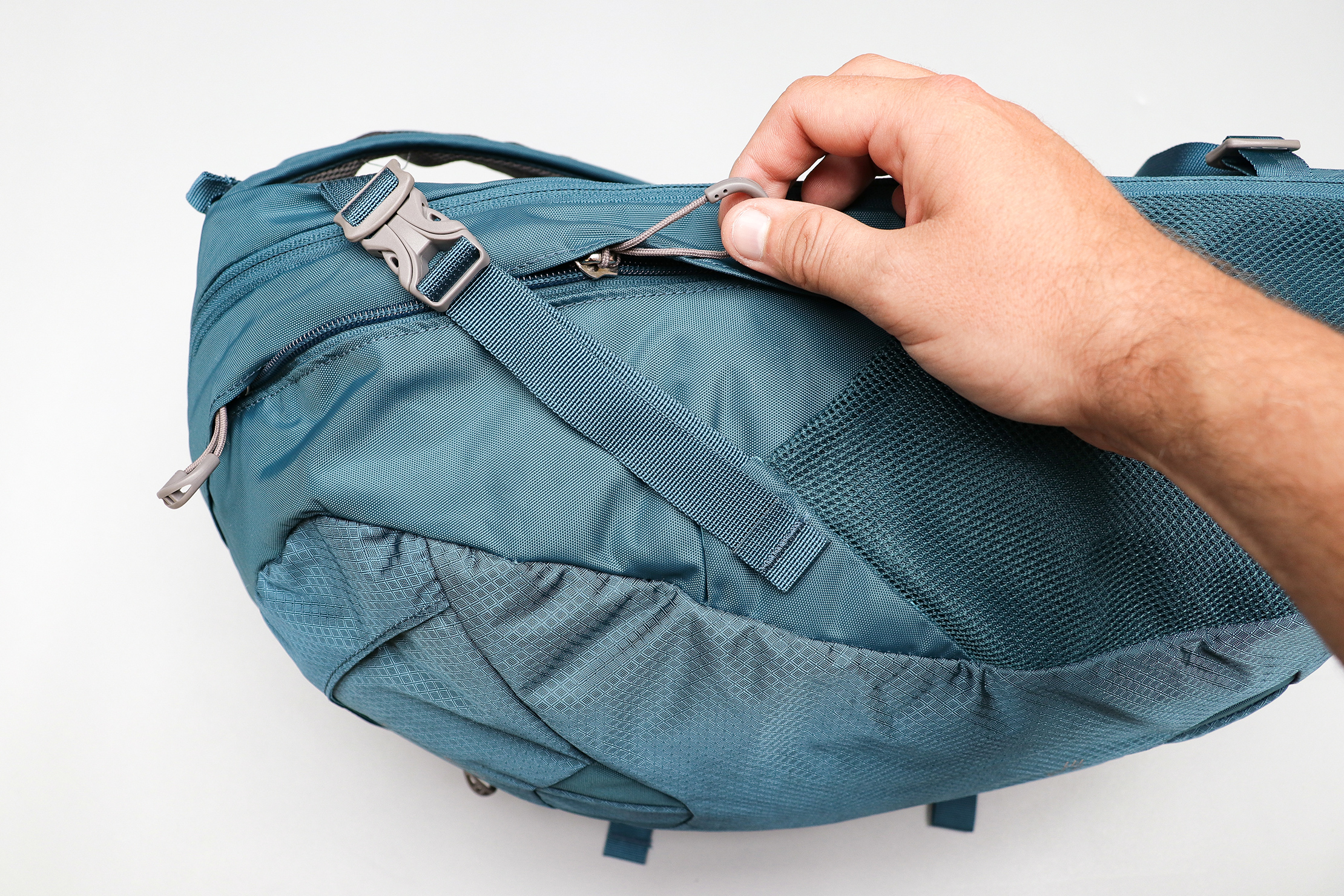 The compression straps themselves stretch across the zipper of the main compartment. While this isn't a huge deal, we've found ourselves annoyed by it on more than one occasion during testing. You need to unclip the compression straps or thread the zipper behind them to get inside the main compartment. Both options take some time, so if you ever want/need to get into the main compartment quickly…well, you can't. That's the frustrating part.
On a positive note, this design acts as a small deterrent to pickpockets. It's not a major security feature, but it's something.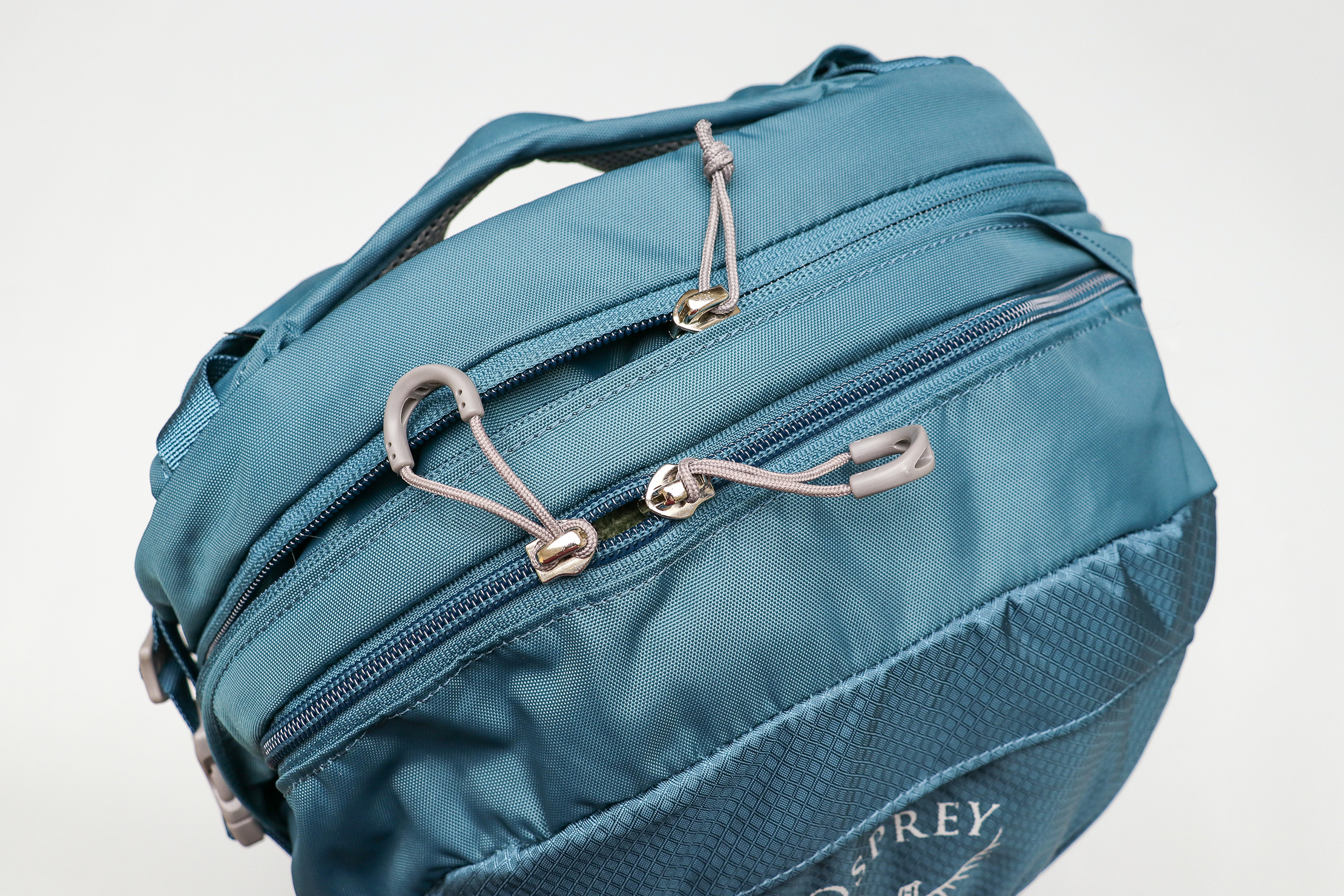 Speaking of security features, let's talk about the zipper pulls you'll find throughout the pack. Most (but not all) of the zipper pulls are U-shaped with a plastic grip. They're easy to grab and use. But we've heard complaints that they are not lockable. For us, non-lockable zippers aren't a deal-breaker. But if you're safety-conscious then it just might be.
The zipper pulls on the zippered expansion (which we'll discuss further in a bit) are unique, so you can easily distinguish it from the zippers on the main compartment. This is a thoughtful design feature that we appreciate. During testing, we've never accidentally unzipped the expansion when meaning to get into the main compartment (or vice versa).
Like the Daylite and the Daylite Plus packs, the Daylite Travel Pack can be attached to the front of several larger Osprey packs, like the Farpoint 80. It's a simple process that uses the larger pack's compression straps and two attachment points on the front of the Daylite Travel Pack. You can also wear the pack on the front of your body by attaching it to Osprey's larger bags via the buckles on the harness systems (this option is only compatible with the Farpoint and Fairview Travel Packs and Osprey Trek series.)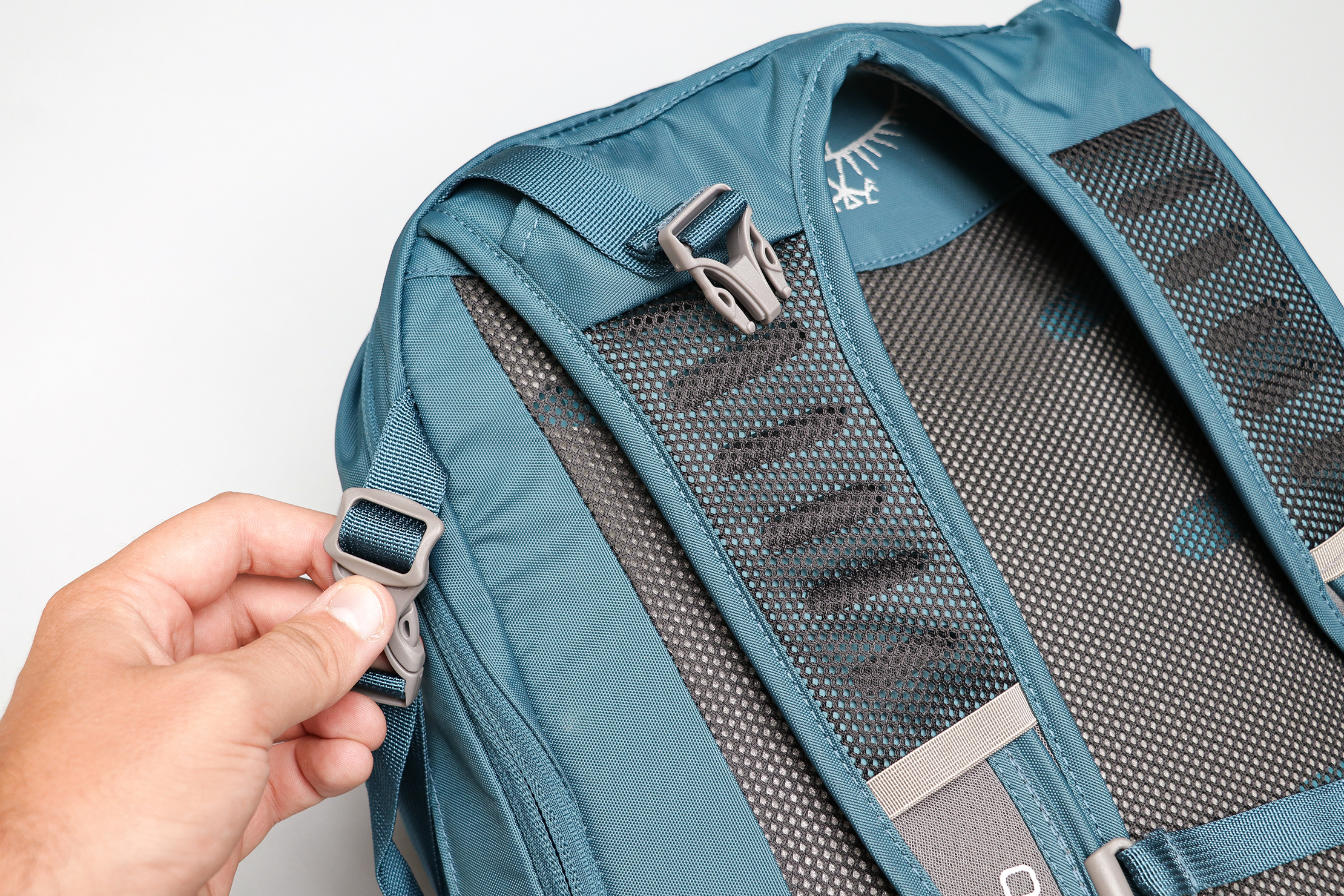 To be frank, we can't foresee ourselves using either of these features in the real world. The former option puts a lot of backpack on your back. You'll need to be careful when turning around or navigating tight spaces to avoid knocking people over with the monolith on your back. And we don't find the latter comfortable. Plus, we prefer to travel more minimally. That said, the options are there if you want to take advantage of them.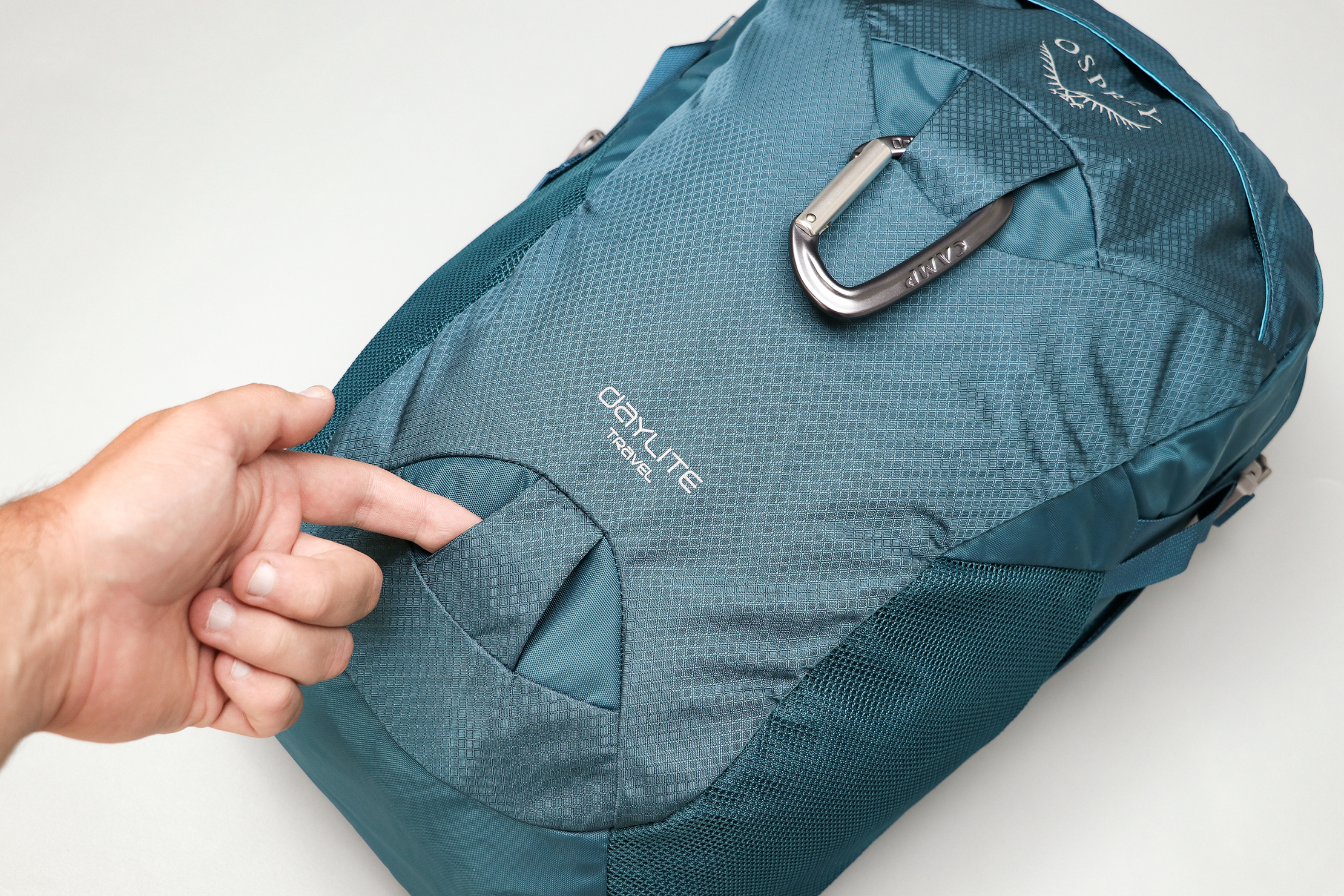 The attachment points on the front of the pack that allow you to secure the bag to the front of other Osprey bags also work as regular attachment points. Meaning you can carry gear externally if you need to.
Inside the Bag
Let's start with the quick-grab pocket that's situated on the top front of the pack. Before we dive into it, note that the zipper can be difficult to work around the corners (even with the nice zipper pulls). Not a huge deal, but worth mentioning. Also, this pocket is large. Well, for a quick-grab pocket, anyway. You can fit a good amount of stuff inside of it.
Inside the pocket, you'll find a soft liner material that Osprey calls "scratch-free" to protect your sunglasses, phone, or other delicate items. There's also Osprey's signature bright red, plastic key clip. We've mentioned in reviews of other Osprey gear that we're not huge fans of this key clip. It feels out of place with the rest of the bag, and we have durability concerns (although, it has been holding up so far during testing). Additionally, we find it a bit odd that Osprey put this key clip in a "scratch-free" pocket as your keys will scratch up your delicate items. So, just keep that in mind.
The rest of the pocket is open space. Whether or not you will like the lack of organization depends on you. Some people prefer to have a spot for everything, while others like the versatility open space offers (which they can organize with accessory pouches).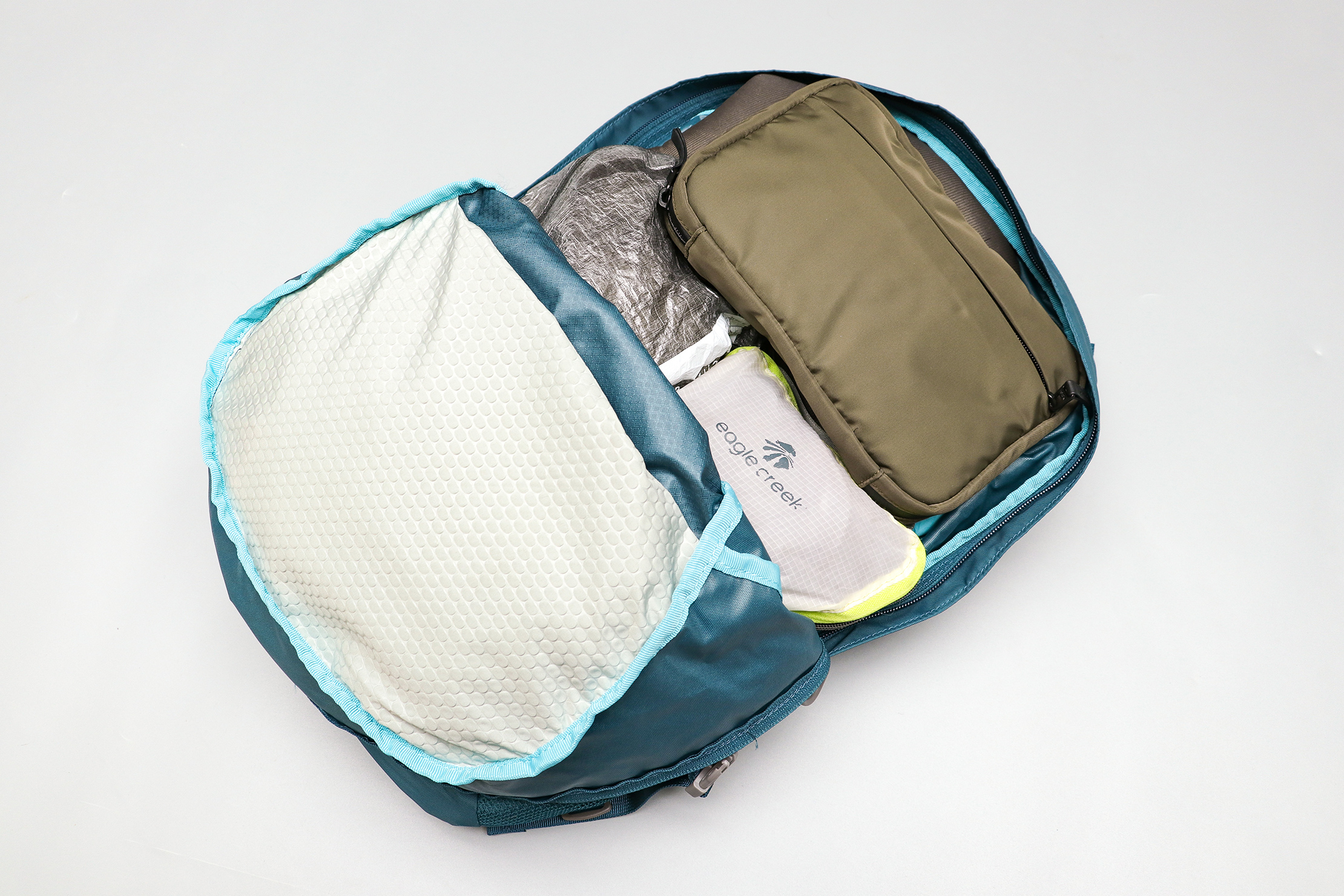 The main compartment of this pack has a horseshoe style of opening, which means the zippers stretch half-way down the bag, offering easy access and visibility. This visibility is further helped by the light interior lining. A feature that we always like to see. Get it, see?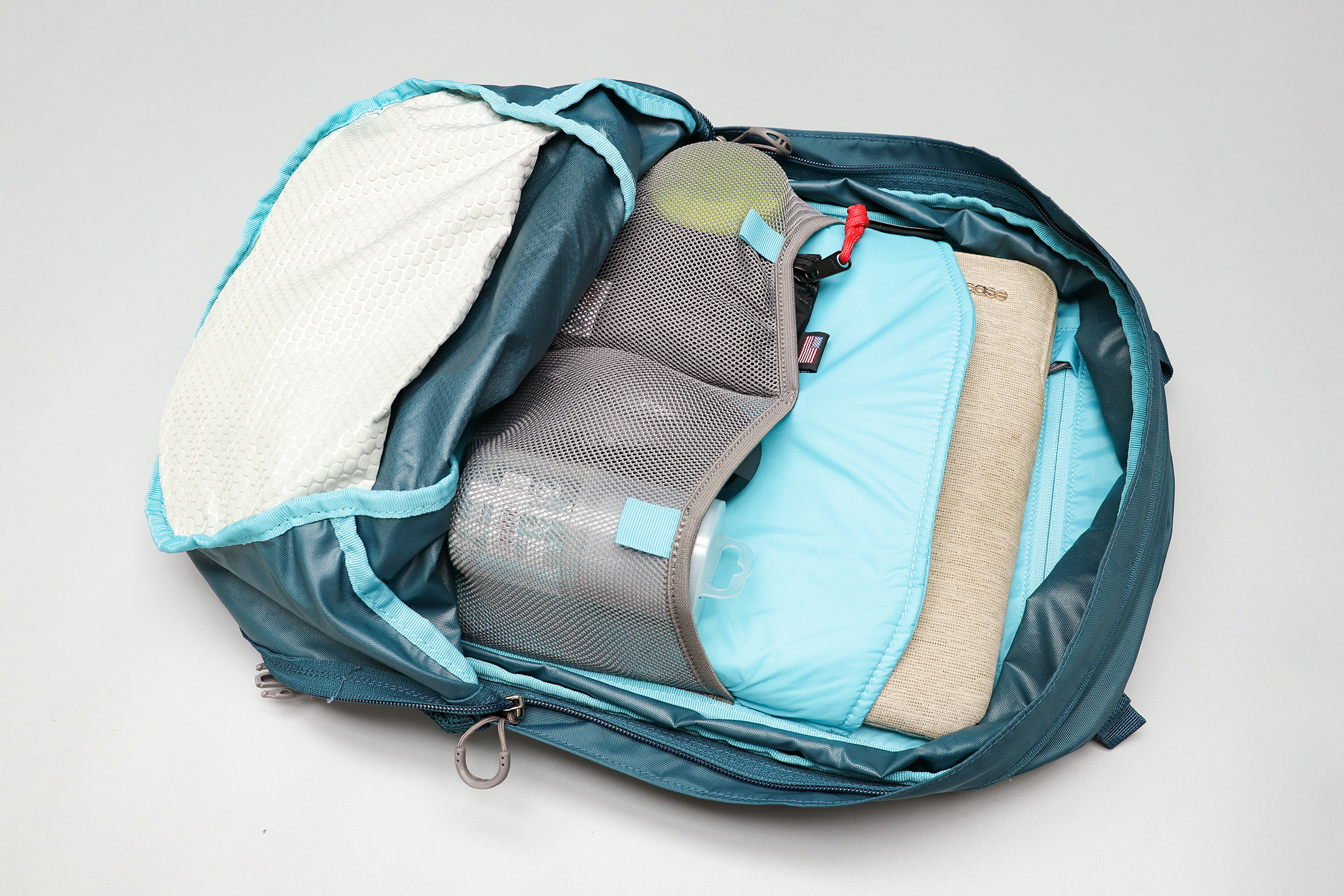 The same "scratch-free" liner that's found inside the quick-grab pocket is on the back flap of this compartment. Across from it, there are two mesh pockets. We really like these pockets as they stop smaller items from getting lost in the infamous Bottom of the Backpack Black Hole. But they're also large enough to be versatile, and the mesh offers great visibility. Behind the pockets, there is a shiny, almost slippery fabric that helps you easily slide your stuff in and out of the pockets.
Against the back of the compartment, you'll find the laptop/tablet/hydration bladder sleeve, which Osprey says will fit up to a 14'' laptop. However, we've been able to fit a 15" MacBook Pro. It's slightly padded and there is a false bottom, which will help protect your laptop or tablet from unexpected drops. But we do wish there was a little more padding there. We would suggest using an additional laptop sleeve to ensure adequate protection.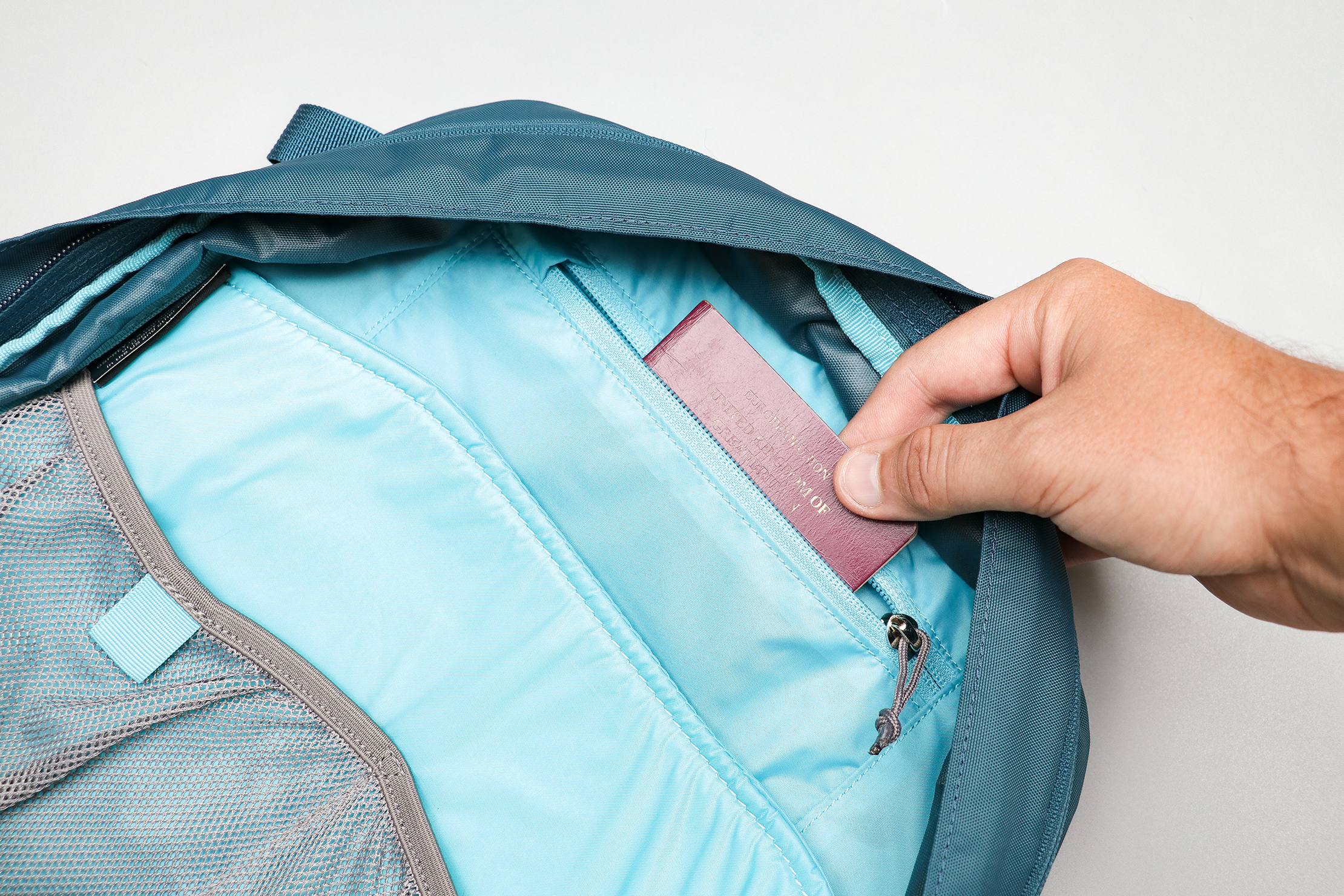 Above the laptop/tablet/hydration bladder sleeve is what Osprey calls the "hidden pocket." It's sort of hidden. But most of its security is due to the fact that it's zippered and inside the main compartment—pickpockets would have to go through two zippers to get inside of it. Plus, it's RFID-blocking. It's a great spot for passports, extra cards and cash, or other like items. And, because it's at the top of this compartment, it's easy to access without having to completely unzip the main compartment.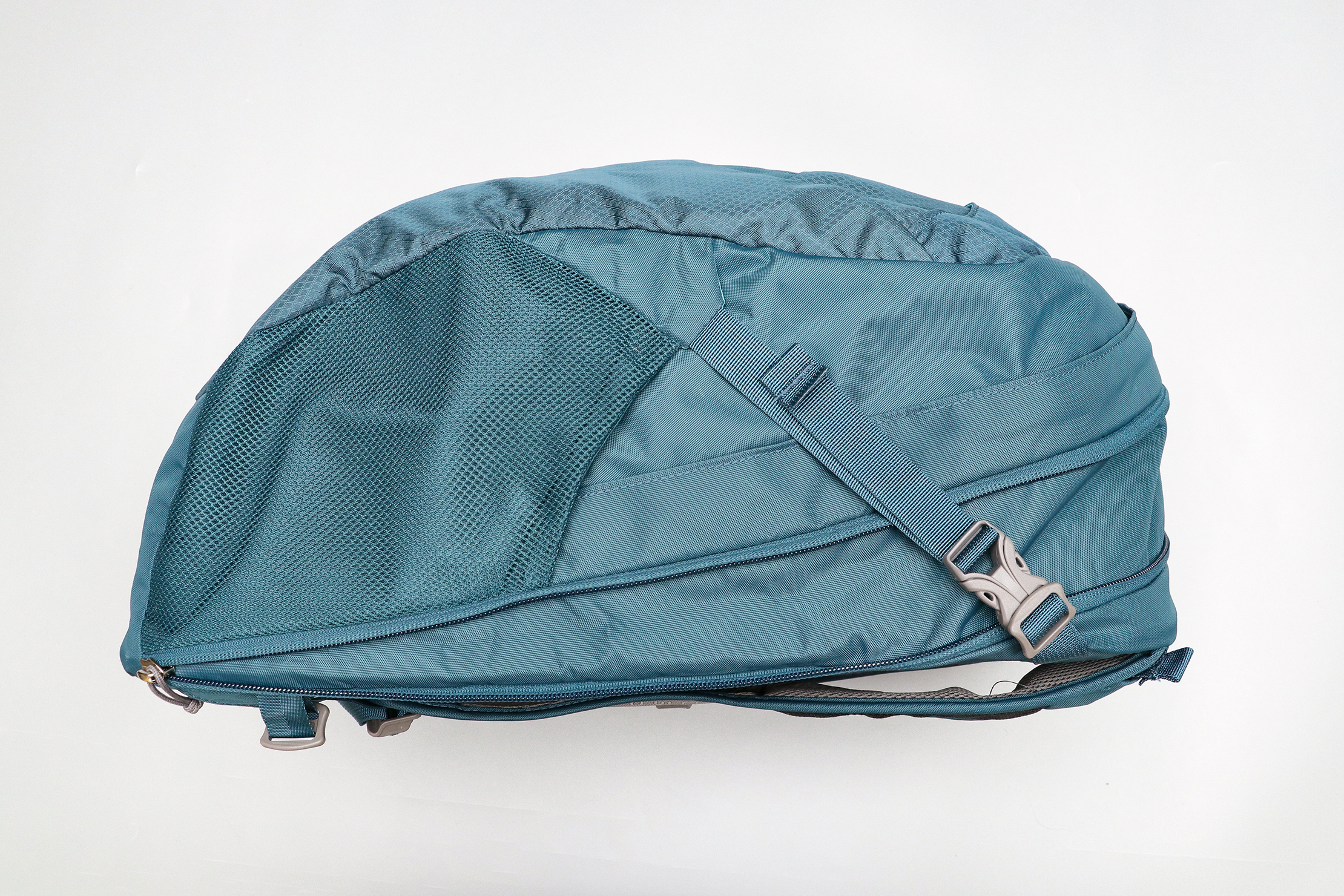 The rest of the main compartment is open space for you to use as you see fit. And this is where that zippered expansion comes into play. When you zip it open, it gives you an extra 6L of space inside of this compartment (from 18L to 24L). The folks at Osprey did a great job integrating this expansion—it's there when you need it, but otherwise, you won't notice it.
We dig the versatility the expansion offers. On small day trips, you can zip this pack up to make it a reasonably-sized daypack. But when you need the space for long days exploring or to pack for shorter trips, you have it.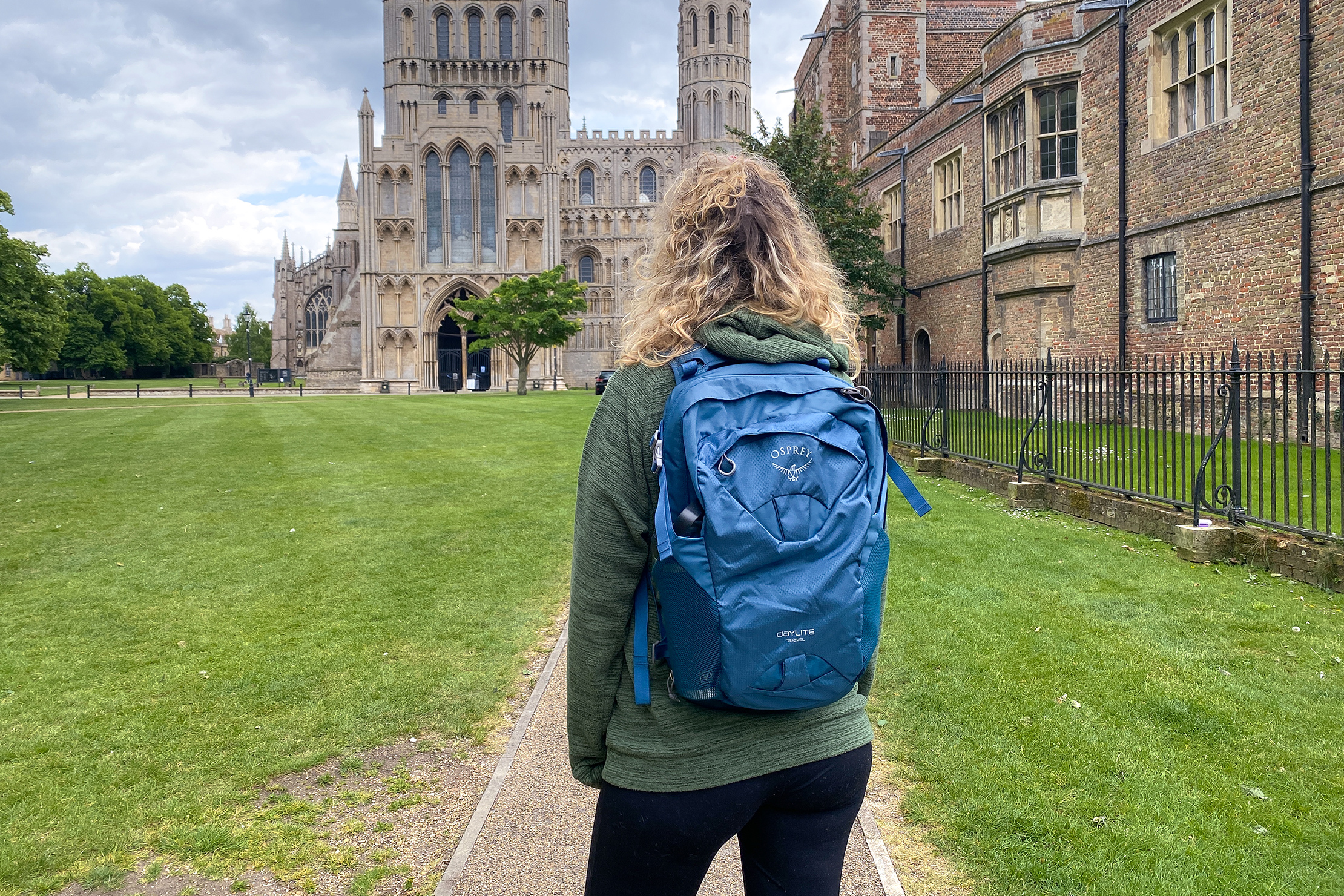 Usage Timeline
Initial Usage
Condition: Excellent
Thin and very lightweight bag
Can be attached to the outside of a larger Osprey pack
Back panel and shoulder straps are thin but densely padded
2 Weeks of Use
Condition: Excellent
The zippered expansion is really discreet. It's nice that you almost forget it's there when it's not in use
Really digging the internal organization pockets in the main compartment—they come in handy for smaller items you want to grab quickly
1 Month of Use
Condition: Good
There's a small snag just under the logo on the front. It's been there a while and hasn't got any bigger—ripstop material should prevent this from happening, but we'll keep you updated
The quick-grab compartment feels really similar to the Osprey Farpoint 40. It has a lot of space in there
Access the Pro Community Discussion
Get your questions about the Osprey Daylite Travel Pack answered from our team and the Pro Community right here on the page. Plus, join discussions with other members about gear, guides, and more.
Other Bags & Luggage Reviews