Osprey Ultralight Stuff Pack Review
One of the smallest and lightest packable backpacks available, the Osprey Ultralight Stuff Pack is great for travel—though it lacks internal organization.
Our Verdict
Unlock the Pro Summary
Save time. Get access to brief summaries of our reviews so you can browse and make decisions more efficiently.
Pros
One of the smallest packable backpacks on the market
Weighs almost nothing (less than an apple!)
Made of high-quality, durable materials
Cons
No sternum strap
Zero internal organization
Flimsy water bottle pocket
Recent Pack Hacker Video
Technical Details
Capacity

18l

Weight (oz)

4 oz (113.4 g)

Denier

40D

Dimensions

17 in x 9 in x 7 in (43.2 x 22.9 x 17.8 cm)

Notable Materials

YKK Zippers, Ripstop Nylon

Manufacturing Country

Vietnam

Warranty Information
Full Review
When you stop and think about it, the fact that packable backpacks exist is mind-blowing. Not even the science fiction authors of the 1960s could've predicted that we'd soon live in a world where backpacks can cram down to the size of a soda can and weigh less than a piece of fruit.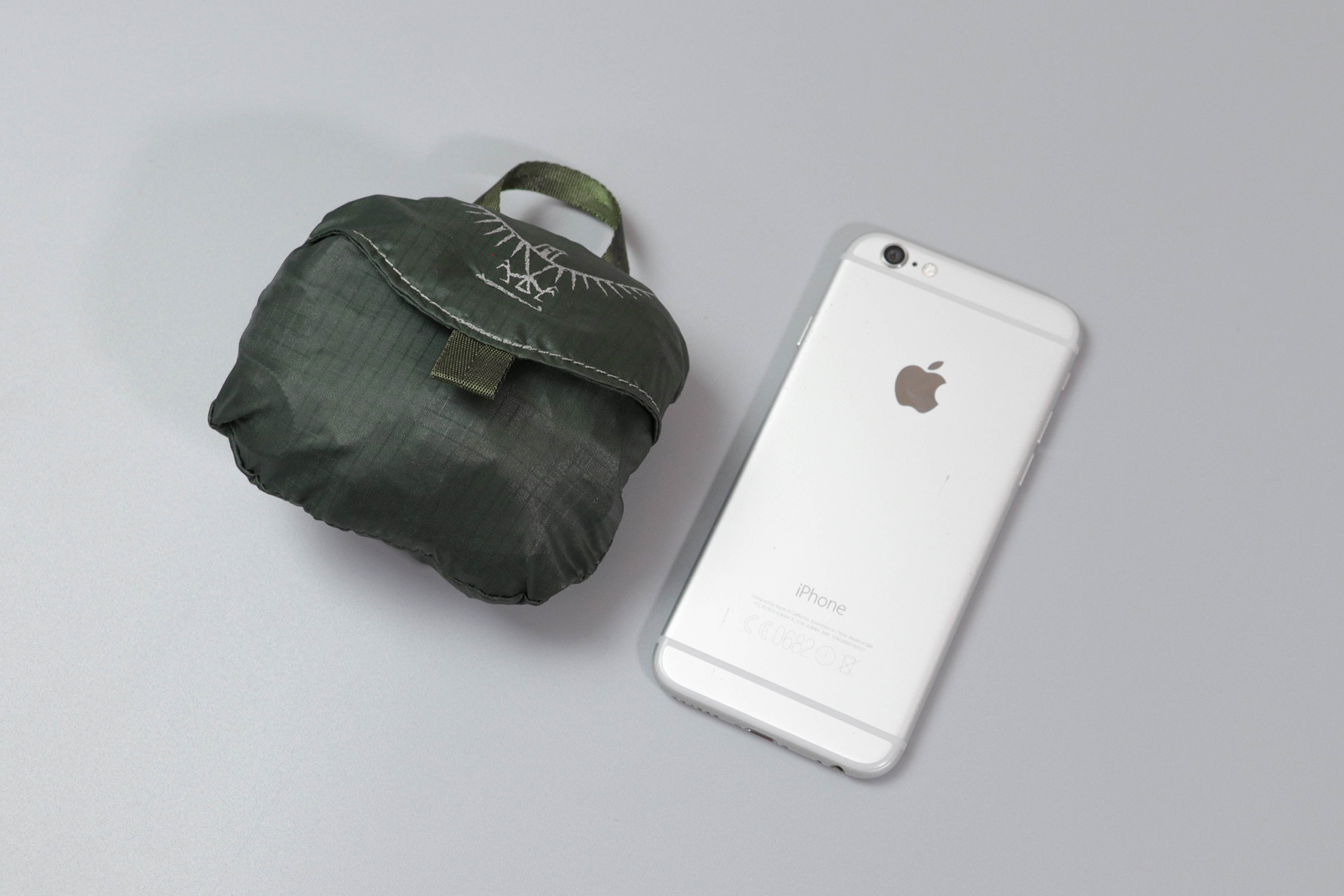 And the Osprey Ultralight Stuff Pack is one of the smallest packable backpacks we've tested to date. Of course, that's its selling point. But that size means you'll have to compromise on some other features, especially organization and comfort. Is it worth it? Read on to find out.
Materials & Aesthetic
When you first unpack the Osprey Ultralight Stuff Pack from its self-stuffing pocket, you'll be greeted with a wrinkly mess. Don't worry, though, most of those wrinkles will drop out as you use it.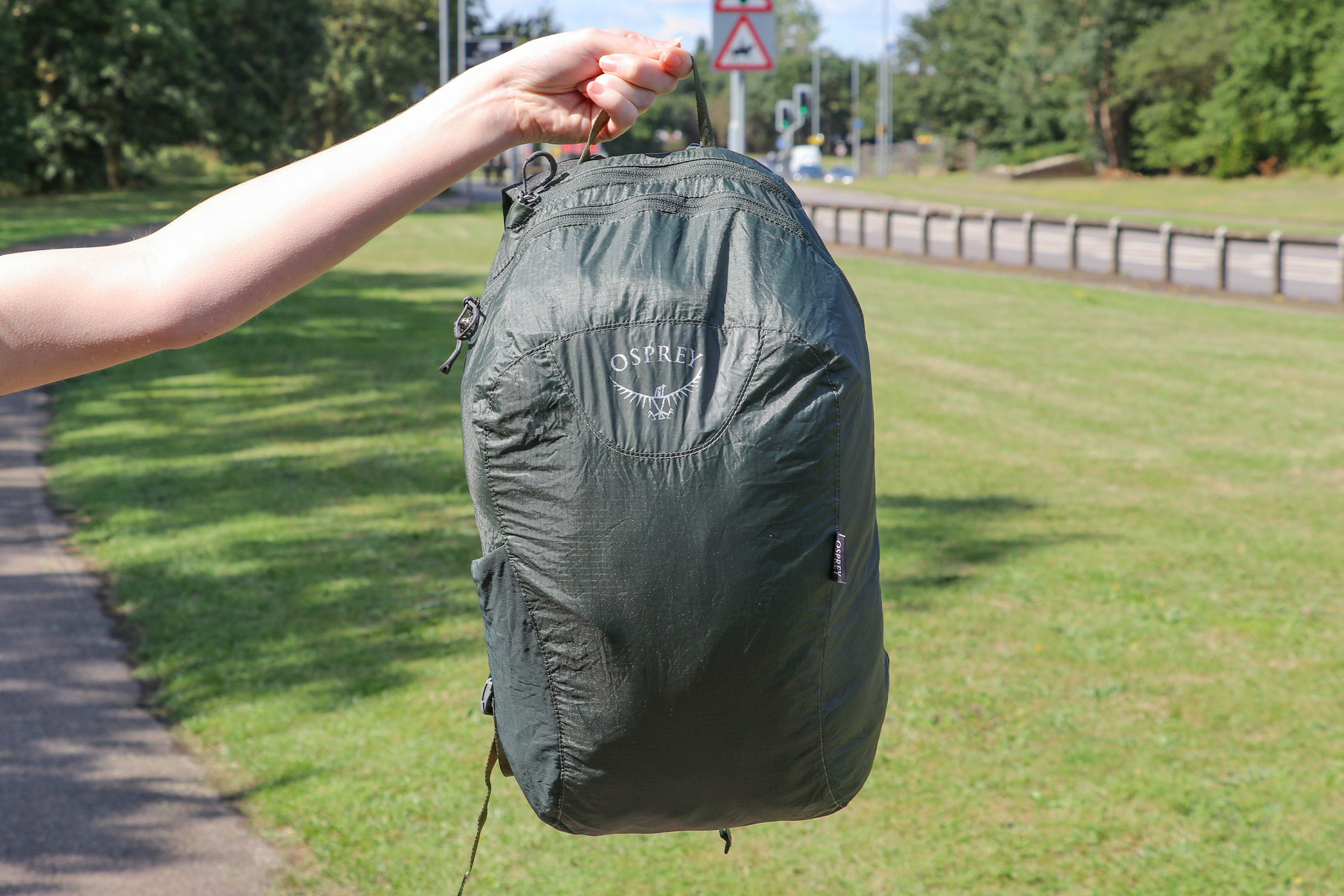 If you look beyond the wrinkles (squinting helps), you'll see a minimalistic design that's common with most packable packs. The Osprey logo is stamped front and center with a reflective material that's nice for all those late-night adventures. Because Osprey is highly-regarded in the backpacker/outdoor community, the logo alone gives it an outdoorsy vibe, but there's nothing else particularly outdoorsy about it. We think it'll fit right in in most cities (especially in the darker colorways).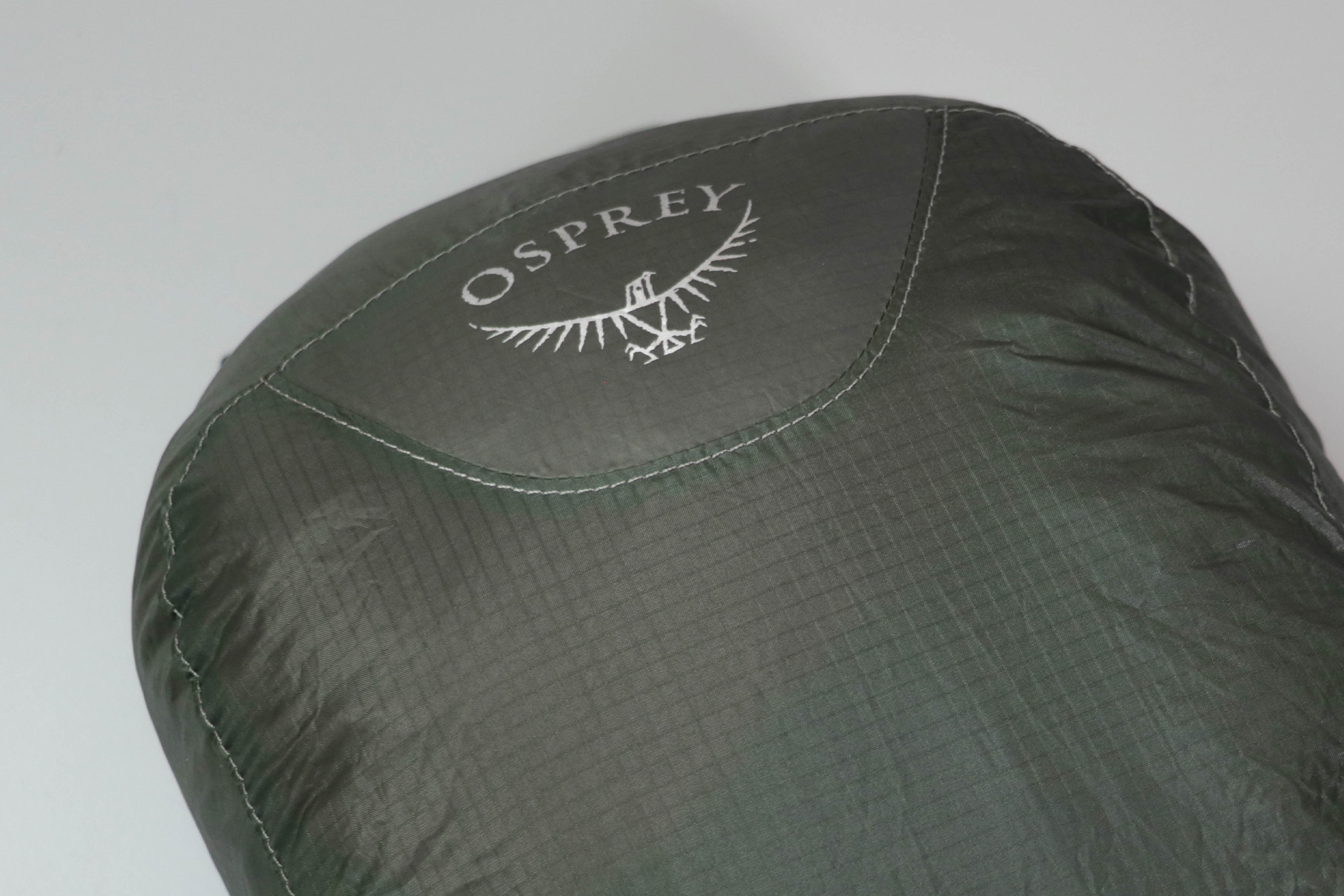 So let's talk about the color. We've been testing the Ultralight Stuff Pack in the colorway "Shadow Grey." But it's not gray—it's a forest green with a few hints of gray here and there (again, squinting helps). We've had similar problems with Osprey products in the past—their website/naming system for colors doesn't always line up with the actual colors.
Since we began testing the Ultralight Stuff Pack, Osprey has updated its website so the Shadow Gray colorway looks a little more green in the product photos, but still not as green as it is in reality. We don't mind the green colorway—we actually like it—but it's disappointing to receive a product that's different from expected. So buyer beware.
Anyway, it's also available in Tropic Teal, Electric Lime, and Poppy Orange (but your mileage may vary on what those actual colorways look like in person).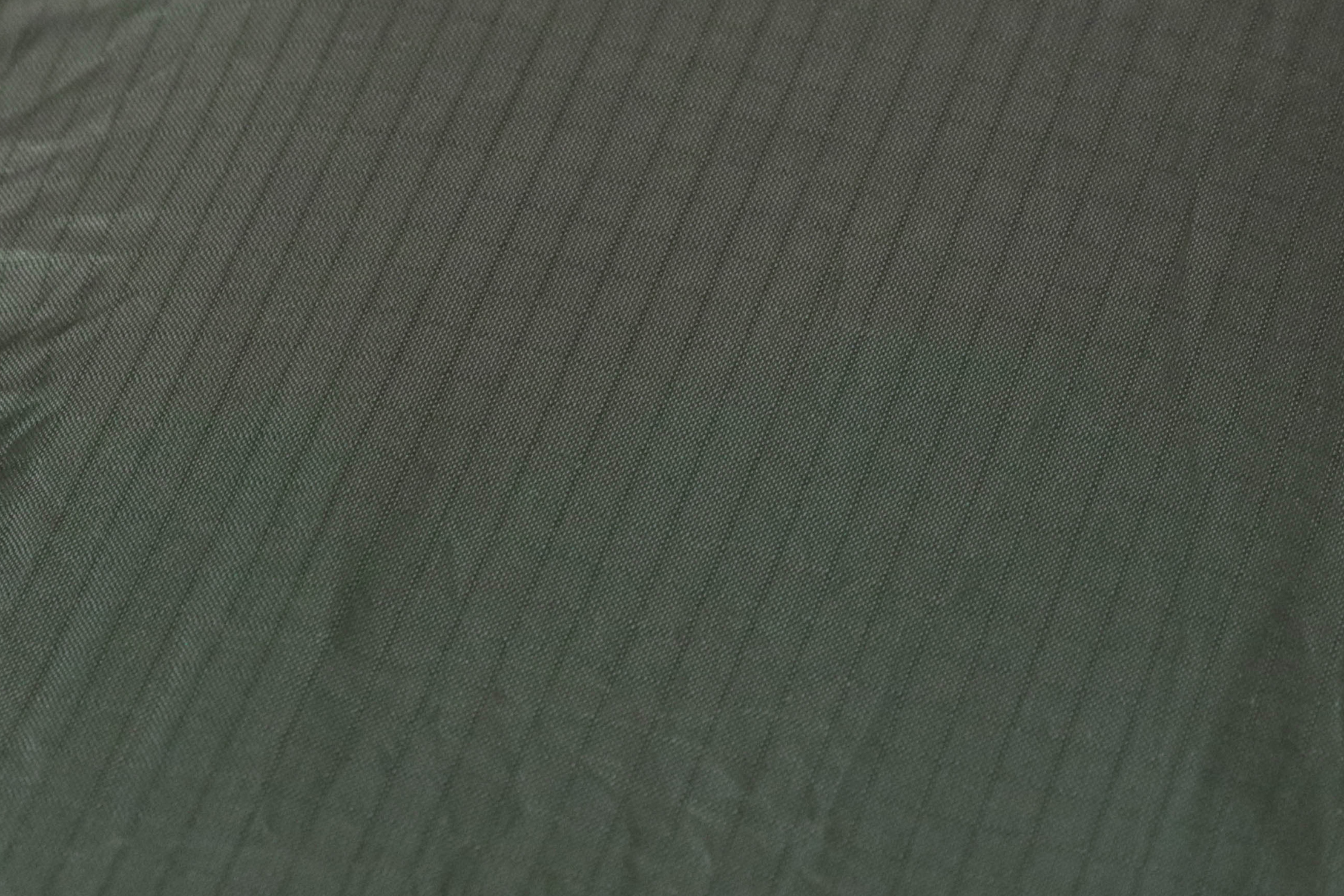 On a more positive note, let's take a look at the materials. Staying true to its name, this backpack is lightweight, clocking in at 0.2 pounds. To put that in perspective—this backpack weighs less than your average apple!
It's made of the same 40D Ripstop Nylon as the Osprey Ultralight Packing Cubes, which is strong and resistant to tears while staying lightweight. It's a solid choice, and we expect it'll hold up—unless you have a penchant for carrying pointy sticks around.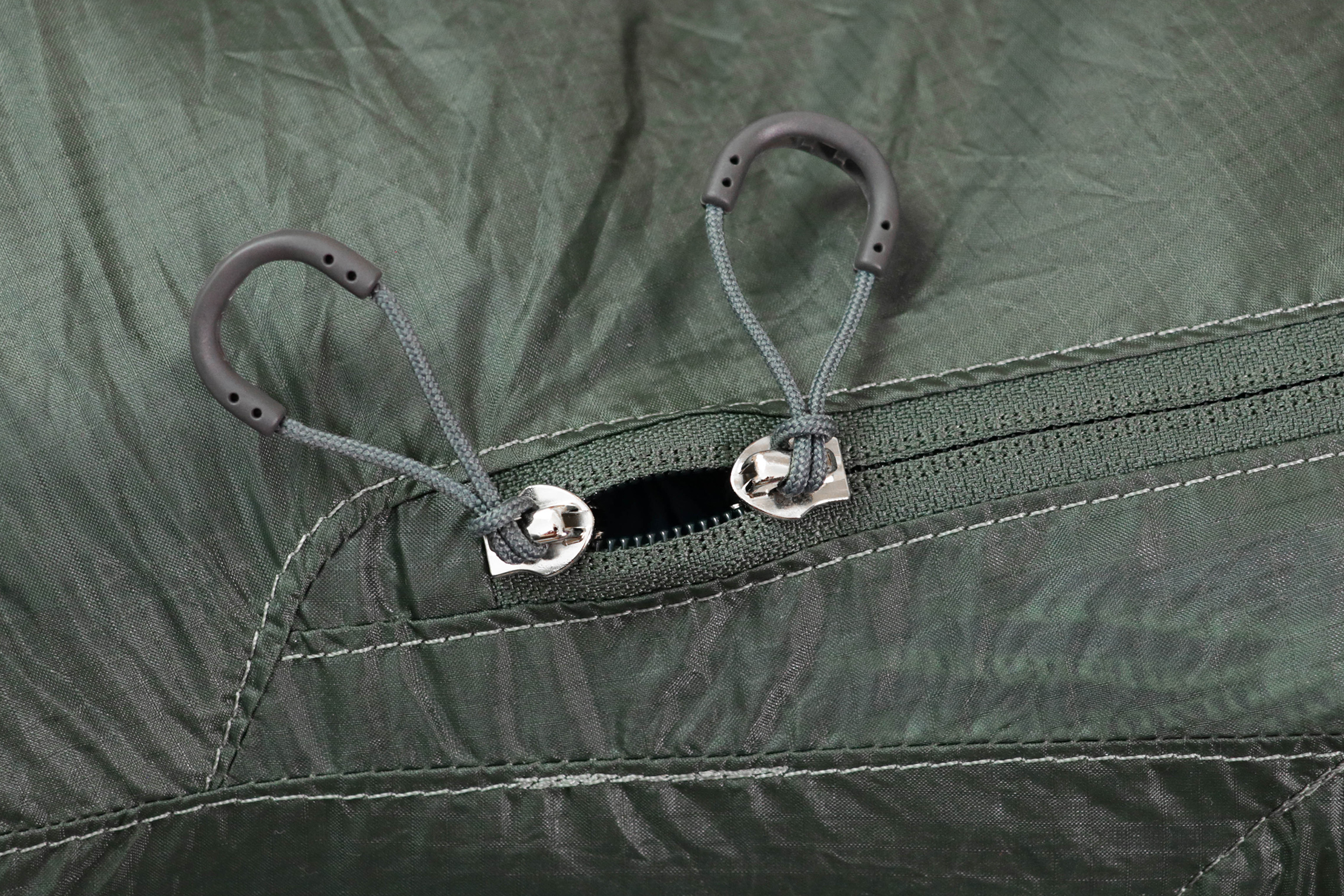 You'll find NIFCO hardware and YKK zippers throughout this backpack. Both are reputable companies that make reliable products, so we have no concerns about longevity here. That said, Osprey has changed zippers on their products before—going from YKK to unbranded. So make sure to check in with Osprey whenever you're reading this review to verify the zipper brand.
External Components
There's not much as far as external components go. After all, one of the features you sacrifice for packability is a robust harness system.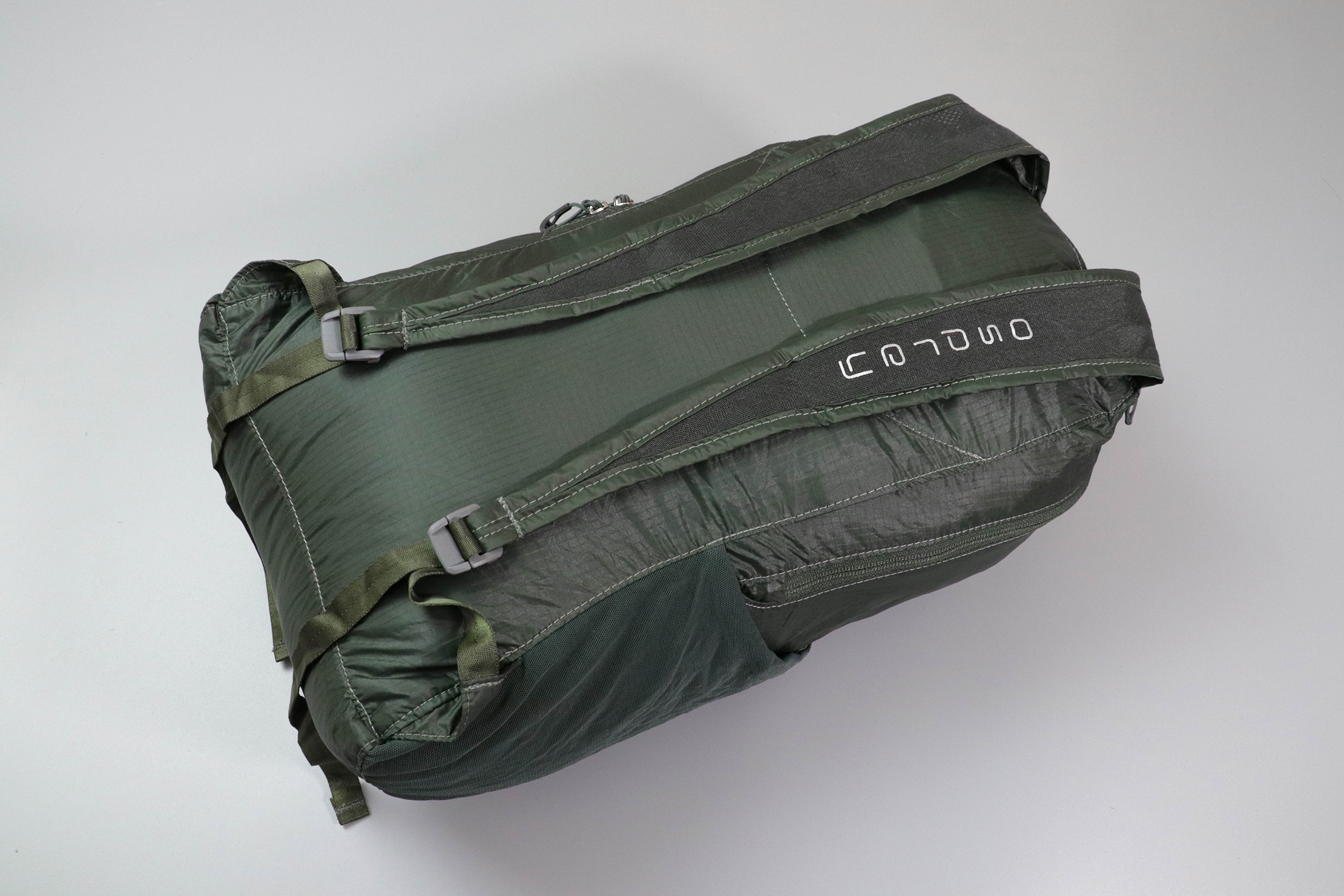 The straps have a thin layer of mesh, which we think is a nice touch and makes the carry comfortable. They're adjustable as well. And that's it as far as the harness system is concerned—there's not even a sternum strap. We don't think you need anything fancy on a pack of this size, but if you like a lot of support, you'll definitely find this harness system lacking.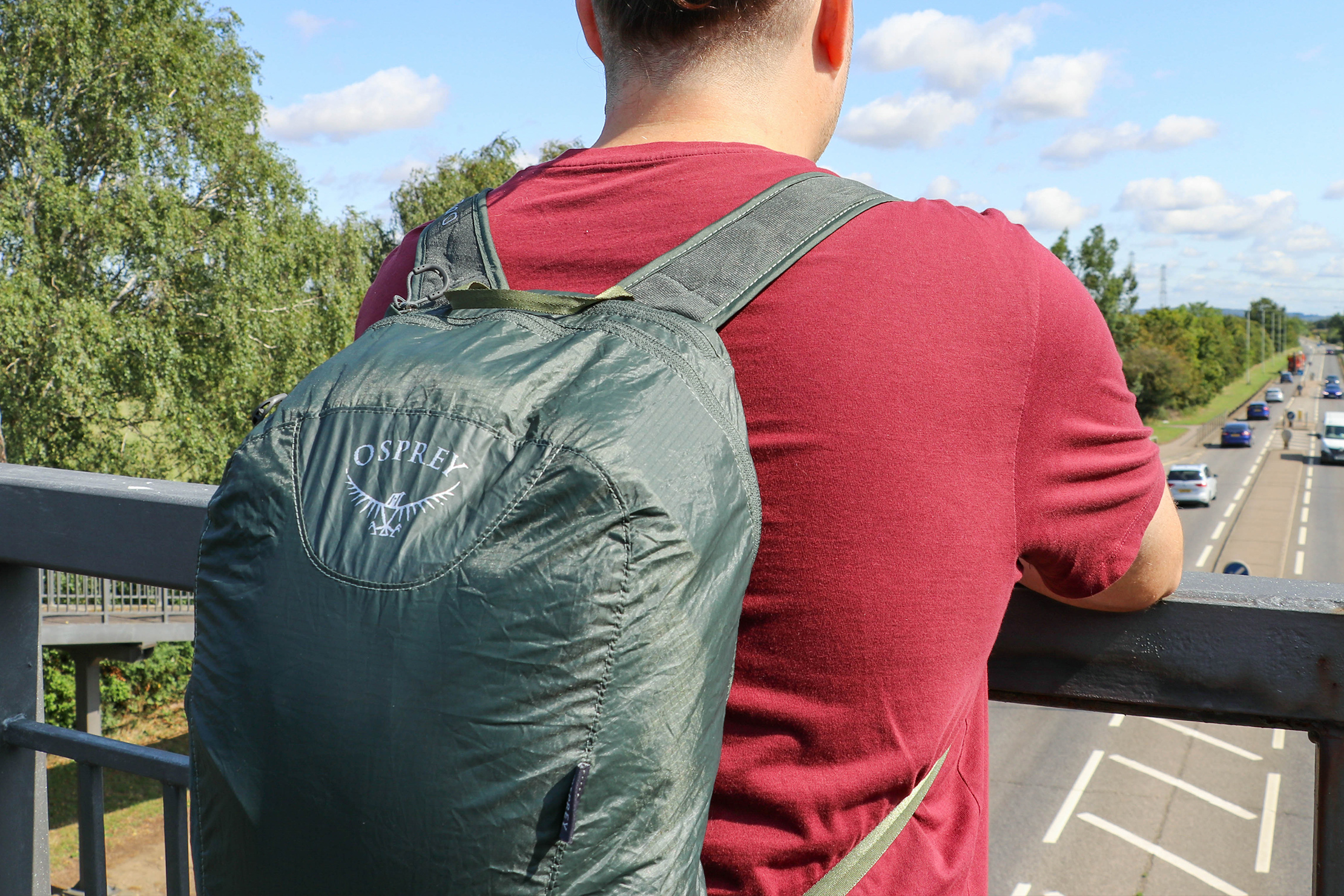 There's a water bottle pocket on the side and, seeing as we're fans of water, we're glad to see this. It's surprisingly big and will fit most water bottles out there, but it's also floppy. There's not much structure, and we wouldn't be surprised if a water bottle slipped right out on any excursions that involve bouncing or bending. If you're not a fan of water (we're looking at you, robots), you can also use this as a second quick-grab pocket to store items like snacks.
Inside the Pack
You probably won't be surprised to learn that the internal organization on this thing is as minimalist as its external components. There are two pockets—a quick-grab one on the top and the main compartment.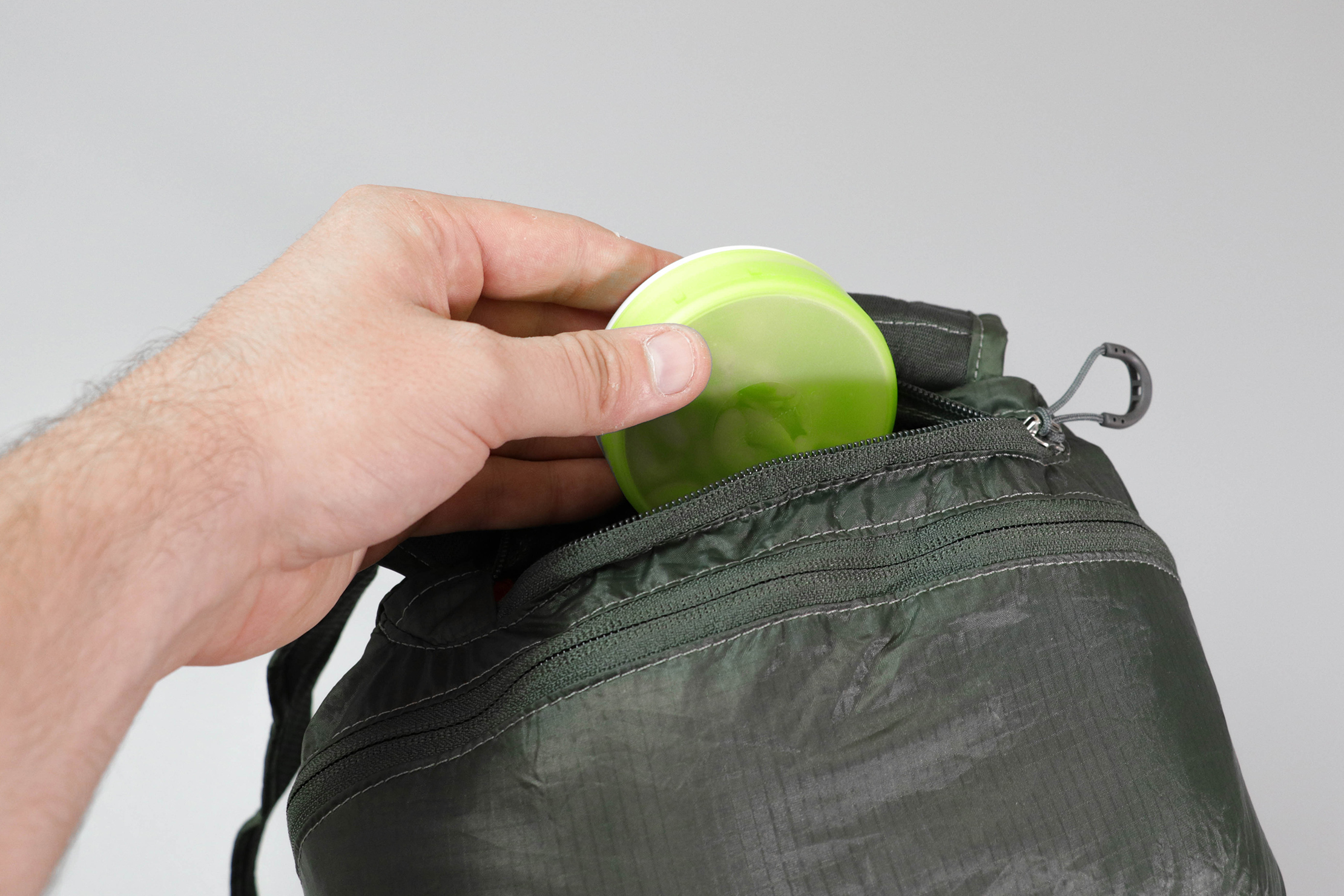 The zippered quick-grab pocket sits on top of the pack and is a nice spot to keep items you'll want to grab quickly (hence the name). It also has a bright red plastic key clip inside, so you won't have to worry about losing your keys. We're usually not fans of plastic key clips—because they break easily—but a metal clip wouldn't make sense on an ultralight pack.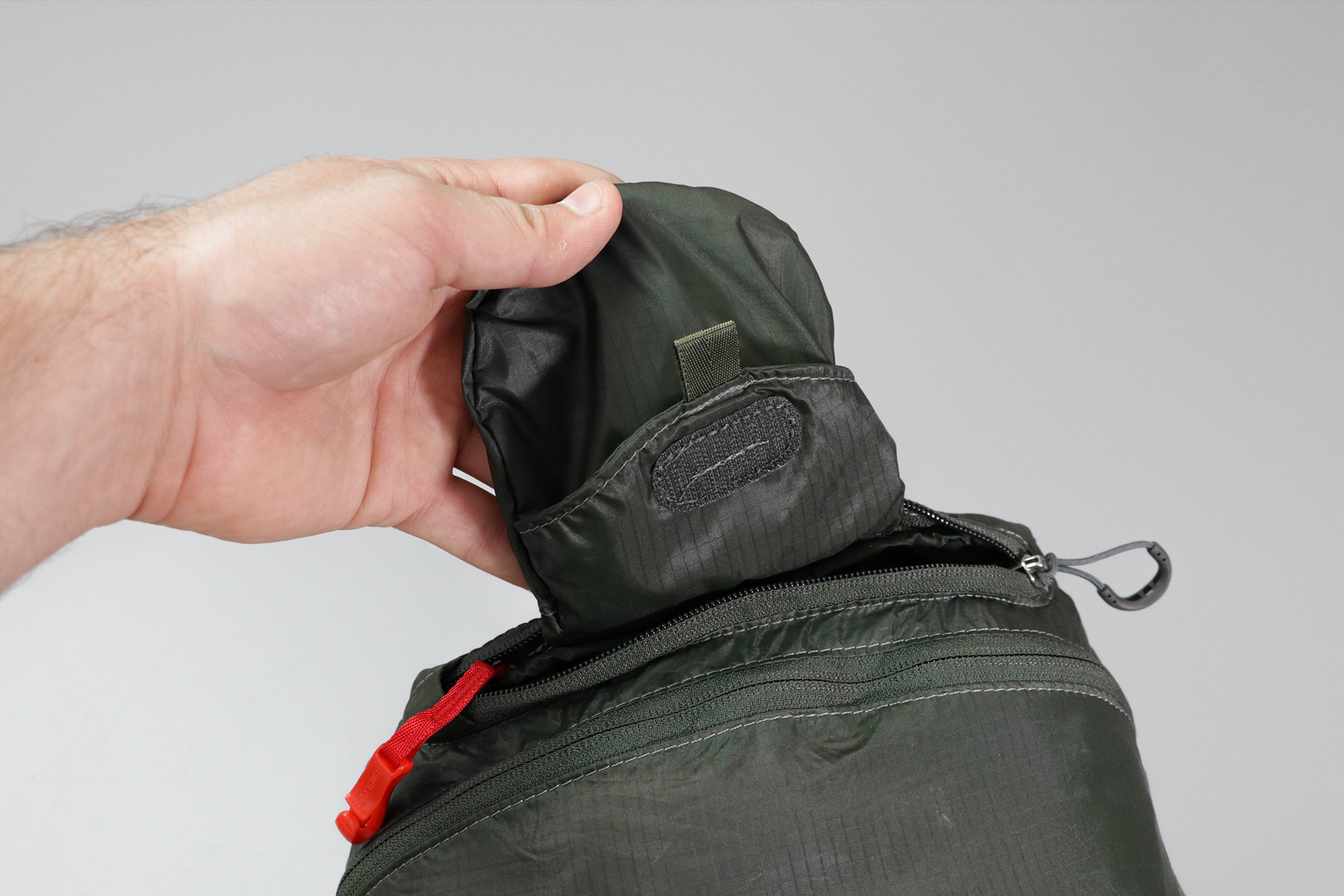 This pocket also contains the storage pocket (which is what you cram the bag into). Because this thing packs to such a small size, it takes some time to stuff. But we don't mind—we'd rather spend an extra thirty seconds packing it away if it means it'll be smaller.
The main compartment has nothing special going on. It opens in a horseshoe style, meaning the zippers come down about halfway. It's basically an empty bucket and has zero internal organization whatsoever. We don't expect much organization on packable daypacks, so we're not surprised or disappointed. But if you're the type of person who wants a place for everything, you'll be in for a rude awakening.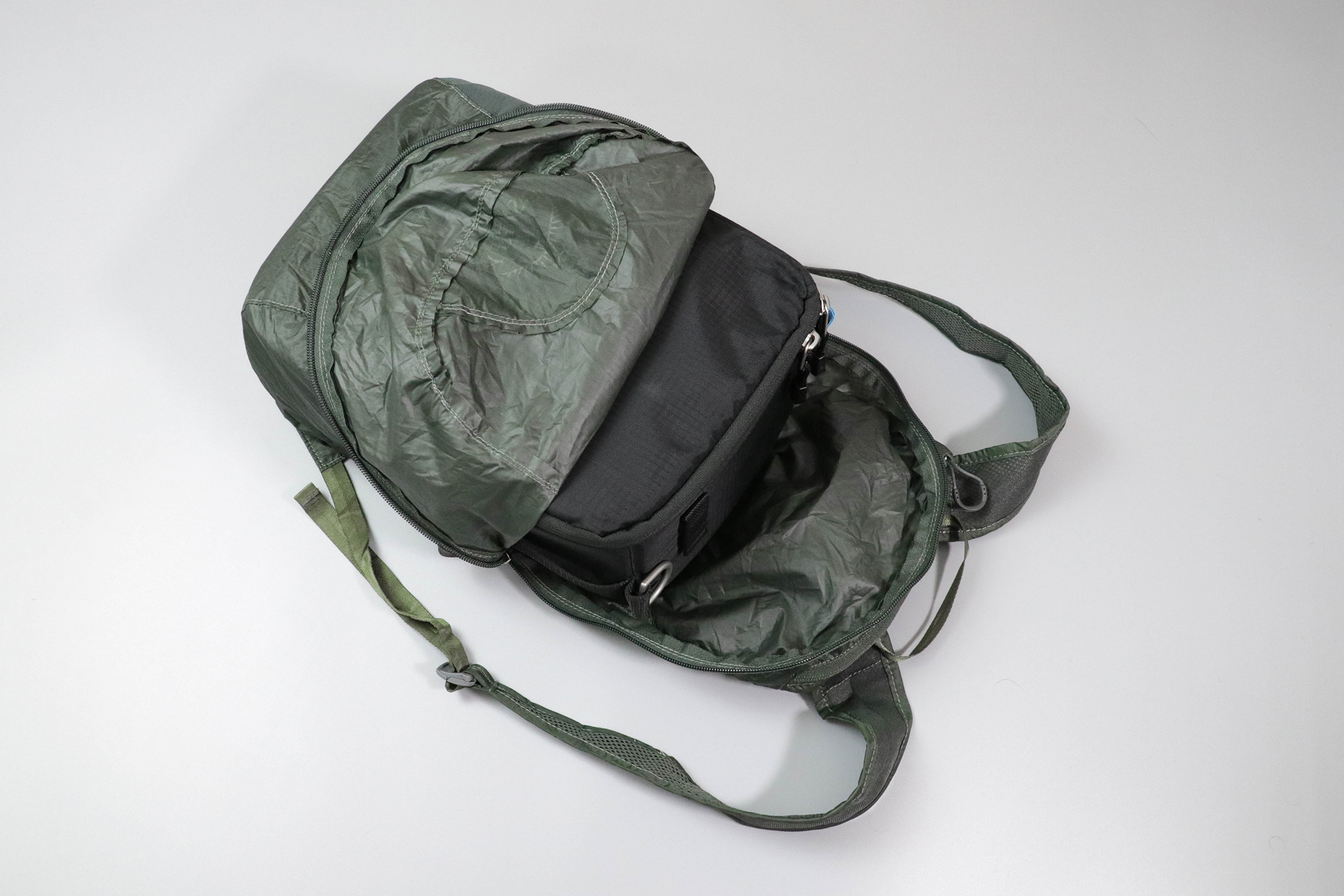 It holds a decent amount of stuff. But we recommend putting anything smaller than, say, a jacket in a packing cube or organizer of some sort. Otherwise, everything will get jumbled—not to mention your stuff may poke into the side of the bag and test the strength of that ripstop we mentioned earlier.
You also want to be careful with what you pack. Packable backpacks don't like pointy objects, and you probably won't want to carry anything too fragile either. For example, we only recommend packing a laptop in this bag if you have a hardy case or sleeve for it. Even so, you won't be able to fit a 15'' computer. We've only been able to squeeze a 13'' inside.
Durability & Testing
We've been testing the Osprey Ultralight Stuff Pack for two weeks in Portugal and around the U.K. It's a solid packable backpack that's great for one bag travel, where every ounce counts. Plus, it sells at a very reasonable price point. All that said, using it in the real world isn't amazing. The carry is okay, although it feels flimsy on the back. Whether or not you think packability is more important than structure and features depends on your use-case.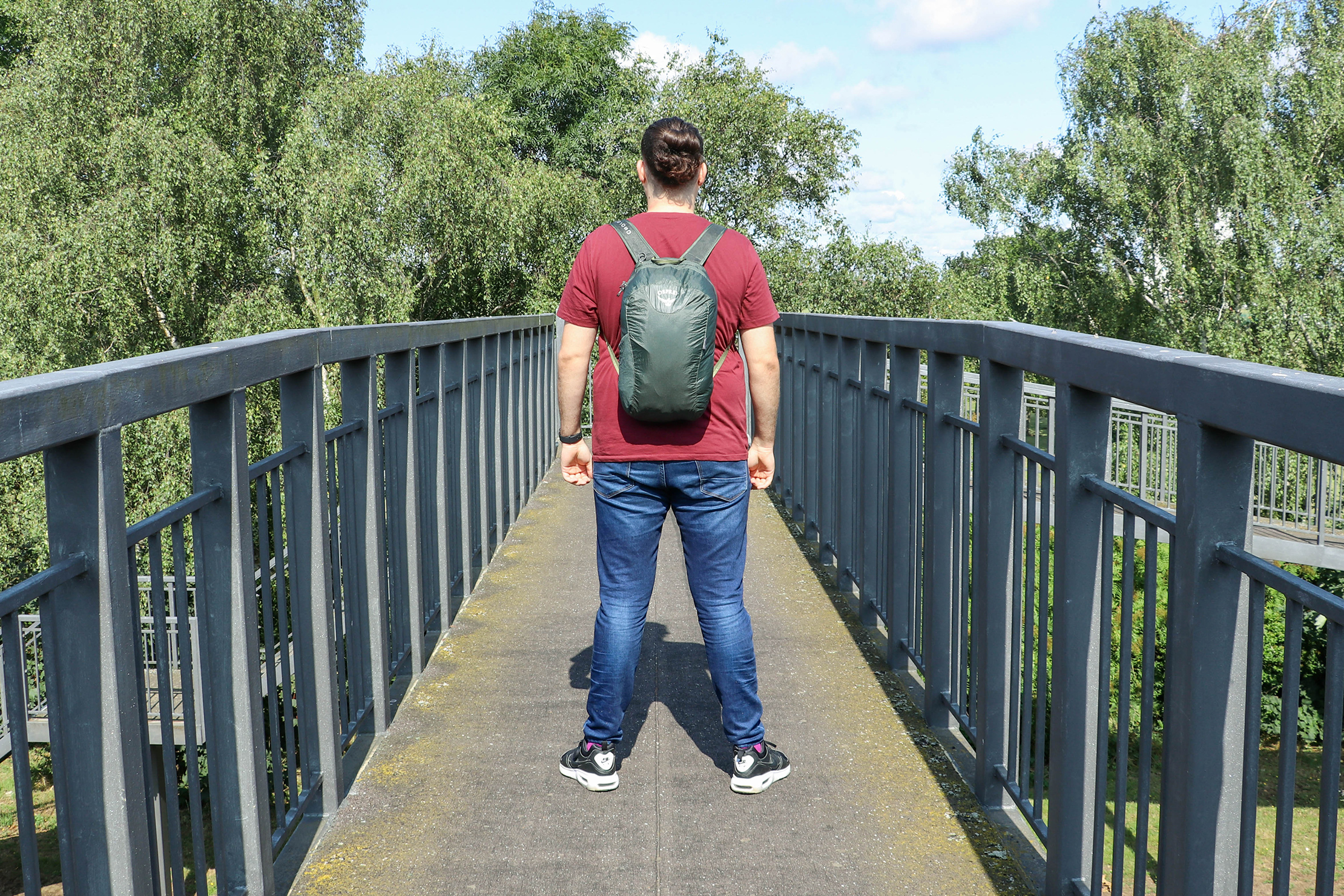 Luckily, you don't have to sacrifice durability. Of course, this backpack won't be as durable as an over-specced bag made for trekking through the most extreme places on Earth. But for a bag as light as it is—it's pretty dang tough. We haven't noticed any issues so far.
Usage Timeline
Initial Usage
Condition: Excellent
Lightweight and packable making it ideal for travel.
Packs away into its own pocket.
Handy stash pocket at the top of the pack.
2 Weeks of Use
Condition: Excellent
Everything still looks good!
Access the Pro Community Discussion
Get your questions about the Osprey Ultralight Stuff Pack answered from our team and the Pro Community right here on the page. Plus, join discussions with other members about gear, guides, and more.
Other Bags & Luggage Reviews