Osprey Daylite Plus Review
The Osprey Daylite Plus is a versatile daypack that delivers a comfortable carry—we just wish the side water bottle pockets were a bit more secure.
Our Verdict
Unlock the Pro Summary
Save time. Get access to brief summaries of our reviews so you can browse and make decisions more efficiently.
Pros
Comfortable carry and harness system
Handy quick grab pockets
Lightweight
Cons
Bottles can fall out of the side pockets
Colors don't match the online images (our black is more of a dark blue)
The front nylon is susceptible to abrasion marks
Recent Pack Hacker Video
Technical Details
Capacity

20l

Weight (lb)

1.2 lb (0.5 kg)

Dimensions

18 in x 10 in x 9.5 in (45.7 x 25.4 x 24.1 cm)

Notable Materials

YKK Buckles, YKK Zippers, ITW Hardware, Woojin Hardware, Nylon

Manufacturing Country

Vietnam

Laptop Compartment Size

15"

Without a laptop case on

Warranty Information
Full Review
In this review, we'll be taking a look at the Daylite Plus, a 20-liter daypack from world-renowned outdoor gear specialists, Osprey.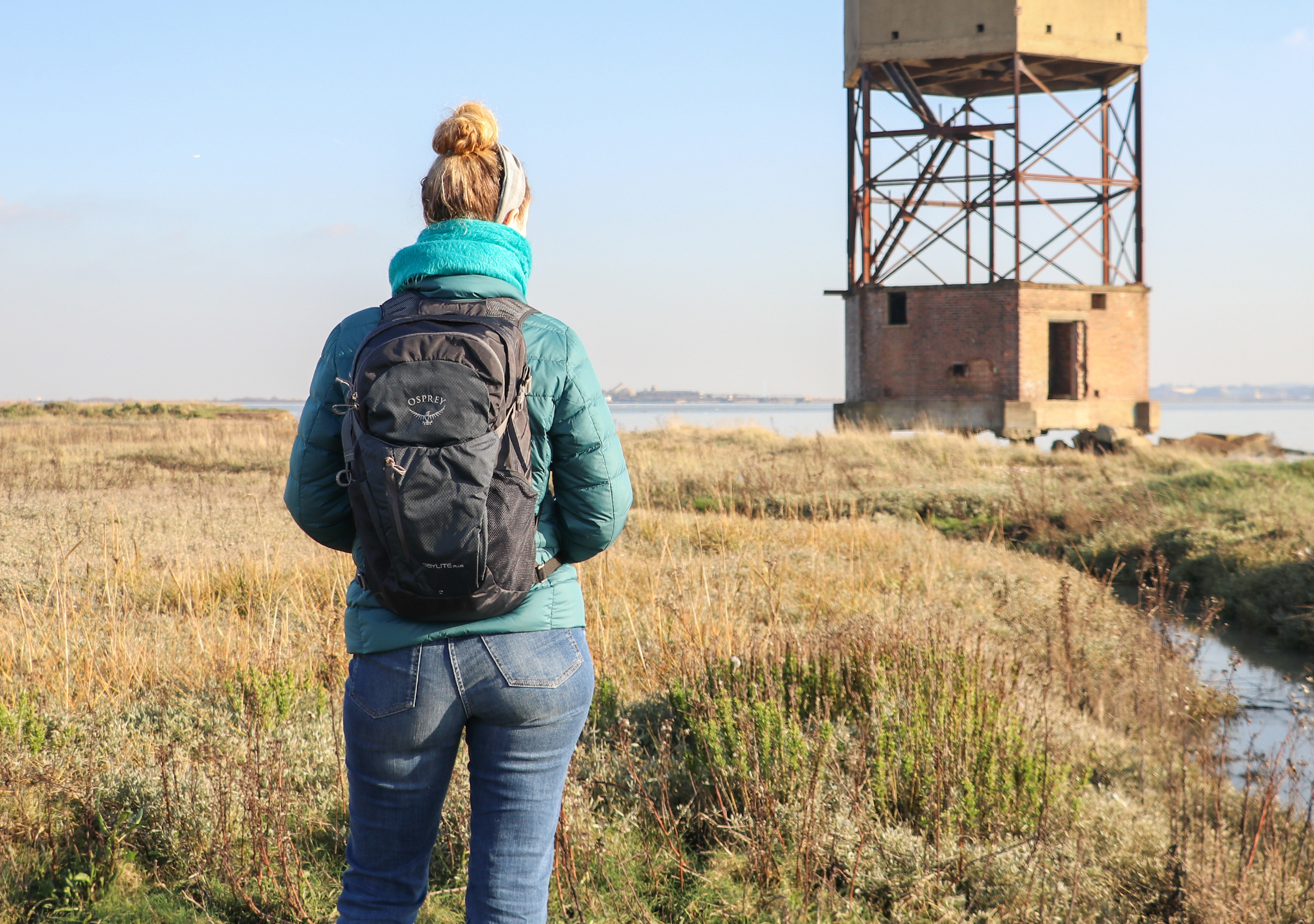 After reviewing the original Daylite—which is smaller, at 13 liters—one of our cons was the lack of a padded laptop sleeve. So, after seeing this larger model had one, along with a few other differences, we just had to check it out.
Billed as a versatile daypack for everyday use, we've put this pack to the test in both the UK and Portugal over the last two months, so let's dive in and see how it got on.
Material & Aesthetic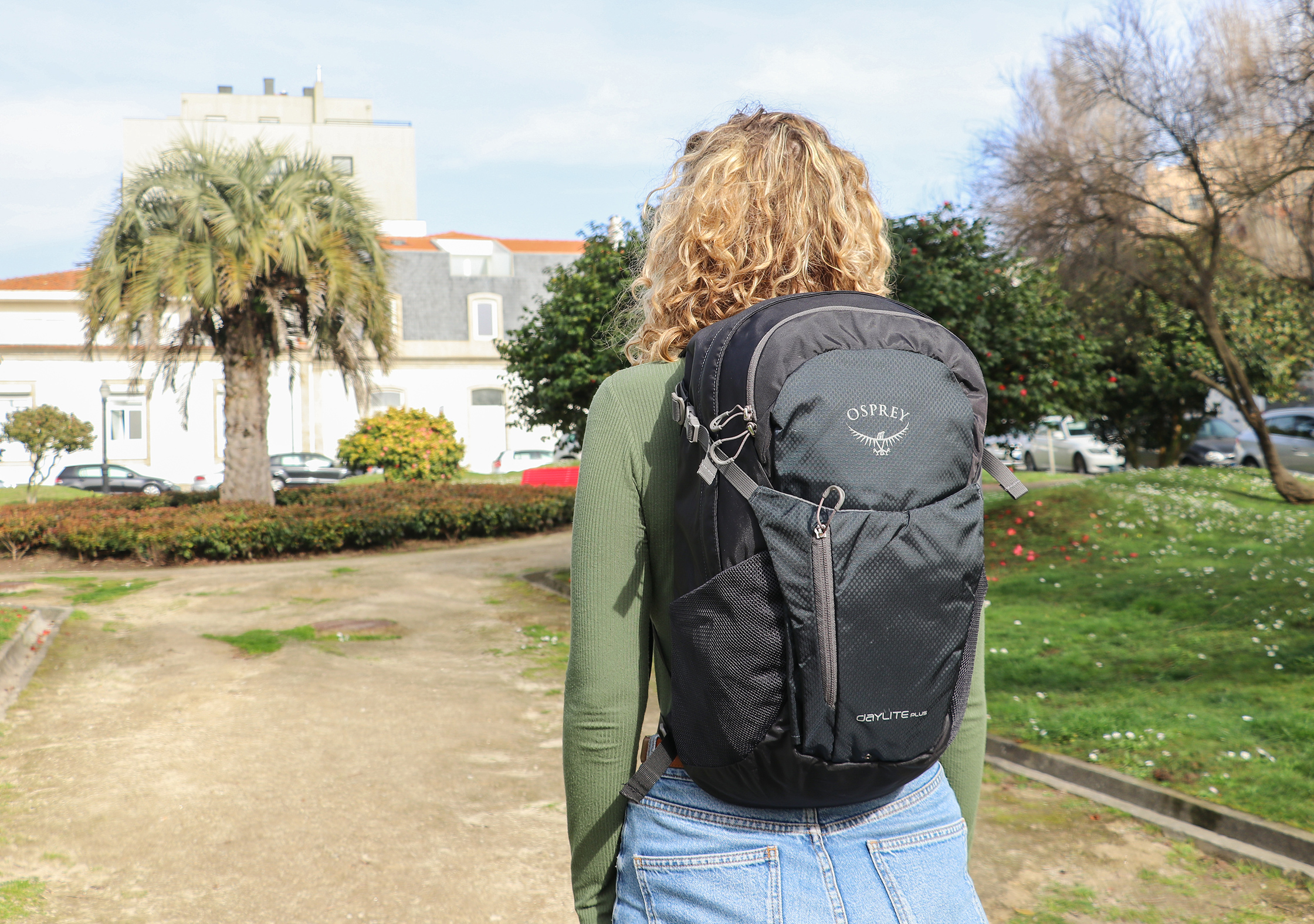 As with all Osprey packs, the Daylite Plus has a typically outdoorsy aesthetic. However, it toes the line quite well, and we feel more than confident rocking this pack in urban environments as well.
The smaller Daylite achieved one of our highest Instagram aesthetic poll results we've seen to date, coming in at 71%, so we've been eager to see how this pack would score. And from a poll of 419 participants, 53% said they liked the look of this pack. It's a fair bit lower than we expected, but still a positive result.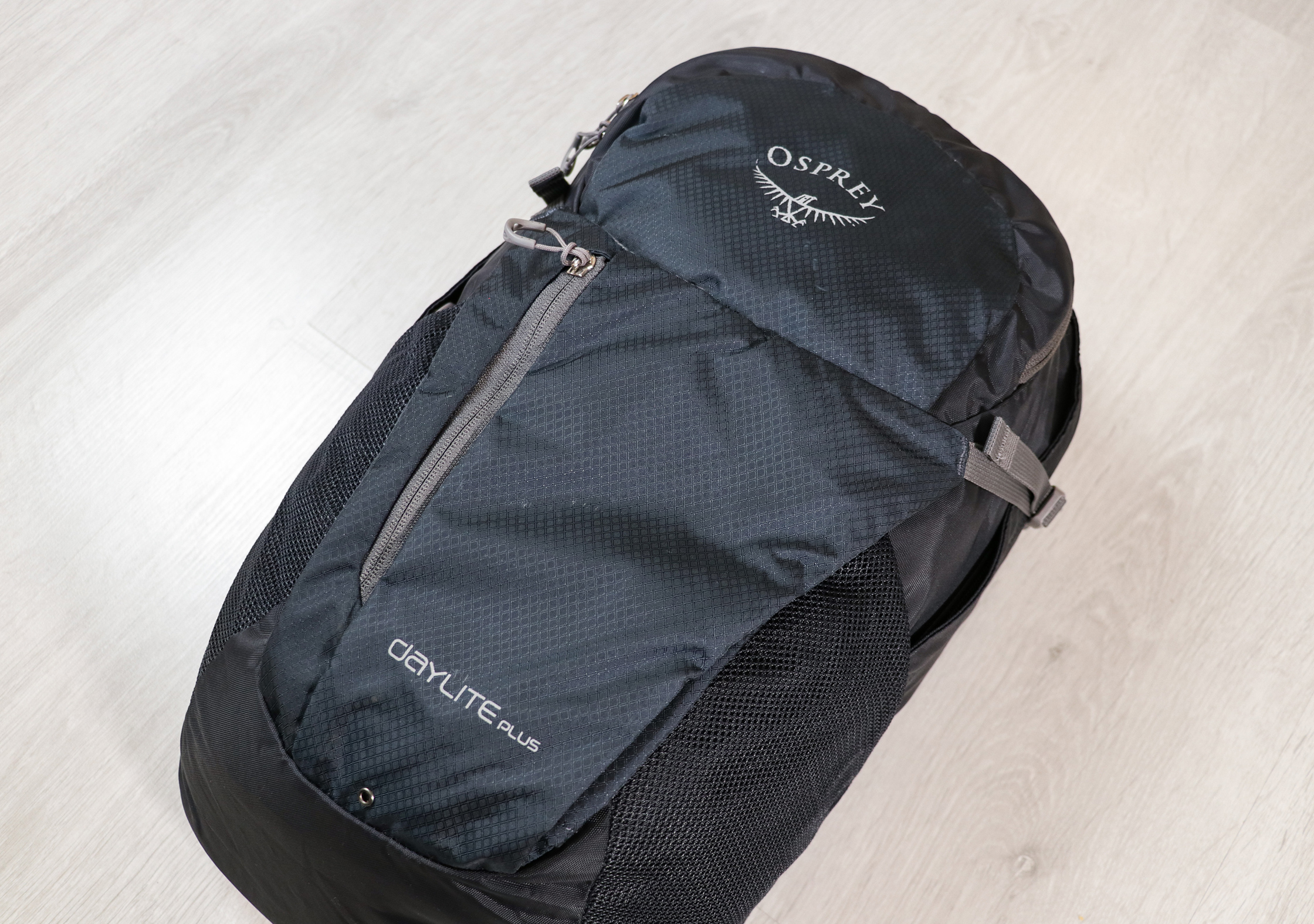 The branding on this thing is relatively minimal for an Osprey pack. While they usually tend to throw their logo on anything and everything they can, you won't find that here. On the front, there is a logo at the top and the product name at the bottom. On the back, there is another logo at the top and the word "Osprey" on the shoulder strap. (Okay, so maybe "minimal" isn't the right word, but more…subdued?)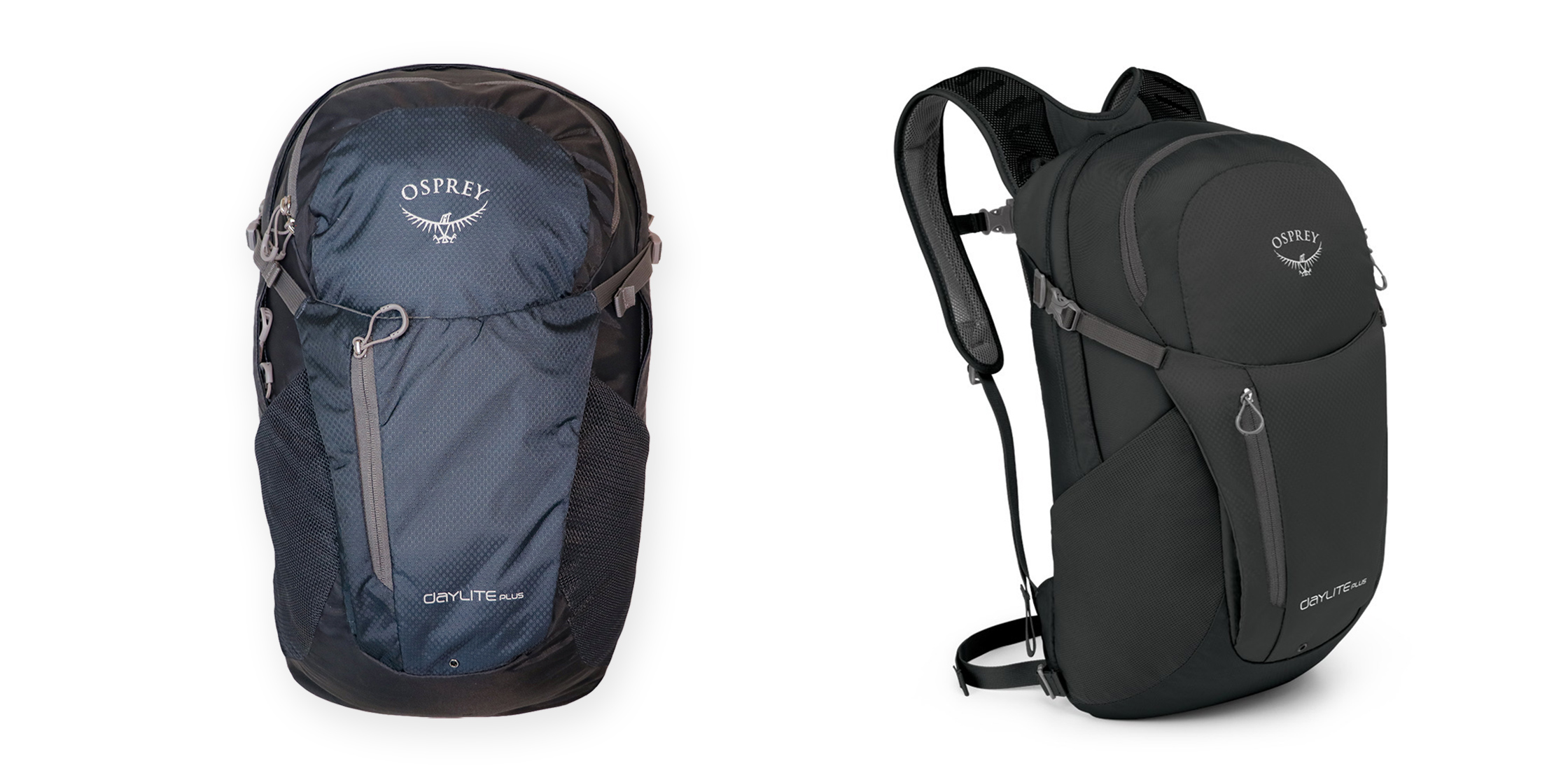 At the time of this review, the Osprey Daylite Plus is available in eight colors. Ranging from stone grey to sagebrush blue to primrose yellow, there is a color for everyone. We must note, however, that our "black" color looks nothing like the website images. This is quite a big deal, as the website displays a matte all-black bag, and our pack is more of a shiny dark blue. Fortunately, we still like the color, but we'd like to see Osprey update their online images to more closely reflect what the bag looks like in the real world.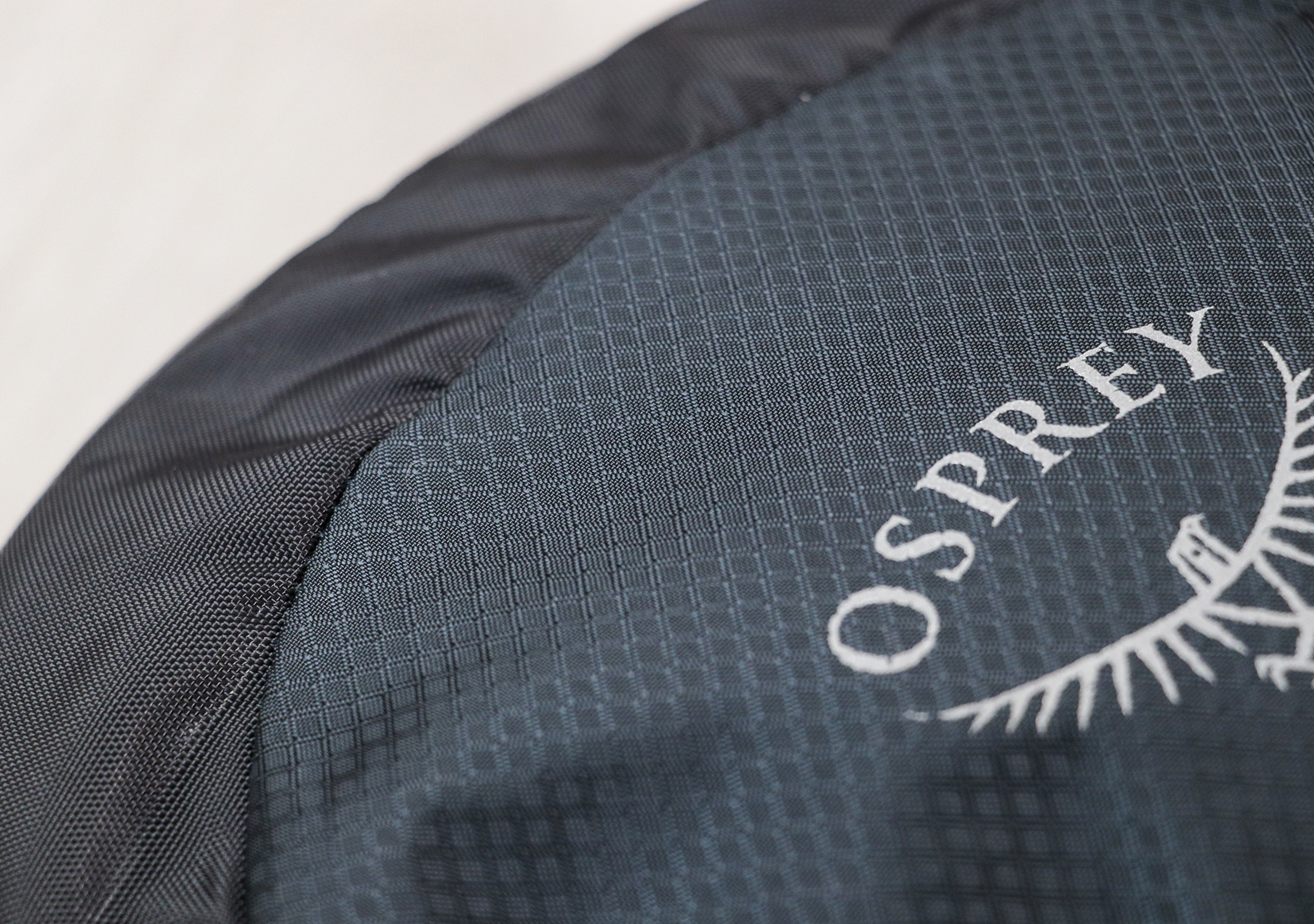 Moving on to the materials, this pack is made from a 210D Nylon Oxford. A flexible, weather-resistant and lightweight fabric. So lightweight in fact, that this 20-liter backpack weighs in at a mere 1.2 pounds, which is pretty impressive. It's important to note, however, that this isn't the most durable material—and we're already noticing some small abrasion marks after only a couple months of use. We'll dive a little deeper into the details about that in the Durability & Testing section below.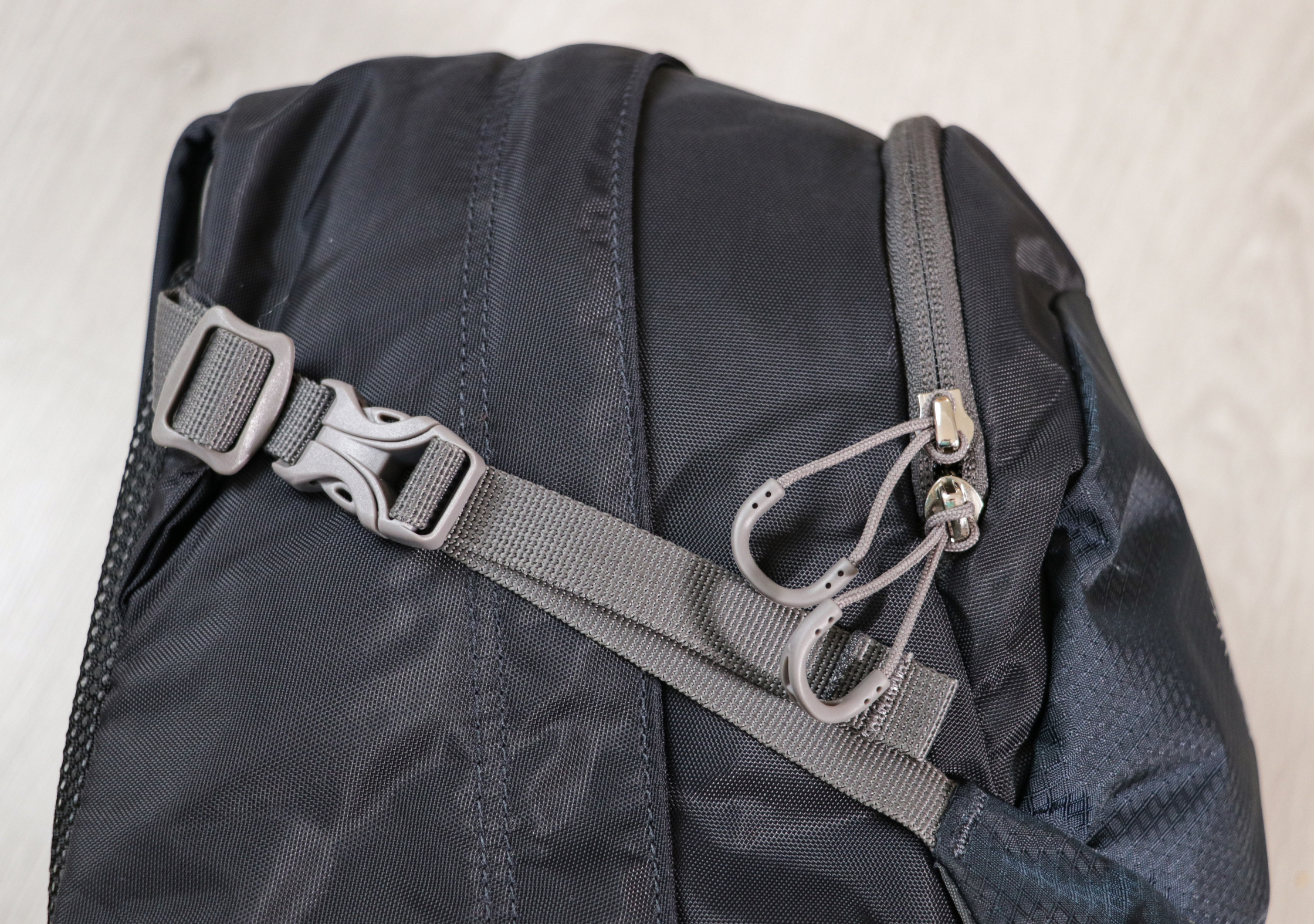 All of the zippers on this thing are from the reliable and trustworthy YKK brand, and the attached zipper pulls make them a joy to use. In terms of hardware, there are YKK, ITW, and Woojin buckles on this pack. All three brands make high-quality hardware, which is long-lasting and easy to use. We're not exactly sure why they've used three different brands instead of one, but we don't have any qualms about their durability either way. All good here.
External Components
Moving on to the external components, let's begin with the harness system.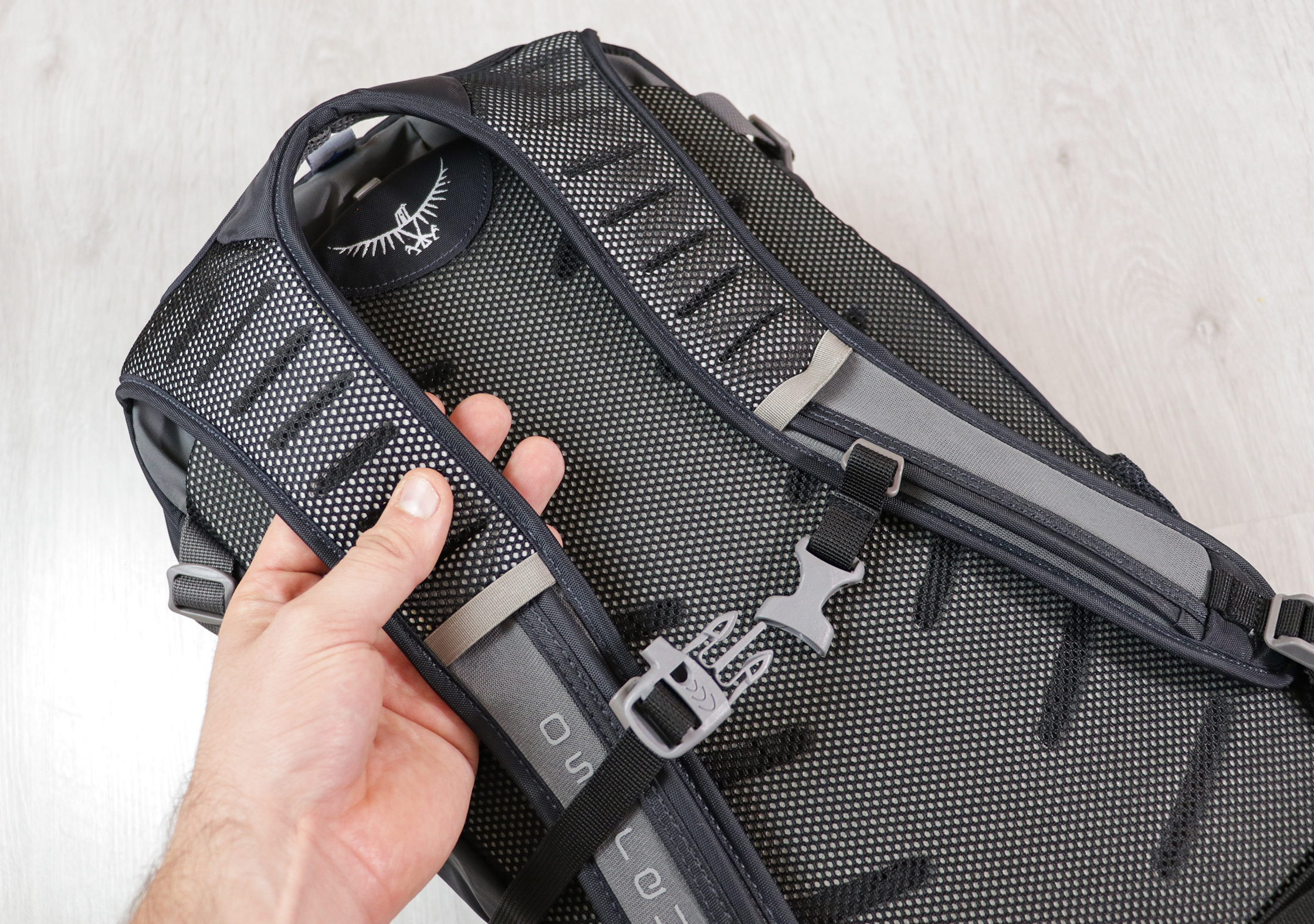 The curved shoulder straps are nicely padded with dense foam and feature narrow gaps for added ventilation. The padding here is the same used in the back panel, which is surprisingly sturdy and sits snug against your back.
The harness system features an adjustable sternum strap and a hip belt as well.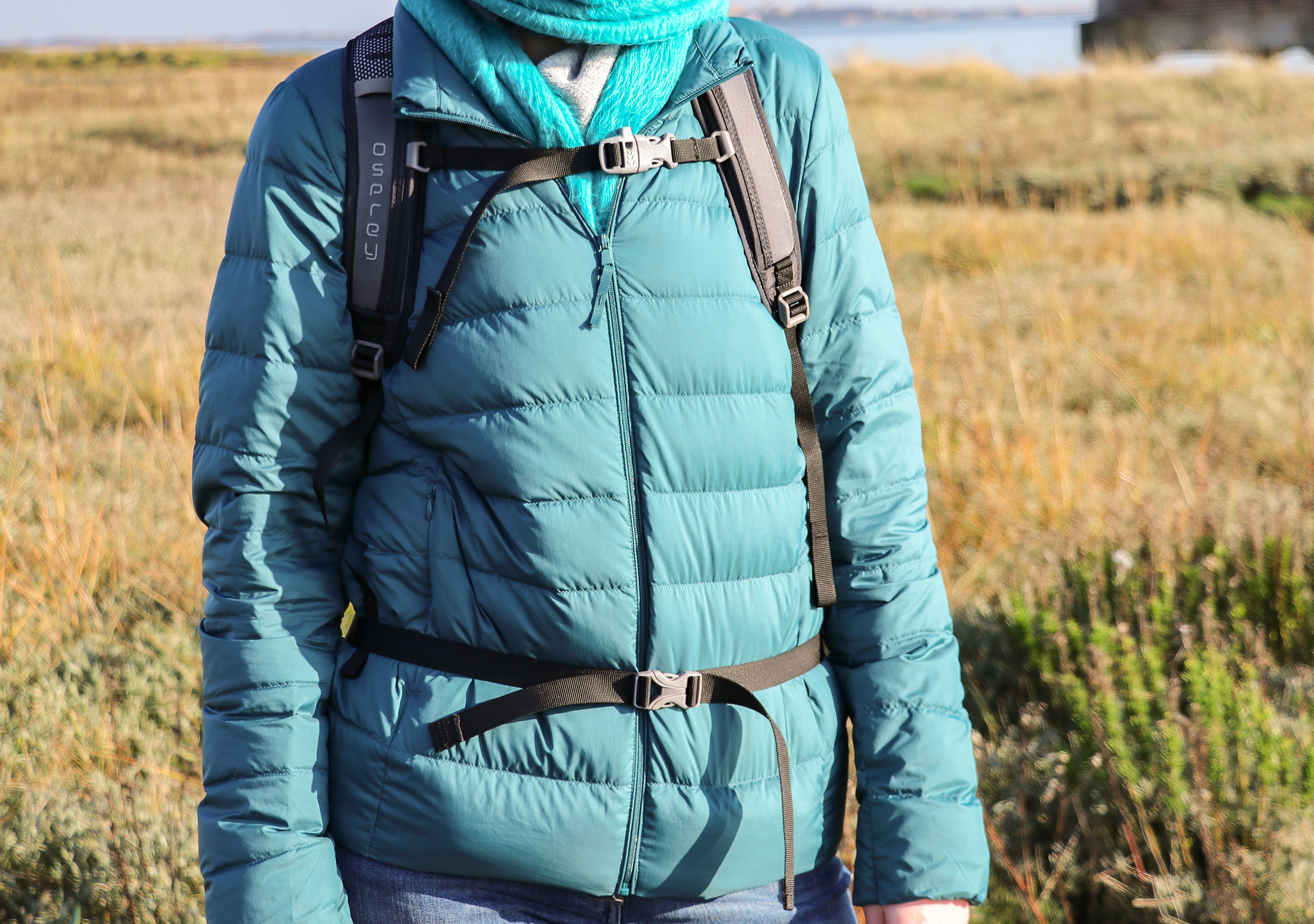 The sternum strap is easy to use and supportive, meaning it does precisely what we'd like it to do. Plus, there's an emergency whistle incorporated into the buckle, which can come in handy during outdoor excursions.
The hip belt is pretty basic and only comes in useful if you need to secure the pack tightly to your back, like when you're mountain biking, running, or rock climbing. Otherwise, we'd recommend taking it off as the straps dangle all over the place when it's not locked in. We've mainly been using this pack in urban environments, so the hip belt hasn't seen a ton of action.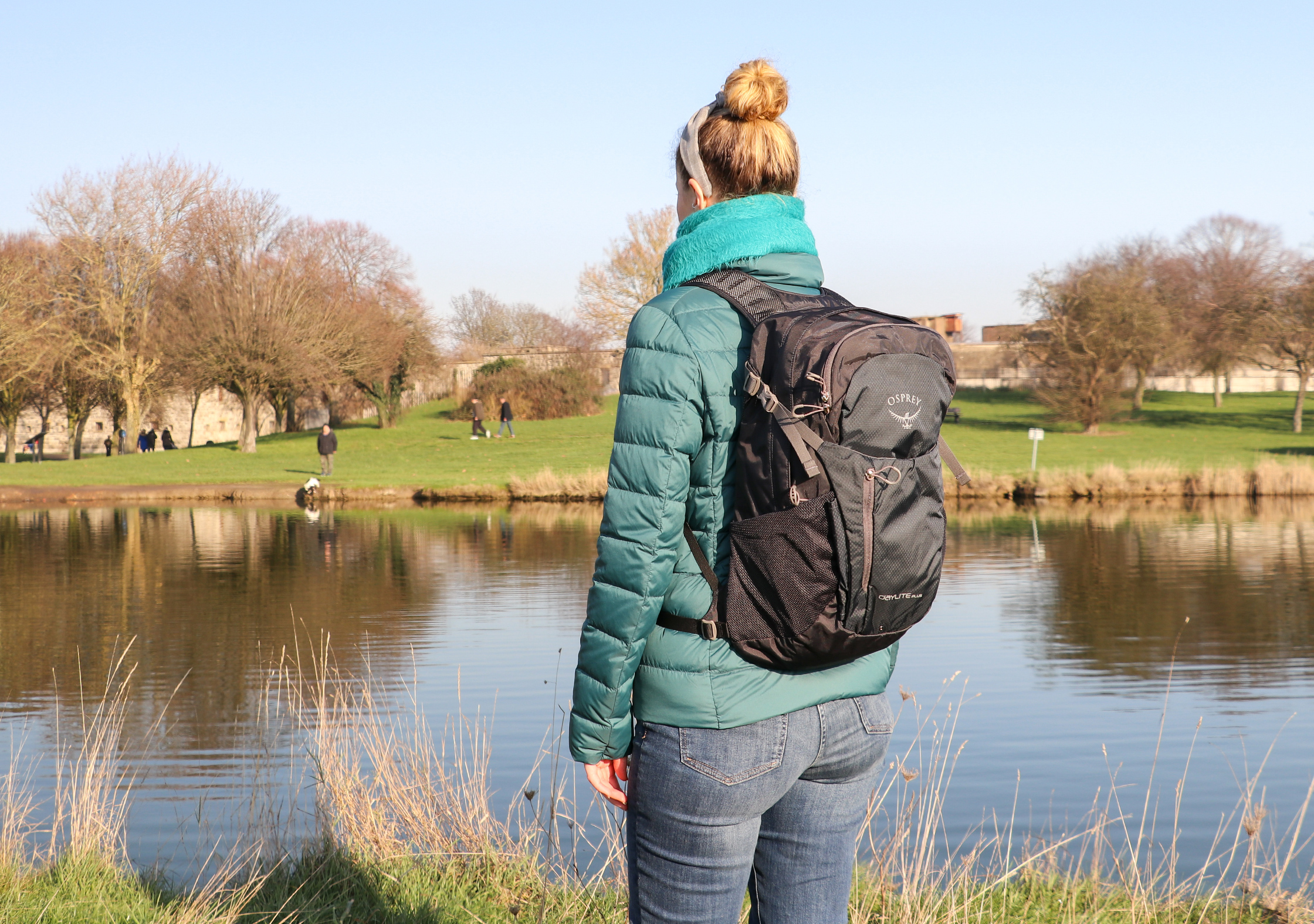 For such a small pack, we're pleased to report that the overall carry is remarkably comfortable and secure. This shouldn't come as a shock, as Osprey specializes in hiking backpacks and outdoor gear, so they know a thing or two about comfortable and supportive harness systems.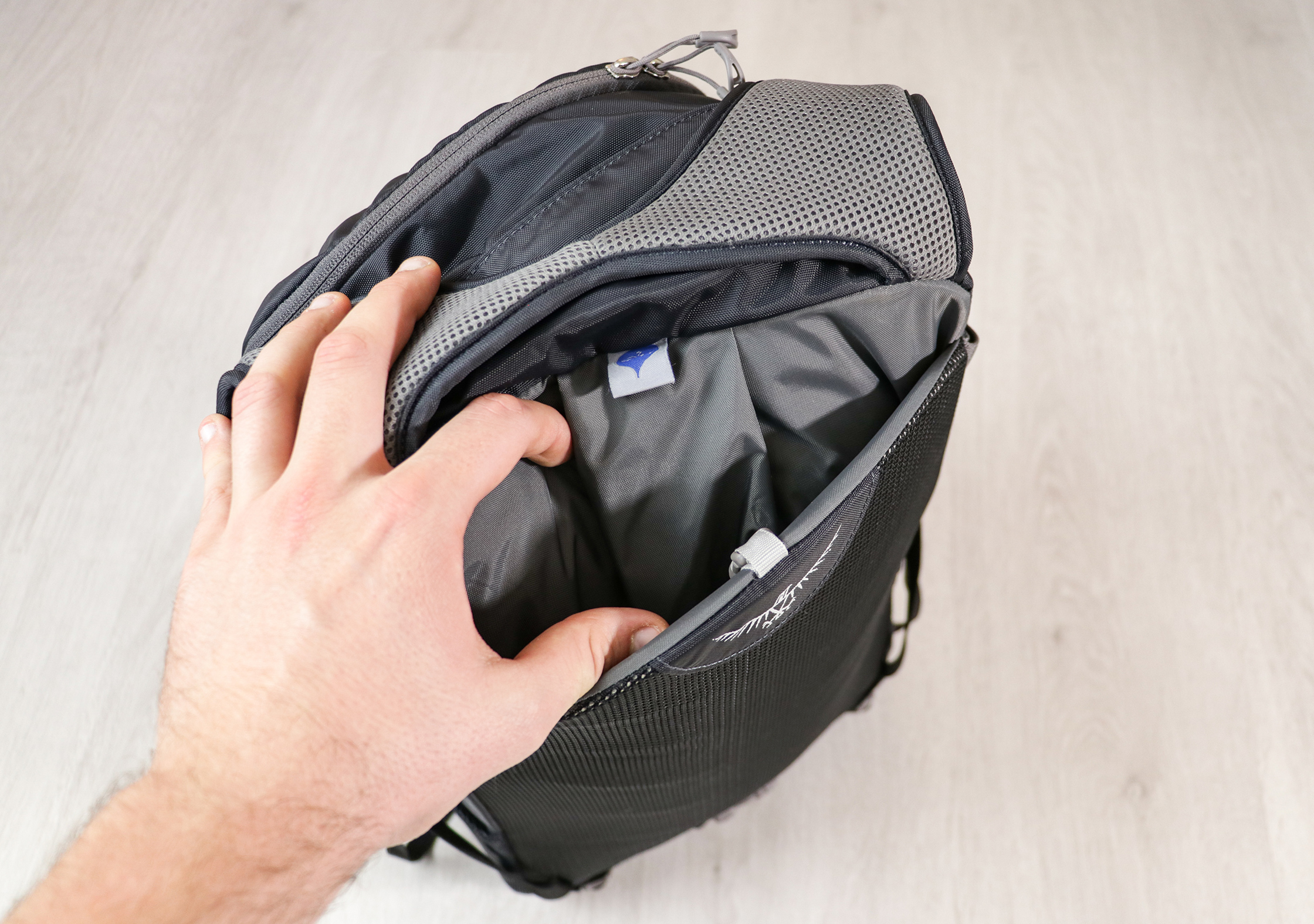 There is a hydration bladder sleeve just behind the back panel, which is accessible from the top of the pack. We like how discreet this area of the pack is—you don't notice it's there when not in use. We haven't utilized this yet as we've been keeping to predominantly urban environments, but it's great to have the option if you fancy being a bit more adventurous.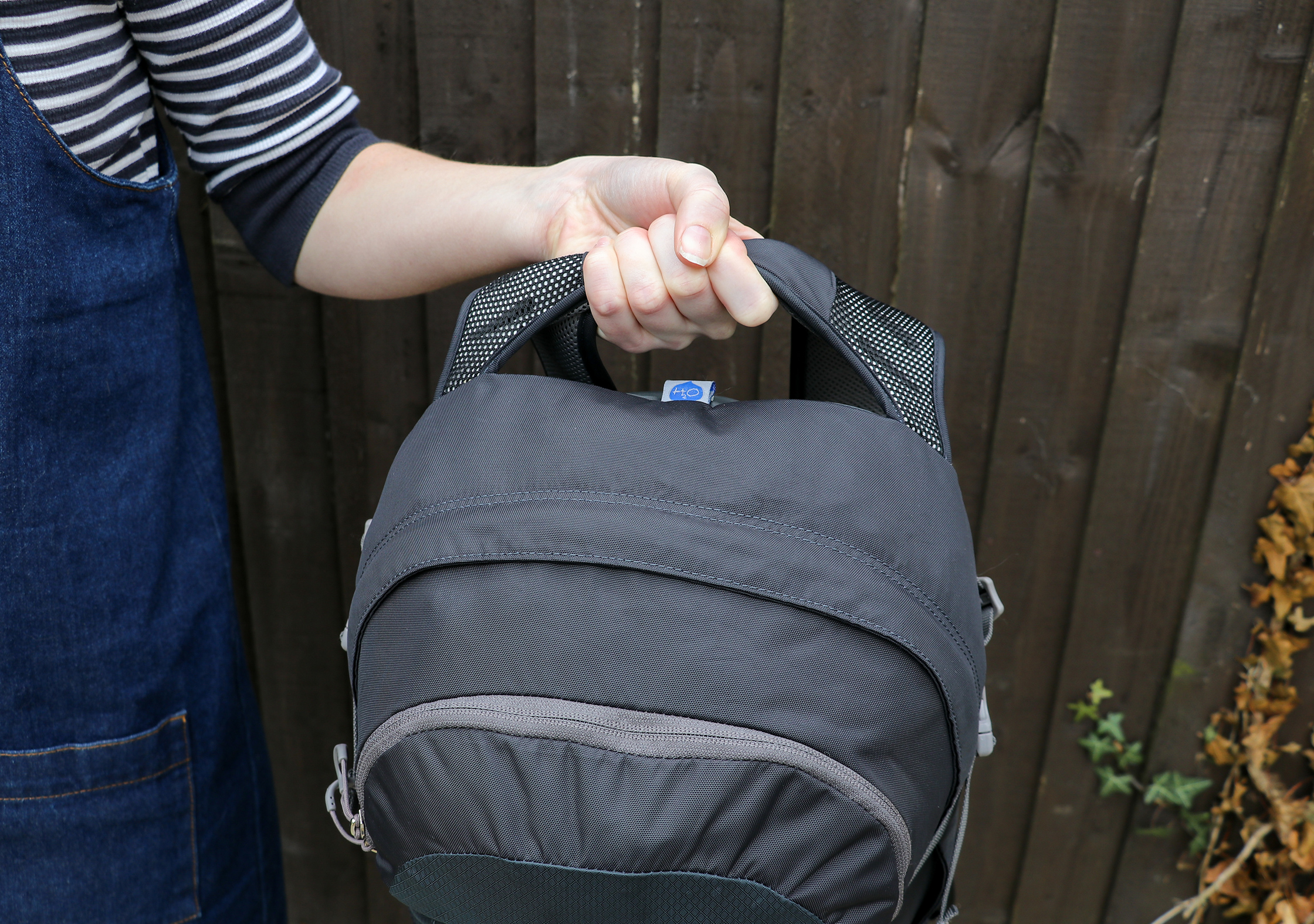 The quick-grab handle on this pack is incorporated into the top of the shoulder straps. We think this is okay—it certainly works in a pinch—but it's less than ideal. While we didn't mind this feature too much on the smaller Daylite, we've found ourselves missing an actual handle on this one as it's a fair bit larger.
Now, let's talk about these side water bottle pockets. We must mention that we appreciate that this bag has them, but that's where the pros stop because they're just not very functional. This puzzled us as the pockets on the smaller Daylite were fantastic, and at first glance, these look the same. However, on closer inspection, the pockets on the plus are a fair bit wider with less of a curved opening. The bottom line is, we've had bottles fall out of these pockets on numerous occasions, and they don't secure items inside as well as they should. Not good, especially for a pack built for outdoor excursions.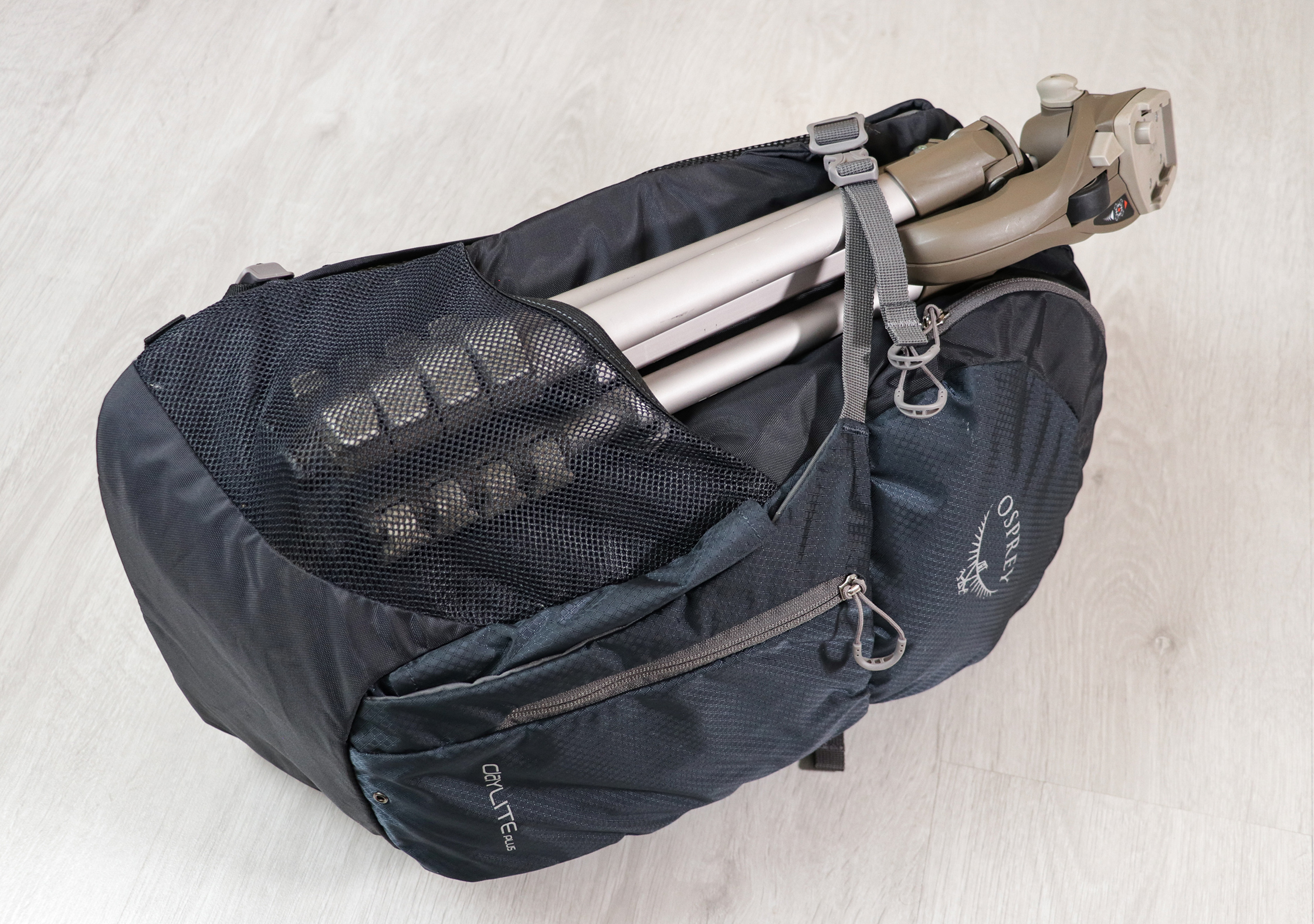 On a positive note, these side pockets can be used in conjunction with the compression straps at the top to secure taller objects, like a tripod, to the side of this bag. So, they're not all that bad.
Like the original Daylite, the Daylite Plus can also be attached to the front of other Osprey packs, like the Sojourn and Farpoint 80. It's a simple process that uses the hip belt and compression straps, but it's not something we would ever do, to be honest. If you're already carrying 80 liters on your back, you can probably forego adding another 20L.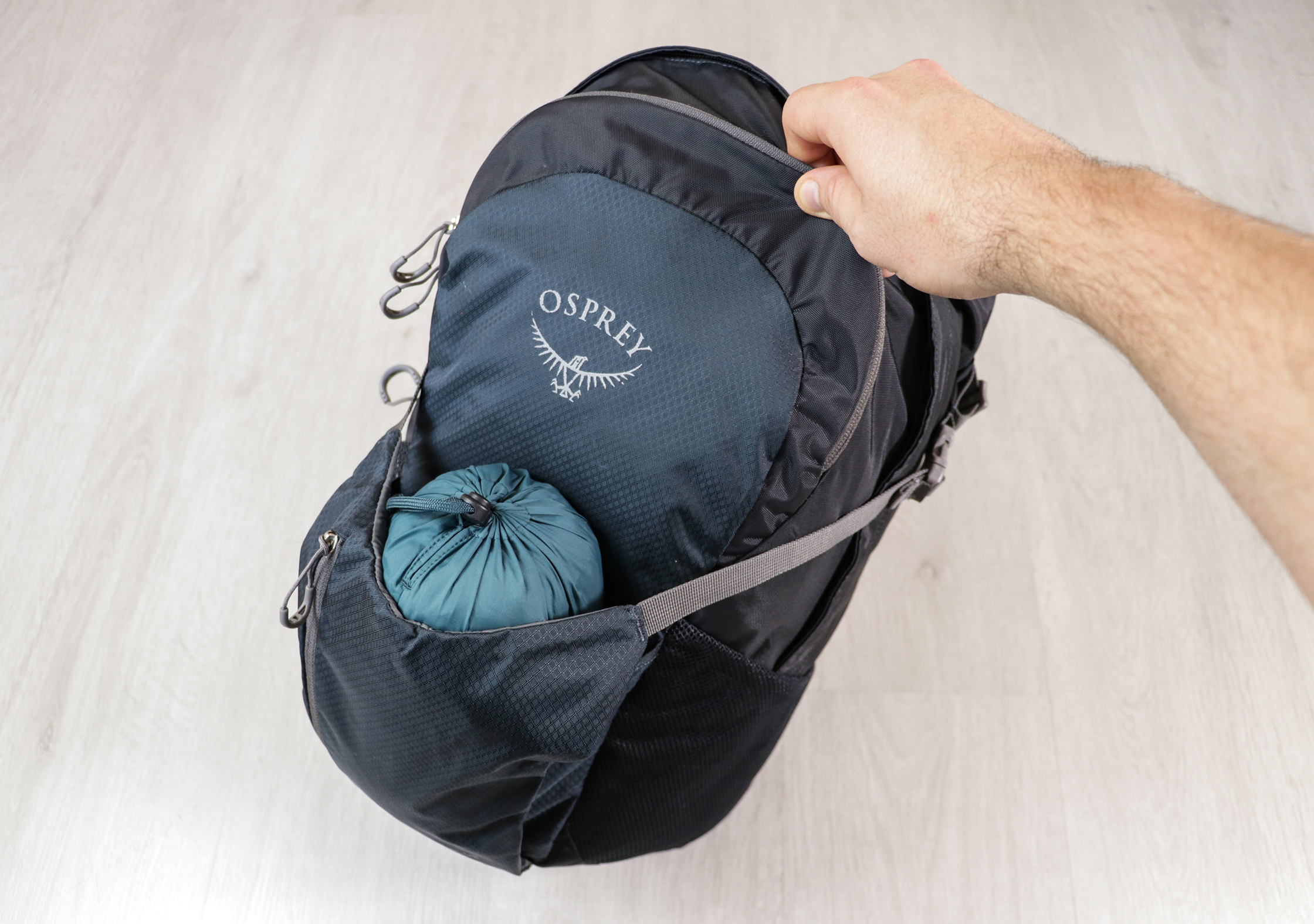 Finally, the Osprey Daylite Plus has a stretch pocket at the front of the pack. This is designed to give you an extra bit of space when you need it, and it's a great place to pop a light sweater or compressed jacket. This can add a bit of bulk to the front of the pack—which we're not huge fans of—but it's an interesting addition that could come in handy depending on your use case.
Inside The Pack
Moving inside the pack, we'll start off with the two quick-grab pockets. The first is at the front of the stretch pocket, and the second is at the top.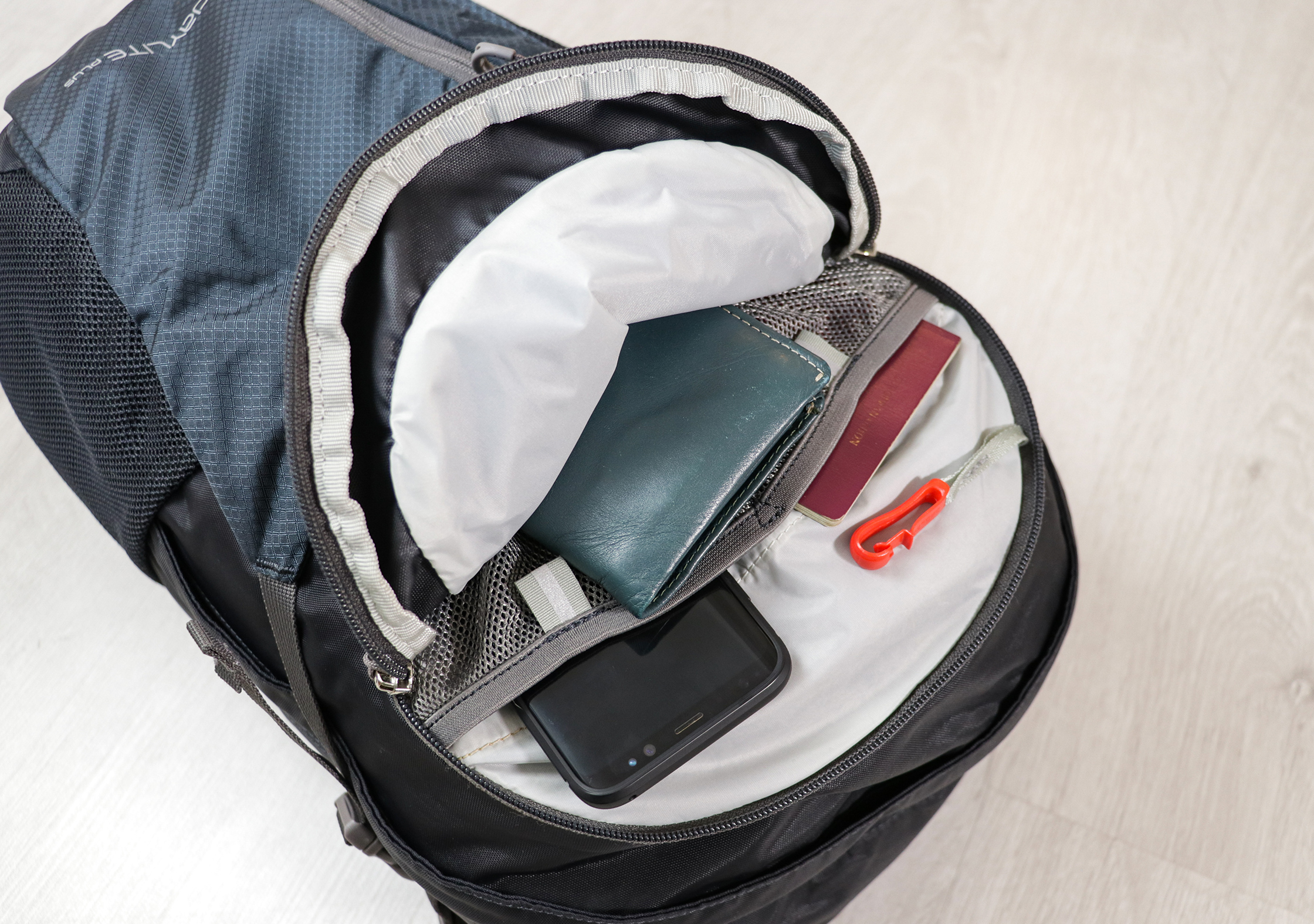 The top quick-grab pocket is going to be your go-to. It's large enough to hold your phone, wallet, and passport with room to spare. There are even two mesh pockets and a plastic key clip inside for added organization.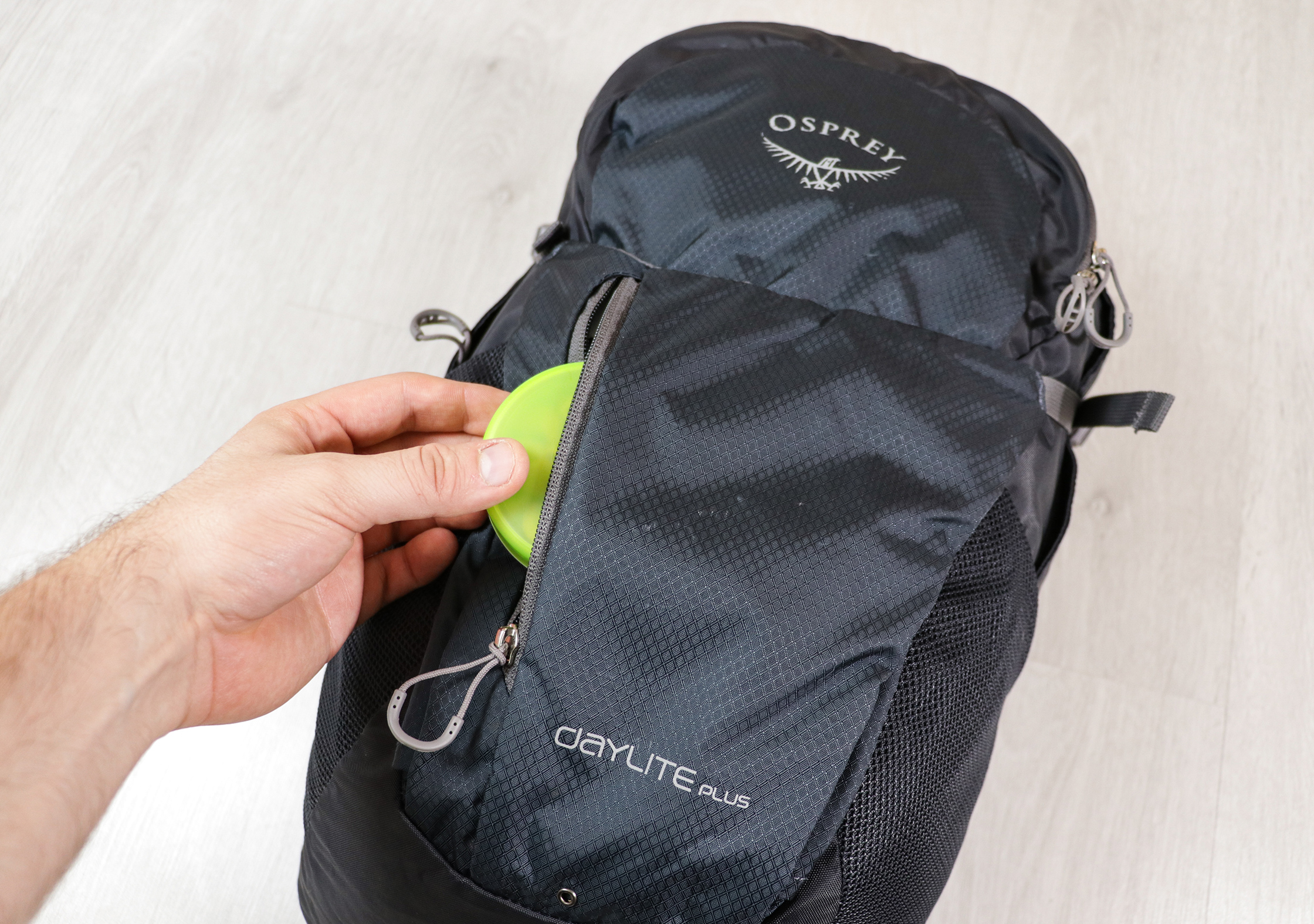 The zippered pocket on the front stretch pocket is small but it compliments the larger pocket nicely, and it's a great place to store a GoTubb full of snacks.
The main compartment of this pack has a horseshoe opening (meaning the zippers stretch half-way down the bag, giving you easy access to what's inside). The compression straps have to be unclipped first, which is a bit of a pain, but you get used to it. This is something we see on a lot of bags, and it's hard to find a work-around.

As we mentioned earlier, there is a padded laptop sleeve inside this pack. To gain access, you first have to undo the buckle at the top. This is designed to keep everything in place, but in reality, we think it's pretty unnecessary and just ends up getting in the way.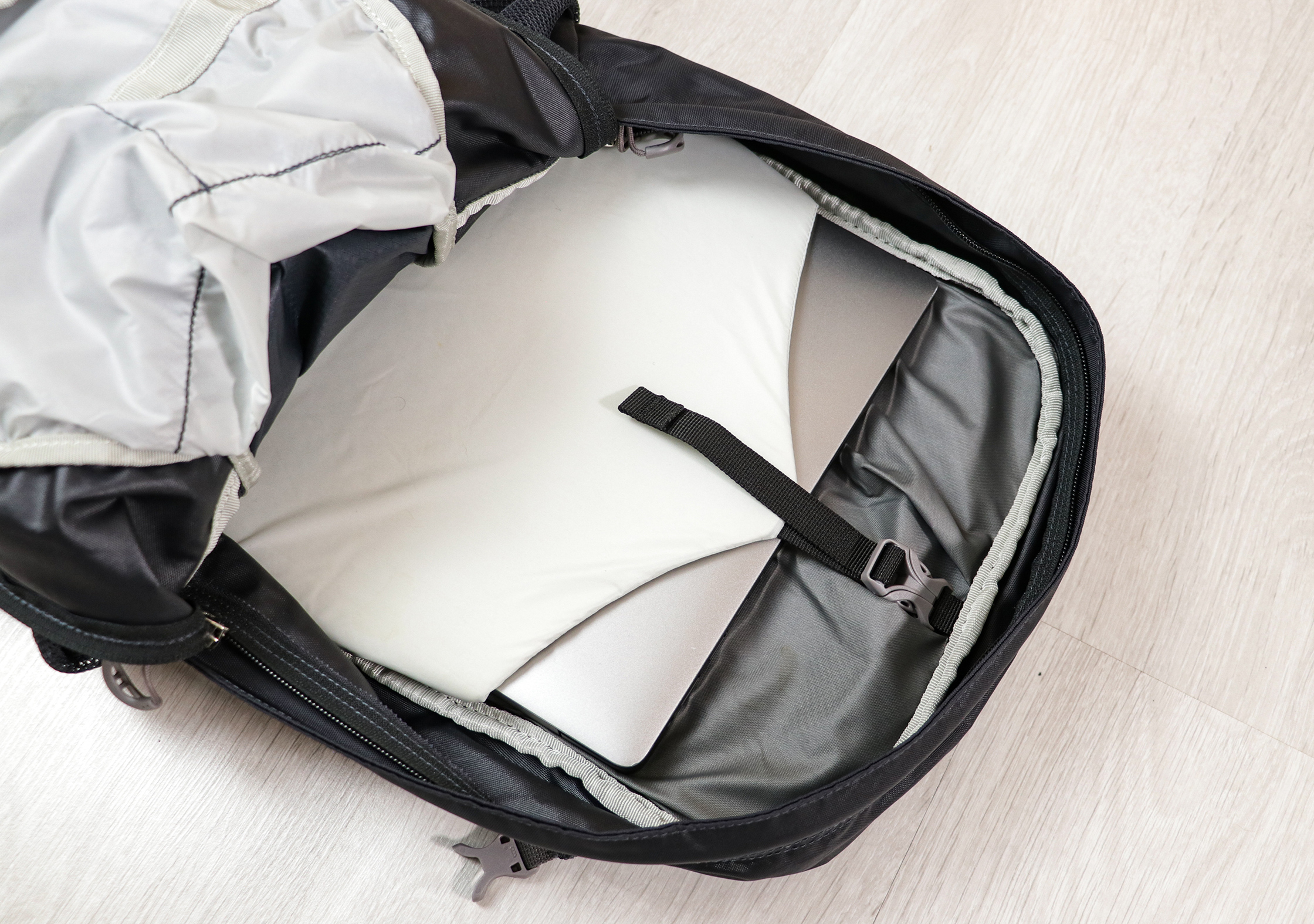 The sleeve is big enough to accommodate a 15-inch laptop, but only when it doesn't have a case on. Here at Pack Hacker, we always recommend carrying your laptop in a case as you can never get enough protection for something that costs a few thousand bucks… In this case, you may be able to use a super slim sleeve, but it's still going to be tight to slide in and out. That being said, it's a comfortable fit for all 13" laptops with cases on, and a great place to store other flatter items too.
The rest of the main compartment is a big space to fill however you wish. We'd recommend utilizing packing cubes and accessory pouches to keep everything organized, but it's a small enough pack to get away with casually stuffing gear inside too.
Durability & Testing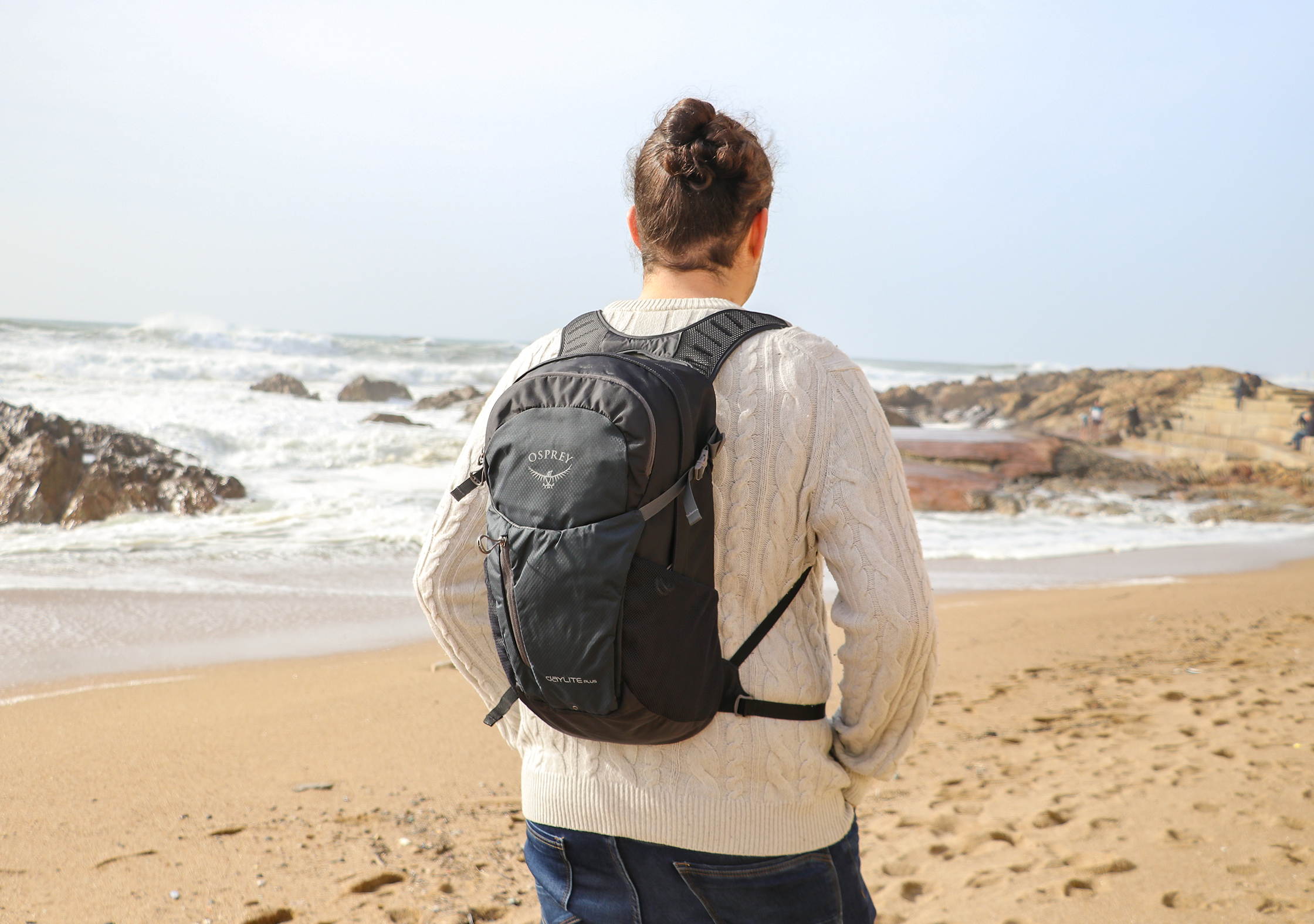 At the time of this review, we've been testing the Osprey Daylite Plus for just over two months. During this time it's seen use as a tech daypack on trips to the coffee house in the UK, and it's even come along with us on a one month trip to Porto, Portugal.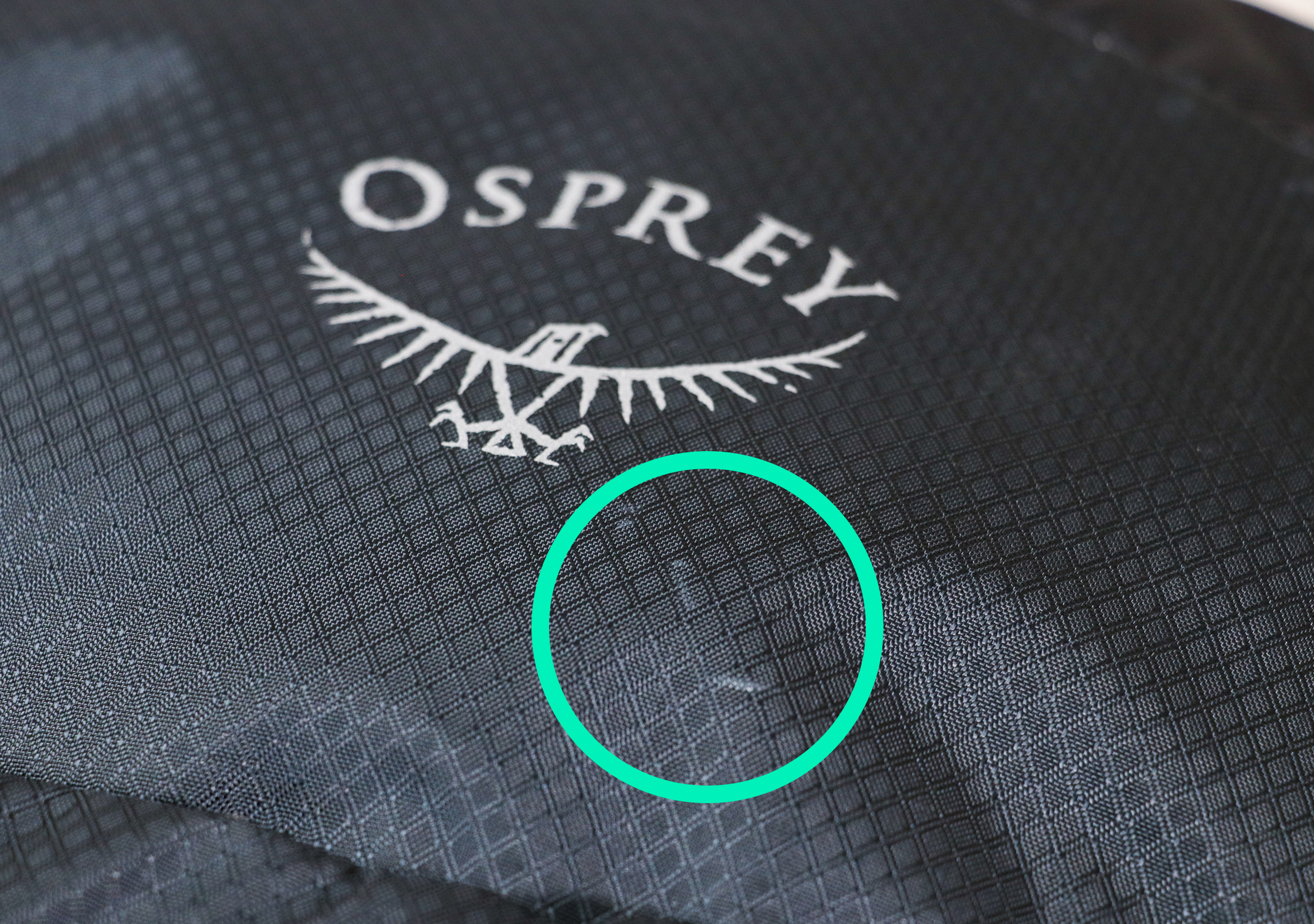 Unfortunately, just like the smaller Daylite, we've noticed a few abrasion marks on the front of the pack. They're not that noticeable at the moment, but the reality is that they're only going to get worse as the nylon fabric is so susceptible to abrasion. And when you consider this pack is geared more towards the outdoors, as opposed to urban landscape, it's really quite disappointing.
That being said, the aesthetic dings shouldn't affect the overall integrity of this pack. And thankfully, the craftsmanship and hardware is all high quality.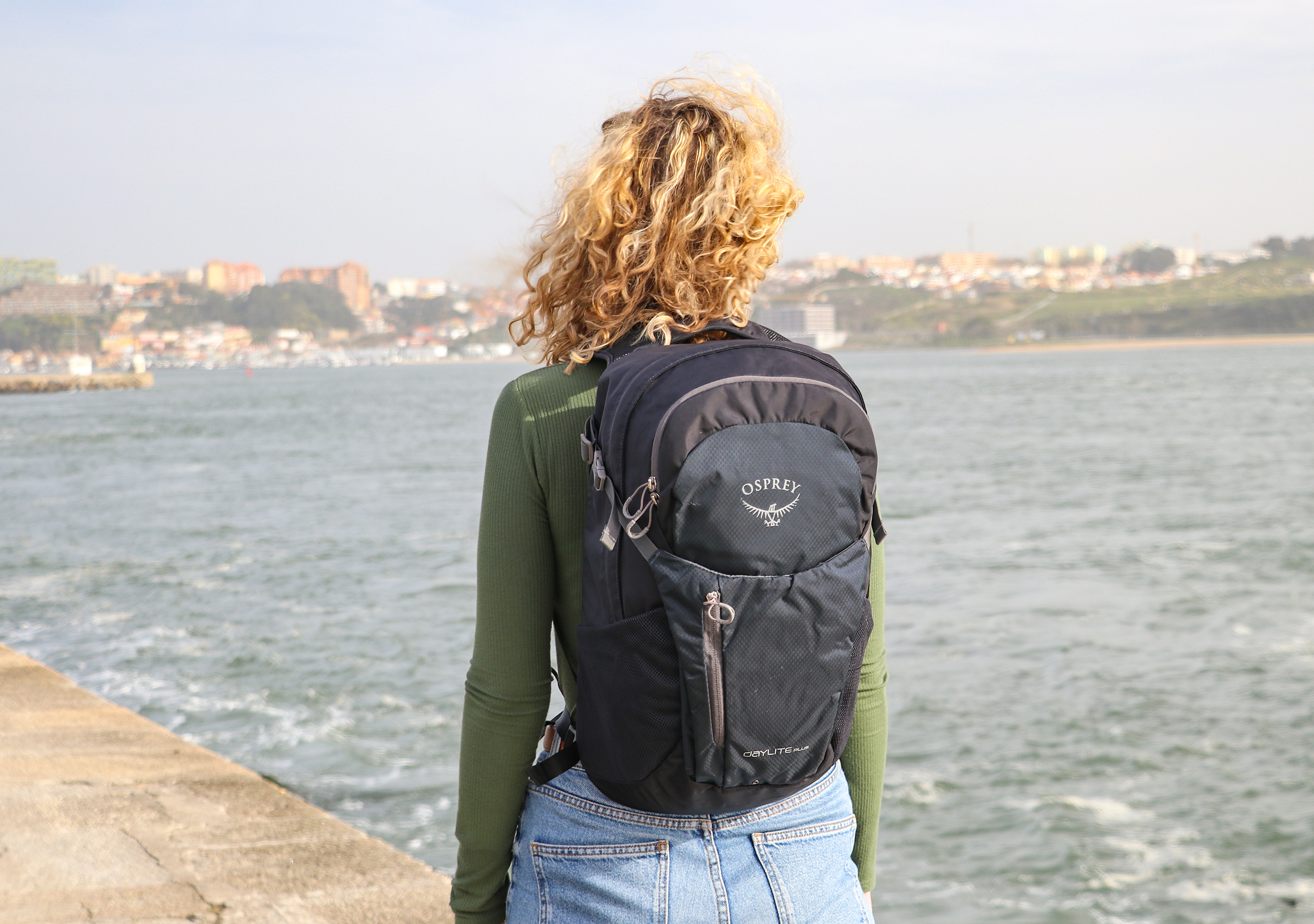 In testing, we've been impressed with the versatility of this backpack, and it works well as a complimentary daypack to larger one bag travel packs as well. Sure, it's not technically a "packable" daypack like the YNOT Deploy or Matador Freefly16, but the Osprey Daylite Plus is still pretty lightweight and lays flat when compressed.
We didn't utilize the front stretch pocket that often, and could have comfortably lived without it, but it's a nice addition for people who enjoy outdoor adventures.
Usage Timeline
Initial Usage
Condition: Excellent
The color of this pack does not match the images online. Other than that, things seem to be looking good.
1 Month of Use
Condition: Excellent
Brought this thing along with us on a one month trip to Porto, Portugal. It worked well as complimentary daypack to our larger one bag travel pack.
2 Months of Use
Condition: Good
Noticed a few abrasion marks on the material at the front.
Access the Pro Community Discussion
Get your questions about the Osprey Daylite Plus answered from our team and the Pro Community right here on the page. Plus, join discussions with other members about gear, guides, and more.
Other Bags & Luggage Reviews