YNOT Deploy Review
The YNOT Deploy is a packable daypack that doesn't feel packable (in a good way). Despite some problems with the zips and straps, this is a solid daily-use pack.
Our Verdict
Pros
Looks and feels like a daily driver daypack
Compresses and uncompresses quite easily
Durable materials and solid craftsmanship
Cons
Zippers can come undone
Seatbelt shoulder straps can run hot
Compressed size is larger than others on the market
Technical Details
98 %
Carry-On Compliance (Beta)
Capacity

15l

Weight (lb)

0.75 lb (0.3 kg)

Dimensions

16 in x 10 in x 4 in (40.6 x 25.4 x 10.2 cm)

Notable Materials

YKK Zippers, CORDURA®, Duraflex Hardware, Nylon

Manufacturing Country

Canada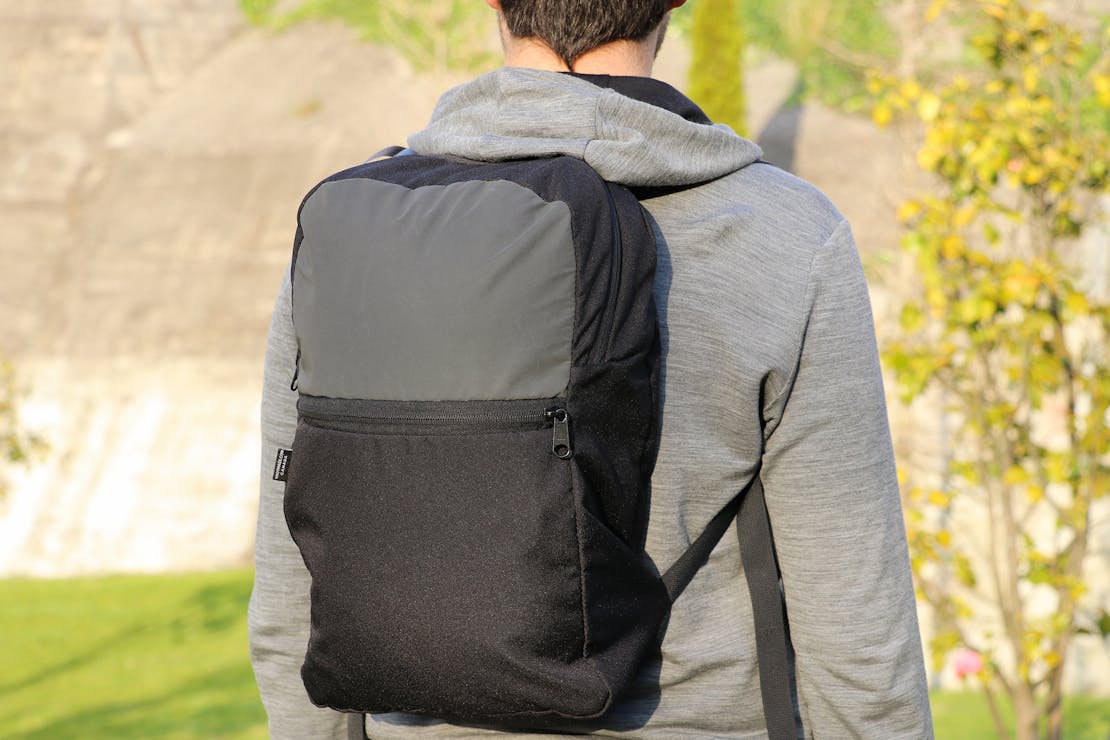 Full Review
The YNOT Deploy (pronounced "why not") is a durable 15-liter packable day pack that is great for the road. The thing that really sets this pack apart from most of the other packable daypacks on the market is that it actually wears like a real backpack! And that is no small feat.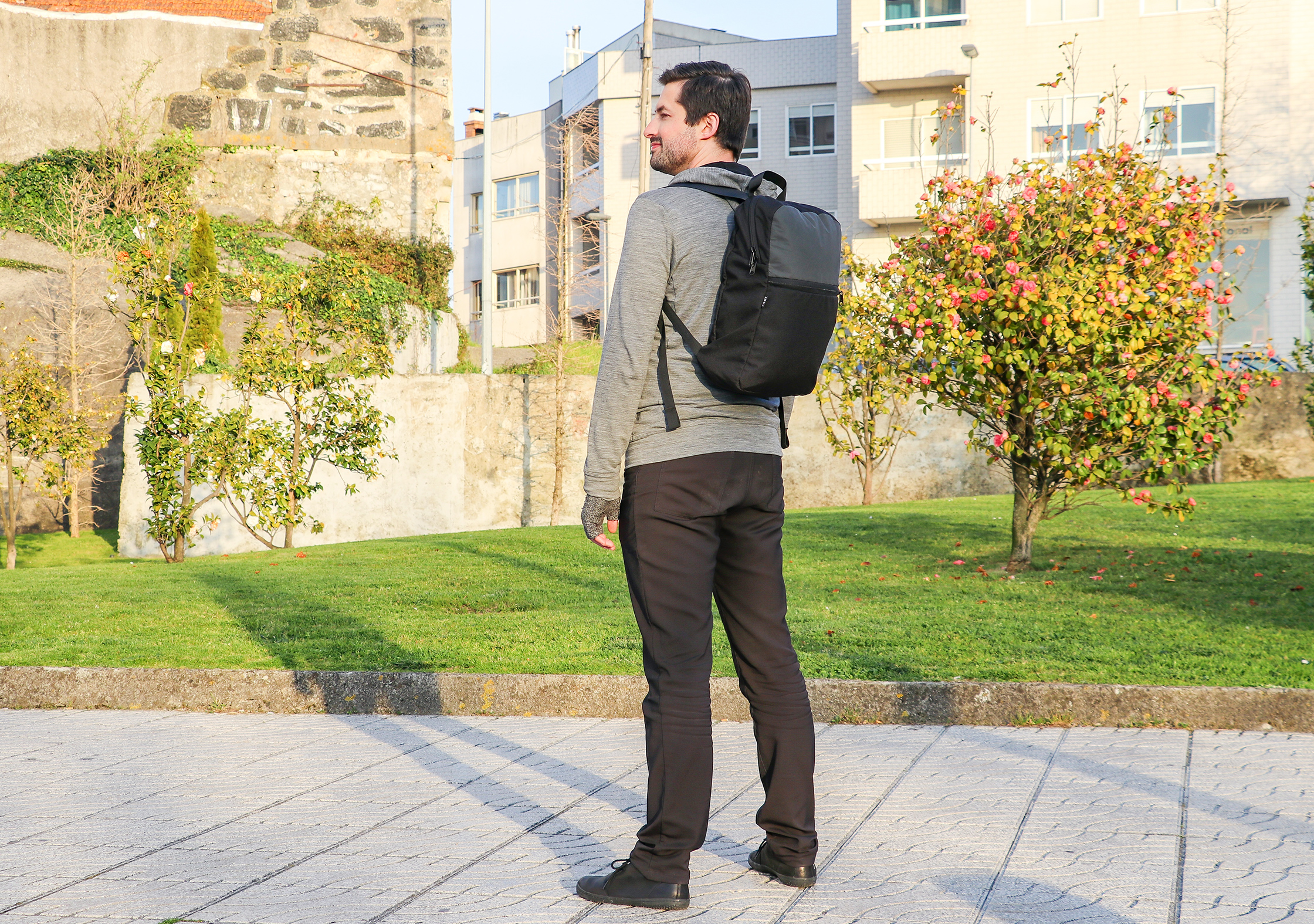 Most packable daypacks opt for super thin, ultralight materials and the result is that it feels like you have more of a "sack" on your back than an actual backpack. For that reason among others, we've been excited to test out the YNOT Deploy to see if it really does feel—and function—like a regular backpack when in use.
Curious to see how it fared? Keep reading to find out.
Material & Aesthetic
Starting off, the overall look of the Deploy is sleek and minimal. When you hold it in your hands, it really does feel like a regular daily driver backpack—and that doesn't stop when you put it on your back. This is a big contrast to most of the other packable daypacks we've tested, which use thin mesh and ripstop nylon. The Deploy holds its shape well and has plenty of structure, which we love.
This pack comes in a bunch of different colorways, although we chose to go with the always-reliable black, which has a slightly reflective portion on the exterior. From multiple grays and greens to orange, red, and even a few different camos—we're pretty sure even the pickiest person could find a style they like for this pack.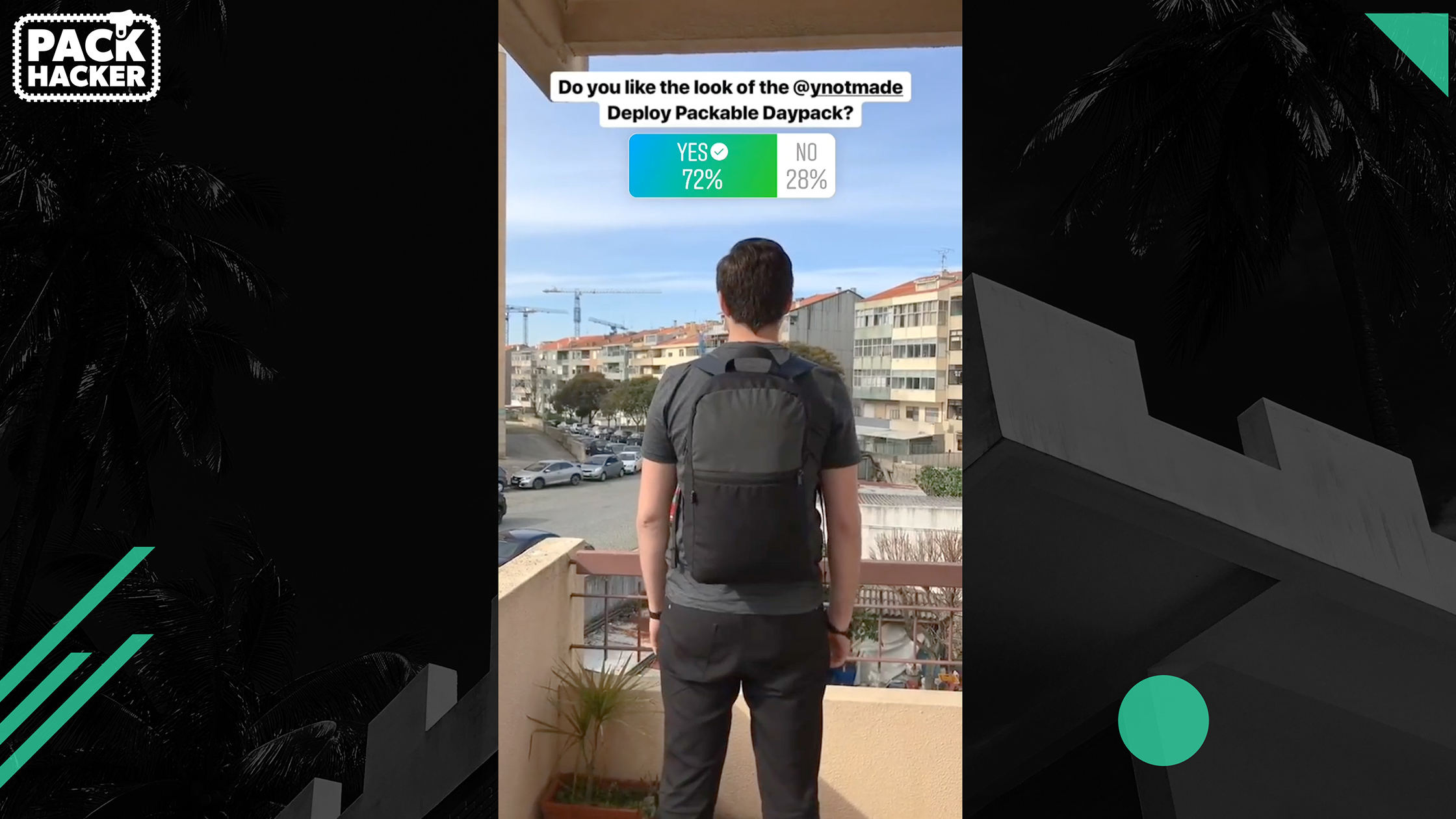 And speaking of styles and liking things, we should also note that the YNOT Deploy had a pretty impressive showing on our Instagram aesthetic poll. A whopping 72% of our audience liked the style, which is one of our best-performing polls yet! So, needless to say, you'll be looking pretty fly rocking this pack.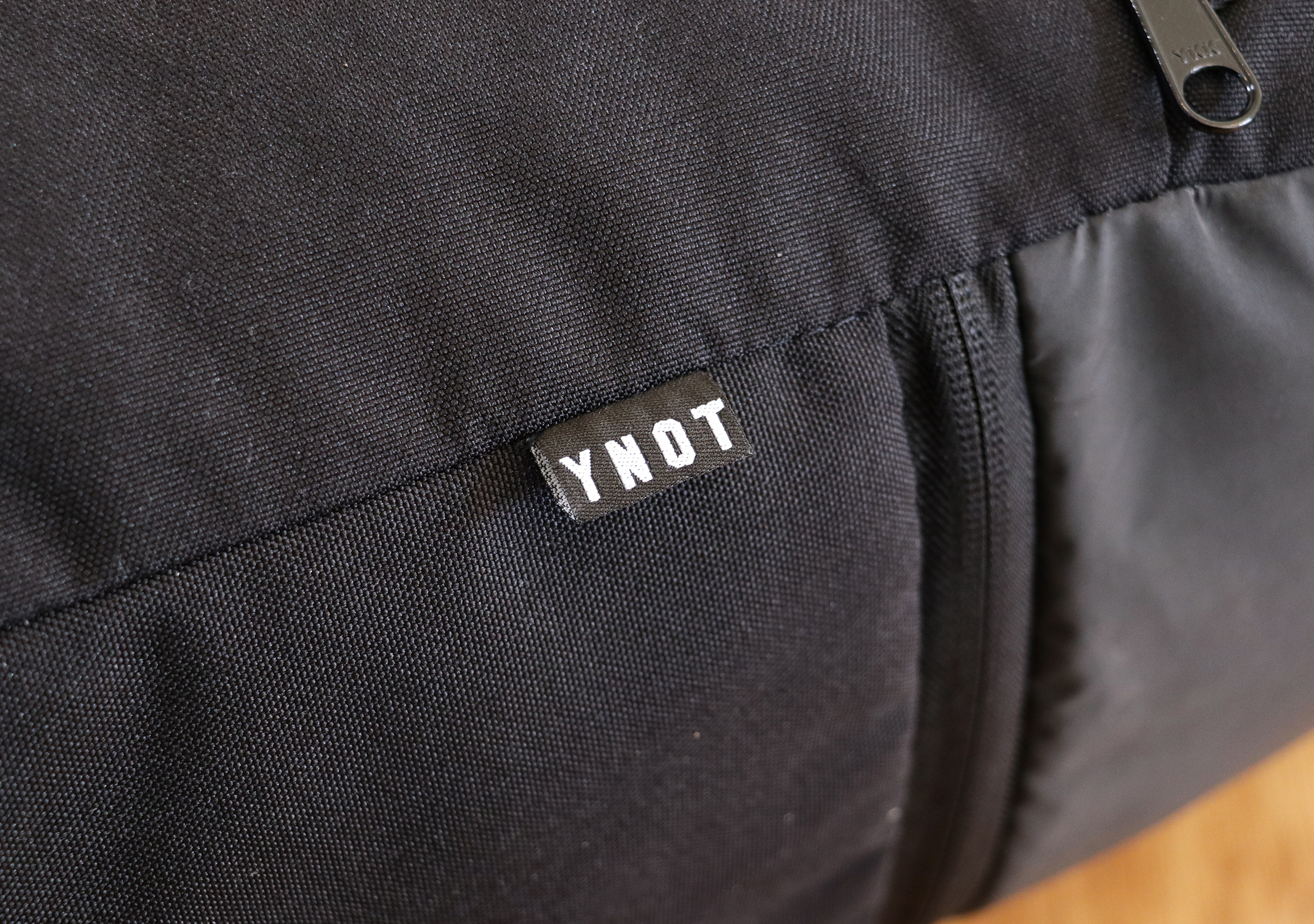 From a branding perspective, there is a small minimalistic tag towards the bottom of the pack featuring YNOT's branding—which is a condensed and bold typeface that says "YNOT." (Because why wouldn't it be?)
Now, one slightly confusing aspect with all these colors is that the materials actually change depending on what color the pack is. There are a total of FOUR different external materials, which are as follows…
600D Tough Duck: This is a 600 denier polyester fabric that has been coated with urethane and treated with DWR for increased weather-resistance. You'll only find it on the solid black version.
1000D CORDURA®: This is a solid, durable fabric we've seen on many backpacks—but never a packable daypack! It's strong stuff, but still relatively lightweight. This is what we've got, and it's the predominant material for every color besides what we've specifically listed in this bulleted list.
600D CORDURA®: This is the same as the above stuff, just slightly thinner. The Black Multicam is the only one with this fabric.
10.10 oz Heritage Waxed Canvas: Canvas is usually heavy and durable, and this stuff is no exception. In this case, it's treated with wax for increased weather-resistance. You'll find it on the charcoal, olive, and oak colors.
It's hard to say which fabric is best and, to be honest, we're not terribly concerned about any of these. They should all be more than suitable for a daypack that you're going to be using for running errands and exploring a new city.
If you're looking for the "best" material, we'd probably opt for the 1000D CORDURA® (that's what ours is) because it's the most durable while still being lightweight. But what's the fun in choosing the "best" material simply because we said it's the best? Go with what you feel!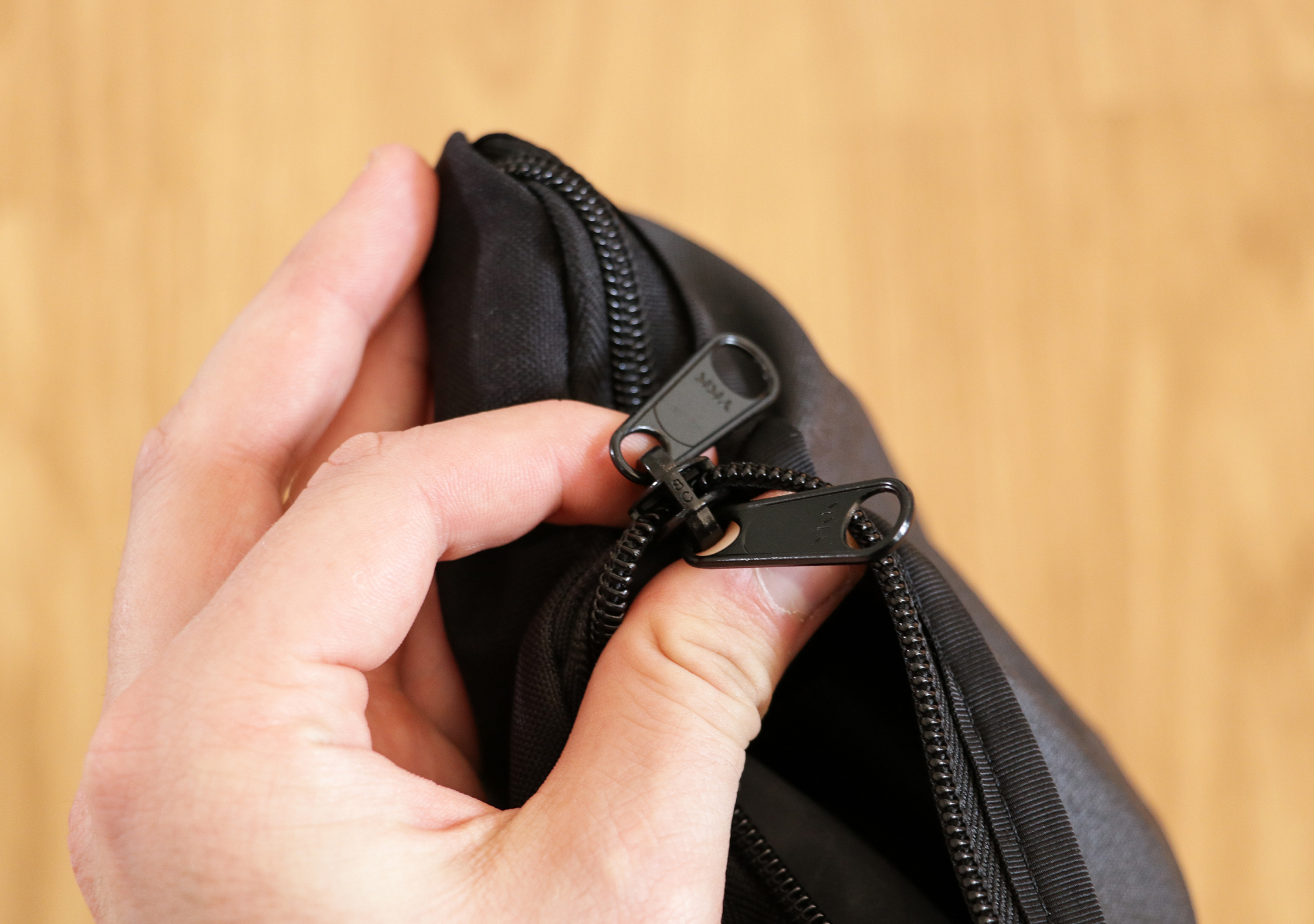 There are a couple other notable materials on this pack, including a single Duraflex snap hook that can be used when the bag is compressed or uncompressed. The zippers on the bag are YKK, which we love, and there are some automotive grade seatbelt straps that function as the shoulder straps. If you're confused about this, it's literally what you think it is—if you were to cut the seatbelts of a car and strap them to your pack…that's what you've got here.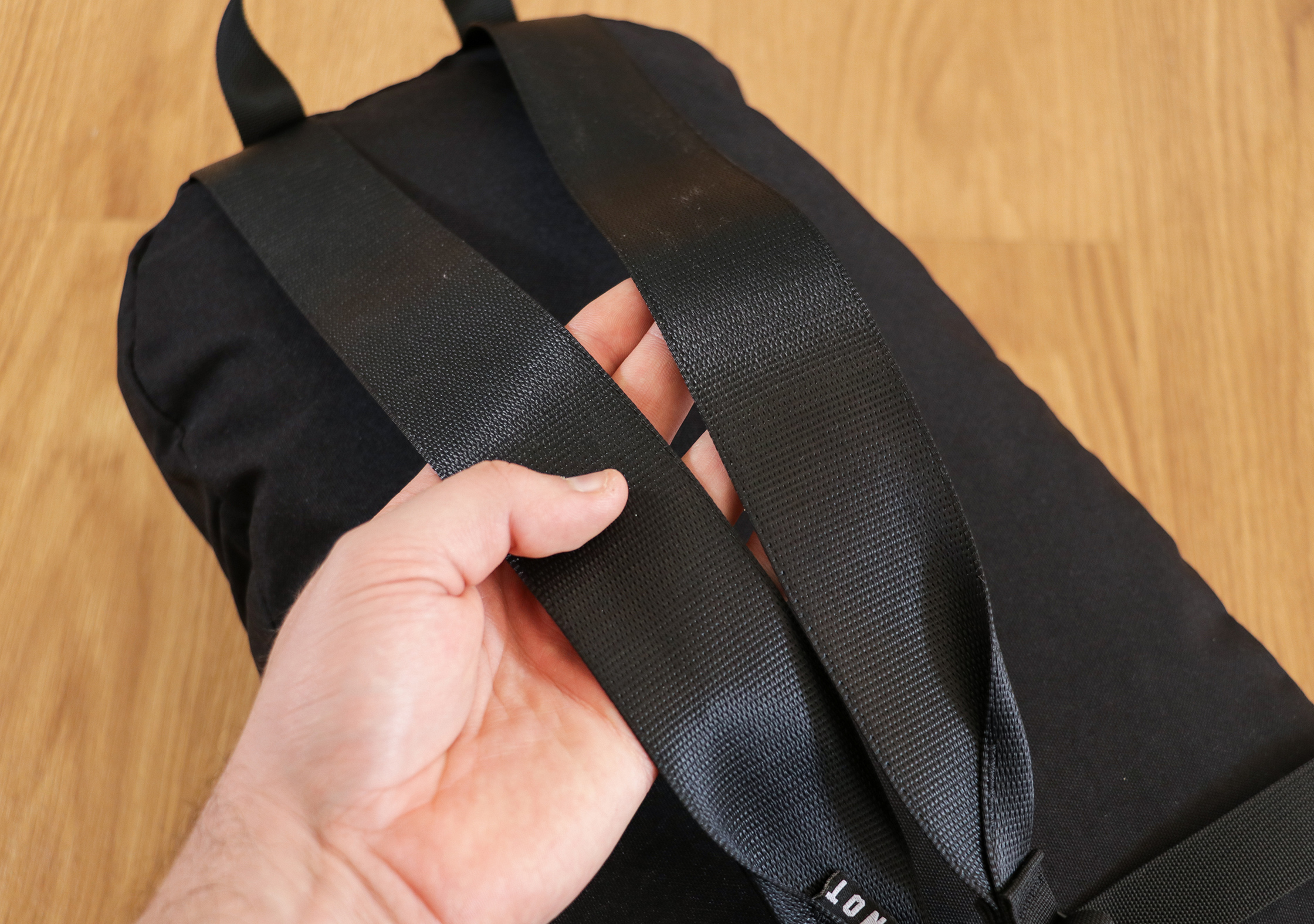 These work well for a small pack and they fit the aesthetic of this pack very well. But let's not forget that they're seatbelt straps. If you're wearing this pack on a hot day, and especially if the straps are on bare skin, they might rub you the wrong way—literally. We've seen a lot of other packable daypacks use breathable air mesh straps with a bit of padding, which tend to be more comfortable and won't soak up as much sweat or cause any irritation on your skin. They're not a dealbreaker by any means, but it's worth mentioning.
All of this stuff comes together in Toronto, Canada, where YNOT is based and where they produce all of their gear. We also love to see that YNOT stands by their products by offering a lifetime warranty on all their gear, although we haven't needed to test this out ourselves (which is a good thing).
Components & Usage

Starting in the compressed state, the YNOT Deploy is essentially a small, square pancake that stuffs into its own front pocket. All of the fabric is held inside with a #8 YKK zipper that is double-sided, so you can unzip the pocket when the backpack is in use and when it's compressed.
Next to that, there is the Duraflex buckle we mentioned above. This thing swivels, and it's great for clipping the compressed bag to something or clipping some keys or something into the pocket of the backpack when in use. When you unfold the pack, that hook will be inside of the front pocket.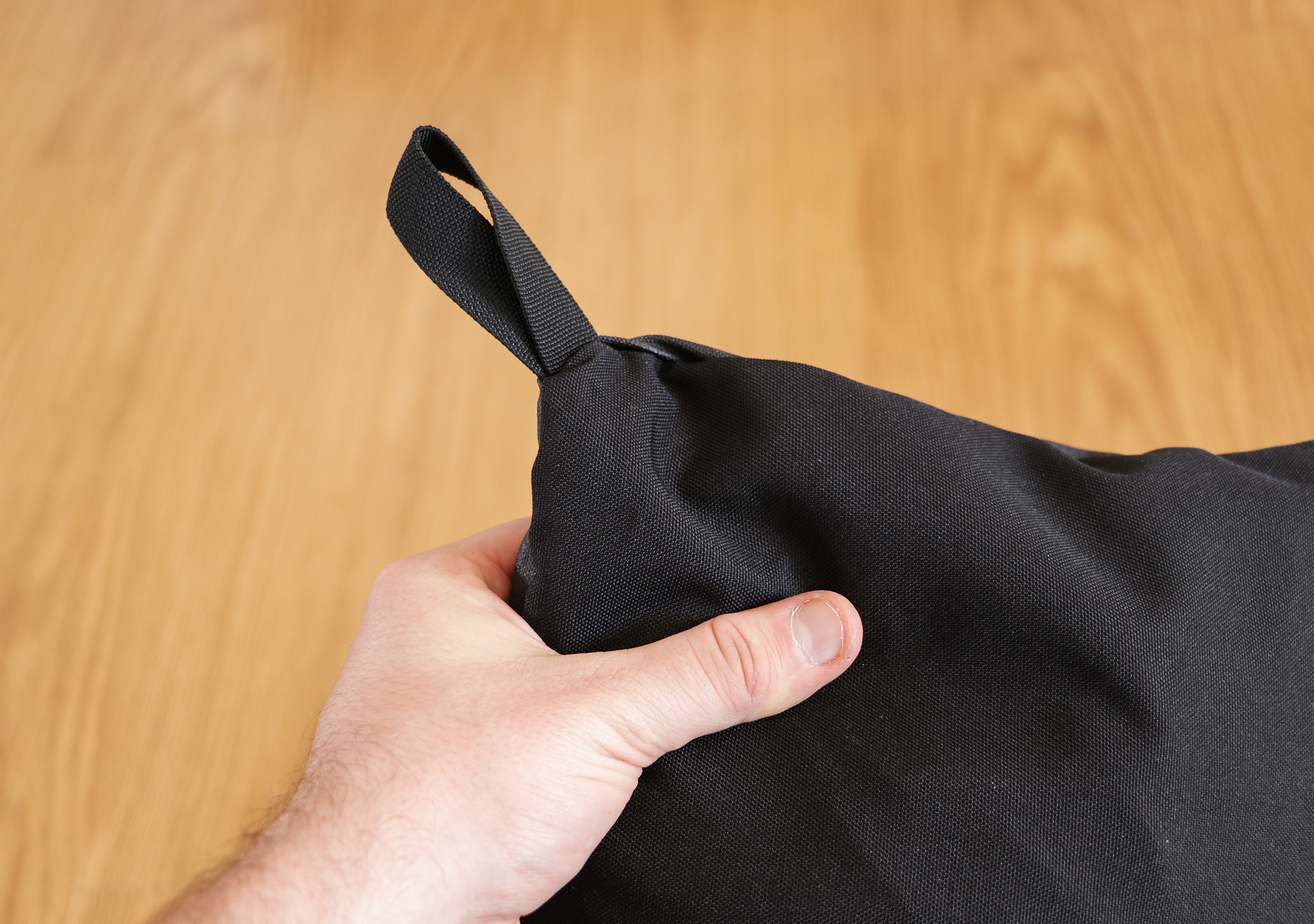 There is also a nylon loop tab at the other corner, which comes in handy if you want to hang the pack on a carabiner or something. One little hack we've found is that when you're compressing the bag into its pocket, you can pull that tab and it makes it a lot faster and easier to pull the pocket inside out and compress everything. We're not sure if that was intentional or not, but we love it either way.
When fully compressed, this bag does take up quite a bit more space than some of the other packable daypacks we've tested. That's the price you pay when you opt for more durable and sturdy materials, sure, but even then we think this pouch could be a bit tighter than it currently is. There's some extra room on the sides which makes it easy to pack up, but it's not perfectly optimized.
We hope that YNOT considers adjusting this a bit for the next version of the Deploy. We understand that it sort of has to be this way because the size of the front pocket is basically the size of the compressed pancake, but still—we like to nitpick. If you're super concerned about space, this probably isn't the packable daypack for you anyway.
To uncompress the bag, all you need to do is unzip the zipper and pull the rest of the fabric out. It's super easy and takes no time at all.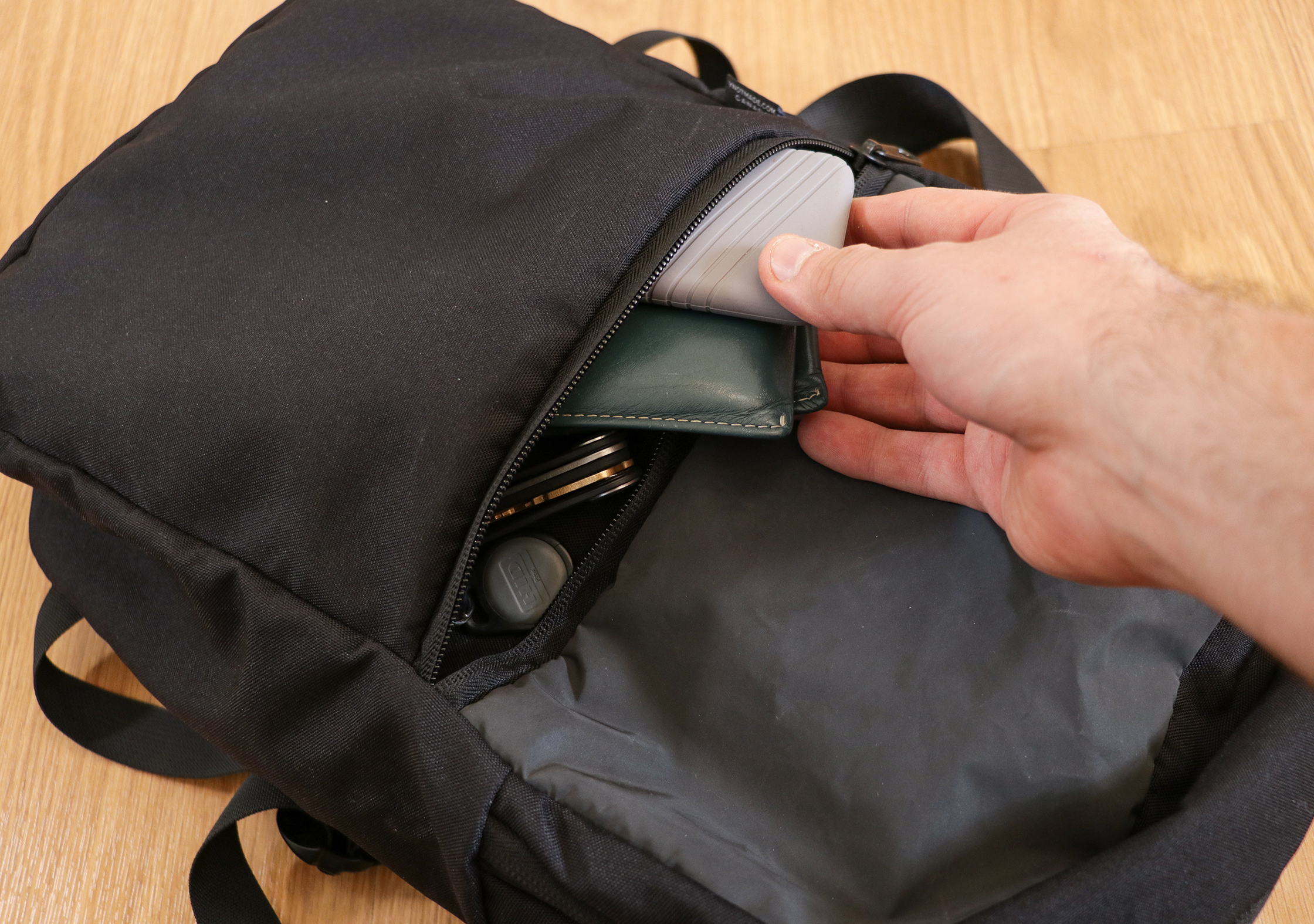 Moving on to the actual usage of the pack, the front pocket offers a nice partition to hold a few items outside of the main liter capacity of the YNOT Deploy. A lighter or compressible jacket fits well here in a pinch. We have noticed that the large zipper pulls on this area of the pack make it a bit hard to fully close the pocket. That's a really minor nitpick, but to be fair, nitpicks are kind of our thing—we love getting into the tiny details.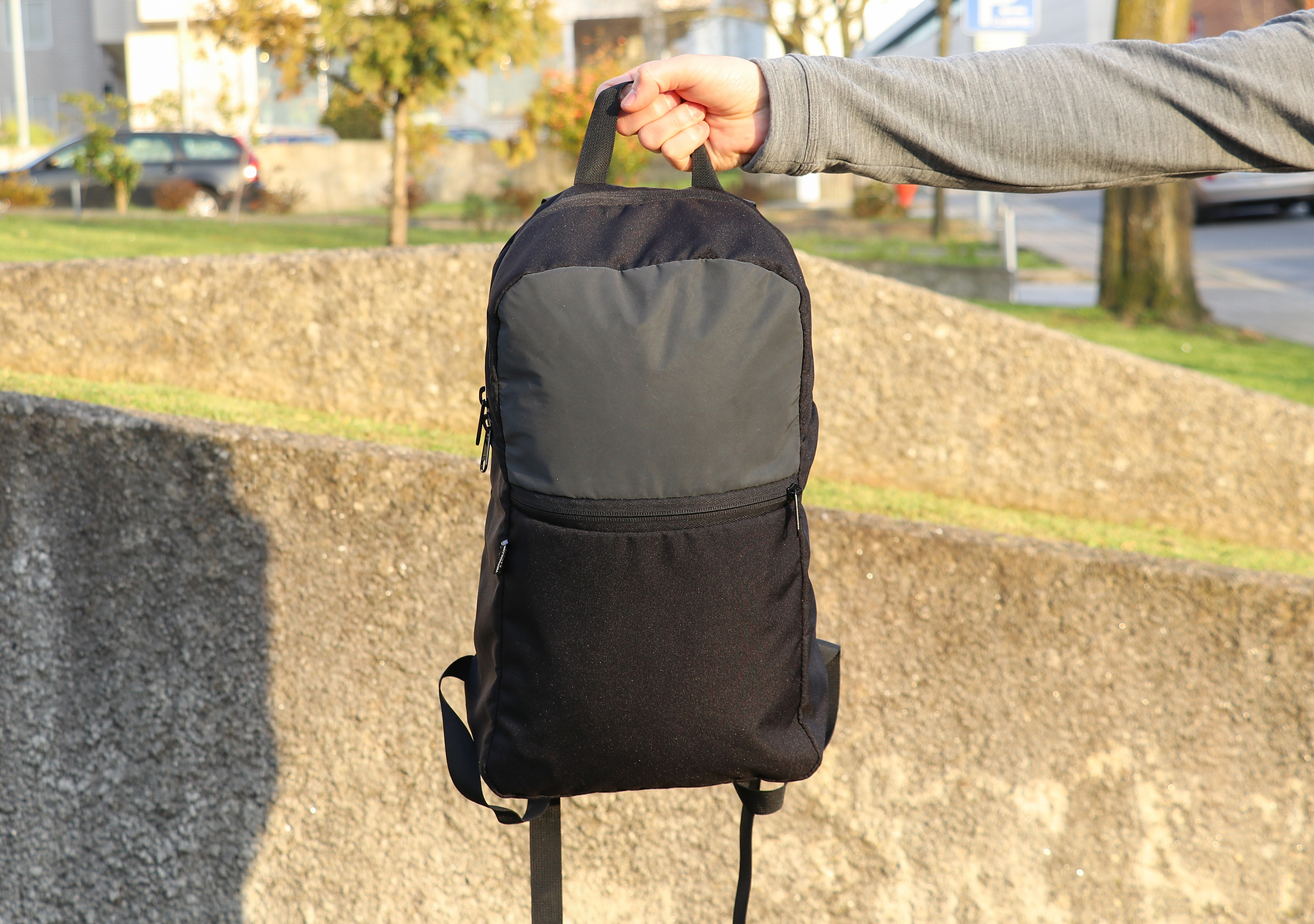 Moving on to the harness system, we'll start with the webbing loop on top. This is a simple grab handle you can use to grab the pack (shocker) or hang it up. Really, the world is your oyster here—it's a well-reinforced strap that gets the job done. You won't find much padding or anything else, but that's to be expected with a packable daypack.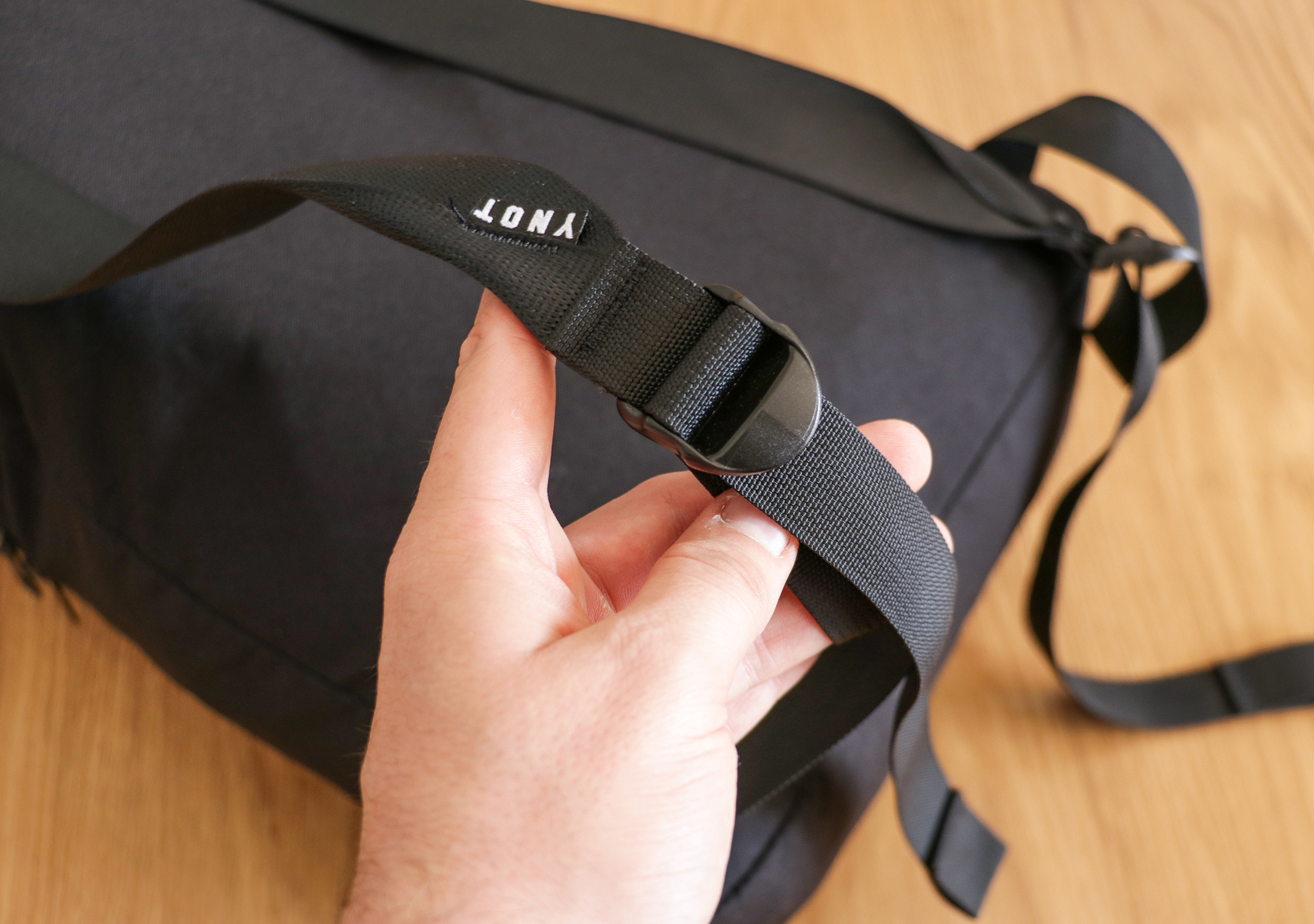 The entire harness system feels sturdy and reinforced, and we love how they've handled the seatbelt strap attachment. The straps fold over on themselves toward the bottom, they're stitched together, and then they attach to the nylon adjustment strap. Everything here is easily adjustable thanks to the plastic hardware and the small loop on the bottom of the adjustment straps.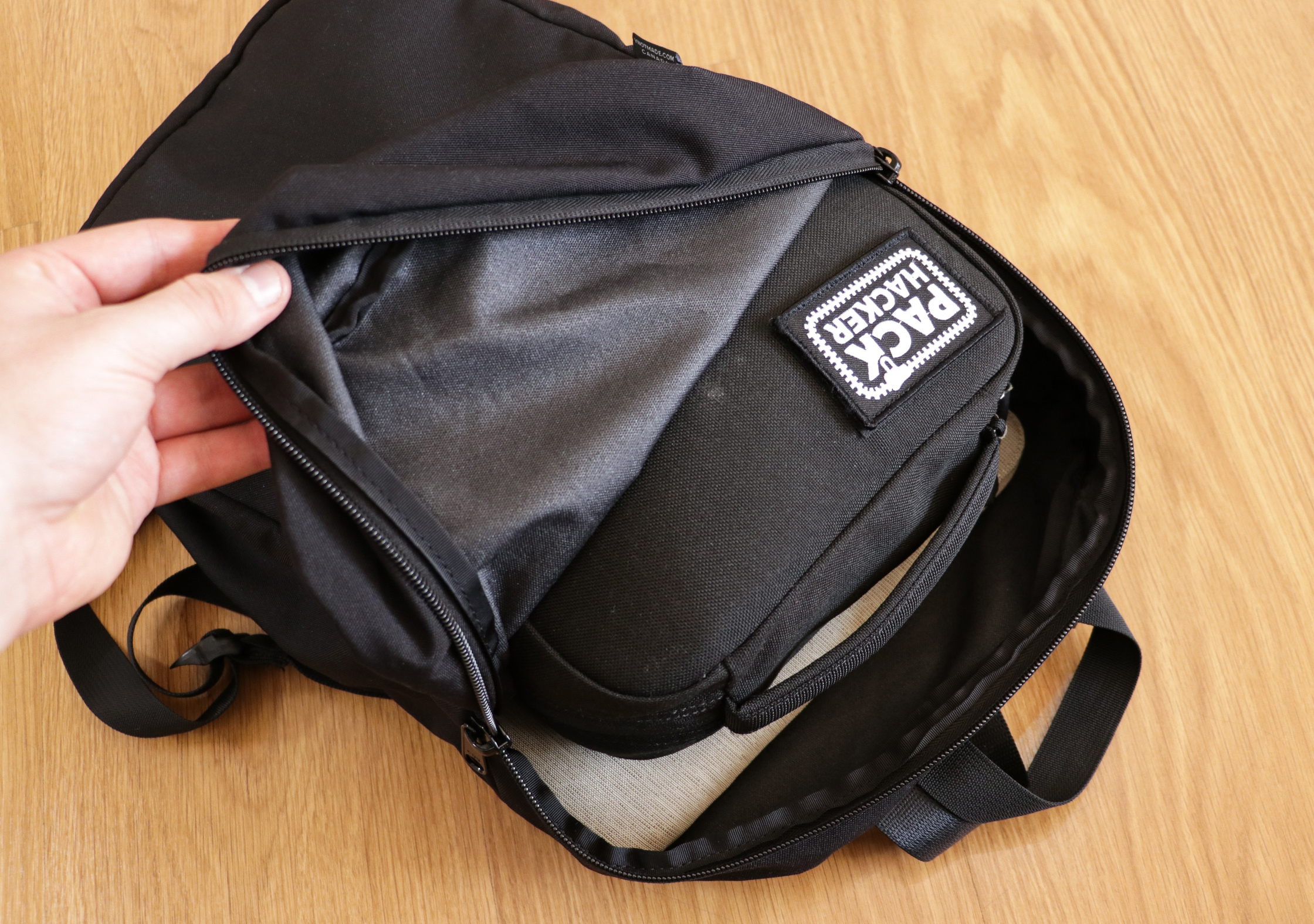 Moving on to the main compartment, the two YKK zippers open up in a horseshoe style, meaning they extend about halfway (or a third of the way, if we're being technical) down the length of the pack. This still gives you enough room to access the main liter capacity of the pack.
We generally recommend using packing cubes and pouches for organizing larger pieces of travel gear, and with the YNOT Deploy we're going to recommend the same. Using something with padded protection especially, like the GORUCK Padded Field Pocket, will not only help protect your gear from the relatively-thin materials, but will also prevent stuff from poking into your back as you're wearing the pack.
Durability & Testing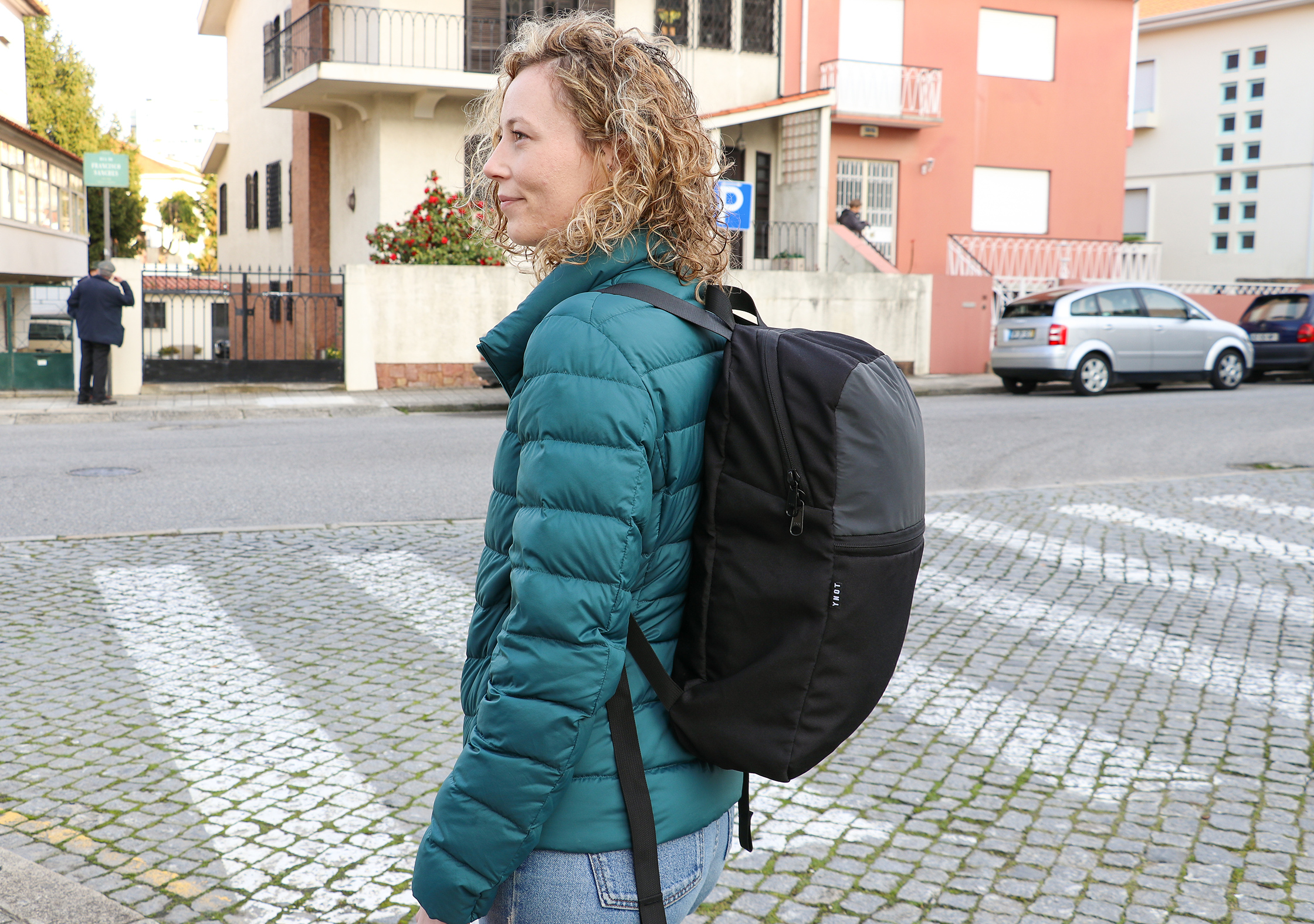 At the time of this review, we've been testing the YNOT Deploy for about two months between Detroit, Amsterdam and Portugal. In that time, it's been a great little compressible workhorse.
One thing we have noticed is that the standard coil zippers can come undone a little bit more than we would like. In general, we like to have both zippers on the center near the top of our pack, so you can easily pull them apart and access the main compartment. However, when you do that on this pack it can start to unzip by itself if it's filled up with heavy items.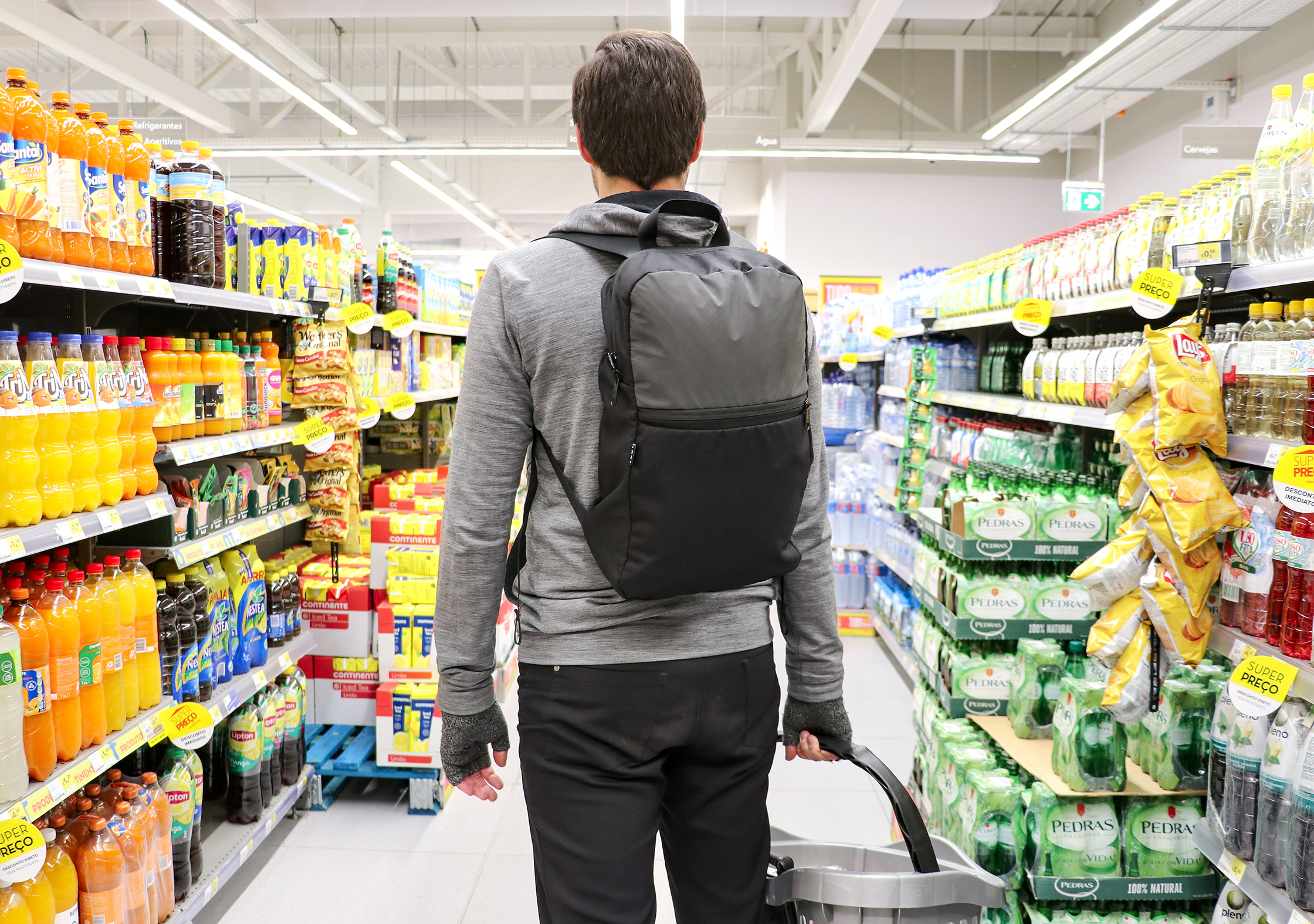 You can avoid that problem by keeping the zippers on one side of the pack, but you do lose some of that quick access you get with having the zippers at the top. We do think if YNOT had opted for a racquet coil zipper here, it would have helped quite a bit. Those zippers are a bit stronger and don't come unzipped quite as easily—which is why they're super popular for backpacks and luggage.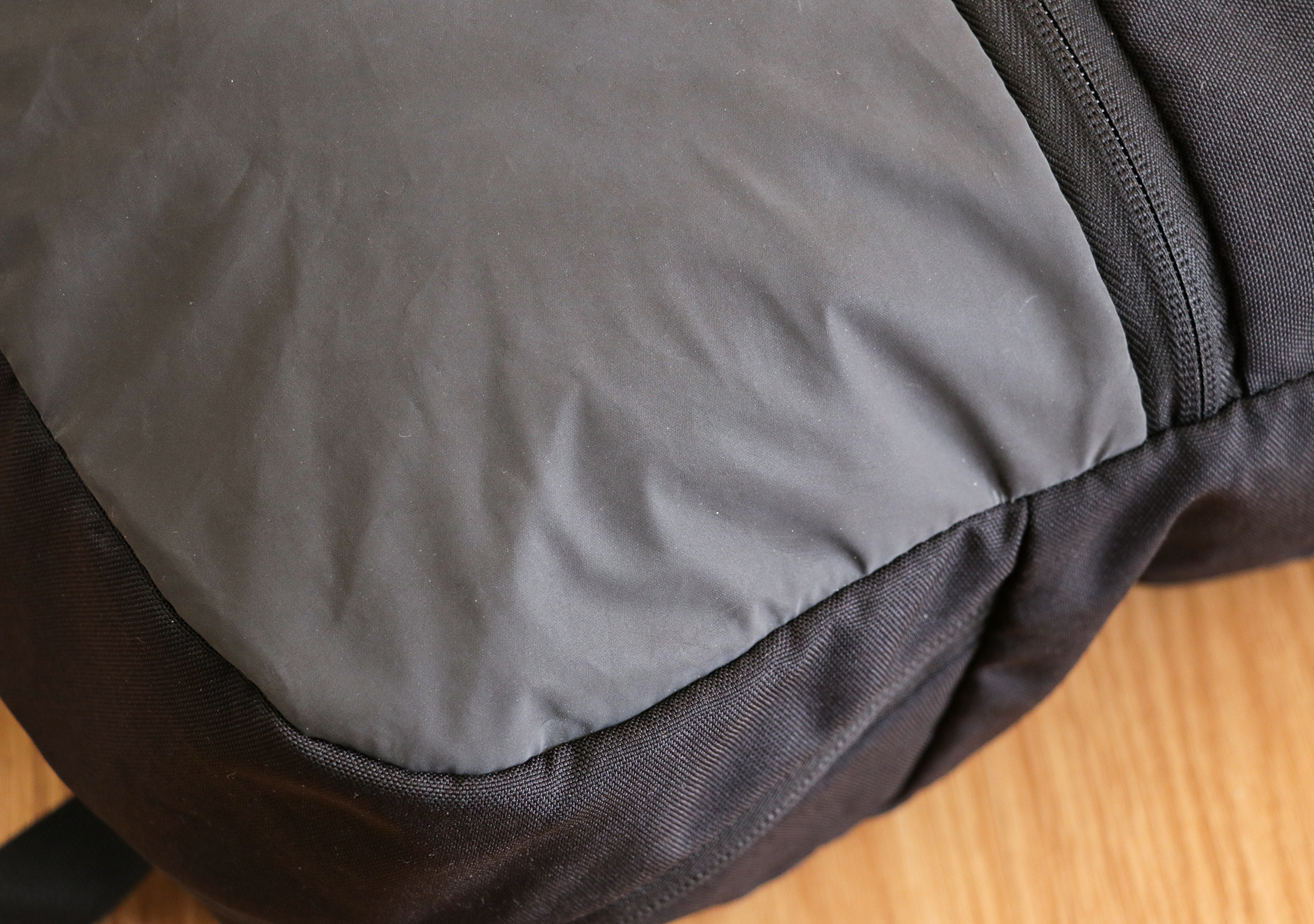 One other small nitpick is that the reflective piece on our pack is picking up marks and getting "crinkly" a bit faster than any other area of the pack. The version we have is the only color that comes with the reflector piece, however, so this may not affect you depending on what color you go for. (And yes, we're always going to point out these nitpicks because it's what we do!)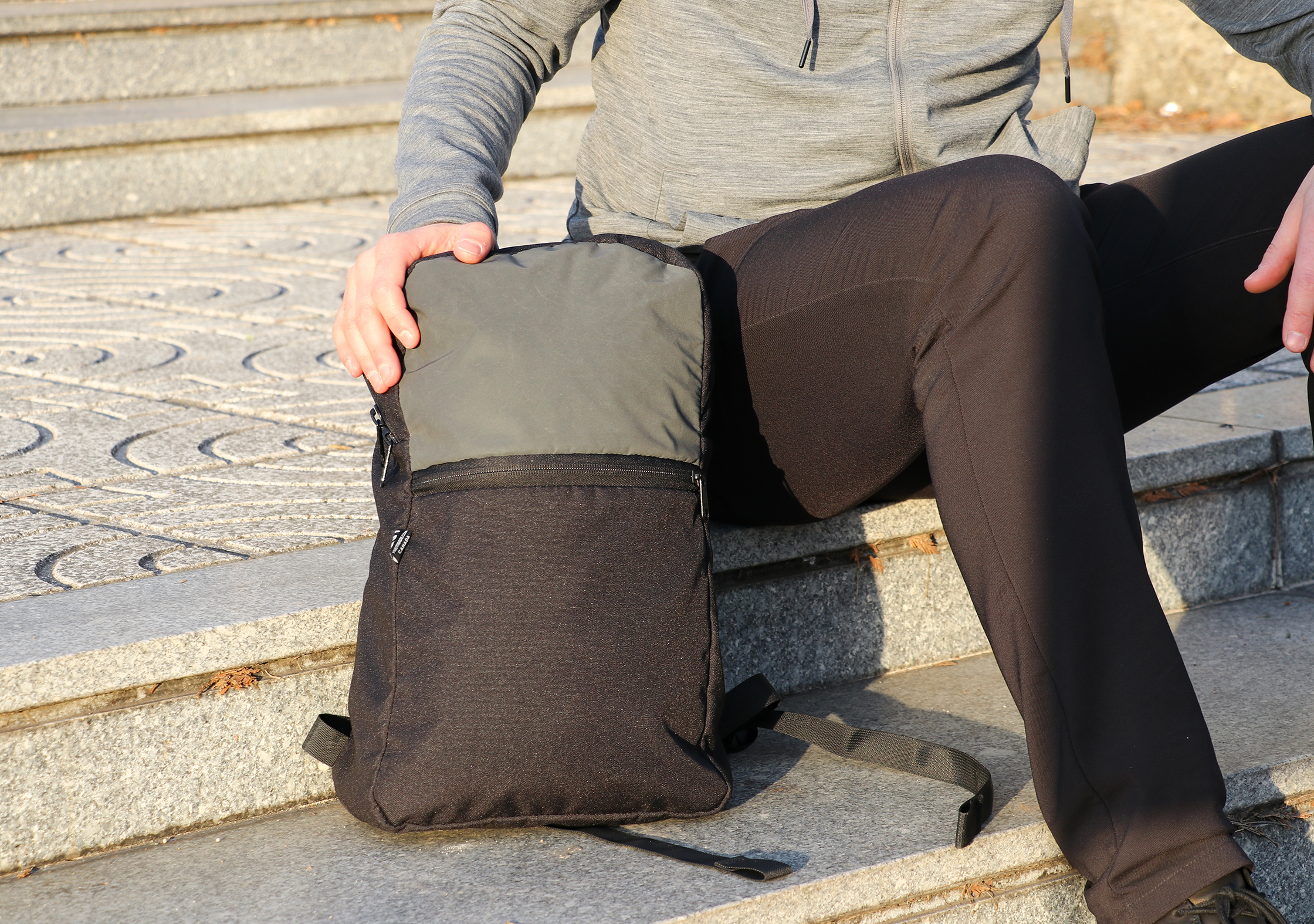 Other than that, the Deploy has held up well and we think it looks beautiful. It's really a joy to use on a day-to-day basis, especially in a travel context where you don't normally have the luxury of using a daypack that feels like an "actual" daypack.
Usage Timeline
Initial Usage
Condition: Excellent
Looks GREAT! This thing feels really nice in your hands—it's like a non-packable packable daypack…?
1 Month of Use
Condition: Excellent
Been using this bag as a daily driver with much success. The zippers do come undone if they're in the center, so we've started pushing them to the side.
2 Months of Use
Condition: Excellent
Still going strong, although we're noticing some crinkling on the reflective top.
Overall
The YNOT Deploy is a simple, sleek packable daypack that's perfect for use as a daily driver to compliment your larger travel backpack or roller luggage when you're on the road. Although the compressibility is a tad larger than expected and we've had some nitpicks with the main zippers, the Deploy is a highly-functional bag with high-quality materials and expert craftsmanship. It's a packable daypack that doesn't feel packable—and that's no small feat.
Other Bags & Luggage Reviews