Matador SEG42 Travel Pack Review
The Matador SEG42 Travel Pack features an innovative design that combines a backpack, duffle bag, and packing cubes—and, sometimes, a saggy carry.
Our Verdict
Unlock the Pro Summary
Save time. Get access to brief summaries of our reviews so you can browse and make decisions more efficiently.
Pros
Integrated packing cube system is an innovative design
Durable, weather-resistant materials
Versatile carry options
Cons
No frame sheet can make for a saggy carry
Shoulder straps are thin and harness system is unstructured
No false bottom in laptop compartment
Recent Pack Hacker Video
Technical Details
Capacity

42l

Weight (lb)

2.25 lb (1 kg)

Denier

840D

Dimensions

22.5 in x 12.5 in x 11.5 in (57.2 x 31.8 x 29.2 cm)

Notable Materials

Nylon, Polyurethane, DWR Coating, ROBIC®, EVA Foam, Zoom Zippers, Hypalon®, Aluminum

Manufacturing Country

Vietnam

Laptop Compartment Size

15"

Warranty Information
Buying Options

$150.00

$190.00
Full Review
Get up to 20% off Matador • Join Pack Hacker Pro
Matador often pushes boundaries when it comes to their bags. They like to experiment with new and different innovations to make getting around easier, whether that's for extended travel, EDC, or amping up the organization of your gear.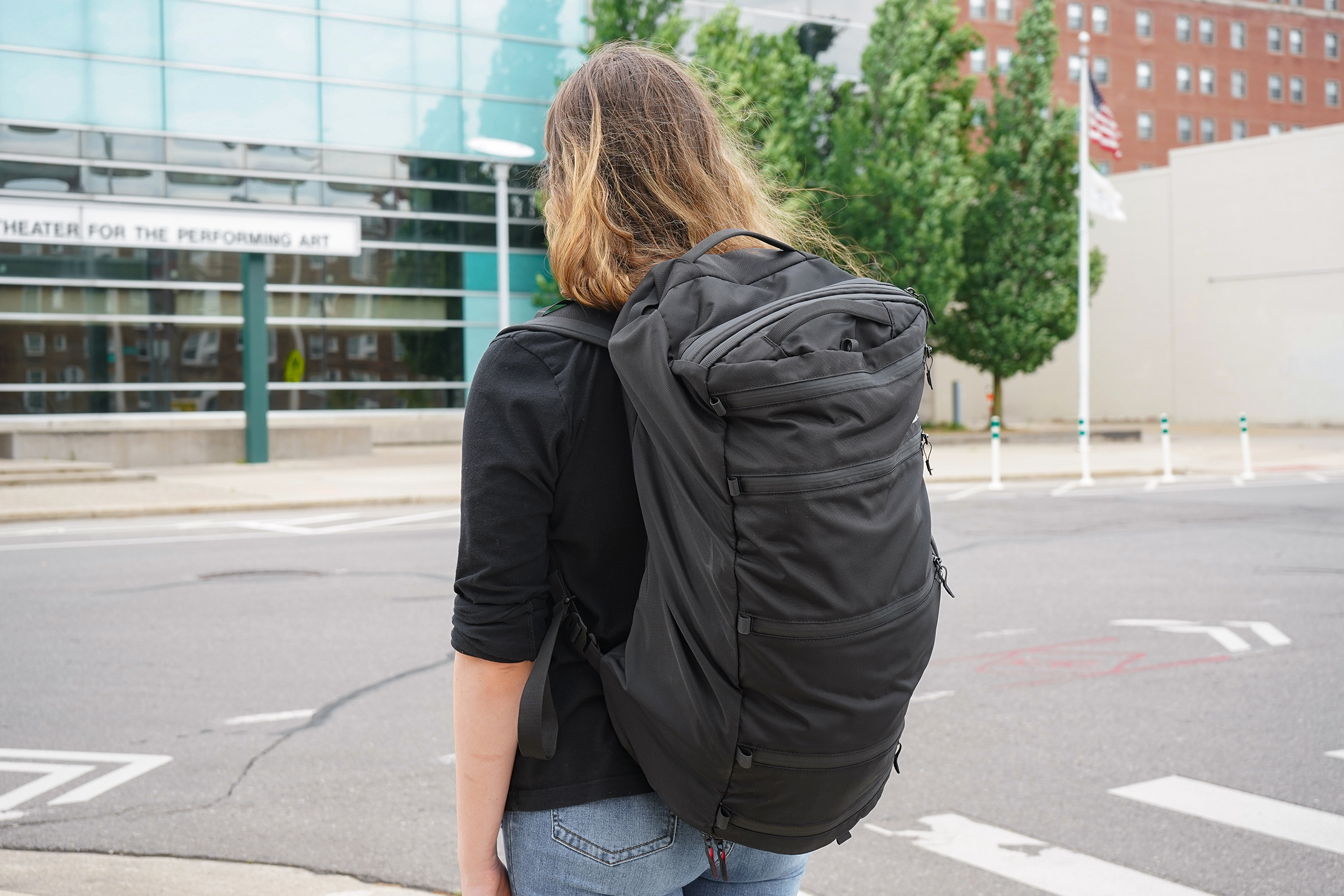 One of their latest innovations is the Matador SEG42 Travel Pack. It's described as a "one bag travel pack," in that it combines the style and function of a backpack, a duffle bag, and packing cubes all in one. Something to note though—it doesn't pack into itself in the same way other Matador bags do (like the Matador Freerain24 2.0, for example), but it does lay pretty flat when empty if you ever want to pack it away for later use. They removed "Packable Adventure Travel Gear" from the logo tagline on their website back in 2019, (we checked using the Wayback Machine), so perhaps they are turning a new leaf when it comes to their product design philosophy.
We've been carrying this pack around for about two weeks, getting a feel for its unique layout—and we have some things to say, so let's jump into the review.
Materials & Aesthetic
At the time of this review, the Matador SEG42 Travel Pack is only available in one colorway, and that's black. This pack is long and narrow, and the different segments of the bag are visible on the front—this coupled with the colorway makes it almost look like a giant, high-tech caterpillar when on our backs.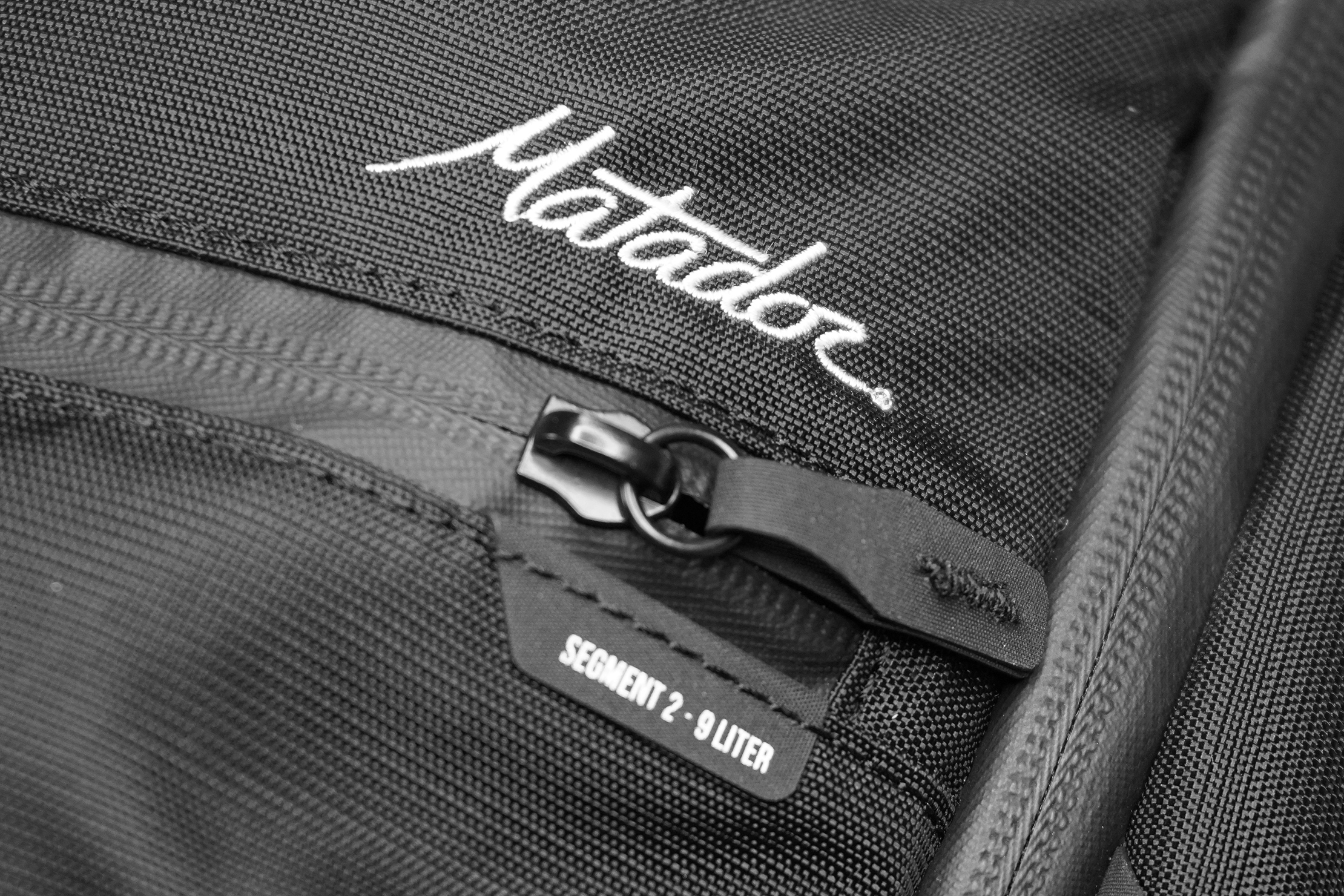 The folks at Matador have kept the branding subtle throughout the pack—which we dig. You'll find some Hypalon logo tags on the shoulder straps as well as the Matador name stitched in white thread on the front.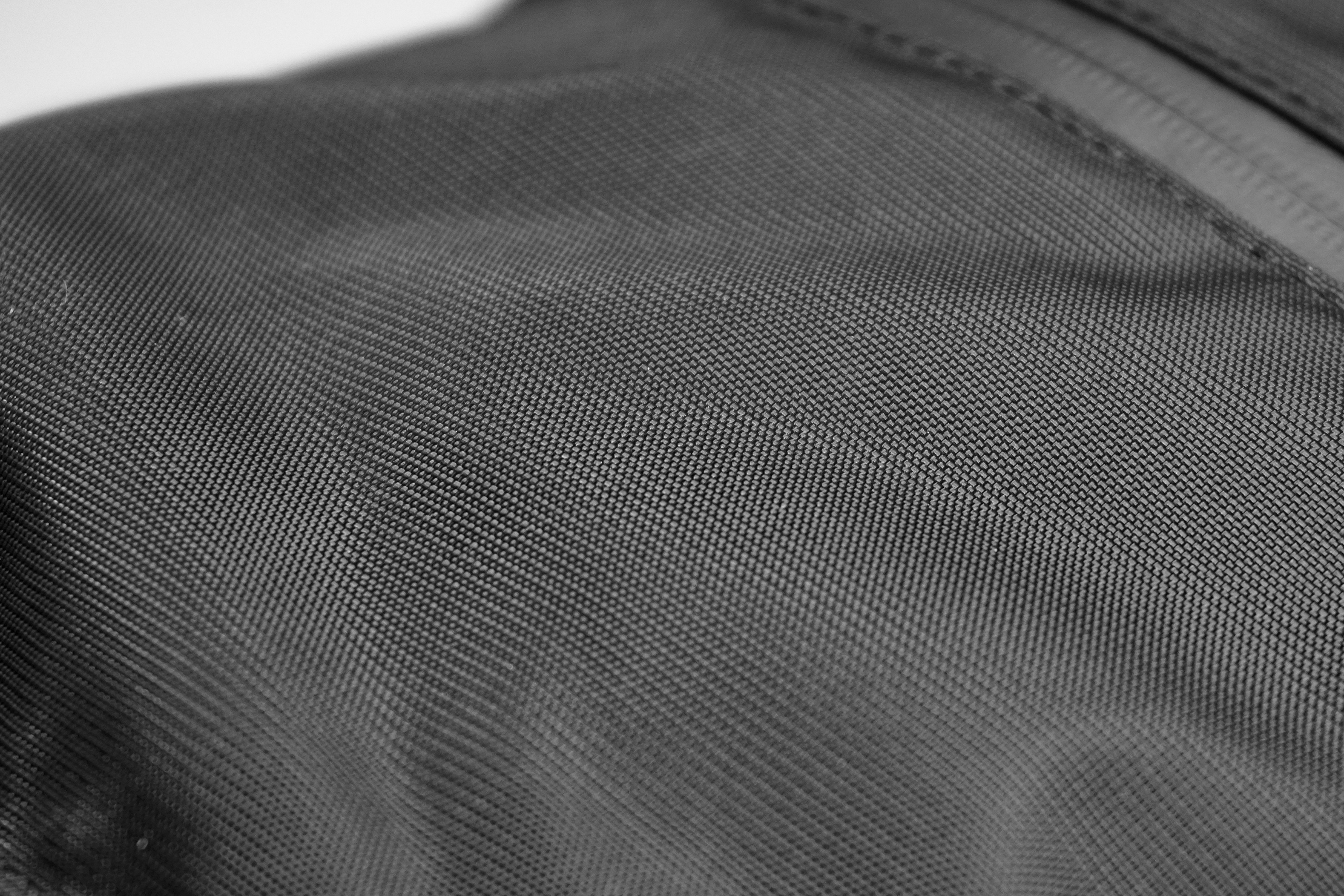 As for material, the Matador SEG42 Travel Pack has 840D nylon on high wear panels (like the higher-traffic parts of the bag) that's finished with a PU (polyurethane) coating to give it some added weather-resistance. And low wear panels (the more sheltered parts of the bag) are made with 420D nylon and UTS coating—which increases the fabric's tear and water resistance (by a claimed whopping 30%). Inside, the integrated packing cubes are made with 100D Robic® nylon weave lining and dividers, and the same UTS coating. Basically, the folks at Matador have put in some effort to make this thing more tear and weather-resistant. We're not sure how much this coating helps with either (we haven't torn the fabric or dunked this thing in a tub of water) but we also haven't noticed any rips or snags, or come home with soggy gear so far in our testing. So you'll be fine if you get caught out in some drizzly weather or rough terrain.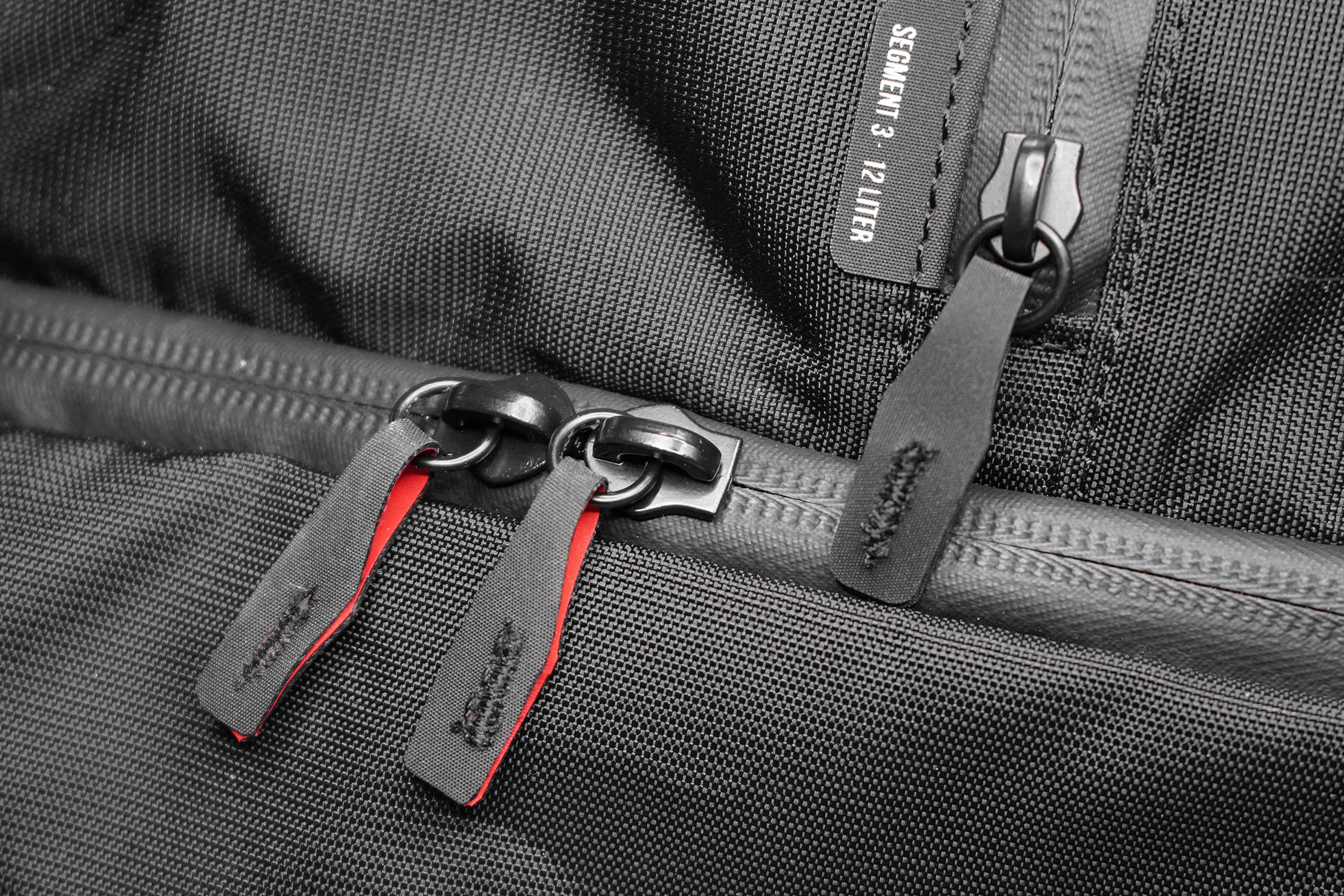 You'll also find Zoom zippers throughout the bag. As for the zippers on the main compartment, they're small for a bag of this size. On larger travel packs like this, we typically see larger zippers as they can handle more strain. This causes some concern with durability—if they break, there's nothing keeping the bag together (so you can't really use it, although the segments will keep your gear in if you're using them). We've also had an issue with these zippers getting a little sticky around corners due to the rectangular shape of the track. It's not as bad as we've seen on other bags with this shape, but still something to note.
We do like the soft, rubbery feel of the Hypalon pulls. There are also Hypalon tabs to the left of each segment zipper that you can grab as you pull the zipper across, which makes for a smooth zip every time. You'll notice some red on the inside of the pull tabs on the main compartment zippers too, which makes it easier to find the zipper you're looking for.
Lastly, there's aluminum Woojin hardware on here. We've tested lots of Woojin hardware on lots of other bags in the past and it's worked great, which is also the case here so far. We do have some thoughts on the G-hooks specifically, but we'll get into those later in the review.
External Components
There's not too much going on with this bag's exterior. Just a few zippers, some attachment points, and of course, the harness system—which we'll start with.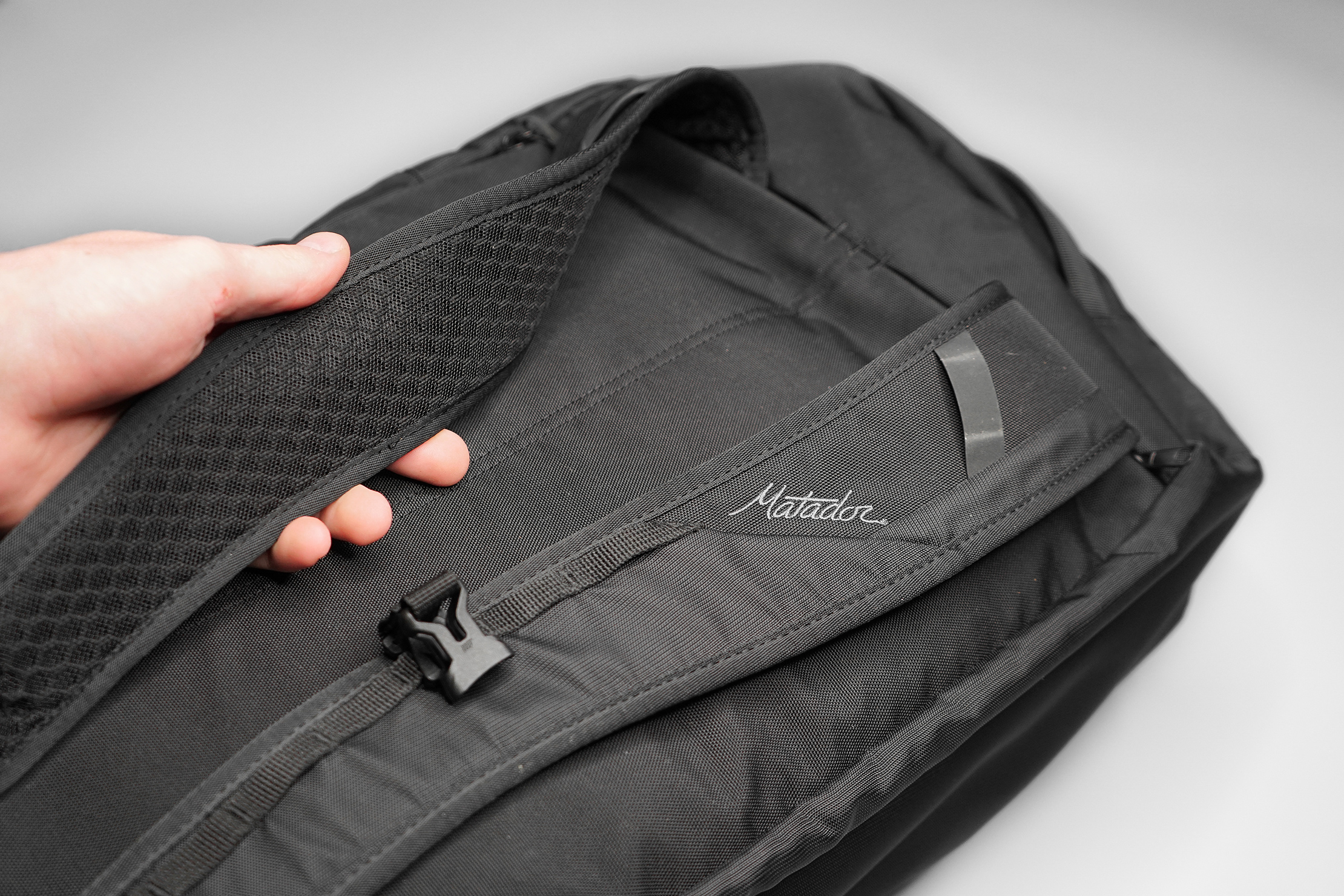 The shoulder straps on this bag are lined with mesh in a honeycomb-like pattern for added breathability, but they aren't super padded. In fact, they're pretty thin—especially for a 42L pack. That said, we've kept this thing loaded up with about 12 pounds (5.5 kg) of gear during testing—and found the straps to be surprisingly comfortable.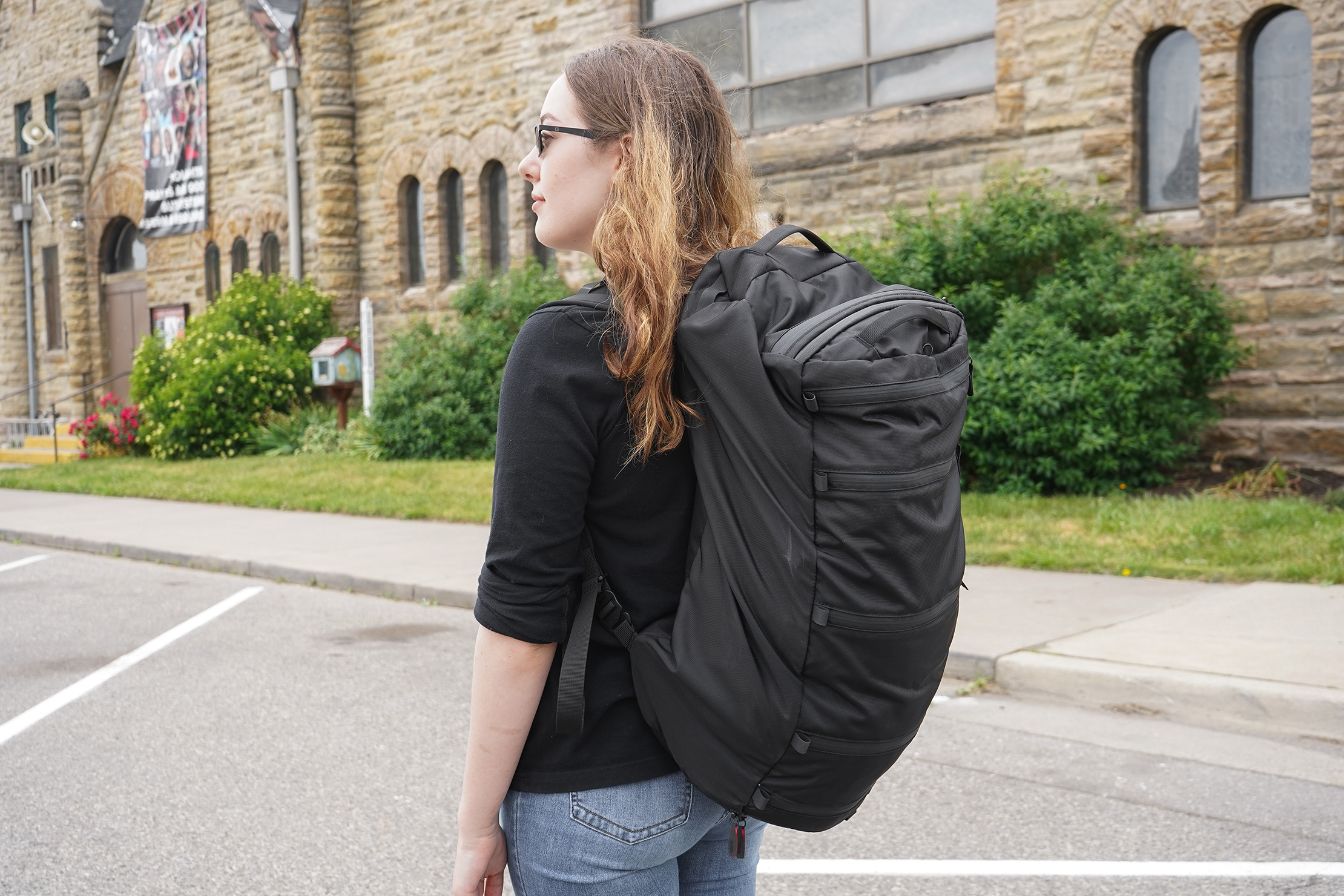 What's not comfortable is the way the bag buckles when you put it on. The straps pull the bottom of the bag up, causing it to buckle and leave a gap in the middle—similar to what we saw with the Tom Bihn Aeronaut 45. This is because the bag is lacking a frame sheet so it doesn't have much structure to it unless it's fully packed—a common problem with buffles (backpack-duffle hybrids), which we're not huge fans of. We have been able to get it comfy with some adjustment via the G-hooks at the bottom of the straps—but tightening and loosening with these takes some getting used to. We've also found that it's a little better when you have your laptop in the laptop compartment as it acts as a bit of a frame sheet (though it feels weird to have your laptop do that job).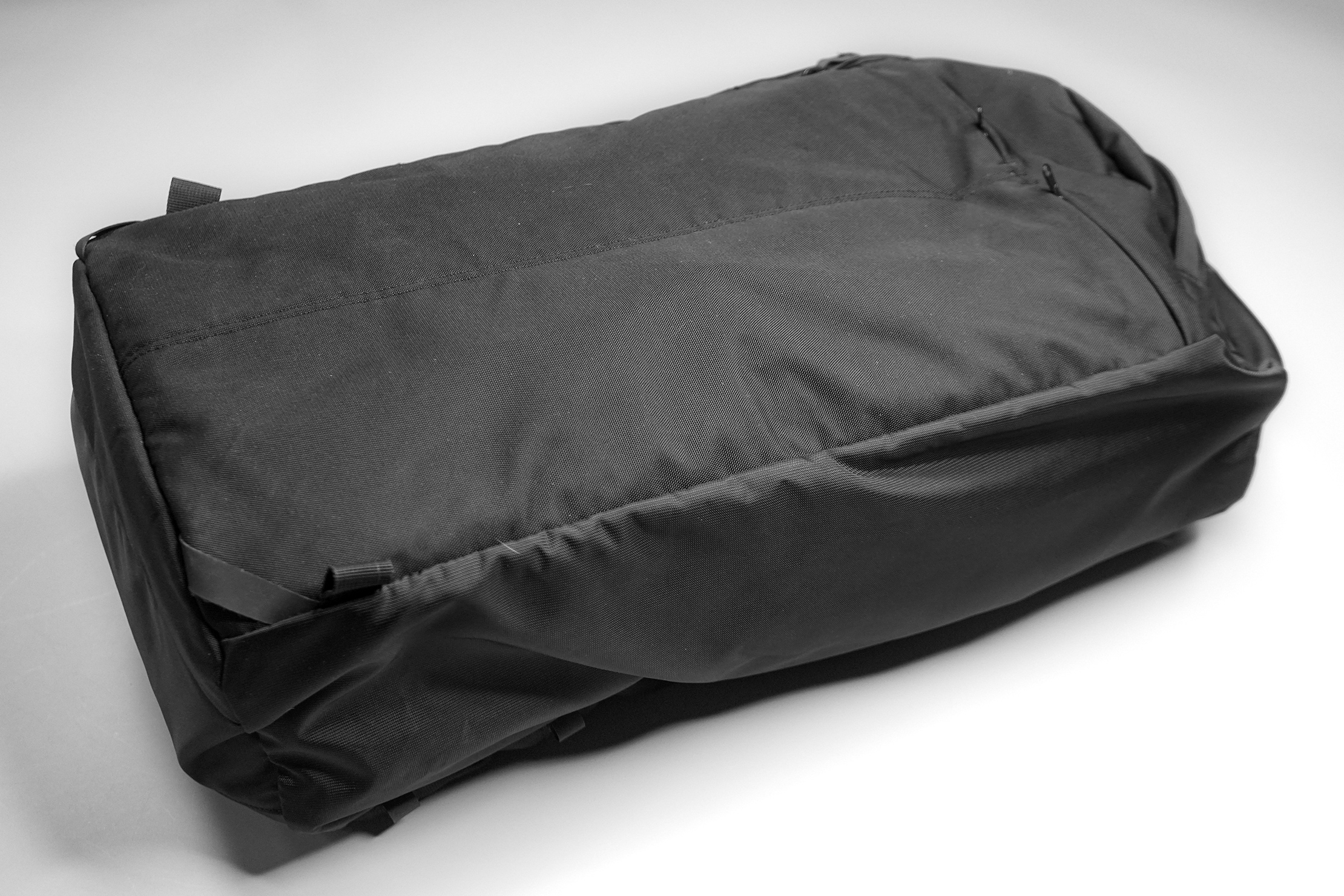 There's no mesh on the back panel (so it's no match for that dreaded swamp back) but it is padded with EVA foam. It's not uncomfortable, you just aren't getting a ton of extra support or airflow here.
Toward the top of each strap, there's a Hypalon attachment point that makes for easy external storage. And as we mentioned above, the straps are anchored by G-hooks so if you ever don't want or need them, you can detach and store them away in the back panel. Note that we've had issues with hooks like these slipping out on other bags we've tested. These haven't come disengaged on the SEG42 in our testing so far but we'd feel more secure with something more permanent, like a clip (something with complete closure around the attachment point), so we don't have to worry about the strap detaching when we're carrying the pack.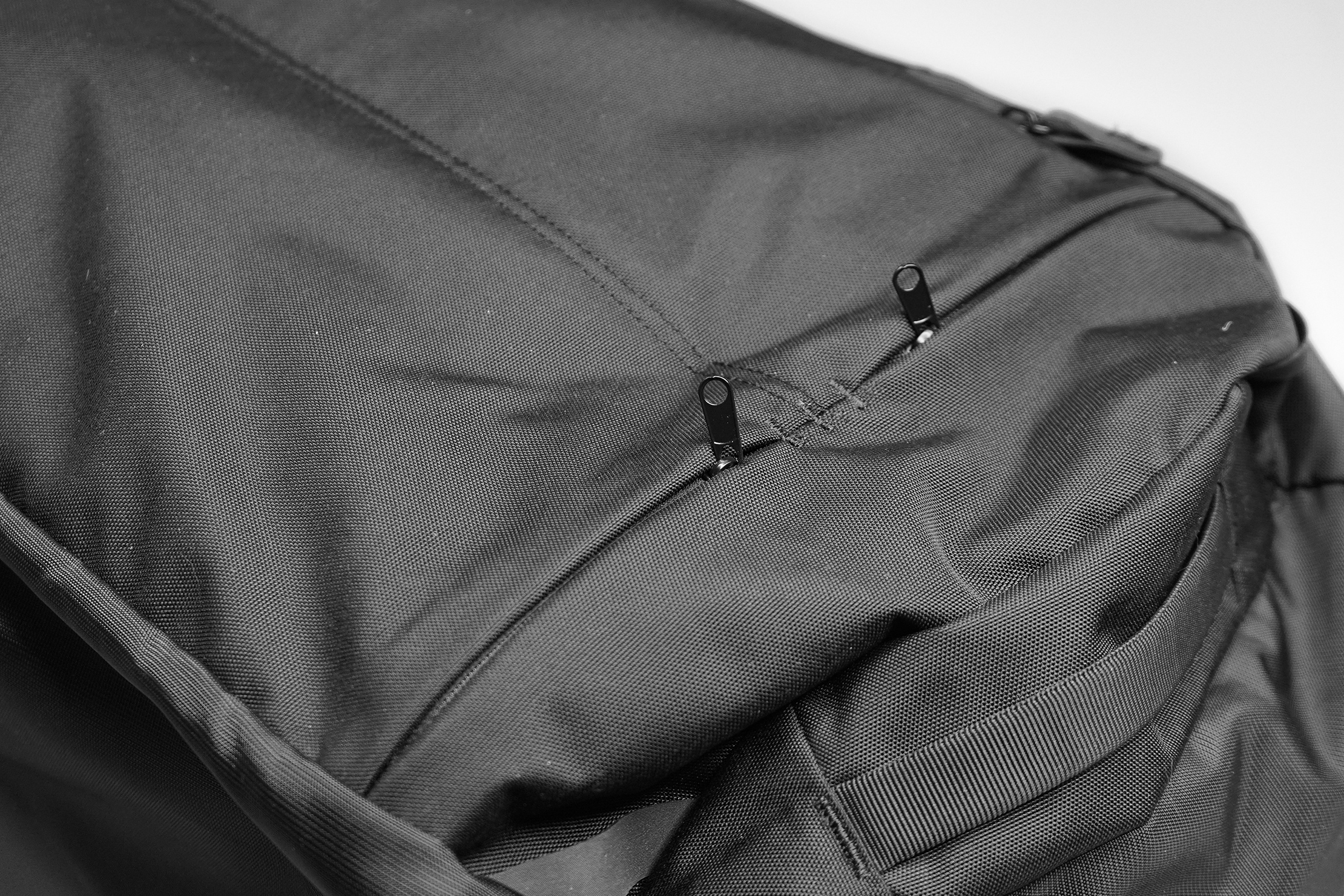 Interestingly enough, there's a separate zippered slot to store each shoulder strap on the back panel—usually, you'll see just one open compartment. We're not sure what special purpose this serves, if any. Indeed, the straps won't tangle up like they do in the open compartments on other bags but it also takes much more fiddling to get each of the straps in their dedicated sleeves, so it's not much of a convenience when we have to do extra work to store them. It does offer the possibility of wearing the pack by one strap (and just stowing away the other)—but considering how unstructured the harness system is, this makes for an uncomfortable carry.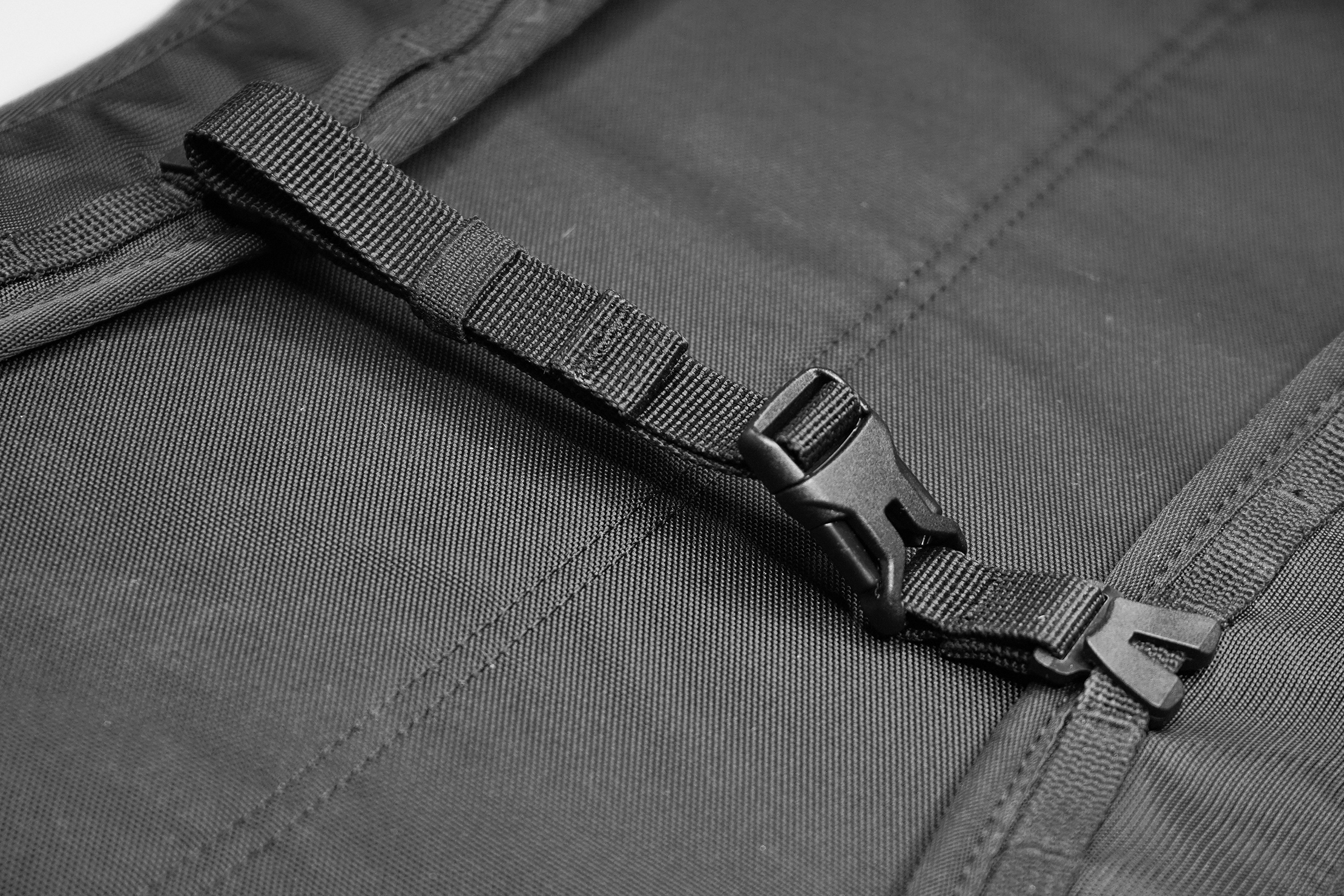 On the front of the straps, you have the adjustable, removable sternum strap. It has V-shaped clips that attach to loops on the front of each shoulder strap that you can move to fit your needs. So far, it's been secure (we've had issues with this style of adjustment being loose and/or coming undone in the past).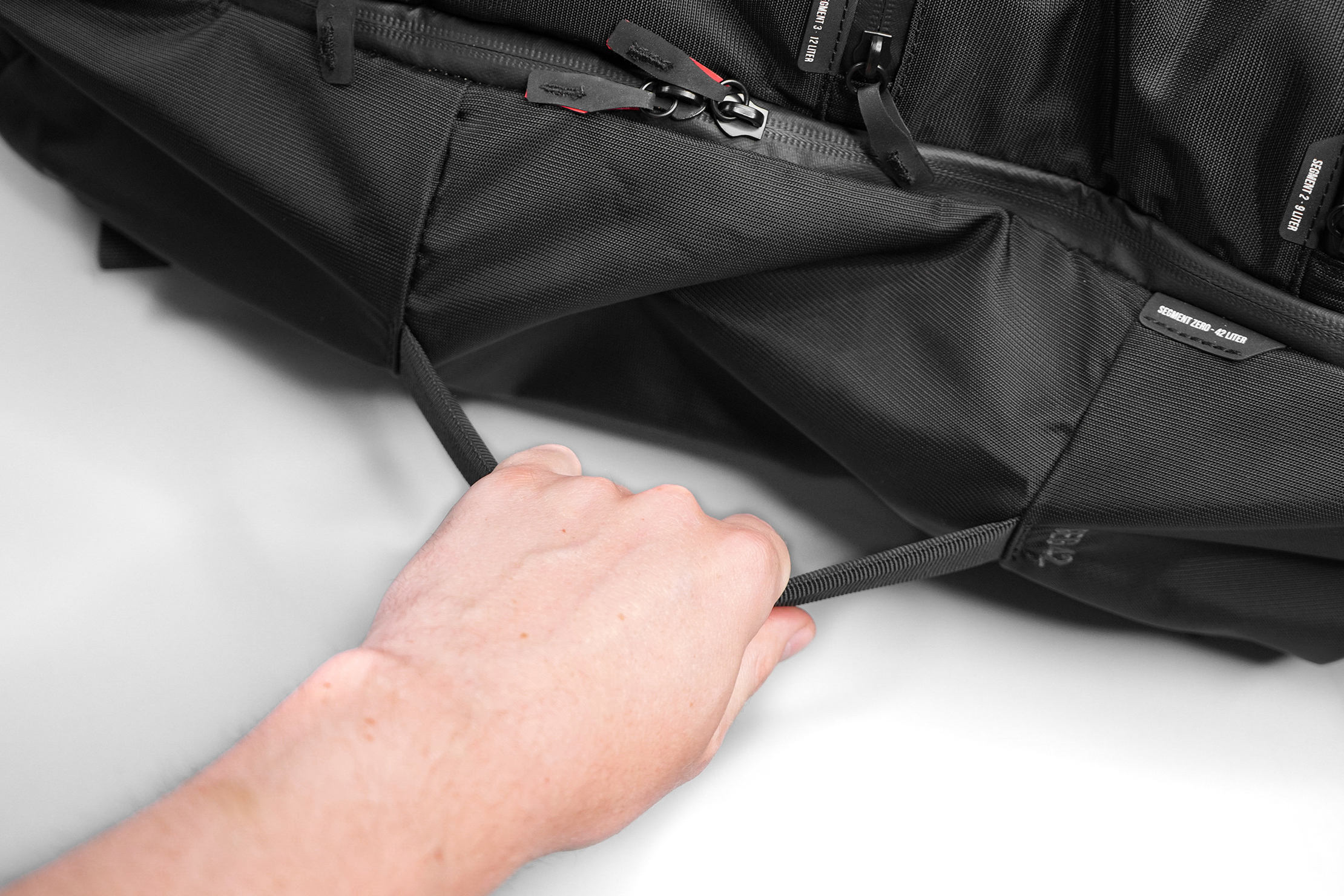 Moving on, there are four grab handles on this pack—two at the top, one on the bottom, and one on the side. The two top handles mimic the kind you'd see on a traditional backpack and work for grabbing or hanging the bag (when needed). You can also grab one of the top handles and the bottom handle to pick the bag up and put it down that way, too, but not if the bag is open since they're anchored to the front flap of the bag.
There's a loop below the top handle on the front of the bag that you can use to attach gear externally via a carabiner. It doesn't quite fit a Heroclip (which we've been carrying) so we've been using the handle itself for some attaching gear externally—like clipping a hat on it while out biking.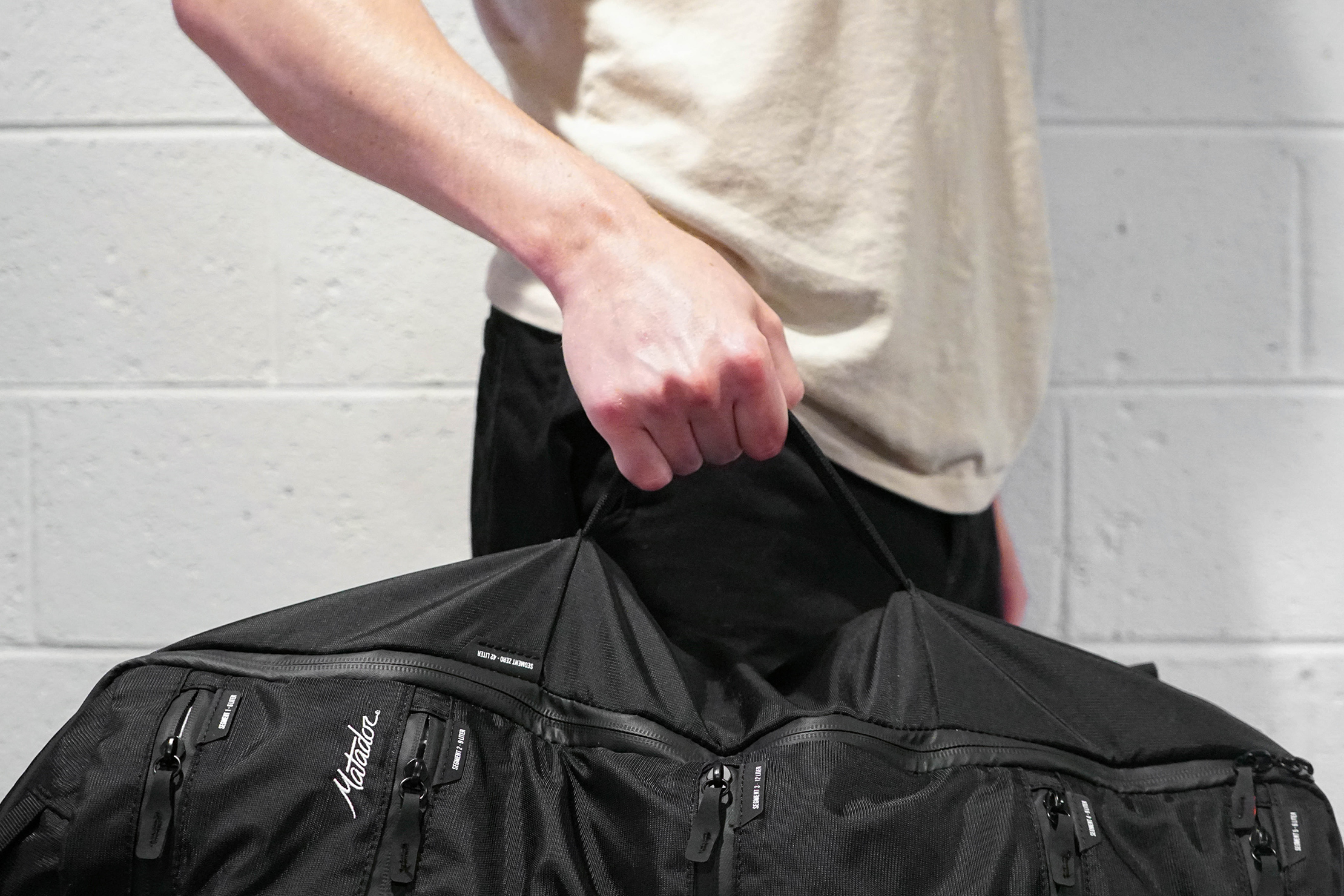 The side handle is meant for a briefcase-style carry, although the sagginess of this bag especially becomes a problem when carrying this way. There's no aluminum stay of any kind on here to keep the bag structured, so it becomes floppy unless totally stuffed. It still works well for if you need to grab it out of an overhead bin, but with its slouchy look, we don't see it as a viable carry option for long periods of time. We get that more hardware will add more weight and reduce the ability for the bag to lay flat, so this is a tradeoff.
Inside the Pack
Open it up, and this pack blossoms into a butterfly—and by butterfly, we mean five integrated packing cubes and a main bucket compartment. Allow us to explain.
We'll start with what makes this pack unique—the built-in packing cube system. We love that Matador is innovating here—this is a unique feature set we haven't seen on any other packs out there at the time of posting this review.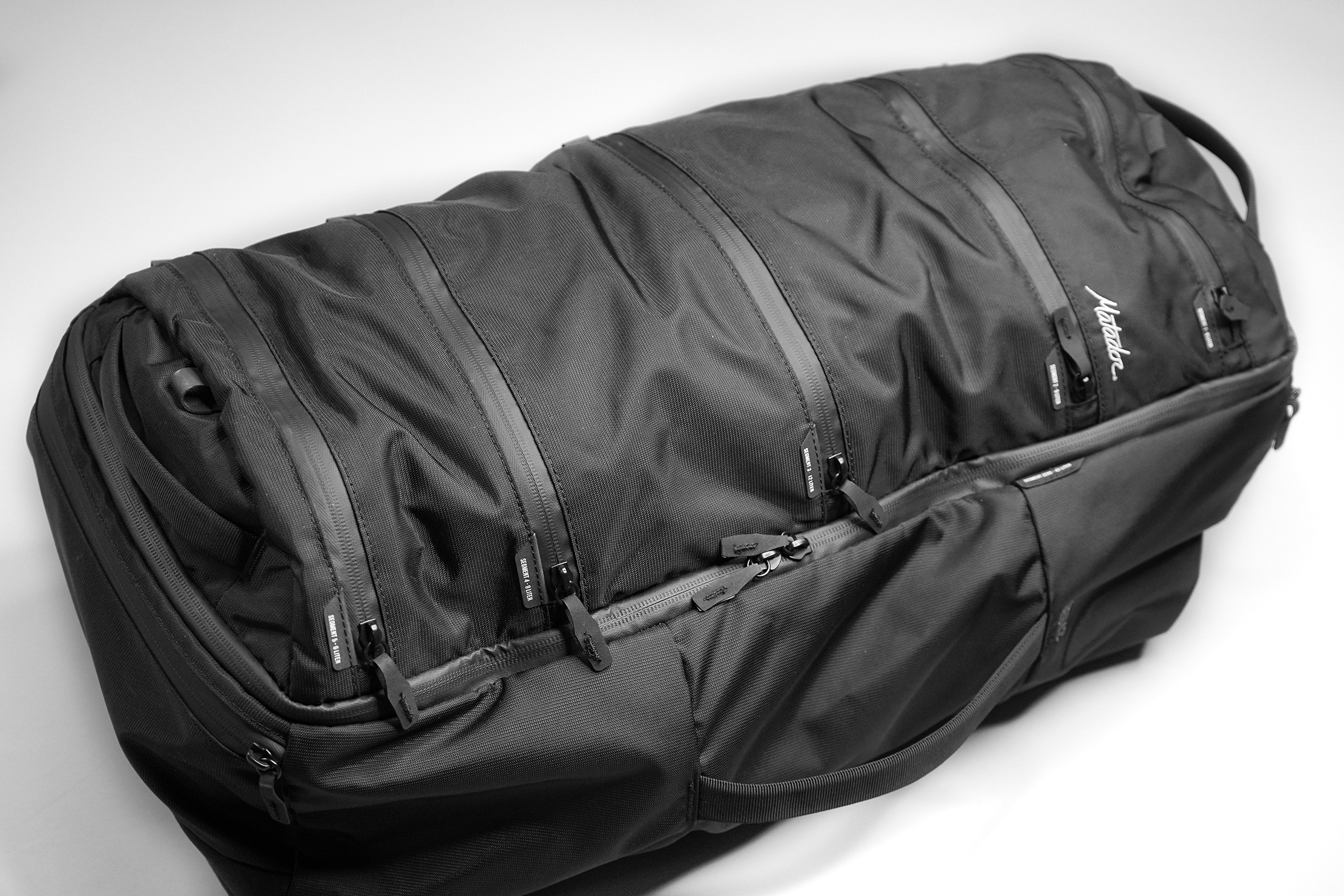 There are five individual cubes, or segments, of various capacities that you can access from the front of the pack—so you don't have to open it up and go digging around for your stuff that's packed into packing cubes inside the bag. It's all easily accessible upfront. Starting from the ends and working our way toward the middle, the top and bottom segments are 6L. The next two are 9L. And the middle segment is the largest at 12L. The size of each segment is stitched onto the front of the bag, so you don't have to remember all of that. And if you're planning on using them, you can quickly choose what to put inside based on the amount of storage. Something to note is that if you need to open the bag up to get loose clothing out of the main compartment, it's a little awkward—you kind of have to flip these cubes over so that they're face up.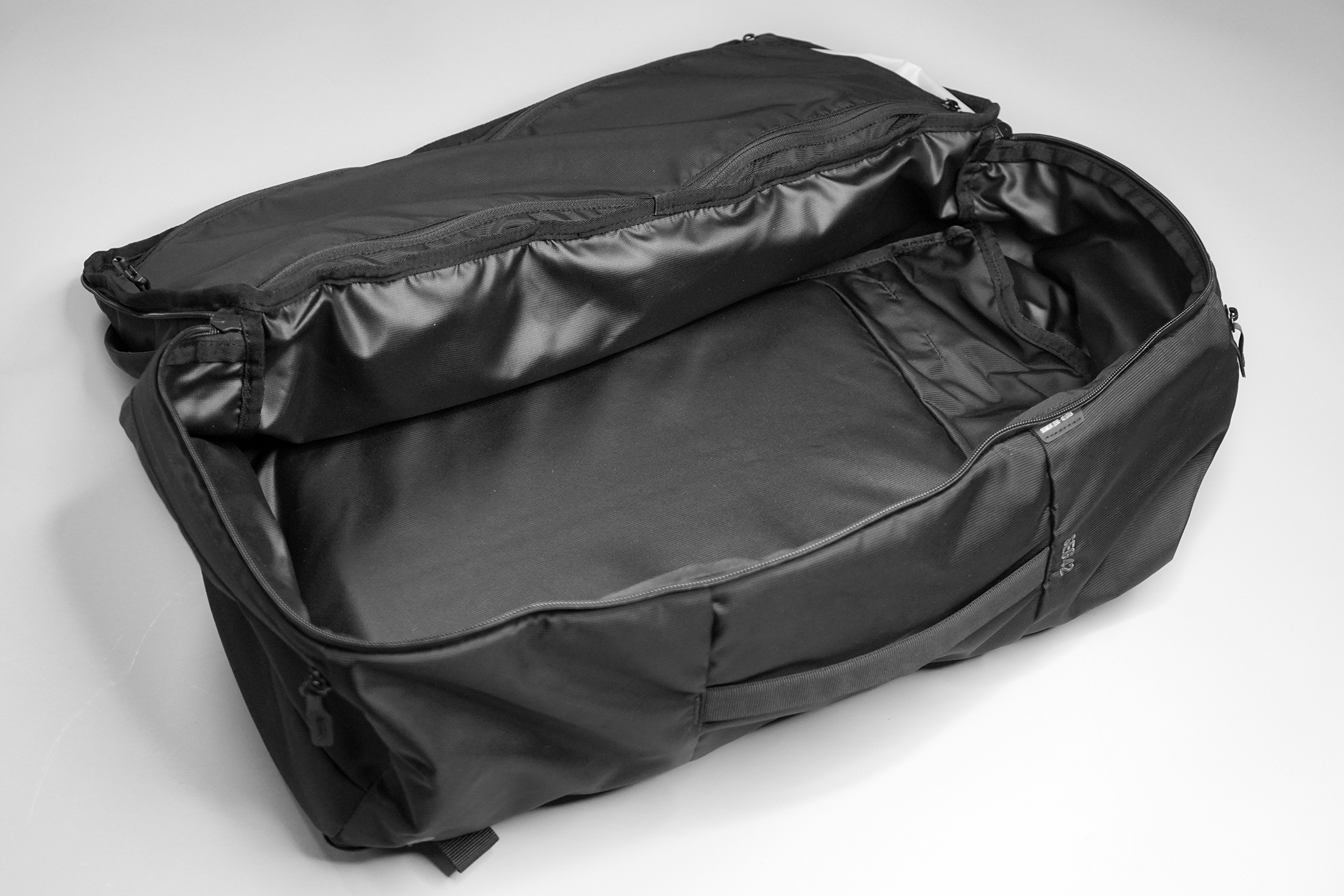 The main bucket itself doesn't have any organization without the packing cubes, but this is by design—this way, the usable volume shifts depending on how you pack. But you'll need to be strategic for the system to be beneficial. We'll use clothing as an example:
So, the bag is packed full of clothes. As you wear the clothes you have packed in the segments, you can toss them in the main compartment, keeping your clean and dirty laundry separate. This way, as the cubes empty, the main compartment fills so you're not losing space. Now, if you only wear the clothes from the top two segments and throw them in the main compartment dirty, they should stay on top since the other three segments are still full, creating a more even carry.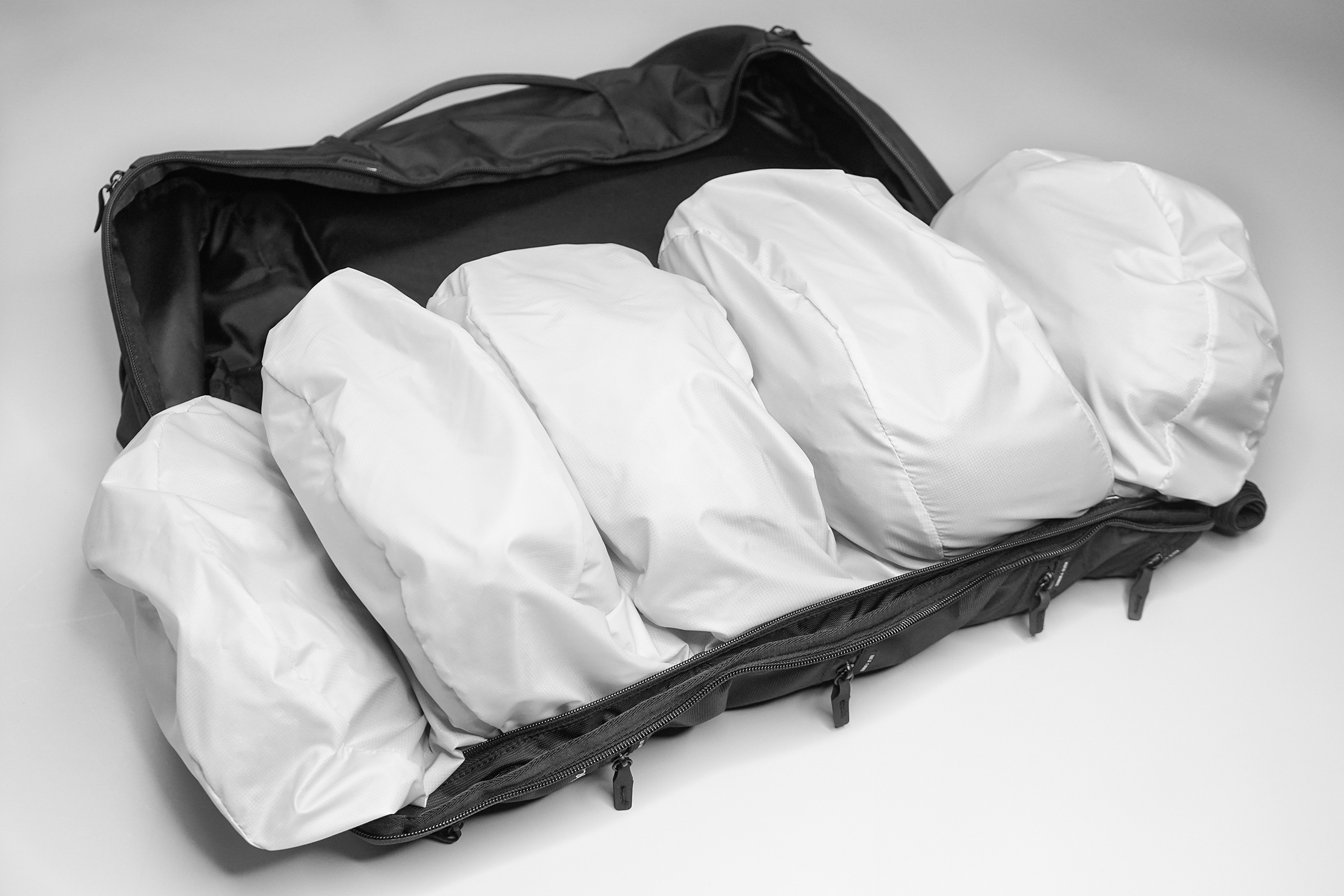 If those clothes at the top in the main compartment start sliding down, they'll be sharing space with the full lower compartments (instead of occupying the space left by the empty top cubes) making it even more saggy. But if you reverse that, and wear all the clothes in the bottom two segments, no problem. The dirty clothes in the main compartment will be at the bottom, taking up the empty space—again, distributing the weight evenly.
Now, for us, one of the best things about packing cubes is getting to where you'll be staying—a hotel, Airbnb, wherever—taking the cubes out, and then being able to use your bag as a daypack. But because these cubes are integrated with the bag, you have to take everything out and store it in drawers or a closet to do the same thing (so everything is separated and requires repacking later on). That said, if you're someone who likes everything integrated and wants a specialized pack that keeps your gear segmented, then you'll love how easy it is to organize and access your stuff with these cubes.
We want to note that you do have the option of stowing the segments away, if you don't think you'll get much use out of them (maybe in the above daypack situation) or would rather use your own packing cubes. Doing so gives you a more Classic Duffle-style experience (as in, one big bucket of packable space).
On the inside of the bag, there's a flap at the bottom of the segments that's secured by a small buckle. Undo it, and that flap unrolls to cover all the cubes. Then, pull up the zippers on each side, attach the velcro at the top and you're all set. It won't be totally flat, but, for the most part, they'll be out of the way. Though if you're not using the segments when packing in here, all the zippers/compartments on the front are essentially wasted.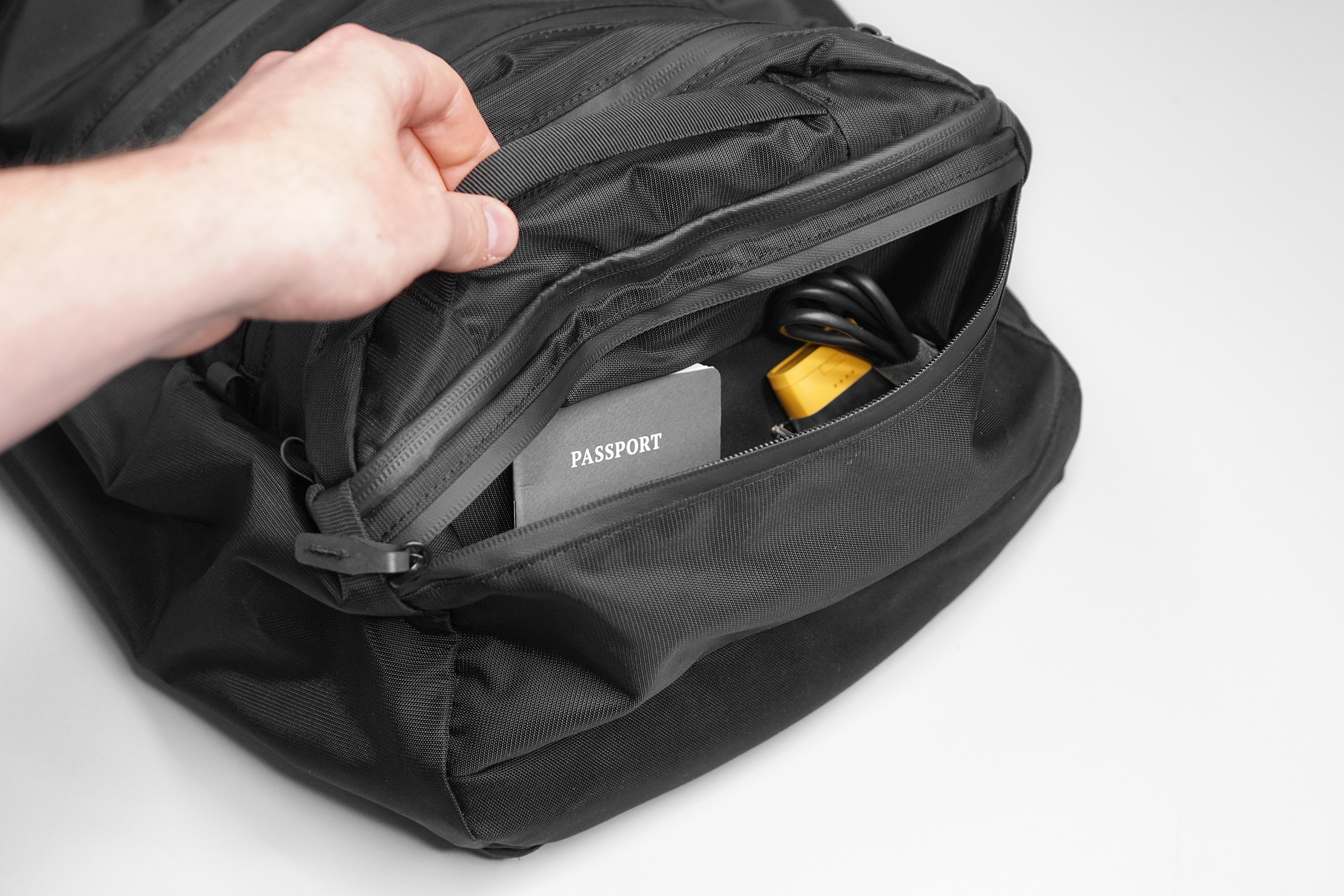 Now that we've covered those, let's take a look at this pack's other pockets. There are quick-access pockets at the very top and very bottom of this bag that can operate as dump pockets. There's ample space in here for you to throw in things like your passport, wallet, or even your phone when not in use. When the bag is laying flat (segments facing up), you can reach down into the pocket and grab whatever you need. But when the bag is standing up, it becomes more awkward as you have to reach back rather than down, so it's less of a drop pocket. There are also some more Hypalon attachment points near these pockets for bonus external storage.

Finally, you'll find the laptop compartment on the back of the pack—it's secured with a weather-resistant zipper to help keep moisture out. There's some padding, but not a ton. There's also no false bottom so if you do slip your tech in here it's not getting a whole lot of cushion from drops. Because of this, we recommend keeping your tech in a protective case. Though in our experience, this compartment just barely fits a 15" laptop—we have to use that shimmy maneuver (you know, the one where you start on an angle) to get it inside. So the case will need to be a slim one.
Durability & Testing
We've been testing with the Matador SEG42 Travel Pack for two weeks now. We like the integrated organization of the segments and that they offer some flexibility when it comes to where we're packing our gear. Plus, everything is quick to access.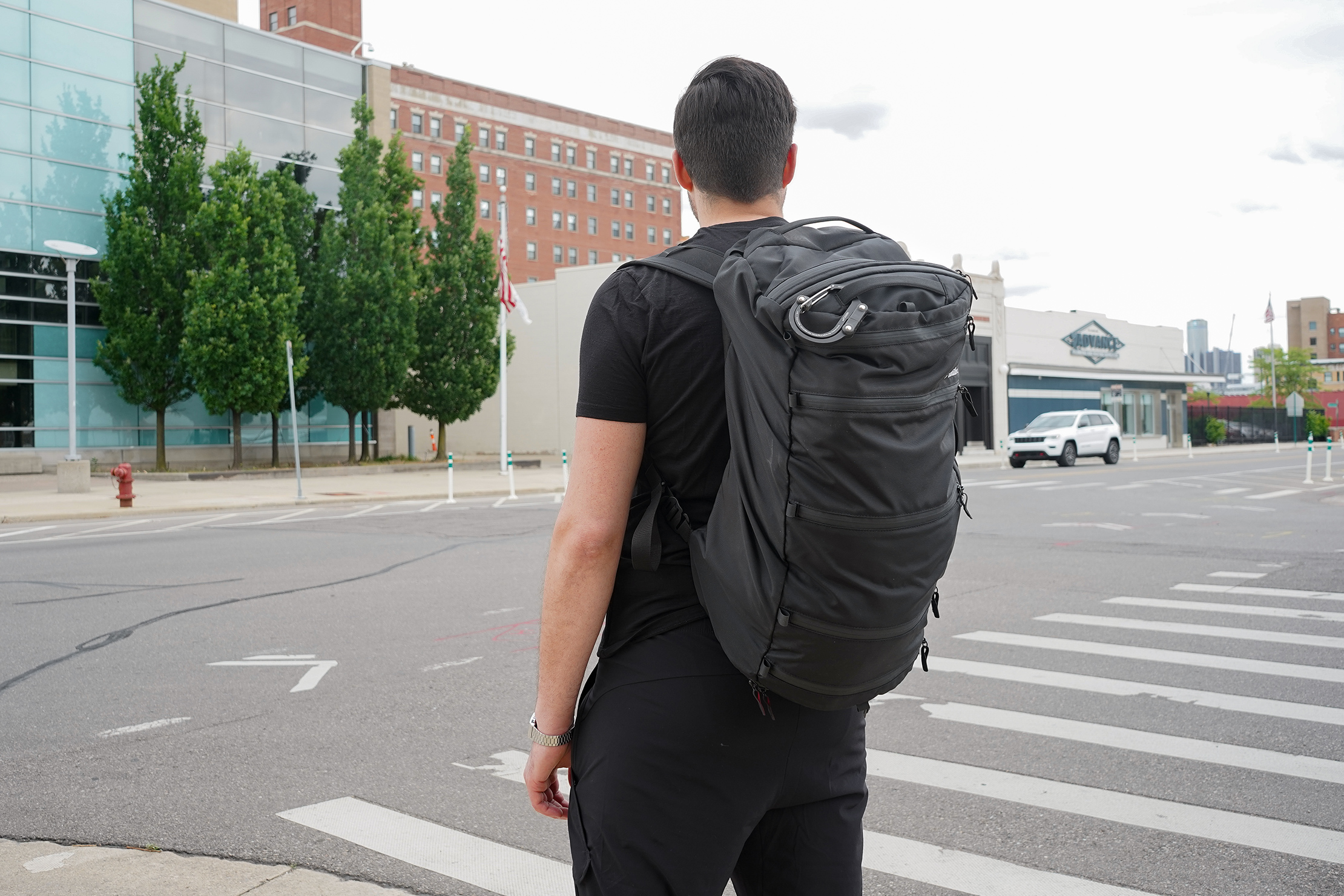 We did have to play around with what to pack where before finding the just-right balance that works for this bag and our specific gear. Otherwise, things can get jumbled inside, adding to the pack's saggy carry.
Durability wise, everything is holding up nicely—no scuffs or tearing from wearing. (If rhyme is a crime then lock us up.)
Usage Timeline
Initial Usage
Condition: Excellent
Five front individual zippered pockets act as built-in packing cubes but they take up most of the capacity of the bag when in use
Made of durable weather-resistant materials
Shoulder straps can be stowed away and the bag can be carried briefcase style using the side handle
2 Weeks of Use
Condition: Excellent
Digging the concept of integrated packing cubes—everything is fast to access—although they take some strategy to use.
Bag lacks any type of frame sheet, which can create a saggy carry.
The straps are thin, but surprisingly comfortable when carrying around 18 lbs worth of gear.
Access the Pro Community Discussion
Get your questions about the Matador SEG42 Travel Pack answered from our team and the Pro Community right here on the page. Plus, join discussions with other members about gear, guides, and more.
Other Bags & Luggage Reviews