Chrome Industries Vega 2.0 Transit Brief Review
The Chrome Industries Vega 2.0 Transit Brief has outstanding versatility courtesy of a stowaway harness system, but using it in backpack mode might scatter your stuff inside.
Our Verdict
Unlock the Pro Summary
Save time. Get access to brief summaries of our reviews so you can browse and make decisions more efficiently.
Pros
Three-way carry versatility
A surprisingly comprehensive backpack harness system
Outstanding capacity and organization for a brief
Cons
The front tarpaulin isn't the cleanest looking material
Using it in backpack mode might scatter its contents
Side pockets are small
Recent Pack Hacker Video
Technical Details
Capacity

17l

Weight (lb)

2.7 lb (1.2 kg)

Denier

1680D

Dimensions

10.5 in x 17 in x 7 in (26.7 x 43.2 x 17.8 cm)

Notable Materials

Ballistic Nylon, Tarpaulin, YKK Zippers, Duraflex Hardware

Manufacturing Country

Thailand

Laptop Compartment Size

15"

Warranty Information
Full Review
Get up to 10% off Chrome Industries • Join Pack Hacker Pro
At this point, we've grown familiar with Chrome Industries and its focus on durable, urban-centric gear. Take, for example, their Ziptop Waistpack, where we noted the durable, water-resistant materials used. Going into this one, we expected nothing less than the same level of quality as we did in past reviews.

To our surprise, Chrome Industries has gone a step further and has snuck a clever feature into the Vega 2.0 Transit Brief: a backpack harness system. It's a great boon for the brief's versatility, one that we must admit we did not see coming. Given this brief's rather large capacity, it makes total sense to include a robust harness system. But this versatility does come with an unintentional consequence, as you'll soon find out.
Materials & Aesthetic
We'll start with what probably catches the eye at first glance: the front. From this point of view, the Vega 2.0 doesn't shy away from showing its large capacity. The tarpaulin material is relatively soft and malleable to bulging and wrinkling hence the somewhat bloated look. The material does have its practical merits—which we'll get to in a moment—but the overall impression is that this brief embraces its size over sleekness.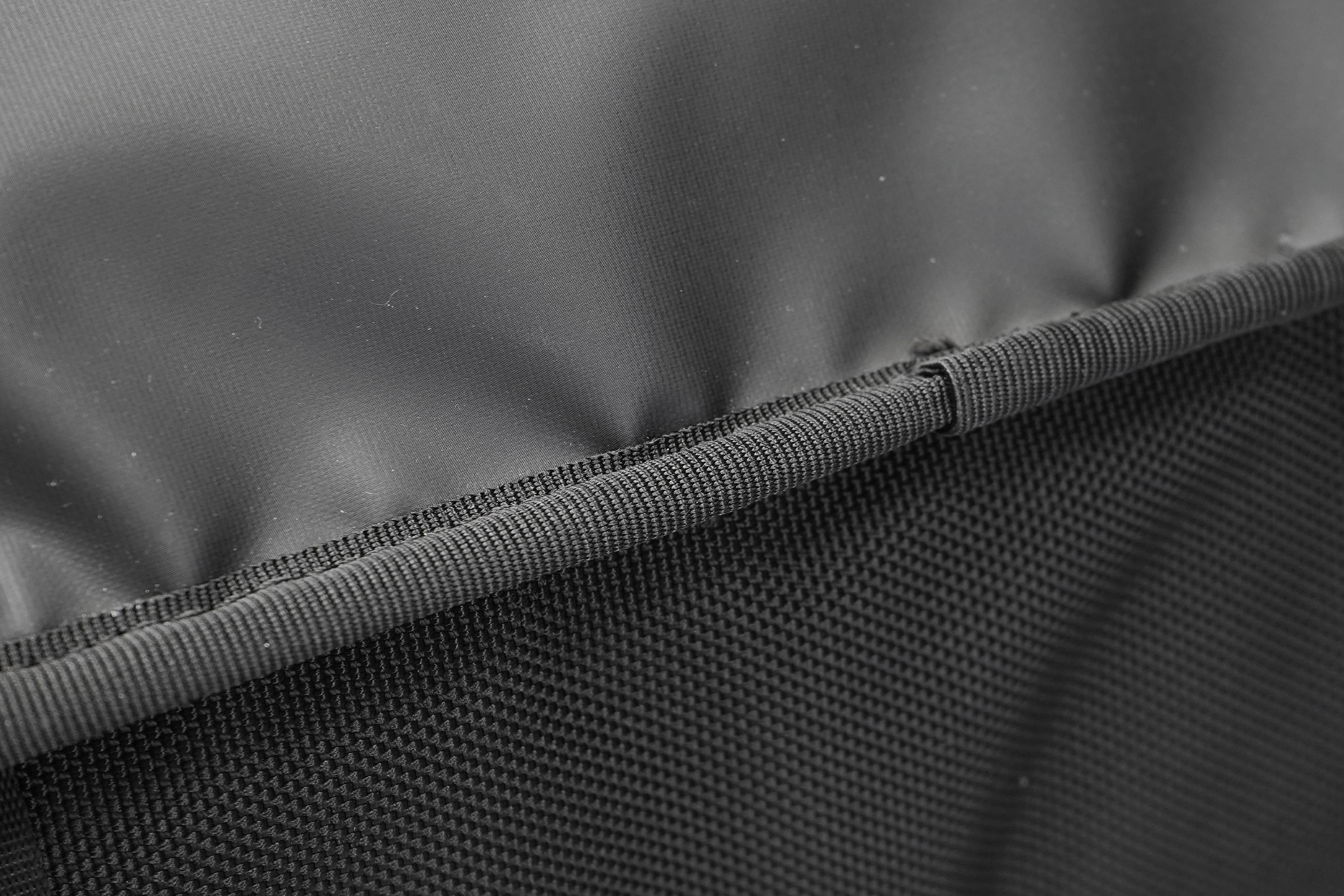 We're not alone in our thoughts here, as some 55% of those who took part in our Instagram poll weren't fans of the Vega 2.0's look. It's an all-black affair around the brief—that's the only color available, by the way—which ties up the tarp and nylon combo nicely. A lone rectangular chrome logo is bestowed on the front, featuring the very dignified-looking Chrome Industries griffin.
To each their own, but the materials work: the tarp is very weather-resistant, and its softness means space is maximized as well. It's a tough fabric, and in combination with that 1680D ballistic nylon, YKK zippers, and Duraflex hardware, it makes the Vega 2.0 one robust brief ready to take on the daily grind.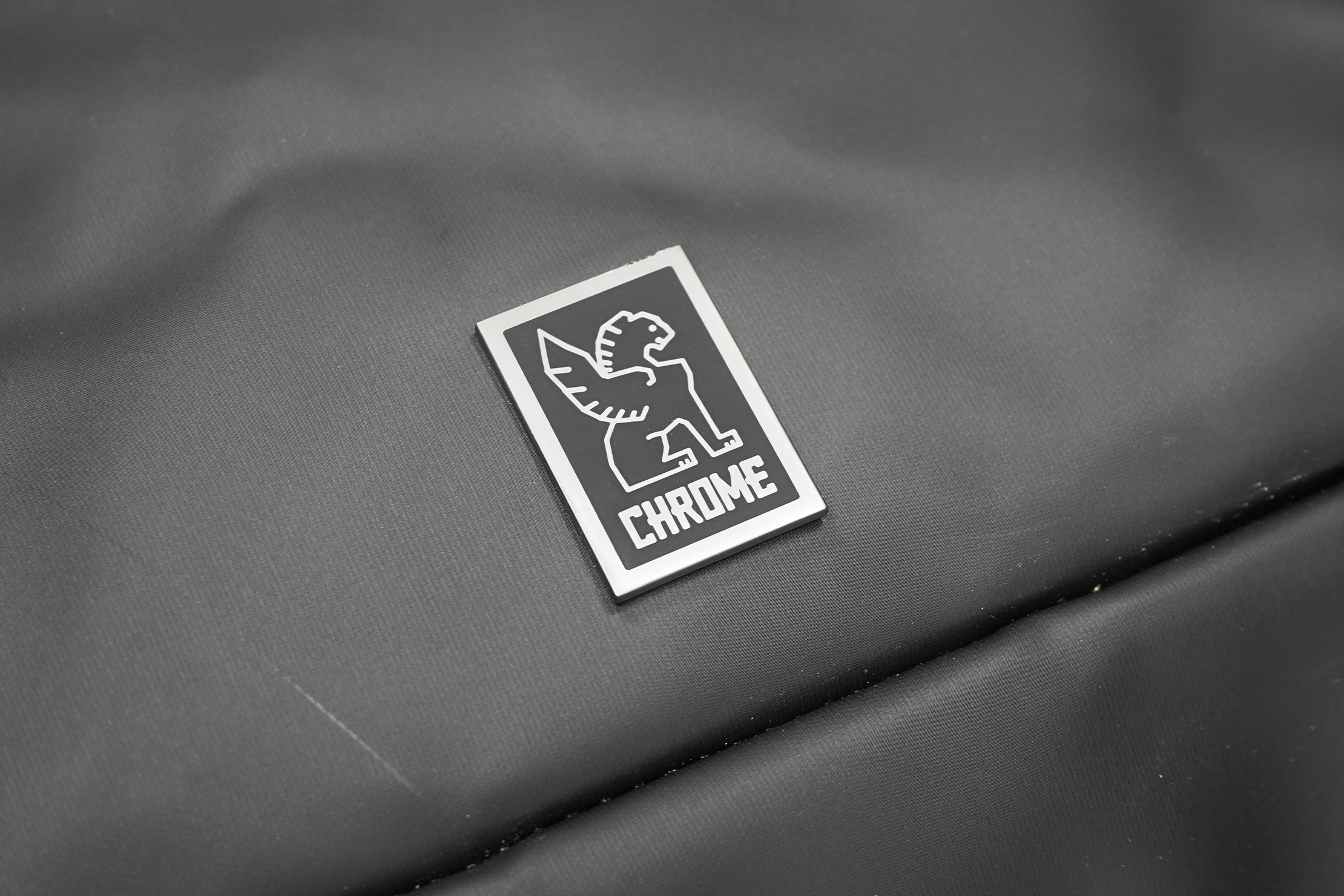 When worn, the Vega 2.0's size is further emphasized, especially when we put it on our team's smaller members. As bulky as it looks, the brief is easy to handle and comfortable to carry, thanks to the straps and handles.
External Components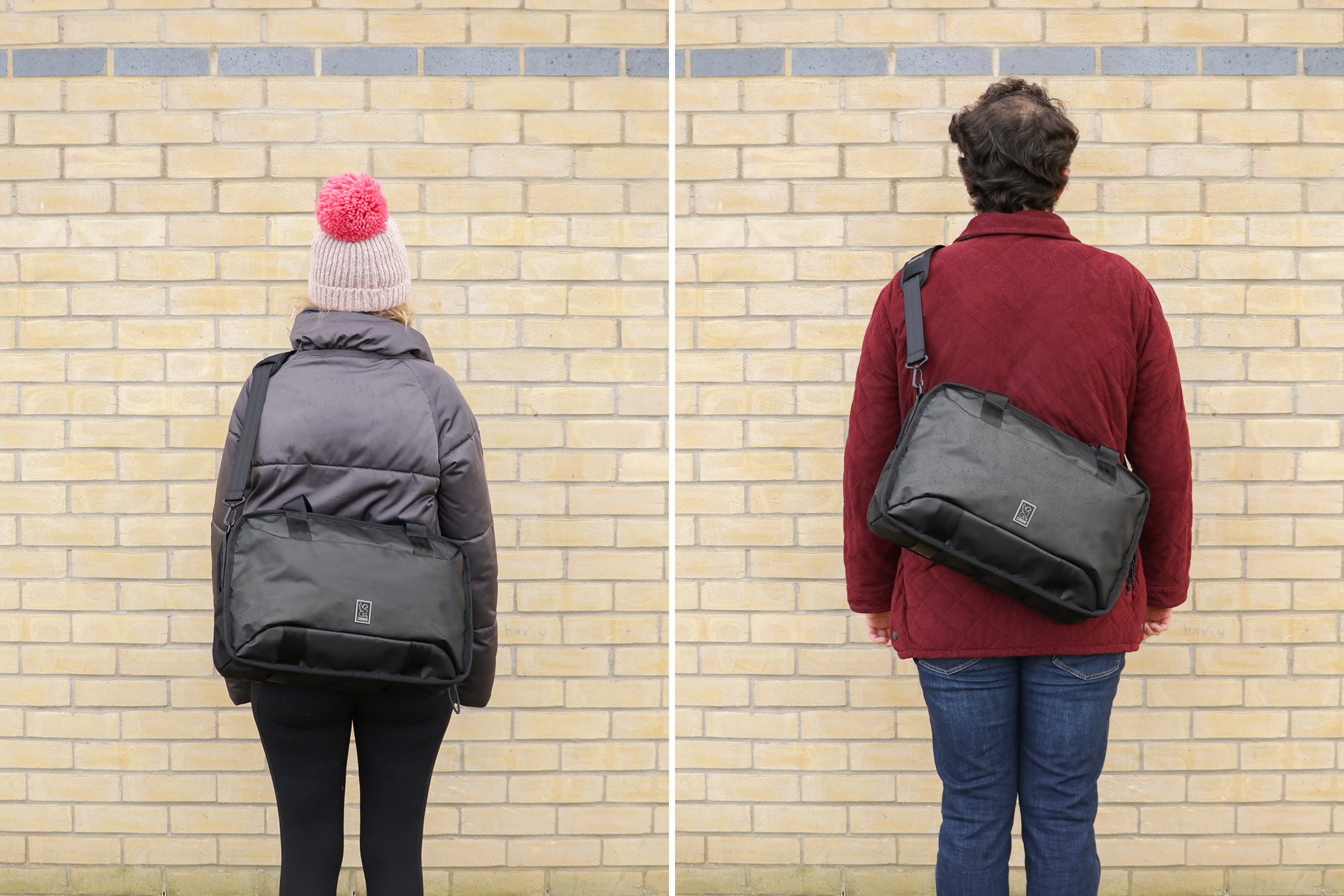 At the Vega 2.0's size, the handles are more than up to the task and are very comfortable to use thanks to the velcro fastener that keeps the two halves together. Alongside providing a more comfortable carry by hand, the velcro fastener also keeps the handles from flopping around independently. We're not huge fans of the velcro, especially at this location where they can easily pick up loose threads and dust, but they are easier to do and undo than, say, zippers or buttons.
Briefs these days almost always come with a complimentary strap to provide you with the means to carry it as a messenger-style bag. It's a necessity as nowadays you need both hands during your daily commute: one to hold to the grab handle on the subway, the other for your smartphone. The less your hands carry, the more stuff you can do after all.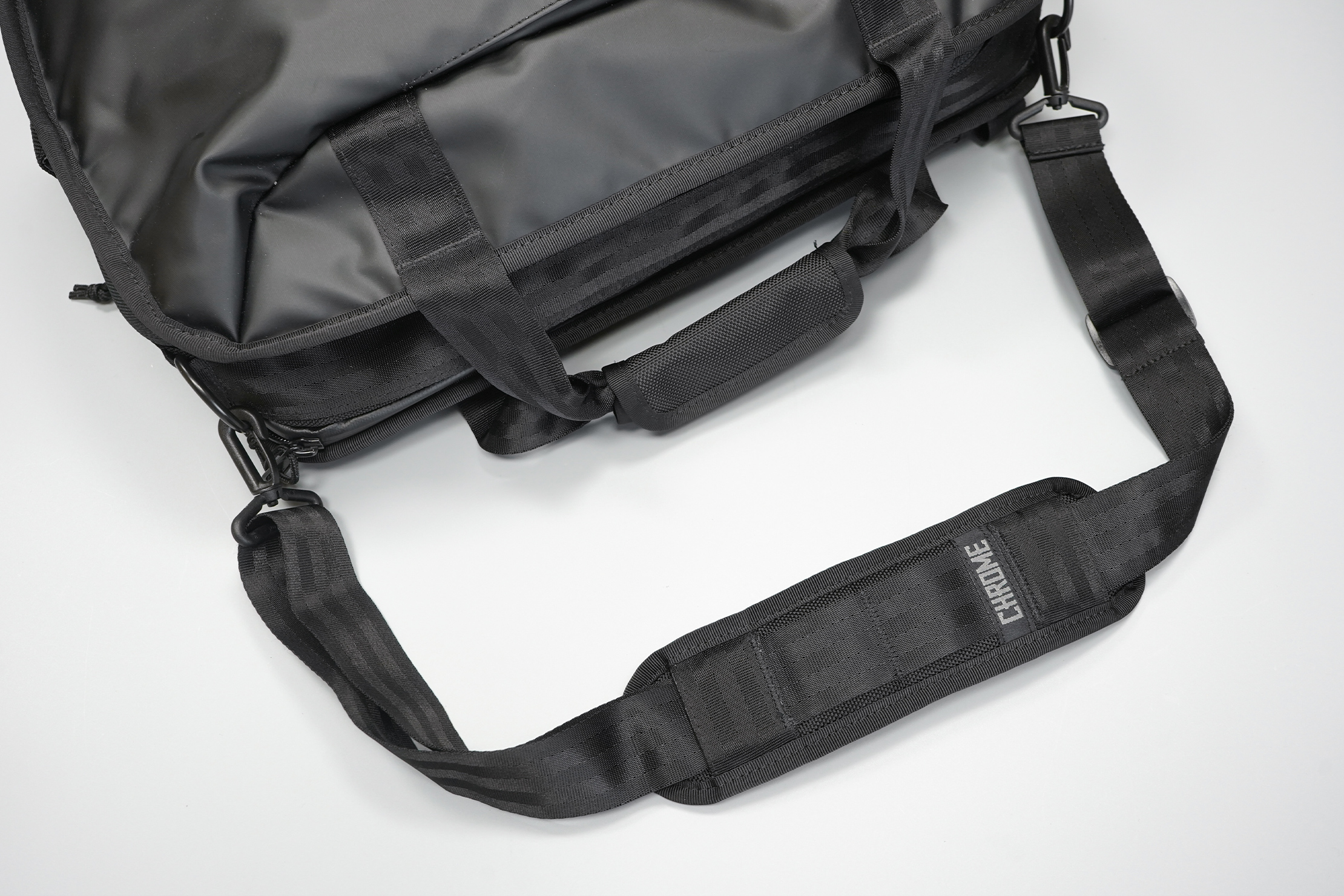 The Vega 2.0 has that covered, with a detachable shoulder strap—with shoulder pad—included as standard. The included shoulder strap is comfortable to use with the handle, even when we were carrying a 15-inch MacBook Pro and daily essentials of a few documents and office materials. The shoulder pad slides and adjusts easily along the seat belt-like strap and over the Duraflex buckle, so you won't need to fiddle with it too much during use.
Finally, Chrome Industries went even a step further with a hidden party piece: a backpack harness system. Yes, flip it around, and underneath a set of flaps flanking the luggage passthrough lie a pair of shoulder straps. A sternum strap is also built-in—a tad overkill for a brief this size, but its inclusion does inspire one to push the Vega 2.0's capacity.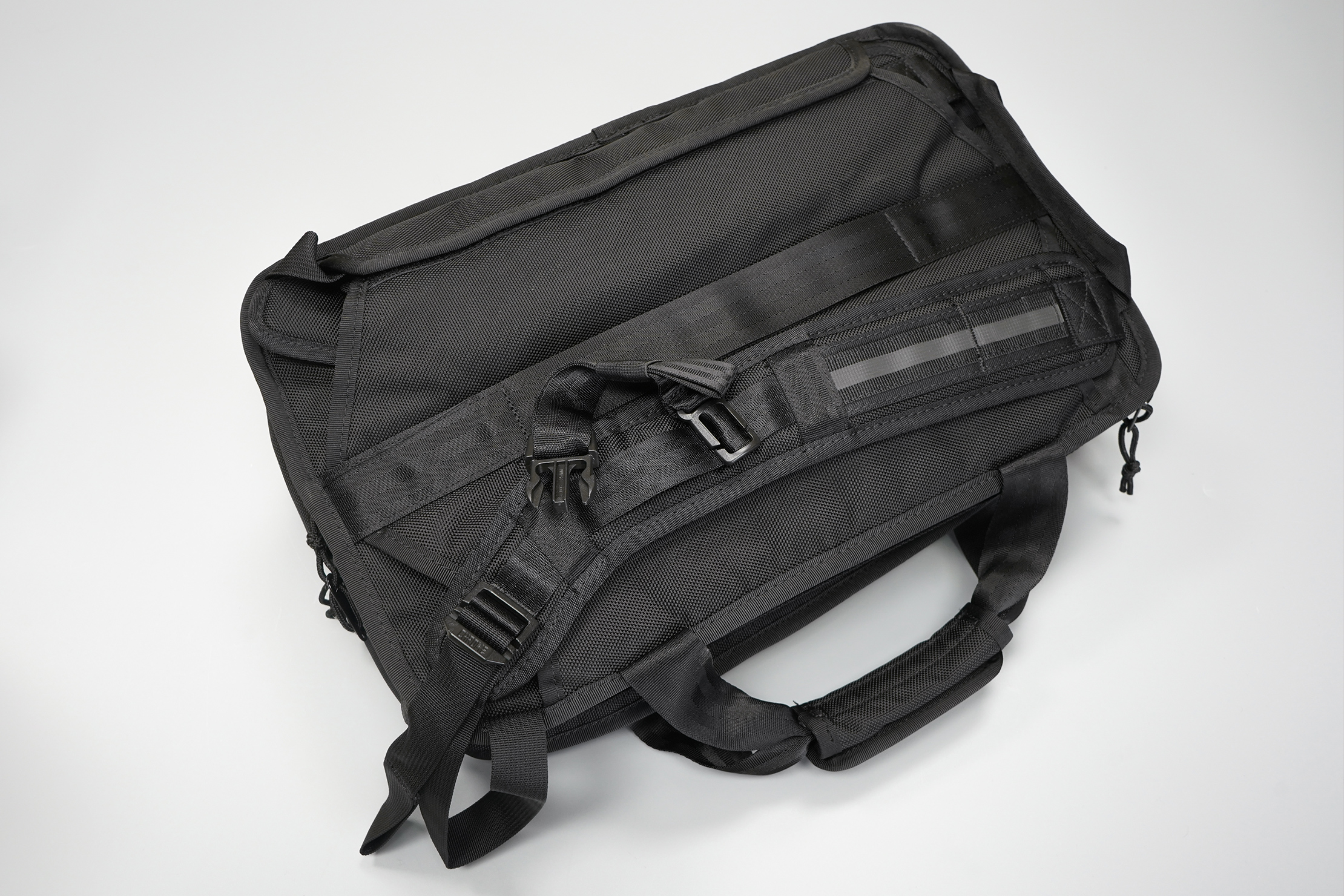 Despite the secondary nature of the backpack mode, the Vega 2.0 is surprisingly comfortable to carry in this manner. An adequate amount of soft padding eases the pressure on your shoulder without being too bulky to be stowed away. Mind you, the absence of any dedicated padding or air channels on the back panel prohibits it from being the most comfortable backpacking experience out there, but it more than lives up to expectations, especially for a brief.
Flanking the brief are side pockets, but they're too small for most water bottles. We haven't found a practical use for these, as we preferred using the front pocket for anything important but needed to grab quickly. Both pockets are sealed with velcro so you can store something light, like candy, if you like leaving quick-access treats in your bag. It's really all we can think of since anything heavy like spare change might spill out when the Vega 2.0 is in backpack mode—an issue we'll get into more down below.
Inside The Pack
One caveat of the velcroed handles is that you have to undo them each time you need access to either the laptop or main compartment. Thankfully, there's a quick-access front pocket for all your EDC items, such as your keys, wallet, earphones, or subway pass. It's not the most spacious front pocket we've seen, so you'll have to keep things here to a minimum. On the plus side, there's an included key clip inside that helps separate your keys from your other EDCs.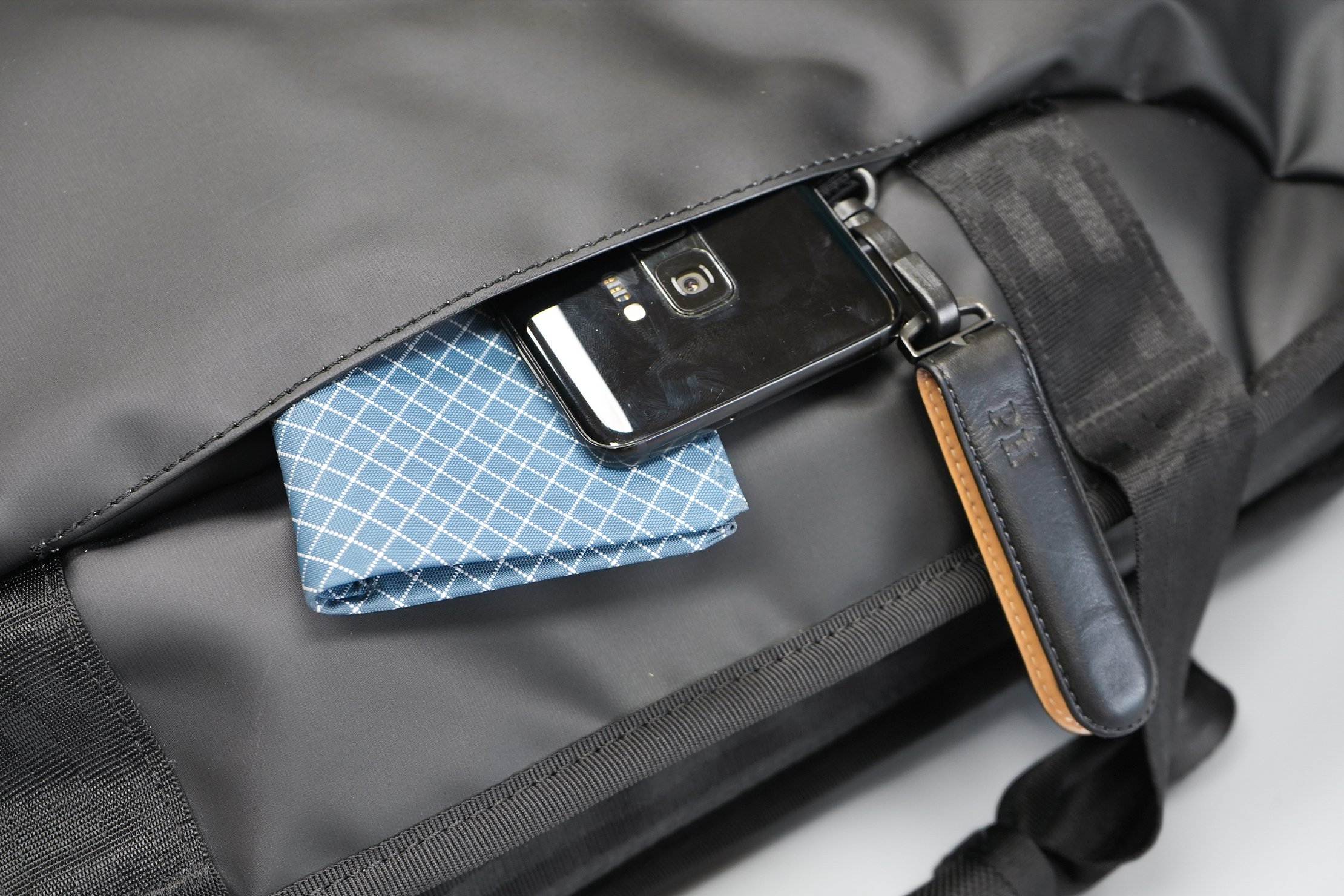 Right, time to get into the meat of things. First up is the laptop compartment, which gets its own separate space. There's no false bottom, as with most briefs, but we half-expected to find one considering the relative bulk of the Vega 2.0. Regardless, there is a ton of padding surrounding the laptop compartment, and your 15-inch laptop will feel safe and sound here, provided you don't drop the brief from a considerable height.
Next, we have the main compartment, and—in case you haven't caught on to the theme by now—this is one spacious interior indeed. A pair of large and zipped mesh pockets on one side can keep a bunch of smaller things locked down, such as toiletries or small adapters. On the opposite side is a large liner pocket meant for documents, a tablet, or a portable keyboard. There are two adjoining smaller pockets in front, plus three pen silos.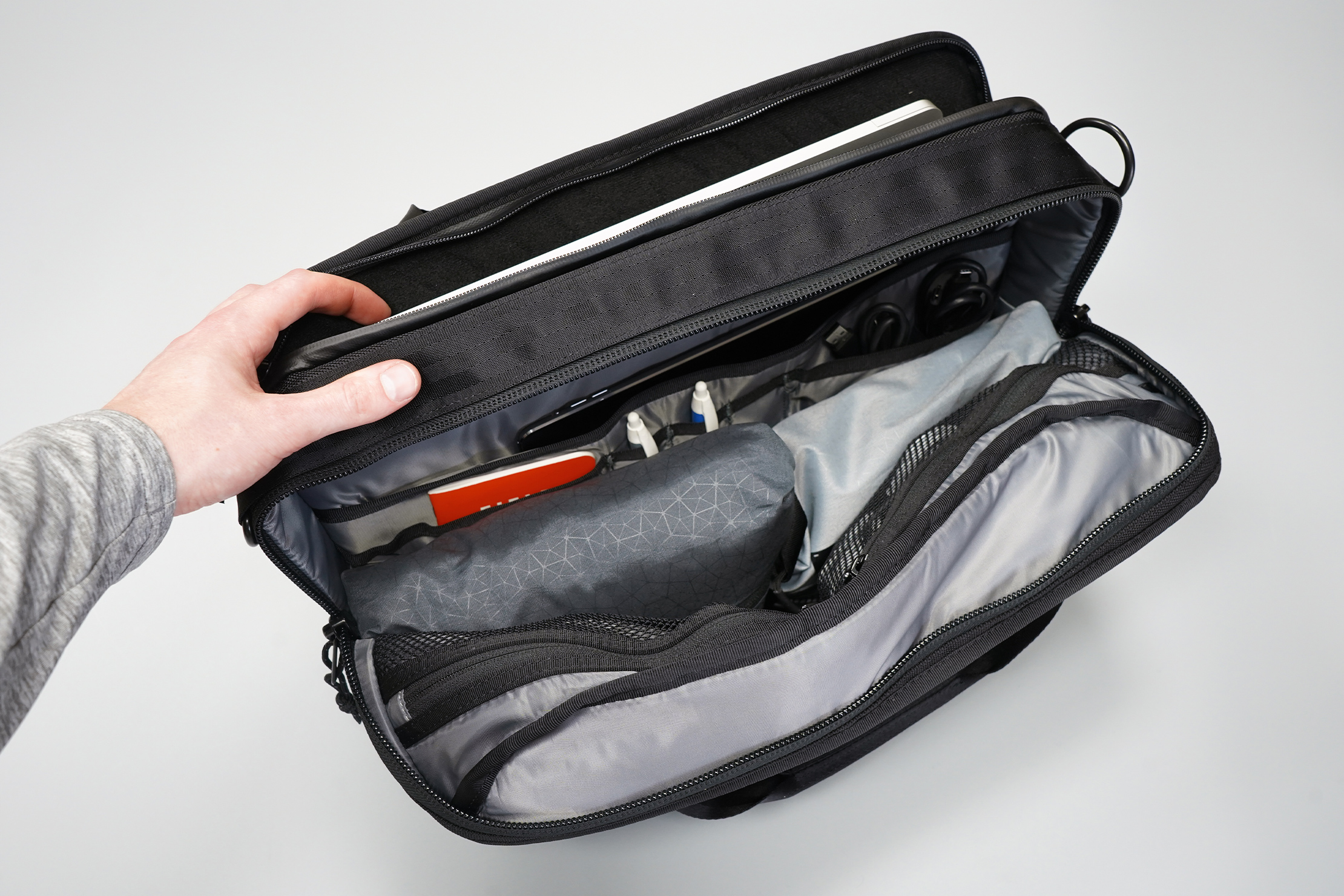 The main compartment is spacious enough for two or even three packing cubes worth of clothing, making the Vega 2.0 a viable choice for an extended weekend out-of-town trip—a commendable feat for brief. It's worth noting the amount of depth this brief has, and one look from the side clearly illustrates that.
But then we arrive at that hiccup you might have picked up on by now. Since they're oriented for the brief or messenger bag-style carry, rotating it for the backpack mode spills any loose contents of those liner pockets. This happened quite a number of times during testing, and it's somewhat soured the backpack experience for us. One workaround is to use these liner pockets sparingly and instead rely on the two large mesh pockets to keep everything secure.
Wrap Up
The Vega 2.0 Transit Brief looks might not be to everyone's liking, with its mix of tarpaulin and nylon fabric that puts durability and weather-resistance ahead of aesthetics. But the versatility afforded by the backpack harness system more than makes up for the subjective side of things.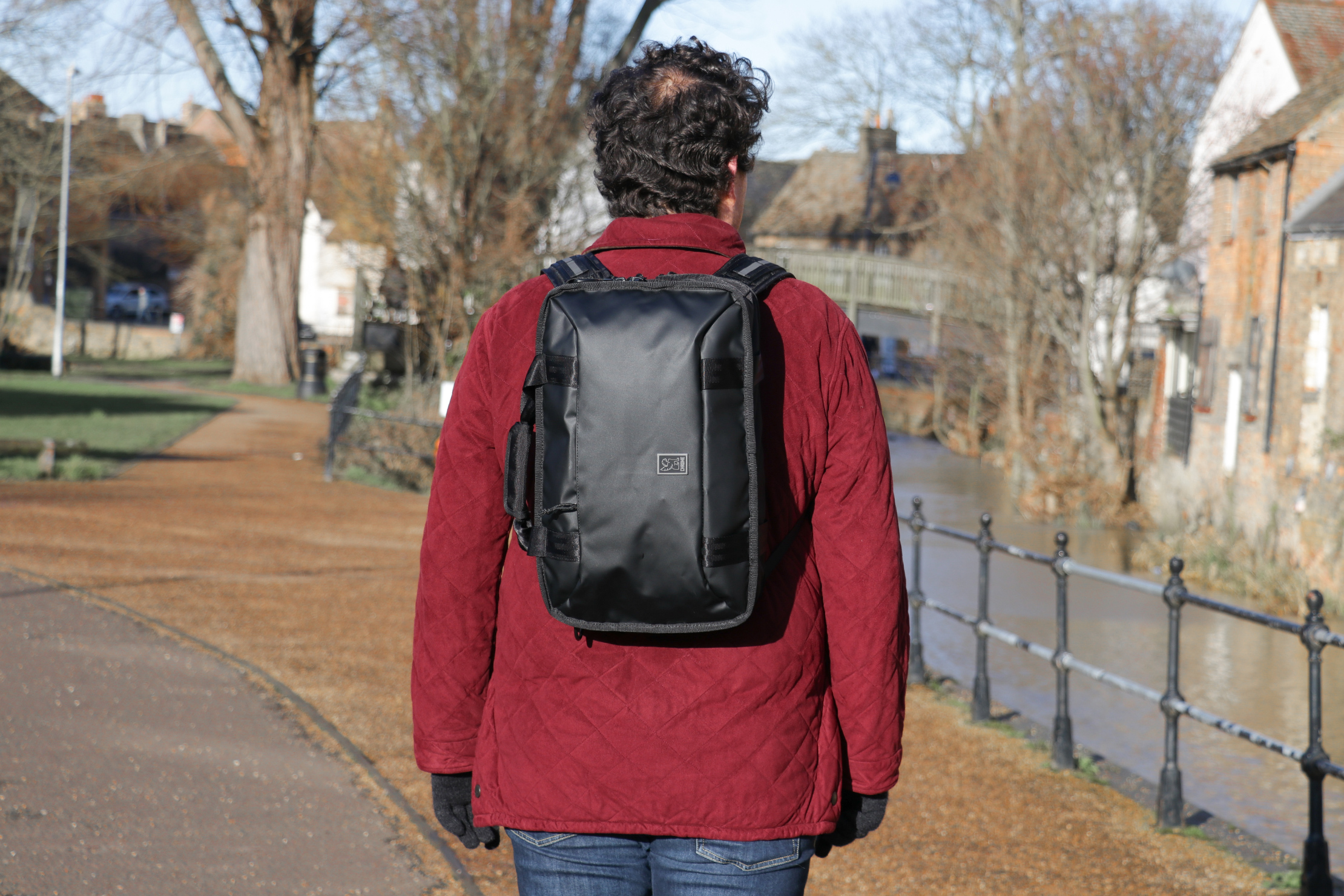 However, that versatility has the unintended consequence of a messy interior caused by rotating the brief into backpack mode. The good news is that the two large mesh pockets mitigate this problem to an extent, and we recommend using the liner pockets sparingly if you wish to make full use of the backpack carry.
And if that quick fix works for you, then there's a lot to like here: the large capacity, a well-padded laptop sleeve, all-around carrying comfort, the Vega 2.0 nails each and every one of those—and then some.
Usage Timeline
Initial Usage
Condition: Excellent
Can be comfortably carried as a messenger bag, briefcase, or backpack
Internal organization is positioned best for messenger carry, if you use the bag in backpack mode the pockets will be sideways and gear can fall out into your bag
Laptop compartment is separate from the main compartment and is soft and well-padded
2 Weeks of Use
Condition: Excellent
We've used the messenger style carry the most, but the brief handles and backpack straps have come in handy too
We found the main compartment to be surprisingly spacious, and the varied organization is useful for both small and large items
The velcro brief handles have to be undone to access the compartments, this adds time but we did get used to it
We've enjoyed using the laptop compartment overall, the water repellant YKK zippers are a nice inclusion, but it's a shame there's no false bottom
Access the Pro Community Discussion
Get your questions about the Chrome Industries Vega 2.0 Transit Brief answered from our team and the Pro Community right here on the page. Plus, join discussions with other members about gear, guides, and more.
Other Bags & Luggage Reviews