Chrome Industries Ziptop Waistpack Review
Although lacking in organization, the Chrome Industries Ziptop Waistpack is a slim, durable option for carrying your daily essentials.
Our Verdict
Unlock the Pro Summary
Save time. Get access to brief summaries of our reviews so you can browse and make decisions more efficiently.
Pros
Durable, water-resistant materials
Sleek and low-profile
Works as both a sling and a waist pack (though more comfortable as a waist pack)
Cons
Not much organization
No dedicated key leash
Interior mesh pockets aren't very stretchy
Recent Pack Hacker Video
Technical Details
100 %
Carry-on Compliance
Capacity

3l

Weight (lb)

.48 lb (0.2 kg)

Dimensions

6.75 in x 11 in x 2 in (17.1 x 27.9 x 5.1 cm)

Notable Materials

CORDURA®, Sailcloth, Nylon, Polyester, Thermoplastic Elastomer (TPE), YKK Zippers, Duraflex Hardware

Manufacturing Country

Vietnam

Warranty Information
Full Review
Get up to 10% off Chrome Industries • Join Pack Hacker Pro
If you're familiar with Chrome Industries, you probably know that their unique and functional packs, bags, and slings are catered to the urban lifestyle—and the Chrome Industries Ziptop Waistpack is no exception.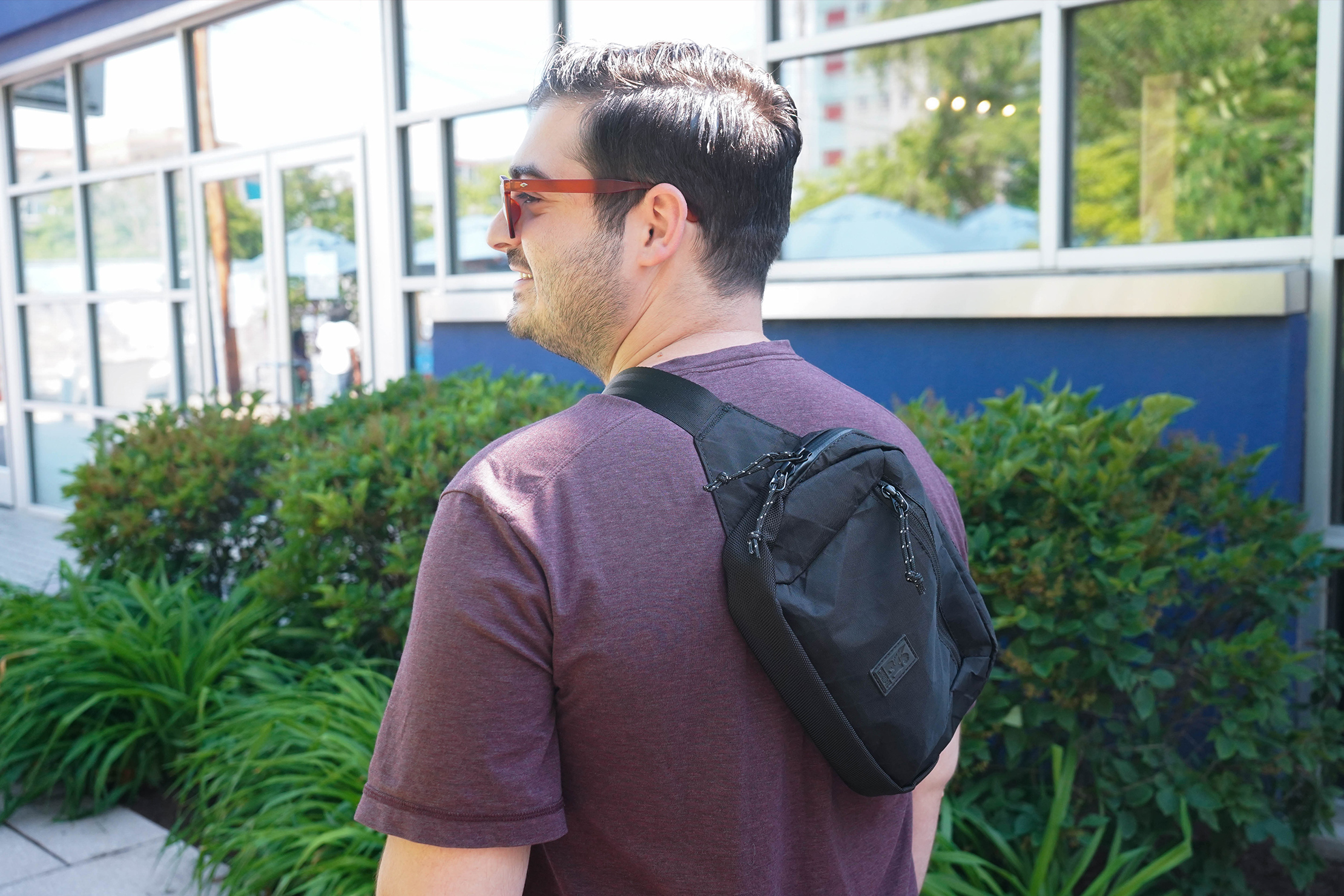 As the name suggests, you can wear this thing on your waist, fanny pack-style, but you can also sling this thing on your back or chest and carry it that way, too (though we have found it to be more comfortable as a waist pack, which we'll explain in depth later on).
We might as well call this review the "Ziptop Waistpack Sundae," because we're about to give you the scoop on our experiences from the last two weeks—so grab a spoon, and let's dive in.
Materials & Aesthetic
At the time of this review, the Chrome Industries Ziptop Waistpack is available in four different colorways and two different materials. The Black, Navy Blue, and Ranger (olive green) colorways are made with 1050D nylon. We've been testing the BLCKCHRM version of the bag—the black-on-black colorway gives this waist pack a slick, serious look that we've been digging.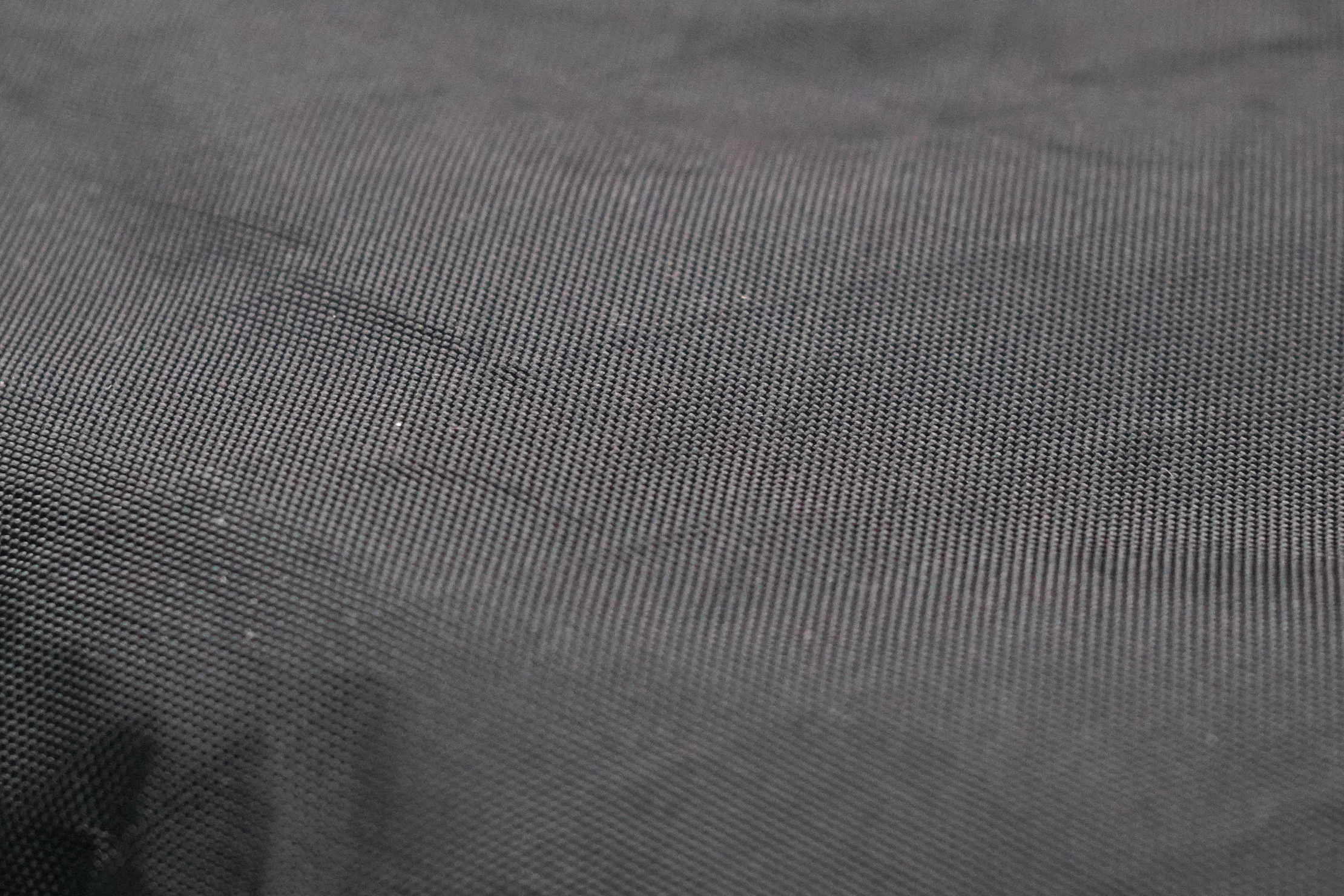 The BLCKCHRM 22X material is made from durable sailcloth and the 22X refers to sailcloth's 22-degree bias (a.k.a the grains between the warp and weft threads of the fabric). The material is also finished with a CORDURA TPX coating and the interior is lined with 70D polyester. We know, that all sounds a little (or a lot) complicated. Basically, this material is water, tear, and abrasion-resistant. And it's been holding up well during testing—no issues with any of the three so far.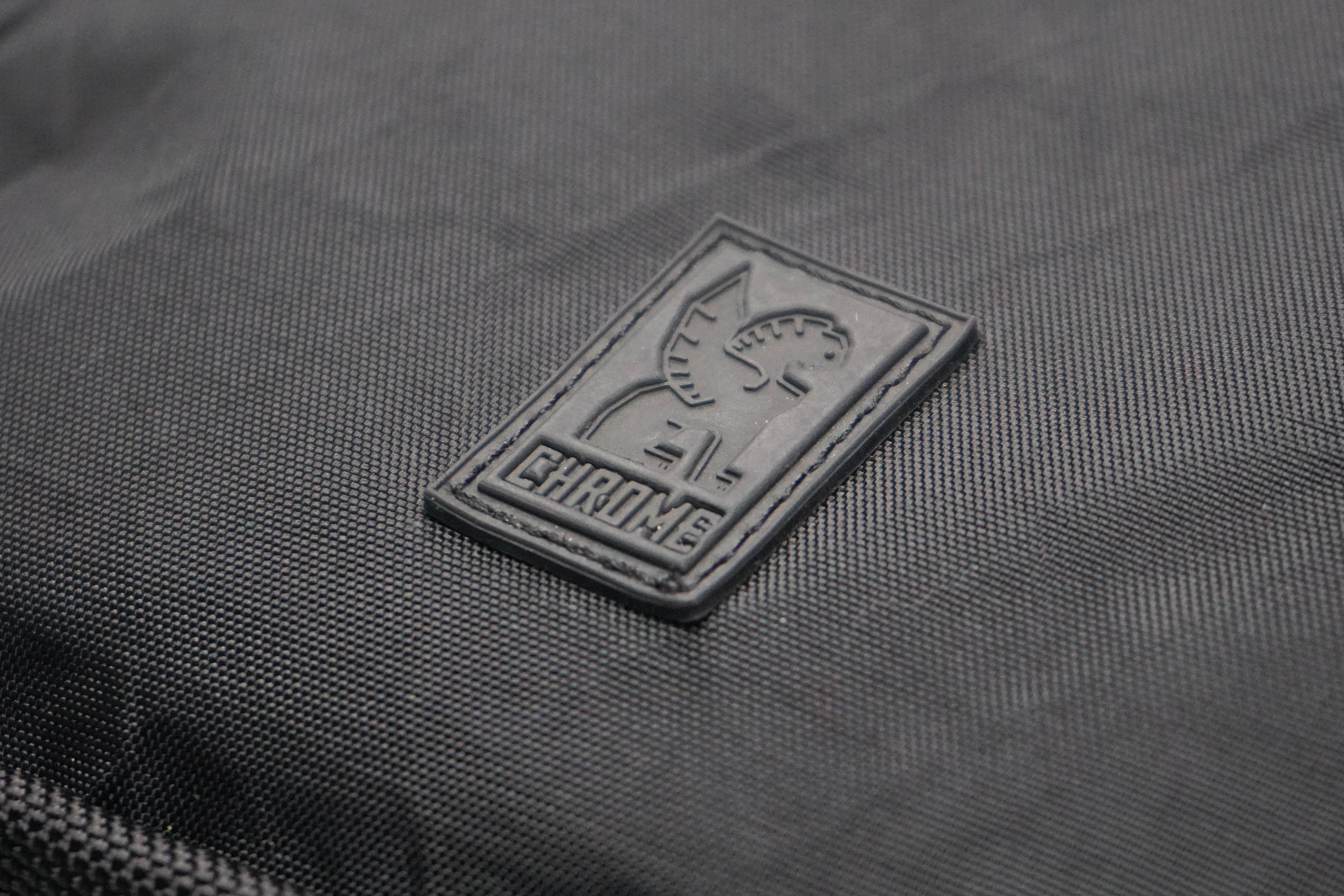 Normally, the first thing you'll notice on a Chrome Industries bag is their logo, which features a proud-looking griffin (that's what we're calling it, anyway) with the Chrome name beneath it. And while this does appear on the front of this waist pack, it's debossed on a black, rubbery patch on the BLCKCHRM version of the bag. It's soft to the touch and far more subtle than some other bigger and brighter iterations of it that we've seen from the brand. So if you tend to get turned off by in-your-face branding, you may want to opt for this material.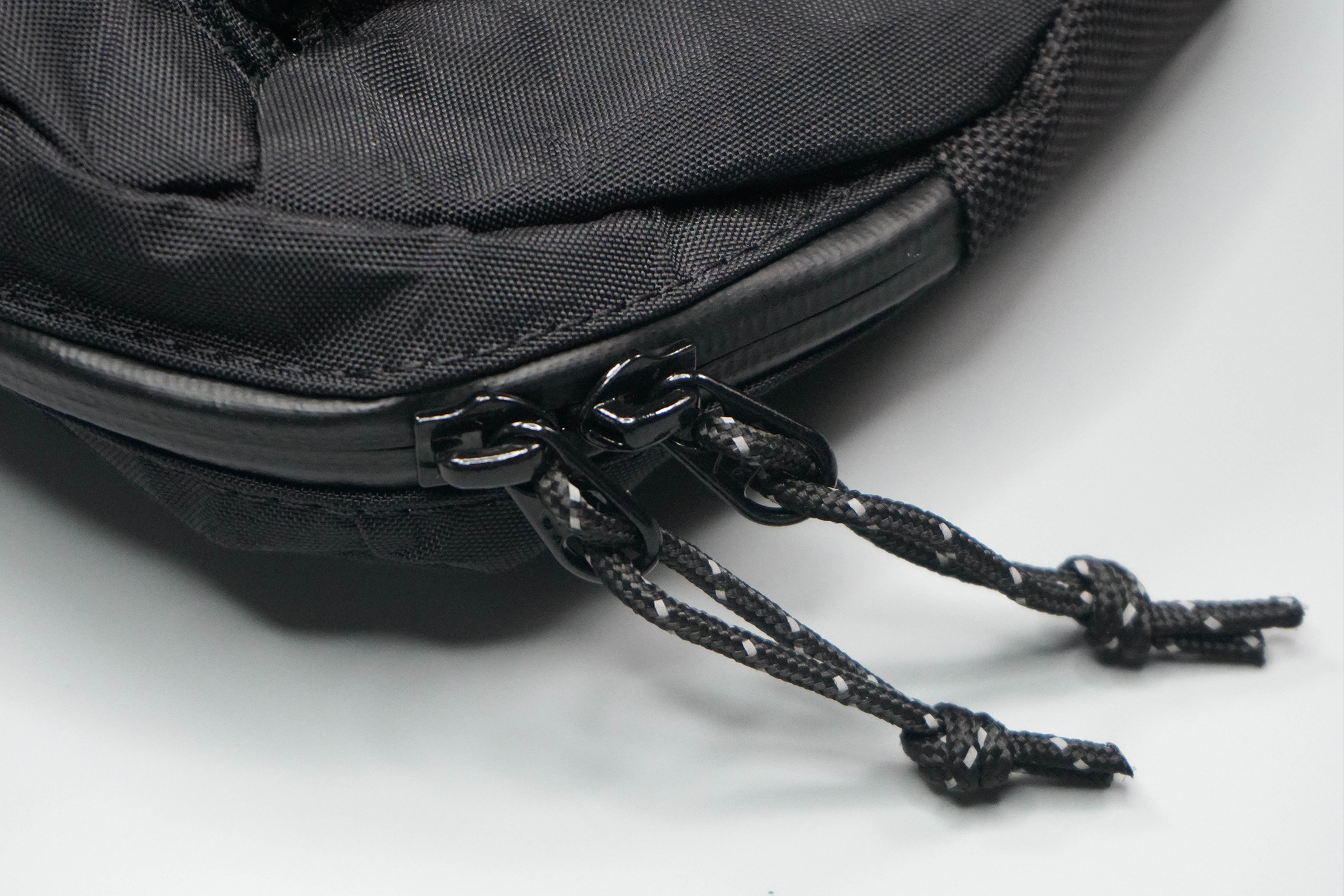 We're also happy to see some trusty water-resistant YKK zippers on here with easy-to-grab corded pulls that are reflective to add some visibility. As expected, these zippers have all been working smoothly in our testing so far.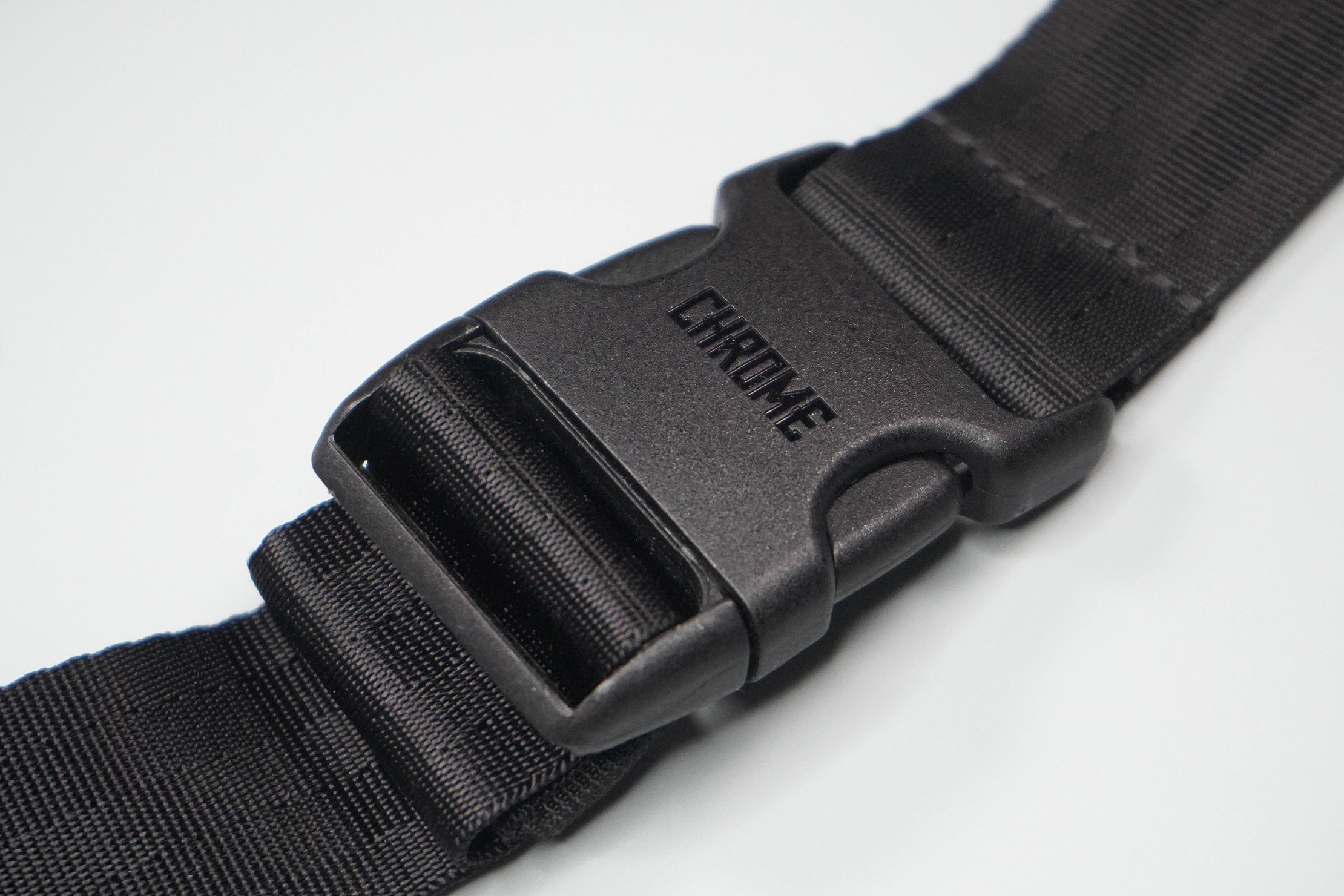 And to finish off materials, you'll find a big Duraflex buckle on the strap. It feels durable in the hand and has stayed secure throughout our testing, so no issues there.
External Components
There's not too much going on with this waist pack's exterior, which we like. But we do want to cover a couple of things—starting with the shoulder strap.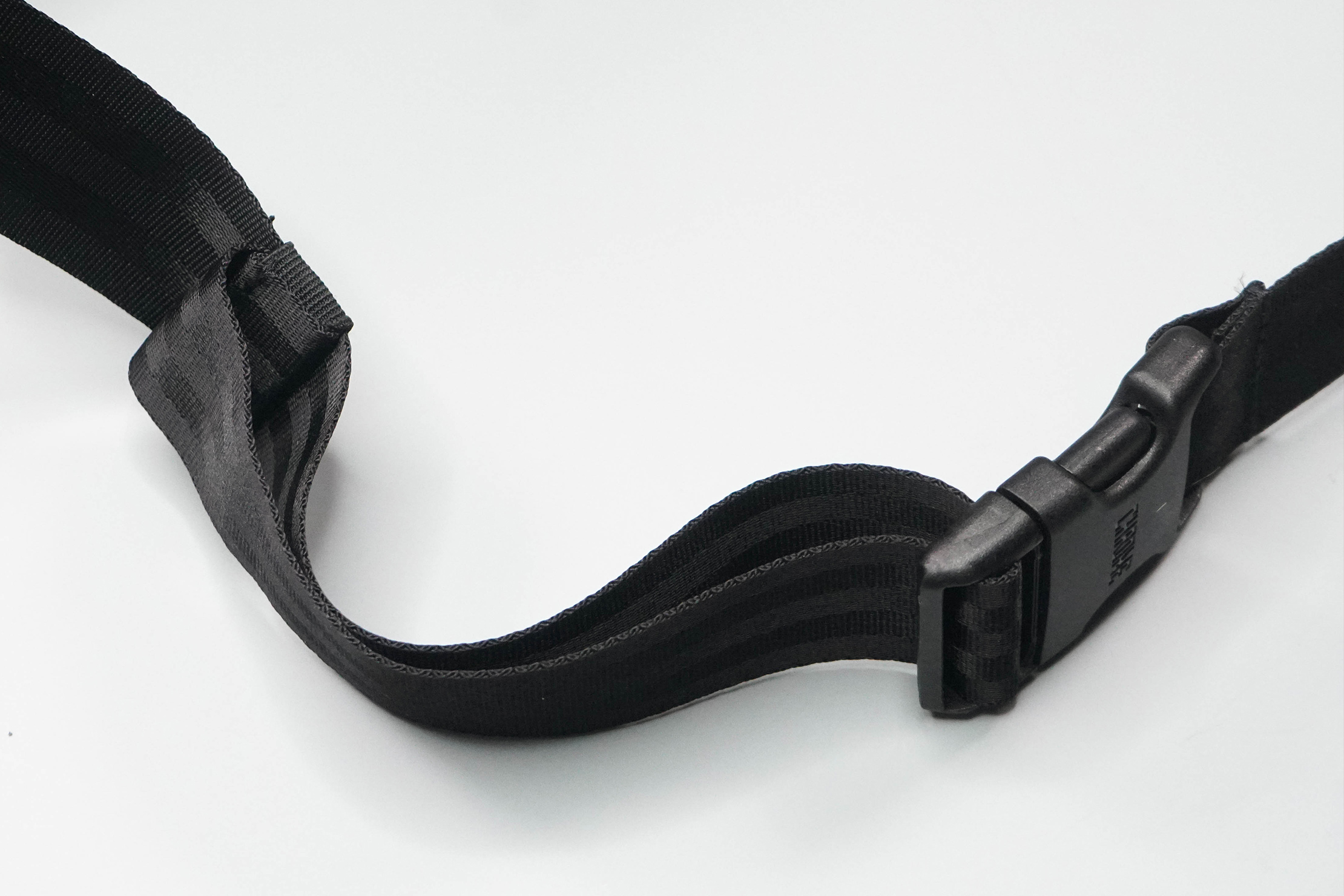 The shoulder strap is made from a seat belt-like nylon that's super smooth in the hand. But the thing we're really digging about this strap is the elastic keeper. It's built into the end of the strap instead of being a separate piece like you'll see on some other slings bags—which we've found can slip off and not work for containing excess strap. No matter how much or how often we have to adjust, we're always getting that #DangleFreeExperience. And it's much appreciated.
Like we mentioned earlier, you can wear this thing as both a waist pack and a sling. The shoulder strap is anchored to wings on either side of the bag that helps keep it tight to the body, so when you've got it around your waist, it doesn't look quite as bulky as other traditional waist packs.
That said, it does have a pretty large footprint that almost makes it look we're carrying around a big, rectangular pancake on our waists (or backs/chest depending on how we've got it on). But its size allows it to hold all of our daily essentials (which we'll go into depth about in the next section).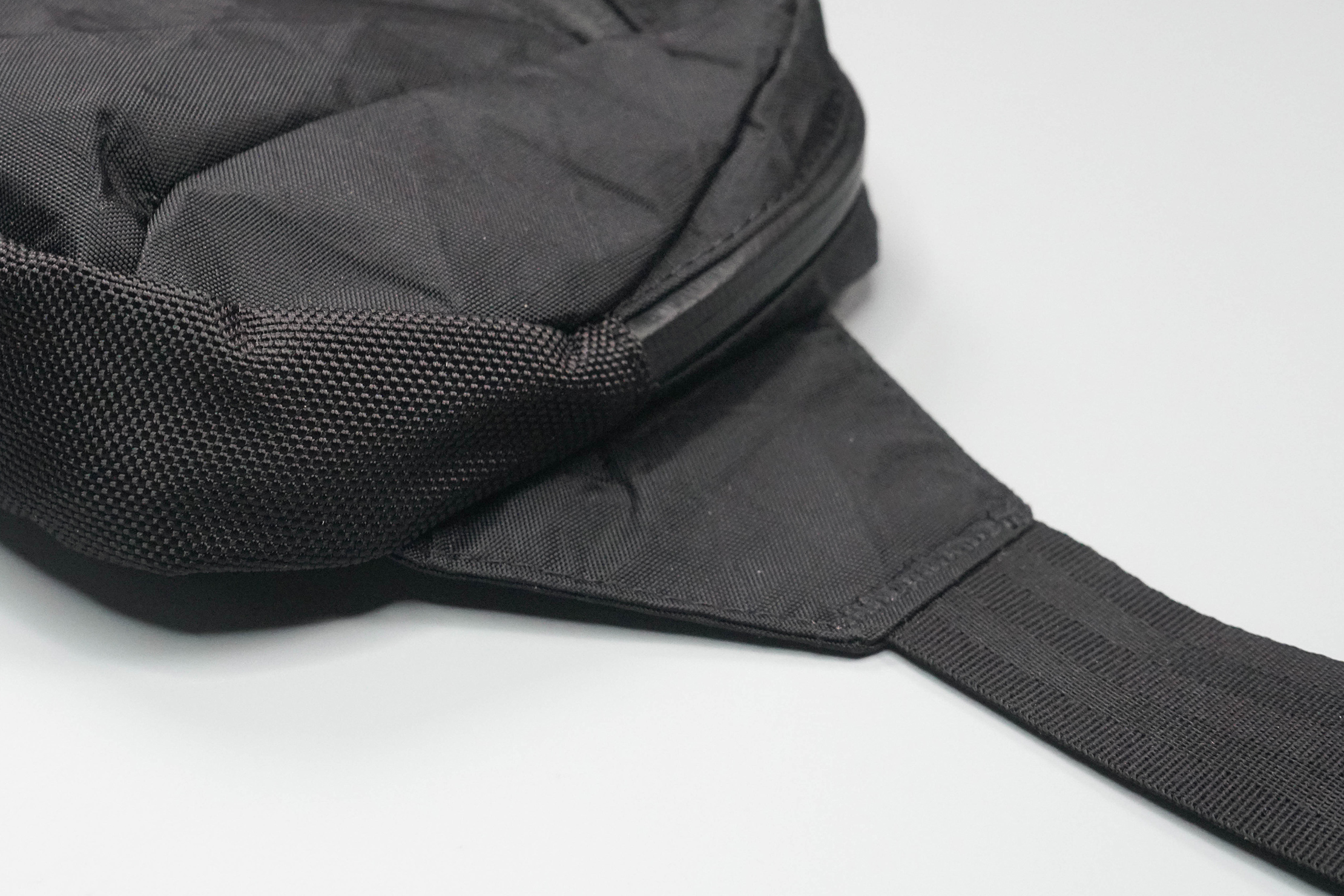 Because of how the strap is anchored, we've also found during testing that this bag carries more comfortably as a waist pack. However when we do have this thing on our backs sling-style, we've found it to be more comfortable if it's adjusted a little looser, as the bag tends to sag and hang slightly off the body when worn this way. So if you loosen the strap, you're working with the bag, rather than against it.
Inside the Waist Pack
At 3L, this waist pack falls into the "PocketsPlus" category—meaning it's got enough room to house all your daily essentials (everything you'd keep in your pockets, plus a little extra). Just note that there's not much in the way of organization to keep said essentials, well, organized. The bag itself is split into two—a front pocket and the main compartment.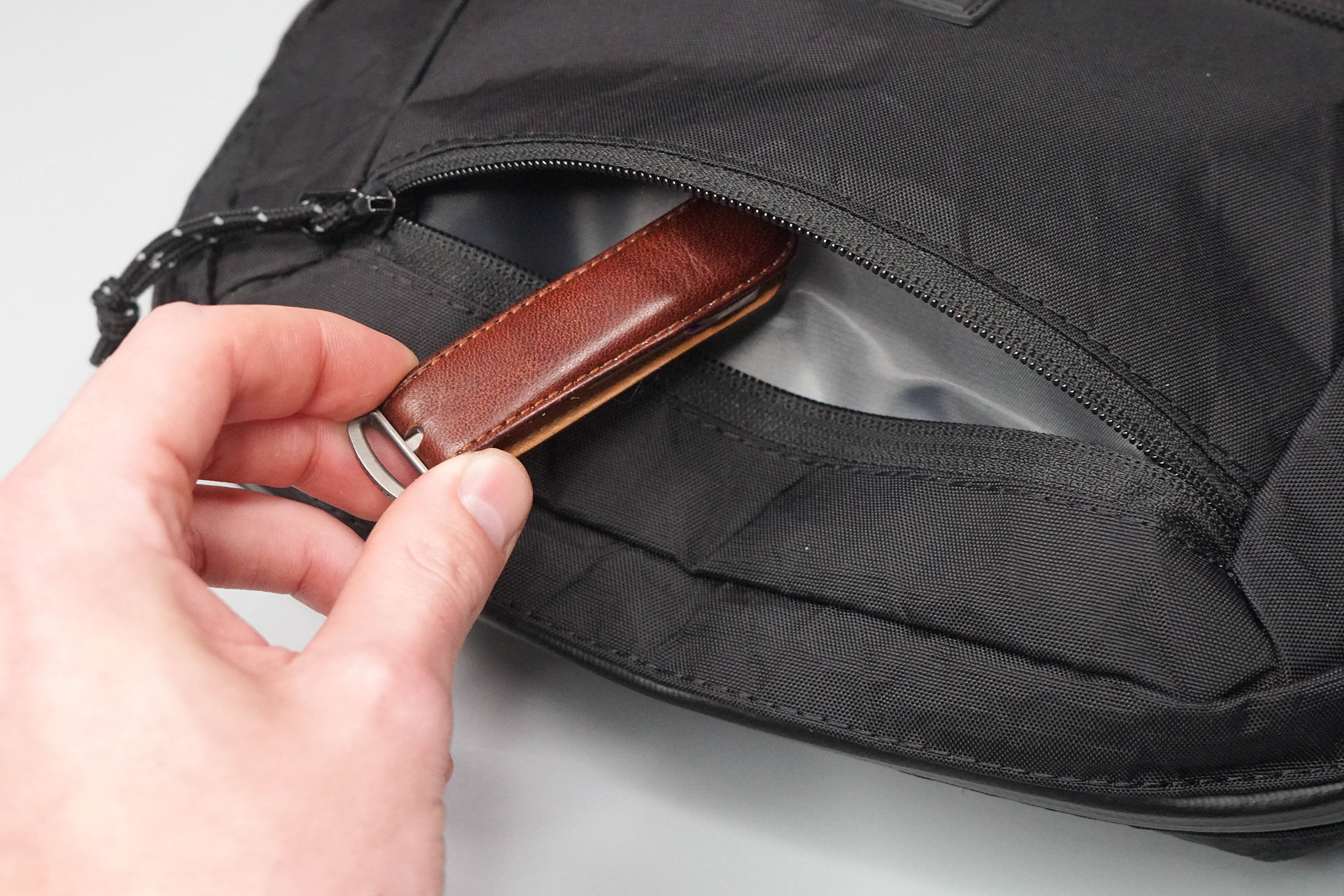 We'll start with the front pocket. It's on the slimmer side, but you can still fit a phone or minimal wallet—like the Bellroy Slim Sleeve—in here for quick access. There's not a dedicated key leash anywhere on this waist pack, but you can stash your keys in this pocket. That said, if your keys are bulky, they're better off in the main compartment.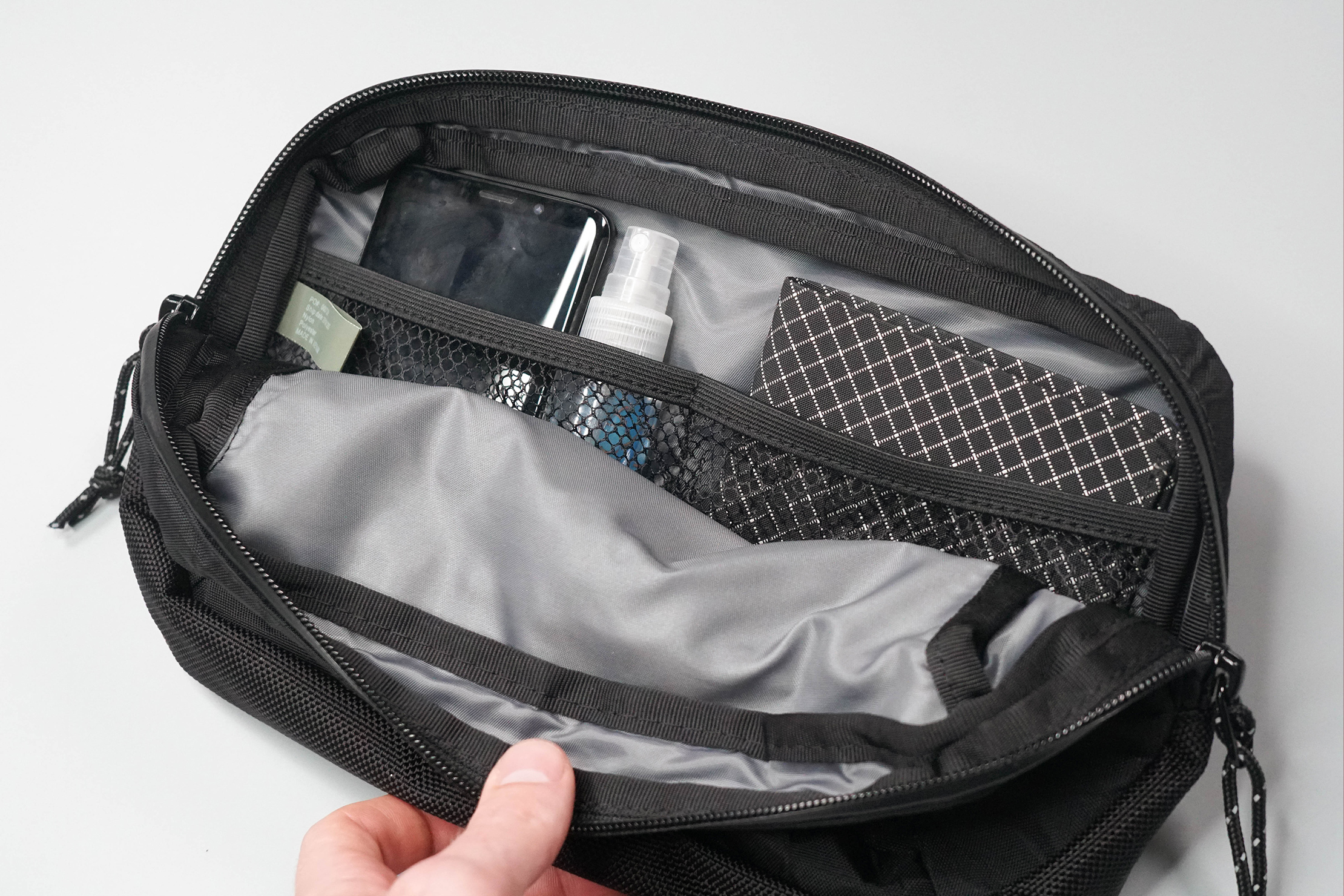 As for the main compartment, it's secured by a water-resistant PU-coated YKK zipper to give it some added weather-resistance, which we appreciate (because no one likes opening their bag to soggy gear).
Inside, you'll find two mesh pouches against the back, which split the length in half. It's not the softest mesh we've ever felt, but it feels rough in a durable sort of way—and we're definitely okay with sacrificing a little softness for more durability. The top of these mesh pockets do have elastic, however, we've found that it's not as stretchy as some other elastic we've encountered on other bags. Meaning our stuff doesn't feel very secure inside. That said, we haven't had any issues with stuff falling out so far, but it's something to note.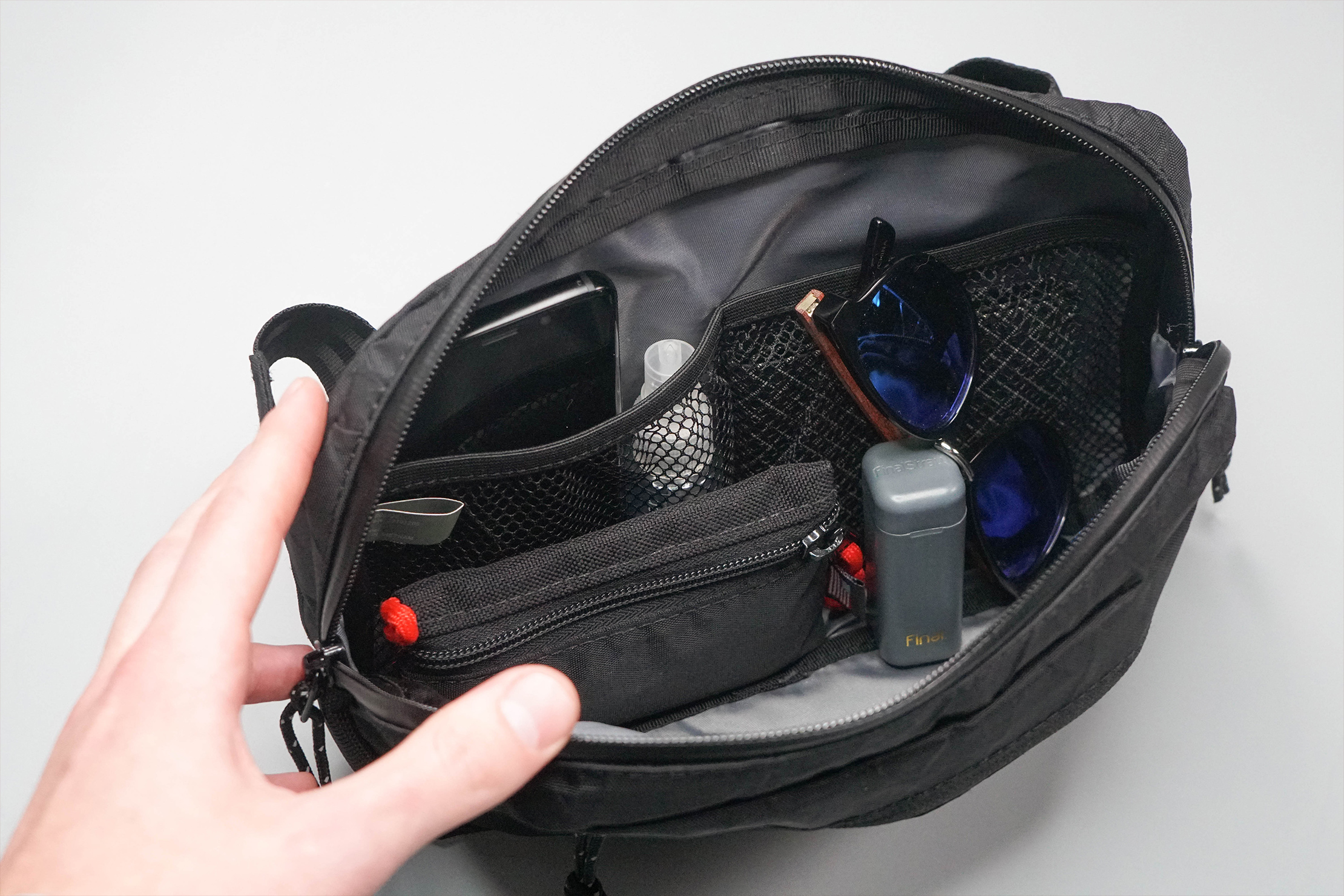 We've been able to fit an iPhone 11 vertically inside one of these and zip the compartment closed no problem. These pockets are also a good size for keeping most standard wallets secure (so they're not sliding around the inside). Depending on their size, you may be able to fit both a phone and wallet in one pouch and use the other for something else (like a power bank or hand sanitizer).
However, the rest of this compartment is a free-for-all—there's a lot of room to hold your gear but nothing to compartmentalize it, which means everything is just floating around (especially your smaller items). We've been compensating by storing some of our smaller gear in a pouch and keeping it inside, which you have the option to do. And if you want to fit more in one pocket, you'll have to double up—like for example, stashing your phone and your wallet together in one, so you have the other pocket free.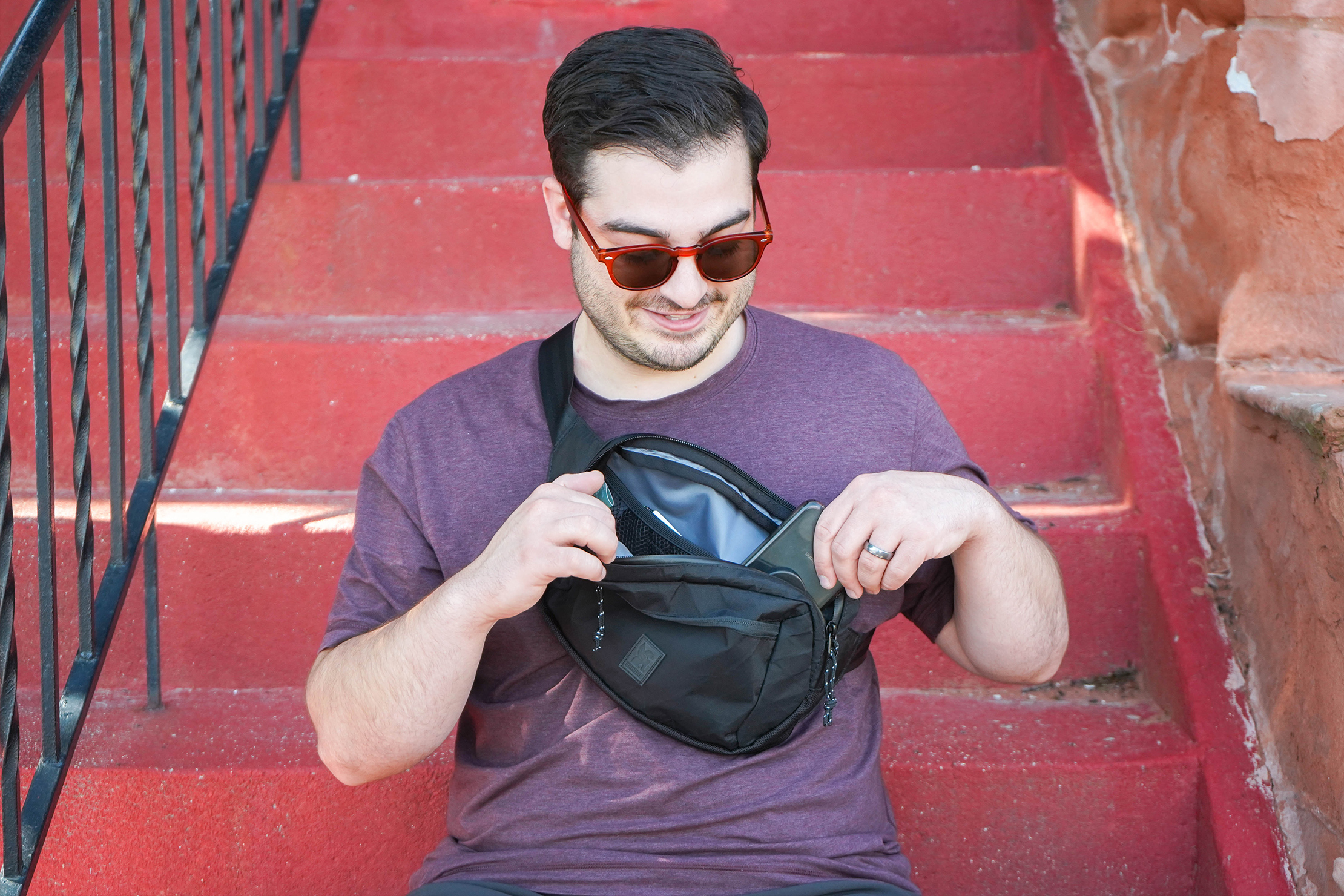 There's not a great spot for our sunglasses in here either, but we have been able to hook one of the arms on a pocket (kinda like you would on a shirt), and they pretty much stay put—they're able to fit vertically this way because of the pancake-like shape of the bag. They're not getting the kind of protection they would in a separate pocket with soft lining, so maybe not the best solve if you have expensive sunglasses. Overall, we would've appreciated a little more organization integrated inside this waist pack.
To wrap this thing up, everything is looking good as far as durability—no tears, no scuffs, and no problems.
Usage Timeline
Initial Usage
Condition: Excellent
Made of lightweight but durable materials
Big enough for all your EDC essentials
Only internal organization is two stretchy mesh divider pockets
2 Weeks of Use
Condition: Excellent
Been wearing this bag as both a sling and a waist pack—we've found waist pack carry to be a little more comfortable for us
Even though it has a relatively large footprint, its slim shape keeps this thing tight to your body
We would have preferred a little more organization at times, especially when carrying smaller items
Durability-wise, everything is looking good
Access the Pro Community Discussion
Get your questions about the Chrome Industries Ziptop Waistpack answered from our team and the Pro Community right here on the page. Plus, join discussions with other members about gear, guides, and more.
Other Bags & Luggage Reviews